WestJet today announced it will add non-stop service to London's Heathrow Airport (LHR) beginning early Spring 2022. The route will fly from Calgary in Western Canada.
WestJet would generally be known as more of a low-cost leisure airline. However, they do have a good business class product which often sells from around £1500 return making it great value.
There are modern flatbed "pods" with aisle access as well as dine on demand. That's more than you can say for many legacy airlines!
"As the airline with the most flights from Alberta, this is an important recovery milestone as we forge new connections between Canada and one of the world's most sought after global hubs," said John Weatherill, WestJet Chief Commercial Officer. "We continue to strengthen our network, offering more options for business and leisure travellers and these investments will expedite our industry's recovery while ensuring Western Canada builds back from the pandemic more connected than ever before."
WestJet's newest route will operate this spring on the airline's 787 Dreamliner. WestJet's 787 service features the airline's Business Cabin including lie-flat pods, dining on demand and elevated Premium and Economy Cabin options.
"We are committed to the expansion of our global hub in Calgary and supporting the recovery of many sectors who rely on travel and tourism," continued Weatherill. "As the airline with the most non-stop European destinations from YYC, we are looking forward to guests benefitting from more options and increased connectivity for travel between Canada and the UK. "
WestJet will also continue to offer non-stop flights between Calgary, Vancouver, Toronto, and Halifax to London, Gatwick.
Additional network details for travel between Calgary and London-Heathrow including frequency, timing and introductory pricing will be available, and for sale, in the coming weeks.
Qatar launches World Cup packages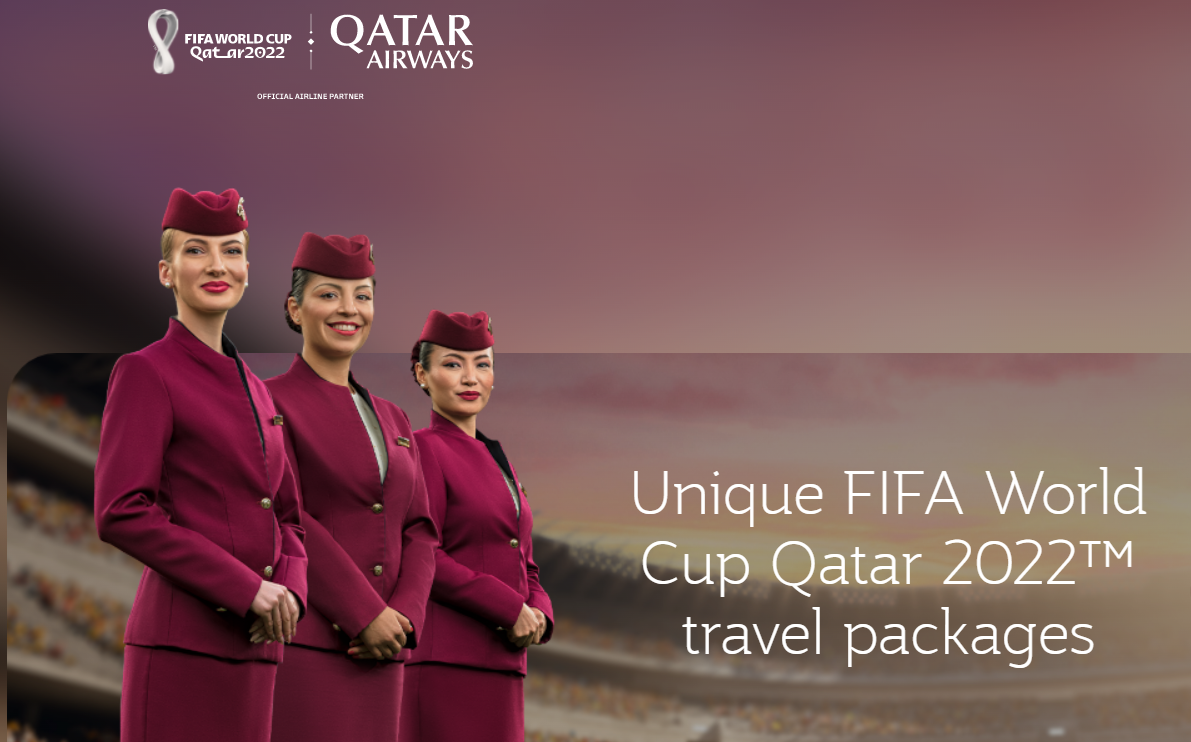 With just over a year to go until the FIFA World Cup Qatar 2022™ kicks-off, Qatar Airways Holidays has launched fan travel packages, inclusive of match tickets, return flights and accommodation options, for UK customers.

This week, the England team booked its place in the finals, and fans can now guarantee their match tickets to support the team during the FIFA World Cup Qatar 2022™ with the option to choose additional services to explore the host country.

By joining the Qatar Airways Privilege Club, fans will have access to unique travel packages with booking flexibility and get their seats reserved at their preferred matches.

You can choose from seven-tiered travel packages, with prices starting from a somewhat eye watering £2,815 based on two people sharing a room. Travellers wishing to discover Qatar during their trip can also choose to add supplementary services such as airport transfers and sightseeing tours.

Each fan can book a total of seven matches by combining more than one package. Additionally, fans can specify how many guests they are travelling with and the number of rooms they would like to stay in. They can choose from standard to premium accommodation based on their budget. To book or learn more, visit: https://www.qatarairways.com/app/fifa2022/

The travel packages are currently live and accessible in the following countries: Australia, Austria, Belgium, Bulgaria, Croatia, Cyprus, Czech Republic, Denmark, Finland, France, Germany, Greece, Hungary, India, Indonesia, Ireland, Italy, Japan, Malaysia, Netherlands, New Zealand, Philippines, Romania, Spain, Sweden, Thailand and the United Kingdom. Additional markets will be added in the coming months (subject to licensing agreements).
If you are willing to start your journey in a different country, it's worth looking at places such as Sweden and other European countries to see if prices are cheaper due to the better flight prices.