If you are planning to fly Qatar business class, it may surprise you that there are no less than six different types of business class seats, and that's if you count the older B787/A350/B777 reverse herringbone Cirrus/Super Diamond as the same (they are very similar). There are also some leased aircraft from other airlines such as Cathay Pacific and Virgin Australia. Seat maps for these can be found on Aerolopa. I suspect as soon as the A350 issue is resolved these will be removed from the fleet. I have not covered those in this review since I have not flown them myself.
So how can you tell which seat you have and which is the best? I will cover these in the order that I think are the best from high to low.
1. Q Suite on A350-10, B777-200LR and B777-300ER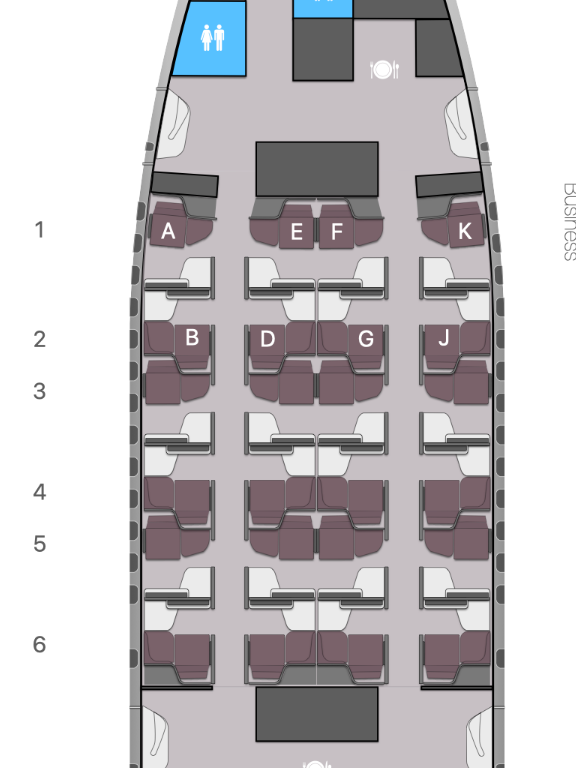 QSuites are Qatar's best business class seat, and they are gradually converting their B777s to these seats. You can also find them on all A350-10 and A350-9 aircraft as well. However, they are not on any of their B787, A330 or A380 aircraft. You can tell that you have a QSuite from the seat map, as it will show some backward-facing seats.
The Qsuites are a good size for business class and very private with a door. I don't find the QSuites at all claustrophobic, even with the door closed, but even with it open, it is pretty private.
You get slightly different amenities with Q Suites with a small day pillow which you can take home.
However, they are quite hard compared to the older seats. Even with the mattress topper, they are still on the hard side, whereas I find BA's Club Suites much more comfortable for sleeping in terms of softness.
The QSuites also alternately face backward which some people don't like. I don't notice any difference sitting backwards, but some claim that they do. In fact, I generally recommend the backwards-facing window seats. This is because they are closer to the window and further from the aisle, so quieter.
In the middle seats, you have a choice of being in a double QSuite where they can make it into a double bed or the seats with the ottomans in the middle. They can put up a privacy screen between them if you are travelling solo. There are also "Quads" available with four seats, but you need to book these by phone prior to departure.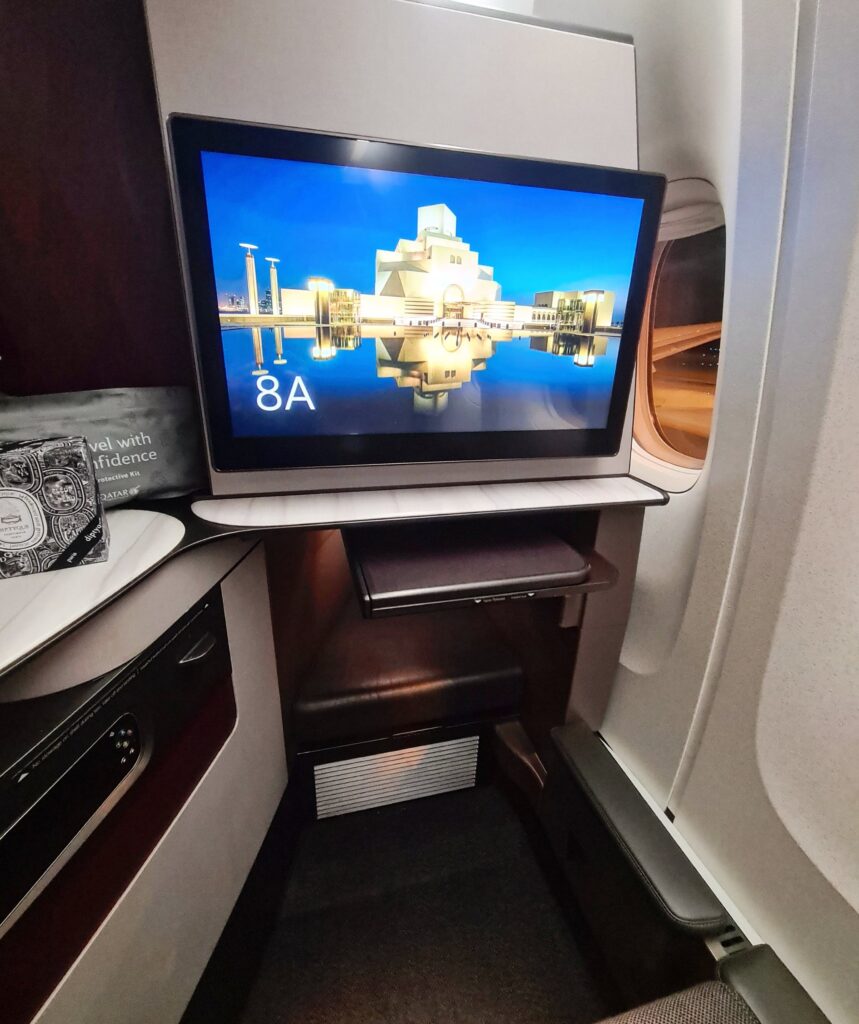 Next to the seat is an ottoman with a padded top which effectively extends the width of the seat. In the ottoman, there is a reasonable amount of storage space too.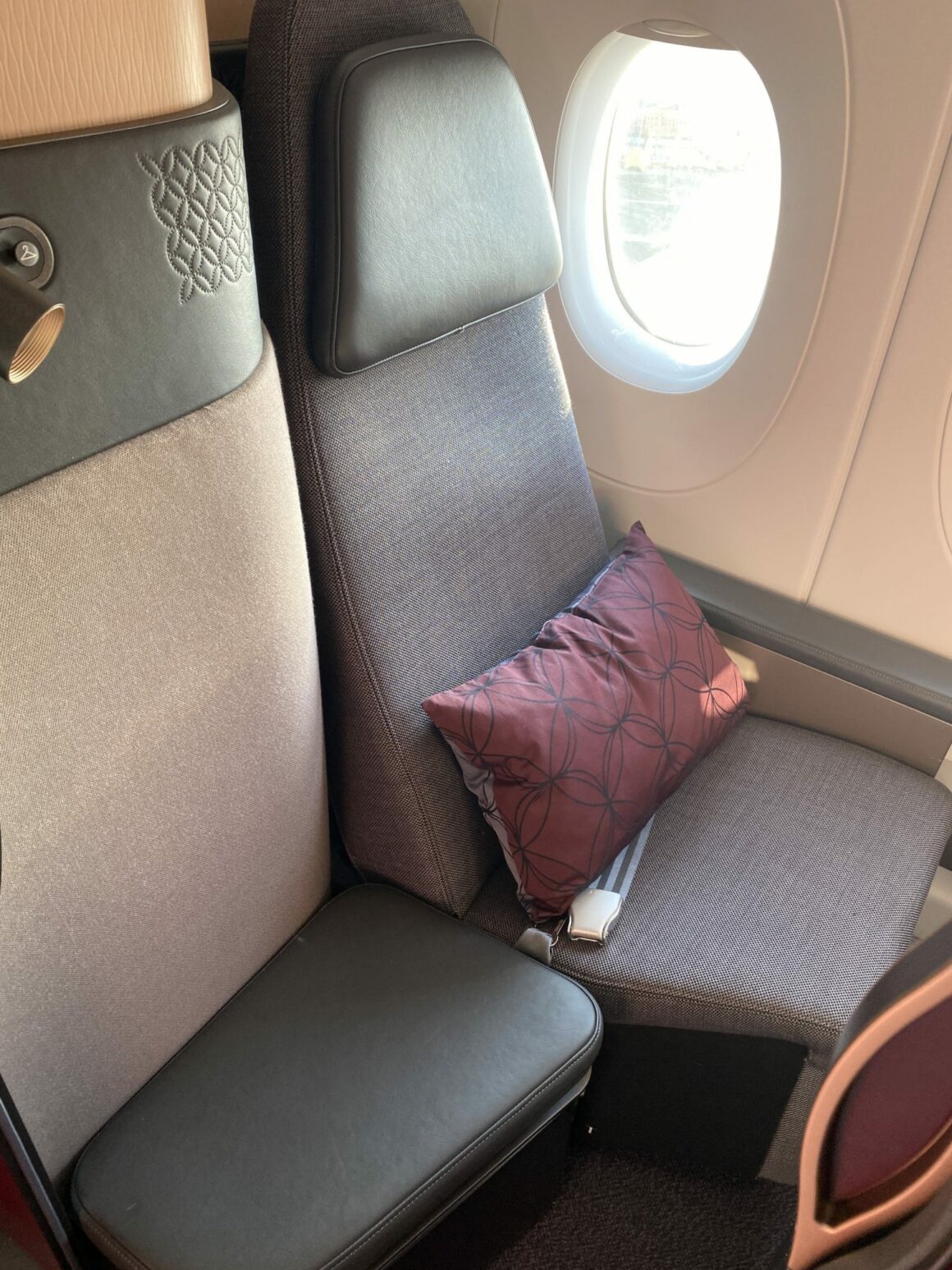 There are lots of seat controls, but I don't like that there is no separate footrest that you can control. I can just about reach the footstool with it slightly reclined (I'm 5ft 6). I do like the fact there's a Do not disturb though!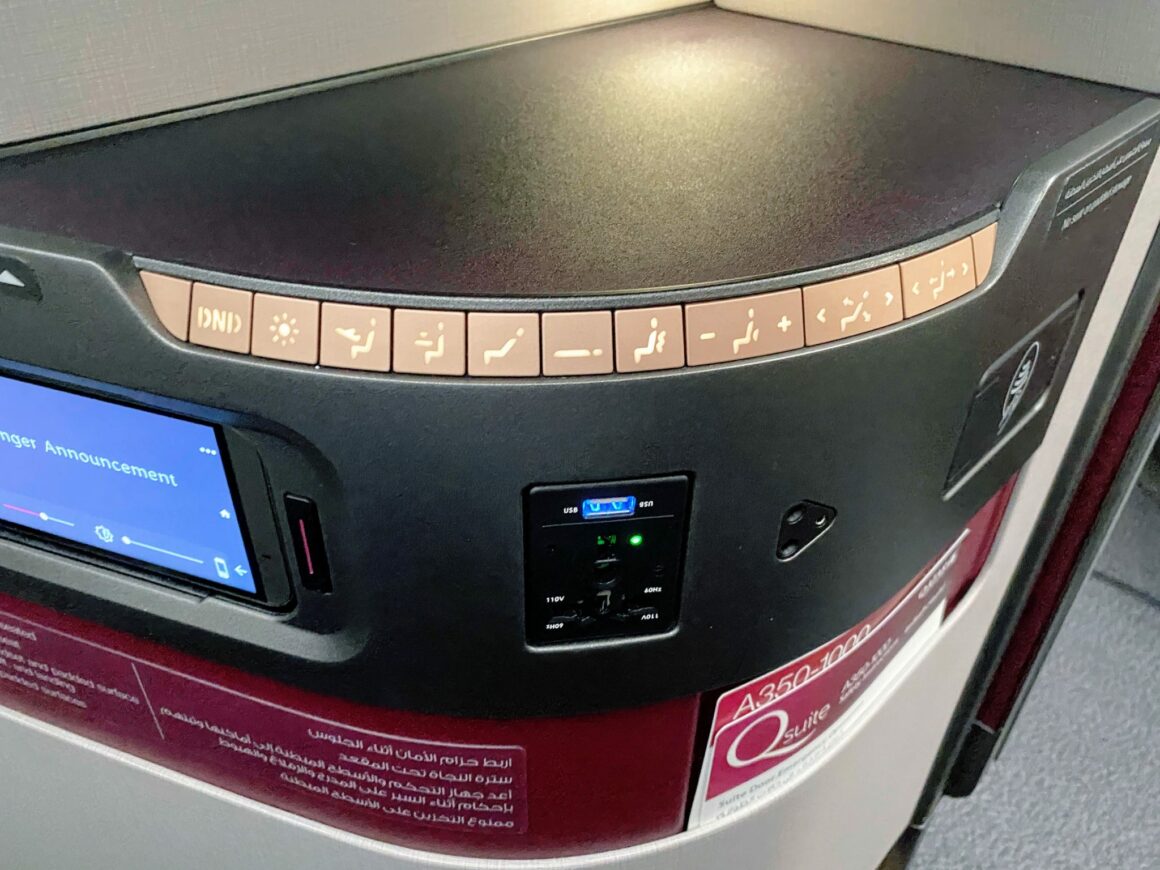 Another feature I like with the QSuite is the fact you can plug in an HDMI lead so you could watch something from your laptop on the screen if you have your lead with you. They also come equipped with USB charging as well as a multi-country socket. The entertainment system has great definition and you can control the screen with the handheld remote that also has a picture screen that can show a different picture such as the map.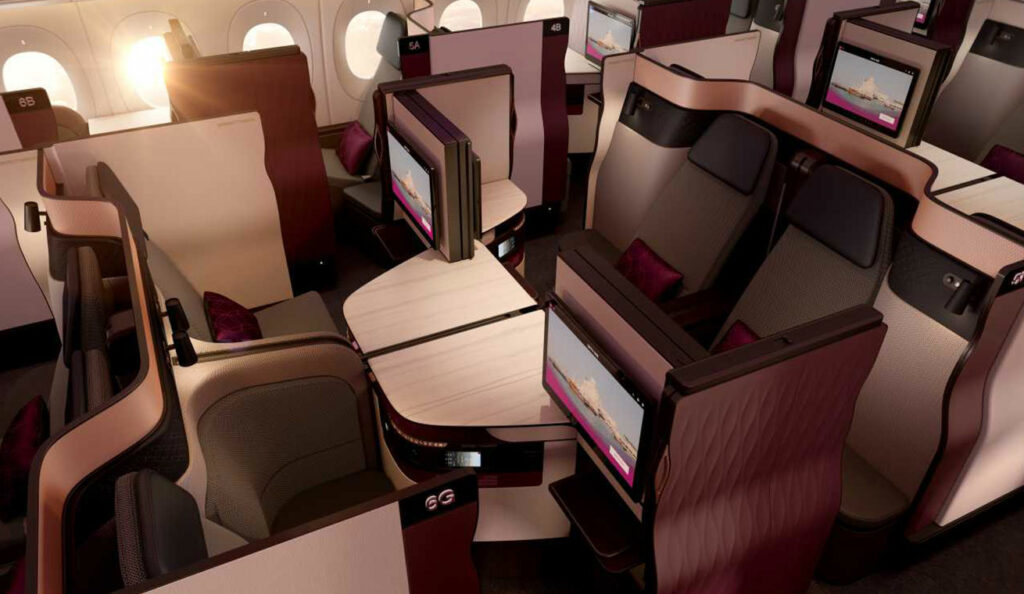 2. Premium Suite B787-9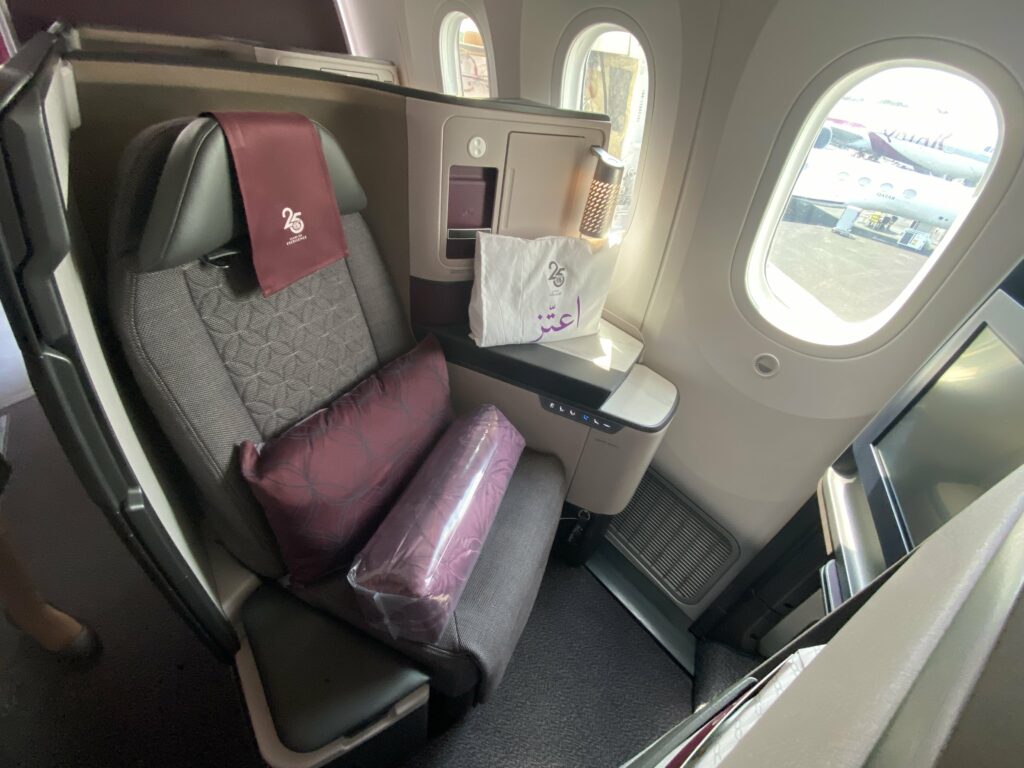 There are no QSuites on B787 as the fuselage is too narrow. So Qatar invented what is affectionately know as QSuite lite. This is only available on new B787-9s currently.
Unlike the original QSuites, which face forwards and backwards in an alternating pattern, the Premium Suite, as it is known is arranged in a herringbone pattern, in a 1-2-1 configuration.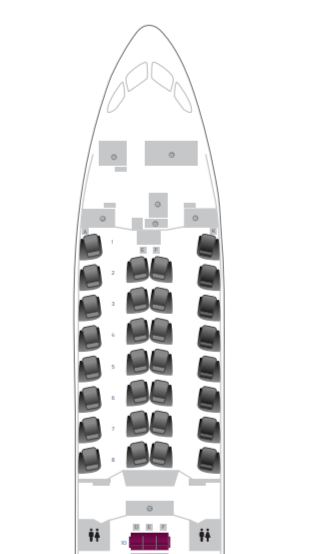 There are 30 Suites on a B787-9. As you would expect, each suite has direct aisle access with a sliding door to ensure extra privacy.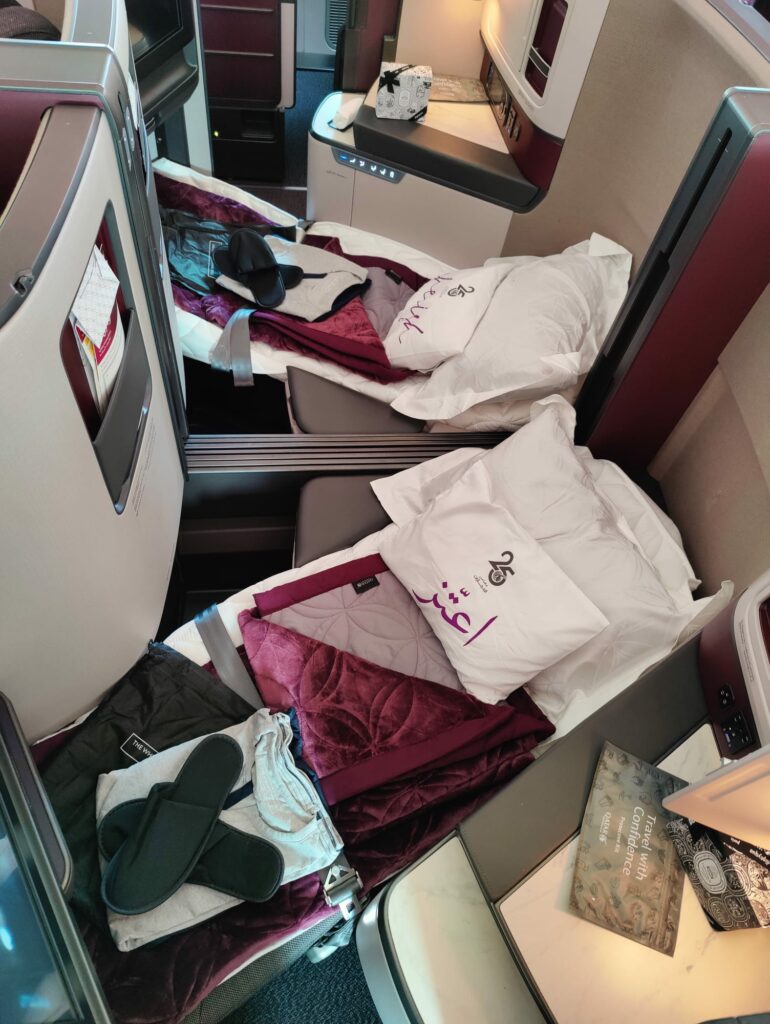 The centre seats can be arranged with the privacy divider up or down. However, there is no way to make the double bed like on the QSuite, and you can't have the Quad arrangement either.
The interesting part about the divider that I have not seen before is that both people have to press the divider button to work, which I like. If you've had an argument with your other half or your travel companion is irritating you, you can just keep the screen up!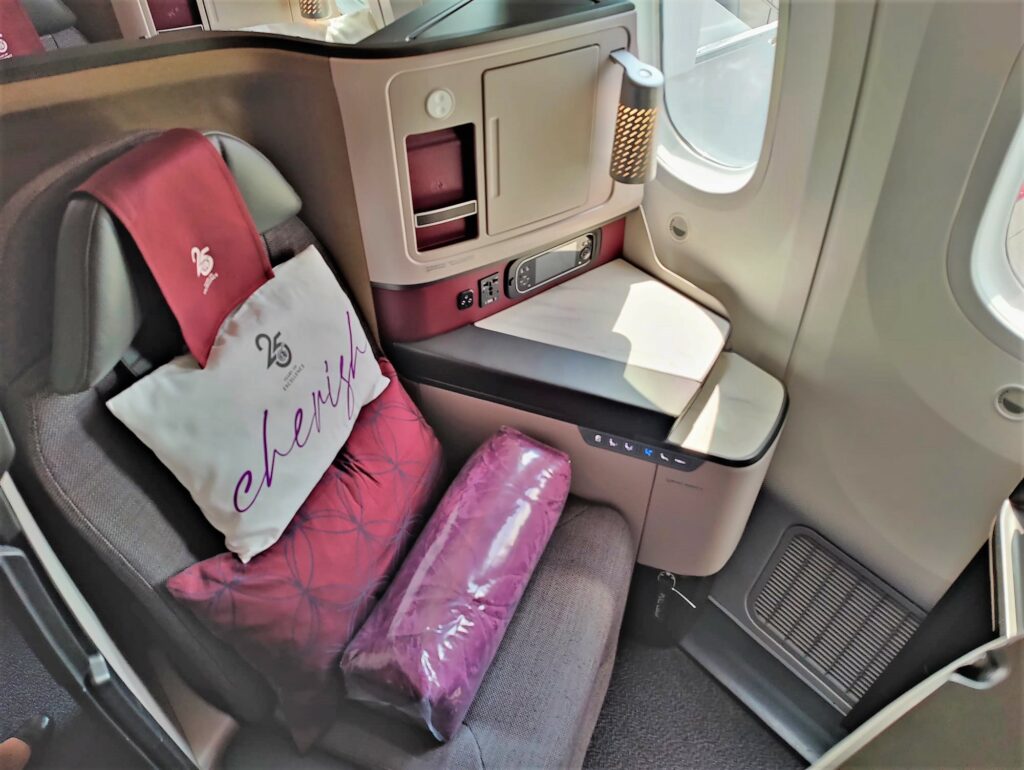 The business class suite, transforms into a 79" fully-flat bed, and the arm rest can be completely stowed away if you wish, giving more available width for sleeping. There are three preset positions for the seat – bed, landing/take-off and relaxed, but you can also raise or lower the leg rest separately.
In terms of technology, the Suite is well-equipped. There is a 13-inch Panasonic IFE touch screen which feels large in relation to the position of the seat. You can control the TV via its touchscreen or you can use the separate handheld controller that allows you to have something separate on the screen, such as the moving map.
I really liked the personal electronic device holder for mobiles which allows wireless charging but keeps your phone safely out of the way, so it doesn't get lost. There is no HDMI connector like some QSuites, but it does have a USB port as well as a multi-country socket.
3. B787-8 older seats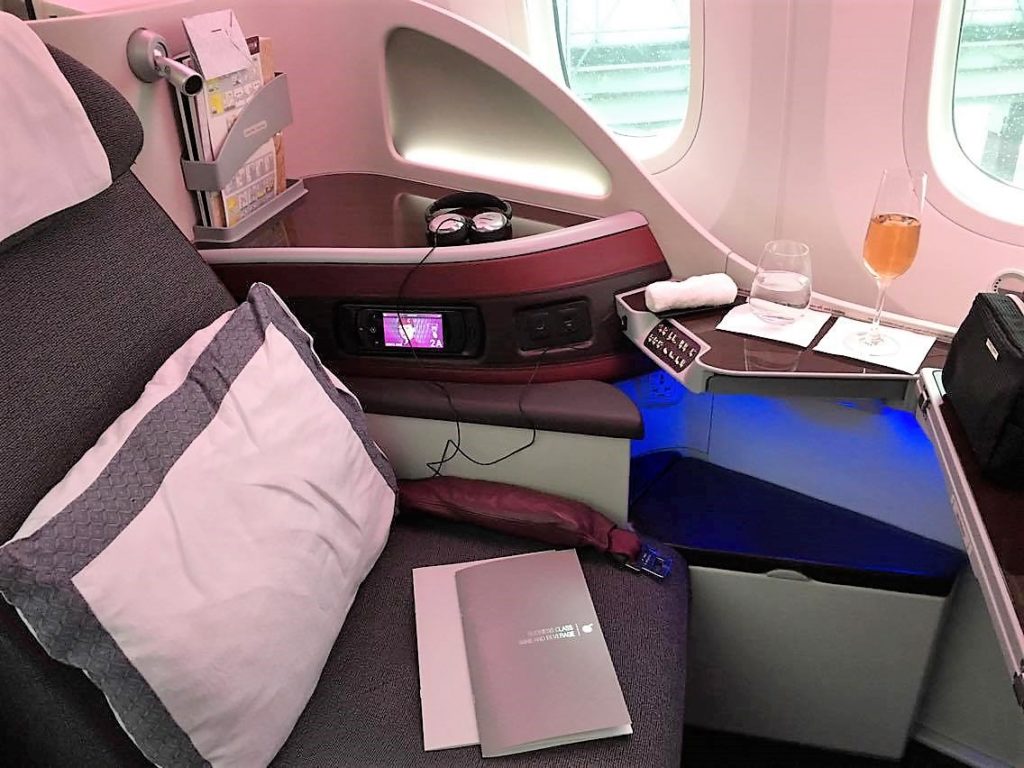 In terms of in-seat storage, there is a large storage bucket to the side of the seat, a smaller storage unit in the aisle armrest, as well as a table space next to the seat, so it definitely has enough storage for pre-departure bits and bobs.
The seat layout is a bit odd as although they have the 1-2-1 layout, there are two seats at the back called the honeymoon seats by many. While these are very private, they are also right between the two toilets, not quite what I would call romantic! You can tell that it is a B787-8 older seat layout when you see the honeymoon seats on the map.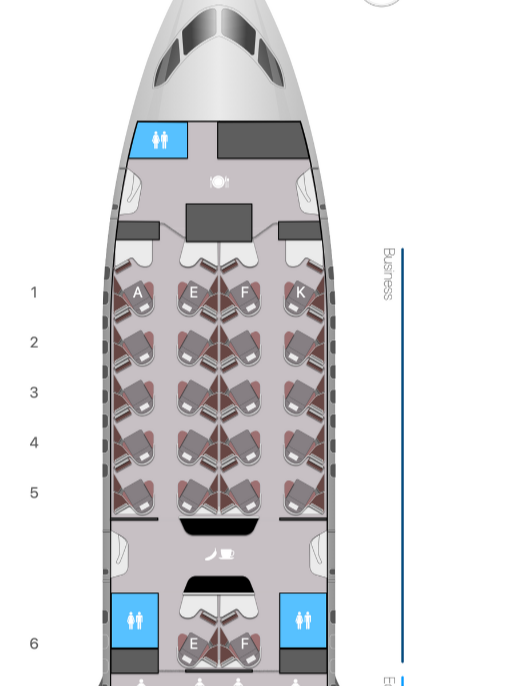 I find these seats the most comfortable within the fleet due to the padding and they are very similar to the A350 older seats. The B787 seats are the Super Diamond design that is used by many airlines.
The B787 has a unique feature which is the tinted windows. The cabin crew can control these when they wish, but the rest of the time, you have your own controls to darken the window or turn it clear. I enjoyed playing with these and still marvel at how it works. However, I don't really like them when trying to sleep as they do not block the light very efficiently. I actually prefer the old-fashioned window shades.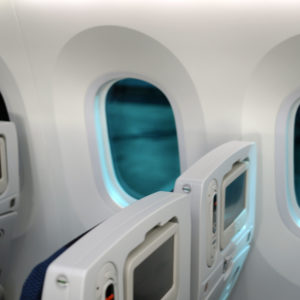 Joint 3. A350-9 Older Seats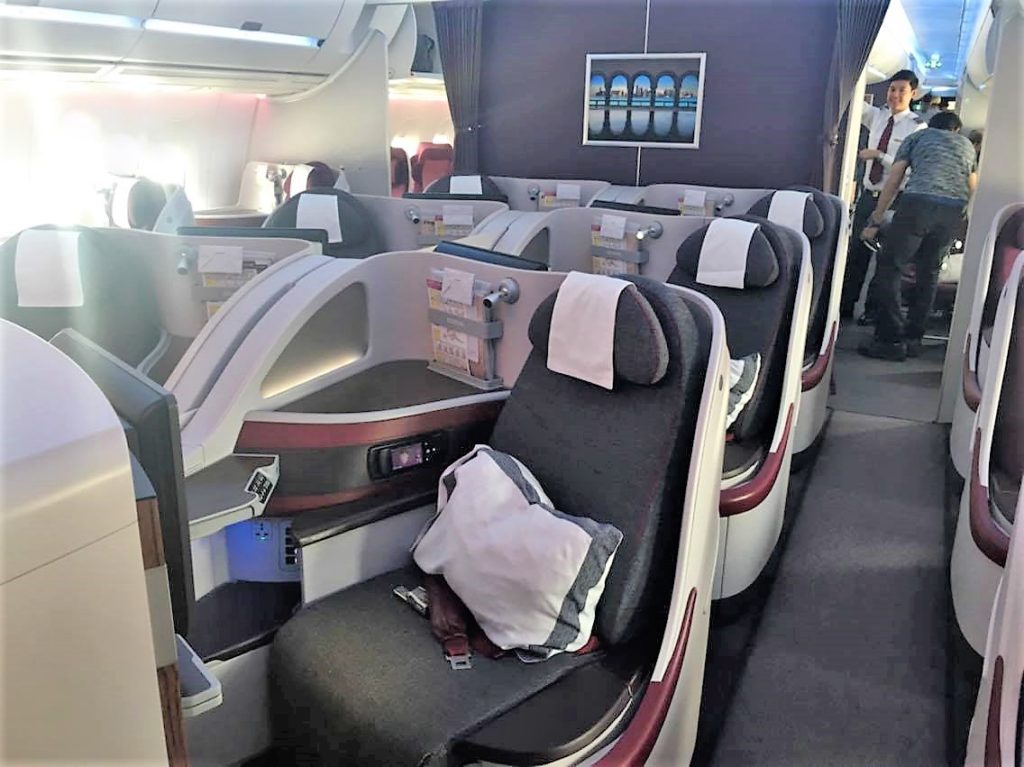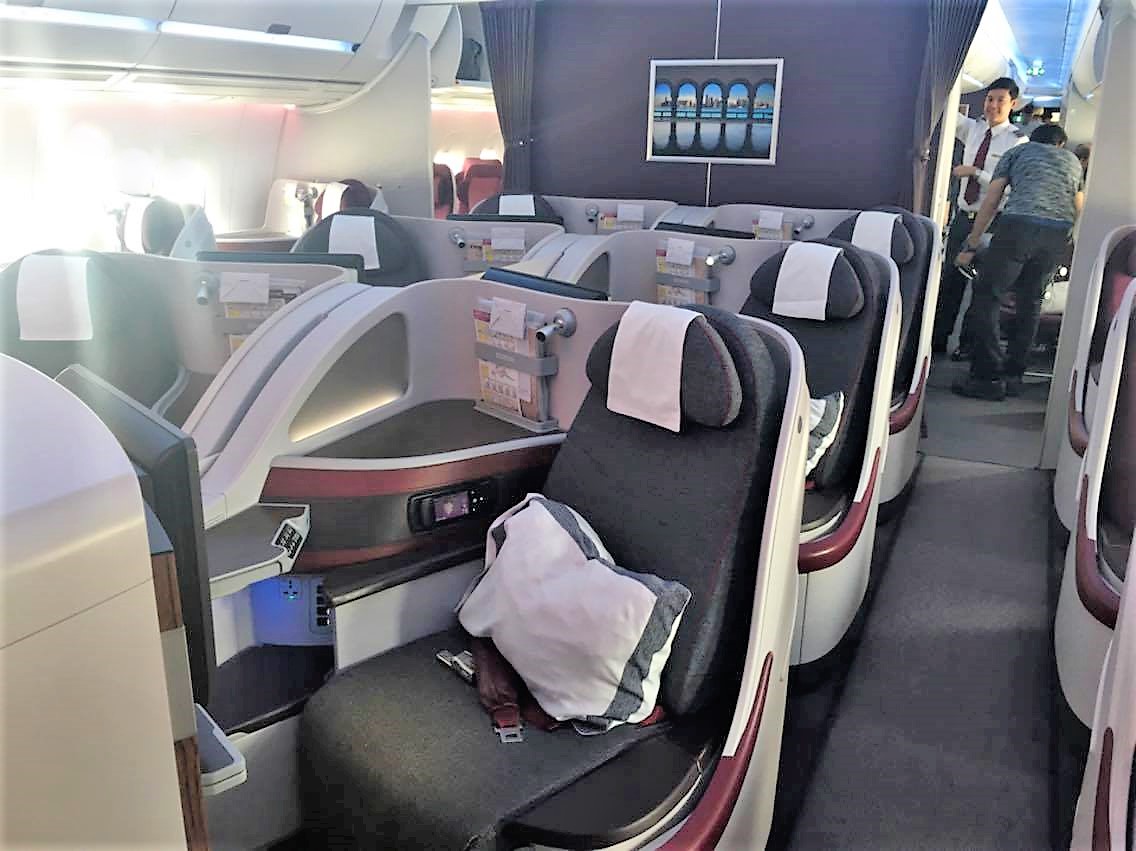 Seats are laid out in a 1-2-1 configuration, but unlike the B787, it does not have the honeymoon seats. Instead, it has a lovely wide entranceway with a dome that can be lit up in different colours. It definitely gives business class an air of grandeur. They usually place some snacks and drinks on the bar here between meal services.
The seats are the same Super Diamond design as the B787-8 and are spread over two separate sections.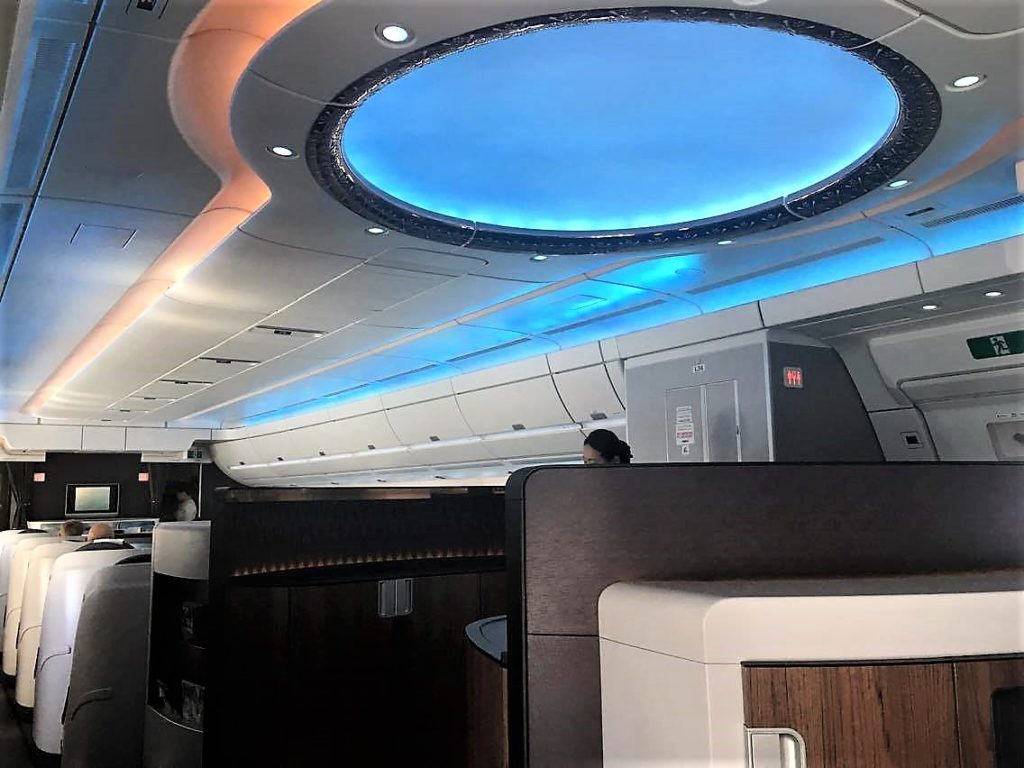 My preference is for the first row in the second business class section. It is immediately to the right of the second door (which is usually used for boarding). This means that you can also be one of the first to get off.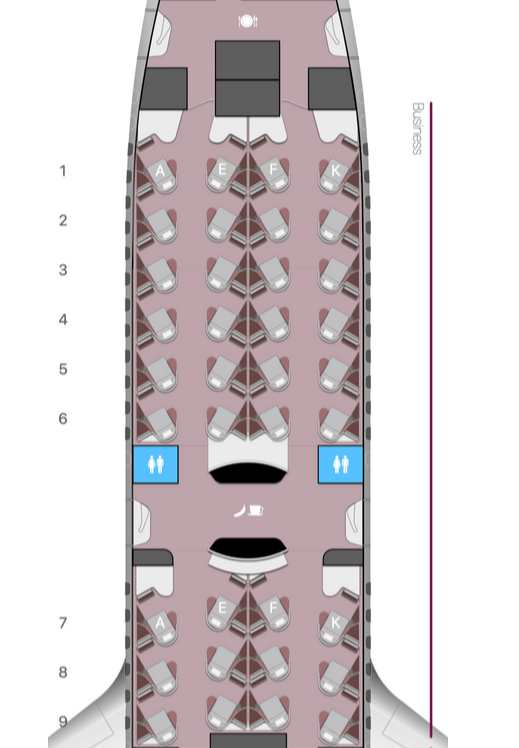 Instead of automatic dimming windows like the B787, it has electric window shades. Other than this, the seats are pretty much identical to the B787 with plenty of storage space and well-padded.
Joint 3. A380 older seats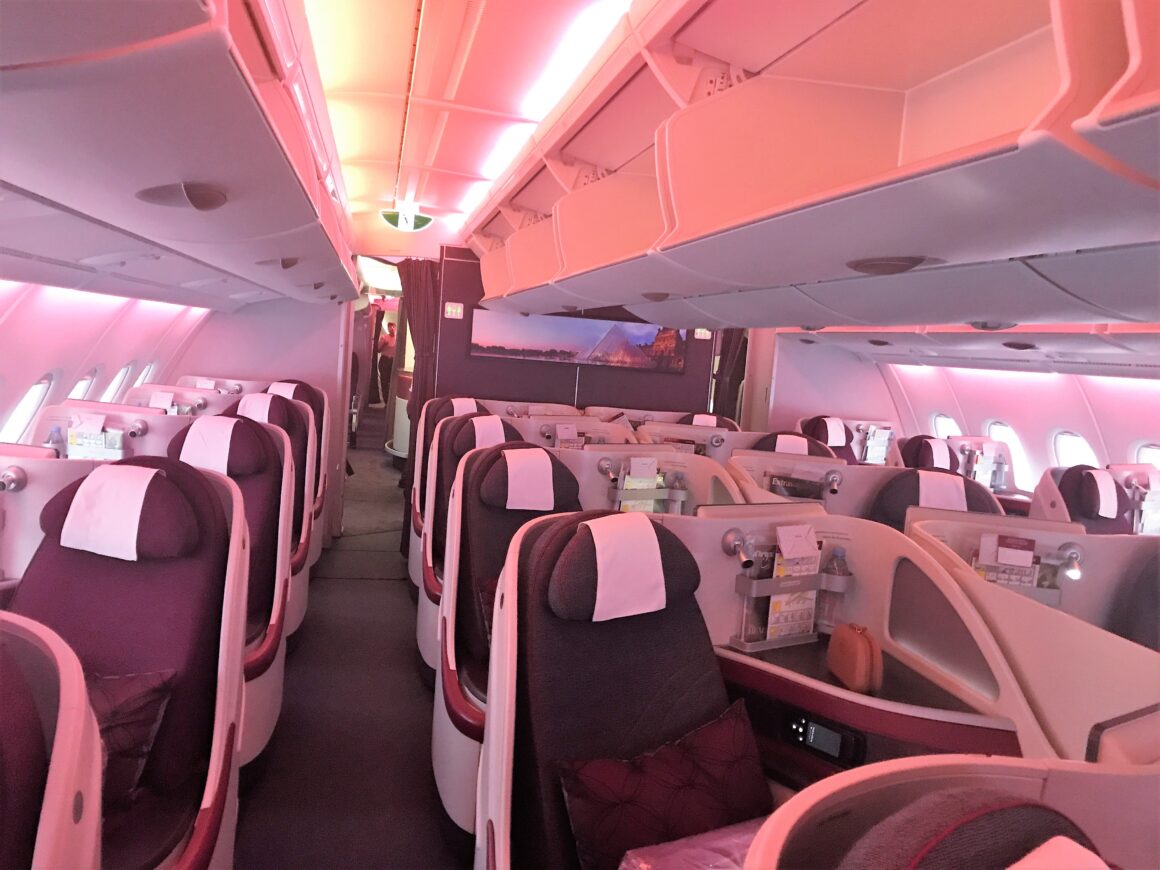 These are very similar to the A350/B787 older seats. The main difference is that business class upstairs has a side bin which is usual on many A380s upstairs. So if you want extra storage I'd recommend a window seat.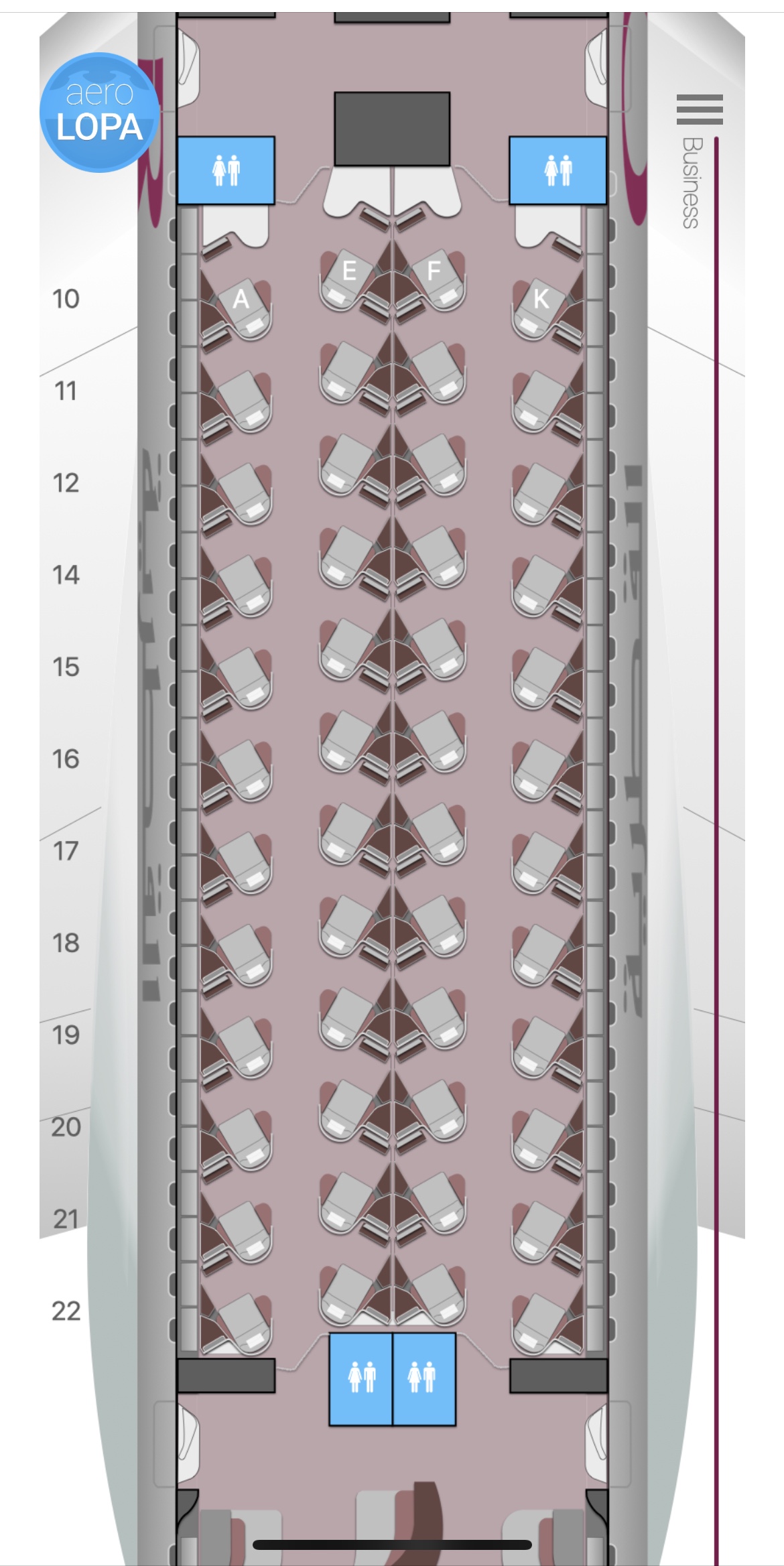 They are also arranged in a 1-2-1 configuration.
5. A330 Business Class

The A330-300 has five rows of business class in a 2-2-2 configuration. The front row is definitely the best option, although you are then close to the toilet and galley. Qatar operates two configurations of the A330 as they also operate the A330-200s, so it is always best to check the seat map carefully before deciding on your seat.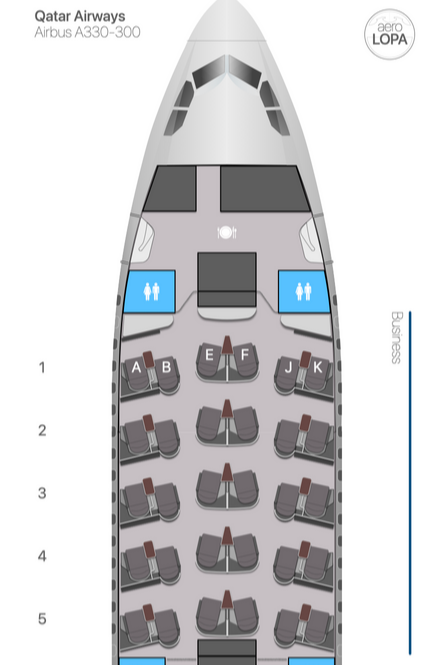 The seats on the A330 are quite narrow and lack room for stowing anything for take-off apart from your water bottle and headphones. Once airborne, you can have things around you more as there was a little shelf space behind you as well as a large central armrest.
The seat is the B/E Diamond seat which is also used on some of Qatar's A319. All the seats except the front row have a narrow foot well which I personally didn't find a major issue, but I would have preferred more room.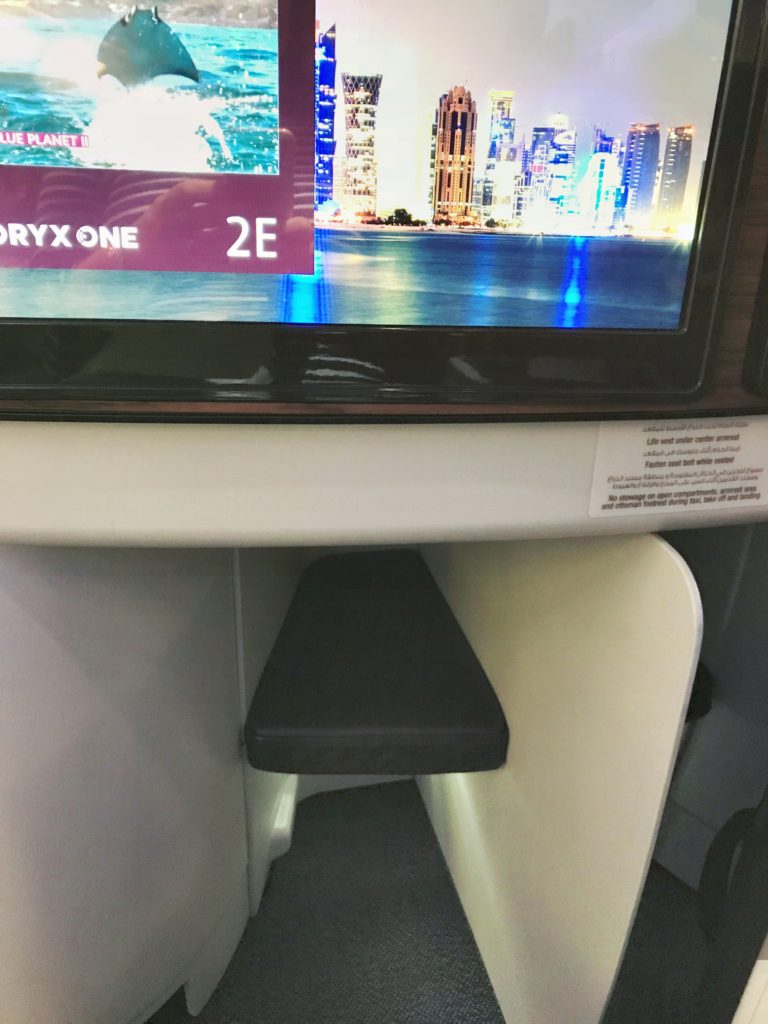 I don't find the seat very comfortable for sleeping due to the narrowness. But it's absolutely fine on a day flight. You can put down the armrest on the aisle side, which helps a bit but if you like to sleep on your side, it feels narrow around the leg and knee area. The seat is well padded, though and also comfortable for sitting in.

6. B777 old 2-2-2 seats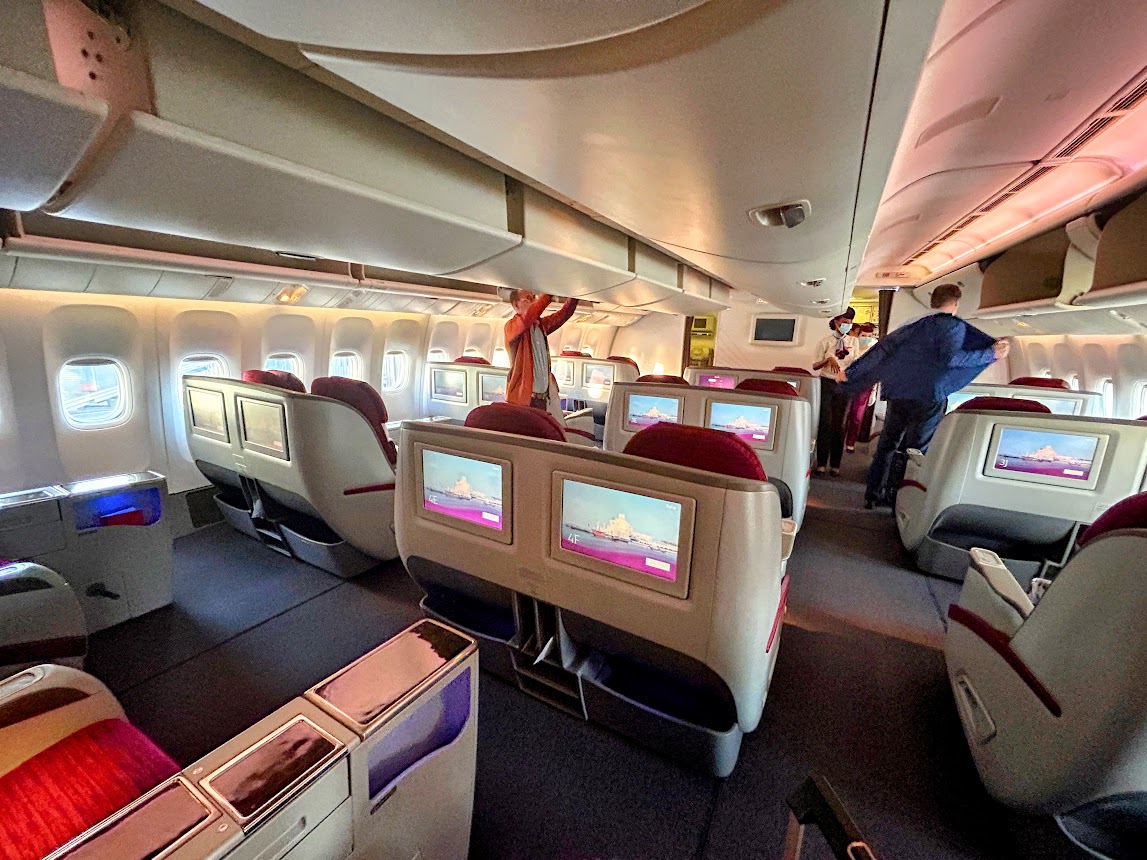 These seats are only featured on four aircraft, and hopefully, as they receive newer aircraft they will be phased out. The seats are laid out in a 2-2-2 configuration across four rows, so easy to spot on a seat map.
The good point is that they feel very spacious in terms of the distance to the seat in front of you compared with most modern business class seats where your feet go under the seat in front.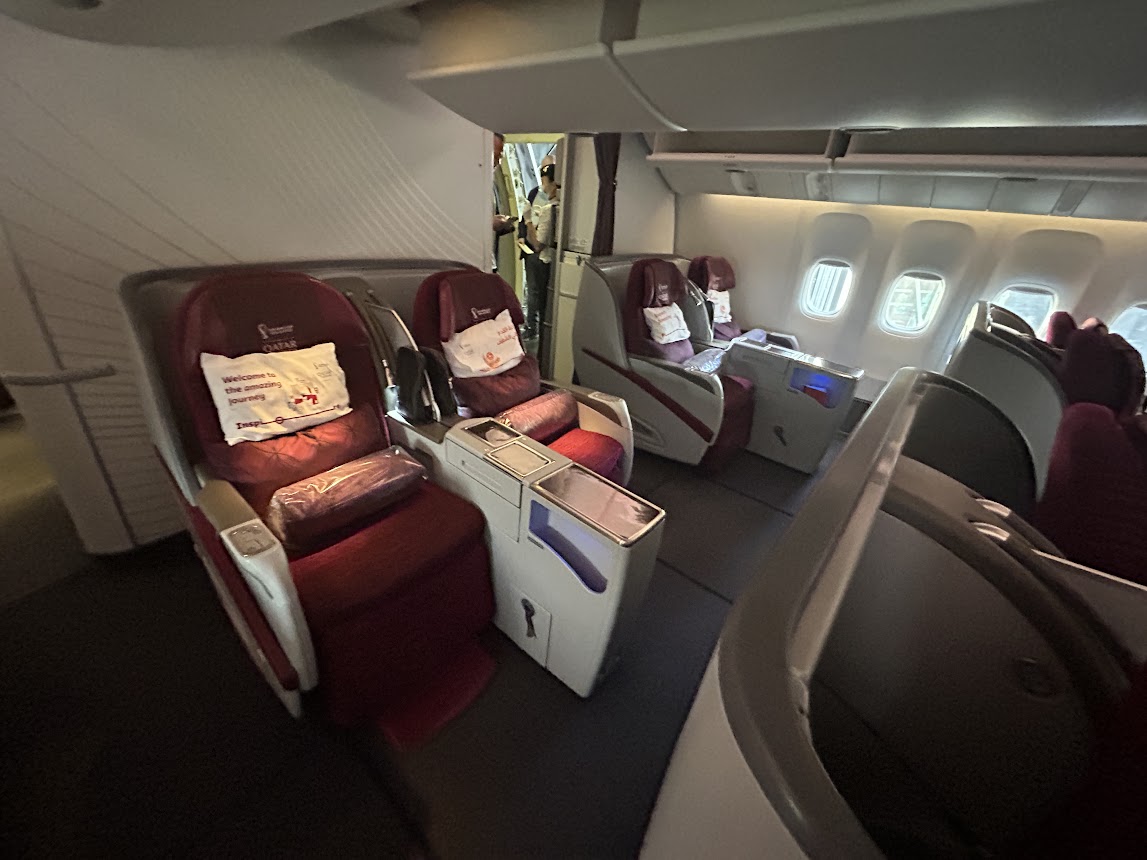 Nonetheless, they feel very exposed with zero privacy. There is a small divider between the seats at head height but it is so small it is pointless as it only extends a few more centimetres if you pull it.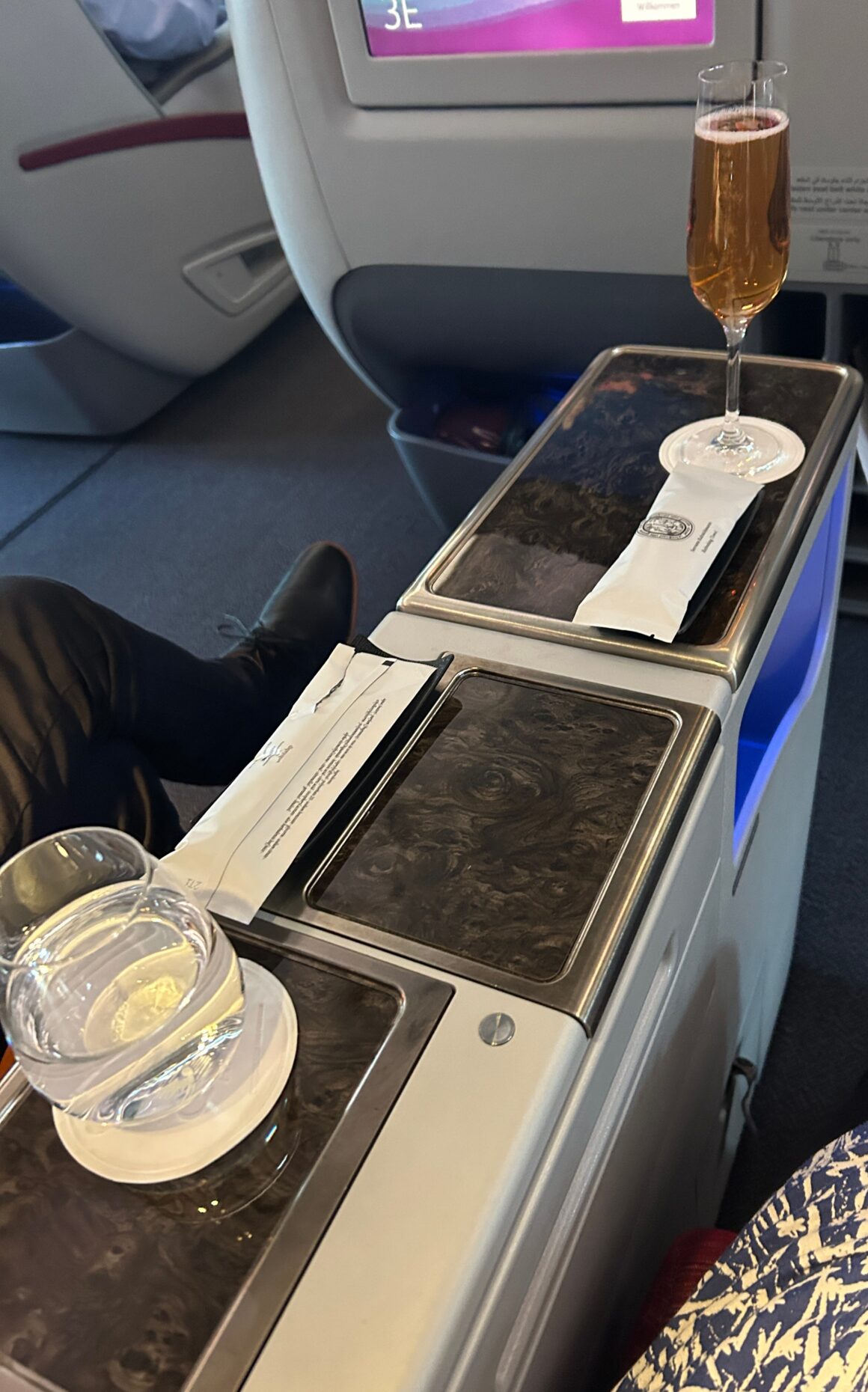 One thing I really hated on my most recent flight with these seats was the tiny shared table in the middle. My neighbour kept putting his drink on my half and at one point, I picked up his bowl of nuts by mistake. I was worried that I would inadvertently knock his drink over as it was so close to my arm. From readers' comments, this happens pretty frequently with these seats.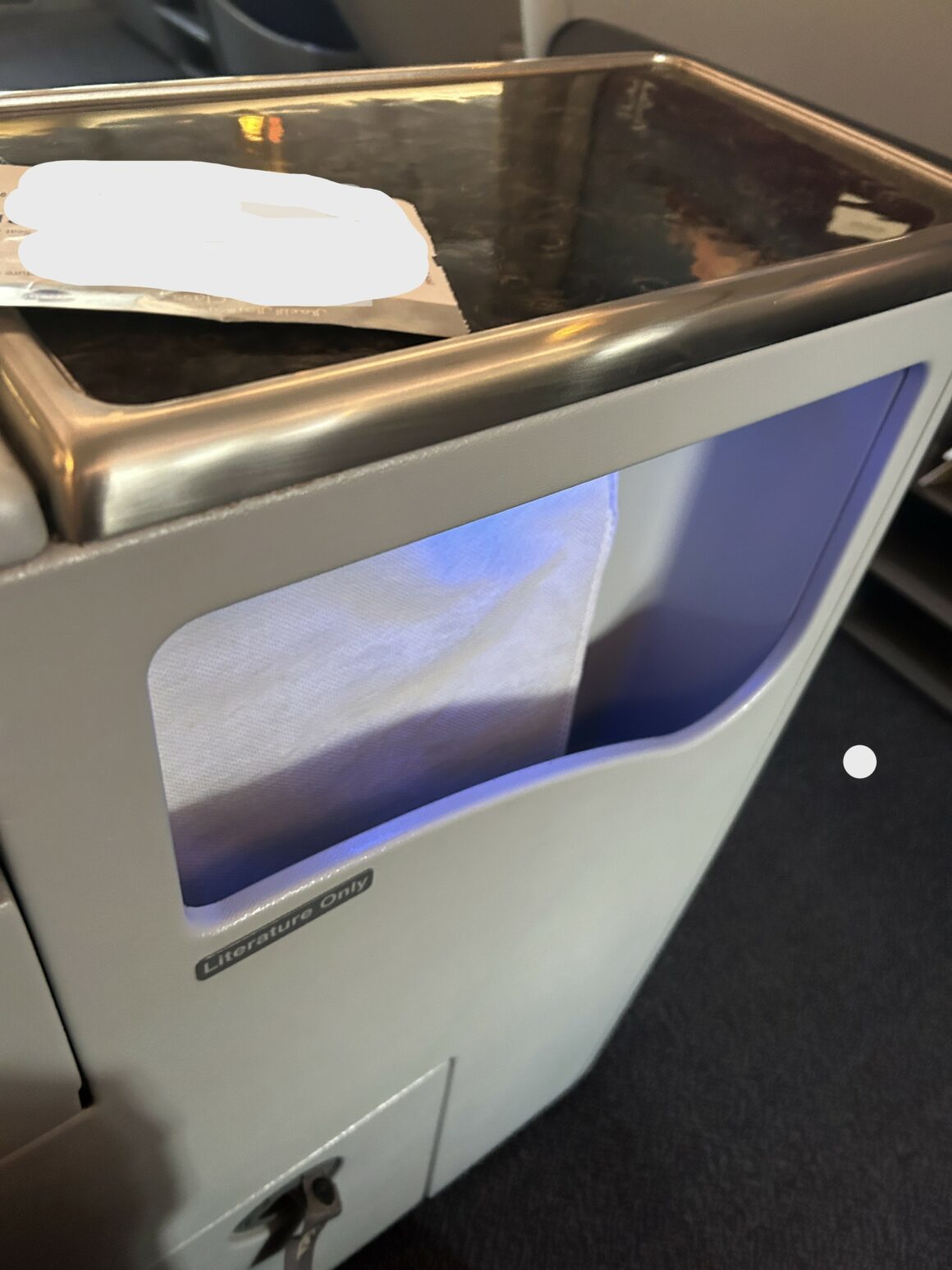 There was at least plenty of storage space with a large bucket type of storage beneath the seat in front but this, of course, meant that you could not reach it when the seat belt sign was on. There was also room for shoes or small bags in the racks next to it. At the side there was a pocket for "literature".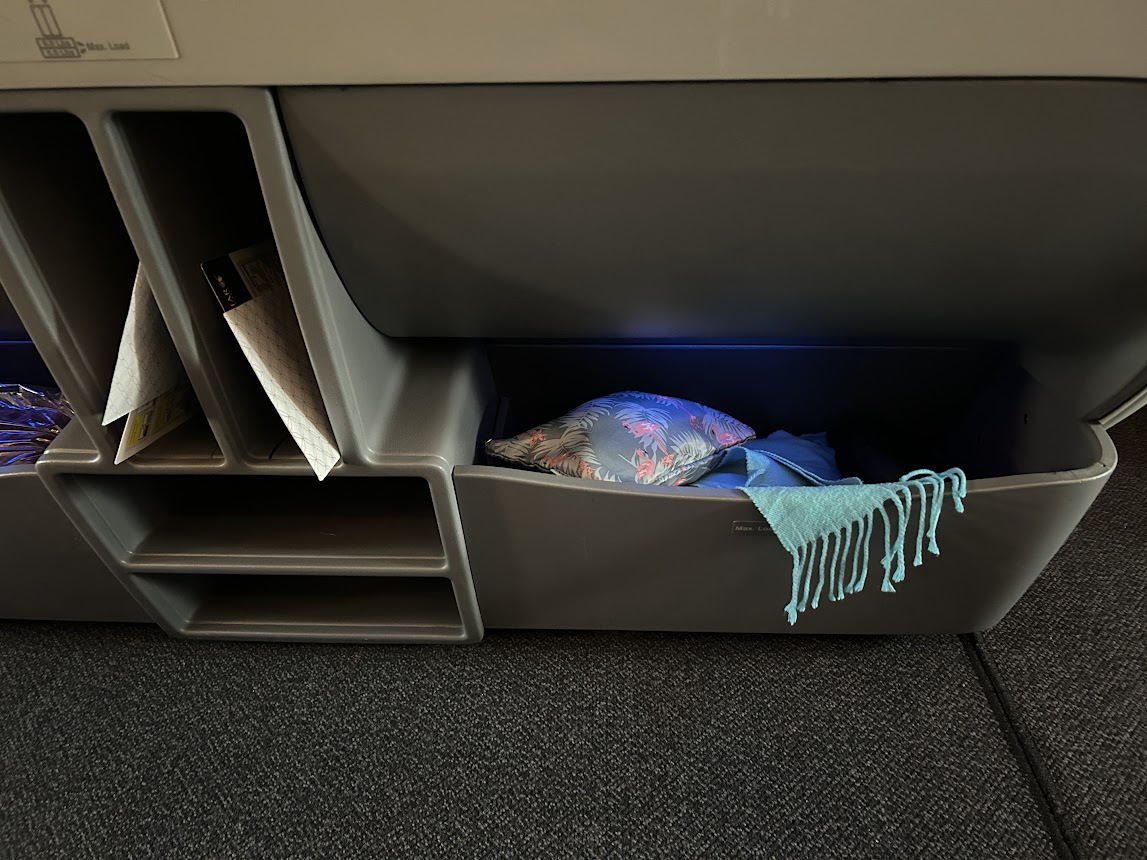 The seats technically go almost flat and are very low to the floor which makes it easier to step over someone next to you. However, with the footrest which is leather, it doesn't feel like a proper flat bed as your feet are slightly lower. Also, if you look in the top right of the photo below you can see what happens if someone tall is next to you – you will either have to ask them to move their feet or hurdle over them – one of my pet hates in business class.
When debating with others on Twitter, a few of the men said it was easy to get out if there was someone next to you when in the window seat. My view would be this is only true if your neighbour is not tall or you yourself are pretty tall and happy to straddle someone's legs!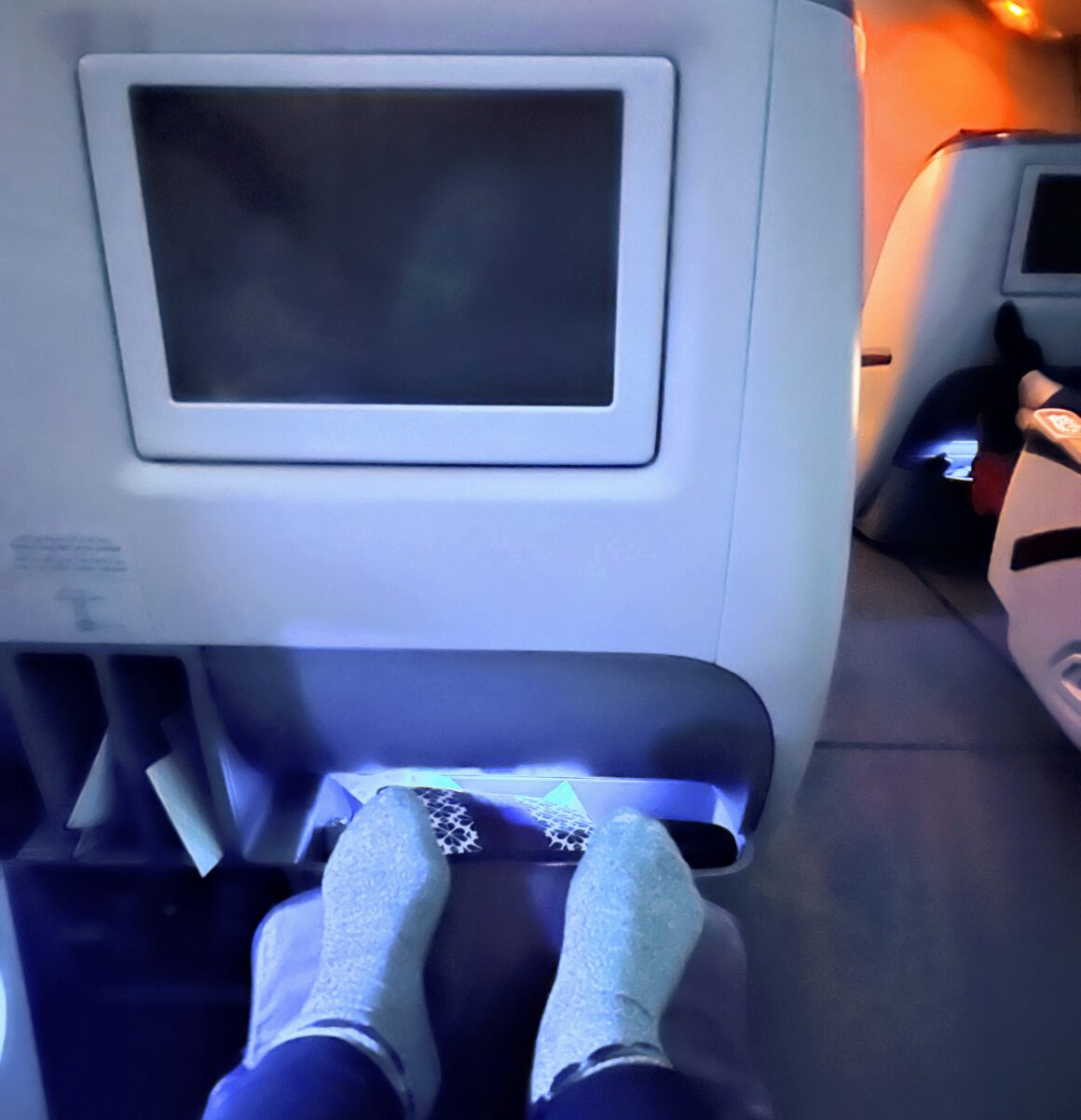 The seat is reasonably wide, well padded and not uncomfortable as such, though I did not like the leather footrest. I did like that you could control the leg rest separately, and the footrest was adjustable in length.
If you are travelling with someone else these seats aren't as bad, and they are definitely wide and well-padded. But generally, these are the ones I try to avoid.
You can find full reviews of all the Qatar seat types on this page.