Today's review, Air France B787 Business Class, is from reader Amanda, who has written some great reviews for TLFL such as her Garuda business class review.
Birmingham to Paris
My 3 week holiday over to Asia where I was meeting up with my 23 year-old son, began with a return flight to Bangkok booked with Air France Business Class for just under £1500. I credited my miles to KLM Flying Blue loyalty program.
I'd opted to fly from my local airport, Birmingham, and connected through to Paris on the now-defunct Flybe. I have to say, the Birmingham to Paris 'Business class' experience was pretty non-existent.
Arriving at Birmingham, I headed for the Flybe Sky Priority check-in desk only to be told that I'd need to queue up with everyone else despite the fact that my ticket was business. Once through fast track security, I was directed to the new Aspire Lounge South which was nearer to my departure gate.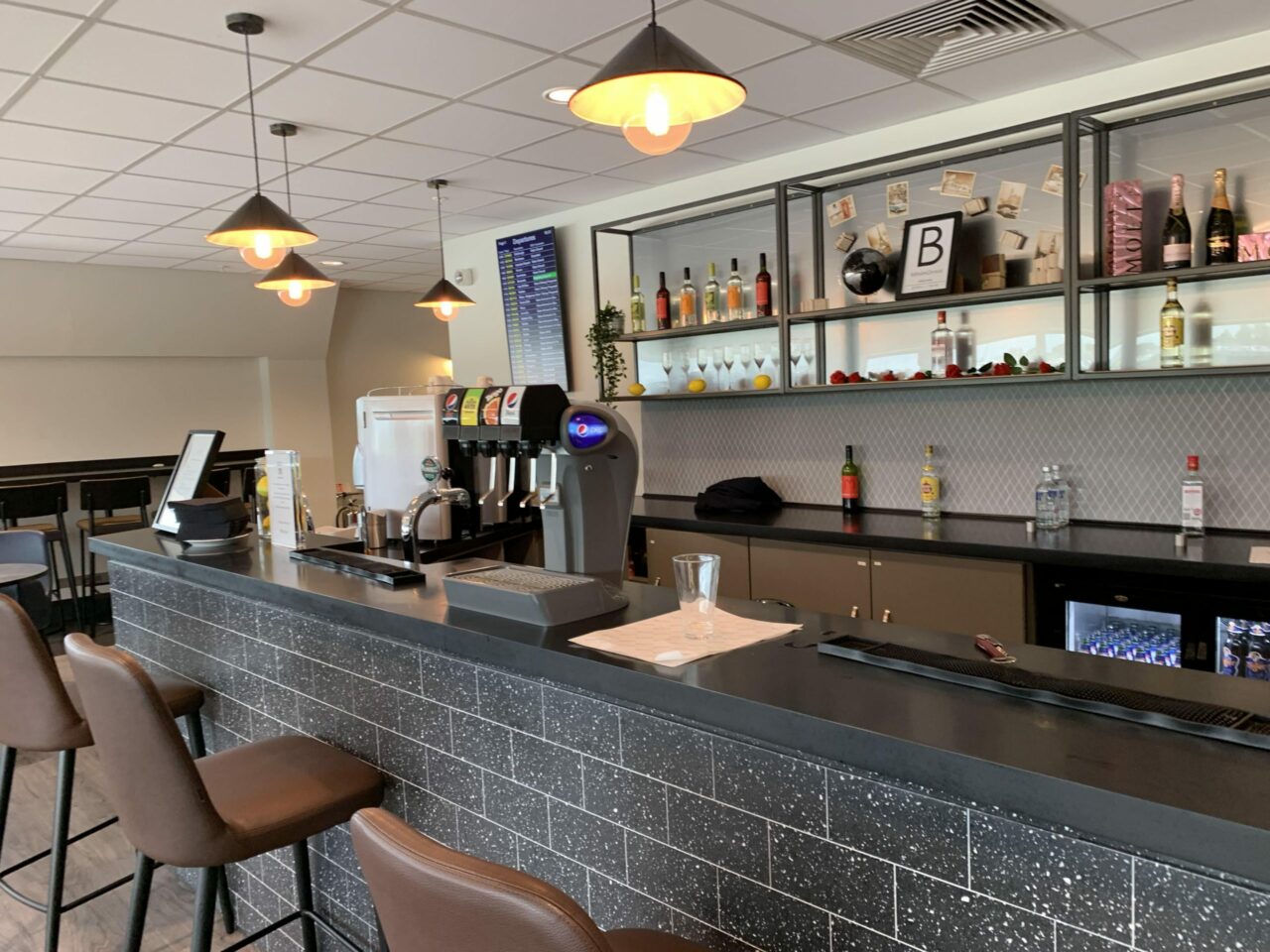 I'd used Aspire lounges previously and found the food to be of low quality and a poor selection. I'm also not a fan of food left out in the open for hours on end so I treated myself to a pain au raisin from Pret A Manger, to eat in the lounge with a coffee. And that was delicious!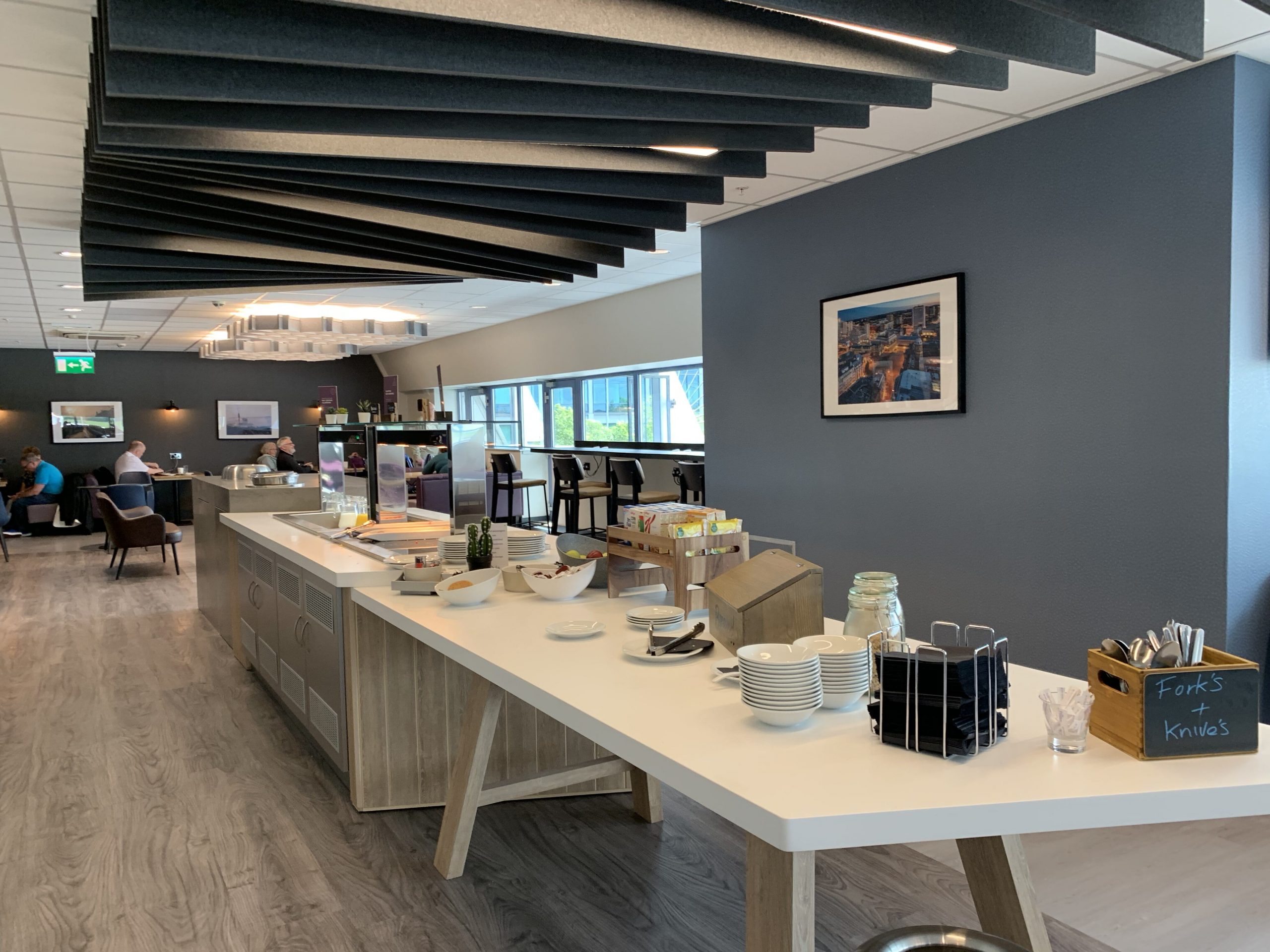 The Aspire Lounge South is the second Aspire lounge at Birmingham and had been open for around six months when I visited, so the fixtures and fittings were all relatively new. It's not enormous and quite open and when you get someone intent on talking full volume on their phone, it's quite annoying. There are no toilets in the lounge so you have to exit the lounge and either walk or take a lift downstairs, which if you're travelling on your own like I was, is a little inconvenient.
Boarding was chaotic and a bit of a free for all. Once onboard the Flight Attendant very reluctantly gave me a bottle of water and a packet of biscuits (even though my ticket stated that I was due refreshments), muttering something about Air France not being very generous. But the flight left on time, lasted only a brief hour and I made friends with the lady squashed next to me so all was not lost.
Last year I flew business on KLM Birmingham to Amsterdam and the difference between Flybe and KLM was chalk and cheese. Even on a journey of 45 minutes, you were served alcohol (and a bottle of water without a quibble), a delicious meal and the whole experience felt very premium.
Paris Charles de Gaulle airport and lounge
If you've ever transited through Paris Charles de Gaulle airport, you'll know that it's quite a challenge navigating the various terminals. My new friend and I were both catching onward flights at Paris and decided to work as a team to get to where we needed to be!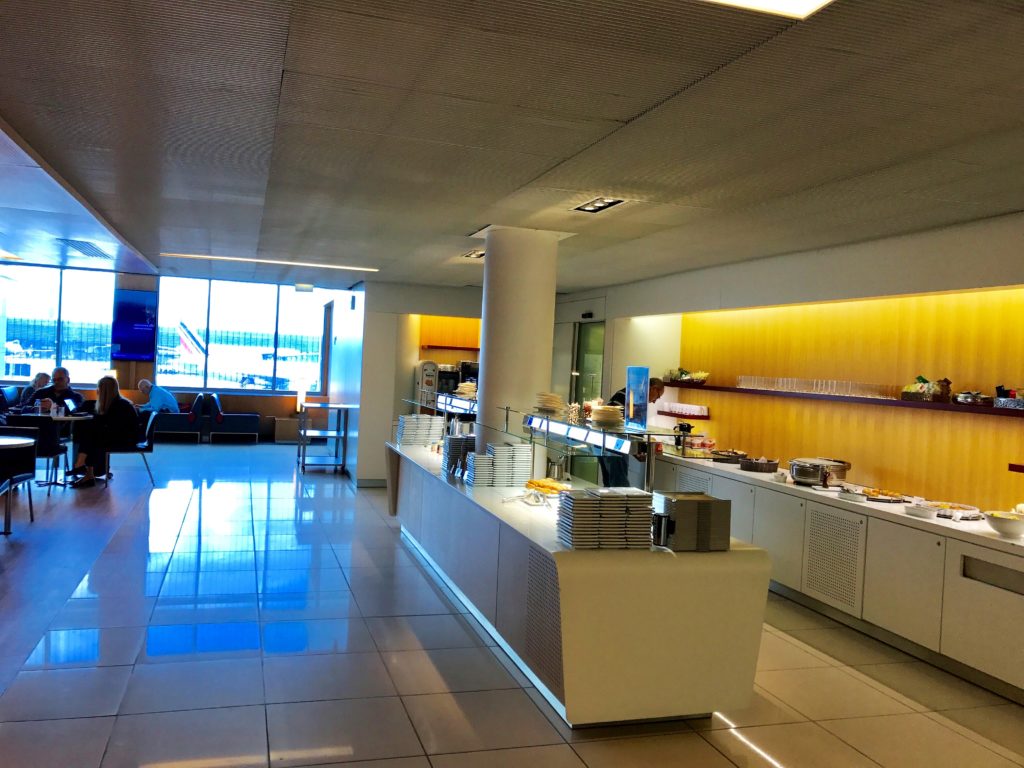 After a train ride and another security check, we parted company and I headed for the Air France Lounge for a much-needed drink.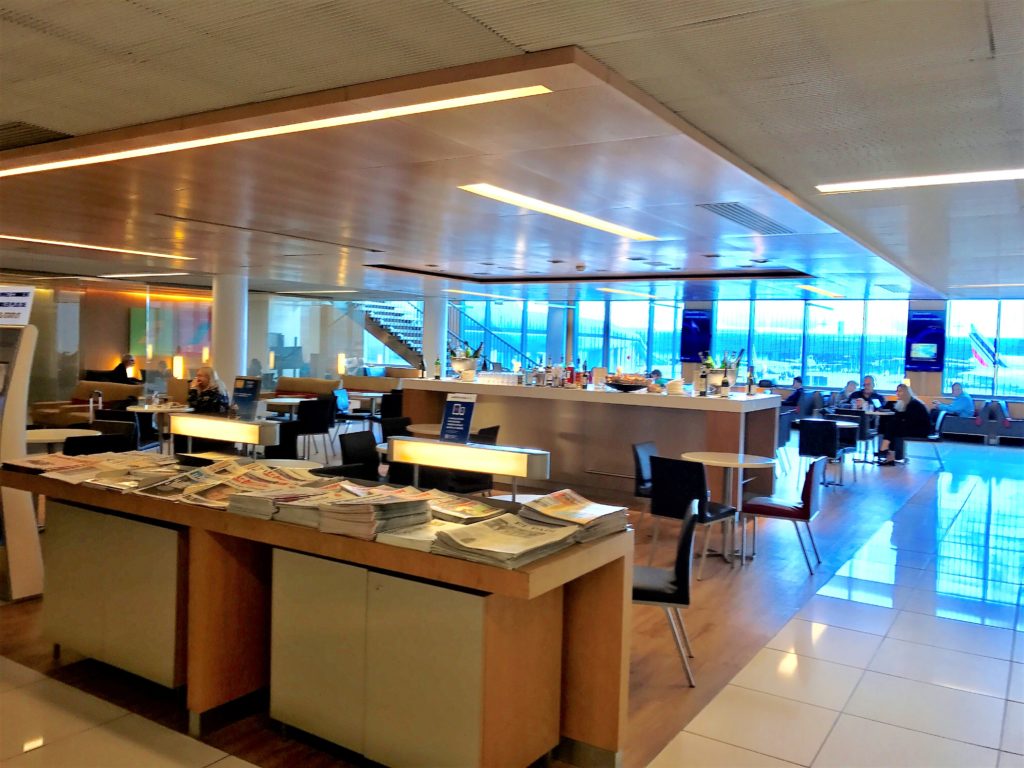 It was around lunchtime by now and the Air France lounge had a good selection of quality food and drinks on offer. There were two sections, pretty much identical. I turned into the left-hand side with views over the apron. It was pretty busy but I eventually found a table and relaxed over a glass of champagne and some cheese, quiche and french bread. I liked the Air France Lounge, although catering for a large number of guests, they'd zoned it so it didn't feel frenetic and overwhelming. Toilets were clean and spacious and it was lovely and light.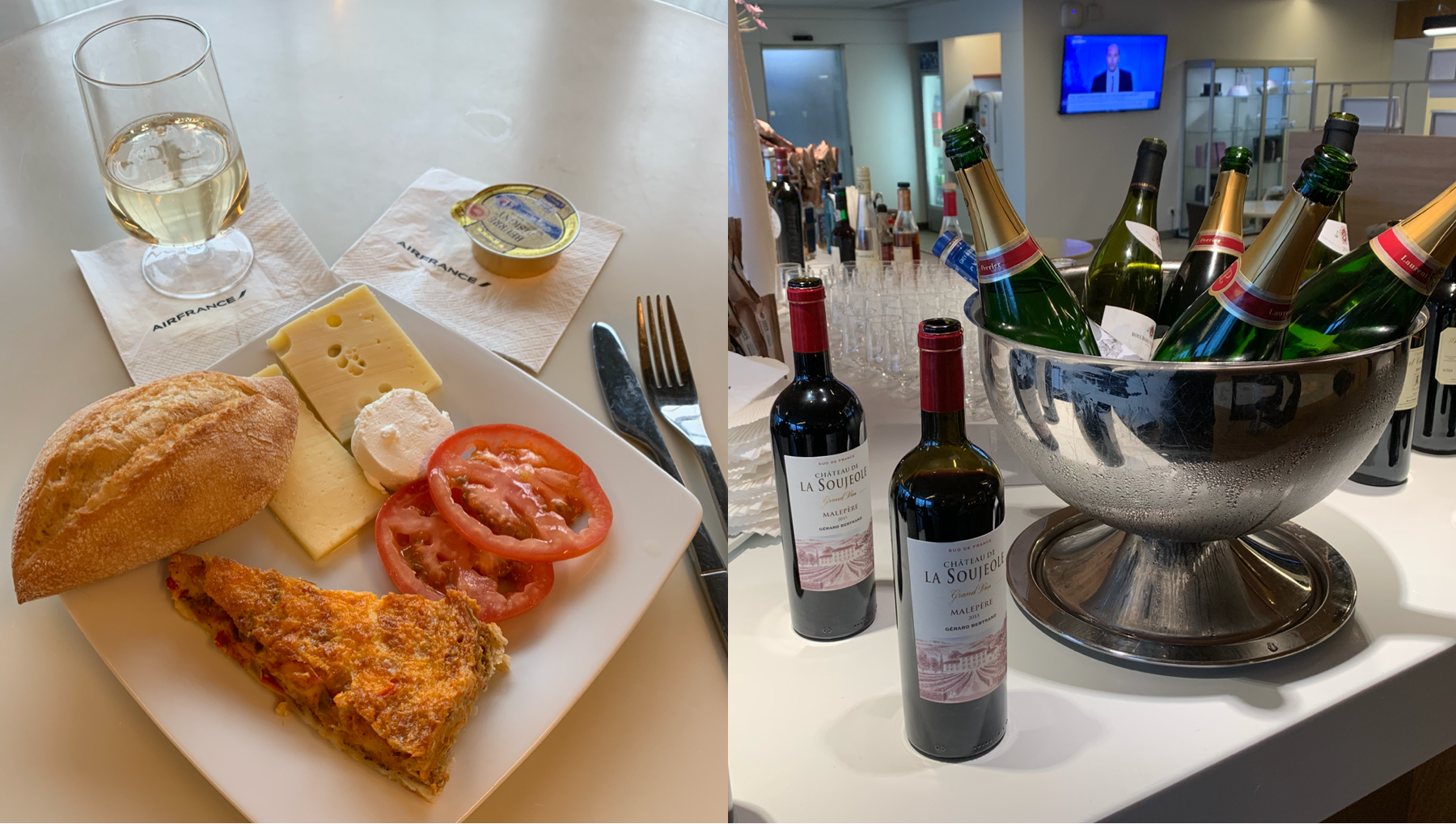 I didn't have long in the lounge before I needed to head off towards my gate. Business class and premium economy passengers were boarded through the front of the plane.
Paris to Bangkok in Air France B787 Business Class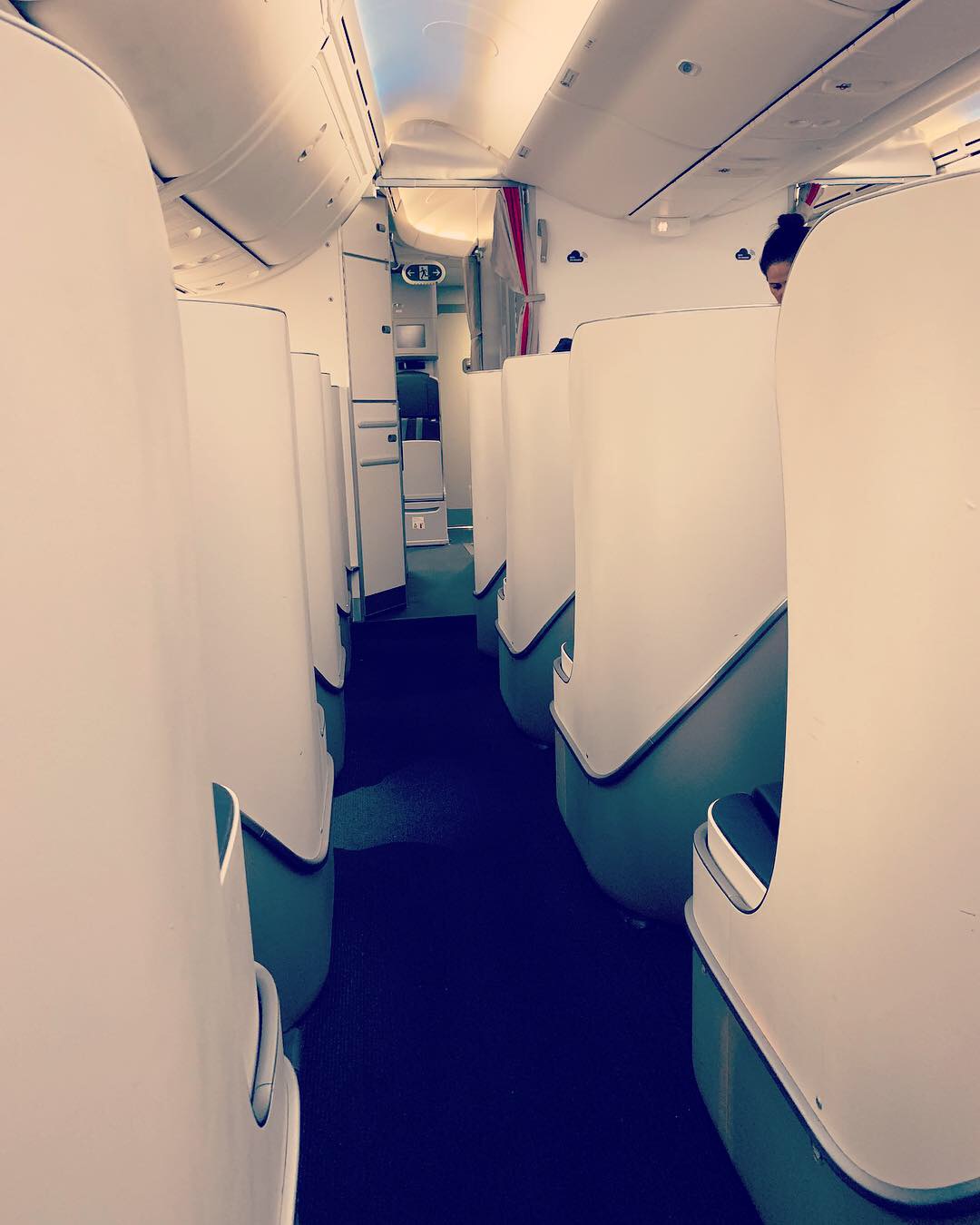 On both legs of my journey, I flew on the 787 Dreamliner. The cabin had a very sleek and sophisticated feel, all white and navy. Air France B787 Business Class Seats felt comfortable and private. I was able to select my preferred seat for free on both flights via the KLM website which was useful.
I was in 5A on the outward journey and 4A on the return.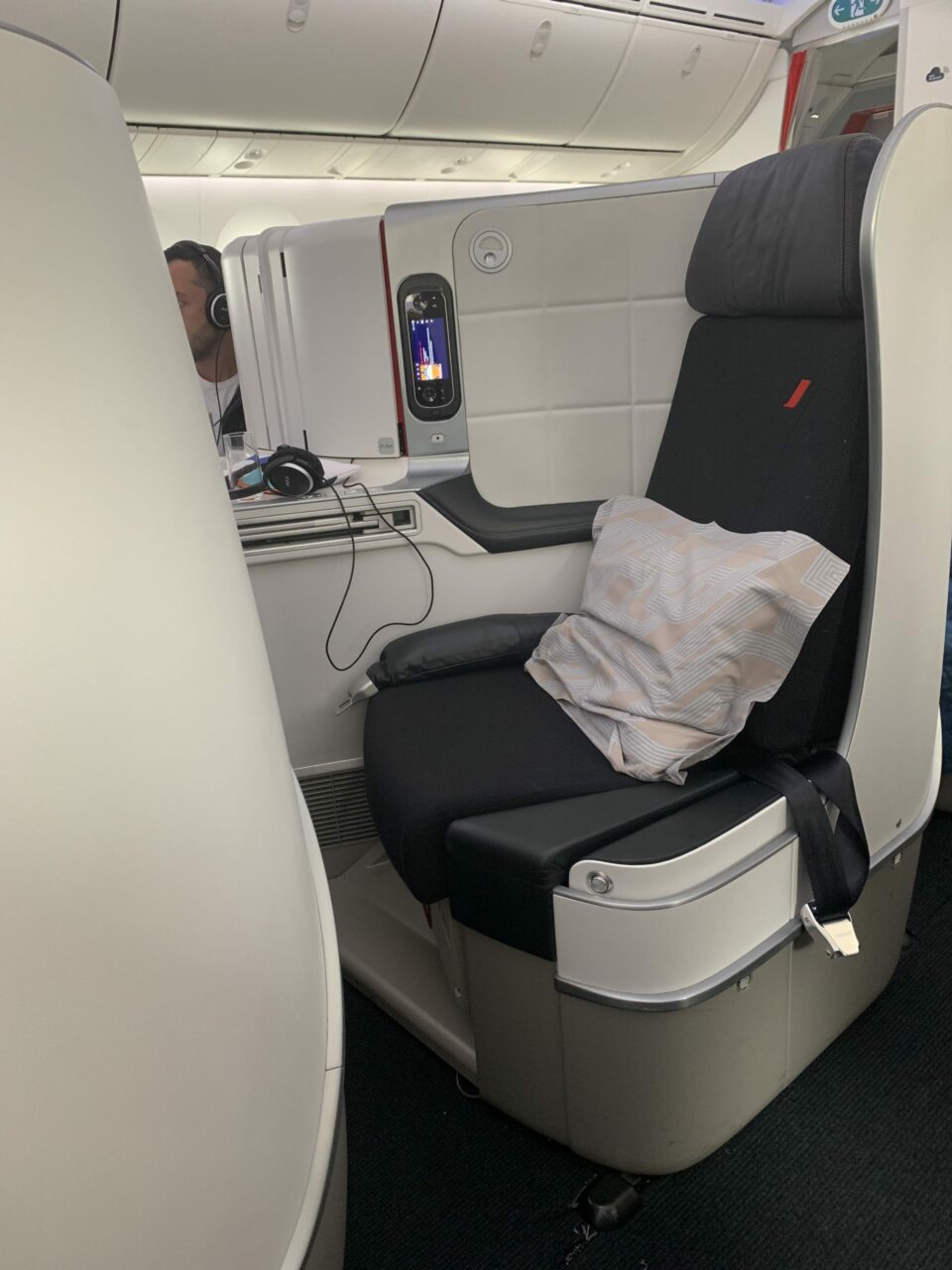 There was a useful compartment for storing smaller items like your water, phone etc.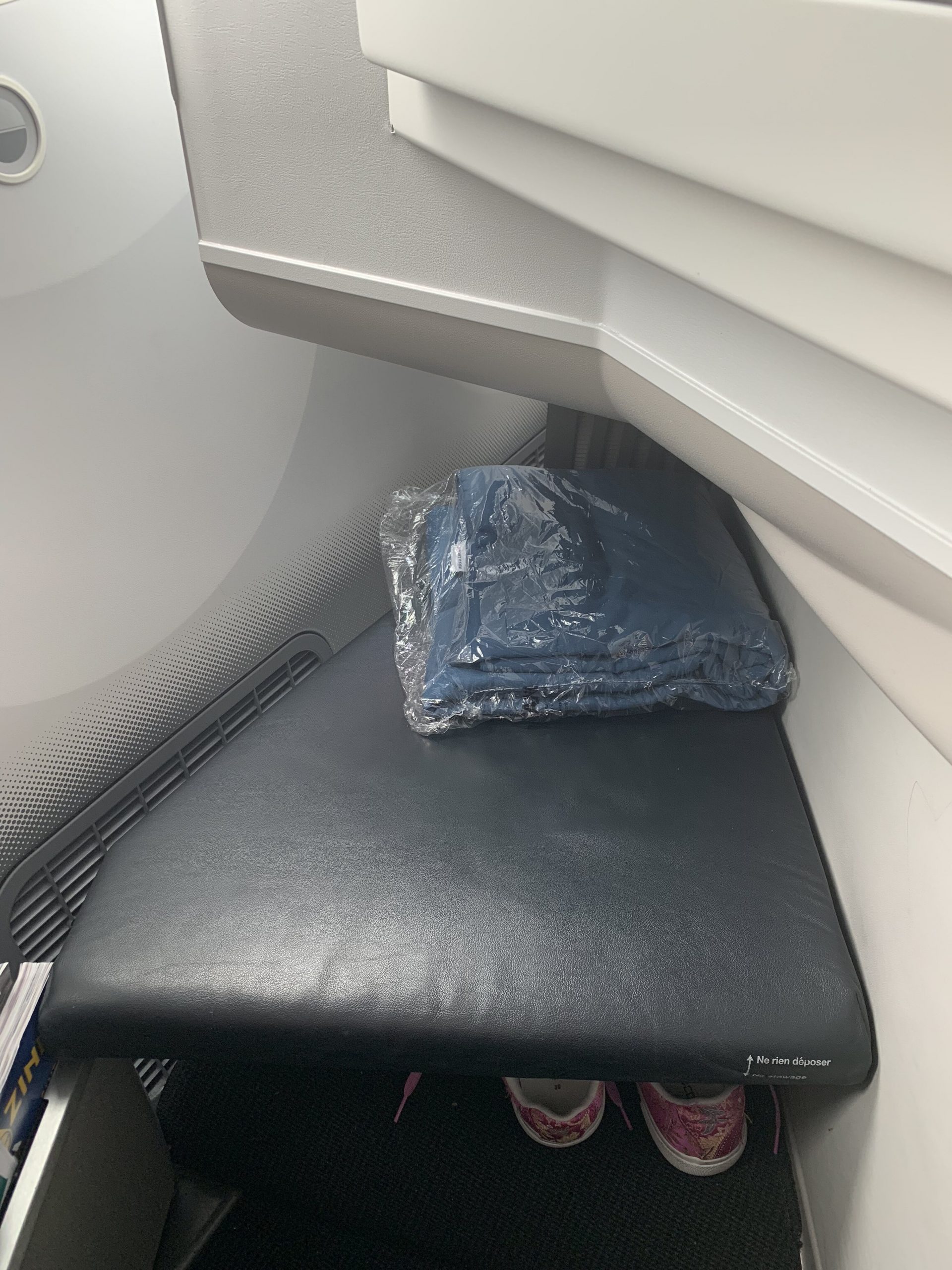 A colourful blanket and extremely comfortable pillow were sitting on the seat on arrival along with a bottle of water and a hanger for your jacket.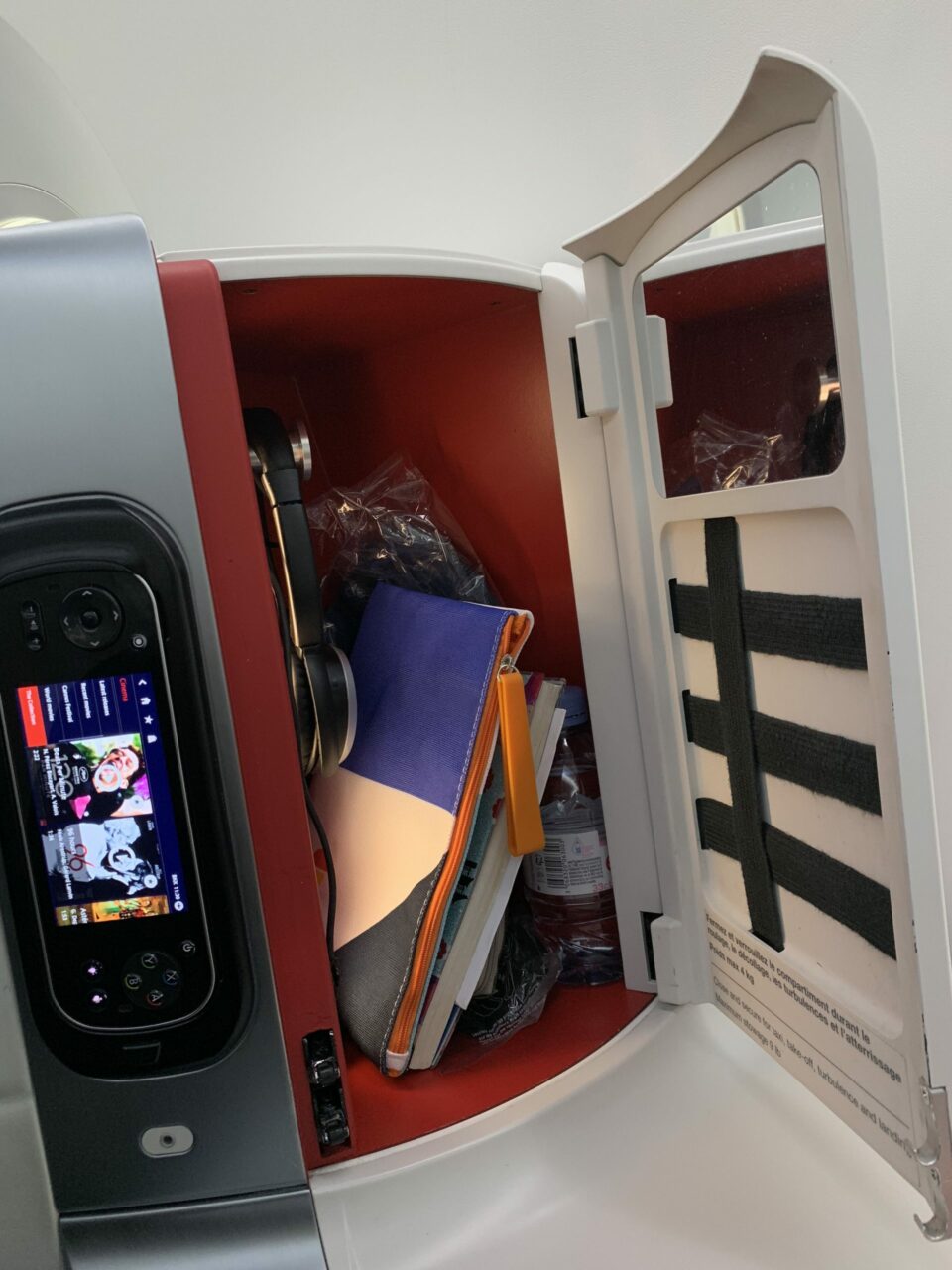 An amenity kit was handed out which was a little underwhelming, but at least the products were Clarins.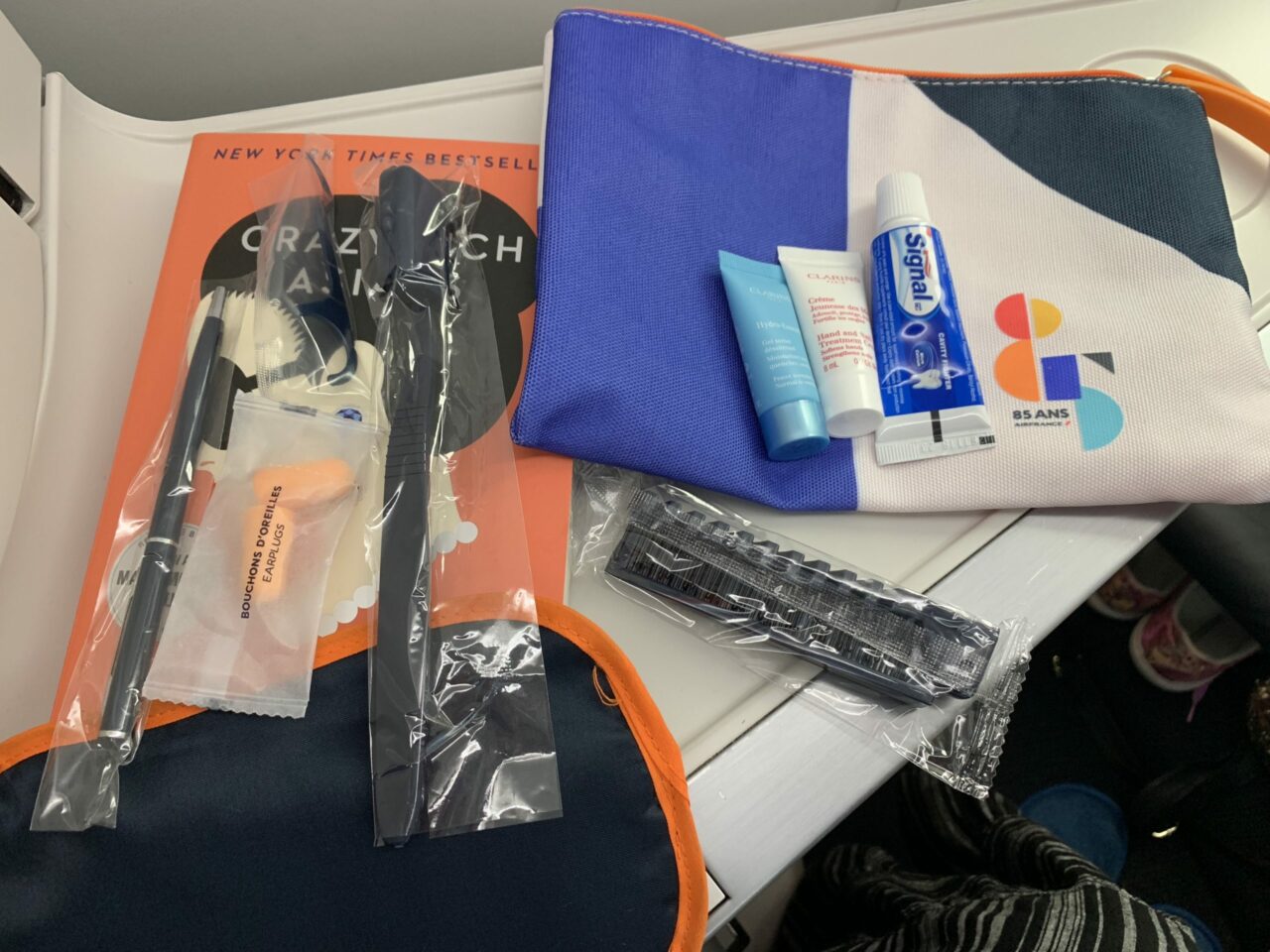 I settled in my seat and was served a large glass of champagne while we waited for the rest of the passengers to board. As you would expect with Air France, their drinks portions were generous and they regularly offered top-ups. I felt compelled to try their signature cocktail (all in the name of research of course), and it was surprisingly good. Thankfully not too sweet.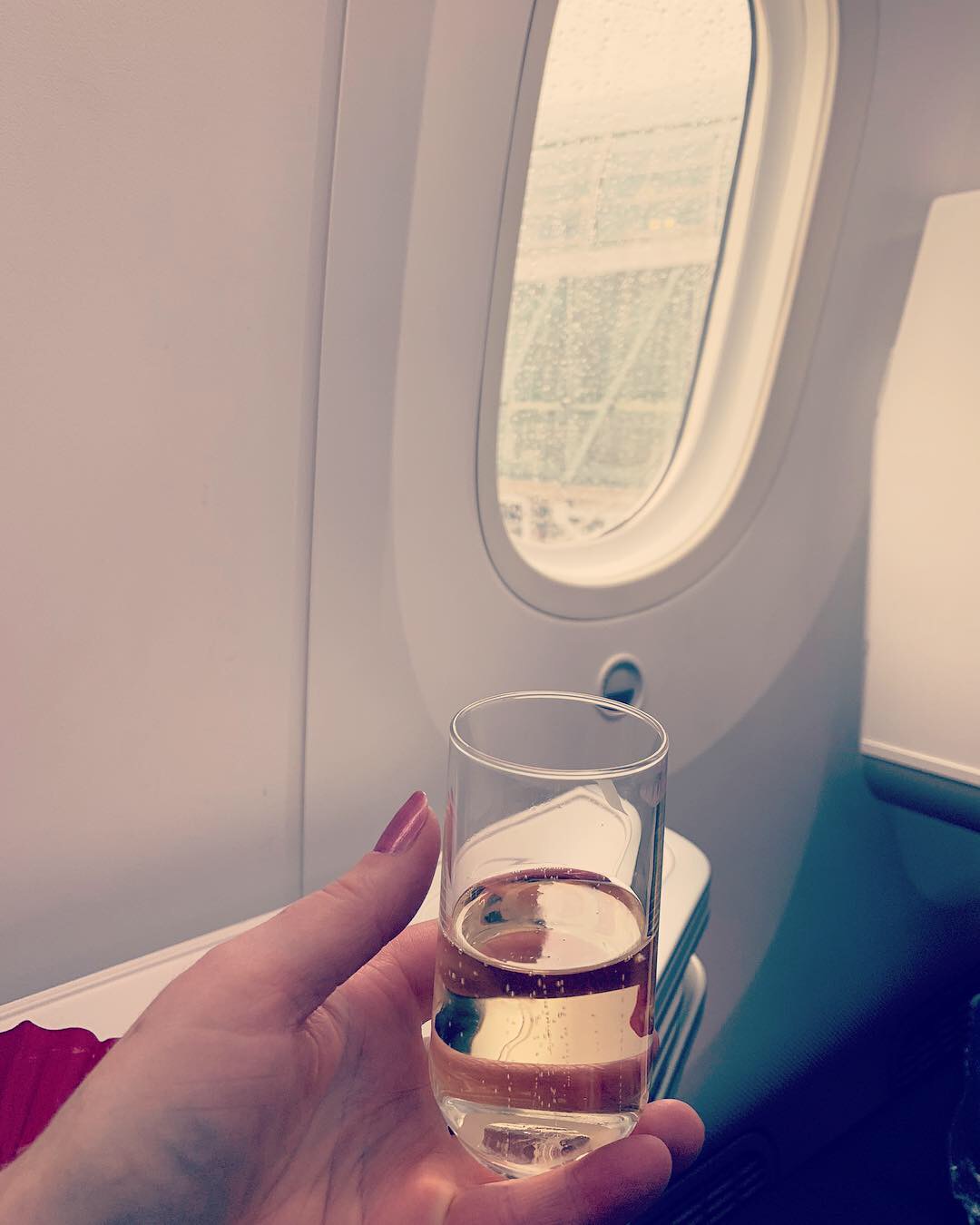 Air France B787 Business Class Food and Drink
Dinner was served at around 50 minutes after takeoff. I was particularly looking forward to the food on Air France, this was an area that I thought they would excel. Unfortunately, I was really disappointed. The Air France website promise of "On flights departing from Paris, leading stars of French and international cuisine take it in turns to wow your senses throughout your journey," doesn't live up to expectation sadly.
There was no choice of starters and the dessert consisted of a trio of desserts, which were uninvitingly cold and hard, the same went for the cheese course.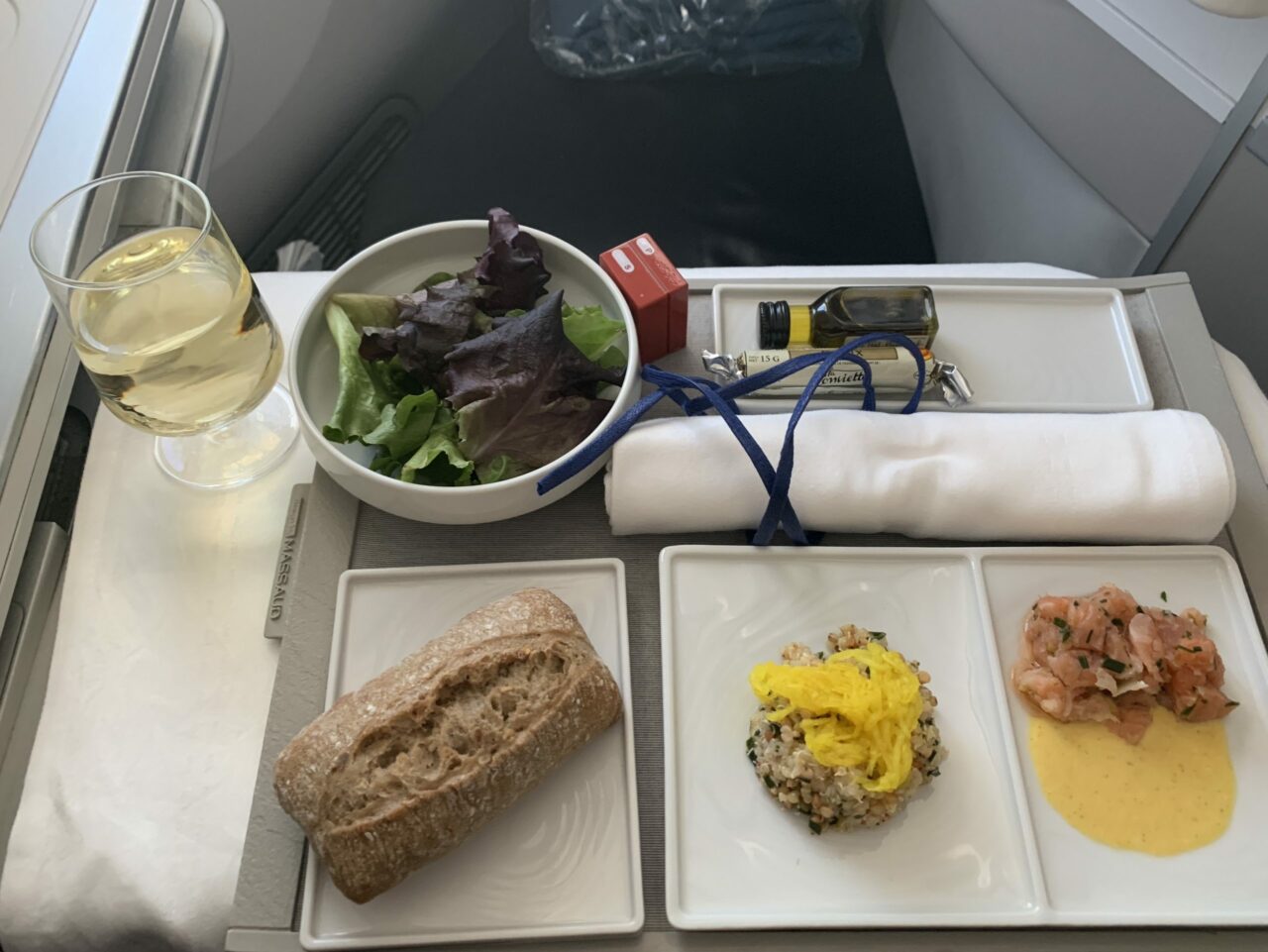 For my main course I'd selected mushroom risotto which was really just a plate of mush. I left most of it. This was nowhere near as good as the food on Garuda and KLM which I'd flown recently.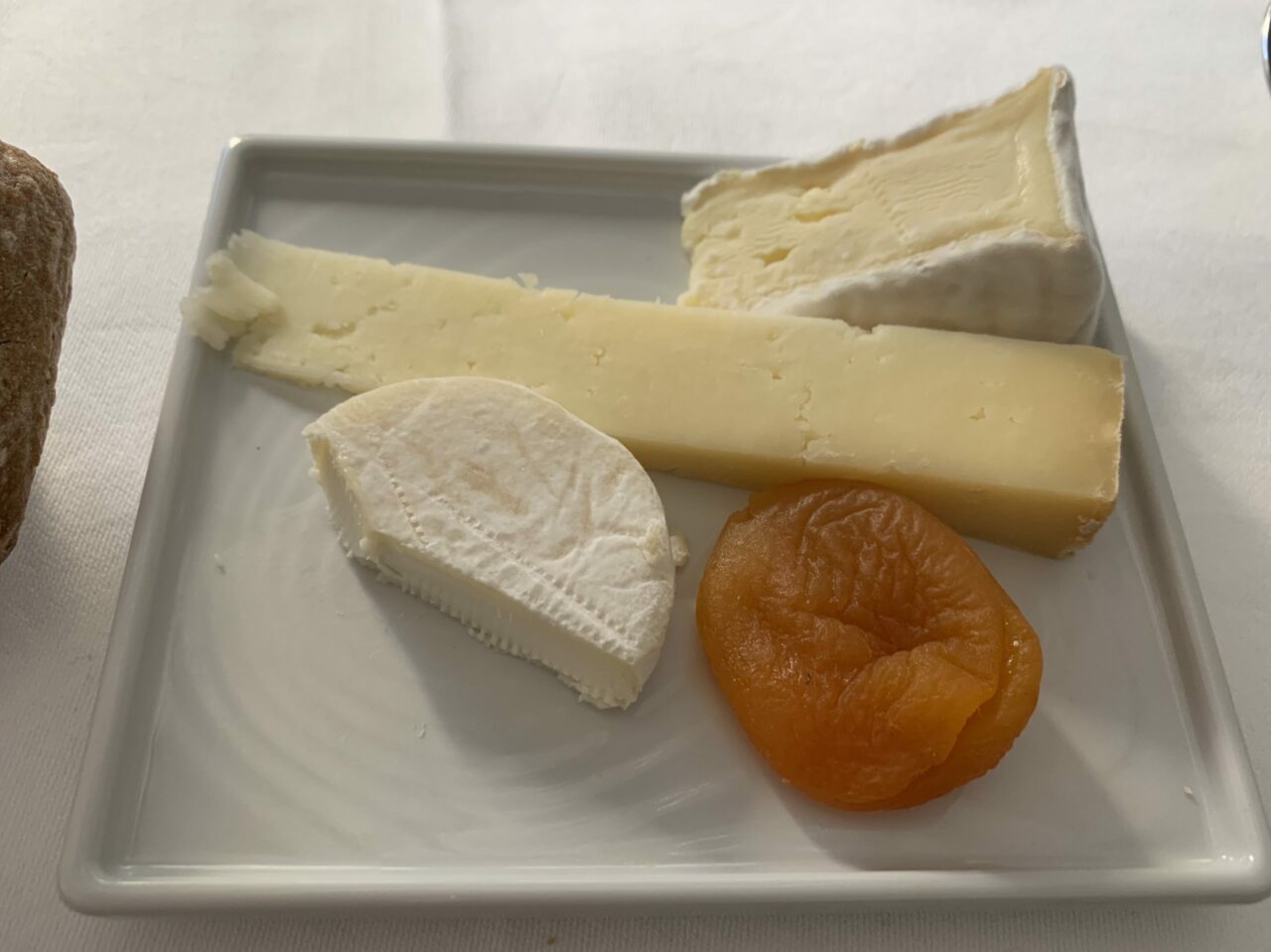 Although I did watch a couple of movies, of which there was a reasonable selection, I slept for a fair amount of the 13-hour flight. The seat was very comfortable in recline mode. I did keep leaning on the light switches as they were a bit a design flaw.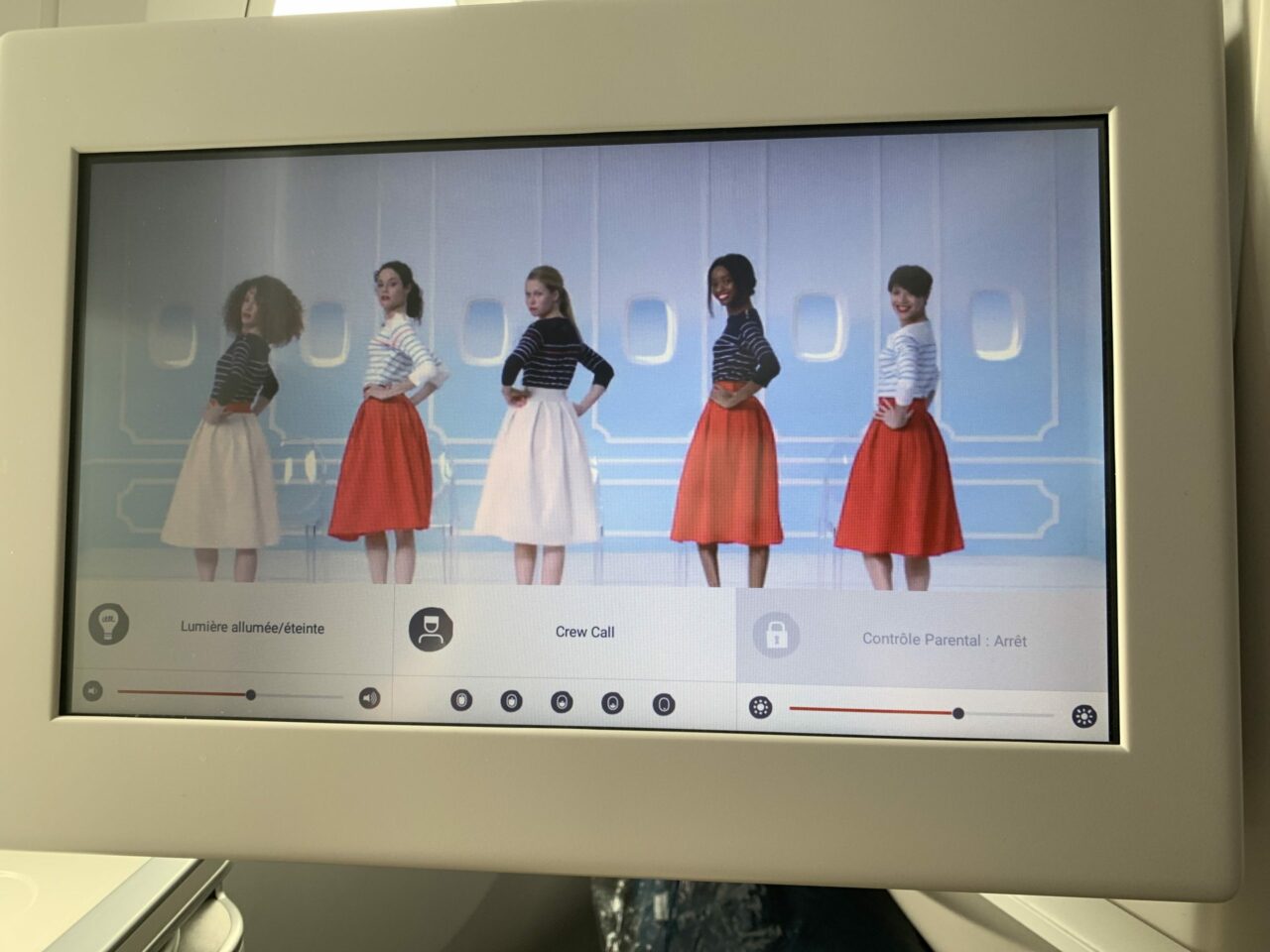 The service on Air France was polite in an aloof kind of way and never went beyond the bare minimum. While the crew were professional, there was no warmth or willingness to engage.
My return trip however, was a bit more eventful (and not in a good way) and that's when you really see the culture of an airline and how they deal with problems.
Bangkok to Paris
After three weeks in Thailand and Cambodia staying in some wonderful places and sharing some great memories with my son, I headed back to Bangkok airport for the return leg of my trip, relaxed, tanned and in pretty good spirits.
I whizzed through check-in and security and headed for the Air France lounge. I wandered past duty-free, dousing myself in Chanel and surreptitiously trying La Mer and Estee Lauder face products so my skin was nicely hydrated by the time I got on the plane!
I'd visited this lounge the previous year and liked the space and excellent choice of food and drink. I got chatting to a French CEO of a telecommunications company based in Myanmar which was useful as Myanmar is one of the places I'd love to visit. We wiled away the time talking travel over croissants and coffee.
Once onboard the plane, I was having trouble lifting my hand luggage into the overhead bins. A tall flight attendant in the seat behind stood by and watched me struggle. At no point did he offer to help until he thought I was going to drop the bag on someone's head.
The flight was 90 minutes late leaving and we were offered champagne or orange juice. I settled in wearing the comfy socks and slippers.
Lunch was served around an hour after departure. I went for the braised duck this time hoping that it would taste better than the mushroom risotto mush from three weeks earlier.
About an hour after the food was cleared, I began to feel queasy. Initially, I put it down to the hot cabin and my 5.00am start, but no, that horrible feeling that something wasn't right grew until I had to rush to the toilets where (for the faint-hearted… don't read on) I was violently sick. I knew I'd somehow got food poisoning.
I've been travelling all my life, since I was a baby in fact, and have a pretty hardy constitution, but never had I got sick on a plane until now.
Getting food poisoning while you're flying (and on a long haul flight to boot) must be one of the worst nightmares. Cooped up in a small space, sharing a minuscule toilet with lots of other people! But here I was in that very position, dreading what might happen next.
I was thankful that I was in business class and not economy and that the toilet happened to be empty every time I rushed to it.
After I'd thrown up four times, I was beginning to feel that I might not make it off the plane alive! I staggered over to one of the FA's huddled in the galley and who were remarkably unaware of my frequent dashes to the toilet. I mentioned that I was sick from something I'd eaten and she gave me a tablet to take. At that stage I didn't even care what it was, I swallowed it, praying that it wouldn't reappear again in the next few minutes. She also poured me a coke and began stirring it to get the bubbles out. Apparently flat coke is the perfect antidote for an upset stomach…. And you know what, it was the only thing that I could keep down!
For the next couple of hours, I curled up on my seat, sipping the coke slowly, drifting in and out of sleep, trying to overcome the waves of nausea and throbbing headache from the lack of fluids.
Not once in the remaining 7 hours of the flight did anyone come and check on me to see if I was ok or offer to get me another drink.
Paris to Birmingham
Once we landed in Paris, I knew I had to find my way across the terminal to catch my connecting Flybe flight to Birmingham. To add to my anxiety and worries, I was unsure whether I'd be able to make the connection on time due to our late departure from Bangkok. I was hopelessly dehydrated at this point, feeling extremely ill and weakened by the vomiting, so I asked the FA who'd given me the flat coke if I could have any assistance once we'd reached Paris to catch my connecting flight. Promising to ask the captain, she eventually returned about an hour before we landed to say that assistance was not possible as they hadn't had enough notice. I thought this pretty appalling given that we were flying into Air France's main hub and Charles de Gaulle is not exactly a small airport.
Considering I'd been flying in business and that I'd gotten ill after eating Air France food, I was shocked at the total lack of concern or care shown to a passenger. For this reason, I would NEVER fly Air France again, whatever the price of the ticket.
You'll be pleased to know that I made it back to Birmingham… feeling a bit like death but still alive! I was never so pleased to see my partner and to be back in my own bed again!
Like our review of Air France B787 Business Class? You can read more flight reviews here.