I am here in Berlin at ITB, the biggest travel trade show in the world. I have sat in more business and first class seats in one day, than I would normally do in a few years! Briefly, I wondered why British Airways didn't really have a presence apart from Comair, its South African franchise. Then I realised that, quite frankly, it would look so poor against the competition it wouldn't really achieve anything positive.
The stand-out for me by a mile, in business class, was Qatar's QSuite. They unveiled this at a Qatar Airways press conference at the show on Wednesday. I had the chance to sit in the seat for a while and check out all the new features. Qatar already have an excellent business class product, can they improve it dramatically? The answer is yes!
Qatar's new QSuite – First class seats at business class prices
The customisable private suites, named QSuite, have a number of features that are normally only seen in first class. Firstly, the closing doors that make the suite completely private. I had worried that this may feel claustrophobic, but that wasn't the case. As the seat space is much wider than at present, it feels like you have your own room or cabin with the doors shut. The seat features a side ottoman which lifts for storage for your headphones, water and personal effects. This adds the extra width to the cabin. You can, of course, leave the door open if you wanted.
Each seat is crafted with hand-stitched Italian leather. The whole cabin felt very luxurious, far more first class than business class, with the attention to detail.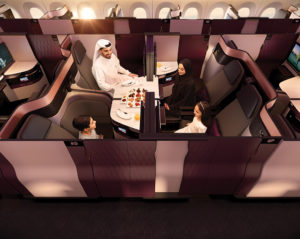 Centre seats
QSuite features the first-ever double bed available in Business Class, with privacy panels that stow away, allowing passengers in adjoining seats to create their own private room. Adjustable panels and movable TV monitors on the centre four seats allow colleagues, friends or families travelling together to transform their space into a private suite, allowing them to work, dine and socialise together.
Dining improvements
In addition to their current dine on demand service, Qatar Airways is also launching a new food and beverage concept, introducing a menu that offers a host of new dining choices. I already rate Qatar very highly for food and drink which you can read about in my recent review here. The new Business Class menu will now offer a selection of snack 'sharing dishes' available throughout the flight.
A wake-up Express Breakfast will also be available for those who want to sleep a by making the most of the 'Do Not Disturb' option available on the door of their private QSuite. This a button by your seat marked DND which illuminates outside the cabin, just like in a hotel room.
Other improvements
Qatar is also introducing new pajamas and amenity kits (see here) as well as new chinaware and cutlery, soft furnishings and luxurious bed linens.
Qatar have already been awarded 'World's Best Business Class'  by Skytrax in 2016 and I think with the new product, they are pretty certain to keep that title. I had previously rated Etihad as the World's best business class seat, but this has definitely surpassed it.
When will it be in service?
If you didn't already have enough of a reason to fly Qatar with the cheap ex EU fares, modern aircraft, Avios tier points and great service, then this must surely make Qatar a must fly in business class.
The new QSuite concept will be retrofitted on to the existing Qatar Airways fleet starting from June 2017, at an estimated rate of one aircraft a month. Presumably, they will start with the B777 which have the oldest seats. The inaugural flight will be from London.
You can see the promotional video
here.