In the face of such uncertainty (thanks, COVID, you can leave now), many are choosing to book holidays closer to home this year. That doesn't mean, however, you have to give everything up – you can still take an amazing island vacation, all with no threat of quarantine when you come back. Areas within the common travel area are not subject to England's quarantine currently. But obviously, make sure you check the requirements as many islands still have a quarantine in place for visitors. Scotland is also currently not allowing English visitors except for essential travel.
From 12 April you will be able to legally travel within England and also self-catering accommodation will reopen. From 17 May hotels can open as well.
There are over 6,000 islands in the UK, and although you may not get a tan like you would on a trip to Majorca or Tenerife, there is still plenty to see and do. Whether you want to relax, explore, spend time amongst history or get up close to incredible wildlife, there's an island in the UK for you.
Here is a list of some of our favourites, to help you get excited for your next (slightly different) island holiday.
*Note: islands are still subject to restrictions, so check the local rules before planning anything for the near future. We are hopeful, however, of restrictions easing enough that we can begin getting excited and planning again.
Isle of Man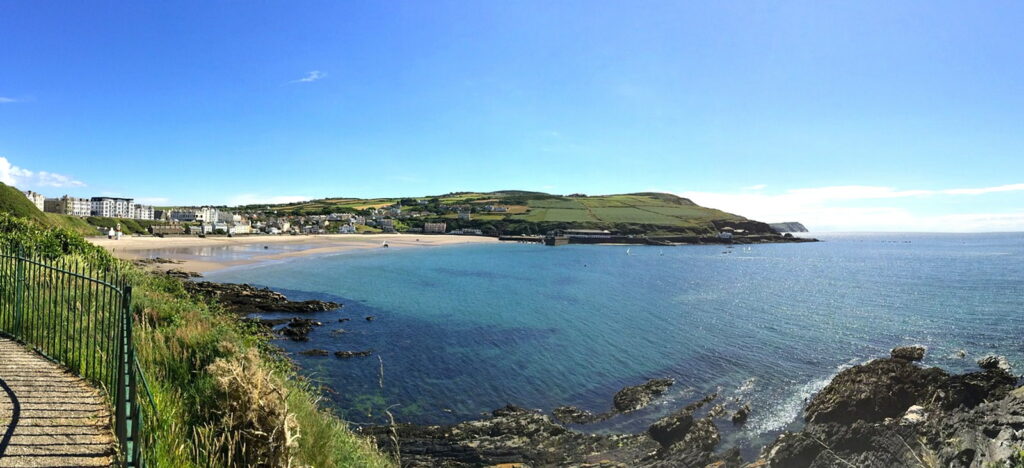 Situated in the Irish Sea, this special little island is surrounded by the coasts of Ireland, Scotland, Wales and England. Self-governed, the Isle of Man is home to castles, stunning shorelines, magical forests, plenty of wildlife and a unique transport system. There is something for everyone here.
Visitors can explore the beautiful countryside, climb mountains, grab a pint in one of the many pubs, spot seals from the cliffs or delve deep into the fascinating history and folklore of the island. There are plenty of gorgeous, vintage hotels along the Douglas shoreline to stay in, harkening from the tourist boom in the 60's, as well as more unique and modern BnB's and hotels across the island.
While many visit the isle for the infamous TT Race, the island is also an ideal destination for a unique family getaway, or relaxing couples retreat.
Get there via ferry (2.5 hours), or by plane (30 – 60 minutes), from a range of ports and cities across the UK.
You can find more information here.
Orkney Islands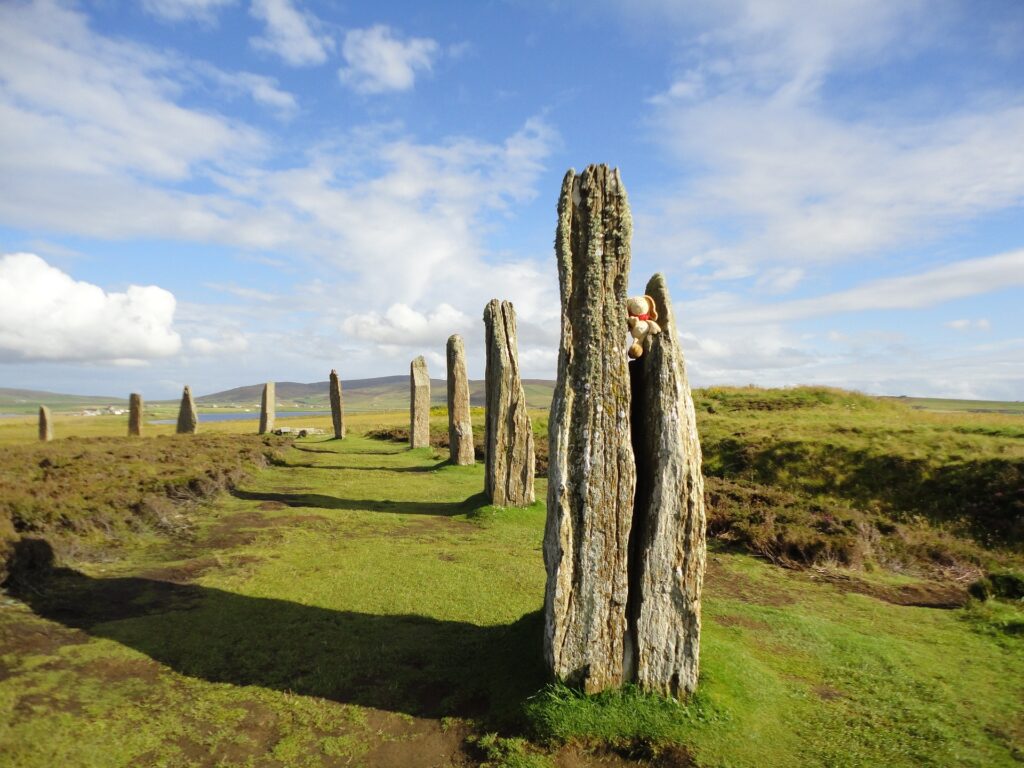 Located to the north of Scotland, this archipelago is home to around 70 islands. The main island, usually called 'main island', is home to the vibrant town of Kirkwall, which is the major stopping point for visitors.
One of the biggest drawcards of these islands is the history, with some of the most well preserved Neolithic, Stone age and Viking-era sites in all of Europe. Wander amongst breath-taking stone circles, ancient villages and archaeological sites, some older than the pyramids.
Hiking is another popular activity, and there are plenty of stunning tracks and trails to take advantage of, some along sea cliffs and others amongst the wildflowers common in Spring – all with gorgeous views. Others may choose to wander amongst the quirky boutique stores in Kirkwall, or along the gorgeous rows of coloured houses in nearby Stromness.
If none of that excites you, then surely the range of Scotch distilleries will. There are several scattered throughout the islands, though one favourite is Highland Park, known as the most northernmost distillery in the UK. Take a tour, and don't miss out on a tasting!
Visitors can get there using plane, car or ferry. Buses and trains also run to the main ports, with ongoing ferry connections.
Isle of Barra – land on the beach!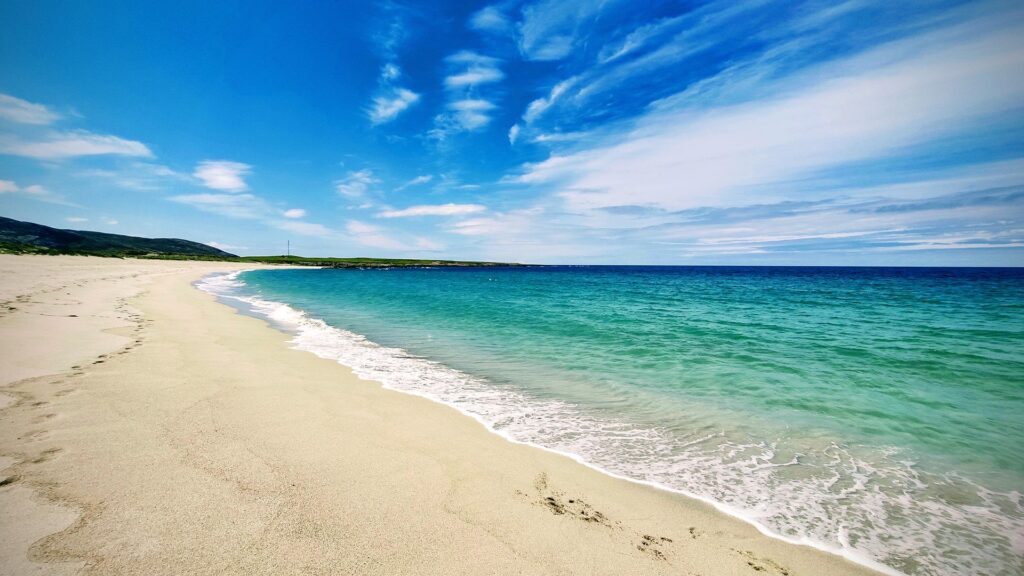 This one is truly special – and likely as close to a beachy island holiday as you will get. Fly in if you can, for a unique landing right on the white sandy beach, next to the turquoise sparkling water. This is the world's only scheduled air service where you land on the beach.
All of this in Scotland, you ask? Yes, we're surprised too.
Although not as warm as you would find in the Mediterranean, the beaches are just as beautiful, complemented by the gently undulating hills, green pastures and grazing sheep. Visitors can choose to hike, visit castles, learn about the unique Barra culture, kayak through the ocean or simply relax and enjoy the remote landscape.
There is also golf, and, for those more adventurous, white water rafting. There is also plenty of wildlife, both on and off land (not counting those sheep) to look out for too.
A truly remote getaway for those seeking a break from it all, the Isle of Barra is an unexpected gem with an (almost) exotic feel.
Get there by plane (recommended) direct from Glasgow, or indirectly from other UK airports, or jump on the ferry from Oban (takes about 4.5 hours).
If you don't want to stay, Loganair normally offers special trips to experience the unique beach landing there.
Herm & Sark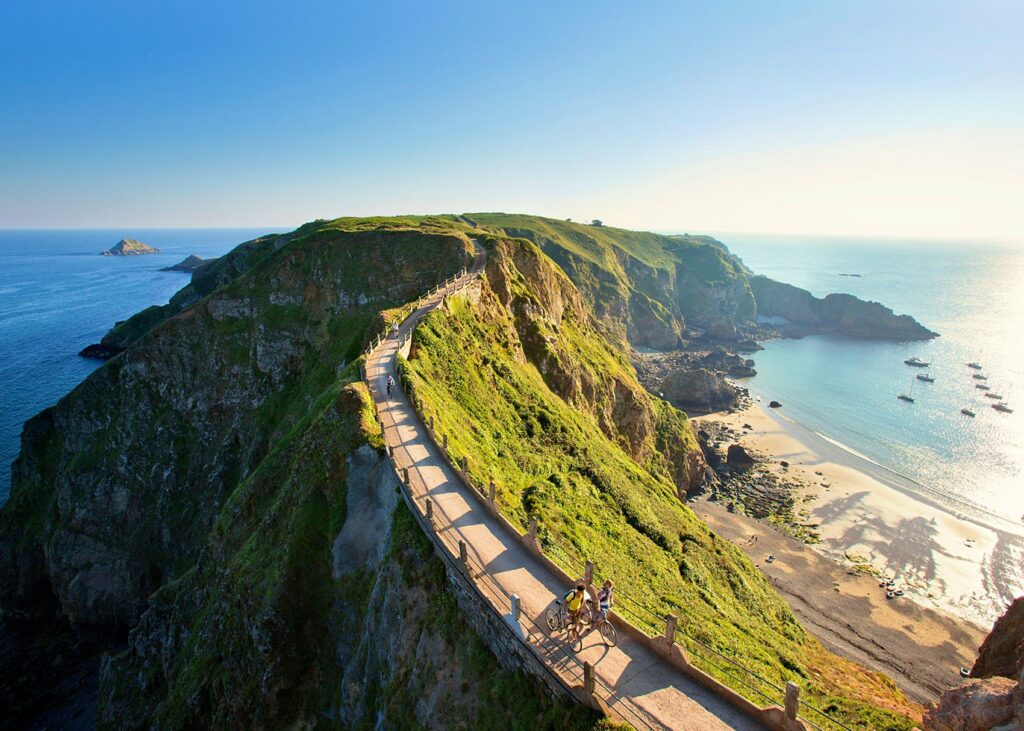 Some of the lesser-known Channel Islands, these ones are actually closer to France than England, though they still retain their British charm.
Both boasting unique landscapes, these islands are perfect for exploring. However, you will have to get up close and personal – there are no cars allowed, only bikes, tractors and horse-drawn carriages.
Although there are some nice beaches, these islands are really ideal for getting in touch with nature, with many visitors opting to dive instead of dip. Known for wreck diving, cliff jumping, sea kayaking and other exciting water sports, these islands are perfect for adventurers.
The islands are also known to be excellent for stargazing, drawing hundreds of visitors each year to their clear skies.
Get here via ferry via one of the larger Channel Islands, like Guernsey.
Isle of Skye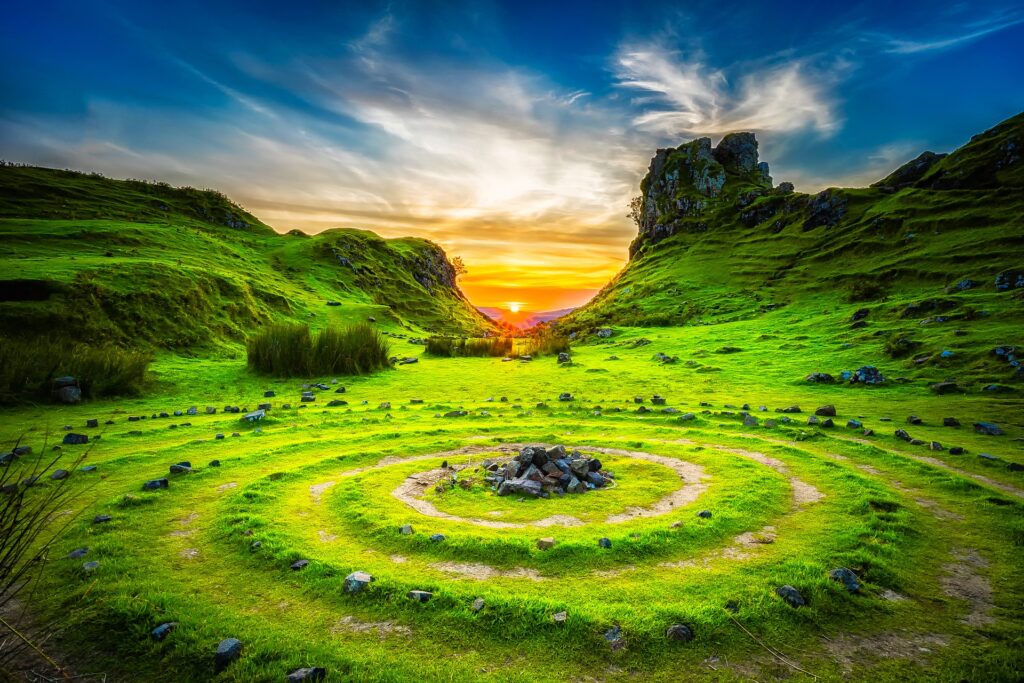 You can't write a piece about British islands without including the Isle of Skye. Located in the north of Scotland and connected by bridge to the mainland, it is perhaps one of the most popular (and easily accessible) islands in the whole of the UK.
It is easy to see why visitors flock to this gorgeous spot – with breathtaking scenery, abundant wildlife, quaint towns, ancient castles, plenty of cosy pubs and
Walk up to the famous 'Old Man of Storr', swim in the stunning fairy pools, wander through the colourful towns, explore ruined villages and keep an eye out for the two-thousand year old Pictish brochs. Spot seals and whales in the ocean, eagles in the sky and (hopefully) otters on the shore.
There are also plenty of highland events throughout the year, including traditional Highland games, 'Ceilidhs' and pipe bands.
A visit to the Isle of Skye is one you won't forget in a hurry, and we bet you'll be heading back as soon as you can.
Get there by car, bus or train (which connects with bus services after terminating just before the bridge). You can also fly to Inverness, and then get a bus or hire a car to take you across to Skye.
St Agnes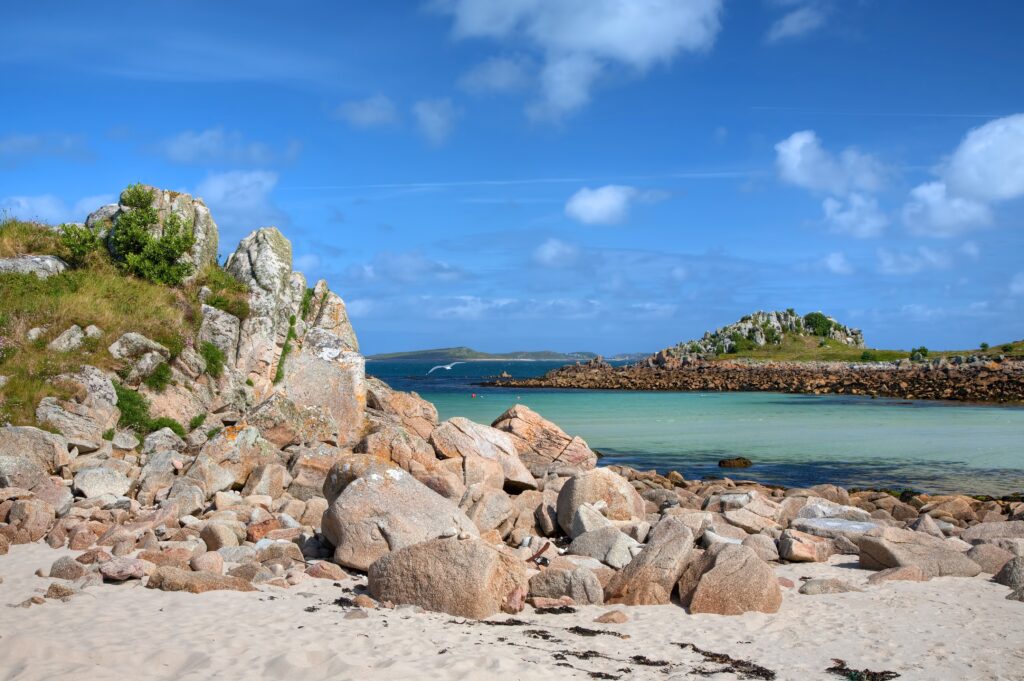 Sitting on the South-Westerly edge of the Scilly Isles, this tiny island only measures about a mile across, and is connected to its neighbour Gugh by a tidal path at low tide. Another example of (unexpected) golden beaches and clear, green water, this little gem may be small, but there is plenty to see and do.
Predominantly used for farming, the island is bursting with delicious local produce, and there is an abundance of gorgeous flower fields to wander through (and get that perfect insta photo).
Visitors can also comb the famous Beady Pool for shipwrecked treasure (or shells), trek along the coastline, visit Bronze Age cairns or do a spot of bird watching at the sanctuary.
There are no cars on the island, and no roads – just paths and tracks. Get there by ferry from Penzance, via St Mary's.
Isle of Wight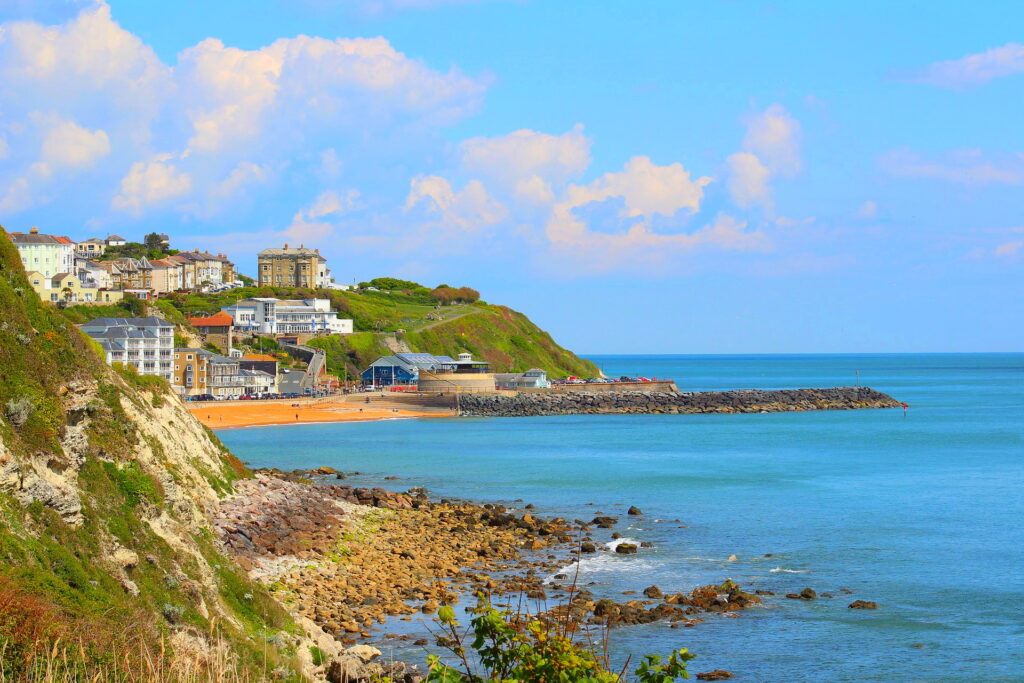 The Isle of Wight is an old favourite – is it time you rediscovered this brilliant destination? Sitting just off the south coast of England, this stunning spot (over half of which is a designated area of natural beauty) has been a popular destination for Brits for hundreds of years. Even Queen Victoria built herself a holiday home here! And it is reportedly also the inspiration for Lewis Carroll's 'Alice in Wonderland'.
While many make the journey for the famous Isle of Wight summer festival, there is plenty to do here year-round. Visit theme parks, beautiful beaches, colourful towns teeming with boutique shopping and cafes, heritage-listed manors, roman ruins and castles, local farms and markets and even a zoo!
If you are a foodie, this is a great destination with plenty of fine dining experiences as well as farm shops and food producers to visit. There is a distillery, several vineyards and plenty of producers such as the Garlic farm where you can taste garlic chutneys to garlic beer and ice cream before you buy. You can find more suggestions here.
There is also plenty of ways to get in touch with nature, with a heap of cliff walks and interesting trails to explore, lots of exciting wildlife, stunning scenery and lots of outdoor adventures.
Get there via ferry – just a few hours from London – or jump on the Hovercraft (how cool!), which is one of the last operating in the world.
So yes, our holidays may look a little different for a while, but with so many amazing islands right on our doorstep, why wouldn't you visit!? Let us know if we have missed any of your favourites, and stay tuned for Part 2.