Who's getting excited for their next staycation? Everyone will need a fresh breath of air after lockdown eases, and although we would all love to jet off to Hawaii or perhaps the Caribbean…that may not be on the cards just yet.
Baby steps, everyone. Though we are very excited that those baby steps are at least in the right direction. Don't forget that from the 12 April you are allowed a staycation in self-catering accommodation. Some hotels have self-contained accommodation and so will reopen them on 12 April also, so it's worth looking at what's available where you are going.
So we have popped a list together of the best island holidays you can book, all without packing your passport! And no fears about last-minute quarantine on your return.
Check out Part 1 here, and read on for Part 2.
The last article saw a few reader suggestions – let us know in the comments if we've missed your favourite, or if you want us to feature another destination.
*Note: islands are still subject to restrictions, so check the local rules before planning anything for the near future. We are hopeful, however, of restrictions easing enough that we can begin getting excited and planning again.
Isles of Scilly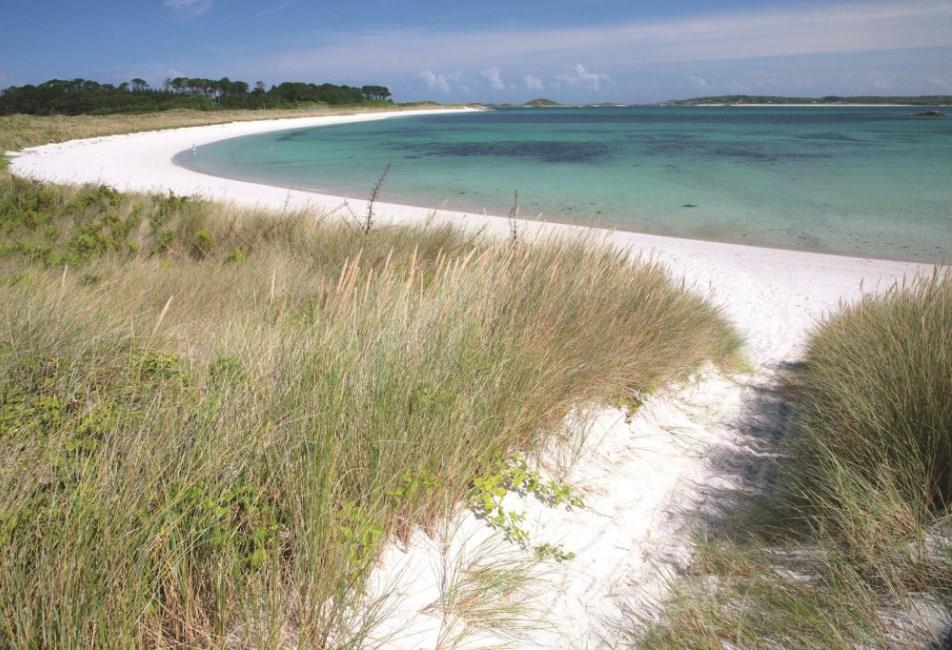 For those desperate to escape to the 'Caribbean'
Sitting in the south of England off the Cornish coast, the Isles of Scilly comprise over 140 islands and are probably the closest thing any of us will have to a tropical island holiday in the near future.
Sitting in the south of England off the Cornish coast, the Isles comprise over 140 islands and are probably the closest thing anyone will have to a tropical island holiday in the near future.
There are only a handful of inhabited islands, each with their own unique flavour but easily accessible by inter-island boating. Trips between range from 10 – 30 minutes duration.
St Mary's is the main 'hub' and the largest of the islands, with most transport services arriving there, followed by Tresco, home to the famous Abbey Gardens and some of the most beautiful, white sand beaches you can imagine (and wouldn't expect to find in the U.K!).
Other popular islands are St. Agnes, St Martin's, Bryher and Gugh (pronounced like 'goo', for those playing at home. Also, it's technically a tidal islet, but we like saying 'Gugh').
As mentioned, each island is special in its own way. However, most visitors choose to visit two or more of the islands while visiting, meaning it's easy to enjoy the entire region on the one trip. Across the islands, visitors can take part in a wide range of water sports, and the water between islands is famous for snorkelling and scuba diving.
If you prefer to stay dry, you can hire a boat – go basic in a Kayak or luxe in a sailboat or yacht. Some of the coves in the area are also ideal for paddleboarding (still staying dry, unless you fall in).
There is also plenty to do on land. Spot wildlife from the coastline and beaches, or on one of the many walking trails, visit some amazing, white-sand-turquoise-water beaches (and pretend you're in Tahiti), visit a range of boutiques or check out some of the amazing galleries where local artists showcase their work.
As mentioned, a visit to the Abbey Gardens is a must, with its range of incredible, exotic plants from across the globe. Even non-gardeners will be interested!
For the history buffs, there are plenty of historic sites, the earliest dating back to the Stone Age. And for foodies, there is plenty of fresh seafood, local produce, wine and more to keep you happy. Try some of the distinctive cafes or restaurants dotted across the isles, or you can visit a range of local farms and wineries and see first-hand how it's done.
Skybus operate flights from Exeter from March until October, and from Land's End all year round. Otherwise, visitors can choose the Scillonian ferry, which goes between Penzance and St Mary's from late March until November.
Otherwise, you can choose to grab a helicopter (fancy) which will fly you from Penzance Heliport direct to St. Mary's or Tresco Island.
Note: cars are not allowed on the islands, so most people get around either walking, cycling or jumping in one of those zippy golf carts (available to hire on St. Mary's).
Isle of Arran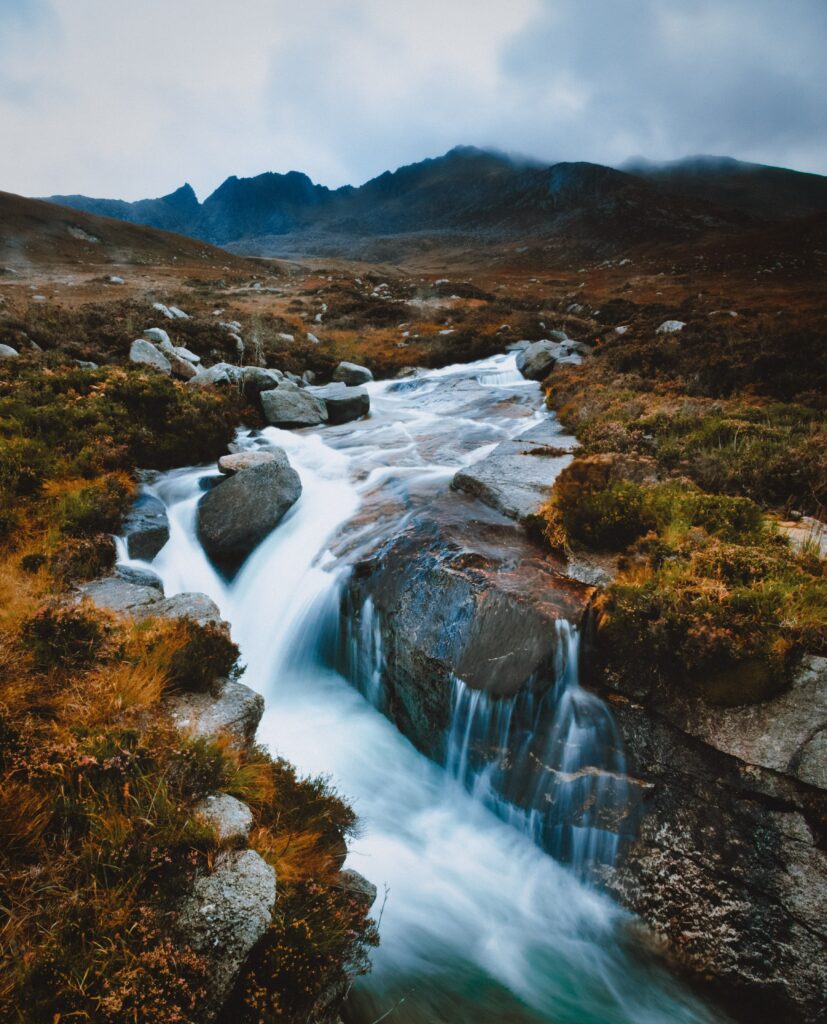 For the nature lovers.
Have you always wanted to explore Scotland, but it's just a tad too big? The Isle of Arran may just be the answer. Often called a 'mini Scotland' the island ticks all the highlight boxes of a proper Scottish holiday.
With its stunning green fields and forests, breath taking mountain peaks, dramatic, ever-changing coastline and a range of amazing cultural festivals, wildlife and delicious local produce, the Isle of Arran is perfect for nature lovers, and the ideal place to get away from the hustle and bustle of the city.
There's enough to do here that you won't get bored, but plenty of space to simply relax.
Walking trails criss-cross the island, allowing visitors to climb the mountains, wander through forests or peer over the coastal cliffs. It is likely that some of the local wildlife will be spotted too, including red squirrels, deer, otters, seals, golden eagles and even basking sharks.
If you prefer a bit more adventure, visitors can choose to go paragliding or mountain biking, on a boat trip, go on safari or visit the ancient stone circle. Alternatively, check in to a spa retreat, and check out one of the local breweries or distilleries.
If you want to get really zen, take a quick trip to the just-offshore Holy Isle, once thought to host an ancient healing spring, hermit cave and monastery, it is now home to a Buddhist retreat.
Visitors can get there on a ferry, which runs year-round from Ardrossan Harbour to Brodick and takes about an hour. There is another ferry in the summer months that runs from Claonaig on the Kintyre Peninsula to Lochranza and only takes 30 minutes.
Alderney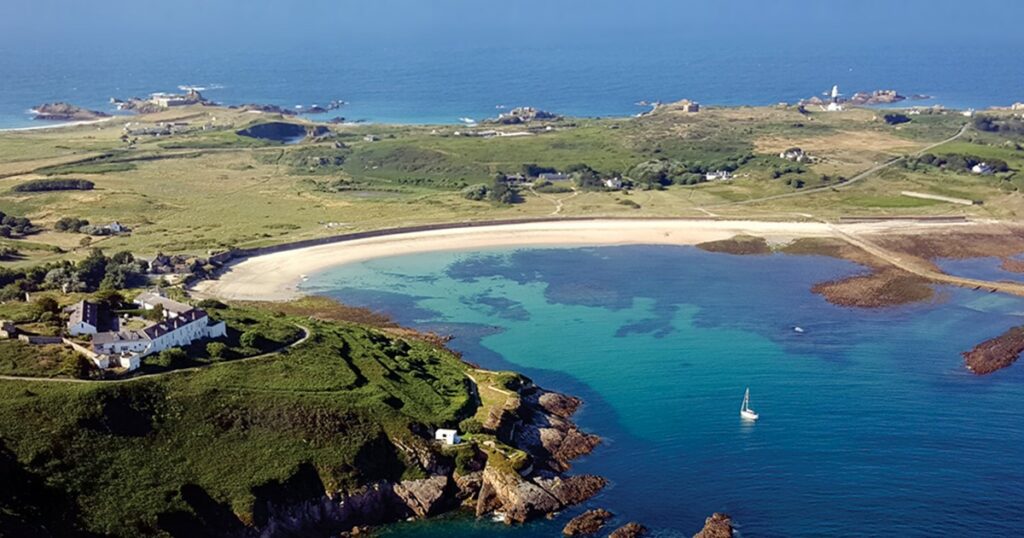 For the history (and fort) lovers
This one was suggested by a reader, thank you and we love it! Many describe this beautiful spot as the hidden gem of the Channel Islands, and we are inclined to agree. Technically the only island to actually sit in the Channel, Alderney is the northernmost island in the group.
Many flock here for the lovely beaches, with white sand, clear blue water and rock pools to explore. Others may choose to surf or take part in other water sports, and others will be excited to know that Alderney is home to the rare blonde hedgehog, as well as a range of other wildlife.
One of the most unique aspects of this quaint little island, however, is the historical sites almost everywhere. Alderney is home to bronze and iron age burial sites, Roman forts and settlements, hoards and shipwrecks. More recently, it became home to a number of forts and batteries, firstly during the Victorian era and later during World War 2, when the German army invaded and built even more forts, as well as tunnels and bunkers.
There are lots of forts.
Once you're satisfied with consuming 4000 years of history, head to some of the local farms or distilleries to sample their goods. Local, seasonal produce is big here. If you're really keen on your greens, then make sure to visit during late summer for the annual food festival.
To get there, you can jump on a daily flight from Southampton, or get a flight or ferry from Guernsey.
Isle of Harris & Isle of Lewis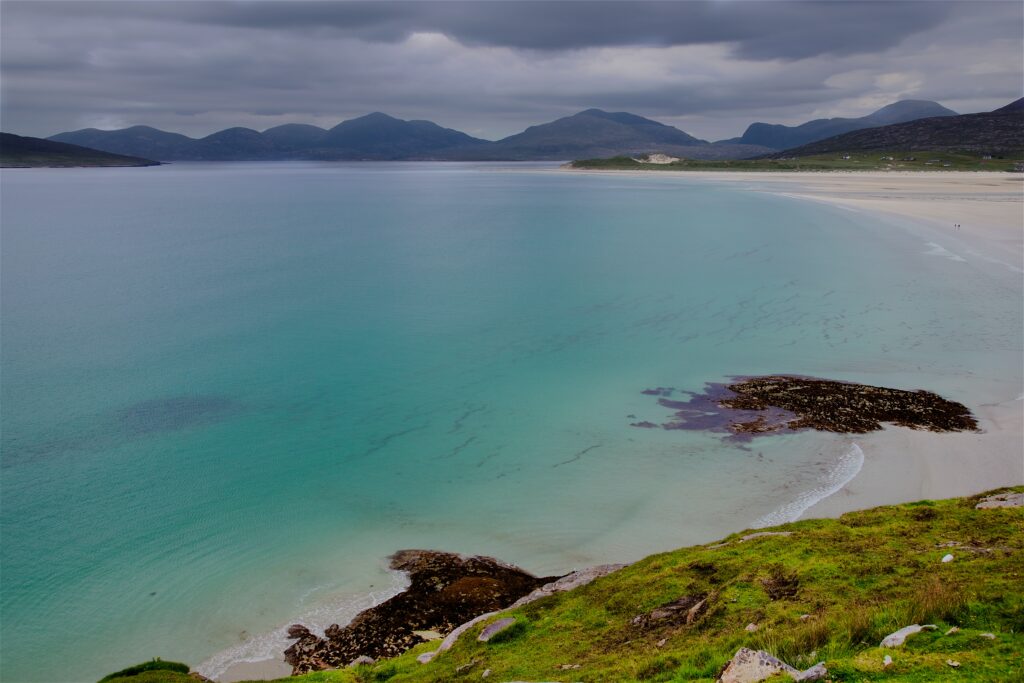 For those looking for that next hidden gem.
Sitting just off the western coast of Scotland, the Isle of Lewis and the Isle of Harris combine to form the main island of the Outer Hebrides.
It's a little confusing; you would be reasonable for assuming there are two islands, but it's actually only one. The two are separated by a mountain range (though tradition says the split was due to a clan feud back in the day). Either way, with their powers combined, we have the largest island in Scotland, and it's packed full of delights.
Most visitors are surprised by the amazing beaches which can be found dotted around the island. White sandy beaches, dunes, sheltered coves and rockpools can be found on both islands, complete with clear blue water that looks so inviting – but remember, you're in Scotland. Bring a wetsuit!
Luskentyre beach is a great place to start.
If the waters are perhaps a little too chilly, you can warm up with a walk up one of the stunning mountains, along a coastal path or on another one of the many trails that cross the island.
Visitors can get their history fix with a visit to the mysterious Calanais standing stones – older than Stonehenge, FYI – or some of the 19th century thatched blackhouses at Gearrannan or Arnol. There is also the Iron Age site of Dun Carloway Broch, which is well worth checking out and one of the best preserved broch's in the area (just in case you weren't sure, a broch is a 'prehistoric circular stone tower'. Don't worry, we had to google it too).
Plenty of yummy food too (seems to be a theme on these islands) – start off by following the 'Eat Drink Hebrides Trail', which is a self-guided foodie tour that will take you past some of the best shops, restaurants and local producers on the island. Visitors can also pop over to Harris Gin or Abhainn Dearg whisky, both of whom run tastings and tours.
Lastly, if you like shopping local, you'll love a visit to the many galleries and boutiques that can be found dotted about the place. A lot of talented artists have made the islands their home, and we can see how easy it would be to find inspiration in the surrounding natural landscape. Have you perchance heard of Harris Tweed?
One thing to note is that Sunday observance is a big part of the culture here, so remember that when planning your trip. There may be some difficulty finding a restaurant or takeaway place open on a Saturday night or Sunday, and most shops and attractions will be closed.
To get there, you can fly to Stornoway with Loganair from Edinburgh, Glasgow or a range of other UK airports. Another option is to jump on a ferry from Ullapool to Stornoway, or from Uig (on the Isle of Skye) to Harris.
Isle of Rum

For those who really want to get away from it all
The Isle of Rum is a dream for those who really need an escape: the entire island is a car-free paradise that was sold to the Nature Conservancy in 1957. Full of magical walking trails, it's perfect for casual walkers, hikers and mountain climbers alike. Many people visit for the deer stalking – no, it's not as creepy as it sounds, it's a time-honoured tradition popular with royals, aristocrats, and now you!
If you're not up to stalking deer (there are over 900 of them, so they might even find you first), you can also fish from the beaches or from a boat, check out one of the largest Manx Shearwater colonies in the world or make friends with the famous Rum ponies. There is also an abundance of other wildlife to vibe with, including white-tailed eagles, dolphins, seals, puffins and even whales.
The island is also ideal for canoeing and kayaking.
A visit to Kinloch Castle is a must-do, originally built for the owner of the island in 1900. The ornate Victorian building impressively rises out of the landscape and originally functioned as a hunting lodge. Tours run during the high season.
Those visiting the Isle of Rum aren't allowed to bring their own vehicles, so most visitors get around on foot or bikes. The MV Loch Nevis sails from Mallaig to Rum five times a week in Summer and four in Winter.
Anglesey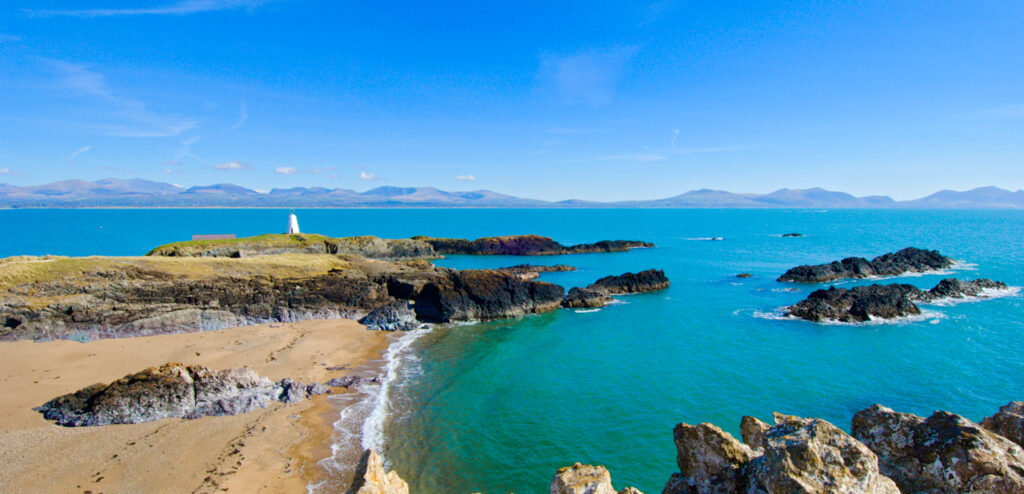 For the ones who want a little bit of everything
Anglesey is a tidal island off the coast of Wales, known as being the first home for famous royal couple Prince William and Kate Middleton. And we can see why they chose it!
This historic island is full of charm and character. Featuring unspoilt coastline, stunning landscapes, quaint villages and plenty to see and do, a visit to Anglesey will have something for everyone and is a great destination for families, with plenty for kids to do.
There is a fantastic programme of festivals and events that run throughout the year, celebrating everything from local food and producers to the local culture, art, music and unique heritage. It's a great way to get a real feel for the island and meet some locals.
There are seemingly endless miles of coastal walks (or cycling) along the Isle of Anglesey Coastal Path, which provide views of the gorgeous beaches below. There is also horse riding, if you prefer.
Plenty of water-based activities will help you cool off after a long day of exploring, including swimming, kayaking, windsurfing, boating and more. There are six Blue Flag beaches on Anglesey and seven others who won a Seaside Award.
Visitors can spot puffins by the lighthouse, or if they prove elusive, head to the Sea Zoo and get up close and personal with a range of marine life. It's a great spot to visit with kids, and there is also a butterfly house nearby which is always a favourite.
Plenty of wonderful gardens are available for a wander, and Beaumaris Castle is a popular spot to visit too, fondly known as 'the greatest castle never built'. If you want to see something that actually was built, head to the Menai Suspension Bridge (you can't really miss it) – it was the first modern suspension bridge built in the world, and opened in 1826.
Anglesey also boasts one of the largest collections of ancient sites in Britain, with almost 150 scheduled monuments including a henge, chambered tombs, standing stones, Roman forts, castles, and churches.
The third Saturday of each month brings together local food producers from all over the island, with the Anglesey Farmers Market. Check it out on the Princes Pier and indulge in fresh seafood covered in the famous 'Halen Môn' sea salt drawn directly from the crystal clear waters of the Menai Strait.
Anglesey is easy to get to, by car, rail or air. The A55 North Wales Expressway links Holyhead with the UK motorway network, and there are also express trains to Holyhead, fast ferries from Dublin and even flights from Cardiff.
And that wraps up our top island picks – it was hard to choose, as the UK has so many amazing islands to choose from. Hopefully, we have inspired you and helped you get excited for your next amazing staycation – it may not be the tropical islands you are used to visiting, but it will be spectacular nonetheless!
Did we miss your favourite? Let us know below.