Is BA considering reversing Buy on Board drinks?
The Telegraph had an article about the extension of status for some BA customers yesterday (which they described as generous, not sure all my readers would agree!). Hidden at the bottom was a snippet which sounds interesting.
"Insiders say Doyle is considering reversing what many regard as one of Cruz's biggest missteps: scrapping free drinks in short-haul economy in favour of paid for options. "
Other than the loyalty scheme and Heathrow, there is little to set them apart on short haul in economy. Having a free soft drink could make a big difference to customer satisfaction.
Greece & Spain updates
Previously, Greece had showed its hand in reopening by stating it wanted to be open for UK tourists this summer. Today the Tourism minister for Greece has revealed that the country is planning to reopen from 14 May. He told a press conference at the ITB Berlin virtual event that 14 May was an "aspirational date". The date will depend on what the health situation in Greece is at the time. The minister also confirmed that they will welcome all tourists, not just those with vaccinations. The testing situation is expected to include random testing as before plus rapid testing.
I have already covered the proposal by the Balearic Islands to start a pilot scheme with the UK. Today it was also revealed that Majorca plans to vaccinate its entire population in the next four months. This would definitely make it a high contended for corridor status since the government previously had started to use regional corrdors for islands. Grant Shapps today confirmed to Radio 4 that the new travel task force would be looking not only at vaccinations in the UK but also "where the vaccination programmes are elsewhere". Spain also said today that expected vaccine health passports to be ready by mid-May.
Spain has said it plans to open resorts once it has vaccinated between 30 and 40 per cent of its adult population. This is expected to be by late Spring.
Singapore Airlines trials IATA health pass app to London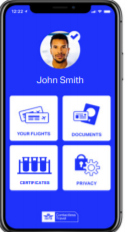 Singapore Airlines will be the world's first airline to pilot the second phase of the International Air Transport Association's (IATA) Travel Pass mobile application for digital health verification, starting with passengers travelling from Singapore to London from 15 to 28 March 2021. Many other airlines have been working with IATA to trial the app such as Qatar, Emirates and ANA. IAG who own British Airways are also in talk with IATA to use the app when it is fully rolled out.
This marks the second phase of Singapore's trials, which is based on the IATA Travel Pass framework.
Passengers with Apple mobile phones will be invited to download the IATA Travel Pass app, and create a digital ID with their profile photo and passport information. They can also insert their flight information into the app.
Afterwards travellers can book their pre-departure Covid-19 test at one of seven participating clinics in Singapore via a dedicated online portal. They can then register at the clinic using the digital ID and flight information in the app. They will be able to view their test results, as well as confirmation status to fly, directly on the app. IATA's "Timatic" will provide the information on the Covid-19 testing and entry requirements.
Participants will need to show their confirmed status in the app to the check-in staff in Changi Airport before flight departure. In line with current regulatory requirements, they will also need to bring a physical copy of their health certificate that is issued by the clinic where they took their Covid-19 test.
By consolidating the verification of health credentials into a single app, participants can expect a faster and more seamless check-in process. Participants will have full control over how their personal information is shared, as the data is stored locally in the mobile phone and not in any central database. This is critical given the highly sensitive nature of health data.
If successful, the pilot will pave the way for the integration of the entire process into the SingaporeAir mobile app from around mid-2021, again using IATA's Travel Pass framework.