If you are still flying British Airways to America, this report may make you reconsider. Since flying with AA on my last trip to Hawaii, I have been a fan. Many people are still under the illusion that the US carriers have bad service and old seats. Whilst there may be still a few instances of this, as we all know from the United incident, the US carriers have been quietly overtaking BA in terms of business class seats. American have finished the refurbishment of their B777-200s, United have launched their new Polaris service with new seats coming on-line and Delta have launched a business class suite, Delta 1.
I flew from Heathrow to New York with American as part of an ex Dublin itinerary to Honolulu. I paid £1500 for business class including the transcontinental service to Los Angeles. I will be doing reviews of all the flights in my trip over the coming weeks.
Check in and Lounge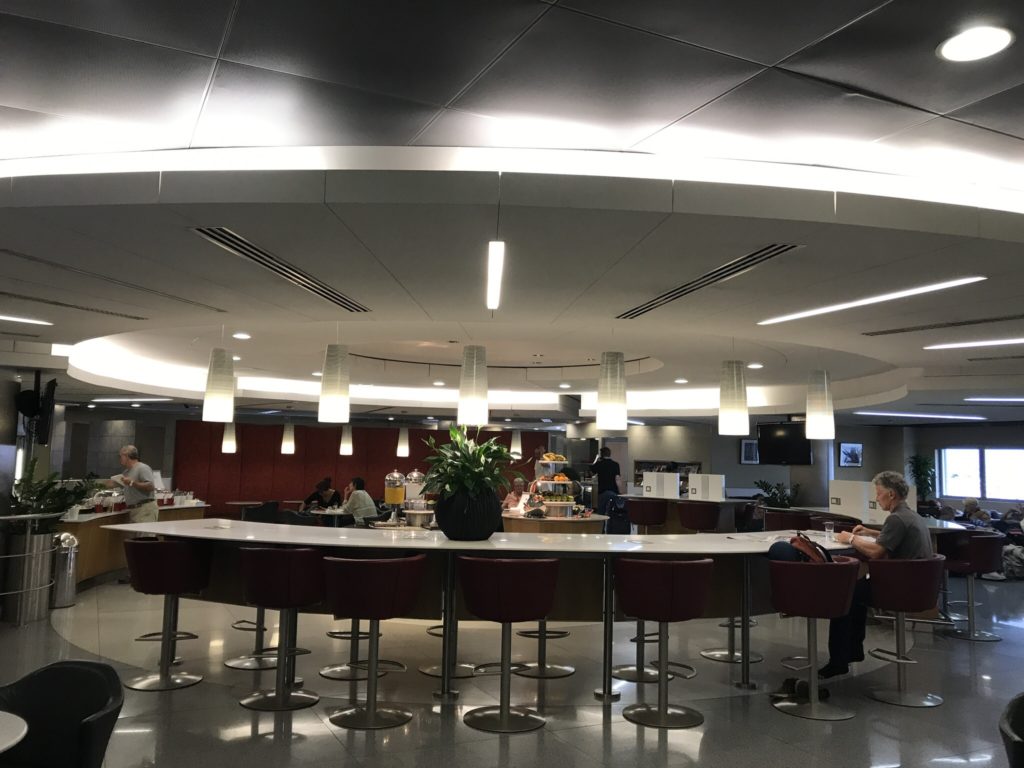 I was transferring from Dublin and already had my boarding pass, so I bypassed check in. As an aside, if you ever have to transfer between T5 and T3, I would recommend doing this landslide using the Heathrow Express or tube which are free between terminals. If you are transferring, make sure you go to the AA lounge at T3 even if you don't plan to stay there. US carriers are required to conduct questioning of non US passengers at check in. I have no idea of the point of this since if you were aware of this, you would simply book BA if you had something to hide. Be aware the questioning is quite intrusive and thorough. Questions such as how did you book your hotel, what do you do for a living etc.
I went to the AA First and business lounges and they definitely held their own against BA. They were not quite up to the Cathay standard but the service in the First lounge was superb. I will review the 2 lounges in a separate article.
Boarding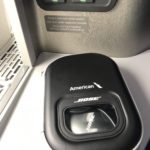 Boarding was reasonably calm, probably as I got there after it had started. There was a separate line for premium customers. Once on board, I found my seat and was offered a choice of water, juice or Prosecco. I didn't like the plastic glass it came in but it is common with US carriers. At least that way you don't have to finish it before take off. On my seat was already a wash bag, pillow, blanket and amenity kit. The menu and a bottle of water were also waiting for me. Bose noise cancelling headphones were handed out to those that wanted them.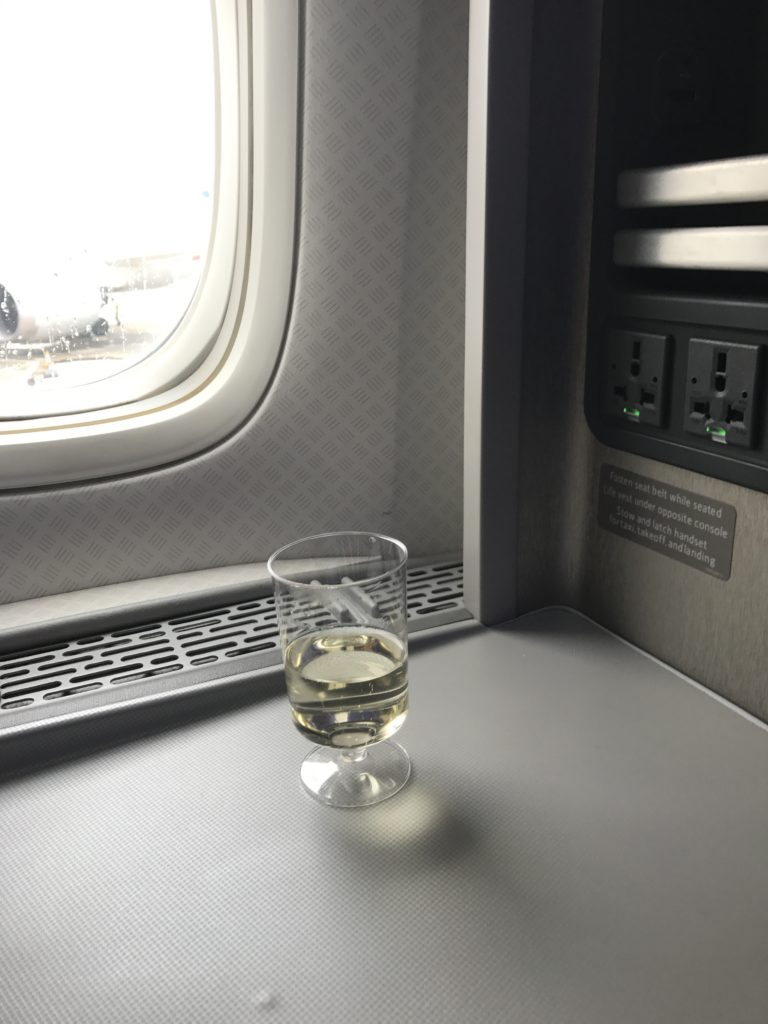 Seat and cabin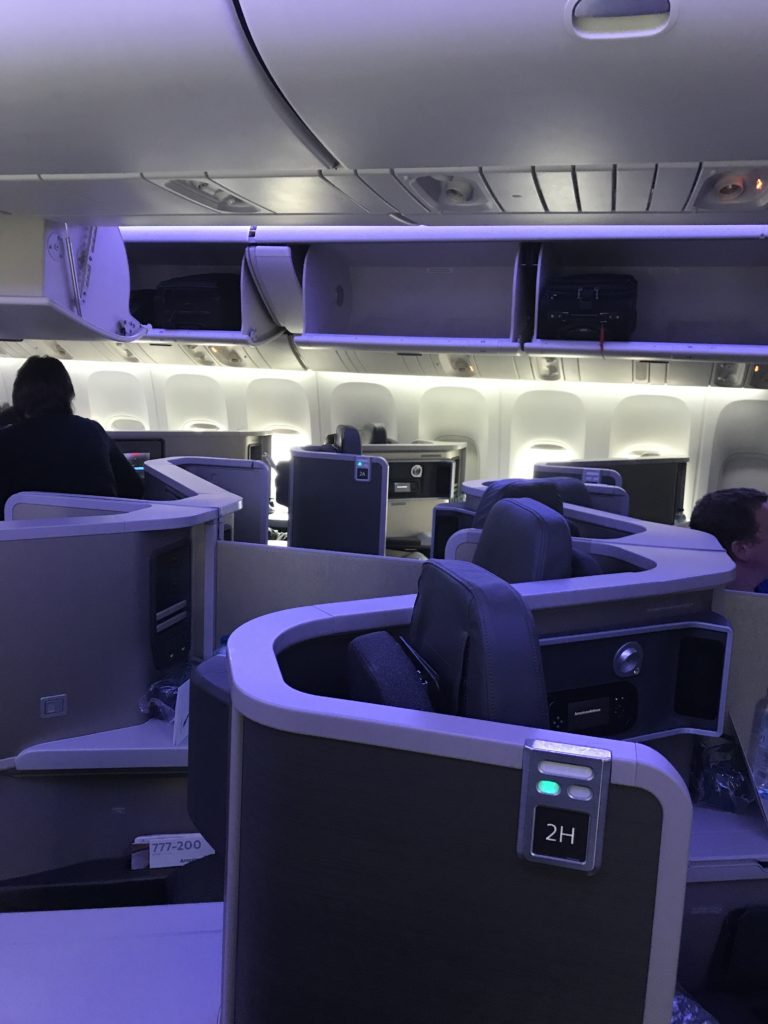 The cabin felt less crammed in than the BA cabins and the decor was pretty sedate, some may say dull in shades of grey. I was pleased to see there were overhead bins at every seat as I don't like the designs where there is no bin above the middle seats.
The seats are the B/E Super Diamond seat which are also used by Qatar on their A330. They are arranged in a 1-2-1 configuration with every other window seat facing backwards. They are definitely one of the most private business class seats I have flown in, it almost had a suite like feel to it.
I chose a backwards facing seat, 2L, as it means you have additional shelf space on one side compared to the forward facing seats. If you choose a middle seat and are travelling alone there is a large privacy screen similar to those in BA First.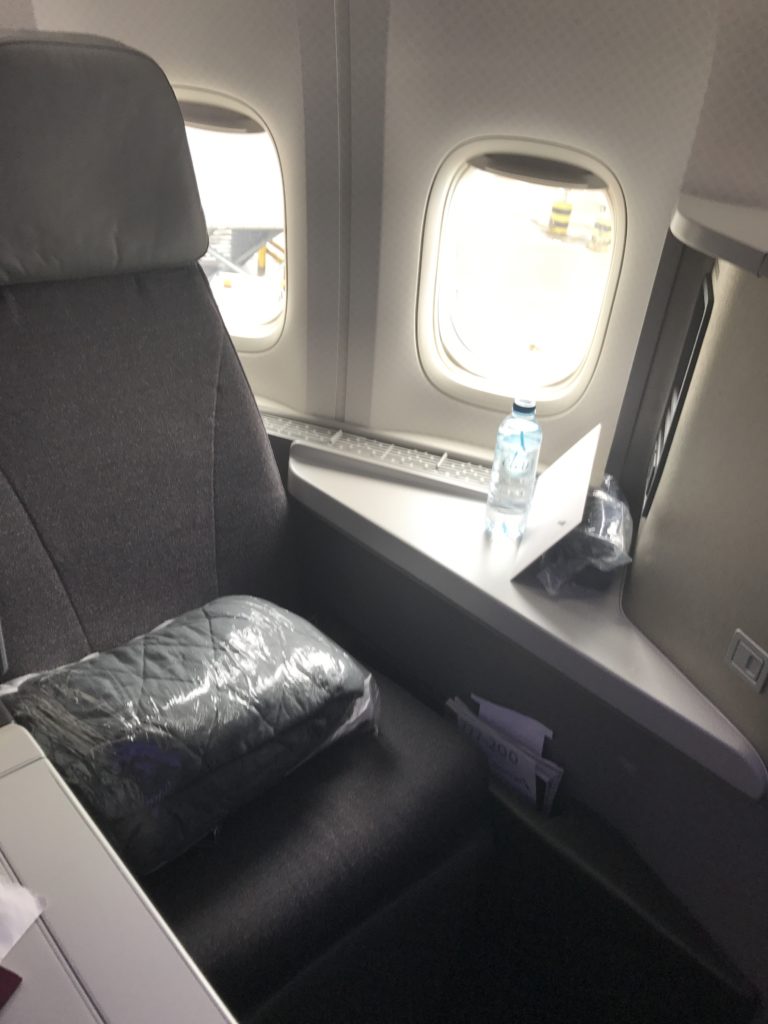 The seat itself had a small footrest which was too far away for me to reach in the take-off position. It was better than some of the more modern seats in that the foot stool was not in a cubby hole under the seat in front. Once we had taken off, I was able to move the seat to a position where I could reach the foot rest. The touch screen controls allowed you to not only recline and out the leg rest up, but also to move the seat backwards and forwards which was useful. There wasn't really much storage space as the one little cubby hole could not be used for take off. After take-off though, there was loads of room for my things with the 2 big shelves either side.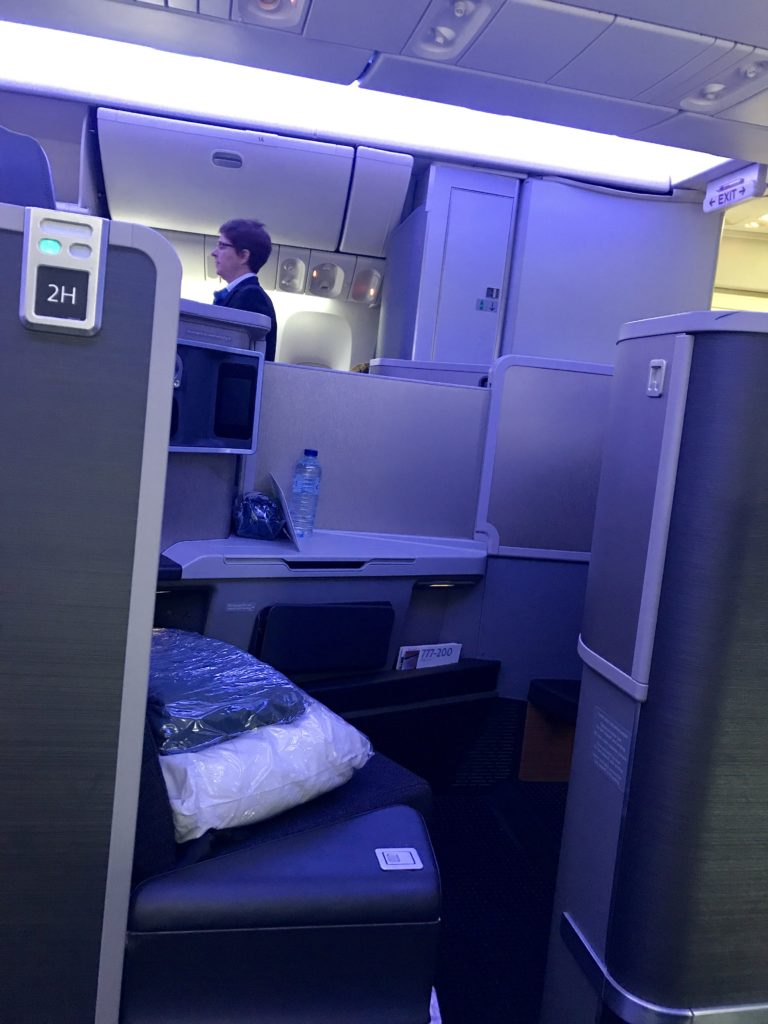 There were only 2 things I didn't like about the seat. Firstly I was seated next to a fidget and I could feel them moving around, which you don't get with the reverse herringbone design. Secondly I found the seat a bit narrow at shoulder height when fully flat.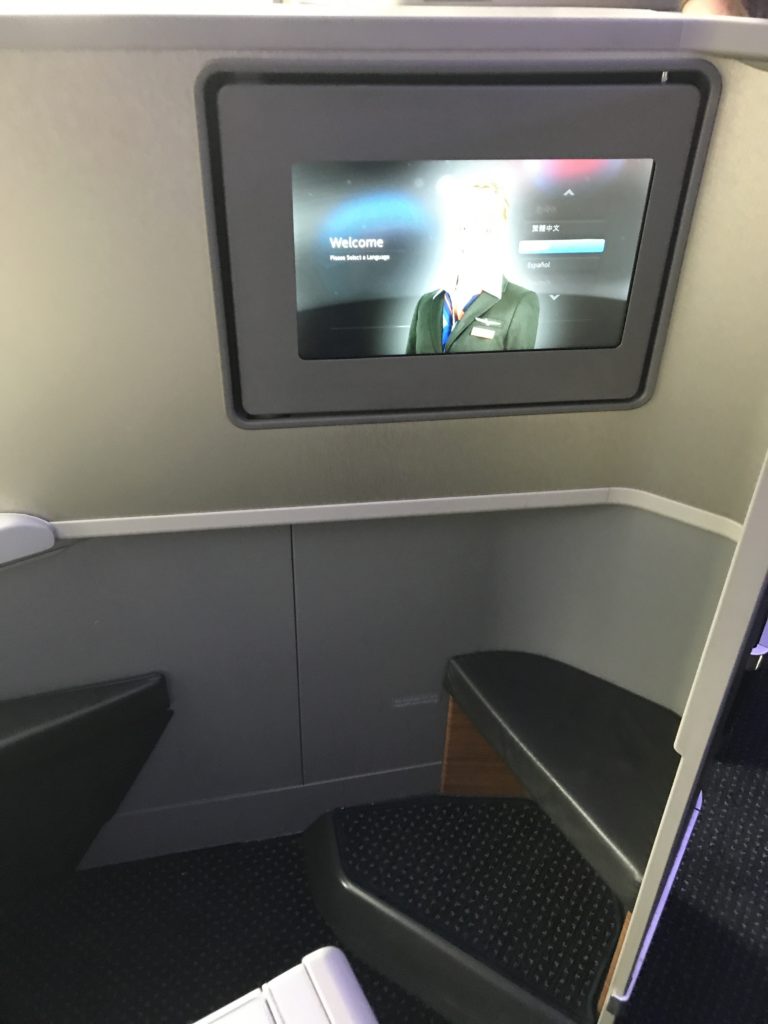 I liked the fact that there were 2 universal sockets, as well as USB, so you don't need to worry about running out of power.
Sleeping
On the seat were a quilt and pillow. I really like the AA sleeping amenities. The quilt is silky, soft and just the right thickness. The pillow is large and has a good quality cotton cover. Once the bed was fully flat I found it very comfortable. It wasn't too hard and I soon drifted off for a nap. As I mentioned, the only thing I didn't like was that it was slightly narrow. Overall though I would rate this as almost as good as the Qatar reverse herringbone seats for sleeping.
Amenity kit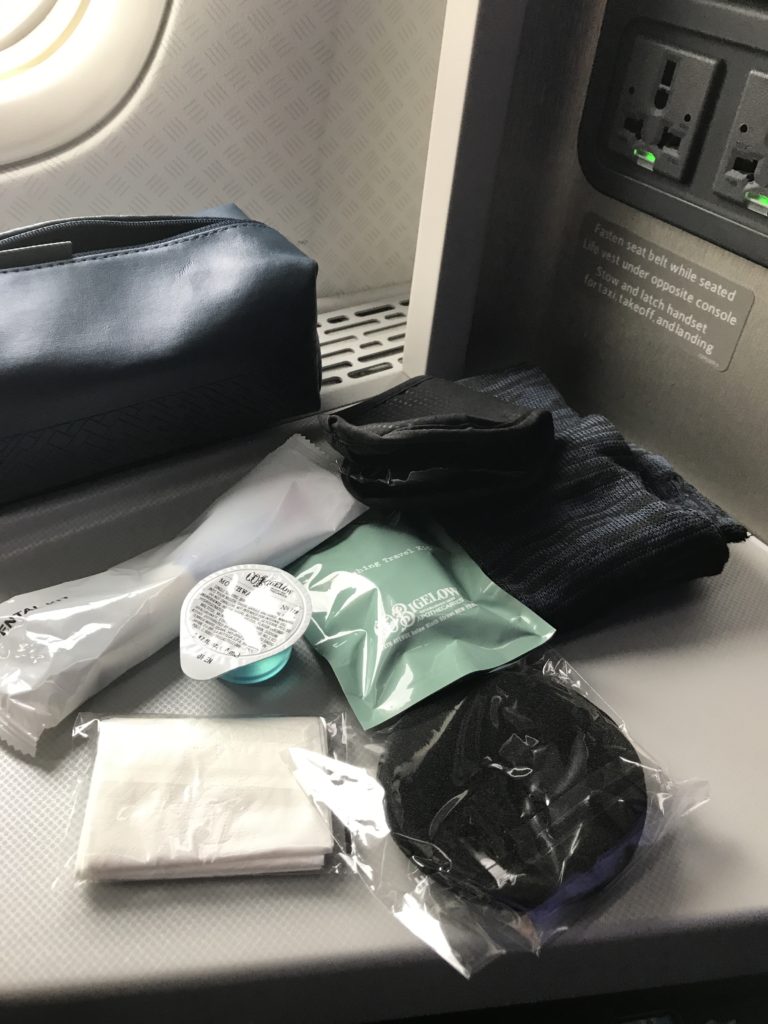 The amenity kit was not the most exciting but it had what I needed in it and came in a useful size bag for reusing. The kit contained CE Bigelow lip balm and body lotion, ear plugs, toothbrush and paste, tissues, mouthwash, socks and eyeshades.
Food and drink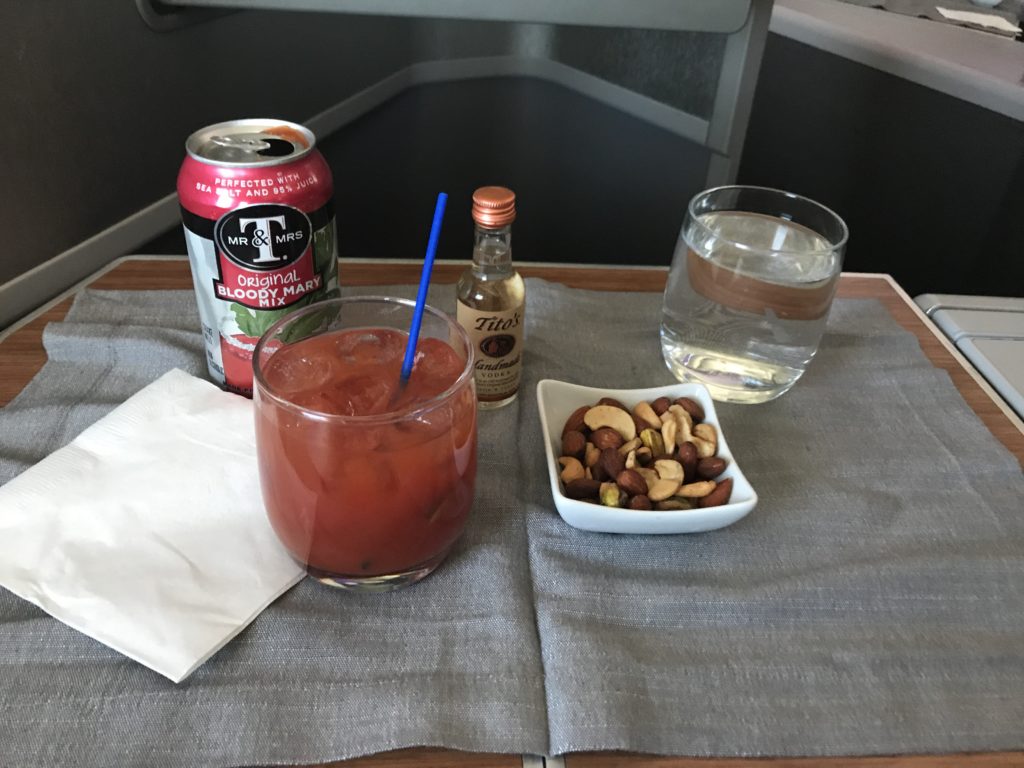 Prior to the lunch service, a bar round was done served with warm nuts in a dish. The champagne was not one I had heard of so I opted for a Bloody Mary. I am quite partial to a Bloody Mary on AA. They use Tito's handmade vodka which is a good brand and a ready made Bloody Mary mix called Mr & Mrs T's.
The menu was as follows:
Grilled Tenderloin




bordelaise sauce, boiled potatoes, sautéed spinach

Roasted Cauliflower




Gruyère mashed potatoes, watercress, pumpkin seed crumble

Chanterelle-stuffed Guinea Hen




rosemary jus, garlic schupfnoodles, sautéed fennel, roasted tomato

Cod Filet and Prawn Jalfrezi




saffron rice, Asian-spiced spinach, paratha bread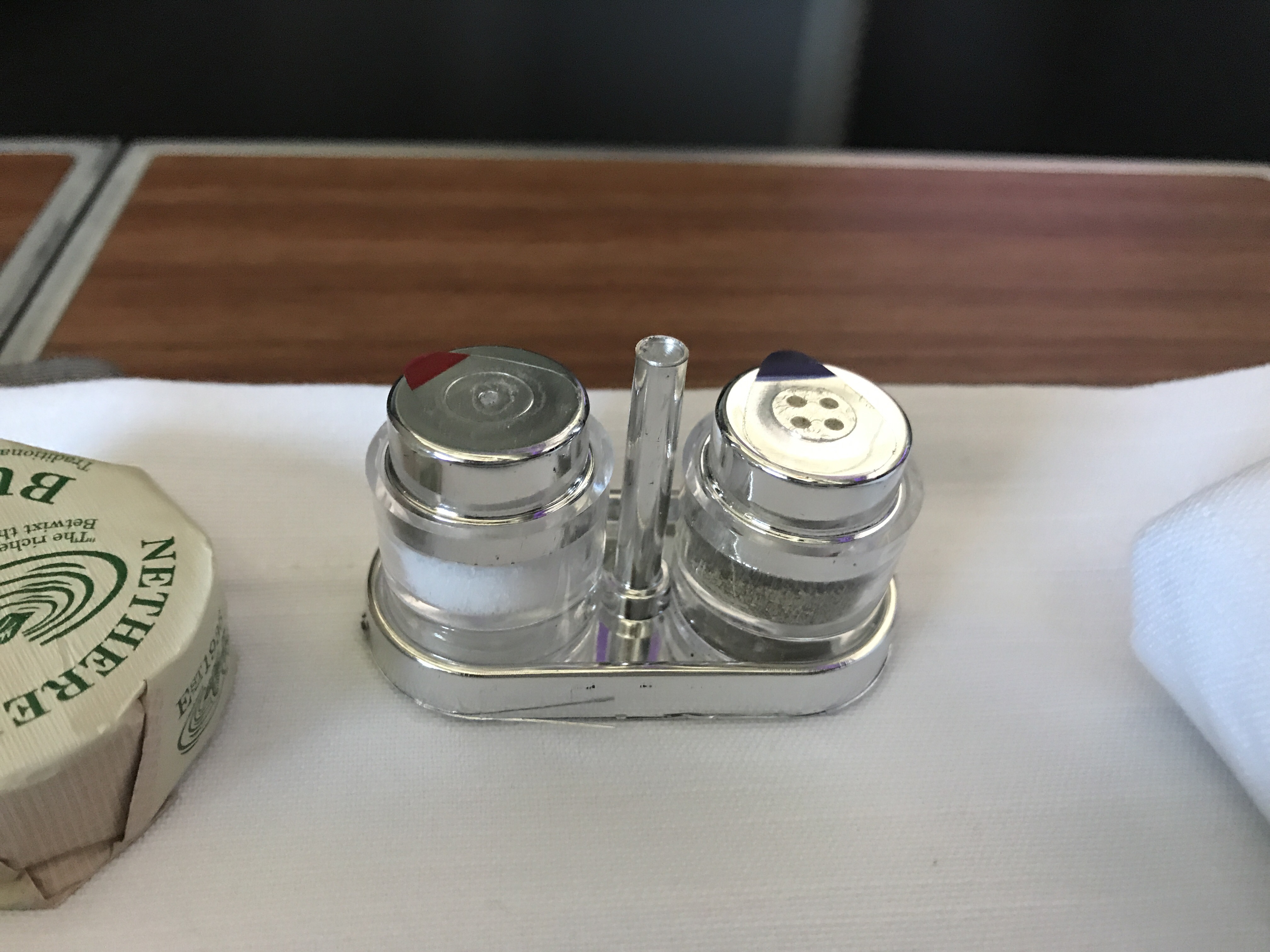 The table was large and very stable. They laid the table with a very small table cloth/mat which I didn't really see the point of as they then put a tray on it.
There wasn't of choice of starter but being vegetarian it would probably suit most people. I was surprised at how much AA had upped their game food-wise since my last flight with them. Previously I found the food rather pedestrian and not great quality. This time there was an impressive choice and it was much better presented.
The starter was a middle Eastern style mezzo with rose harissa hummus, potato kibbeh, kale tabbouleh and marinated aubergine and sesame honey feta. I love middle eastern food and I found the whole thing delicious, if a little filling for a starter. There was also an interesting gem wedge salad with roasted squash, dried cranberries, black sesame and tahini dressing. This was a little dry and could have done with some more dressing.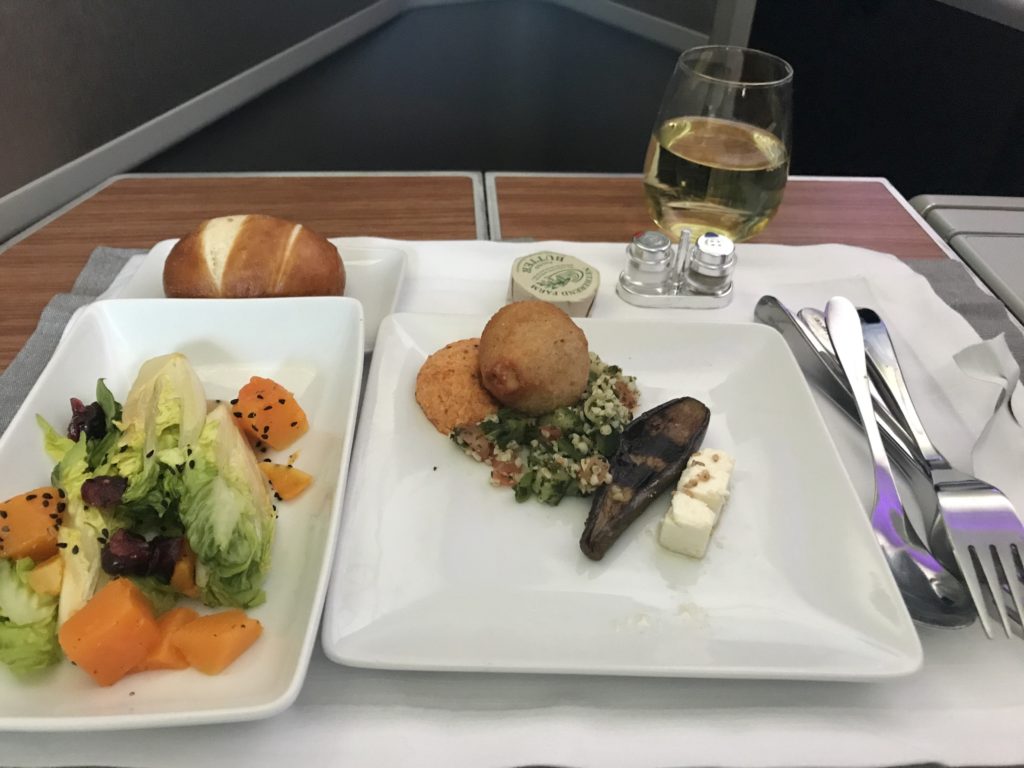 Like BA you can pre-order your main course. However, you can do this both to and from Heathrow as well as on longer domestic flights. I had preordered the guinea hen as it sounded more like something you would find on BA First rather than business class. I was disappointed to see that they were still using the foil sauce containers which spoils the aesthetics of the dish for me. Although at least if you didn't like the sauce you could leave it off. The Guinea hen was surprisingly good. It was still very moist and the stuffing was delicious. The sauce was OK but tasted a bit mass produced and the fennel appeared both overlooked and hard which is quite a feat! Overall I enjoyed the dish.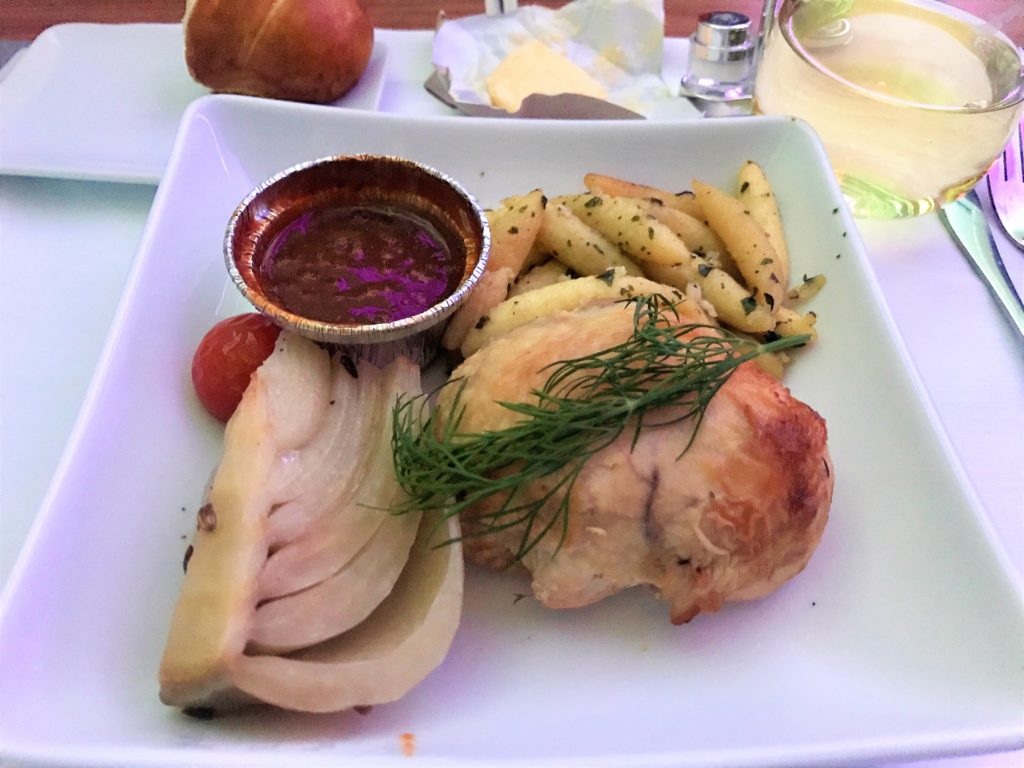 For dessert there a choice of cheese, mixed berry cheesecake or the famous AA ice cream sundae. I, of course, went for the ice cream sundae. There was a choice of 3 toppings, hot fudge, butterscotch and mixed berries. I went for butterscotch and all the trimmings with whipped cream and pecan nuts. The ice cream was good quality if a little bland and I enjoyed my dessert.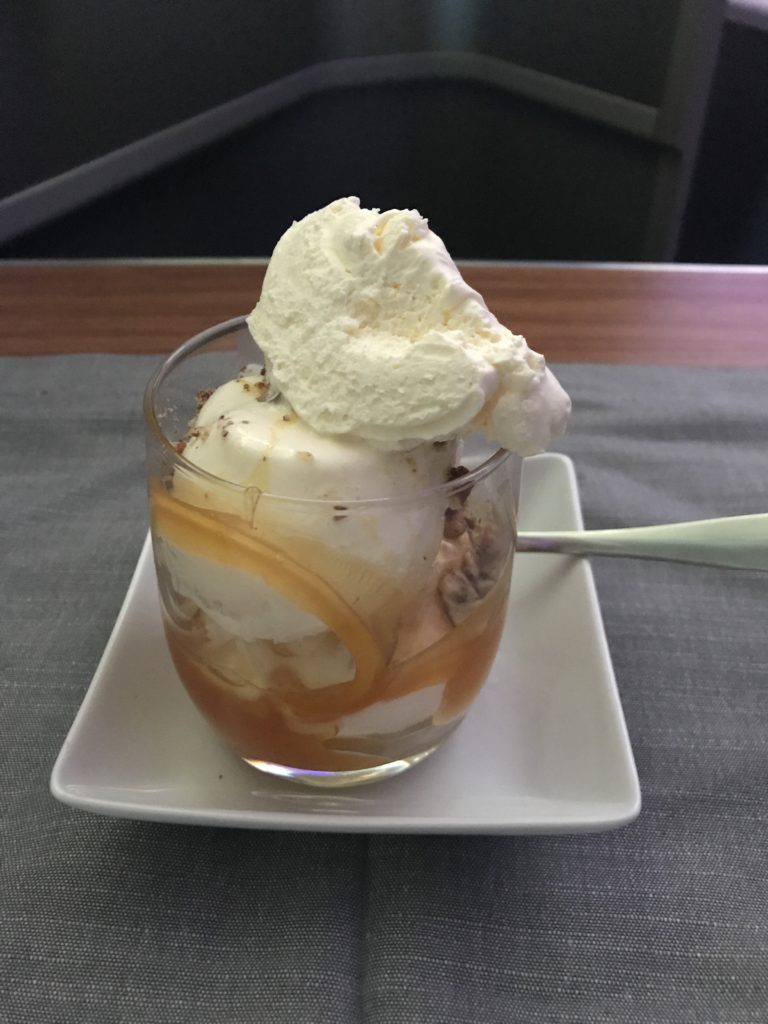 After dinner I asked for a Courvoisier VSOP brandy and was given what looked like about 5 measures! No wonder I had a headache when I got off!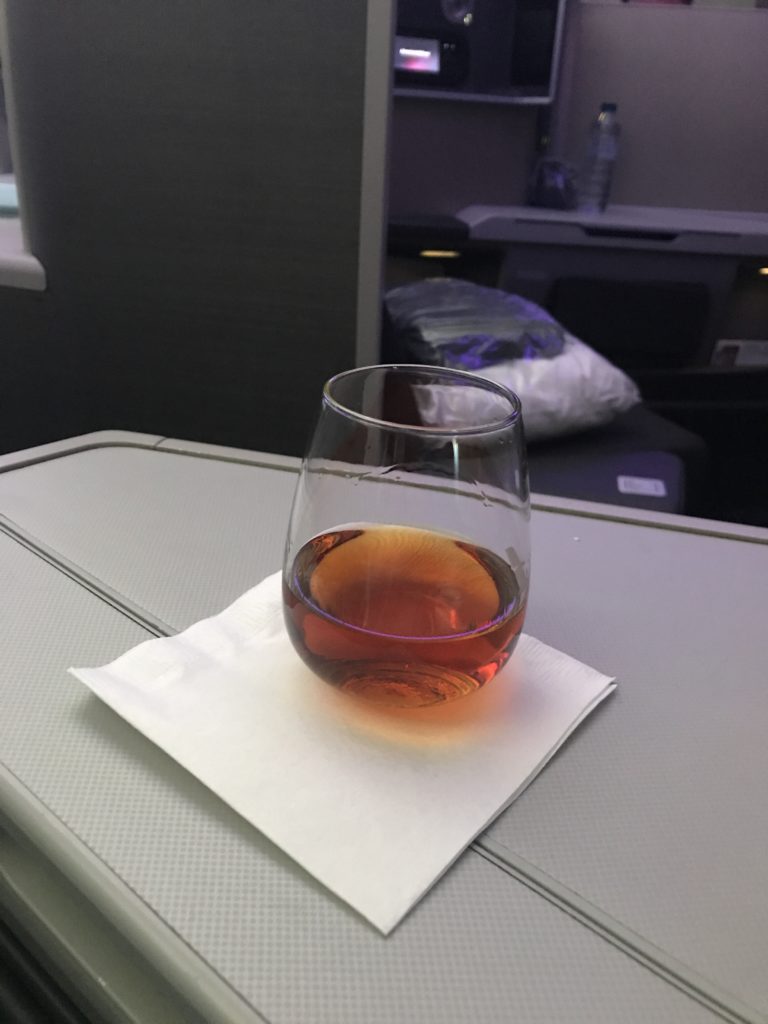 Another area where AA puts BA to shame is the snacks on board. They have a buffet set out in the galley which I am always to full to try but looks fantastic. As well as the usual snacks, there was a tempting array of desserts, sandwiches, fruit and antipasti.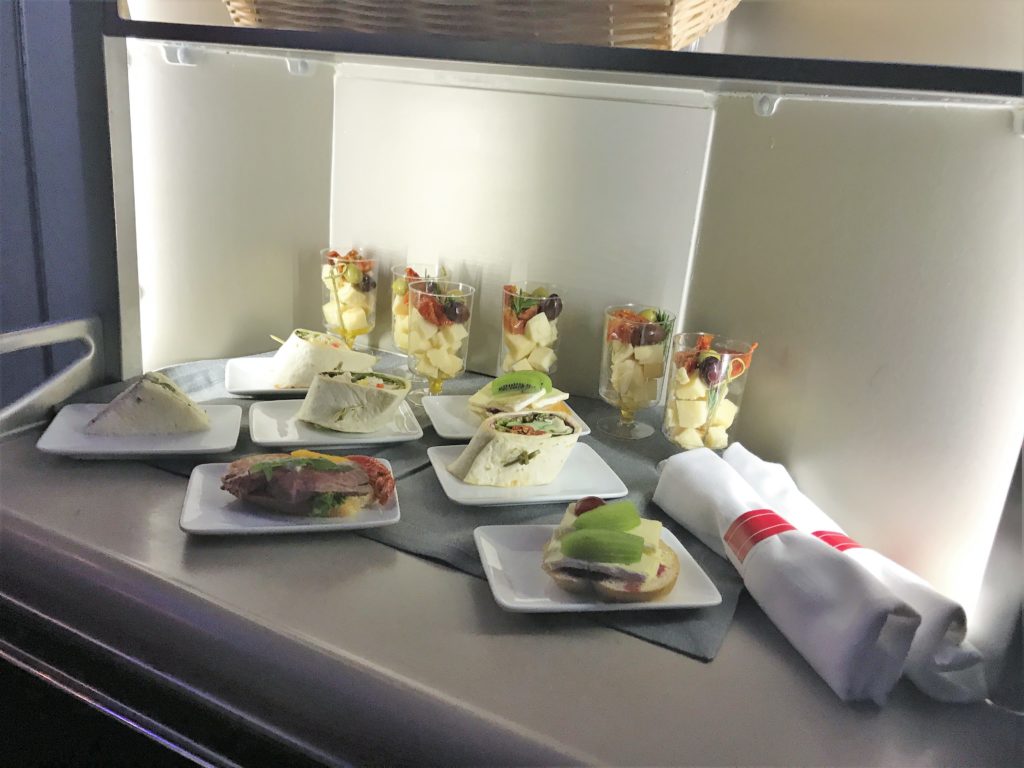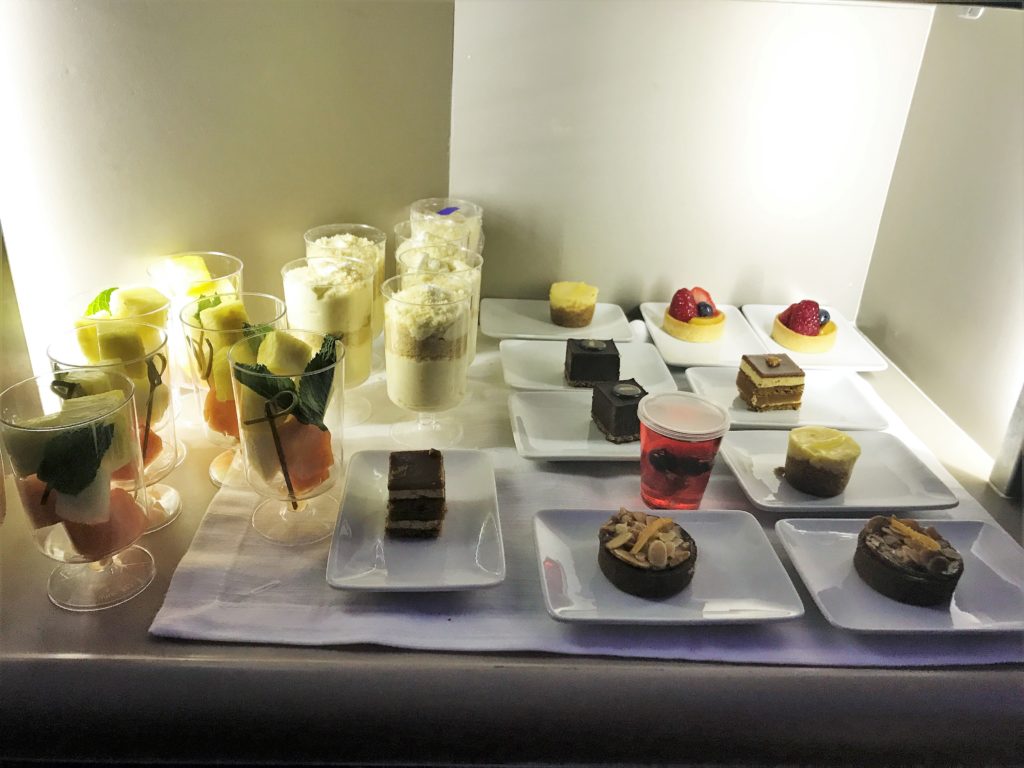 If you still had room on the 7 hour flight there was a second meal service consisting of a choice of
BBQ beef cheese toastie
Super food salad bowl
plus dessert of cholate salted caramel pudding
Wines and drinks
As well as Champagne, there was a choice of 4 wines, 2 red and 2 white.
De Venoge Cordon Bleu Champagne
Beringer Chardonnay, Napa
Klein Constantia Sauvignon Blanc, South Africa
Hancock & Hancock Cabernet Sauvignon, McClaren Vale, Australia
La Fou Garancha Negra-Syrah, Spain
There was also a Churchill's LBV Port. I decided to try the Chardonnay. It wasn't the best Napa chardonnay I have tried but it was fine. I also had a glass of the Cabernet Sauvignon which I enjoyed. The wines aren't the most expensive but they were better quality than I had had previously on AA. I liked the stemless wine glasses as there is far less chance of me knocking them over as well as getting a generous measure too!
They had a great selection of other drinks, including loads of different soft drinks with several diet choices. For spirits there were no less than 5 whiskys including a Glenlivet 12 year single Malt and a Woodford Reserve Bourbon. They also had Bombay Sapphire gin, Baileys and Amaretto. There were 6 beers to choose from including Samuel Adams and Dos Equis. Not much chance of getting off AA sober if you like a drink!
Service
US airlines often have a reputation for poor service, which I find ironic given how good customer service is in the US generally. On AA they weren't the most friendly or chatty crew but they were polite and extremely efficient on all my legs. I think I would rather have this than the inconsistency you get on BA with some fantastic friendly crew and some downright miserable crew!
Entertainment
There was a modern entertainment system with a hand held touchscreen controller. I didn't find the controller particularly easy to use as it varied between lagging or scrolling to fast through the choices. There as an excellent selection of films though with plenty of new releases as well as a large selection of older films. The TV programs also had a good range. There was even an option to order drinks using the controller which I liked.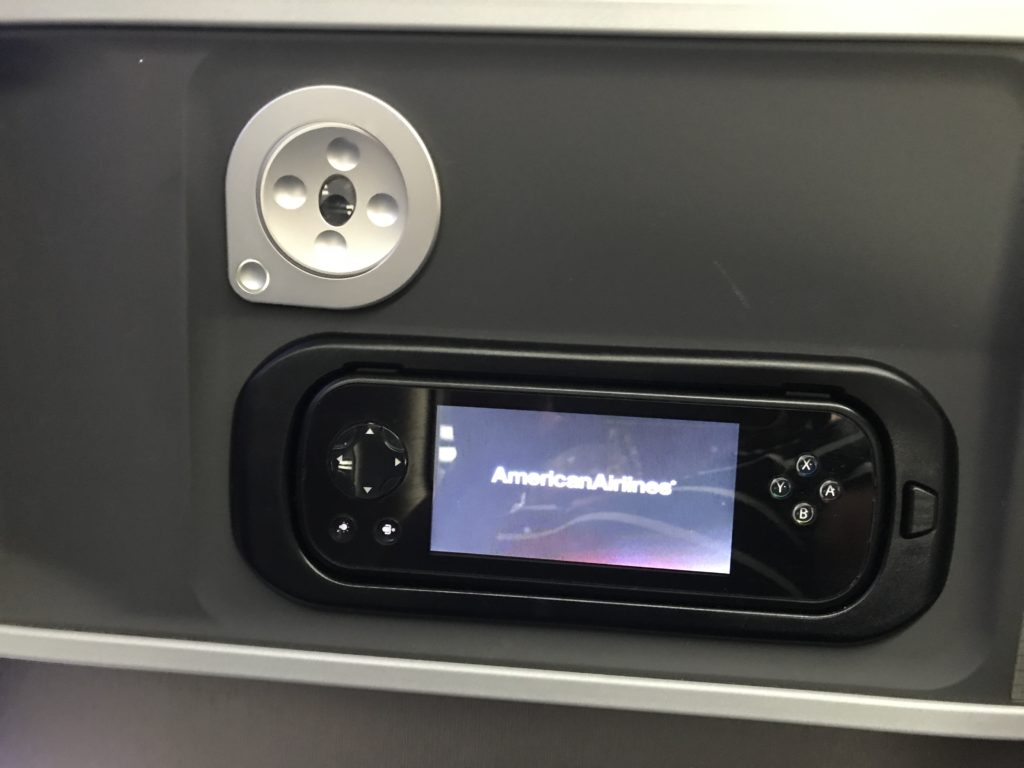 I decided to watch the Founder with Michael Keaton which is about how McDonalds started. I found this film very interesting, so it is worth a watch if you get the chance. The screen quality was very good as well as being a decent size. I don't normally use airline headsets but I tried the BOSE ones and found them comfortable as well as effective for noise cancelling. They had also includecovers for them in the amenity kit
There was Wi-Fi on board which you had to pay for. The prices started at $12 for 2 hours which was pricey. I found the Wi-Fi simple to use and it worked well. It was certainly fast enough for me to post some pictures onto my social media.
Conclusion
I was really impressed with AA. They had upped their food and wine since my last trip. I found the new seats comfortable and private. AA will remain my airline of choice to the US. You can, of course, earn tier points and Avios on AA. You can even use Avios to upgrade on AA providing you booked your ticket on BA. You can get fares of around £1800 to Honolulu from Dublin currently with AA.