It's a long time since I have been in the Aspire lounge at Heathrow T5, so I thought it was worth a return visit. I had planned on using my Priority Pass to get in but as it was the peak day of the year for travel, Aspire lounges kindly booked me in as a direct guest.
First Impressions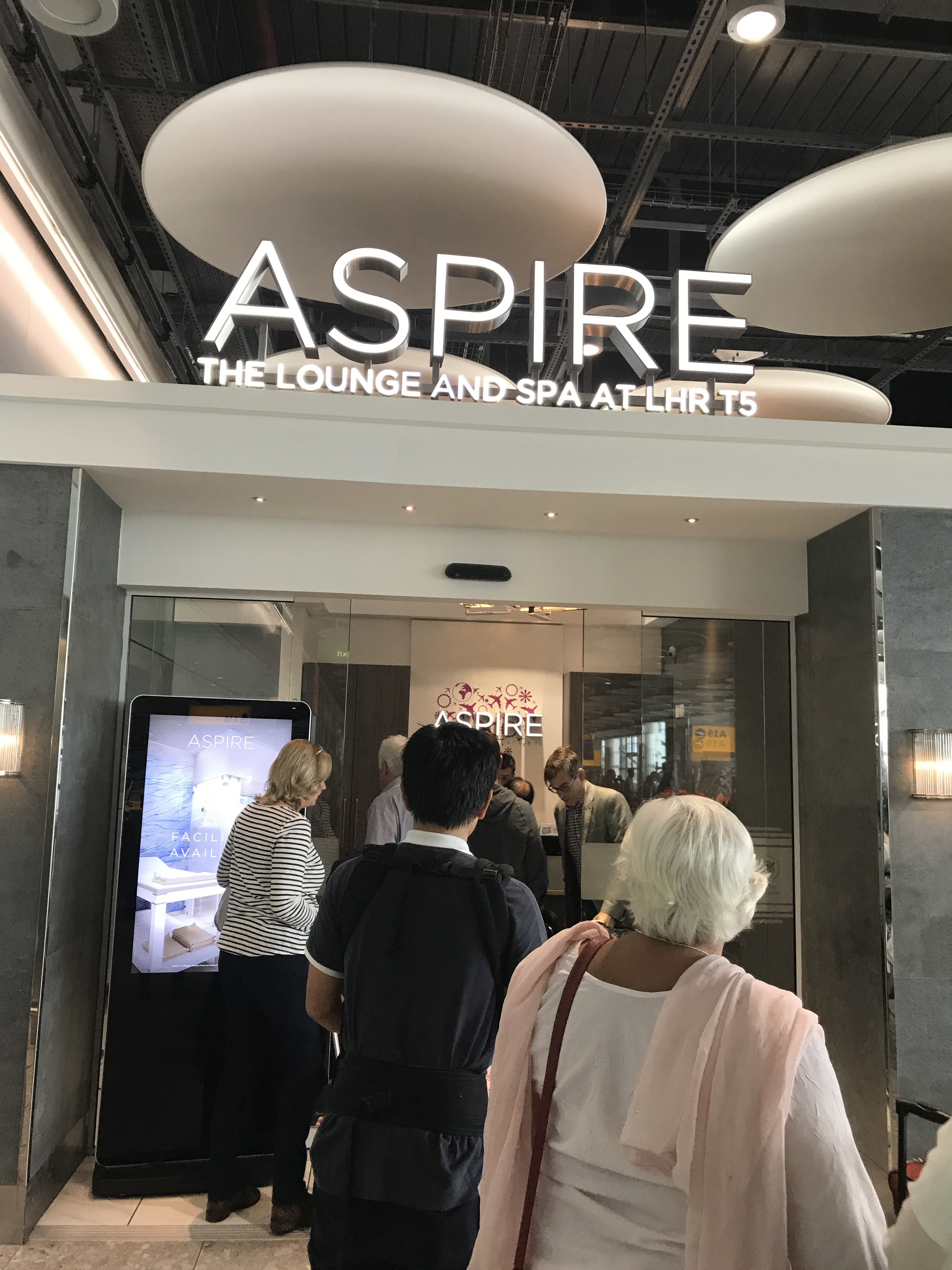 I arrived too early, as you are only meant to be at the lounge 3 hours before the flight. There was quite a long queue of people waiting at the desk. I had planned to get a treatment in the Bliss spa, which costs extra. The treatments cost £20 for 20 minutes or 40 for 40 minutes. They do facials, manicures,m pedicures and a neck and shoulder massage. I was told the therapist could not do any more shoulder massages as she had hurt her finger, so I decided not to bother. If you want a treatment I suggest getting there early as they are normally fairly busy.
As I was still around 20 minutes early, I decided to ask if it was OK to enter the lounge. The receptionist was happy to let me in, although I didn't really appreciate the ongoing bickering between her and her colleague about how many people they should let in. I thought this was quite rude in front of me, particularly since I had just said their PR company had arranged the visit! It ended with her snapping 'oh just do what you want!' at him.
The lounge

The lounge itself has a modern decor and is a long narow shape. This means it does not feel overly spacious but even though it was a peak time, there were still a couple of seats left. There was also plenty of room at the high bar and in the work area. The lounge has good views to the airfield outside and is very light and airy due to the natural light.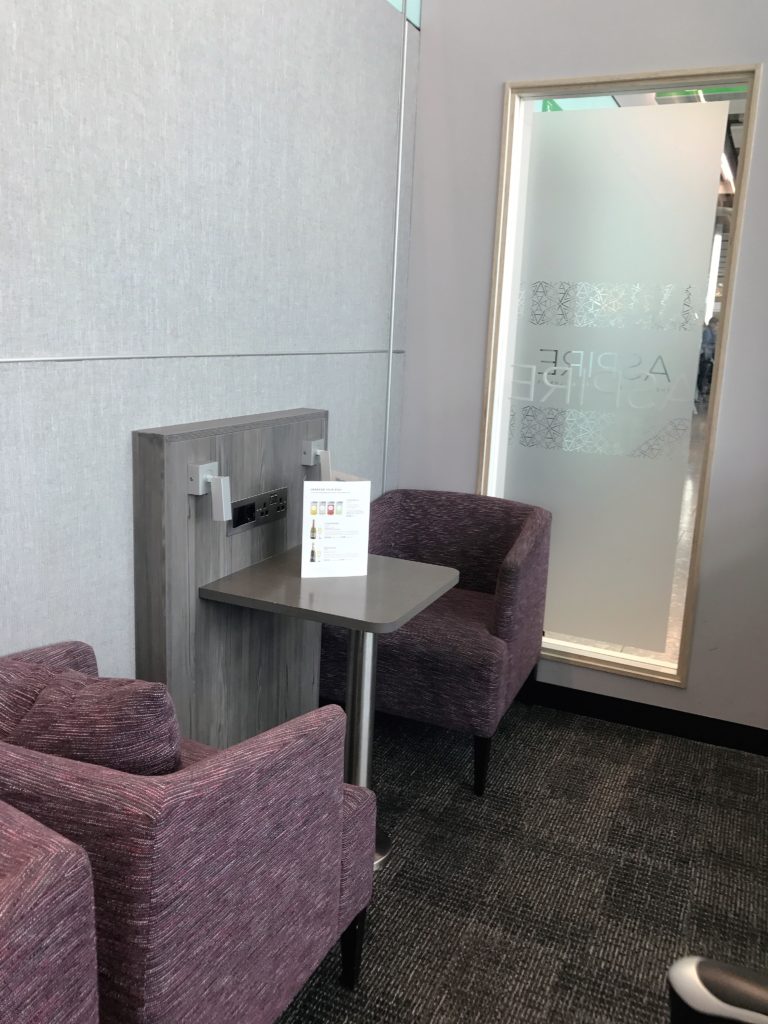 Despite it being sweltering in the BA lounge that afternoon, it was a pleasant temperature in the Aspire lounge. There was a range of magazines and newspapers, although some of them were quite bizarre choices. My favourite was Royal Liverpool Golf Club magazine!
Although it was one of the peak travel days of the year, I could easily find a choice of places to sit in the lounge. The reception were carefully managing the numbers of guests which showed. There were plenty of charging points by nearly all the seats which was great.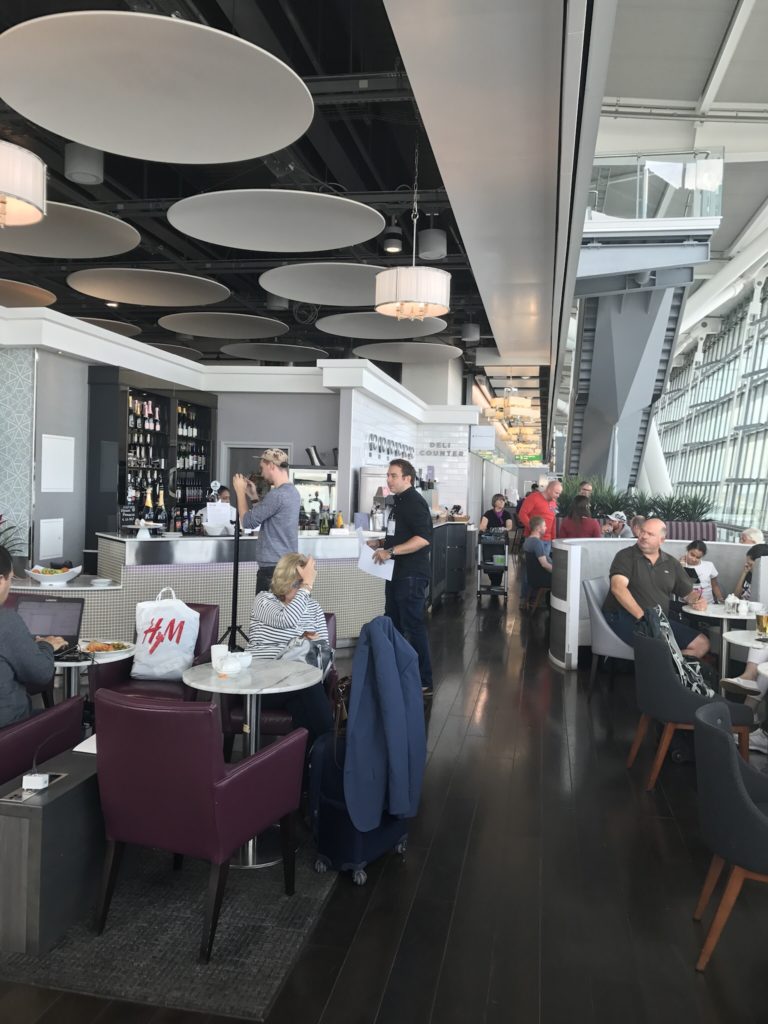 Food

I was actually pleasantly surprised by the food, as generally I don't expect much from the food in paid lounges. There was a dining area with tables and chairs by the bar if you wanted to have a proper meal, although this area was very busy.
The menu is currently as follows:
Rustic Meatballs and Pasta
Italian style meatballs with a rich tomato sauce and penne pasta.
Thai Green Curry
100% chicken breast and chunky vegetables in a Thai Green Curry sauce, served with rice.
BBQ Pulled Pork & Rice
Pulled pork topped with tangy barbecue sauce, served with rice.
Ratatouille
A healthy mixed vegetable ratatouille, served with pasta and a classic tomato sauce.
Vegetable Curry
Curry with sweet potato, chick peas and spinach, served with fluffy rice.
Pasta & Cheese Sauce
Penne pasta with a creamy cheese sauce.
Pasta Carbonara
Penne pasta with a creamy cheese and bacon sauce and plenty of black pepper.
Pesto Pasta
A classic basil pesto and pasta
Mushroom Pasta
Creamy mushroom sauce and pasta.
Tomato Pasta
Pasta with a rich sun ripened tomato sauce.
Mini Stuffed Croissants
Croissant filled with Spinach and Ricotta; melted Gouda cheese or tomato and mozzarella V
Quiche
Your choice of Broccoli and Cheese V or traditional Quiche Lorraine
Meat Samosa
A warm, spicy Indian snack with Lamb and mixed vegetables.
Vegetable Samosa
A warm, spicy Indian snack of mixed vegetables
Soup of the Day
With a fresh bread roll.
Salad Bar
Italian Mozzarella Salad
Chicken and tomato, drizzled with a pesto dressing and served with baby gem lettuce.
Thai Sweet Chilli Chicken Salad
Chicken and tomato, dressed in a sweet chilli sauce, served with baby gem lettuce.
Prawn Cocktail Salad
Prawns and a tangy Marie Rose sauce served with cherry tomatoes and baby gem lettuce.
Greek Salad
Feta cheese, black olives, cherry tomatoes and fresh salad leaves.
If none of this appeals they do also have a premium menu of items to order which is shown in the photo below.
Drinks

The drinks are the area that lets the lounge down and they are nowhere near the standard you would get in the BA lounges. I had trouble trying to find out exactly what was available due to the language barrier with the bar lady. She kept saying that all the wine was free which is not correct as they do wine flights which cost extra. She was unhappy to show me the bottle of standard wine or let me take a photo either. Very strange!
For spirits, they actually had a decent range. This included Gordons's gin, Port, Baileys, Tia Maria, VSOP Brandy and even single malt whisky. The wines that I managed to see were a cheap Spanish wine called El Muro from Carinena with white, red and rose wines. They retail for £6 a bottle, no expense spared!
If you can't face the basic wines, you can pay an extra £10 to get one of the wine flights of three 75ml tasting glasses
• Sensational Sauvignon Blanc – 3 Sauvignon Blanc wines from Chile, France and New Zealand
• The French Affair – 3 quintessential classic white wines from across the English Channel.
• Brave New World – Full flavoured, rich style red wines from the Southern Hemisphere
• The Jet Set – Treat yourself with this line-up of some of the most iconic red wines.
They also sell Prosecco and Champagne too.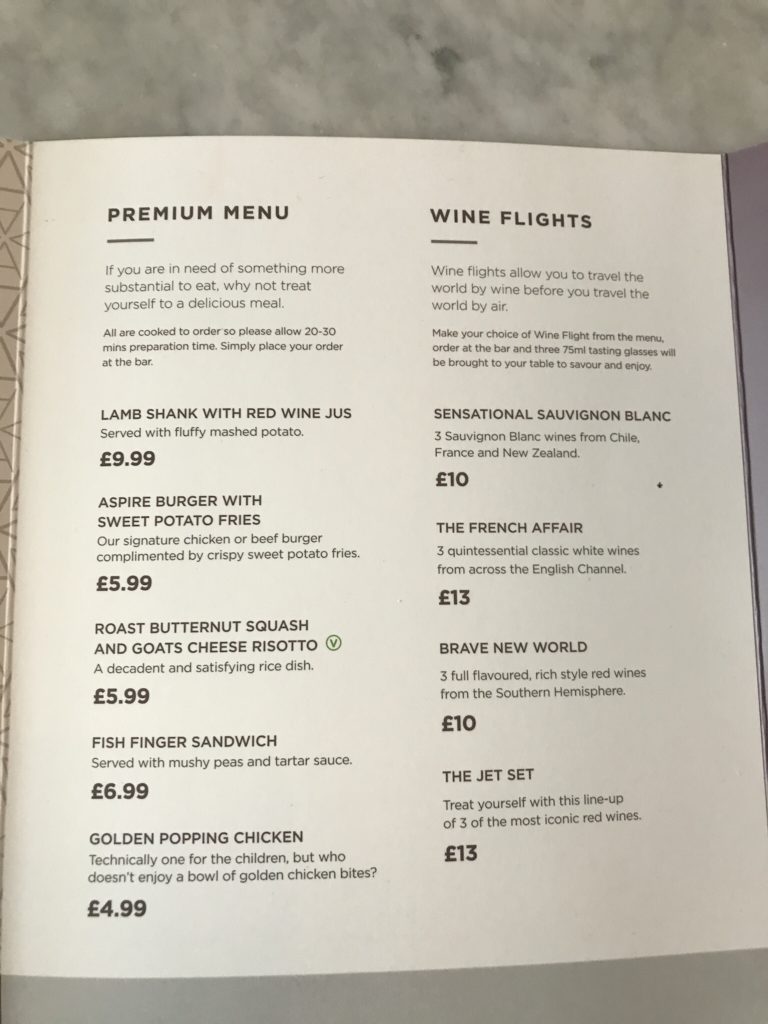 If you are a beer drinker there was a choice of 4 beers: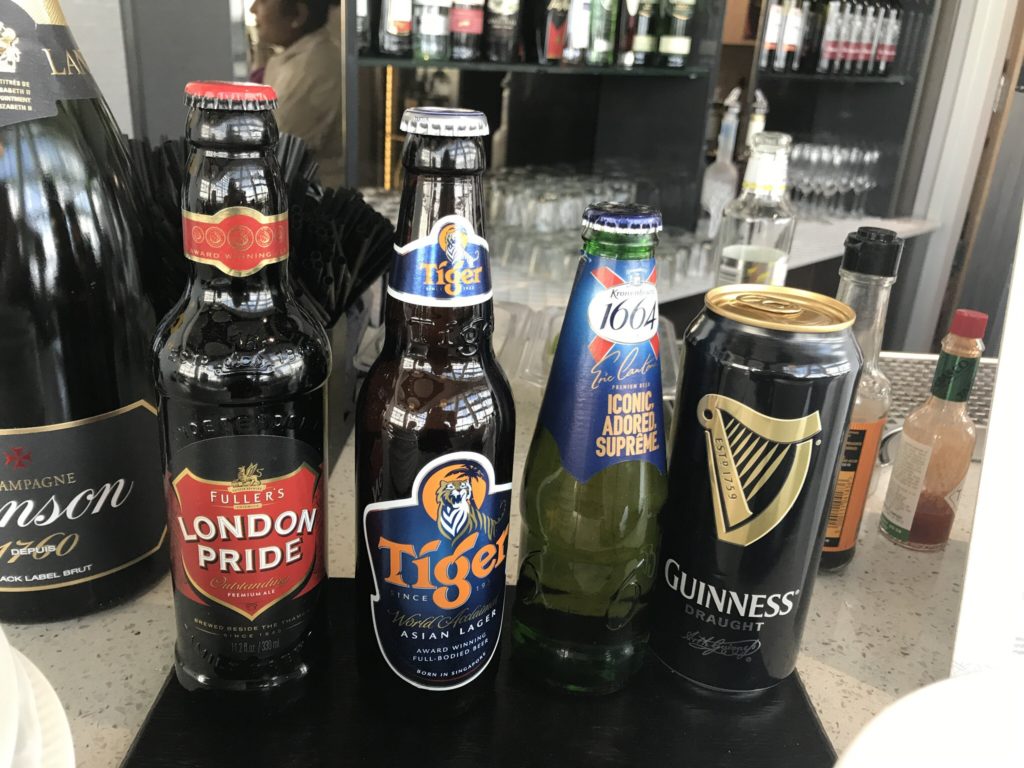 If you wanted a soft drink they had: fizzy drinks from a dispenser, water on tap with a choice of cordials, juices, teas and a bean to cup coffee maker.
Other facilities
If you are travelling on business there are work desks and a high bar with plenty of charging points with UK, US and USB sockets. There is also fast, free and unlimited wi-fi. If you want a shower, there is an additional charge of £20 for these and they can be booked when you get to the lounge.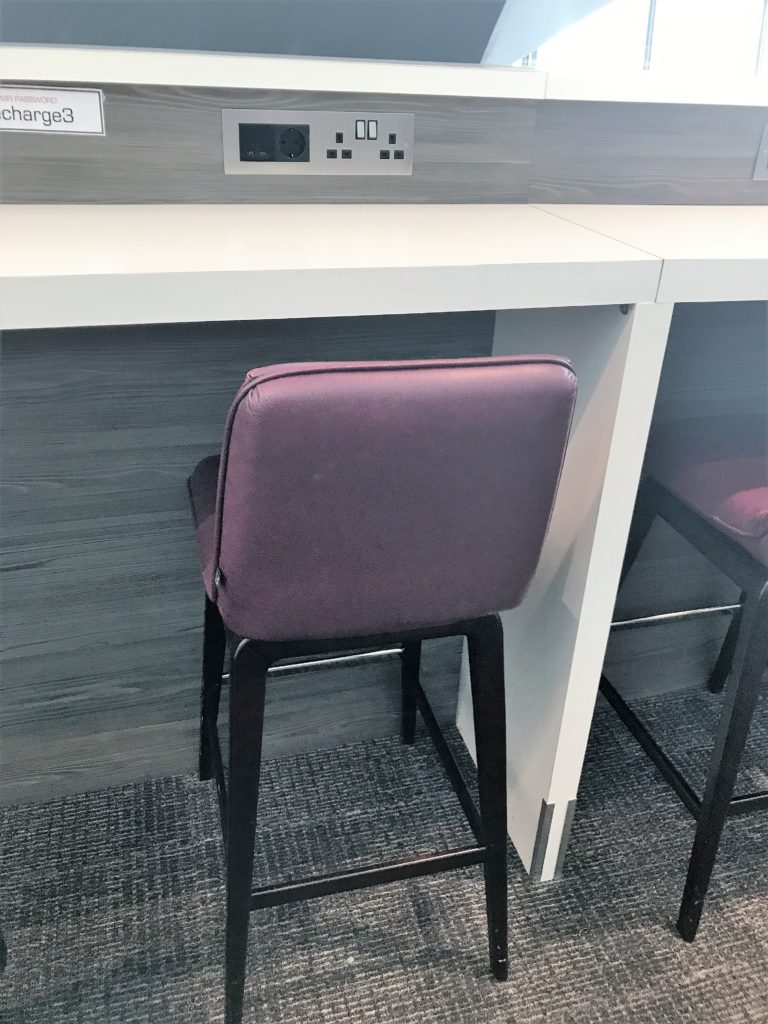 How to get it cheaper
As I mentioned in this article, you may be able to get the Aspire lounge with Avios for just 3250 Avios. The other ways to save money would be to use someone like Holiday Extras with Topcashback, Lounge Buddy with their introductory offer of $10 off your first visit or you can use a Priority Pass if you have one. This article explains about the different ways to get lounge access.
Is it worth it?
The lounge is nicely decorated and there was a good selection of food, certainly equal to the BA Galleries Club. The drinks are what lets it down, particularly the cheap wine. If you are a beer or spirits drinker, it is not as bad. I don't think the lounge is worth £34.99 but if you got a discount on it, it is a quiet place to sit and have something to eat or work.