I have heard a lot about the ME London Hotel and always wanted to try the Radio rooftop bar there. I had often wondered if it was a case of style over substance, judging by the sleek design. So, when I had some Melia points that were due to expire and I needed to be in London for a BA frequent flyers do, it seemed like the ideal opportunity to give it a whirl.
I did consider the Melia White House, which features prominently on one of the UK points blogs, but having read the bad reviews I concluded it was not a good idea. That it is probably why they need to do lots of promotion – to get people to stay there!
Rates
As I am Melia Gold thanks to my Amex Platinum, I get 3 coupons for 20% off per year. Between this and my points, it meant it only cost me £145 for a Mode category room, the next category up from the entry level Vibe room. The full price would have been around £300+. You can find out more about Melia Rewards here.
Location
The ME London is situated by the Strand, just over 10 minutes walk to Waterloo and round the corner from the Waldorf Hilton which I reviewed here. ME London was very handy for Soho and the theatres. The nearest tube stations were Temple or Embankment.
Check in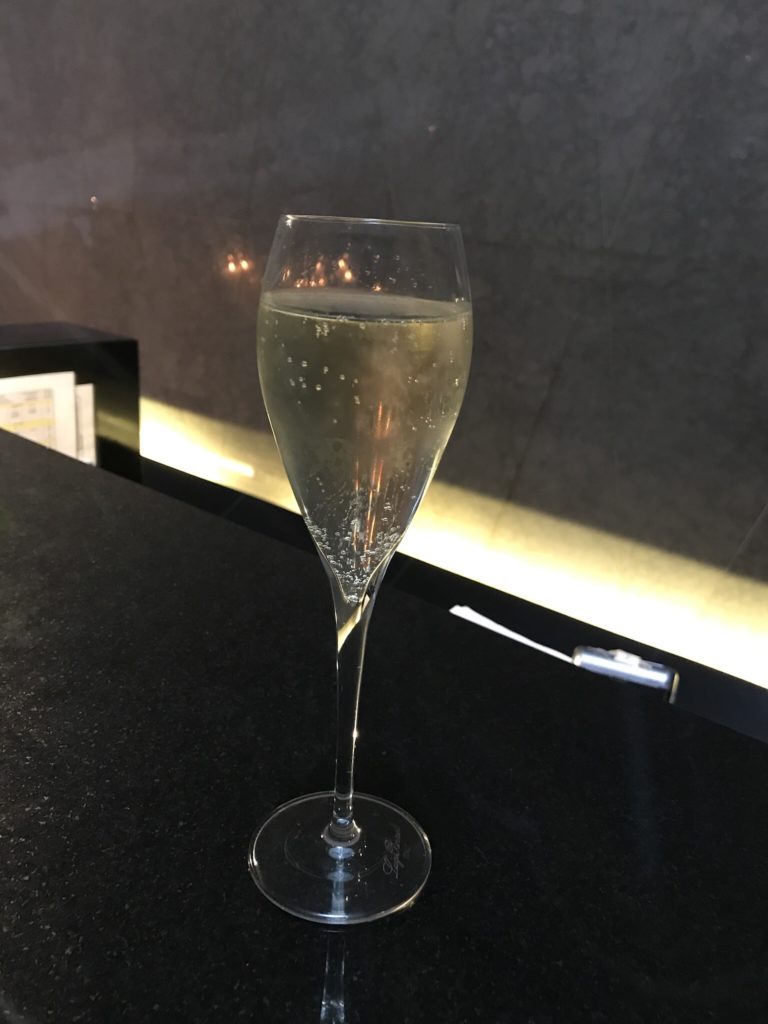 Check in was impressive. You enter the hotel on the ground level and are greeted by a staff member to help with your luggage. The ground floor has stylish sculptured walls and the Marconi bar area. You are then directed to the lift to the first floor when you check in.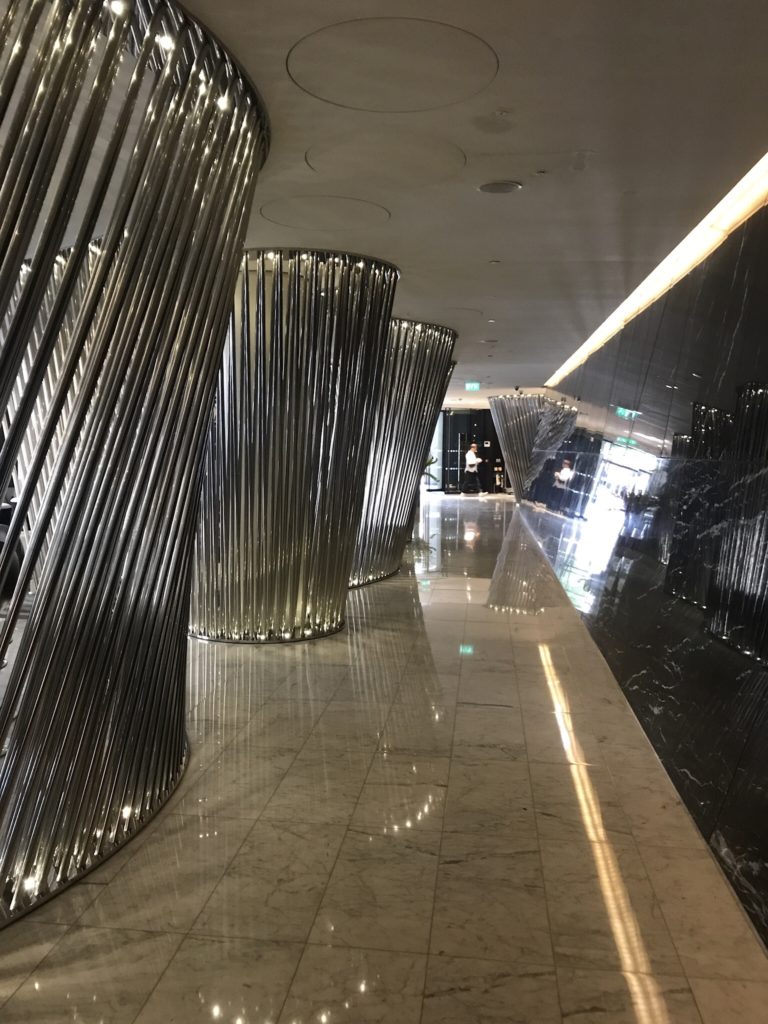 Reception had a major wow factor. Chill out music is playing in a beautiful space with projections on the wall, beautiful flowers and candles. The receptionist was very friendly, complementing me on my bag before offering me a glass of Prosecco (guess what I said?!) and a cold towel. Once the formalities were completed, I waited for a few minutes to finish my drink and then someone from guest services to escort me to my room. I thought this was a nice touch, although I was more than capable of finding it myself.
Once in the room I was shown where things were, which was just as well as some features were quite well hidden!
The majority of the corridors and common areas are clad in black marble giving it a very high end sleek feel. It reminded me a little of the ESPA Spa at the Corinthia.
Room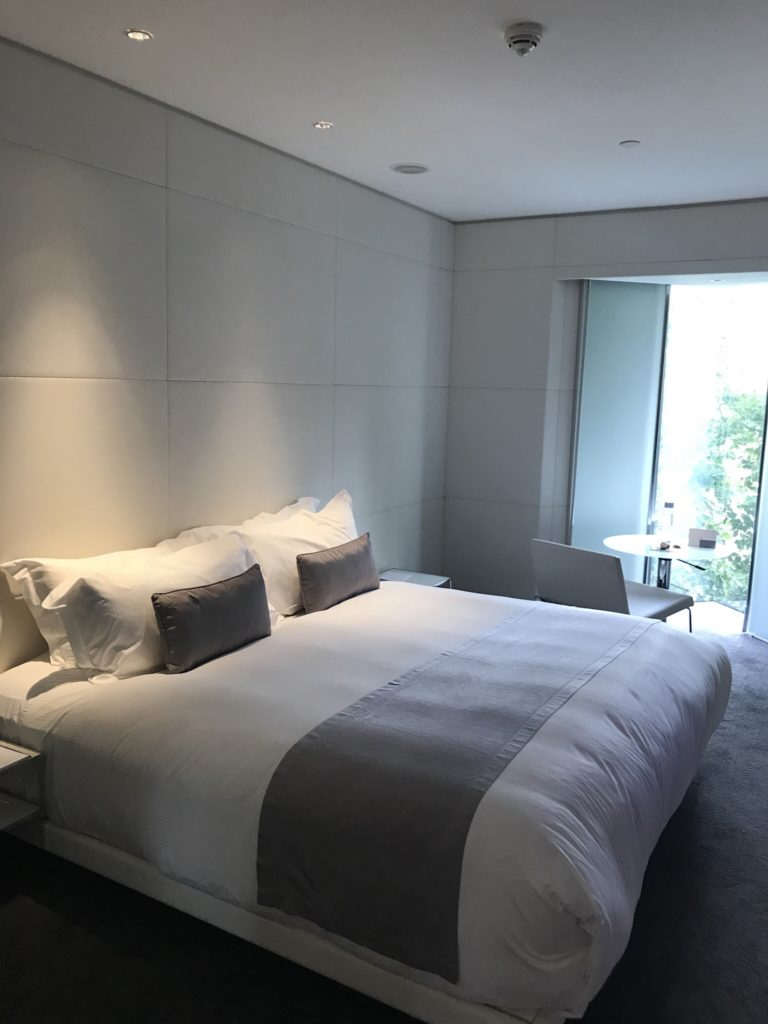 On entering the room I could see I had been left some delicious macaroons and a bottle of Voss water as a welcome gift. I assume this was for being Melia Gold.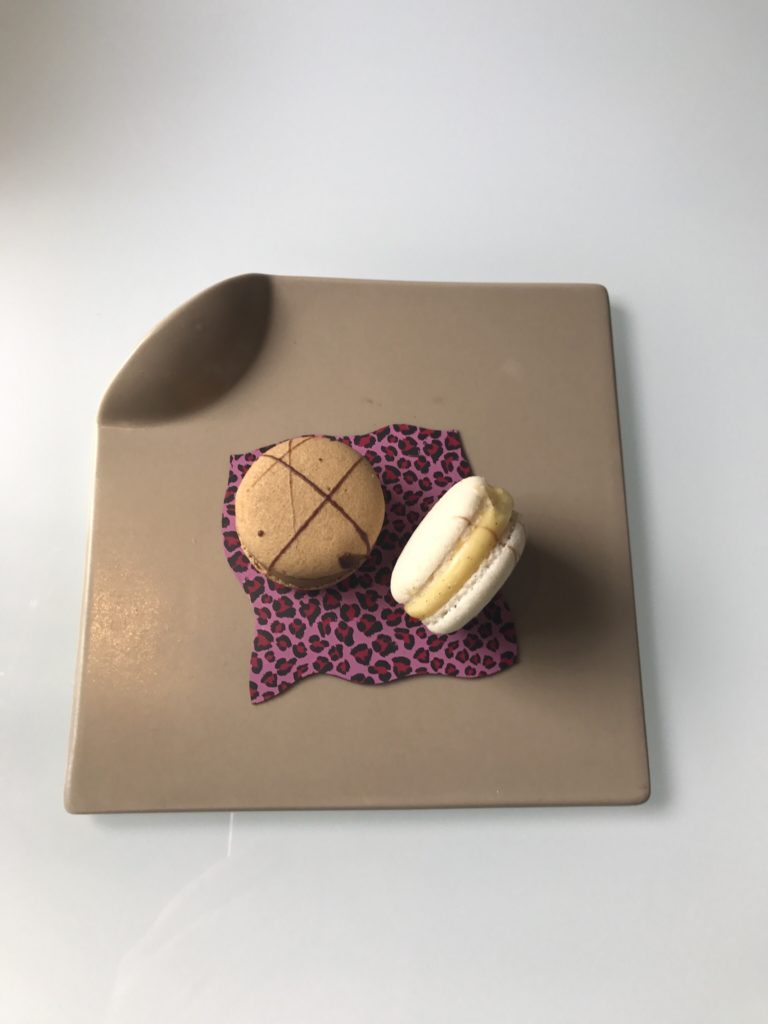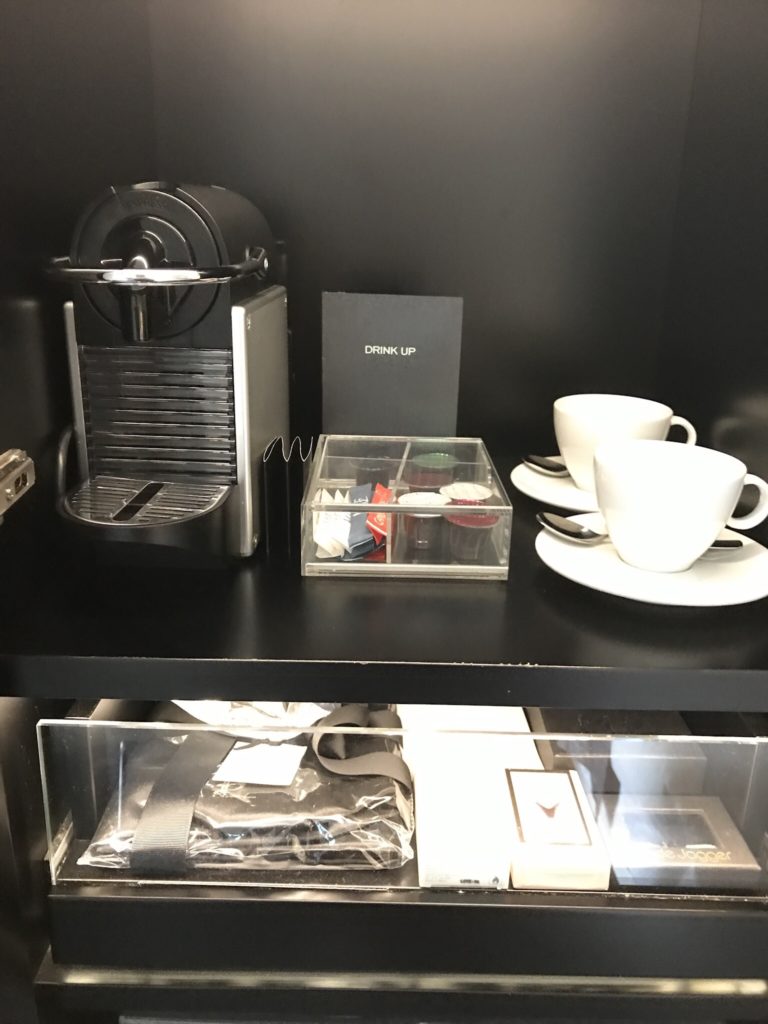 The room itself had been designed to within an inch of its life in a very modern, minimalist style. Looking at it I wondered how comfortable it would be, but the bed was actually a beautiful, extra long feather bed with Egyptian cotton bed linens. It was lovely and soft which made it very comfortable.
As you would expect, there was a big focus on technology in the room. This included a large screen TV with interactive features, a media hub with stereo wireless for Bluetooth and free music with surround sound speakers in both the bathroom and bedroom. The room had various mood lighting settings as well.
The temperature and lighting were controlled with a touchscreen by the bed.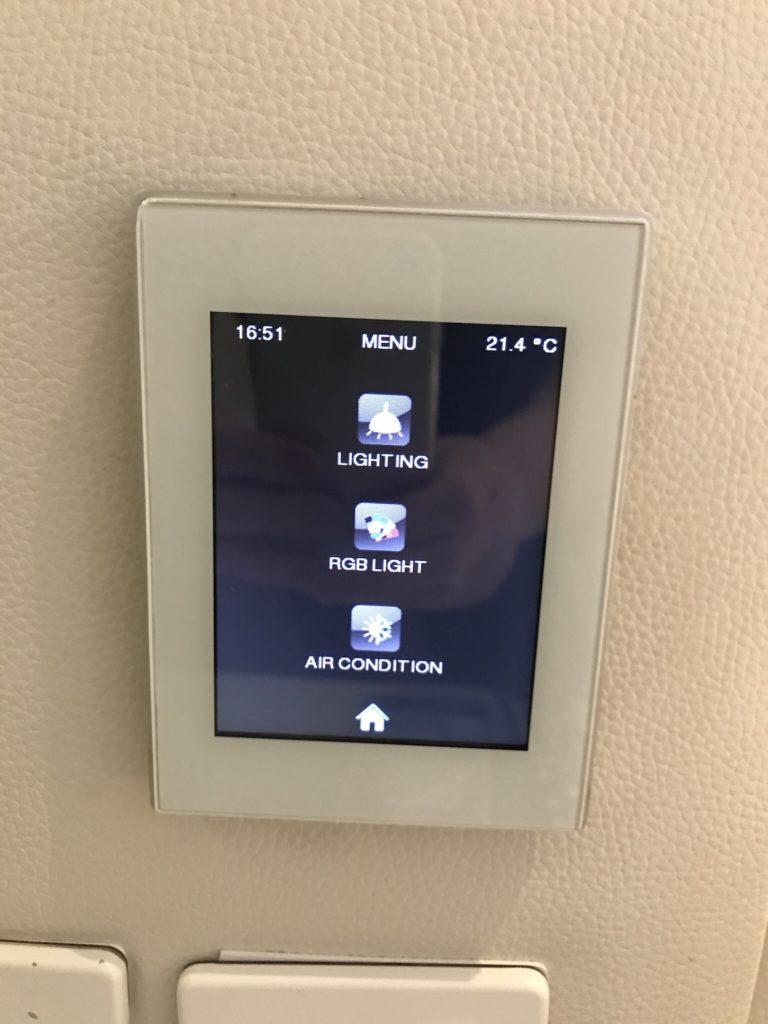 The mini bar was very stylish on back lit glass shelves. I liked the fact that they provided a cocktail shaker and a full range of glasses as well as an ice bucket. My travelling mini bar could have been put to good use here!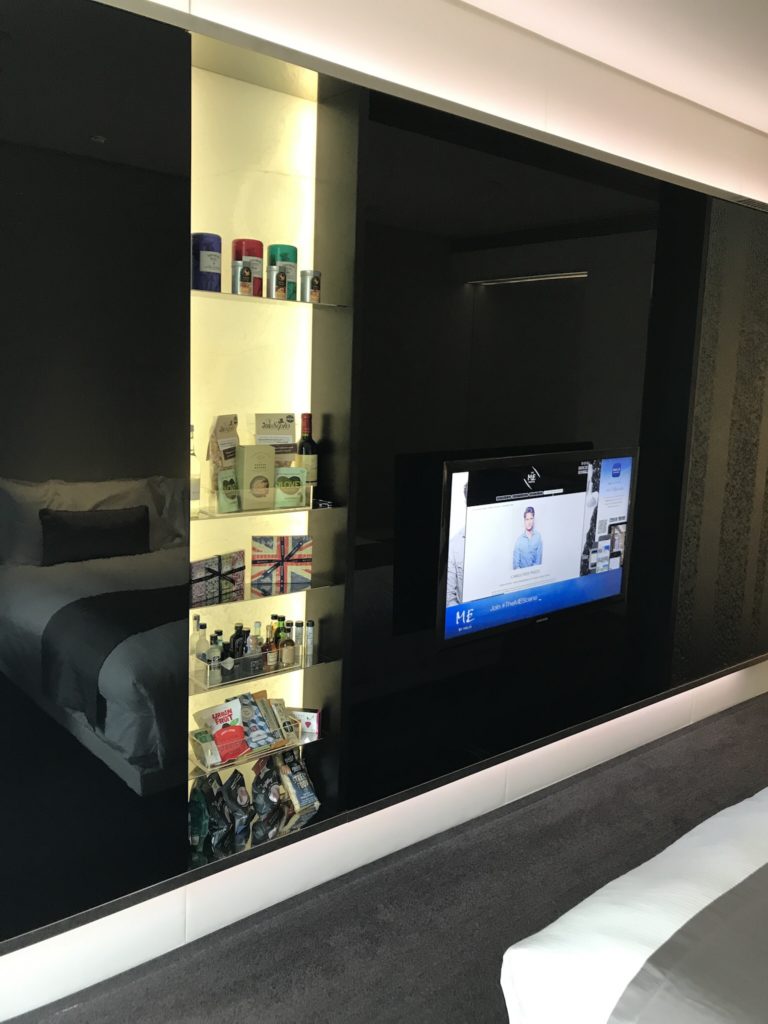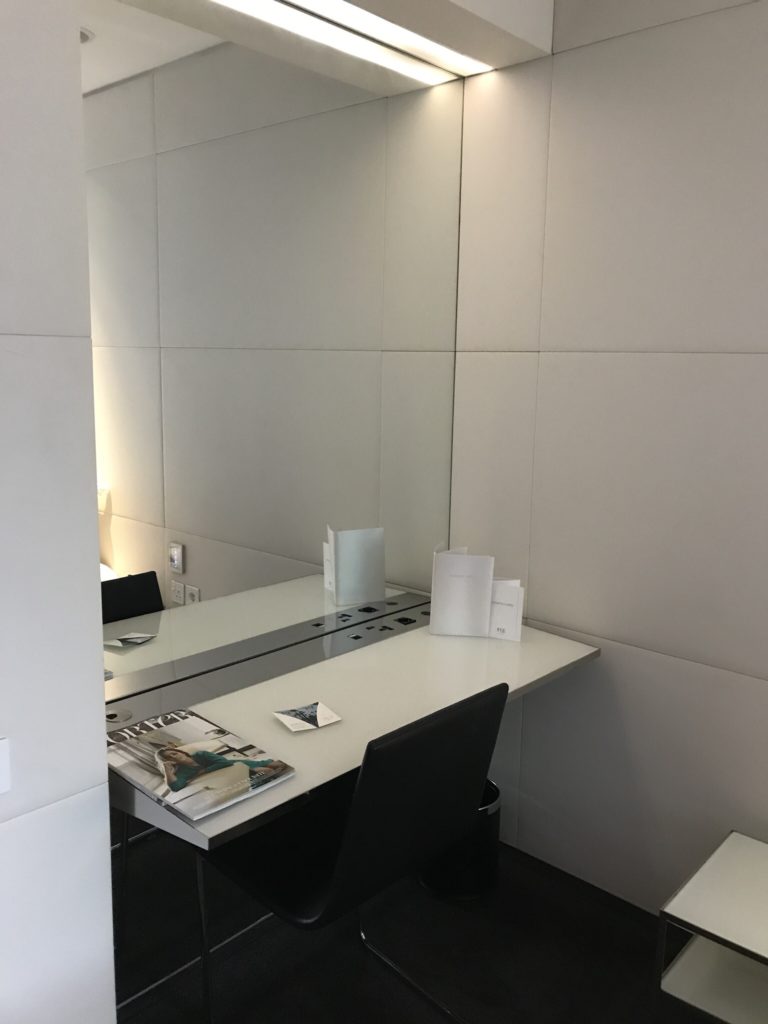 If you needed to work there was a small desk area with sockets with a mirror by it for using the hairdryer.
When I got back to my room that night, they had done a turn down service complete with mood lighting, water, a chocolate on the pillow and slippers by the bed.
The one thing I really didn't like was the window covering. I overlooked Aldwych, but I couldn't hear any noise at least. However, as soon as I looked at the window screen, I knew there would be trouble. Why do hotel designers not design rooms to be practical? It can look as fancy as you like but I am not going to stay there if I can't sleep! The screens had a frosted screen and a so-called opaque one. Surprise surprise, not only did they not actually meet in the middle of the apex, they didn't actually keep the light out. Big fail. Needless to say, I woke up at 5am when it got light.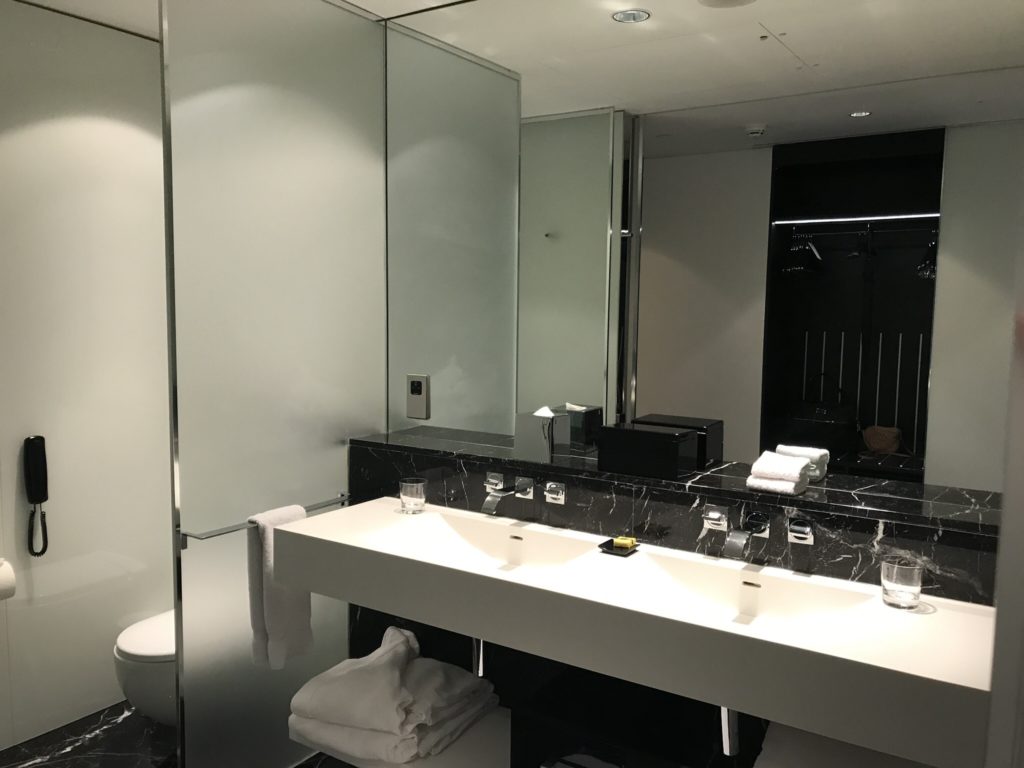 Bathroom
The bathroom was completely open to the room in the double sink area. I was really impressed with the toiletries provided which were the Apivita brand. Although I wasn't keen on the smell, they were good quality and there was a very comprehensive selection. They were presented in a chest, which reminded me of the Mandarin Oriental hotels that do something similar. It is the first time I have seen a decent face cleanser in a hotel before. They were all a good size too. As well as the usual shower gel, shampoo etc there was even mouthwash and a dental kit.
The other issue I had with the room was that the toilet door didn't shut and kept creeping open. Given that the bathroom was open to the room, this would have been a problem if you were sharing the room. The toilet and shower had opaque glass which you could see through slightly. This is another of my pet hates. Why do hotel designers think I need to see my partner or friend on the loo?
The shower was large and had an enormous Bali rain shower head. Here the design was more practical, with a long shelf at just the right height for putting your toiletries on.
Radio Rooftop Bar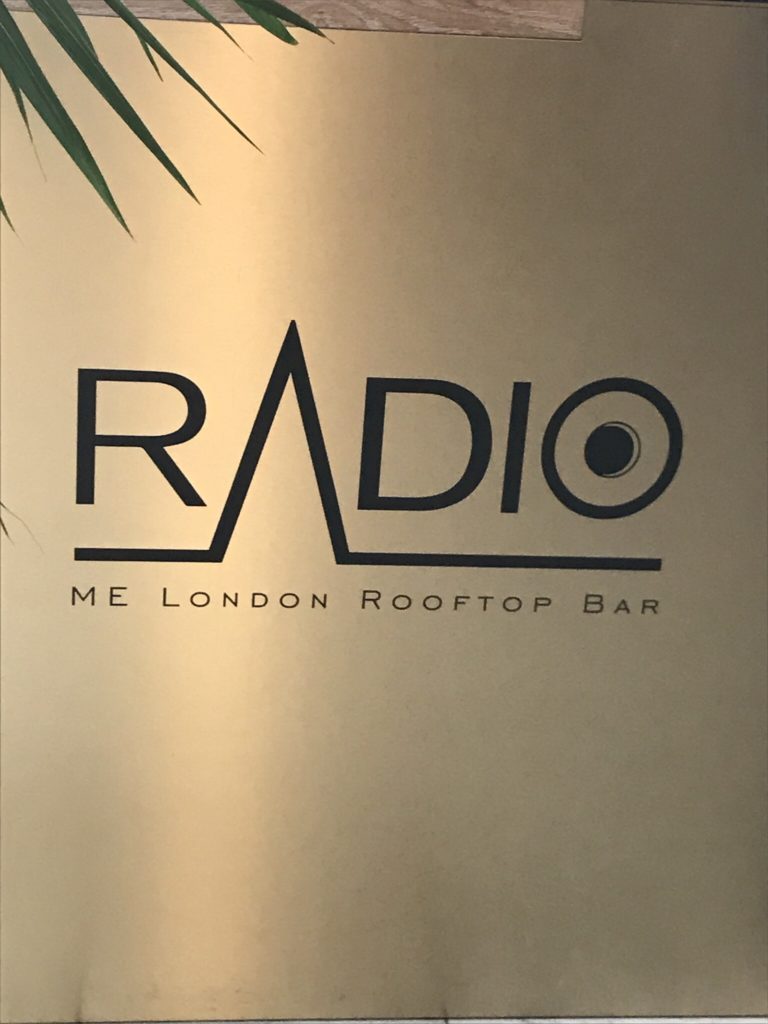 I had tried before to get into the Radio bar with my Roving Reporter on a previous visit to London in the summer and failed. Unless you are staying in the hotel or have a reservation, it is hard to get into on a warm night, such as when I stayed there. Although I didn't have time for a drink before I went out, I popped up to have a quick look. At about 6pm the place was buzzing already. A DJ was playing, the views were great and I vowed to return again with time for a drink.
Dining and bars
If you wanted to dine in the hotel, there is also a high-end restaurant in the hotel. STK from New York serves USDA prime beef and has a DJ playing after 10pm. Cucina Asellina is where breakfast is served. If you can't get into the Radio bar you could try the Marconi cocktail bar on the ground floor with its fire pit cocktail tables. It also serves afternoon tea.
Conclusion
The ME hotel is definitely a stunning hotel and I found the customer service and welcome great. Unfortunately, being woken up by the morning light is a big negative for me, so I think it is unlikely I would return unless I needed to use some Melia points again. However, if you are not bothered by not having a dark room, the hotel has a lot of good features. It would also not be so much of an issue in the winter. The well-designed room had lots of lovely extra touches and the bed was very comfortable.
You can find more information about the ME London here.