Currently at T3, you are spoilt for choice for lounges if you are flying with BA or a oneworld airline. As well as the BA lounge, there is also the wonderful, newly refurbished Cathay Pacific lounge and the not-so-wonderful AA lounge. The brand new Qantas lounge is due to open later this year as well. You can read about the Qantas lounge here. I visited the Cathay and BA T3 lounges this weekend, so expect the reviews shortly.
American Airlines Heathrow Flagship Lounge refurbishment
If you are flying on a oneworld airline, or have Silver or Gold BA status, then you can use any of the oneworld lounges at T3. Presently I would recommend the Cathay Lounge, particularly if you have BA Gold or are flying First, so you can use the First Class section. However, given the excellent new AA arrivals lounge at Heathrow (review here) and the JFK new lounge, I can confidently predict that the new AA Flagship lounge will be a huge improvement. As yet there are no firm dates for opening, but they may wait for the Qantas lounge to open first, to allow for enough capacity for AA's passengers during the work.
AA are in the middle of a huge lounge improvement project which will include London, Chicago, (new location), Dallas Fort Worth, Los Angeles, Miami and Philadelphia (new).
New entry criteria for American Airlines lounge
The most important thing to note is that American have changed access rules for the Flagship lounges, which used to be the equivalent of a First Class lounge. Previously Flagship Lounges were only open to those in international first class and oneworld Emerald members (BA Gold). Everyone else had to use the dismal Admirals Club lounges instead. Under the new rules they'll be open to oneworld Emerald and Sapphire members (BA Silver), as well as all passengers in international first & business class. This is excellent news if you are BA silver or not likely to travel First Class.
Let's have a look at the New York JFK Flagship lounge that was officially launched last week, to see what we might expect at Heathrow.
AA JFK T8 new Flagship lounge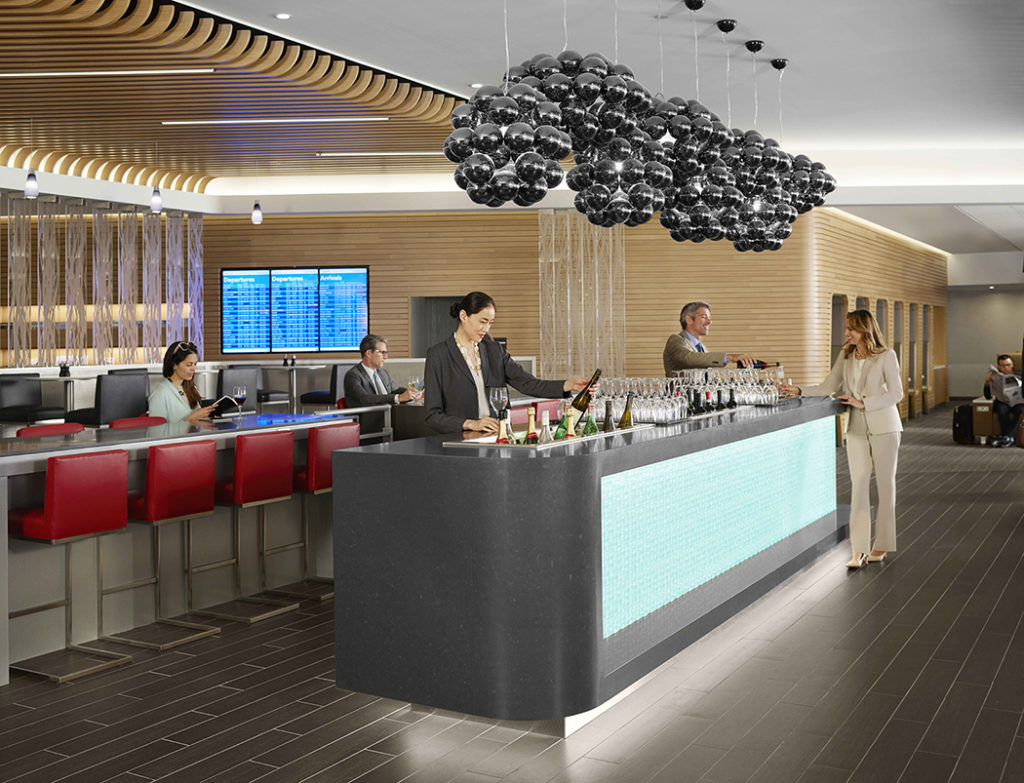 The First class experience starts at check in with a separate Flagship First Check-In area at the far right side of Terminal 8.  You can use this if you are in First on an international route or JFK-LAX, JFK-SFO and MIA-LAX. Non AA Advantage oneworld Emerald members can also get entrance, regardless of travel class, when travelling on the same routes. It's just a fancy check in area really, but there is a private entrance to security which is handy. I will use this when I travel in July and report back.
The new Flagship lounge includes quiet rooms, individual work pods with PCs and showers.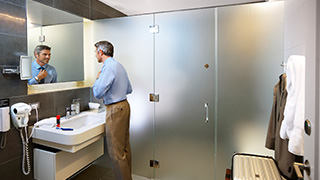 The showers have a similar design to those in the Heathrow Arrivals lounge.
Food and drink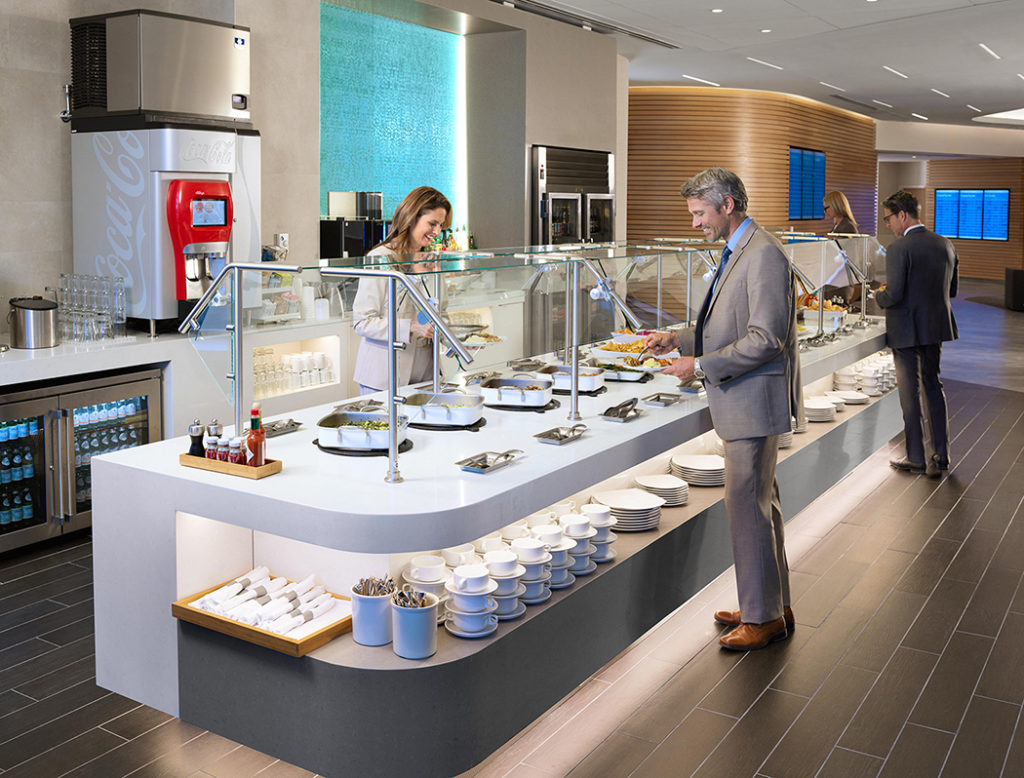 There is a range of food options including a hot and cold food buffet.  There is also a small selection of made to order items for breakfast and all day dining. These include the Flagship burger, eggs Benedict and French toast. The buffet has a selection of starters, continental cheese and meats as well as main courses and desserts. From what I have seen, the food is definitely a step up on the BA First lounges.
The champagne on offer is Bollinger which is a decent choice, although not one of my personal favourites. There is an excellent selection of spirits, including Hendricks for the gin lovers. One feature I love and will be hopefully trying out when I fly through JFK in July, is the make-your-own Bloody Mary bar which is available until 1pm. It has a really interesting pick of ingredients, some local, to choose from. After 1pm it turns into a make-your-own Old Manhattan station. Could be one for the #loungecocktailchallenge!
Flagship First Dining
If you are traveling in First Class on qualifying international and transcontinental flights, you will have exclusive access to Flagship First Dining, located within the Flagship Lounge. The sitdown restaurant experience offers table service dining with locally inspired menus.
The JFK menu will feature American's signature Flagship Burger, an item that will be available in all Flagship First Dining locations. There are specialty cocktails designed by New York mixologist Pamela Wiznitzer and hand-selected wines from master sommelier Desmond Echavarrie. There is a fully staffed bar ready to mix whatever cocktail you fancy.
American plans to add Flagship First dining this year at Miami and Los Angeles, and later at Dallas Fort Worth and London Heathrow.