The Andaz Liverpool Street in London has been on my list for quite a while having heard good things about it. I finally had the perfect excuse when I was planning on a few things in that neighbourhood. Hyatt had been kind enough to invite me for a free stay, so I took them up on their offer.
However, with this hotel everyone gets a multitude of freebies – and who doesn't love something free? Despite being part of Hyatt, Andaz hotels are all very individual, designed to reflect the city and area that they are in.
Location
The location may not seem the obvious choice for leisure travellers, but actually, if you are foodie, it's the perfect base. It's also great for public transport being actually attached to Liverpool street station.
Nearby you have Spitalfields market and Brick Lane famous for its curry houses and vintage market. It's also now got warehouse art exhibitions and trendy clubs and bars. The new Van Gogh Immersive experience is around 10 minutes away too. Below I will give some of my recommendations in the area such as Eataly, the huge Italian foodie heaven shop, and restaurants only a couple of blocks away. Borough Market, one of my personal favourites, is around 15 minutes by public transport. Finely you are also very close to trendy Shoreditch with all the various bars and restaurants on offer.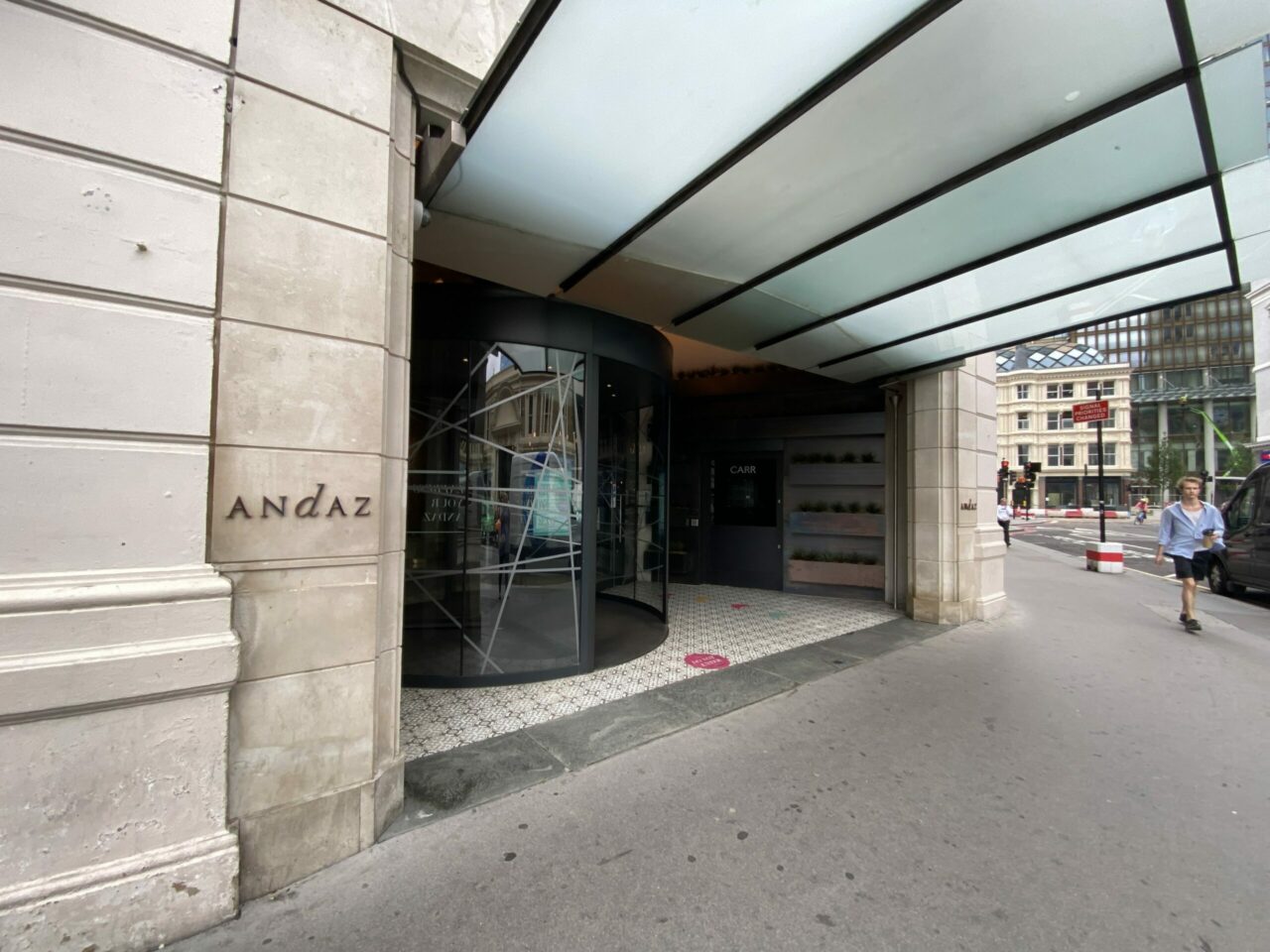 Check-in

The Andaz London Liverpool Street by Hyatt check-in area is artistic feeling and slightly quirky. The great service started from the moment I arrived with an offer to help with luggage and open the door for me.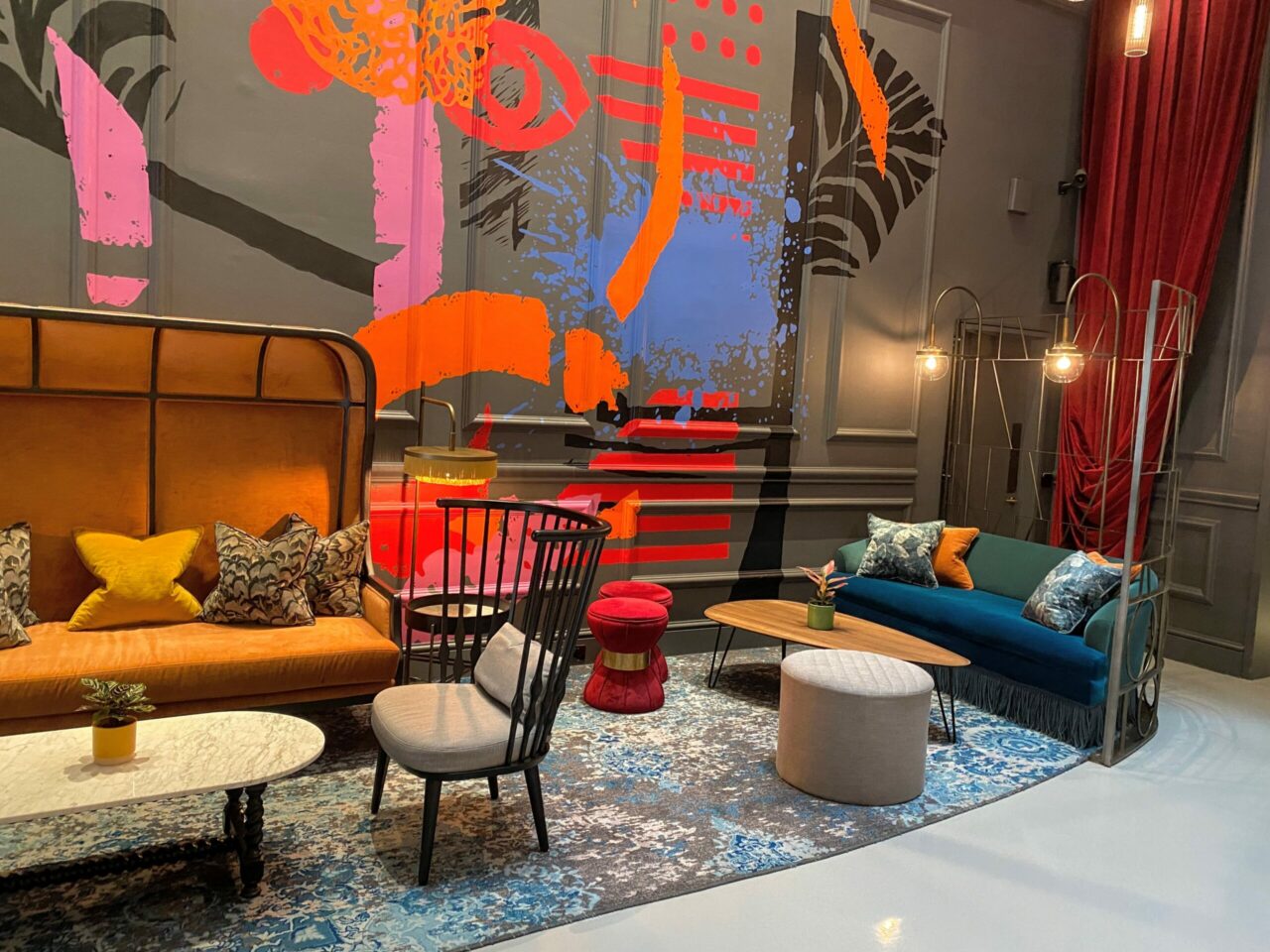 The Andaz London Liverpool Street by Hyatt is a bit like Virgin in that they pride themselves on their staff being allowed to bring their personality to work and to give the best service they can in their own individual style. Guests are welcomed with a glass of Prosecco (freebie no 1). I really liked that the lovely lady that checked me in, told me her name and even wrote it on my room card in case I needed anything. I found all the reception staff very helpful and personable during my stay. She explained how everything worked such as breakfast and the restaurants before escorting me to the lifts.
Being a travel geek, I loved how a little nook in the reception lounge was sectioned off with old suitcases: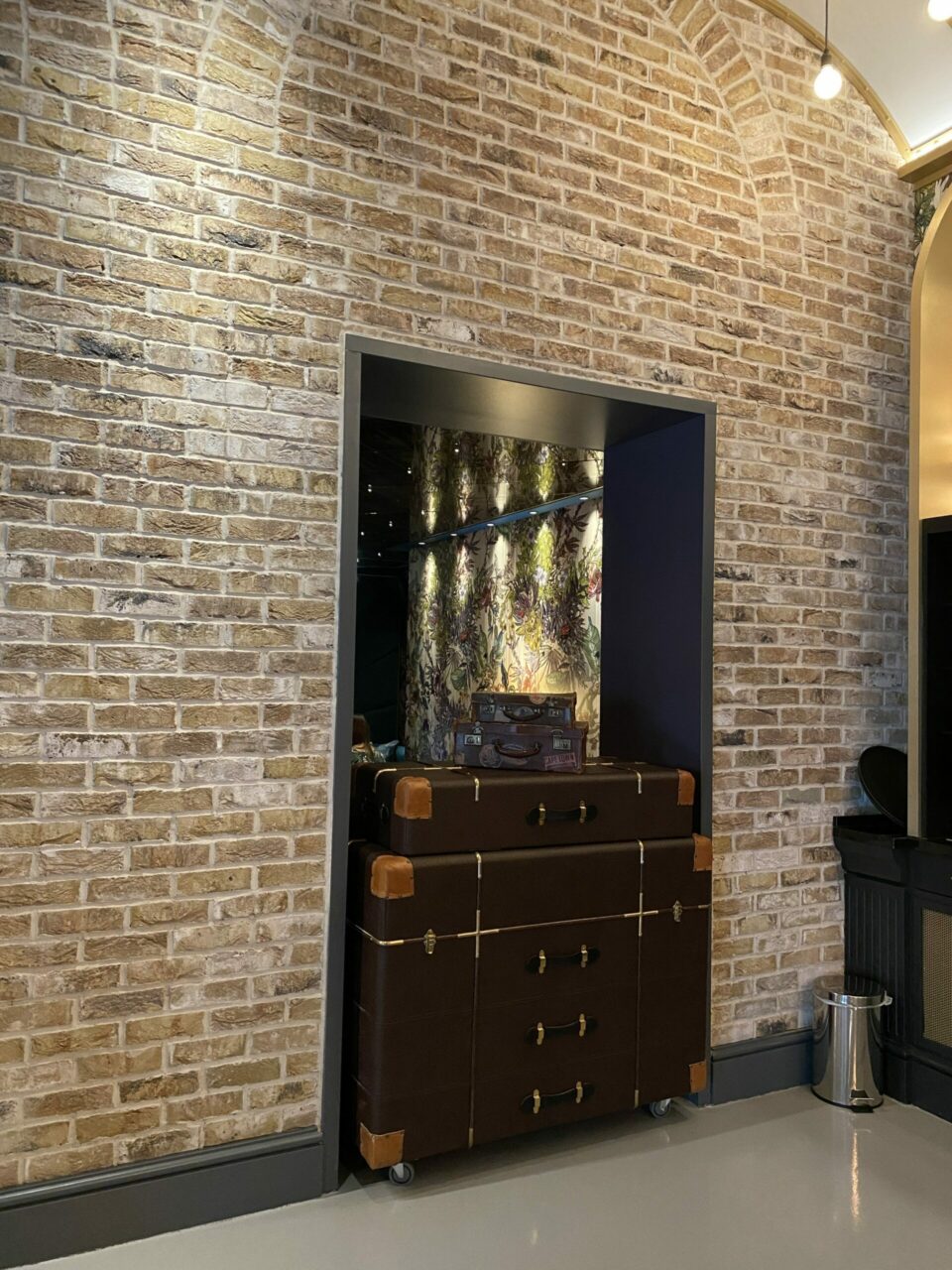 Everything is well signposted with maps in the lift. The hotel spans two buildings and is on multiple levels so you need one to find your way around!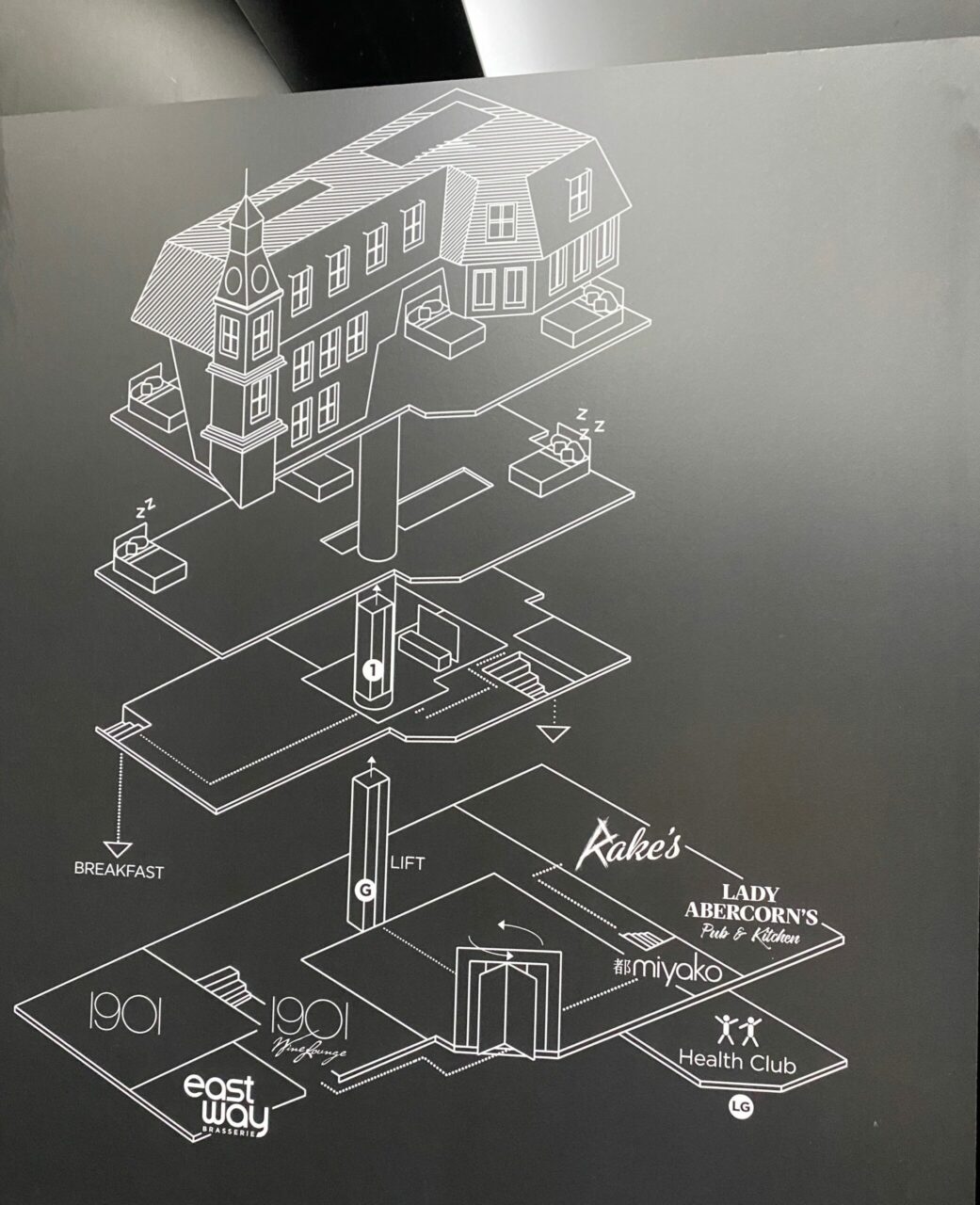 The lifts also had TV screens playing videos in them.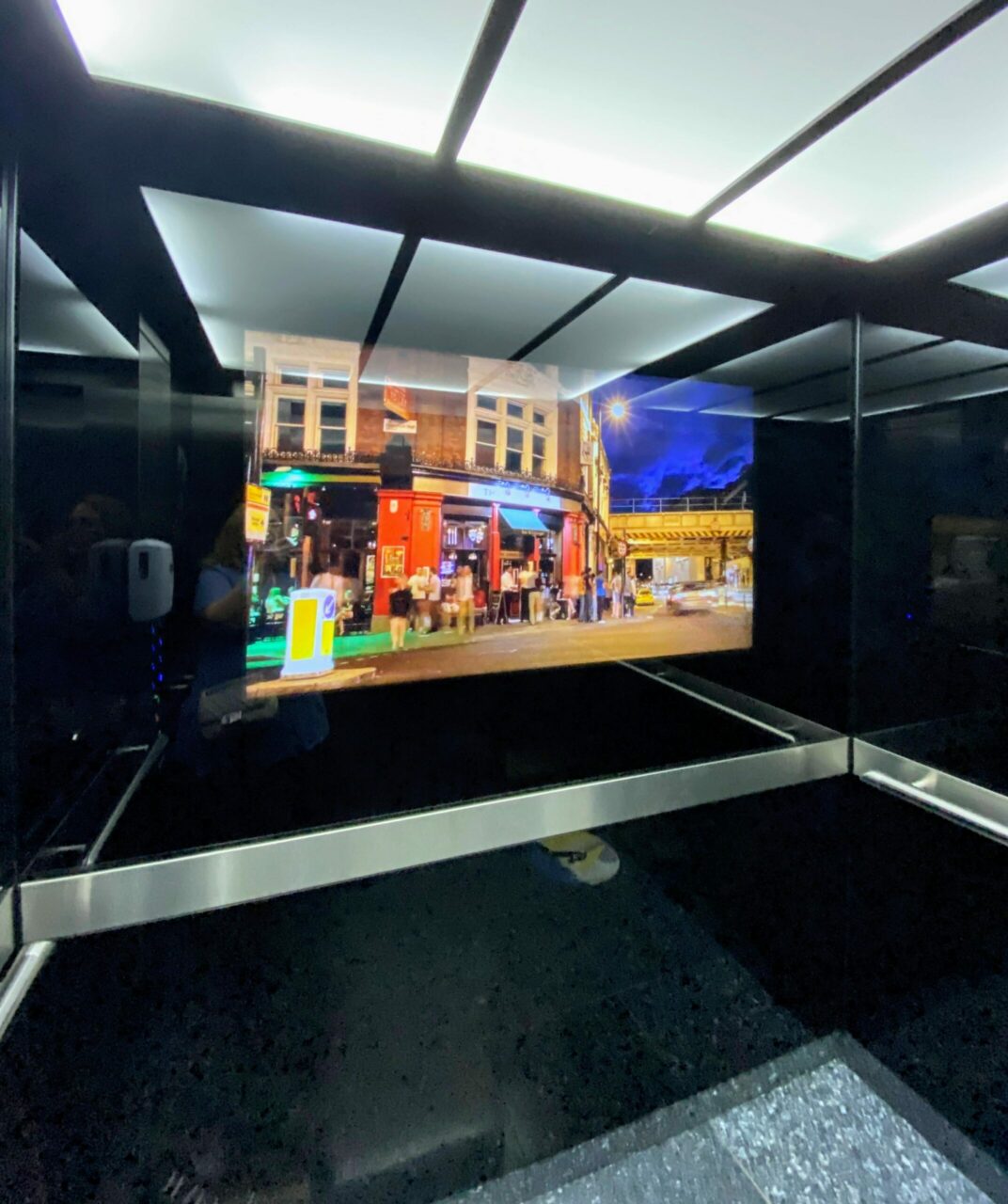 The room

There are plenty of different rooms to chose from a basic one queen bed to a fitness-equipped room with your own Peloton bike or a luxury suite. Even the entry rooms feel large for a London hotel. The style of the hotel reflects the juxtaposition of the hotel between the formal city and the artistic feel of neighbourhoods like Shoreditch.
The mix of decor stylesin Andaz London Liverpool Street by Hyatt is reflected in things like the pinstripe carpet in the rooms and corridors versus the eclectic and brightly coloured reception area or the mural and lights in my room.
The light fitting were definitely a bit quirky but stylish:
I had a King Deluxe room in Andaz London Liverpool Street by Hyatt which felt enormous. The decor feels eclectic and despite quite a bit of black, it did not feel gloomy. I found the oom well equipped with a good-sized wardrobe and plenty of hangars (one of my pet peeves recently), iron and ironing board.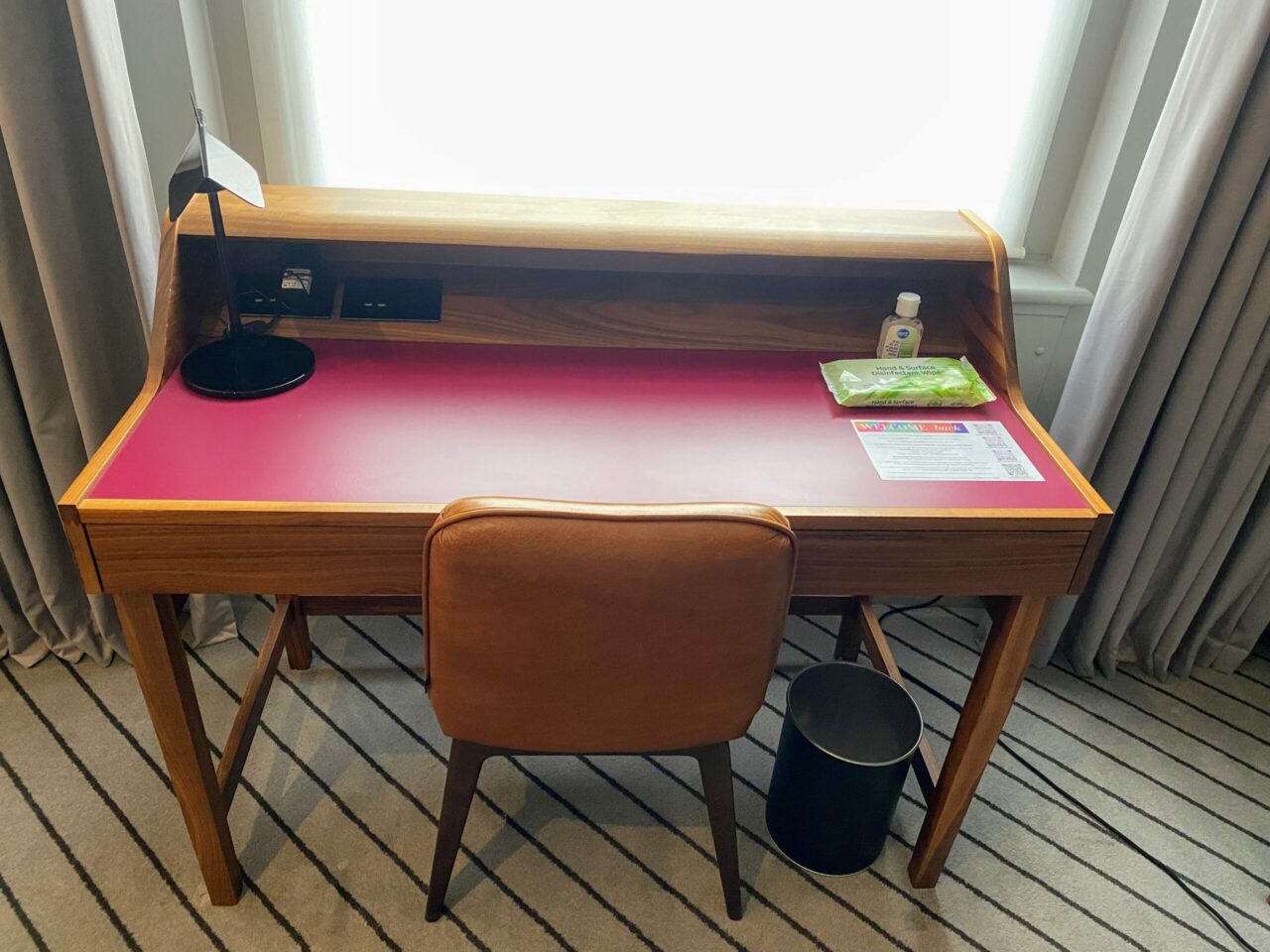 The desk area had plenty of sockets by it and was nice and bright being by the window. You'll notice there was also more free stuff – sanitiser wipes and hand gel. In fact, the whole room was very well equipped with sockets including USB connections and multiuse international sockets.
There was a large TV screen and an armchair as well as a two-seater sofa. The 55" Smart TV has mirroring capabilities and Apple TV.
Yet more free stuff was in the room. Firstly a super cute box of marble finish chocolates.
Next there is a Nespresso maker and kettle with a free minibar. Yes, it wasn't filled with alcohol but having a selection of soft drinks and snacks is a big win for me. However, when you get up to the Large Suite category you get free wine and fruit too!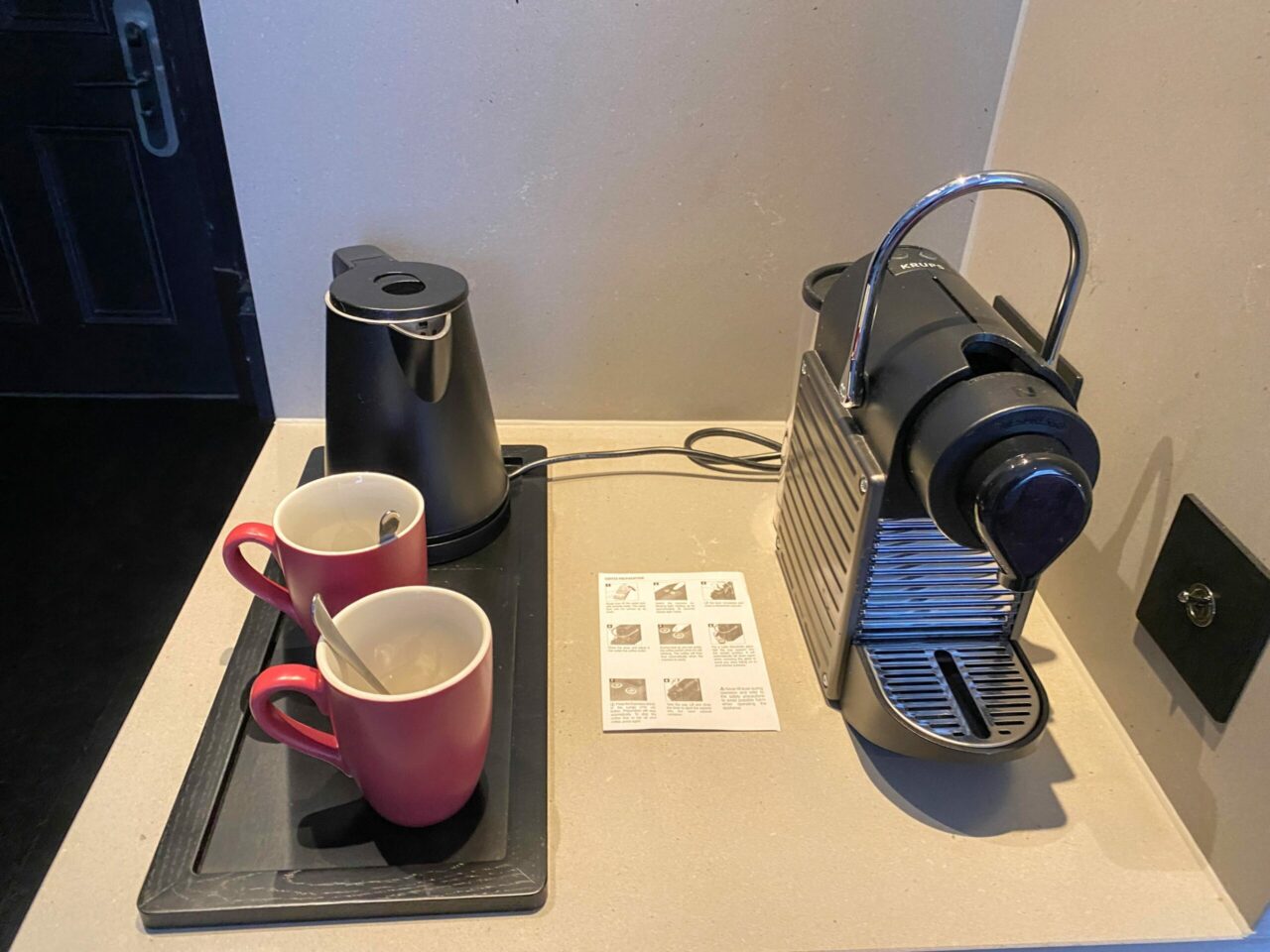 The free white chocolate and strawberry biscuits were particularly tasty!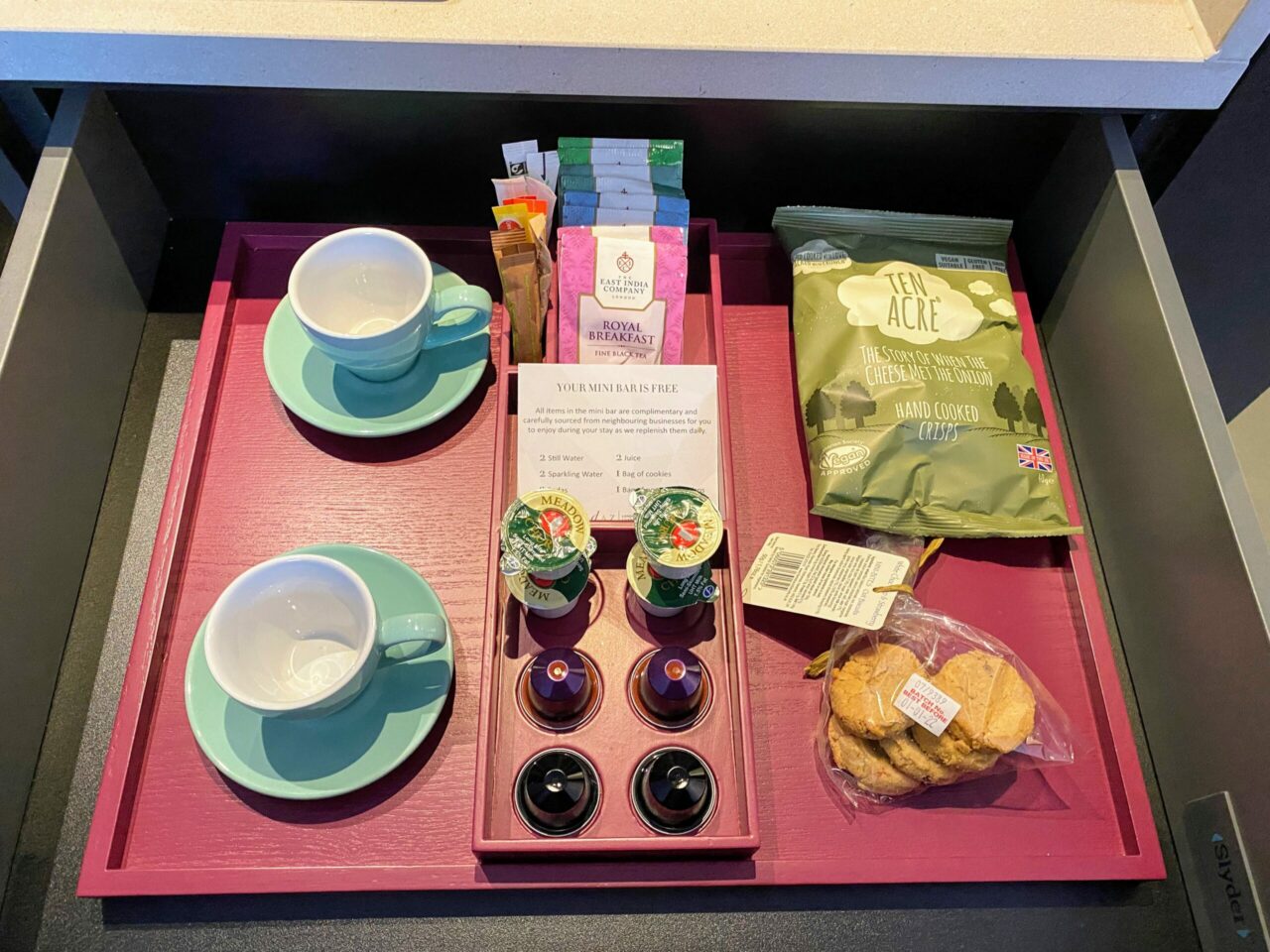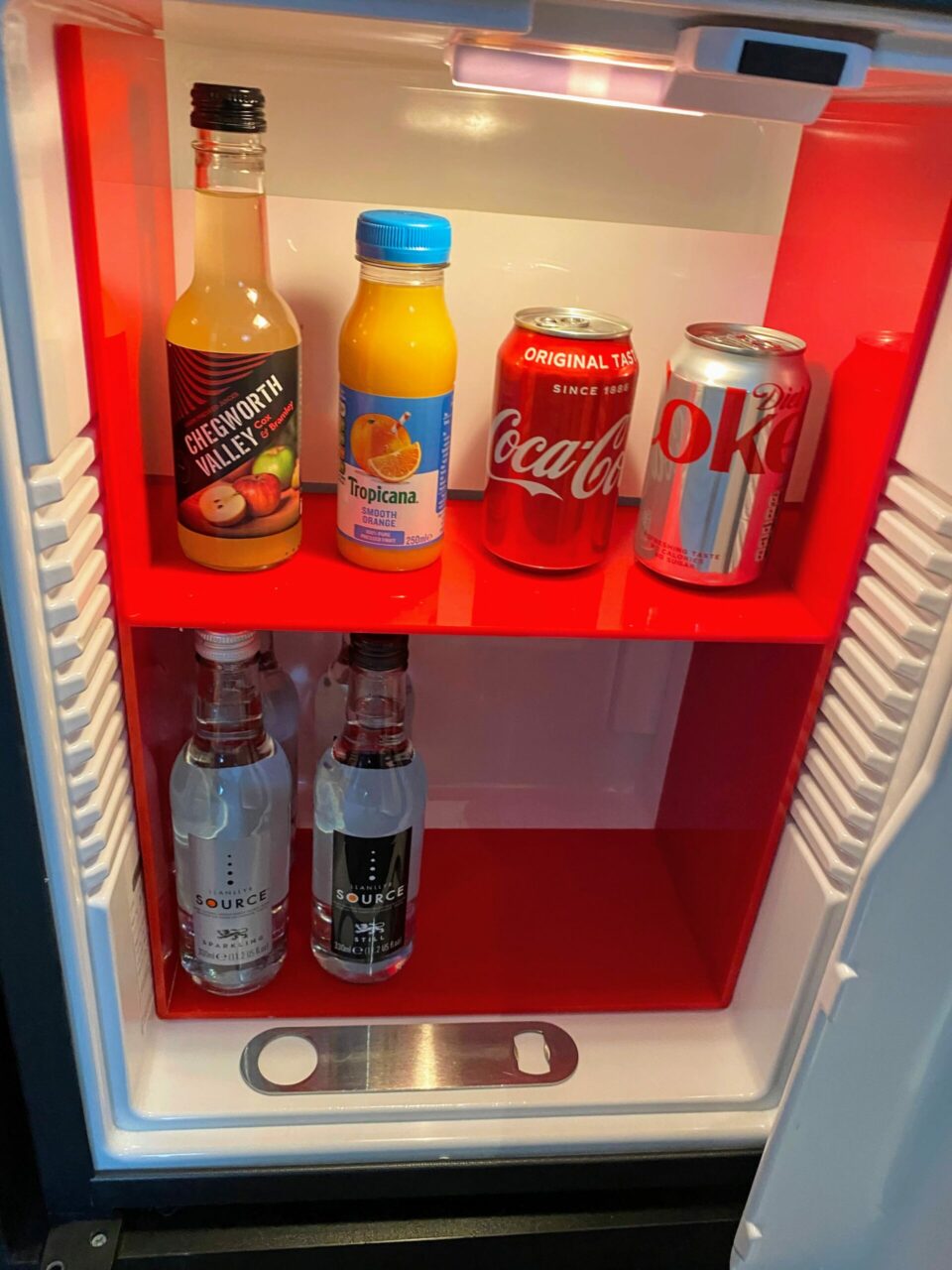 Overall I really liked the room, the bed was very comfortable even for my princess-like tendencies! If you are very noise sensitive I would ask for a room not overlooking the main street as being central London you can hear a tiny bit of noise now and again.
Bathroom

The bathroom was also large and I loved the fact that there was a nice big tub as well as a shower. It was well equipped with a large shelf for storage and a lit magnifying mirror.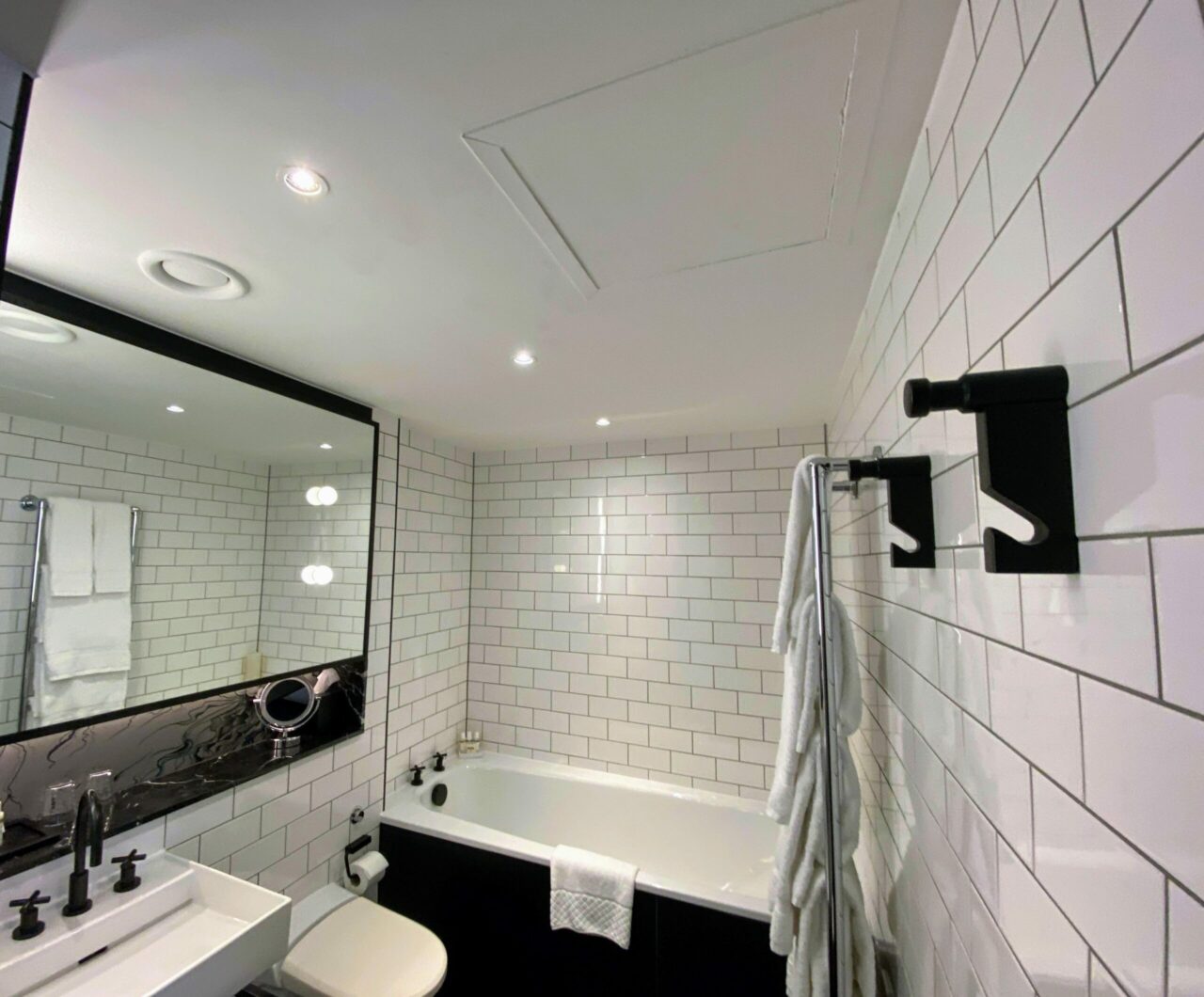 There were two sets of toiletries with one of my personal favourites – REN. I really love the freshness of the grapefruit shower gel, but all the products are high quality and a generous size.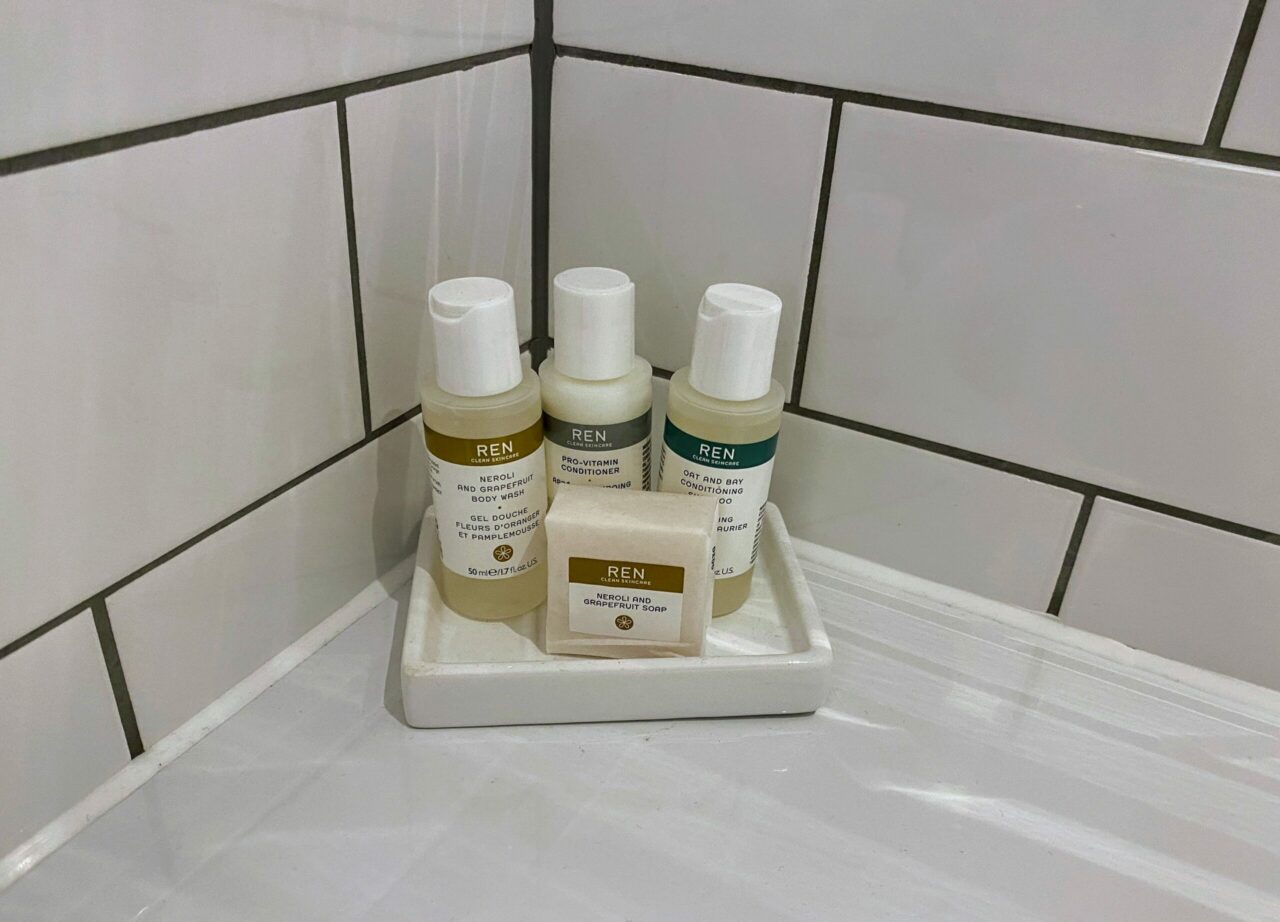 Suites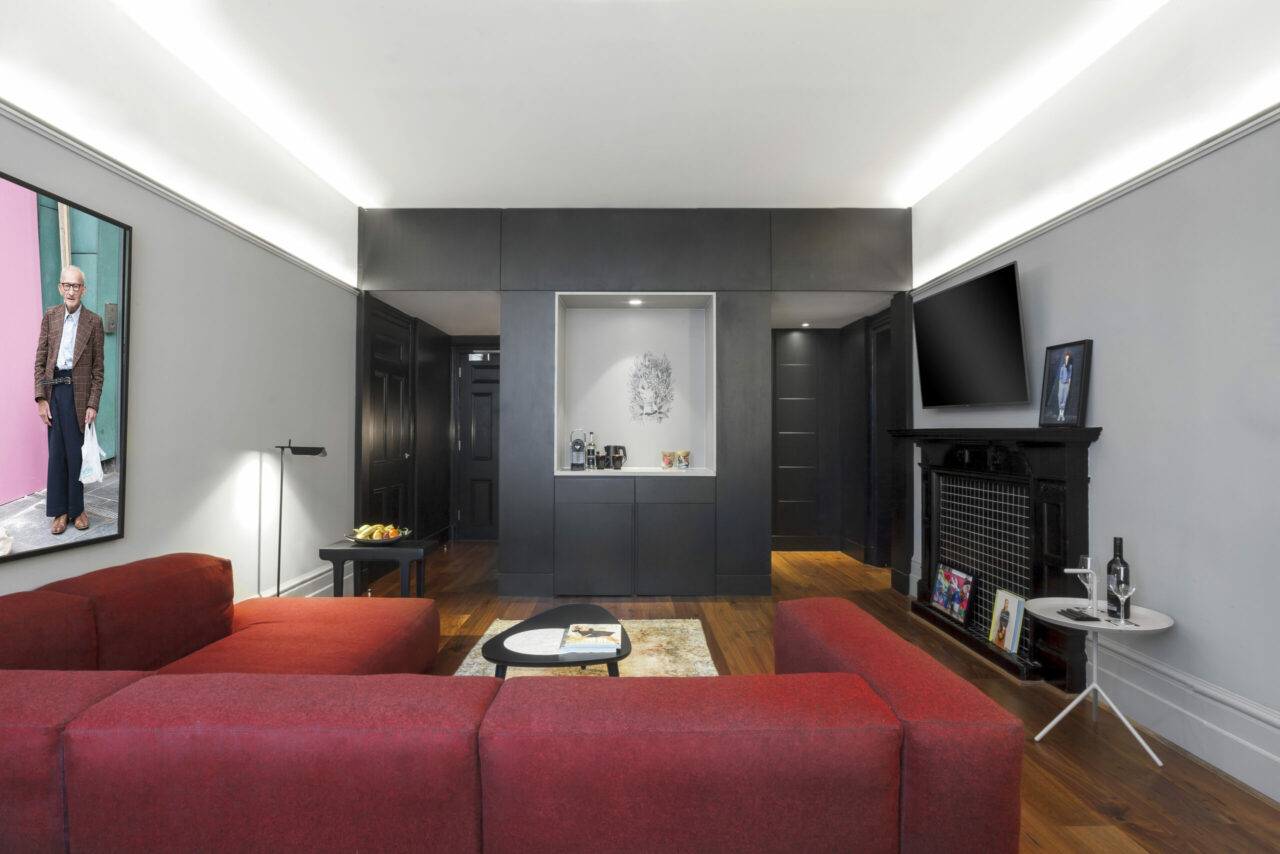 If you fancy a suite, there are two types to choose from. First, there is the large suite that I mentioned before that comes with the wine.
For the ultimate suite, the SUITE 104 was designed by the legendary British designer Sir Terence Conran and features interiors inspired by East London.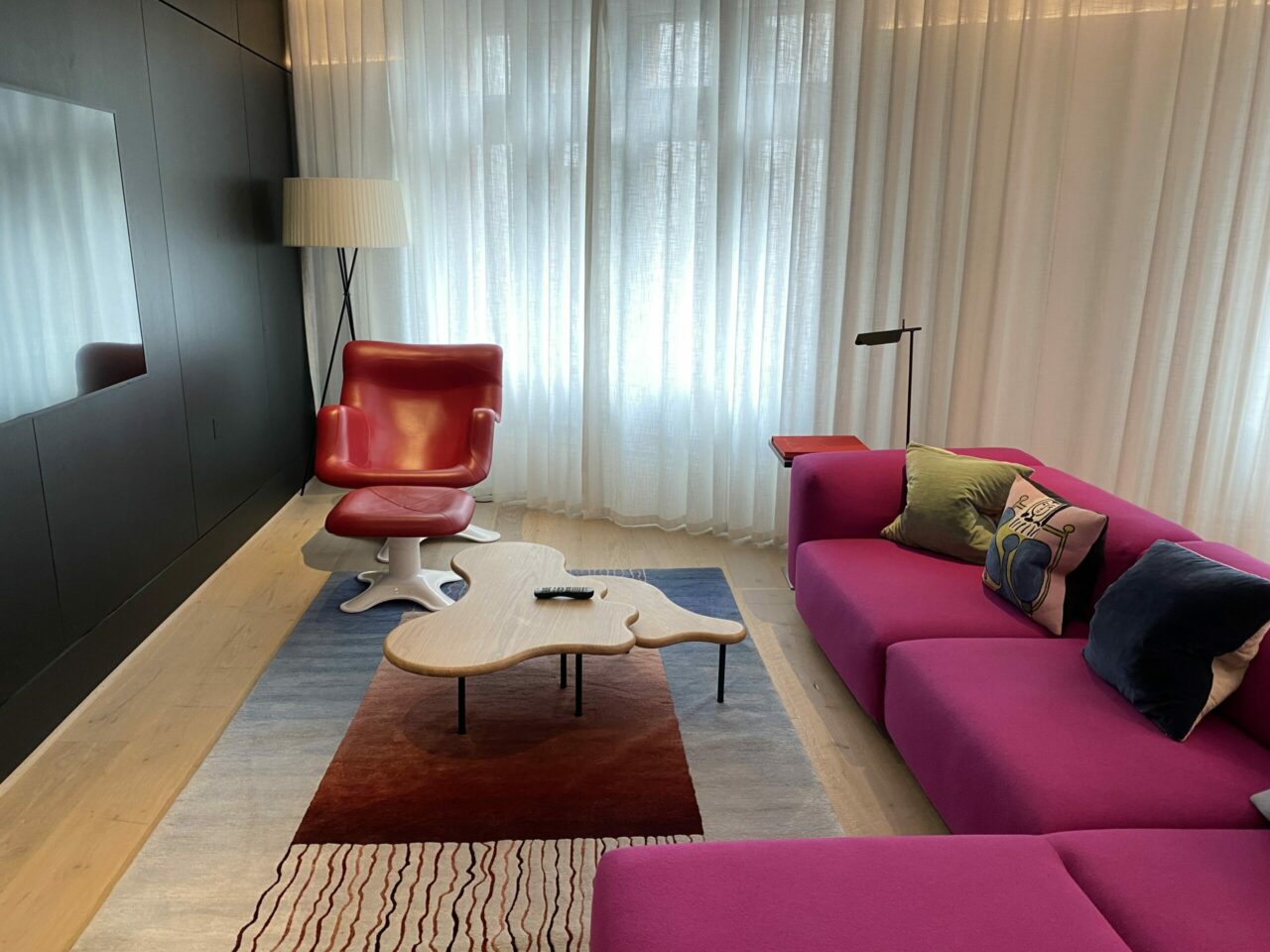 The king bedroom and large lounge space include Eames and Karusselli chairs, a Savoir bed, and a replica of the coffee table Sir Terence designed for his own home.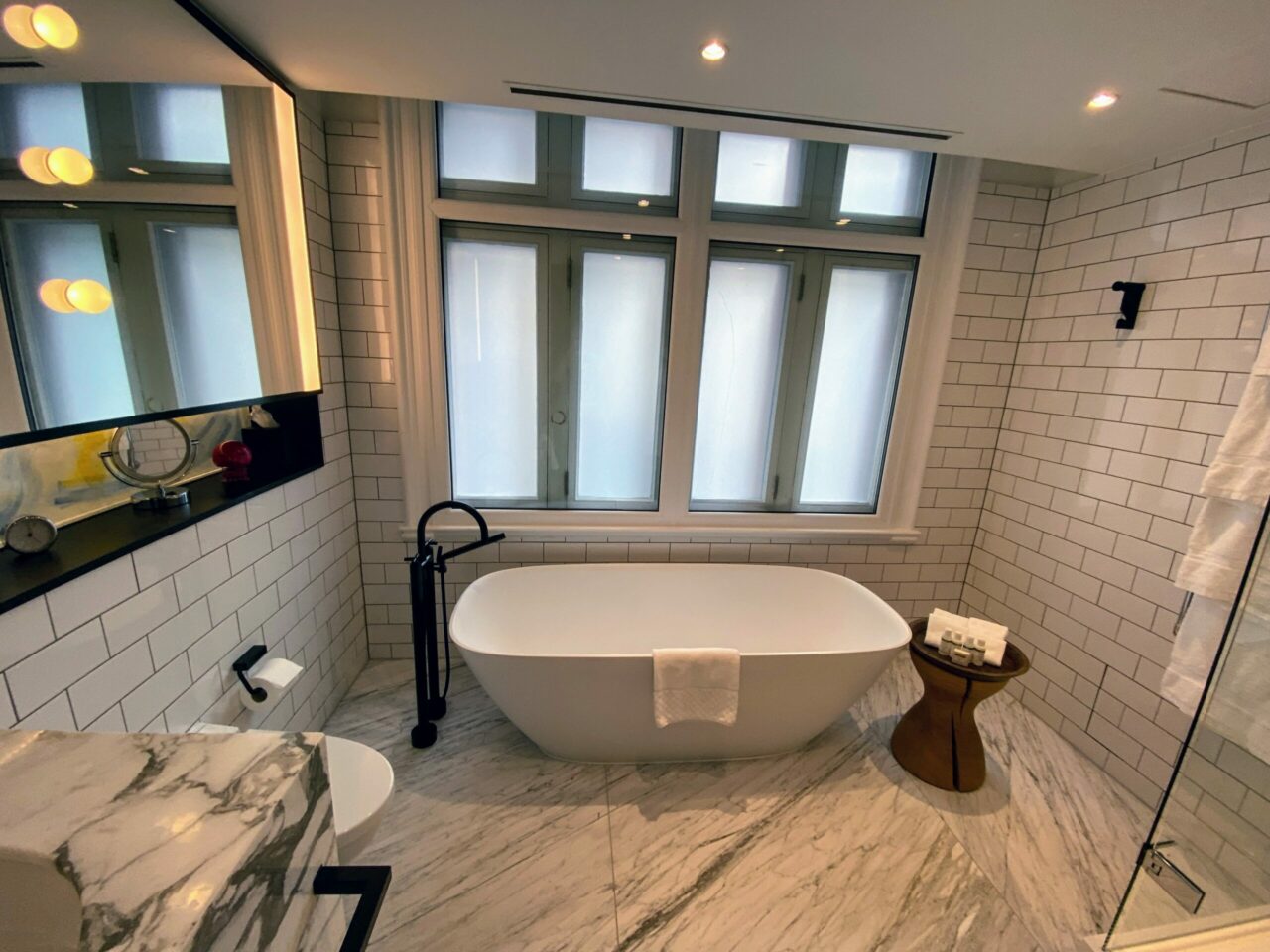 It's filled with design classics and artwork.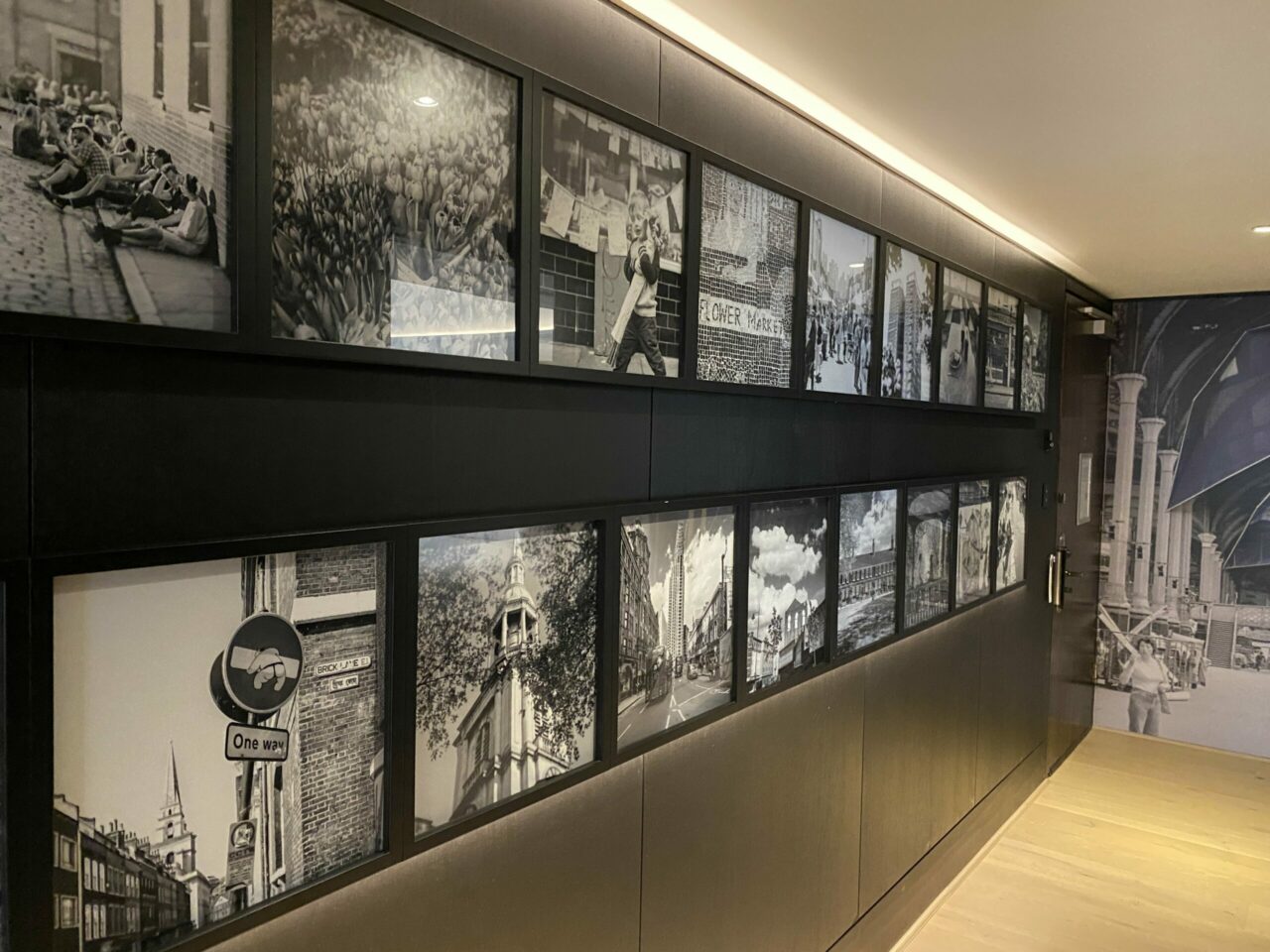 Food and drink
More free stuff – wine and canapes
You don't need to worry about being eligible for the lounge here! Every evening they have a drinks period with free wine and prosecco as well as canapes which were beautifully laid out.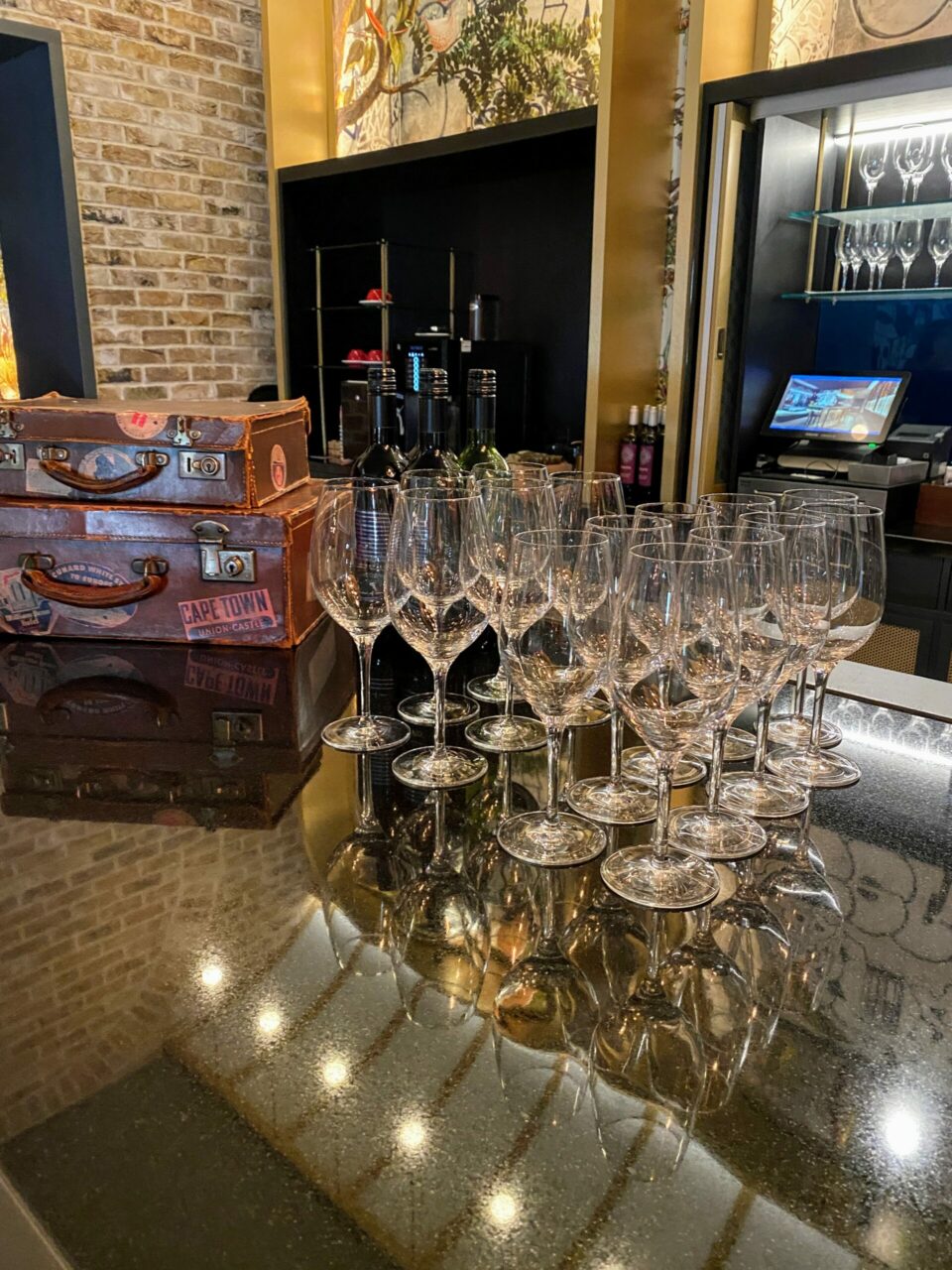 You could also purchase more wine if you wanted to carry on your drinks.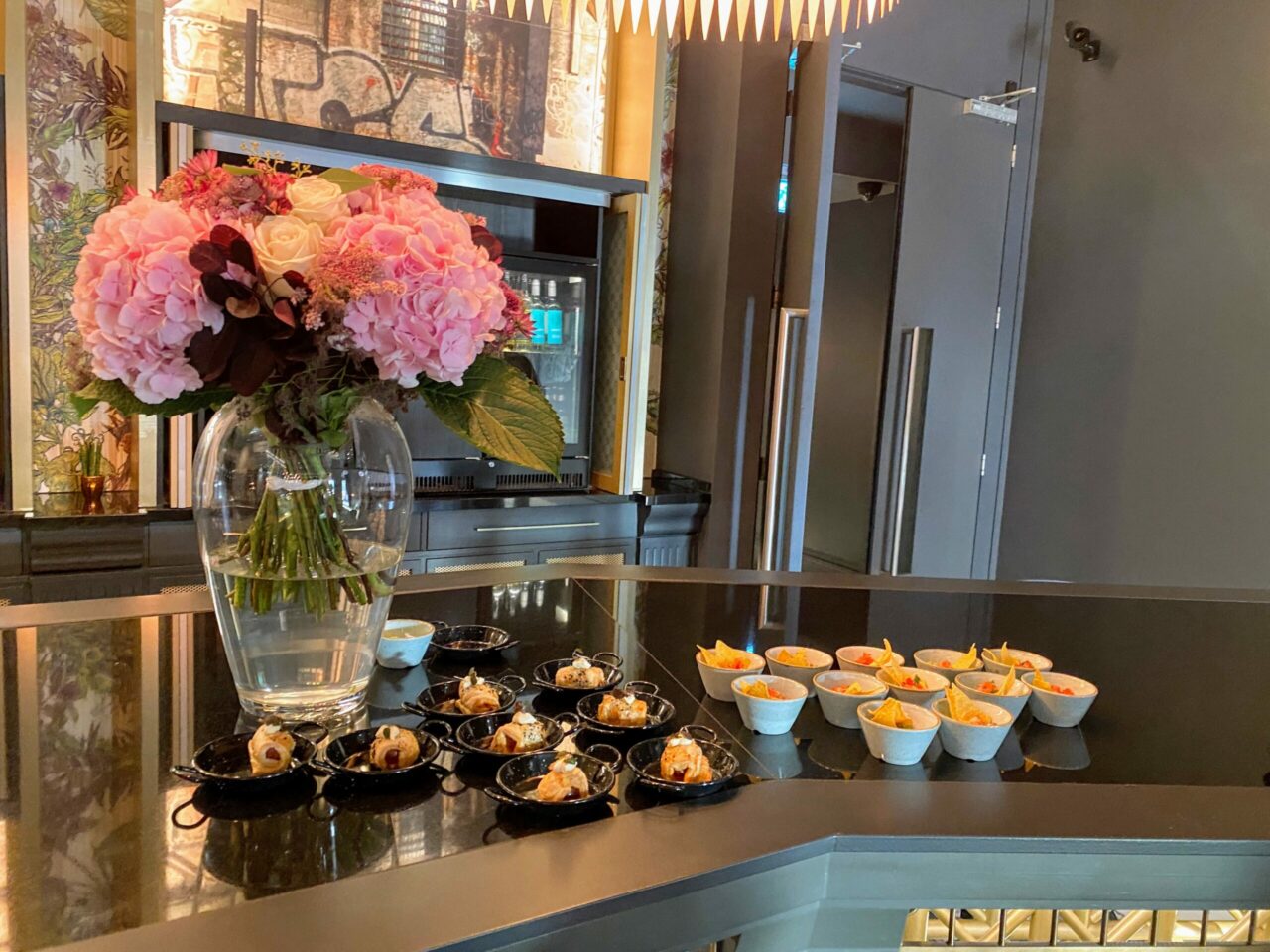 On the night I was there, the canapes were guacamole with tortilla chips and a chorizo sausage roll, both of which were delicious.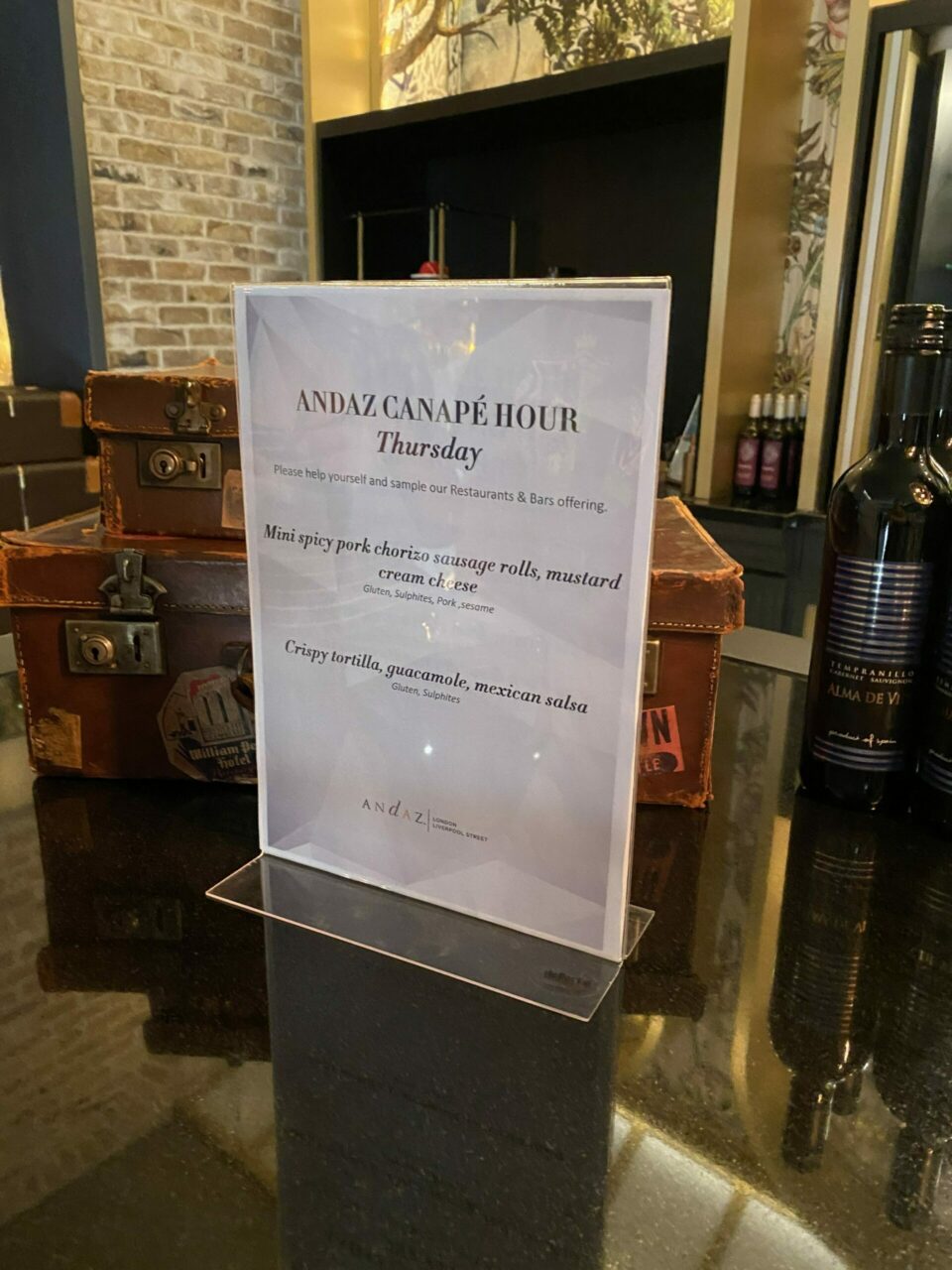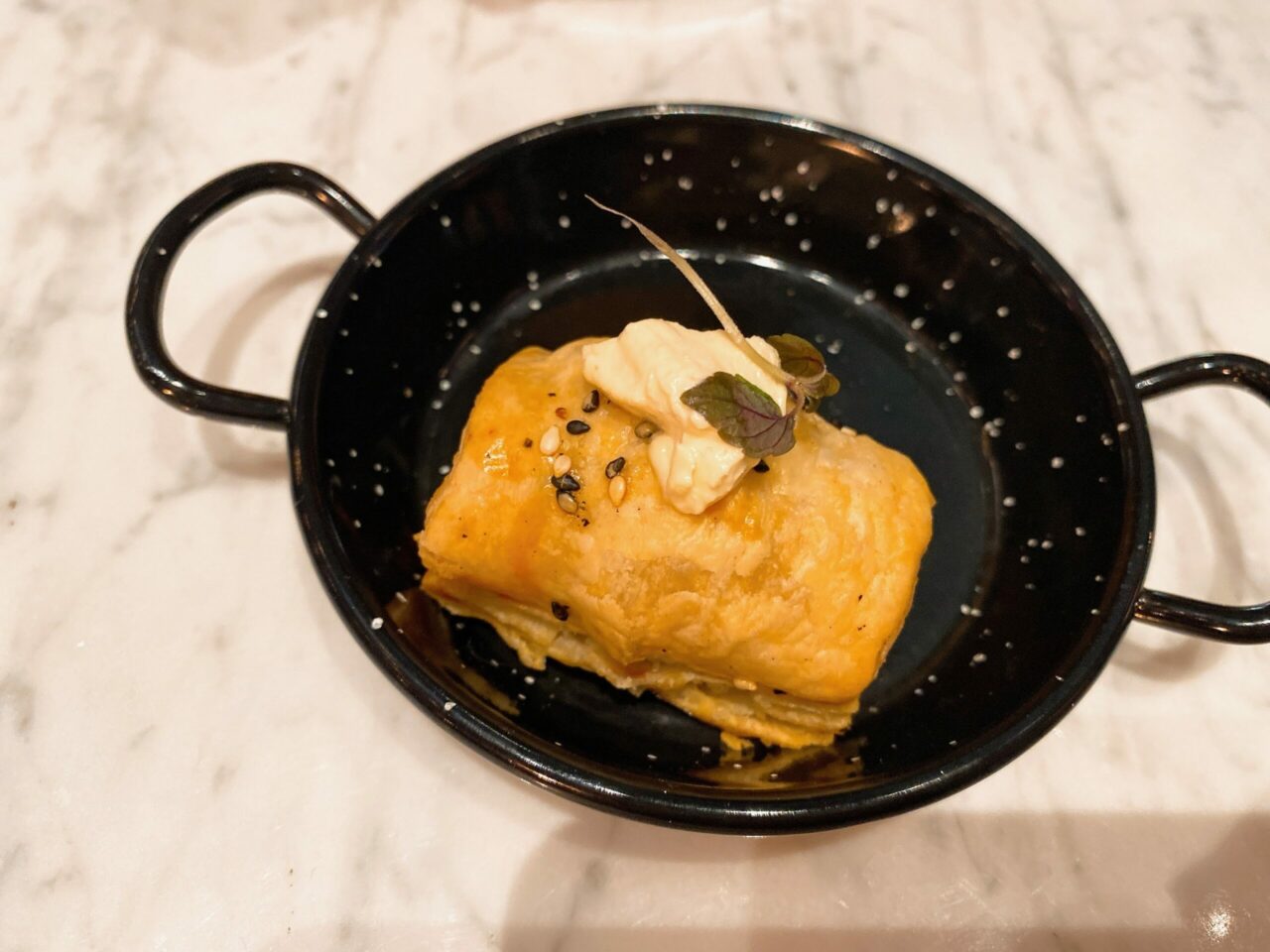 Breakfast
Breakfast is served in the Eastway Brasserie. There was an a la carte menu to chose from which always pleases me at an inclusive rate.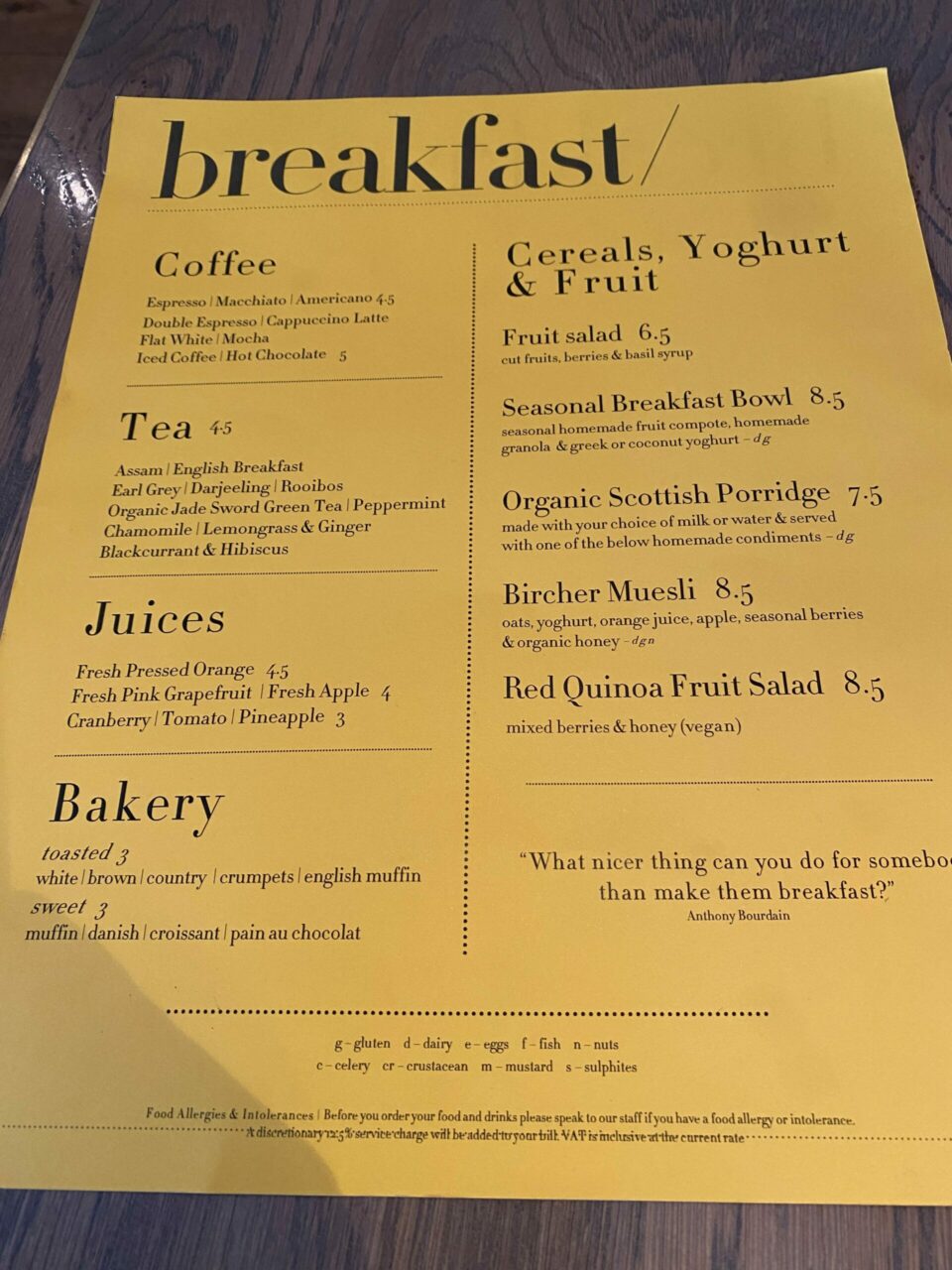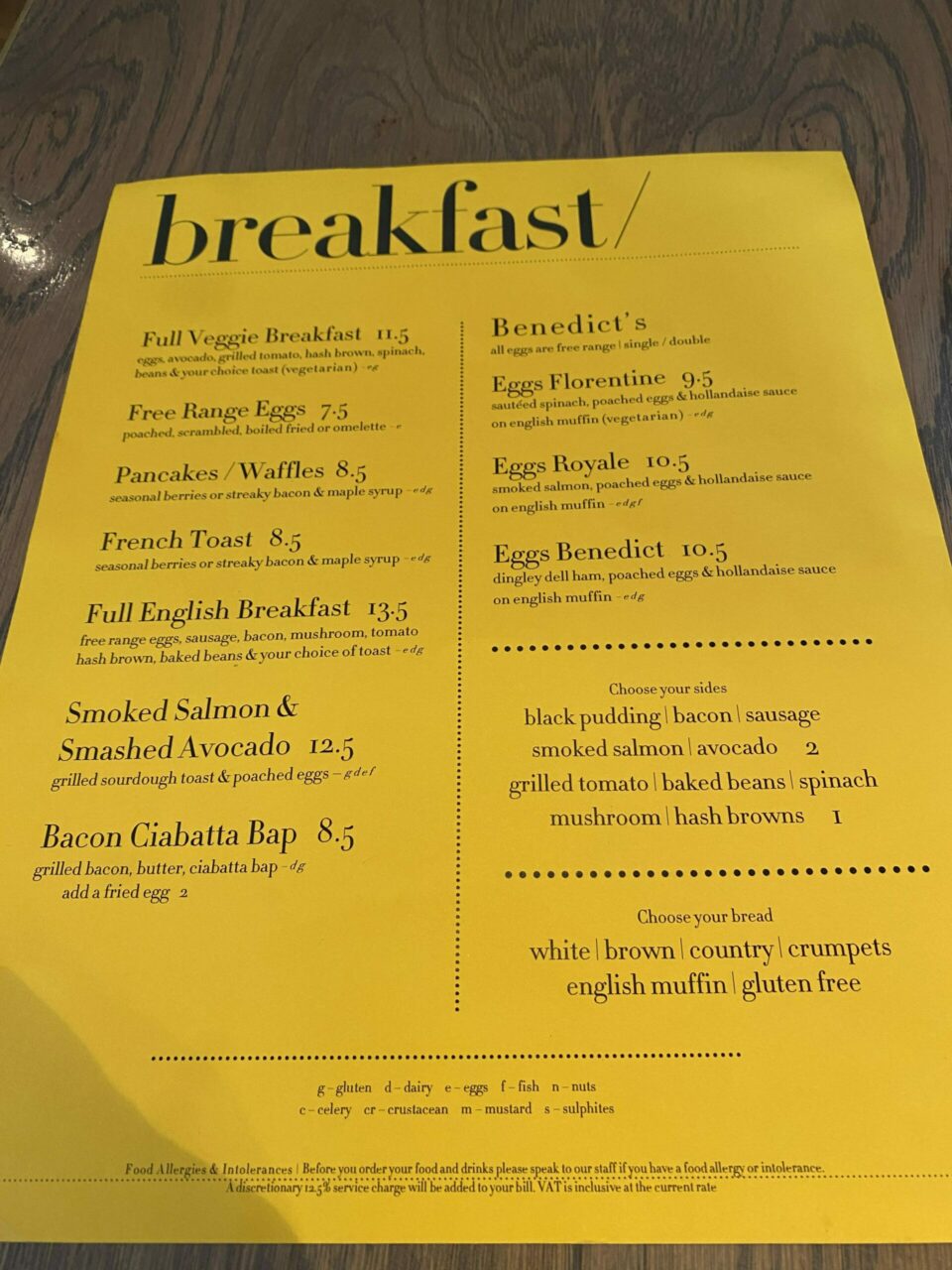 I'm sure regular readers can guess what I went for…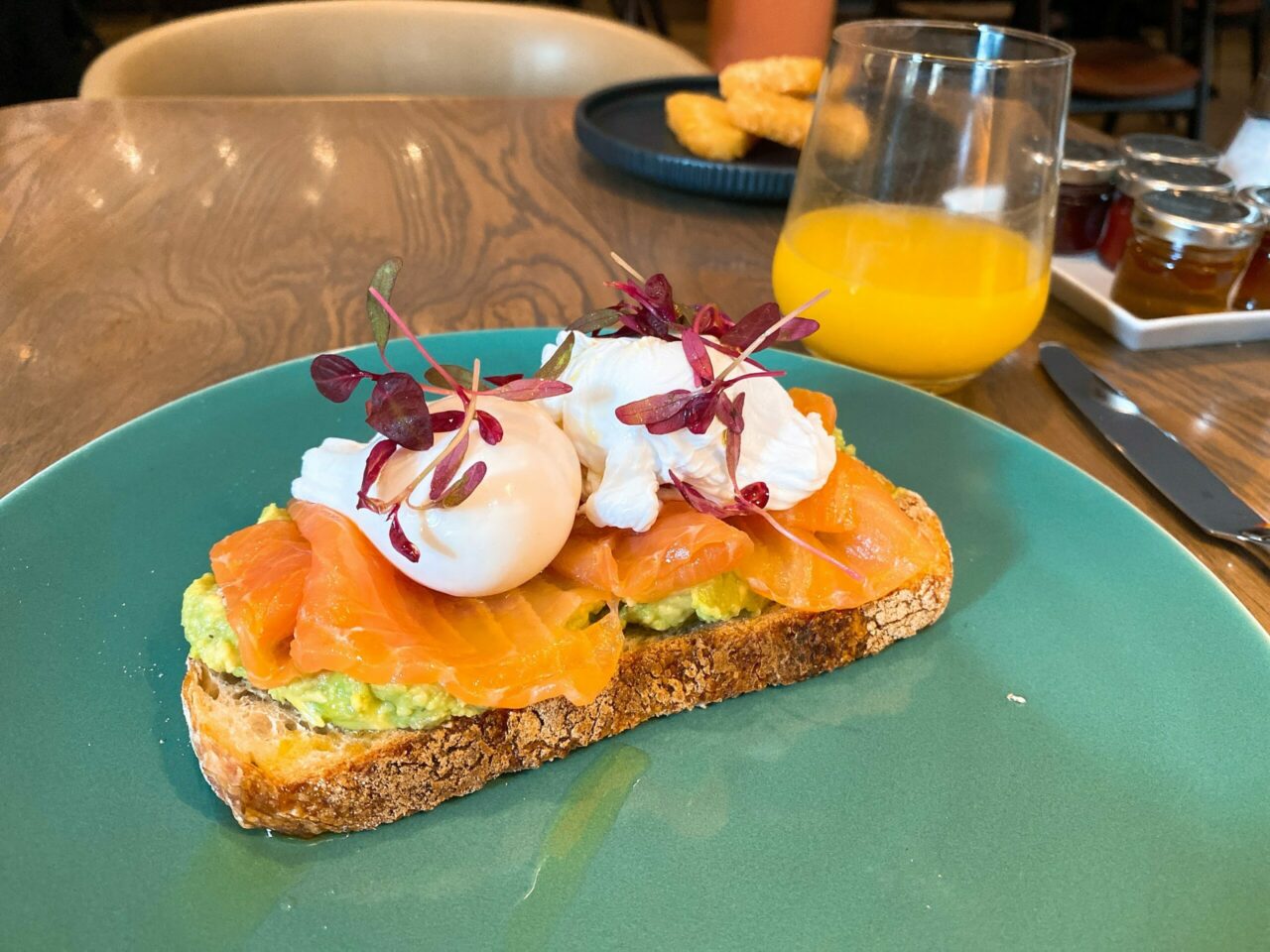 It was a really tasty breakfast and I really liked the beautiful presentation and added smoked salmon.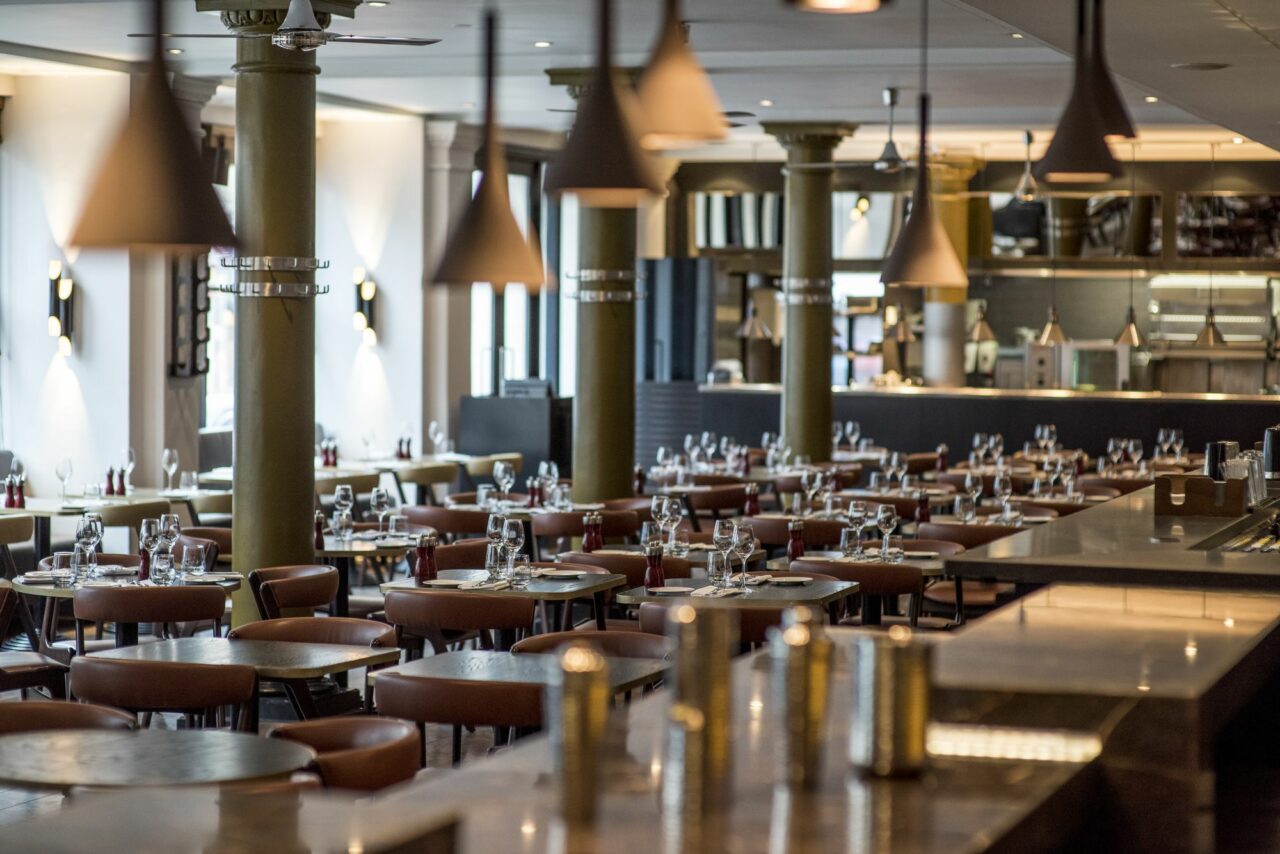 One thing that stood out particularly was the fantastic coffee – it's amazing how much it varies in hotels but this had an amazing full-bodied flavour.
Eastway is also open for all-day dining and brunch on a Saturday.
There are actually a large number of restaurants in the hotel that can all be accessed from the street:
Lady Abercorn's Pub and Kitchen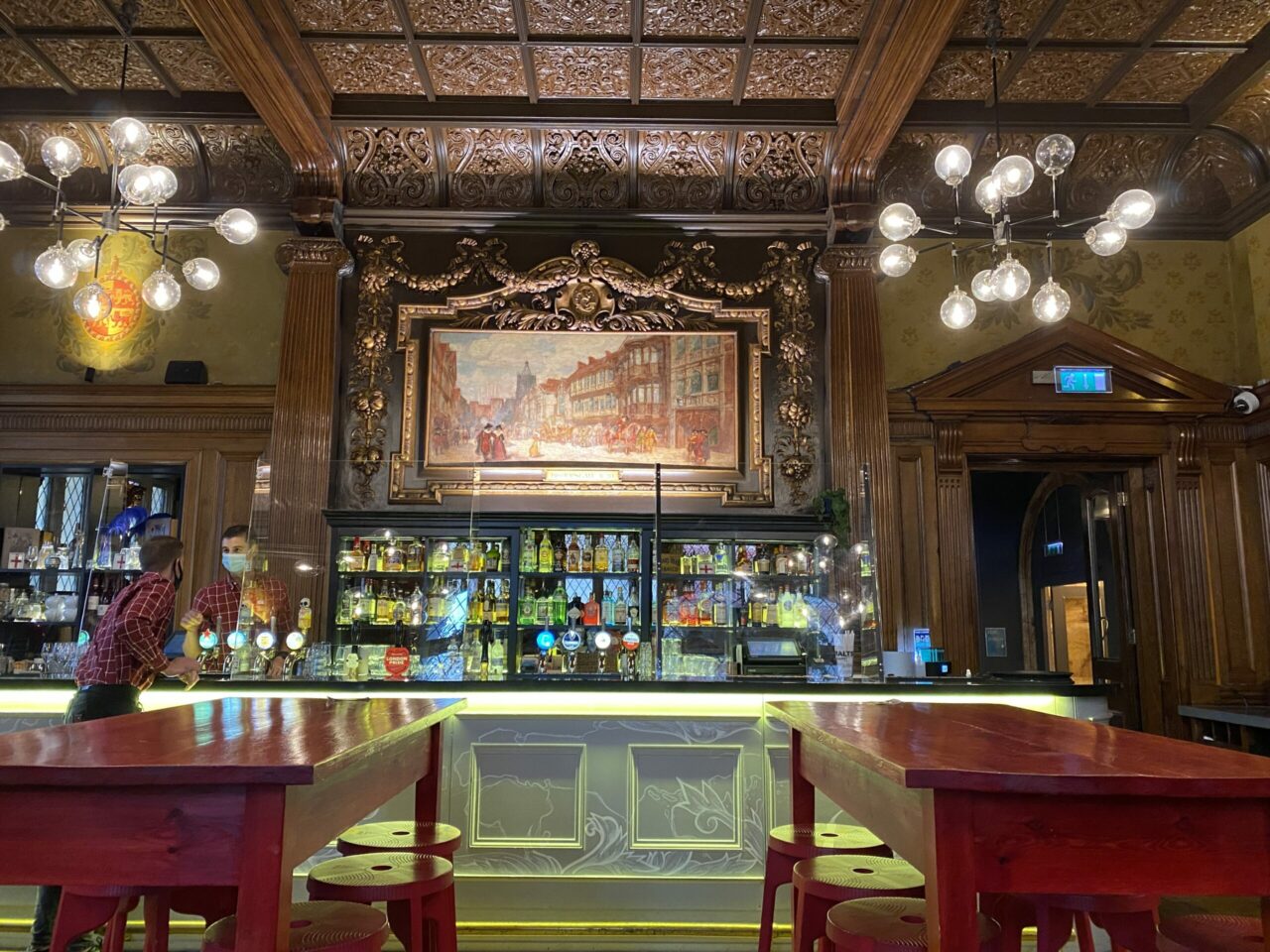 There's Lady Abercorn's which is a pub based on the travels of Lady Abercorn. The menu is quite eclectic:
Be warned the portions are huge! We went for Nibbles and Power Food and there were enough for two people in each portion! Here was my Vegan tempura which was light and crispy as it should be.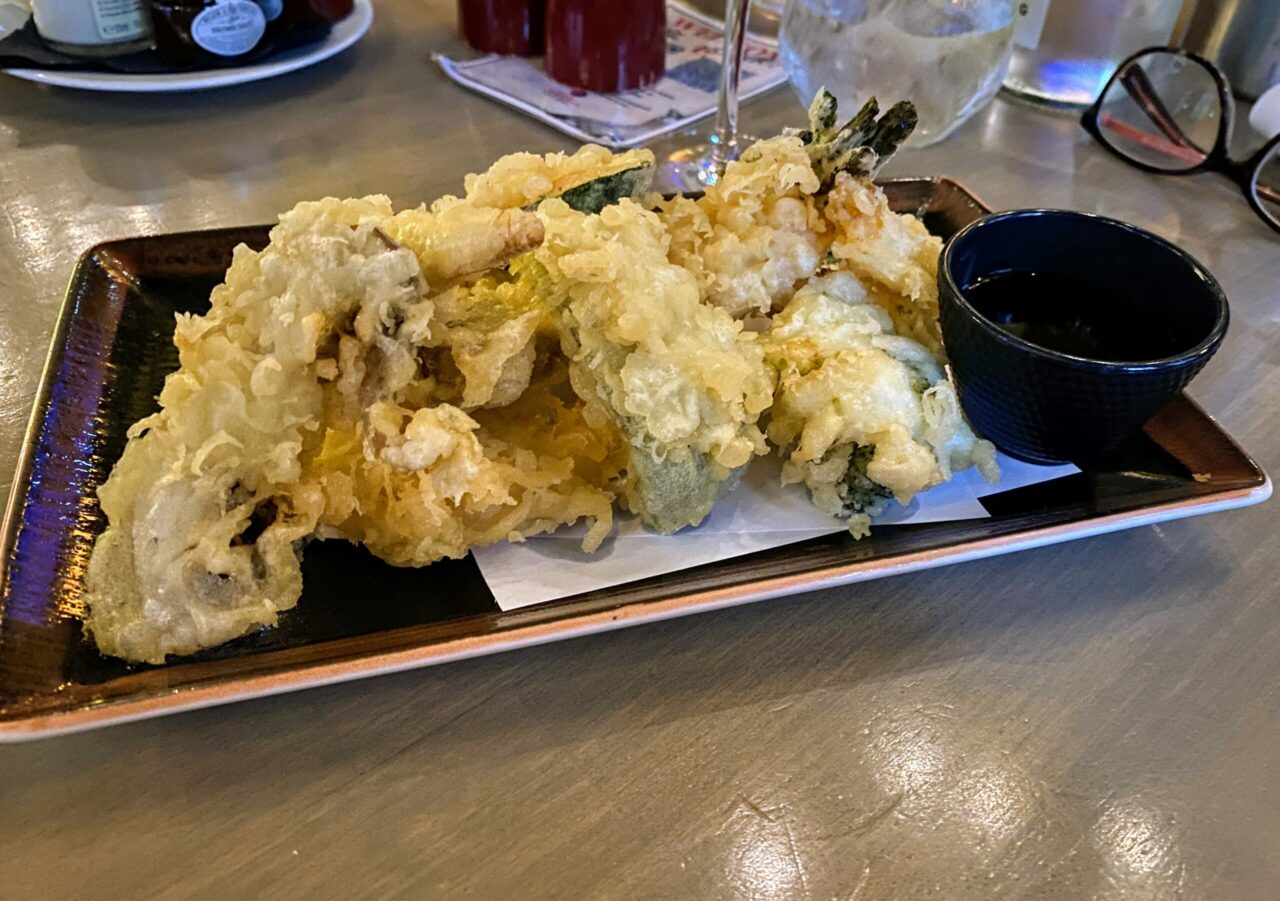 Lady Abercorn's also serves beer from local breweries and even brews its own, the Lady A, a light IPA.
1901 Wine bar

1901 Wine Lounge serves wine by the glass or bottles alongside nibbles perfect to go with a few glasses of wine. 1901 Wine Lounge is also where you can taste East London with a unique Afternoon Tea.
Miyako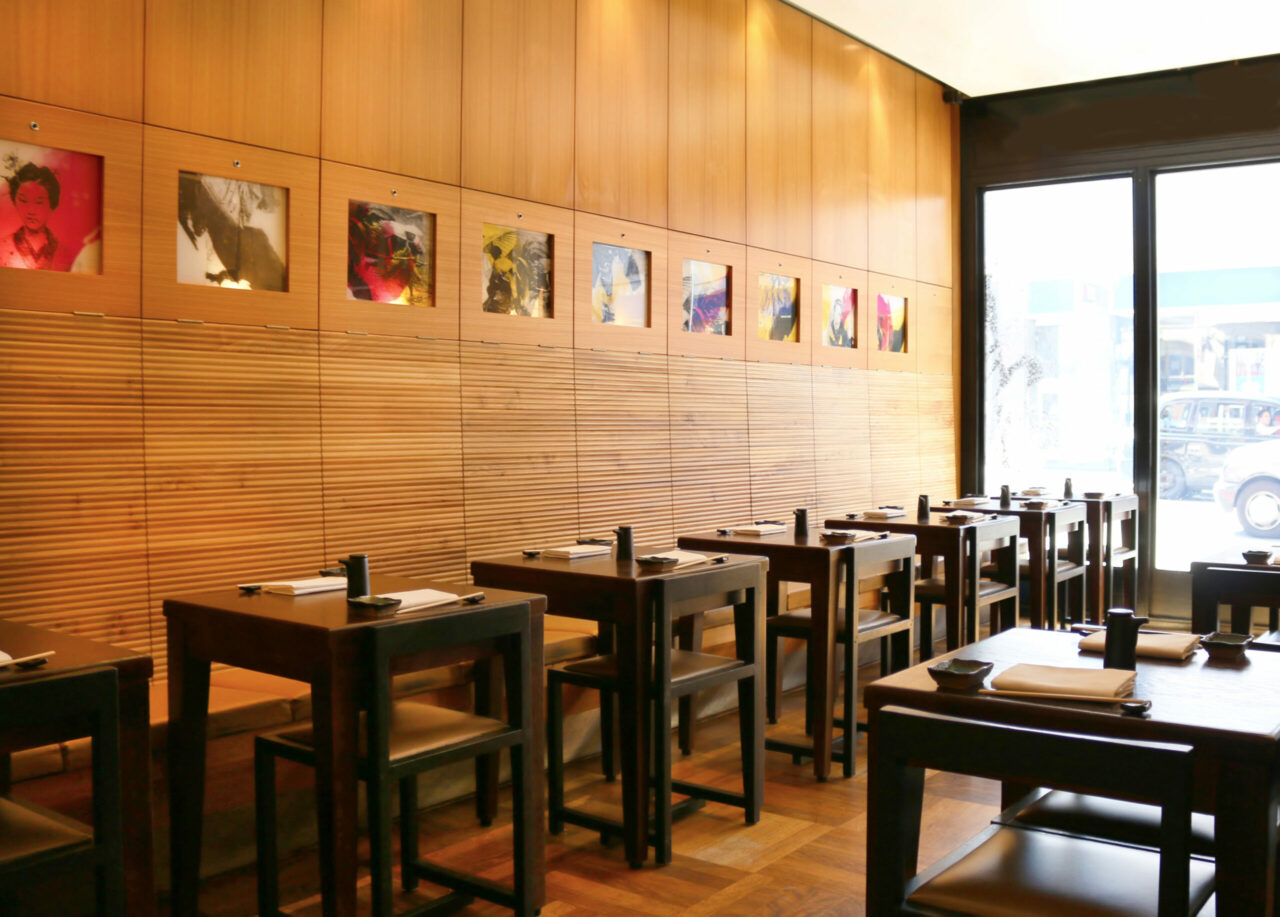 Miyako provides an authentic Japanese dining experience and decor with a traditional menu of sushi, sashimi, teriyaki and sake in a contemporary setting.
Rake's Café Bar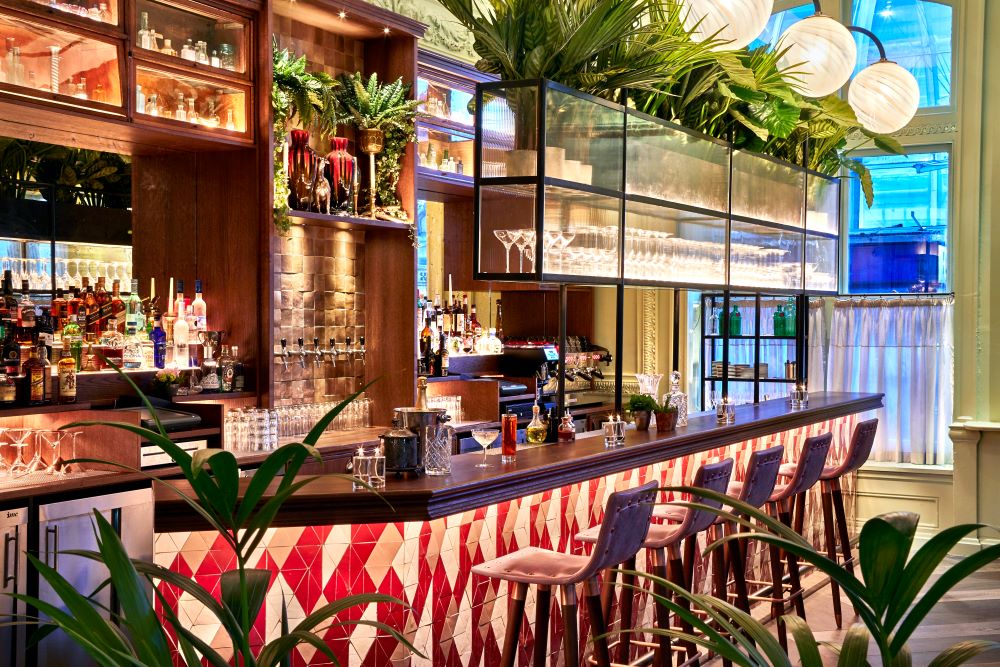 Rake's Café Bar has a large outdoor terrace to enjoy some summer sun as well as a bright fun interior. Rake's offers comfort food, coffee, and a specially crafted cocktail menu. You can pop in for anything from a coffee to a cocktail or a full meal, Rake's prides itself on having no rules.
Other facilities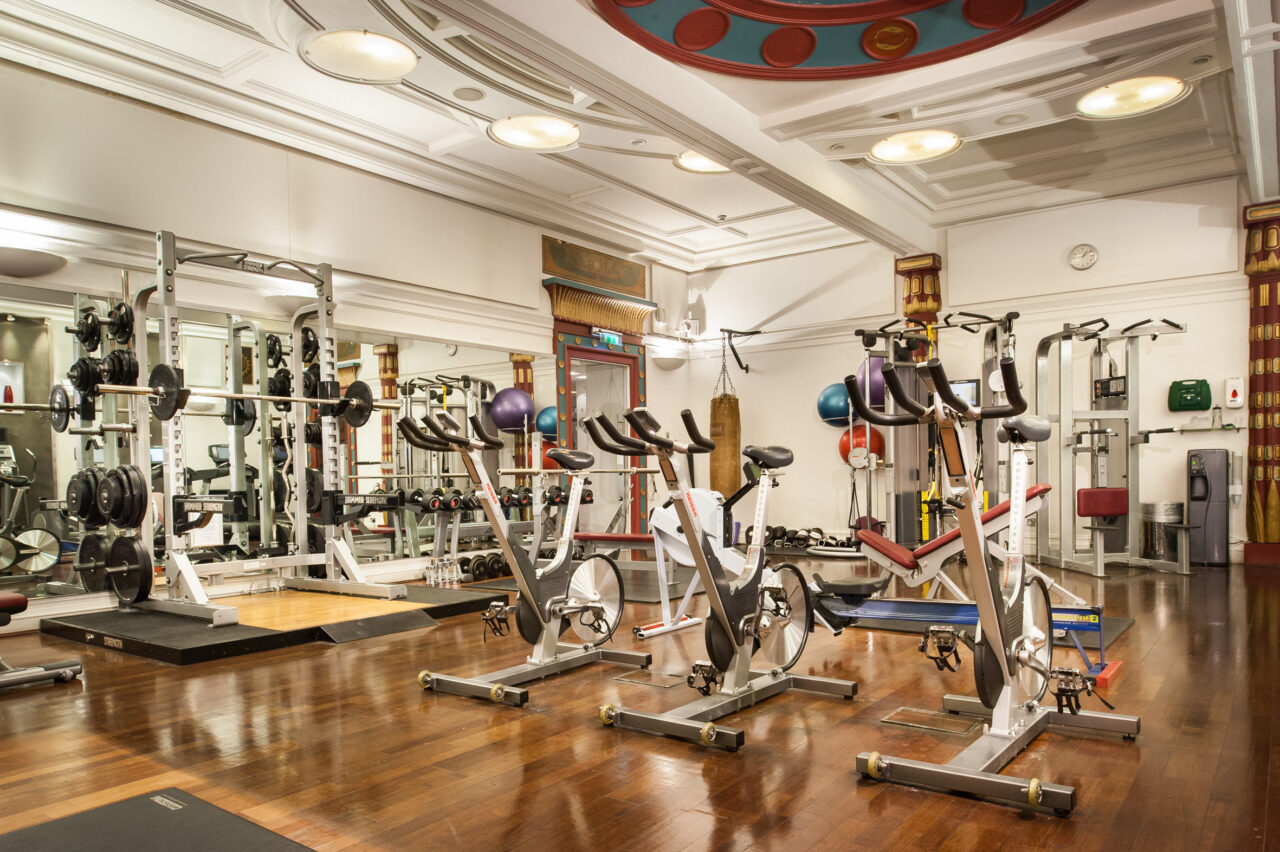 There's a well-equipped gym and some alternative therapies in the Health Club as well as a steam room.
If you fancy a massage, these can be provided in your own room.
Booking and offers – more free stuff!
Rooms start at around £225 a night.
If you need a long stay, the hotel offers Hyatt's Great Relocate package for stays over 29 nights.
There is also a special reopening offer for £100 credit, where you need to book the Get More From Your Stay rate on the hotel's website. You can use the £100 credit during your stay for food and drinks.
Booking through Debonair also offers freebies! and you still get your Hyatt points.
The additional benefits included with Hyatt Prive agents such as Debonair are:
• Complimentary Breakfast for Two
• $100 Property Credit (Not applicable towards room rate, tax, gratuity, resort fees, or 3rd party businesses at the hotel credit applicable per stay, per room)
• Early Check-in/late Check-out (based on availability upon arrival)
• Priority for complimentary room upgrade (based on availability upon arrival)
• Guests receive a welcome amenity that reflects the personality of the hotel and the destination
• Complimentary WIFI
Conclusion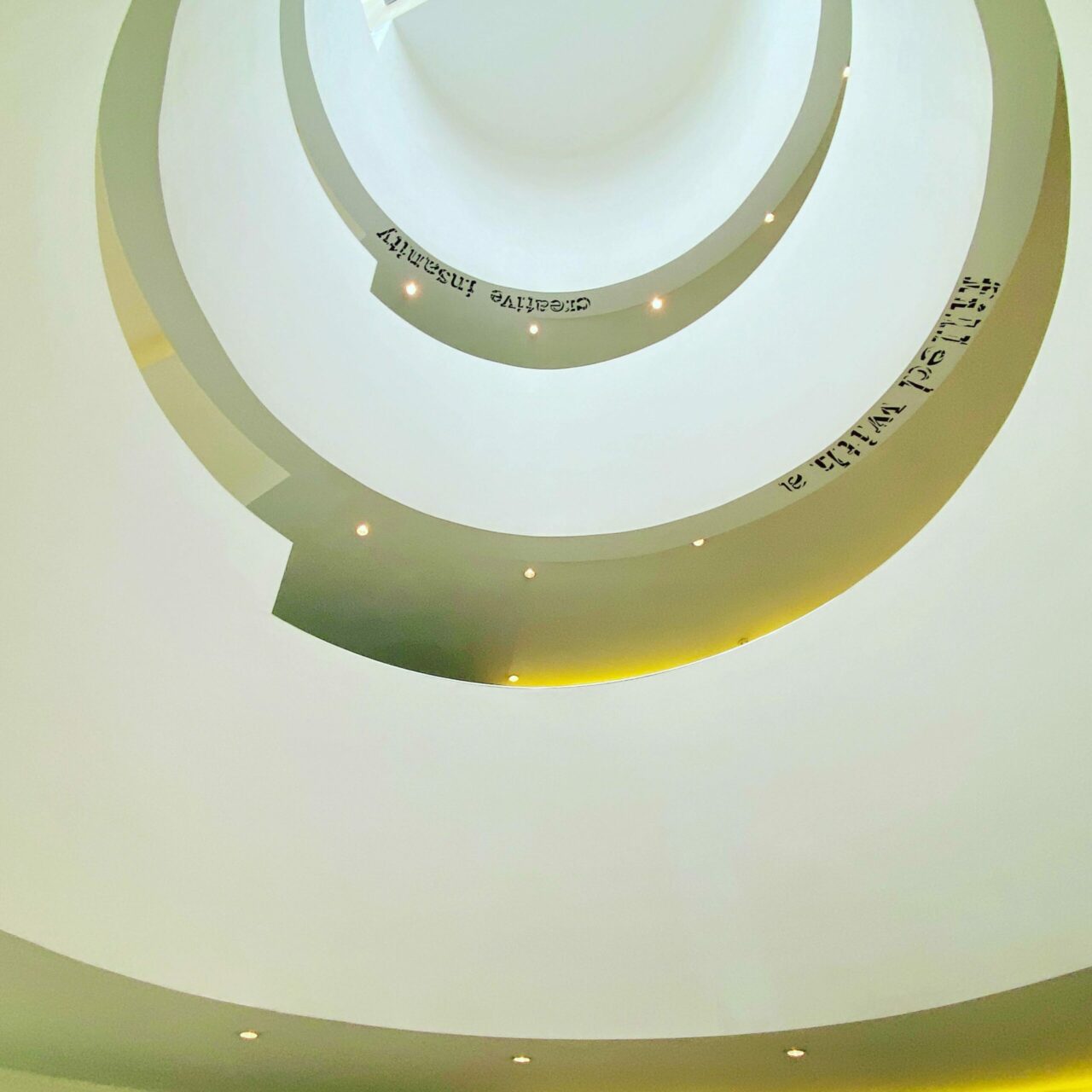 I was truly surprised by the amount of free things the hotel offers guests. When many hotels are trying to cut things back, it is great to see that the Andaz has kept all of their extras. The handy location and large well-equipped rooms would definitely make this a recommendation for the area as the prices are pretty reasonable too. Prices start around £225 and 20,000 for points being a category 5 hotel.
You can find more information on the Andaz London Liverpool Street here.
Local area Liverpool street and Spitalfields
I have spent quite a bit of time in the local area, so I thought I would mention a few options nearby.
Eataly
2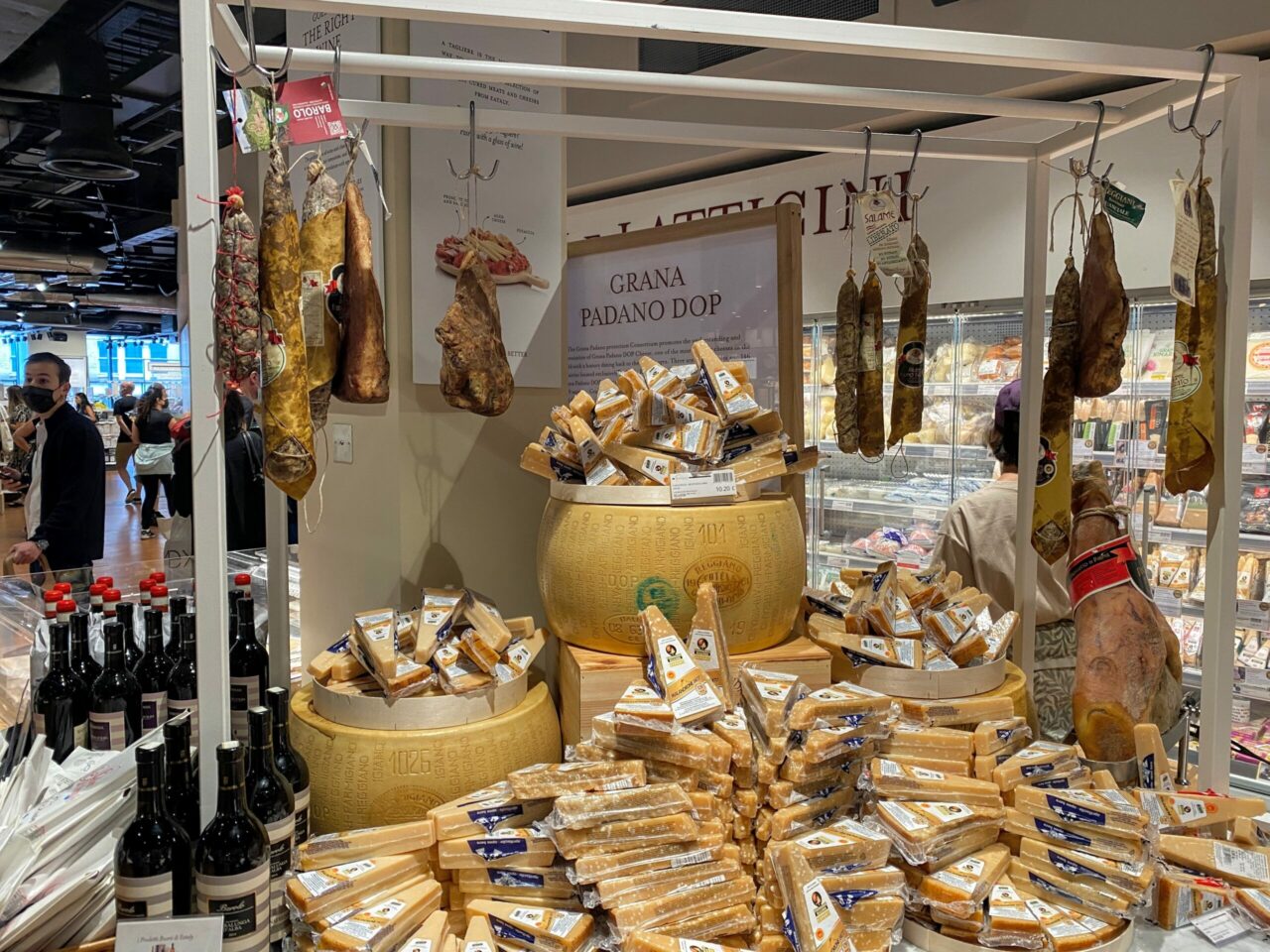 First is the amazing Eataly. If you love Italian food, this warehouse-sized shop and restaurants will send you to foodie heaven.
Spread over two floors, they sell everything from fresh pasta and Italian bread to cheese, meats, wine and chocolate.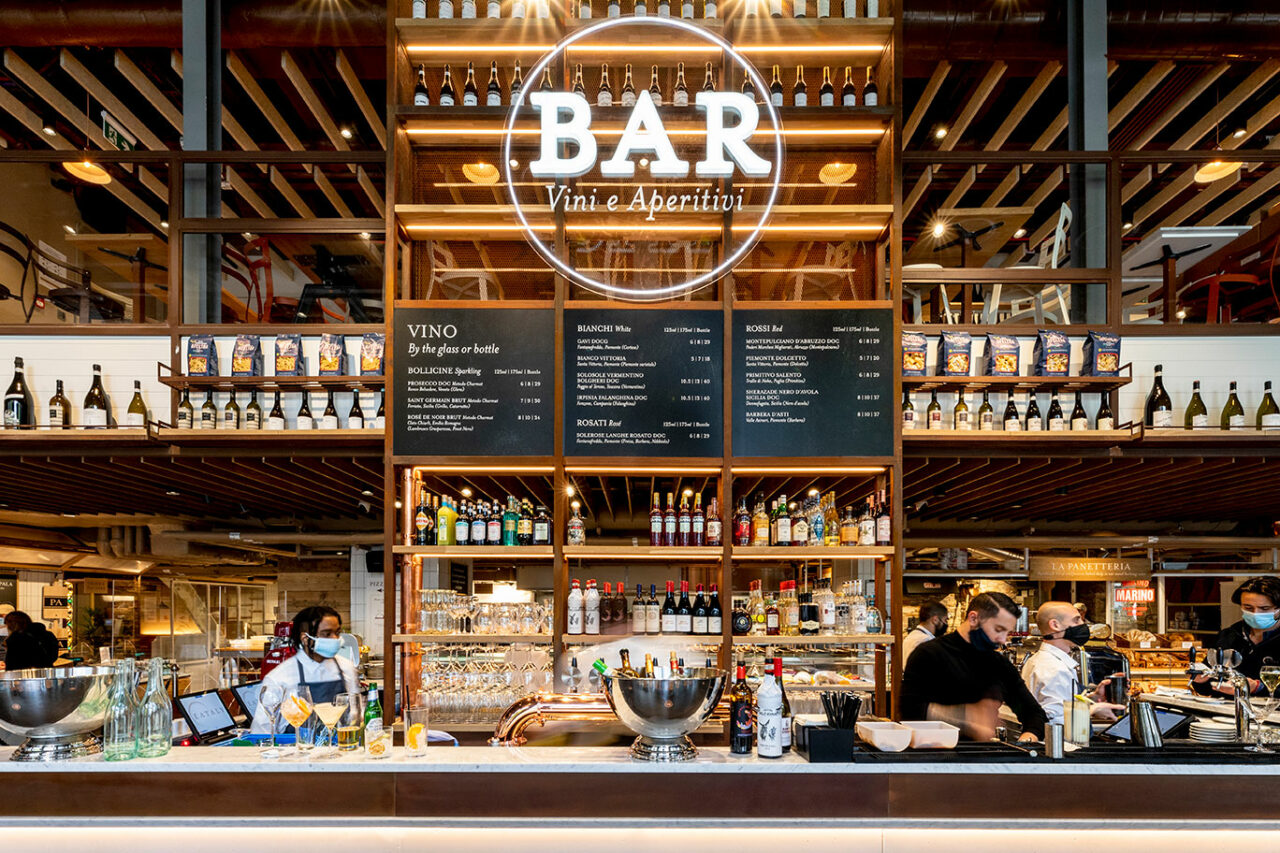 It's also a great place for a bite to eat with lots of options.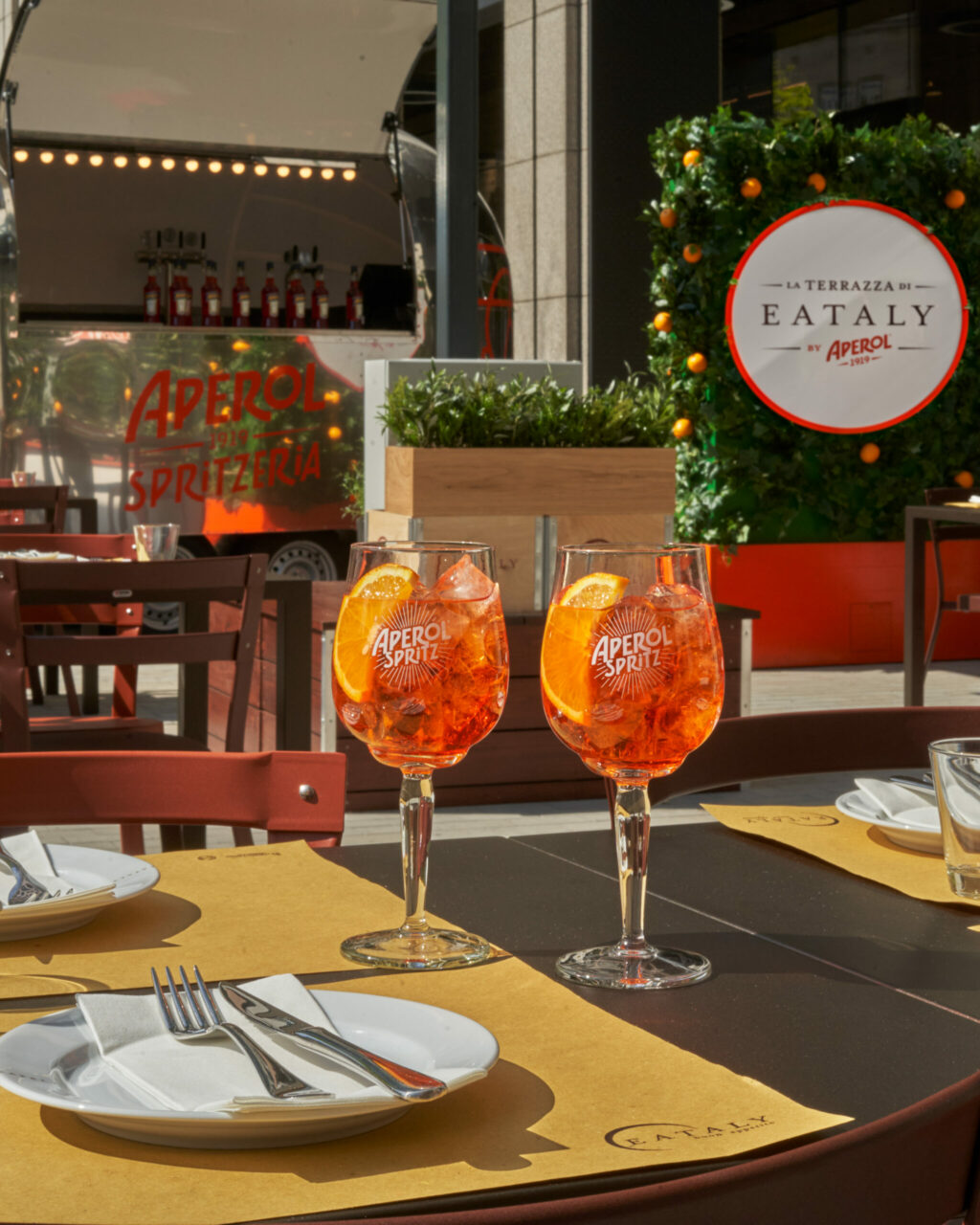 I tried the Aperol-themed La Terrazza di Eataly and enjoyed the pizza immensely with the Nduja topping. The pizzas are quite fluffy and the toppings full of flavour.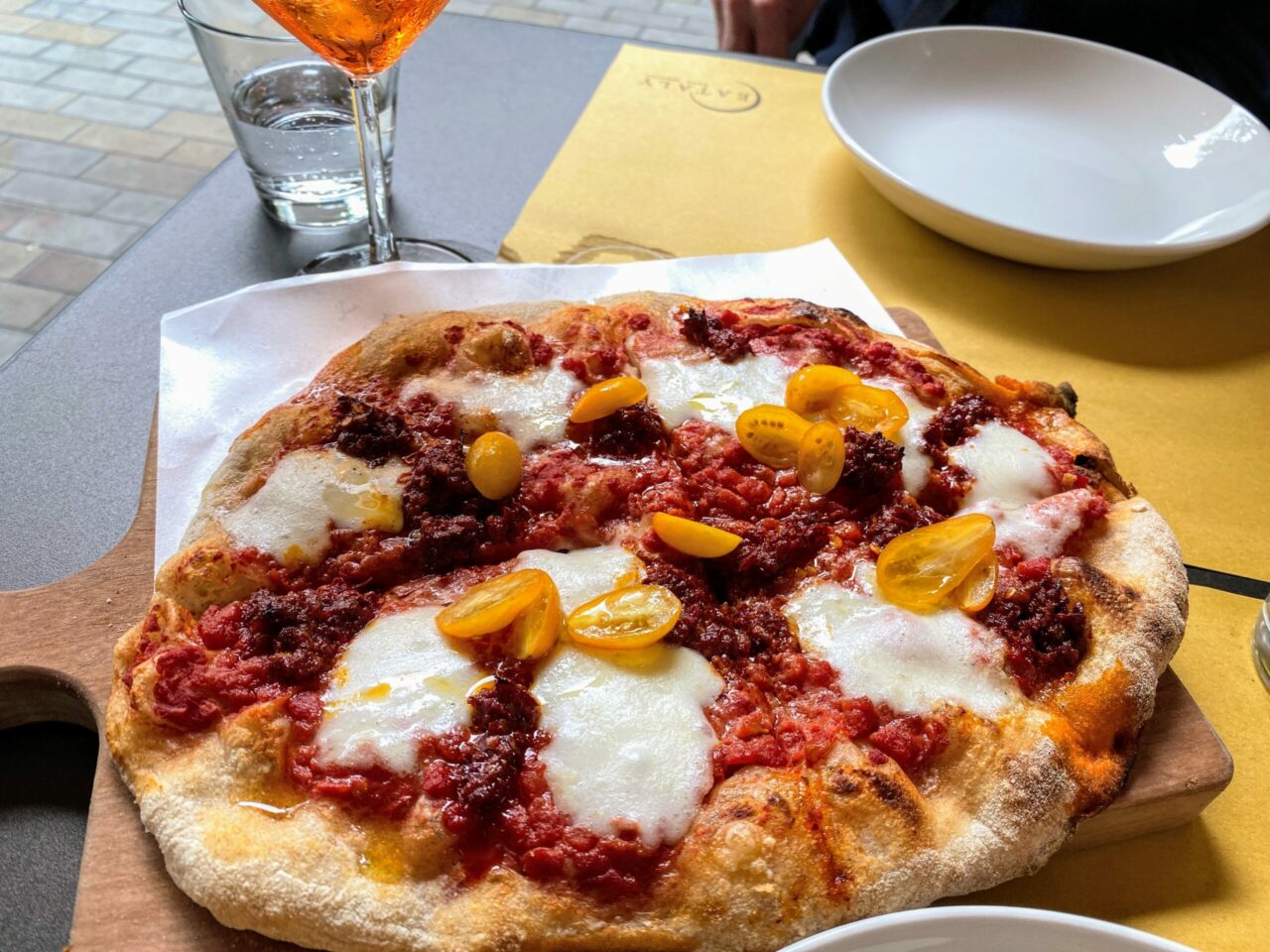 The next time we tried the more formal Cucina del Mercato. This means counter to table and you can have any of the meat or fish from the market cooked to order. We opted for the meat and cheese platter which was very generous and super delicious – especially the Mortadella which was the best I have ever had by a long way.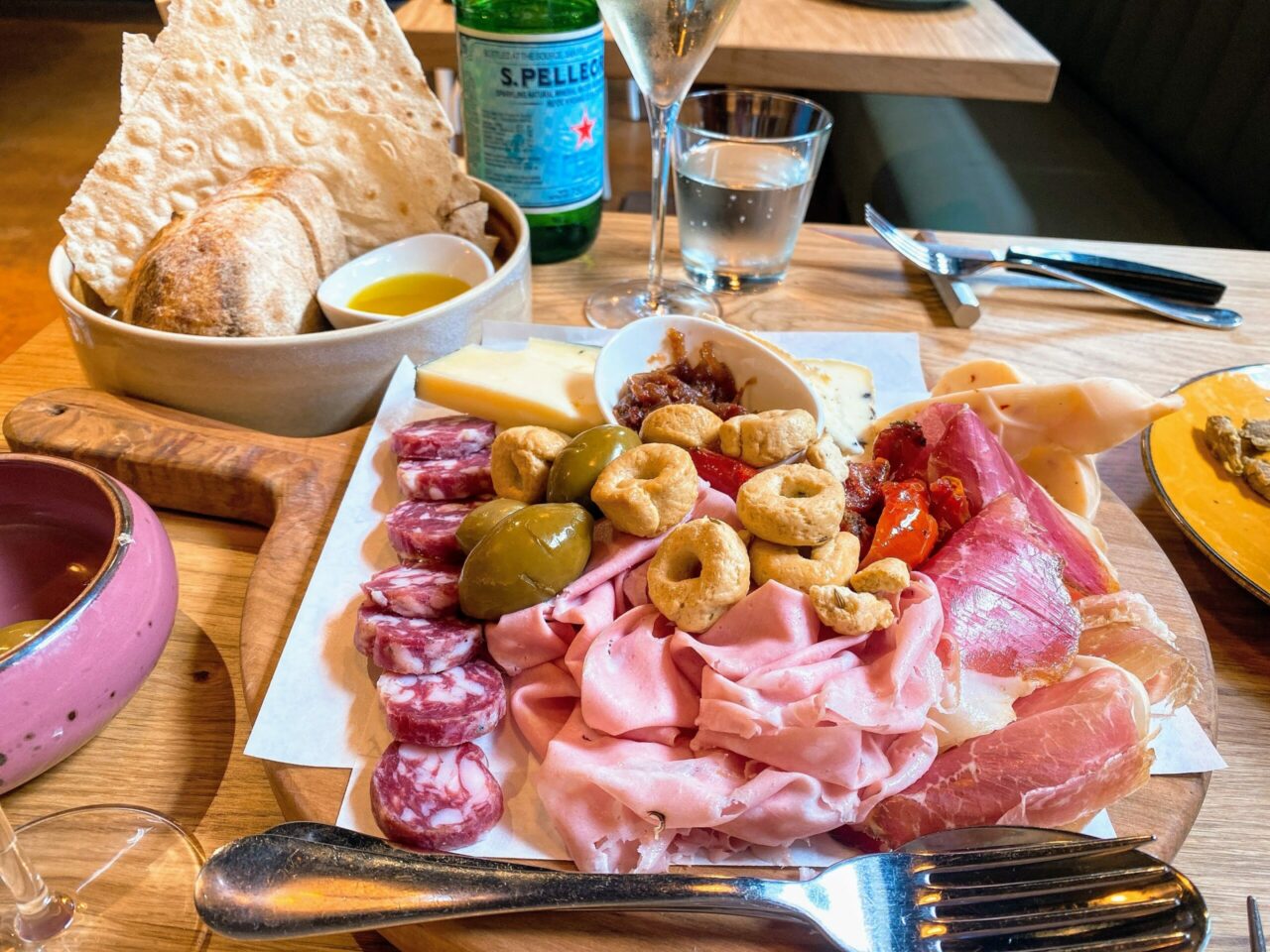 Next, we had the Sardinian fregola with mixed seafood & parsley emulsion. This was full of flavour and the fregola was perfectly cooked.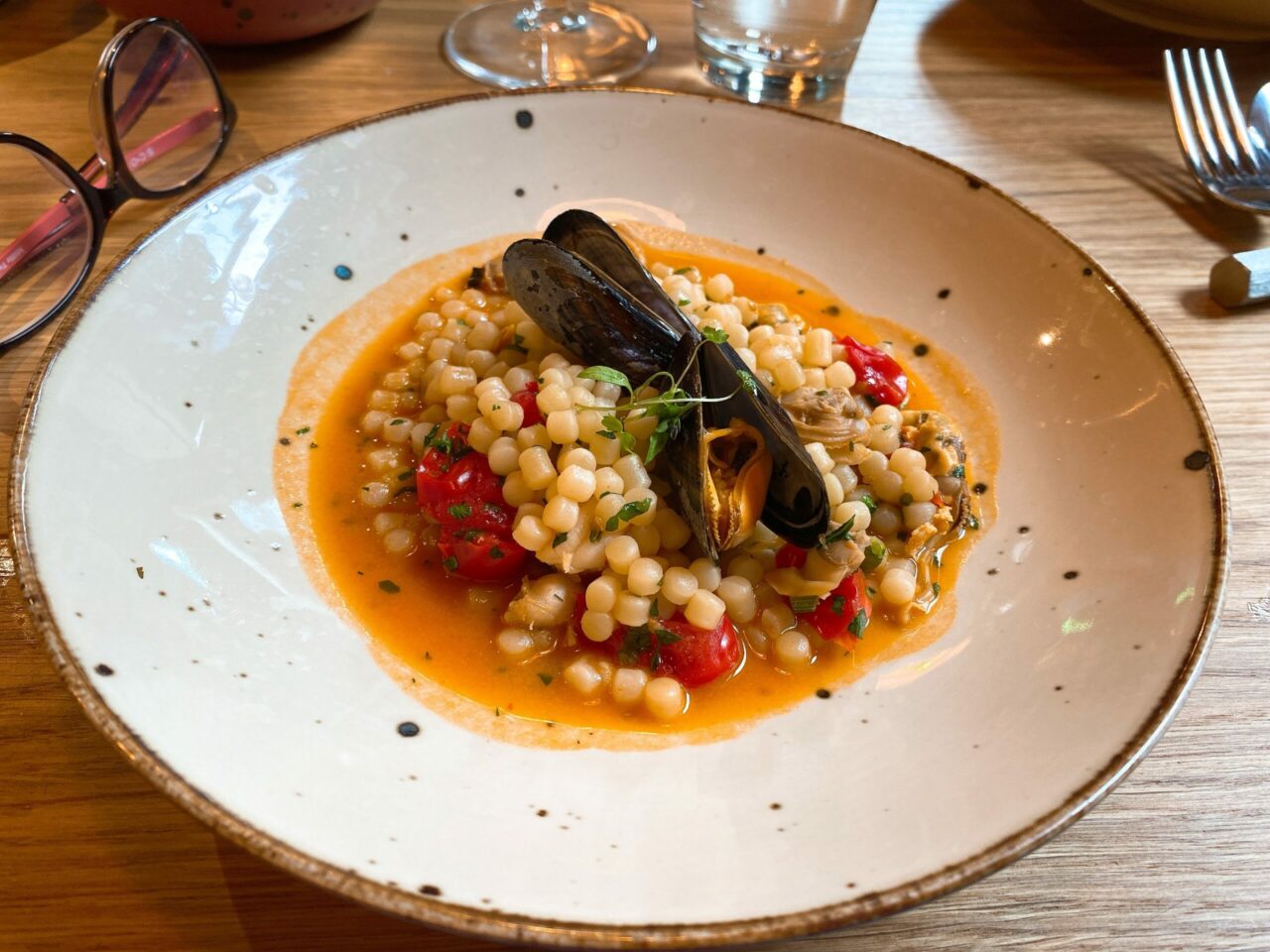 The restaurants are very popular so I would advise booking.
Van Gogh immersive experience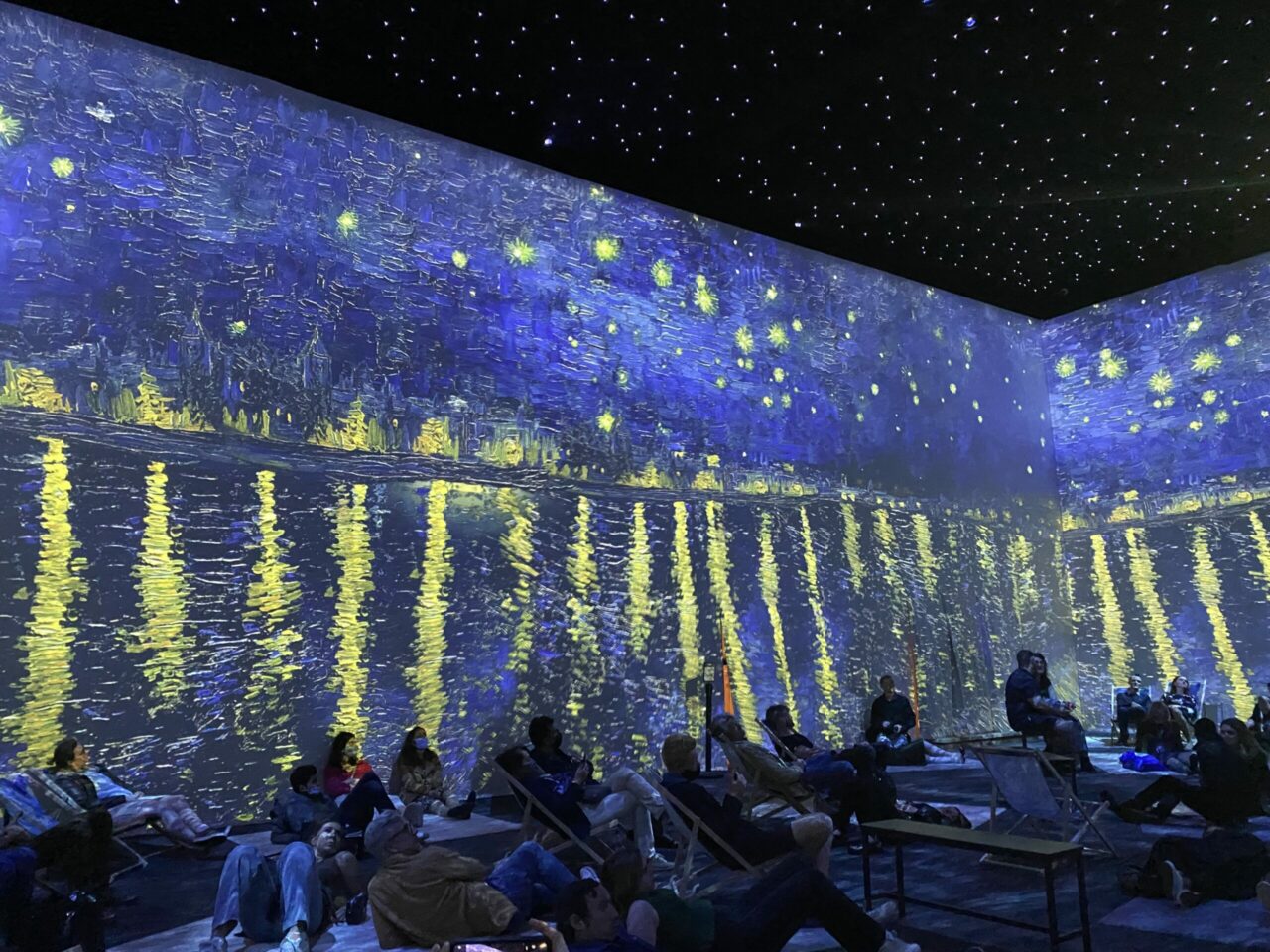 I had wanted to go to this for a long time and finally it is in London. There are two versions, one in Kensington and one in Spitalfields. I went for the VIP package which included a VR experience which for me was the highlight. There are also lots of 3D exhibits and then the main event where you feel like you have entered his paintings. Highly recommended. You can buy tickets here.
Galvin La Chappelle and Bistrot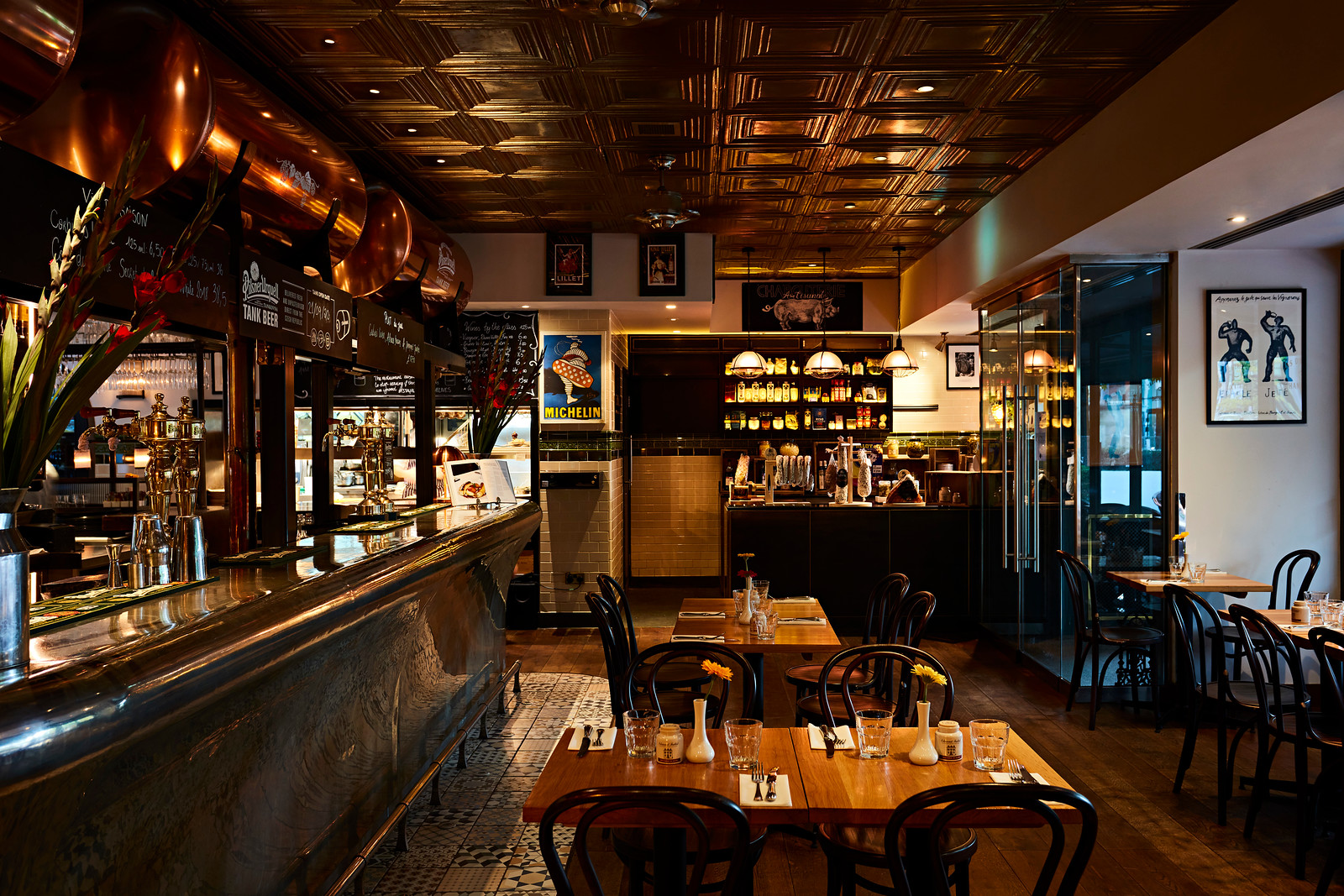 A few minutes' walk from the exhibit is two of Galvin group's restaurants. If you love traditional French cuisine, then the Bistrot is right up your street. It looks and feels like a traditional Parisian brasserie with food to match.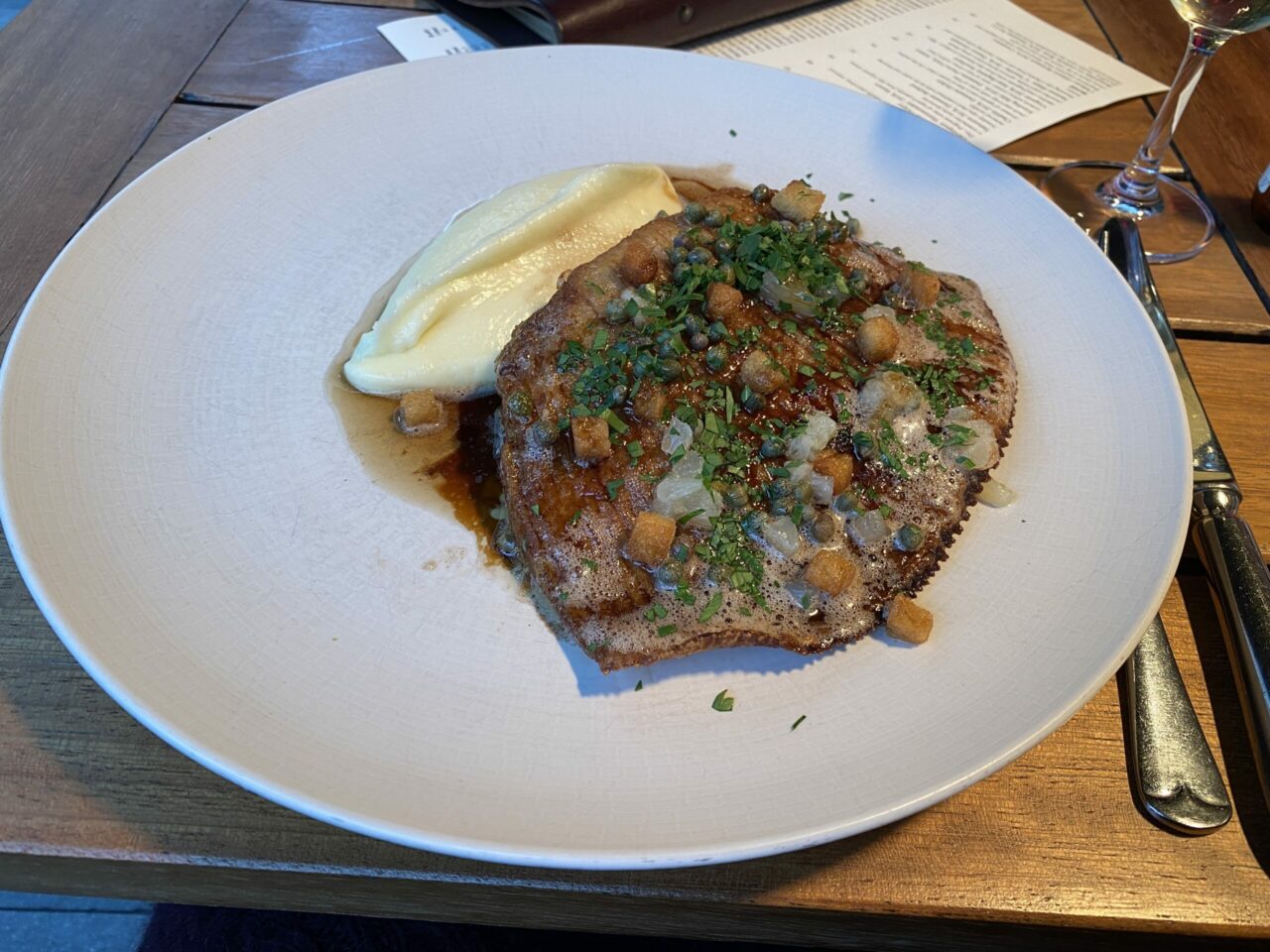 There's also a lovely outdoor terrace.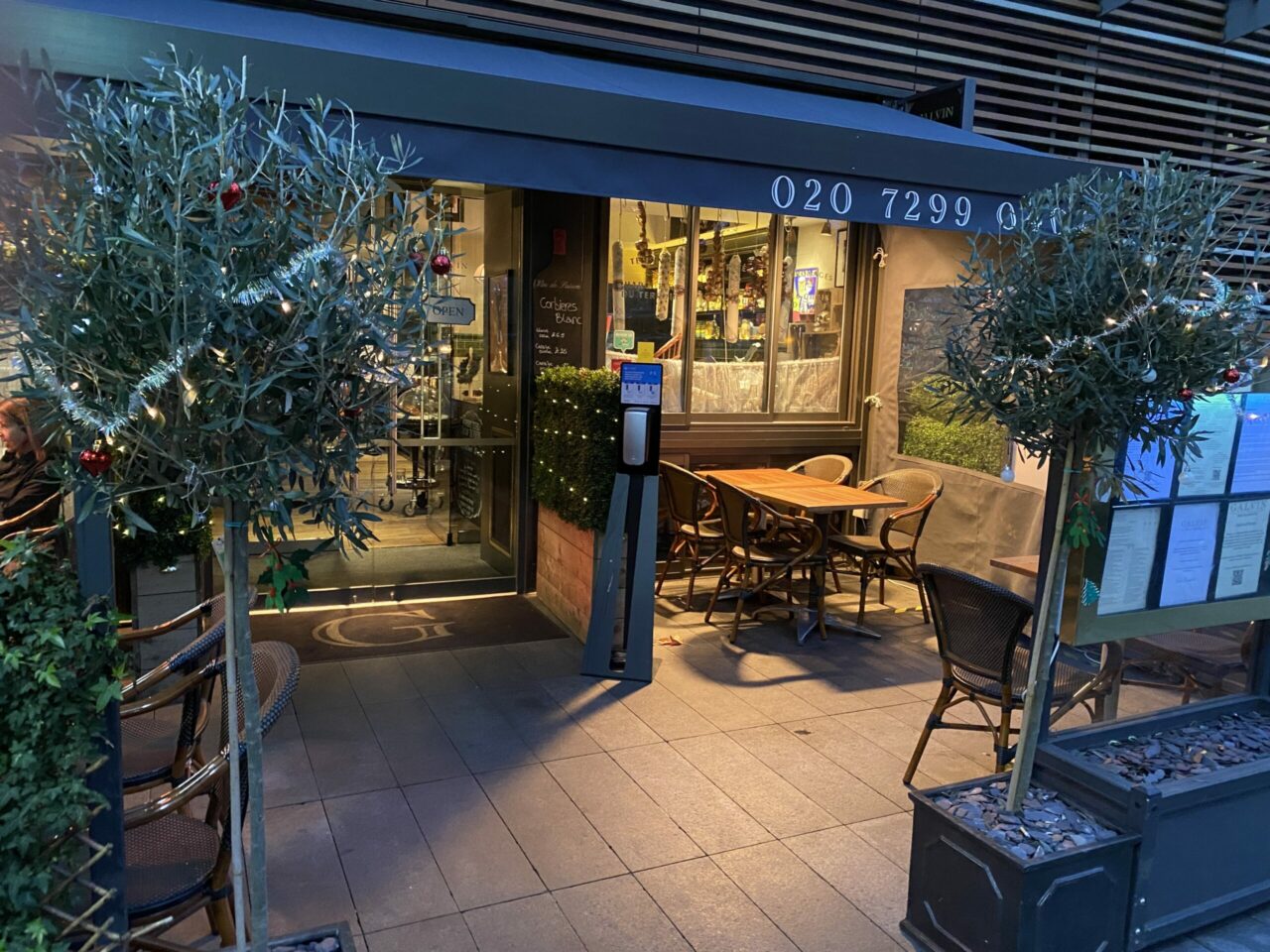 If you want a more fine dining experience, then I can recommend Michelin-starred Galvin La Chappelle.
It is set in a stunning chapel.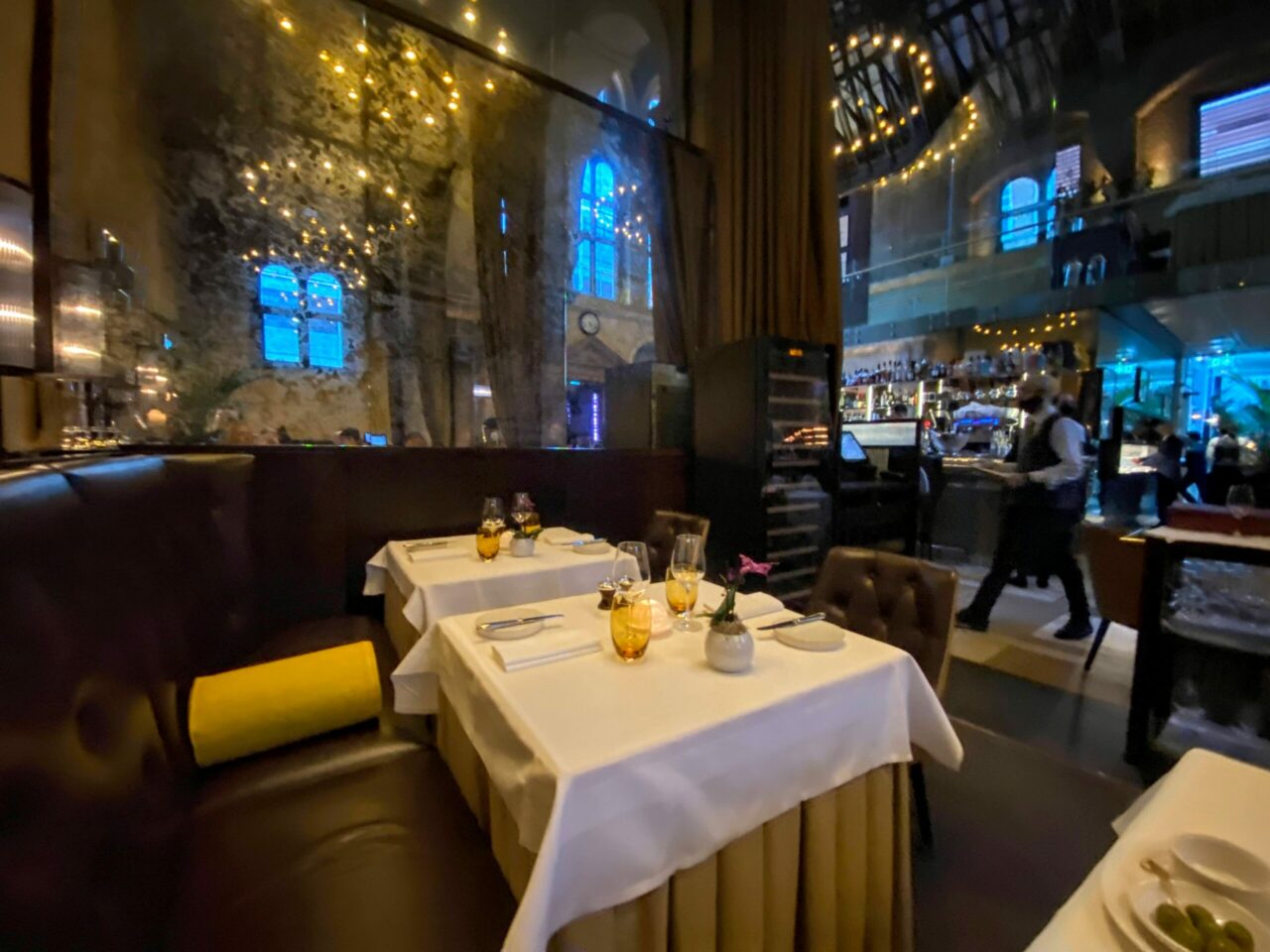 We had the Menu Gourmand which had everything I would have chosen anyway! Here is the current one: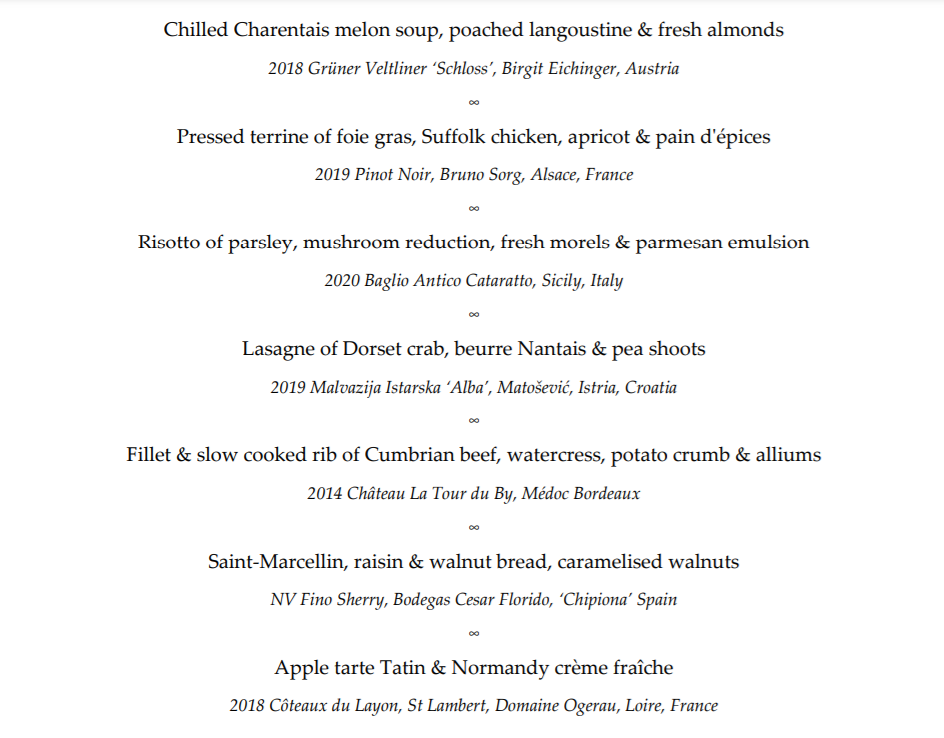 The service was fantastic, not too formal and happy to do whatever we wanted including a pause mid-courses for a cocktail break!
The highlights from the menu were the lasagne of Dorset crab with its amazing chive butter sauce: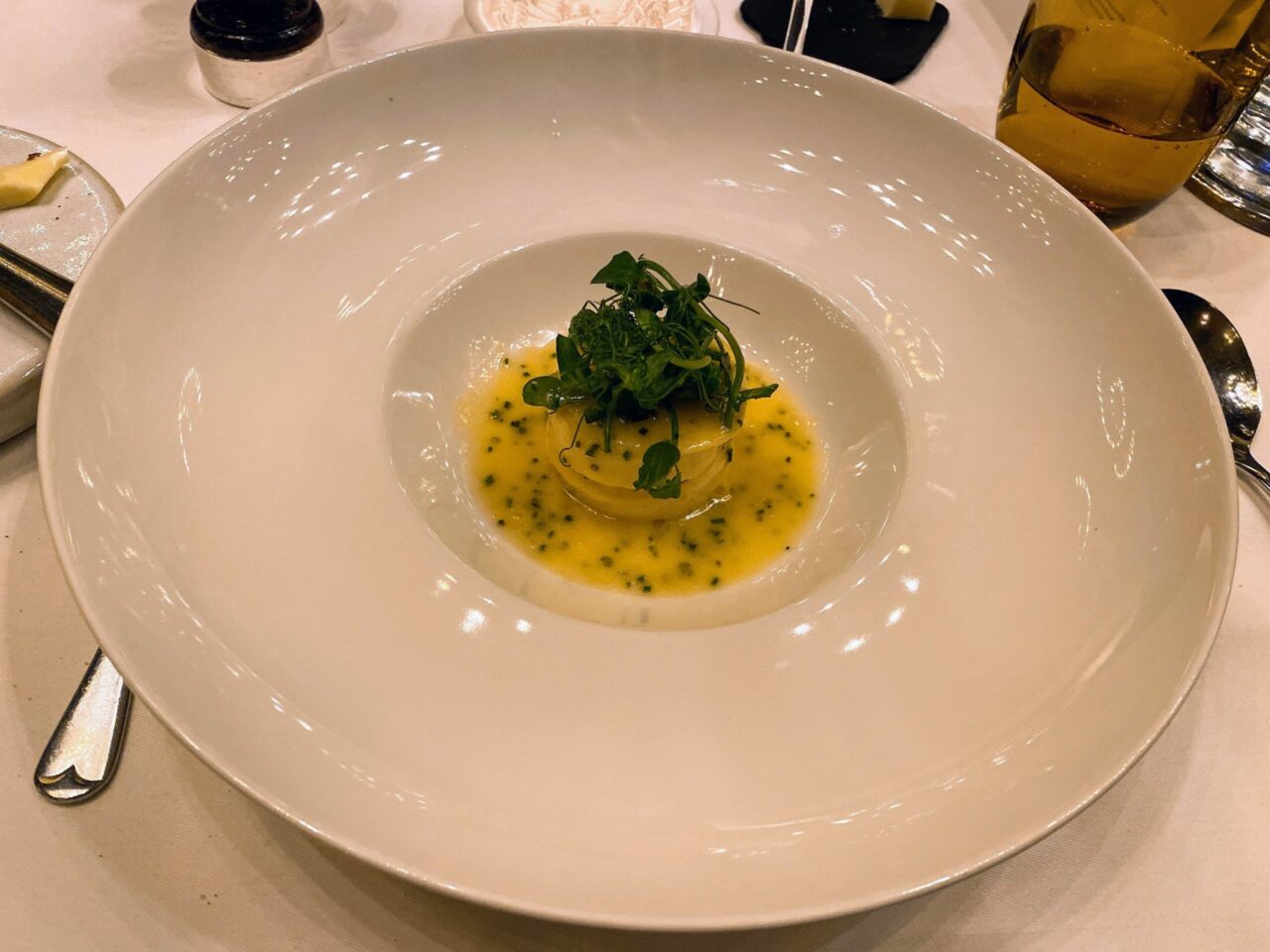 and the main course of beef which just melted in the mouth. The shallot puree was stunningly good.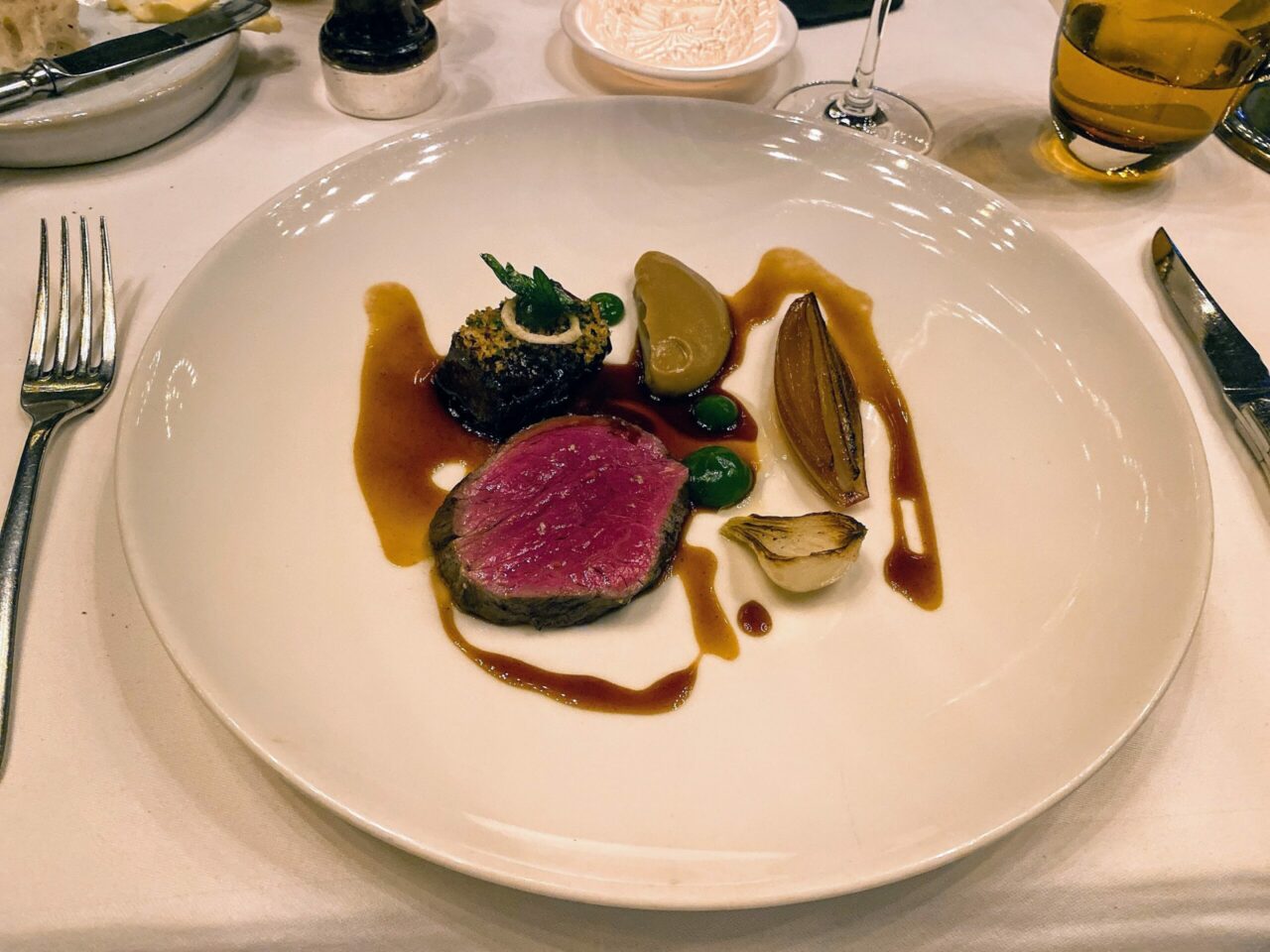 Like our Andaz London Liverpool Street by Hyatt review? You can read more hotel reviews here.