Last week, I stayed at the Sofitel London Gatwick after a late flight back from Ibiza. Our previous review of the Sofitel London Gatwick was in 2017.
I wanted to try out the hotel after hearing positive reviews. I've stayed at many Gatwick Airport hotels but never the Sofitel! Now I've reached Gold Accor Status; it's more worthwhile staying at Accor hotels with the extra benefits.
The Sofitel Gatwick has been awarded four stars and is part of the internationally renowned Sofitel chain known for high-end accommodation.
Booking and Getting it for Less
The cheapest way to book this hotel is normally direct, where you will get money off compared to booking with Booking.com and other similar sites. It is always looking at the cashback sites Topcashback and Quidco as often they will offer 10% or more cashback by booking direct with the hotel by clicking through their site.
As an All Plus Voyageur member, I also got an additional discount of 20% off luxury and premium brands and 15% off midscale and economy brands. The Sofitel is classed as a luxury brand.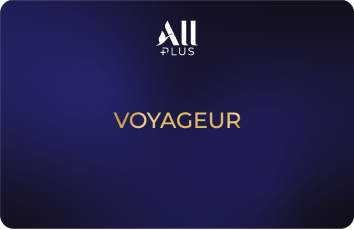 I then used 4,000 points for an additional £70 off the room cost, bringing the total to £97.
You can save money by joining the Accor Live Limitless loyalty program. As a gold member, I can get an early check-in, late check-out, a welcome drink and a room upgrade, although none of this is as helpful if you're looking for a bed for the night as part of your journey. You can read more about Accor's benefits and status here.
The next day, I had a 7-hour train journey to Cornwall, so I couldn't use the late check-out.
Location
The Sofitel London Gatwick is the most convenient, located within the North Terminal, which is predominantly served by Easyjet flights.
After missing my BA flight the day before, I was pleased I could walk straight from North Terminal to the hotel. The Sofitel is the hotel connected directly to North Terminal.
The Sofitel is well-signposted as soon as you enter the arrivals hall at North Terminal. When you exit North Terminal, there is an entrance to the hotel next to the terminal shuttles, making it also very convenient for the South Terminal. You can simply hop on the shuttle between the terminals and be there in just 2 minutes.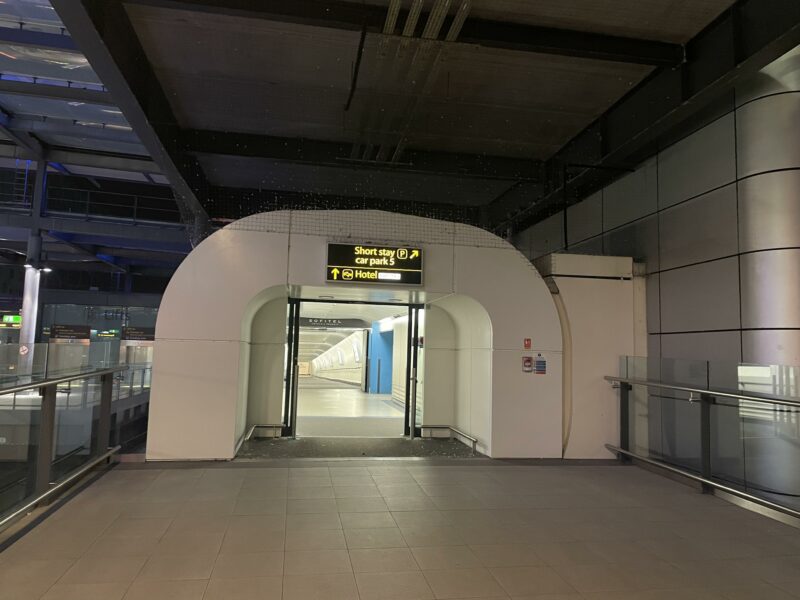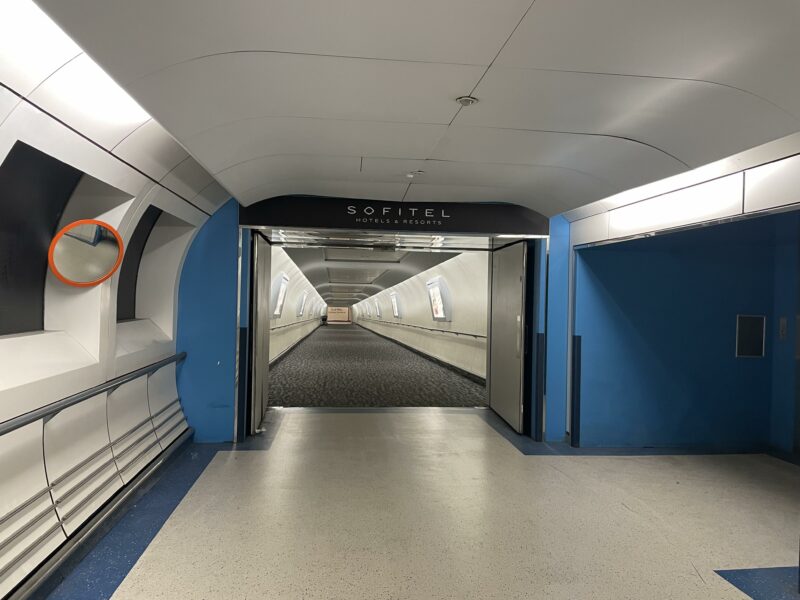 This takes you along a corridor to reception.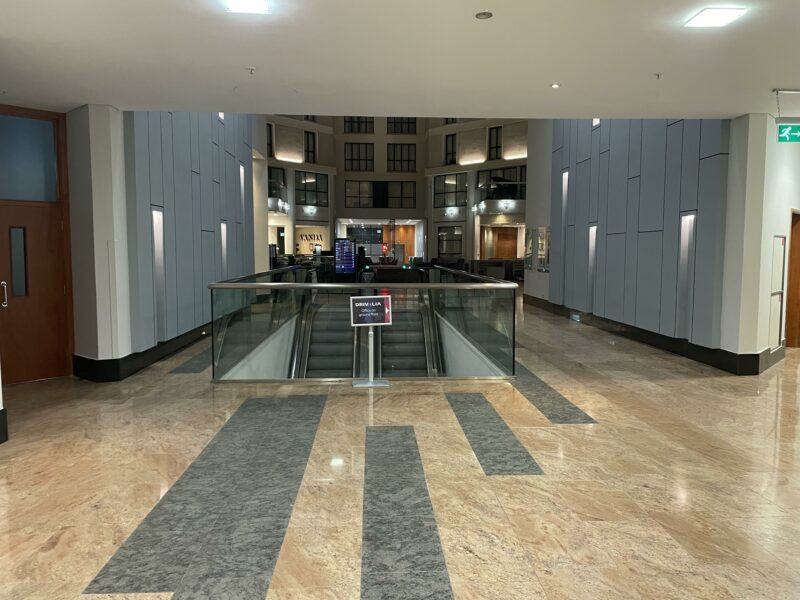 Travelling to Gatwick Airport train station on the terminal shuttle was easy in the morning.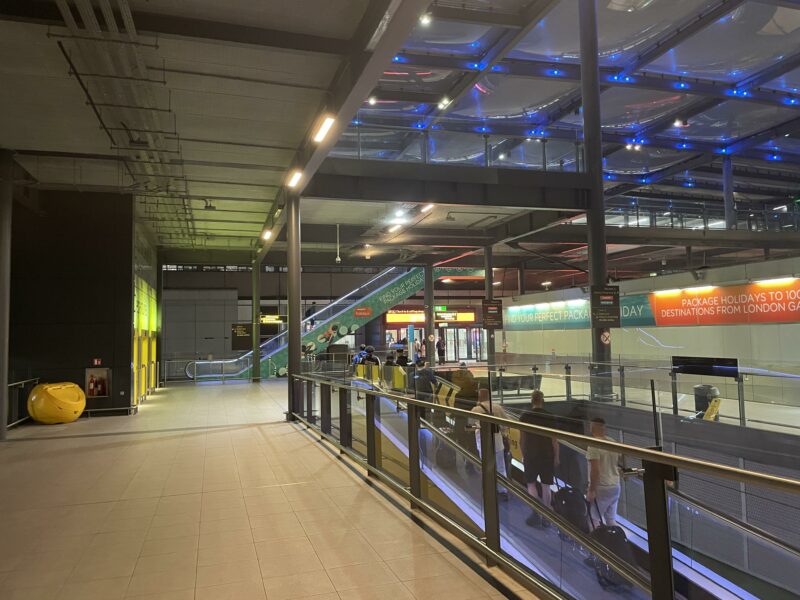 Check-In
The hotel seemed quiet when we arrived at 3:00 am. The reception staff were busy working, and there were just cabin crew checking in. We paid for the room on arrival and were quickly given our room key. The lifts were not working properly, so we ended up waiting a while for them to open and go between floors.
You can see most of the hotel from this area, including the bars and restaurants and many rooms with windows facing inside towards reception.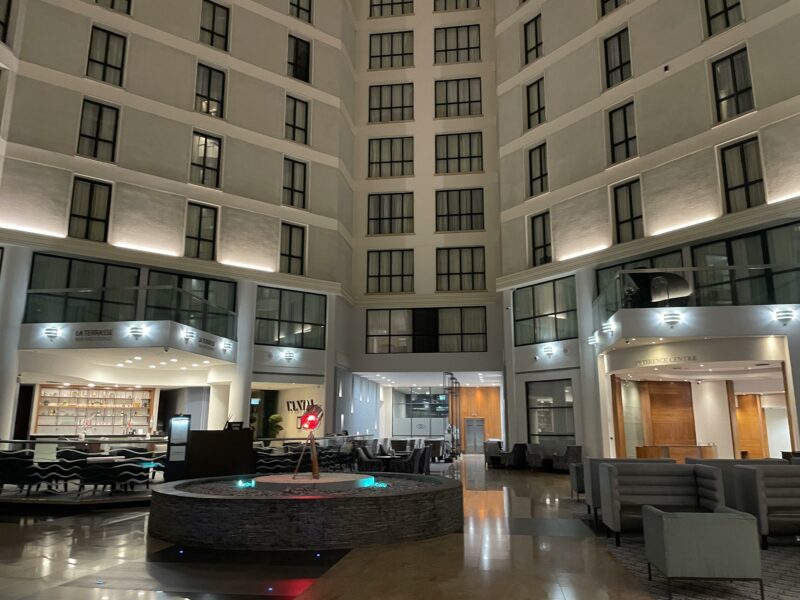 We stayed on the first floor, and the room was relatively easy to find.
The Room
We were given an accessible double room. The space in the room was much larger than some of the other rooms available. The decor in each category is tastefully done, blending comfort with sophistication.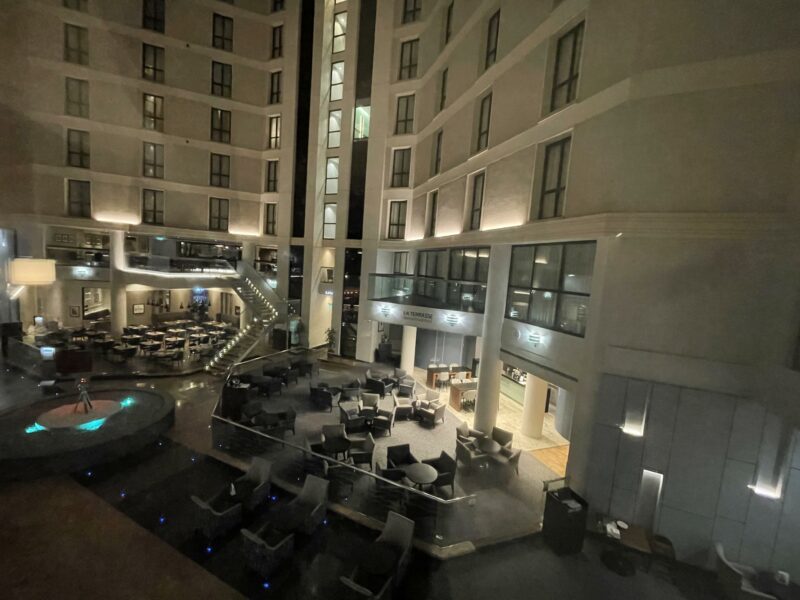 I was impressed with the size of the room. There was a large double bed and plenty of space to walk around. Looking into other room types, they also seemed very large when they were open for cleaning.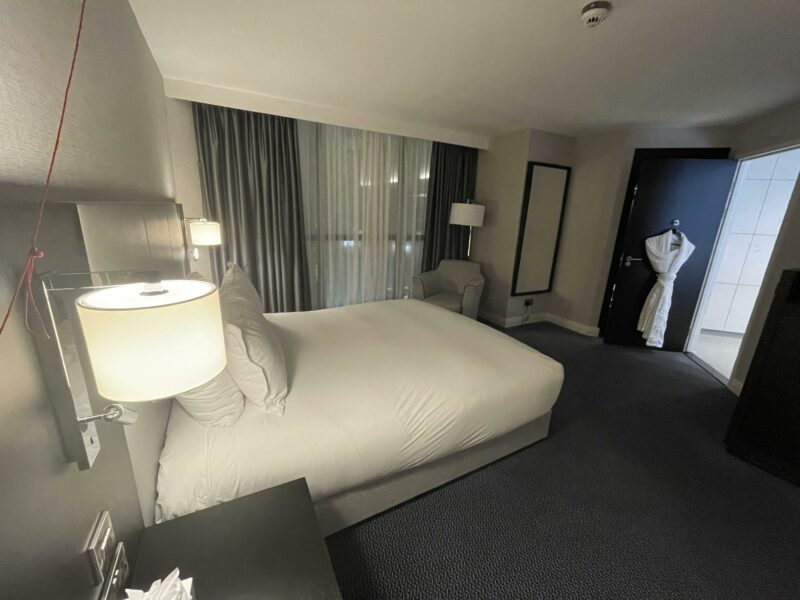 The bed was very comfortable. It's the kind of bed where you sink into the mattress.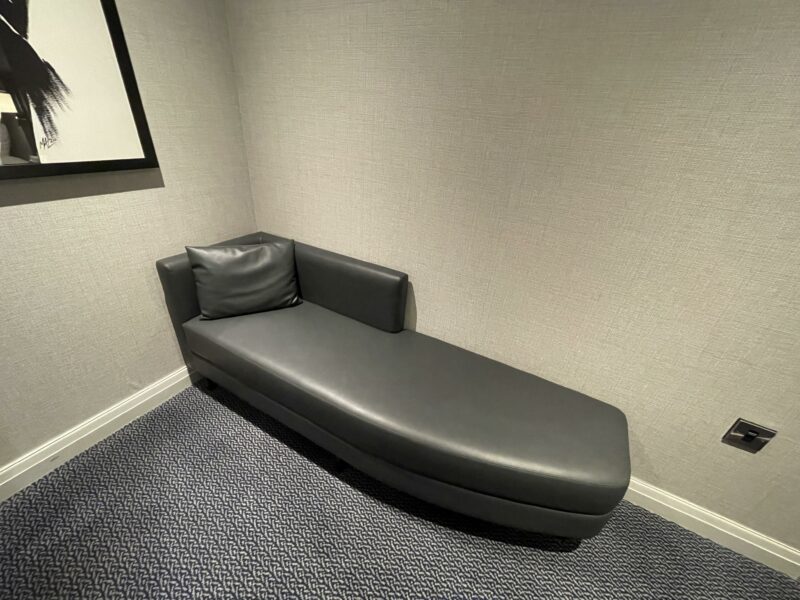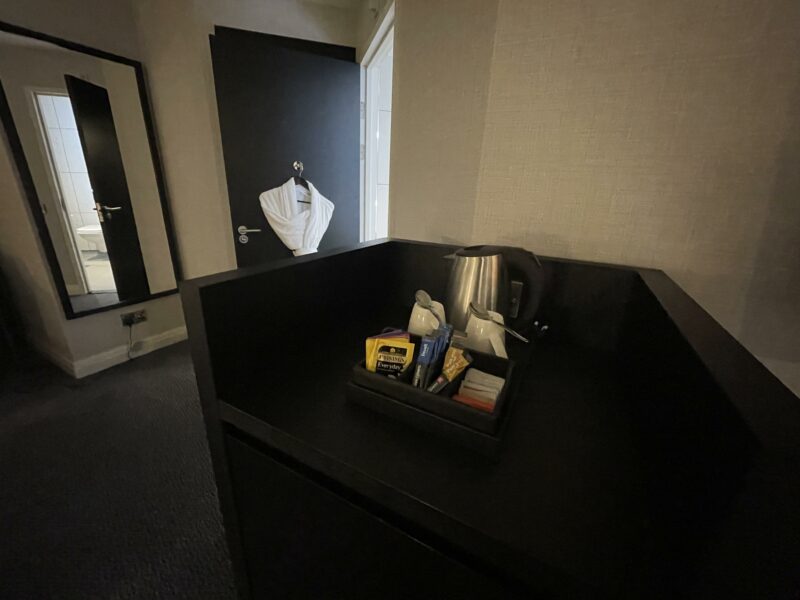 An excellent selection of tea and coffee and various fruit teas were provided.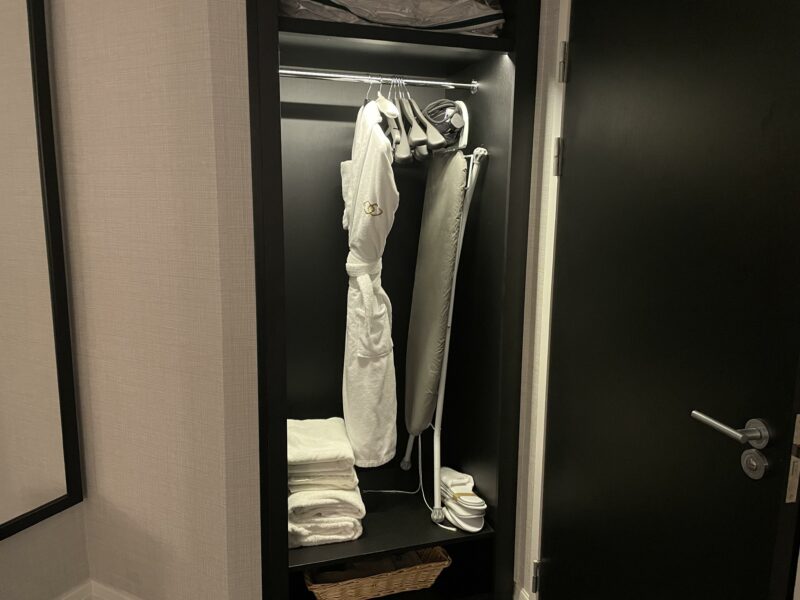 The wardrobe had everything needed for a relaxing stay, including extra towels, slippers and another dressing gown.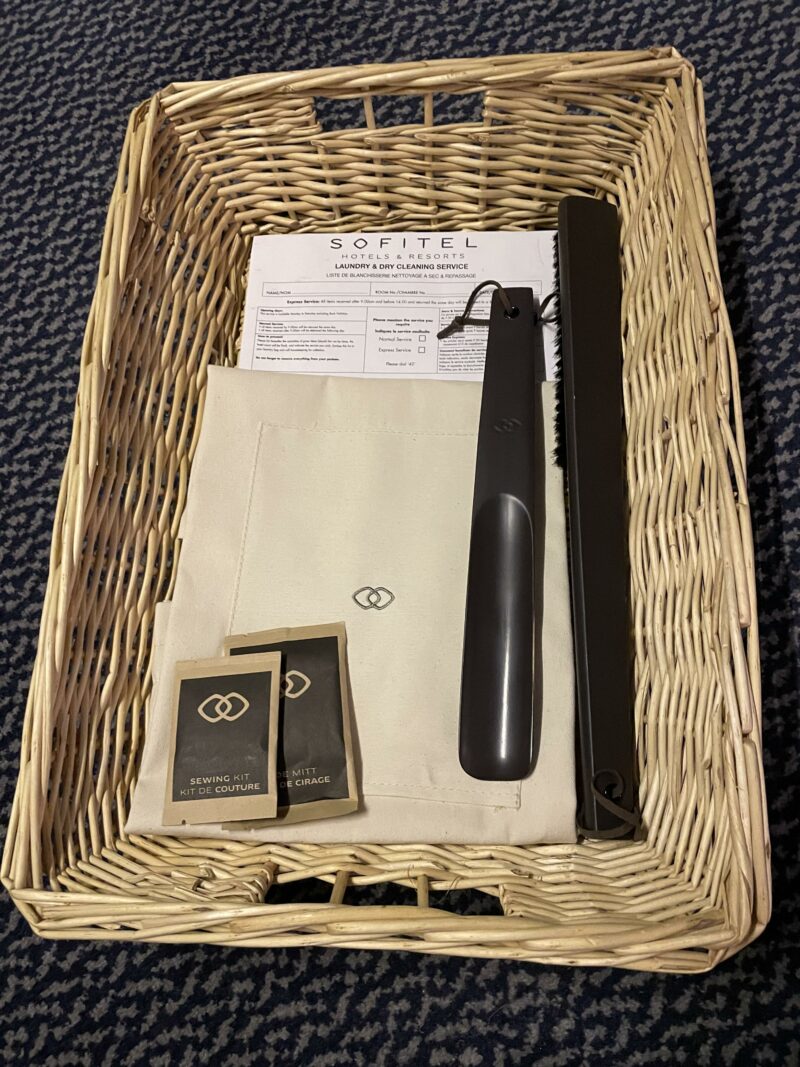 The Bathroom
The bathroom was huge, and everything was set up very well. A dressing gown was hanging on the door, and there was lovely smelling Balmain Paris body lotion and a selection of other toiletries in a jar, including cotton buds. The shower was also very nice!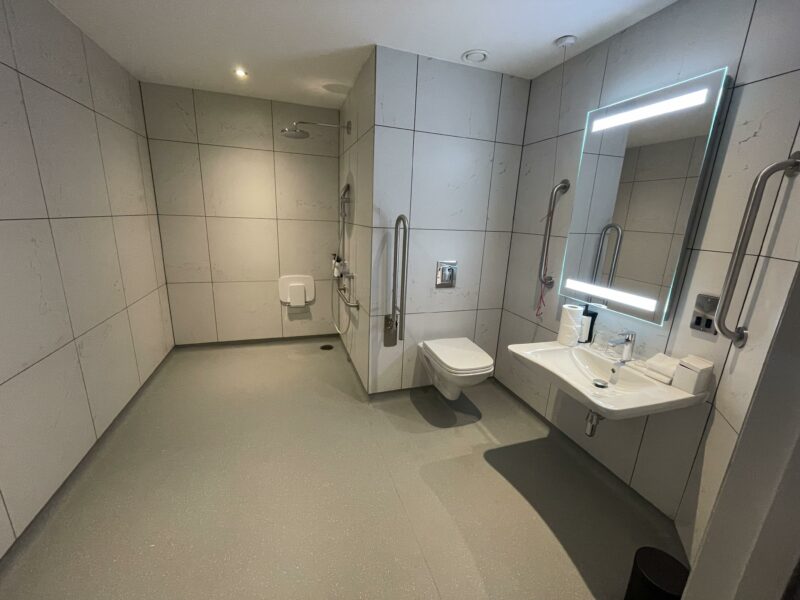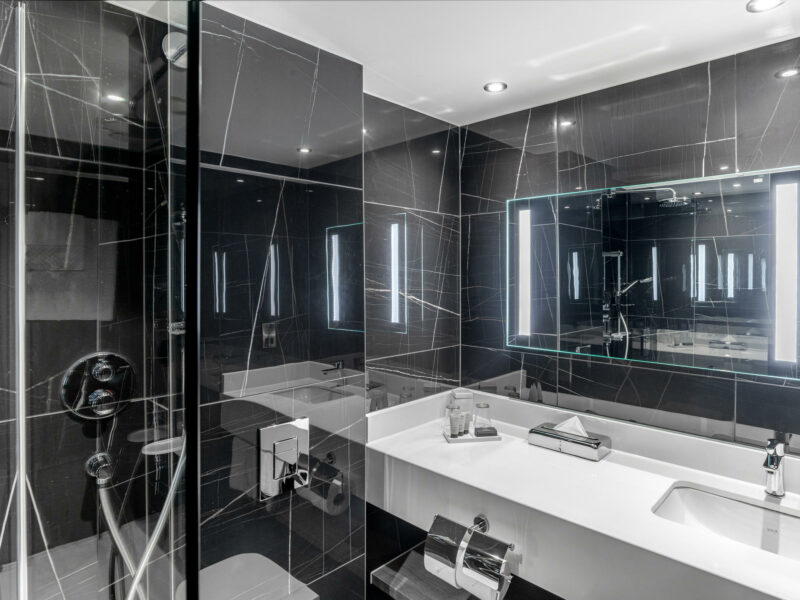 Other Room Types at the Sofitel London Gatwick
Aside from the accessible double room we stayed in, Sofitel London Gatwick offers various other room types:
Classic Rooms – The standard room type with one queen bed or two singles. You can also book an accessible room in this category.
Superior rooms – One queen bed or two singles with the added benefit of runway views.
Luxury Room Club Sofitel – One queen bed, runway views and lounge access.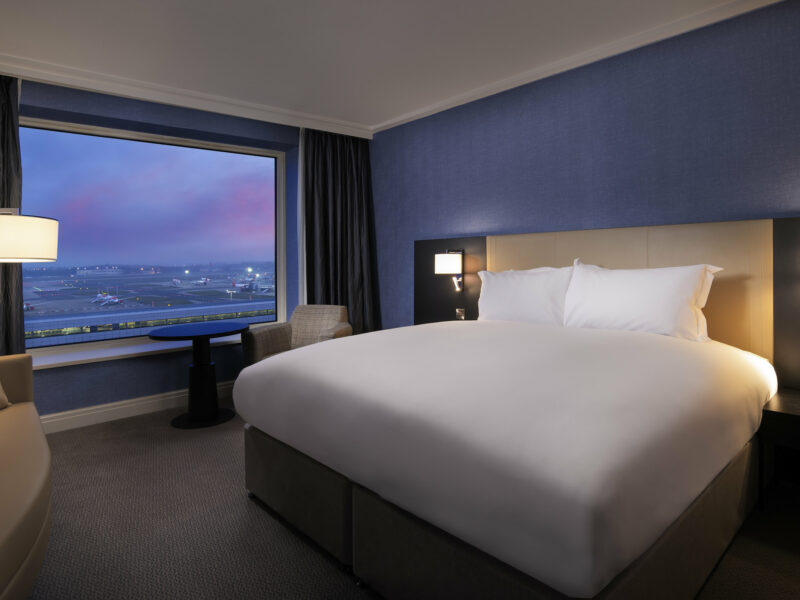 Luxury Room – Lounge access, a queen bed and runway views
Junior Suite – One queen bed and two singles.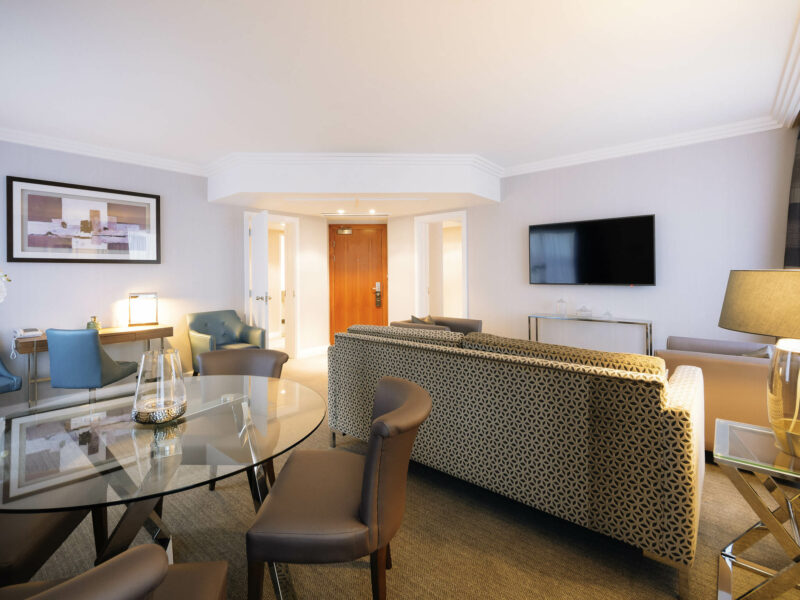 Food and Drink
There is a variety of food and drink on offer and many choices of where to dine.
Breakfast
It was £16 per person for a buffet-style breakfast in the La Brasserie restaurant. There were hot and cold items, fresh fruits, pastries, and a delightful selection of cheeses and cold cuts.
When I entered, I gave the staff my room number. I had rebooked breakfast the night before. I was then asked if I wanted tea or coffee, which was served at my table. I would have liked a cappuccino from a machine, but just filter coffee was available.
It was nice to see vegetarian things on display rather than having them cooked to order. If you have Accor Diamond status, you will benefit from a complimentary breakfast on weekends.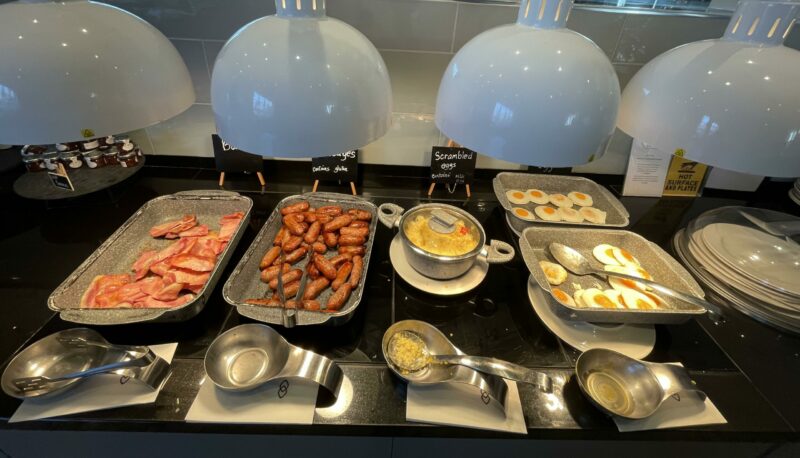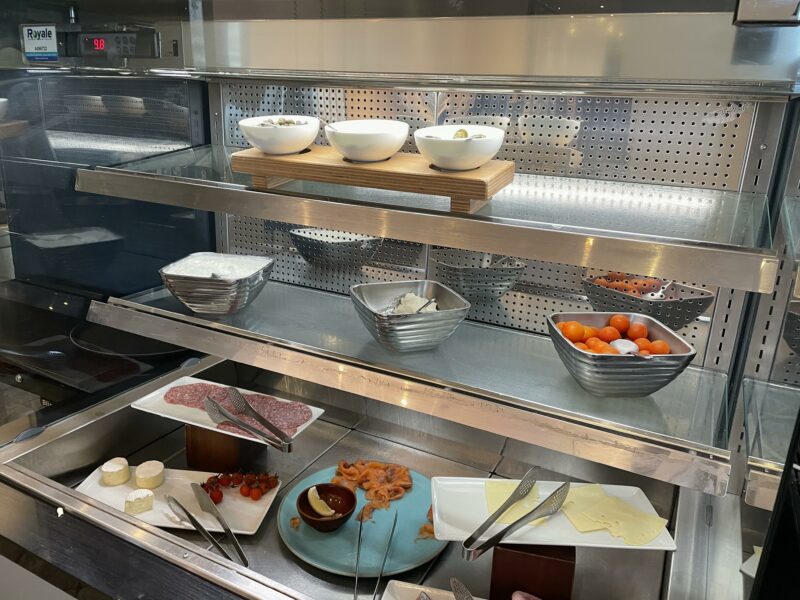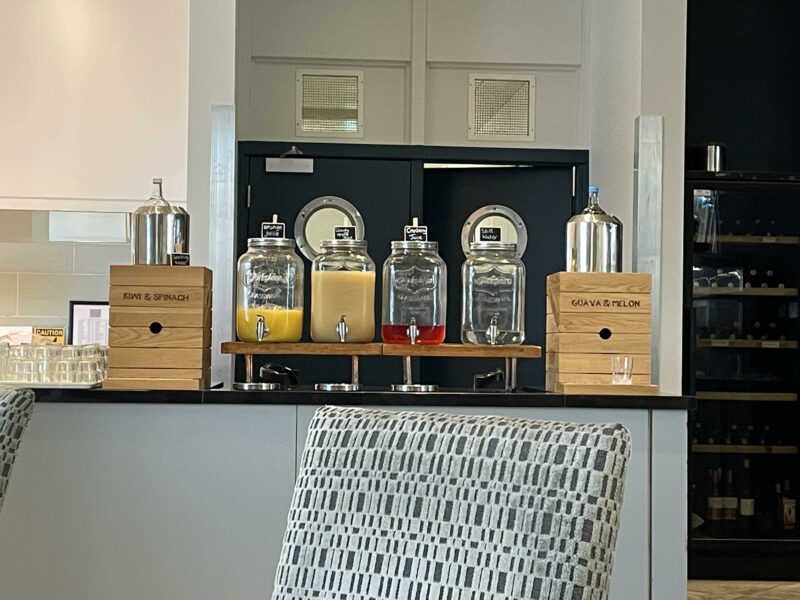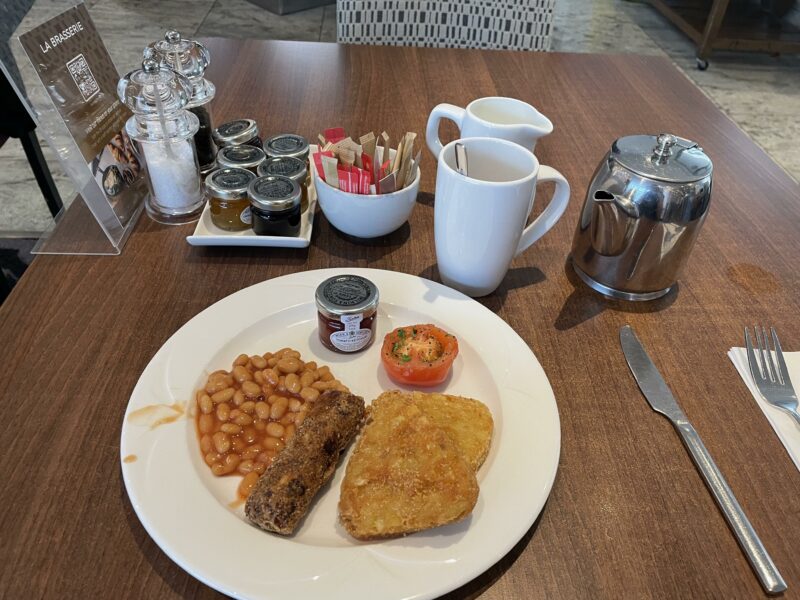 Breakfast in the Room
If you prefer privacy or a lazy morning, you can order breakfast in your room. You can choose from continental or hot items, juices, coffee, or tea.
The menu is comprehensive, but everything is available at the buffet downstairs for a set price. If you order in the room, each thing comes at an additional cost.
To order breakfast in the room, you just fill in the card and hang it on the door for the concierge to collect.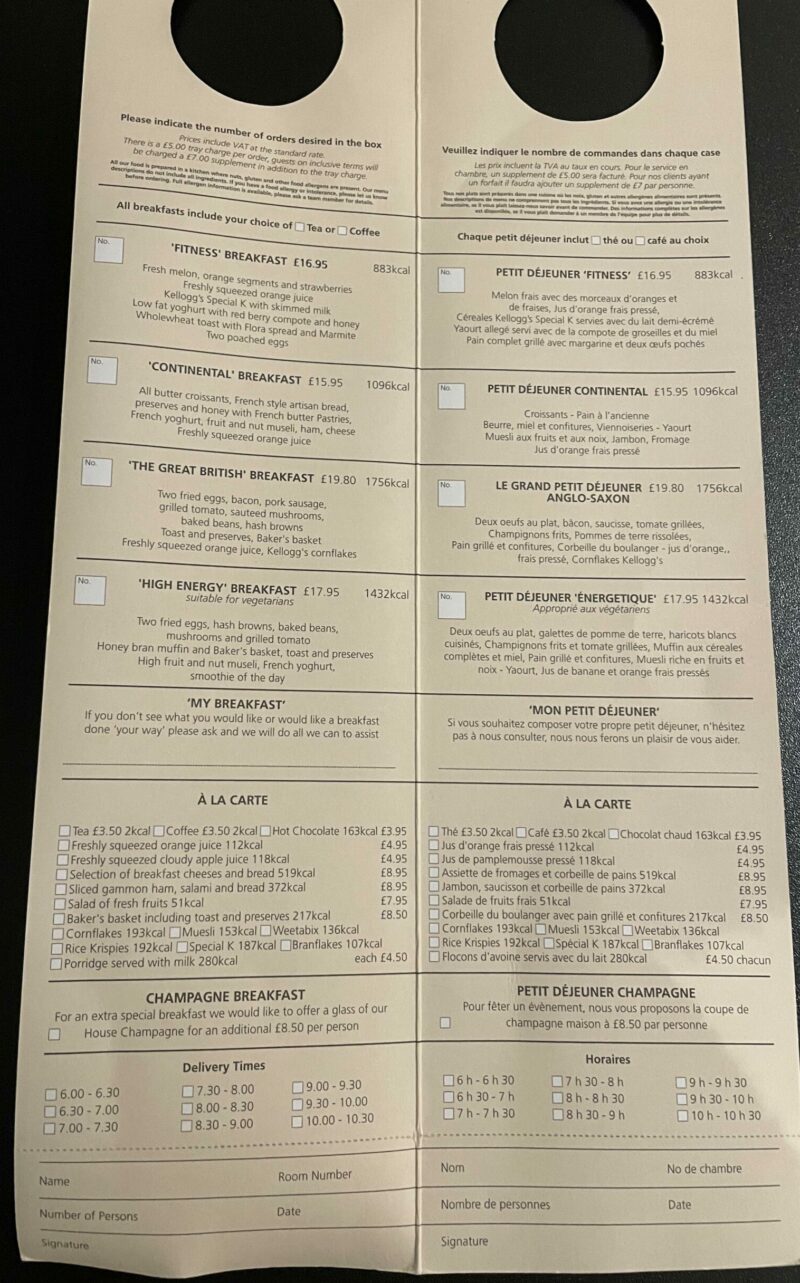 Bars and Restaurants
The hotel offers three unique restaurants. La Brasserie is an elegant French-inspired restaurant offering a la carte dining and an extensive wine list. The menu has been designed by chef Andy Smithers featuring modern British food with a French twist.
You can opt for a 2-course menu for £30 per person. La Brasserie is open for dinner between 18:30 and 22.30.
La Brasserie is also where breakfast was served. A continental breakfast is available from 5:00 until 6:30, followed by a hot breakfast buffet from 6:30 until 10:30.
The Urban Cafe is a more relaxed environment with a menu featuring international cuisines such as burgers and pasta. The cafe is open from 11 am to 11.30.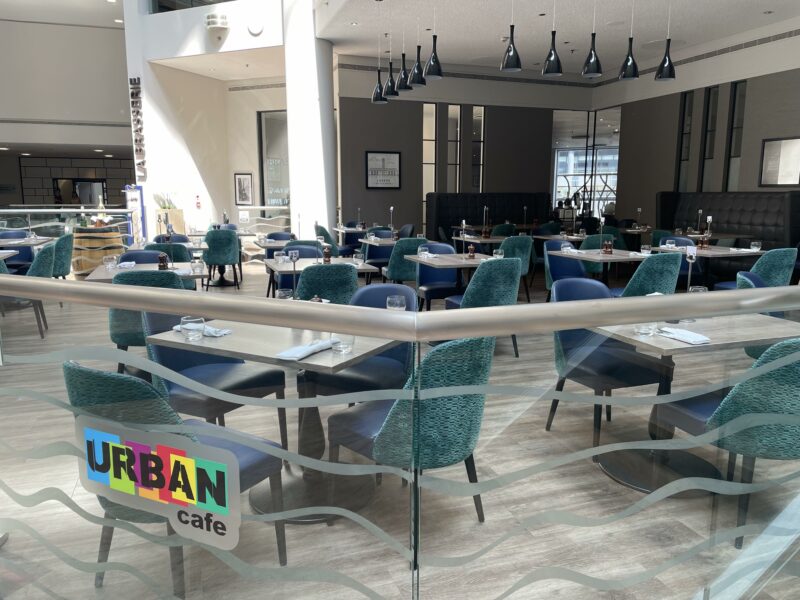 Vanda Oriental, a new addition to the hotel, serves Asian fusion food.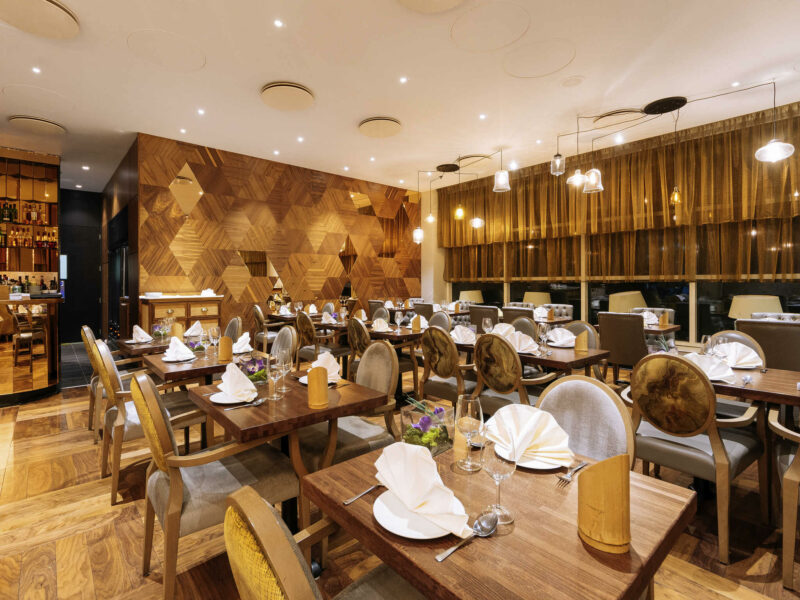 There's also Kua Bar, which serves a variety of cocktails and light snacks.
Room service is also available 24 hours.
Facilities and Services
Park and Stay
Park and stay packages of 4, 8 or 15 days are available. Each additional day is £15 with no need to prebook. You can unload outside the hotel and park in the car park behind the Sofitel. It does mention online that your car may be moved to a 'secure local car park whilst you are away.
Concierge
The concierge team is on hand for anything you need, whether arranging transport, offering local advice, or assisting with reservation enquiries. However, when I phoned at 4:00, there was no answer, so I don't think this was a 24-hour service.
Conference Center and Meeting Rooms
The Sofitel Gatwick has 11 meeting rooms with space to accommodate up to 300 guests. There are a variety of layouts across the meeting rooms.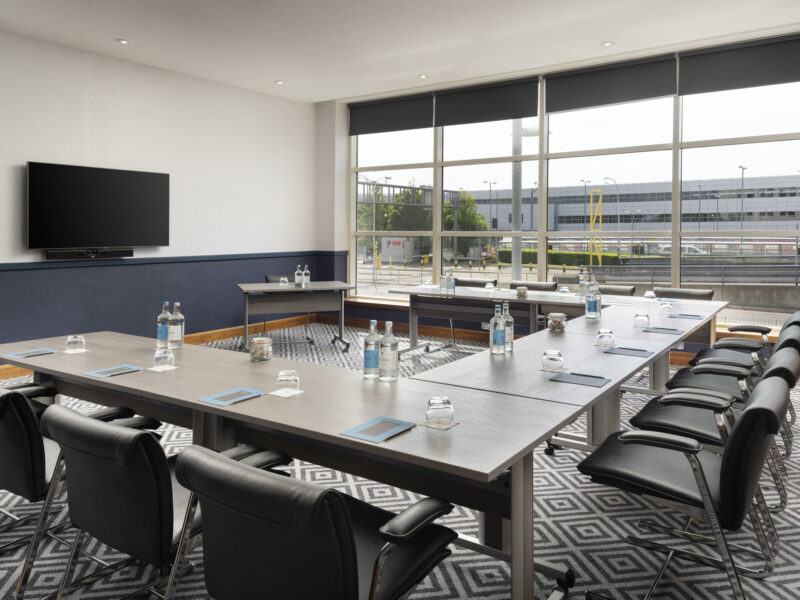 Gym
If you like to keep up with your fitness whilst away, a well-equipped gym is on-site.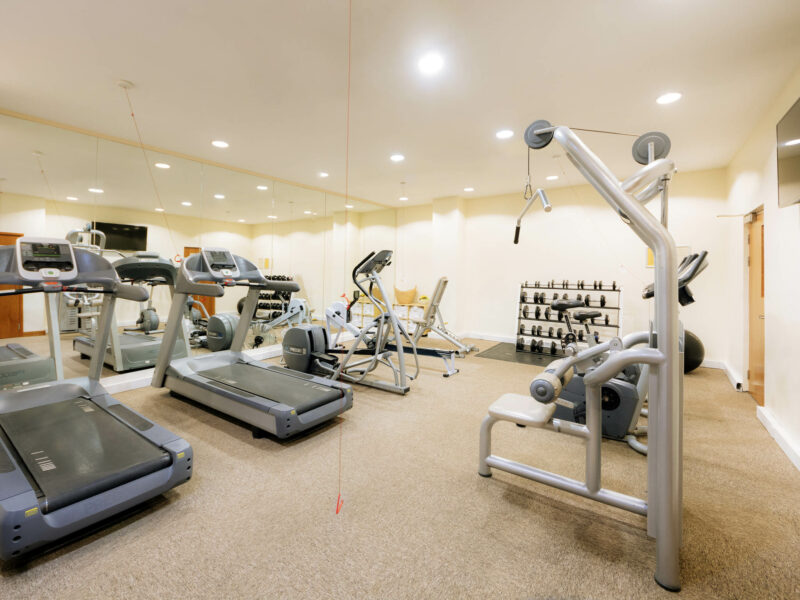 The Clubroom Lounge
If you've booked Luxury Club, a Luxury Room or a Junior Suite, you and the people staying in your room will be able to access the Clubroom Lounge on the 8th floor.
This lounge is 24 hours, and you can use your room key to get in. There are staff members available from 17:30 to 22:30.
They serve canapes between 5:30 pm and 8:00 pm, and from 20:00 onwards, they bring out desserts.
A continental breakfast is available in the morning between 6:30 to 10:30.
Drinks are unlimited while you're in the lounge. It's a great spot to relax!
Dayrooms
You can book a room for the day from a variety of sites. Dayrooms are available from 9:00 am-18:00 and cost similar to a night at the hotel. You can book on:
Final Thoughts
In future, I will probably book a more basic hotel for a short stay if it's just a bed for the night. We didn't have enough time to fully enjoy the hotel when getting to the airport the day before a flight.
However, the convenience of North Terminal and the delicious breakfast set me up for the day. The beds were ultra comfortable, and the in-room facilities were a bonus too.
I would definitely stay here again if the room rates were similar to other North or South Terminal hotels. As I progress through the Accor loyalty programme, it will become even more worth staying here with lounge access and complimentary breakfast on weekends.