British Airways A350 European flights
Here at TLFL, we have all been looking forward to seeing BA's new A350 in the flesh. We are lucky enough to be going to see it arrive at Heathrow on the afternoon of the 26 July. At that event, we should also be able to have a look around it and see the new Club Suites in the flesh.  Of course, more importantly, we will be able to report back if they look as good in the flesh as in the pictures! However, BA have now announced the inaugural flight internally and issued media invites.
The inaugural flight will be on 5 August on the BA460. According to Flyertalk, tickets will be available to purchase in economy on this flight. Currently, the aircraft is still showing as the usual B777. Obviously, should you book seats and this arrangement changes for any reason, you will not be able to claim a refund or change your flight unless your specific ticket rules allow it. This applies to the rest of the information below.
It is not currently known when the A350 will fly back from Madrid. According to Flyertalk, the A350 will be used on training flights from 6 August. The BA flight numbers are expected to be BA456/457 are first two slots each day with an additional return trip on most Thursdays, Saturdays and Sundays on the BA464/465 until 28 September. On the 13, 31 August and 7,8 September there is currently no A350 flights planned to Madrid. You can view the available seats and timetable of the flights on British Airways. 
All of the above has not been confirmed externally by BA nor have they officially filed the A350, although I would expect this imminently. You can find the full details on the Flyertalk post here. 
Yesterday BA posted a new video on Twitter of the A350 to whet your appetite
We're one step closer to welcoming the first A350-1000 to our fleet with G-XWBA completing her maiden flight in Toulouse last week. Which destination would you like to see her fly to? #A350 #Airbus #FlyBA pic.twitter.com/7ZR3rZPxk2

— British Airways (@British_Airways) July 11, 2019
.
ANA reveals huge new First and Business class Suites – how to fly them on Virgin Flying Club miles

All Nippon Airways (ANA), Japan's largest airline is rolling out a total of twelve completely redesigned Boeing 777-300ER aircraft. The first redesigned aircraft will serve the Tokyo/Haneda-London route (NH211/NH212) from August 2. Daily operation of the redesigned aircraft will start from the end of August or beginning of September.  Until then, the aircraft will be operated on the even number dates in August and odd number dates in September. As always the schedules are subject to change. Luckily Roving Reporter had already booked his First class trip with Virgin miles (see below) so we will be able o bring you a review later in the year.
New ANA 777 First Class — THE Suite

THE Suite is inspired by luxury Japanese hotels and is the most spacious fully enclosed seating ever seen on an ANA aircraft. New features include the addition of privacy-enhancing doors as well as a whopping 43 inch monitor that is the world's first 4K personal monitor on a commercial airliner.
If you are travelling with someone else (and you actually like them!) THE Suite also boasts a movable partition which can be adjusted to pair the middle seats together.
You can see more in this Youtube video:
New ANA 777 Business Class — THE Room

The new seat design for Business Class is called THE Room and probably one of the most impressive and spacious designs I have seen other than Qatar's QSuite. It was inspired by modern, multifunctional Japanese living spaces.  THE Room offers flexible doors and dividers for personal privacy. These can also be adjusted to share the space with your travel companions.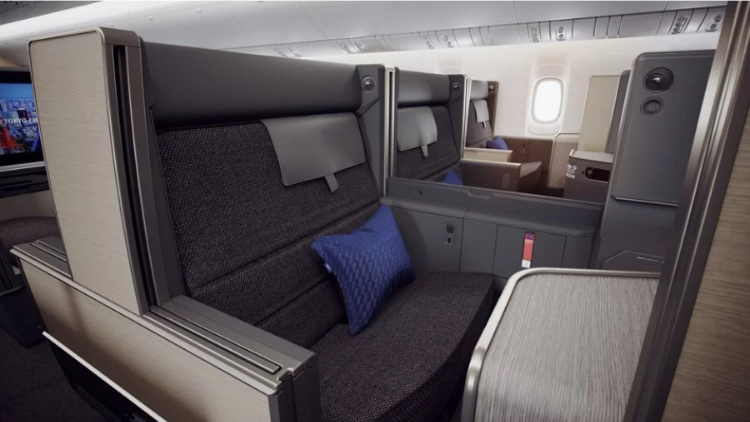 The seats are in a similar layout to the QSuites with both a forward and rearward seat layout. To accommodate the new seats ANA has actually reduced the number of business class seats on board. ANA believes that this is one of the largest Business Class seating environments in the world – with a wide sofa which is double the width of their previous Business Class seating. With a design focus on minimization and de-cluttering, the Business Class seat offers a 'place for everything' including special compartments for all your personal belongings.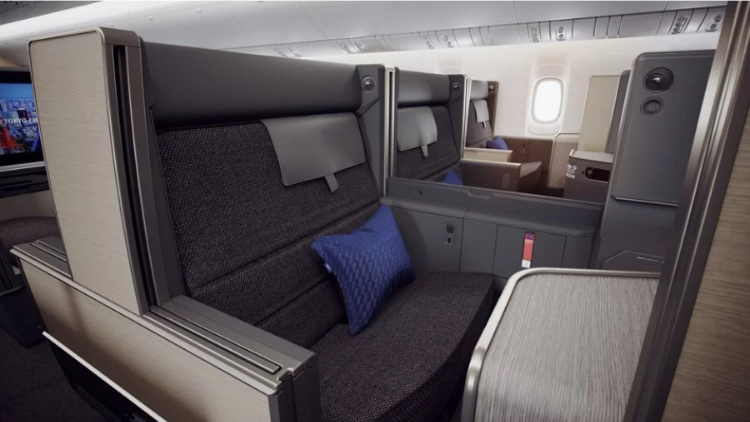 How you can fly ANA on miles
ANA are a Virgin Flying Club partner which means that you can redeem Virgin miles on them. ANA is one of the best value redemptions for Virgin miles as seats are only 95,000 return in business class or 120,000 in first class. If you compare this to British Airways at 150,000 for business and 204,000 for First off-peak, it's a fantastic use of miles. The taxes are not too horrendous either at just over £400. If you have a BA 2-4-1 voucher, however,  it would be slightly cheaper off-peak in terms of miles.
With the Virgin MasterCard being one of the best-earning non-Amex cards around for the UK it could be time to think about collecting Virgin miles. Given the new links with KLM/Air France and Flybe which will give much more choice for earning and redeeming miles, Virgin miles may prove to be very useful.
BA announces move to Beijing's new futuristic airport
British Airways has announced that all direct flights to and from Heathrow and Beijing will move to new state-of-the-art Daxing airport from 27 October 2019, with flights available on ba.com from today.  The airport certainly looks impressive – like an alien ship has just landed on top of an airport to me!
British Airways is the first international airline to confirm it will move all operations to Beijing Daxing. With a massive 52,000m2 available for retail, food and beverage and service, facilities at Beijing Daxing for British Airways' customers will include over 300 shops and restaurants and for those eligible, access to a brand-new partner lounge.
The new airport is approximately 50km from both Beijing city centre and the Xiong'an New Area and only 80km from Tianjin. Transport connections to and from Beijing Daxing include four new highways, two new subway lines and a high-speed railway, which will carry customers to Beijing West Station in under 20 minutes. A new terminal station is set to open in the Lize Business District in the next few years.  Customers transferring to other flights will also benefit from its status as the only through check-in airport for foreign airlines in China.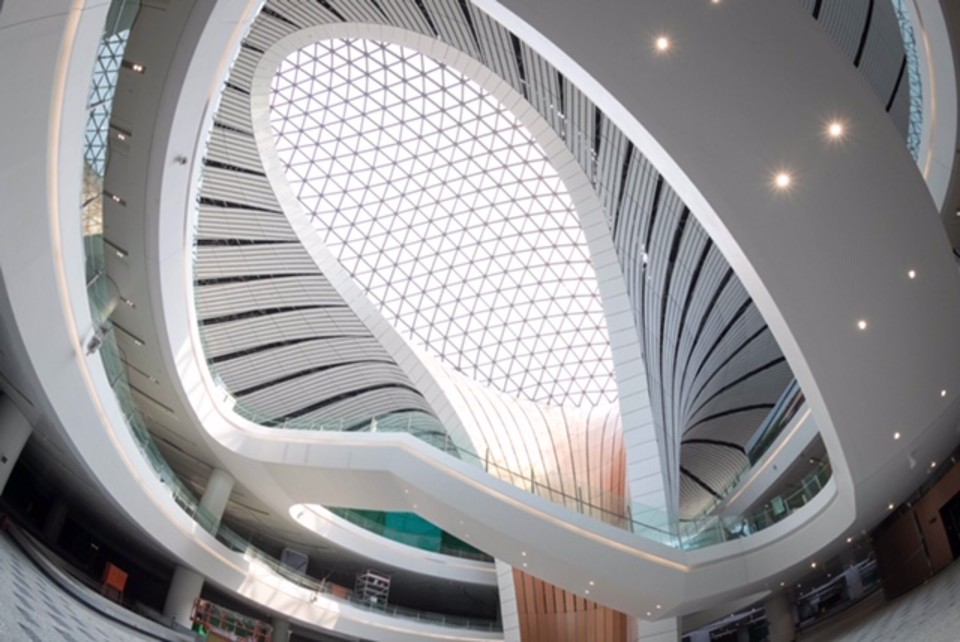 Beijing Daxing, which is due to open in September 2019, will initially house four runways and one terminal building. In the future, it is set to include an additional three runways and a second terminal building, serving 100million customers each year. The move will also help British Airways to strengthen and develop its network through its codeshare agreement with China Southern Airlines, which will also be based at the new airport.
The London to Beijing route will continue as a daily service, operated by a Boeing 787-9 in the winter and a Boeing 777-300 in the summer, with four cabins: First, Club World (business class), World Traveller Plus (premium economy) and World Traveller (economy).