The TWA Hotel Review – A super convenient "transit" option at JFK. An expensive hotel, very novel with a fabulous infinity pool.
Worth the money? You decide…
I won't be going back.
Hotels @ JFK
I'm sure most of us have done it, the late-night "Air Train" to Federal Circus before a sometimes long and arduous transit to an "airport hotel". JFK hasn't had any connected hotels; until now.
So what's wrong with that setup?
Above is the current map of the air train, so upon landing at Terminal 7 as an example (BA) you would have to head two stops – not a big deal, is it? Then you have to wait. Finally, a hotel shuttle bus will turn up, and away you go… Do this at the wrong time of night and exiting T7, to check-in, can quickly take over 40 minutes.
Enter the TWA hotel – linked to Terminal 5; it is very, very convenient.
TWA Hotel is a hotel at John F. Kennedy International Airport in Queens, New York, United States, that opened on May 15, 2019.[1] It utilizes the headhouse of the TWA Flight Center airline terminal, designed in 1962 by the architect Eero Saarinen. The TWA Hotel project added two buildings on either side of the existing headhouse. (extract courtesy of Wikipedia).
Getting there
This was super easy. I was on the BA183 from London which landed at around 10.35pm. Upon exiting terminal 7 you head for the air train for airline terminals, and T5 is the next stop.
Terminal 5 is the home of JetBlue, and once you enter the very modern-looking terminal, you will begin to see signs for the TWA hotel.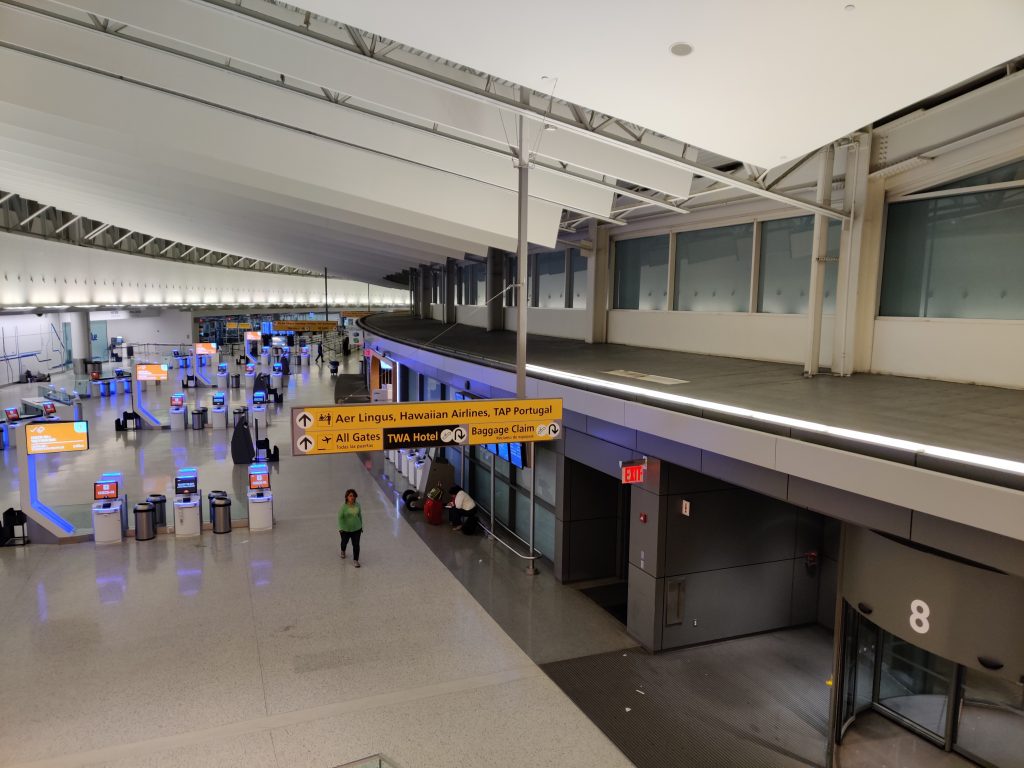 Above you can see the signs coming down the escalator into the baggage area.
And another below showing you are still going in the right direction!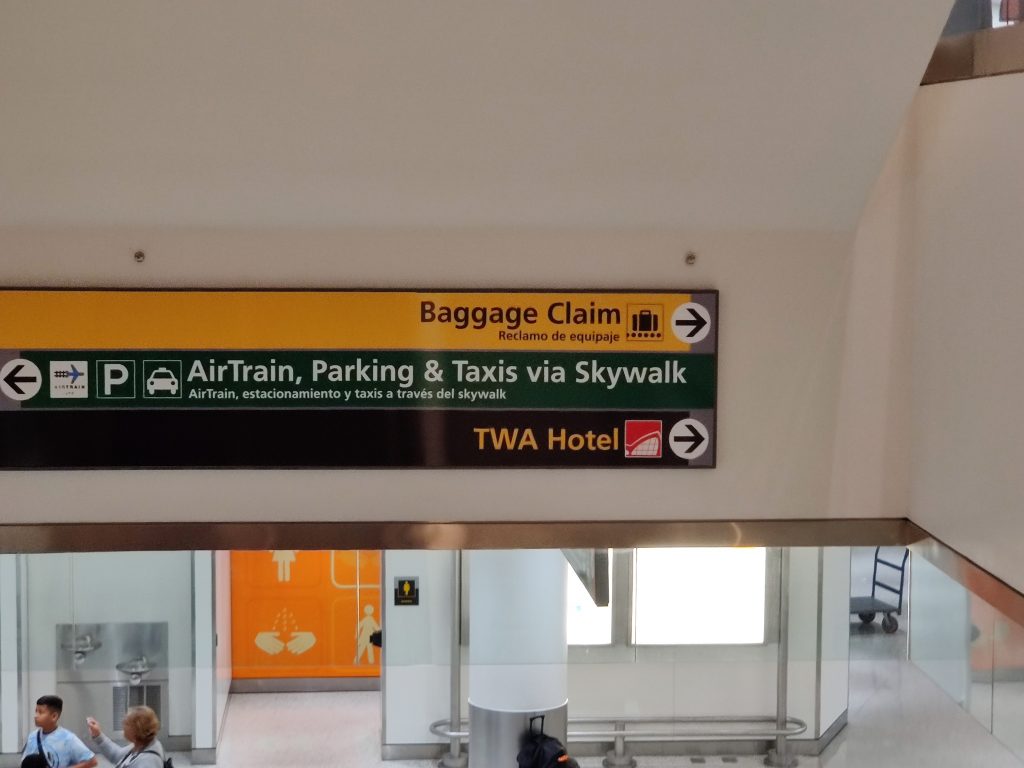 Almost there –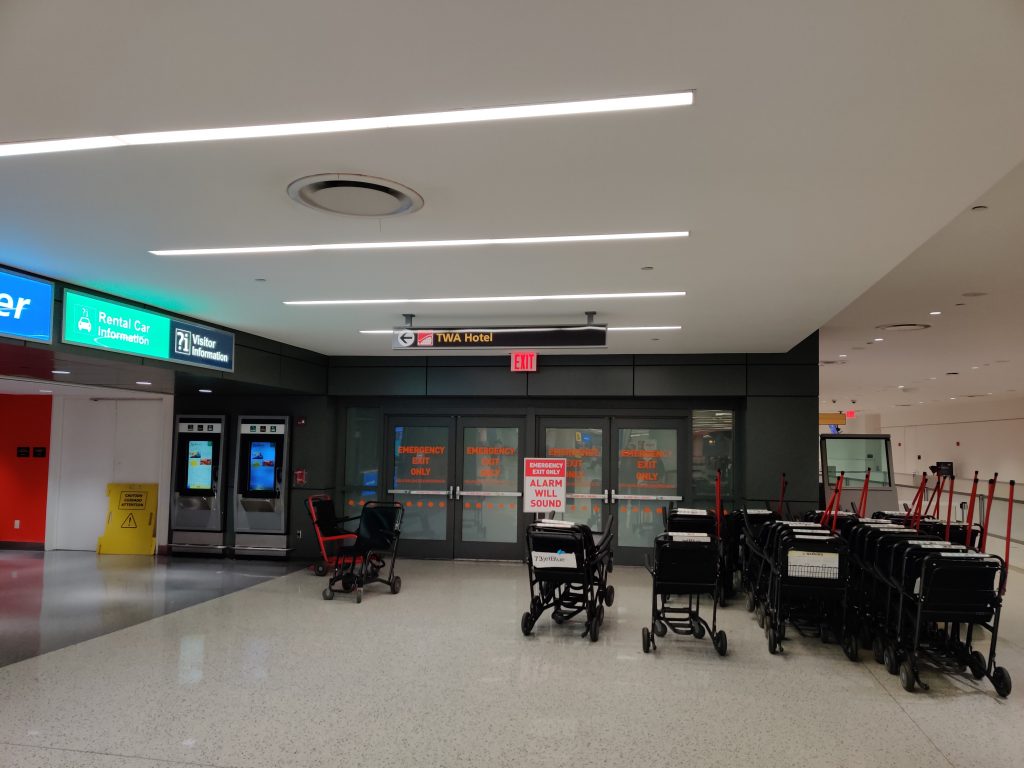 And voila – you have found it!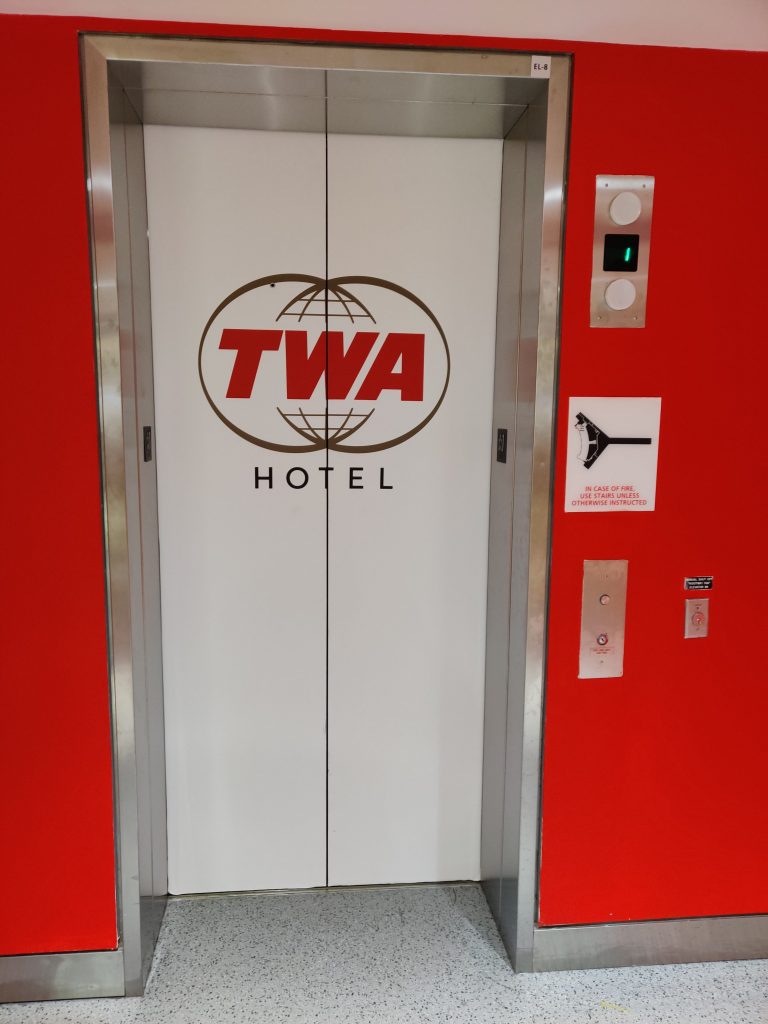 A bit of a sci-fi entrance I must say!
You exit the lift and boom – you are back in the '60s!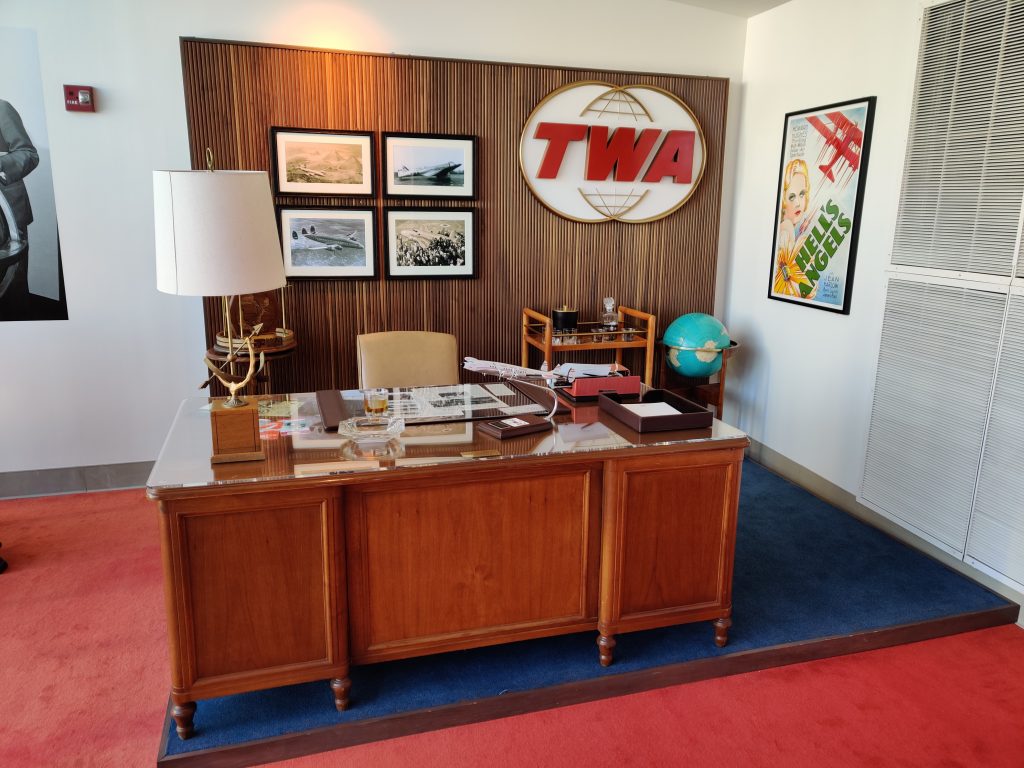 Check-In at The TWA Hotel
From the desk above, you walk down what seems to be a very long tunnel (the staff here call them tubes?!)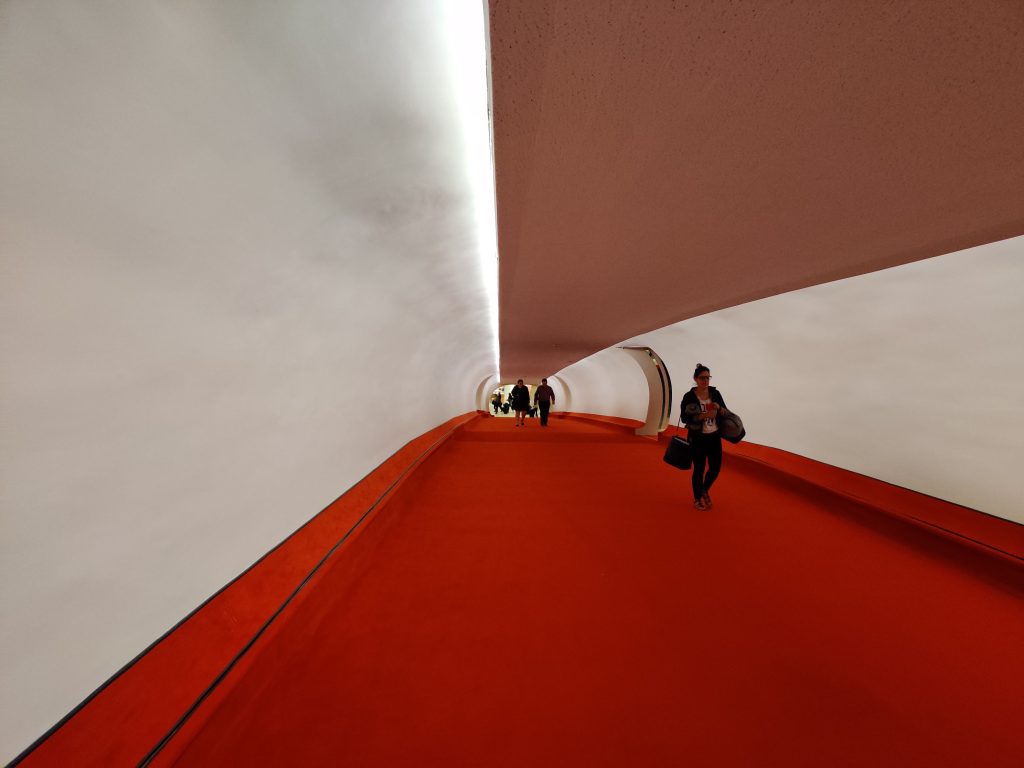 And before you know it, you are in the main communal area which I have to say is very "stylish".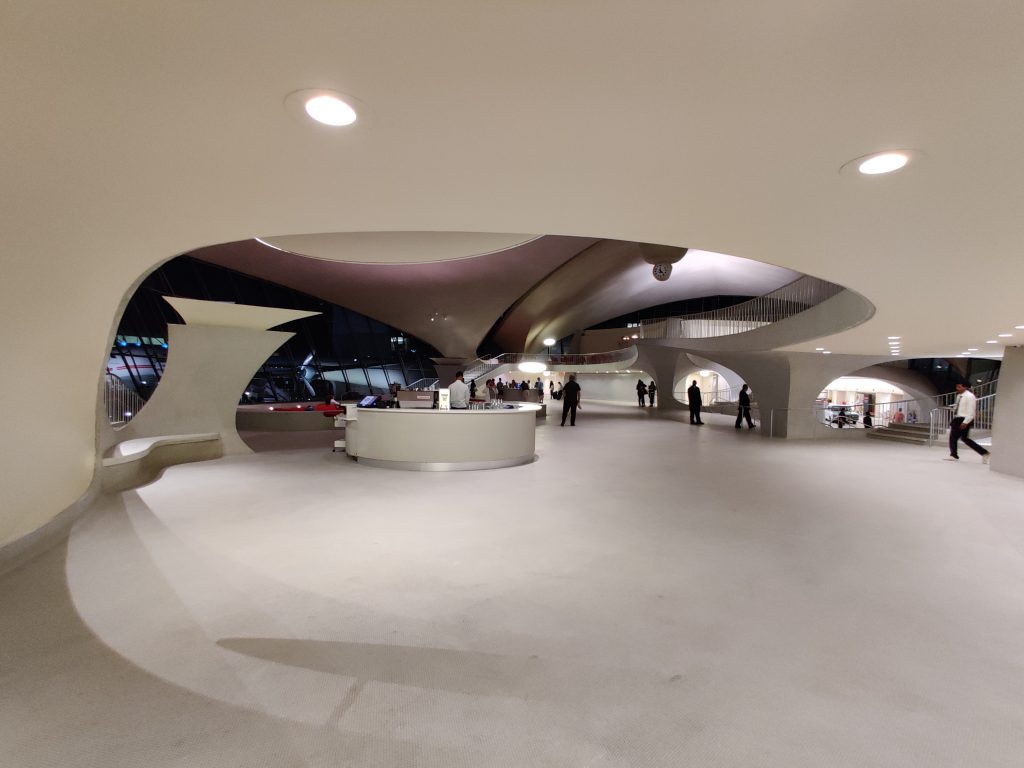 It looks like something out the Jetsons does it not?!
We asked and were directed down some more stairs and round more corners. My word, this place seemed BIG!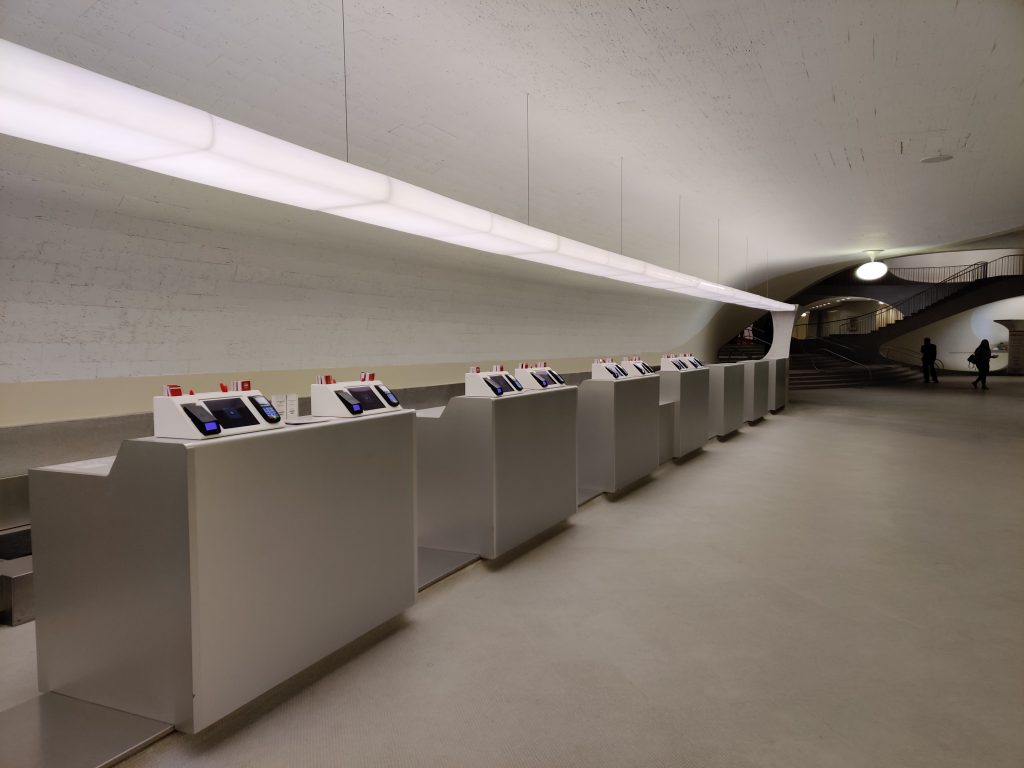 The check-in area was large with plenty of desks to stop queues building up hopefully, and the process was seamless. I didn't like the enforced $100 hold on my card, however – but I learnt why this was when I got to the room. Everything from snacks to desk items is out to take!
Guess what?
Another "tube" and off to the room we went!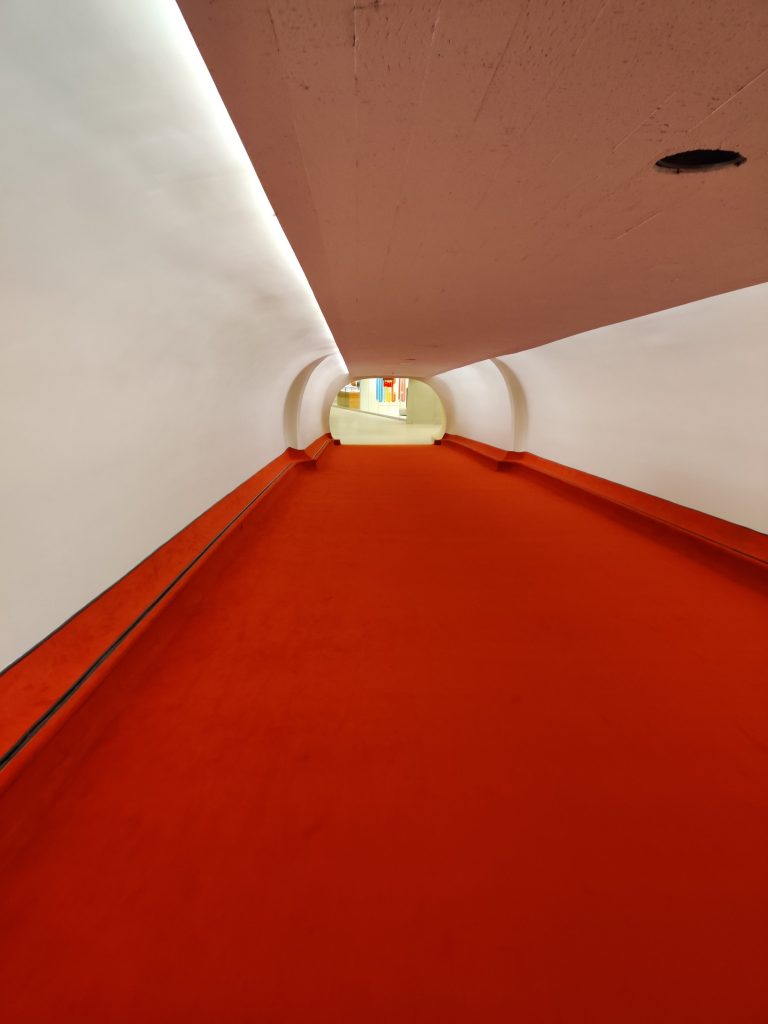 The TWA Hotel Room
We headed down the corridor to our room, with two rather stylish door cards in hand –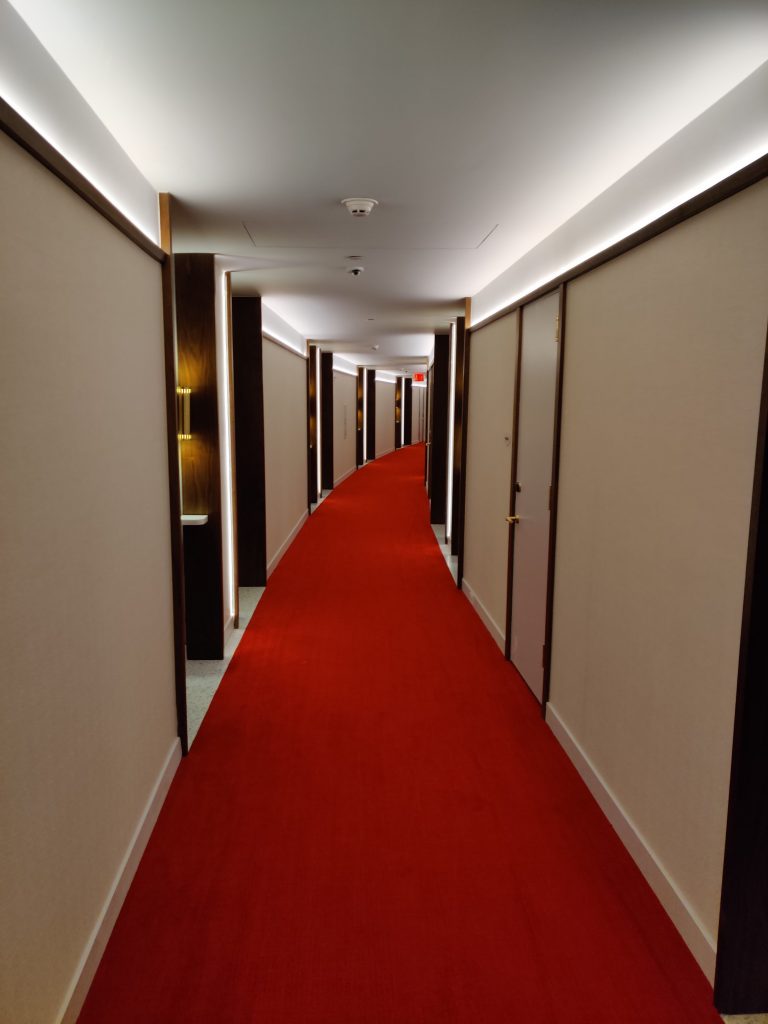 Now…. the first "issue" – check the size of the key card sensor –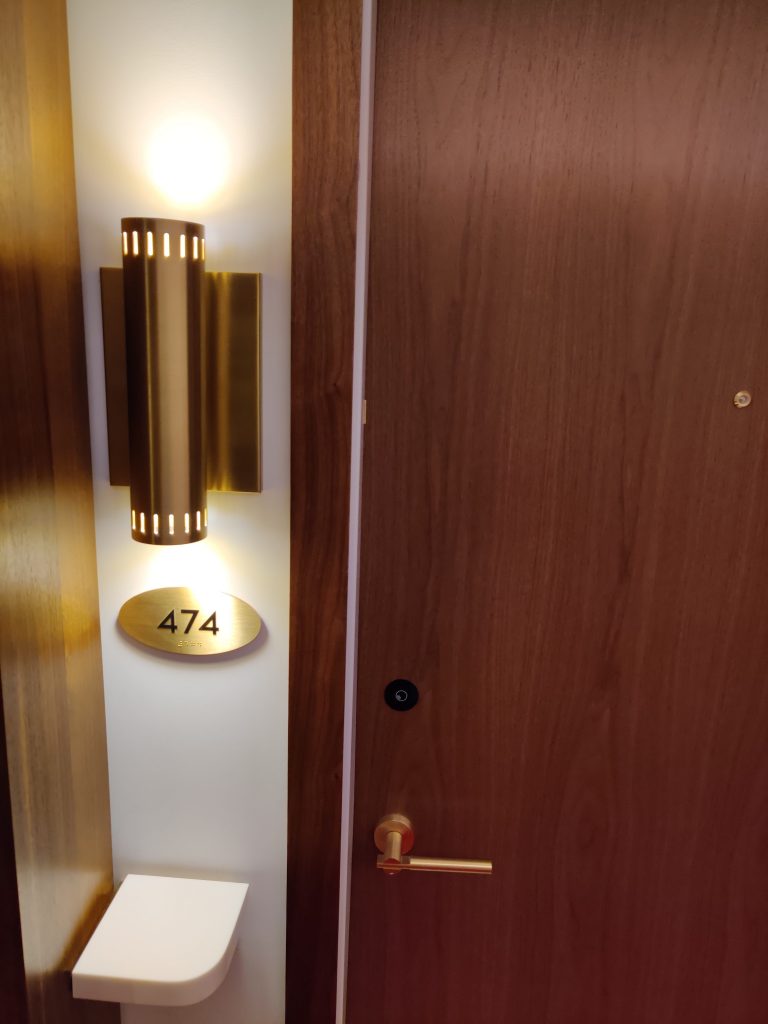 Why would you make it so small? It just means that little bit extra "faff" in my eyes, and an example of poor design.
As Lloyd Grossman would say – let's go… through the keyhole.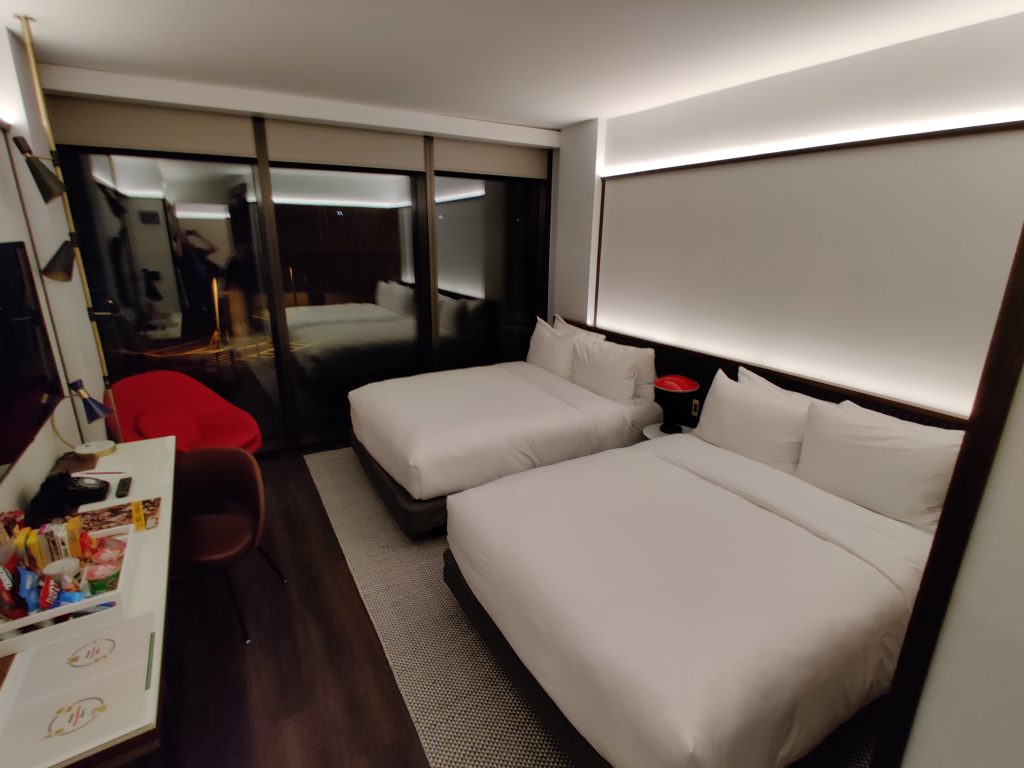 So there it is. My almost $300USD room
Yes, it was new. Yes, it was functional. Did it seem VFM (value for money)? Not to me.
So what else did we have –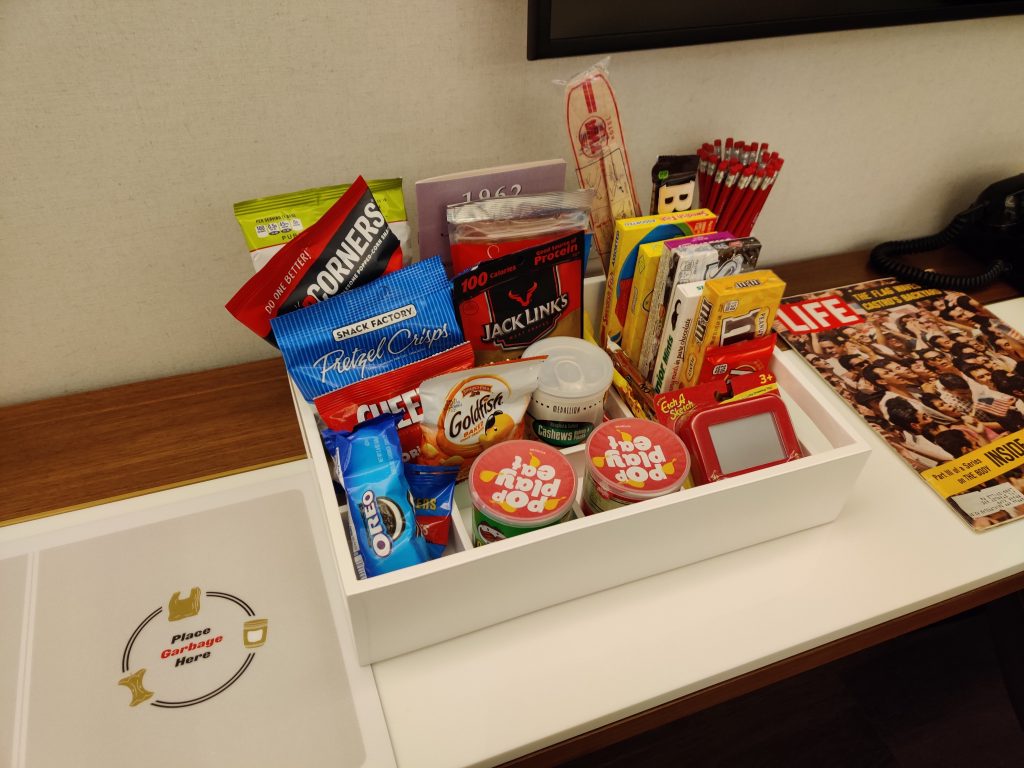 My $100 hold was so this could be in the room! Honestly, yes, I love snacks. But displaying them like this just seemed "hip" and almost a bit cheap. We aren't in Shoreditch here guys.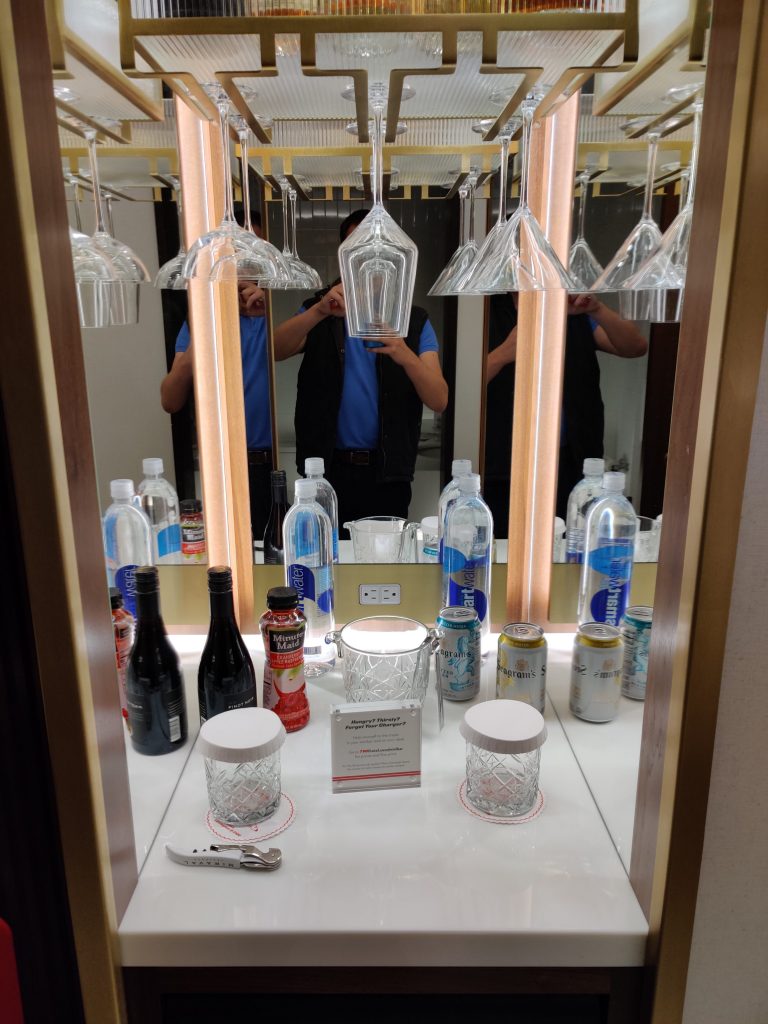 Beautiful glasses and high-end booze. But why would you want this in your pokey hotel room? I don't get it?
And the bathroom?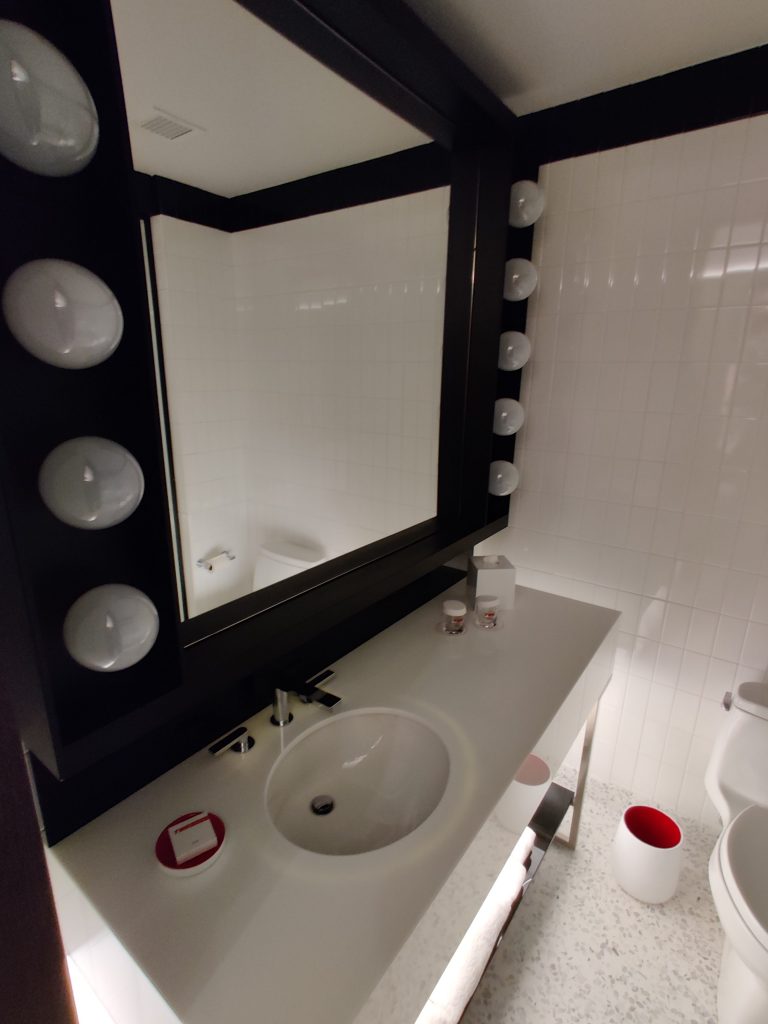 Yes, those lights do light up. And they are bright enough to bring a 747 in for a landing during dense fog!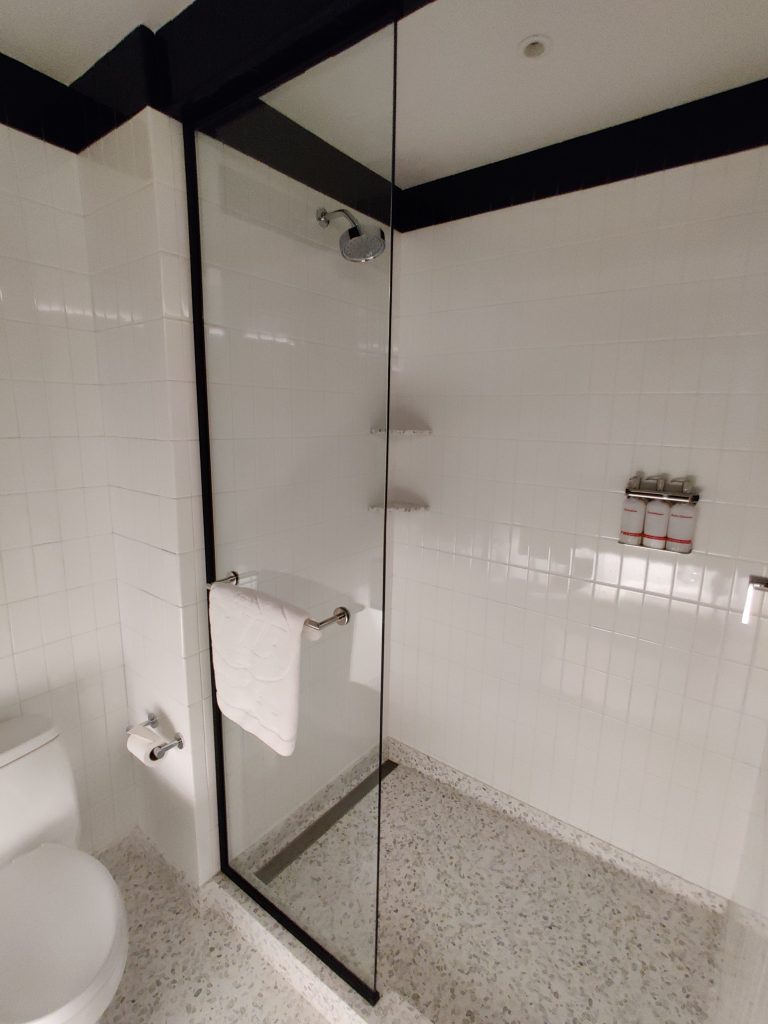 The shower was ok. Nothing special. And the short "door" wasn't long enough in my eyes to stop water getting all over the bath mat. Small details, but they all add up.
Other things –
The TV was modern and seemed to have a good selection of content (untested)
Lighting was relatively easy to figure out!
Decent enough view of the apron (not a runway view room).
It just seemed like a modern Holiday Inn to me. And that's not a good thing for $300.
The Rest of the Hotel
The rest of the hotel was again modern and stylish, and also very open – there didn't appear to be much separation anywhere.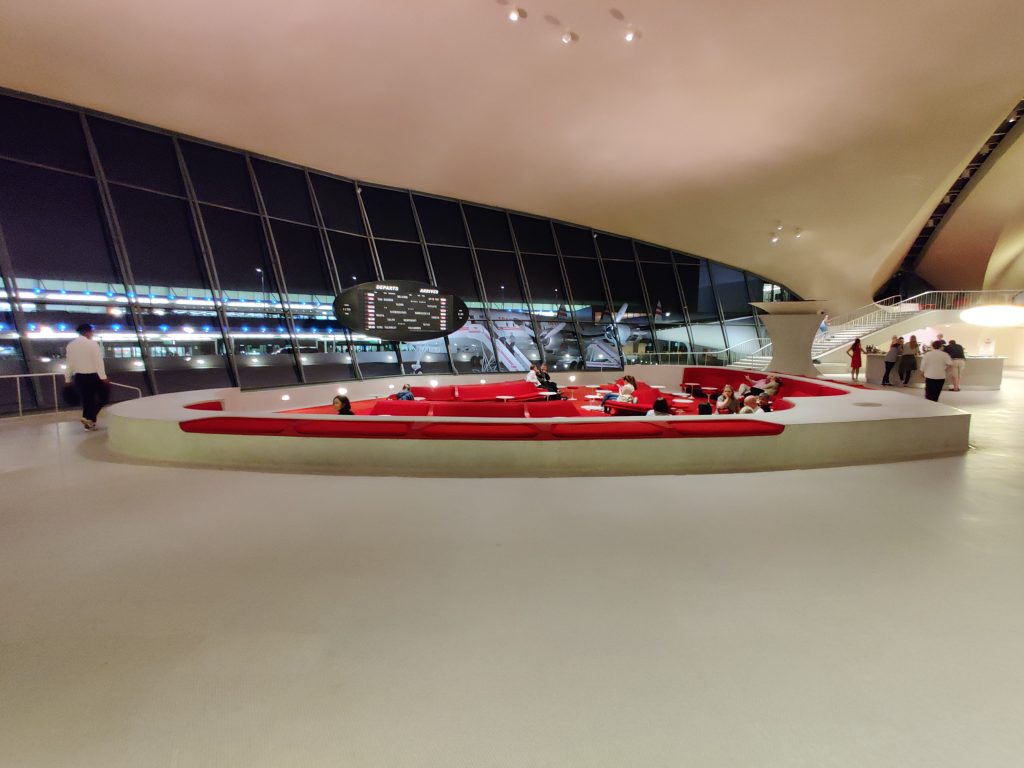 I did like the retro touches though!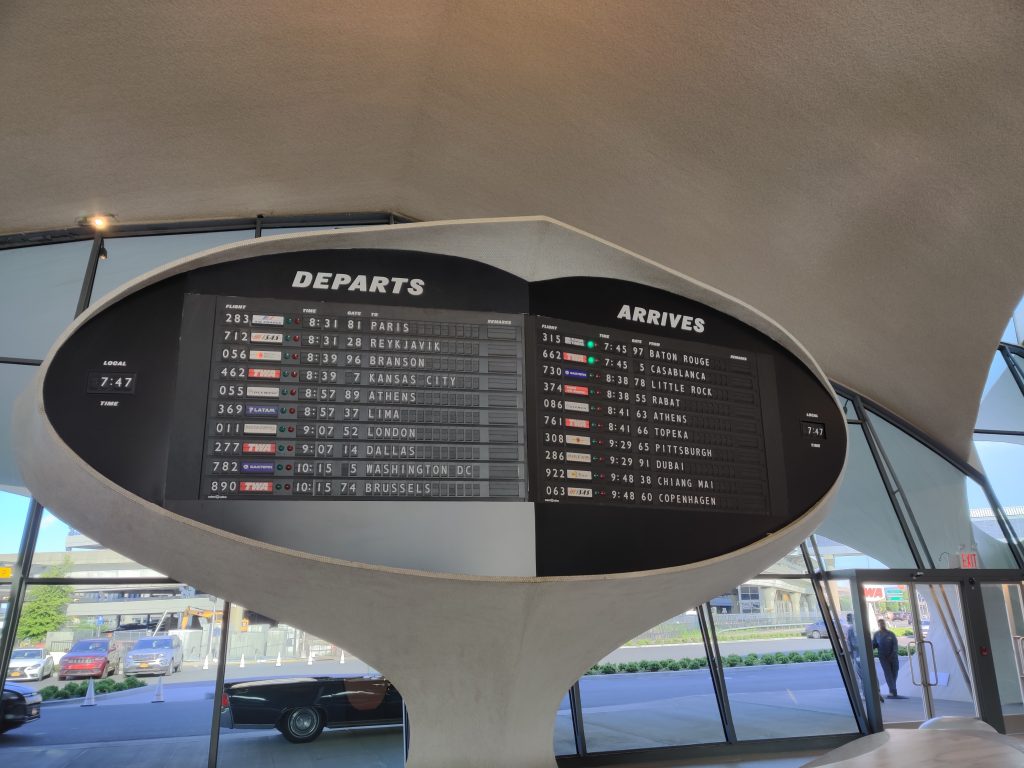 And the bar? Well apart from the large open area above, the Lockheed Constellation from 1958 has been converted into a very cute cocktail lounge!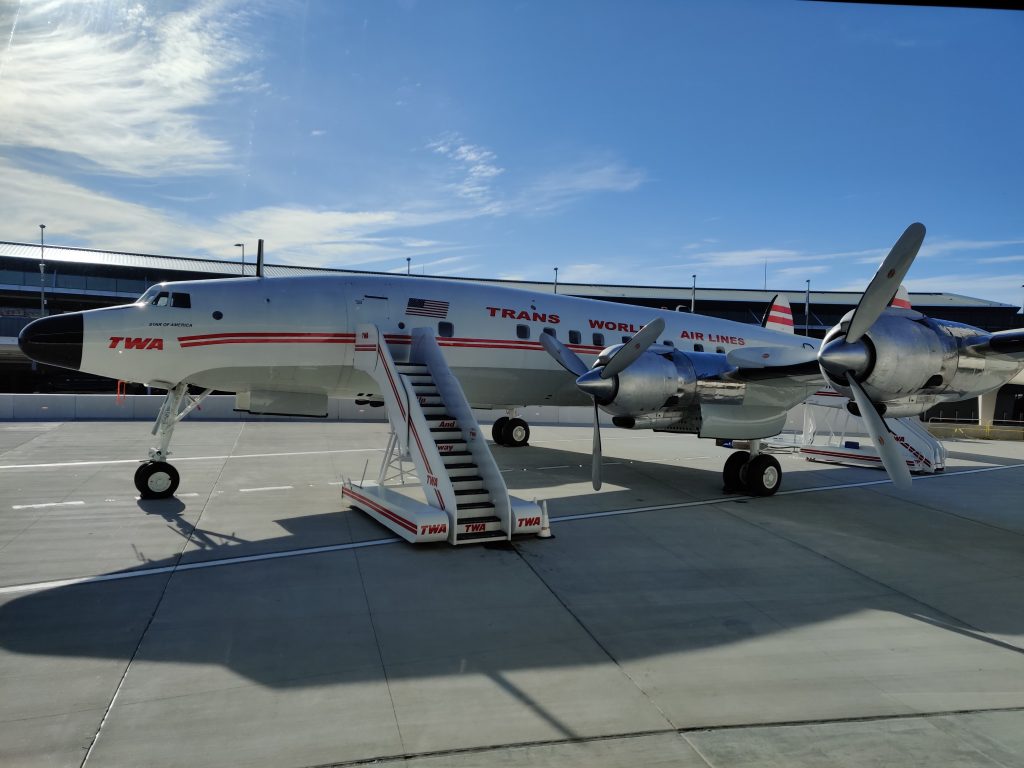 I arrived late and left early, so can't comment much on it. Friends have visited recently however, and seemed to enjoy the novelty and the service.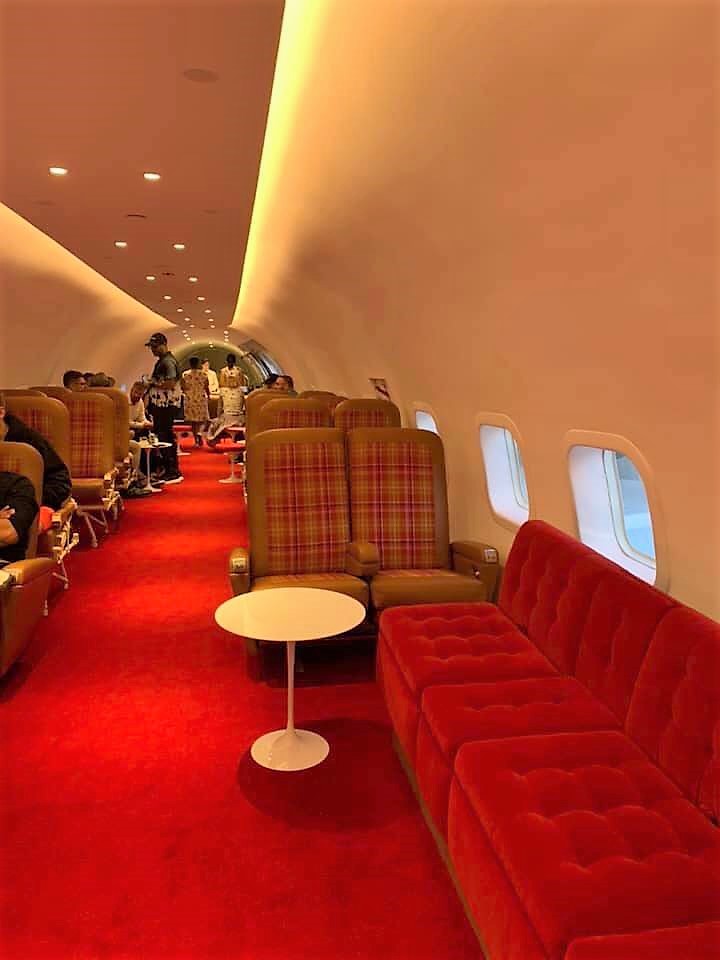 Dining at The TWA Hotel
There is a food court style area in what used to be the Departures hall as well as the more upmarket Jean-Georges which houses the Paris Cafe and Lisbon lounge which are open for breakfast, lunch and dinner.
The TWA Hotel Shop
If you are a bit of an aviation geek you may want to get some TWA souvenirs, and there is a huge amount to choose from in the hotel's gift shop. Everything from trainers to pool towels!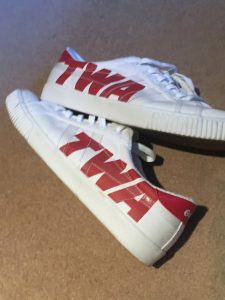 The TWA Hotel Pool
I'll just leave this picture here for a minute –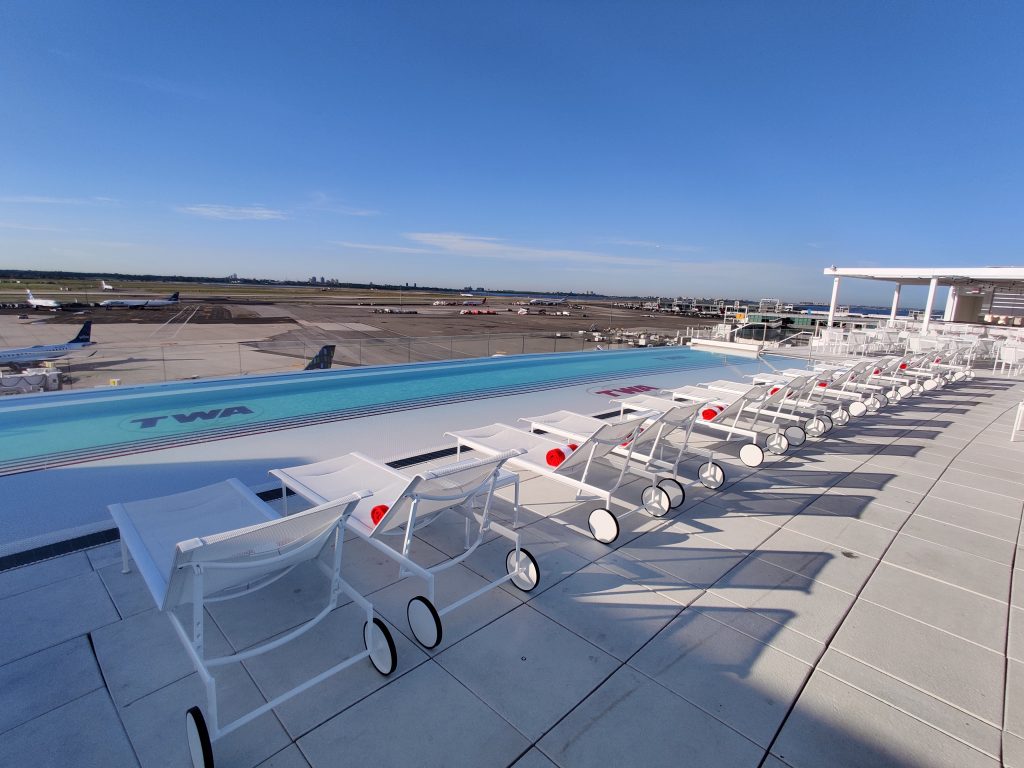 Yes. That is a rooftop infinity pool and bar area overlooking the apron and runway – what more could any #avgeek want?!
A few more pics –
And good news for all – it's heated! So year-round swimming!
Oh and remember kids – don't play silly pool games?!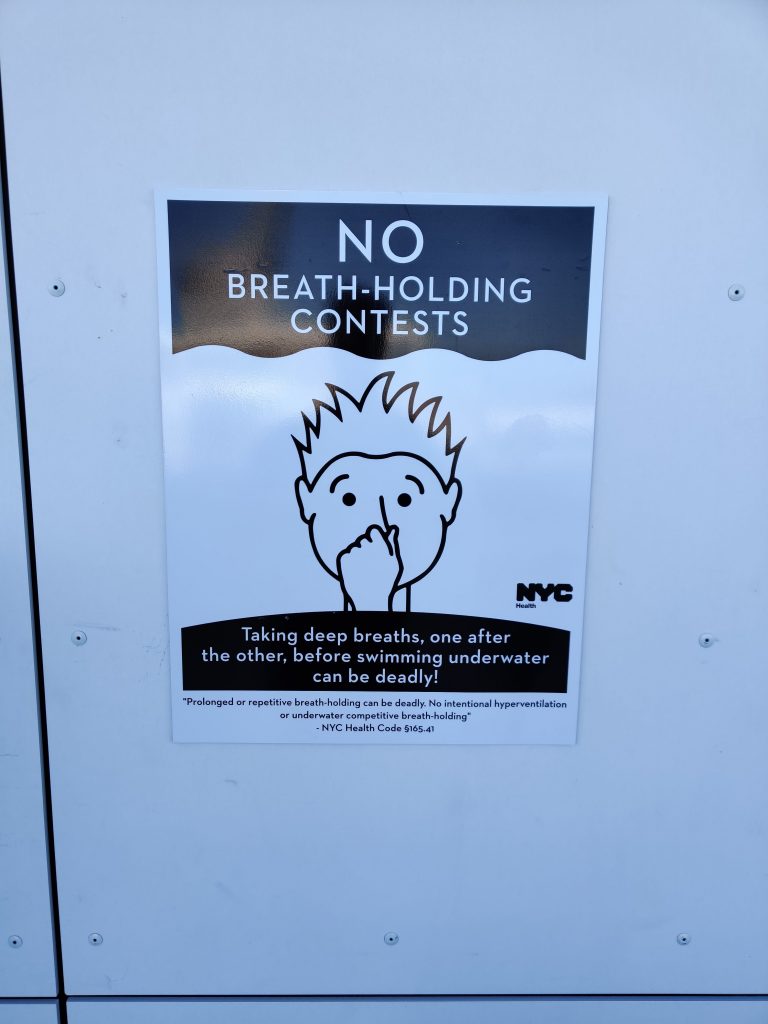 I can't deny it. The pool is awesome. But. Most people will stay here overnight on a transit. Will most have time to use it? I know I didn't.
There is the usual fitness centre as well.
Brief sidenotes
Others have reported issues including –
Health and Safety issues
Booked room types not available.
Incorrect room folios
Poor room descriptions
Rooms not having the door latch properly fitted
And others.
Value for Money
NB – I didn't check prices till I picked a random date. Wednesday 4th September 2019 (I made someone else pick!)
So The TWA hotel first –

Which when added up totals –
A similar room in a Hilton –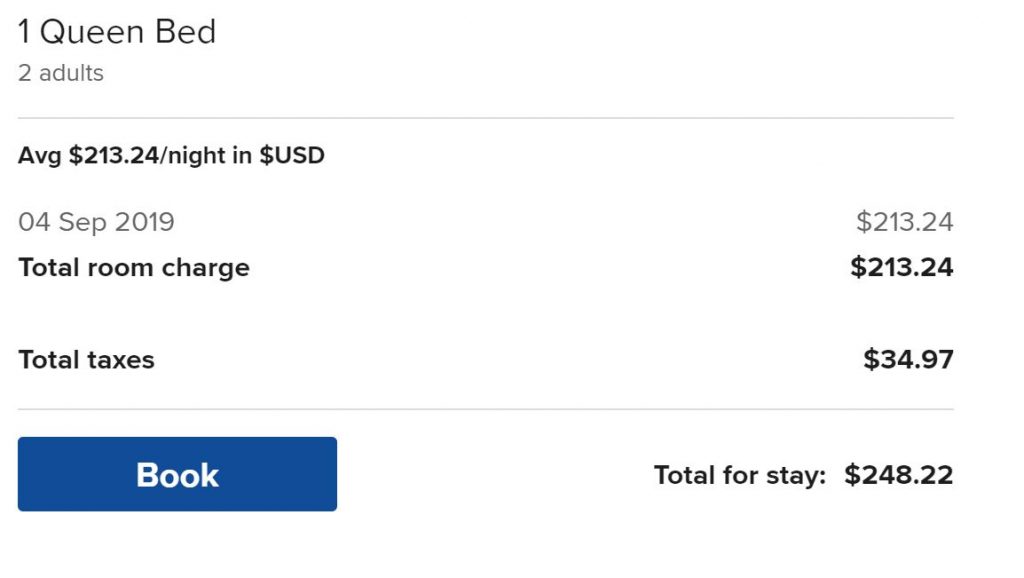 Of course, I'd pay the extra $20USD for the TWA in this scenario!
But what about random date selection 2? And 3? My point? Check for your dates and make up your own mind 🙂
But I said I wouldn't stay here again – why not if it's the same price?
Simple – other airports in the states have much nicer and a bigger selection of hotels!
How about a suite in LAX?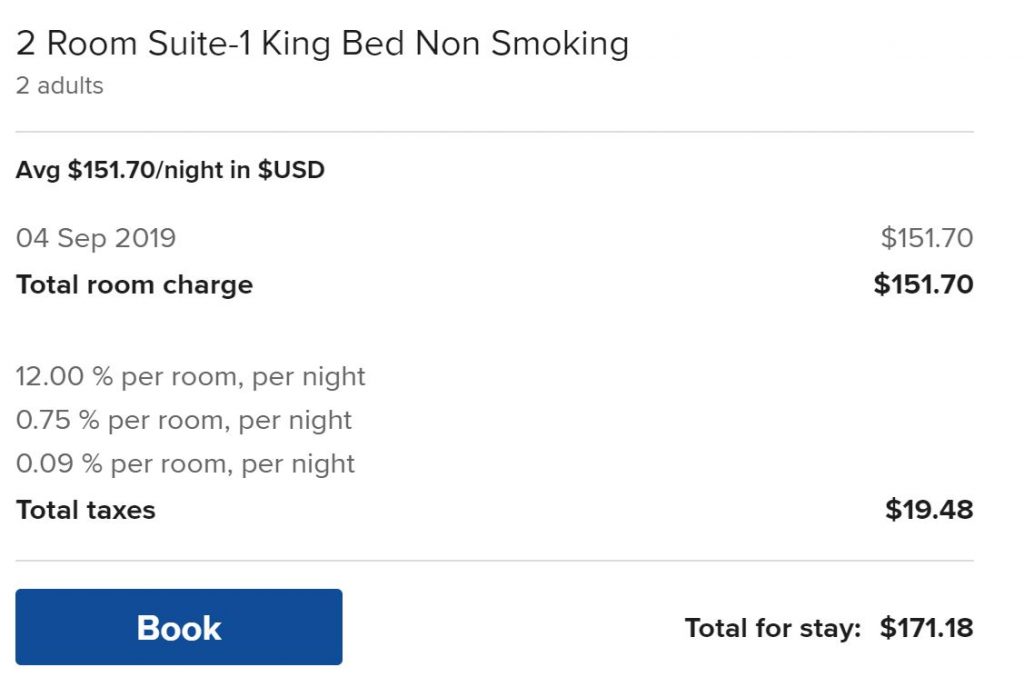 Largely the same can be said for most airports apart from JFK! And remember tier point runs don't have to go via JFK…
My advice? If your final stop is not New York – avoid spending a night there!
You can find more information about pricing and the hotel on the TWA hotel website.
Like our The TWA Hotel review? You can read more hotel reviews here.