British Airways app improvements
British Airways have upgraded their app with a further feature due this summer. I personally like the BA app and find it very useful. I like the fact that you can add bookings on other oneworld carriers to keep them all together, although it does direct you to their website to check in.
Timeline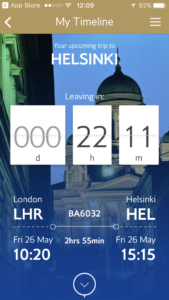 You may be familiar with Timeline, as some customers have been trying the Beta version recently. This is now live in the app for all routes. It is nothing particularly exciting, more a way to display extra information and display your journey in a different way. You will need to update your app to access this. Then on the front screen under your next journey you can select the view timeline option. It has extra information such as journey options to the airport, as well as the more usual display.
Disruption
This looks like a great solution to some of the issues with disruption, especially if it happens when you are already travelling. It is live now, so if anyone uses this feature, let me know whether it was useful. It will enable you to get notifications of disruption through the app and to manage your booking. Once it has notified you of the cancellation or change, it should then offer you a choice of new flights to rebook on. It should be much better than trying to get through on the phone or queuing at the airport. Again, I would make sure you have the latest update of the app installed.
Upgrades

This is due to launch in early summer and gives an extra opportunity to upgrade at the airport, after check in has closed.  It looks like it will be a cash upgrade, but it would be good if they did Avios as well. If I get a firm date for the introduction, I will post it later. The feature will be available for all classes of travel, so fingers crossed for some really cheap First upgrades for everyone! One consideration will be how BA cope with extra catering at the last minute.
Stability
Some people have had a lot of issues with the app crashing, although I have not had any crashes recently. Apparently it is an iOS issue that has now been resolved, meaning a more stable app.
Thanks to FT for the heads up on the story.
Malmaison hotels for £50 a night

Malmaison has a new promotion in addition to its Sunday £25 room promotion, which I wrote about here. On Fridays there is the 50/50 promotion at Malmaison, exclusively when you book at malmaison.com. Stay the night, room only, for two from £50 when you spend £50 on dinner that evening in any of their Brasseries.  If your spend in the Brasserie is less than £50, the difference in cost will be added to your room rate e.g. if you spend only £25, a £25 addition will be made to your room rate, making the room rate £75.
This actually equates to the Sunday offer of room only for £25, when you spend £75 in the Brasserie. However, Friday is probably a better day for most people to start the weekend off. The rate includes free cancellation up to 4pm the day prior to arrival which is also really handy. The offer is valid on Fridays until 31st August 2017. The offer excludes Oxford and London rooms start from £75.
Malmaison have hotels in:
Liverpool
Birmingham,
Dundee,
Leeds,
Reading,
Aberdeen,
Glasgow,
Manchester,
Newcastle
Belfast,
Cheltenham
Brighton,
London,
Oxford
 You can find more information on the offer on this webpage.