Conrad New York review
I was recently in New York for the Freddie Awards and decided to have a couple of days afterwards to get the cheaper business class fare for staying a Saturday night. Being a Hilton Diamond member, my first port of call was the Hilton website. As I was staying a Friday and Saturday night, I looked in the more business-focussed areas and saw the Conrad was as cheap as some of the Hiltons plus it was an all suite hotel. The basic room was around $279 on the Hilton Honors rate, which I thought was excellent value for a suite in a hotel that was well located. I decided to pay extra to get a view of the Hudson river, as the photos on TripAdvisor looked pretty stunning from those rooms. This cost me $313 a night.
Location
I really liked the location of the hotel, as it was walkable to so many places at the lower end of Manhattan. It is located in Manhattan's Battery Park City and is close to some of the city's most quintessential neighbourhoods, such as TriBeCa and SoHo. I walked to both these locations from the hotel in less than 30 minutes. It is almost next door to the One World Trade Centre building, as well as near to the 9/11 Memorial and Museum, Wall Street and the Brooklyn Bridge. If you love shopping, the famous Century 21 discount store is only a few minutes walk away. There is also a brand new shopping centre opposite featuring premium stores called Brookfield Place. It has a good selection of restaurants, from the upscale to more every day snack places.
Arrival
This was one of the more disappointing aspects of the stay. I arrived with a couple of suitcases and was watched by 3 bell men having a chat and no offer of help. When I stood in front of them, they asked if I was checking in and when I confirmed they merely waved me toward check in on the next floor. I was rather confused as to what their role was!
The reception area was impressive with a large atrium and suspended sculpture. There was no queue at check in and as expected, my room was not ready as I was early. They confirmed my Hilton Honors membership but there was no mention of Diamond. The receptionist offered to text me when my room was ready. As yet, I am still waiting!!
I returned at about 5pm anyway, confident the room was ready by then. The new receptionist was more helpful explaining the hotel's facilities and where everything was. He told me that they had a great room for me. One of the benefits of Diamond status is an upgrade to the next best room if available. When I got to the room, it was exactly what I had booked. Whilst I realise that the hotel was busy and I don't expect an upgrade, don't make it sound like you have done me a favour, when it is the category I have booked! I am guessing the fact that it was on a high floor was the perk. Unfortunately, it was right by the lift lobby which meant you could hear the 'ding' of the lift every so often. Apparently the rooms with the best views are in this location, but it would have been good if it had been mentioned.
Rooms
I had booked a Hudson river view suite and it certainly didn't disappoint on the views. The rooms are large for New York and they are all suites with a separate living area, although there is no door between the two rooms, just a corridor. The entry level room, the Deluxe Suite with one King bed, is exactly the same at 430sqft, it just doesn't have the view.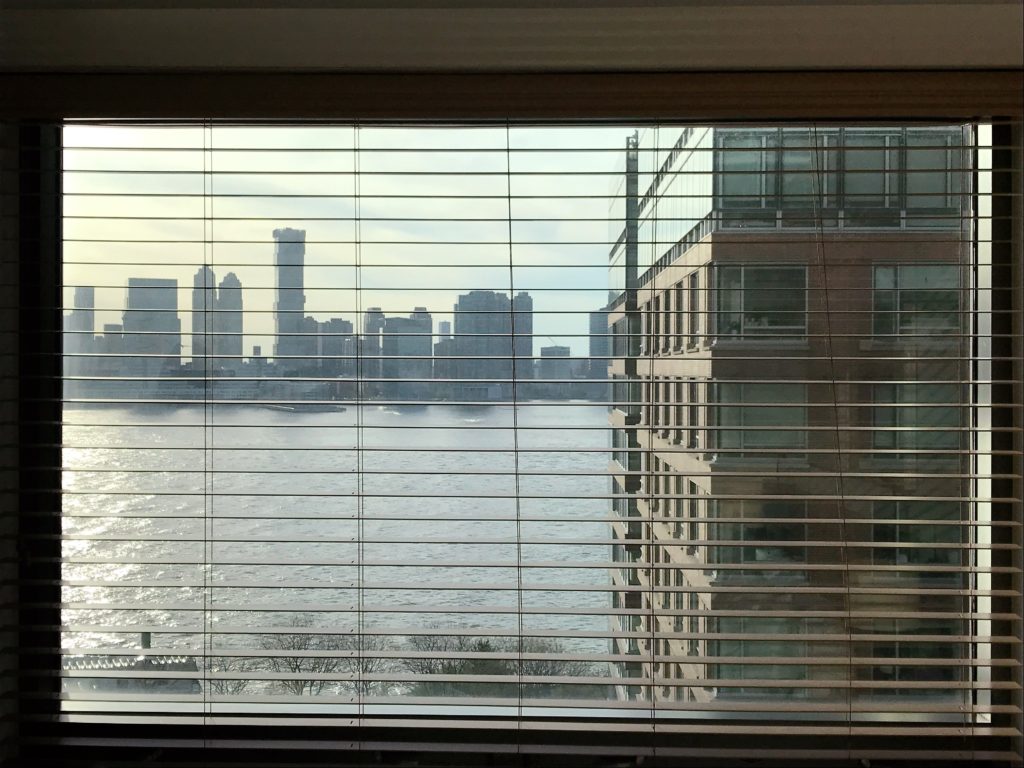 The bathroom had a rather odd layout with a separate shower room and the rest of the bathroom in another room. It wasn't an issue for me though. The bathroom was modern and well equipped with the usual Conrad Aromatherapy Associates toiletries.
There was a wet bar area in between the bedroom and living room with an espresso machine, mini bar and a good selection of glasses. Mineral water was provided for free when I arrived (Platinum benefit I think) and on turn down. The turn down service was good with chocolates, weather forecast and 2 bottles of mineral water.
The living room had a large HDTV and a desk area for working and charging your electronics.
The bedroom was small but had plenty of wardrobe space and a couple of good quality, cosy bathrobes. There was a second, smaller HDTV in here. The most important aspect of a hotel for me is sleep quality and the Conrad definitely doesn't fall short here. The bed was one of the most comfortable Conrad beds I have slept in and there were high thread count quality sheets too. The blackout curtains worked well and helped with the jetlag. Despite being close to the elevator I didn't hear much noise during the night, except from the room above who appeared to be rearranging the furniture and repeatedly walking backward and forward in high heels on one night! As the hotel is on a quietish street, it was good not hear much noise from outside such as sirens, which are normally a staple of city hotels.
The next level up in terms of room, would be an Executive suite and then the Luxury Corner suite which is nearly double the entry level room size at 750sqft.
Service recovery
I received a text from one of the hotel managers asking about my stay, during the second day. I responded with a 5 out of 10 and was asked to give more details. I then spoke to the manager who was very apologetic and offered to credit me $50 for room service which I accepted. When I returned to the room there was a personal note apologising and some macaroons. I though this was an excellent service recovery and helped me feel far more positive about my stay. This is something I have not seen in a hotel before and I think it is a great idea to text guests and try to recover things early.
Hilton Honors perks
These were the bog standard Diamond perks. You an entitled to a space available upgrade, internet, 1000 extra Hilton Honors points, 2 free mineral waters and free breakfast which means either the buffet or a $20 credit towards breakfast. There is no executive lounge here and nothing is offered as compensation for that.
Food and drink
There is a rooftop bar here called Loopy Doopy which has great views and is open seasonally.
For food there is the Mediterranean restaurant and wine bar ATRIO. To be honest, who needs a hotel restaurant in New York when you are surrounded by hundreds of restaurants. Within a short walk of the hotel there were at least 30 restaurants! I only ate breakfast in the hotel as it was included with my Diamond status.
The first morning's breakfast was pretty disappointing. The hostess was very welcoming and I was quickly seated. She explained that I could have the buffet included for my Diamond status. The waitress, however, was very slow and surly. The buffet was limited and probably the worst I have had in a 5* hotel in terms of choice. In addition to the pictures below, there was also a small hot selection with the usual basics such as eggs, bacon and sausage. In the cold selection there was basic sliced bread, a couple of pastries, muffins, rolls, bagels and yoghurt and granola. The cheese had a fly sitting on top of it, so I gave that a miss!
The next day wasn't much better service wise. I wonder if it is because they know that you have breakfast included and assume you won't leave a tip? Well they would be wrong, as I would have left a tip if they had not been so miserable and slow! I had to wait about 10 minutes to get a seat at the bar. I have to say that the à la carte was much, much better and I would recommend this if you are having breakfast in the hotel. I had a flat bread topped with smoked salmon and rocket, which was delicious.

Facilities
The hotel doesn't really have many facilities, but there is a decent 24-hour fitness centre with Life Fitness equipment. There is also a barber.
Conclusion, pricing and how to get it for less (or free)
Overall I found the Conrad disappointing with regard to service and breakfast but loved the room, view and location. All the other Conrads I have stayed in, with perhaps the exception of the London one, have excelled at customer service. You could not say the same here except in service recovery. However, the rooms were luxurious and the hotel was in a great location. I would consider staying again if it was a decent price.
When staying at the Conrad New York there are a number of things you can do to get this hotel cheaper or top up your Avios balance at the same time. I paid $313 a night via Hilton on the Avios eStore which got me 4 Avios per £ as well. It was an expensive time for Conrad as the Tribeca Film Festival was being held next door and they were fully booked. As the Conrad is aimed at business travellers, it is often cheaper at a weekend. A more usual price would be around $249 for a Hilton Honors member at a weekend in a Deluxe suite. I think this is a very reasonable price for a suite in New York. Many of the Hiltons were similar prices or more for a much smaller room.
The options to save money are:
Use Top Cashback – if you book through someone like Expedia or Ebookers and time it right you could get around 12% cashback on your booking.
Book direct through Hilton after joining Hilton Honors. If you join their frequent stay program which is free, you will get a discounted rate and free internet access too. Plus with Honors new points and cash program, you will soon have enough points to get money off on your next stay, particularly if you sign up for promotions.
Use your Hilton Honors points. Now you can part pay with points too. Prices start from around 60,000 points which is a good deal.
Stay one night free with Barclaycard Hilton Honors Platinum Visa credit card*. If you don't already have one, then you will get 1 free weekend night when you take out the credit card and spend £750 in 90 days. This is a free weekend night (Friday, Saturday or Sunday) at any hotel in the Hilton group including Conrad hotels.
*Disclaimer: Turning left for less is a journalistic website. Nothing here should be construed as financial advice, and it is your own responsibility to ensure that any product is right for your circumstances. Reviews are based primarily on the ability to earn miles and points and do not consider interest rates, service levels or any impact on your credit history.