As I announced in this article, the new Club Europe catering was launched on Sunday 26th March with the start of summer schedules. This was part of BA's pledge to improve its business class offerings, which they made to shareholders last year.
This article will look at my personal experience as well as what the changes mean overall. I flew from Malaga to Gatwick which is classed as a long route.
What can you expect on your Club Europe flight?
The food you were given before was determined by what 'band'  (1-4 ) your flight fell into. This broadly correlated to the length of flight. BA has used the catering changes to alter this arrangement into new categories. The categories will now be as follows:
Very Short
Leeds Bradford, Manchester and Jersey
Breakfast: hot bacon roll, fruit and yoghurt for breakfast (Jersey gets the hot breakfast as per short)
From 0930: a cold plate  (09.30+ departures). This is currently a continental brunch type plate with meat, cheese and egg but no salad.
Short and Medium
Short includes all other domestics, Biarritz, Billund, Paris, Friedrichshafen, Grenoble, Amsterdam, Basel, Dublin, Brussels, Berlin, Düsseldorf, Munich, Frankfurt, Zürich, Geneva, Genoa, Lyon, Luxembourg, Nantes, Montpellier, Stuttgart, Toulouse and Bordeaux.
Medium includes Oslo, Barcelona, Bergen, Bilbao, Copenhagen, Gothenburg, Limoges, Mahon, Marseilles, Prague, Pisa, Pula, Innsbruck, Nice, Vienna, Zagreb, Porto, Madrid, Palma, Rome, Milan, Pisa, Bologna, Stavanger, Venice, Innsbruck, Salzburg, and Verona.
These routes will receive:
Breakfast (to 09.29) – hot breakfast including a vegetarian choice with yoghurt (no fruit plate)
Brunch (09.30 – 10.59) – a large hot sandwich (currently Caprese/Caesar chicken from/to LHR) or a cold plate as per very short
Lunch (11.00 – 13.59) – salad (currently ex LHR a tiny coronation chicken and prawns with no actual salad) or a large hot sandwich as per brunch plus bread basket and a dessert pot
Afternoon tea (14.00 – 16.59) – 3 cold finger sandwiches or a ploughman's salad (meat, scotch egg and cheese selection with bloomer bread) with cake.  Scones have been removed
Dinner (17.00+) – as per lunch
For the Medium routes, there will be snacks and a bar round before lunch and dinner. Wine and champagne are served from full-size bottles.
Long
'Long' is everywhere else including Alicante, Athens, Malaga, Helsinki, Dubrovnik, Malta, Gibraltar, Faro, Lisbon, Ibiza, Rome, Budapest, Tallin, Warsaw, Krakow and Stockholm.
Breakfast (departures up to 09.29) – a hot breakfast including yoghurt and an additional Danish pastry (no fruit plate)
Rest of the Day – appetiser, two choices of hot main course plus dessert and cheese plate.

Very generous bar round!

Wine and champagne served from full-size bottles
On the longer of the Long routes, drinks will be offered with tea and coffee.
Other changes:
Club World crockery, although glasses will remain the same as present
Better bread selection – white, pumpkin and grain rolls plus croissants at breakfast
Mugs for tea or coffee
Trays are smaller, because meals will be served as separate courses
Printed menu for long flights
Tanqueray gin as well as Gordon's (there is a supply issue with Tanqueray, so it may be a while before it appears)
My Flight review – Malaga to Gatwick Club Europe
Being a 'long' route my overall opinion was that this was a substantial improvement to Club Europe.
Lounge
A quick note about the lounge at Malaga. This was actually a very pleasant lounge for a third-party lounge. My only complaint was about the staff, who bordered on rudeness. The lounge itself was modern, large and had a good drinks selection. Food was a little limited given that it was lunchtime. They had olives, tortilla or pizza and crisps/snacks.
Boarding
This started very early. We were told to leave the lounge an hour before the flight initially, which we ignored. We left the lounge about 40 minutes before take-off and arrived at the gate to find one massive queue and no apparent priority queue despite the sign. Eventually the poor single gate staff member shouted for people to get into the correct queue. Lo and behold, there were then only a few people in front of us.
I noticed the Cabin crew the minute we got on. They were friendly and welcoming, greeting us with a smile on their faces. They took the time to chat to passengers as they were queuing to get to their seats.
In flight
Shortly after take off we were offered hot towels and the menu. This was followed by a bar round with a packet of mixed nuts and napkins. The Customer Service Manager was excellent throughout and talked me through the choice of wines. There were 2 full size bottles of white and red wines and the usual Castelnau Champagne but in a full size. I was offered the chance to taste the wines before choosing, if I wanted.
The CSM acknowledged that the glasses were very small and told us he would make sure we were topped up, which we certainly were!  Apparently there are plans for larger glasses at a later date.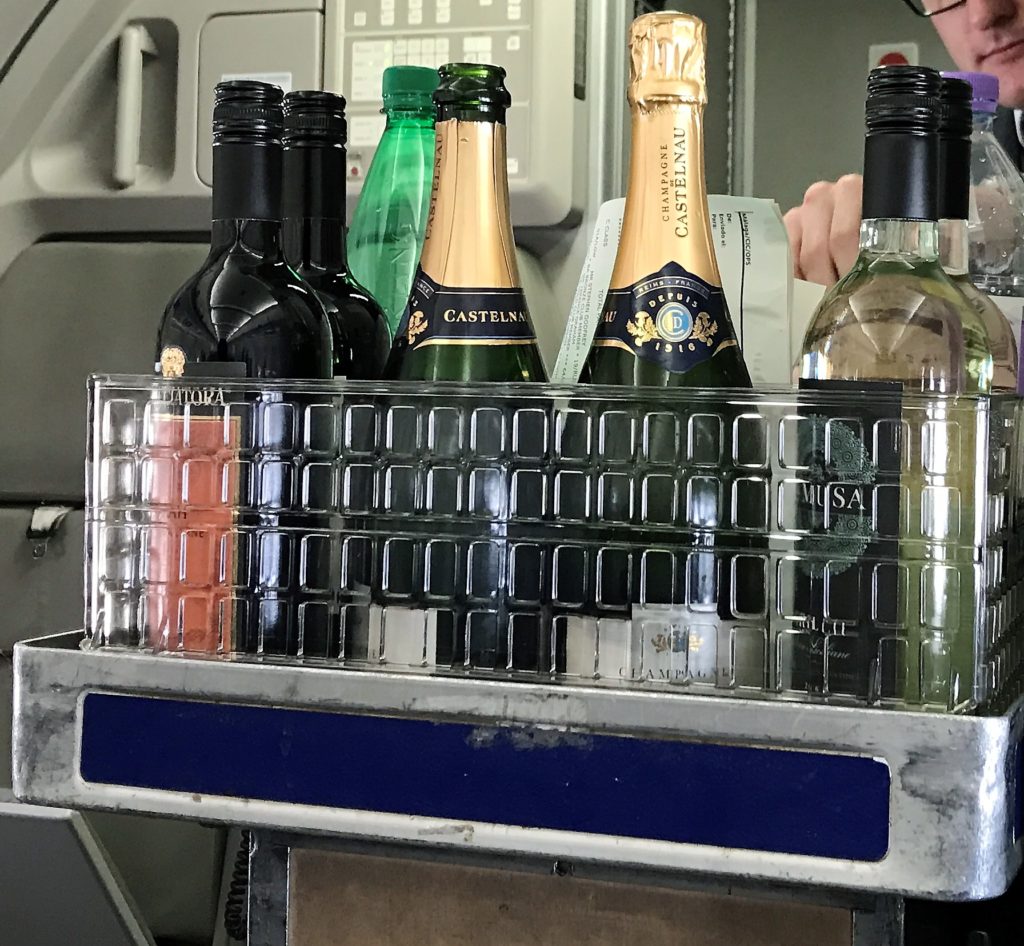 The whites wines were a Grillo from Sicily and a Spanish Sauvignon blanc Macabeo. I tried the Grillo which was a fresh, light white wine with hints of lemon and apple. Neither wine struck me as in the same league as Club World wines, but they were certainly better than the old plastic bottles. The Grillo was a little on the warm side, but it was the return flight. I also tried the Champagne which was slightly warm as well. For red wine, the choice was between a Italian Syrah or a Spanish Tempranillo. I was very pleased to see Tanqueray gin too.
Here is the drinks list from the menu: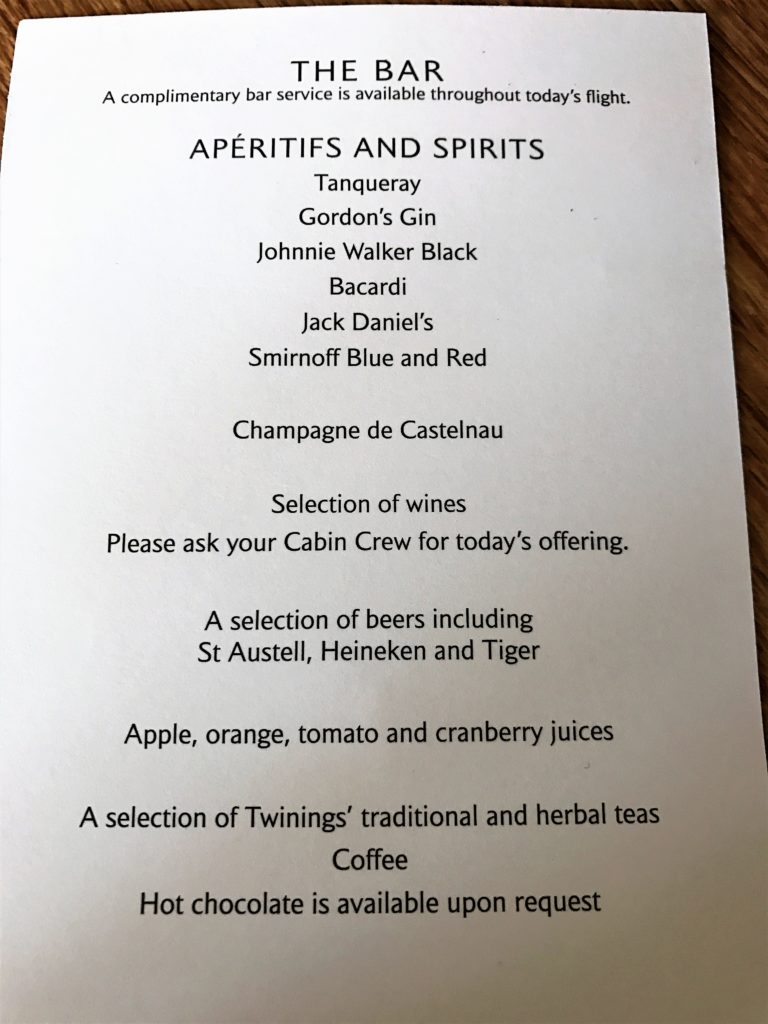 Our meals orders were taken next. After the bar round, we were offered a quick top up, which I suspect will not be the normal service standard. We were then given our trays with the starter, dessert and cheese plates on it. Warm bread was offered and this had definitely improved with some new choices. The starter was pretty small but it was nicely presented and tasted fine. I found the tray quite awkward due to the small size and you had to keep your cutlery for the main course. The other differences were that the napkin wrap was missing the hand wipe and the sugar plus there was no milk on the tray.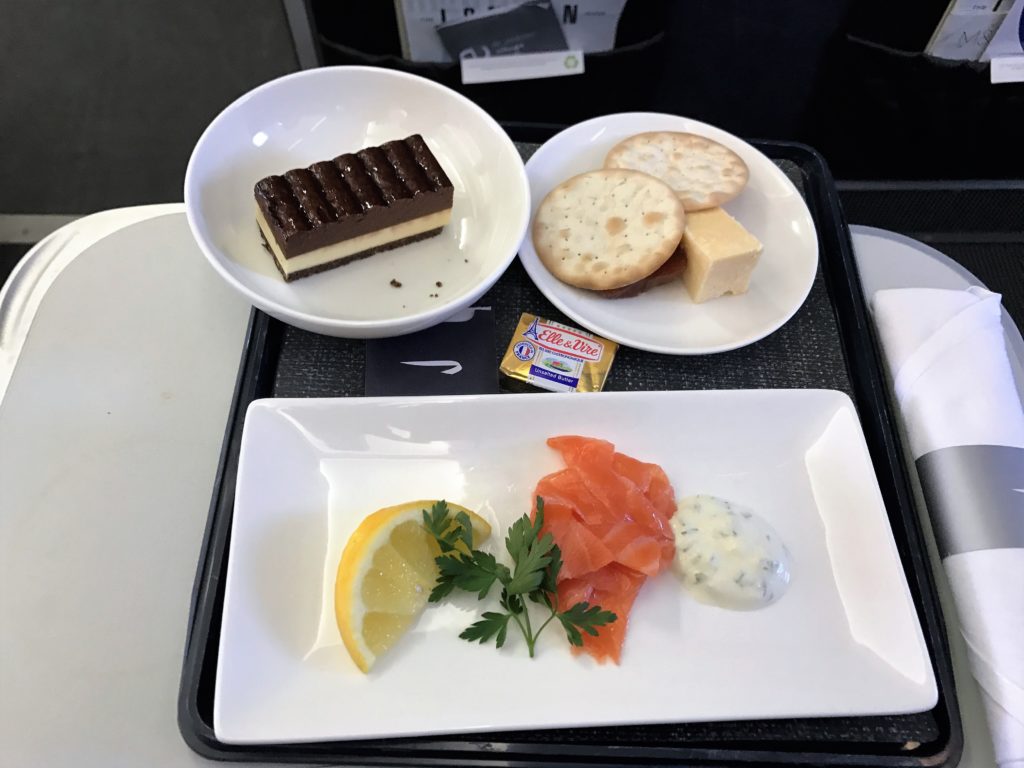 There was a choice of main courses with a vegetarian option. I would definitely recommend ordering a special meal if you are vegetarian as a vegetarian main course is not guaranteed. Here is the full menu: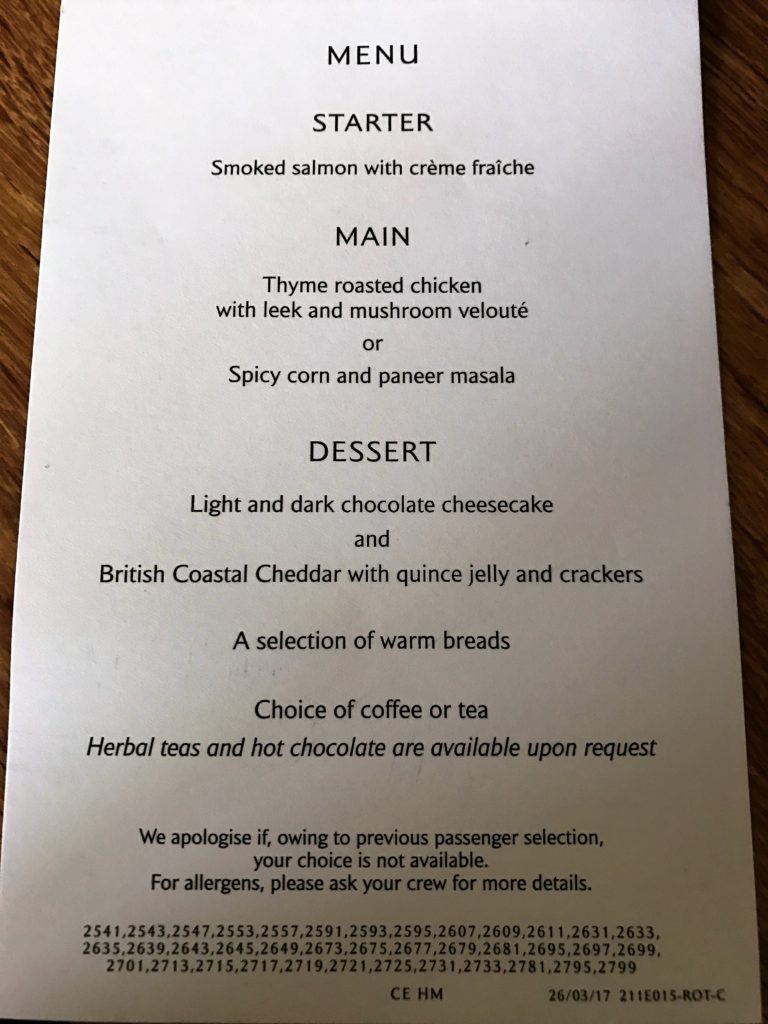 The main course wasn't huge but with all the other courses it made for a satisfying meal. The whole dish was well presented and tasty, if a little underseasoned.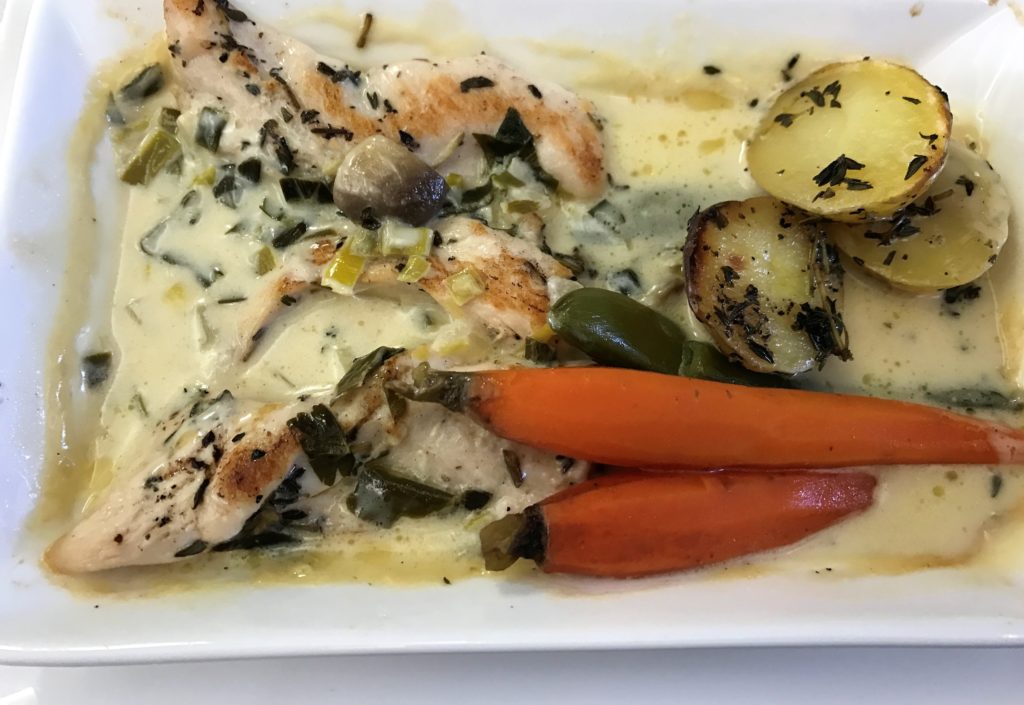 My husband had the spicy corn and paneer masala which looked slightly more filling than my main, with a large portion of rice. He thought it was only lightly spiced but tasty. The main course was offered with another offer of a drink top up.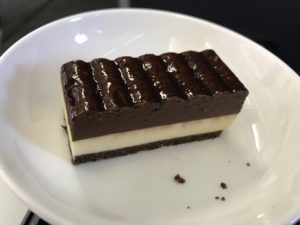 The dessert was a chocolate cheesecake which I really enjoyed. I am not normally a fan of chocolate cheesecakes as they can be very sweet but this was well balanced and beautifully presented. It was a definite improvement on the previous dessert pots. Surprisingly, the cheddar cheese was also good quality, which I wasn't expecting. However, the biscuits were soft which I suspect is from being left on a chilled trolley for a length of time. I would rather forgo the presentation and have a packet of biscuits. The accompanying quince jelly was also a welcome addition.
After they had cleared the trays we were offered tea and coffee in the new mugs. I liked the distinctive design of the previous cups, but from a practical point of view I preferred the mugs. I was pleased to see that they now offer a wider range of hot drinks including green, peppermint, chamomile and earl grey teas as well as hot chocolate.  It was also an improvement that fresh milk is added by the crew and sugar offered at this time. There was then a final offer of a drink before landing.
Verdict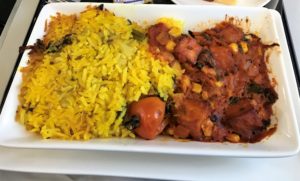 For many routes the "enhancement" is actually a cut to the service. I am particularly annoyed about the afternoon tea service as it was pretty small to start off with, so to remove the scones as well is unacceptable. The only upside is that the Ploughman's salad looks reasonably substantial. The removal of the hot meal from the services that have been downgraded to medium is also unacceptable. The hot sandwiches look substantial and reports are that they taste OK, but this is hardly a premium offering. The 'salads' look miniscule and don't actually have any salad! I do wish BA would stop trying to dress things up as an improvement when it isn't.
When it comes to the long routes, it is a completely different story. This was a huge improvement on the previous service and I am glad to see the back of 'brunch' on these routes. The flight I was on was probably not typical in terms of service, judging by my other 2 Club Europe flights in February and March. In fact, the service was so good I sent a golden ticket to BA for the CSM. It will be interesting to see how the cabin crew cope with having to deliver everything individually. On my flight we had 20 in Club which meant that the CSM was working single-handed. Once there are 21 Club passengers, they have 2 crew on the Club service. Given that on the previous 4 flights the crew did the bare minimum, it doesn't bode well!
What do you think of the changes? Have you experienced the new service yet? Let me know via the comments below or on any of my social media channels.