BA crew vote for industrial dispute
According to cabin crew blog Paddle your own Kanoo, BA cabin crew at Gatwick have overwhelmingly voted to start a formal industrial dispute with BA. The conflict originated when BA introduced the densified economy seating with 10 across on some Gatwick based B777s. This meant that in order to avoid shorter breaks, cabin crew negotiated for extra crew rest seats to accommodate the additional crew. As a result, BA were losing valuable revenue of around £1 million a year and have sought to recover this money. They have done this by reducing time off down route in specific destinations. This is against a despite a memorandum of understanding between the union and the airline.
As I previously reported negotiations are ongoing with pilots, ground crew and cabin crew at Heathrow over the current pay deal with the initial offer being rejected.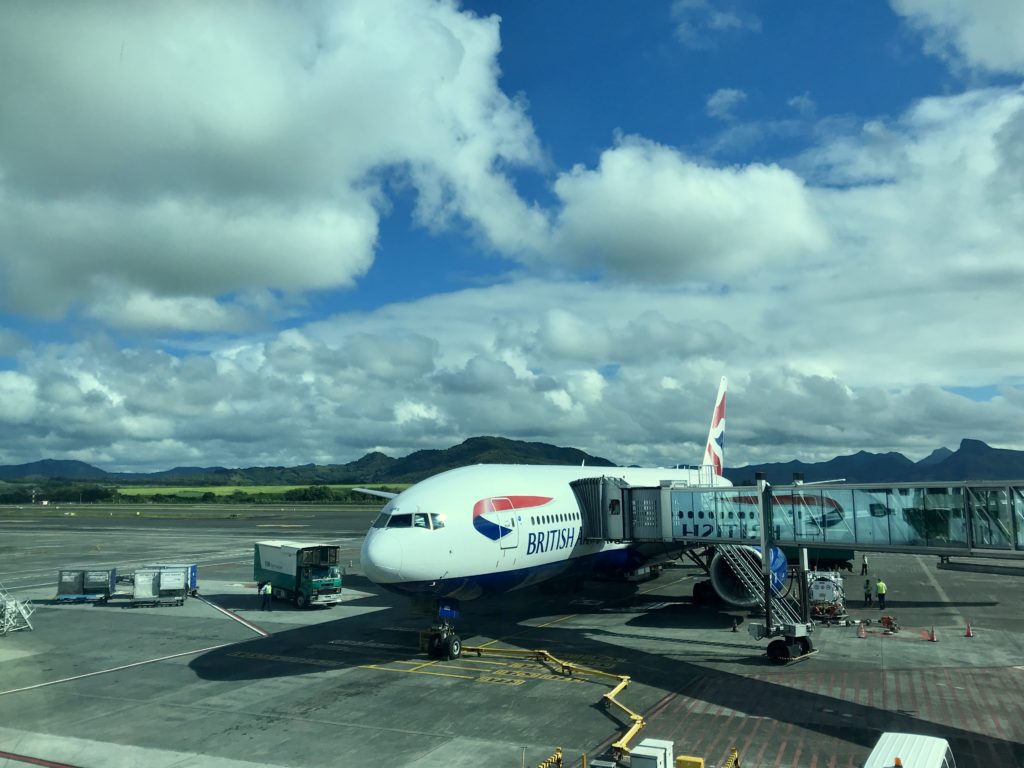 Business Travel Show
On Wednesday Claudio and I attended the Business Travel Show at Olympia to check out some new seats and see what's new in the world of travel. Here is a selection of our highlights:
Singapore new business class seats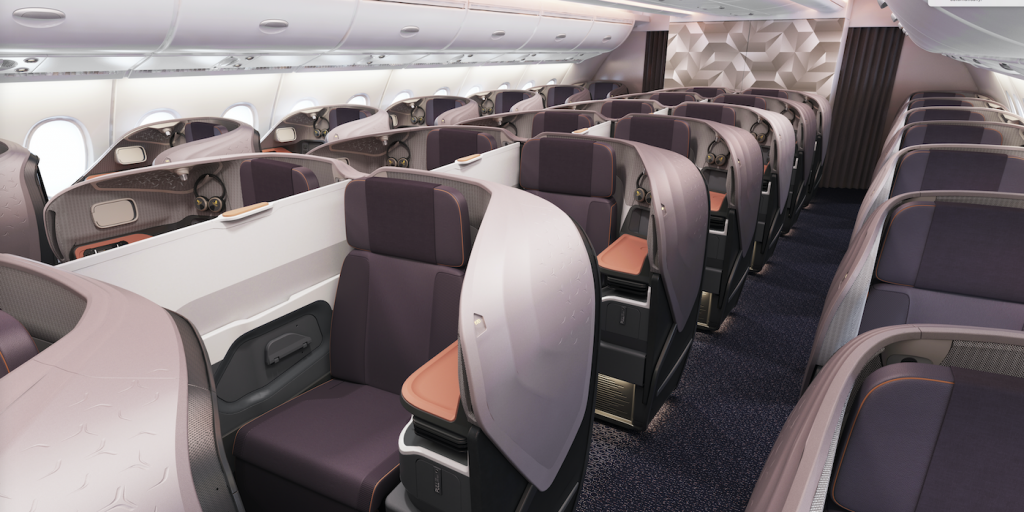 I have flown Singapore business class on a variety of their aircraft which you can read reviews of here. We did fly on the A380, but it had the old seats which were still good. At the Business Travel Show Singapore Airlines were showing off their new A380 seats, and both Claudio and I were hugely impressed. These seats feature on SQ322/317 to and from London.
The seats are made with handstitched full grain leather by Poltrona Frau. I liked the purple and neutrals colour scheme with orange accents. They have sculpted wings that support you while lounging, then flatten for sleeping. When the seat is made into a bed it is absolutely huge and has to be one of the biggest business class beds I have seen.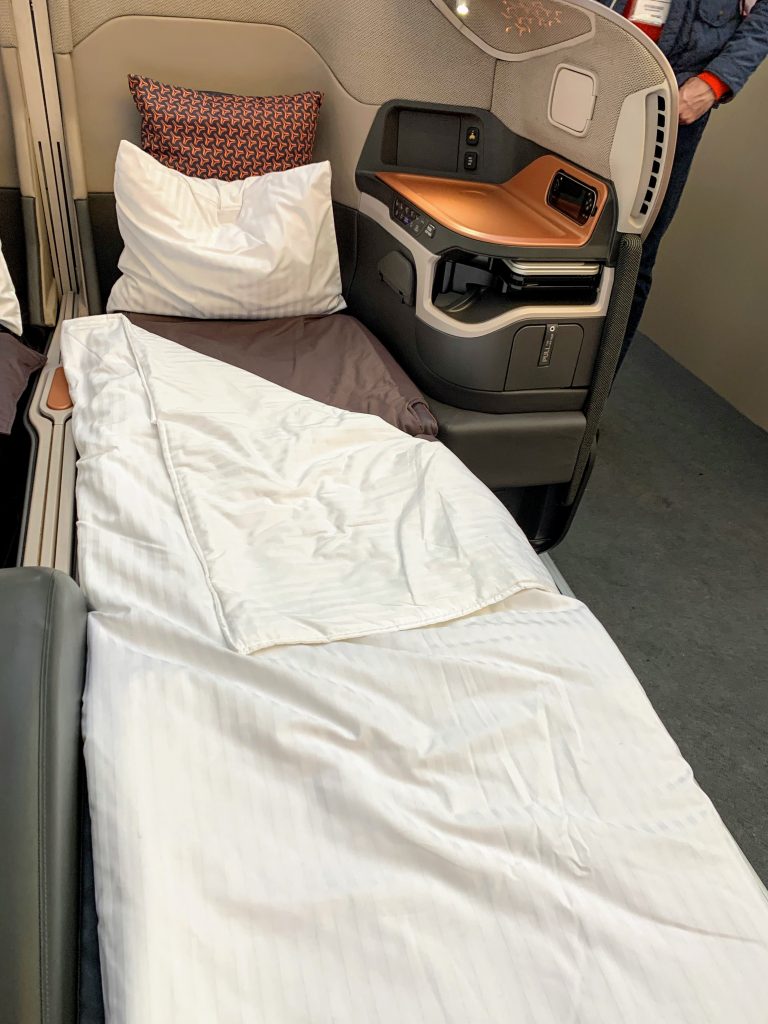 The centre seats come with a personal divider that spans the entire length of the seat and can be on one of three positions.  You can lower it to mid-level to chat with your travelling companion or lower it altogether to create a double bed (see photo above).
There was a lot of storage space at the seat with multiple storage compartments. You can also put your cabin luggage under the seat in front of you rather than having to lift it into the overhead bins.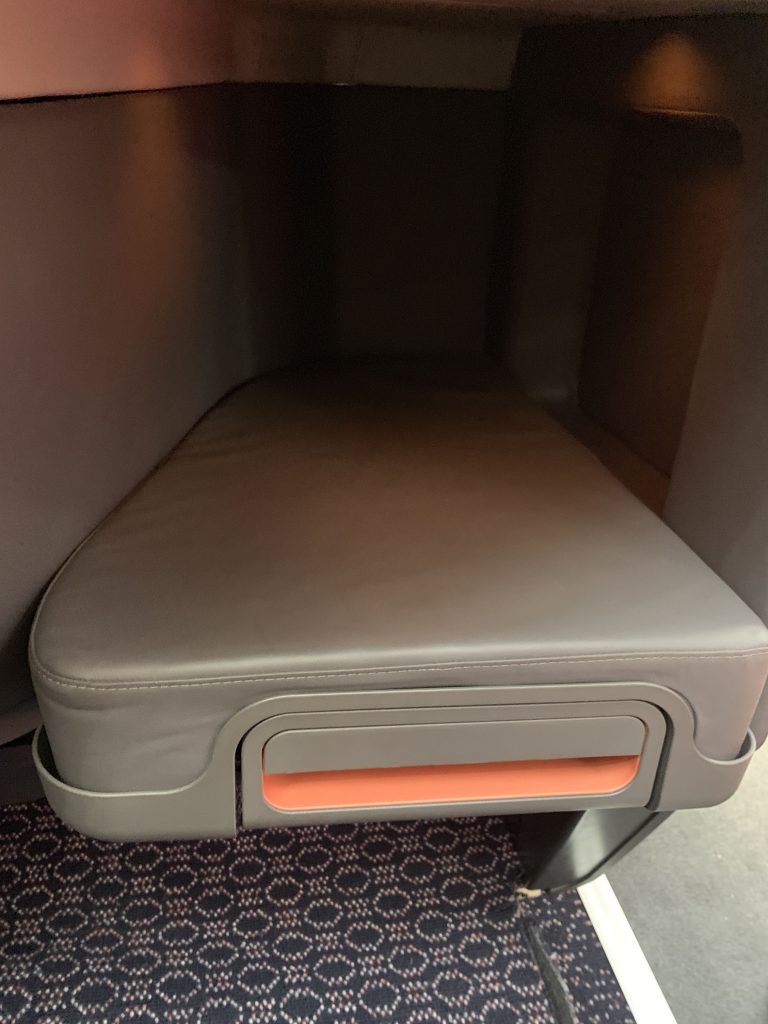 An 18" touchscreen monitor in high definition with noise-cancelling headphones makes up the entertainment, and there are multiple options for charging devices too.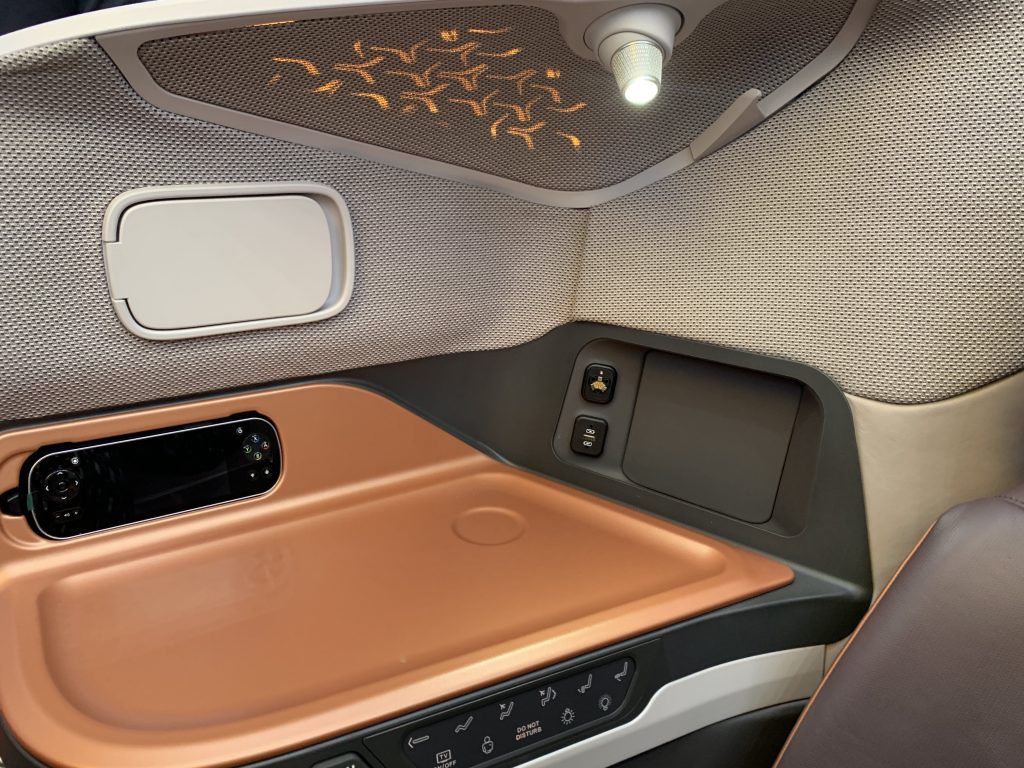 If you want to check you haven't got bed head in the morning, there is also a handy mirror built into the side!
Business Traveller Cellars in the Sky
Every year Business Traveller magazine assess airlines' wine offerings for their Cellars in the Sky Awards. I had the pleasure of tasting a few at the Business Travel show with Claudio this week. Airlines can participate providing they served wine in business or first class on mid- or long-haul routes. Each bottle is blind-tasted by a panel of independent judges and scored out of 100.
To calculate the Best First and Business Class Cellar awards, they take the average mark of an airline's red, white and sparkling wines. It's interesting to see that BA won the best Business Class overall award. I have always thought they have a strong business class wine list compared to some other carriers. However, I am not surprised to see them not mentioned in First class. This is an area where it feels that the quality has been falling recently – there have been several very cheap wines featured in First including Villa Maria Sauvignon Blanc. Hopefully, when they have the launch of the new First class food and amenities in May this will also improve the wine quality.
I was lucky enough to try the Taittinger Comptes de Champagne which surprisingly featured in several business class cabins. This is one of my favourite champagnes and retails at over £100 a bottle, so I was curious to see it in business class as well as first.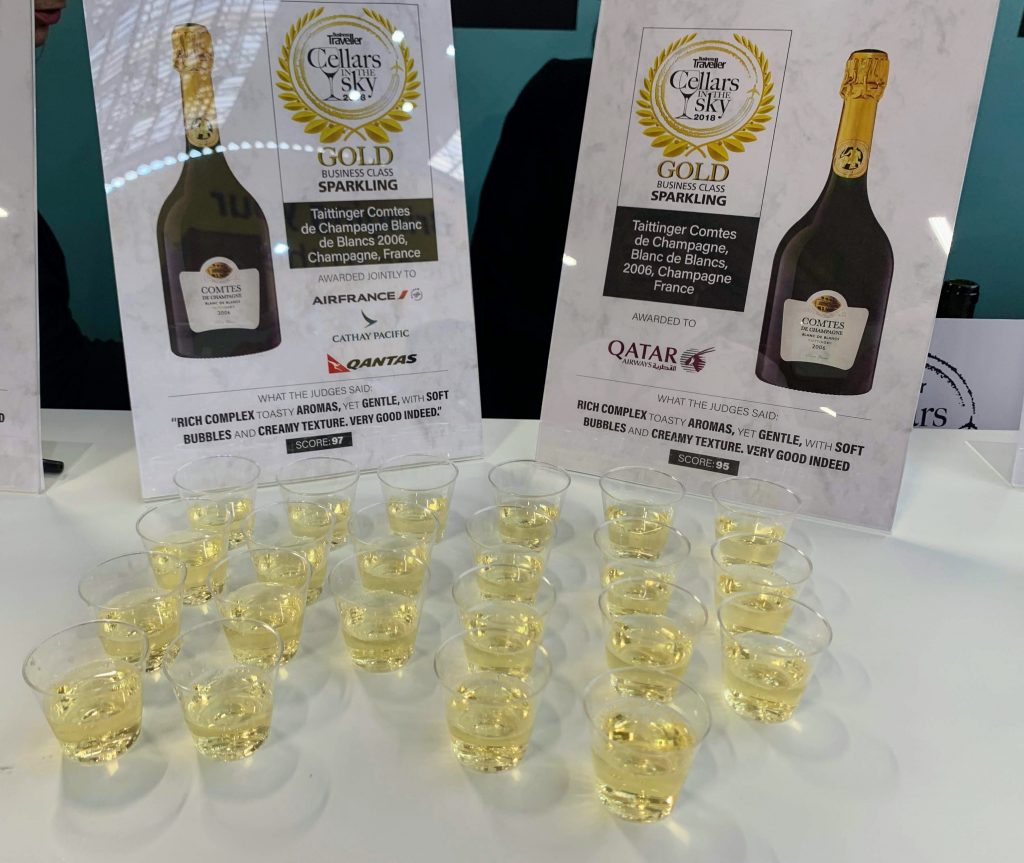 The final surprises for me were the overall winners. Qatar featured and much as I love Qatar I have never felt that their wines have been particularly great, especially their champagne choices in business. The biggest shock for me though was the mention for American Airlines as they have a poor wine list in business class in my experience. Paul wasn't that enamoured with his wine choices in First either.
My personal favourites for wines on my travels over the last year have been Emirates for both first and business class and Oman Air in business class.
Here are some of the highlights of the Awards:
FIRST CLASS
Best First Class Sparkling
Gold Medal (joint): Air France, Cathay Pacific, Qantas –Taittinger Comtes de Champagne Blanc de Blancs 2006, Franc
Silver Medal (joint): ANA, Qatar Airways – Champagne Krug 2004, France; Singapore Airlines – Dom Pérignon 2006, Champagne, France
Bronze Medal: Oman Air –Champagne Louis Roederer Cristal, Brut, 2009, France
Best First Class Cellar
Gold Medal: Qantas
Silver Medal: ANA
Bronze Medal: Cathay Pacific
Business Class best Sparkling Wine
Gold Medal: Qatar Airways ­– Taittinger Comtes de Champagne, Blanc de Blancs 2006, France
Silver Medal: EVA Air – Delamotte Blanc de Blancs 2007, Champagne, France
Bronze Medal: Malaysia Airlines – Taittinger Comtes de Champagne, Blanc de Blancs 2007, France
Best Business Class Cellar
Gold Medal: British Airways
Silver Medal: Qatar Airways
Bronze Medal: Jetblue
OVERALL AWARDS
Best Overall Cellar
Gold Medal: Qantas
Silver Medal: Cathay Pacific
Bronze Medal: ANA, Qatar Airways
Highly Commended: American Airlines
You can see the full results here.
Tesla Electric cars from Heathrow

If you are looking for eco-friendly transport from Heathrow or just love the thought of riding in a Tesla, there is a new car service available from Heathrow from Driven. The company offer two sizes of car as well as ride sharing or solo bookings. The good thing with a ride share is that if no one else is going your way, you only pay the shared price but get the car to yourself. I like that they also charge a flat fee, with no additional car parking or waiting time charges. You can book via the website, app or by phone and get the price in advance.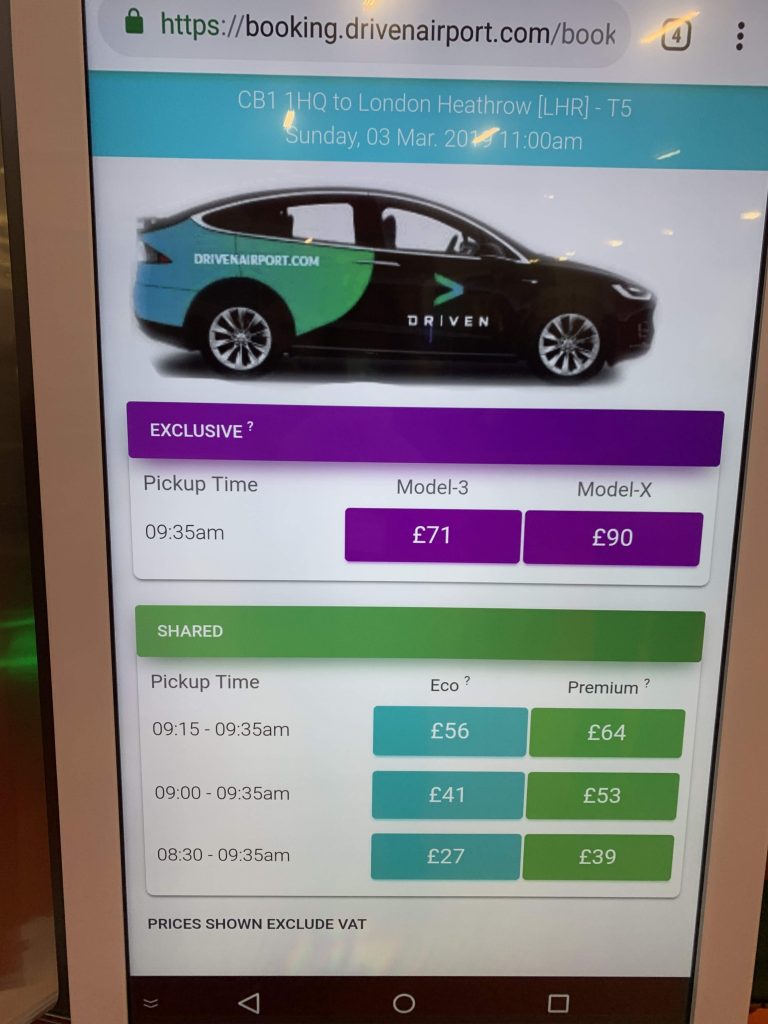 They had one of their electric Tesla cars on show and Claudio and I had a sit in one. As well as being very smart it was also roomy and comfortable.
You can find out more on Driven's website.