I have been to Koh Samui several times, but this was the first time in about eight years that I had been there. A lot had changed; mainly the number of luxury properties that had sprung up around the island. Being a Hilton Diamond member, I decided to use some points to try out the Conrad Samui which comes with a private pool for each room.
What it cost
I booked fairly last minute, so I ended up paying a slight premium at 95,000 points for one night versus the standard 80,000. Given what you get, I thought that this was still good value. I decided to pay for the other night in cash since there was an Asia Hilton sale (you can see the details of a previous sale here). I paid approximately £335 for the other night.
Post from RICOH THETA. – https://theta360.com/s/gfajaSX7jp8UDyS7yOXLDyv9k
Check-in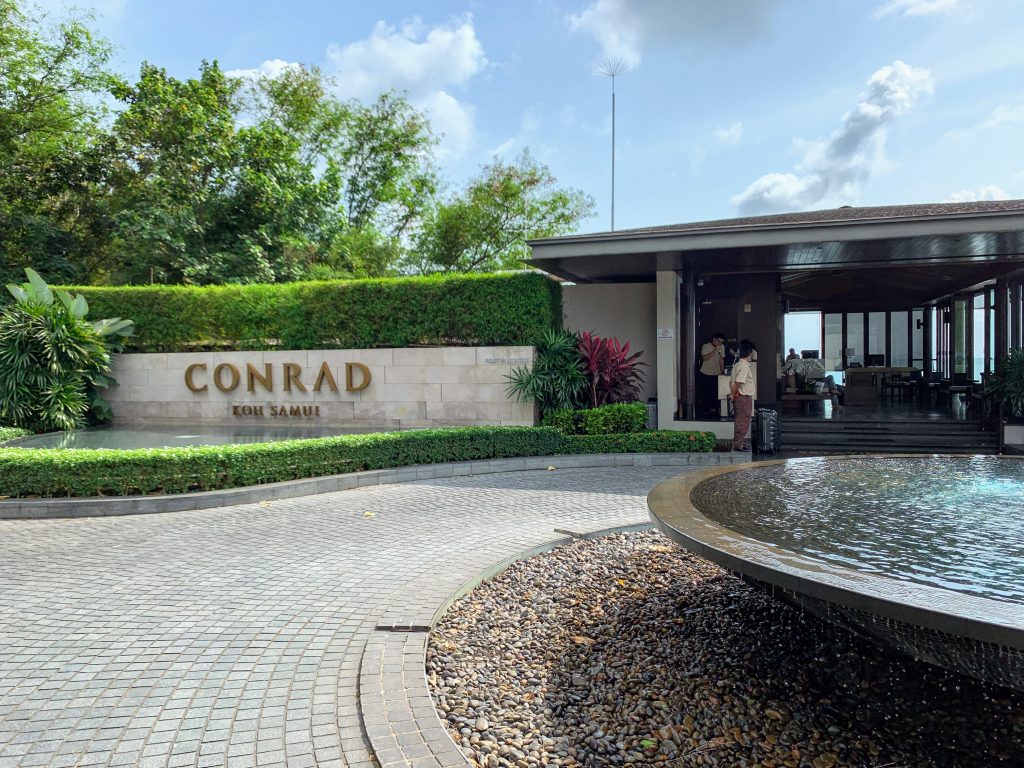 You can book transfers with the Conrad but they are pretty expensive, so I had booked a transfer via TripAdvisor for the official Samui airport transfer service. The hotel is nearly an hour away from the airport on the southern tip of the island. It is not actually that far but the traffic is slow.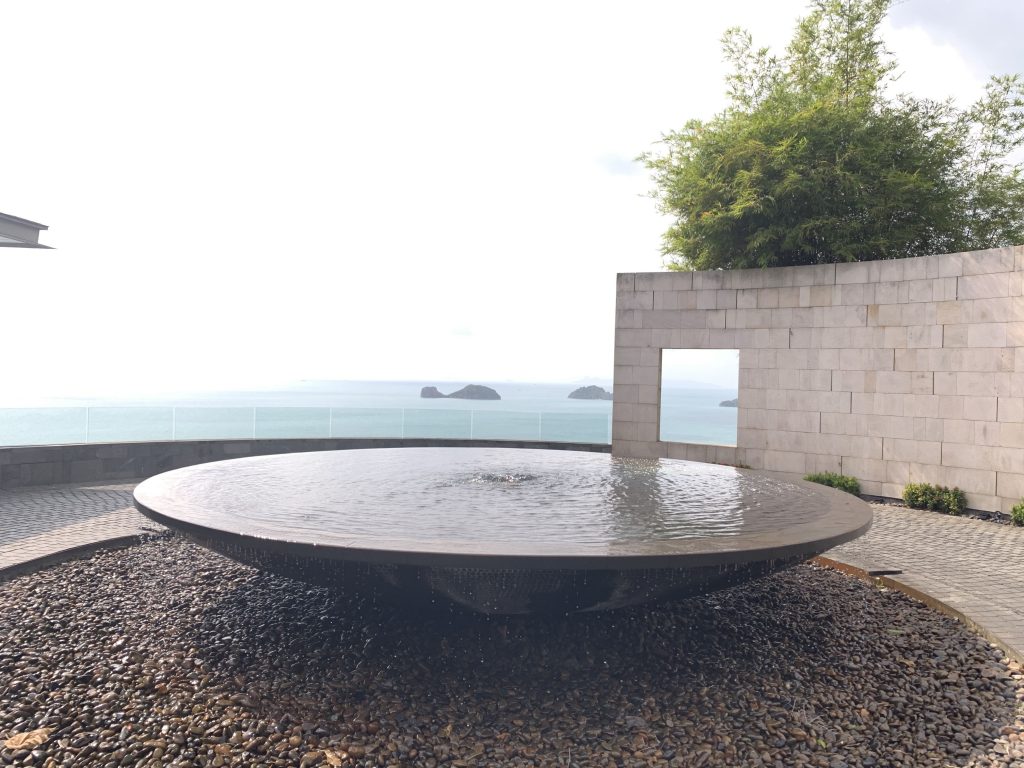 On arrival at the hotel, the setting of the main reception was quite stunning. I was offered a beautifully presented cold towel and welcome drink while I sat in their lounge area and completed the formalities. The check-in agent explained my Hilton benefits, which included four free drinks in certain bars and restaurants and an upgrade to the next category of room. I was also given a couple of bonus point vouchers if I spent money in the spa or restaurant.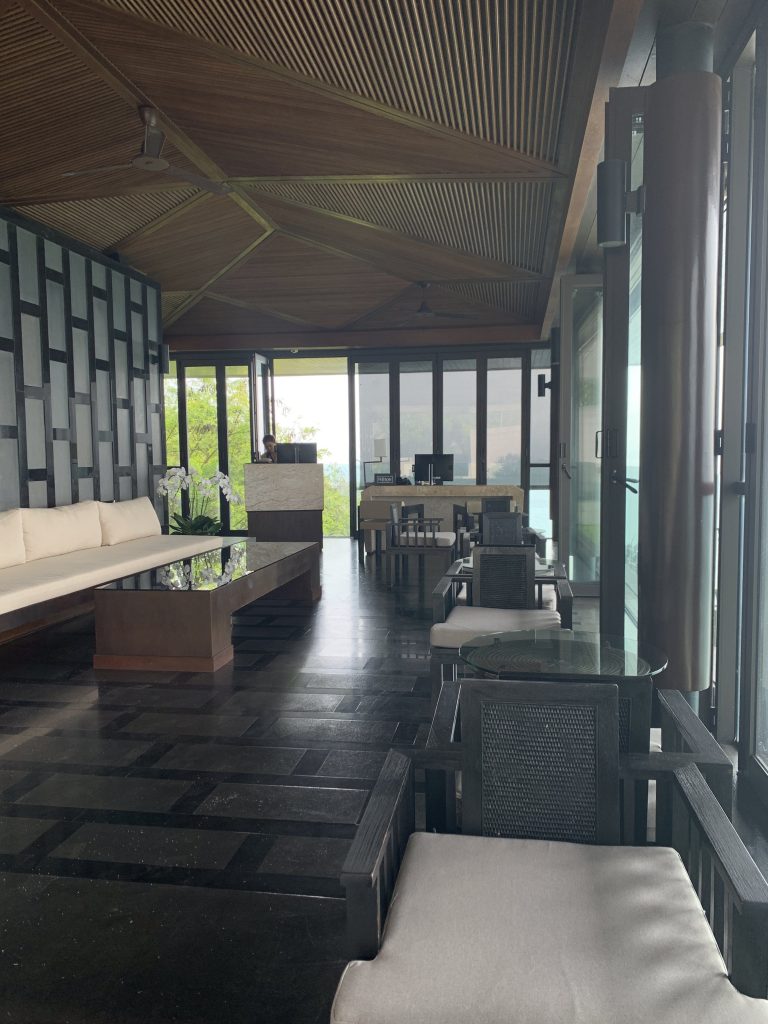 Once I was checked in I was driven to the villa in a golf buggy and shown around the villa. I was told that I did have an official host looking after me, and was given her card since she was not available. My luggage was delivered about 10 minutes later.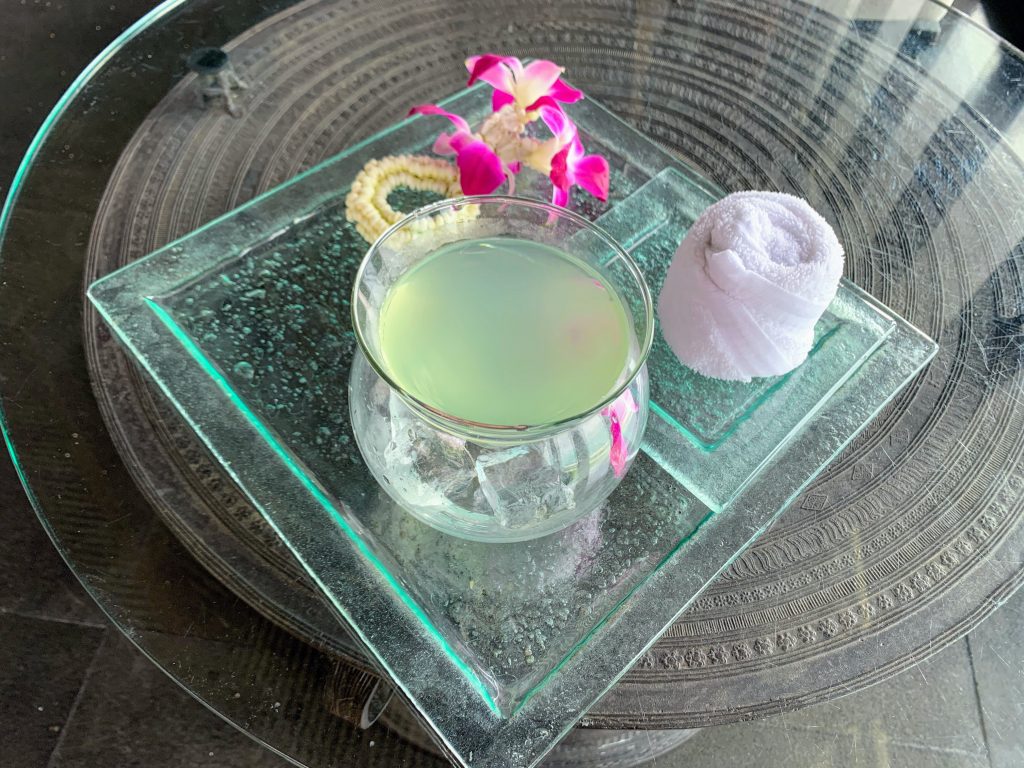 The villa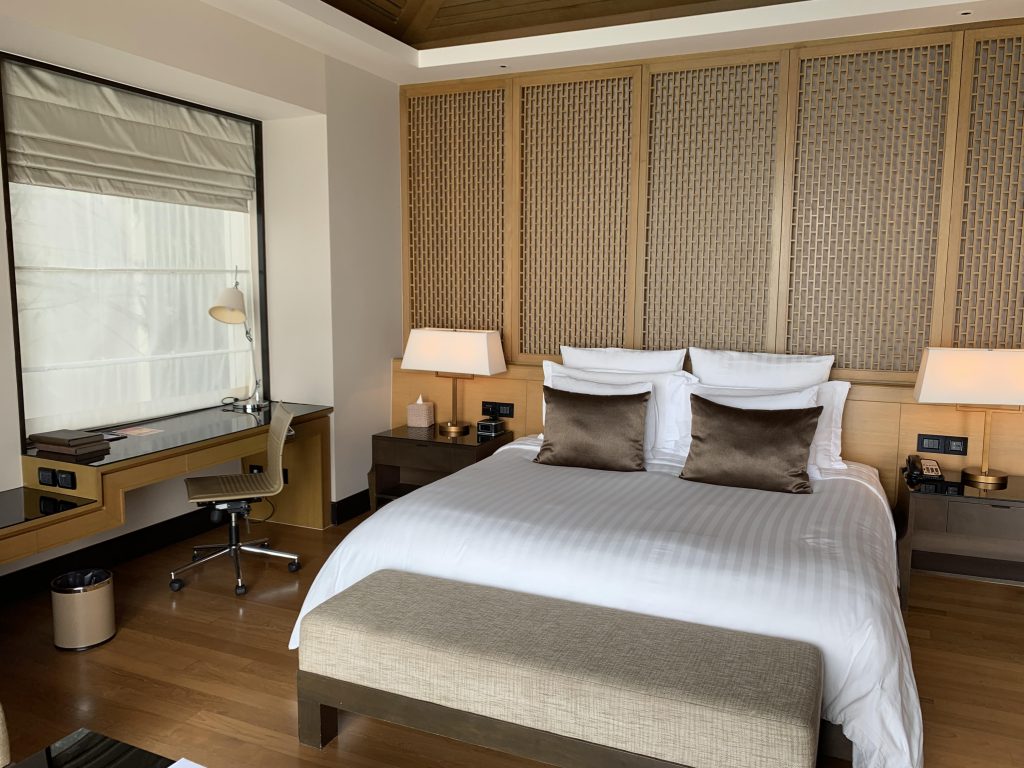 The villas are spread over a wide area as are the common areas such as the gym, restaurants and spa. This will mean that you may well want to get golf buggies to drive you around as in the heat there are some very steep slopes to walk up otherwise. You can ring for them from the room and they generally would arrive in 5-10 minutes.
I had been upgraded to a waterfront villa due to my Diamond status. Most of the villas are identical apart from the location, although they do also offer suites with up to 3 bedrooms. Prior to arrival, you are sent a questionnaire about your personal preference and these were all adhered to in the villa for my arrival.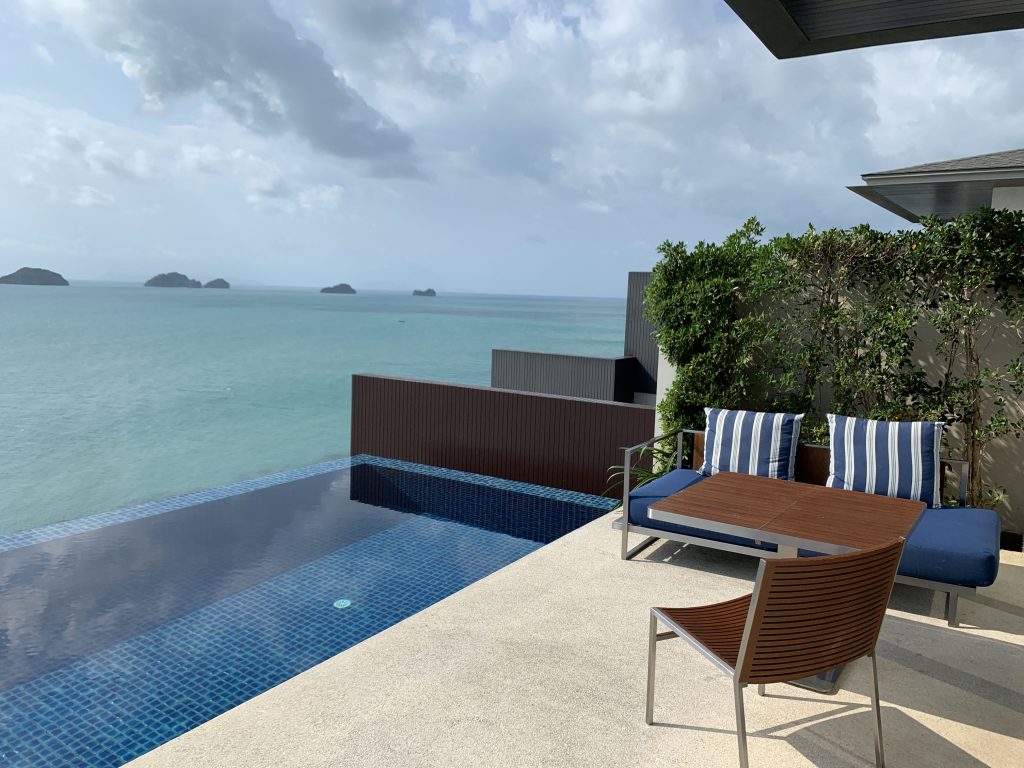 The villa had a fairly neutral style with just a hint of Thailand about it. However, with the beautiful sea views through the floor to ceiling length windows, you didn't need anything to detract from that! The main room had a large, very comfortable bed. It was difficult to get myself out if it in the mornings it was so comfy and quiet there! If you were unlucky enough to have to work there was a large desk area. The small seating area had a large TV which had Apple TV (payable) and could be swivelled round to face the bed.
Post from RICOH THETA. – Spherical Image – RICOH THETA
There was a good coffee maker and complimentary bottled water. Fresh fruit was there on arrival and at turn down cookies were delivered.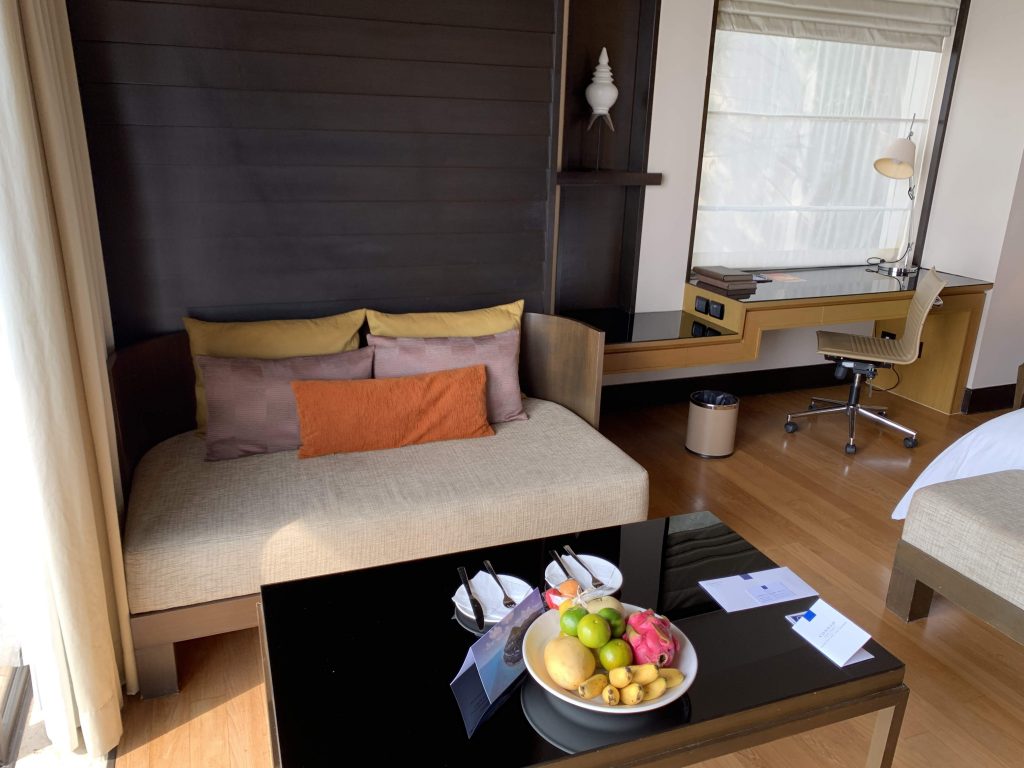 Both the main bedroom and the bathroom could be controlled independently temperature wise which I liked, and it was over efficient if anything. If like me you don't pack light, the walk-in closet had enough space for even the worst over-packer!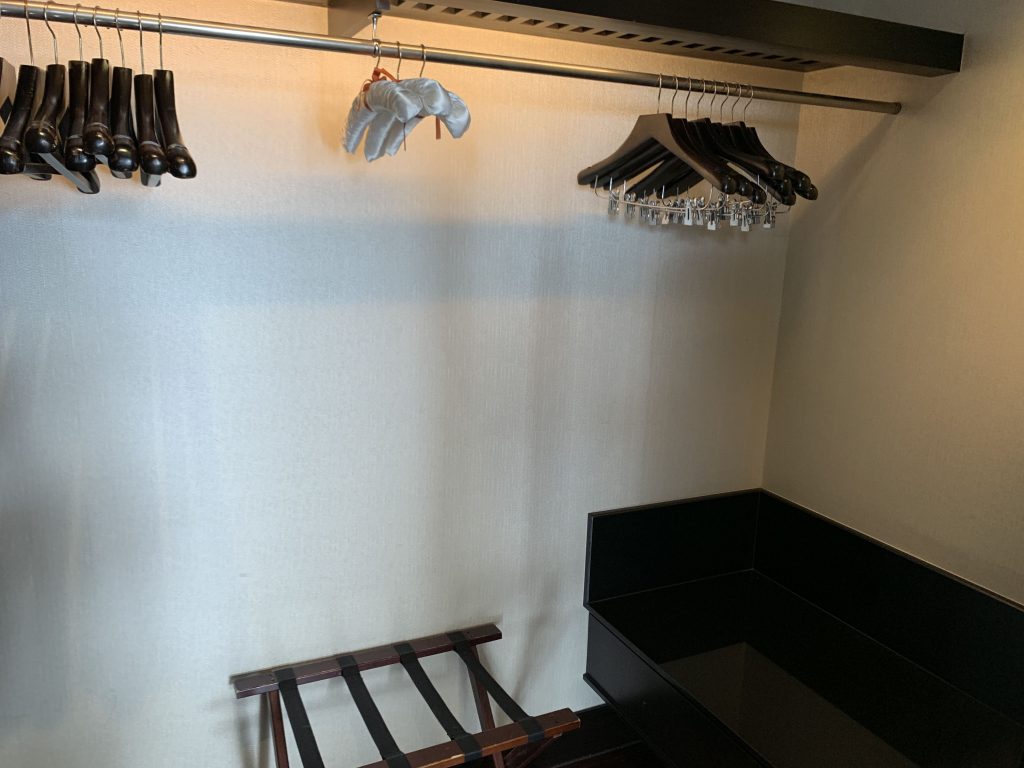 The bathroom

The bathroom was a highlight for me. With the bath looking out over the sea with floor to ceiling windows it was an excellent place for a soak. You could be seen by the odd fishing boat I guess, but otherwise, it was very private.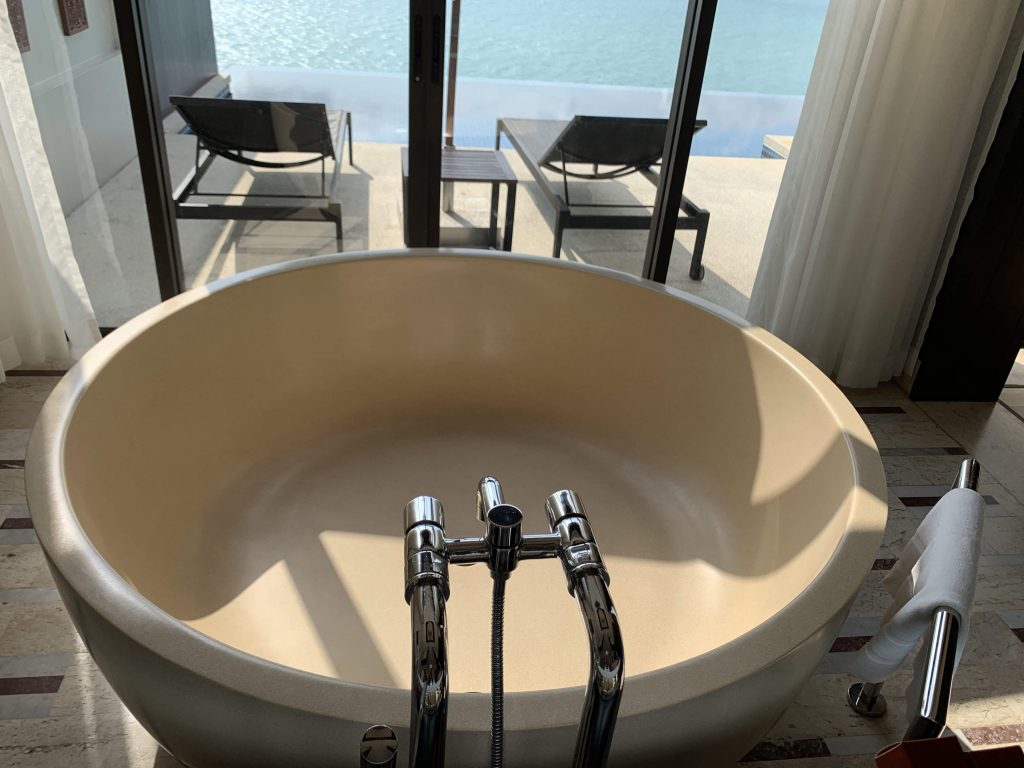 As well as the enormous bath there was a sizeable shower and separate toilet. The toiletries were from Shanghai Tang in large containers (not suitable for Roving Reporter's home collection….), but you could also order toiletries from Temple Spa or Refinery if you preferred. I ordered the Temple Spa ones, and it came as a set of four individual tubes.
Post from RICOH THETA. – Spherical Image – RICOH THETA
Outside you had two sun loungers as well as a small sofa and table. Although there was an umbrella, it was hard to get any shade on the loungers for part of the day, which was a shame given the fierce sun. The pool was huge for a private pool and deep enough for some proper swimming. It wouldn't be great for small children though as there are not proper steps down into the pool and the pool is one depth the whole way along. The pool was very private, although you could hear noise from other villas when you were outside.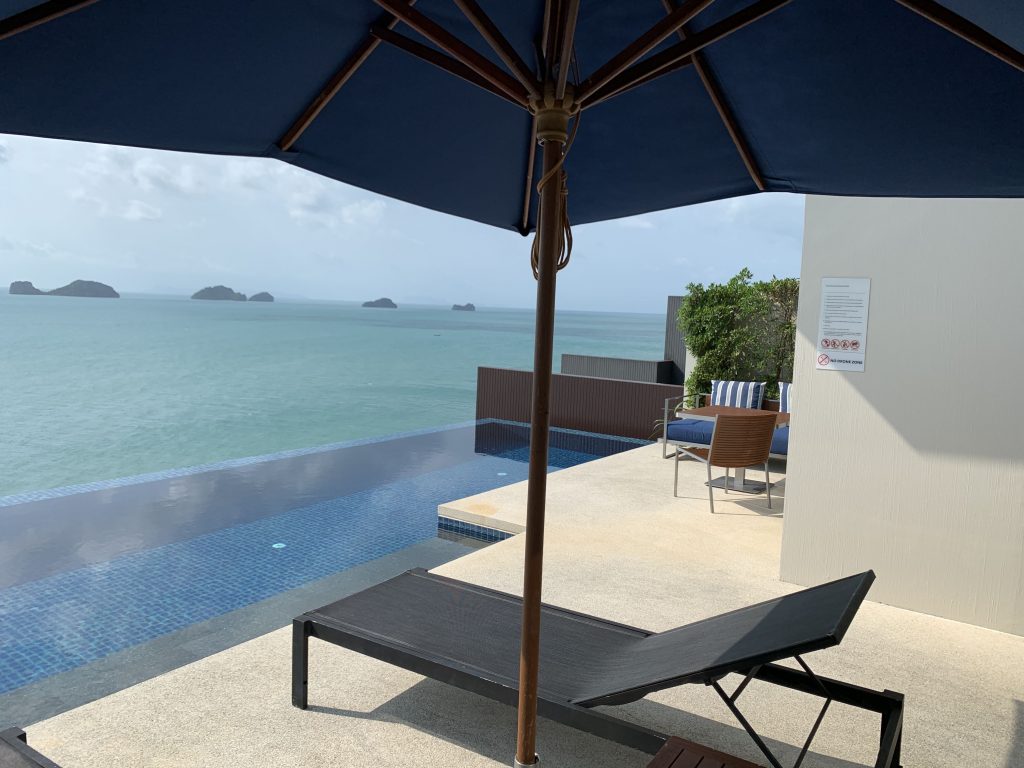 Food and drink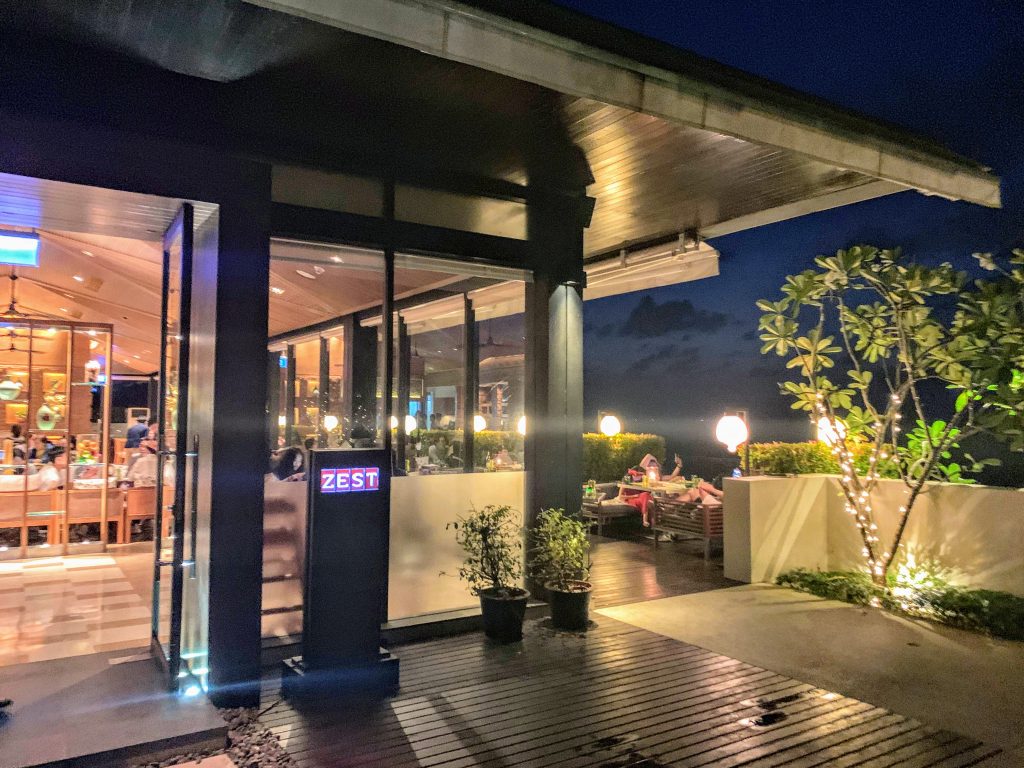 This was the area that, I felt, let the hotel down slightly. There are three restaurants and one proper bar at the hotel. As it is pretty isolated, I felt that they could have done more with the dining options. There was the main fine dining restaurant, called Jahn, and then the other two were very casual. In the evening it would have been better if they had a bit more of an ambience. It probably wasn't helped by the fact that it was Chinese New Year so it was running at full occupancy with a lot of Chinese families. This led to a slightly frenetic atmosphere, while I had been expecting it to be more serene.
The first night I ate in the all-day restaurant, Zest. Although I sat outside, it did feel like a standard all day hotel restaurant and was not a place I thought I wanted to linger. The service was a bit haphazard, and I struggled to make myself understood with one of the servers who spoke little English. The prices were high but not ridiculous and what I would expect for a fancy hotel in Thailand. The menu, wine list and drinks were all on an iPad which a good idea in the dark.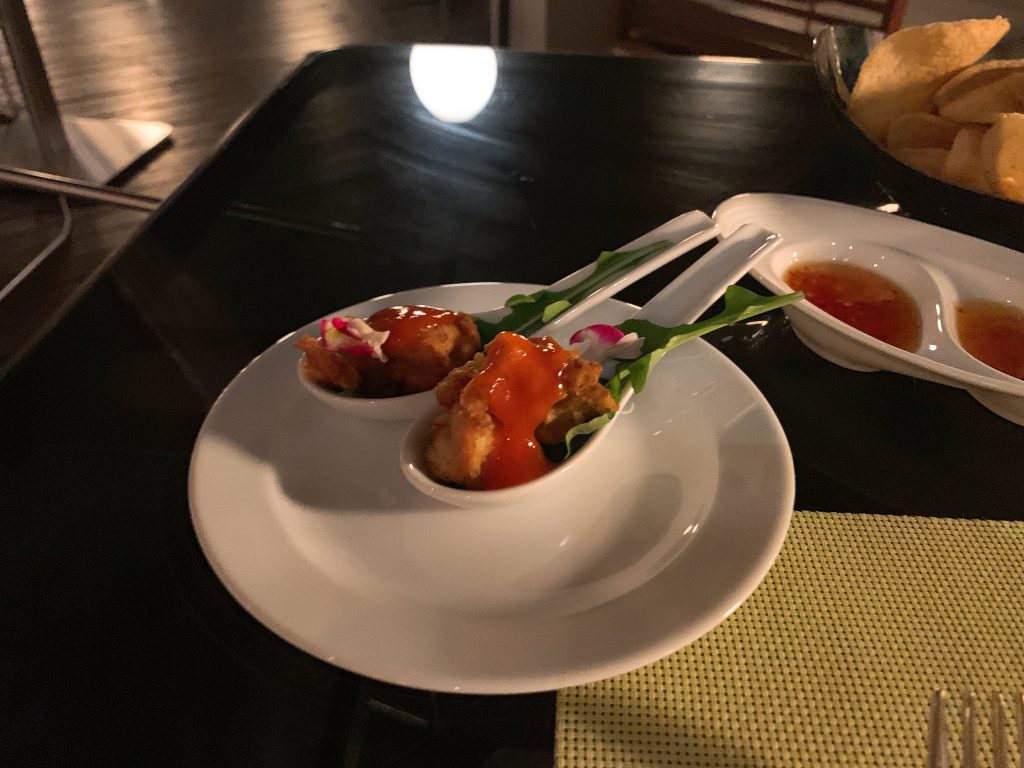 I was given some amuse bouche and spicy crackers to start which did at least make it seem more like a fancy restaurant. I started with the traditional Tom Kha Gai creamy coconut chicken soup which was delicious and not very spicy. Next I had the black pepper lobster. The lobster was beautifully cooked, but I found the sauce a little disappointing and lacking in complexity.
The next night I ate at their fine dining Thai restaurant, Jahn. This was a very different experience. The restaurant itself was beautiful with excellent service and some very high level cooking. I went for the tasting menu but there is also a la carte.
All the food was superb, but the standout dish was a Wagyu fillet steak with massaman sauce.
The final restaurant is the poolside restaurant which offers Italian food in the evenings.
Breakfast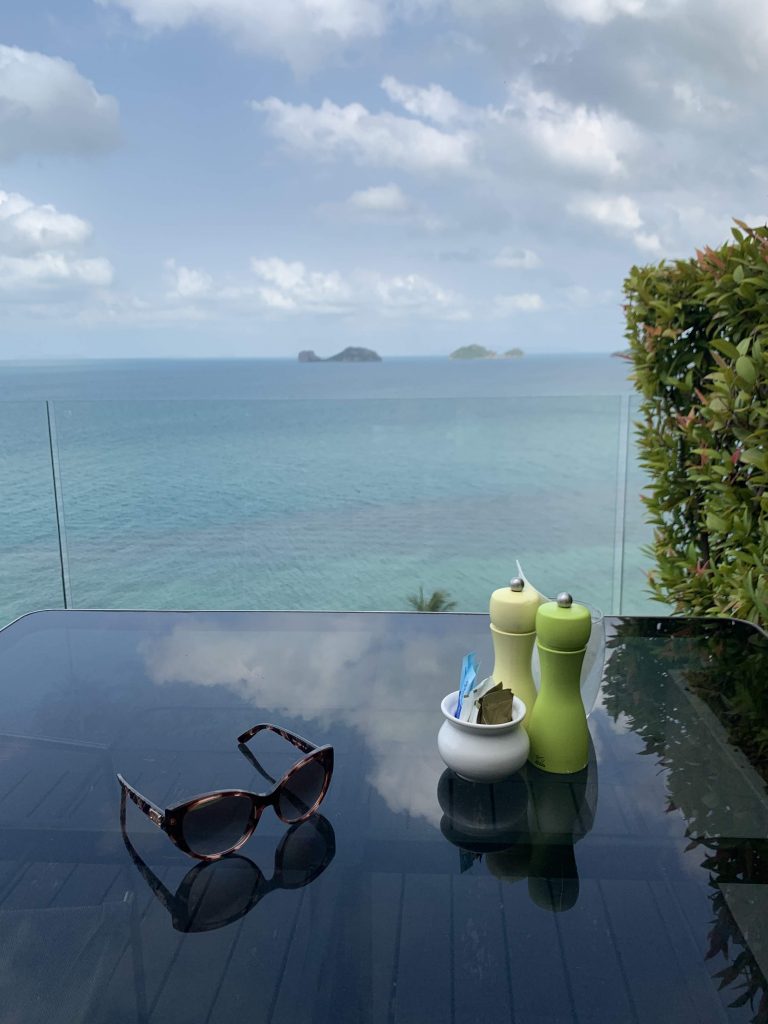 I found breakfast a little disappointing as it offered pretty much the same every day. It was fine for my short stay, but it would have got a little dull after a few days. There was a small menu of a la carte choices and a buffet. My eggs benedict were a bit of a disaster with a very soggy English muffin and unpleasant claggy sauce. The Thai omelette the next day was much more successful.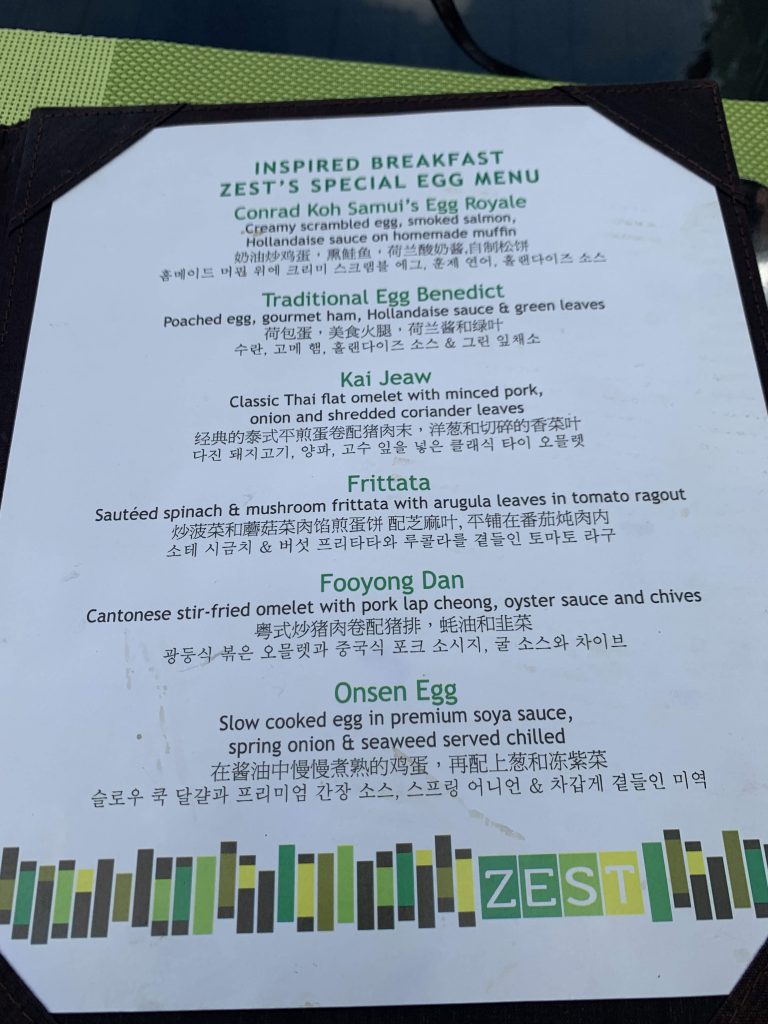 The buffet had a mix of Western and Asian dishes as well as a couple of food trucks outside. These had dim sum and noodles as well as a smoothie and juice truck.
However, it was a lovely place to sit outside looking at the view, and I thought that the way the food was presented on the buffet was very modern, clean and appealing.
Facilities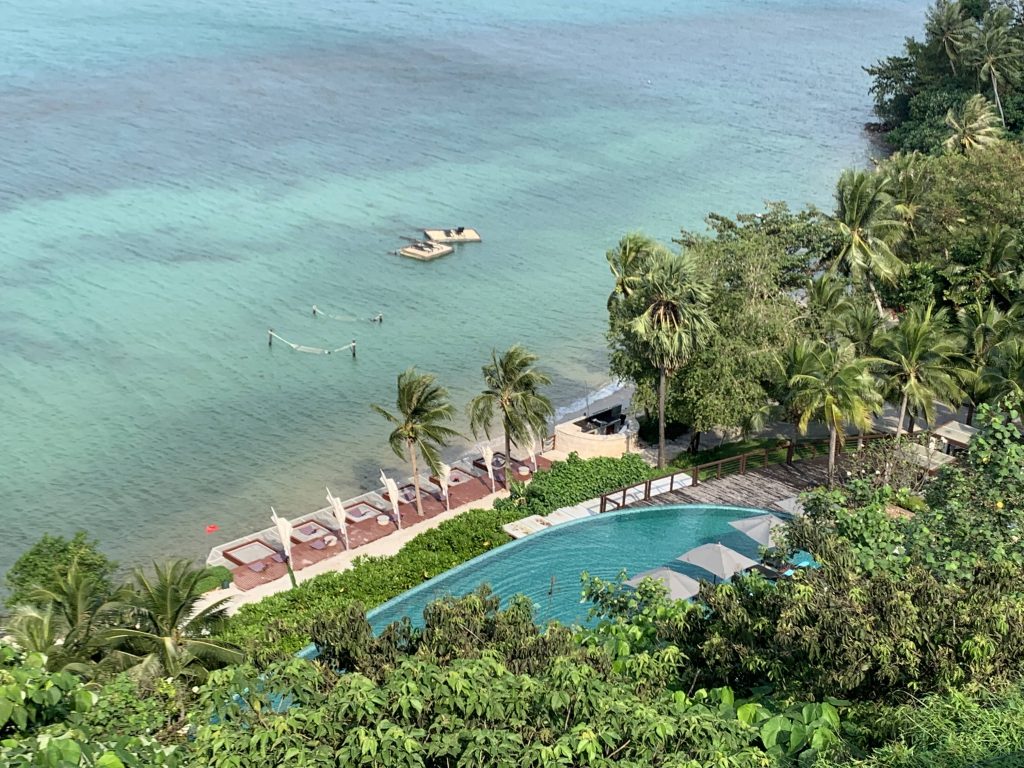 The hotel has a main pool facing the sea with lounges and day beds. I was welcomed at the pool with some iced water and the lounger sort of made up – if you call throwing a towel in its direction making it up! There are not that many beds and quite a few are submerged in the pool which I didn't find that practical. There is a small man-made beach where you can go snorkelling. In the sea, there are floating hammocks and platforms with beds.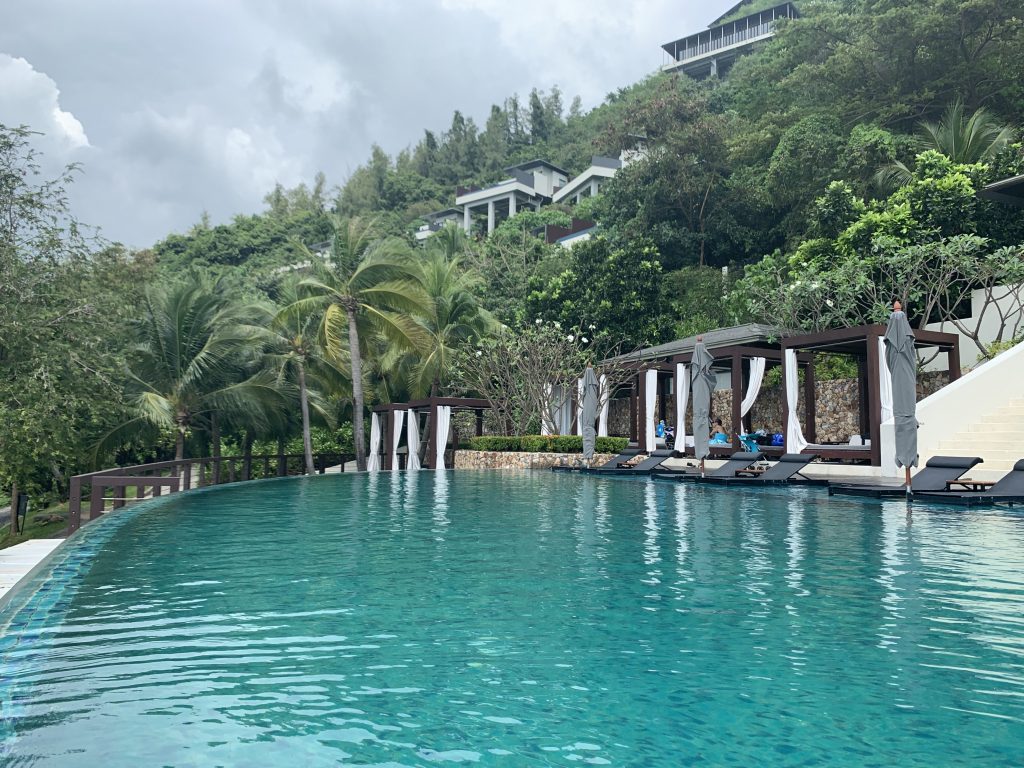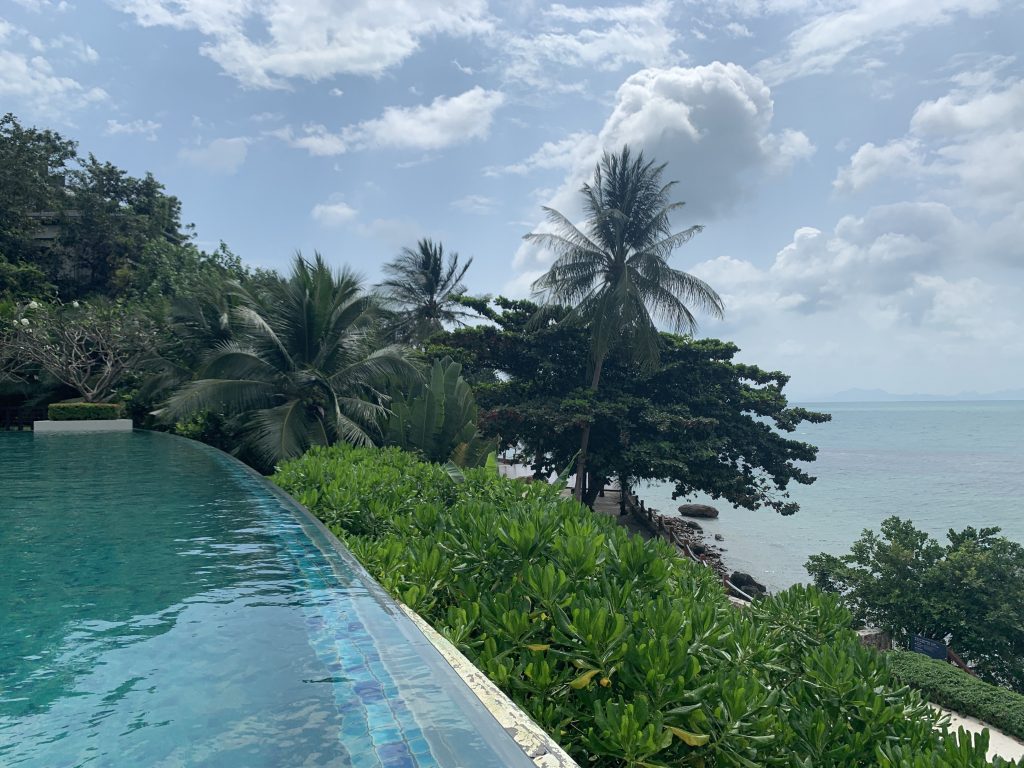 If the weather is bad there is also a small library, a gym and a shop.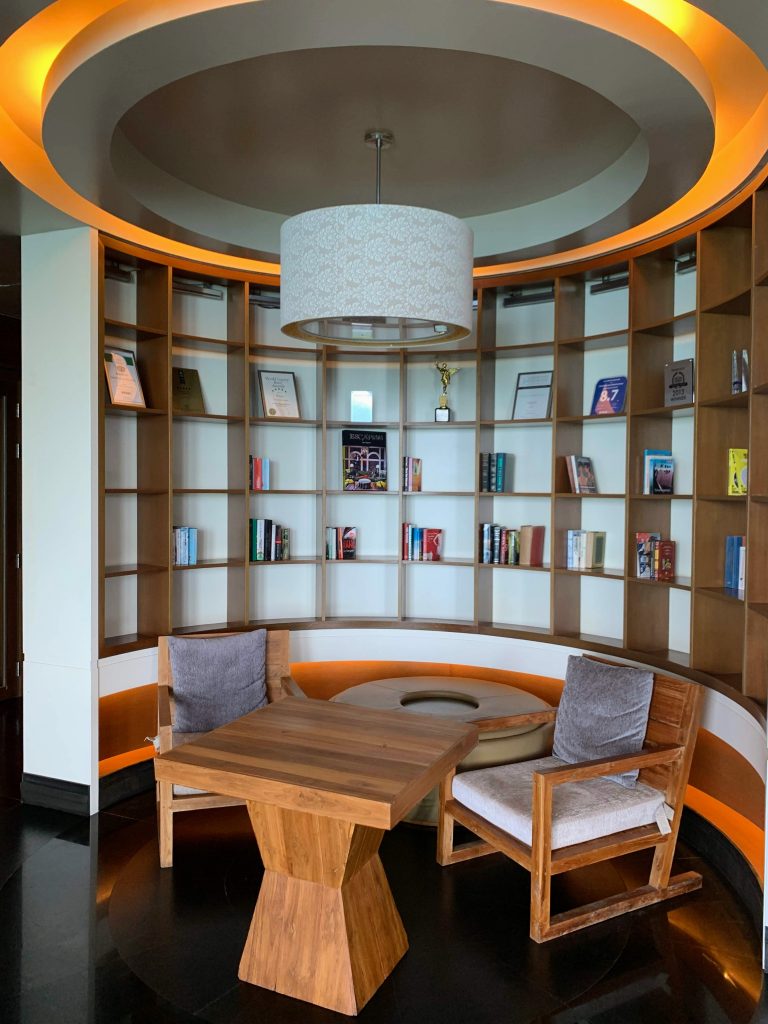 If you are taking the kids there is a children's club on site. There are plenty of activities for adults too including a daily snorkelling boat trip, Thai cooking classes and a shuttle to the main town of Chaweng.
The Spa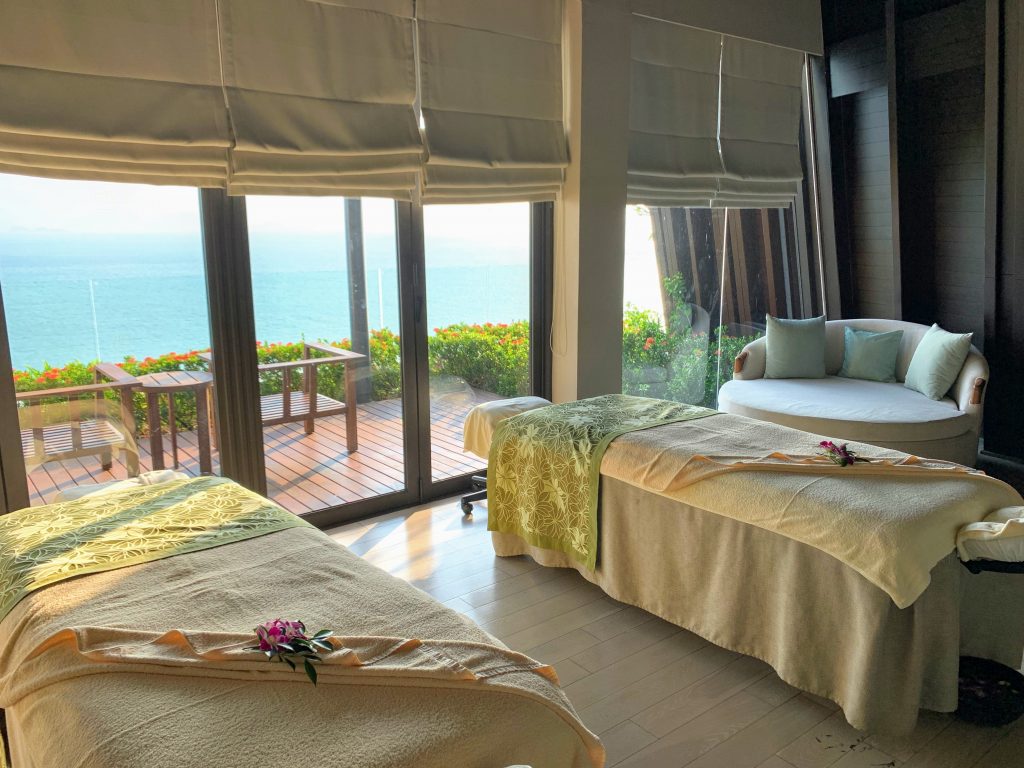 The spa had a lovely serene ambience with views of the sea and a beautiful stairwell with cascading plants and flowing water. I booked a Neck & Shoulder Massage 30 Minute & Foot Recovery Massage 30 Minute before my arrival. The treatment was excellent, and the therapist was lovely too.
Conclusion
This is an expensive hotel, but if you get it on points it can be a real bargain. You could book plenty of time in advance at 80,000 a night and use the five nights for the price of 4 on points if you have Hilton status. If not, then booking during a sale would be the best option as the standard pricing can be well over £500. It is a little isolated here, and personally, I would have rather been somewhere that I could easily go out to eat. If you are happy just to chill out and aren't too fussy about lots of dining options, then this is probably a fantastic place for you to pick.
You can find the latest prices and more information on the Conrad Koh Samui here.