PrivatAir Boeing BBJ lease for BA Club Europe review
So I needed an extra 40 BA tier points quickly to trigger my two Gold Upgrade vouchers for GGL members at 3500TP.  It was short notice so fares were high and my plan didn't include a Saturday night stay.  Amsterdam was available for a reasonable amount.  When booking I also noted that the aircraft operating the 07:15am sector from Gatwick was operated by PrivatAir on their Boeing BBJ with angle flat seats in Club Europe!  Naturally, I had to take a look….
The plane I flew on was a 13-year-old BBJ (Boeing Business Jet) registration D-AWBC.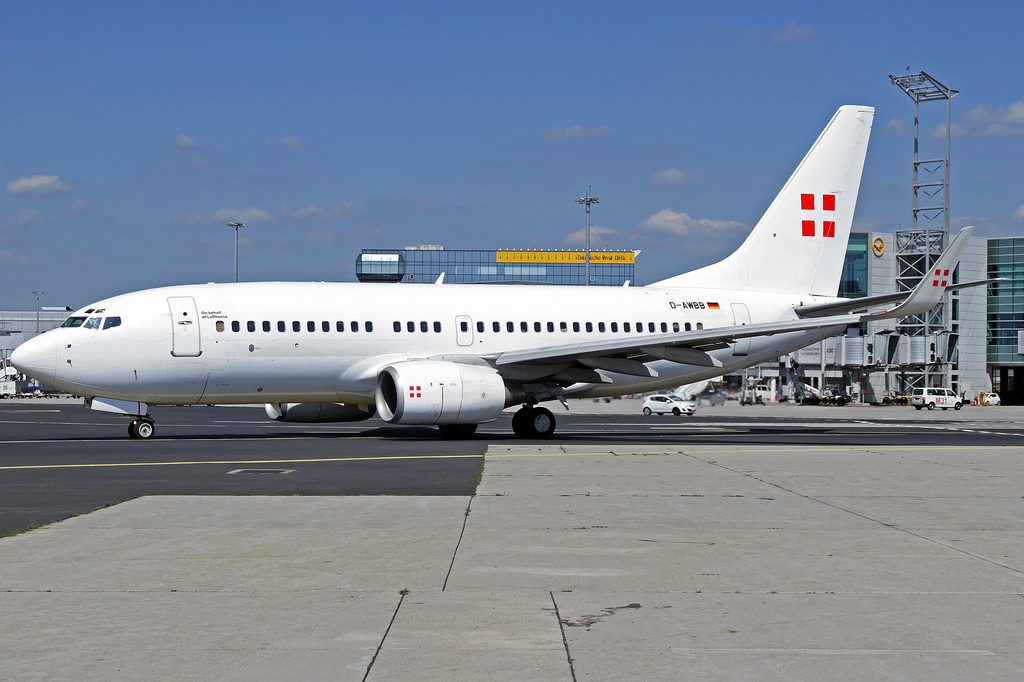 Boarding
I won't focus on the Gatwick lounge as I'm sure you know enough about both by now – needless to say, premium security was a dream and the First lounge decent enough for 40 minutes at 6am! You can read reviews of both the First and Club BA lounges at Gatwick here.
Boarding was the usual Gatwick affair from recent experiences and a scrum headed for the jet bridge!  Thankfully the BBJ has a greatly reduced capacity over usual Airbus aircraft that normally fly this rotation.  This meant I was onboard quickly and there was plenty of overhead space for all.
The Seat
Well, to climb aboard a BA short-haul aircraft and see this –
What can I say?  Wowsers! The Row 1 leg room was ridiculous. I have never seen anything like it – easily 5+ foot!
Not only that but Row 1 also has four windows on each side!  Power sockets were also to be found at each seat.  Now I have read reports of the seat being turned off when flying for BA.  Thankfully my flight was an exception – the seat was on and fully working.  The seat went down to maybe 160 degrees – but when reclined it was very low. Almost to a comical level.  Your back would have been maybe 12 inches from the floor and your feet on it apart from the small footrest!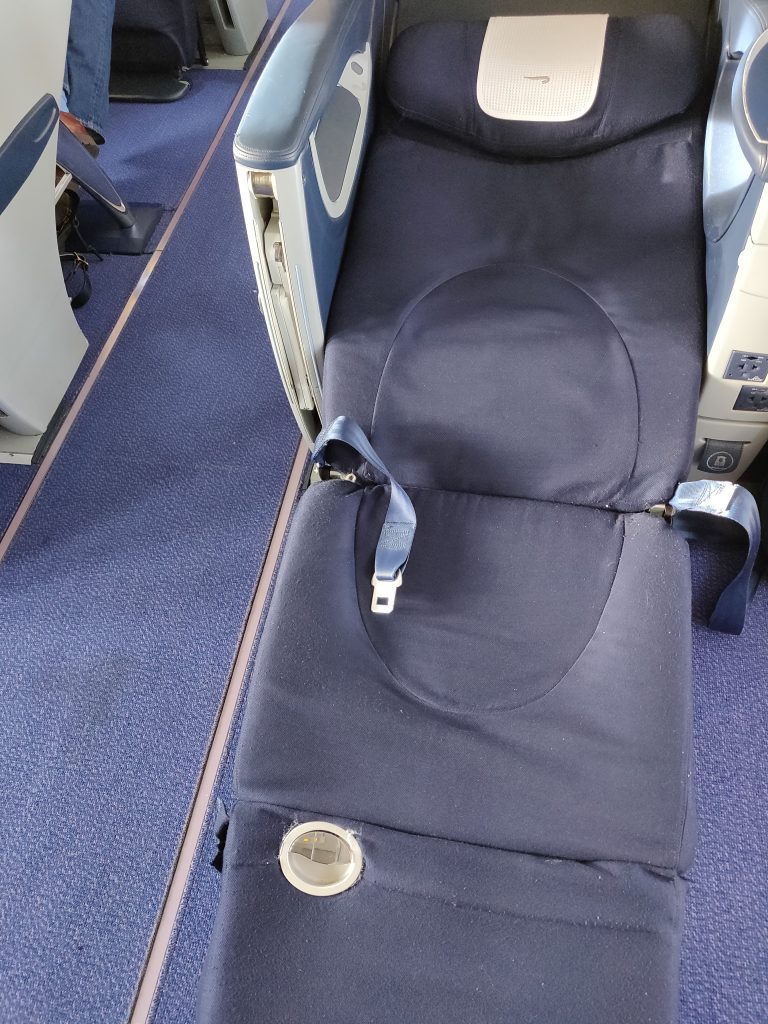 The tray table was large but flimsy.  It also had no lip so drinks and trays were sliding everywhere as we started to descend!  Oh and the opening mechanism – it certainly provided some entertainment for me and my seatmate.
Each seat has your own private reading light too – a nice little touch.  Note also the windows are much lower to the floor than on the normal BA airbus fleet, meaning you had to crane your neck to see out.
Meal and Service
The two crew were polite albeit a little "robotic".  The member serving Club Europe donned an apron for service, and out came the new Band 1 breakfast offerings, oh and a bottle of champagne, because well why not!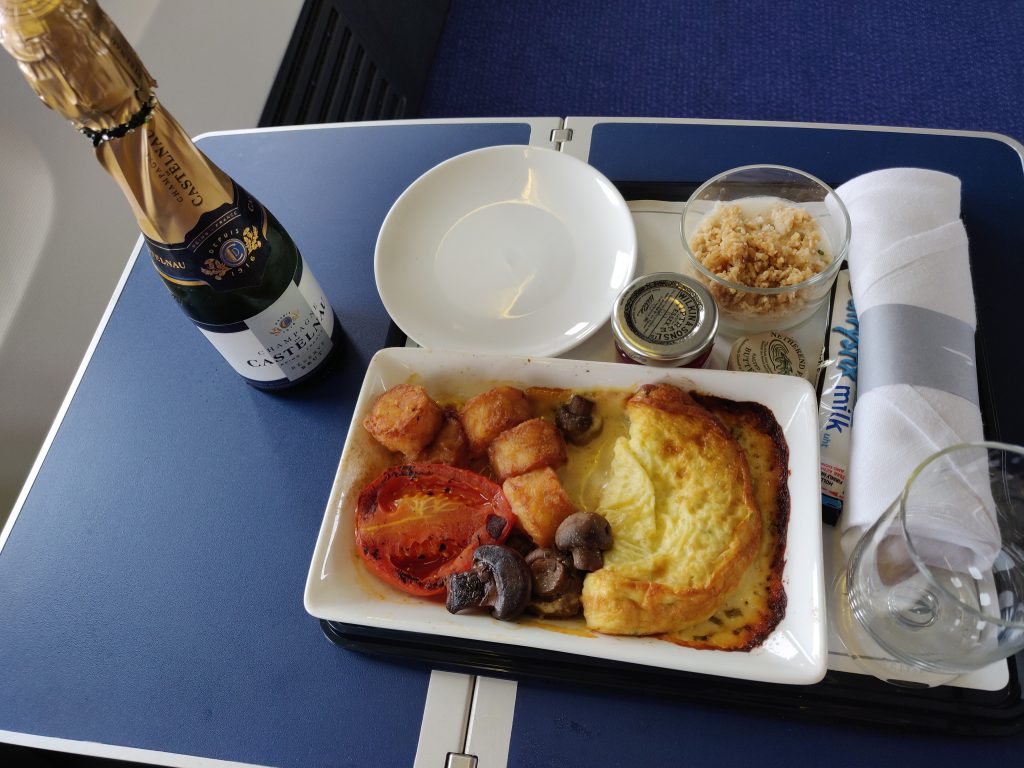 Thanks to my seatmate for letting me snap their meal too. On this flight, there was a choice of a continental meat and cheese plate or a cheese omelette with mushrooms, tomatoes and potatoes. Both came with a tiny portion of sweetened natural yoghurt which had an undiscernable flavour and a rather dull granola topping that was quite soft. I had the continental as trying to force down a piping hot breakfast in about 15 minutes is quite a challenge – one that it looked like my neighbour was defeated by. I found the cold plate a little salty for my taste but otherwise OK.
The flight then began its descent and before you know it we began our twenty-minute taxi.
Conclusion
Well, it was standard Club Europe service on what feels like a private jet at times!  It was definitely a novelty, but if given a choice I would rather take a BA operated plane in future.  I missed the middle table and the generally good BA crew. The new Club Europe food wasn't really any different from the previous breakfasts.
Club Europe meals – your photos and opinions
We asked for your photos of the new Club Europe this week although there will be more photos from Michele's Nice flight later this week for the dinner service. You can see the full list of destinations, bands and meals in this article. 
Thank you to all the readers that supplied photos.
London Gatwick to Seville Band 3 breakfast – reader David
Heathrow to Aberdeen Band 1 dinner – reader N
Celeriac apple salad starter, rare roast beef and parmesan rocket salad on a very delicious herb soft cheese sauce. With passion fruit mousse. New bread selection (not tried) and 2 x Champagnes.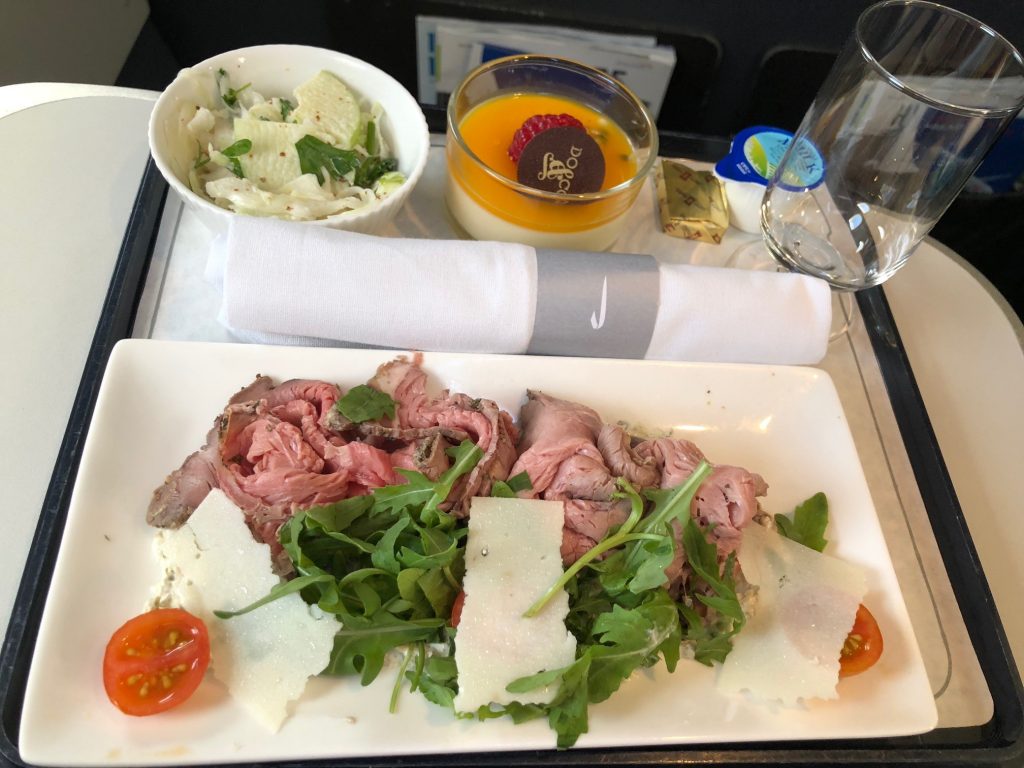 Very tasty, fresh, appealing. Crockery is also upgraded: a stylish less-heavy mug and starter dish with textured ceramic panels. The alternative main course was quinoa.
10/10
Gatwick to Alicante Band 3 – rest of the day – reader Carole
"We flew BA Club to Alicante on the 12th September and we were really impressed with the new food offering. Presentation, quality and quantity and in particular, flavour of the meal was excellent with three choices of the main. My only criticism is that the hot main meal was served at the same time as the starter, desert and cheese. I liked the return to small bottles of wine but disappointed that none of the whites or champagne had been pre-chilled. Fortunately, we had a great crew who put a few into an ice bucket to keep us topped up during the flight."
Heathrow to Madrid Band 3 – rest of the day – reader Graham
"This was the Bangers & Mash. Didn't get a menu. Other choices were Cold Roast Beef Salad and Gnocchi something. Got moved into F cabin, which was a bonus."