BA will soon be retiring the B767s in November this year but I thought for those that have never experienced it or want to reminisce I would include it in this article about the Rome Airport lounge. You may think that the Rome lounge is not of any interest as you are not planning to visit but in fact, if you plan to fly BA anywhere it should be of interest. When BA launched the lounge earlier this year they announced that this will be the blueprint for all future lounges, so it gives us a glimpse of what is to come.
BA Rome Fiumicino lounge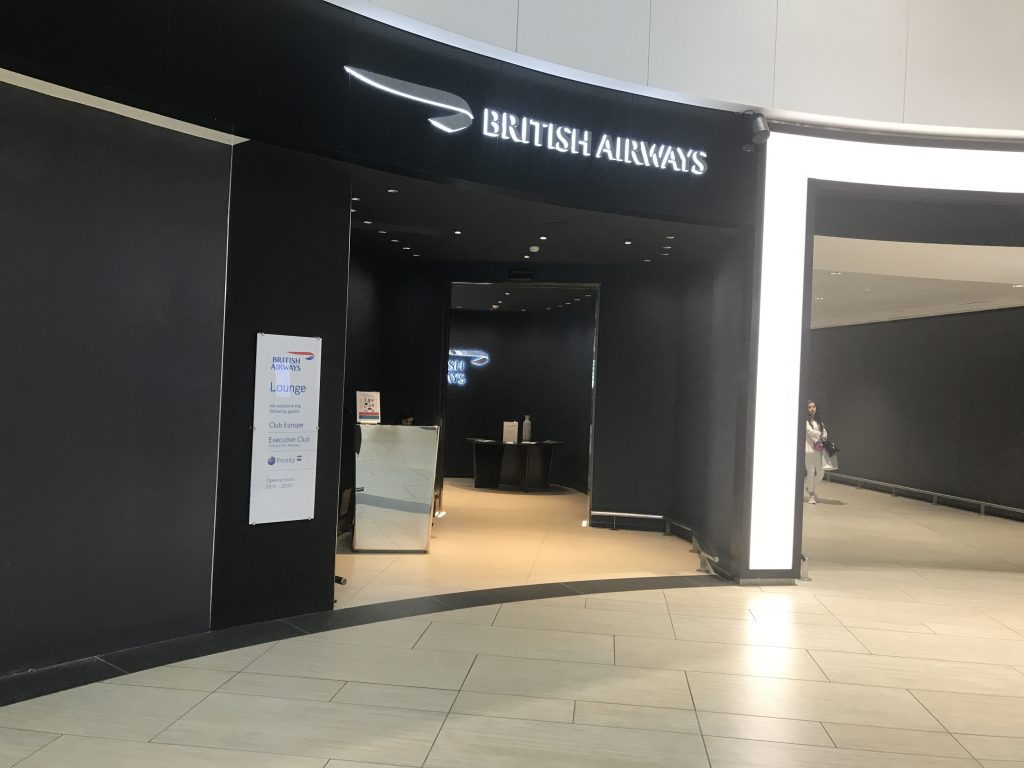 The new lounge is situated upstairs in the main shopping area after security. The woman on the desk was hardly what I would call welcoming and barely said a word. Once inside the lounge felt large and modern. As you walk in the first thing you see is the centre-piece of the lounge, a granite-topped feature bar. The bar is designed to allow you to help yourself at quiet times but when it is busier there is a bartender to make cocktails and drinks.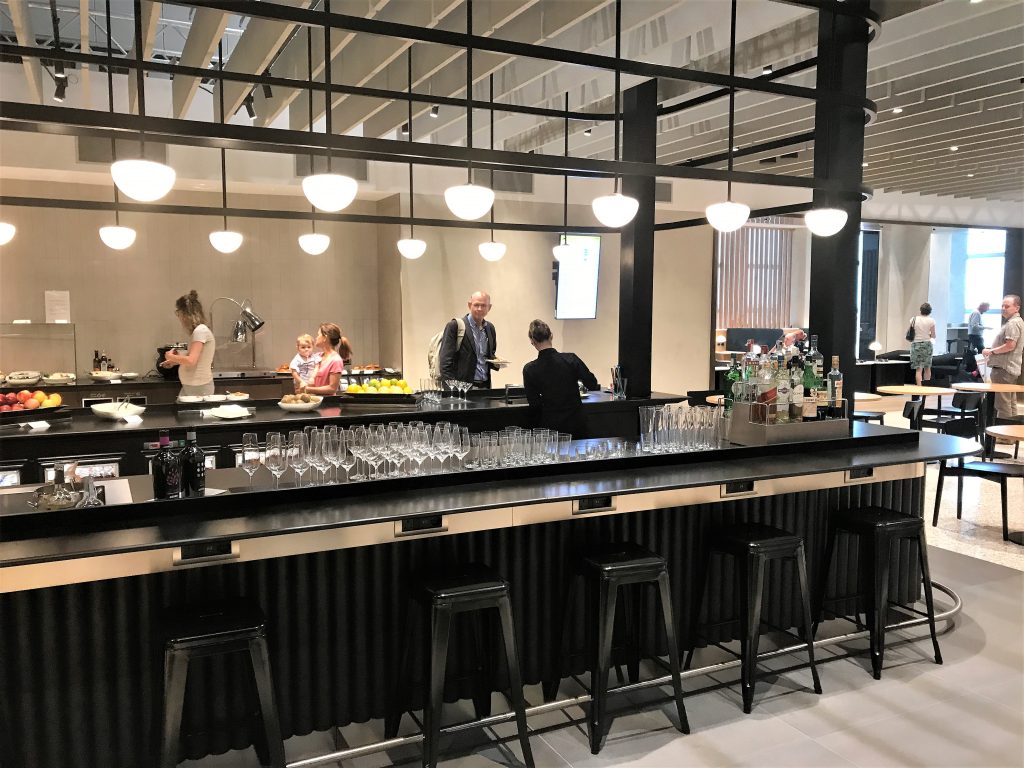 On the bar was a display of the cocktails you could order but I suspect they would probably be able to do a few others as well.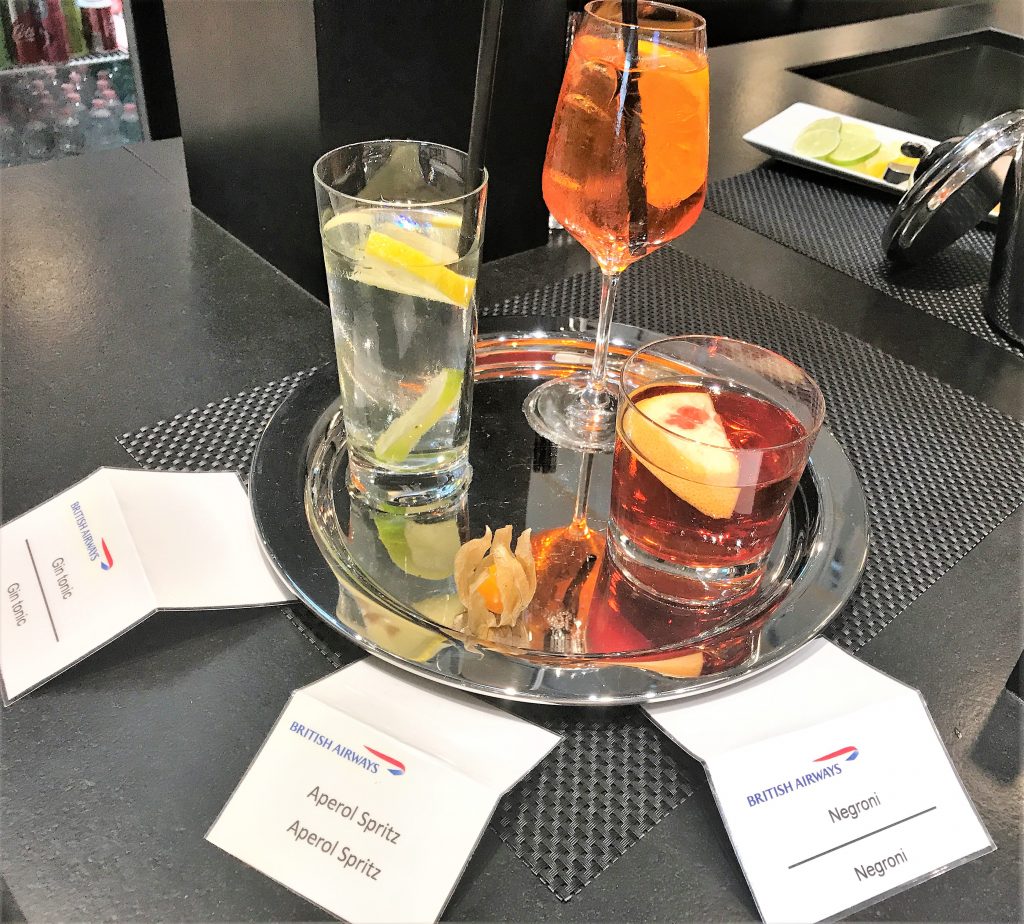 In the interests of research, I decided I should try one of the cocktails and when in Rome… it had to be an Aperol Spritz.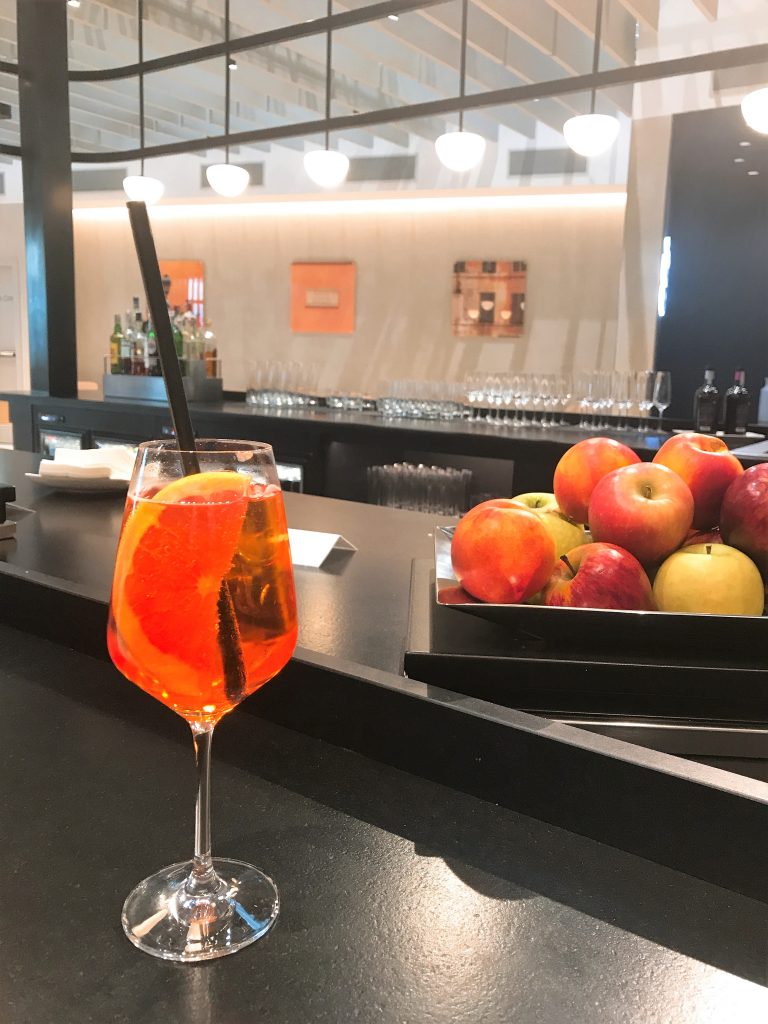 As Aperol spritzs go it was a pretty good one and I thought they did a good job of presenting it nicely too. If you didn't want a cocktail there was a reasonable range of spirits although nowhere near the amount of the London lounges. It was nice to see a few local spirits too.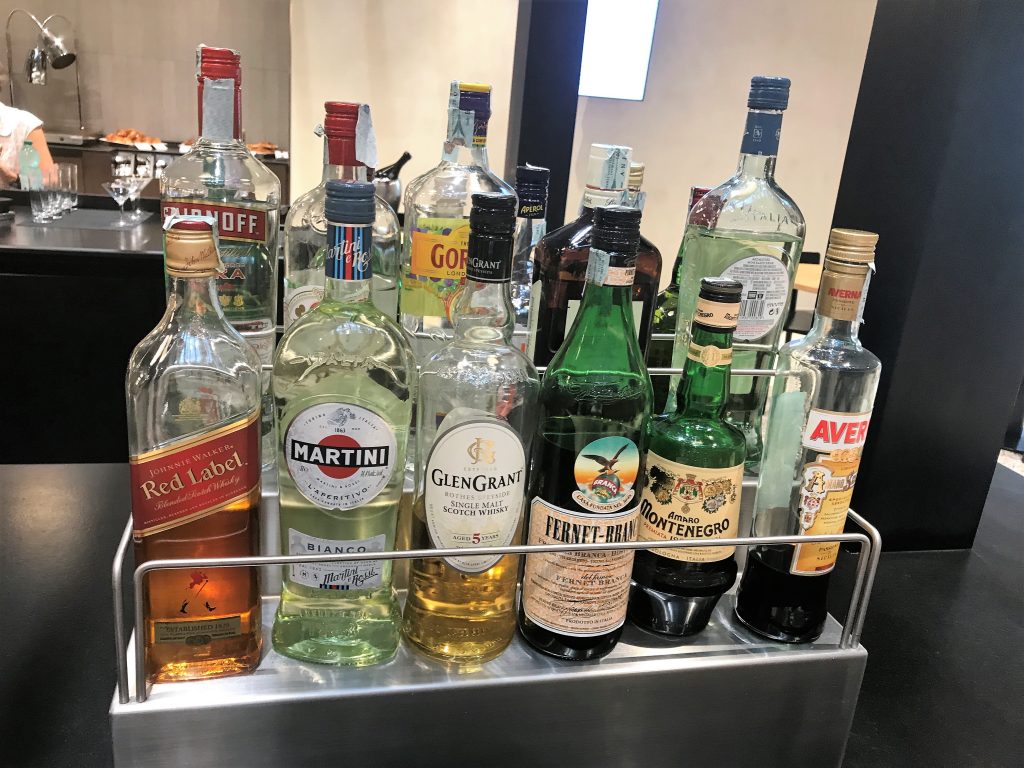 There was no champagne available that I saw but there was a decent Prosecco which being honest I would rather have than bad champagne anyway. There were also some Italian red and white wines as well to help yourself to.
Next to the bar area was a large dining area and the buffet. Although the lounge felt spacious and modern it did feel a little bit clinical and cold to me with the decor.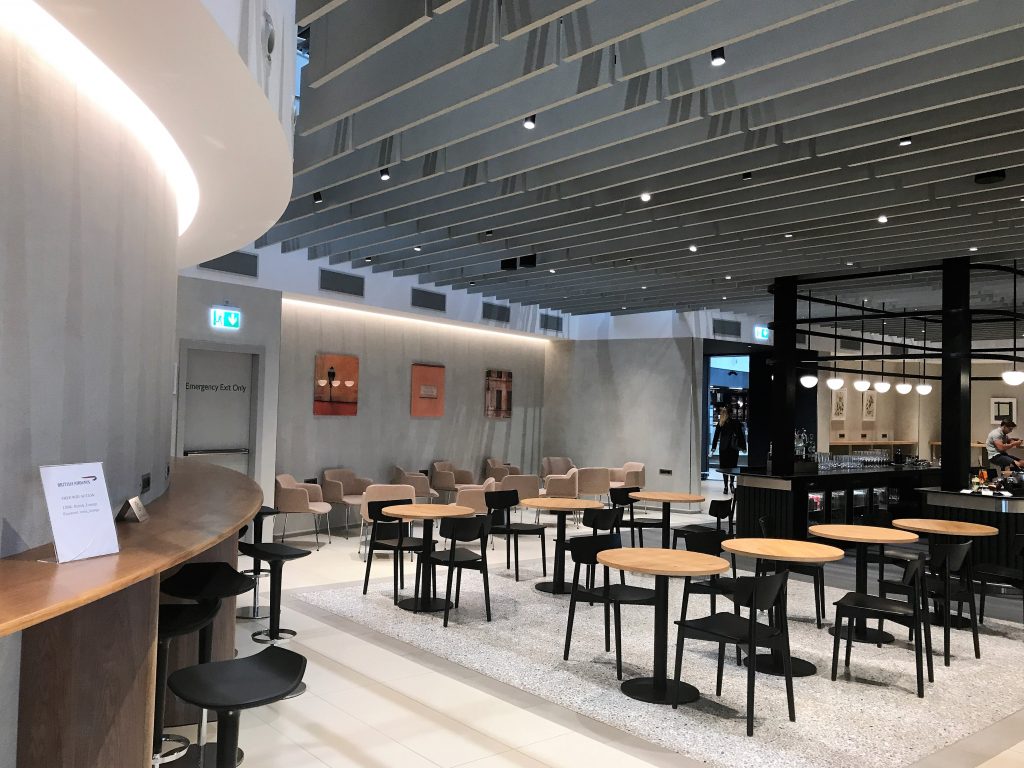 We had arrived quite early for our 5pm flight so when we first arrived there was quite a strange mixture of food out for around 3.30pm including breakfast pastries which I thought was very odd. The salad selection looked OK and there was also soup, filled rolls and biscuits available along with some bar snacks.
Later on they supply hot food but had only just started putting out the desserts for dinner when I last had a look. I did sample a very tasty tiramisu and fruit tart though which were both high quality.
There are two other distinct areas in the lounge – the main seating area and a works space. The workspace had a number of bench seats and a lower table all with powerpoints along with a wireless printer. It was good to see a coffee station with a soft drinks fridge if you just wanted to grab something quickly whilst you were working.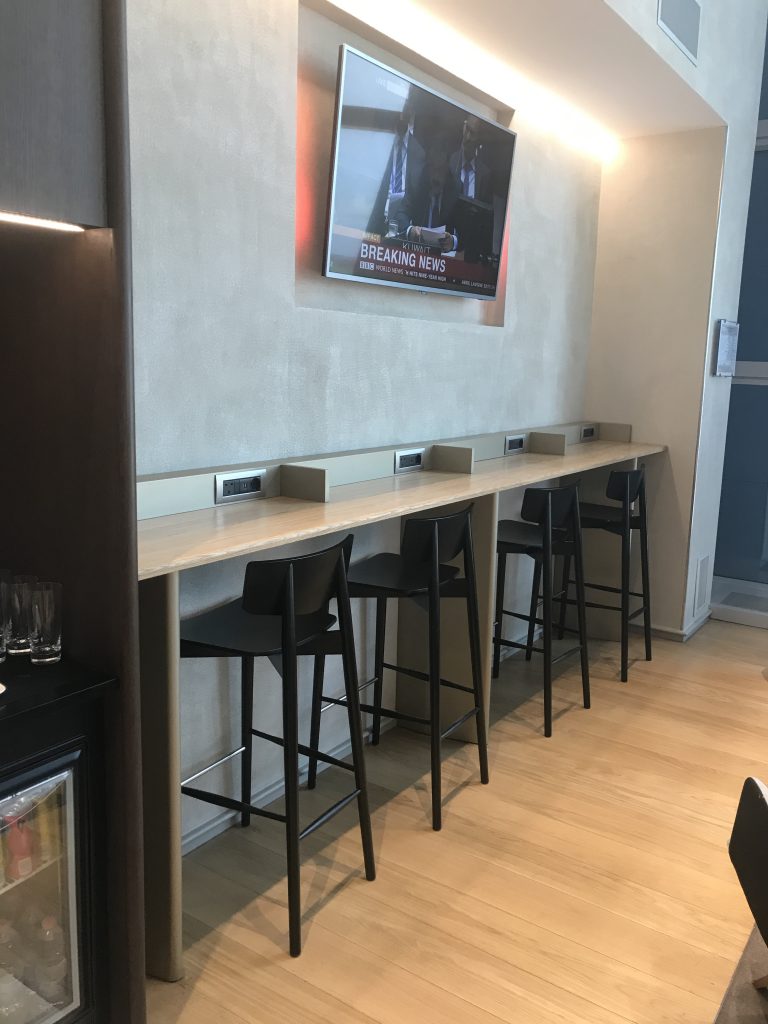 The rest of the lounge had a number of seating options, some which were more private than others. It is a large lounge and despite being fairly busy there were plenty of choices of places to sit. The thing that impressed me most was the fact that every seat had both a socket and two USB ports next to it which was really useful.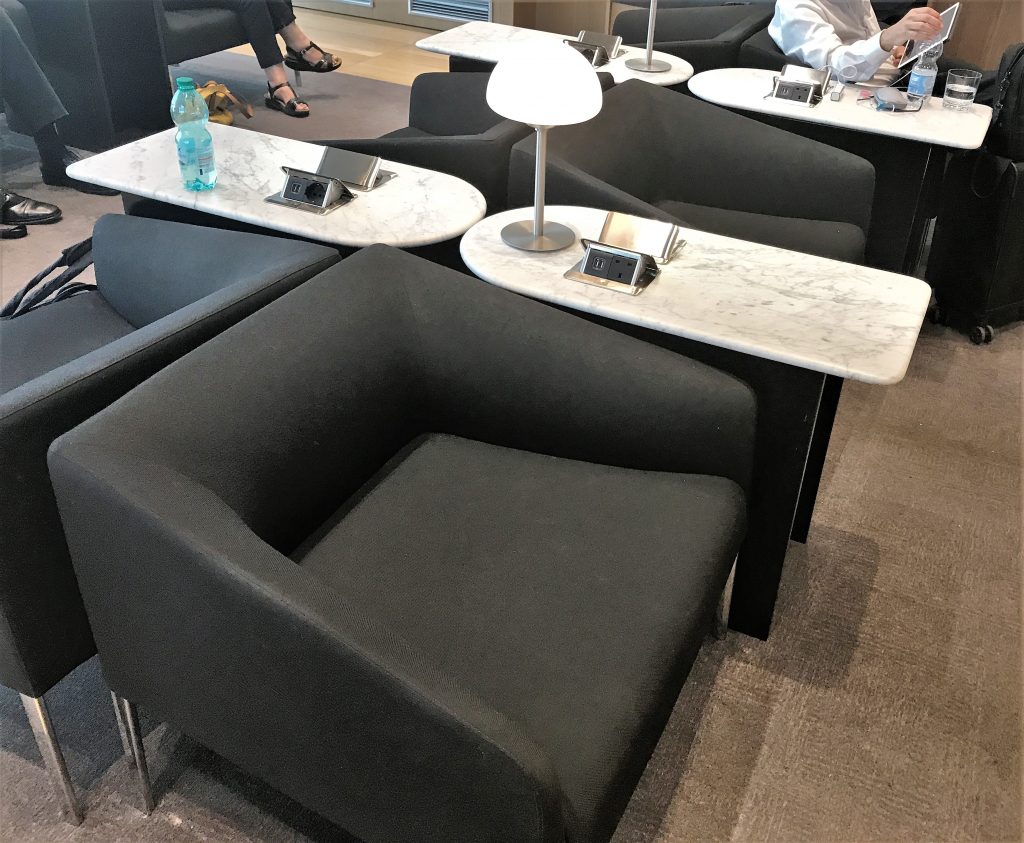 They were also at table level which I must prefer than grovelling around on the floor. It was definitely one of the best-designed lounges in that respect allowing to charge several devices at once at your seat.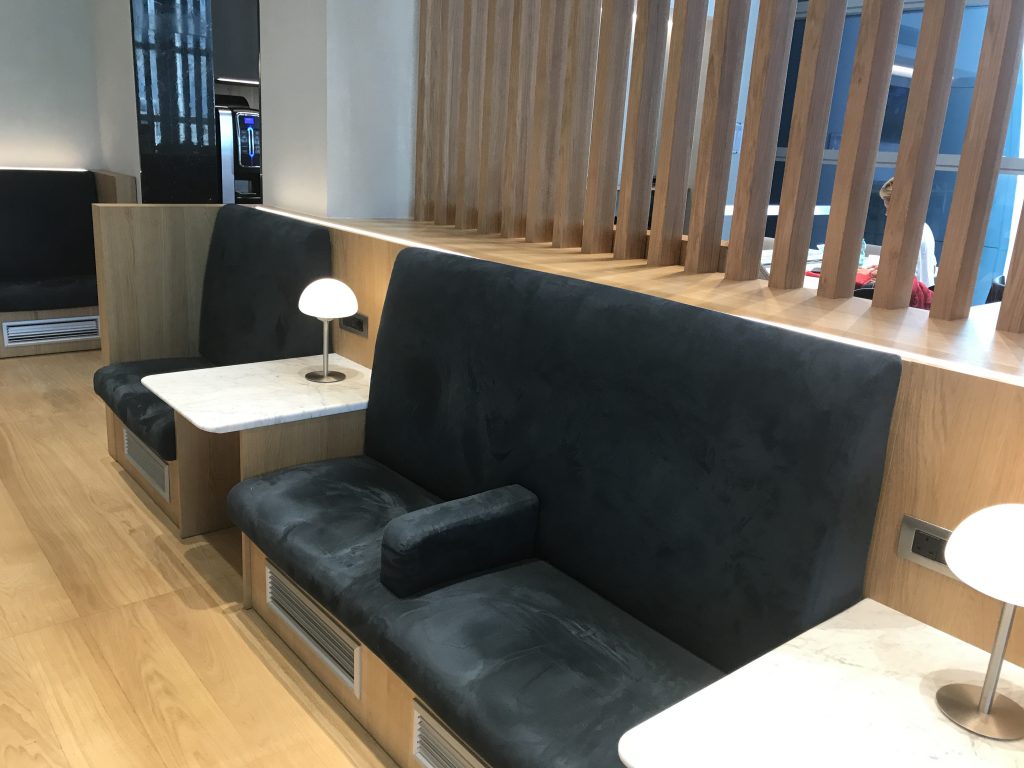 There was a selection of newspapers and magazines with plenty of UK newspapers even if one was The Sun (note the headline – classy as ever).
The lounge also features large windows that allow plenty of natural light and provides good views across the runway. The windows apparently have smart electronic blinds that are programmed with sensors to react to light and heat throughout the day, ensuring that the lounge is always a comfortable temperature.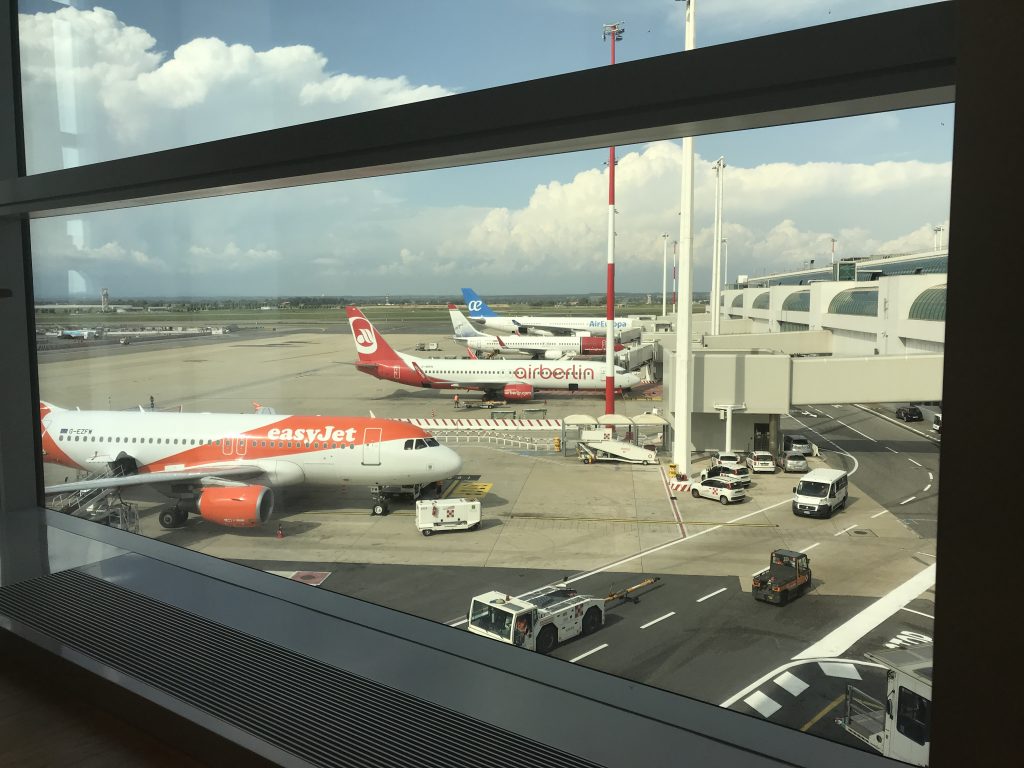 Rather strangely there are no showers or even toilets in the lounge itself which I found annoying having to go outside to use them but there are toilets fairly close by.
The next lounge to be unveiled with the new look will be at New York's JFK Terminal 7, along with improvements being made there to the customer experience at check-in. The first of the new lounges is due to be unveiled in the next couple of weeks.
The flight
The flight did not start well. We were delayed and as they didn't bother to announce anything in the lounge we missed the group 1 call at the gate. However, it wouldn't have mattered as we ended up queued on the air bridge for about 10 minutes which always really annoys me. Why start boarding if you aren't goimg to let people on the plane. Nobody wants to start a flight queuing in a hot stuffy corridor.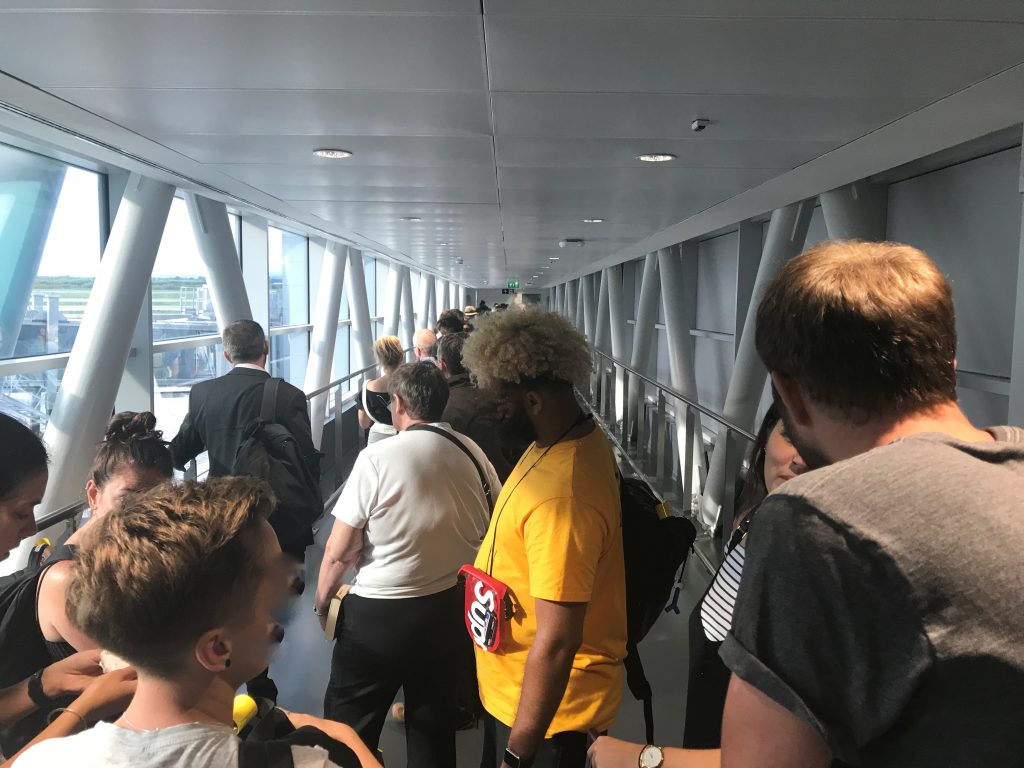 This was my first and last time on a B767 British Airways Club Europe service. I can't say I was impressed at all by pretty much any aspect of this journey although it wasn't helped by the fact this was about the 4th time I had had the same menu recently.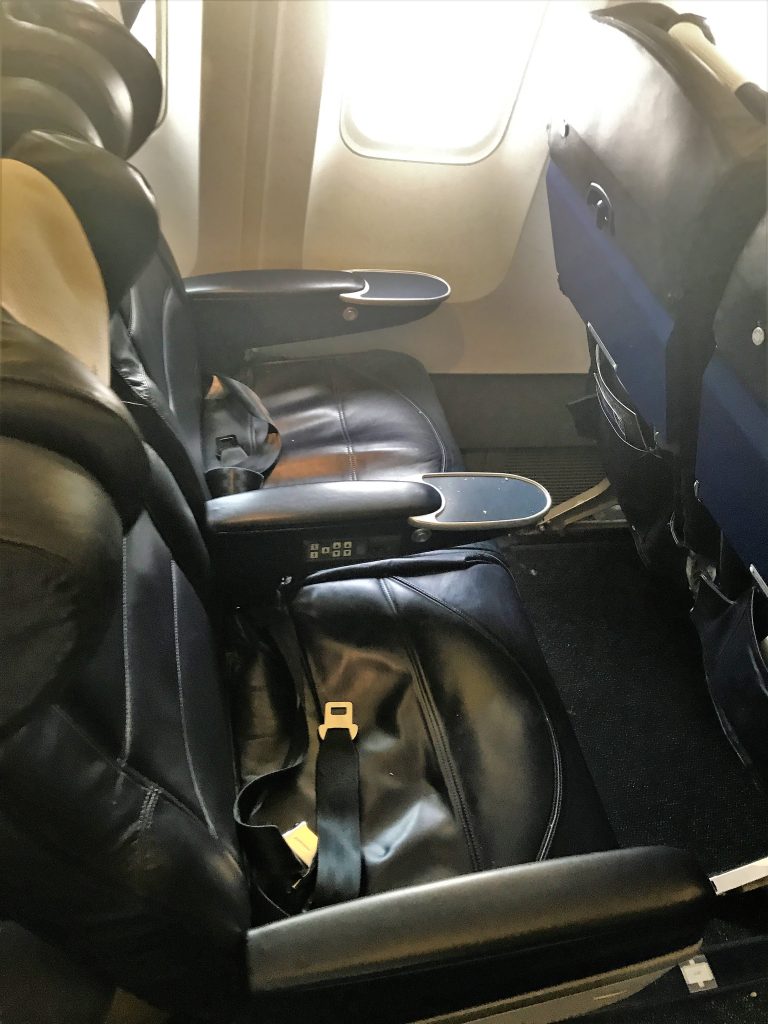 For some unknown reason I had booked row 5 A and C and when I looked at online check-in there was nothing better. If you are travelling solo or aren't bothered about having a window seat the middle two seats would be better as they have more room between them with the mini seat in the middle separating them. The window seats do not have a spare middle seat between them and the only enhancement over a Euro Traveller seat is the tray for a drink on the armrest.
The seats were pretty dirty particularly the tray table so when offered a hot towel I used it to give the area a thorough wipe down. The leg room did not feel as bad as Club Europe on the more modern aircraft but it still felt cramped through my knees were nowhere near the seat in front until the man in front decided to recline for the whole flight from the minute we took off. In general, the cabin felt old and depressing. Fortunately it only has a couple of months left in service.
After take off the crew took a long time to come round with any food or drink after take off but we were at least given a menu.
Here is the menu and drinks list:
Though I was not happy to see the same menu yet again. Rome is a long route so we should have had a drinks round with nuts and then the starter before the main course as this was before the change on the 12 September. Instead, I could see the crew chatting in the galley for ages and then we got everything together including a drink and your main course meaning it was a very crowded seat back tray table even though they are a decent size on the B767.
I couldn't face the beetroot and goats cheese starter again as it is a bit dull at the best of times but it looks like this: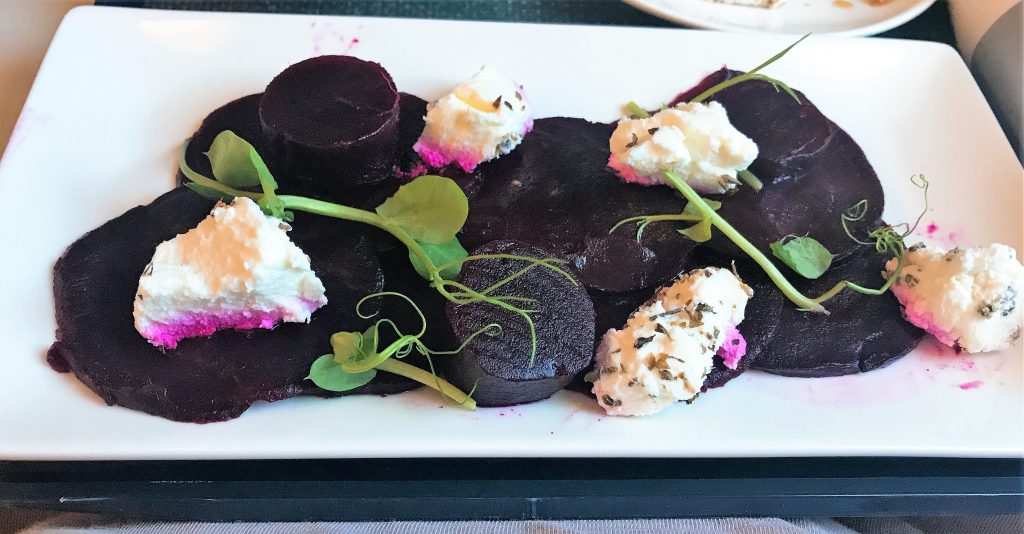 For me, there is too much bland beetroot with no dressing on although the goat's cheese is quite tasty with the herbs.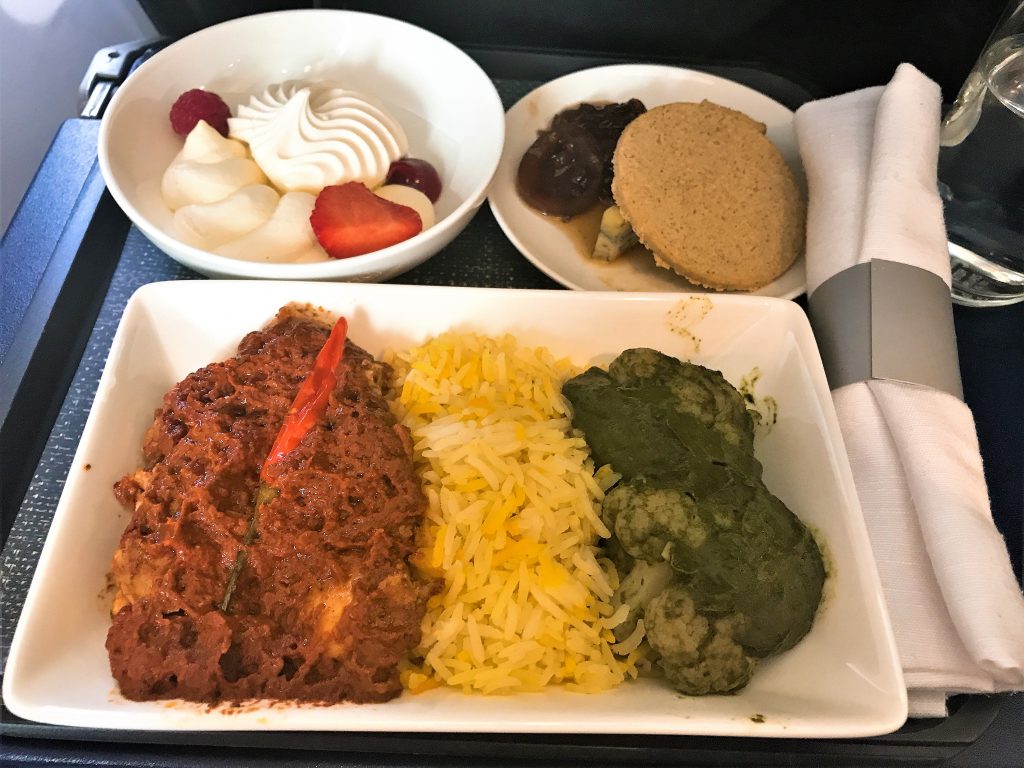 I chose the curry as my main course although I have also tried the fish pie and that was tasty although a bit too smoky flavoured for me. The curry was very tasty although it could have perhaps done with more sauce. It was definitely a filling portion and more than adequate for me.
Fortunately, the dessert and cheese are two of my favourites. The meringue dessert is light although I would rather have more fruit and not have the jam-like substance on the side. The cheese is a decent Cropwell Bishop Stilton with a nice punchy sweet onion chutney to balance the saltiness. As usual, the solitary biscuit was soggy.
To drink I decided to forgo the tiny glass of Castelnau as judging by the speed the crew were moving at I would be lucky to get more than one. Instead, I went for the safe bet of a Tanqueray and Fever Tree tonic which went down nicely.
After that, I thought I would try a glass of red wine. There is meant to be two large bottles of red and white to choose from but on this flight there was only one. As expected it was extremely average (I think it was a Spanish Merlot) so I am pleased to see that the new Club Europe menus feature better-sounding wines.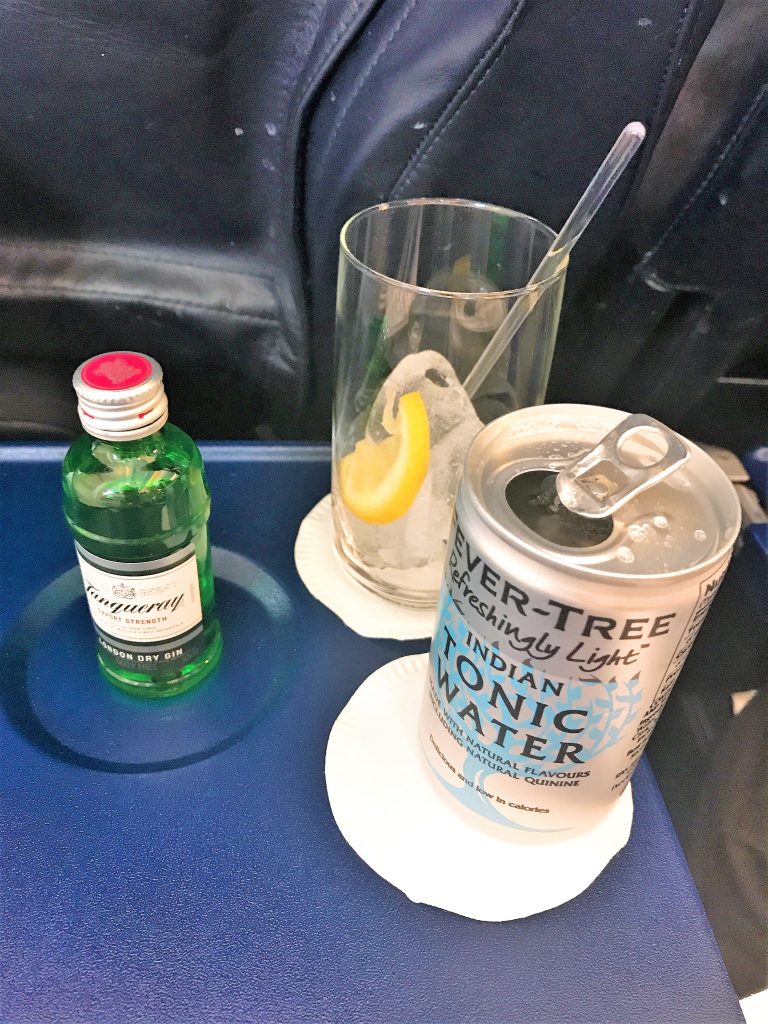 Conclusion
This was probably one of my least favourite Club Europe trips I have done from the old dirty plane and tedious boarding to the rather lacking onboard service it didn't show BA at its best. I can at least say that the food was tasty even though I was more than a little board by this menu but this should change with the bi-monthly rotations of menus at Heathrow from next week. Fortunately, I have also had some great Club Europe flights recently.
However, I did enjoy the Rome lounge. I liked that the food and drinks reflected the location and that there were so many power points and USBs easily available. The lounge may not have had the most exciting decor but it was modern and bright so I would be happy with this as a blueprint for other lounges.