Buy Avios bonus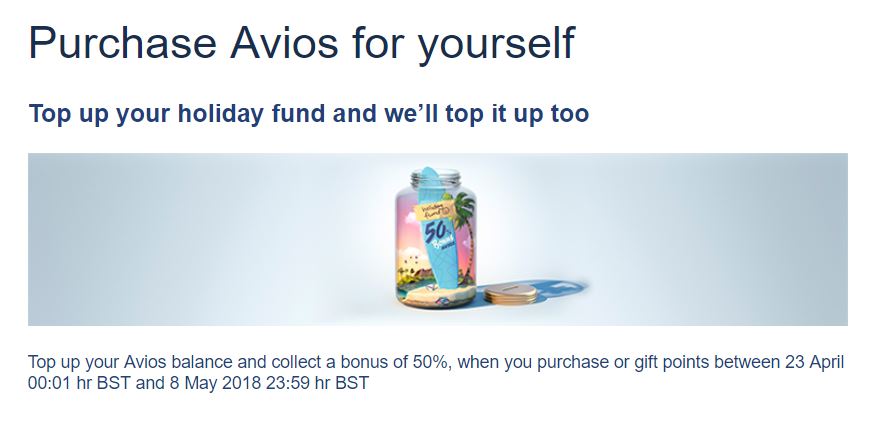 If you have been wanting to book a reward flight with your Avios but are a bit short it may be worth considering topping up your Avios now as BA have a new 50% bonus on purchases. You can now buy a total of up to 300,000 Avios too – 200,000 +100,000 bonus for £3,215.  So is it worth buying that many to use for a flight?
Let's look at a 2-4-1 BA Amex voucher for 2 First class tickets to the West Coast of the USA. Firstly, this would cost 170,000 Avios. It would also cost you about an extra £1200 in taxes for 2. Add in the £2015 to buy the miles, divide by 2 and it works out around £1607 each for a first class ticket. In this instance, it seems like good value as I have very occasionally seen New York around £1800 in First class during a sale and the odd ex EU at about £2400 First to the West Coast. If you look at it in terms of value, you have paid a reasonable price, although you wouldn't get any miles on your flights.  At least you would get some on the BA.com spend though if you used your BA Amex!
The other issue to bear in mind is that First availability for 2 seats is often very tricky to get so you could get stuck with the Avios unless you are very flexible on dates and/or destinations. The miles you buy can be used instantly though so once you found something you could buy them and hopefully your seats would still be available but of course, there is never a guarantee.
You must buy them by 8 May to get the bonus – here is the page you need on BA.com
Alex Cruz interview at Routes online
Alex Cruz, CEO and Chairman of BA gave an interview to John Strickland, an aviation analyst, during the Routes Europe conference in Bilbao this week. This is a summary of the things he revealed. Very little was new but there were a few hints of things to come.
Improving punctuality is still high on the list even after a 6% improvement in 2017. They now measure punctuality from 5 minutes before departure time. Alex revealed that they plan to improve even more by investing in technology such as the automated pushback and passenger boarding.
With regard to the refurbished B747s, he indicated that those that will not get refurbished should be phased out service by early 2019 which is good to hear. The older aircraft have a huge impact on customer satisfaction scores when they are not refurbished unsurprisingly.
Club World and premium services
Alex admitted they felt under pressure to deliver beyond their competitors offering in business class. He also admitted that they had work to do and that they had fallen behind in leading the way with business class. He felt that BA were making inroads with the new Club World food and bedding but that they were only around 1⁄5 or 2⁄5 through the work needed in their 5-year business plan. Other improvements he mentioned were the First Wing and the new First class luggage retrieval. On JFK and now Los Angeles flights there is a cordoned off area at Heathrow where BA staff retrieve First customers bags and hand them to them.
Alex talked about the new Club World service and said that they were pleased with the food offering but BA are still working on the delivery. This is crucial for me as currently, some crews seem to be making it up as they go along since the designed service standard is way too slow. As a customer I want the service to be consistent so this is something I think Alex should prioritise. For me, the new service loses its effect if it is inconsistent or not workable for the crew.
John asked Alex how they will improve the Club World seats but still keep the volume of seats to keep prices the same. This was the most interesting part of the interview for me. Alex hinted that they would not be keeping the same layout as now by mentioning about the excess of First capacity that exists on many routes. Perhaps they will reduce down to 8 seats as they have on the B787 instead of the current 12-14 on the rest of the fleet?
This is very interesting as the designs that have been mentioned in previous rumours all seemed to suggest that the layout would stay as 2-4-2 but this looks like it could be good news, Alex said they were focussing on delivering 11 key needs for customers with the design which included improving space, privacy, storage, all aisle access and gate to gate IFE.
Club Europe and buy on board
For those of us who have been unimpressed with the changed short and medium route Club Europe catering (my "salad" of 3 prawns cut in half being the prime example), it sounds like improvement is on the way. Alex had previously said they would change Club Europe catering this year but in this interview, he specifically said that before the end of the year they will improve Club Europe catering to make it more premium. I actually think that the long route catering is very good and an improvement on previous catering so I hope they don't change this – apart from maybe the annoyingly shaped trays!
Alex admitted that there had been some teething issues with buy on board but that he expected customer satisfaction to be nearly the same as just before BOB by mid-2018 as they shorted out the issue with onboard delivery and stock levels. He also hinted that there were further improvements to come that had not been seen on other airlines such as pre-ordering and more for status members. (They are already trialling free drinks for status members on Geneva flights).
First
John asked Alex if he thought the First market was worth investing in and how many markets were still viable?  Alex thought that there were still many viable markets but BA had too many First seats overall. They are committed to First, however, but only where the market can support it. Alex already said in a previous interview with John that they will need to invest in the First product as they start to introduce the new Club seats. There are already rumours circulating of a new ultra-premium First in the future from BA.
Gatwick's future
Alex said that they had initially chosen routes based on feasibility for this summer after the unexpected purchase of Monarch's slots when it ceased trading. In the future BA have ambitions for more long-haul routes from Gatwick but need to acquire enough aircraft to be able to deliver this.
Cheap Club Europe to Spain when you book on Iberia
If you want some cheap tier points or fancy a Spanish break then there are some good value Club Europe fares to Spain when you book them via Iberia. The fares are as follows
Barcelona £180
Madrid £316
Bilbao £238
Valencia £209
Alicante £200
Murcia £249
Malaga £200
Seville £226
Palma £208
Mahon £225
You must book these on Iberia and there is a minimum stay of 2 nights. The fares are available 20 March – 14 July and 30 August –  6 November 2018.
Thanks to my friend C for the tip-off!
New coffee for Britsh Airways
British Airways is partnering with British speciality roaster, Union Hand-Roasted Coffee, to provide customers with a new coffee in the air and on the ground.   The airline will be serving the UK based company's hand-roasted coffee in all of its UK lounges and to those travelling in First and Club World cabins, from 31 May 2018.  Together with British Airways, Union has developed an exclusive blend from Peru that works well in the air.   First customers will have a wide range of Union coffee options onboard, including latte, cappuccino, filter coffee and espresso. Club World customers can enjoy premium filter coffee.