Earlier this year I went to New Zealand with Roving Reporter. This was my third visit and his first. I have always loved New Zealand but Roving Reporter was so enamoured with it he started thinking about living there! This article looks at the places and things to do that make it one for everyone's bucket list!
Wine tasting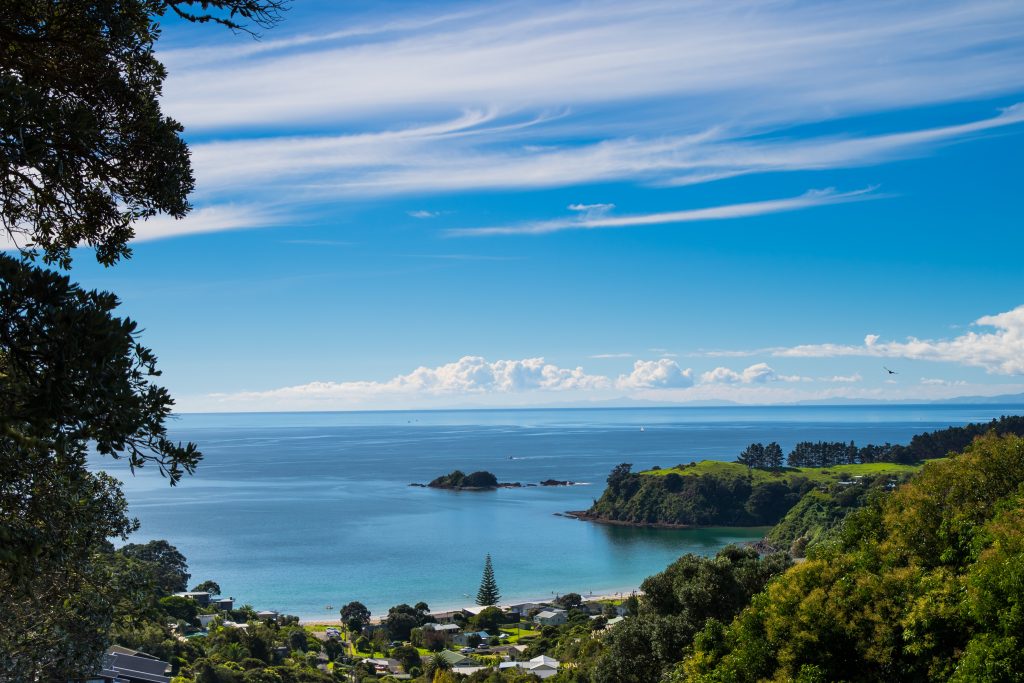 Even though I am not a huge fan of New Zealand Sauvignon blanc, it is still one of my favourite places to go wine tasting. The 3 main areas I have visited and would recommend are: Nelson, Marlborough and Waiheke Island. There are also many other regions such as Central Otago near Queenstown and Hawkes Bay on the North island.
Waiheke is an easy place to visit from Auckland as you can get a ferry direct in around 35 minutes to the island. Not only does it have some great red wines, it's also a beautiful island with lovely white sand beaches. I recommend doing a private tour with lunch at a seaside location. We used Ananda tours to do this and I would definitely recommend them. Waiheke is known for its Bordeaux style reds as well as Chardonnay. There are also plenty of boutique hotels to stay on the island such as the well regarded Boat Shed. Our favourites included Mud Brick for its beautiful setting and gardens, Obsidian for its high quality wines and Kennedy Point for its wine and location.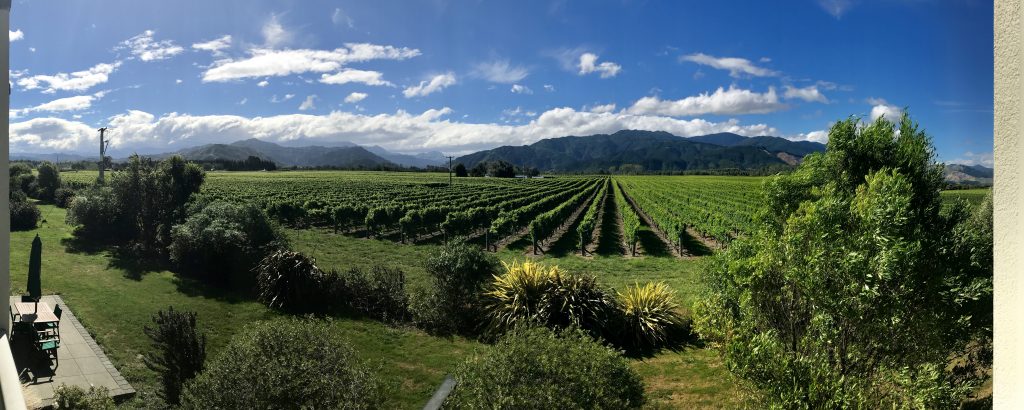 Marlborough is a great place for wine tasting due to its plethora of vineyards and variety of wines. The scenery around it is also spectacular as are the Marlborough Sounds which can be visited on a cruise from nearby Havelock. As well as the ubiquitous Sauvignon blanc we had great Pinot Gris, Pinot Noir, Syrah and sparkling wines too. We used Bubbly Grape tours for a private tour who were fantastic and we had a fun day with lunch at a lovely vineyard too.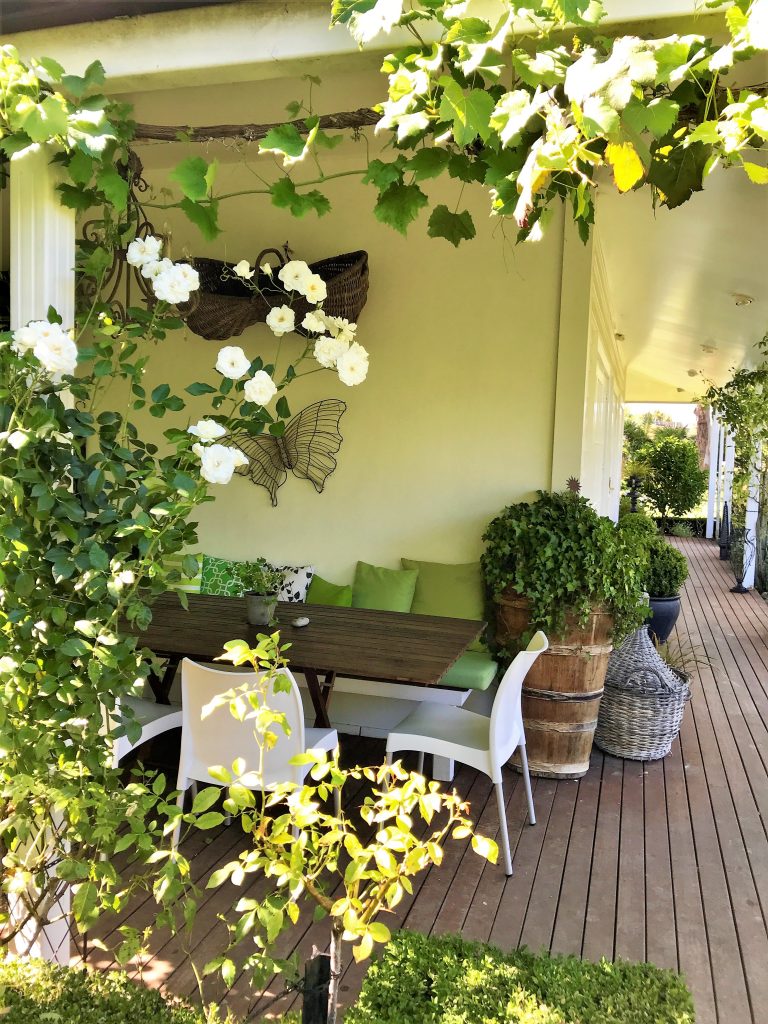 Some of our favourite vineyards include Seresin with great views and their own olive oil, Bladen a boutique winery wtih a fun atmosphere and of course Cloudy Bay – one of Roving Reporter's favourite wines.
Nelson is at the top of the South Island and one of the sunniest places in New Zealand. Nelson is the oldest city on the South Island and the second-oldest city in New Zealand. Nelson produces Pinot Noir, Chardonnay and Sauvignon Blanc in mainly boutique wineries. I recommend Seifried and Neudorf vineyards.
Geothermal sights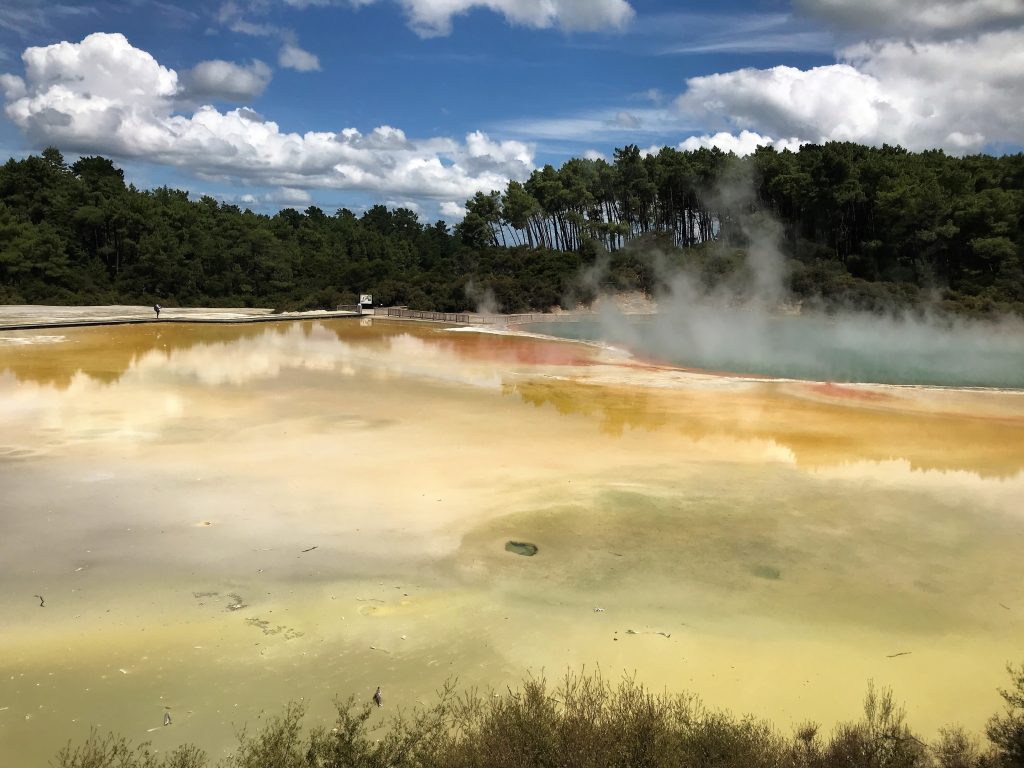 Even though the downside of New Zealand's geothermal activity is the devastating earthquakes that they have suffered around Christchurch, it has also given them a wealth of natural and slightly freaky looking geothermal landscapes. One of my favourites is the Wai-O-Tapu Thermal Wonderland near Rotorua on the North Island. This is host to the Lady Knox geyser which erupts every morning at the same time, bubbling mud pools and plenty of weird and wonderful steaming pools of water that look like something from a science fiction film!
If you visit Rotorua, you may like to consider staying in Lake Taupo instead. This is only around 40 minutes from Wai-o-Tapu and doesn't have the sulphur smells that you get around Rotorua. There is also a huge lake and the beautiful turquoise waters of the Huka Falls just outside it. In these areas, there are numerous hot springs pools that you can soak in after a hard day's sightseeing.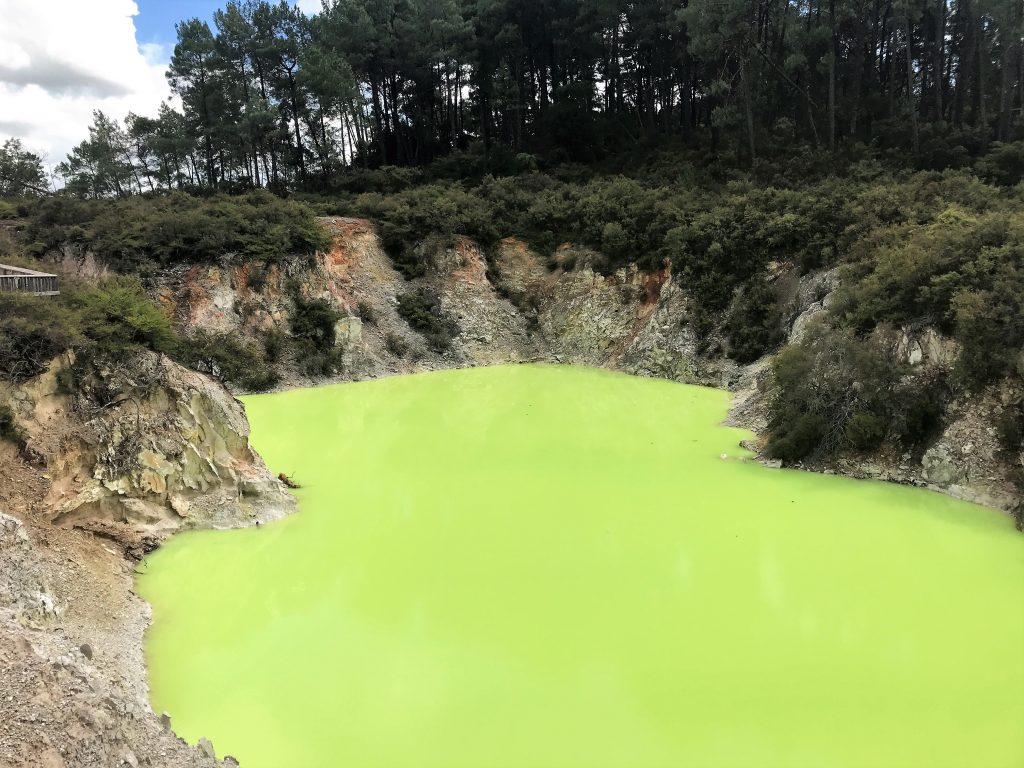 Stunning drives and scenery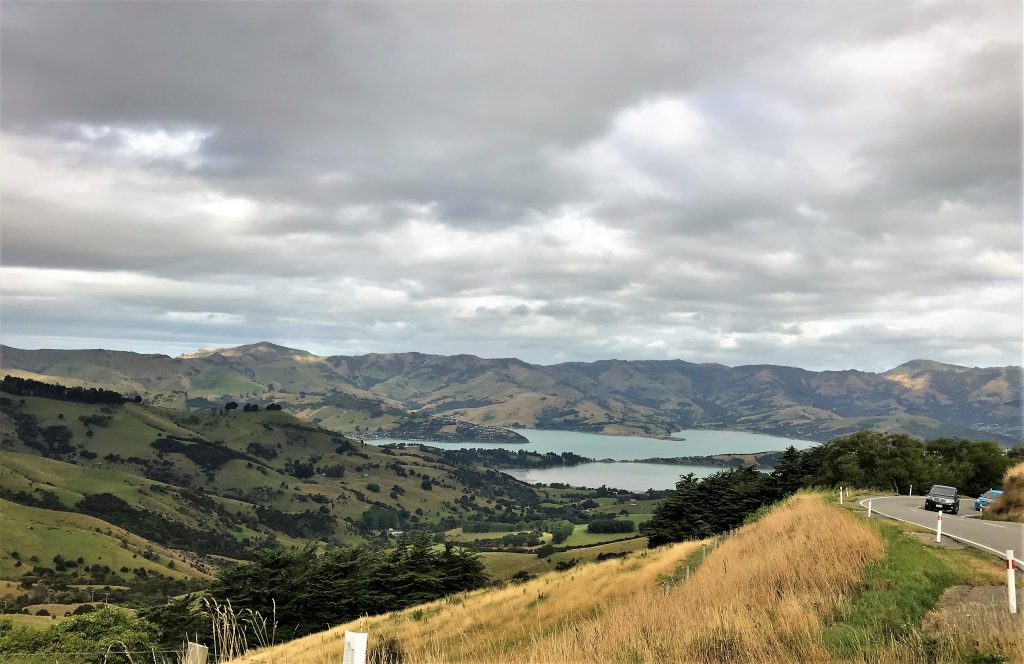 Although it can be tempting to fly around New Zealand as it is pretty cheap, you would be missing out on some of the most beautiful scenery so I recommend building in a few drives as well. My suggestions for drives are as follows:
Akaroa to Christchurch. Since the terrible earthquake a few years ago Christchurch is still rebuilding and I would recommend considering staying in Akaroa instead. If you don't fancy that, Akaroa is about an hours drive from Christchurch and well worth the windy journey. Akaroa was a French settlement and still retains a lot of this influence. It is a small town around a scenic bay with lots of pretty boutique shops and restaurants. Grab yourself some fish and chips and sit by the bay to enjoy the view.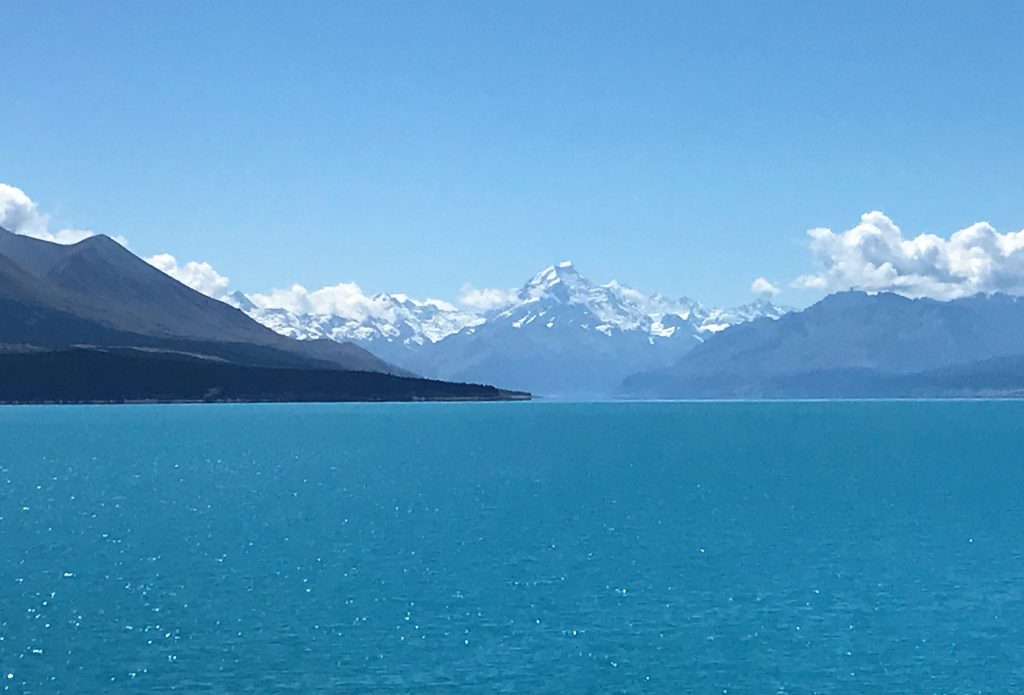 Christchurch or Akaroa to Queenstown. This is a full day drive and I would allow around 8 hours to allow for stops for sightseeing and lunch. Places worth stopping include Lake Tekapo, Geraldine for a coffee, lunch or supplies and Lake Pukaki.
Queenstown to Glenorchy. Even if you are not going to stay at Blanket Bay it is well worth taking a drive to the tiny village of Glenorchy as the views along the way are the most stunning around Queenstown.
Also worth a visit but I would avoid the drive, is the Milford Sound which I would recommend doing by helicopter or light aircraft and then taking a cruise.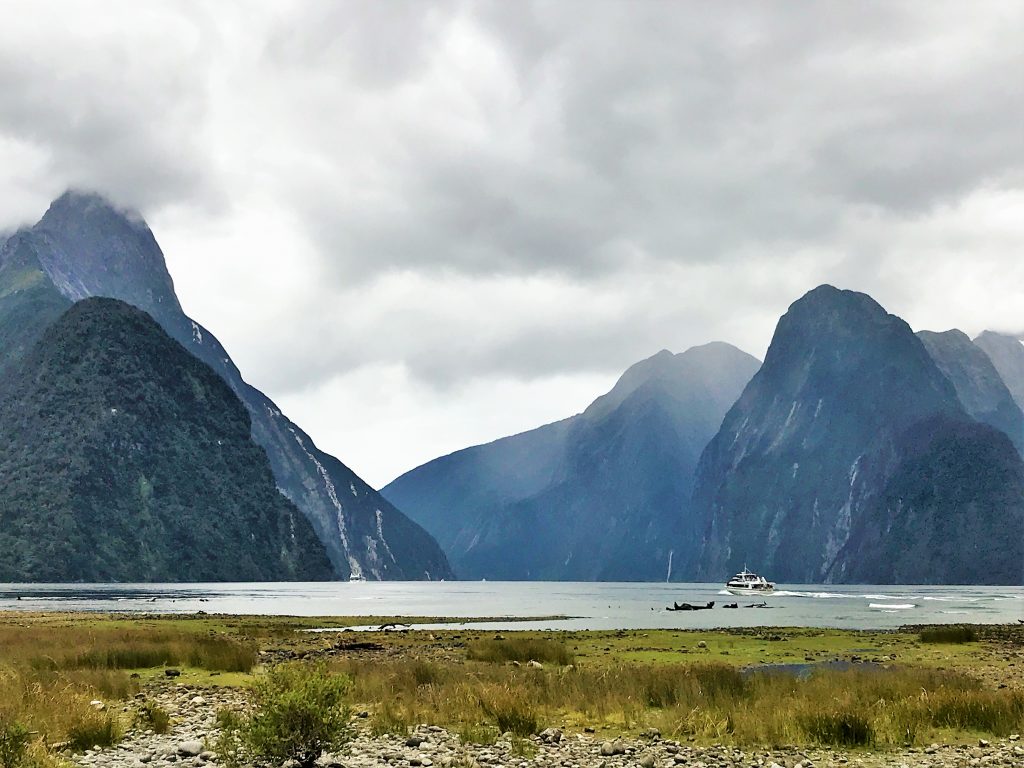 Thrill-seeking

Whether you are the adventurous type that wants to go bungy jumpy or someone who rather do a less terrifying jet boat ride there are so many amazing options in New Zealand. The top place to do extreme activities is definitely Queenstown. My favourite thrill ride is the Shotover jet near Queenstown. I have done lots of jet boats in my time but none as white-knuckle as this one. The boats skims over shallow waters at high speed, missing jutting out boulders with cm to spare as well as performing 360° turns. If you are into jet boats there is also one at Huka Falls on the North Island and Dart River jet boat near Glenorchy.
You may also want to consider a helicopter tour out to the Milford Sound which some include a glacier landing with. Otherwise, it is a torturous 4-hour coach journey each way! Other trips to consider are hiking and kayaking at Able Tasman National Park and throwing yourself off the SkyTower in Auckland (or walking around the outside for the less daring).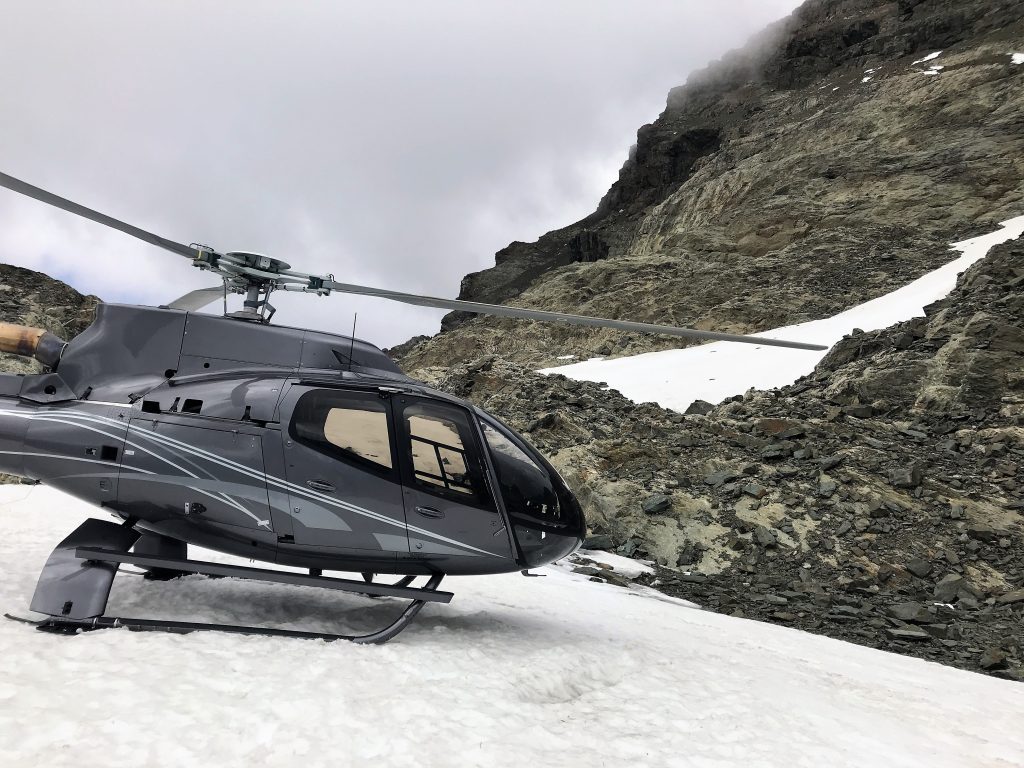 Delicious food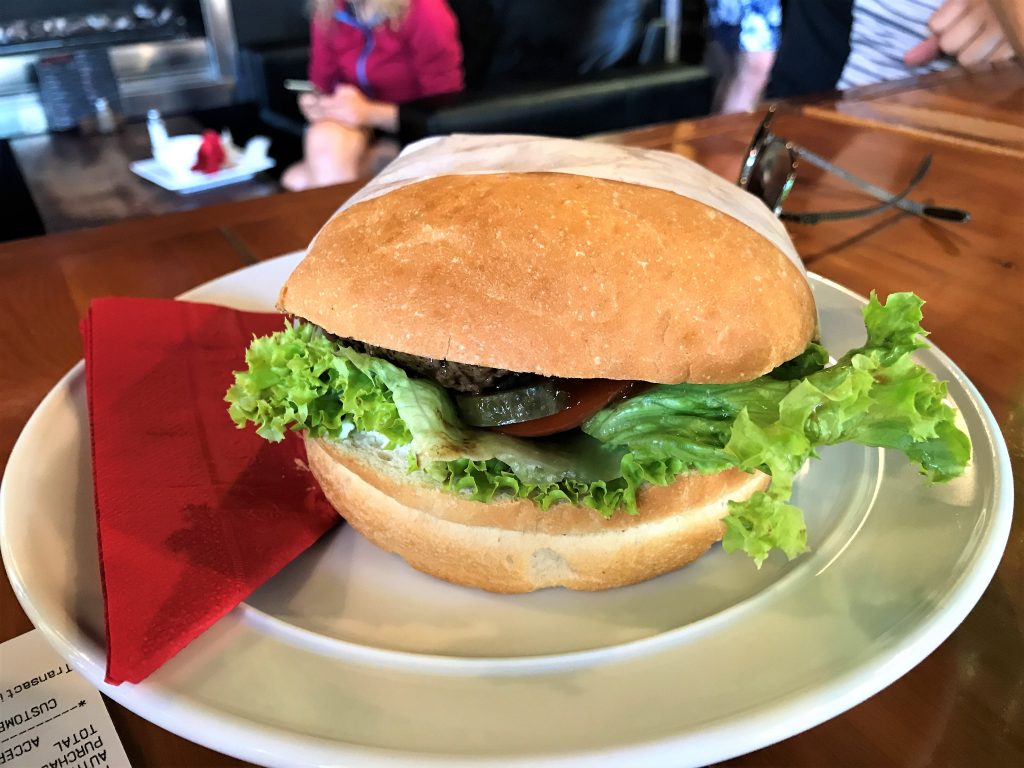 New Zealand has everything from fine dining to enormous hamburgers and freshly caught fish and chips. Portions are similar to America so order cautiously!
You will find lots of unusual ingredients that you don't tend to see outside New Zealand such as kumara sweet potatoes which are like a cross between a normal and sweet potato. There is also the acquired taste of the fruit feijoa which they even make a vodka out of (though they are originally from Brazil). Other foods to try that have a distinctly Kiwi flavour are lamb, venison, salmon, crayfish/lobster, fish and shellfish such as Bluff oysters, paua/abalone, mussels, scallops, pipis and tuatua (New Zealand shellfish), kumara, kiwi, tamarillo, feijoa, and manuka honey.
Food tends to be modern in its style and there is a real emphasis on good quality fresh ingredients. Coffee is taken very seriously here and I can honestly say I had some of the best coffee anywhere (flat whites are the order of the day).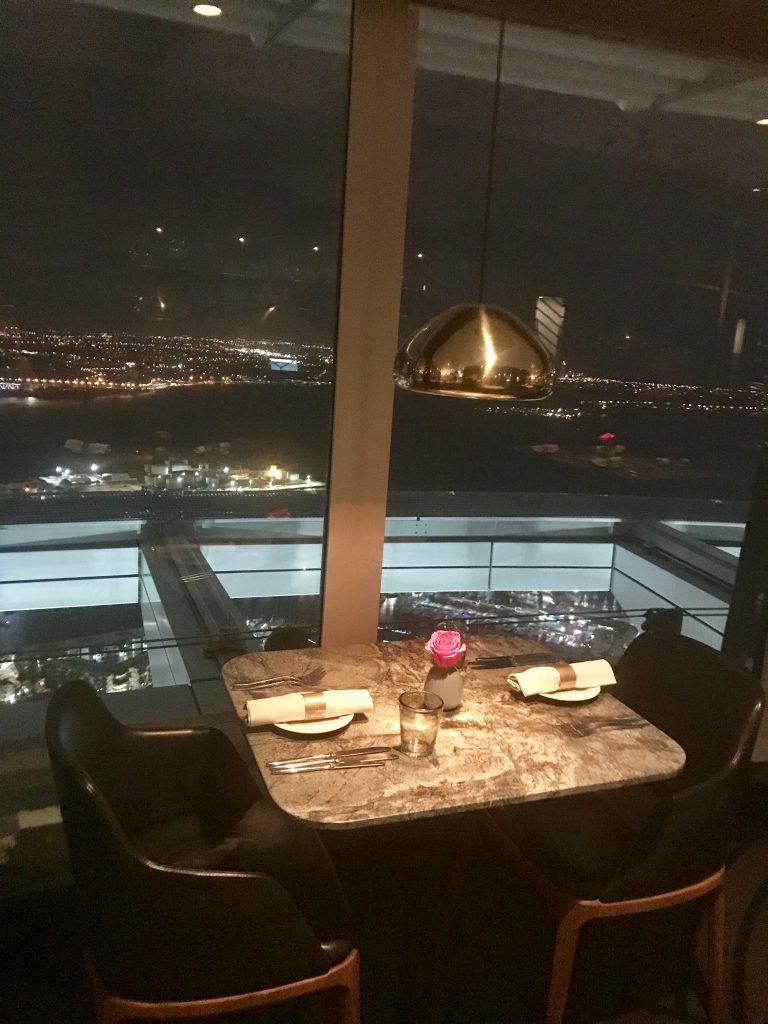 For fine dining I recommend The Sugar Club in Auckland. As well as views of the Auckland shoreline and islands, this has wonderful modern New Zealand Pacific Rim fusion food at prices which are not too high for fine dining. The restaurant specialises in small plates which you can have 3 or 4 of each to make a meal.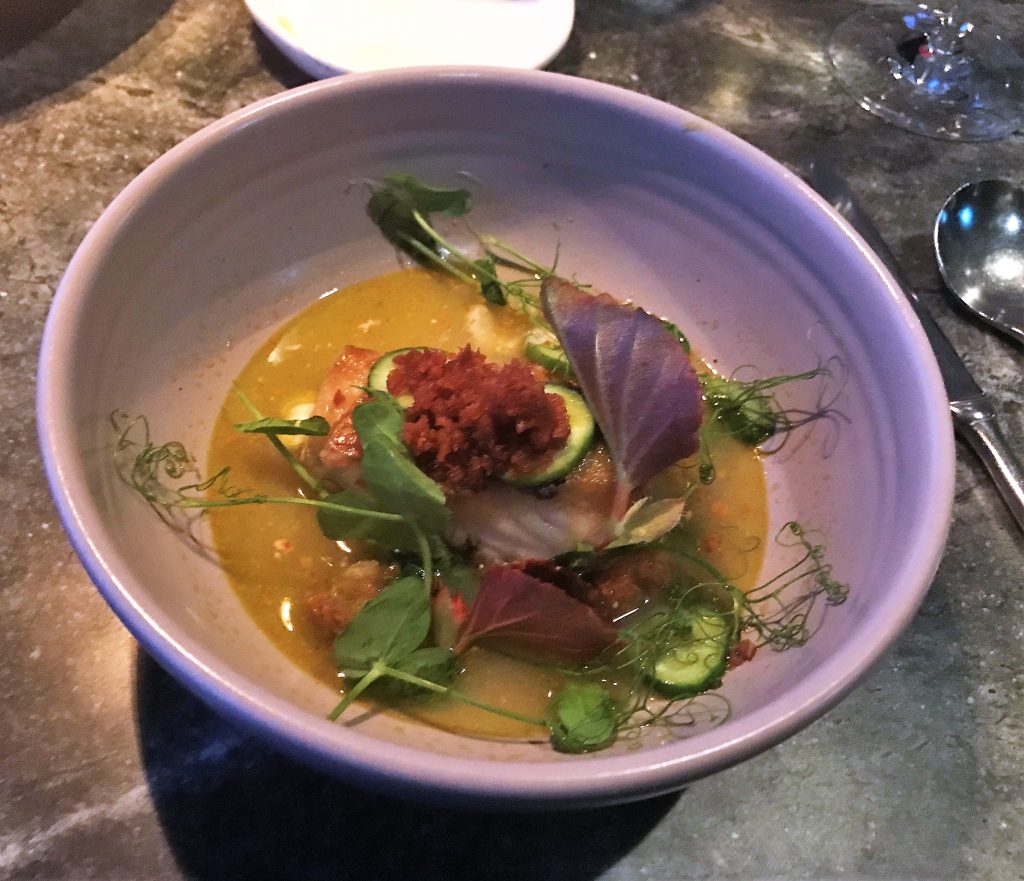 If you are a seafood fan another must is the green lipped mussels which are nothing like the mussels you get here. I recommend a Marlborough Sounds and mussel boat tour where they are cooked fresh for you. These are some of the best mussels you could ever have. Did you know that the reason that some mussels are a darker colour is down to the sex of the mussel?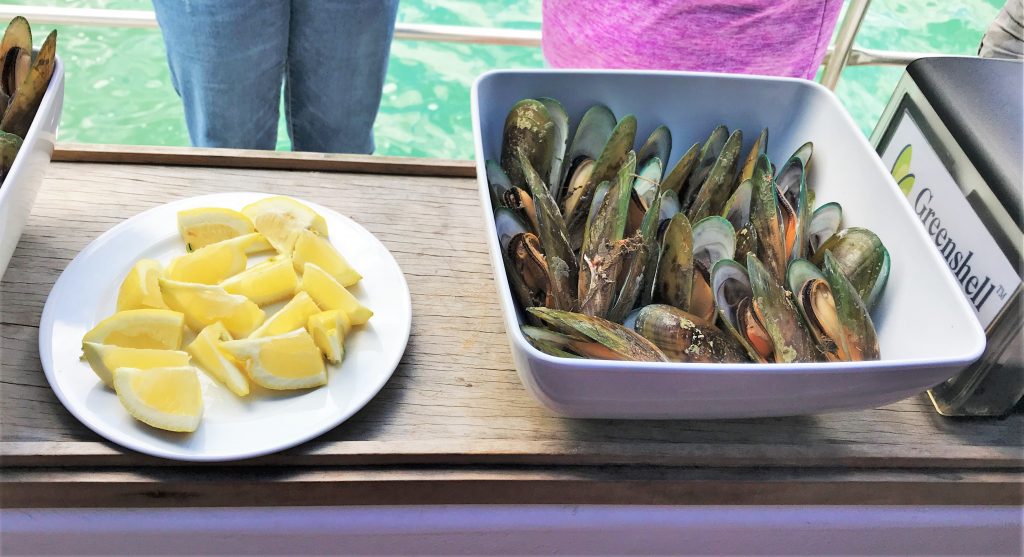 On the tour, you will get a chance to visit the mussel farms as well as enjoying the scenery of the Marlborough Sounds and a glass of Sauvignon Blanc. Here is some more information on the tour.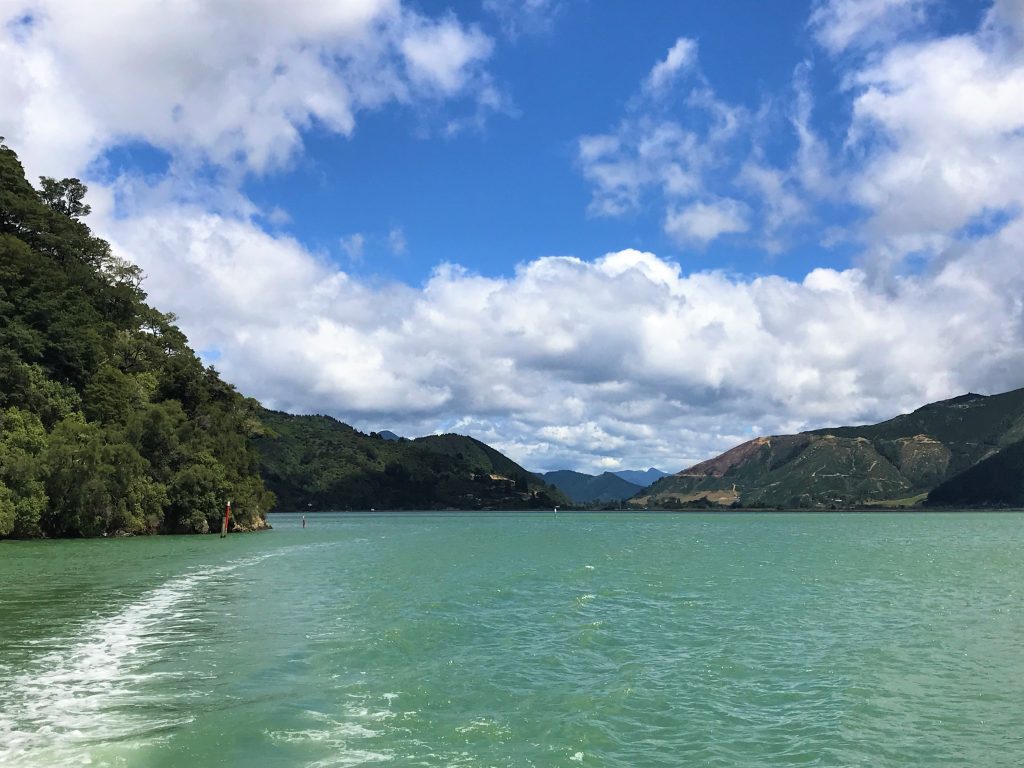 Fish and chips is another Kiwi staple and a must-try at a seaside location. Why not try some kumara chips with the fish for a change? They serve a variety of fish including elephant fish, blue warehou and red cod which are normally just referred to as fish. Blue Cod and Hoki are often offered at a higher price. We recommend Akaroa Fish and chips where the photo below was taken.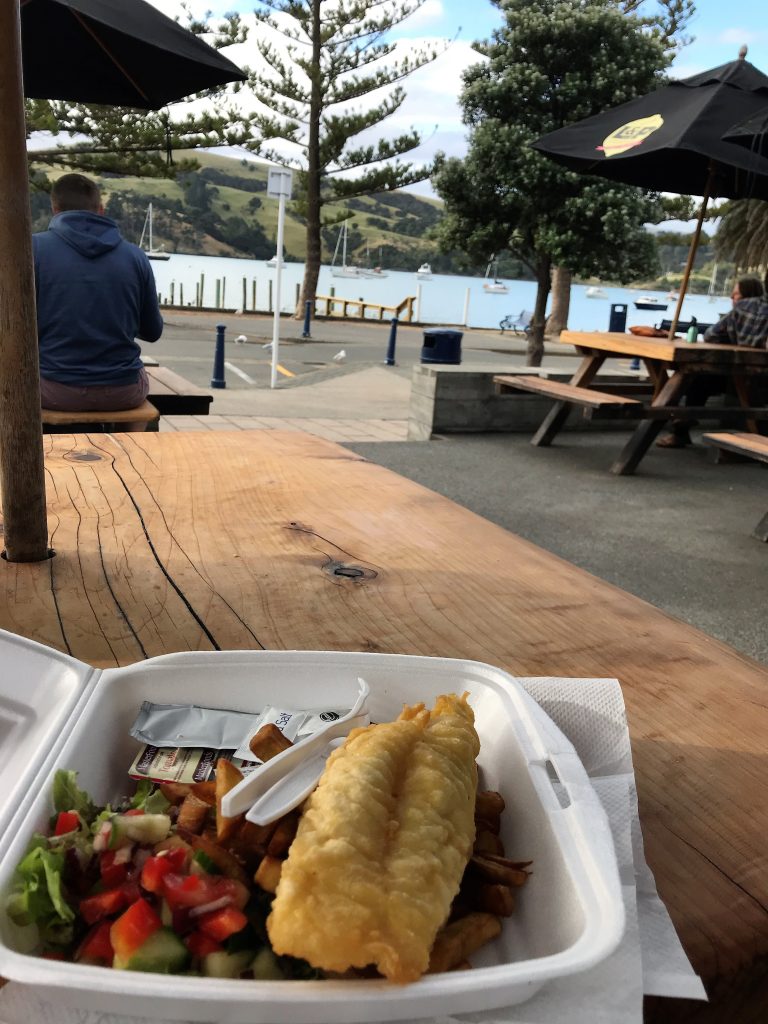 Where to stay
You can find details of where we stayed in these articles: