A revie of Virgin A350 Upper Class Seat.
A few things –
All flights, hotels and associated costs were paid by Virgin Atlantic.
The outbound flight was a press-only charter.
Virgin Atlantic staff from various departments were onboard for questions and "issues".
Virgin are very proud of this new product.
I was excited. Now I am a bit sad 🙁 …. why? Read on.
As this was a "special" flight I won't concentrate too much on the soft product – so expect more seat pictures, than of the food!
Virgin A350 Upper Class Seat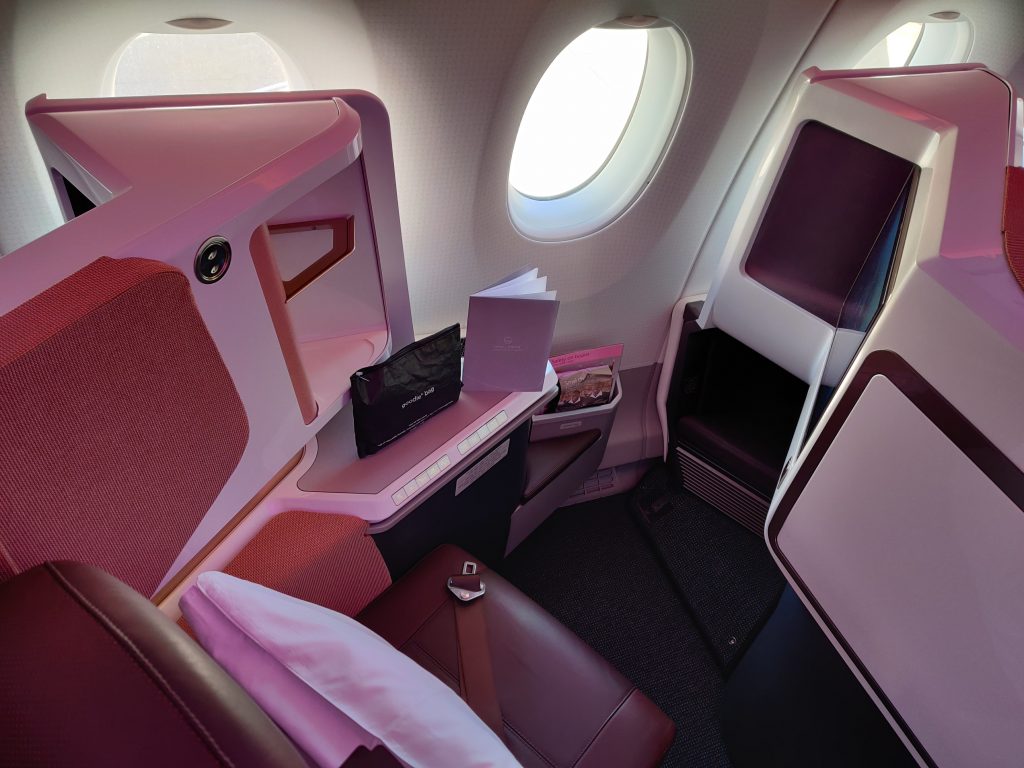 There it is – in all its pink and purple glory! I rather like the colour scheme, it's snazzy but looks classy too!
The seat is based on the Safran Cirrus NG herringbone.
Now, here's the thing. I haven't flown the old Virgin seat, but from pictures and reports, it wasn't anything to write home about! Michele was always happy to fly it being a Virgin Gold Flying Club member though. It was criticized for being narrow with no storage. It also had limited recline as it was the type of seat you have to flip over into a bed. You can read Michele's reviews of the current Virgin seat here)
So Virgin has upped the game and this is it! 🙂
I love a good bit of leather, and Virgin has it in abundance! The seat, as you can see is also very well padded.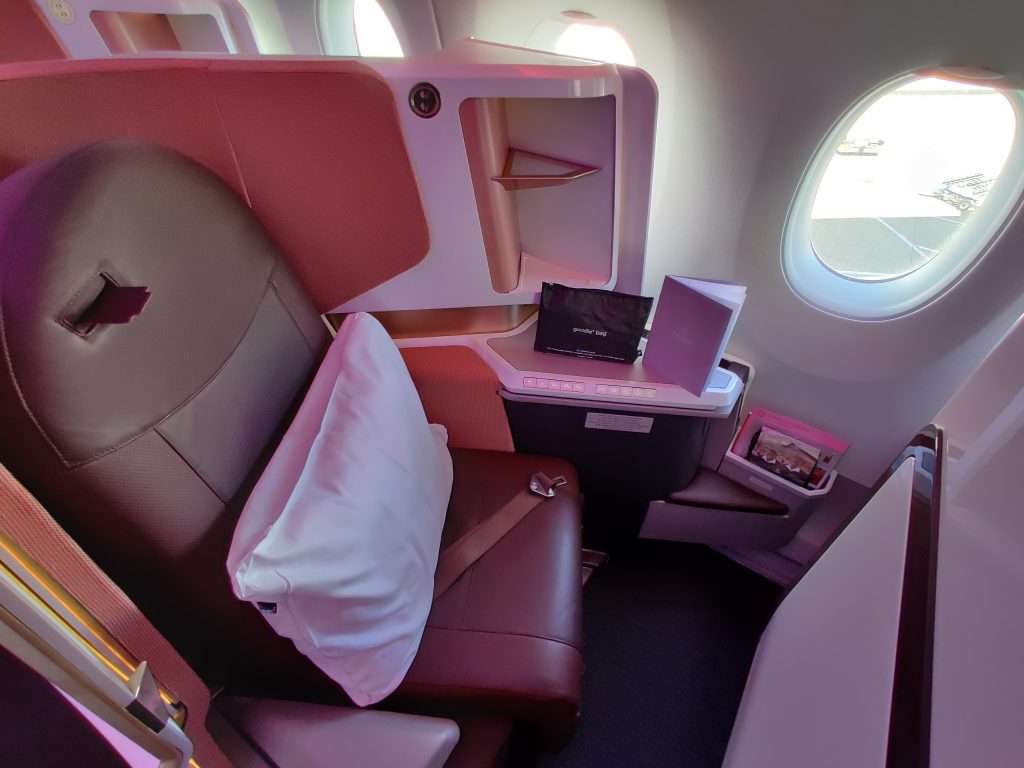 I liked the way the 3 point belt disappeared entirely into the seat to, with just a soft leather tab protruding.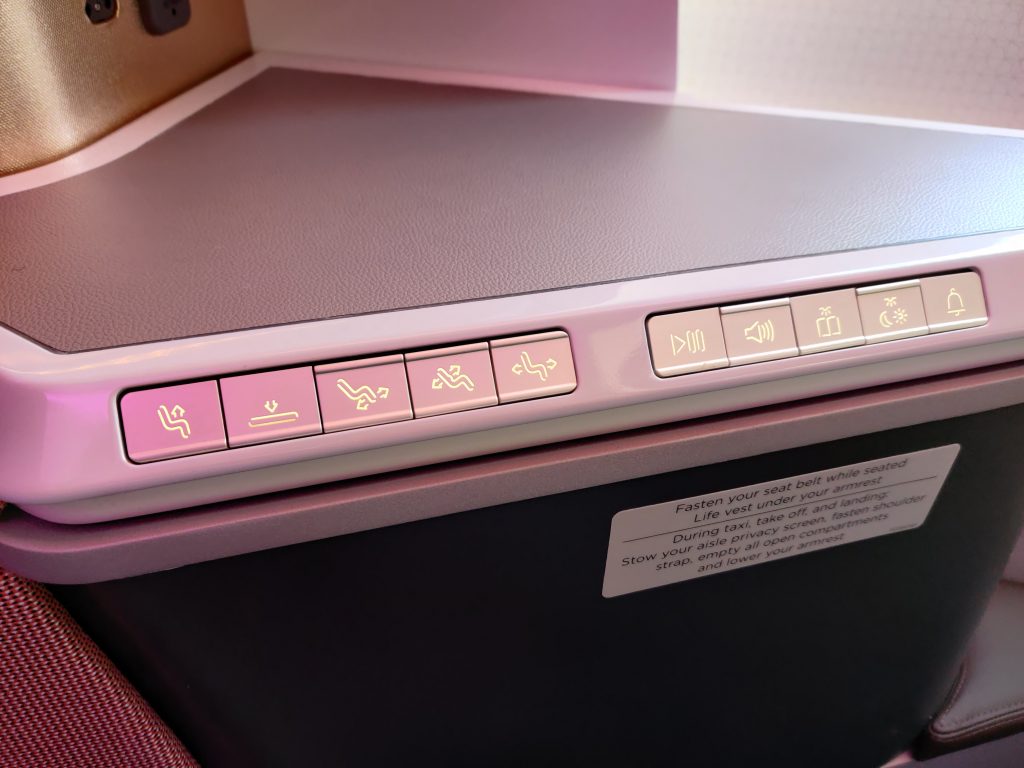 And finally the seat controls – I'll come into them in more detail later, particularly the placement.
The Door at Virgin A350 Upper Class Seat?
When is a door not a door?
So press this handle and I was expecting to be enclosed in my suite. To be fair, Virgin are now calling this –
A deployable privacy screen. So I deployed it –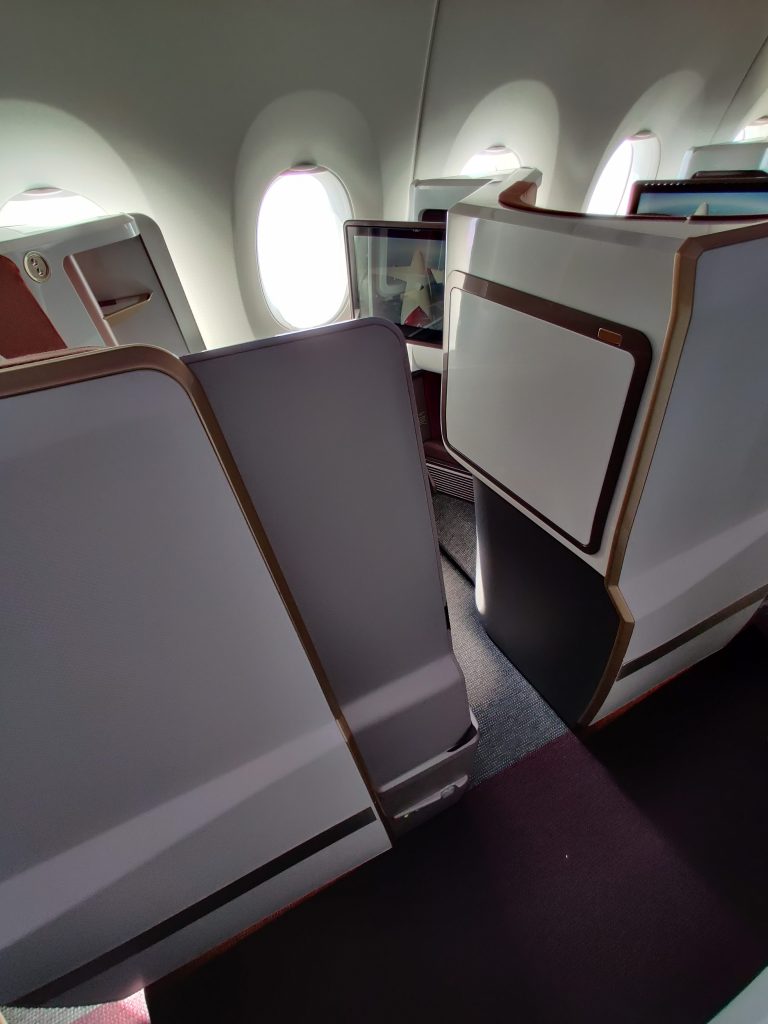 I just can't spin this positively. Virgin had previously said it was not a full door as there are a social airline. But surely passengers all have different needs if you want to appeal to both business and leisure travellers.
Oh and Red Velvet? It's a week old and this is where the screen meets the seat fitting –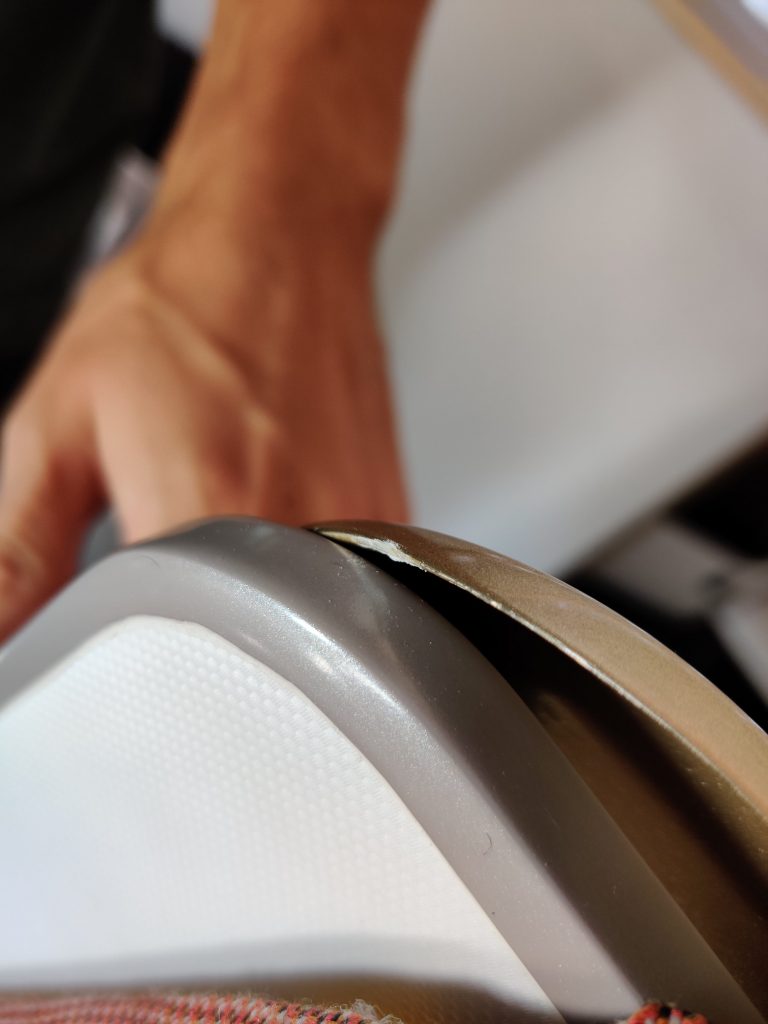 This was the same at every seat I checked – some worse than others.
The Table at Virgin A350 Upper Class Seat
You have probably noticed the large table in pictures above! And it is large. In fact, it's so large, a lot of people will find it uncomfortable or just won't be able to use it!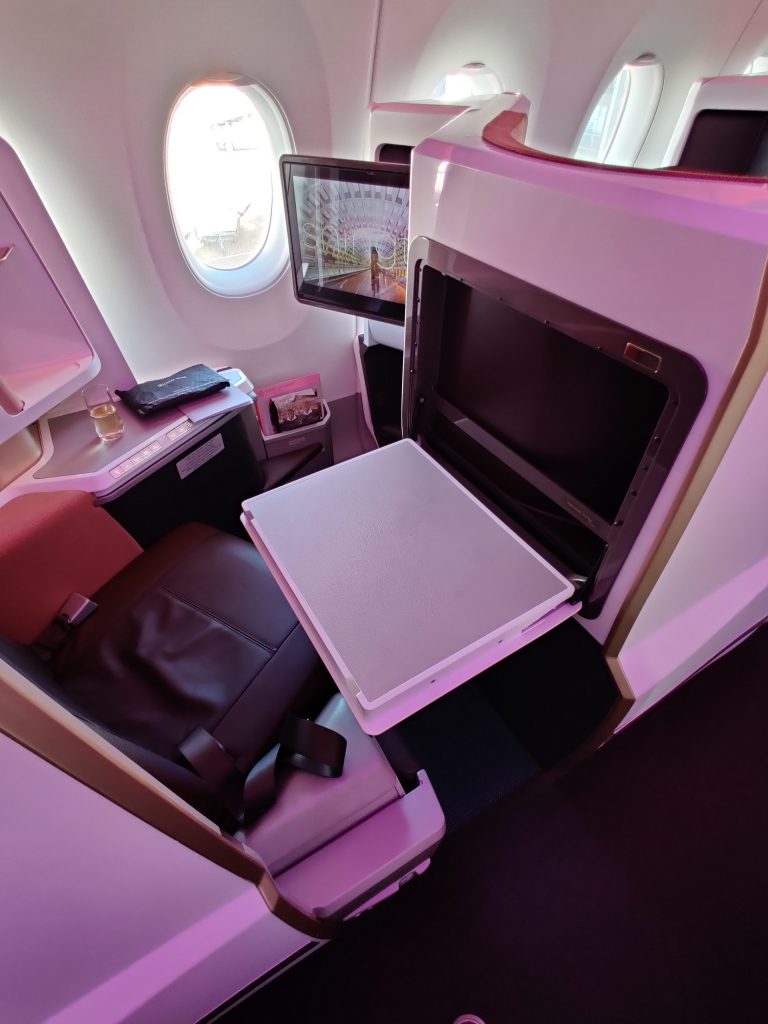 I'll be honest as a Virgin, Virgin, this was all new to me! I put the table down first, and was instantly confused, why it wasn't in front of me! Nothing tells you to rotate it. But rotate it does.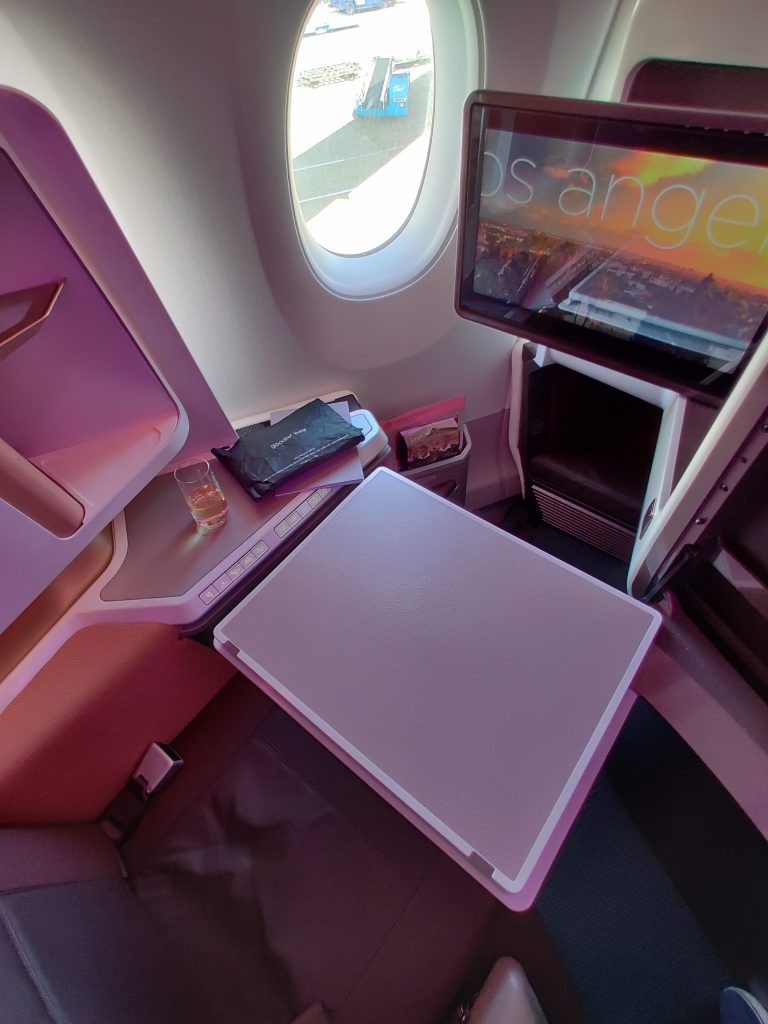 Does anyone see a potential flaw? Here let me demonstrate –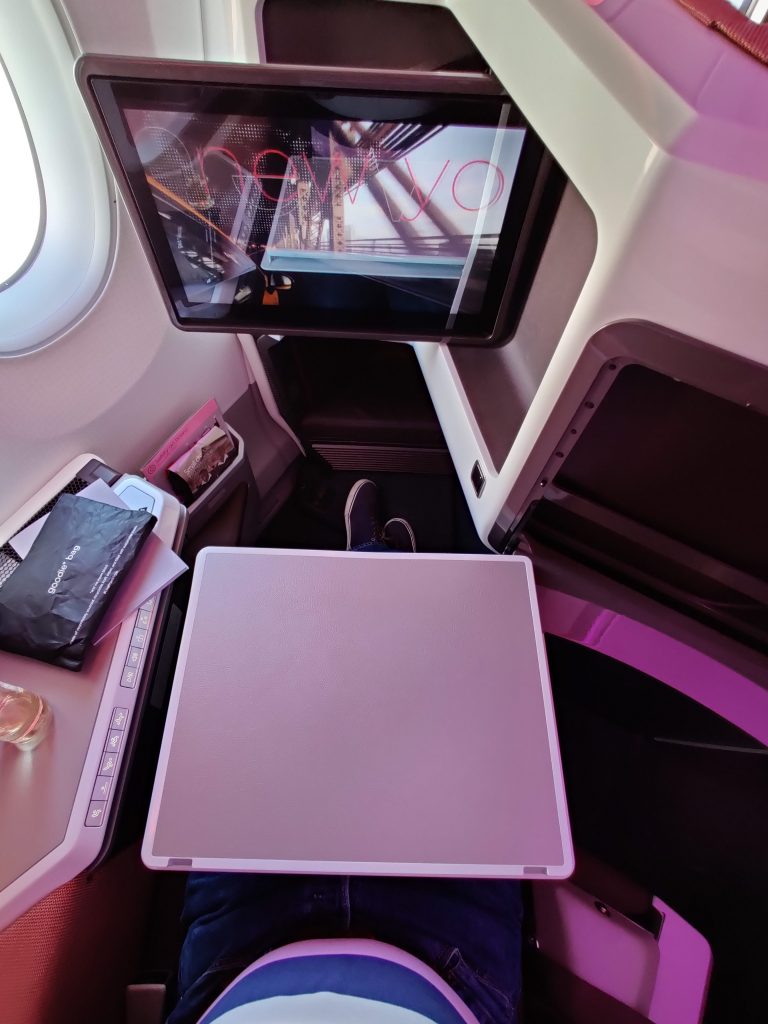 That is me in the seat in full upright position, sat all the way back into the seat.
If I relax, ever so slightly –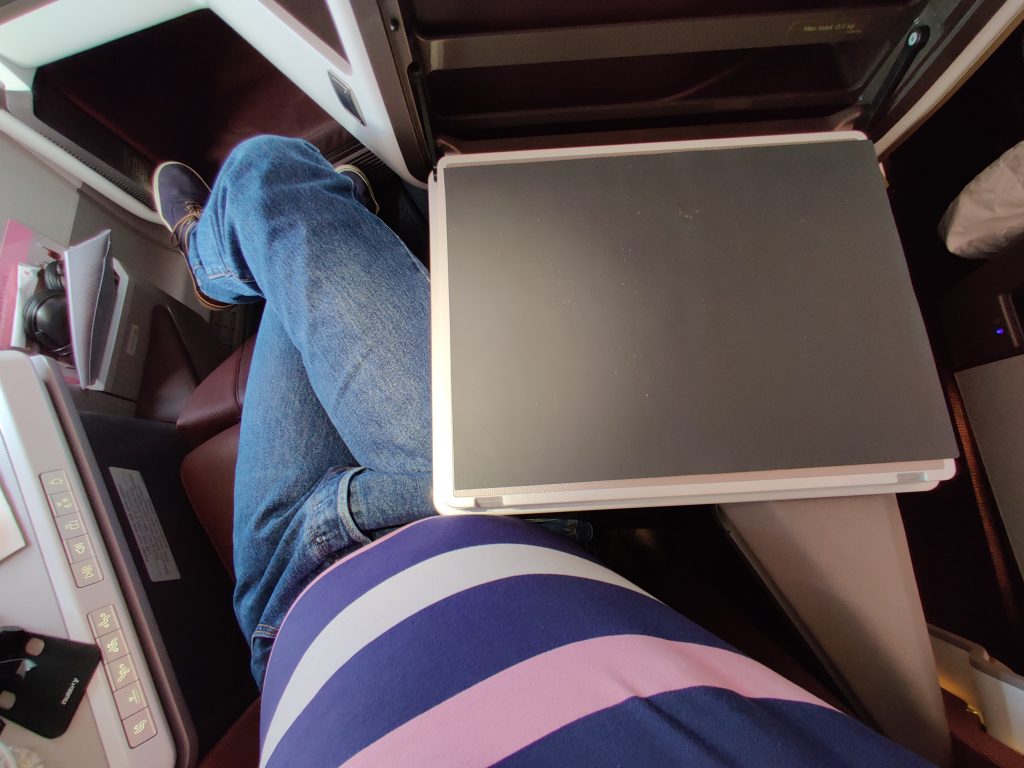 Yes, I only just fit. For reference, I am just over 6 foot and have a 32″ waist.
Other passengers reported the same, and some even unable to use the table at all.
I quizzed one of the senior Virgin leadership team onboard about this. Apparently, this was tested, and it was only noticed within the last week? Excuse me? Who was it tested on? Give it to Frequent flyers – this would have been spotted in 5 seconds.
However, it is has been redesigned – and is being retrofitted to G-VLUX and G-VPOP within the next 8 weeks. All new deliveries will have a new table. I'm sceptical, but I look forward to seeing it. I am, however, not convinced the new design will work in a greatly improved way as it simply folds in half rather than being smaller. We plan to do another review once teething troubles have been fixed which hopefully will be a lot more positive.
There is also no way of getting out of the seat with the table deployed. Unless you are a contortionist!
On the upside – it is VERY sturdy and great for working with a laptop – no bouncing around here!
The IFE and "tech" at Virgin A350 Upper Class Seat
This had me interested from the get-go. I work in IT. I LOVE gadgets. They had me excited.
Spoiler alert – none of it worked. Oh, sorry. The Tail Cams did.
So the blurb –
Let us entertain you
– We're taking inflight entertainment to new levels with the
Zodiac Rave System from Zodiac Inflight Innovations (Zii) and
our largest ever inflight screens at 18.5" in Upper, 13.3 inches
in Premium and 11.6 inches in Economy.
– Customers will be able to choose from over 100 movies, 300
hours of TV shows, over 350 albums and podcasts and over
45 hours of kids content. Want to watch a movie but still see
where you are on the map? Complementing our touchscreen
IFE, customers can now pair their smart device to the IFE to
control their experience onboard and provide second screen
viewing.
– For the first time customers can connect to the inflight
entertainment via Bluetooth and enjoy wireless freedom on
board. (Bluetooth at the bar only, seat connectivity is via wifi.)
– A first for Virgin Virgin Atlantic – our new tailcam offers every
customer the best view of outside. Customers will be able
see their surroundings as if they were sitting on the tail of our
fabulous A350. Two views are available – tail cam and front
facing from the underside of the aircraft.
– Our innovative new feature in Upper Class allows our
customers to order what they want, when they want it from
the comfort of their Upper Class seat. Customers can chose
their meals and drinks on their IFE screen and this will be sent
to the crew who will deliver the order to your seat! No more
waiting for meal time!
– Working with Inmarsat and T-Mobile, Virgin Atlantic is offering
all customers award-winning GX KA Band wifi connectivity
onboard its new A350 aircraft.
The WiFi was some of the slowest I have ever used on a plane – reminds me of OnAir systems like BA use on BA1! Oh, and it didn't work at all on the way back. It was fully rebooted, but that did not help.
The interesting points were, however – the download was quick. Very in fact – so much so, I updated my phones software mid-flight with no issues. It was the upload speed that crippled the whole system and experience. Sending pictures via WhatsApp required many retries.
Some people debated that, it was because of the media onboard. Frankly, we had less than 44 seats on the plane (Upper Class), and I have had better experiences on Cathay, Qatar and even BA with many many more passengers. It is also a bit pricey at £20.99 for the whole flight (ours was comped by Virgin). Again we will retest this in a few weeks to see if it was just a one-off or teething troubles.
Also, I was getting annoyed at seeing this on my phone far too often –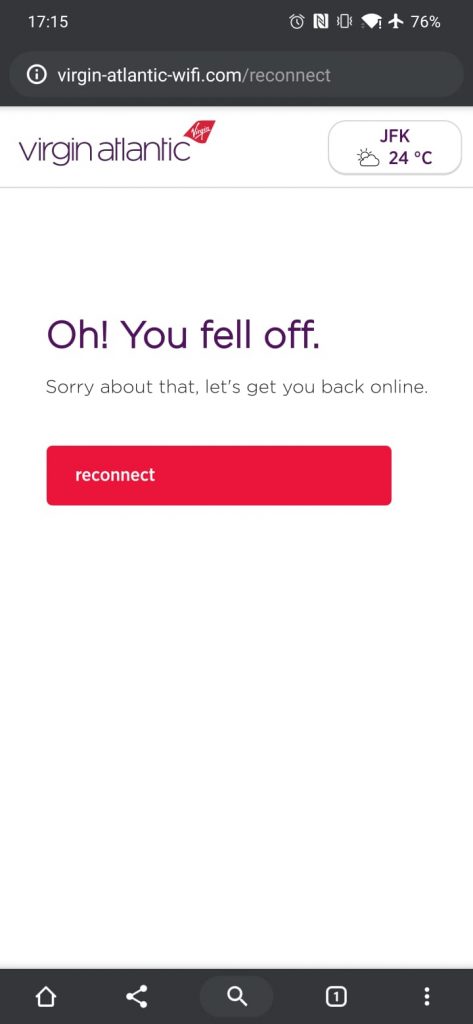 So the IFE screen. Way too much pink and purple for me personally – but it was crisp and a good size – I am not convinced the content was all 1080P however. But this is the same on many airlines even with HD panels. But it definitely had great definition.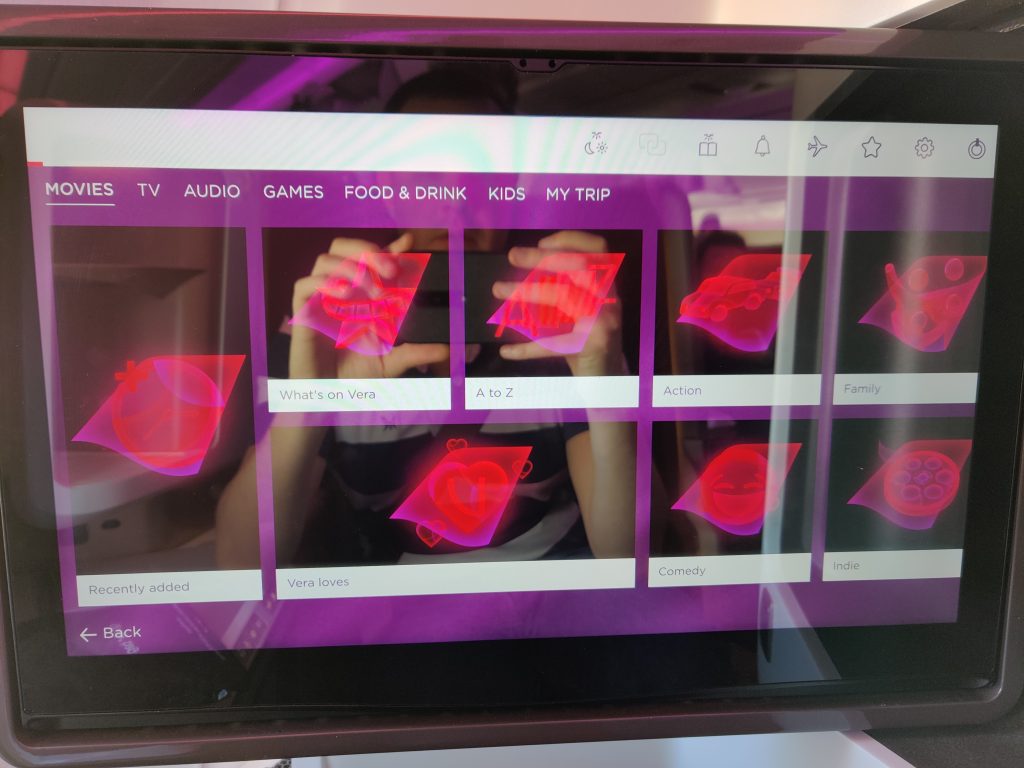 So the remote control. There isn't one. In a very bold move, Virgin are relying on you and your smart device, to do the "controlling".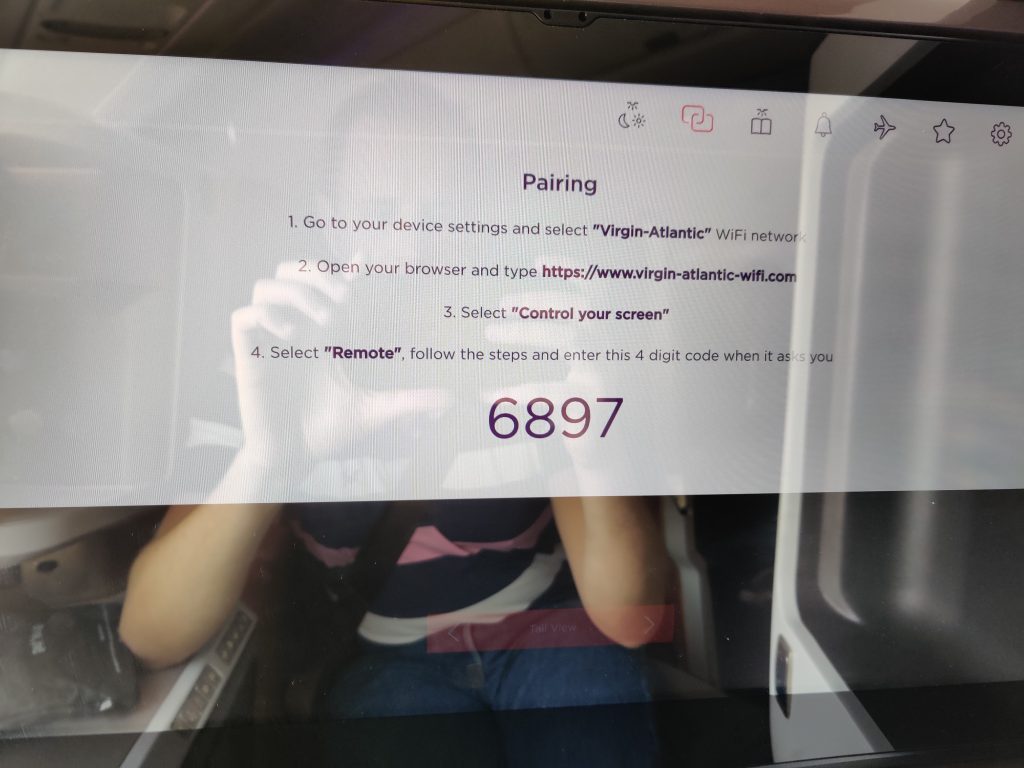 Sounds "neat". Buy sadly it didn't work for me. Now here is the interesting piece… Virgin had engineers onboard. They got it working. On their phones. One had a 2-year-old Samsung (looked like an S6!) and other was an iPhone 7/8.
Being a plane full of bloggers there were many high-end Google devices including numerous Pixel 3's and many iPhone X/XS devices.
I had my trusty OnePlus 7 Pro. NONE of these devices could pair to the system. It wasn't broken as such – just "flawed".
And I'll be honest – it's a brave move, that is likely to backfire.
I quizzed Virgin about this. They said that everyone has a smart device and people love using them. Yes. True. But unless the system is "idiot-proof" you are setting yourself up for failure. My Mum has a Pixel 3. My sister has a new iPhone. Even if the system worked, I am sure they would struggle to work out how to use it!
Many people around me struggled just to connect to the WiFi. Why? Because the captive login portal only worked with "www.virgin-atlantic-wifi.com" – drop the www and it failed. Yes granted, the screen does state that, but I don't have that issue with redirection on other carriers.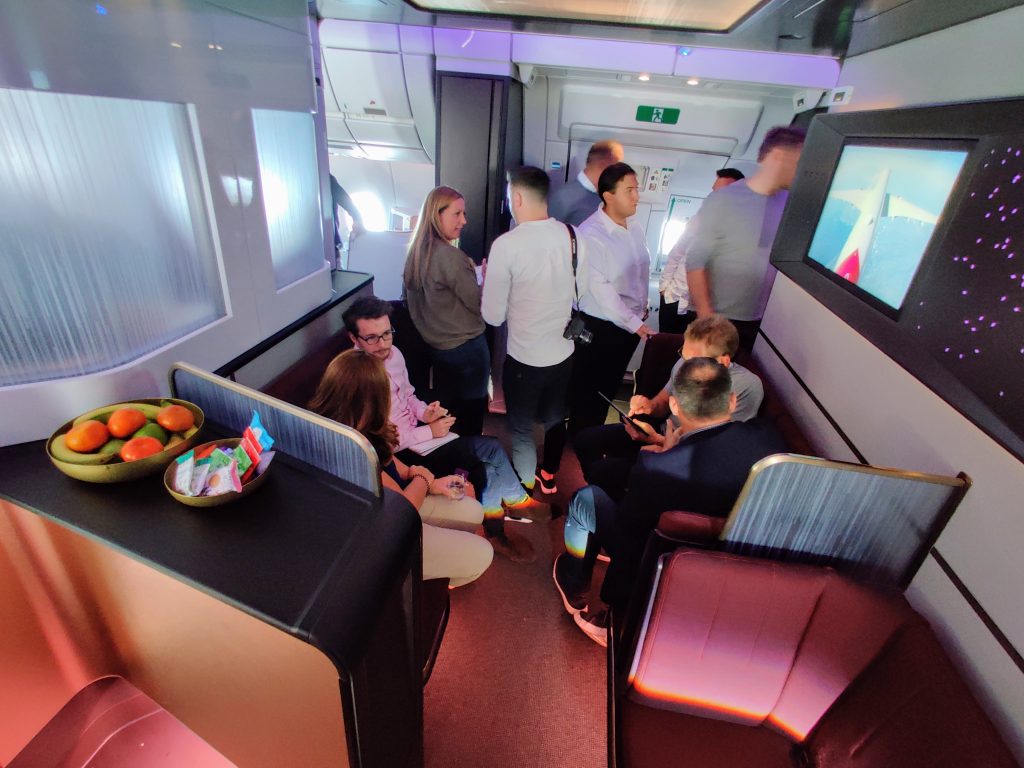 Welcome to the Loft.
The Loft is a unique space for Upper Class customers,
and the largest social space across any of Virgin Atlantic's
fleet. It's a place to gather, chat, grab a drink or dine with
friends. As well as enjoying luxe comfort and high end
finishes, customers can settle in with Bluetooth
headphones and connect to the 32 inch screen –
catch a show, or watch the live tailcam.
– The Loft is the largest social space of any business class
cabin at Virgin Atlantic
– The space features a 32 inch touchscreen monitor and
eight Bluetooth audio jacks to enable customers to view
content together. This is the first time we've offered Bluetooth
in the social space.
– It provides space for eight customers – twice the
capacity of the existing social spaces on board (five seated
three standing.)
– All of the chairs in The Loft feature seatbelts, a new feature for
Virgin Atlantic, which enables customers to continue to
occupy The Loft even during turbulence
– The Loft was designed collaboratively by Virgin Atlantic
and London based Factory Design, and is manufactured by
AIM Altitude in Bournemouth
So out goes the bar and in comes this! I'll be honest – I love it. Flying is social for me and many others, and this a great place to hang out and pass the time. Don't expect to be having any form of silent disco, however. Yes. The system doesn't work yet.
Oh, I didn't cover the in-seat ordering –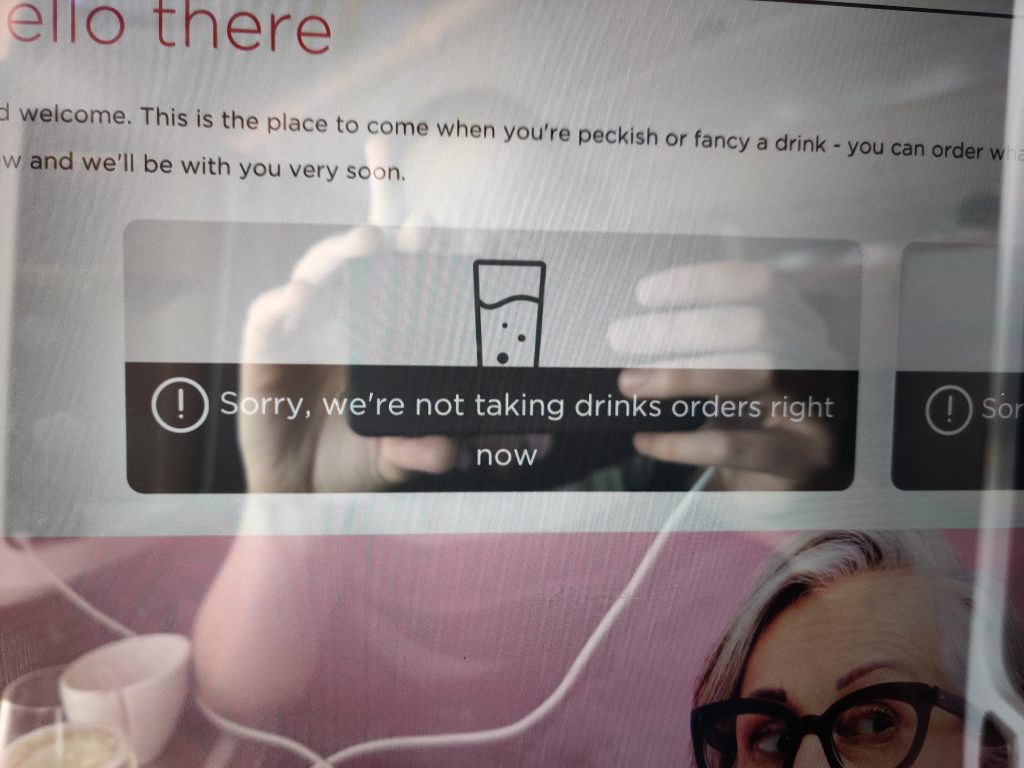 C'est la vie.
Virgin A350 Upper Class Seat Storage
Airlines are constantly coming up with better ways to "de-clutter" the space around us.
The new Upper Class suite is the perfect retreat at
30,000 feet. Every seat faces towards the window and
boasts enhanced privacy, plenty of space and storage,
Well if you count this as plenty of space and storage, then yes. Sure. The issue is like with many airlines, there is nowhere to store your stuff before take-off which is irritating. I do think they missed a trick not having the storage compartments like Qatar and Virgin have where you can put things from the start. The shelves do look very smart though and are made from proper glass rather than plastic.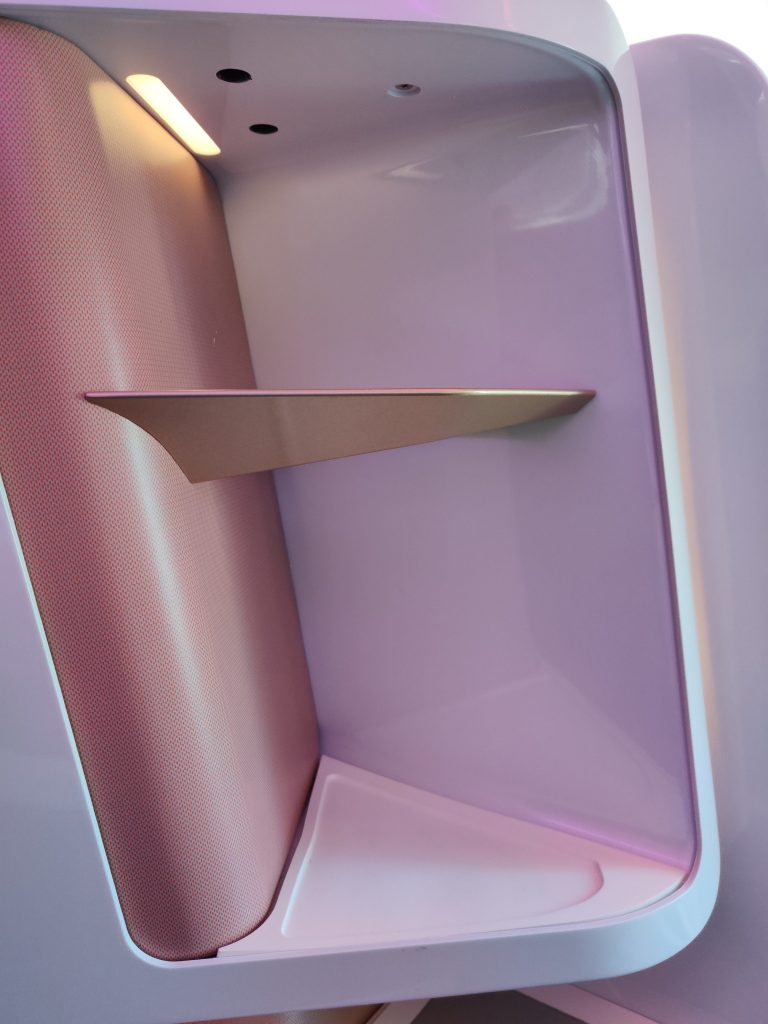 Right, let's balance this write-up a bit –
The Food.
It was good. Very good in fact. Service was however slow. We are talking about hours here… However, reports from BA's A350 suggest the same so it is probably just staff getting familiar with a new aircraft.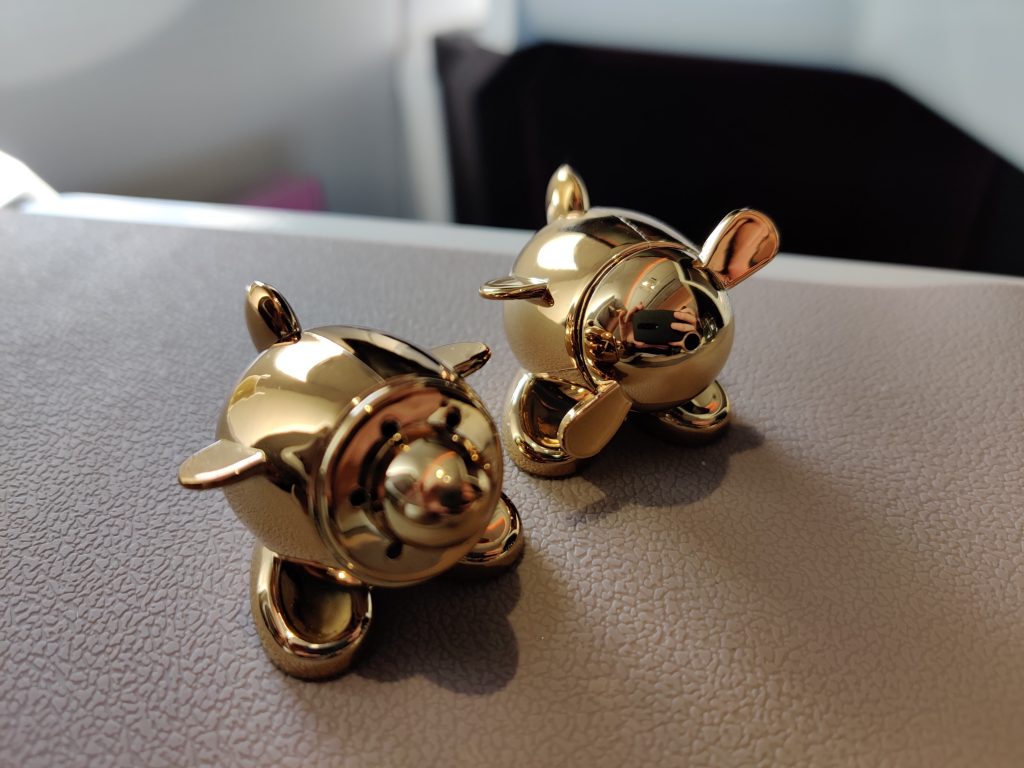 Virgin A350 Upper Class Seat Bed
The seat does go fully flat and the bedding is lush. I loved the new mattress topper.
This is me –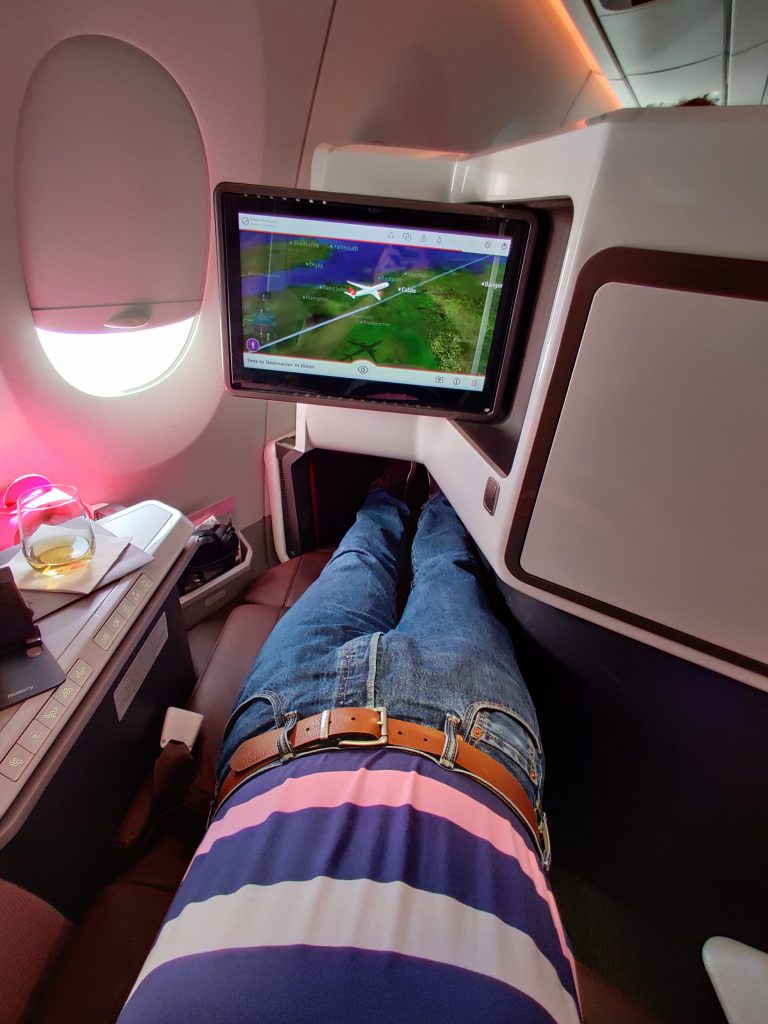 It's not huge, but manageable. But notice above my right knee? The TV housing?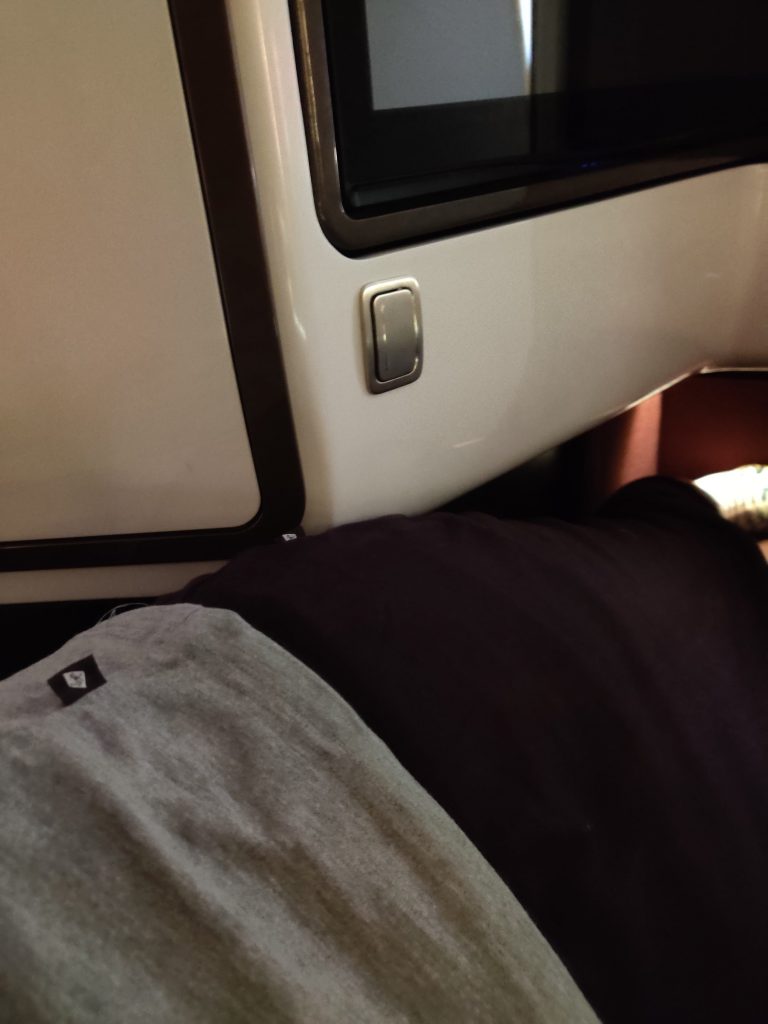 That's my waist. You won't be side sleeping on Virgin Atlantic comfortably! And if you don't like eye masks like me, you will struggle anyway.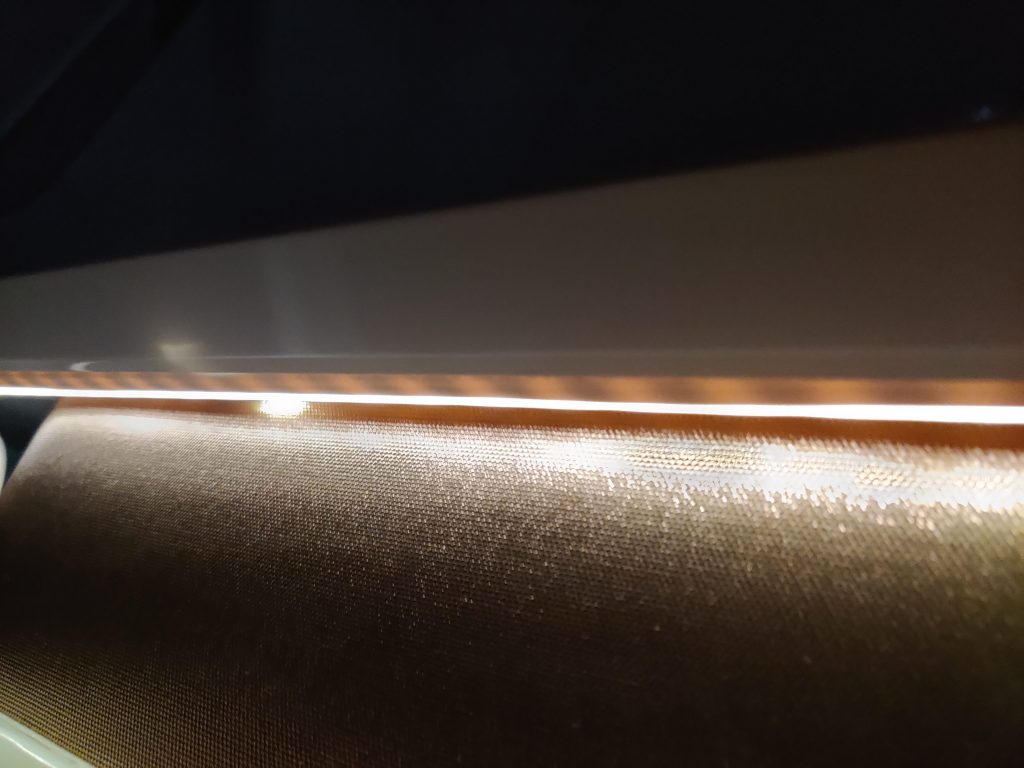 That's some of the "in-suite" vanity lighting. It doesn't turn off. And it's bright! 🙁
It's going to be fixed apparently.
Oh, and I had a shock when I did wake up – I thought there was a ghost in my seat! Turns out it was just me "accidentally" hitting the seat controls when relaxing –
But hold on Paul, others love it?
Virgin has come along way. But the amount of teething troubles has let them down. The ergonomics of the seat have clearly not been tested in a big enough control group. The technology has great potential – can't tell you how much though! The seat is definitely "tighter" than the new BA Club Suite, and even similar seats on Cathay Pacific. I'm not a fan of the amenity kits either as they were not as good as the previous bags, although they are more environmentally friendly. The contents are reasonable, however.
This is a business class product for leisure travellers. If you rarely fly in premium cabins, you will be thrilled! If like me, you spend your life in those cabins – I will do my job, and be critical.
Had all the tech worked, the table and seat design been more polished – this would have been very different. But I can only write what I experienced. Hopefully, our next review in a few weeks will be a different story.
The Final Line
The seat is much better than the previous version and looks great but there are a lot of teething issues. The good news is that Virgin have already identified most of these and they should be remedied shortly. The loft is also a great space for socialising and away from the main cabin, unlike the previous bar.
I remember my old school reports –
"Paul has potential, he just needs to apply himself more"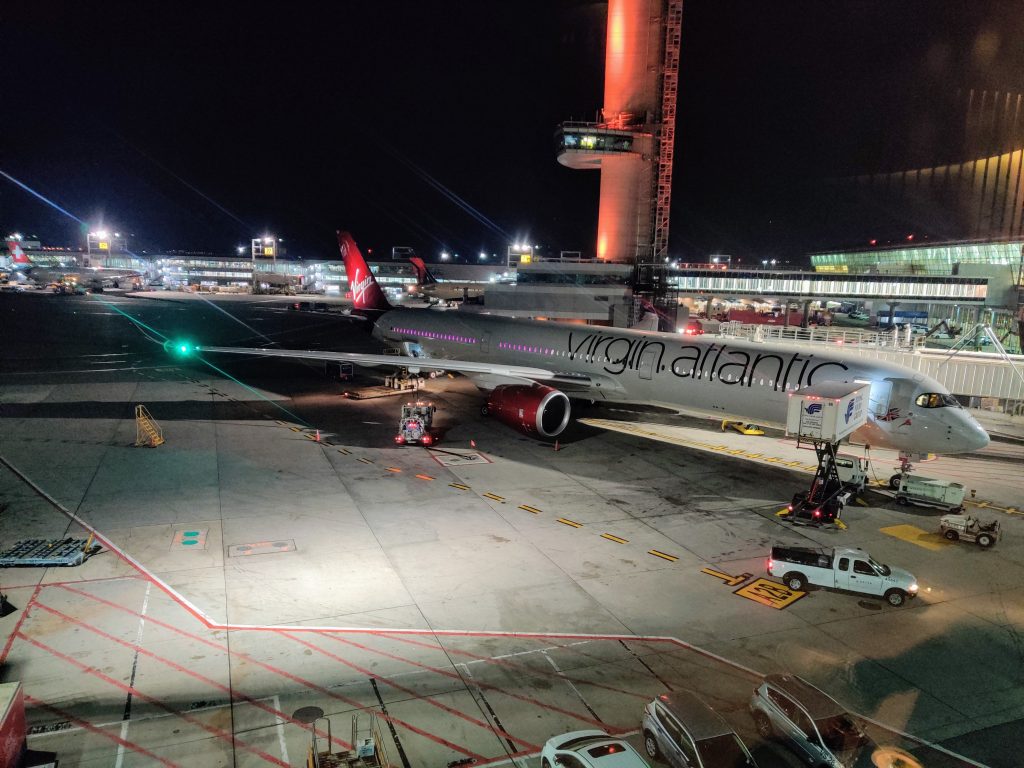 Like our Virgin A350 Upper Class Seat review? You can read more flight reviews here.