This is a review of my favourite Four Seasons hotel Las Vegas. I have stayed there many times and still love it. But what makes it so special?
Regular readers will know I am something of a Vegas addict and go every year. I am gradually working my way around the Vegas hotels, so if you fancy a read of my other reviews such as the Encore, Aria Sky Suites and Waldorf Astoria they can all be found here. However, on almost every trip I stay at least a couple of nights at the Four Seasons. So why is it my favourite Las Vegas hotel?
If you are not a fan of Vegas, I sometimes think it is down to staying in the wrong hotel. I am not keen on very big casino hotels. The 15-minute smoky walk through a casino to get out of the hotel, the crowded pools and the queues are not my sort of thing. If you try a non-gaming hotel it is like a different world. You can dip in and out of the shows, concerts, fine dining and shopping, and then retire to some peace and quiet at the hotel!
Location
To me, the Four Seasons has a great location even if it is down the end of the strip. The draw is that it is attached to the Mandalay Bay, so you can pop in to gamble or use the pool facilities but then retire to the tranquillity of the Four Seasons. It is also quite handy for the Mandalay tram which takes you to the Excalibur. From there, there are lots of hotels just a short walk away such as MGM, New York, Paris and Aria.
The other great thing is the Four Seasons town car. This is available for free on a first come first served basis and will take you within a 2 miles radius. But be warned, they will expect a tip which can often be not much less than an Uber. If you give them less than $10 they can be quite grumpy with you!
Check-in at Four Seasons hotel Las Vegas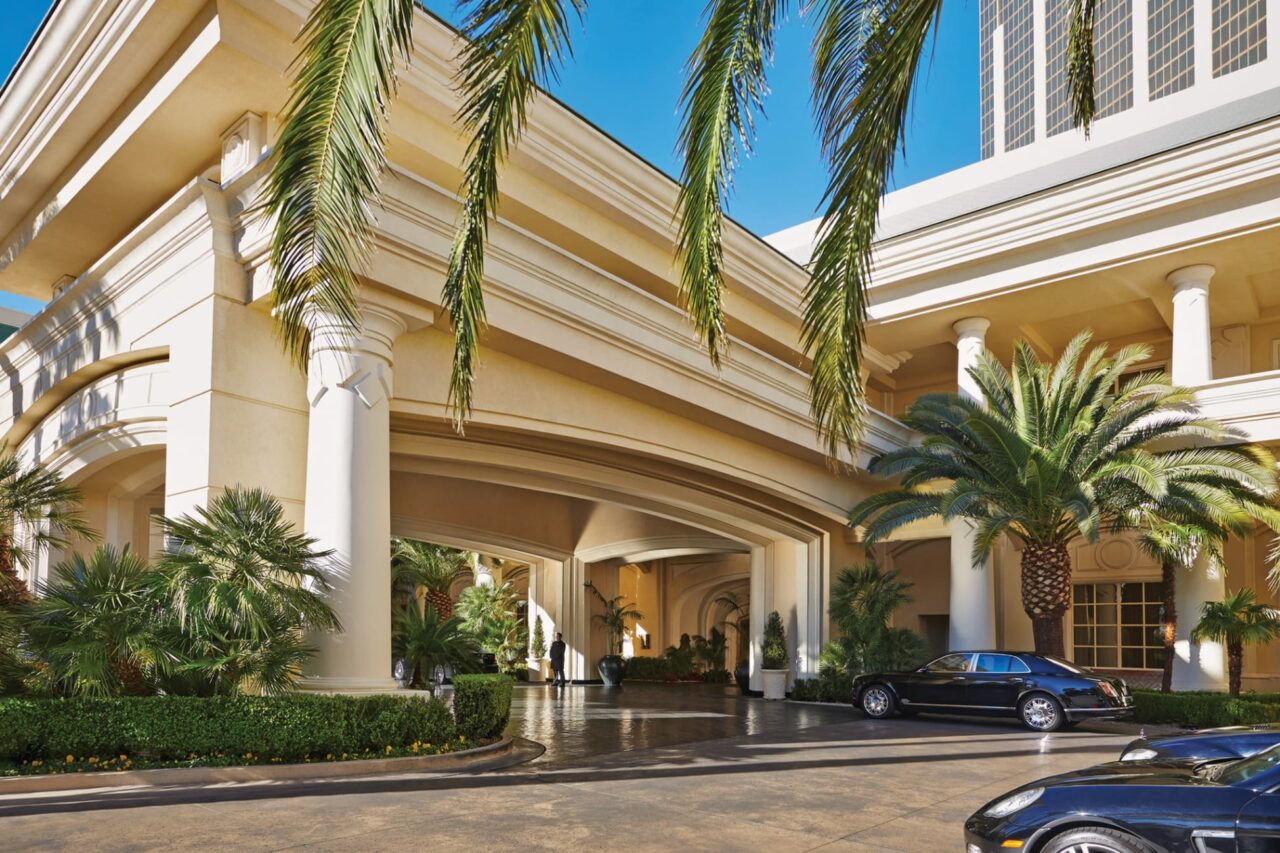 On some of my visits, I had started to use the app check-in but found it was a little hit and miss. Sometimes the key would be waiting with the bellman at the door, other times I had to wait for them to get it or even just go to reception so I gave up. On this occasion, the hotel was quite busy and I had to wait a few minutes to get check-in. However, they were very friendly and helpful which is what keeps me coming back. I had booked as usual through Virtuoso which entitles you to a lot of extra benefits on the usual flexible rate. You get free breakfast for two per day, $100 spa credit, late check-out (subject to availability) and an upgrade.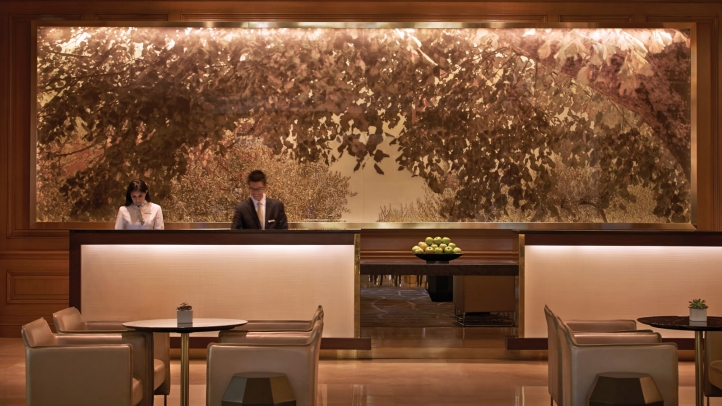 The Four Seasons are not normally very generous with upgrades and usually just give you a strip view versus a mountain view. Although I have managed to sweet talk a suite a few times. Generally, I don't really care though. I am rarely in the room much.
Once checked in with a bottle of water in hand, I headed up to the room to wait for the luggage.
Four Seasons hotel Las Vegas Room
If I was bothered about the room category I would book a strip view studio which is large with some great views.
Purely by coincidence my friend @jersey girl in London (you can read her great article on Marrakech here) was staying at the same time as me. She had a one-bedroom suite which I will also include some pictures of.
Mountain view superior room

The rooms were renovated a few years ago and have an elegant resort feel to them. Since my last visit they had also redone the corridors and they looked very smart. If you are light sleeper you will probably prefer a mountain view as the strip view rooms also face the airport and can be a little noisy. If you an avgeek you should definitely book a strip vire room as the airport views are great!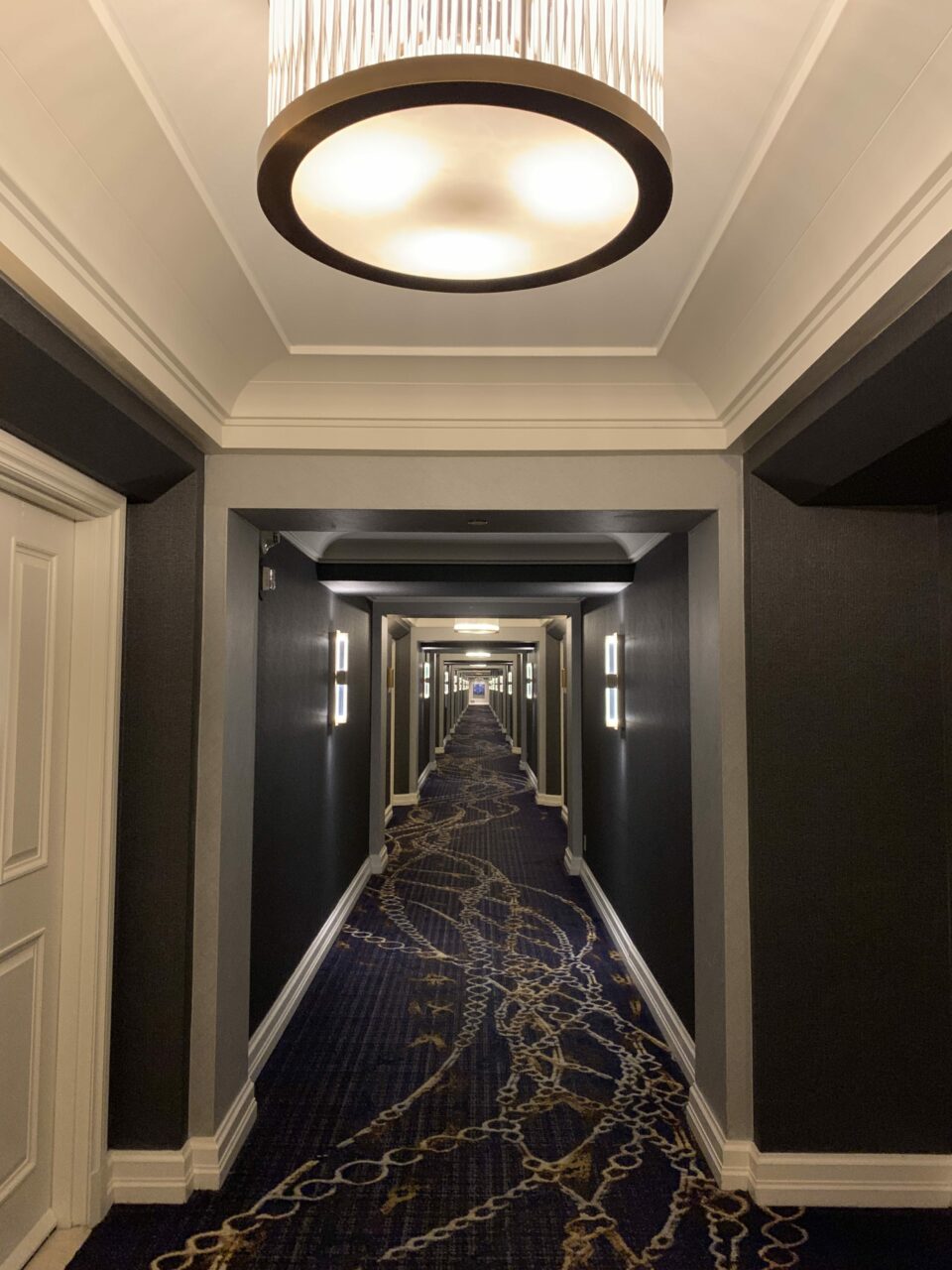 They are not the fanciest Four Seasons rooms I have been in but they have the most important thing – one of the most comfortable hotel beds around. The hotel is also very quiet compared to most Vegas hotels which seem to involve a lot of noise in rooms late into the night even in the 5* hotels. I have never had such an issue here.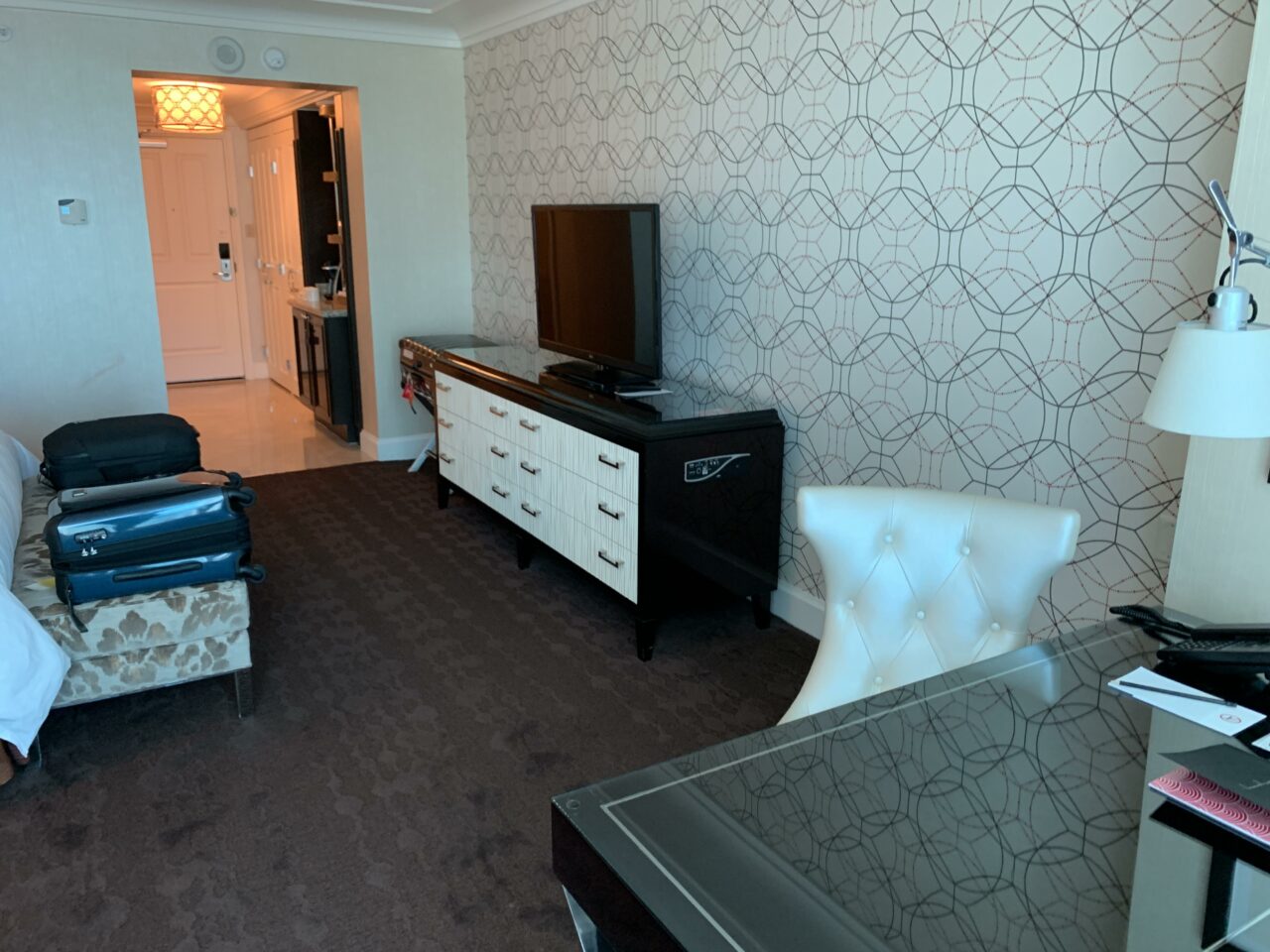 The room is large as is the norm in Vegas. There is only one armchair for sitting which wouldn't be so good if you are sharing a room. The large desk is perfect for catching up on some work. The TV is absolutely enormous and has a full media panel for connecting your own devices.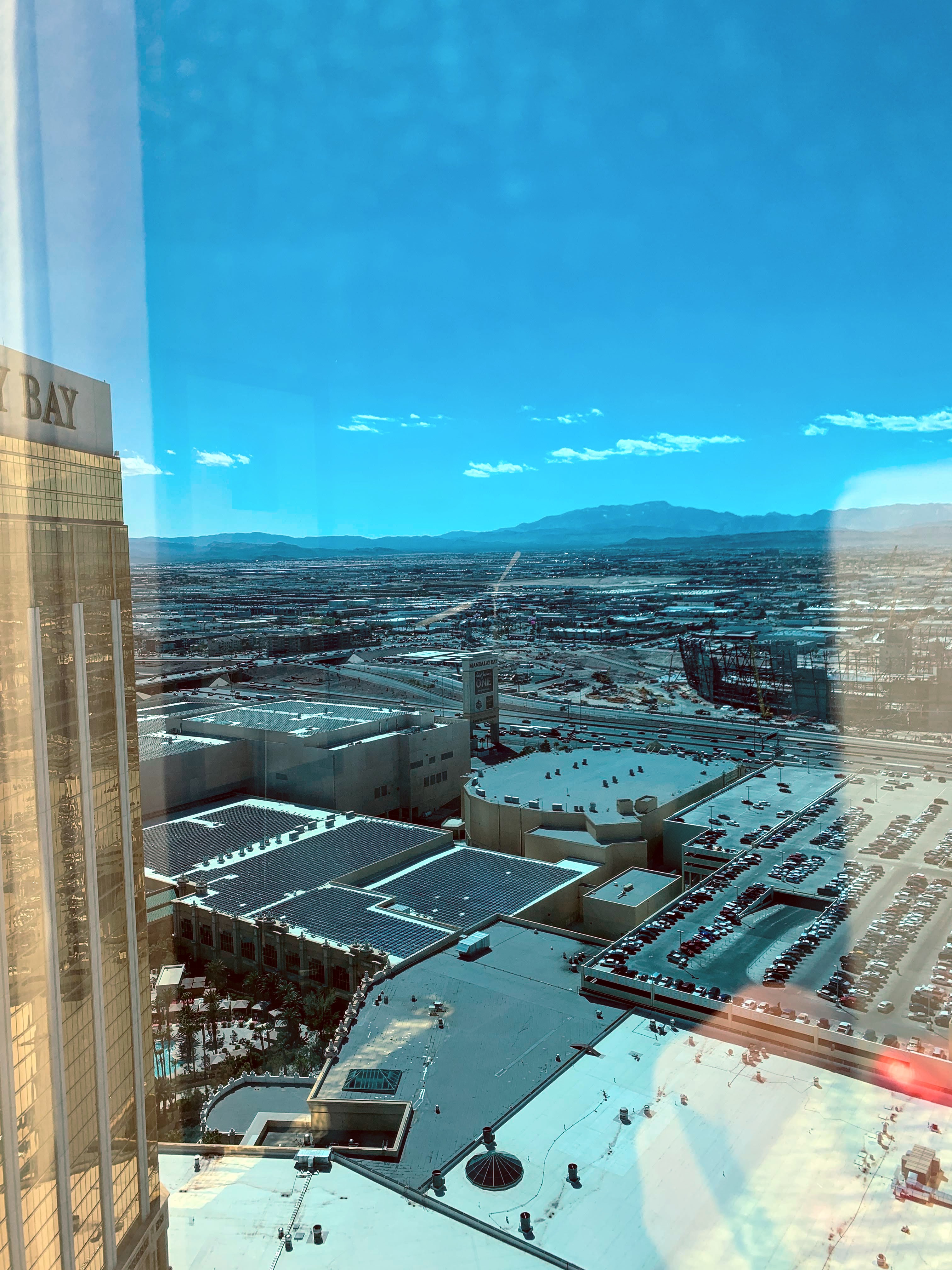 Unusually for Vegas, there is a Keurig coffee maker with free coffee. Even some of the fanciest hotels in Vegas don't provide coffee in the room. This is because they want to drive you out of your room to get coffee and hopefully start spending money in the casino!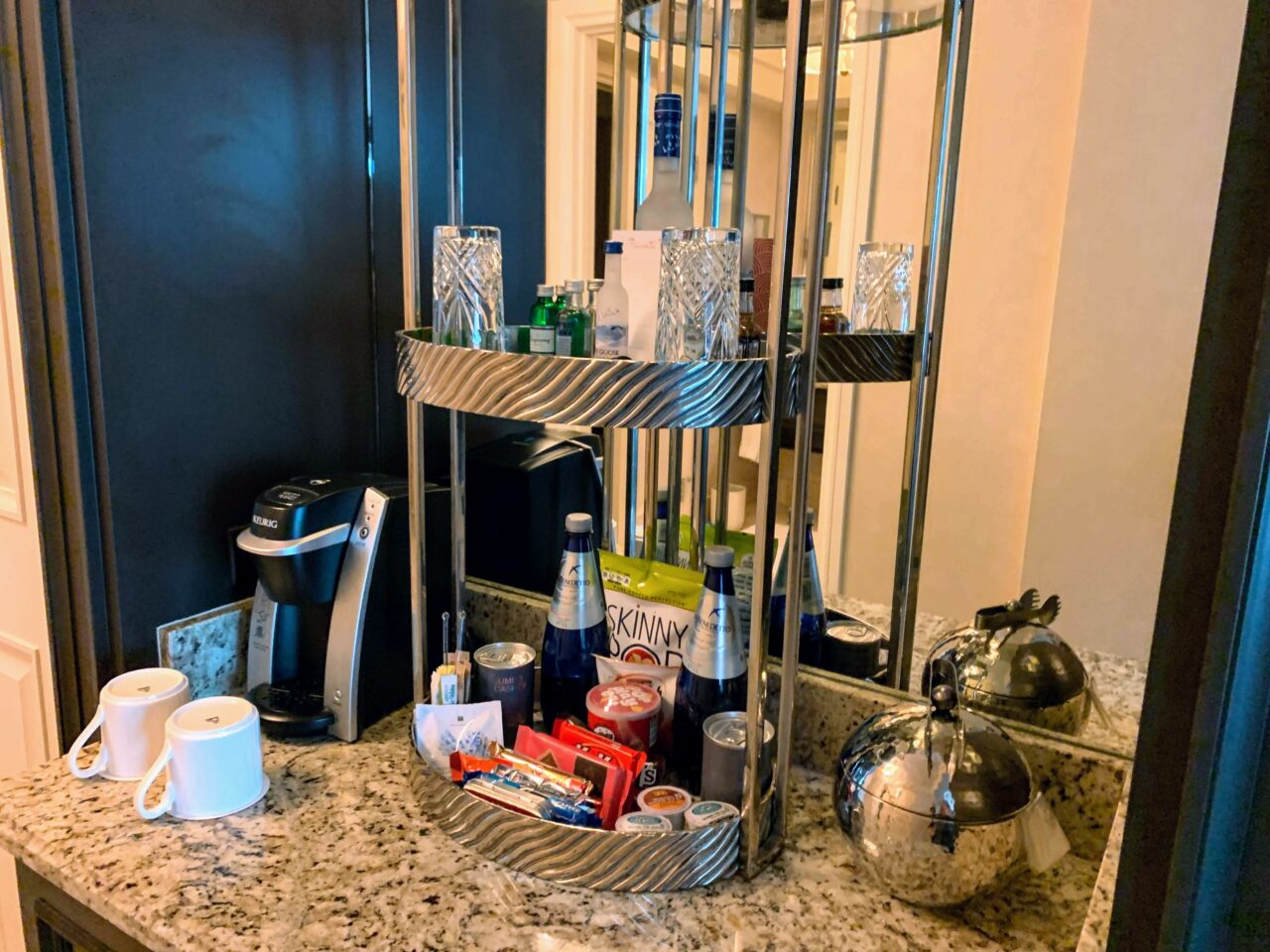 The room has everything else you would expect such as bathrobes, iron, ironing board etc. Housekeeping is generally very good with a twice-daily service. Ice and water are provided at turn down.
Four Seasons hotel Las Vegas Bathroom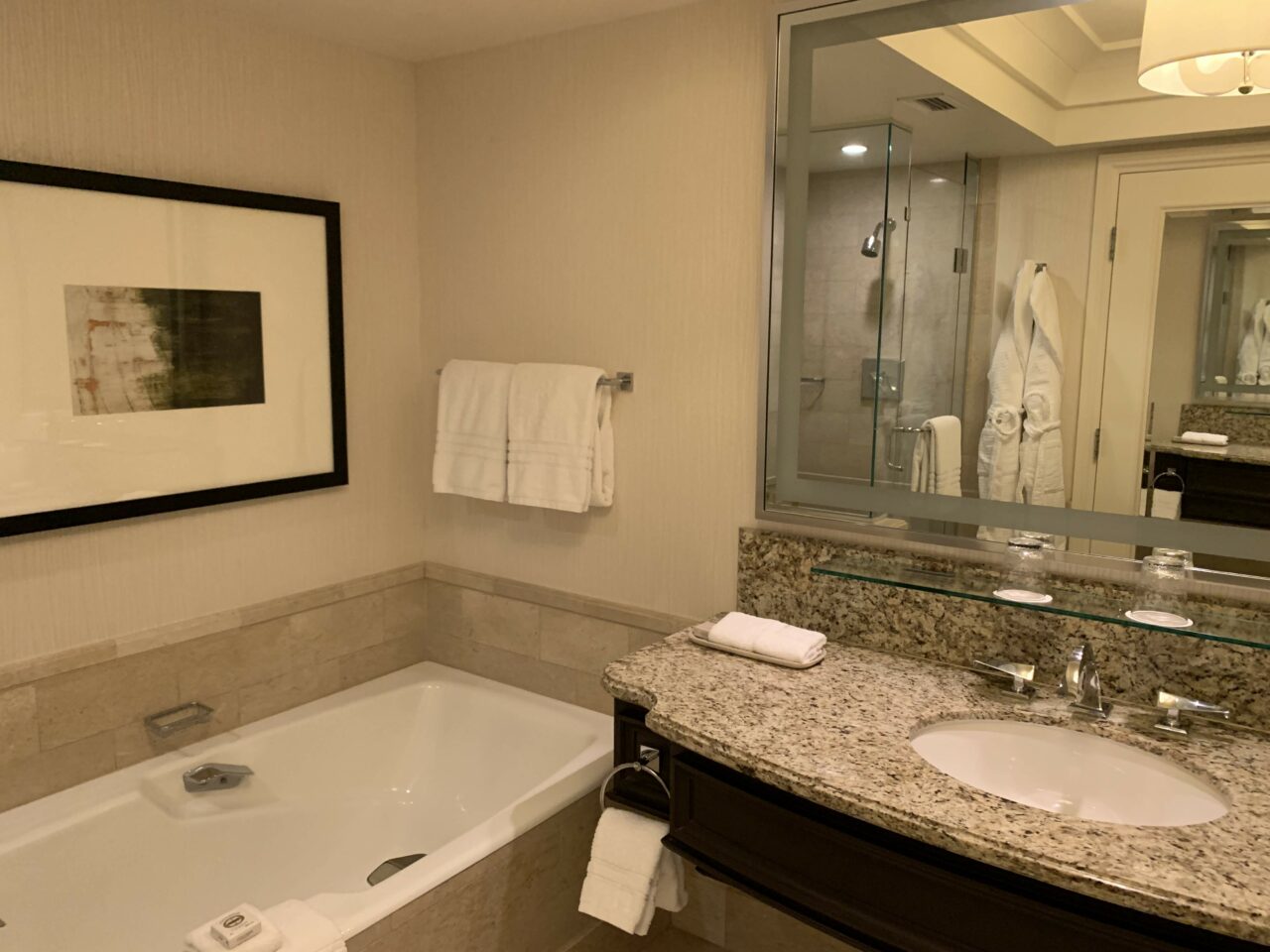 The bathrooms are a little bit of a let down in comparison to other Vegas bathrooms. Many Vegas hotels have bathtubs almost big enough to swim in!! This bath is pretty small even by normal standards in terms of length but it just about does for a soak of my weary feet after a day pounding the pavements of the strip in the heat!

I do like the vanity area though with its spacious vanity area, lit mirror and magnifying mirror. The toiletries are the L'Occitane Almond which was a bit different as it came with a shower oil which leaves your skin soft and smelling like marzipan!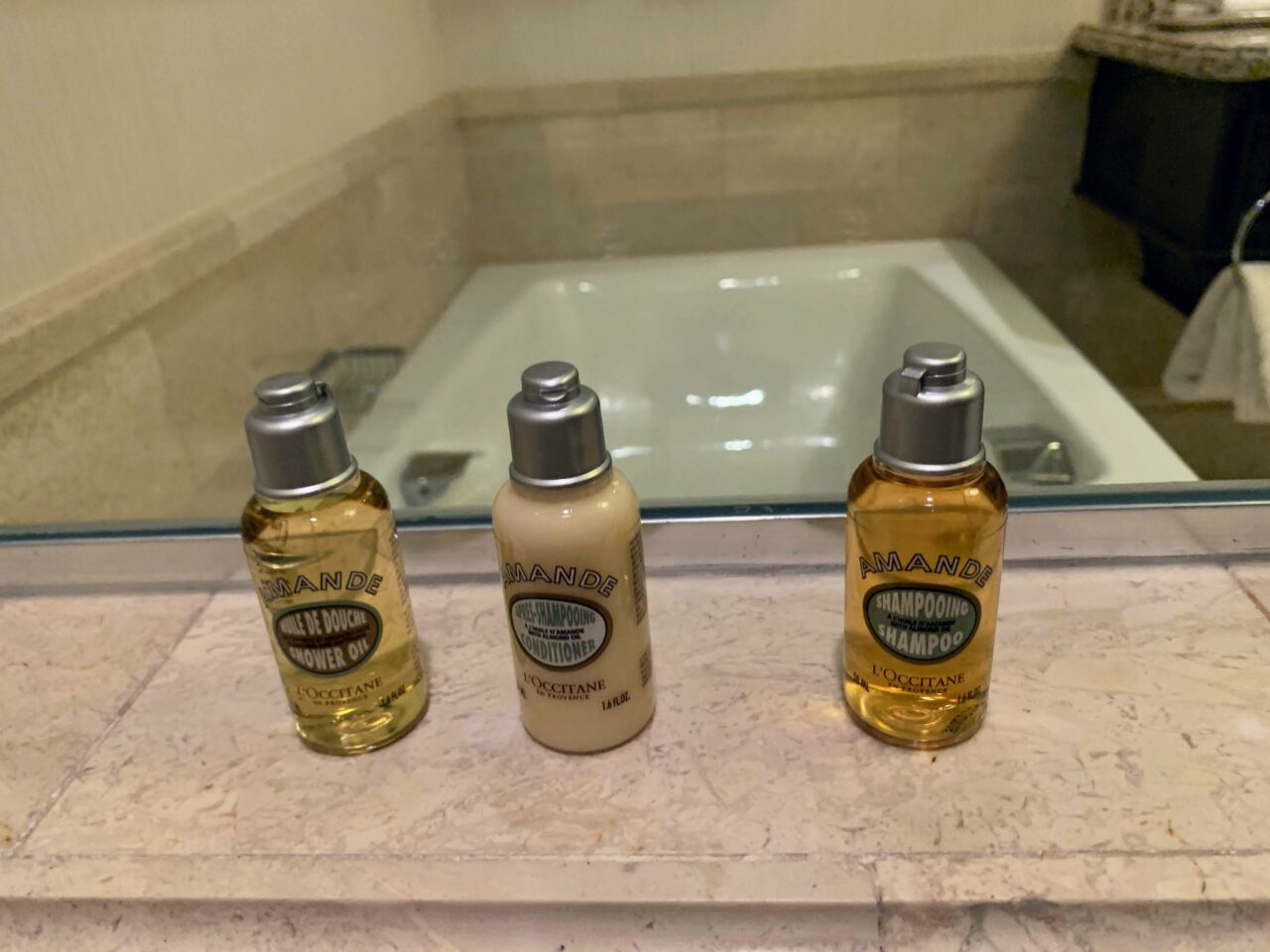 The shower is large and nicely finished in marble but the showerhead seems a little old fashioned in the days of rain showers. Most importantly though it had good water pressure and there were plenty of thick fluffy towels. The toilet is in an enclosed room which I like when you are sharing a room.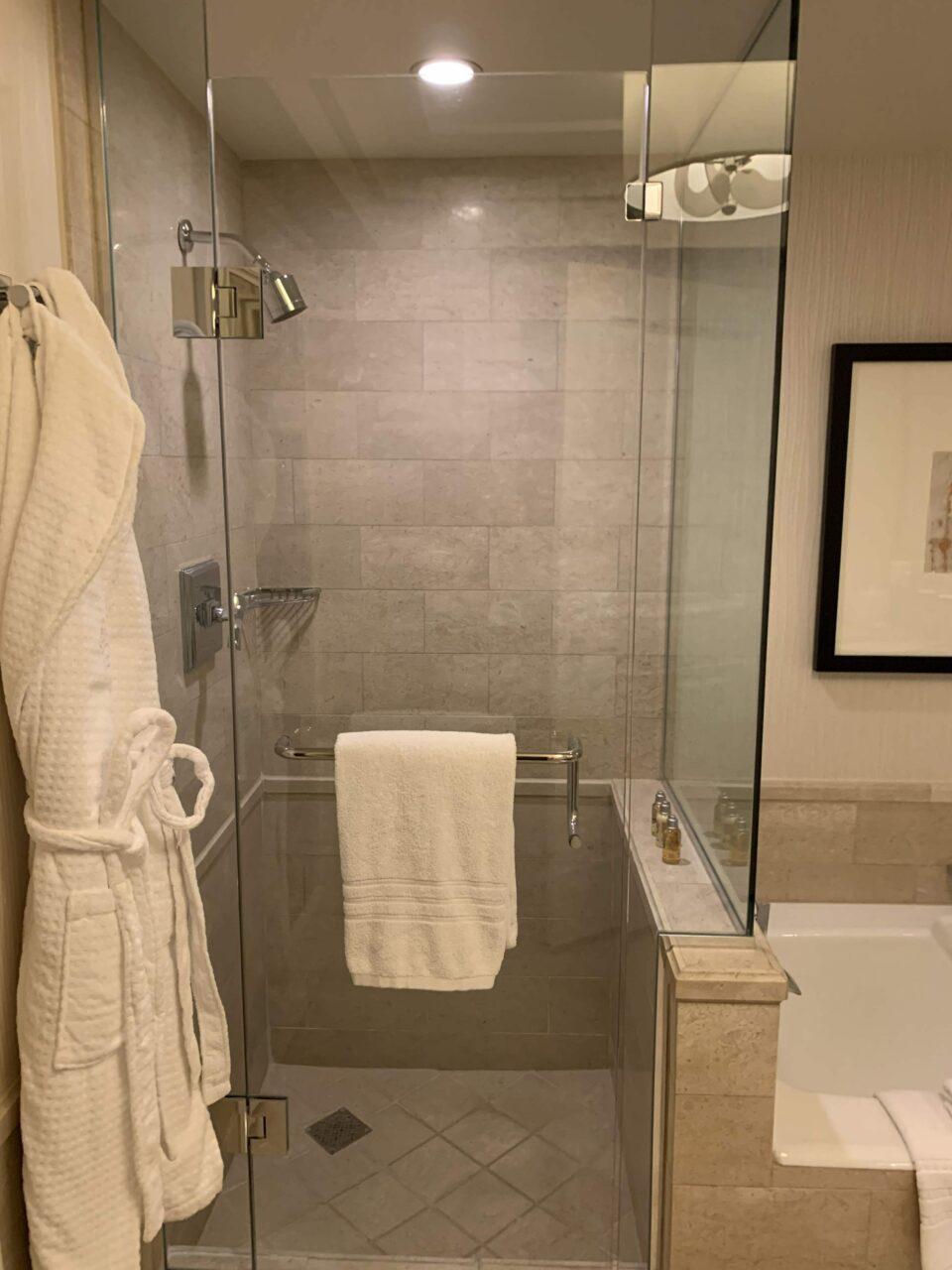 Four Seasons hotel Las Vegas One bedroom suite
All photos by IG: Jersey Girl in London
Four Seasons Hotel Las Vegas Food and drink
The hotel does not have much of a choice of restaurants but then you are a few steps away from Mandalay Bay through a special hidden door and there is a plethora of restaurants and bars there. I do like all the FS bars and restaurants though.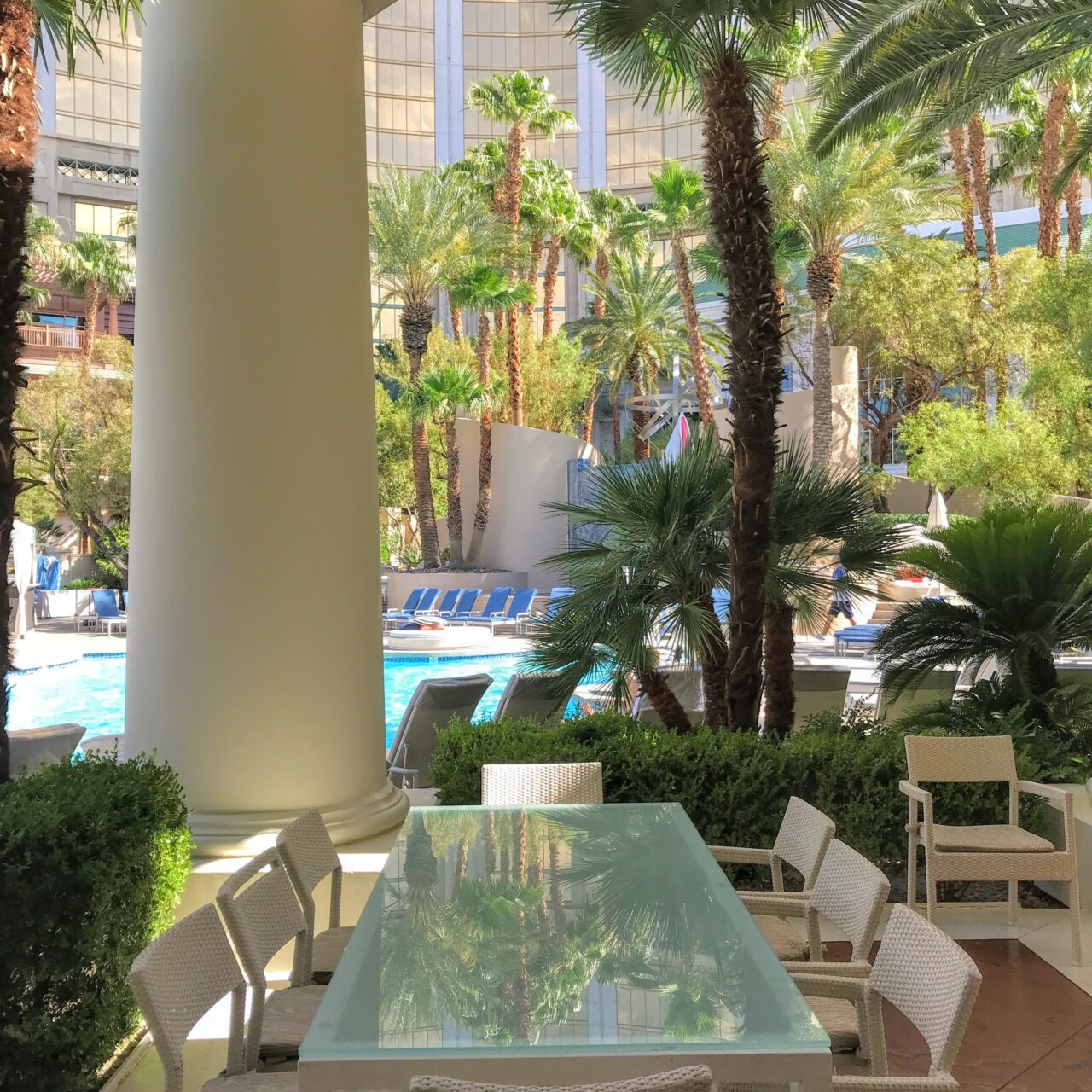 Veranda is the all-day dining restaurant and probably my favourite place to have breakfast in Vegas due to the beautiful outdoor terrace. They always call you by name as well which I think is a nice touch. The food has a slight Italian slant. At breakfast, they have a buffet at weekends which is pretty comprehensive but nothing on the scale of the casino hotels. I prefer to stick with the a la carte for a more relaxed breakfast.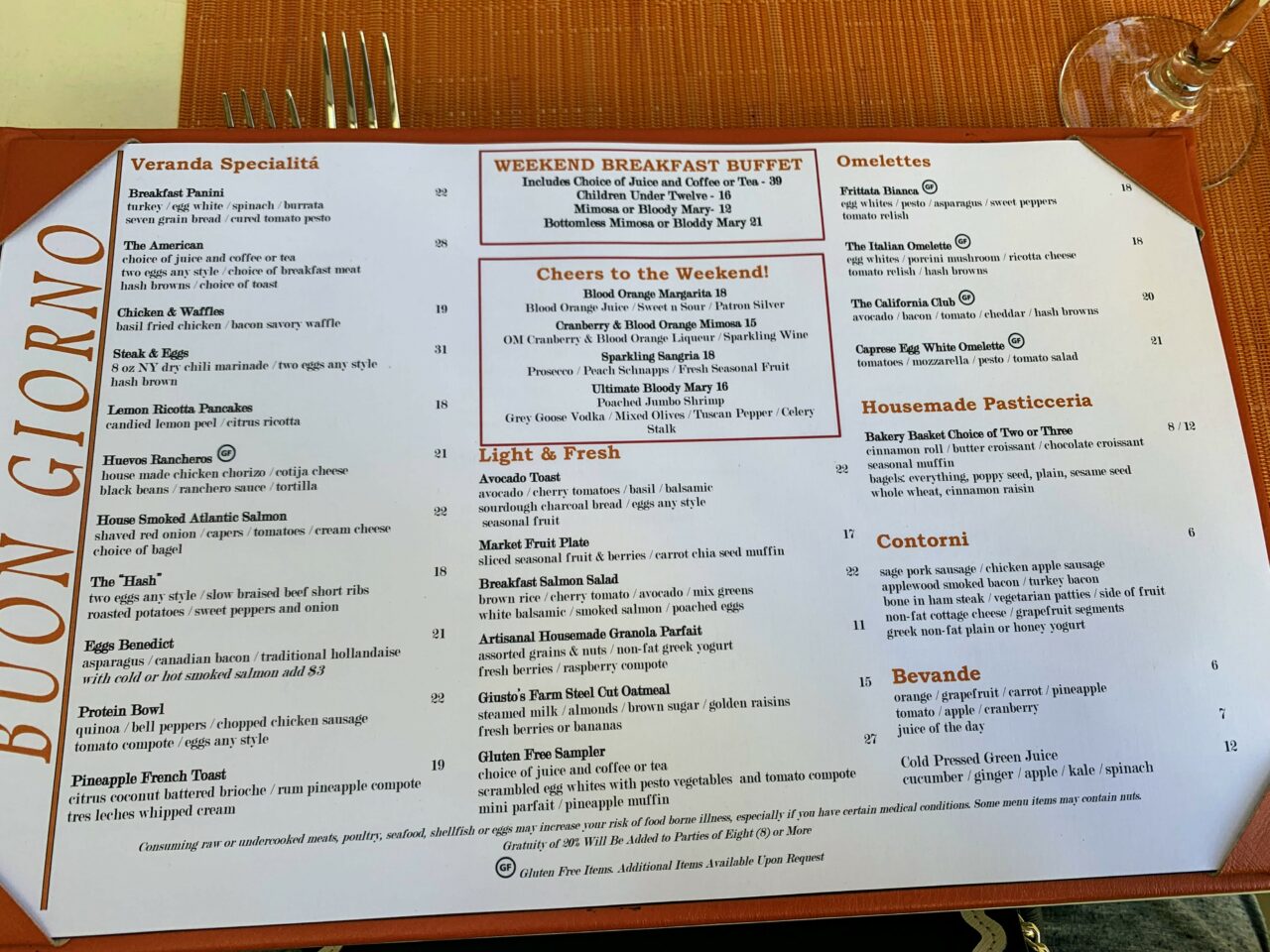 I normally have the eggs benedict but on this occasion, I was drawn by the California Club omelette which was delicious and not too enormous by US standards. And no, that's not a glass of wine, its cranberry juice. Although that may be a Mimosa…..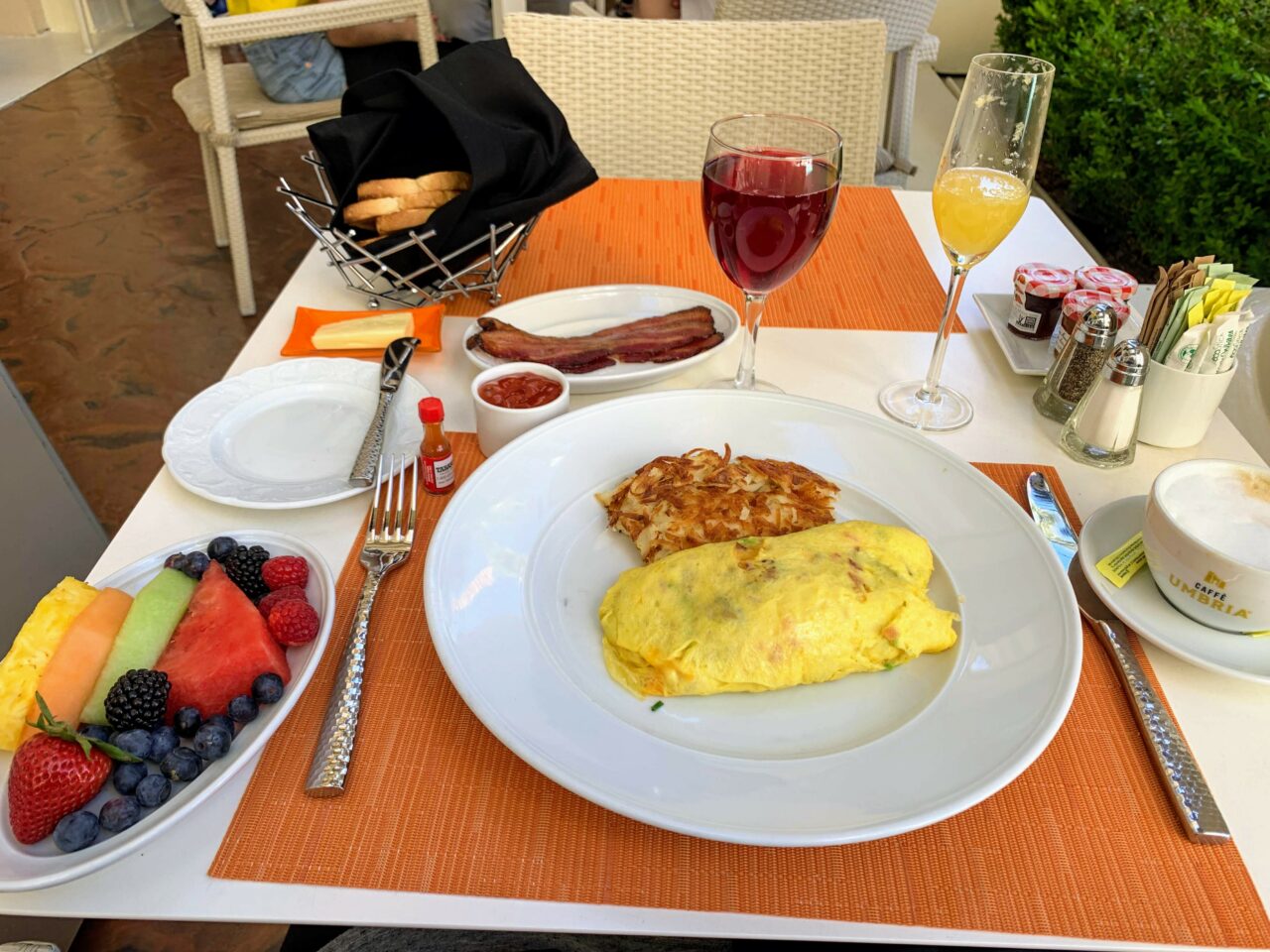 I also really enjoy the Press bar outdoor terrace with its fire pits, fairy lights and chilled vibe.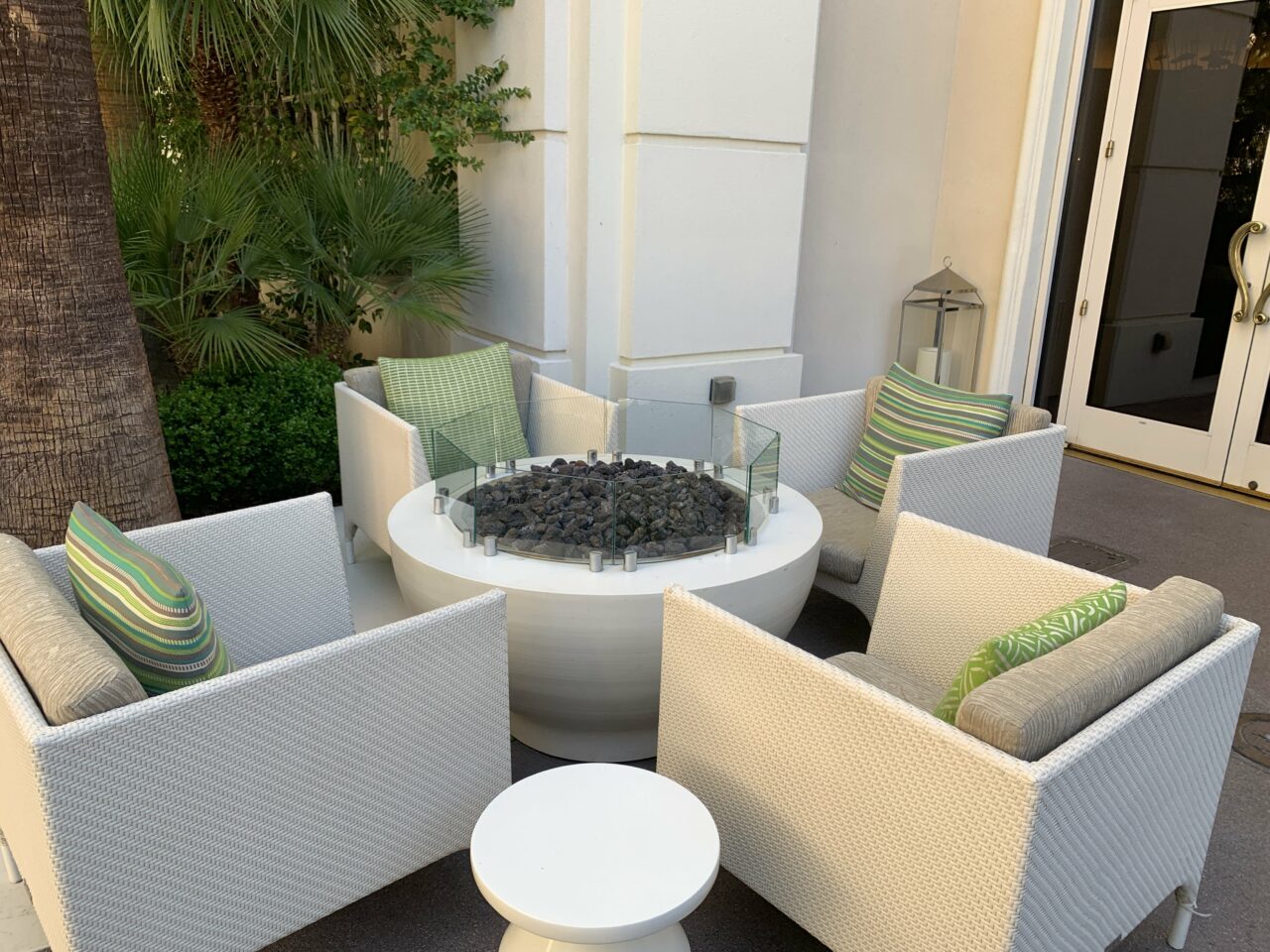 It's my favourite place in Vegas for a drink on a balmy night. There inside an indoor area too which is OK in the colder months but not worth making a special visit to.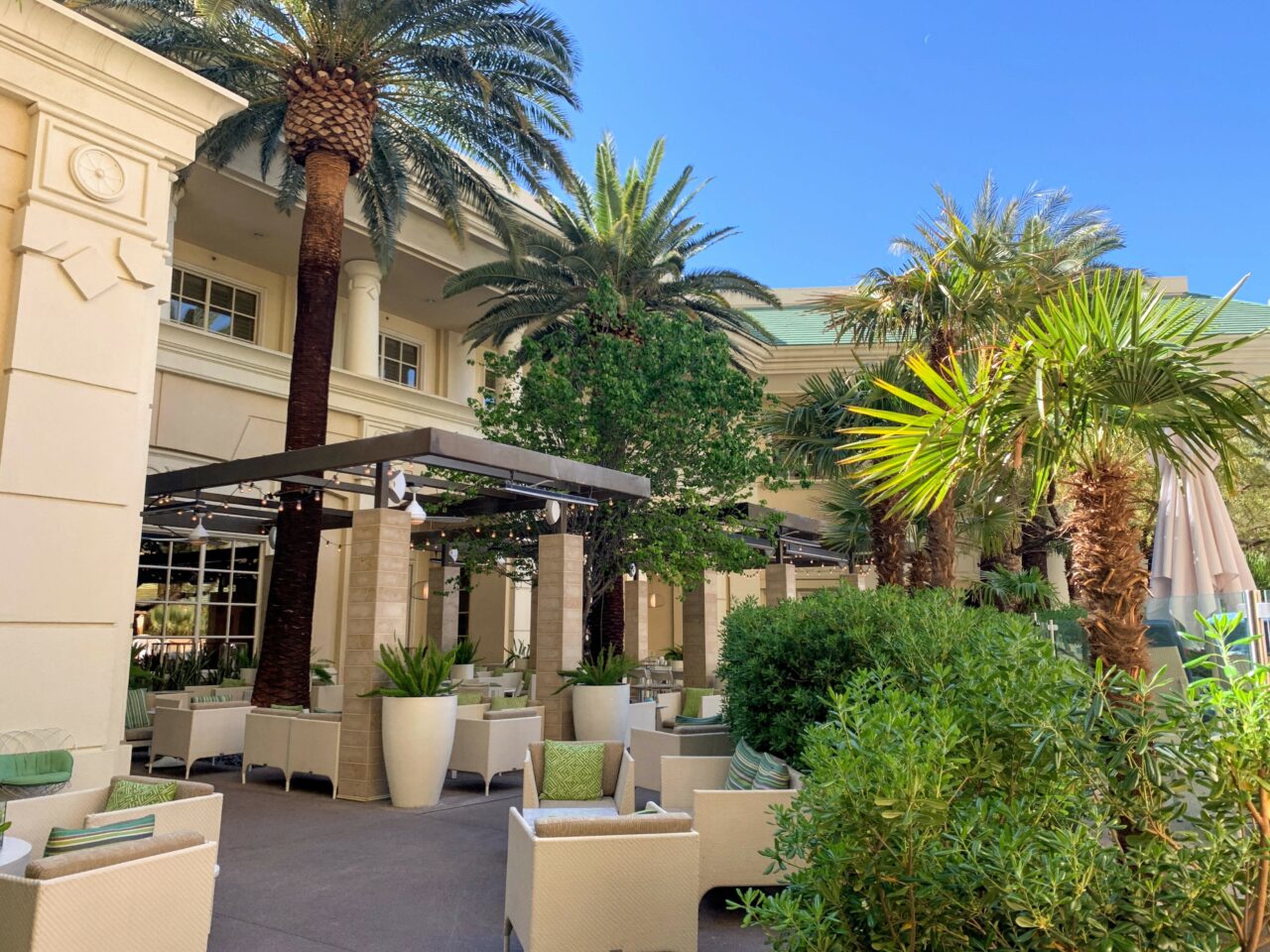 One of the best value fine dining experiences in Las Vegas is Charlie Palmer's steakhouse at the FS. They do a special menu which varies every week but typically includes a salad starter, steak, sides and dessert with unlimited wine pairings for $58. You can view the Cut of the week menu here.
Four Seasons hotel Las Vegas Pool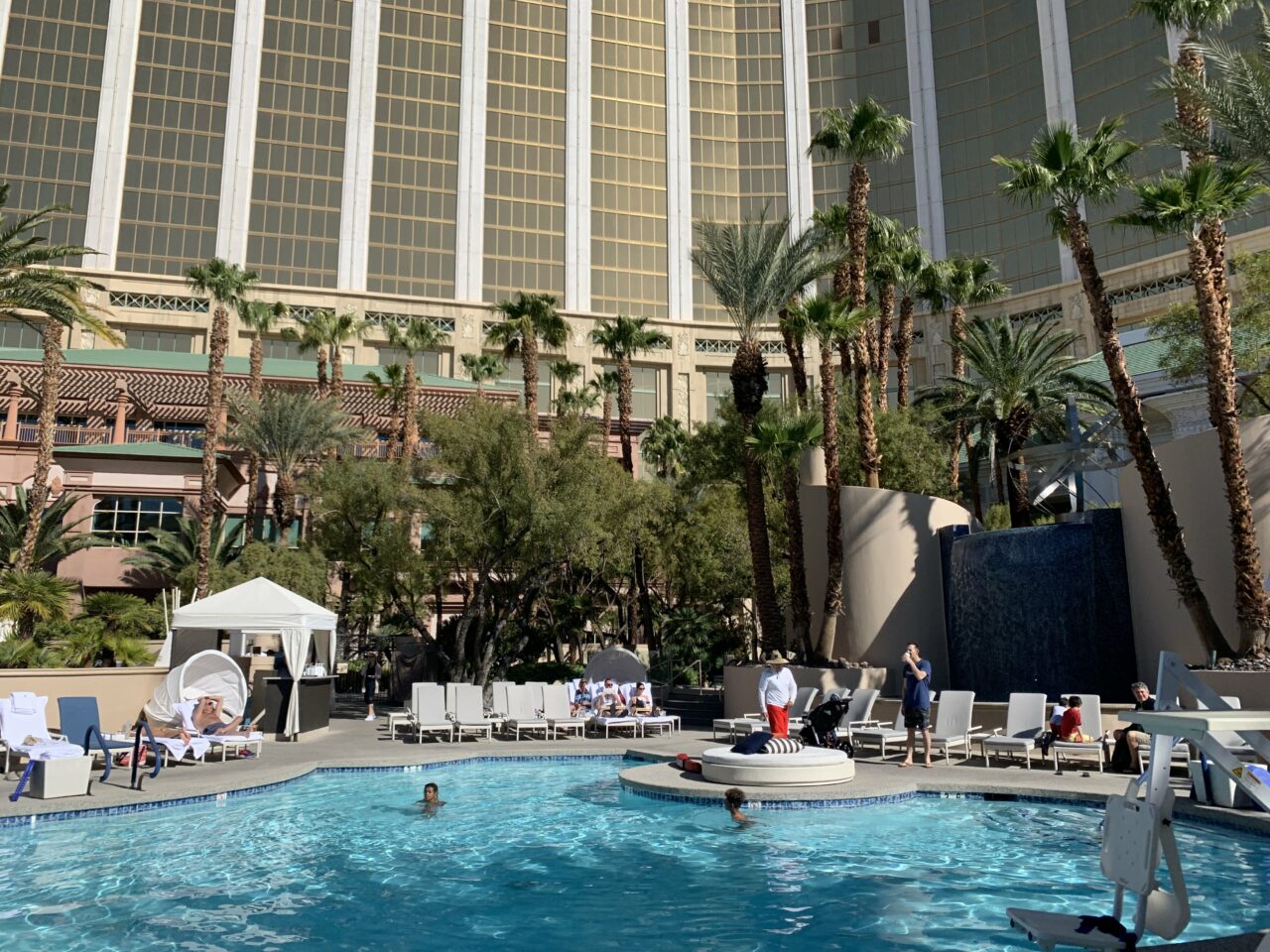 The main draw for me is the pool at the Four Seasons. It may not be the most ornate or large pool but the service is some of the best in the world for me. I also love the landscaping and relaxed feel to the area. As well as the pool there is a small jacuzzi.
When you arrive you check in with the staff at the desk, some of who have been there for many years of the 7 years that I have been staying there. They will ask whether you want to be in the sun or shade and will know which chairs will stay shady if that's what you want like me. Unlike many hotels, I have never failed to get a sun lounger by the pool even on peak weekends like Memorial Day.
Once you have found the perfect spot they will bring you a large jug of iced water which is topped up very regularly. Throughout the day they bring frozen treats such as snickers bars, fruit or smoothies. At the desk, they have sun cream and a selection of magazines and papers for guests.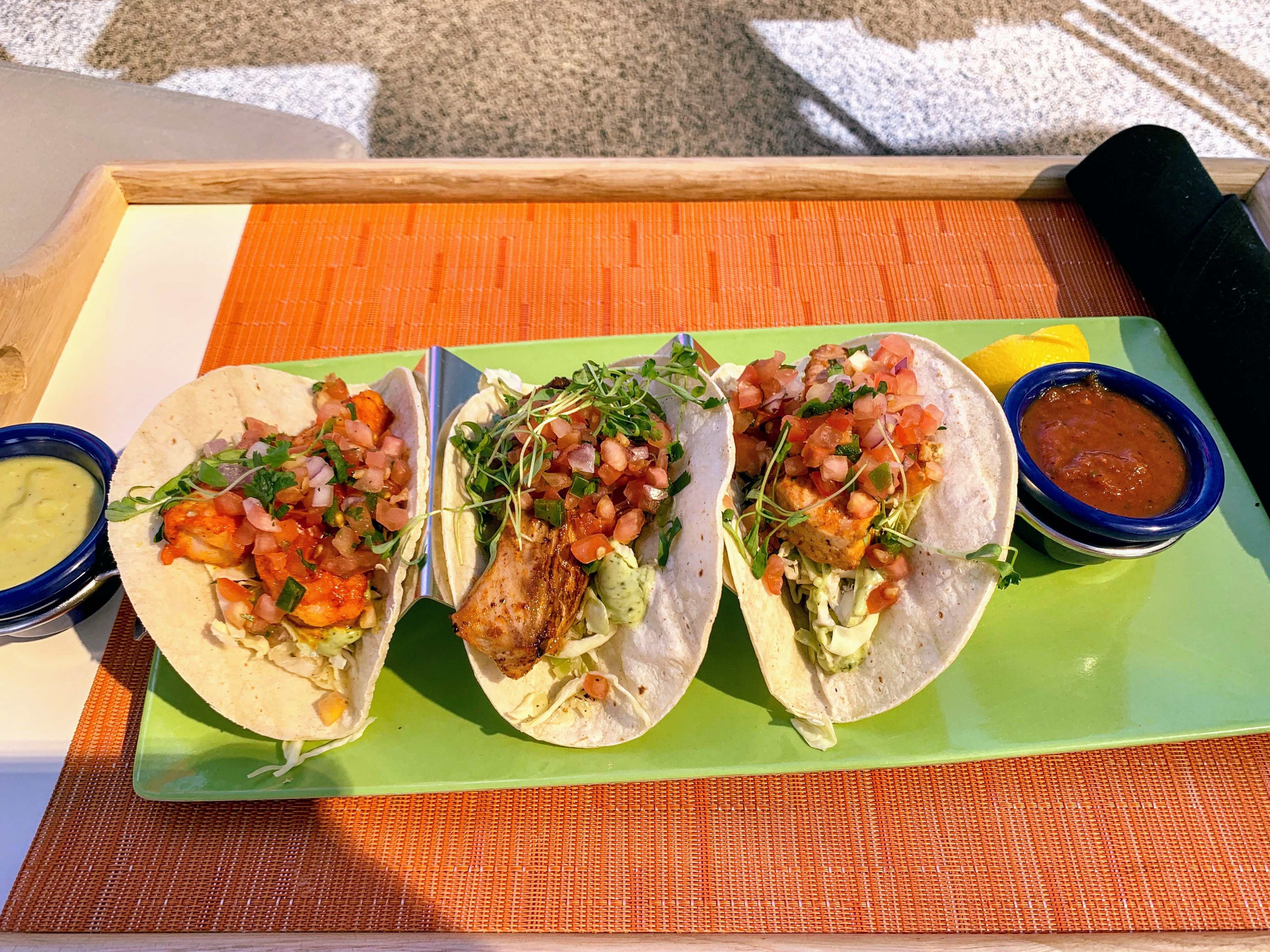 In the hot months, they even have one of the pool boys who goes around and mists you with Evian! Now that is what I call service! The wait staff have also always been great and the food and drinks are always high quality and with some great choices. Although the staff come round very regularly to check if you want something they now have introduced a button to press for service which is a great idea. What I love about the staff here is that on the rare occasion something goes wrong they proactively will take something off the bill as compensation. There's no need to even complain!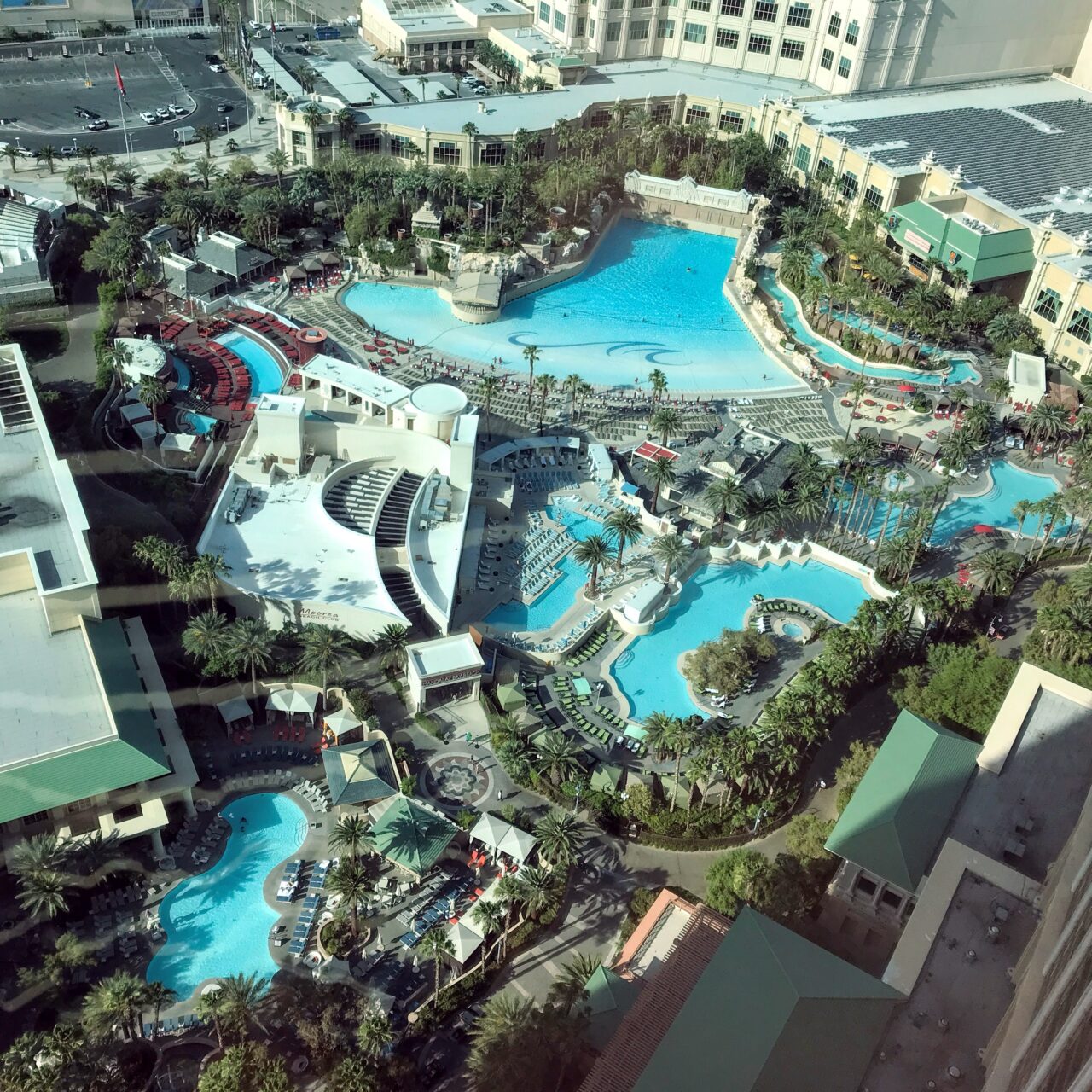 You also have a special gate for FS gates that takes you out to the Mandalay Bay grounds to access their pools. I really like a visit to these pools as they have a huge wave pool with real sand, a lazy river plus several pools and jacuzzis. You just need your FS room key room access them.
Other facilities at Four Seasons hotel Las Vegas
There is a well-equipped gym, a shop that sells essentials and souvenirs and a business centre. Top tip – the spa reception also has a good choice of pool accessories including FS branded products.
Spa
I'll be honest, if I didn't get spa credit I probably would not bother with the FS Spa. The treatments are great and the staff amazing but there are very few facilities apart from sauna and steam. One of the staff on this trip remembered me from a previous trip about 18 months before! Many of the Vegas spas have fantastic facilities which make the high prices more justifiable. My favourites include Qua at Caesars for the best facilities, Aria spa for the outdoor unisex jacuzzi and Waldorf for the tranquil atmosphere and strip views. At the FS, the Bathhouse spa at the Delano would be my choice.
If you go for the Virtuoso deal and fancy reviving those weary feet, the best value treatment is the Revitalizing Foot & Leg Treatment which is performed in the nail salon. You can also have a glass of fizz with the treatment and it is only just over the $100 allowance at $110-120. Otherwise, I normally go for the slightly more relaxing Treat Your Feet at the spa.
Conclusion
This was a great stay as usual despite the hotel being busy. I will still keep visiting the FS every Vegas visit as long as the prices aren't crazy. My top tip is to look at moving hotels if you get a few nights that are crazy prices at one hotel. I normally switch hotels on every Vegas trip for a bit of variety. The FS is expensive compared to some other hotels in Vegas but with rates starting at around £160, its a chance to experience a FS at much-reduced prices to most other locations.
The hotel's location was very handy as I was attending a big concert at the TMobile arena which is normally a bit of a nightmare to get an Uber or taxi from. I popped into a hotel for a quick bite to let the crowds go down a little, then hopped on the tram at the Excalibur back to Mandalay Bay. The service was as good as usual and I really enjoyed hanging out at the pool with @jerseygirlinlondon where we inadvertently ran into each other!
You can book with our partners Debonair on the special booking page here to get your Virtuoso benefits.