Cathay Pacific are having a difficult time with the inbound passengers loading to Hong Kong down substantially over the last few weeks. In August passenger numbers were down by 40% inbound to Hong Kong. The unrest in Hong Kong is deterring travellers from visiting and leading to cancellations. This has led to cutbacks in routes such as the rather handy fifth freedom route from Vancouver to New York JFK which has operated since 1996. The route will now will end on 27 March 2020. They will also be suspending their flights from Hong Kong to Dublin between 7 November and 29 March 2020.
The upside of the situation is that there is much more availability on Cathay Pacific for Avios redemptions than usual. I am a big Cathay Pacific fan. It may not have a particularly 'wow' business class product compared to someone like Qatar but it does have something special that is rare: consistency. In every interaction with Cathay on the ground and in the air I have found the service excellent – friendly, efficient and professional. It is all about the little touches such as taking my order for food first as a OW Emerald, when things go wrong, doing their best to help. For example, RR and I were travelling back to Hong Kong to connect onto a BA flight and there was bad weather forecast. Cathay proactively offered to put us on an earlier flight when we arrived at the airport early to make sure we made our connection.
You can read Paul's review of Cathays A350 business class product here.
Finding availability, getting the best value and booking
So if you fancy redeeming your Avios on Cathay Pacific or another oneworld partner, how do you find availability and book?
Maximizing value
One of the most efficient ways to use Avios on oneworld partners is multi-partner redemption. You can see our full article about MPR here. If you use 2 or more oneworld partner airlines for your redemption, a different number of miles applies. These can often work out better value for Avios redemptions than booking directly just on BA or with one connecting airline. This is because when Avios were devalued in 2015, BA didn't change this chart. The rates are based on the total number of miles flown. Business-class is 2 x the miles below and First is 3 x.
For those not familiar with multi-carrier award planning, the oneworld RTW 'where we fly' tool can be useful for working out an itinerary. To measure the distance the great circle mapper tool is also useful. You need to enter each leg separately. When using the great circle tool you can type in the names or codes of the airports as one list which is nice and simple. It will then work out the distance between each point and the total.
Booking and finding availability

BA changed their Avios rates for partner airlines at the end of May with the new rates shown in the table below. (Thanks to KARFA from Flyertalk for the table – you can follow his twitter @alexisk79 )
The partner airline rates below relate to Alaska Airlines, Air Italy, American Airlines, Cathay Pacific, Finnair, Japan Airlines, LATAM, Malaysia Airlines, Qantas, Qatar Airways, S7, Sri Lankan and Royal Jordanian Airlines.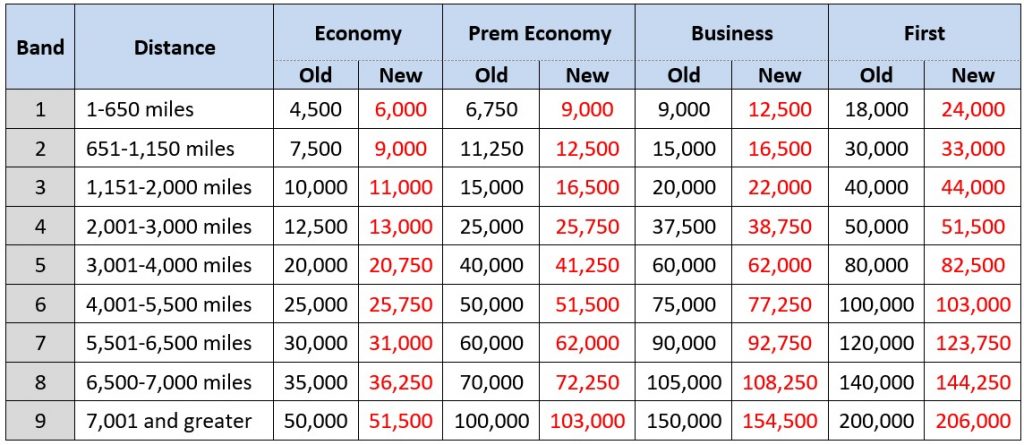 I realise that most people won't know the distance of their destination! It is easy to find out the number of miles needed using the usual BA Reward Flight Calculator. You need to remember that if you are doing a journey with a connection on Qatar, you will have to price for both flights separately.
The reason why partner airlines are often worse value is that other than Iberia and Aer Lingus, BA treats all partners airlines as peak redemptions. There is no off-peak like there is on BA.
Many carriers can be booked on britishairways.com in exactly the same way as booking a BA flight. Finding availability is not as easy as BA since you can't use the rewardflightfinder website. There are other alternatives but most require a small subscription – you could try Expert Flyer (read our guide here) or Award Nexus (more info here).
You can't always rely on ba.com showing you the partner flights that are available. If you can't find availability for a flight with separate legs, try searching for each leg separately. For example, for London to Singapore on Cathay, look at London to Hong Kong and then Hong Kong to Singapore. If you have trouble booking the flight online, you can do so by phone. BA may try to charge you a £35 fee for booking by phone, but they should waive this if you explain that you were unable to book online through ba.com.