Many hotel chains seek associations with iconic locations and addresses. However, few manage to achieve hotels for which the mere name sparks immediate, tantalising associations; the Belmond Group seems to be a serious contender on trying to achieve it. Providing exclusive addresses such as the Copacabana Palace in Rio de Janeiro, the Belmond Le Manoir Aux Quat'Saisons in Oxford and famous train journeys like the Royal Scotsman, Belmond is trying to set itself as a synonym of luxury in many cases ahead of its competitors. Are they delivering it?
In this review, I will share with you my experience at the Hotel das Cataratas in Iguassu Falls, which is a unique address at the intersection between Brazil, Argentina and Paraguay. The hotel is located within an UNESCO World Heritage Site, the Iguaçu National Park, making the property even more exclusive.
I travelled from Rio de Janeiro to Iguassu Falls, but it is possible to travel from Buenos Aires to Puerto Iguassu on the Argentinean side and then take a taxi to cross the border to reach the hotel.
Note: quite a few of the photos have been supplied by the hotel.
Airport – Hotel Transfer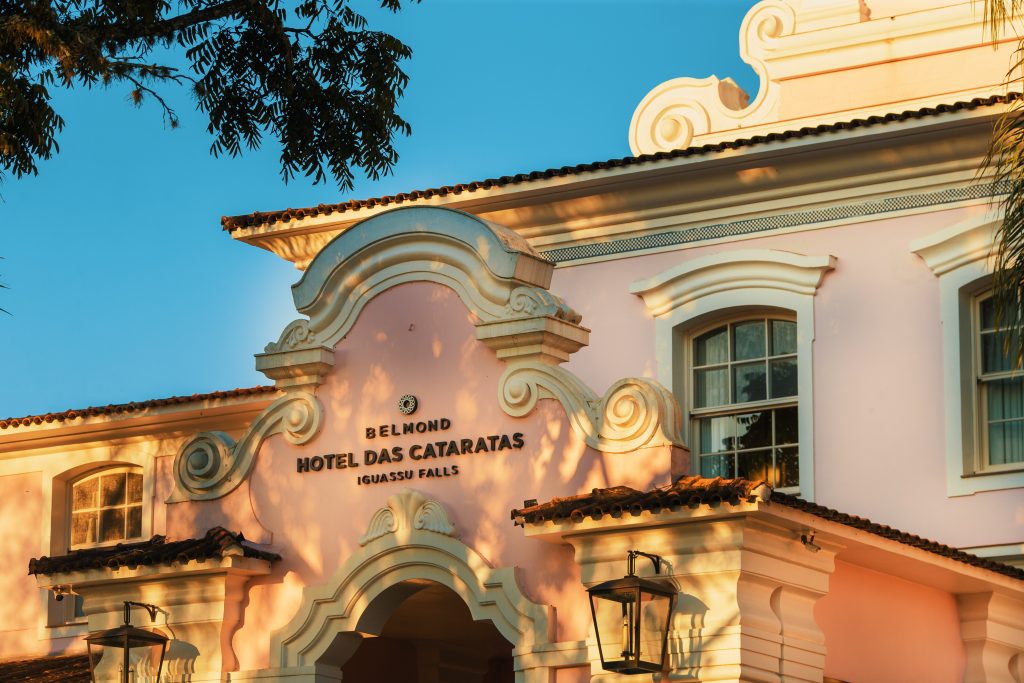 As the hotel is in the middle of a protected area, private drivers are not allowed beyond the park entrance. Therefore, upon arriving at Iguassu Falls Airport I had two options, which were to use a pre-booked hassle-free transfer from the airport directly to the hotel (around £62) or take either a taxi or an Uber 5 minutes journey (around £3) to the park entrance. If you opt for the latter you will be met by someone from Belmond who will let you into a small waiting room with refreshments and free wi-fi while they arrange for a hotel van to pick you up (for free). Ultimately, the size of your group or how smooth you want your transfer to be should define which option to go for. I took an Uber and it was absolutely fine!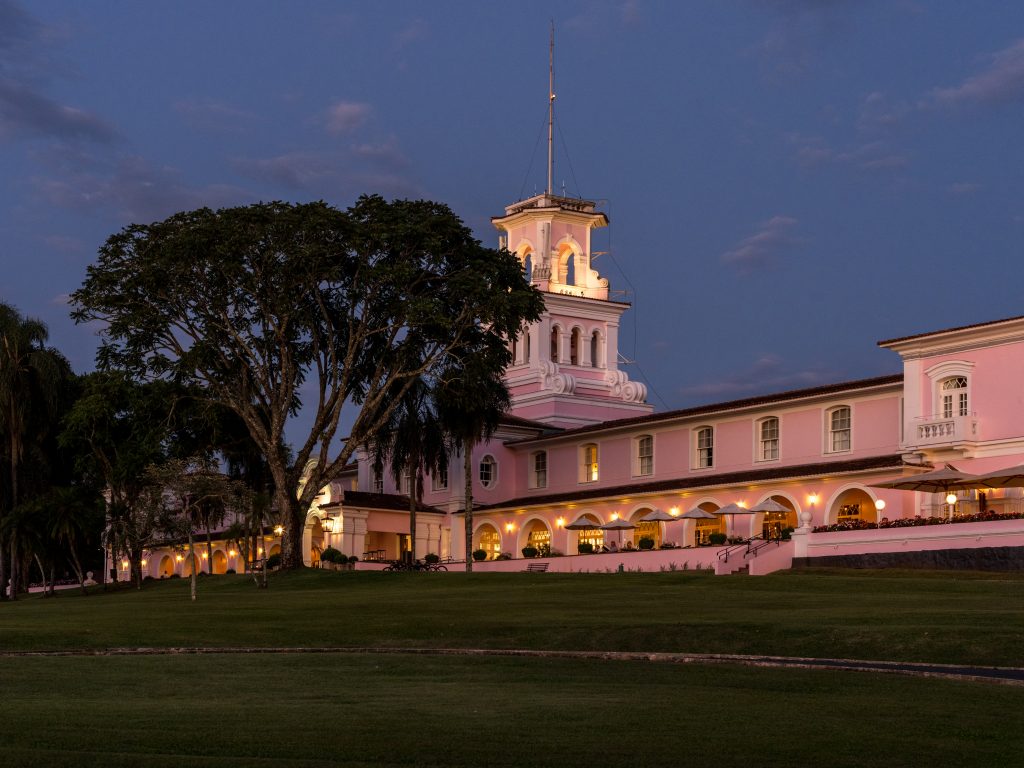 While many hotel shuttles are provided for the simple purpose of transportation, to quickly get you between two points, the Hotel das Cataratas uses it as the beginning of a theatrical journey for the visitor. It is clear that the drivers are well skilled in driving the 12km between the park gate and the hotel given how smooth the journey was. They make it appear at first as an endless road through trees where you have no idea of what to expect at the other end.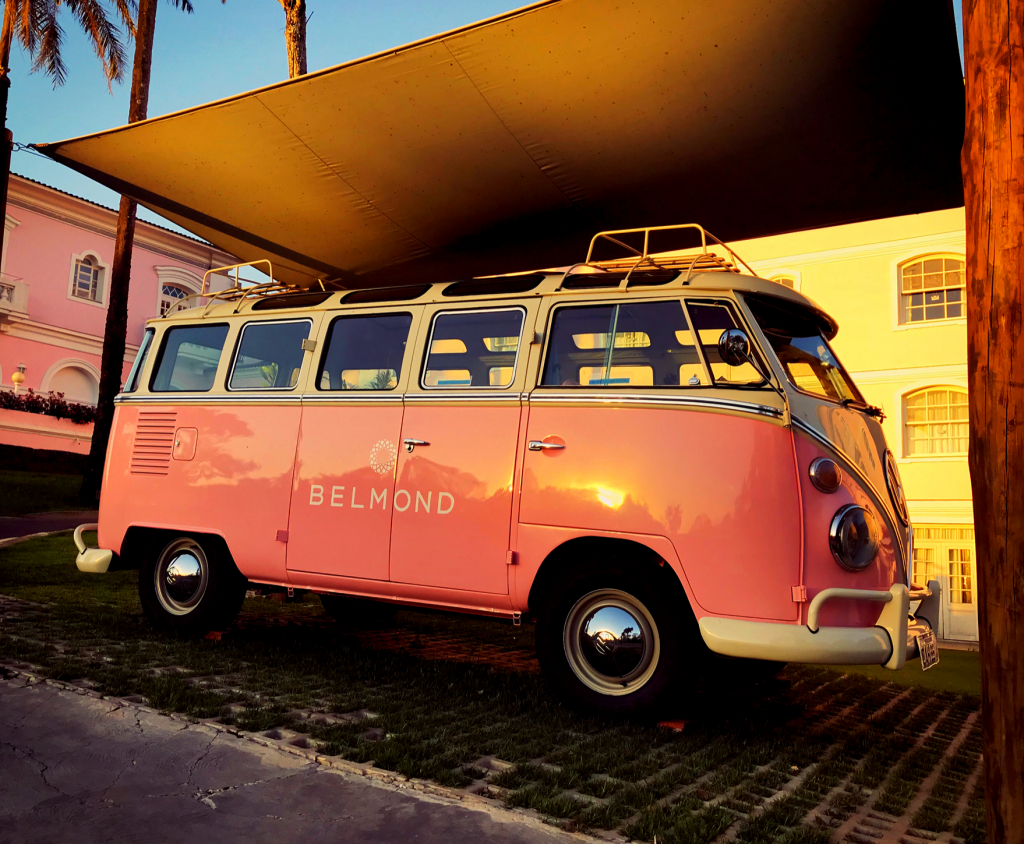 Arriving at the hotel is quite an experience. At my right I had a breath-taking view of the majesty falls and on my left the impressive pastel-pink colonial style Belmond and I simply didn't know which side to look first. I guess the hotel driver is fully aware of it and therefore makes a quick stop at a strategic point so the guests can appreciate both views before driving them to the reception, which is less than one minute away.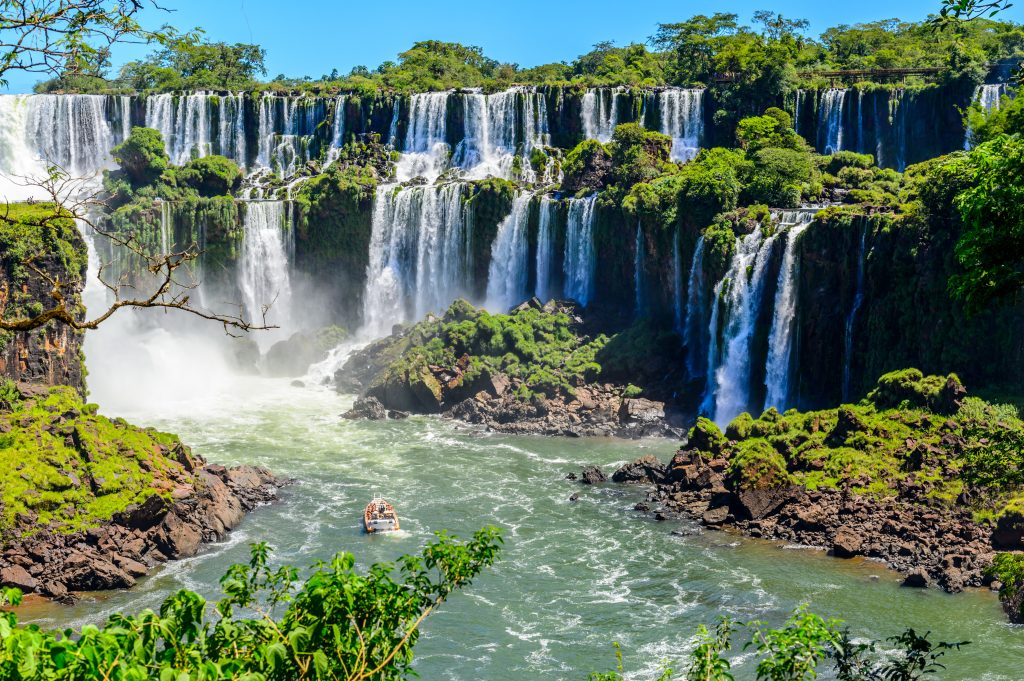 As soon as I stepped out of my transfer, a hotel porter took charge of my luggage and guided me to the check -n desks. At this point, I sensed a nice perfume in the air, ideal for a summer day, which combines well with the space and local climate. Thumbs up here to whoever chose their signature scent!
Check-In
At check in I was assisted by Marília, who could speak perfect English which was very handy as I had a British friend travelling with me. Always smiling, Marília quickly checked us in and informed me about my room upgrade.
I made my reservation using Kaligo (details below) and at the time of booking, I entered some special requests. To my surprise, Marília not only acknowledged them, but also confirmed them all.
Cold water with slices of lime was available on the side, which was a nice touch given that local weather can be very hot at times.
Room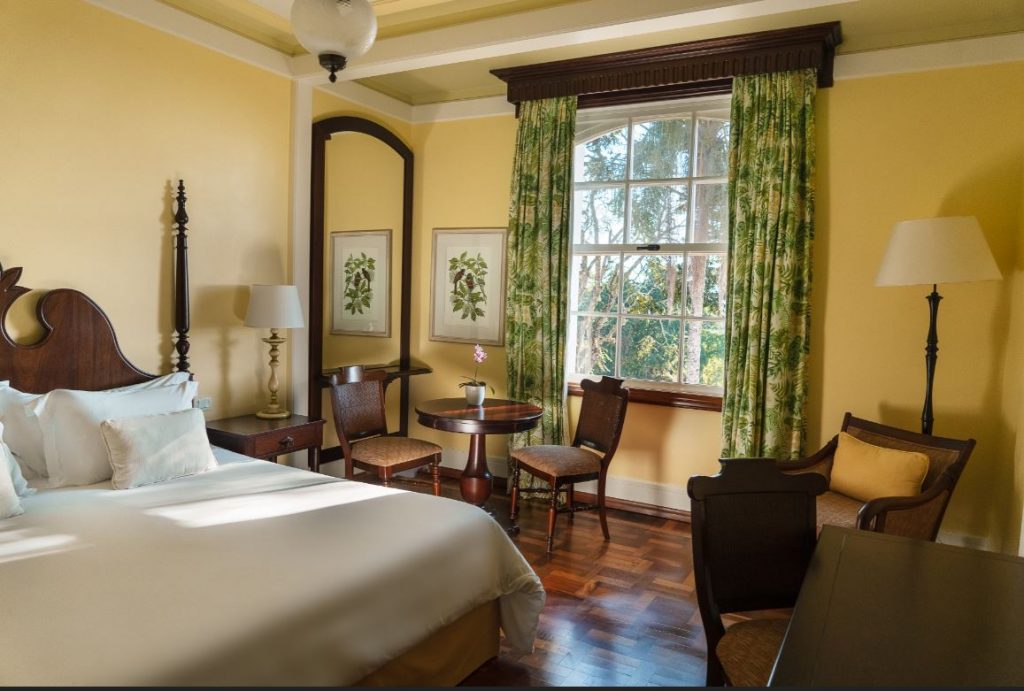 After completing my check-in, Marília walked me to my room while sharing additional information about the hotel such as the different restaurants, local tours and breakfast time.
Once in my room, I was told that I would be given a complementary pair of the famous Brazilian flip-flops (Havaianas) and the mini bar was also complementary, which put a smile on my face, with the caveat that any refill would be charged. My happiness did not last long though!! As soon as I opened the mini bar, I sadly found out it only had water (still and sparkling) and a few cans of soft drinks! Oh well … one can always dream, right?!?
The best part, however, was a plate with a small message on it and some sweets. It was definitely a nice treat!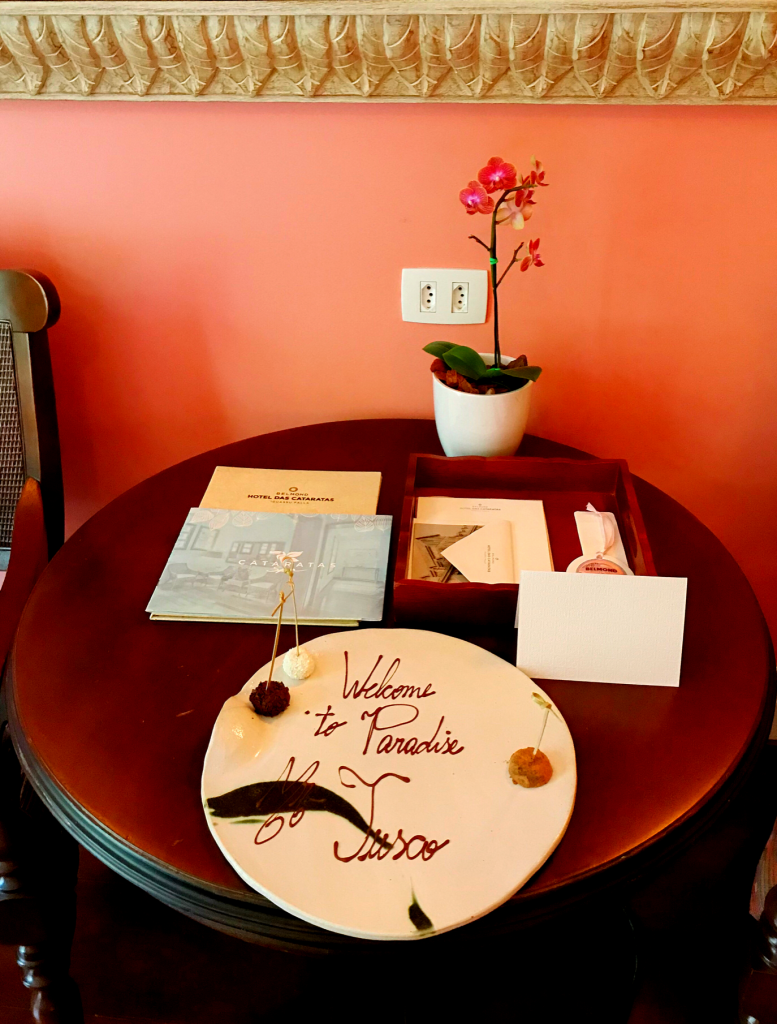 The room decoration and furniture are pretty much in keeping with the hotel colonial style, all made of dark wood. As I mentioned above, I was given an upgrade and my room had a Juliette balcony facing the garden and a very comfortable king size bed. Another nice touch was a natural orchid placed in a small vase on top of one of the bedside tables.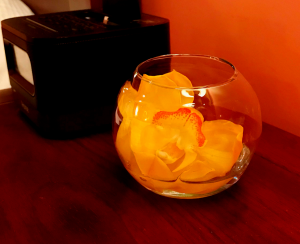 In terms of other room types, I would say the best ones are the suites either with falls view or with a private swimming pool, which can be shared by two rooms if needed.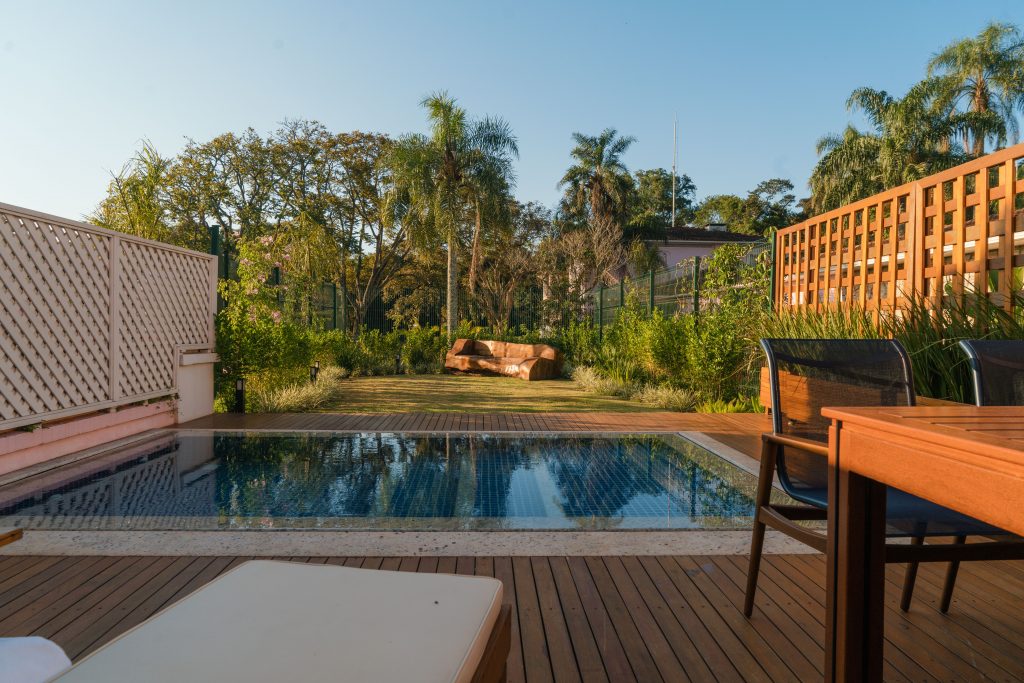 Bathroom and Toiletries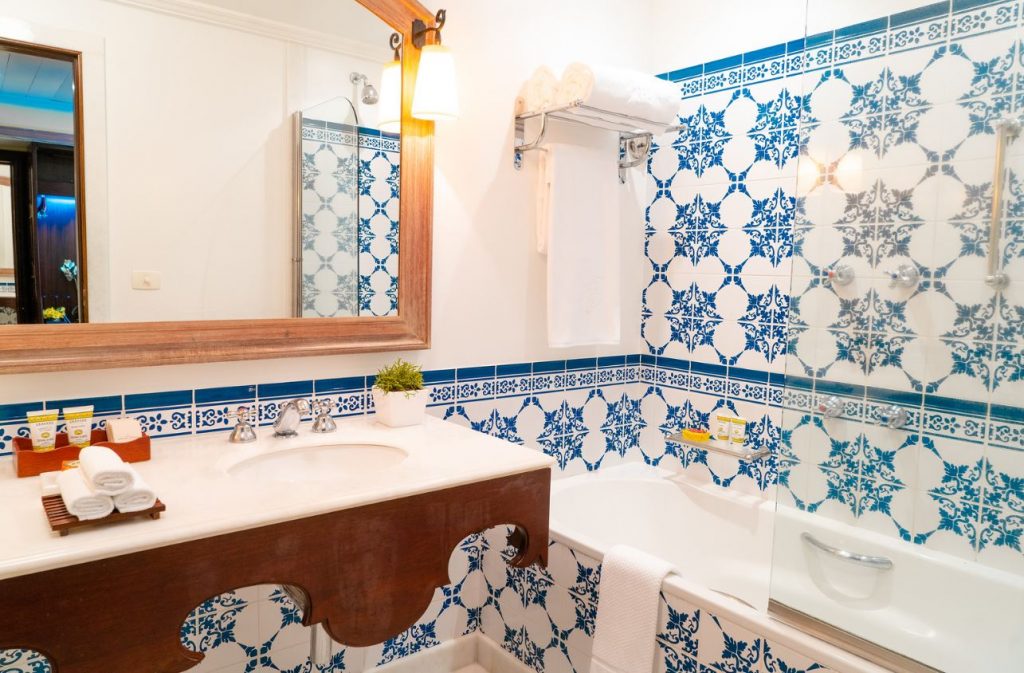 The bathroom was a good size and the vanity unit was made of a nice light-coloured marble. But the best part was the Portuguese tiles covering the walls, again a clear reference to the hotel colonial style. Finally, the toiletries were from a Brazilian brand called Granado, yet another attempt to link the hotel with the country and its location.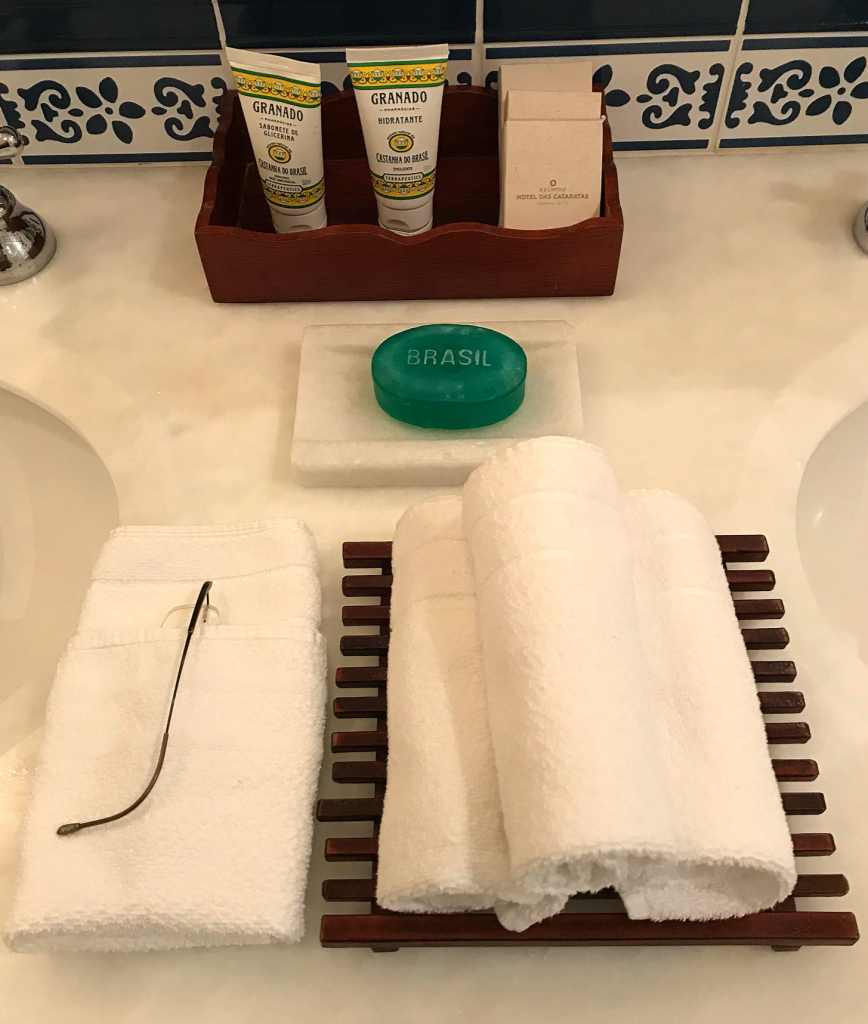 My overall perception is that the entire team places a lot of attention to the details, but this is more noticeable with the housekeeping. I have been in hotels where my toiletries were carefully placed on small hand towels, but I have never had my glasses put in a towel case before nor my iPhone wire charger tied in a little knot! Hats off to the housekeeping team!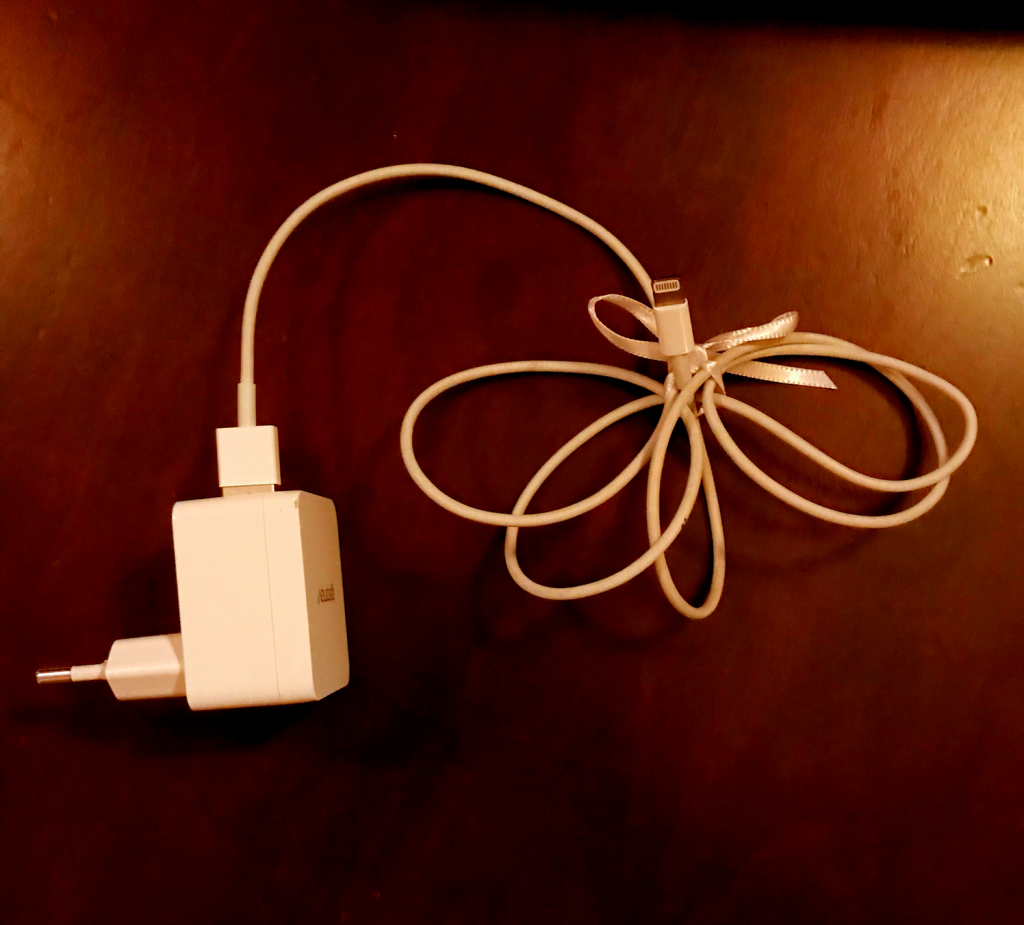 Concierge
I must start this by warning you that I normally do not have good experiences with concierge teams. After speaking with them I always leave with the feeling they are either trying to sell me something or convincing me to do something that I do not want! Anyway, my friend and I picked up a local map and it indicated that some wild animals could be seen in the park. My friend asked this lady if there was any specific area where we could see the animals and she just said … in the park! Ermmm … thank you!!!
However, my overall experience with the concierge team was saved by Felipe. He happened to be there a couple of times that I needed some local information and he was spot on. Always friendly and giving precise answers to my questions.
Restaurants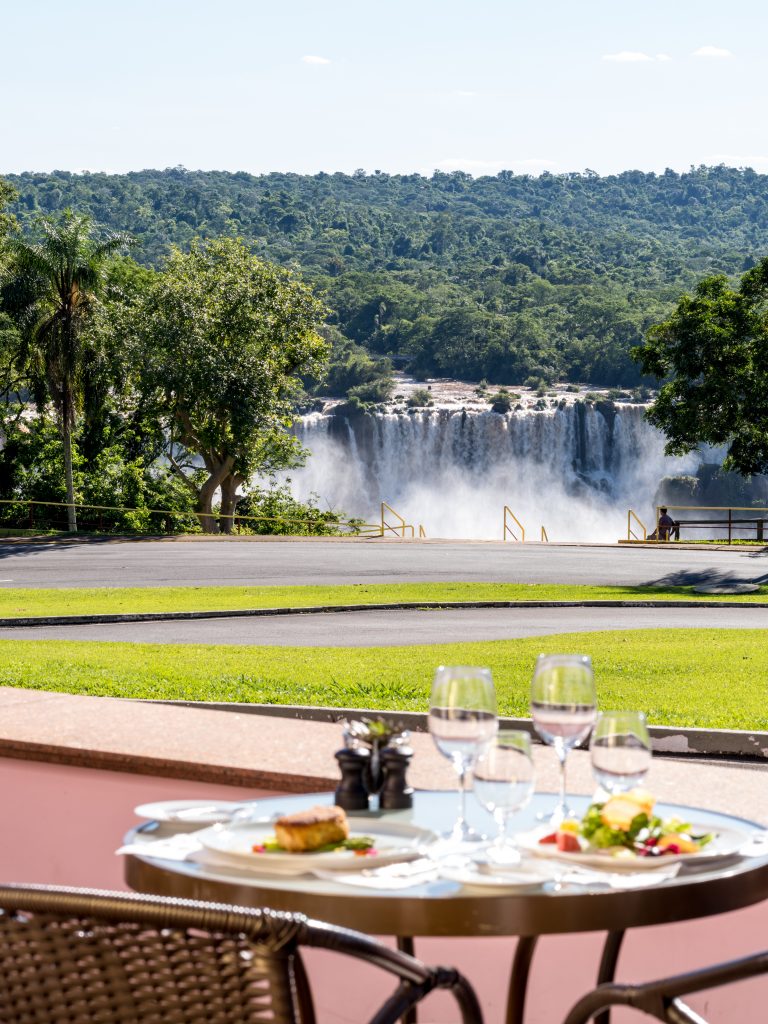 The hotel has two restaurants and a bar. One of the restaurants is for fine dining and must be pre-booked, while the second restaurant is more casual and by the swimming pool. In this restaurant, the hotel offers daily barbecue buffet dinner and also breakfast.
Talking about breakfast, the food assortment was impressive, one of the best that I have ever seen, with a large variety of bread and cold cuts. The pastry and cake selection was equally good and very tempting. Not good at all for one's figures I must say! Juices and fruits were all fresh and tasted really nice.
On my first morning, I noticed there was some sparkling wine available at breakfast, but I did not have a chance to try it as I was, as usual, late to go on a tour. On the second day, I did not see it and asked a young lady, that I imagine being the service manager, where were the bubbles. At first, she ignored me and then in a rather rude way told me they were no longer part of the breakfast menu. I am not sure if she was either afraid of me insisting on having some or was just having a bad hair day! In many other hotels this behaviour would go unnoticed, but unfortunately, when you are in a place where attention to detail is of a very high standard, small things like that really catch your attention.
I did not try the fine dining restaurant so I cannot really comment on it. But the second restaurant was excellent for a meal by the pool. However, my preferred option was definitely the bar, which in my opinion was just perfect as you can see a bit of the falls and enjoy the sunset while sipping some caipirinhas, the traditional Brazilian drink made of lime, sugar, ice and rum. They also serve food at the bar and the beef burger is delicious! I do recommend it.
Gym and Swimming Pool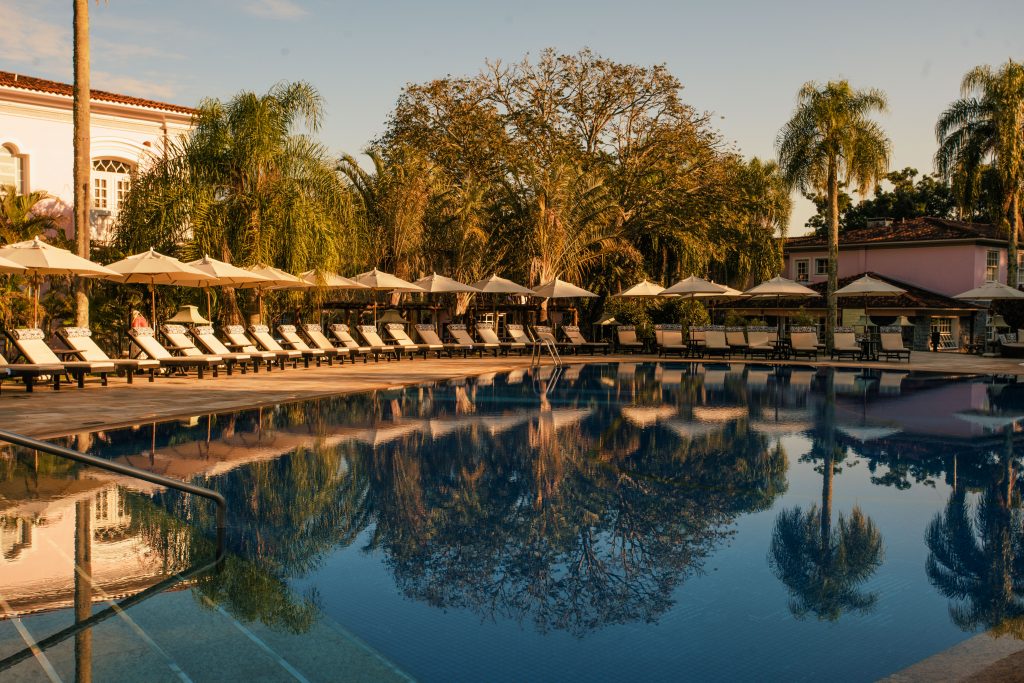 The hotel has a small gym, but I just waved to it on my way to the bar! I was on holidays after all! On a serious note, although small, it seems to have the basic equipment you would need to keep fit. Having said that, with the amount of walking required to properly see the park and the falls, no one should feel guilty of skipping a few workout sessions!
While the gym can be given a miss, the swimming pool is a must! It is good for an early morning swimming as it is heated or a relaxing afternoon watching the birds flying over the hotel and with a bit of luck you might be able to see a toucan. Staff at the swimming pool were very friendly and as soon as they would see you coming they would bring towels, the bar menu and always happy to engage in small talk if you started it.
There is also a spa offering 3 treatments room and male and female steam rooms. Treatments reflect the rainforest surroundings and feature locally sourced sustainable products.
Conclusion and booking
Overall, I had a very pleasant experience and would certainly stay there again if my travels take me back to Iguassu Falls. Thinking about the overall experience, I would say the most memorable part of my stay was the staff. Despite the minor hiccups that I mentioned above, the team was very attentive and friendly. I felt they are proud of the place where they work and it makes a huge difference on the service delivered to the guests.
The hotel infrastructure is also nice. It ticks all the right boxes and given the fact the property is within a protected area, they cannot change the original building. Therefore, the colonial style, which gives a special charm to it, will be preserved for the foreseeable future.
One thing that I was particularly curious to check was how Belmond would compare with the traditional chains like Sofitel and Intercontinental that I have been before. The Hotel das Cataratas will not let you down and their overall service is equal or above that provided by other luxury hotels. Their focus on using Brazilian products like the toiletries, the perfume and the flip-flops give a special touch of uniqueness to the guest experience.
I started planning my trip to Iguassu Falls well in advance and the Hotel das Cataratas was the place where I wanted to stay. Therefore, I was constantly looking on-line for good deals and a few months before my trip Kaligo, the hotel booking website, had a generous double Avios promotion that I went for. The booking cost me £65 more as opposed to booking directly with the hotel, but gave me 19,200 Avios and a round of complementary drinks at the hotel bar. A good deal in my opinion.
Another option, mainly if you prefer to get some cash back instead of points, is to use Top Cashback. If you book through someone like Expedia and time it right you could get up to 12% cashback on your booking.