Following on from earlier articles by Michele covering a few TP (Tier Point) runs and where to stay hotel wise; I thought I would quickly break down a few runs available now for people stuck for ideas and hopefully to inspire a few!  This is not an exhaustive list and is not the most optimised routes or timings. You can read the earlier guide to Tier Point Run basics here and see all the tier point run breaks destinations guides here.
This guide should serve to generate ideas.  A longer basic ITA guide will be following in the next few weeks showing you how to find similar, and tweak to your wants and needs.
Tier Point runs usually involve manipulating a point to point fare and adding in more stops based on the fares rules or MPM (maximum permitted mileage).  These can all be found on ITA Matrix and in more depth on expertflyer.  More in the next guide.
Just to note the current thresholds on the British Airways Executive Club –
300TP for Bronze
600TP for Silver
1500TP for Gold
5000TP for Gold Guest List qualification and 3000TP for renewal.
So here we go building up in price and TP haul!
Luxembourg is always cheap in all classes and is a short hop from Terminal 3 and the great lounges there –

45TP for a shade over £150, but for only £30 you can increase that to 80TP –

Several other domestic locations can usually be had for similar prices – we are currently at £2.33/TP.  Lets see if that drops as we increase the run size!
How about another 40TP on top of that and a beautiful Spanish city?
Again similar fares can be had for similar prices to other cities.  Down to £2.20/TP.  This particular one is also a great way to try longhaul planes like the British Airways 777 and Iberia A350 we have reviewed recently.
The next one follows the same strategy but adds another 80TP by starting and finishing elsewhere and not London.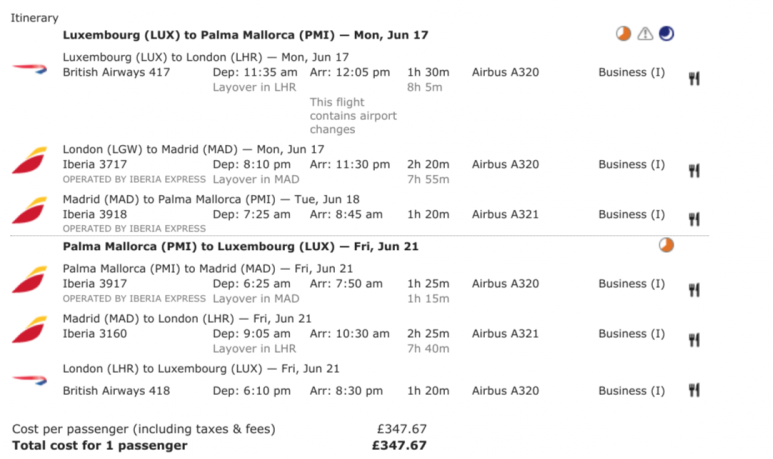 £1.73/TP – notice a theme?!
Now this is where it begins to get pricey and the ratio drops back sadly –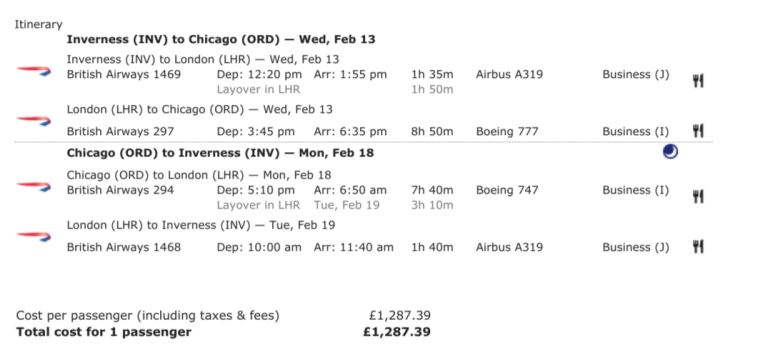 360TP but at a rather awful £3.50/TP.
But can we do more on the same ticket?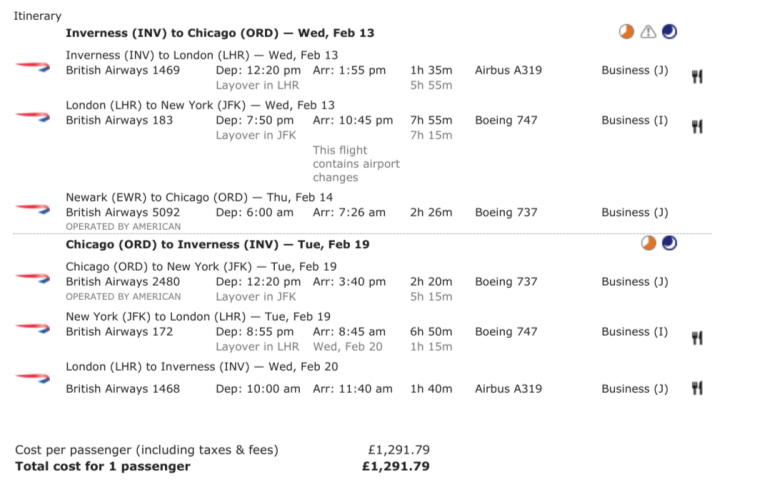 Same route with an extra stop gives us 440TP at a more reasonable £2.93/TP.
Michele has always written about Phoenix and the fare is still around, albeit limited dates.  So lets have a look –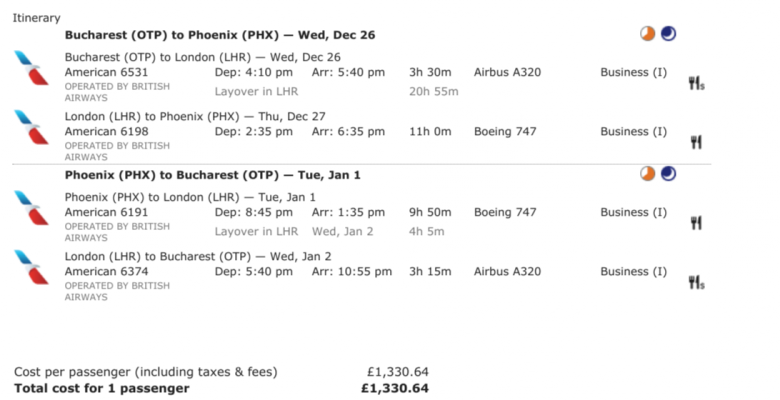 A nice Business Class fare if TP's aren't of interest.  If you are reading this article they are however hopefully!
So lets tweak it a bit!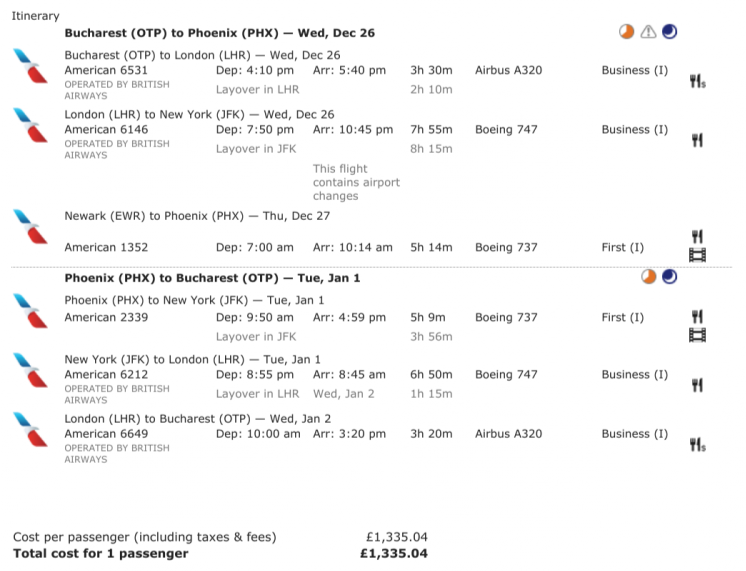 £5 more and another 280TP! Thats 640TP at a cost of £2.05/TP.
But we aren't done yet….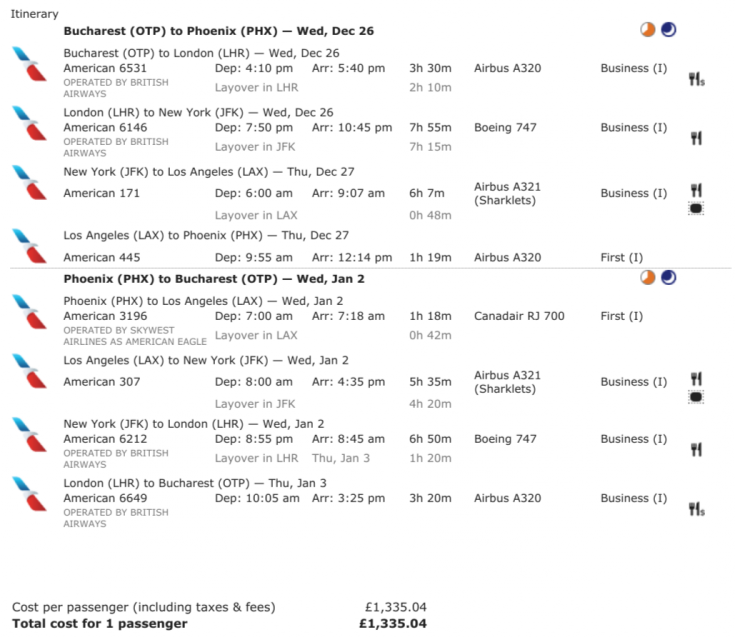 The same price – and 800TP!  That's a much better £1.66/TP.
The Phoenix fare can be stretched more but I shall save that for the ITA Matrix Guide coming where we will see how to create something like this….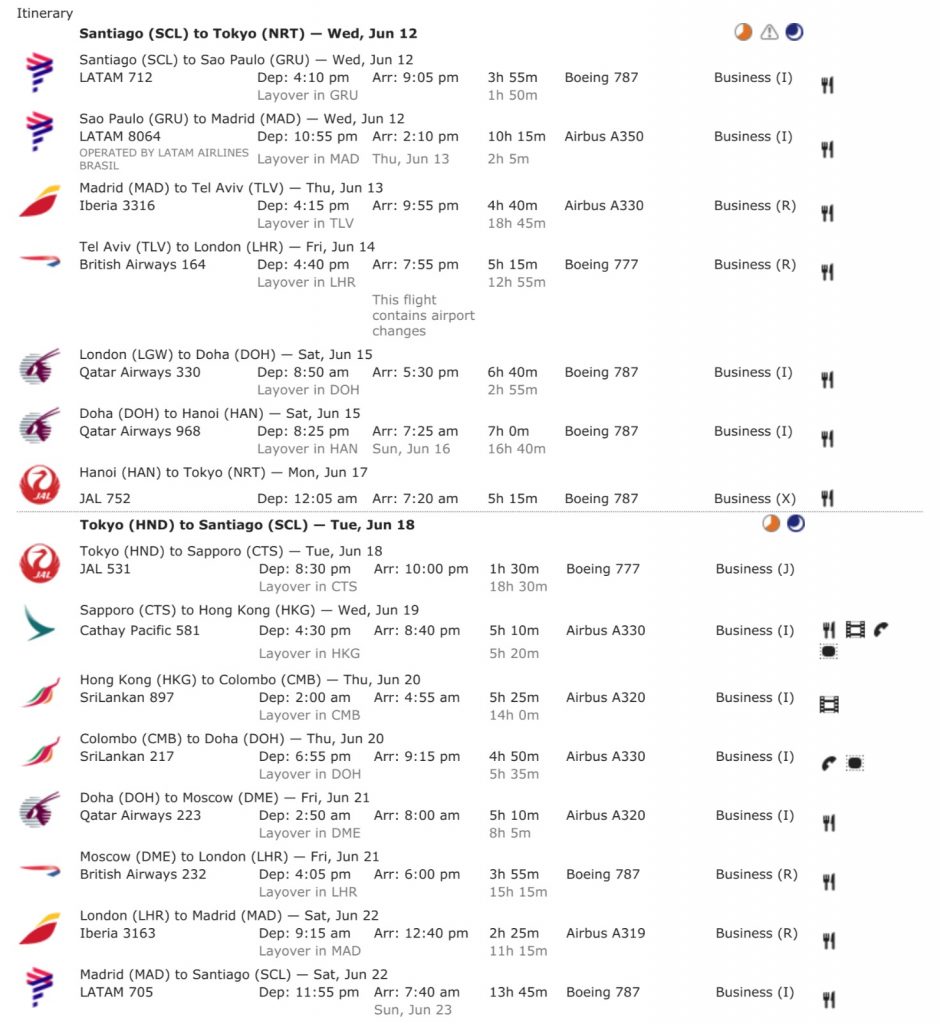 And quickly….what equals good value?  Well ultimately that depends on how many TP you need and if you will utilise the status that it may come with.  I try not to pay much more than £1.70/TP myself. Anything close or less to £1 is a brilliant deal when chasing status.
I hope this has given you all some ideas and help. Happy Tier Point Running!