One of the easiest ways of earning tier points with BA at the moment is with the BA Holidays Double tier points offer. This allows you to earn double-tier points when you book a 5-day BA Holiday, including flights plus hotel, car or both, with a minimum of 5 days of the hotel or car.
There were a few loopholes, such as not having to pick up the car or being able to book any dates for the accommodation in any destination. As of yesterday, BA has closed these two loopholes. This is a pain as you could legitimately want to include a night before the flight at an airport hotel, and now can't do that unless you had another 5 nights booked.
You can find the full terms and conditions here.
Here are the key parts of the terms and conditions:
The offer is for travel to 31 December 2023
Bonus Tier Points will be awarded separately to standard Tier Points and within 14 days of your return flight. This is important as, unlike flight tier points, they are not credited for the date you travelled. So you must allow more than 14 days before your tier point year-end for them to credit, or they will end up in next year.
The booking must contain British Airways flights, including codeshares and British Airways marketed and/or operated flights only.
The bonus only applies to hotels and cars booked at the time. You can't add them afterwards. I think this is a bit unfair too and sometimes you don't realise you need a car until later. Since BA get the same money anyway, I think they could do better.
The hotel/car element of the package must be for a minimum of five nights within the flight travel dates for travel before 31 December 2023.
The hotel/car element of the package must be used i.e. hotel occupied and or car rental hired for the full booked duration.
Obviously, there is nothing to stop you from picking up a car and then leaving it at the airport, for example, in the car park or elsewhere, before returning it later. If you decide to do this, I would do your research and pre-book the parking before.
Now I would argue that if you booked under the original terms and conditions, those apply. The current rules state correct as of 26 June 2022 which is obviously not the last time they were updated. If you need to argue the original terms, here is an archived page from 28 March 2023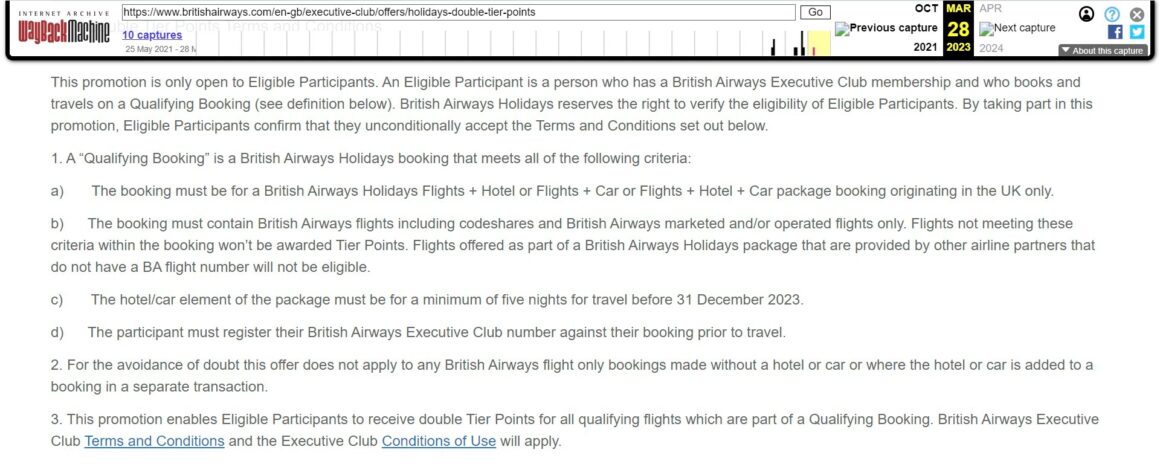 If anyone travels in the next week or so that booked before the 26 June and will now be in contravention of one of the rules, I'd be interested to see what happens. My guess is that in many instances, BA would not necessarily be informed that you hadn't picked up the car or checked in to the hotel anyway. However, it was making a new booking, I would not want to be testing that theory!