After creating something of controversy with my last review of London to Cape Town, which was quoted in the Daily Telegraph, I thought it was worth balancing it out with the return review. As I mentioned before, this was the polar opposite of the way out.
Check-in
Check-in at Cape Town was perfectly fine, if unremarkable. The check-in agent explained where to find the lounge, and there was not much of a wait to check-in.
However, I would allow plenty of time to get through passport control as there was a massive queue, probably thanks to two large aircraft departing at about the same time and virtually no desks open. The queue stretched back out of the actual passport queue by quite a distance. Cape Town airport needs to sort this out as it didn't leave a great last impression.
The lounge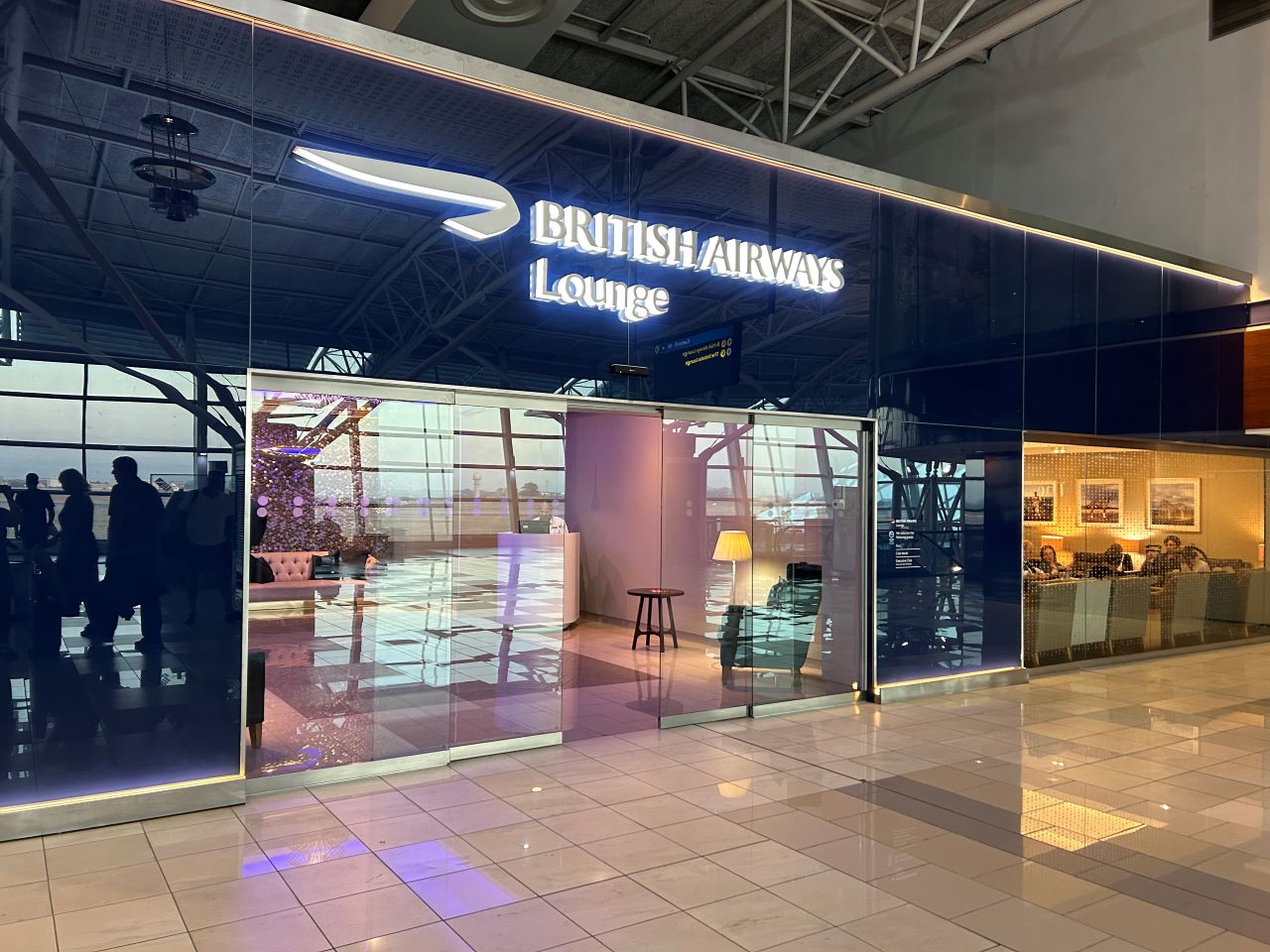 It had been a long time since I had been to the Cape Town lounge, but when I returned, I was pleasantly surprised. It does get quite busy until the first flight departs, so bear that in mind. Once that departed, it was relatively peaceful.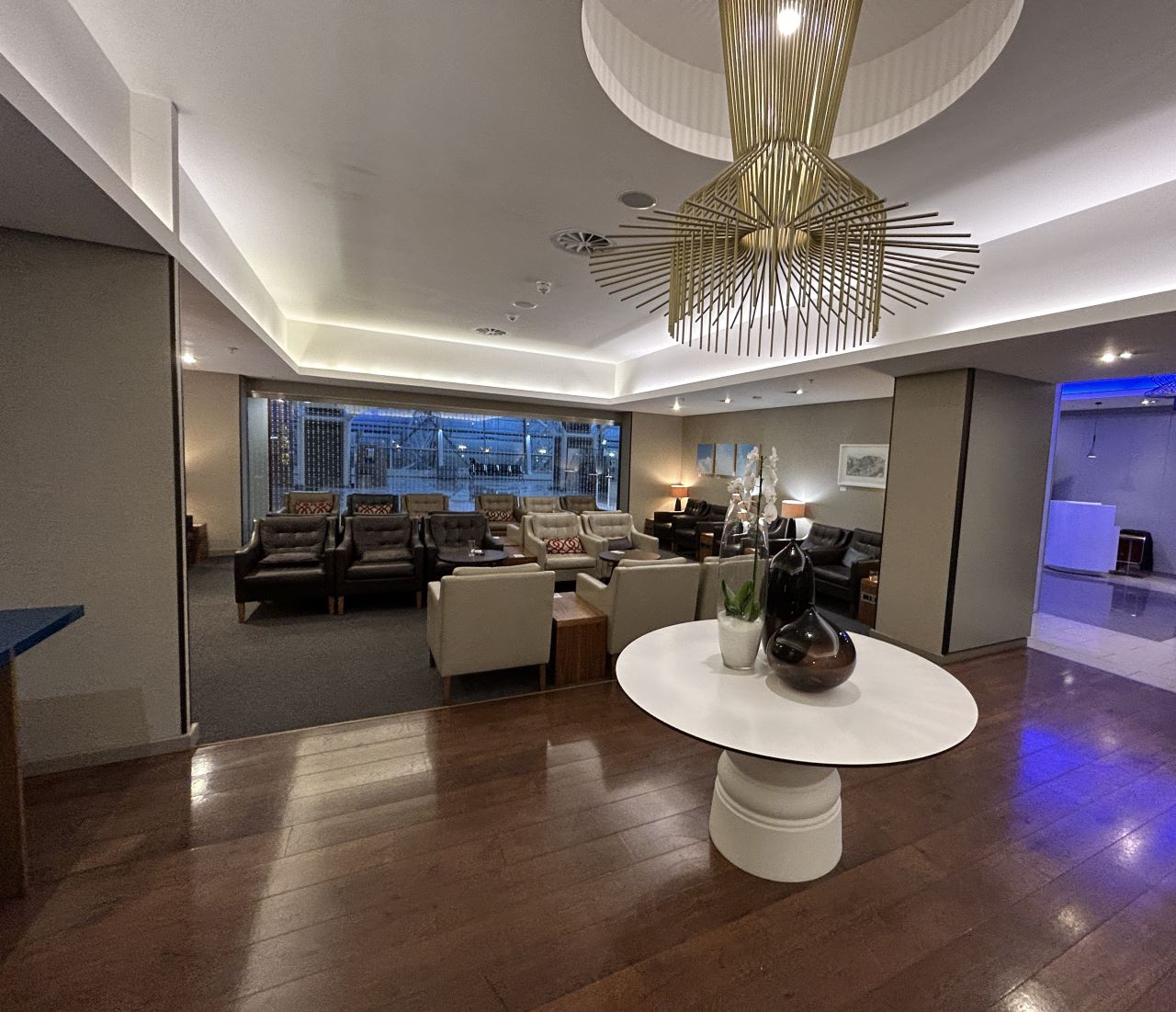 The lounge felt modern and fresh, with plenty of different sections to sit in. As you first walk in, there is a relatively quiet sitting area. You then walk into the main part of the lounge with a dining area, bar and more seating. There is an attractive wine wall next to a shared table, perfect for working or charging devices, thanks to the built-in sockets.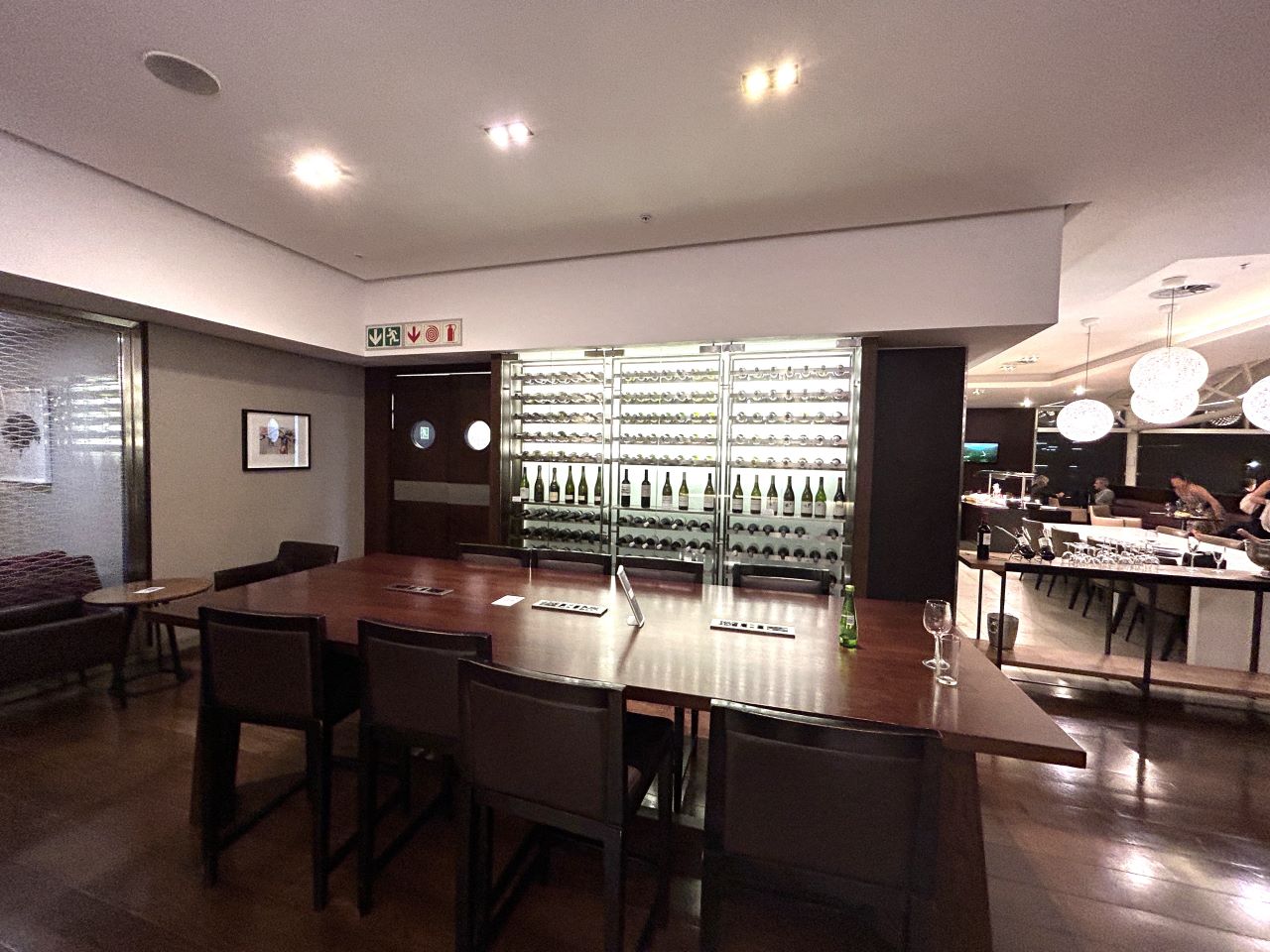 Behind this are some banquette seats and a bar area to help yourself to wine.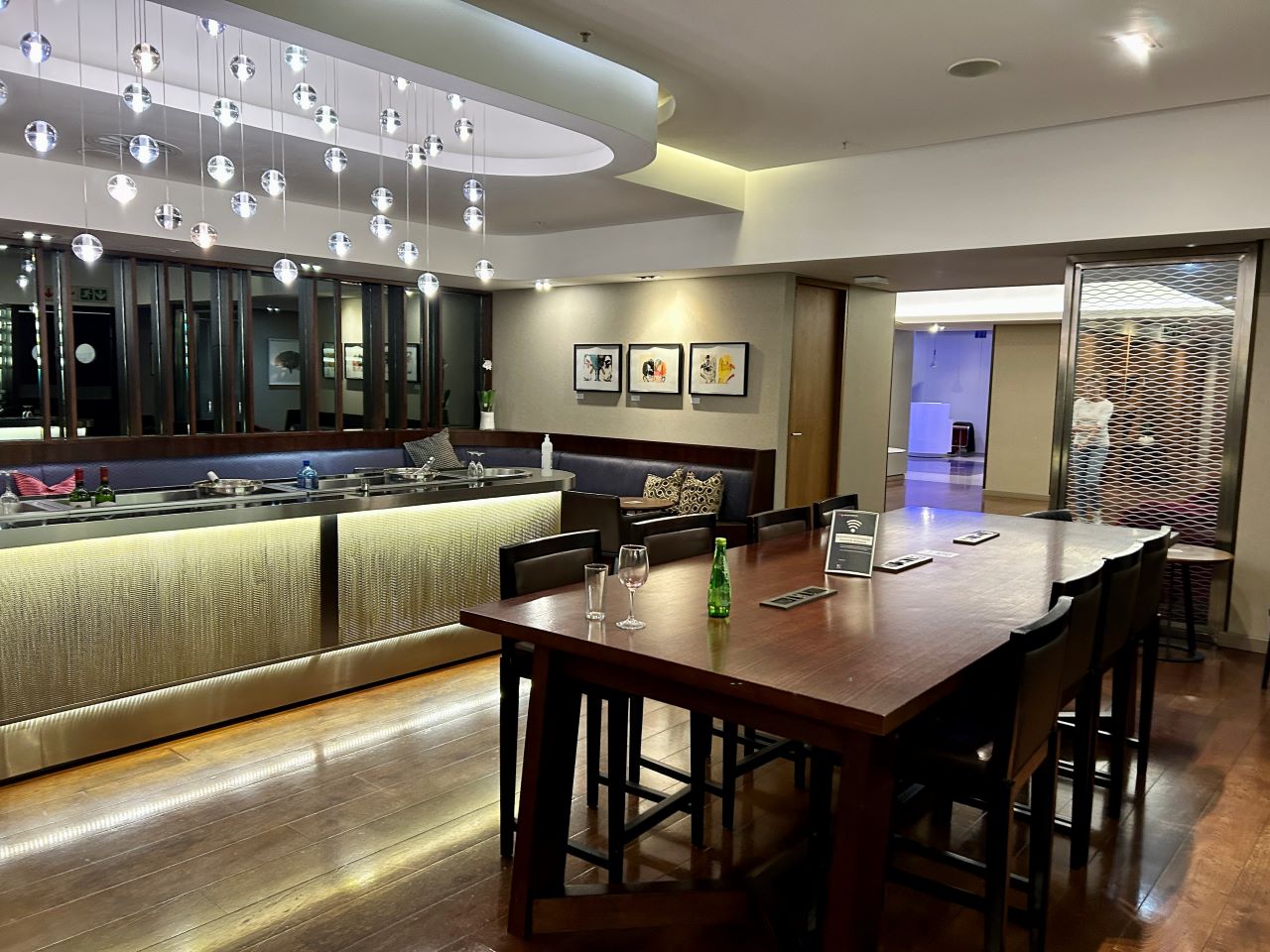 The main seating area has huge windows with views across the airfield to the mountains.
The buffet seemed pretty substantial. However, they also offered food to order but handled it quite badly. There were QR codes on the tables, which took you to the usual BA ordered page for lounges. My friend ordered some food that never showed up. When we enquired, we were told it was the old menu, so it wasn't working and you had to look at the menu by the bar and ask staff to order. I thought, given the size of the lounge to expect people to notice one sheet of paper and ignore the QR codes was poor.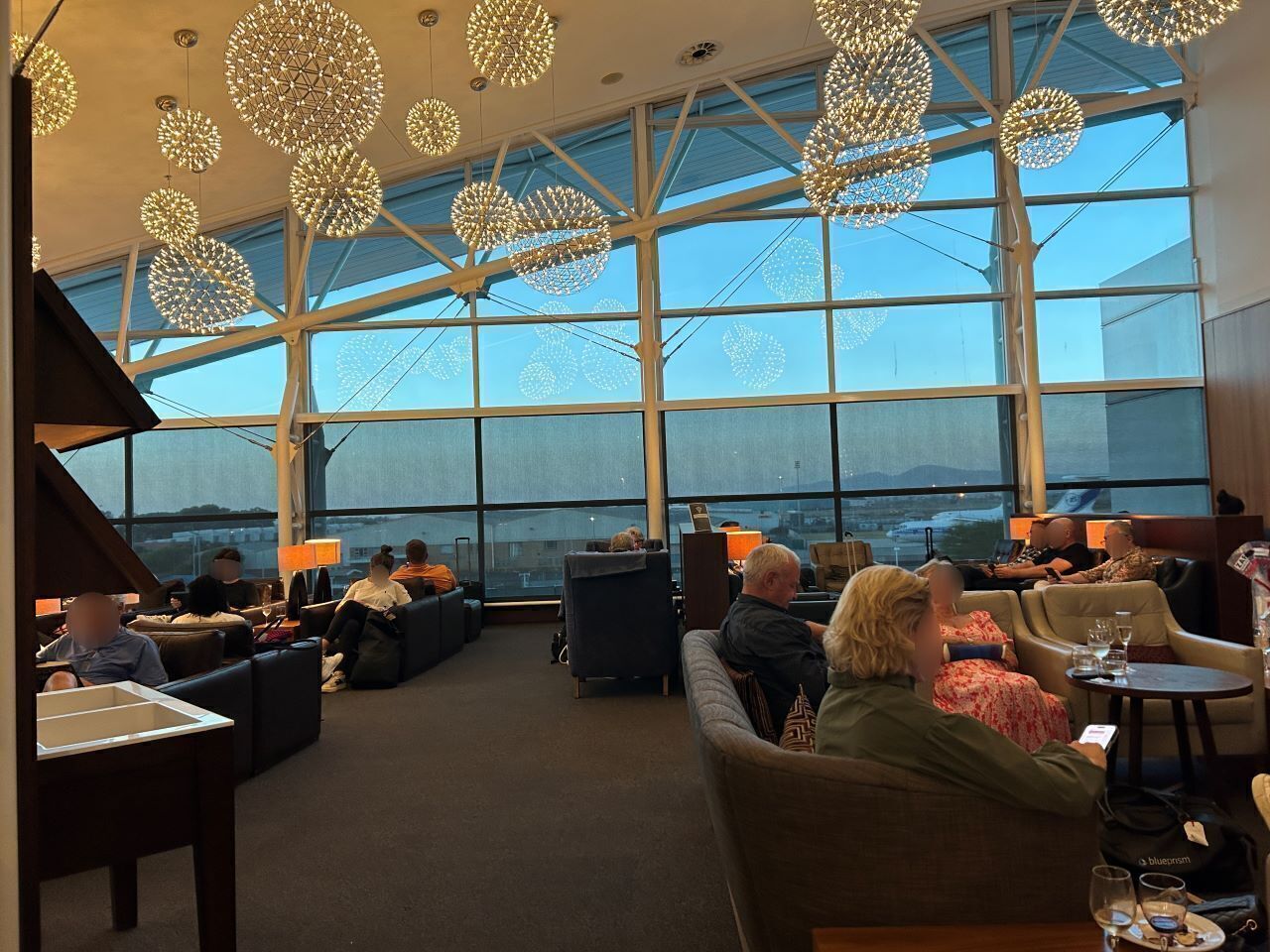 Here is what was on the buffet: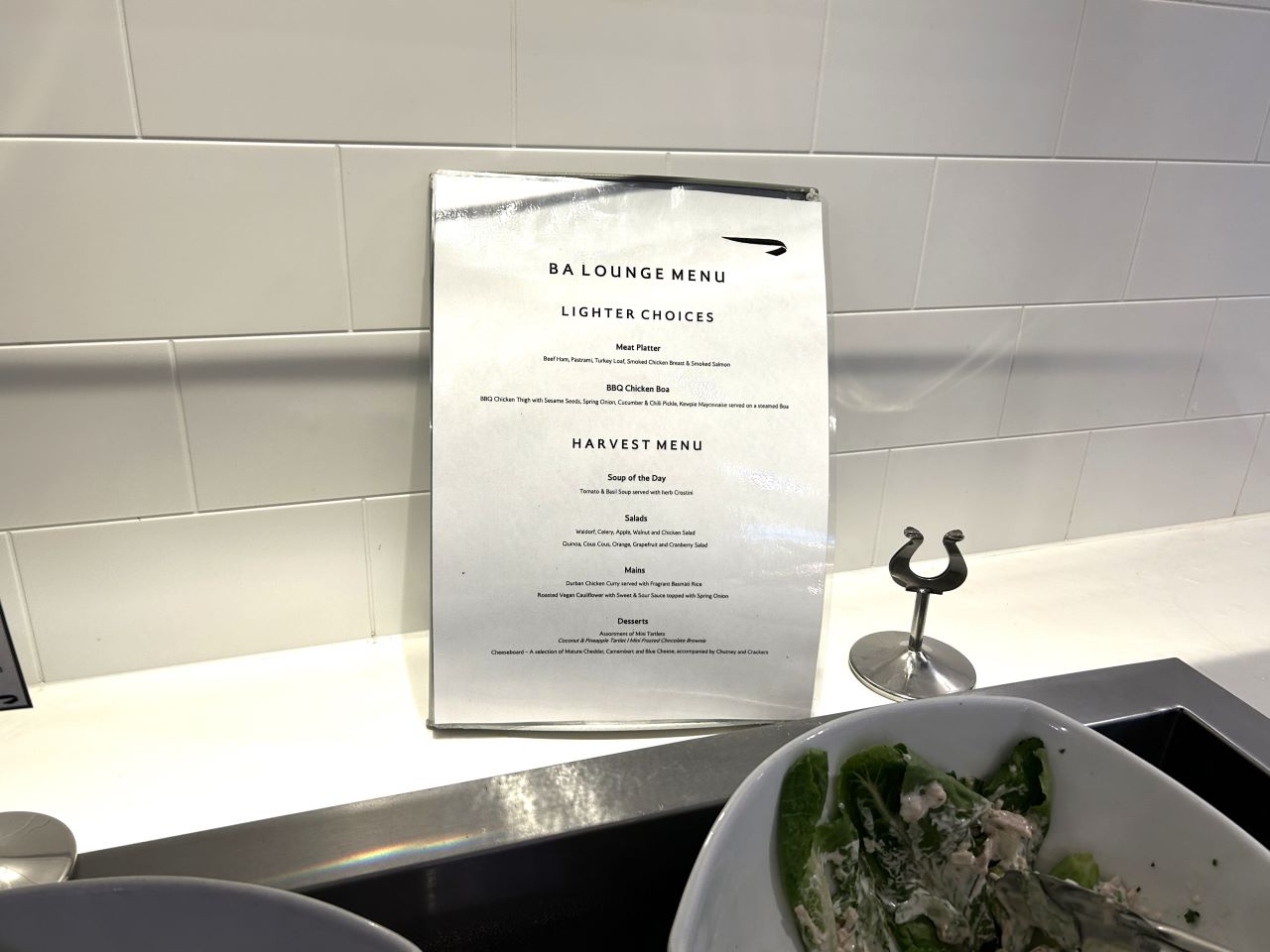 There were a lot of choices, from chicken curry to sweet and sour cauliflower and bbq chicken. I liked that there were some lighter and healthier options, such as salads, cheese and charcuterie.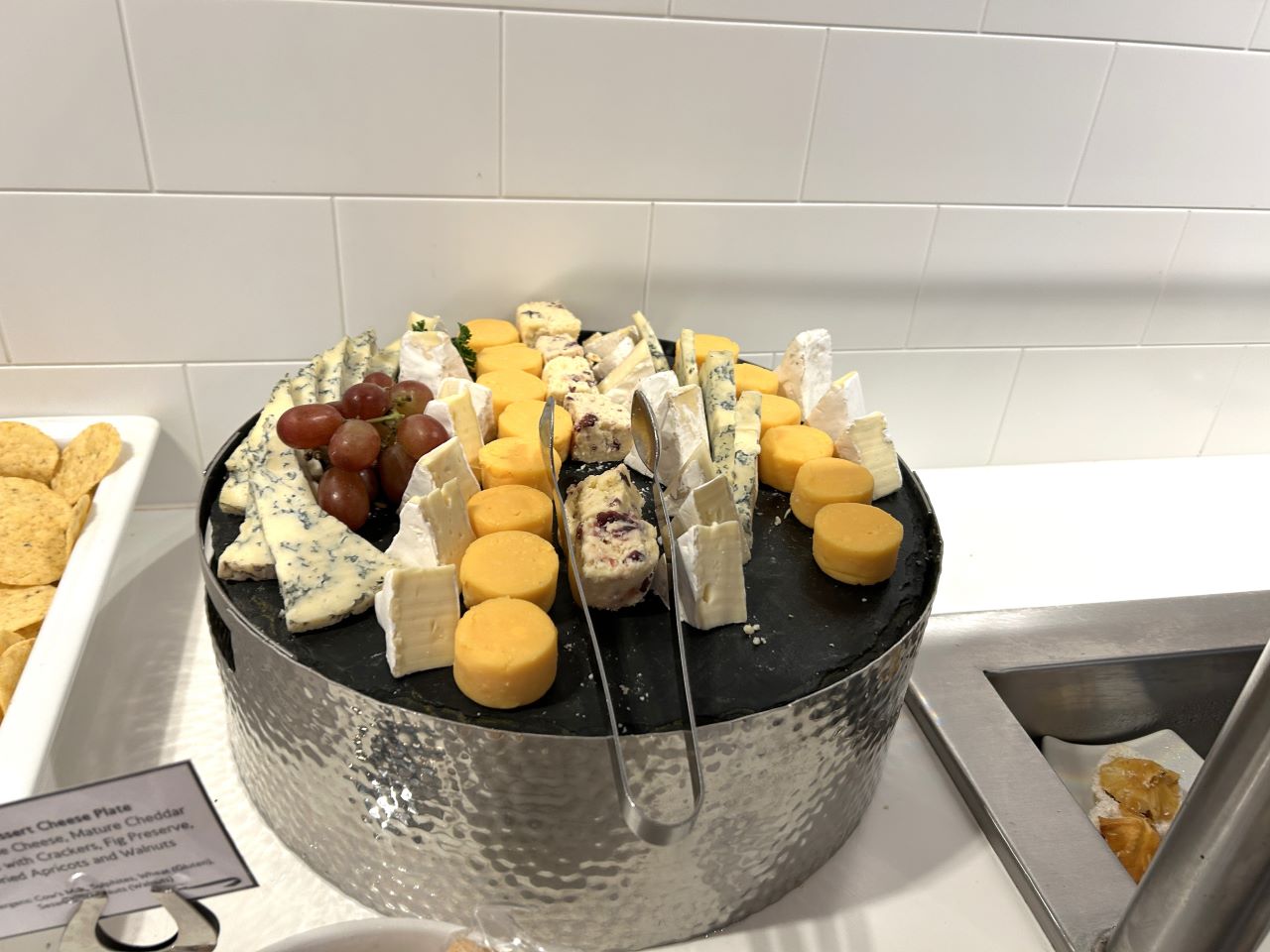 I also liked that they made an effort to make the food look attractive too. As you would expect, the wines were from South Africa and there was quite a selection. There was a standard or rosé Simonsig sparkling wine which was perfectly drinkable and better than lousy champagne in my opinion. There were also three white and four red wines to choose from.
I was not so keen on the fact that you had to ask a staff member to get you a drink that wasn't wine. This just ended up creating a queue, so it seemed a bit pointless since it was laid out in such a way as to be suitable for self-service.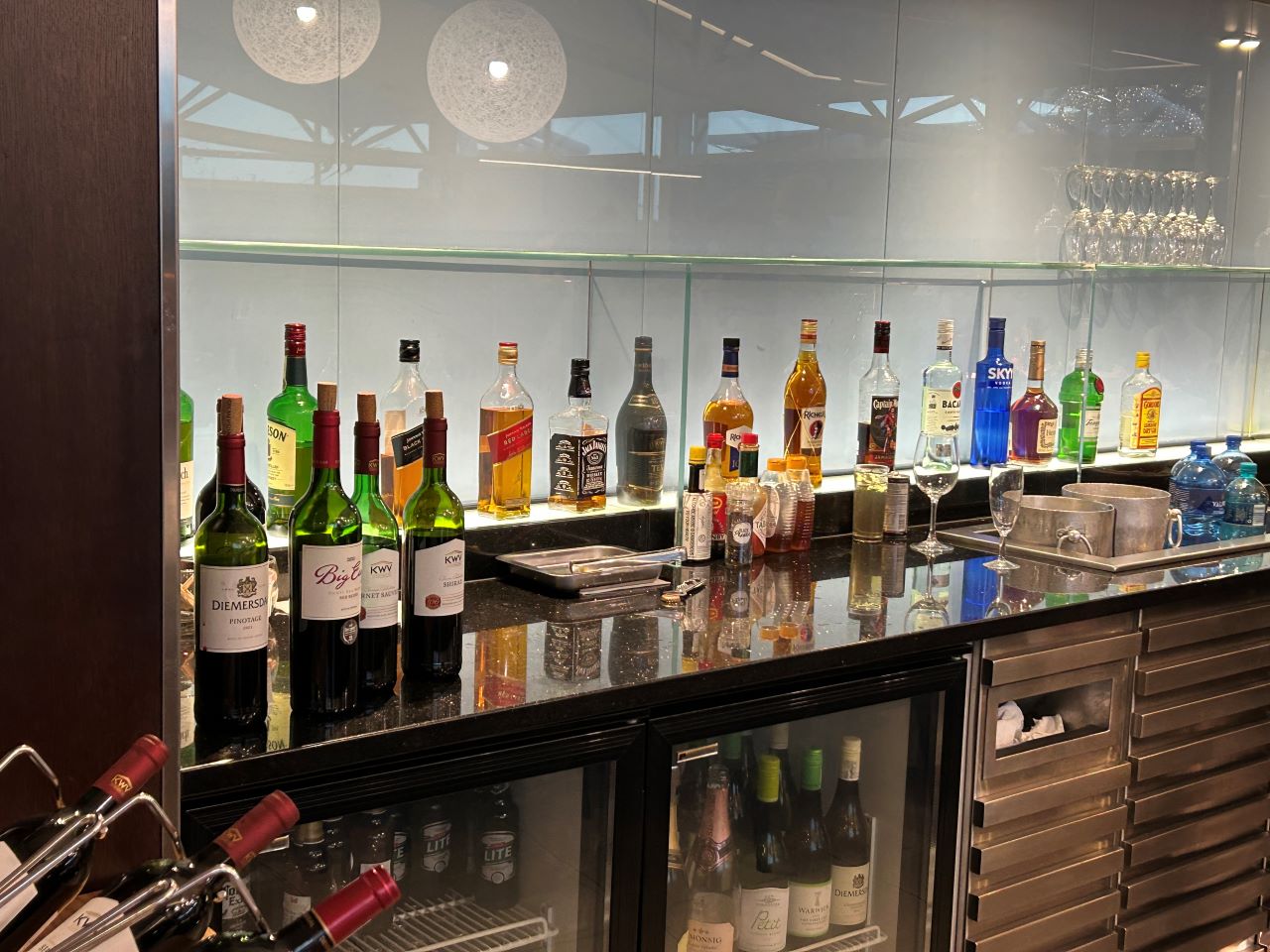 I thought the range of spirits was very acceptable, and I was glad to see both Tanqueray gin and brandy in the lounge.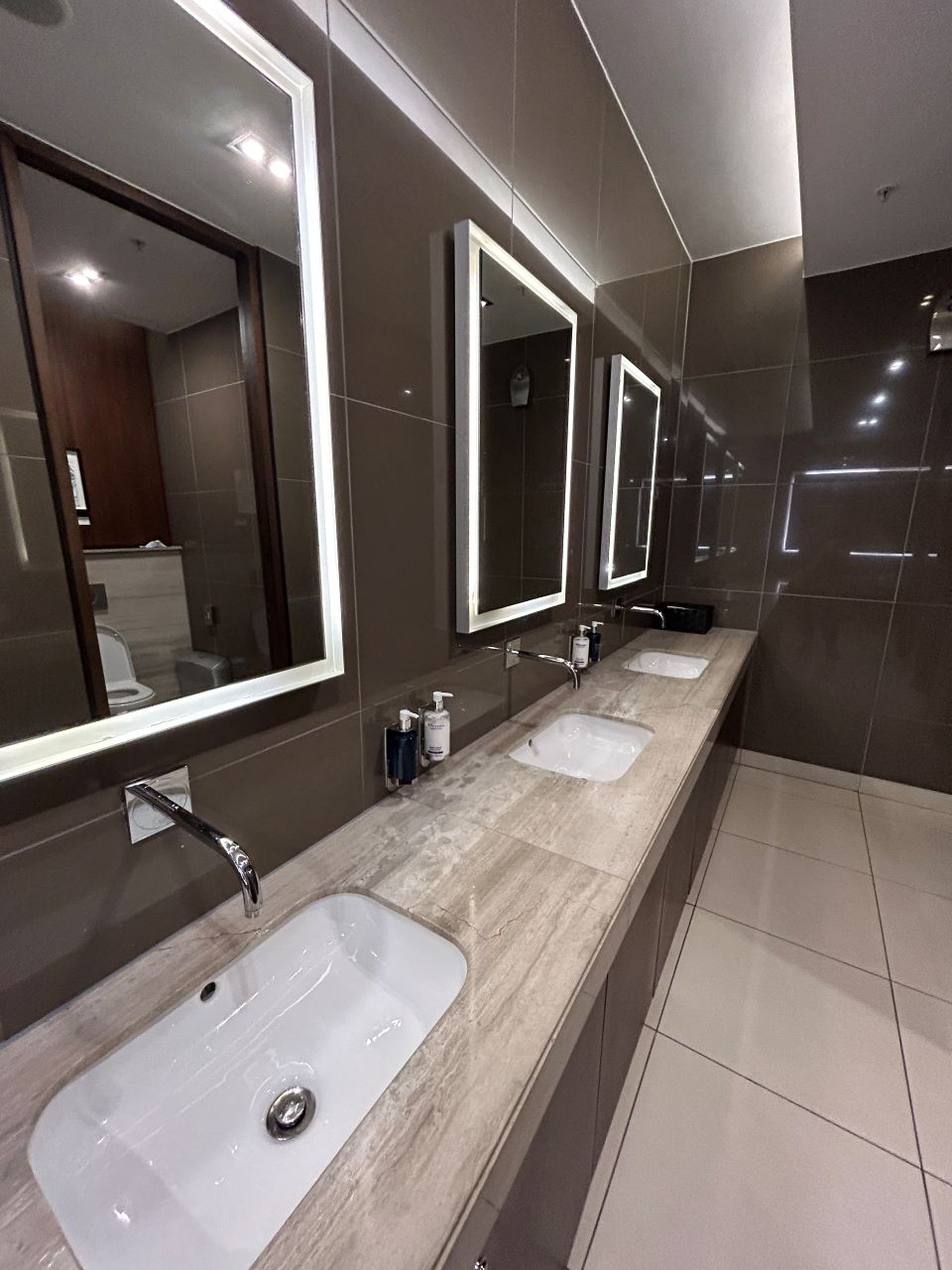 The toilets were modern and very clean with Elemis toiletries. There were also some nice showers which are ideal for freshening up before an evening flight.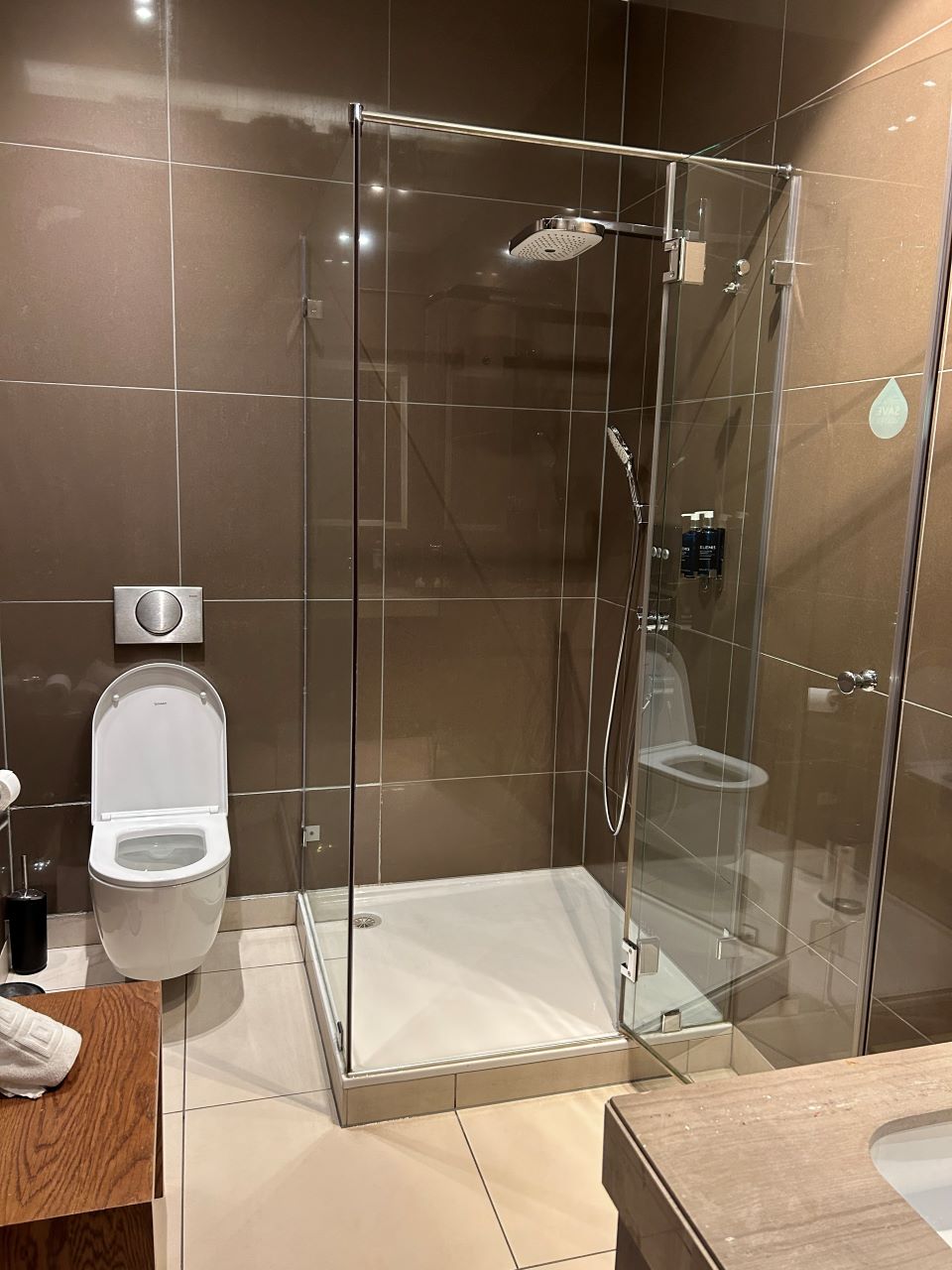 Boarding
I'll refer back to my 60-second rule. I knew even before I had actually stepped into the aircraft it was going to be a good flight. The IFM was on the door and had looked at my boarding pass and said, "welcome onboard Mrs Robson". Such a simple thing for her to do, but it showed her attention to detail and instantly made me feel like a valued customer. I do think the IFM plays such a crucial role in setting the tone of the flight for the rest of the crew.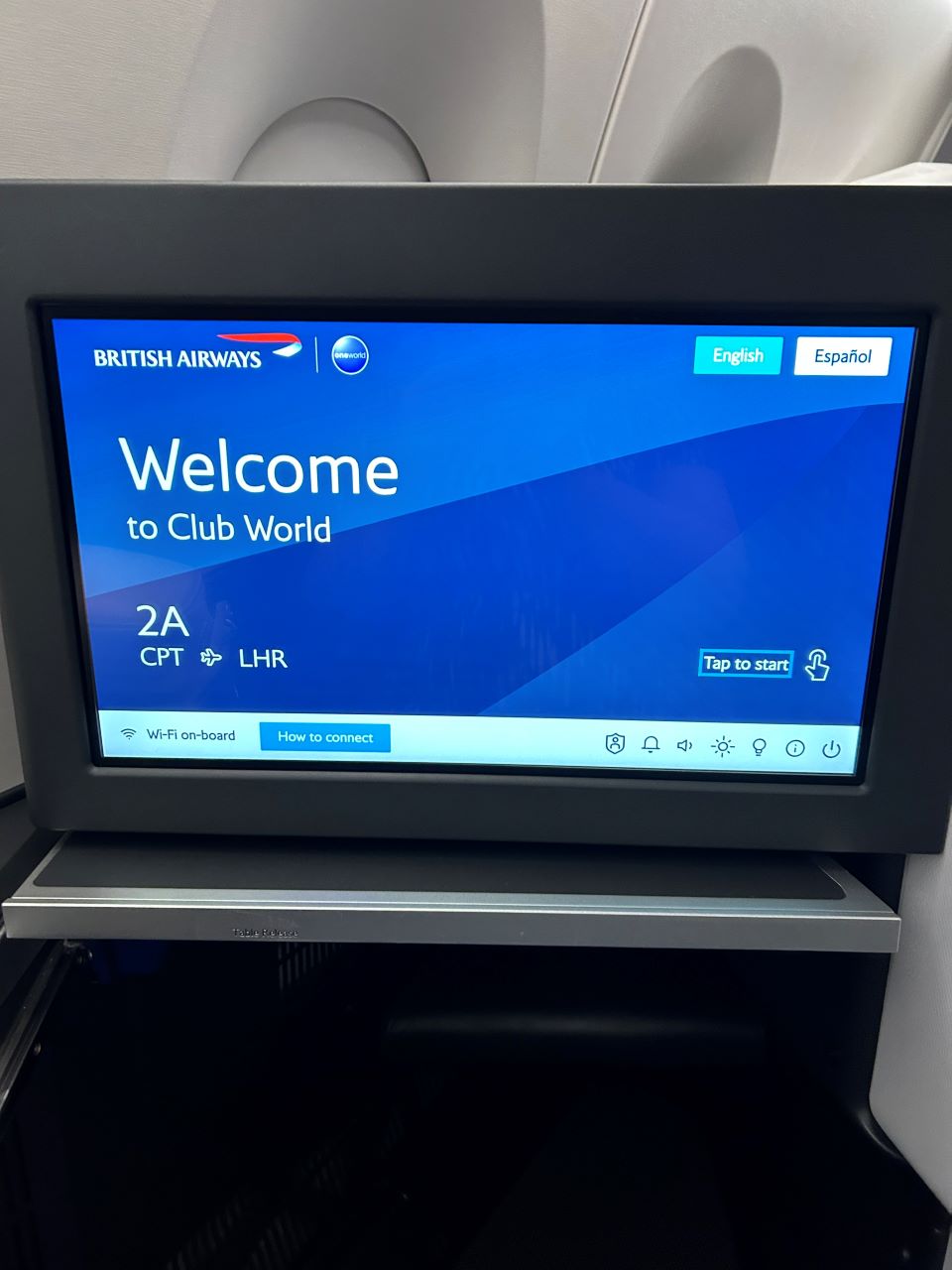 I was seated in row 2 again and was soon offered a welcome drink of champagne or orange juice. This time I tried again to ask about the champagne was instantly told that they had two onboard, and that this was the Canard Duchene. What a contrast from the previous flight.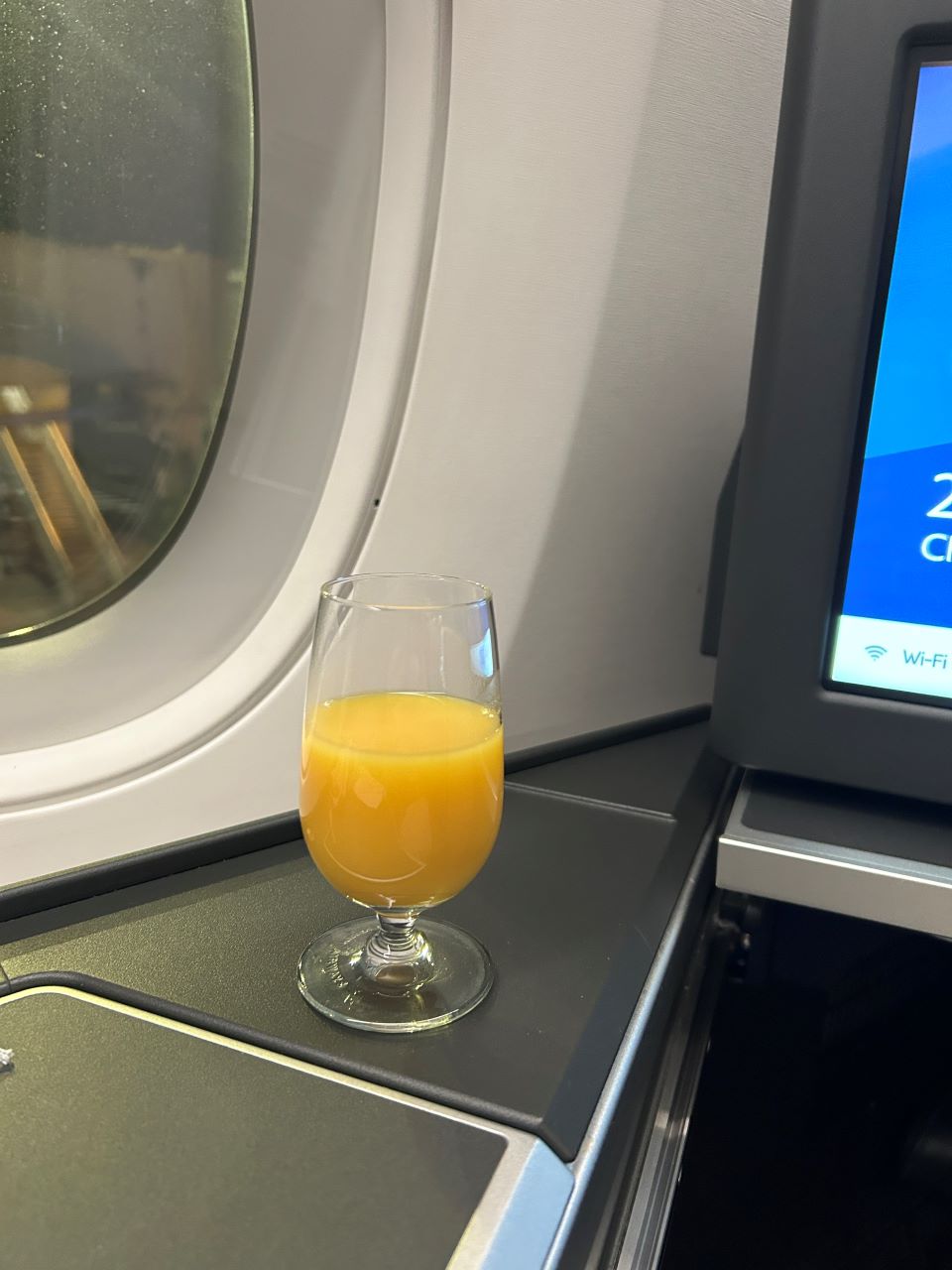 At the seat was a bottle of water and the White Company amenity kit.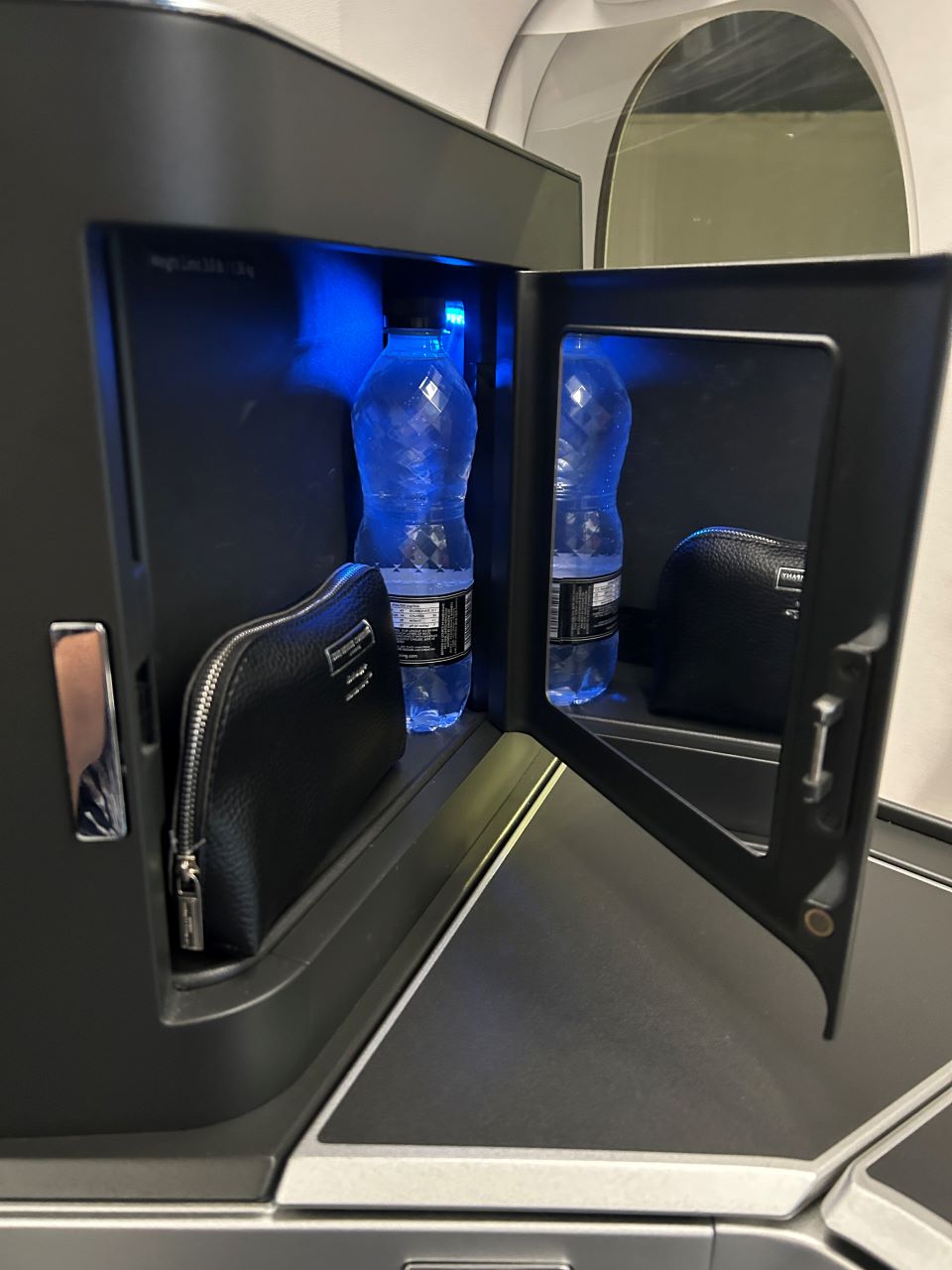 Here are the contents of the amenity kit: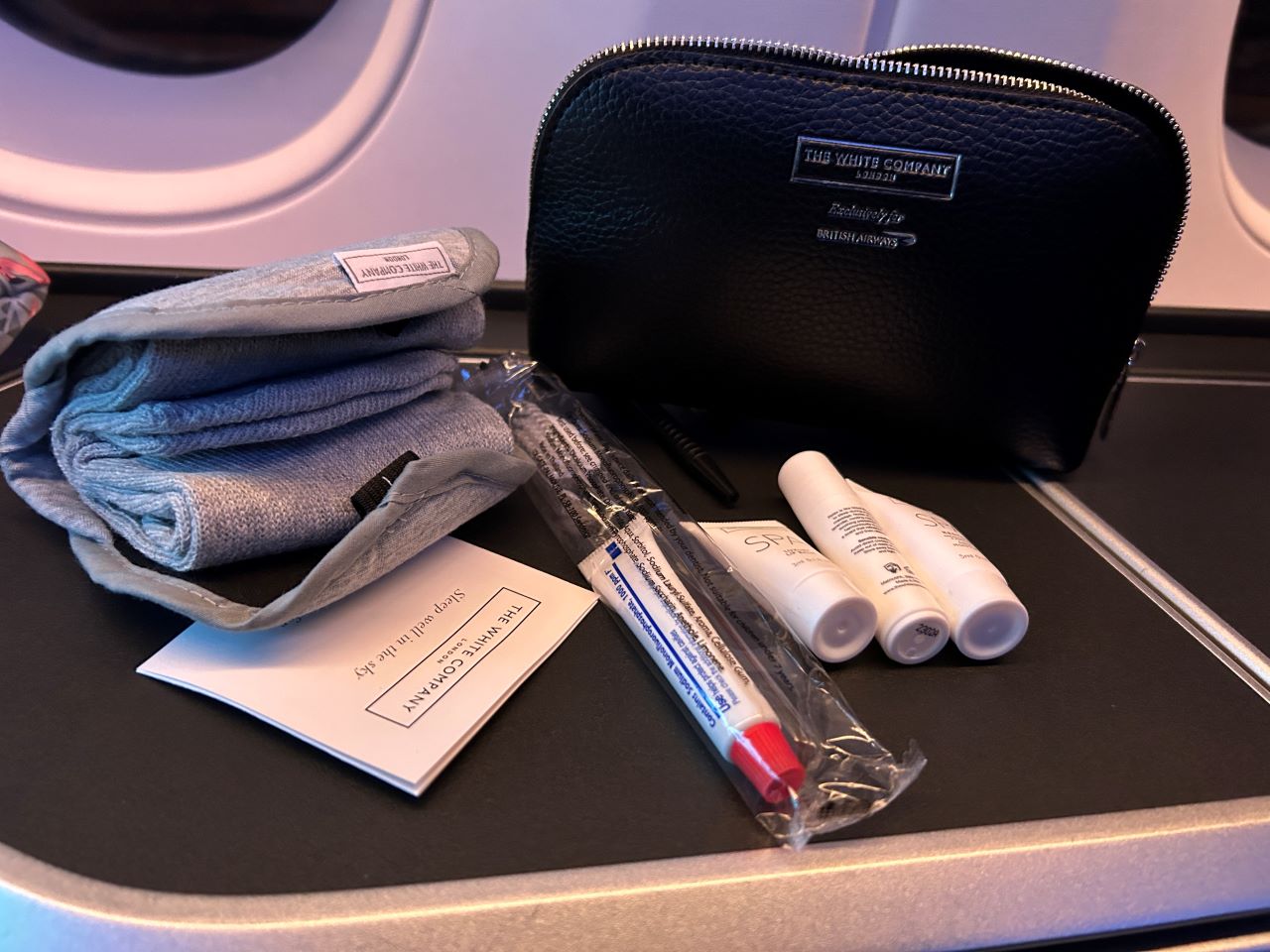 Seat and cabin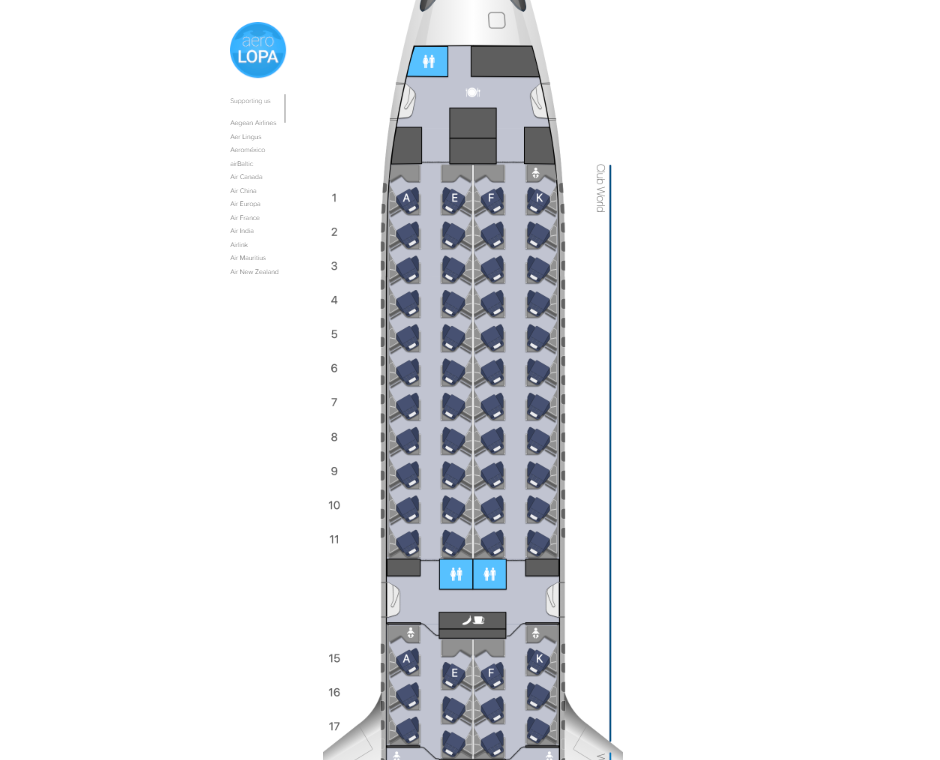 Again we were in rows 1 and 2 which I would not recommend due to proximity to the galley. However, there was much less noise from the crew in the galley on this flight, so generally, it was not an issue. However, obviously, there is the noise of the crew working in there, so I'd avoid it on flights where you want to sleep.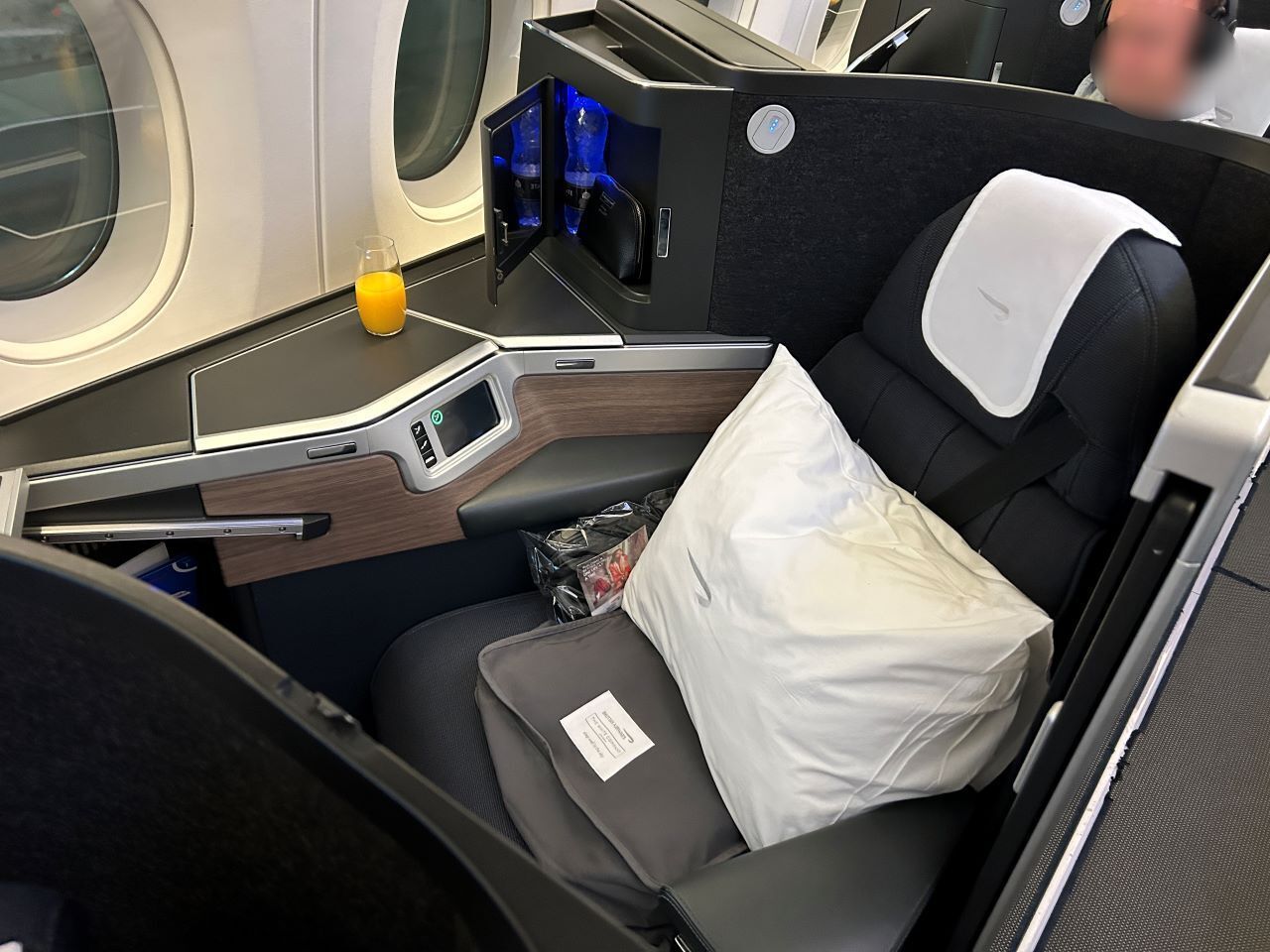 I have covered the A350 Club Suite on many occasions, so I will just cover a few points. There is plenty of storage for pre and post-take-off.
I found I slept very well on this flight. The seat is very comfortable for sleeping, if anything more comfortable than it is for sitting. I didn't bother using the mattress pad as intended and instead folded it over and just covered the join between the parts of the seat which worked better for me.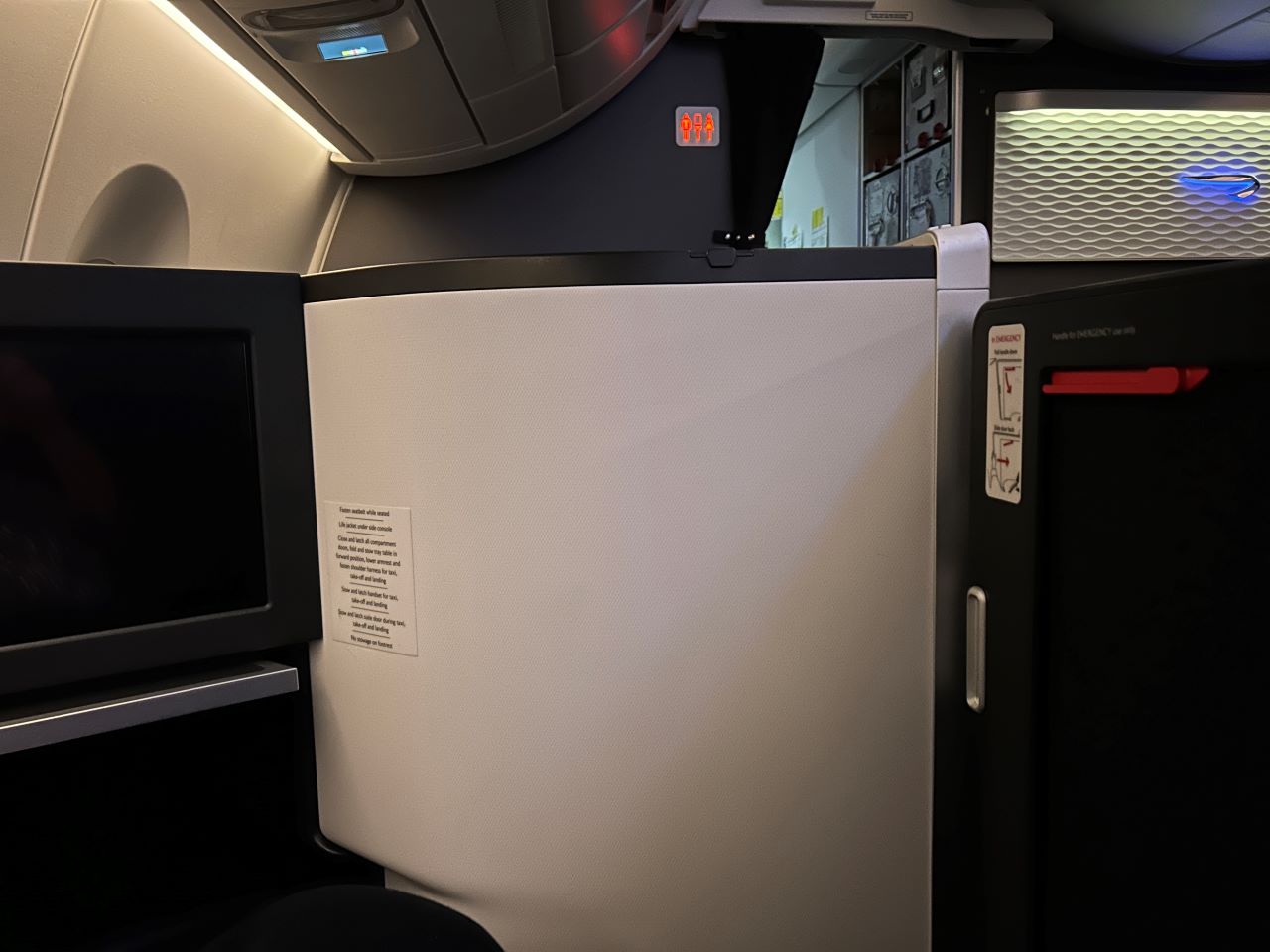 Some people wonder if is claustrophobic with the door closed. Unless you are very prone to that feeling, I would say definitely not. The doors are not full height which helps that feeling, and the door is a reasonable distance from the seat. I find it very cosy when going to bed to have the door closed. This was probably one of the best sleeps I have had on a plane for a while.
It sounds strange, but when you have great service like I did, it helps you feel more relaxed. When you have bad service and let yourself get annoyed by it, I often find it impacts my sleep. Both my friend and I slept much better on this flight than the way out.
Food and drink (and service)
I have to commend the cabin crew member serving me. She was so lovely, she was the complete opposite of the way out. Not only was she professional, she was also very friendly and had that caring way about her that makes you feel genuinely welcome. She was so good I made a point to give feedback to the IFM when she came for a chat with me, about what a great flight I had. Nothing was too much trouble for the crew. I was topped up very regularly, and she always had a smile or time for a chat or a bit of banter. This is when BA come into their own, but sadly I often find these type of flights are the exception, not the rule.
So back to the food and drink…
I was impressed as nearly all the food and drink orders were taken on the ground, which definitely helps to speed up things once you are airborne. It is particularly significant when you are on a night flight and really want to sleep.
We started with the usual offer of a drink and the mixed nuts/corn.
Here are the wine choices: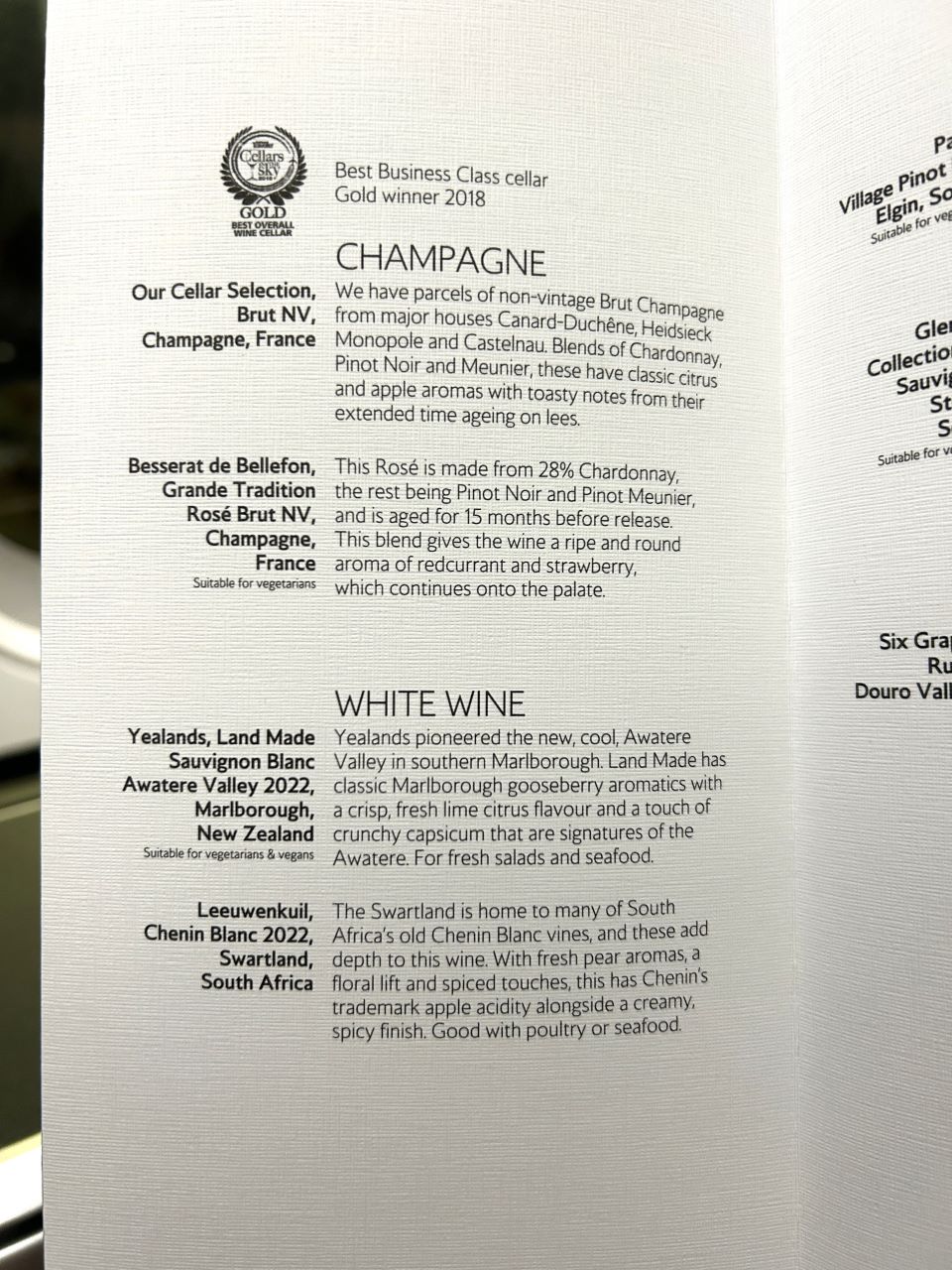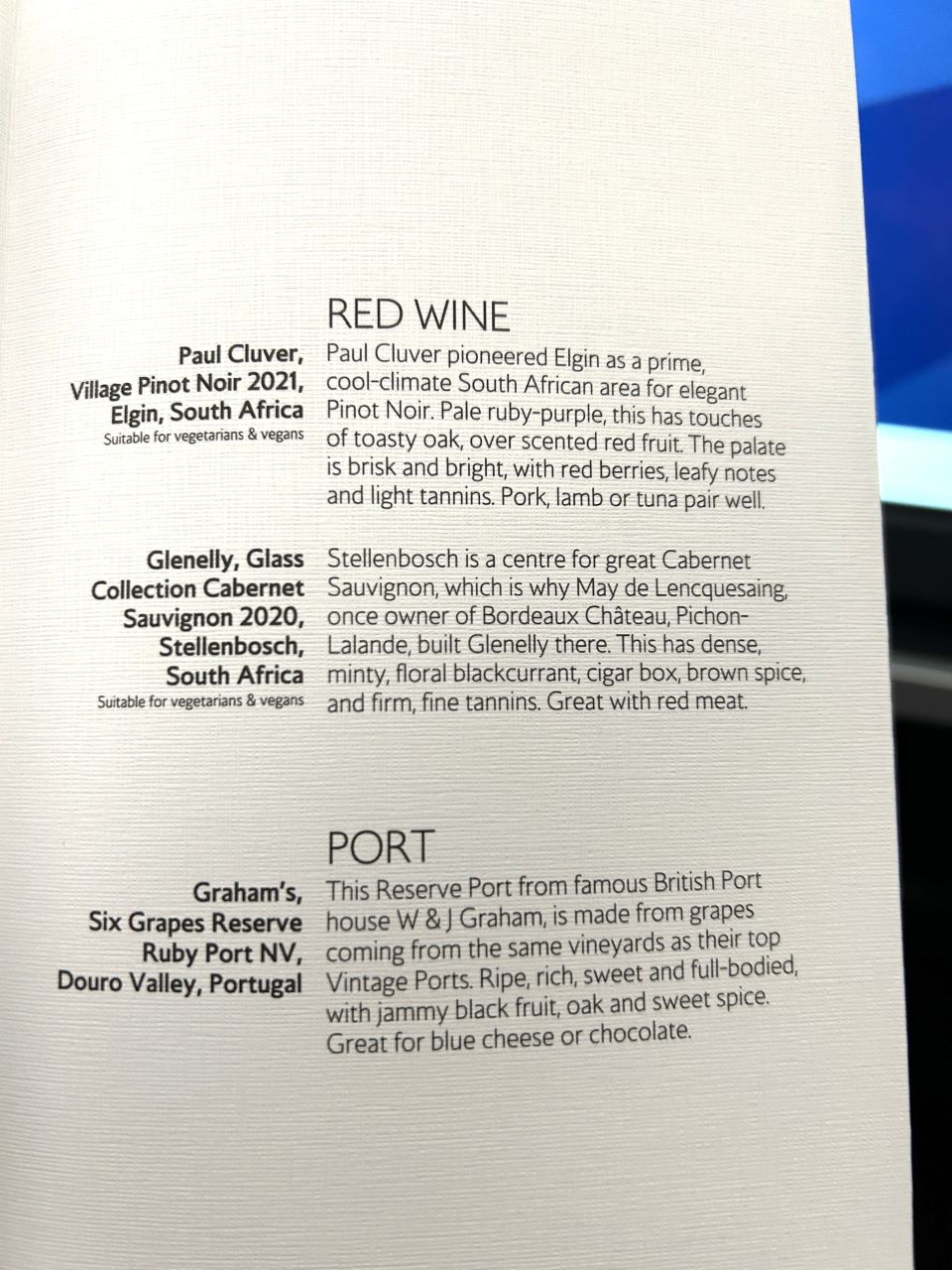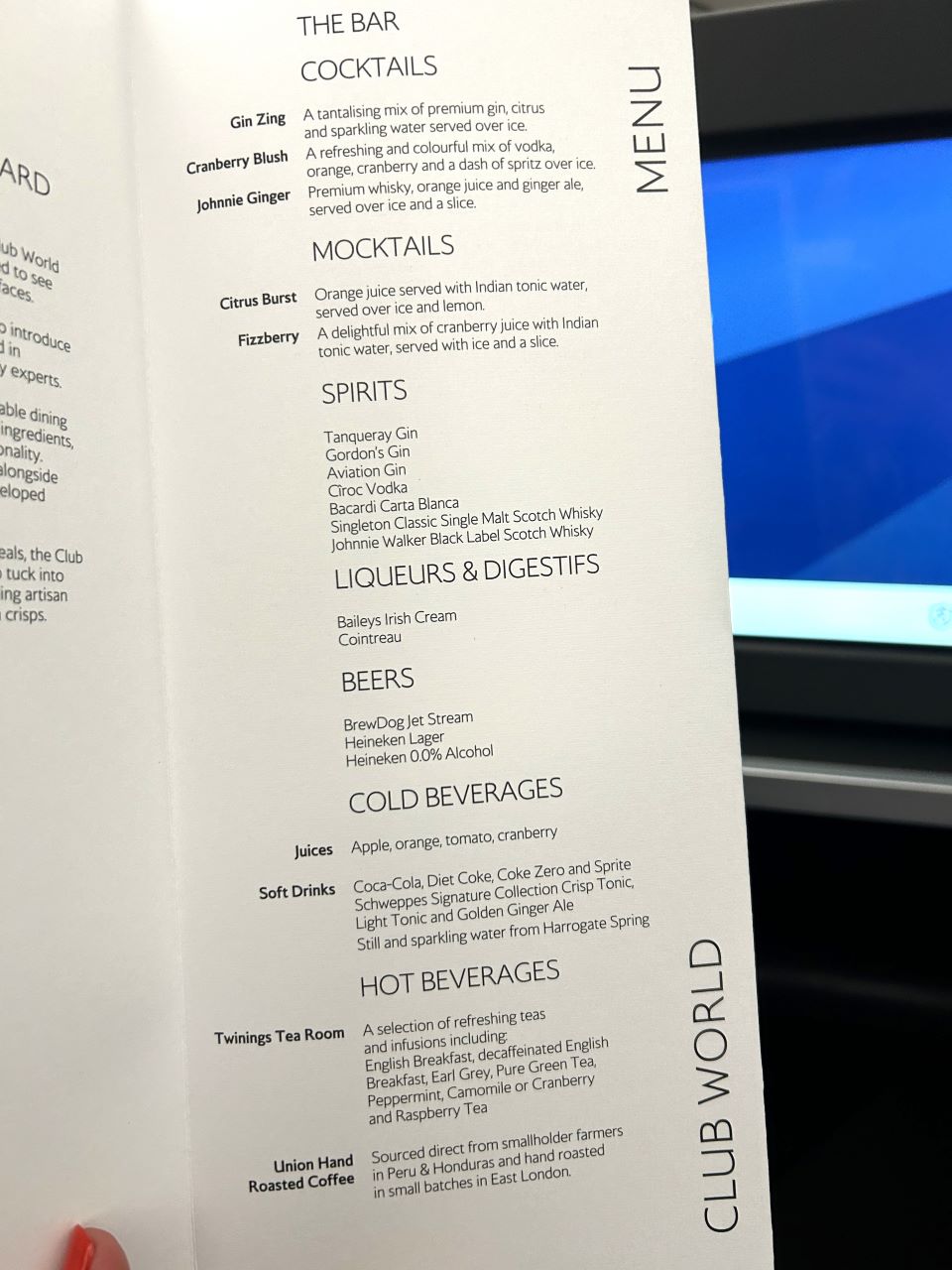 The wines were the same as the way out, but since I had enjoyed the South African wines I was quite happy. I had both the cabernet sauvignon and the chenin blanc which went down very well!
Here is the dinner menu: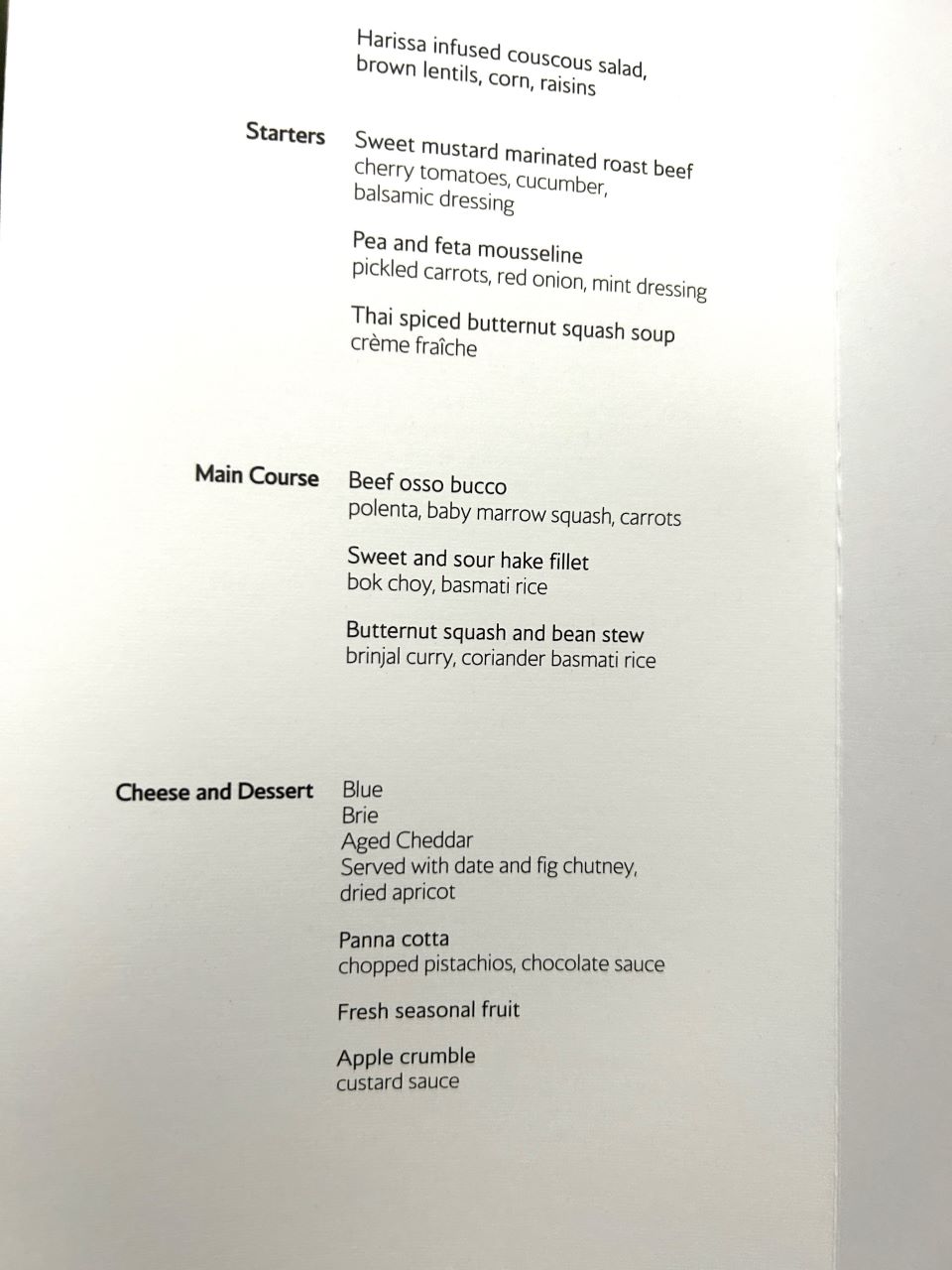 BA seem to be very keen on "double beef," ie beef for starter and main, which I am not a fan of. However, I thought being in South Africa I would try the beef starter. I'll be honest, I was pretty disappointed with the main course choices. I'd love to know how popular the bean stew was (not very, is my guess). I can't see the wisdom of putting something bean based on a menu when your insides are going to be pressurised and depressurised! Unless BA was trying to save money with some extra wind propulsion on the way home!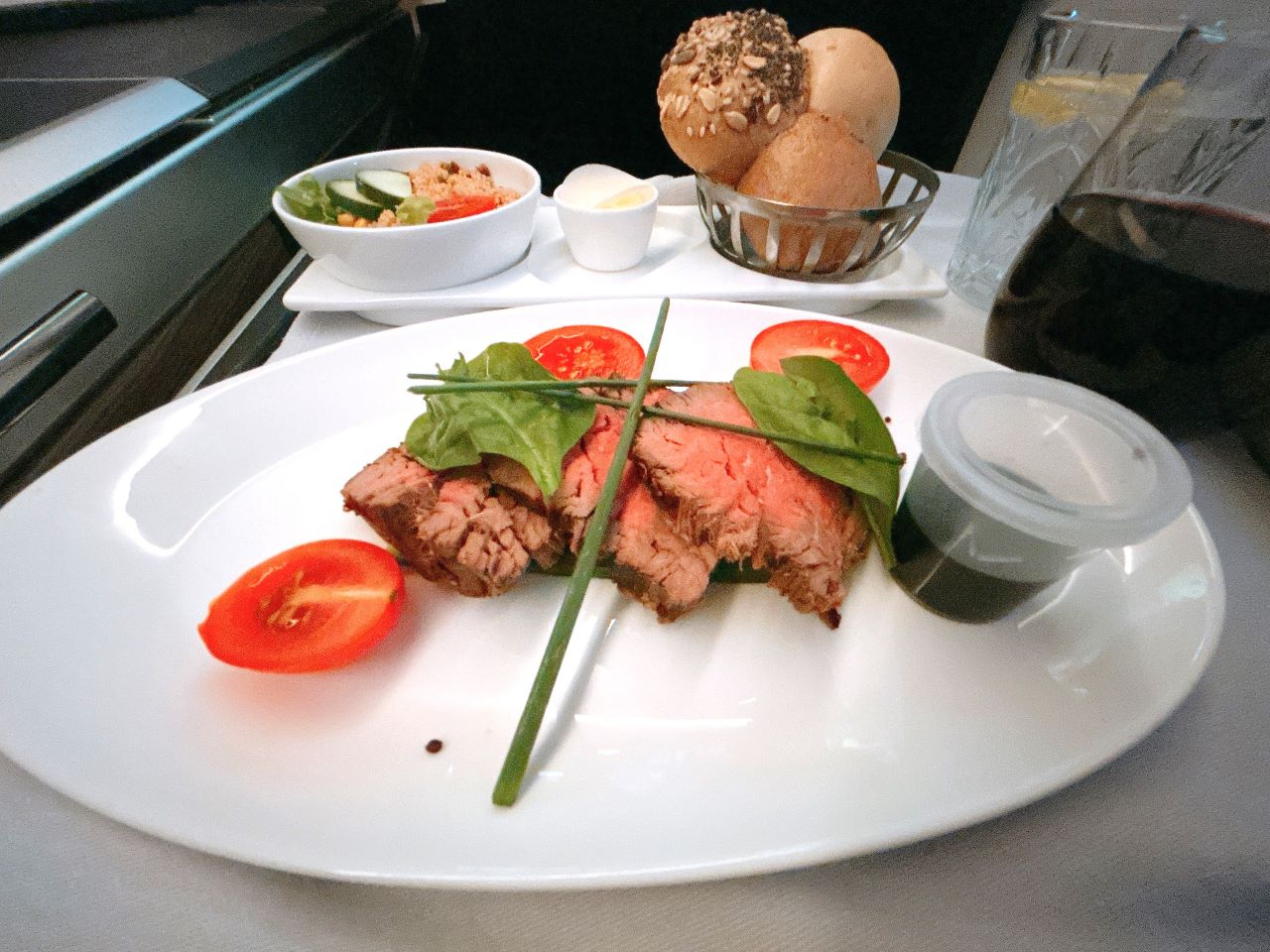 I really enjoyed my starter. It was nicely presented, and the beef was beautifully tender and just the right amount of rare for me. I also enjoyed the small salad it came with despite initially not being sure from the description. The bread came in the usual huge 3-roll configuration, but the seeded roll was slightly different and delicious.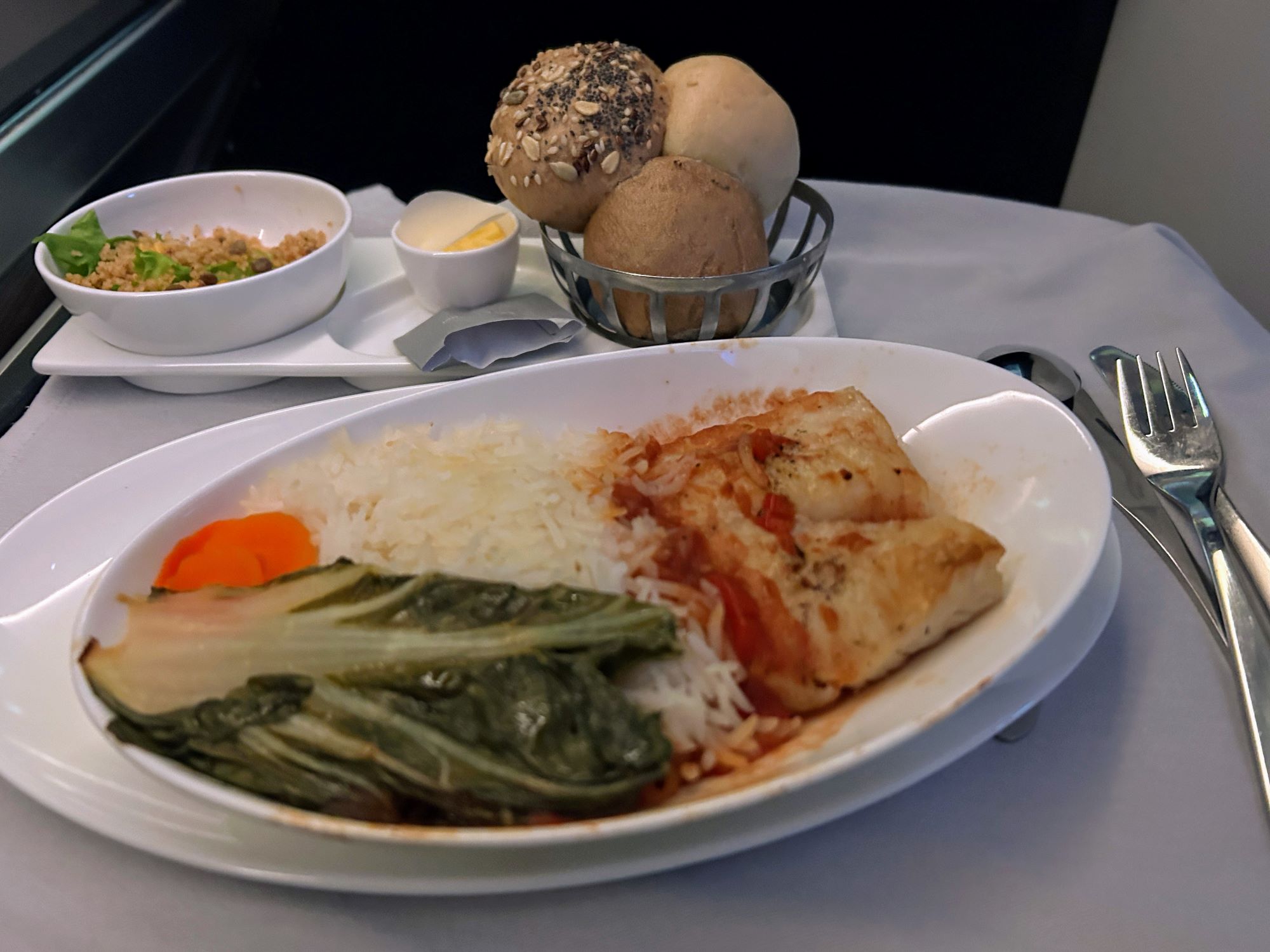 Sadly the main course was a big fail in both of our opinions. There was nothing wrong with the fish itself but the sauce tasted of absolutely nothing and had dried so much that there was virtually none. The pak choi was so overcooked it tasted pretty bitter. The carrots and rice were fine, but I can't say I enjoyed this at all. I always find it funny that restaurants in South Africa have amazing food and yet the catering on BA's return flights can be quite hit-and-miss from there.
Having learned my lesson with the "apple crumble" on the way out, I asked the crew if the apple crumble was hot and was told it was.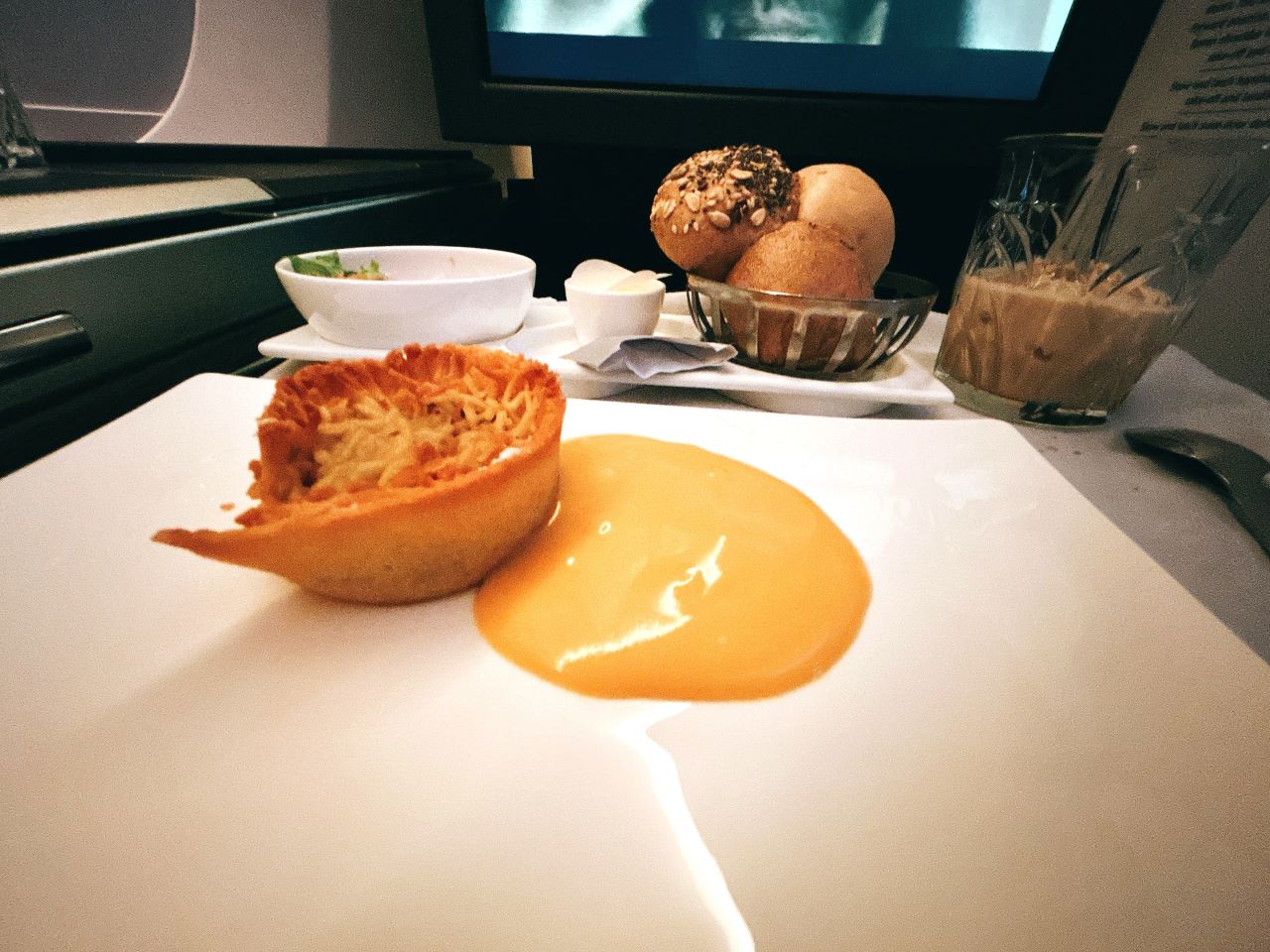 It still wasn't exactly apple crumble, but I did really enjoy my apple crumble tart which perhaps is a more elegant choice than crumble. The custard was creamy and smooth with a tart with nicely crisp pastry.
Since there is still no brandy onboard which some are reporting is a conscious decision from BA rather than the supply issues, I had Baileys. Apparently according to one source, BA is scrapping brandy in Club as nobody asks for it. Hopefully, that is not true because it would be a ludicrous reason if it was. No one asks for it as it has not been on the menu for about a year or more!
Entertainment
I was pleased to find some new options for films to watch since it was now a new month from when we had flown out. The entertainment was as good as ever on the A350 with large high-definition screens and an easy-to-use system. I wasn't in the mood to watch a film, so I watched a few of the Paramount+ shows. I find it a good way to try out shows I made want to continue at home.
You may remember the wi-fi issue that I had with my outbound flight where we were both only given 3 hours 38 minutes for buying 4 hours wi-fi. Sadly the same thing happened on this flight. However, I am pleased to report that I was given a refund of my money by BA after using the online reporting. I usually find they are pretty good at refunding faulty wi-fi so it is worth complaining of you have an issue.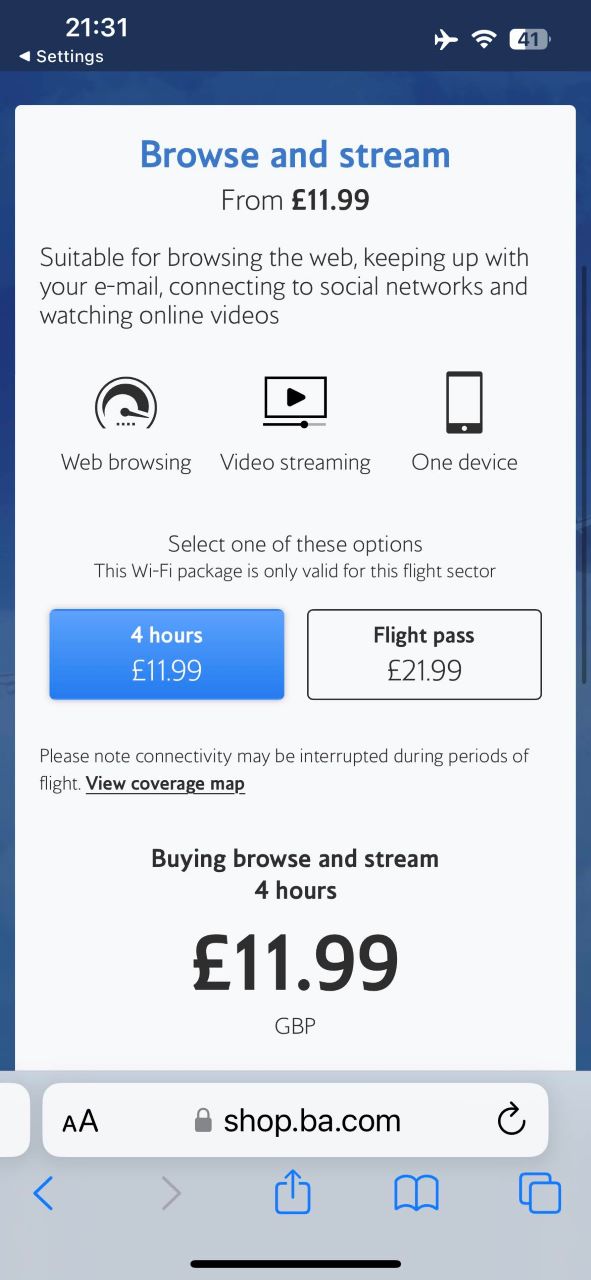 I also find the charging for your devices works much better on the A350 than some of the older aircraft where charging a phone by even 30% can take an entire long-haul flight.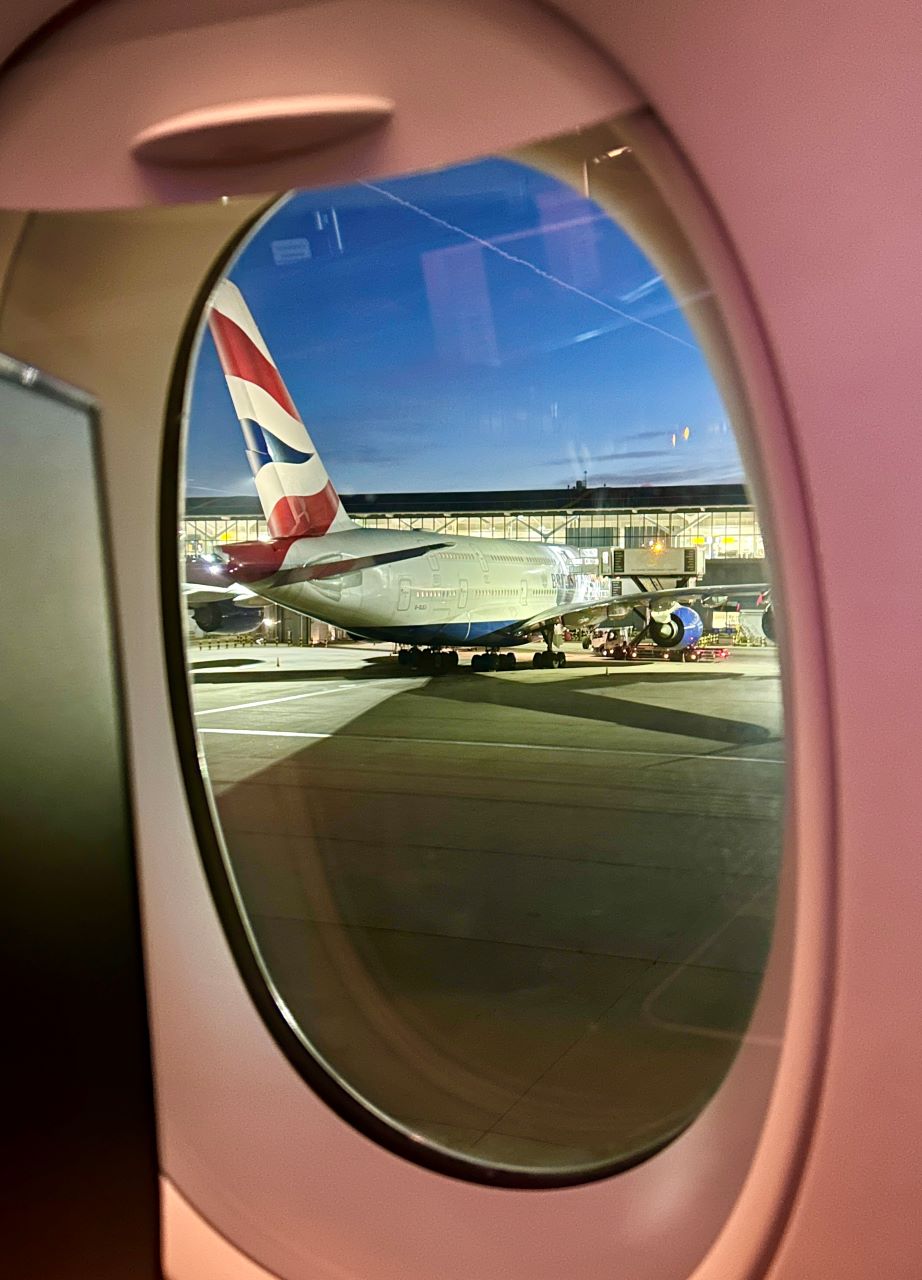 Sadly when we landed, it was the usual Heathrow mess. We arrived at the gate and then sat waiting for ages without pulling onto it. I said to my friend, just wait, the pilot will be shortly apologising that there is no one to operate the stand guidance. Sure enough, about 2 minutes later he came on. This must happen almost every time I fly BA into Heathrow (and I know from others it is not just me). Often you arrive early and then sit there for ages with the gate hauntingly just out of reach. However, I never experienced this with other airlines at Heathrow, as the issue is down to a lack of BA ground staff.
Conclusion
What a lovely change from the outbound flight, and having such a great crew on this flight. I really couldn't have asked for a more charming crew member serving me. Not only was she personable, but she was also very professional and knew what was on the menu.
It was obvious that the IFM ran a tight ship and led by example. The little extra touches like using my name and coming over for a chat with passengers are such small things but make all the difference from feeling like you are a valued customer compared to feeling like a nuisance on the way out.