This was only the second time that I have flown with British Airways since they more or less resumed their pre-Covid catering. Up to the end of October 2022, they were still serving a single tray service. So how is it now? I was travelling with a friend.
Check-in
As we both hold BA status, we could use the First Wing. I have yet to encounter an agent in the first wing that wasn't helpful and friendly, and this check-in experience was no different.
As seems to be often the case at the moment, there was only one lane open for security, and the queue stretched back to the entrance security. In normal times, you would expect both lanes to open for the majority of the day except early morning. Heathrow supplies the staff to man the scanners, so BA was not at fault here.
The lounge – Concorde Room
We headed through a rather crowded-looking First lounge and into the Concorde Room. (Note if you are a Rosé wine fan there is currently Whispering Angel available in the Galleries First).
For me the Concorde Room has lost a bit of sparkle recently with lacklustre menus and my favourite barman Charlie, being moved to T3.
Here was our menu: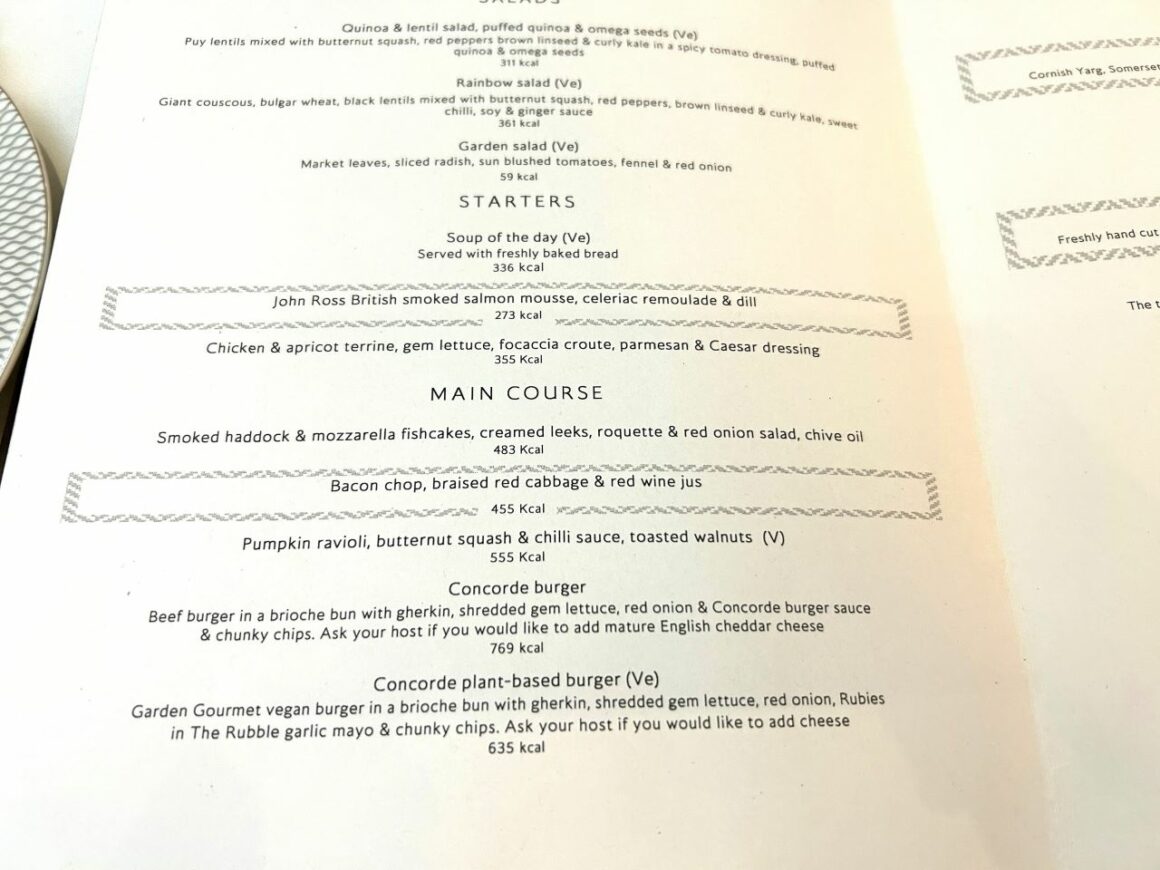 I was not very impressed by the menu and was struggling to find something I wanted. It was also unfortunate to have two starters that were in effect a type of paté which anyone immune compromised or pregnant can't eat. We had spotted Caesar salad on the Galleries First menu and asked if it was possible to have that instead as a starter which was no problem. Service was friendly but very haphazard with my friend's starter arriving before she had even properly taken the order and then a long wait to get the second one.
The Caesar salad was pretty average. For the main course, I had my usual breakfast item, bacon chop, which was tasty but not quite what I'd expect from a first class lounge!
Boarding
There was nothing remarkable about the boarding. Group 1 was called first and we arrived just around the time that it started so we did not have to wait. Once on board, my 60-second rule radar was twitching. (That's the rule that says you can normally tell how the flight will be in the first 60 seconds). The crew did not exactly seem friendly.
I had seen a bottle of Castelnau by the pre-departure drinks tray (to my horror!), and so when I was offered a drink, I asked the crew member if the champagne was back to Castelnau. The crew member looked at me like I had asked her a question on quantum physics and said she had no idea what it was. So both of us went for the juice as after drinking Laurent Perrier Grand Siecle in the lounge, I think Castelnau would have been even more disappointing than usual. It is worth noting that there is no longer an option for water as a pre-boarding drink which I think is a shame.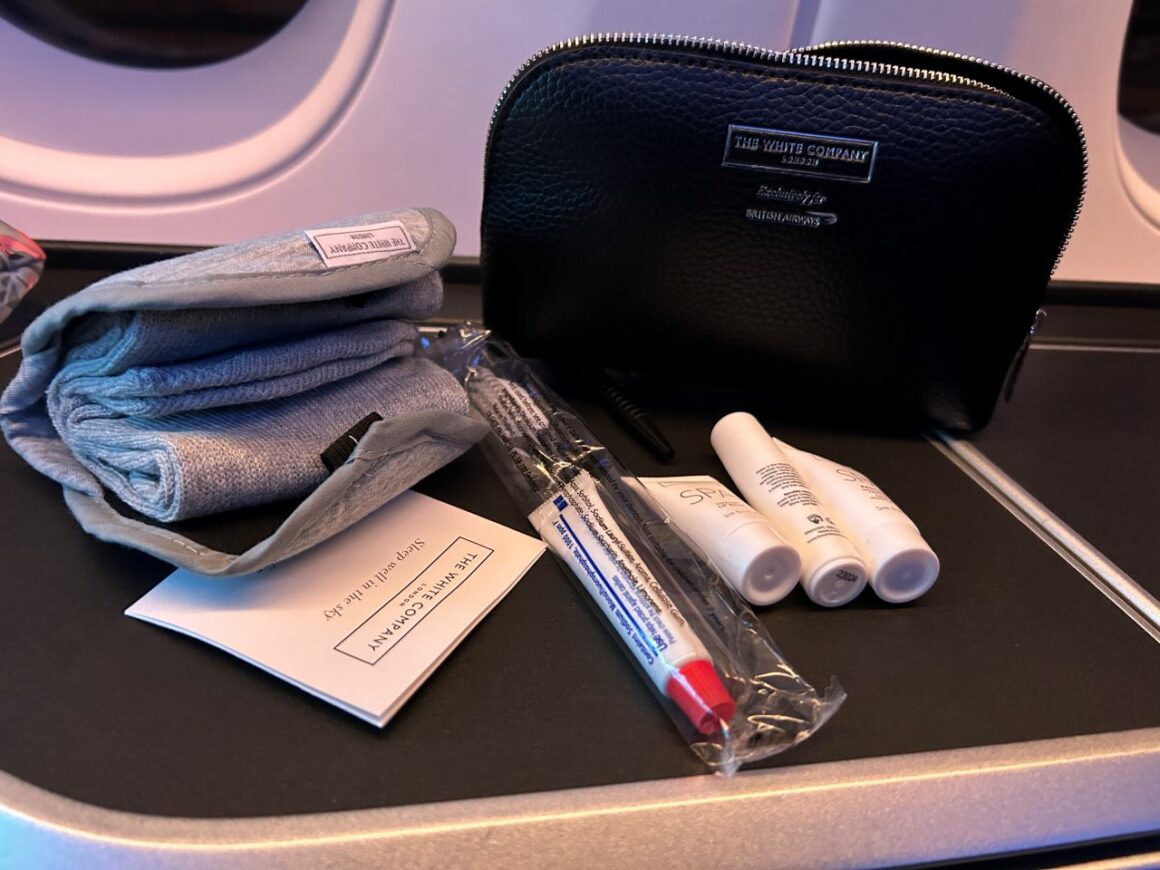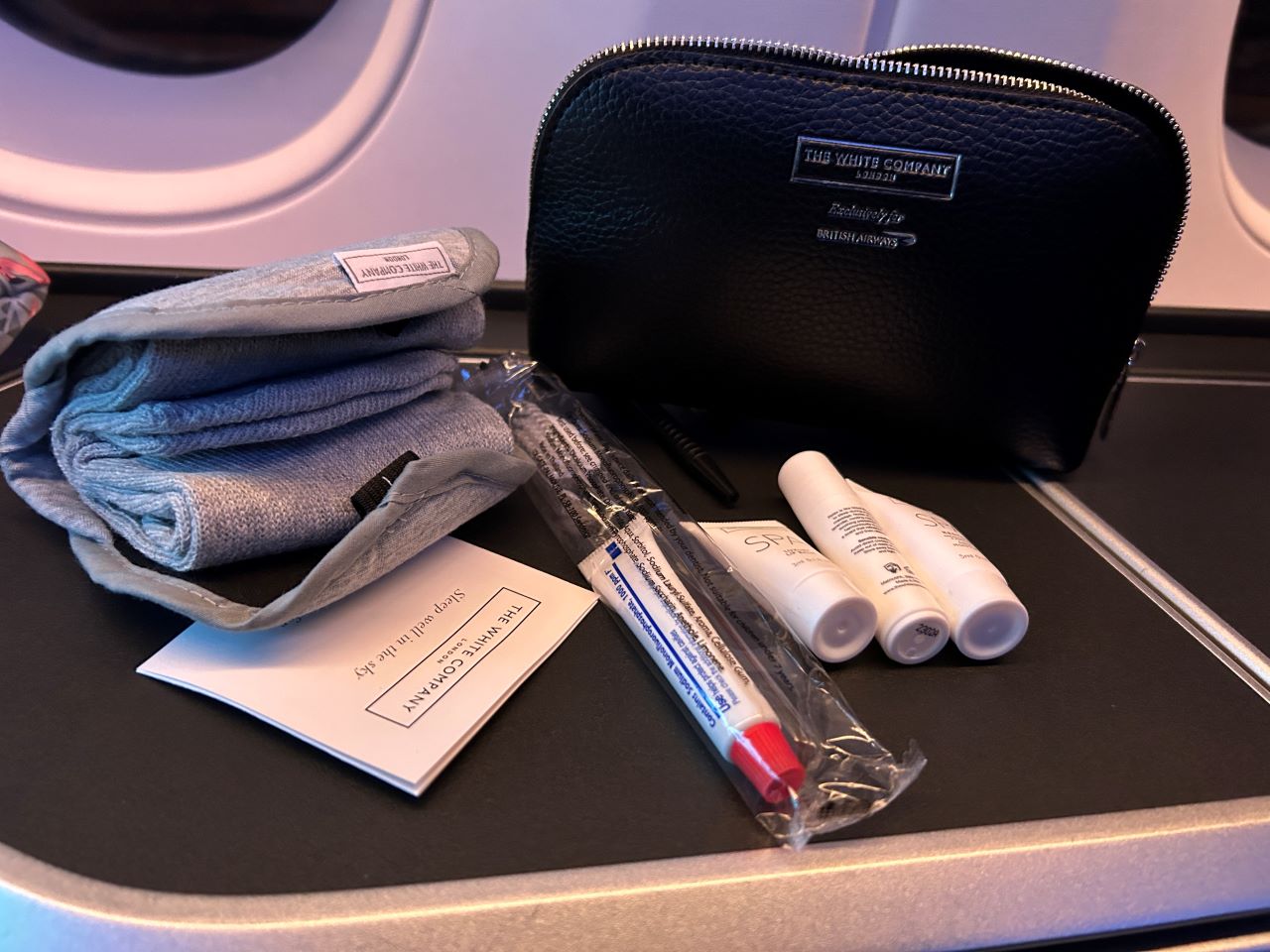 Already at the seat was a bottle of water and an amenity kit. The White Company amenity kit had the usual White Company lip balm, moisturiser and pulse balm, eye shades, socks, earplugs and toothpaste and toothbrush/toothpaste.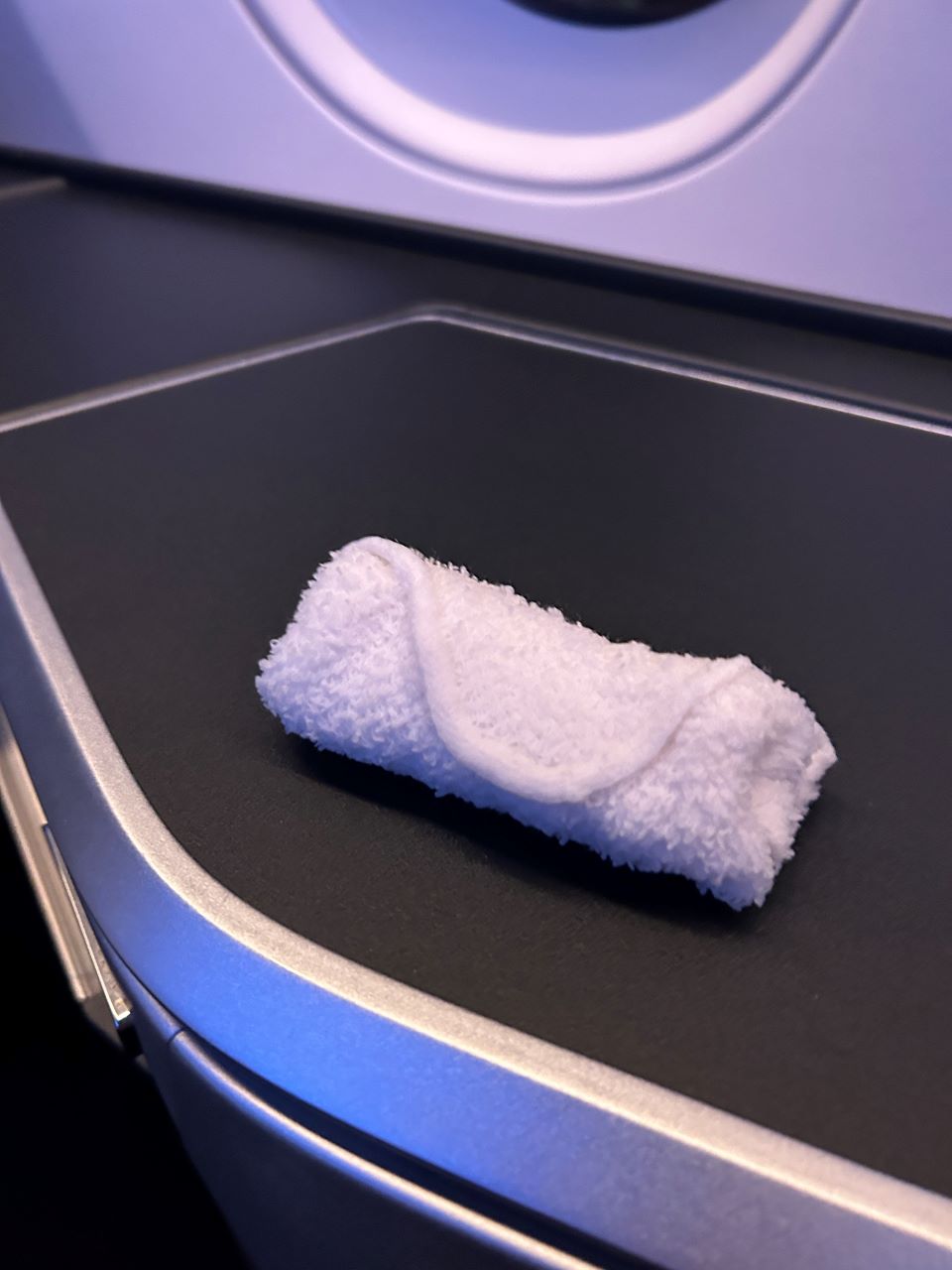 A hot towel was also handed out prior to take-off. It's such a small thing but I always feel a bit grubby by the time I get on the plane so it is nice to be able to clean my hands.
Seat and cabin
I usually go for around row 4 of a large Club cabin to minimise noise level on a night flight but still get served first. For this flight, my friend has chosen row 1, so I sat behind her in 2K.
Here is the cabin seat map: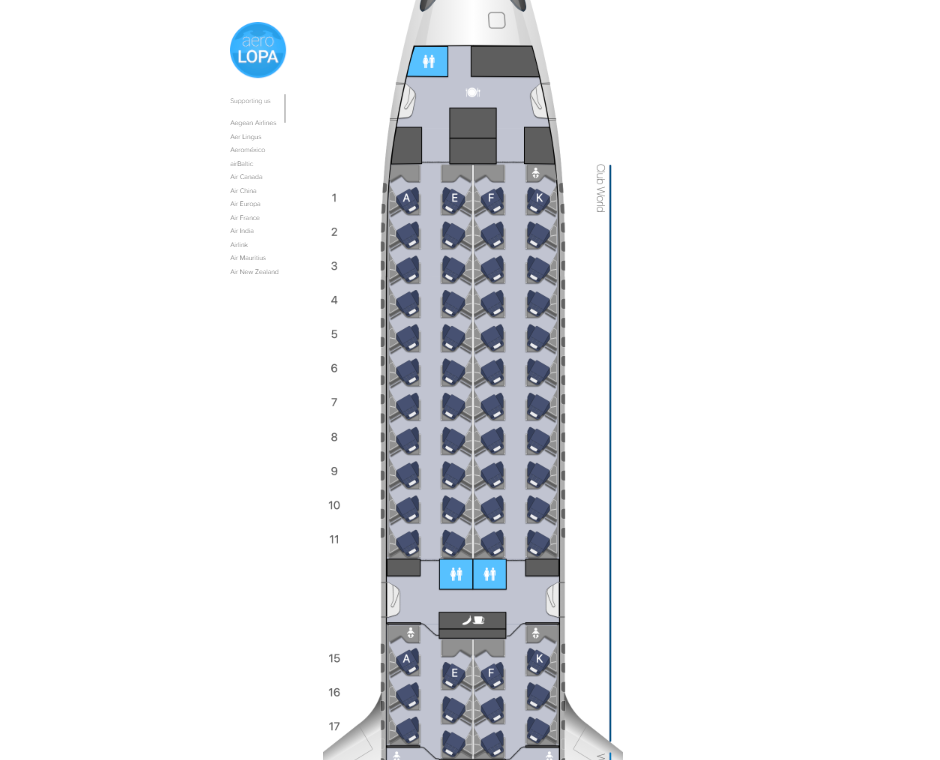 I have reviewed the A350 Club Suite a few times, so I will be fairly brief in this review. You can find more reviews of BA's Club and First flights here.
The majority of service is done from the front galley, and during the service the toilet is blocked off. Occasionally crew have blocked the front toilet for the entire length of the flight, but they did release it once the service had finished until the second service. I would definitely not recommend the front couple of rows as you will be likely to hear noise from the galley. On this long overnight flight, the crew were particularly bad, talking and laughing loudly in the middle of the night which disturbed my friend quite a bit.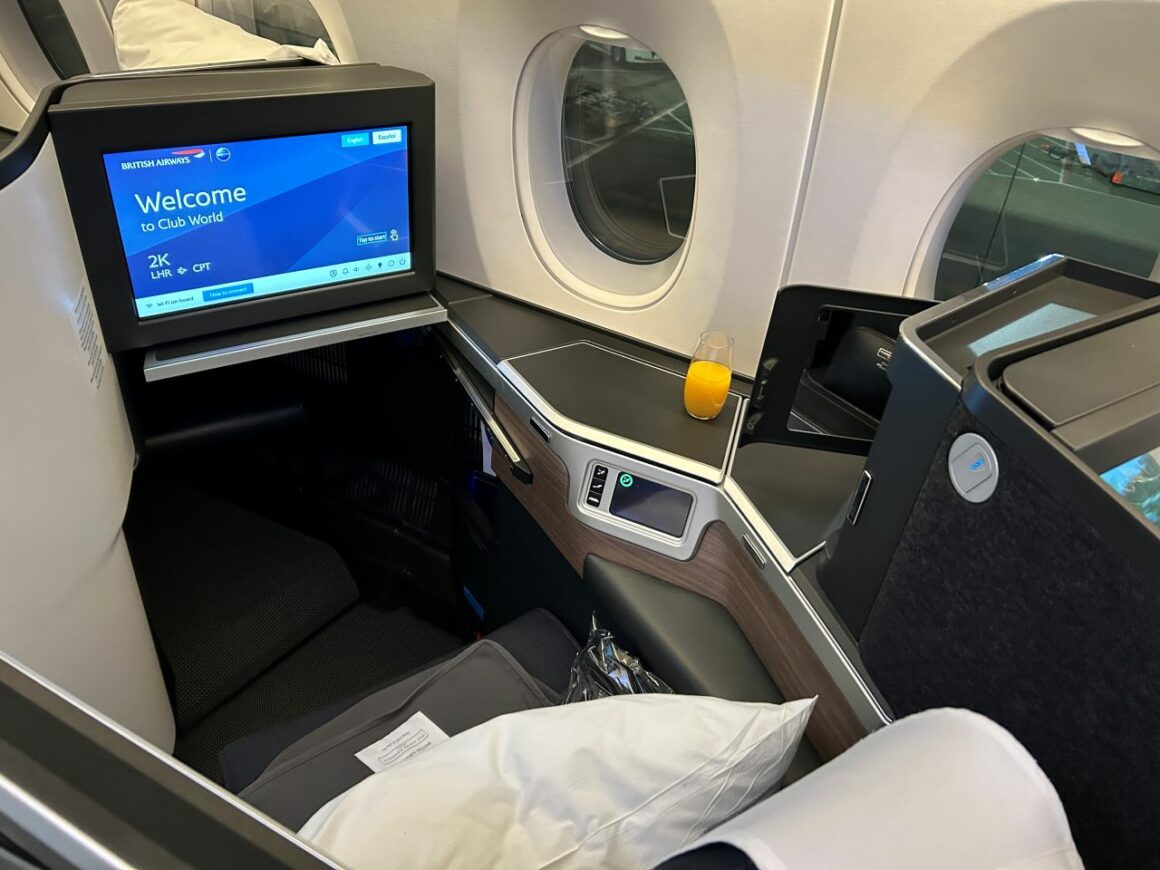 The Club Suite itself I am a big fan of. I normally find a lot of seats hard but I like the Club Suites. I do see people complaining they are hard, but I think it is down to how you position yourself. If you end up with the wrong part of you over the join in the seat it can feel quite uncomfortable.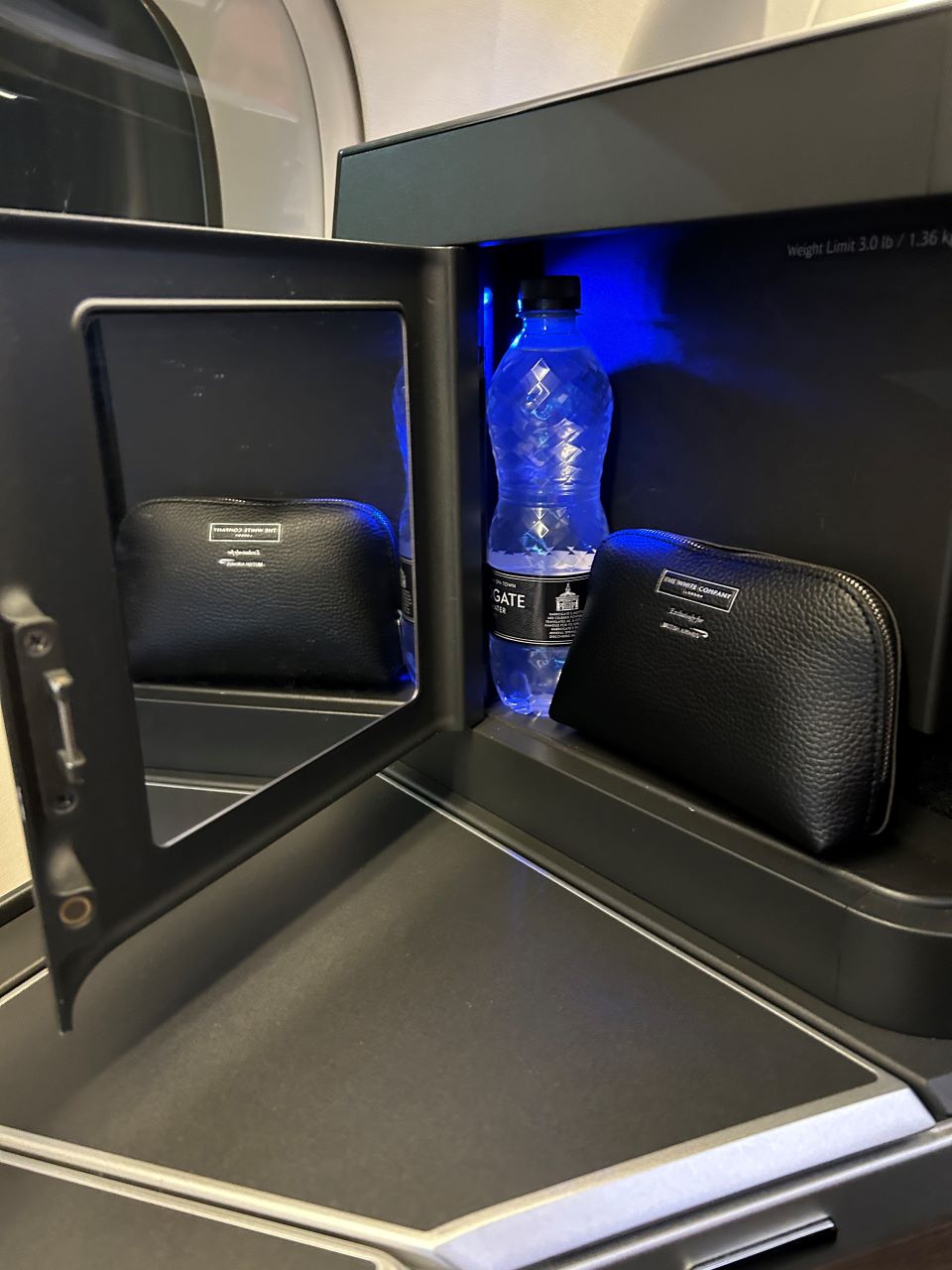 There is plenty of storage with a shoulder-height headphone cupboard with a mirror, a deep compartment which also houses the charging and TV controller and a small shallow compartment which is perfect for a phone or small table, glasses etc. These can all be used prior to take-off.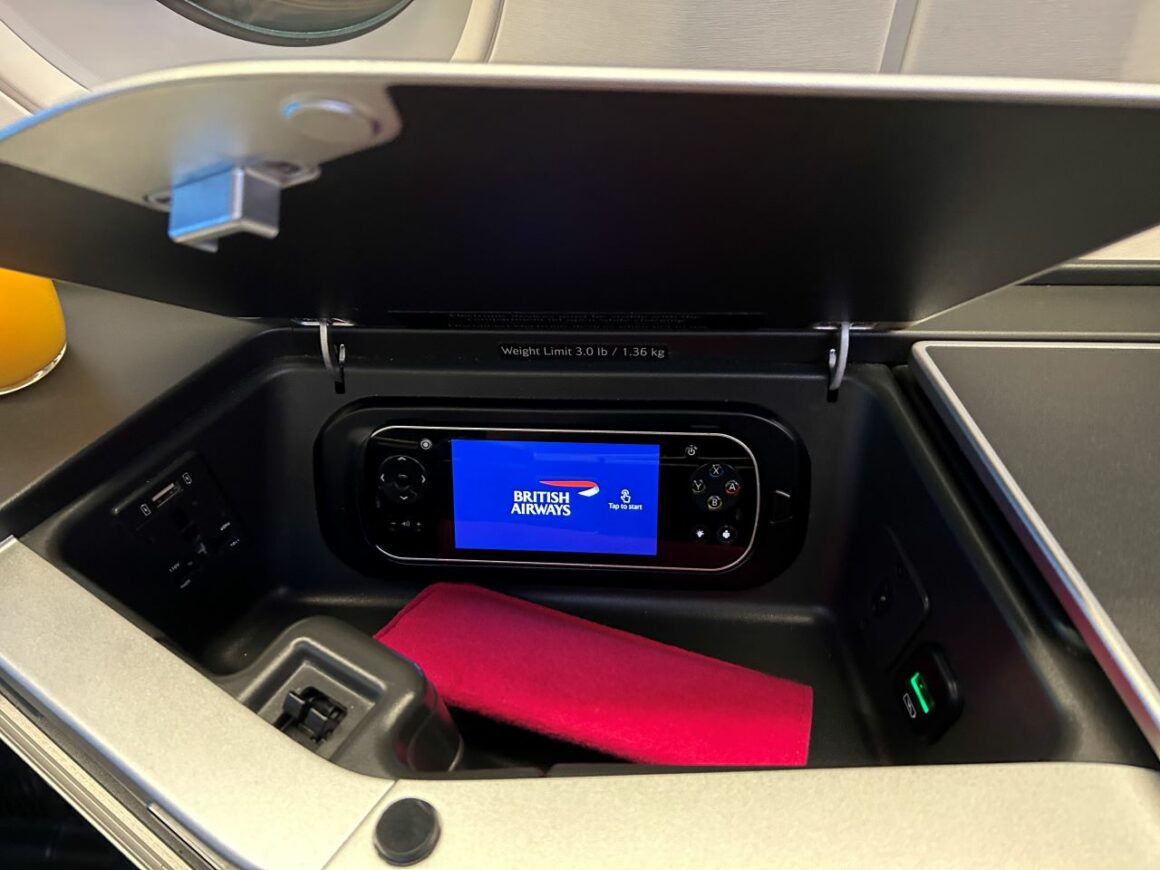 The bedding is also the same they have had for some years from the White Company although it is good to see that it comes without the plastic now.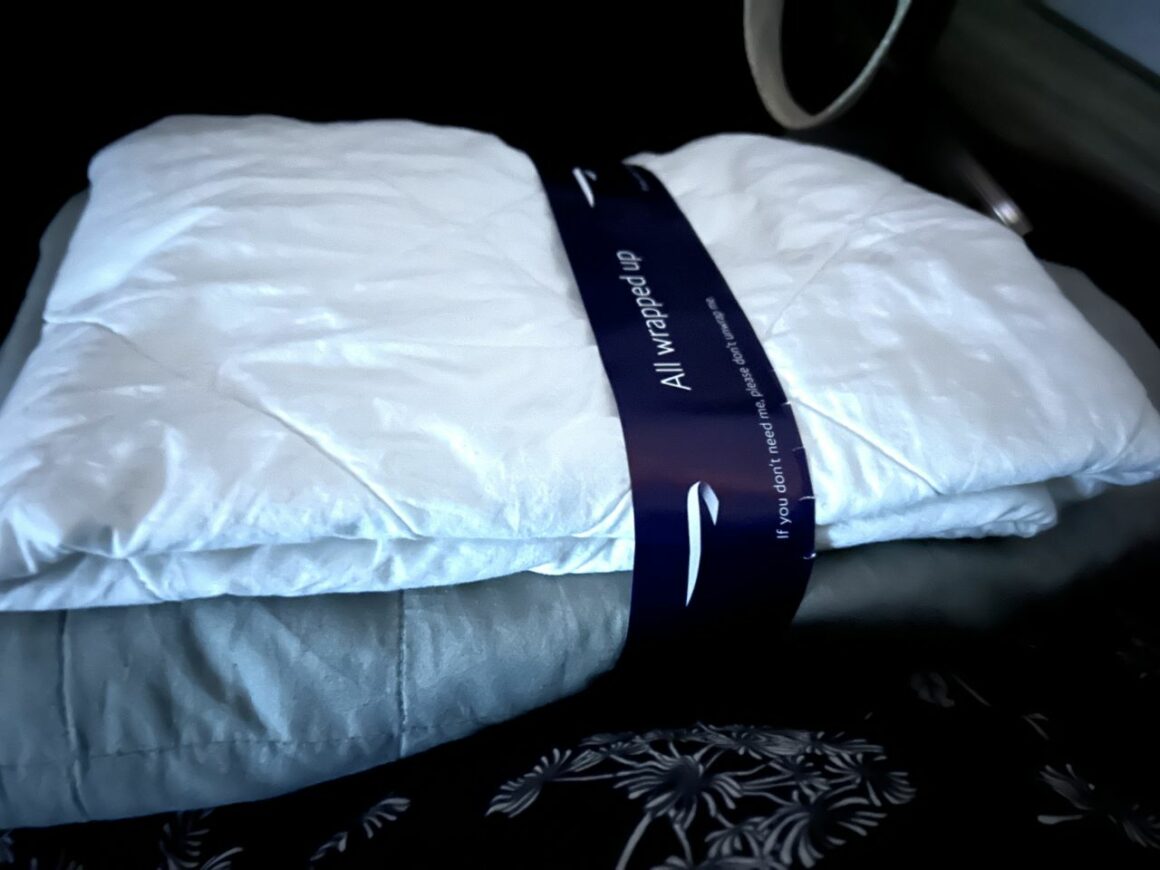 This is a soft quilt which I really like, and a completely useless mattress topper which is so thin you barely know it is there. It also is quite small compared to the seat, so usually ends up scrunched up underneath you if you move at all.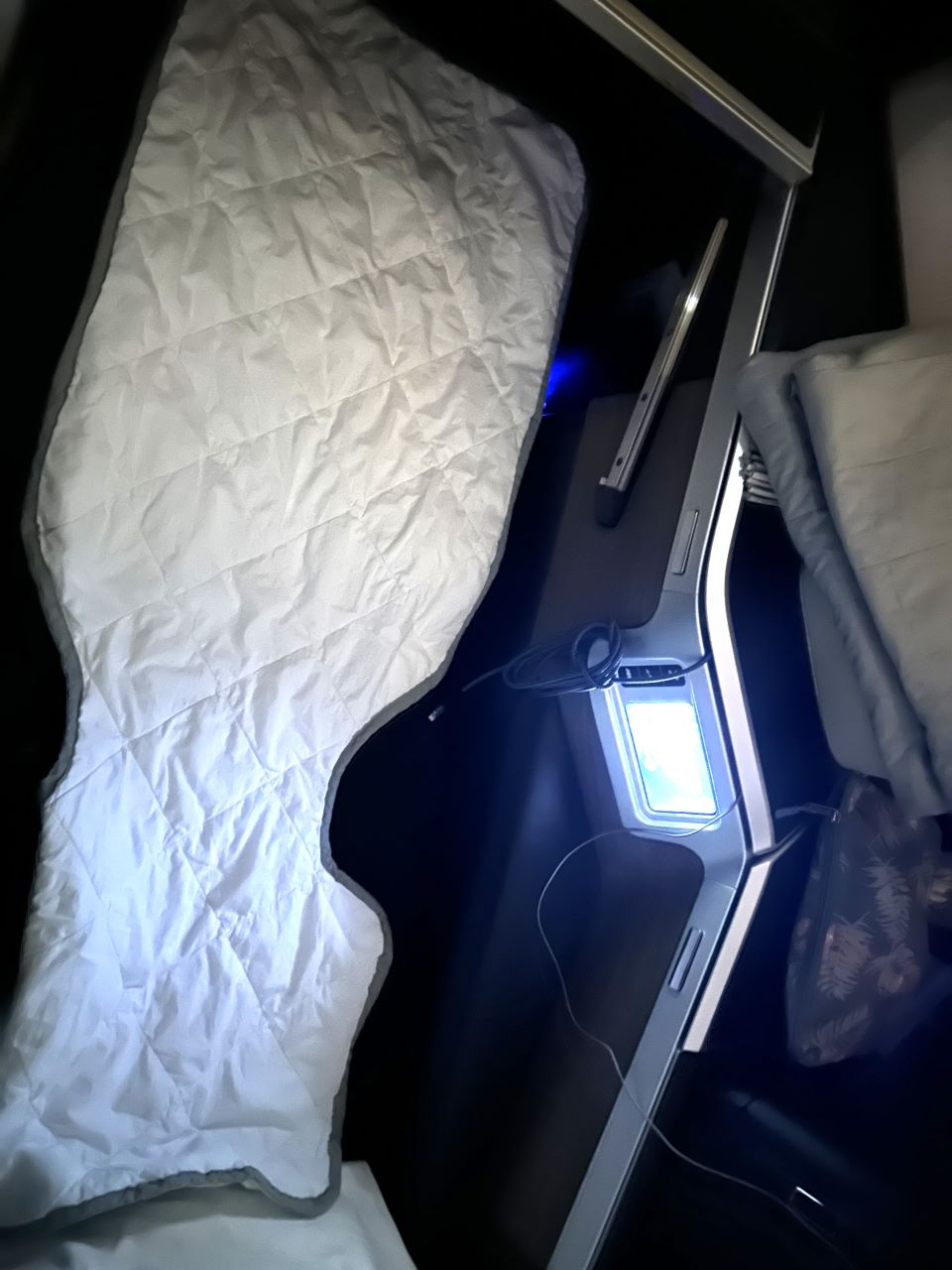 Food and drink
We were being served by the Inflight Manager, the most senior cabin crew member on board, so I was expecting the service to be good. I can only say that in all my years of flying she was one of the most unfriendly cabin crew I have ever met. How this person got to be in the position they are, I have no idea. I can only hope she was having an off day and is normally better. She was brusque almost to the point of rudeness at times. Every time she asked a question it was barked at you rather than in a polite way. For example, crew may say, have you had a chance to look at the menu, do you know what you may like to have for dinner. The IFM would say "what do you want?".
At one point when she took my breakfast order I was trying to say I didn't want the fruit but would have the other option shown under starters. Now despite being a regular flyer I wasn't to know it was on the tray already. Instead of trying to understand what I was saying she just looked exasperated and said "do you want the fruit or not?"
The only positive thing I can say is she was at least fairly efficient and the food was served in a reasonable timely way and we were offered more wine at various intervals.
Here is the menu: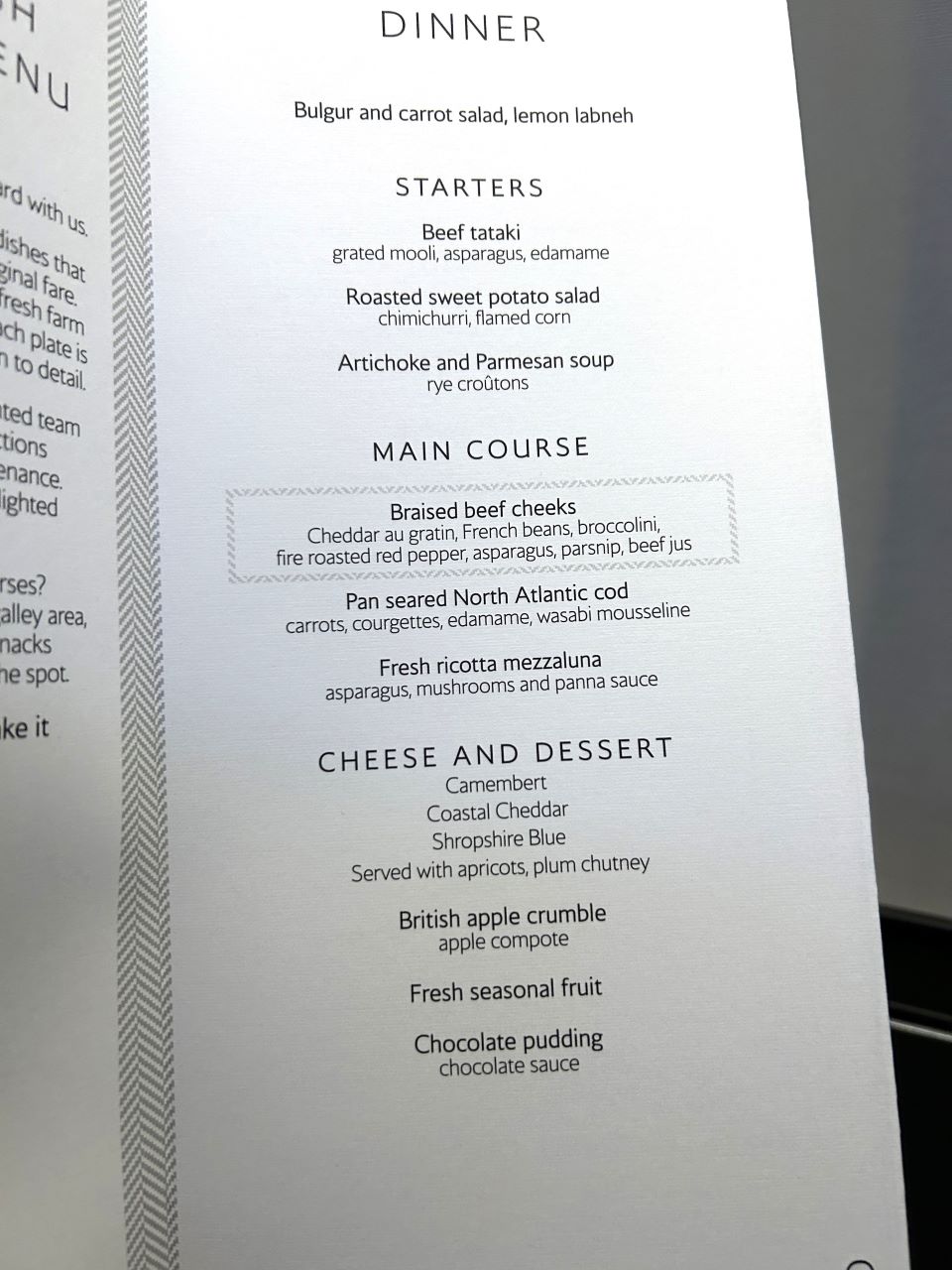 Apart from the fact it was beef cheeks which seem to be something of a BA favourite at the moment, I actually was pretty pleased with the menu. For a change, I thought I would try the soup and then, not having had beef cheeks for a while, I went for those.
Here is the drinks list:
The wine list looked pretty decent, perhaps the influence of BA's new wine master showing.
The champagne was Castel-no so I gave that a wide berth and went for the rose champagne. While it may not be anything special, I find it perfectly pleasant as the pre-dinner drink though I wish they would bring back the Kir Royale cocktail. This was served with the usual nut mix which is well overdue a change.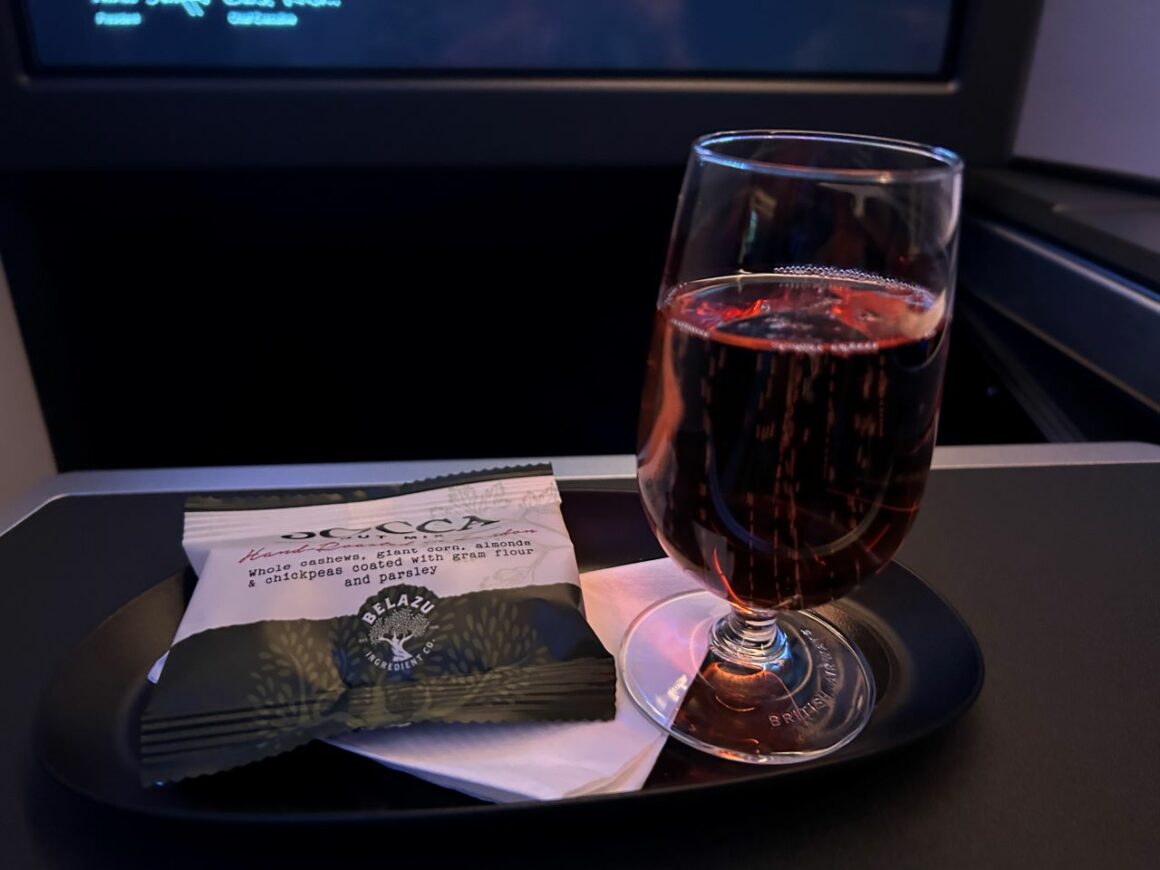 The starter was actually extremely tasty with a lovely smooth creamy soup that was packed with flavour and nicely balanced between the more delicate artichoke and punchy parmesan. However, it was served lukewarm at best sadly.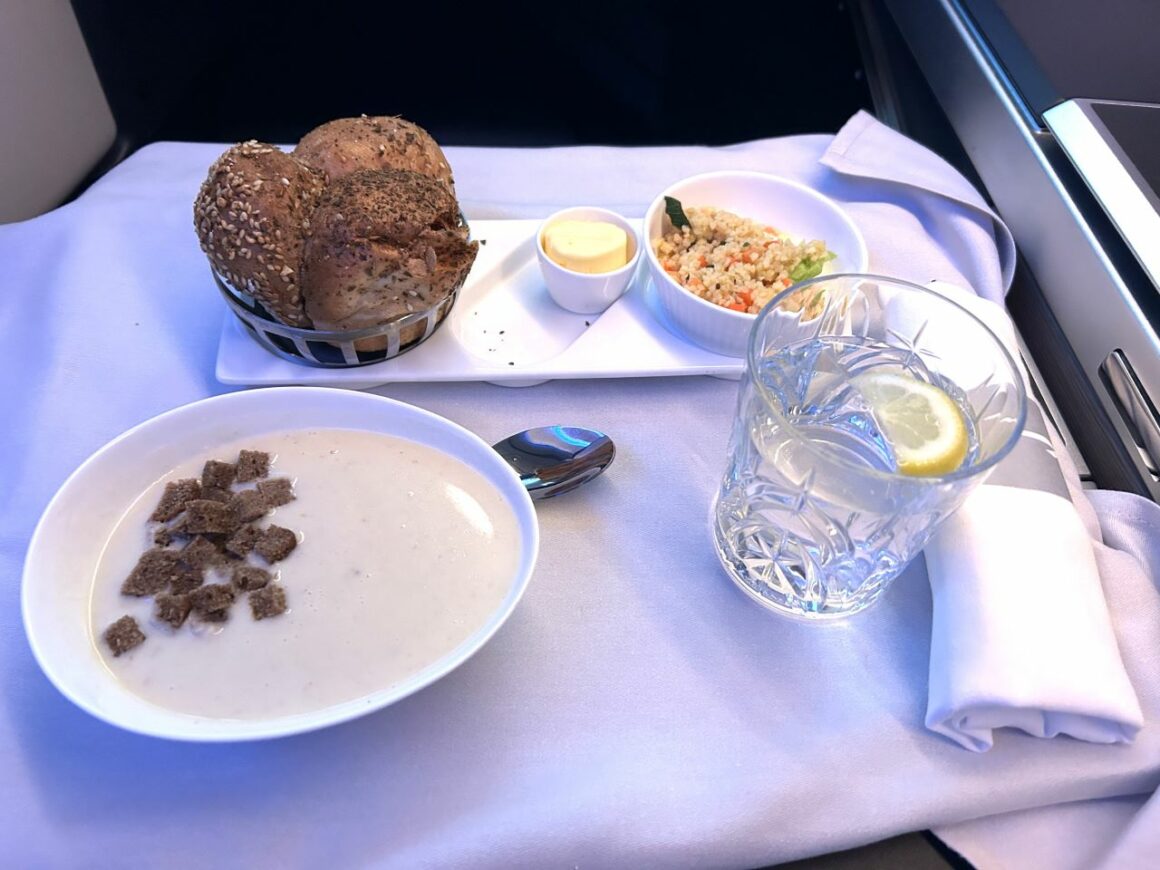 The starter was served with the trip of bread rolls which I really like and a tasty little bulgar and carrot salad which was on the tray. I sampled the Chenin Blanc with the starter, which I thought was decent if lacking in complexity. (It costs around £11 to buy).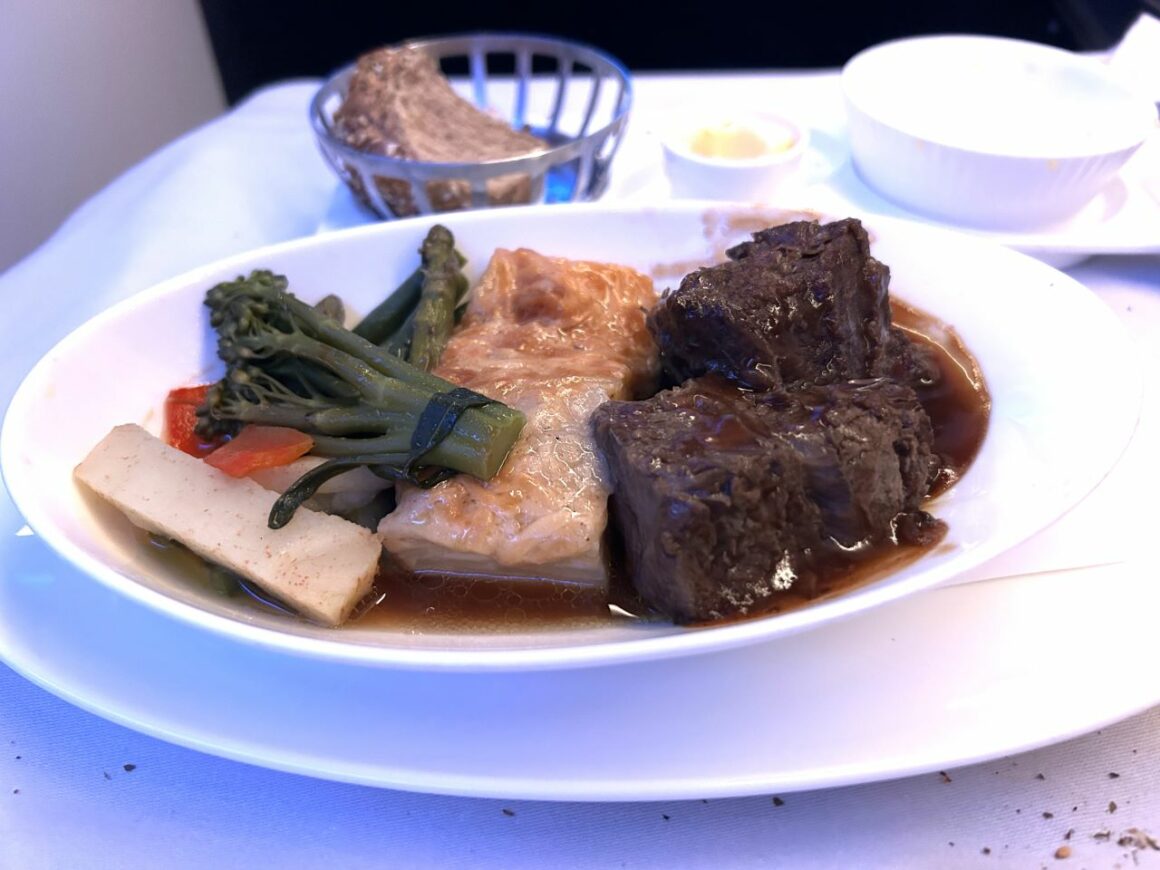 Next came the beef cheeks. These were lovely and tender, but the beef jus was very watery and had no flavour making it rather dull. I wish they would offer little pots of sauce like ketchup or mustard (they used to do this years ago on BA with sachets of mustard) like Qatar does as some mustard would have improved the dish dramatically. I enjoyed the potato gratin but overall I found the dish rather bland. With this dish, I sampled the Glenelly Cabernet Sauvignon which I thought was very good and once of the best Club wines I have had recently. It is good to see more South African wine on the menu which tends to be better value than some old world wine.
For dessert, I went for the apple crumble and was surprised to be served a cold Club Europe-looking dessert pot. It had a layer of cooked apple on the bottom with a custard layer and a sort of crumble top that was more biscuity than a normal crumble.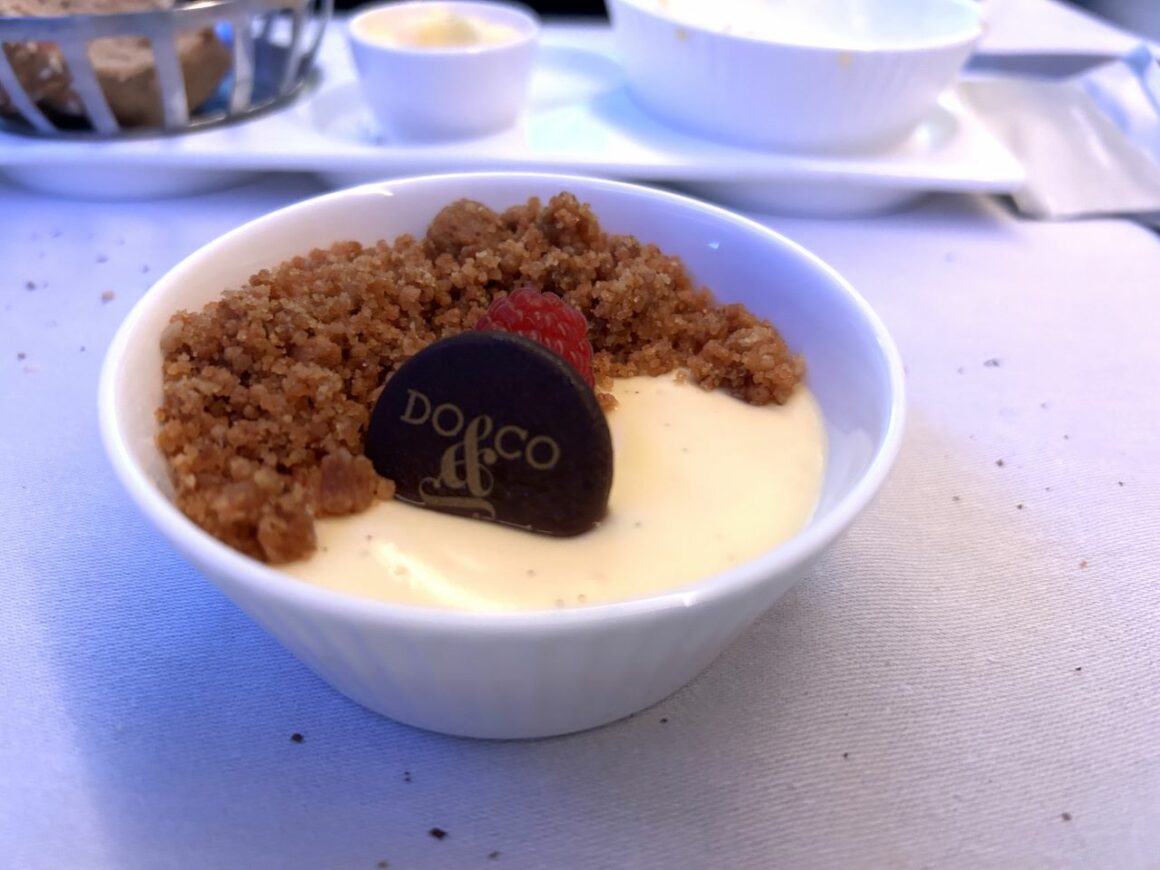 There was nothing wrong with the dessert, the apples tasted fresh and with a hint of cinnamon throughout the dish, but I think if it is not a proper apple crumble, it should not be called that on the menu.
It is worth noting there is still no sign of Cognac (allegedly a supply chain issue – for this long?) on the BA Club menu. Yet having flown Air France and KLM in the last couple of weeks and Qatar in November, they seem to manage to get cognac just fine.
Here is the breakfast menu: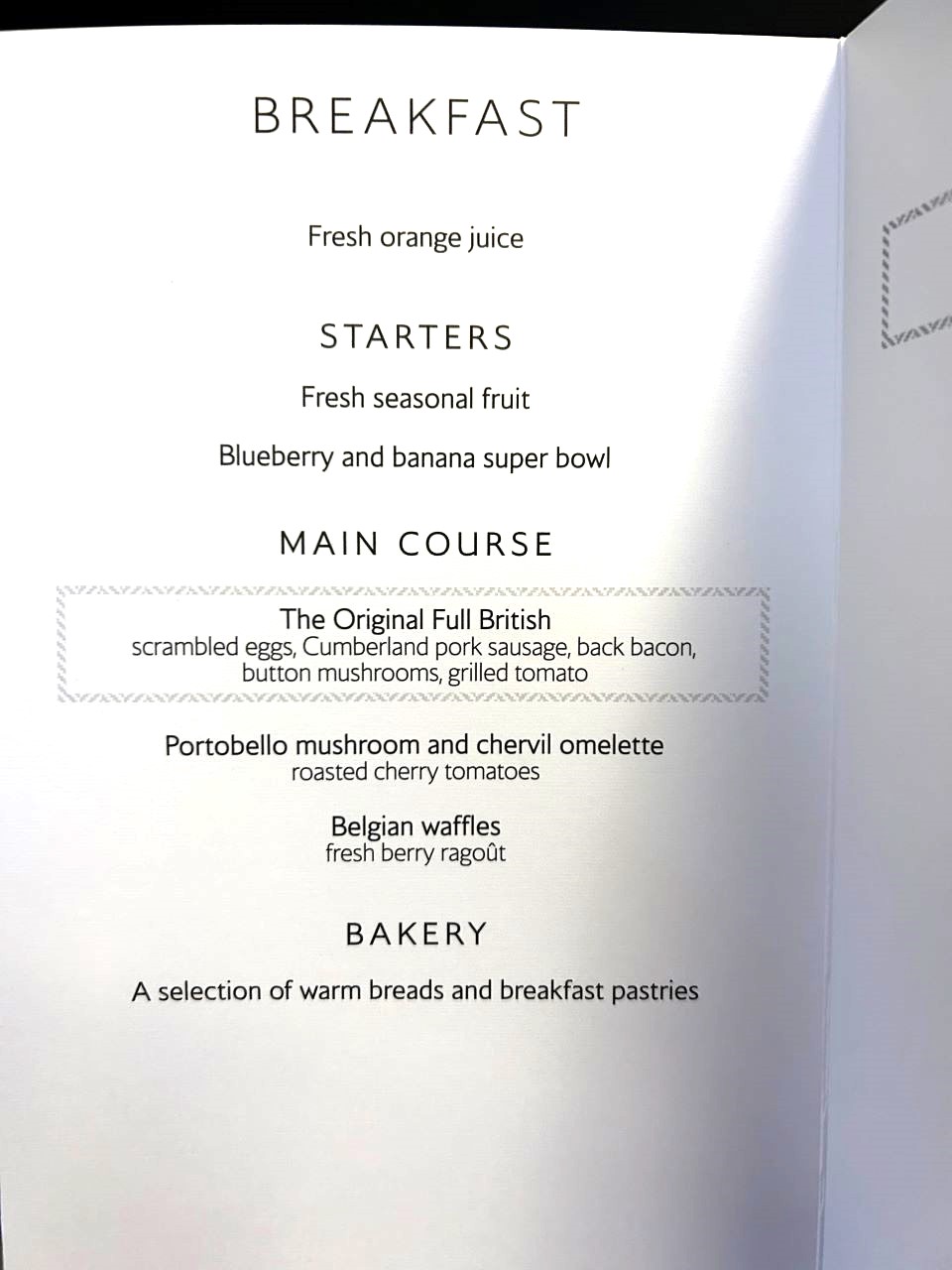 I was not particularly hungry so I went for the waffles as sometimes the sweet option can be the best choice. Sadly not this time. The blueberry chia seed was nice if a little thick but you could not taste the banana.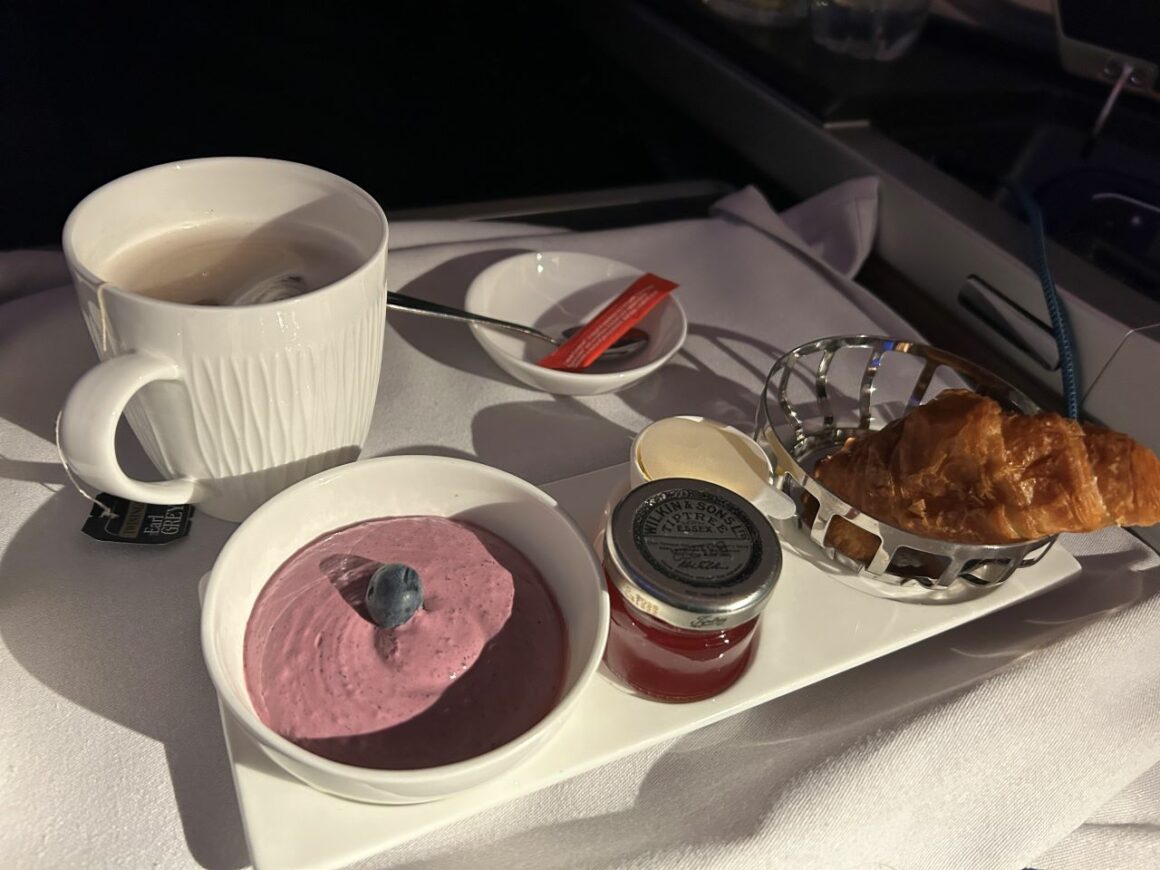 The fruit compote itself was pretty tasty as it was not too sweet with a little hint of tartness and not too gloopy either.
Entertainment and wi-fi
The A350 has a different pricing structure from other long-haul aircraft as it uses a different system. It is a bit more expensive than the others.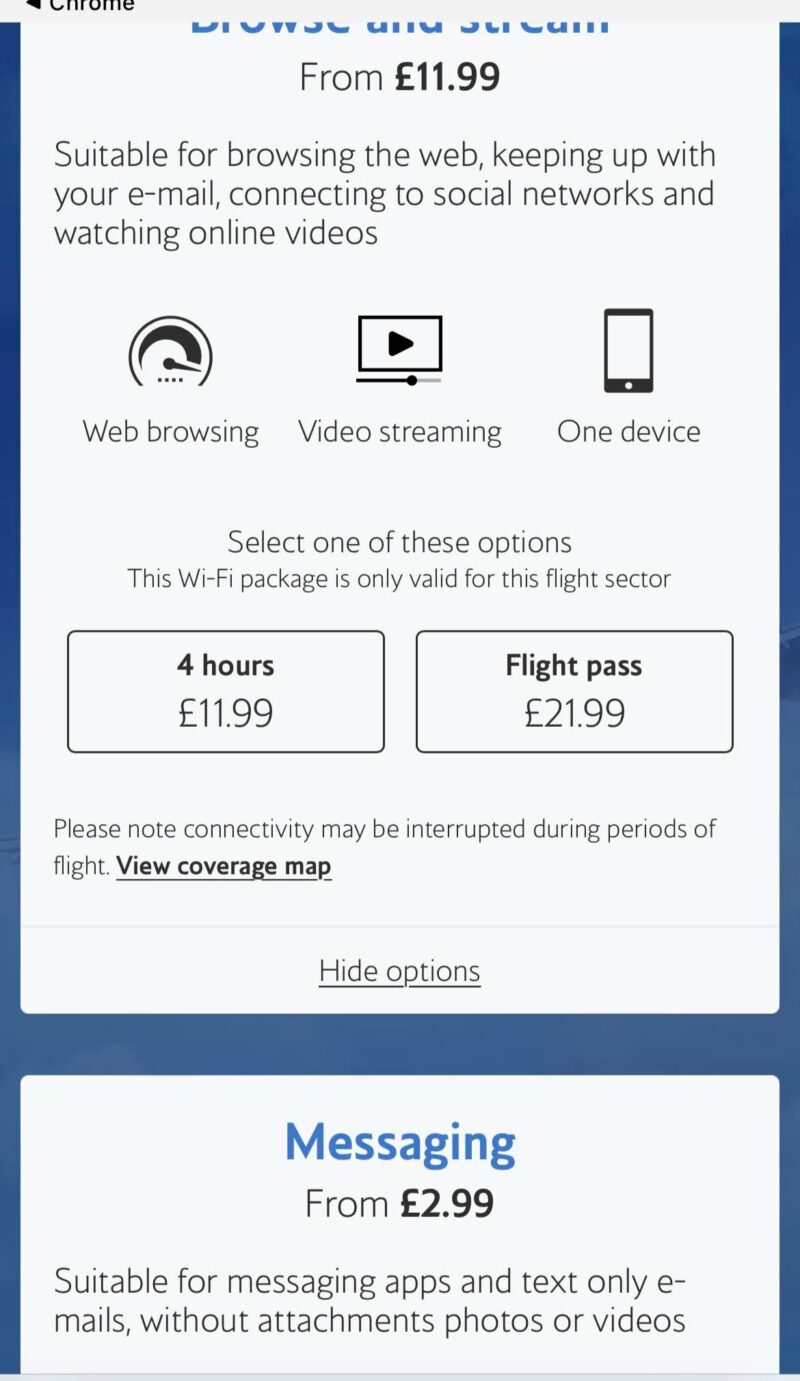 However, when I connected immediately after take off for 4 hours it showed this: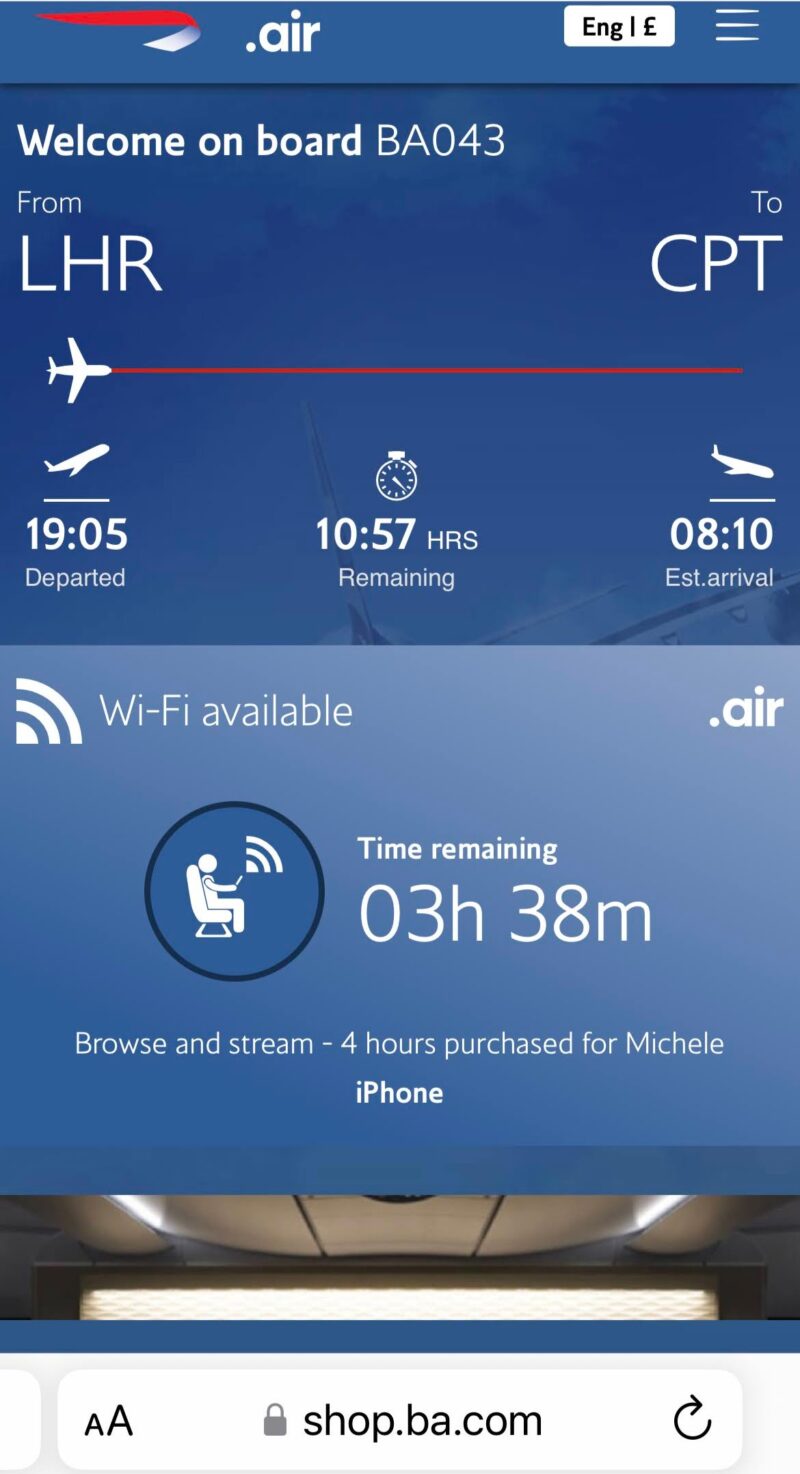 The wi-fi was also very flaky for the first couple of hours, so it was a waste of money as towards the end of the 4 hours I just wanted to go to sleep. Hopefully, BA will refund the charge, I'll update you when I hear back. They are normally pretty good at refunding wi-fi when it's not been working properly,
The TV screens on the A350 are excellent with a large screen and clear definition. I also like the way the whole system is laid out. As usual, there was plenty to choose from with new releases and TV programs. With the addition of Paramount+ programs, there is almost too much to choose from and it now takes me a while to decide. I went for Good Luck to You Leo Grande with Emma Thompson. Although slow-paced, I found it both funny and moving.
My friend watched The Menu which I liked the look of but was worried that it would give me nightmares!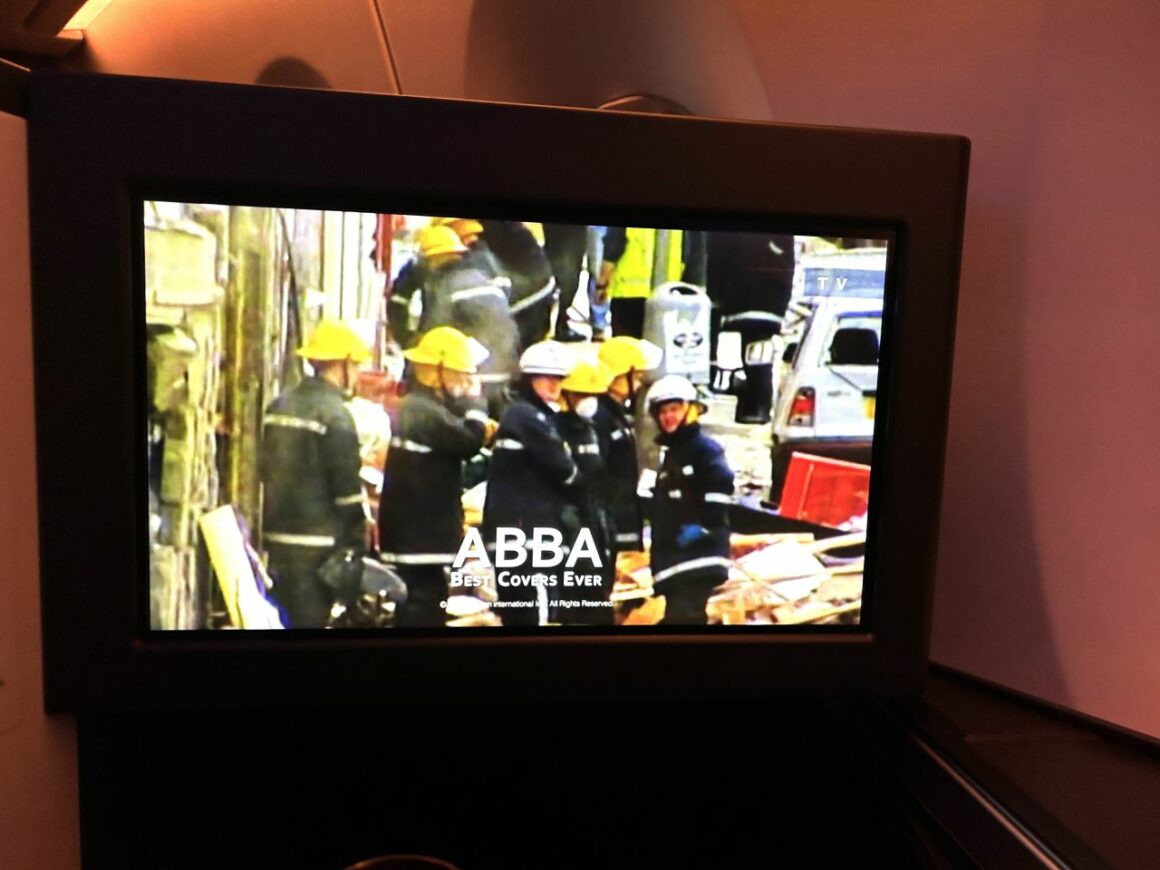 The TV can be controlled via a touchscreen or with a handheld remote. In the same compartment, there is a multicountry charger which on some of the Club Suites is positioned too close to the bottom of the storage bin so you can't use the larger style multi USB chargers. I usually find using a travel adaptor as well solves the problem. There is also a USB socket.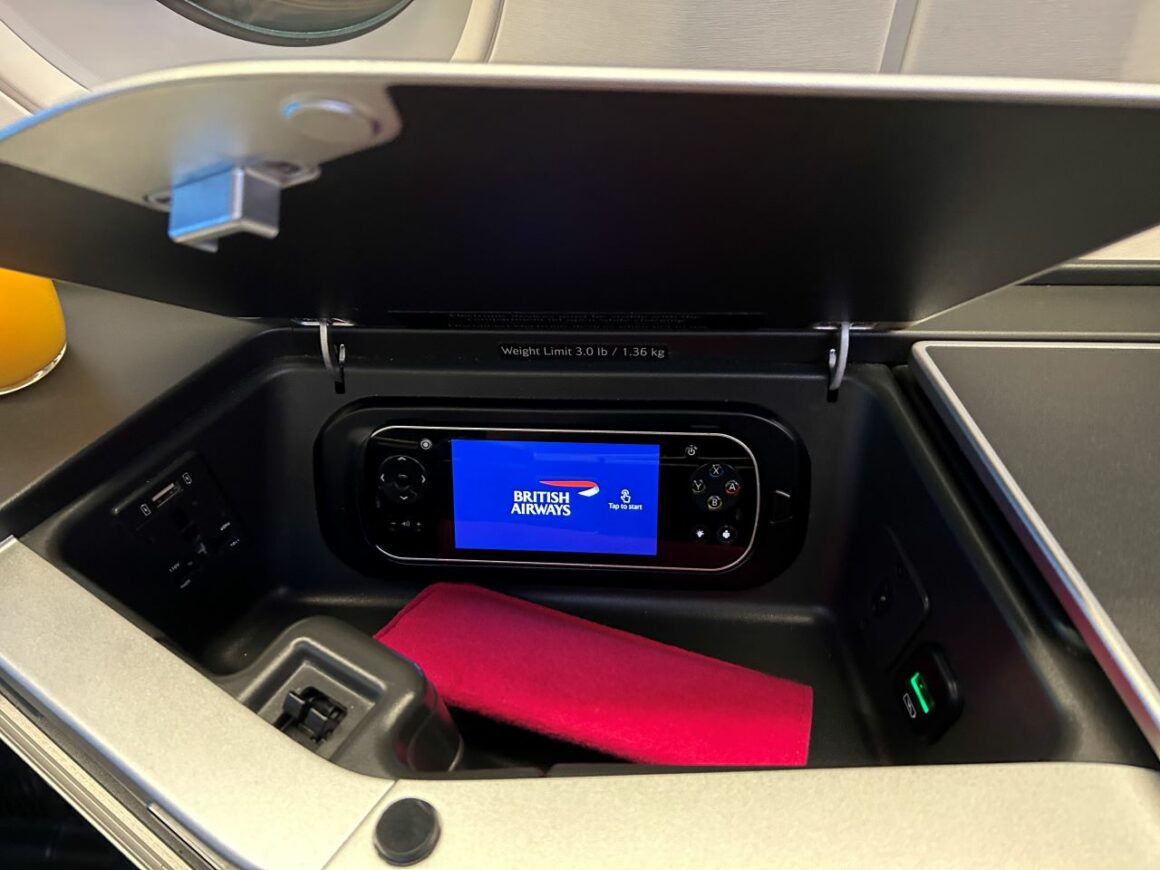 Conclusion
This was not BA's finest hour. I'd expect senior cabin crew to be able to summon up some semblance of being friendly. The wi-fi was a rip off, given it is more expensive on the A350 anyway, to then short-change people is bad. Hopefully, it will be refunded.
However, the food was a big improvement over the one-tray era, and with a few minor tweaks, it could be great. The biggest improvement for me was the wine list with some more interesting wines than the usual BA fare.
You will be pleased to know that BA is as inconsistent as ever and the way home was a completely different kettle of fish but more about that later.