The Chilworth London Paddington Hotel has been on my bucket list for some time. Whenever I visit London, I always check the rates for my travel dates. This time, I was attending London for work and the TLFL Reader Event. I travelled from Cornwall and wanted to stay somewhere in close proximity to Paddington Station and a tube station. The Chilworth ticked all those boxes.
My Booking Experience
I booked the Chilworth London Paddington through Booking.com and chose a Deluxe Single Room for 3 nights for a deal price of £313.53. This is the cheapest I've seen The Chilworth on a trip to London. I paid online to save time on my arrival. Being a Booking.com Genius Level 3 member, I also received £22 in credits to spend on my next booking. I had £26 left in credits from a previous booking which was put towards the cost of this one.
The Location
The Chilworth is located on Westbourne Terrace, less than a 5-minute walk away from both Paddington Railway station and Paddington tube station exits. It's also only a short walk away from Edgeware Road tube station. There are many good restaurants and takeaways nearby and a variety of convenient shops in Paddington Station.
The hotel is near Hyde Park, Kensington Palace, Bayswater, and Marble Arch. If you're thinking of staying in central London before a flight. In that case, The Chilworth has convenient access to the Heathrow Express and the Elizabeth Line to travel to Heathrow Airport. It's also just a short tube journey away from London St Pancras for the Eurostar services.
The Hotel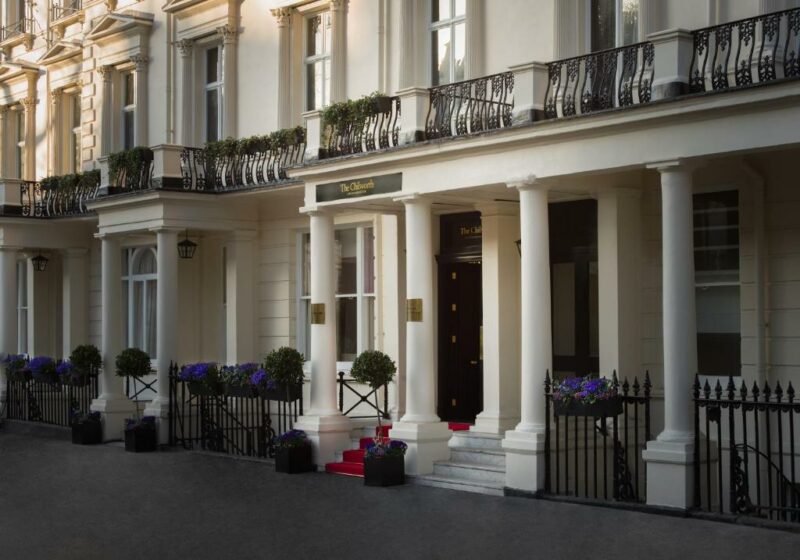 Check-In
I arrived at the hotel at 6:30 am, straight from The Night Riviera Sleeper train to drop off my luggage before travelling on the Eurostar for a day trip to Paris! The night staff were very welcoming and stored my luggage with no issues.
I returned to The Chilworth at 9:00 pm and was checked in efficiently after a very long day. Reception has a luxury and boutique feel with a small seating area and carefully designed decor. I was given my room card and luggage before being directed to the lift.
The Room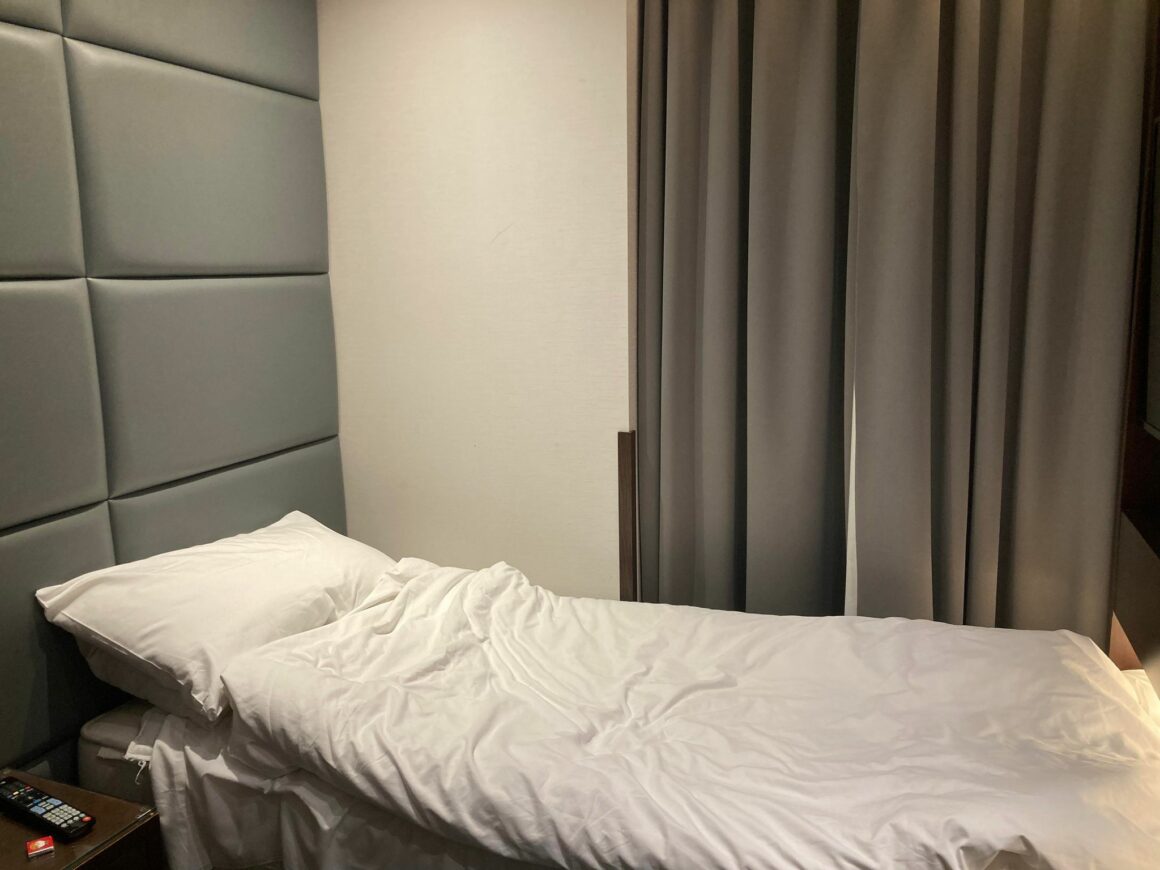 I booked a single deluxe room located a floor below the ground floor near the spa. Even though the room was on the basement floor, I still had a window with a view up to the front of the hotel.
The single room was small but no smaller than other London hotels I've stayed in. The room looked like it had been recently renovated, and there were many storage options. Being a highly-rated hotel, there were extra touches such as dimmable lighting, a sleep button which controlled the lighting and let the cleaning staff know when someone is sleeping, a notepad and pen and some snacks.
The bathroom was very functional, with a large shower and a variety of complimentary toiletries.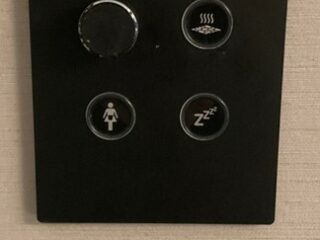 Other Room Types at The Chilworth London Paddington
As well as Deluxe single, other room types at the Chilworth include:
Compact Double
Deluxe Double
Deluxe Twin
Club Double
Club Twin
Deluxe Triple
My room was not as photogenic as some of the more high-end rooms at the Chilworth. I asked to see one of the other rooms, and I was shown a 'Club Room', which had been prepped for a guest's birthday, with a rose petal turndown and lots of extra touches.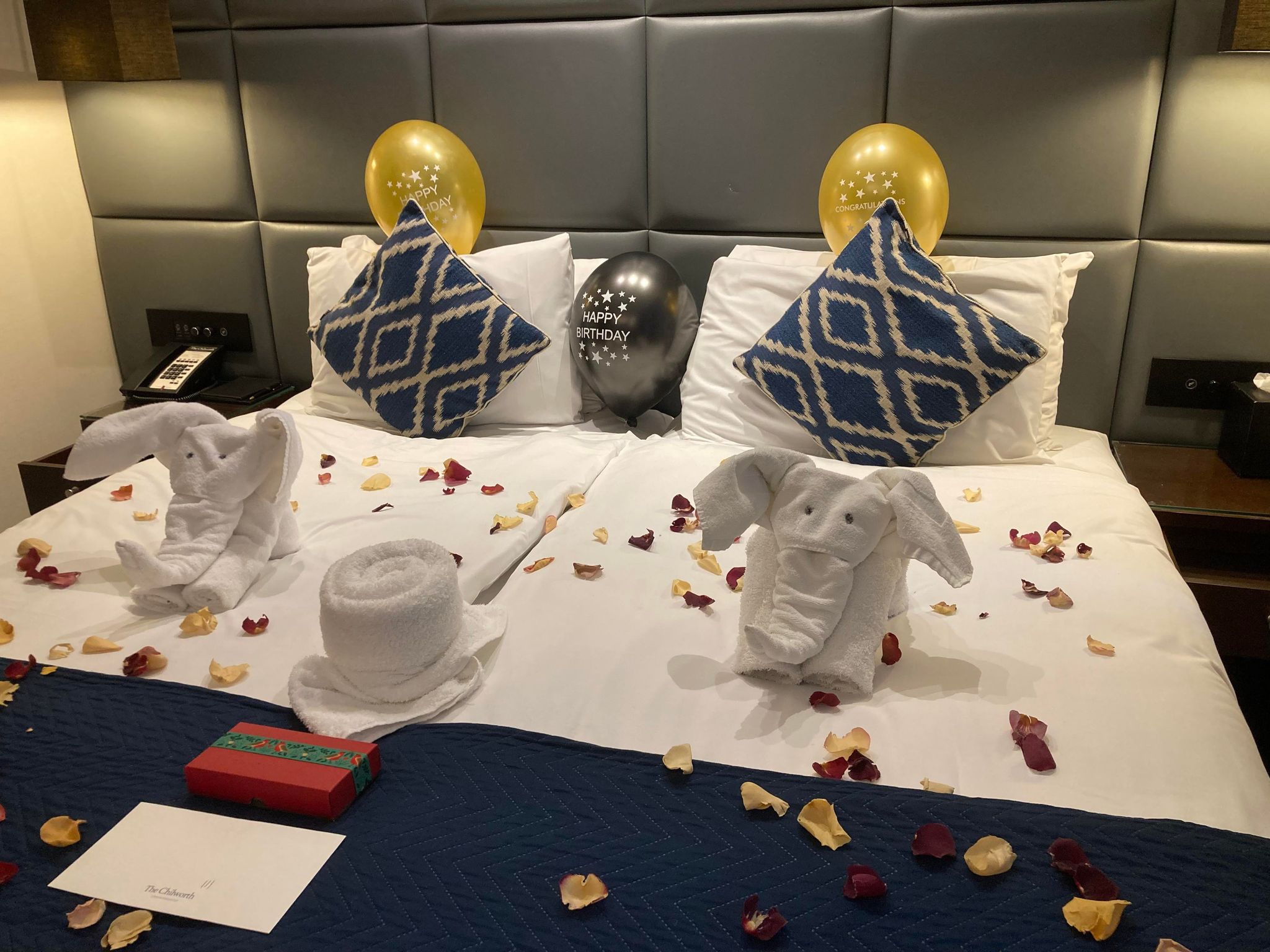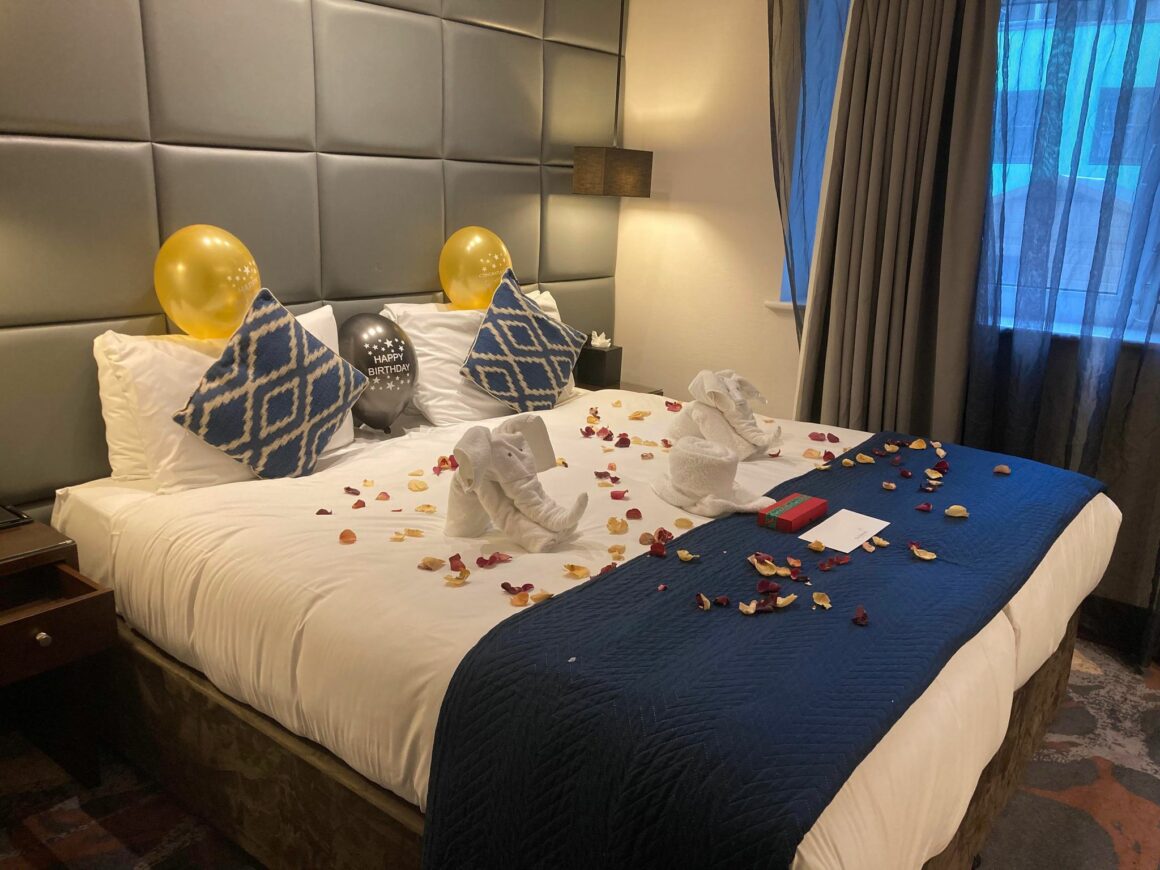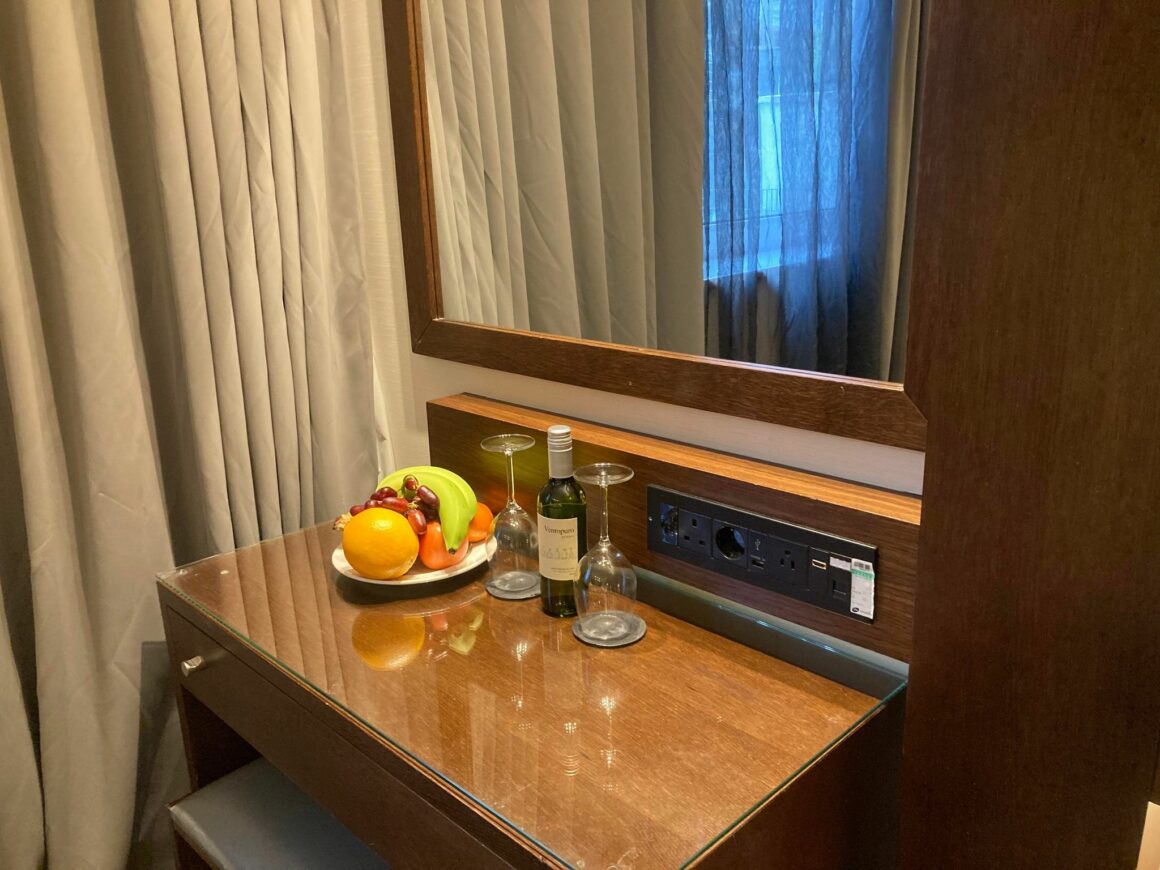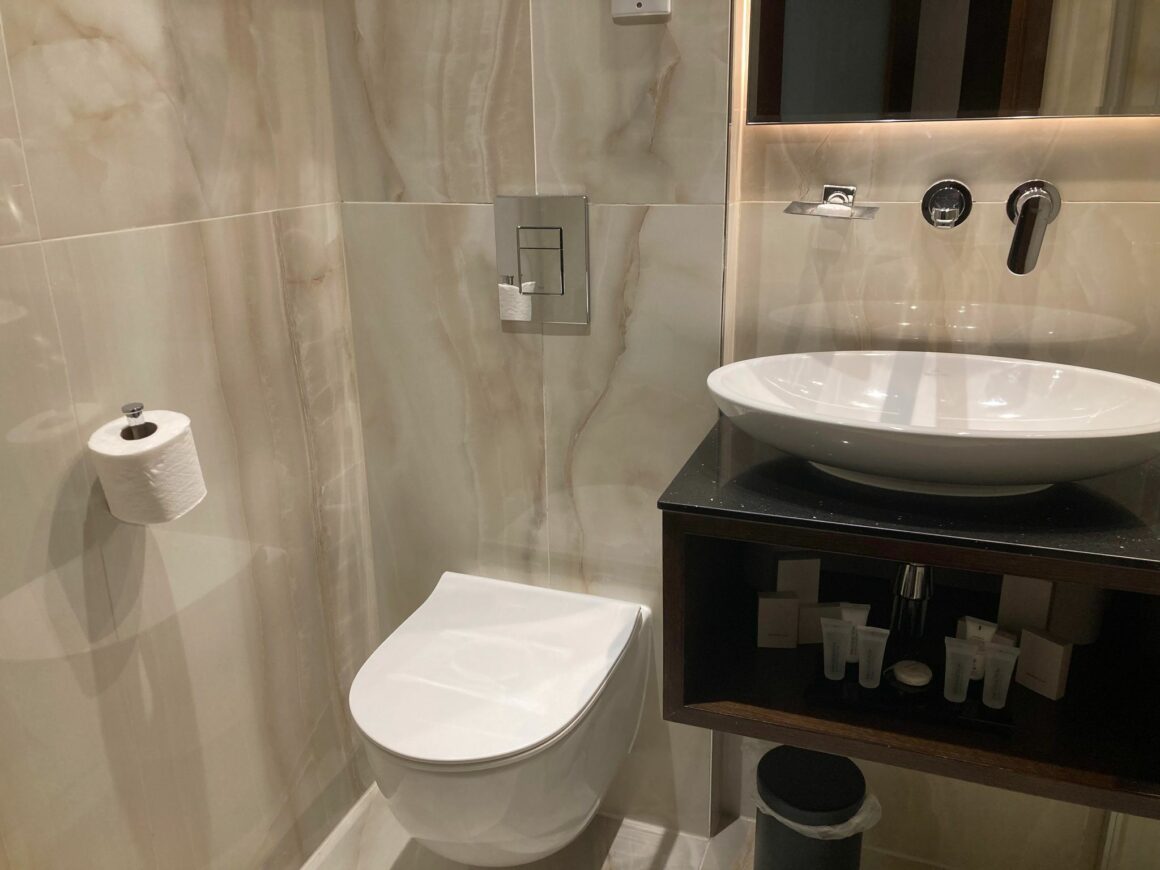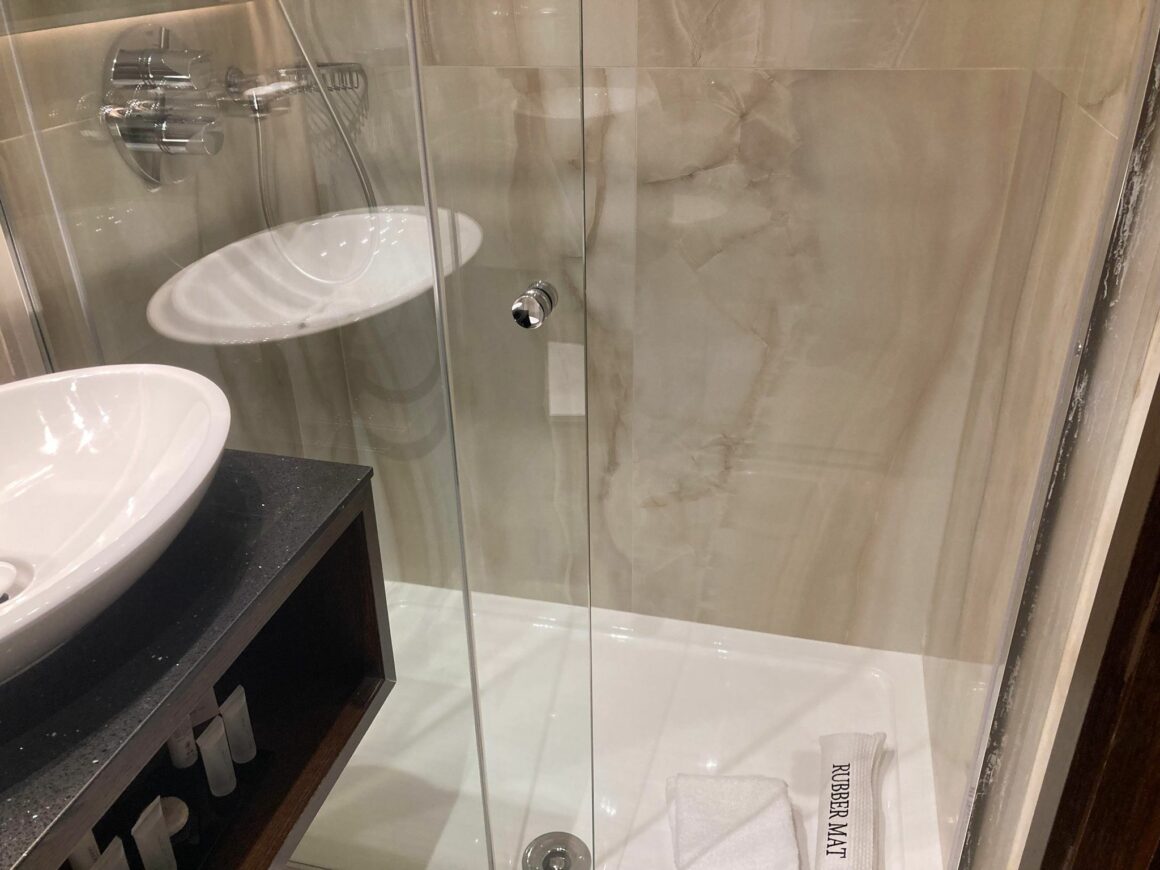 The Spa
Unfortunately, during my 3 day stay, I only had time to use the spa once. It's a very welcoming place to visit to prepare for the day or recover from a long day. The main part of the spa is a large jacuzzi, which has to be booked in advance. You can simply phone from your room, and there's often availability straight away.
There's also a steam room, complimentary towels and slippers and a variety of moisturisers and products to try. I liked the extra touch of free bottled water, which you can enjoy on a beanbag after the heat of the jacuzzi. A range of spa treatments are also bookable for an extra cost.

Spa packages can be booked via Treatwell. If you're not staying at the Chilworth and you're looking for a spa in the Paddington area, non-guests can also book the spa for a 30-minute slot, book a treatment or even have a spa day. Some packages even include afternoon tea.
Breakfast
I managed to get to breakfast one day. I was allowed in to get my breakfast just before it was cleared away. After an early start, I returned to The Chilworth just before breakfast finished.
The variety was not as big as some of the bigger brands like Novotel, Hilton and Hyatt, but everything I needed was there, including a range of hot options, pastries, juices and cheeses. My only recommendation would be to serve freshly prepared coffee rather than filter coffee.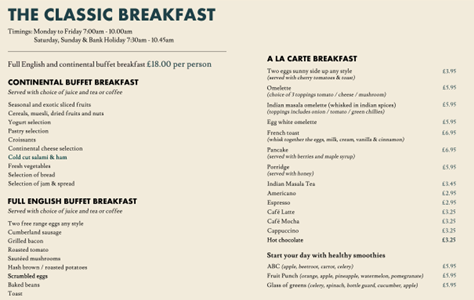 Breakfast Opening Hours:
Mon – Fri: 7.00 am – 10.00 am
Sat & Sun: 7.30 am – 10.45 am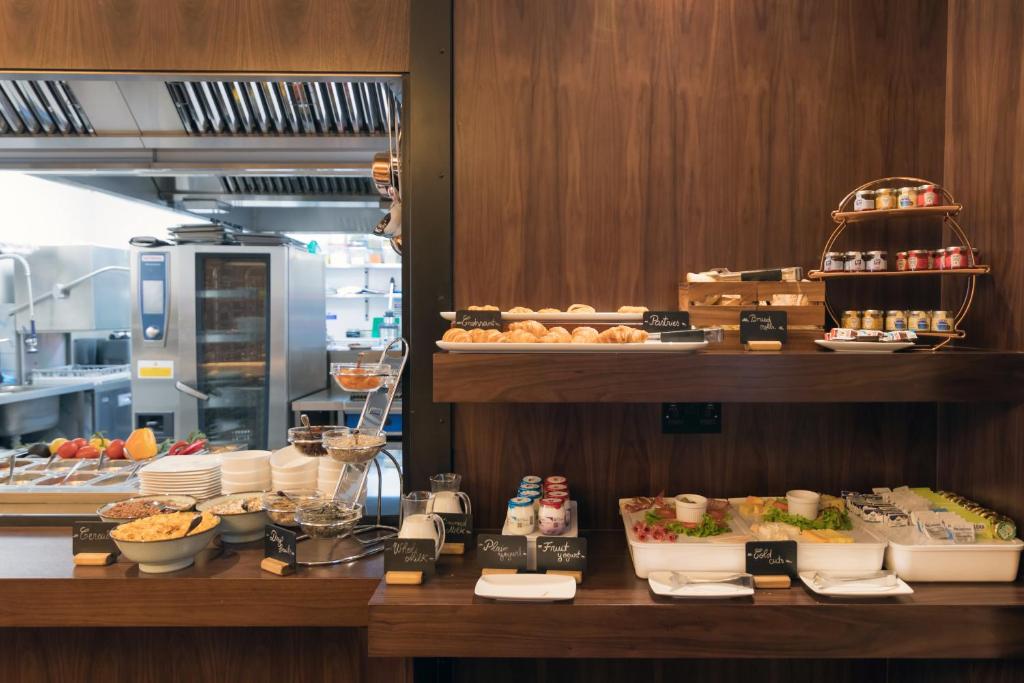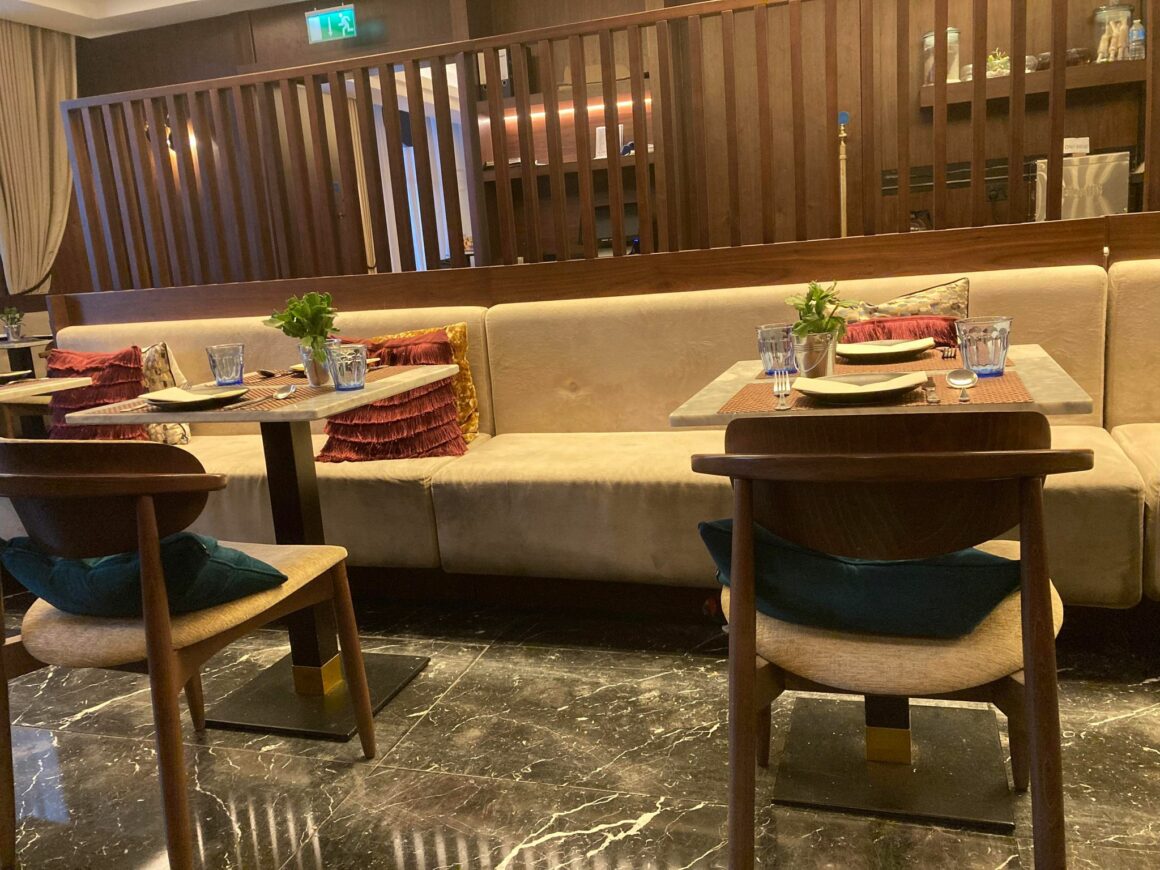 The Restaurant
There is 1 restaurant at The Chilworth Hotel – The Tumeric Kitchen with a wide range of dishes available. The hotel bar is also open throughout the day, and afternoon tea is served from 2:30 pm-5:30 pm: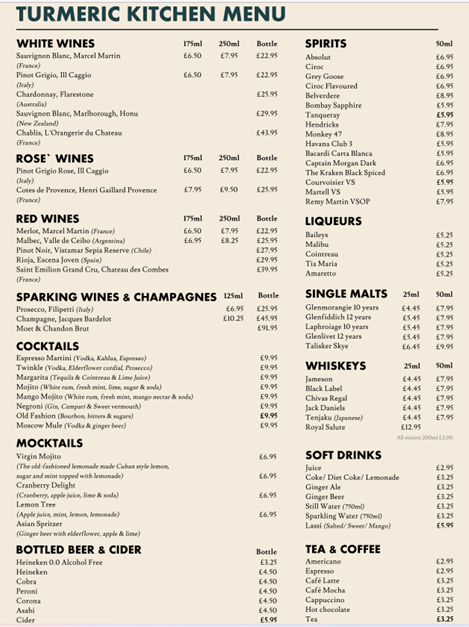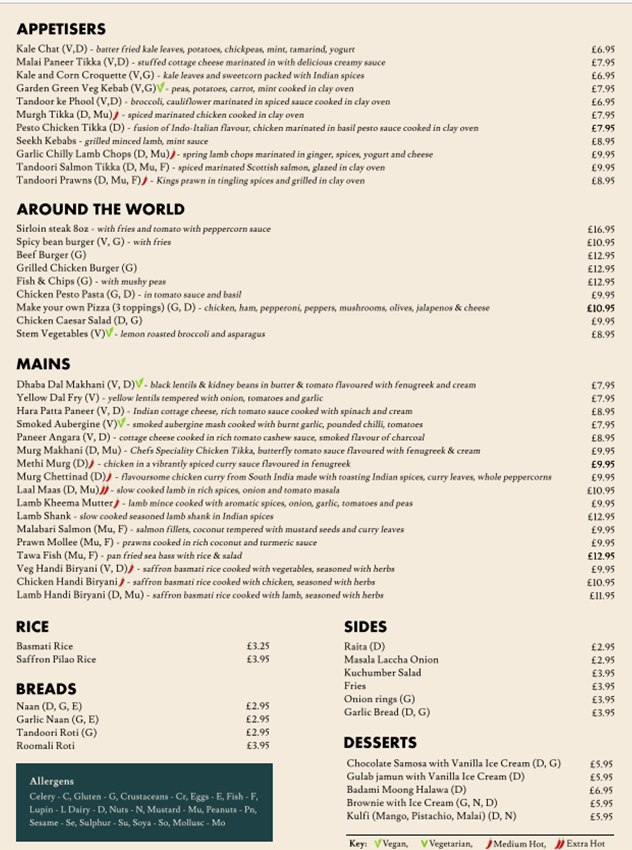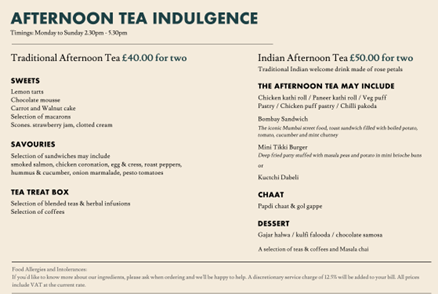 Other Amenities
Vitamin C Infused Showers: I was surprised to find that the hotel offers vitamin C infused showers.
Vitamin C Infused Coffee Pods: The hotel bar also offers coffee pods infused with a variety of vitamins.
Yoga and Meditation: This wasn't something I tried during my stay, but the hotel offers guided yoga sessions in the yoga lounge or even in the privacy of your room!
Room Service: The room service menu is just as extensive as the dinner menu. The food is delicious, and you can either put a card on your room on arrival or pay when the food arrives at your door.
Free Umbrellas and Apples: I was impressed with the availability of free apples at the door and complimentary umbrellas, which were perfect for dealing with the British January weather in the afternoon when I set off in a rush to find torrential rain.
Check Out
The checkout process was very efficient. There was no queue, and I handed in my card and was asked how my stay was.
Loyalty
The Chilworth Hotel is part of the Montcalm group and part of the Montcalm Club loyalty program. You can save 10% off the booking price booking direct and earn points towards a free stay.
The larger hotels are under 'Montcalm' and include The Montcalm Marble Arch, Montcalm Royal London House and Montcalm London City. The smaller, more boutique hotels are under 'Montcalm Townhouse' and include the Chilworth, The Marble Arch London, The Piccadilly West End and the Barbican rooms.
Being a member of the Montcalm Club, you can get a discount from a range of partners, including Virgin Wines, Heathrow Express, London Eye, Hamleys and Hackett.
Final Thoughts
Overall, I had a fantastic stay at The Chilworth. The hotel provided all the facilities and services I needed as well as being in the perfect location for my trip. It was lovely to be able to use the spa after a long day, and the delicious room service was a bonus too. I'll definitely be checking the rates on future trips to London.
You can check prices and availability here.