The ticket
I booked the ticket a long time ago as a BA Holidays deal to get the extra tier points. I will get a total of 1120 tier points from the trip, taking me nearly halfway to Gold Guest List on the reduced tier points. It was around the time when we were wondering if we would ever see decent airfares again.
There was a fare from Amsterdam for £1950, but the times were terrible. The next price up was £2100 for better timings. But when I looked at the price from London it was £2500, which I did not think was bad considering the option to get double tier points. So I bit the bullet and booked 6 nights accommodation with it. The original plan was to fly via Seattle, so I could try Alaskan business class, which I am yet to experience. Sadly it wasn't to be as my flights were cancelled and there was no way to change onto Alaskan without an eight-hour layover.
Check-in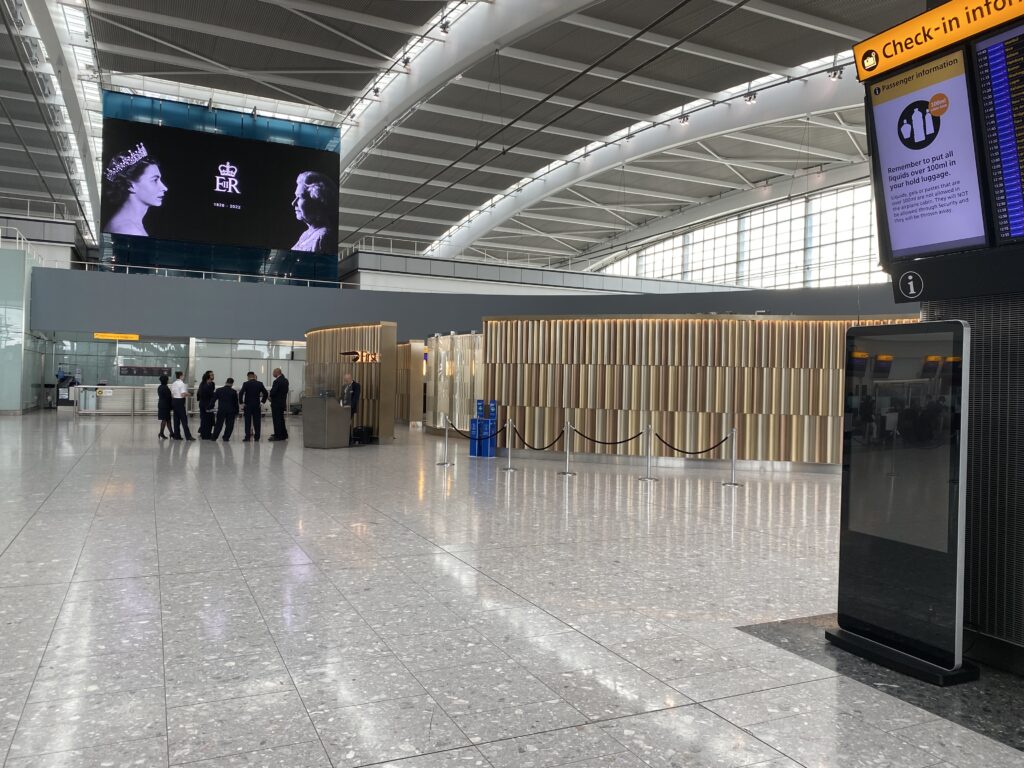 I arrived around two hours prior to my flight due to bad traffic so I was pleased to see no queue whatsoever at the First Wing. I was checked in by a lovely friendly agent and also noticed a fitting tribute to her Majesty, Queen Elizabeth, in the first wing.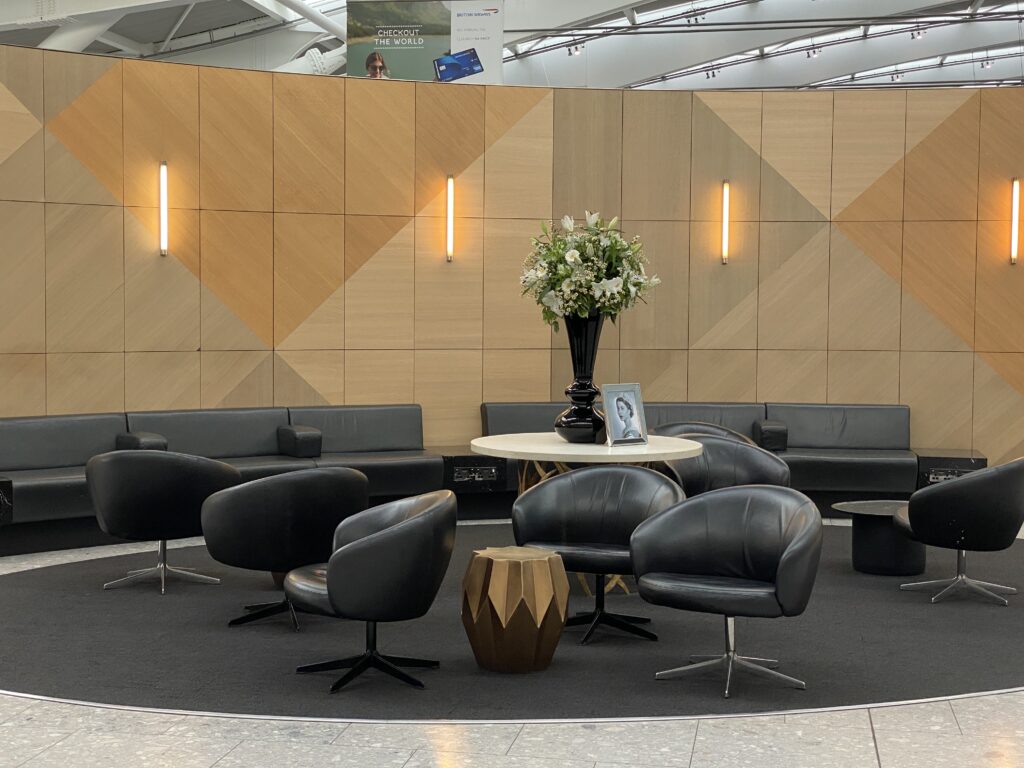 The First Wing is unique as it deposits you straight into the First lounge. You can access the First Wing when flying First or if you have a Gold card. Despite criticism of BA's performance recently, it's still an area where they perform well. Security was virtually empty and I was in the lounge within about 7 minutes of arriving in the terminal.
The lounge – Concorde Room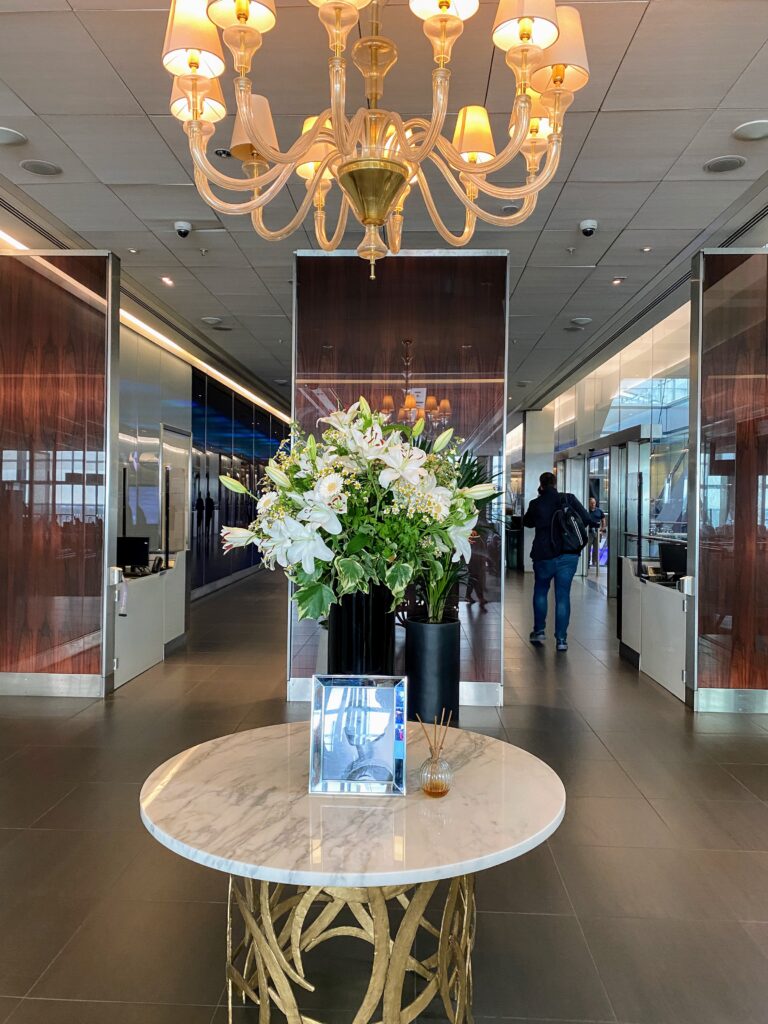 I headed straight to the Concorde Room, which allows access for First class passengers and BA Gold Guest List cardholders. Sadly it's a bit of a shadow of its former self, with no cabanas and no spa. Instead, there are now sleep pods available. Unfortunately, some things have stayed the same, though, and the toilets are still reminiscent of an NHS hospital loo!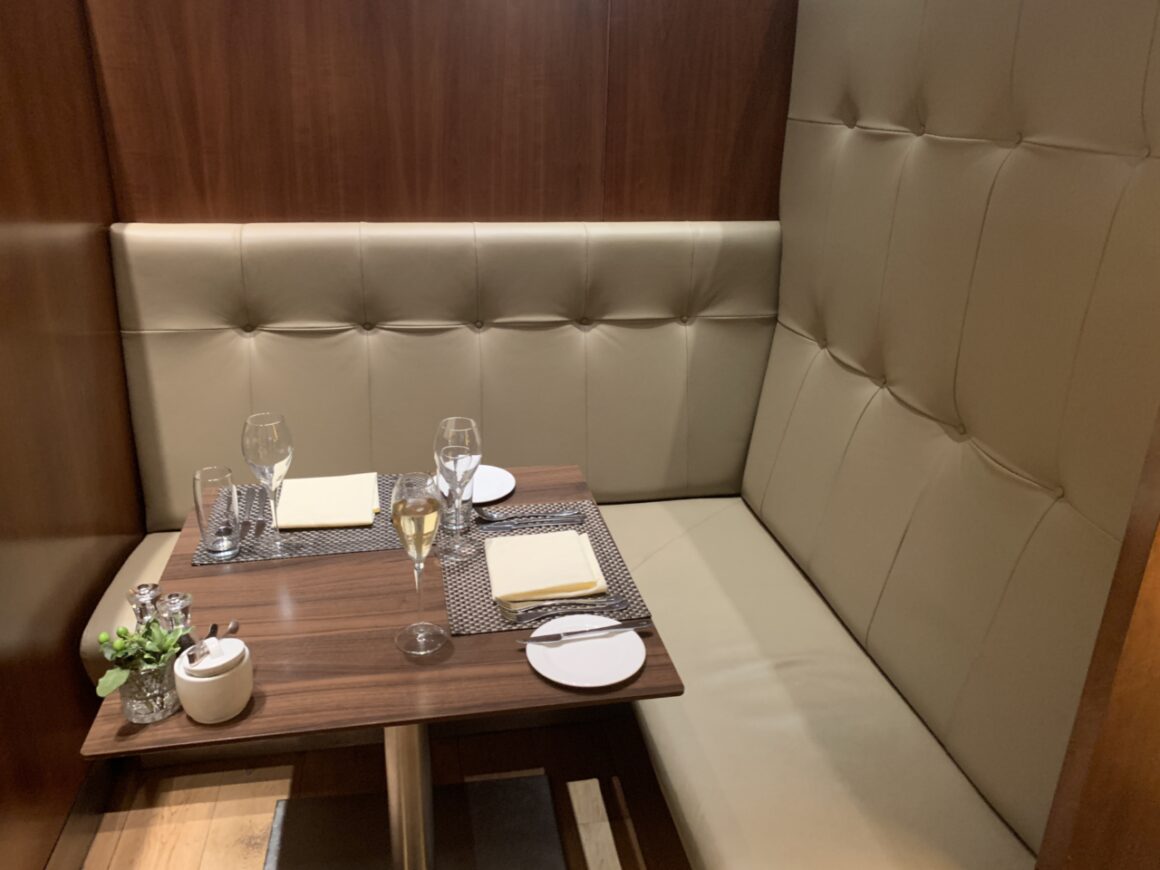 I decided to head over to get some breakfast in the restaurant area as they would be serving lunch on the plane. I think breakfast is probably the meal that they do best in the CCR, as recent daytime menus have been disappointing.
The menu features a wide selection of everything from a full English to croissants. I am particularly partial to the maple bacon chop but couldn't make up my mind between that and the California toast (basically avocado toast). So I went for both but with no eggs. I had a Bucks Fizz too, which I know is sacrilege considering they make it with Laurent Perrier Grand Siecle, but I needed to ease into the hard stuff!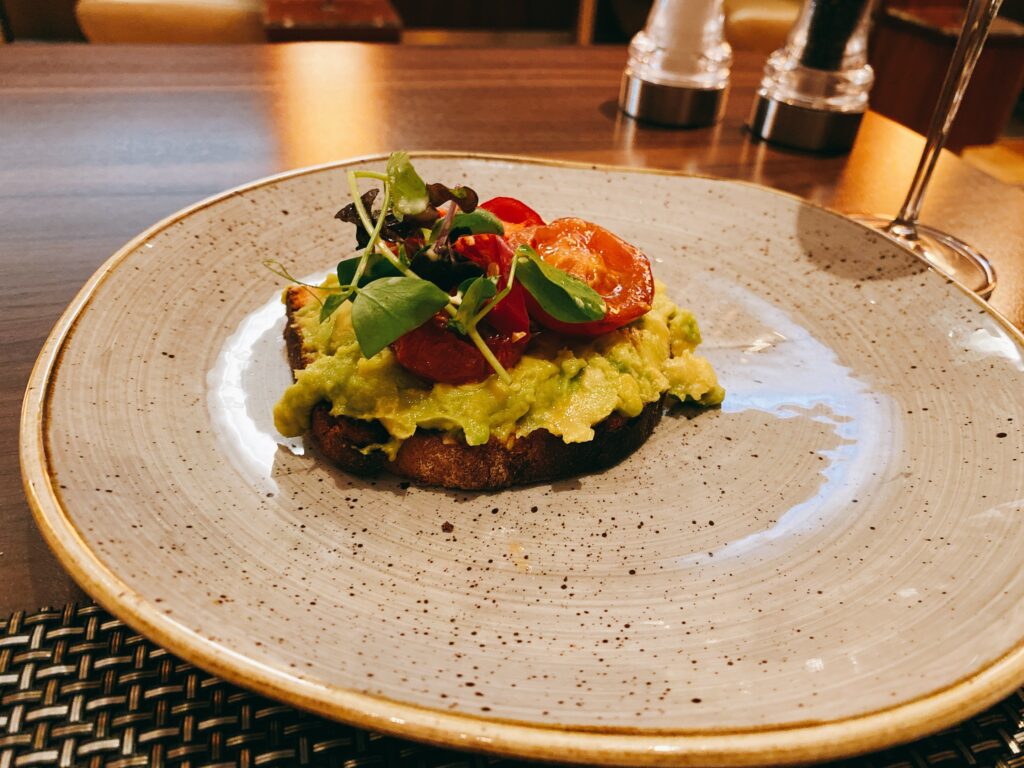 All the food was tasty, and I particularly loved the subtle sweet glaze with the salty bacon.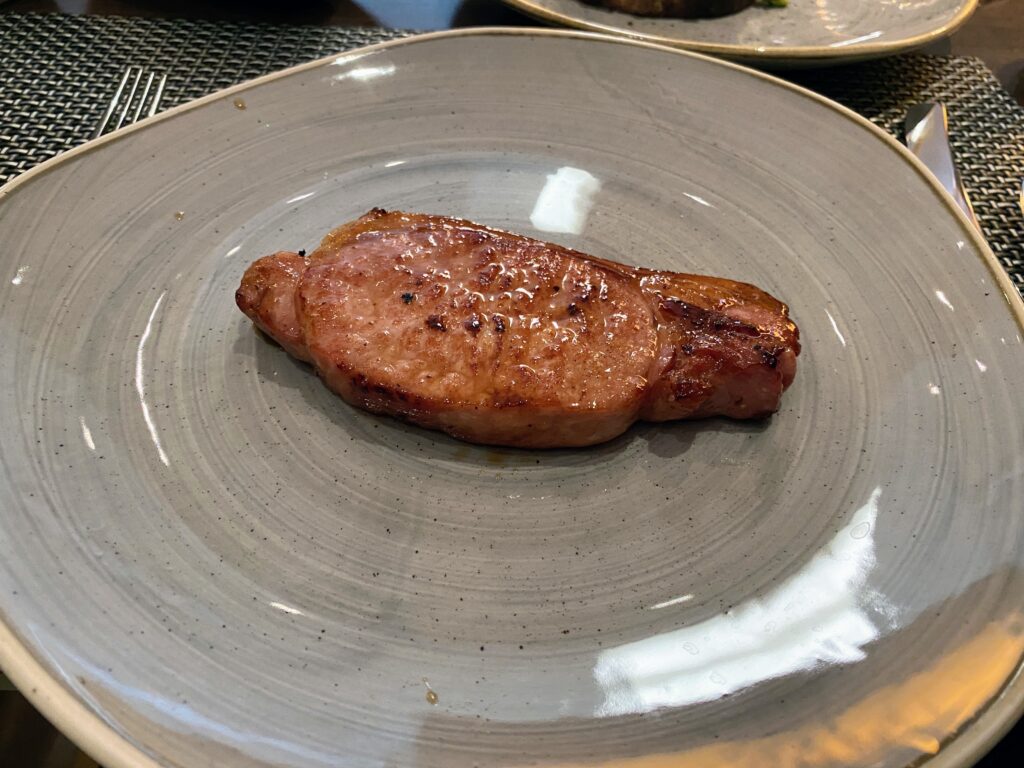 A good cappuccino with BA's signature Speedbird logo completed my breakfast.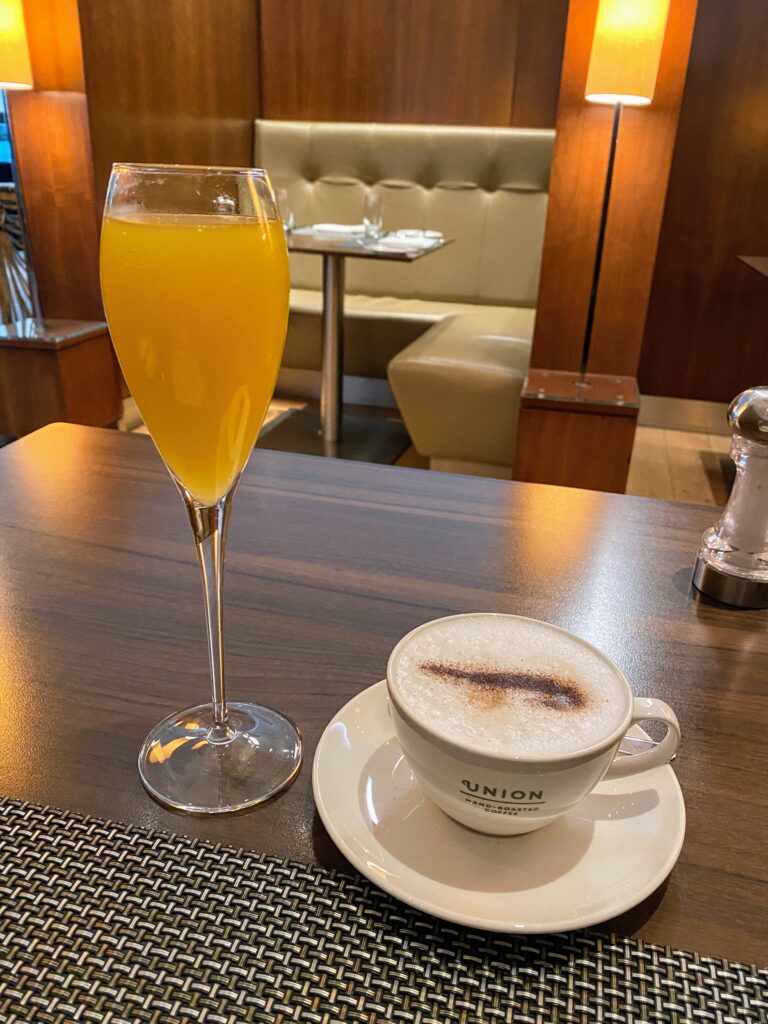 One thing you may notice on the menu is the breakfast martinis which includes a Marmite option! Much as I love Marmite I was really not sure about a martini. One Twitter follower described it as having a "meaty aftertaste". I don't know about you TLFL readers, but I am not really looking for a meaty aftertaste in a drink, especially at breakfast! But full marks to the wonderful Concorde Room team for innovation. Sadly my favourite bartender Charlie was on leave but I suspect he may have had a hand in that crazy concoction!
Boarding British Airways A380 First class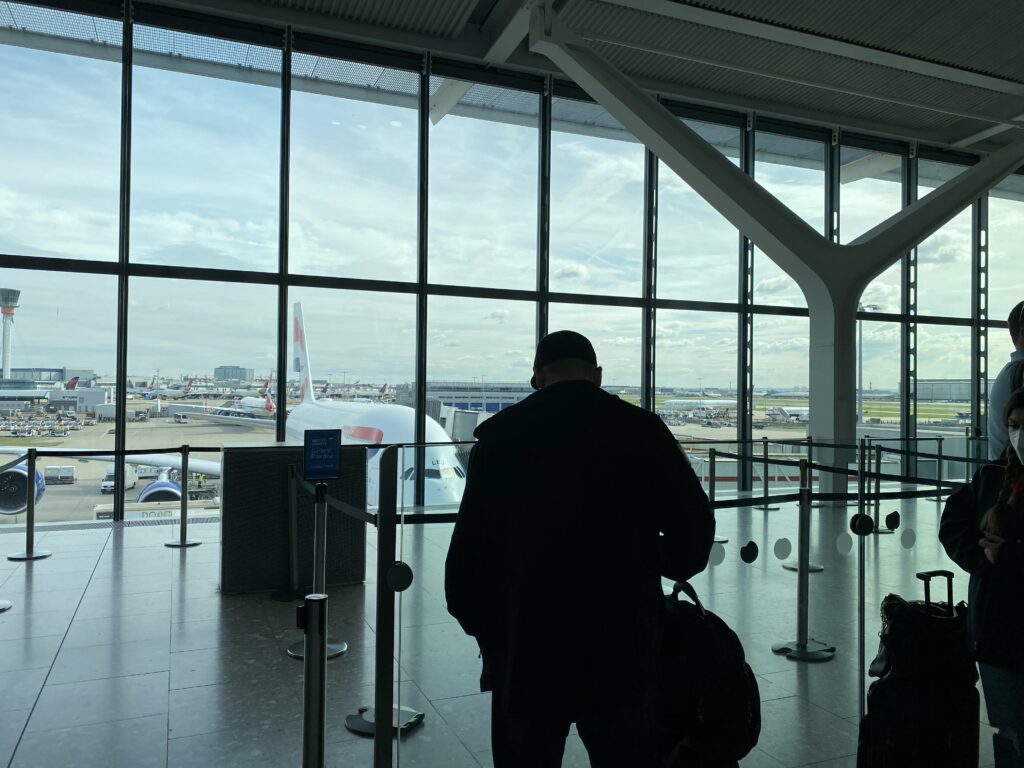 As I was flying the A380, I headed to the gate around an hour and 10 before departure as they usually board them early. A380s depart from the C Gates at T5, which is the second stop on the shuttle. I was excited to see the A380 again as I had not flown on it since late 2019.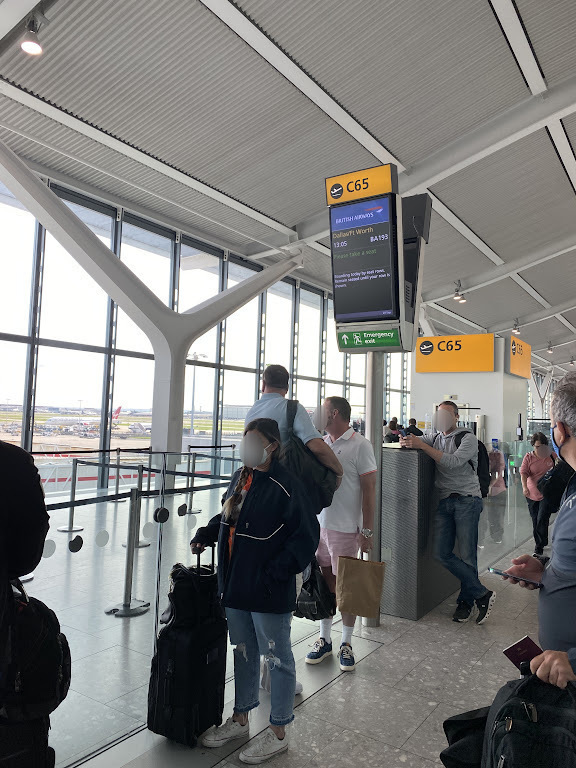 Group 1 boarding was called around 50 minutes before the flight. In the meantime, I amused myself watching person after person go up to the gate to try and board despite the sign clearly saying "please take a seat"! I often wonder just how people are quite so oblivious to everything when they fly. These were not people in the first few boarding groups either. Given that the gate lanes were empty and everyone else was sitting waiting, you'd think that may have given them a clue!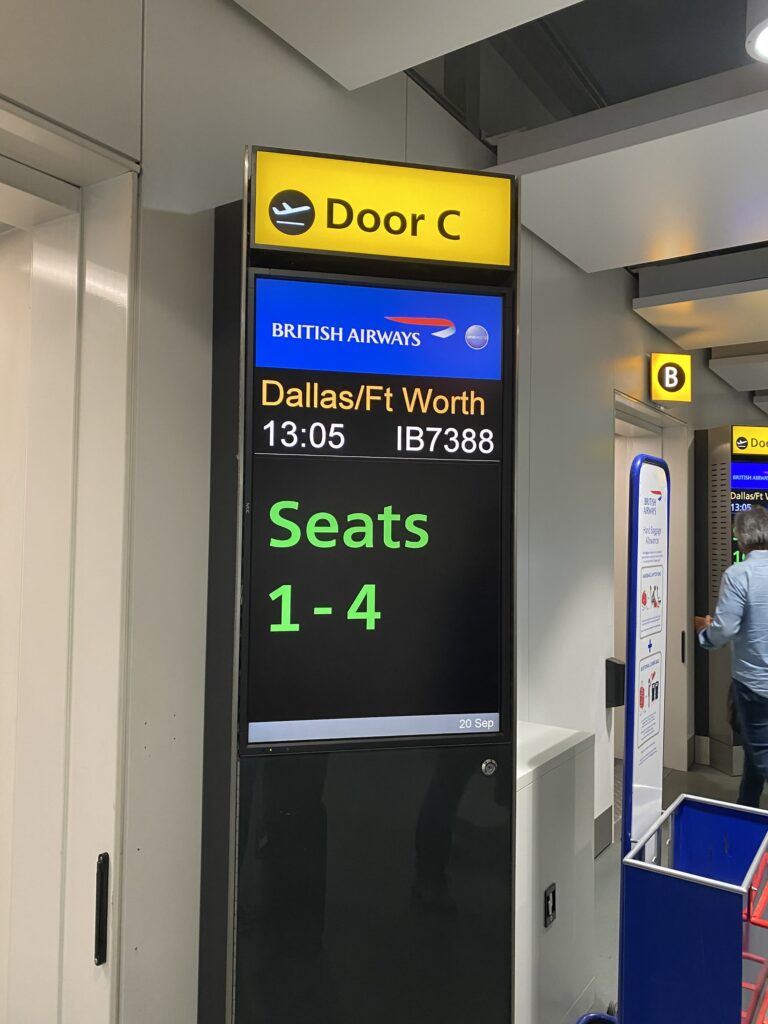 As you board, there is a separate entrance for first class. Pre-Covid, you used to be shown to your seat in First (not that I need that) but judging by both flights, this has now gone. It could return once BA start to roster the full crew again which due to happen on the A380 and B777s from now.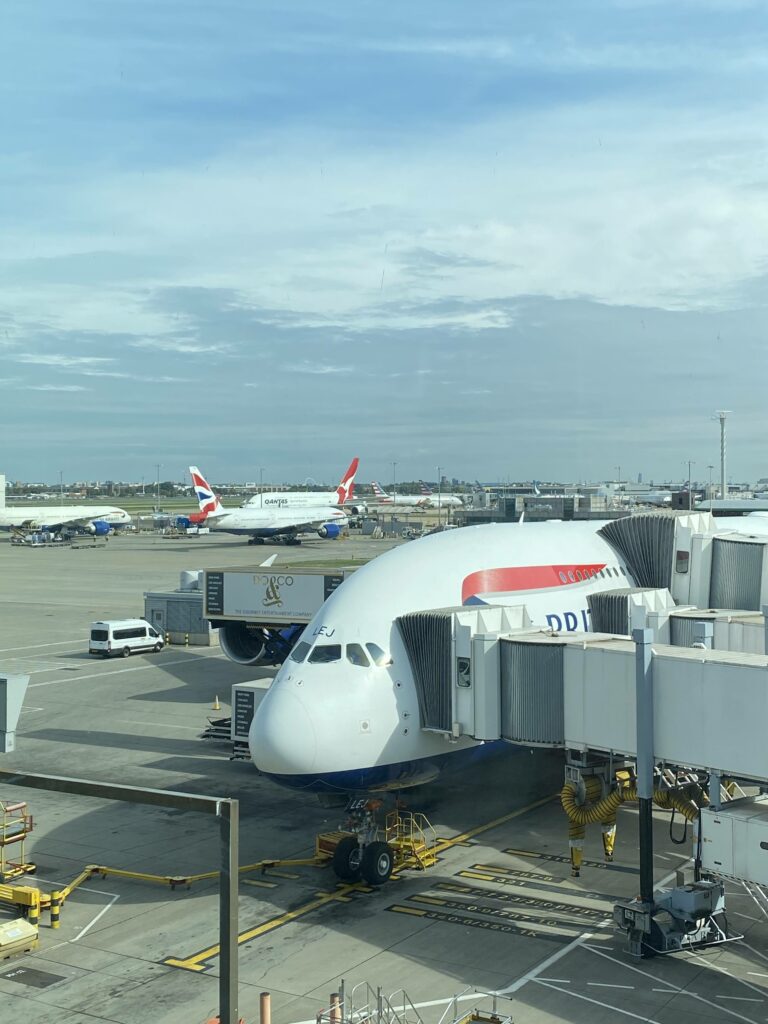 I always abide by the adage that you can tell if it will be a good flight within the first two minutes of interacting with the crew. This started well with the friendly crew offering to take my photo as I was taking pictures of the iconic A380 stairs.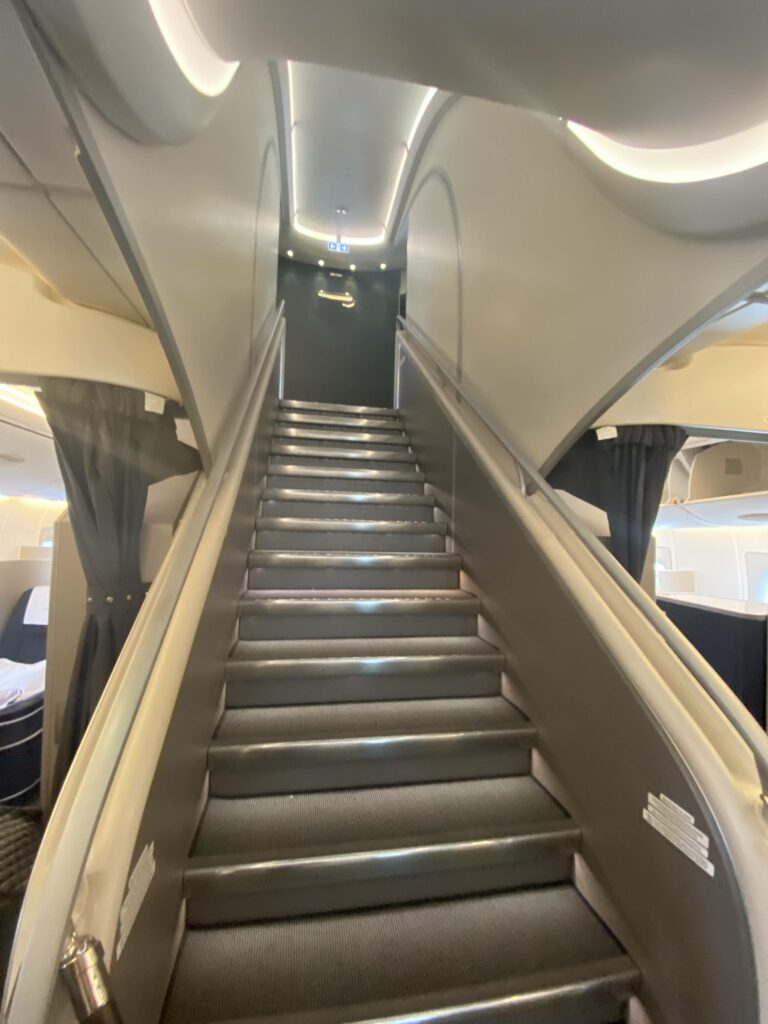 The cabin crew member serving me was friendly and keen to please. She also had a good sense of humour which I always enjoy with BA crew.
The service started with the offer of a welcome drink of champagne, juice or water. Unfortunately, despite BA saying that pre-Covid service has been restored, it has not 100% as there were no warm nuts. I was instead offered the Club Europe nuts, which I thought was a poor substitute. Especially, as I'm really not keen on the weird mix which seems to mainly be corn. As we were delayed for a short while, I was offered a top up too.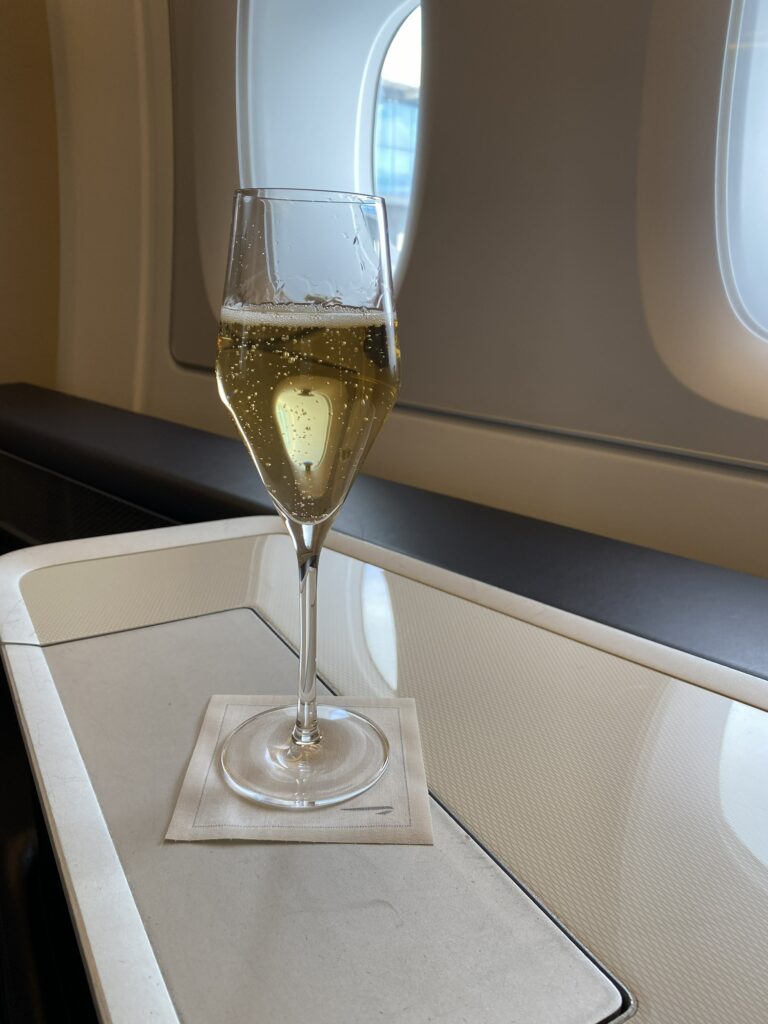 I was given the menu, and a washbag and asked if I wanted pyjamas (watch out for them in the next giveaway). It was also so nice to see the hot towels back – it's such a little thing but always makes you feel better to clean yourself up after going through a busy airport.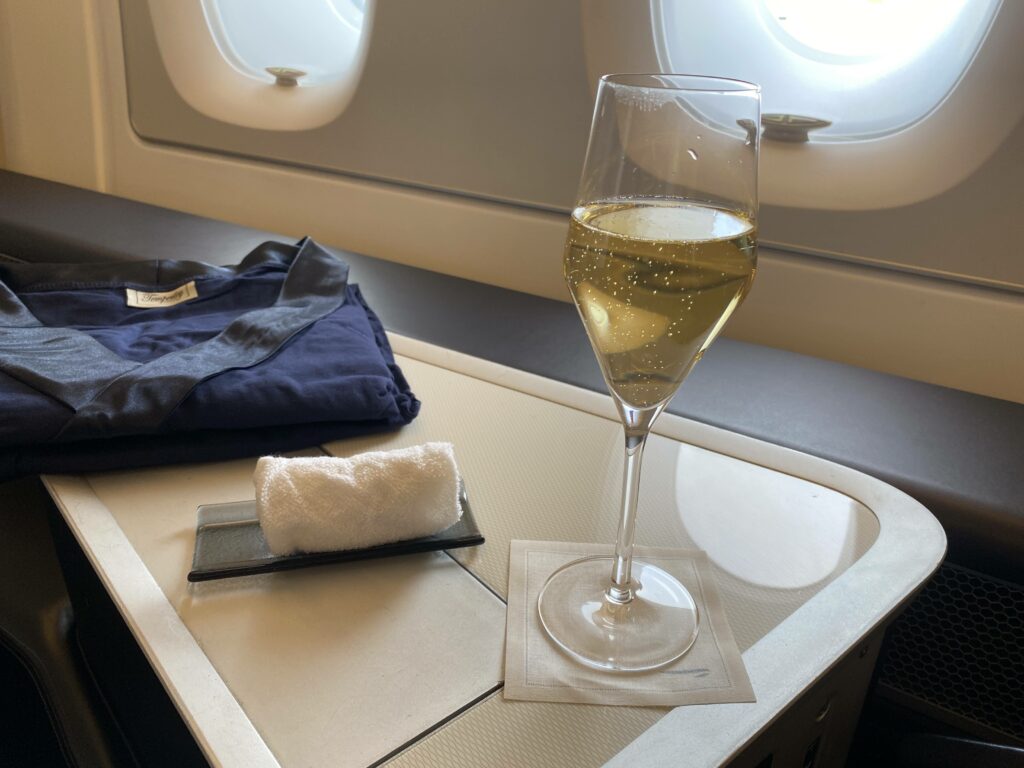 The washbag design by Alice Temperley changes regularly and is different for men and women. The contents had changed a little since I last flew with BA too. It contained:
Elemis Frangipani Monoi hand and nail balm
Elemis Rehydrating Ginseng Facial wipe
Elemis cleansing micellar wipe
Elemis lip balm
Elemis Pro-Collagen facial mist
Elemis Deodorant
Elemis Ultra Smart Pro-Collagen Serum
Elemis Ultra Smart Pro-Collagen eye balm
Eye mask
Ear plugs
Socks
First branded pen
Mirror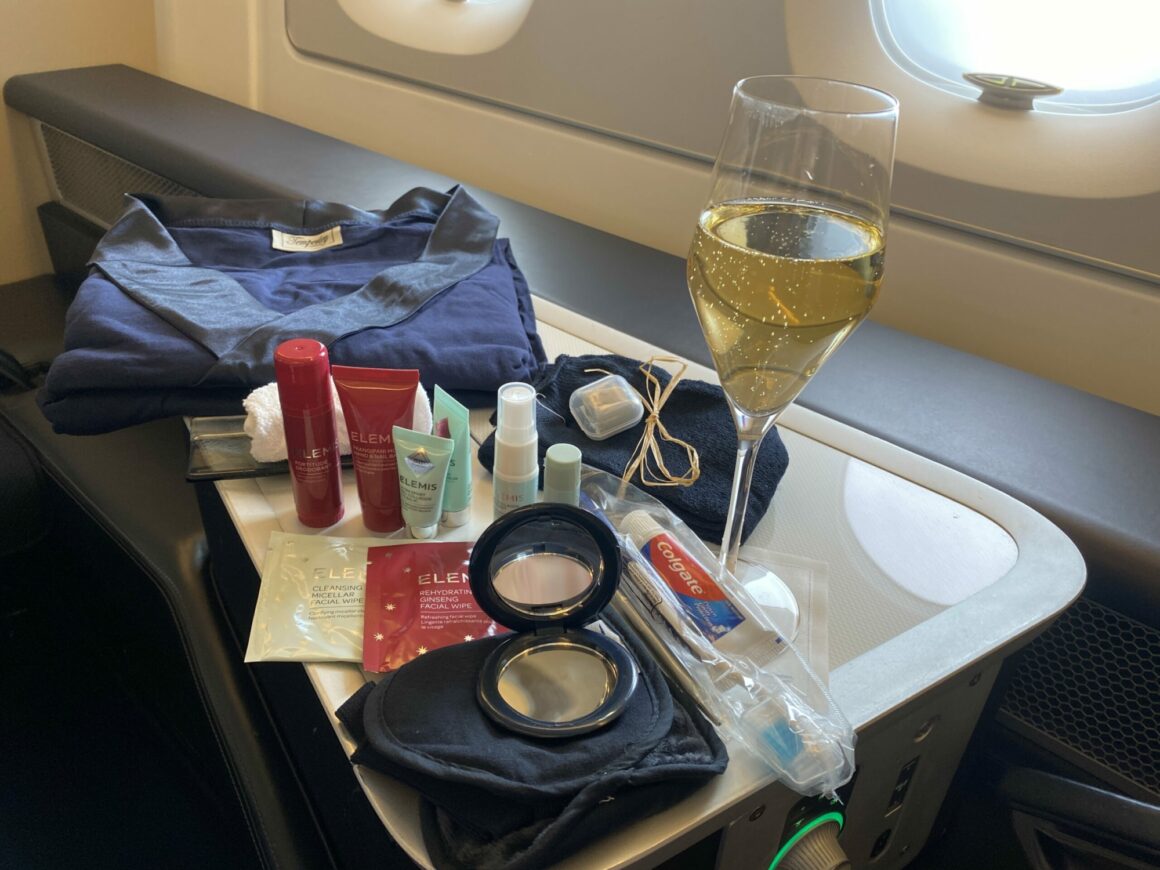 I found the collection impressive and have enjoyed using all the products. My only criticism would be the socks which were pretty much the same as Club, apart from the colour and felt very synthetic.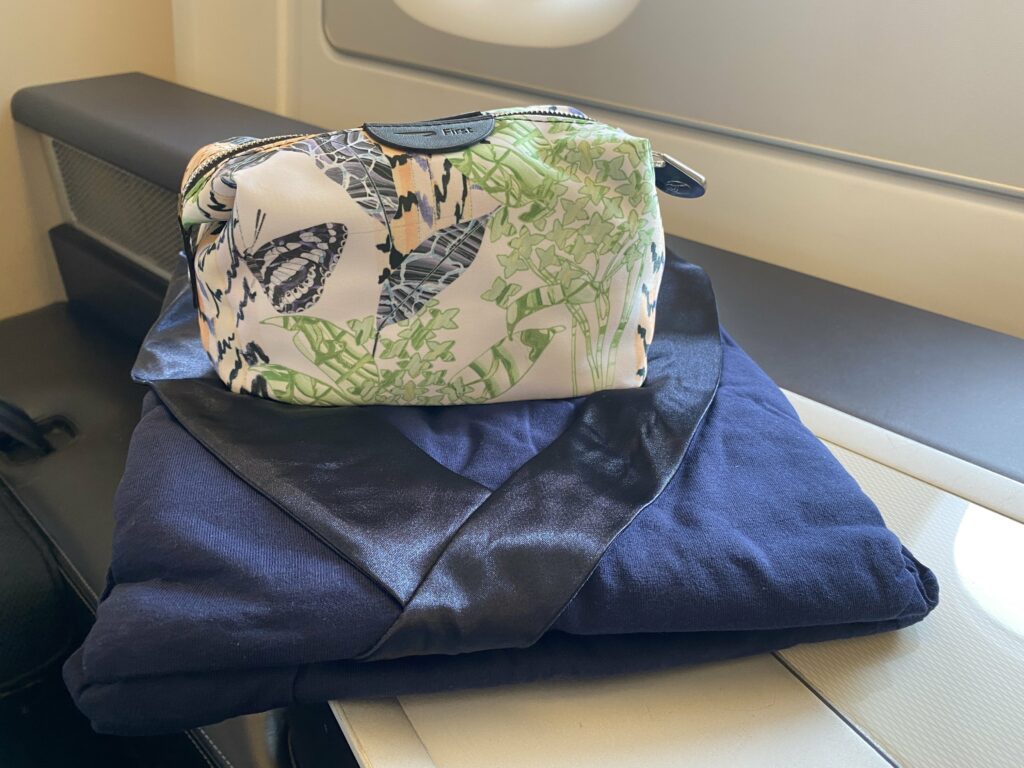 British Airways A380 First class Seat and Cabin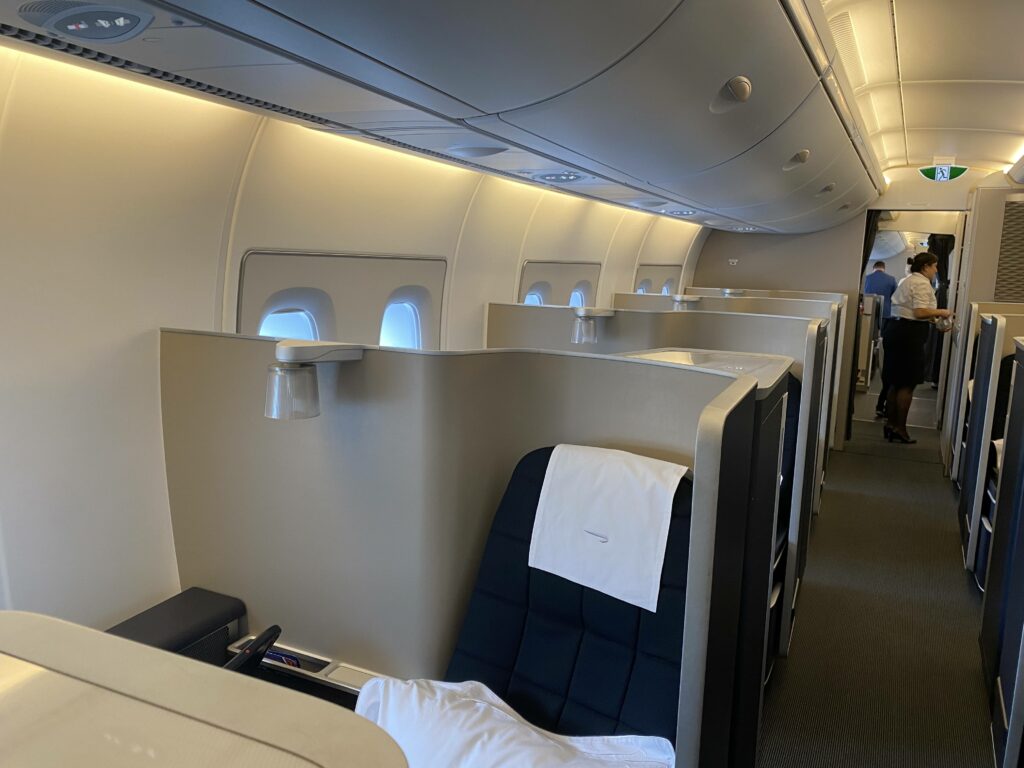 I have always loved First on the A380. It is beginning to look a little dated, but that's not surprising given how old it is. The reason I love the A380 which I had almost forgotten about is the space and privacy that you get. They really do feel like your own private suite, even if there is no door.
The cabin still has 14 seats, unlike many other BA First cabins that now have 8 seats. I went for 2K as I like to sit on the right as I am right-handed. I recommend not choosing 1K, particularly on a night flight. While it is very private, it is also by the crew cupboard, and they will be in and out of it during the flight, which can disturb you if trying to rest.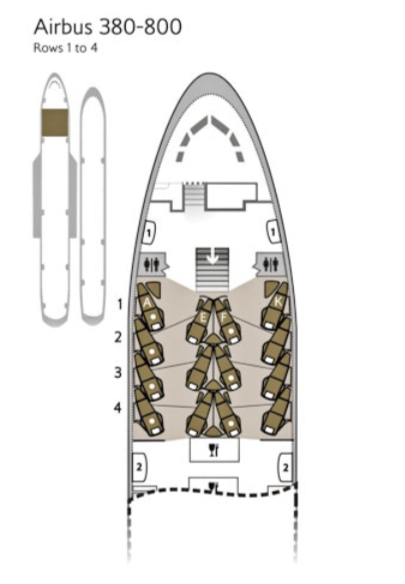 I also particularly like the wardrobes, which means I rarely have to use the overhead bins. In the wardrobe, you can fit in most wheelie cabin bags as well as a smaller bag on the top shelf and hang your coat or clothes.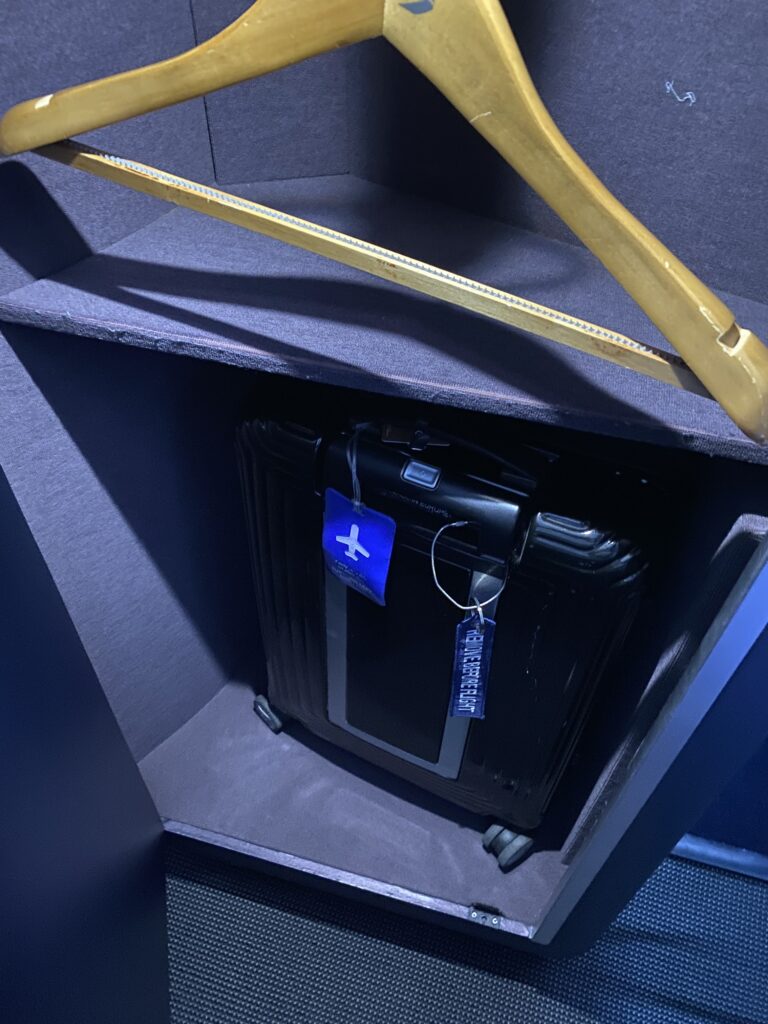 The British Airways A380 First class seat itself is very comfortable, although I wish they would have designed them with a separate leg rest as I find it hard to reach the footstool while sitting. Unlike the newer First, you can still do buddy dining where the other person joins you for a meal by sitting on the footstool.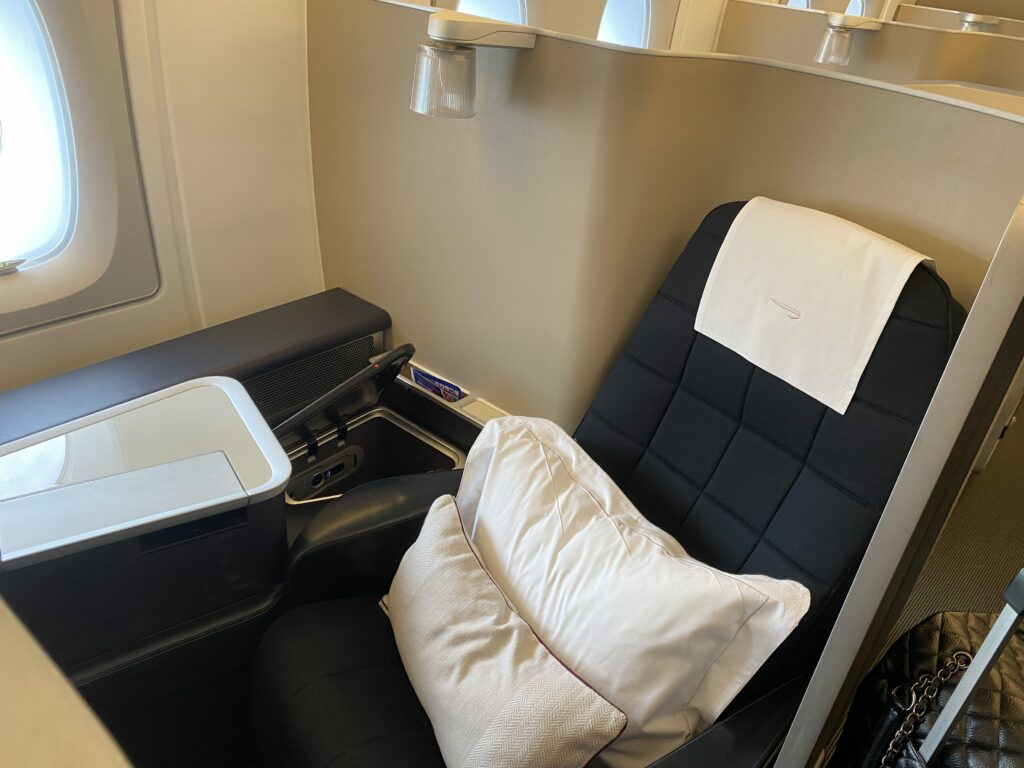 As well as the wardrobe, there is a deep storage container next to the seat which is also where the charging and headset are placed.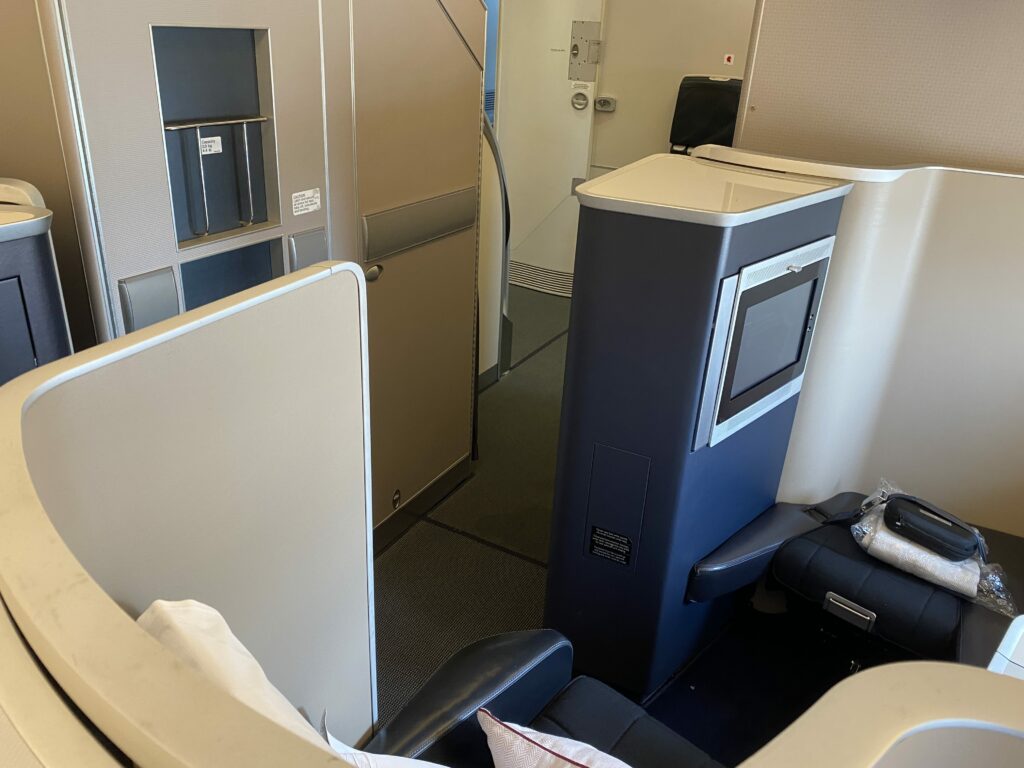 As you can see from the photo above, the suites are very private and you can't see anyone else from the window seats. The centre seats have a divider which can be raised or lowered.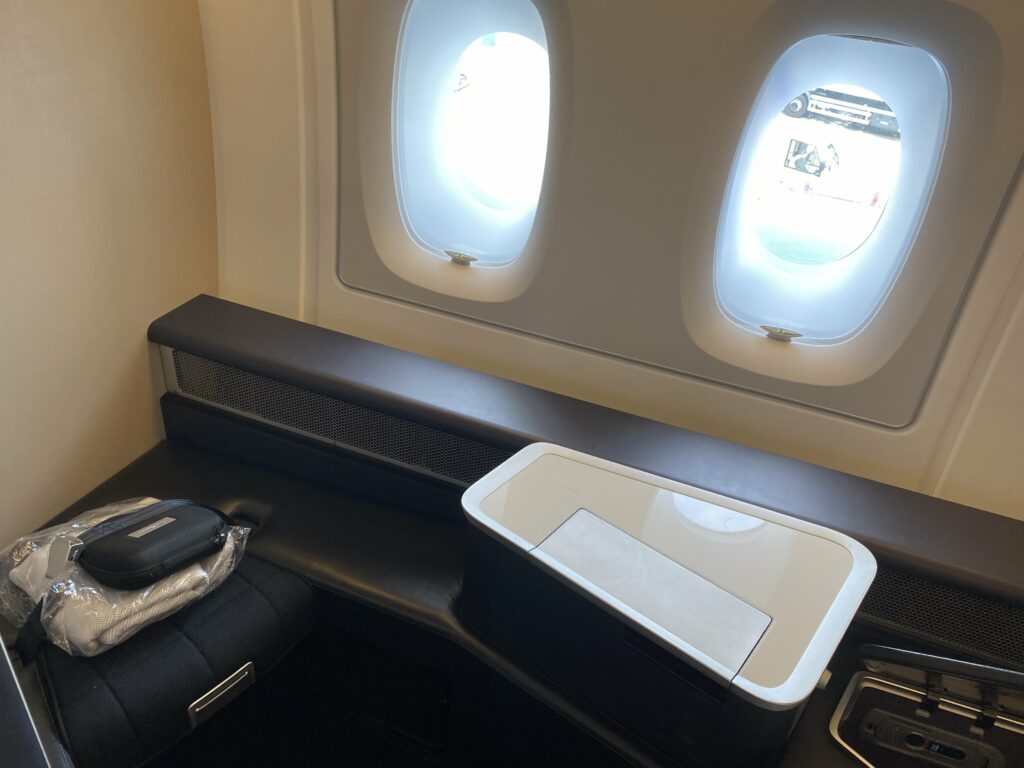 The only thing I don't like is that if you like to look out of the window, it feels like a long way from the seat and not at a great angle.
The seat controls were relatively simple with a dial to lower the seat and buttons to control the lights and window shades.
As it was a day flight, the crew did not offer to make up the bed, although I could have asked. I was given a day blanket, pillow and day pillow with the bedding rolled up in the wardrobe. I only had a short nap, so I didn't bother to make the bed up. Even without the mattress topper, I found it very comfortable lying down as it is well padded.
British Airways A380 First class Food and drink
Prior to taking off, I was given the menu and was quite impressed with the selection. I was torn between a couple of choices. Pre-ordering is available on a small number of flights in First, according to You First. It didn't seem to be an option on mine. However, you can request the menu in advance from You First. On both flights in First, they did not seem to run out of anything from what I could hear of orders being taken around me.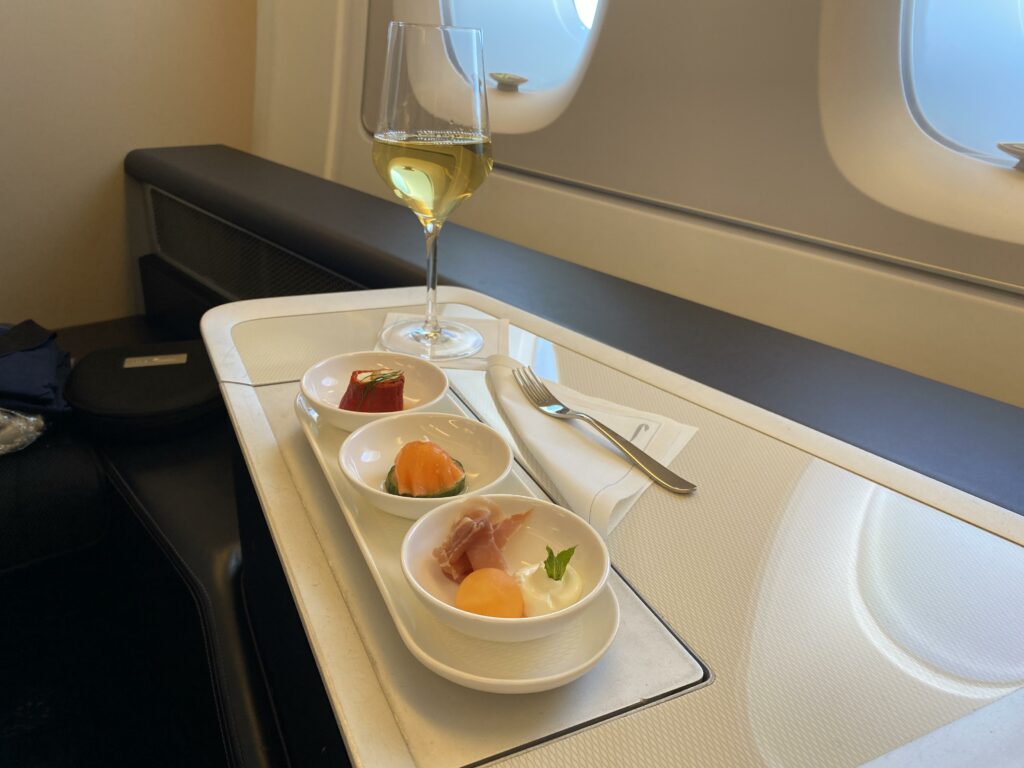 It started with the canapes and a drink of my choice. I had already had a couple of glasses of the champagne, so I thought I would try the Pouilly-Fuissé which was good but not excellent. It was a little subdued in flavour for me but overall had a good balance of creaminess versus acidity and a light touch of oak.
Next, my table was laid up with a choice of olive oil and butter for the bread. A basket of bread with a decent choice of warm rolls was offered.
I had plumped for the twice-baked souffle in the end, although I was doubtful it would work in a plane oven, I was wrong. It arrived with the rich, creamy cheese sauce on the side. The morels gave a slight earth flavour to even out the unctuous cheese. It was not too heavy with a fluffiness still in evidence inside, and I would have happily licked the plate clean if I hadn't been in public!
Next came the lamb shank, which was again well presented with the jug of sauce on the side. It was probably the largest lamb shank I have seen and way too much for me. I also loved the wonderfully creamy celeriac mousseline with it. I had a glass of the Willamette Valley Pinot Noir, which was excellent. Light in body but full of ripe cherry and red fruit flavour.
My only complaint was the side vegetables were rather dull with plain boiled potatoes, but they were cooked properly.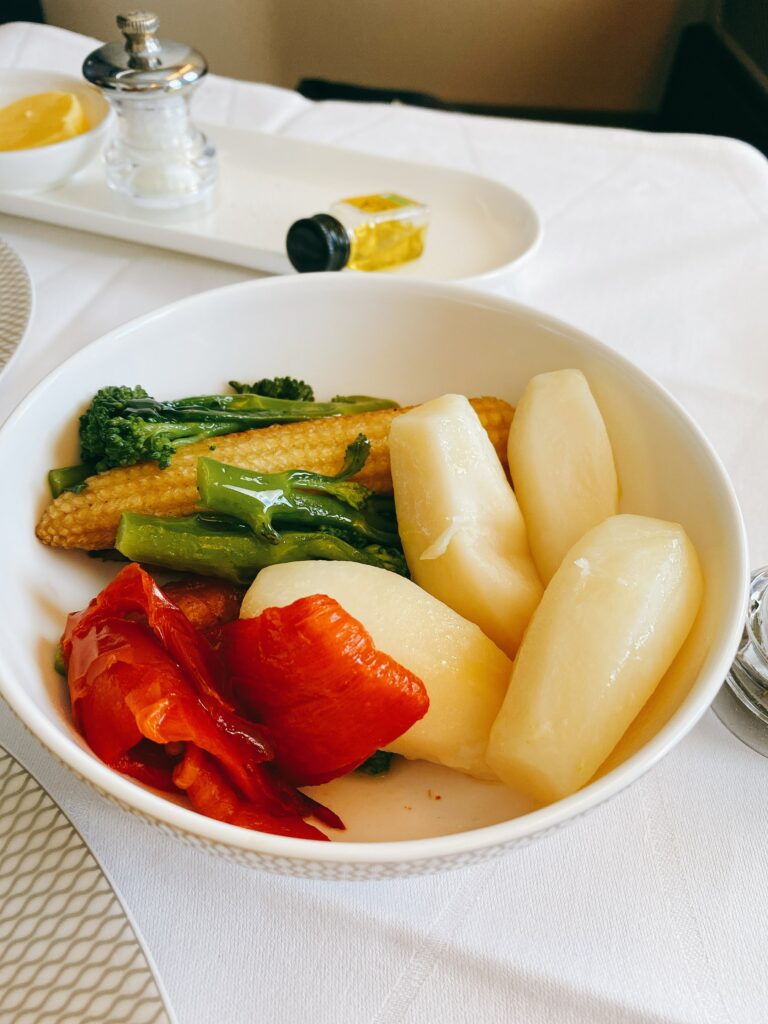 Having left quite a bit of lamb, I had room for the crepe Suzette I had been eyeing up. You will be pleased to know that the crew did not come and flambé it at my seat! It was very good with warm pancakes and a tasty orange and Grand Marnier sauce which was perfectly matched with some vanilla ice cream. I also tried the dessert wine which was excellent.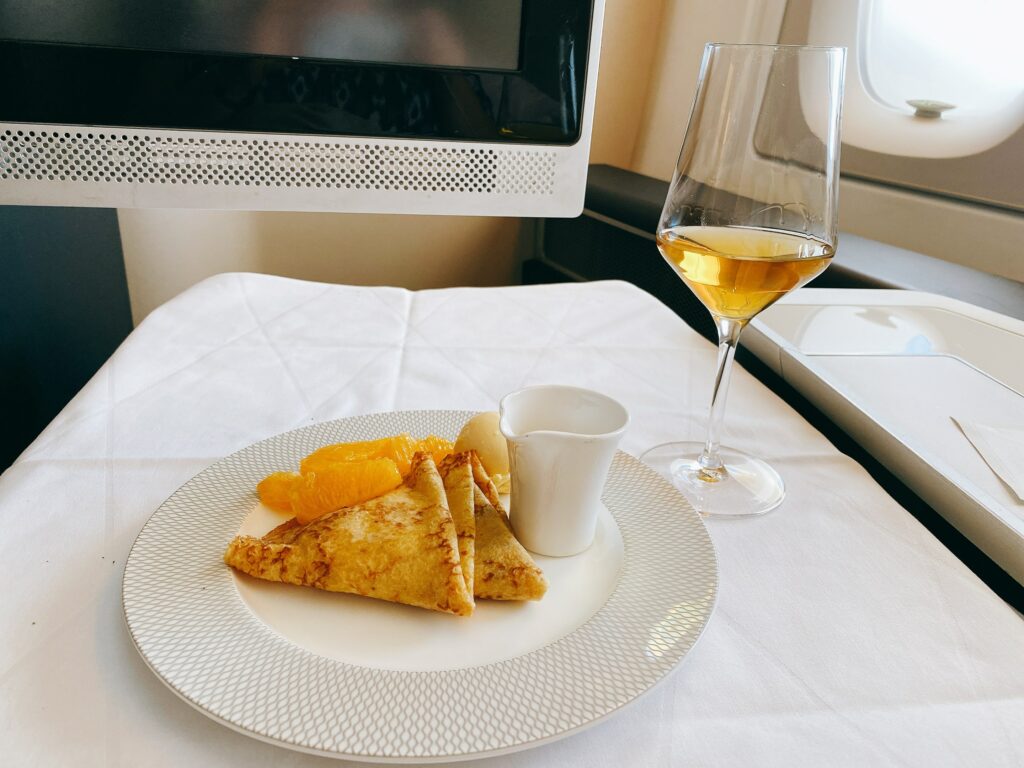 Despite having one or two drinks already, I couldn't not have an XO Cognac after #brandy gate! She was rather generous with her pour, after which I needed a lie-down! I tried the espresso as well which is made with Nespresso style pods, but it tasted good.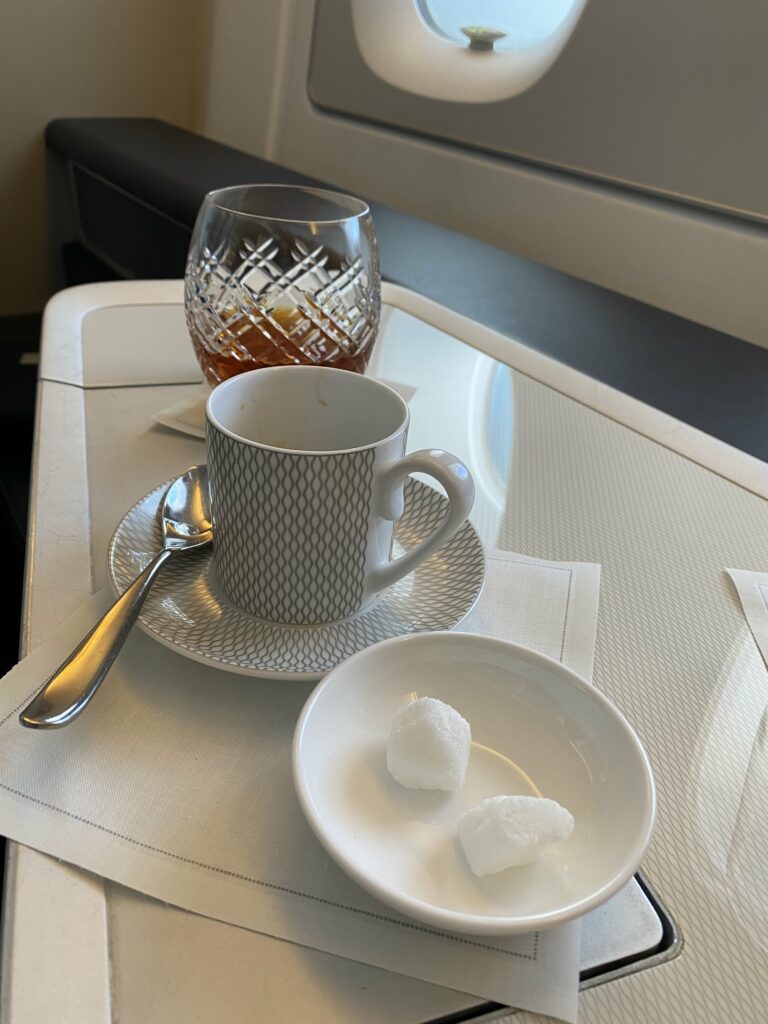 British Airways A380 First class Afternoon tea
After such an enormous lunch, it was a struggle to manage the afternoon tea, but in the name of this article I soldiered on (the things I have to do for you, my TLFL readers..!!).
There was a choice of the standard afternoon tea or a roast beef Nicoise salad. I decided to stay traditional. I loved the cute little stand that the tea came on.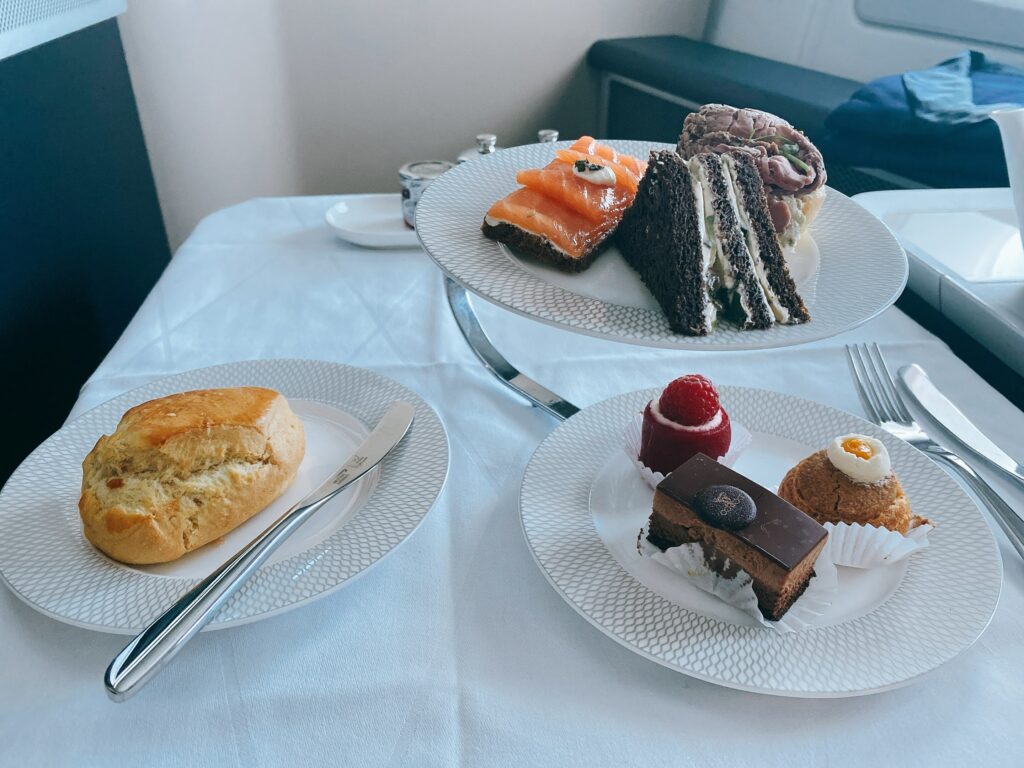 The tea was definitely more generous than you get in Club, and overall, I enjoyed it. I wasn't keen on the very heavy smoke on the salmon, but that was a fairly minor issue. The scones were enormous and warmed. Of course, there were lashings of clotted cream and jam to accompany them.
British Airways A380 First class Service
I had many top-ups offered for drinks, and I can't really fault the service (apart from having a headache from all the top-ups!). My only comment is that they could have been more proactive with offering water.
The Inflight Lead was very professional and visible and popped by my seat to give a GGL welcome which was nice. I have always found if the IFL(CSM) is good, then the crew are usually good.
I have heard that BA staff have been encouraged to Google their customers in First which I am not overly happy about. I have no idea if this affected the service for better or whether they had realised who I was but they didn't mention it if they did. However, in my opinion, if it had I would have noticed it with other people being treated differently as I try to listen out to how others are served too. The IFL even remembered my name as I disembarked and thanked me as I left. This is how BA should be.
British Airways A380 First class Entertainment and Wifi
As a first class passenger, you get free Wifi for the whole journey, which sounds great. However, having used it twice I'd guess that it's the cheaper of the two options as I found it very slow and pretty useful for anything other than messaging and social media.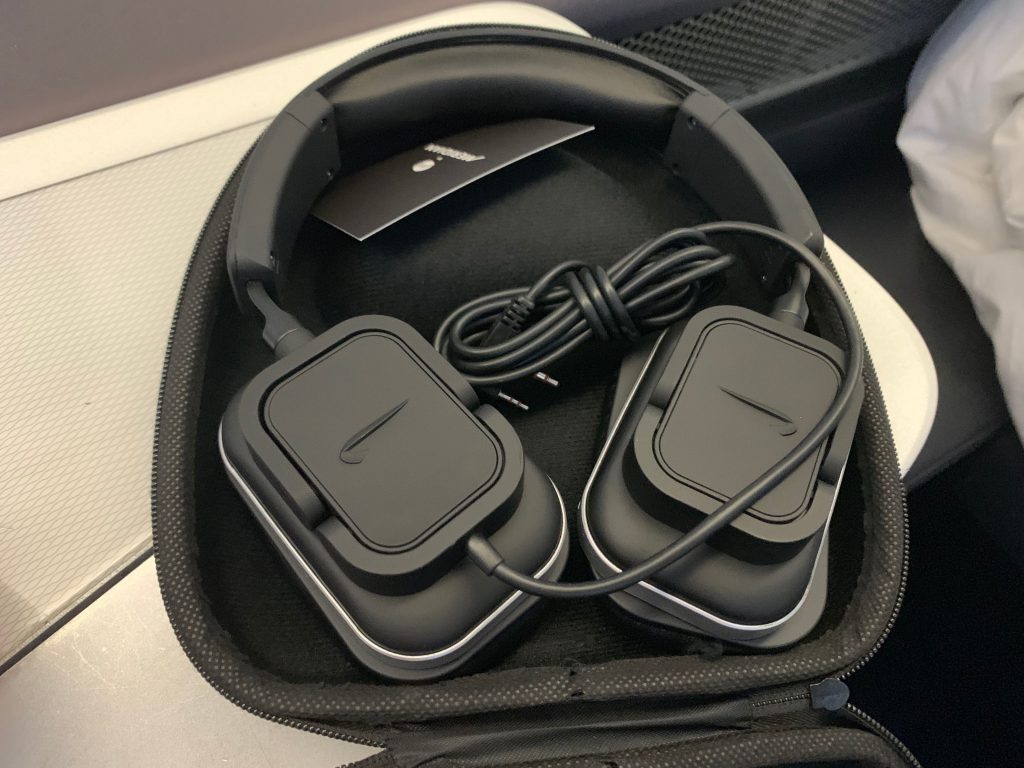 You get given a pair of BA Meridian Noise cancelling headphones. These are definitely a step up from the Club ones, and I find them comfortable if a little on the heavy side.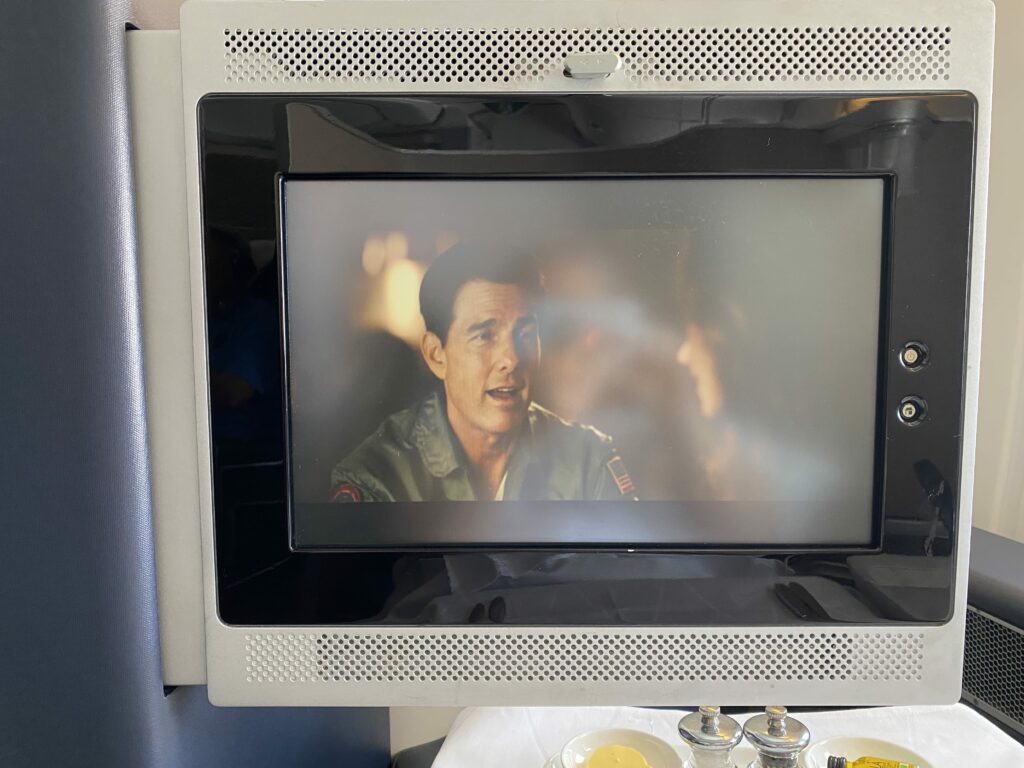 The screen definitely felt quite old now compared to the newer Club Suites. They are a little small and lower definition than I have been used to flying the Club Suites recently. But it was still perfectly useable. The remote is one of the old-fashioned ones, but it worked well.
I was impressed with the range of new films, and I struggled to pick one as there were quite a few I wanted to see. I went for the Top Gun film (yes I know I should see it in the cinema) which I loved. I also watched a terribly trite romantic comedy "Marry me" which I am ashamed to say I quite enjoyed (that may have been the large Cognac!).
Conclusion
While I have been loving the new Club Suites, I can't say I have been enjoying the Club World service since Covid, so this felt like an absolute treat and well worth the extra Avios if you are doing a redemption.
The crew were pretty much perfect – friendly, attentive and fun but professional. I was particularly impressed with the food which was very much restaurant standard and I would very happily pay for it. The wines were decent and typical of BA First, nowhere near Emirates fine wines but perfectly acceptable.
The A380 first is beginning to look a little old now, but I do actually prefer the older seats in terms of space and the ability to do buddy dining to the new ones. However, it would be good if perhaps BA considers new TV screens if they decide to refurbish the A380s with Club Suites since they would have to replace the ones in Club anyway.