At the end of March, British Airways launched a new "soft" First product which consisted of refreshed amenity kits, pyjamas, meals, drinks and tableware. Paul did a quick review for TLFL last week on a short flight to Doha. Now Paul and I have just completed our 12 flight tier point run to Asia and tried out the BA First product on the London to Singapore route to give it a full testing. This is a review of the British Airways A380 new First Class outbound flight from London to Singapore.
The fare
This fare was ex Milan and included an upgrade from business class to First by using a gold upgrade voucher which you get when you earn 2500 tier points. Our itinerary started with a back to back to Milan and then onto Singapore, Hong Kong and Jakarta before a separate side trip to Bali. I will shortly be doing an article about positioning flights and back to backs for those new to ex EU flights.
Check-in and lounge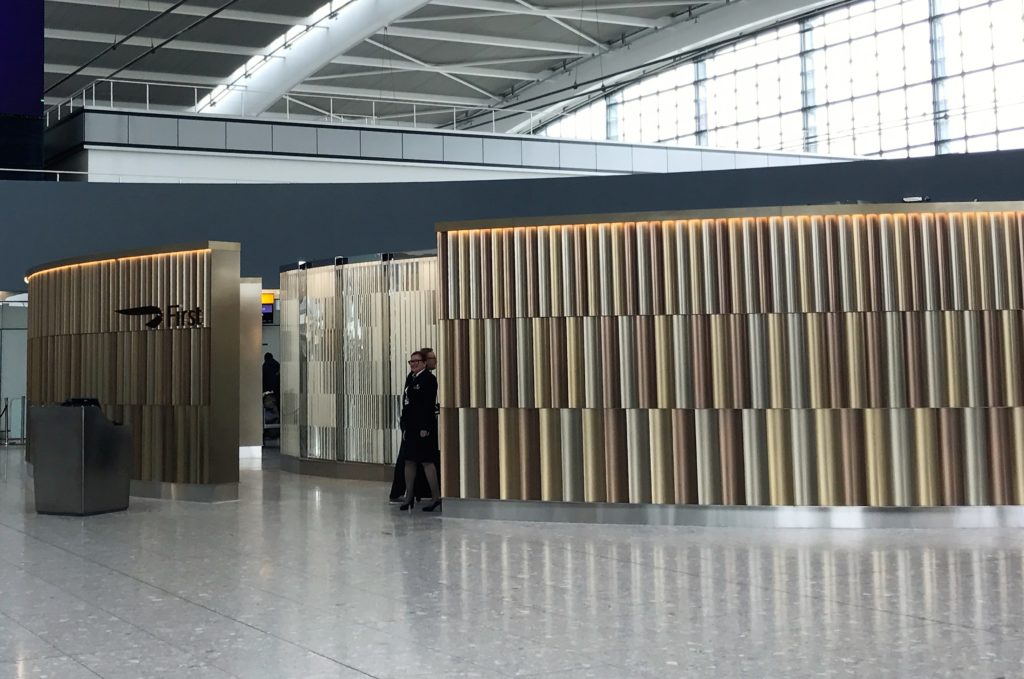 We checked in at the First wing which is available for Gold cardholders as well as those flying in First. As it was early in the morning, there was quite a queue. I didn't have to wait long to get to a check-in desk as I only needed to go to the Visa check desk because I was travelling hand baggage only (quite a challenge for six days!).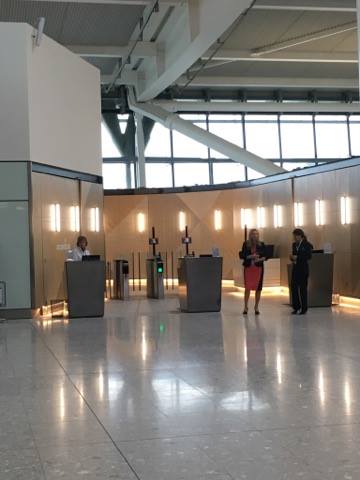 Once I had my boarding passes all the way through to Jakarta, I headed to the dedicated security at the First Wing which deposits you straight into the First lounge. There was a long queue, but it did at least move quickly – despite the inevitable people who wait until they get to the front of the line to start finding their liquids and laptops having stood there for 10 minutes!
The lounge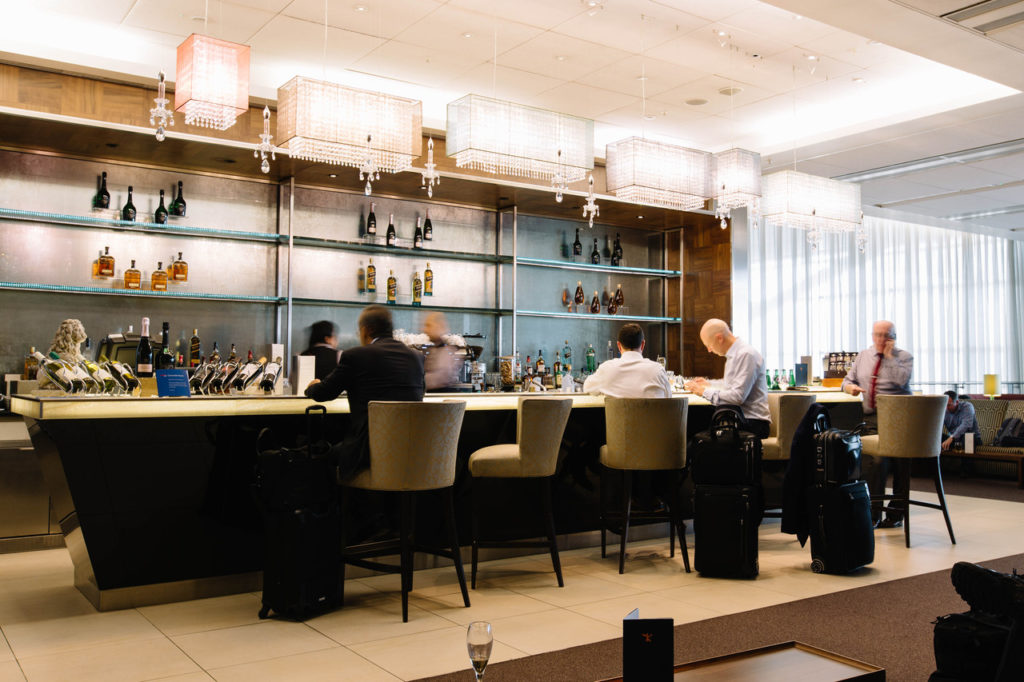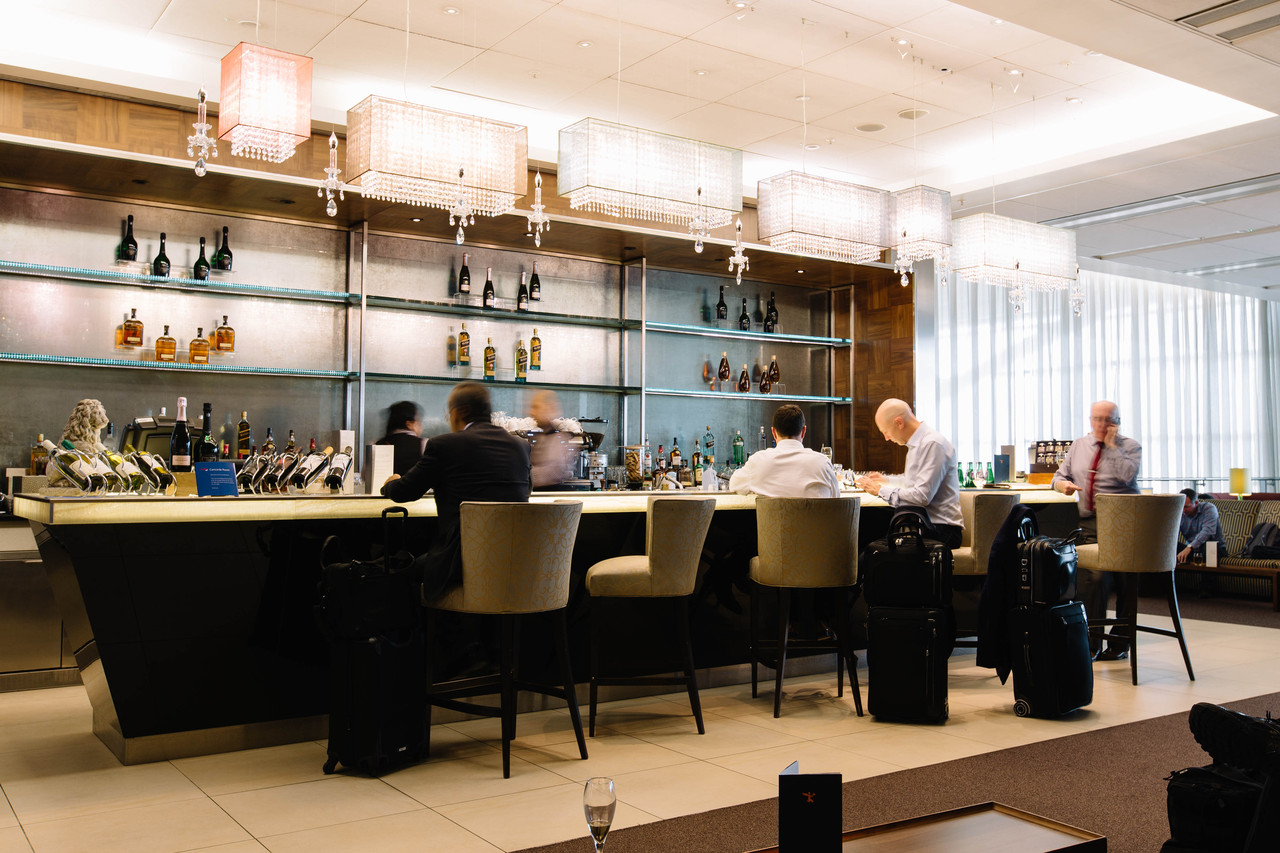 The Concorde Room is for First class passengers and GGL card holders. On the first leg to Milan, I would have been only entitled to Galleries First as I am a Gold card holder. Fortunately, Deputy Editor Paul is a GGL and Concorde Room card holder so he guested me in that morning. I had a quick bacon roll which was served with hash browns and was very average. Later on, when we were back from Milan and before the Singapore flight, we had a late lunch. Here is the menu:
I thought I would try the rib eye steak: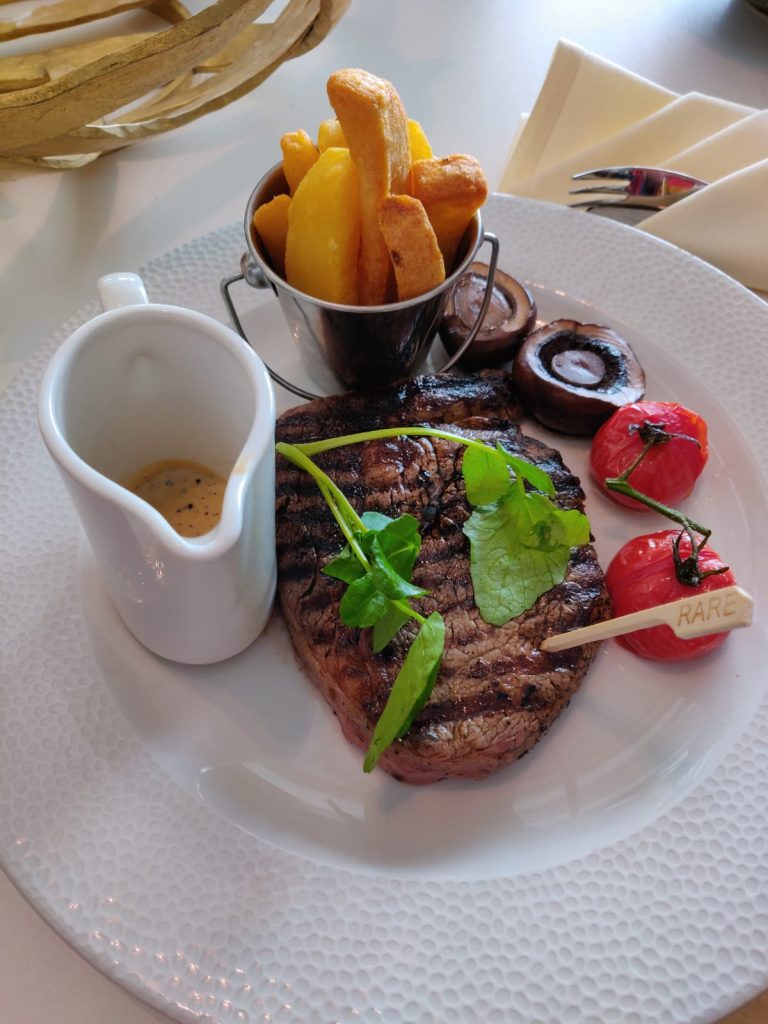 I liked the way it was presented, and the plates also looked smart. The steak had a great chargrilled flavour although it was a little tough in places and a bit thin. I asked for it to be medium and it was cooked exactly so. I particularly enjoyed the pepper sauce with it and overall thought this was a tasty dish.
I managed to get an appointment at the Elemis spa on the day as I had not managed to secure one in advance. You can book treatments from 28 days before the flight, and if you don't do it at precisely 28 days, you will often find there is nothing left. However, it is always worth asking on the day. I had the power back massage. The therapist was lovely, and it was a relaxing treatment with a few free samples given afterwards. You can find the full list of treatments for Club and First here.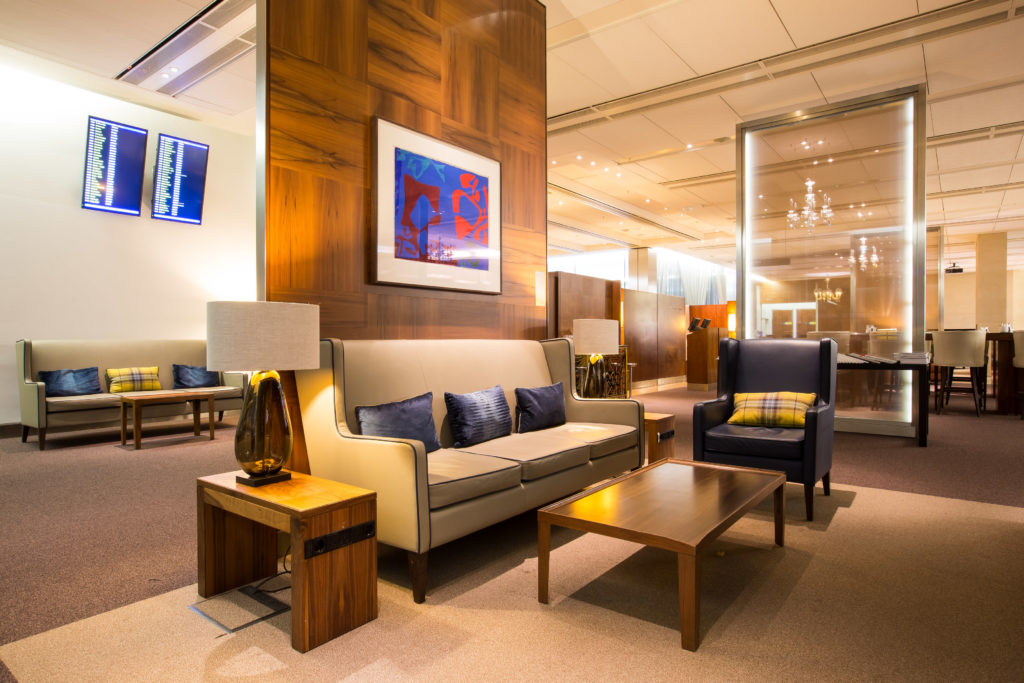 You can read more about the Concorde room in this article.
Boarding British Airways A380 new First class
Boarding was reasonably orderly with a separate queue for group 1. First class is on the Lower deck for which there is a separate entrance. If you are in First, you will be shown to your seat by one of the crew providing there are two people on the door when you arrive.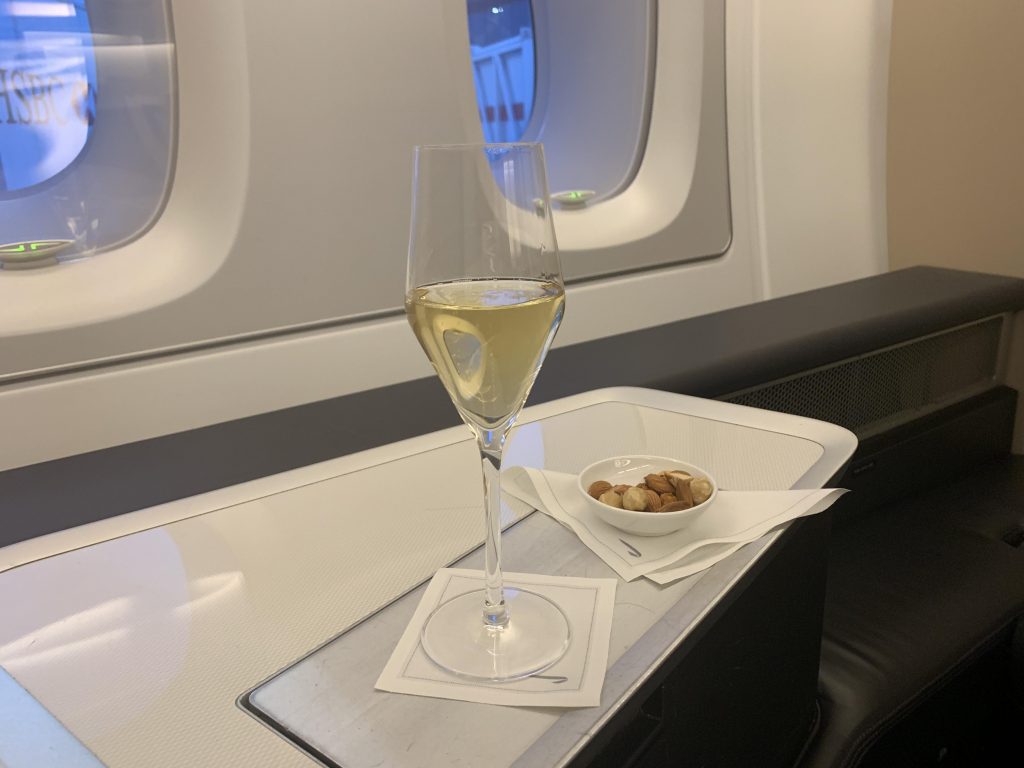 Once at the seat, there were already headphones and bedding at the seat. I was soon offered a pre-departure drink and the cabin crew member looking after me introduced himself. Naturally, I chose the Laurent Perrier Grand Siecle champagne. While, in my opinion, it is no Krug, it is still an elegant champagne that retails at around £130 a bottle. The pre-departure drinks are now served with Speedbird insignia coasters and napkins, warm nuts and a hot towel on a stand. This does add a feeling of luxury to the procedures and sets BA apart from the competition.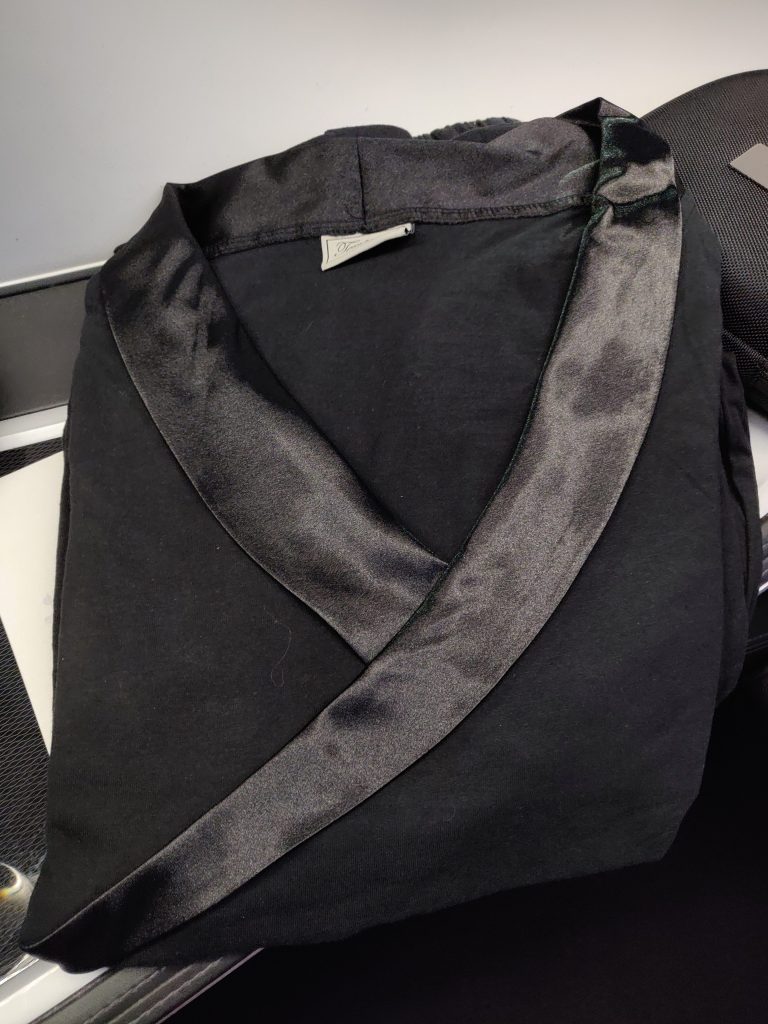 Next, I was offered the new pyjamas (no choice of size was offered – they were just handed to me) and an amenity kit. I really liked the new PJs for women. It had a lovely satin v neck feature which felt good quality and comfortable. I was less convinced about the men's ones which seemed to have a strange low cut style around the neck with a satin v on it.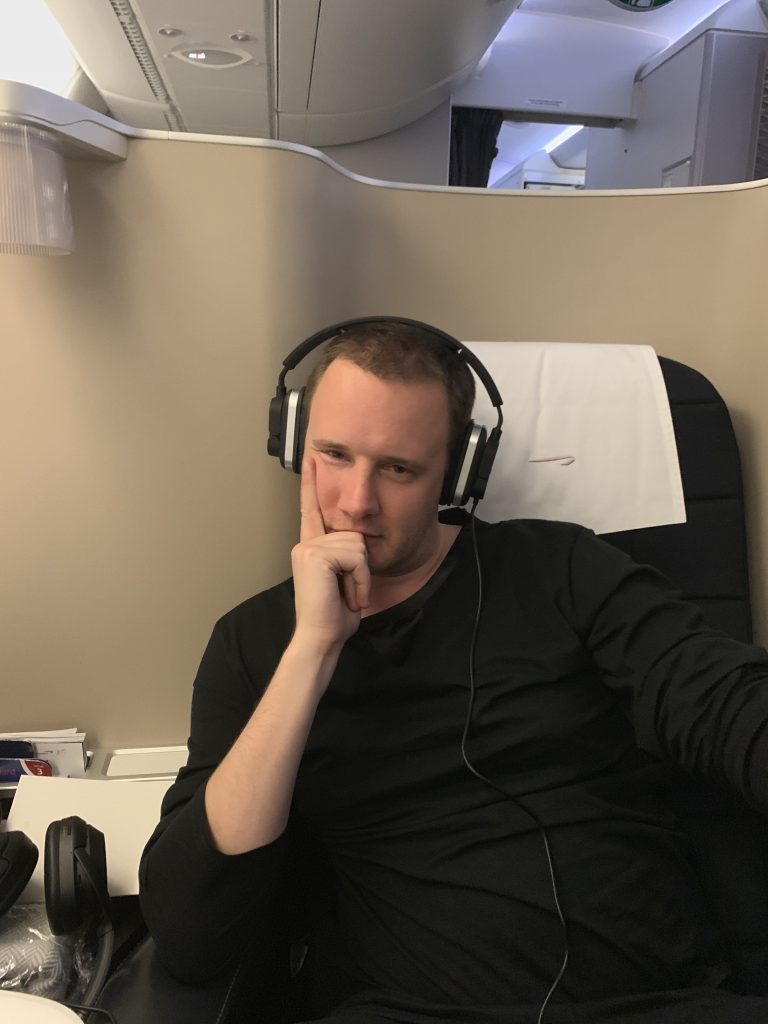 The amenity kit contains some very high-quality Ultra Smart Pro Collagen Elemis products – these are from the new range which is something akin to Creme de la Mer price wise. The design is by Alice Temperley.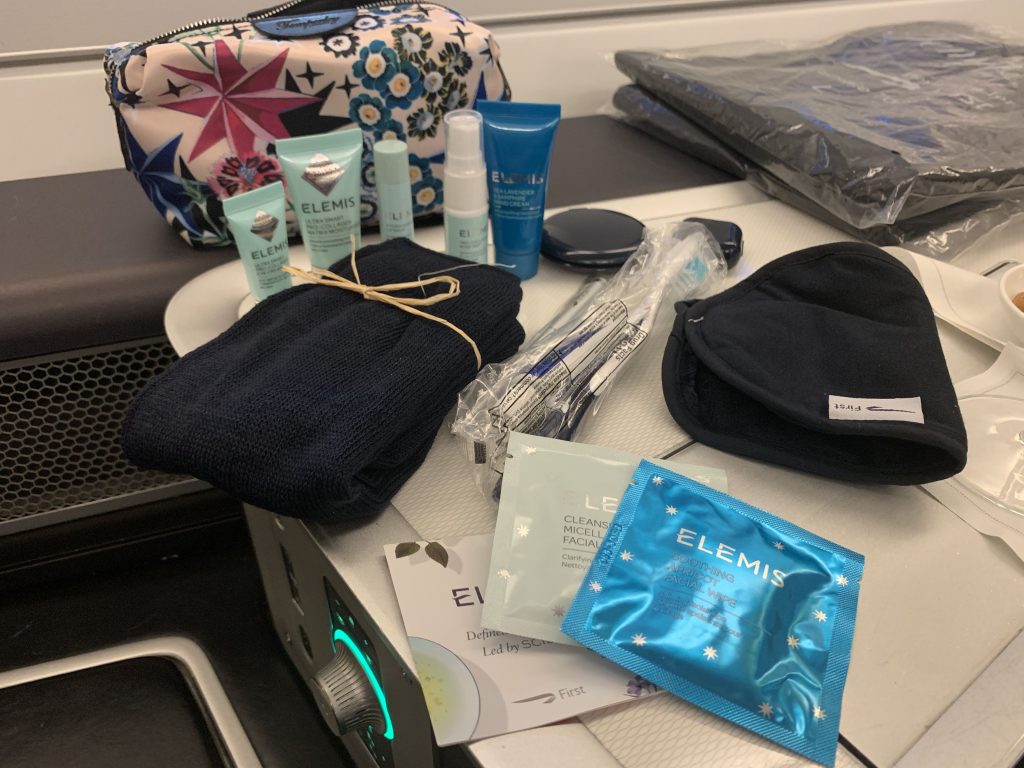 Female amenity bags contain:
Cleansing micellar facial wipe
Soothing apricot facial wipe
Pro-collagen rose mist
Ultra smart pro-collagen matrix moisturiser
Ultra smart pro-collagen eye cream
Hydra-nourish lip balm
Sea lavender and samphire hand cream
Fortitude deodorant
Male amenity bags contain:
Ultra smart pro-collagen eye cream
Ultra smart pro-collagen matrix moisturiser
Cleansing micellar facial wipe
Skin soothe shave gel
Fortitude deodorant
Hydra-nourish lip balm
I have used the products since and was impressed with them. Although the bag is not my personal taste, it feels substantial and good quality. There were two things I wasn't keen on – the socks that felt very cheap and synthetic and the eye mask. The eye mask felt like a downgrade from the previous one. The reason I say this is that I usually take my own eye mask as I find that airline ones push down on your eyelids too much. The previous BA ones had small pads to stop this from happening, but they have now gone. Overall the washbags are an improvement though.
British Airways A380 new First class seat and cabin
The first cabin has 14 seats in a 1-2-1 configuration. Despite booking a long time in advance, we ended up on opposite sides of the cabin to both get a window seat. I had 3A while Paul had 3K. If you are in a couple, you may prefer the middle seats, but there is always buddy dining with a place for your companion to join you for meals or a drink. I would avoid seat 1K which I had on my last First flight. It is next to the crew wardrobe, so you are constantly disturbed by the crew opening and closing the door.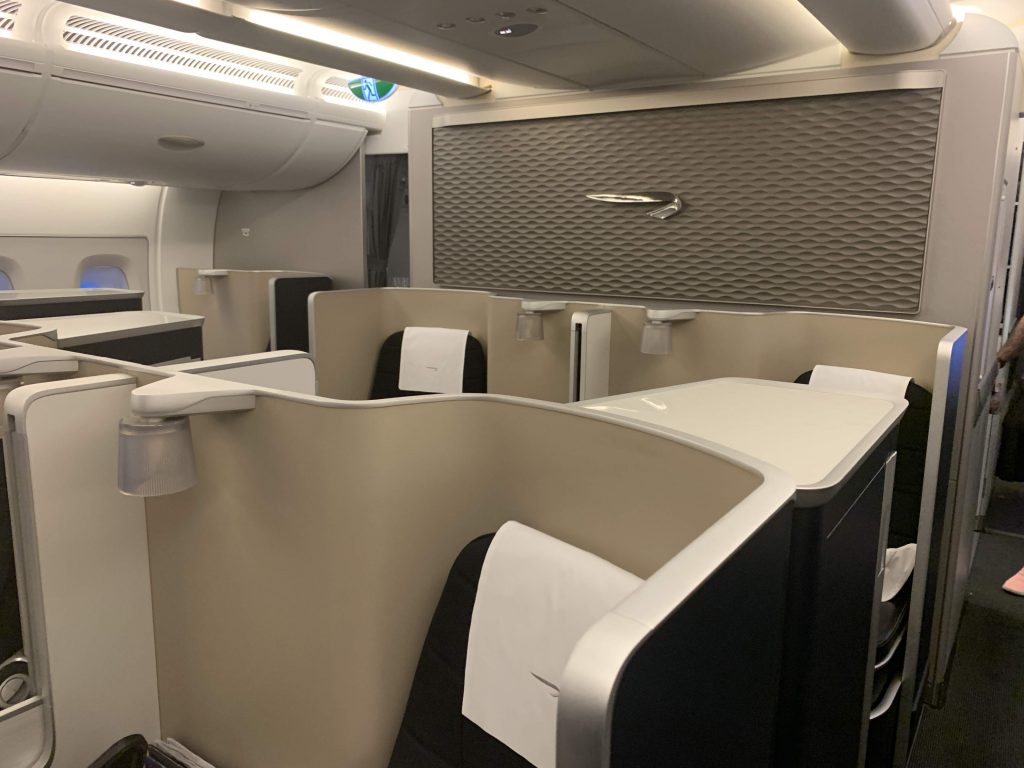 The seats feel very spacious on the A380 and are like a suite but without a door. Mine was pretty private anyway as I couldn't really see anyone from my seat.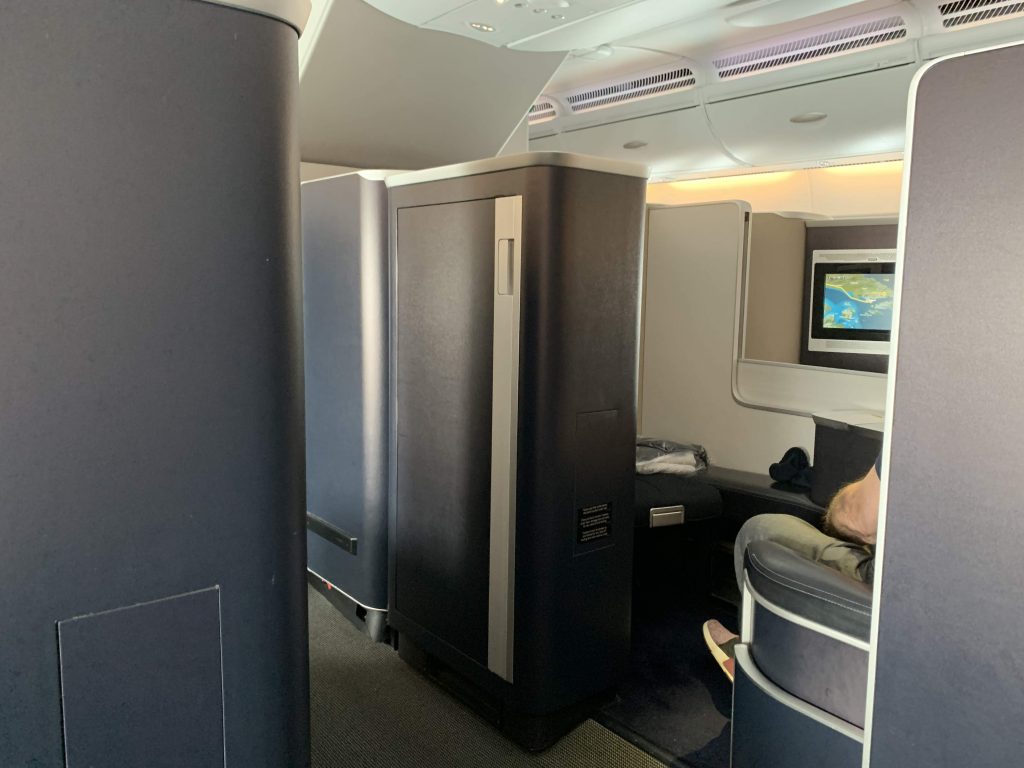 In terms of storage, there was oodles of it. There was a sizeable personal wardrobe, although the new bedding does take up a bit of room. It was big enough to fit a small carry on which is useful.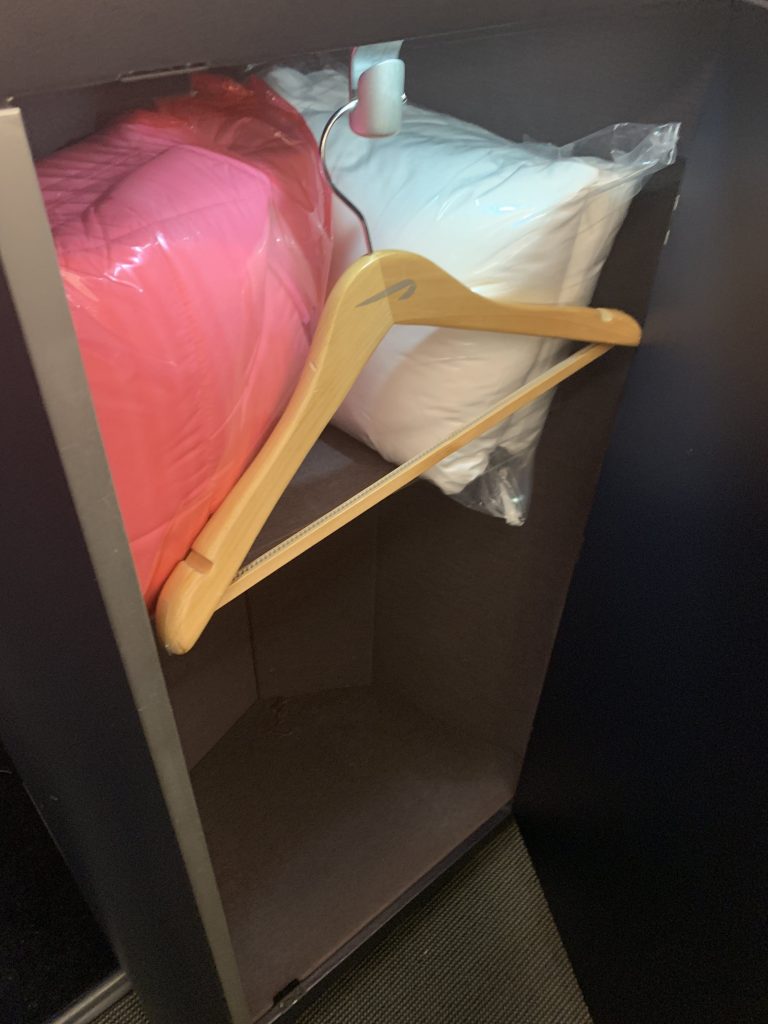 There is also a side bin which contains the handheld remote and the sockets which is a bit odd.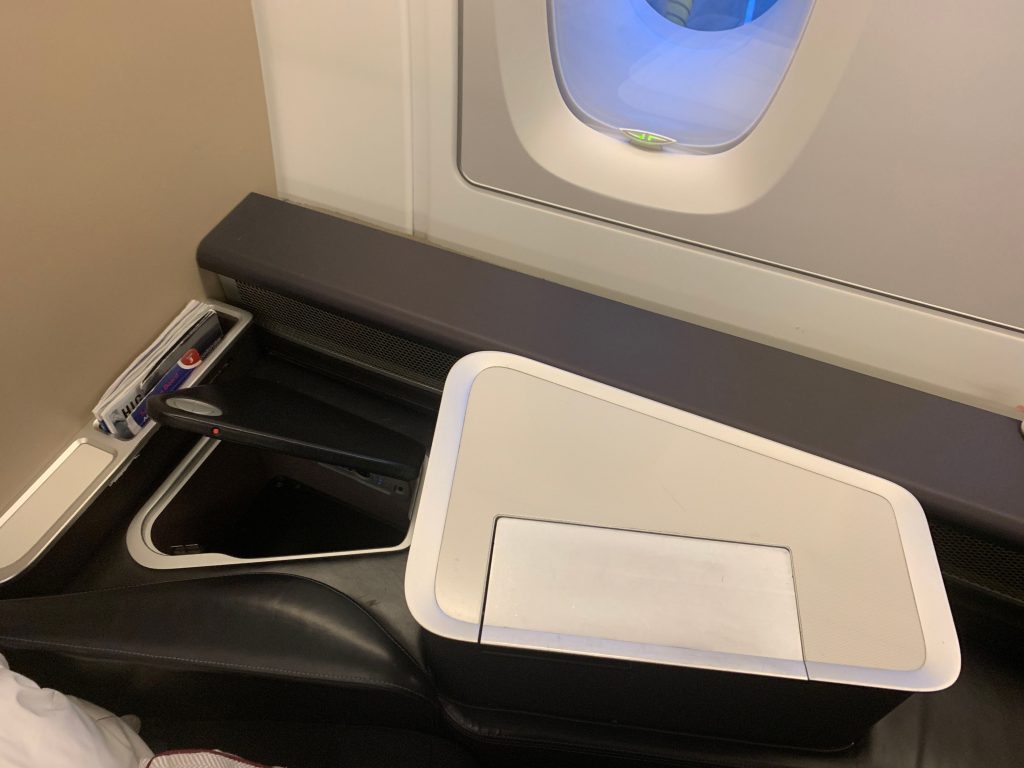 The seat is controlled with a single dial which while is very easy to use, doesn't make the position very customisable. I prefer a separate leg rest that you can raise independently.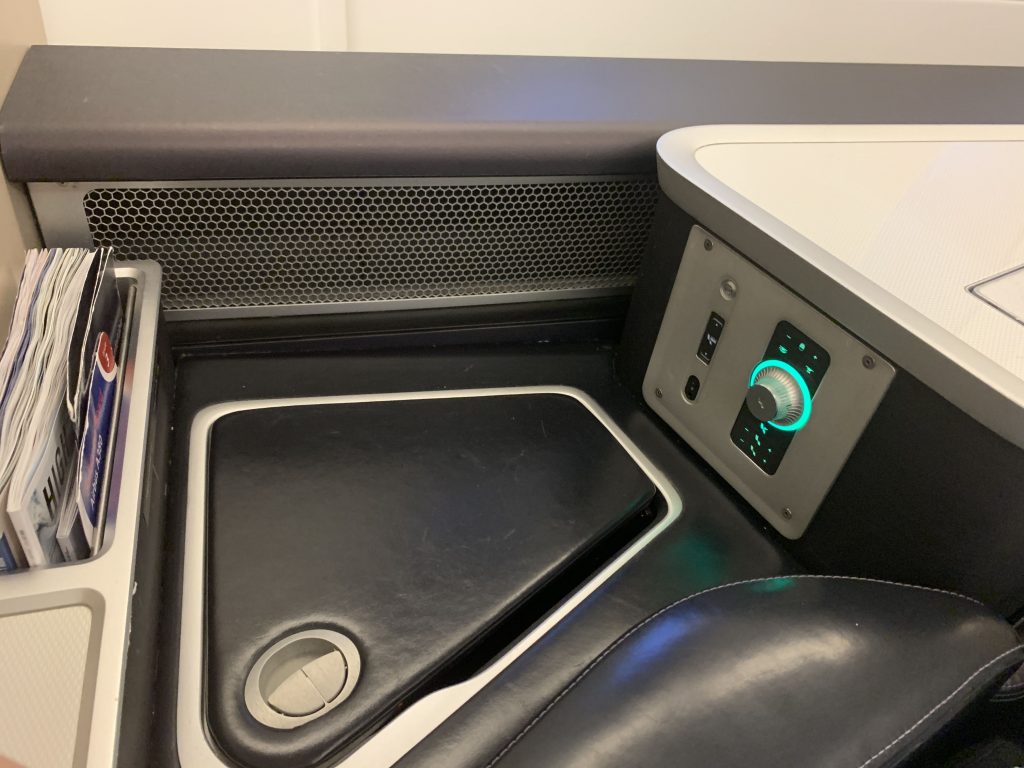 The seat is generally comfortable for sleeping and working although I don't like the metal catch on the buddy seat/footrest which is used to adjust it.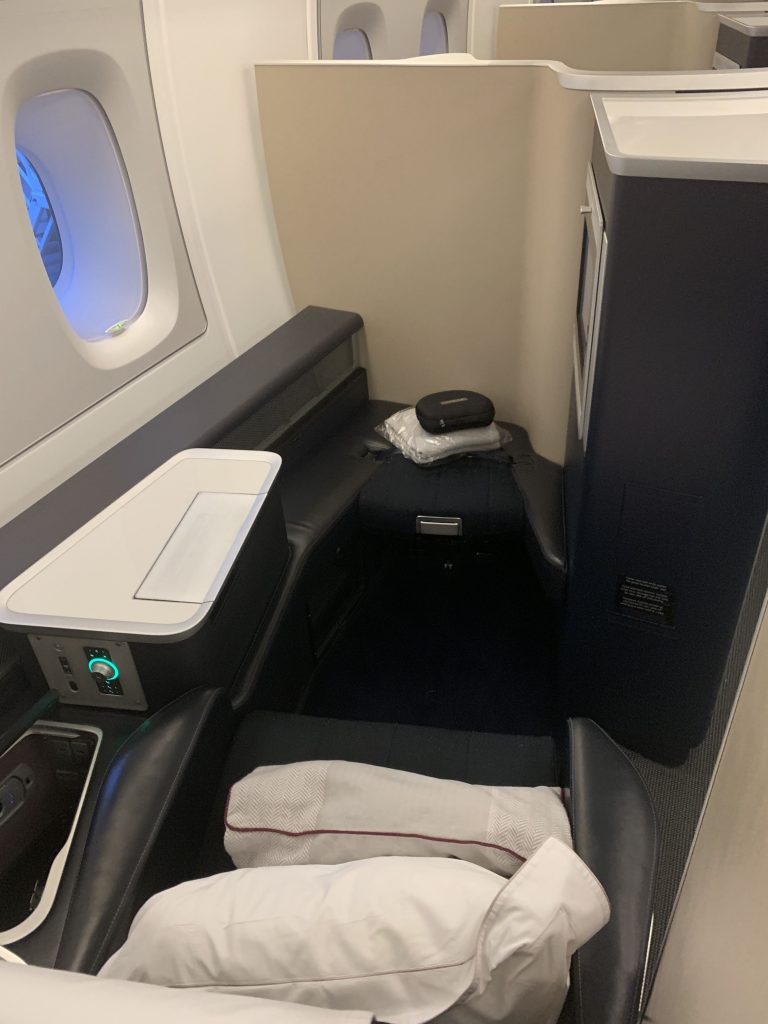 Sleeping at British Airways A380 new First class
The new bedding is a significant improvement. You get quite an assortment of items, all of which are provided, unlike the previous day blanket which was on request. There is a day pillow and day blanket in a funny, slightly coarse, woolly material which I wasn't a massive fan of but they did the job. Roving Reporter will not be happy as he was a big fan of the super soft grey day blankets they had before!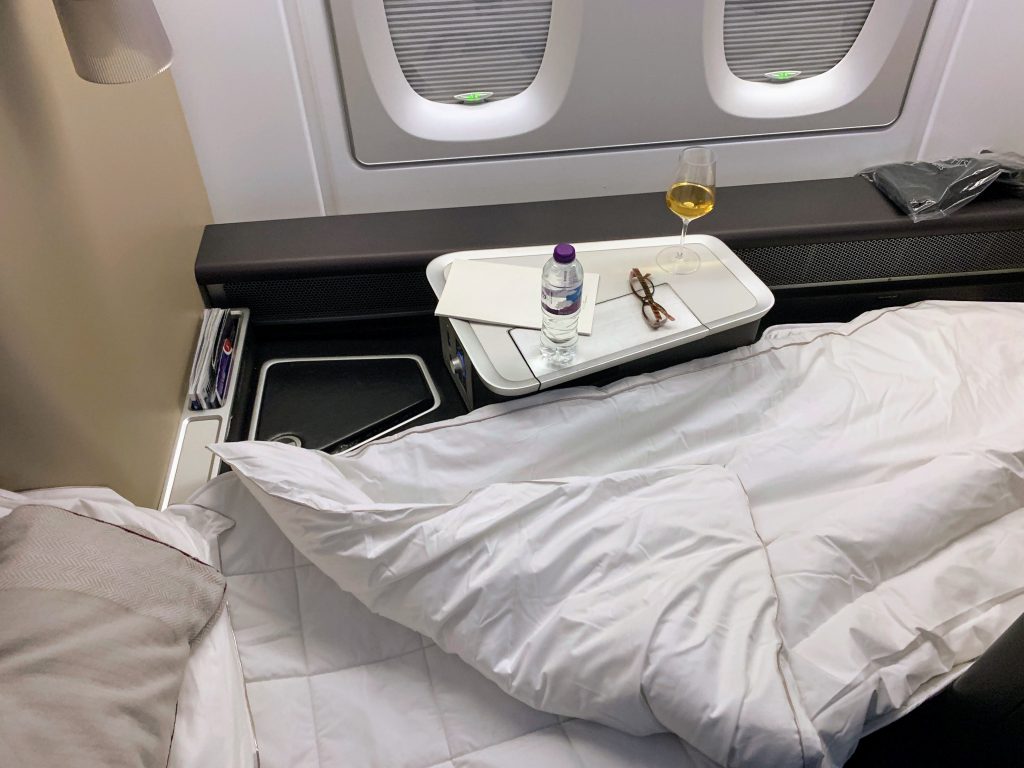 The crew were very proactive on this flight in terms of offering to make the bed up, although often I just do it myself as it's not that hard. The pillow, mattress topper and duvet were much better than before. The mattress topper was thicker and made a big difference although it would have been nice to have a memory foam pad like Emirates! The pillow was probably one of the best I have experienced in First class, large, thick and soft but with enough support. The bedding has a 400 thread count, and I could definitely feel that the pillow slip and duvet cover were softer than before.
Unfortunately, on this flight, the temperature was far too hot, and both Paul and I struggled to get much sleep because of it. He did ask the crew to turn it down, but it didn't seem to make much difference despite both being exhausted after a long day. On the way back the temperature was much better, and we both slept really well for about 8 hours.
British Airways A380 new First class Food and drink
If you are flying from London, you can reserve your main course in Club or First from 30 days before. I usually choose to do this so that I can get my first choice and had pre-ordered mine. Paul did not bother with his.
The service starts with a drink and canapes. We had decided to try the buddy dining which is only the second time I have done this. On the B747 it felt very cramped whereas I found the buddy seat very comfortable on the A380 with plenty of space. This was just as well….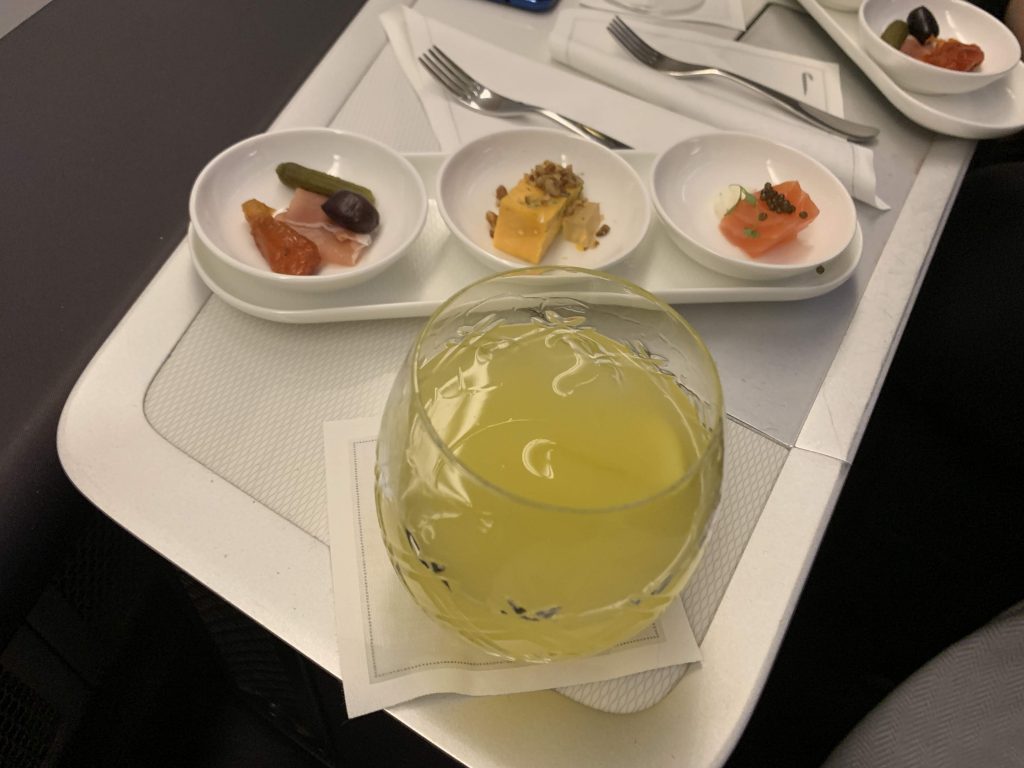 There is now a selection of cocktails as well as the usual wines, beer and spirits. I tried a Gin Zing and was not a fan at all! It tasted very sour and unbalanced to me.
Here is the bar menu: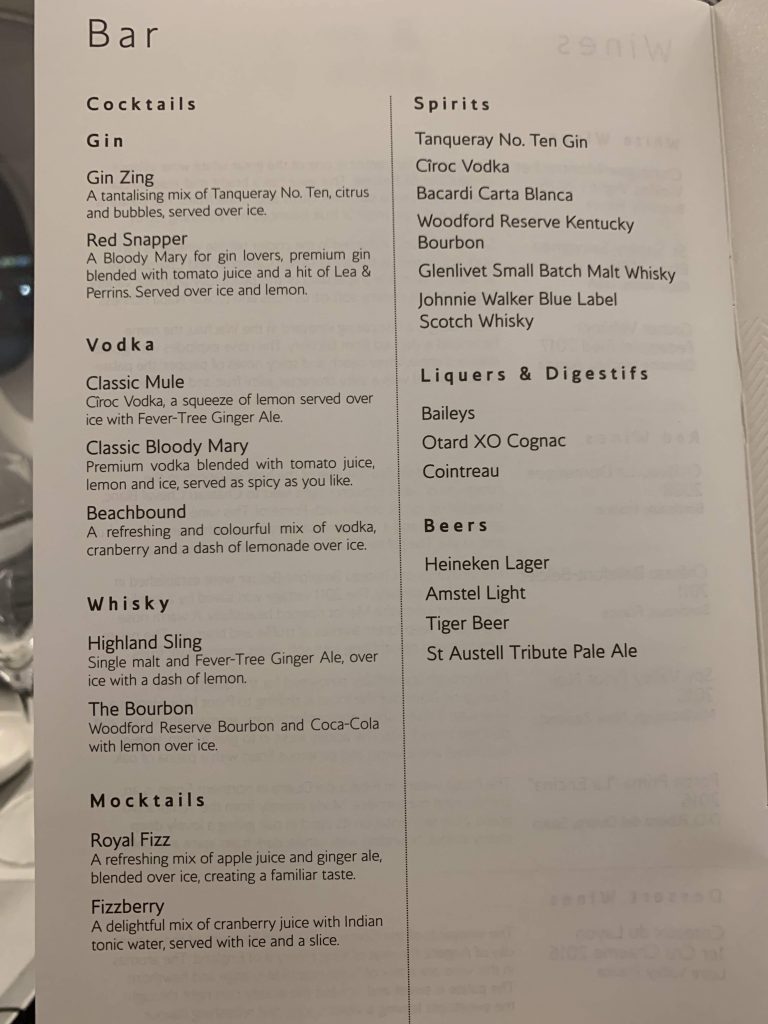 We liked the way the canapes were served in the individual dishes with a lovely canape fork and branded napkins. The canapes were tasty but not very sophisticated. The blue cheese one was my least favourite as it was such a big lump of cheese with not much else.
Here is the full food menu:
The table was then laid up with both olive oil and butter put out. A basket of warm bread was offered. I had a crusty roll which OK but nothing special.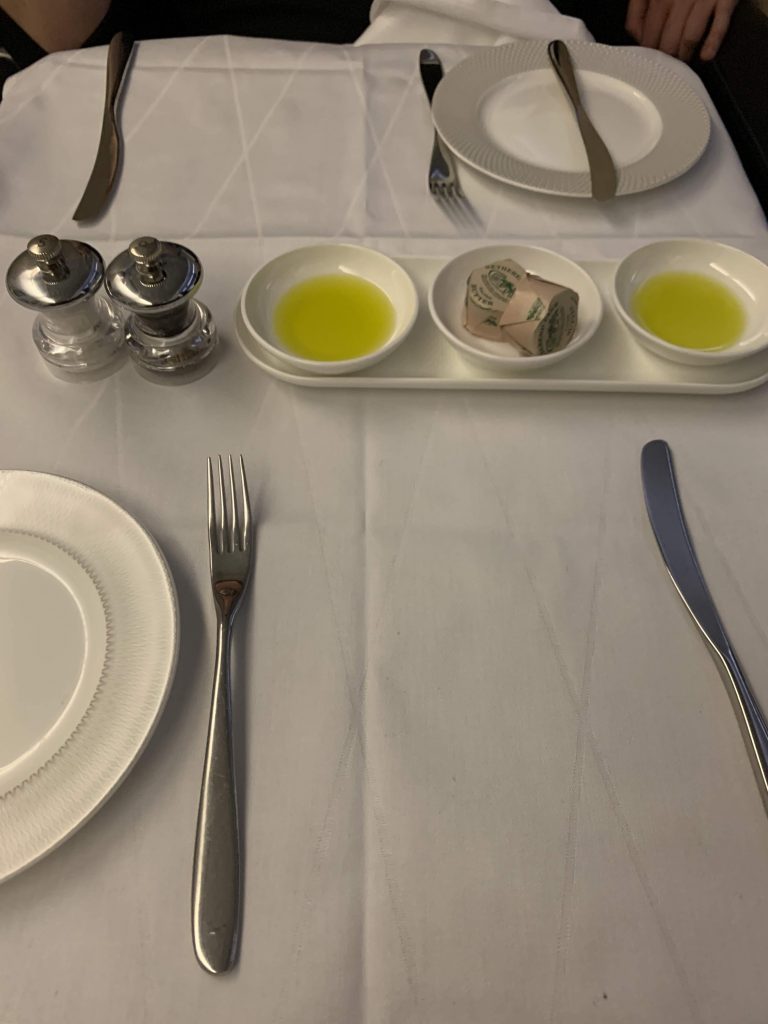 I started with the beef bresaola which was a play on veal tonnato with the sauce and capers. It actually worked pretty well, and I enjoyed my starter. I did enjoy the new glasses and plates which I thought looked worthy of a Michelin star restaurant.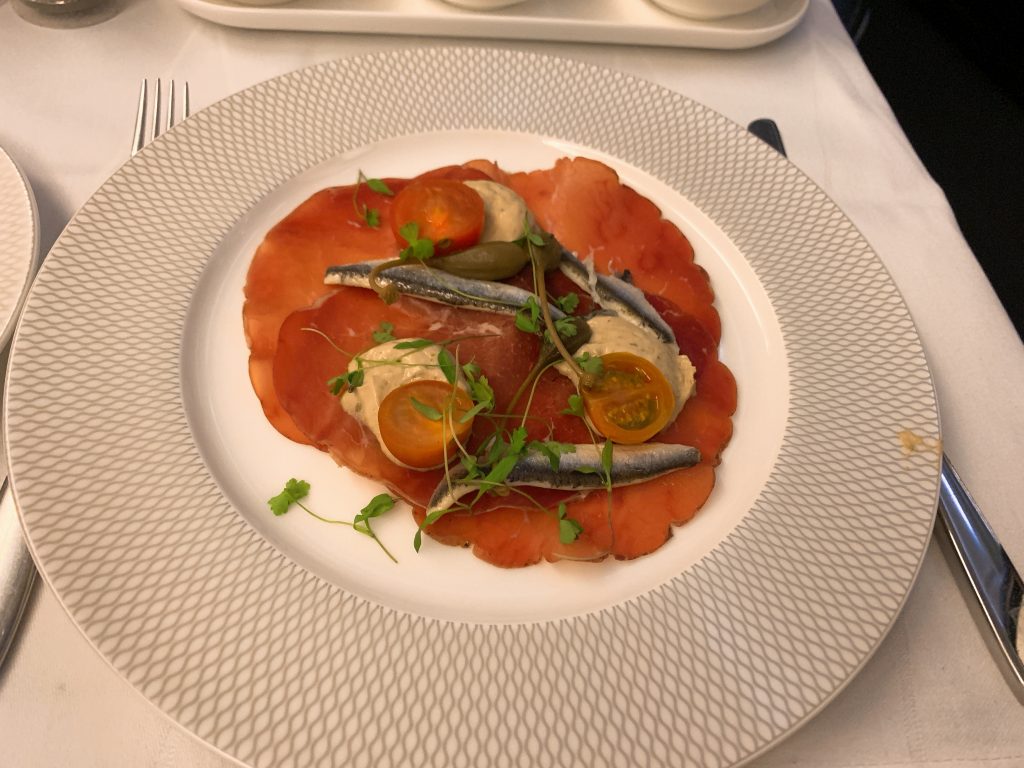 Paul went for the scallops: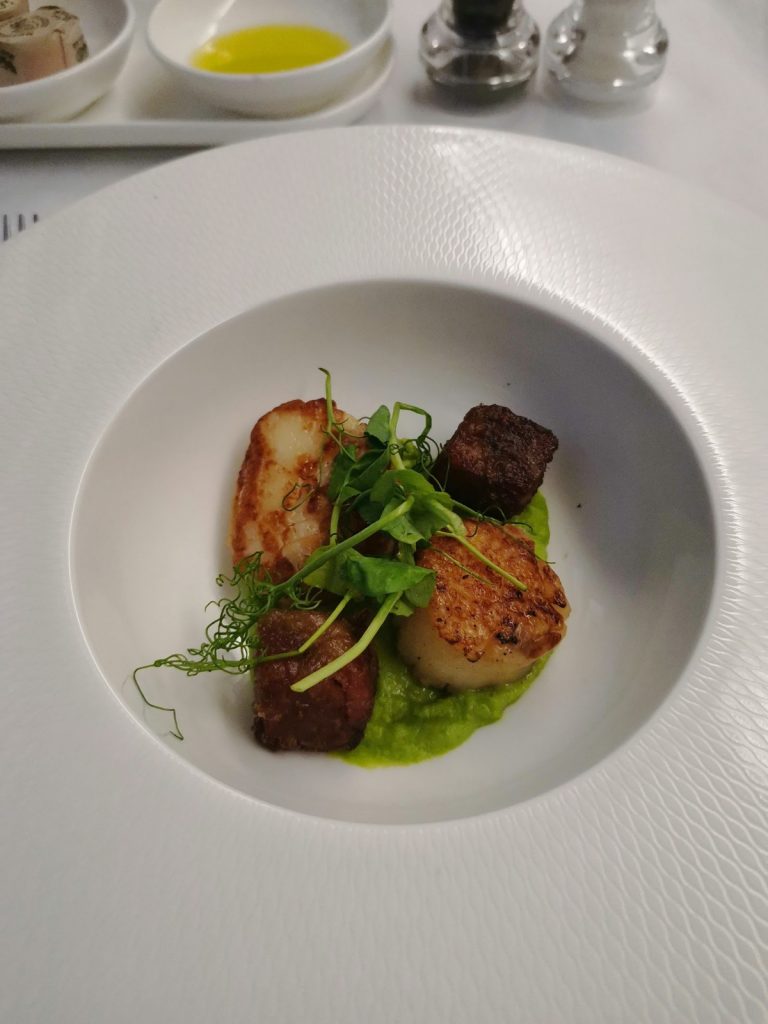 The whole meal service was very prolonged. We had been delayed taking off for quite a while too, so we were both getting extremely tired and fed up by the time the main course appeared. The service is very new, and for most crew this was probably the first time they had seen it. Hopefully, things will speed up as they get used to it. The crew serving us were very friendly and attentive though and kept us well supplied with drinks. By the time we reached the main courses, we were almost asleep!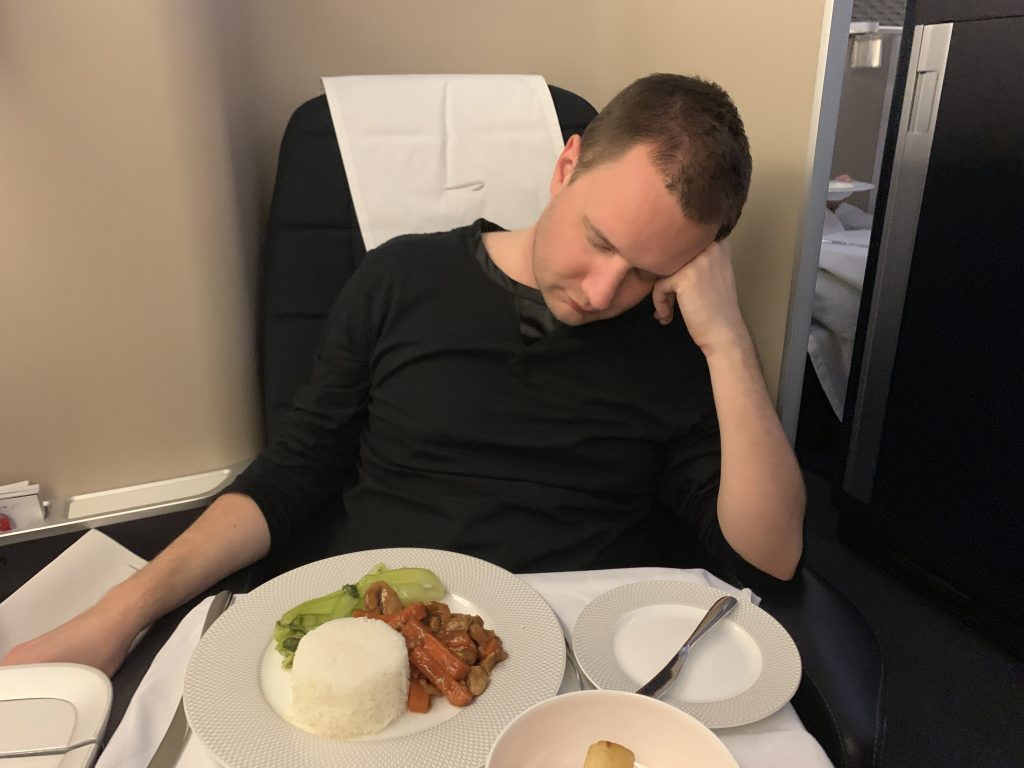 The main courses now come with a choice of side dishes. If you don't specify one they will bring you a selection of all of them. I went for the halibut which was sadly not a successful main course at all. The halibut was not too overcooked, but the dish was overwhelmingly salty, and generally, I like things on the salty side. Pairing an over salted crab bisque with very salty samphire too was not the best combination. It was so bad I actually left half of it. The side dishes were tasty though, particularly the potatoes.
Paul went for the shredded pork which he thought was OK but very average.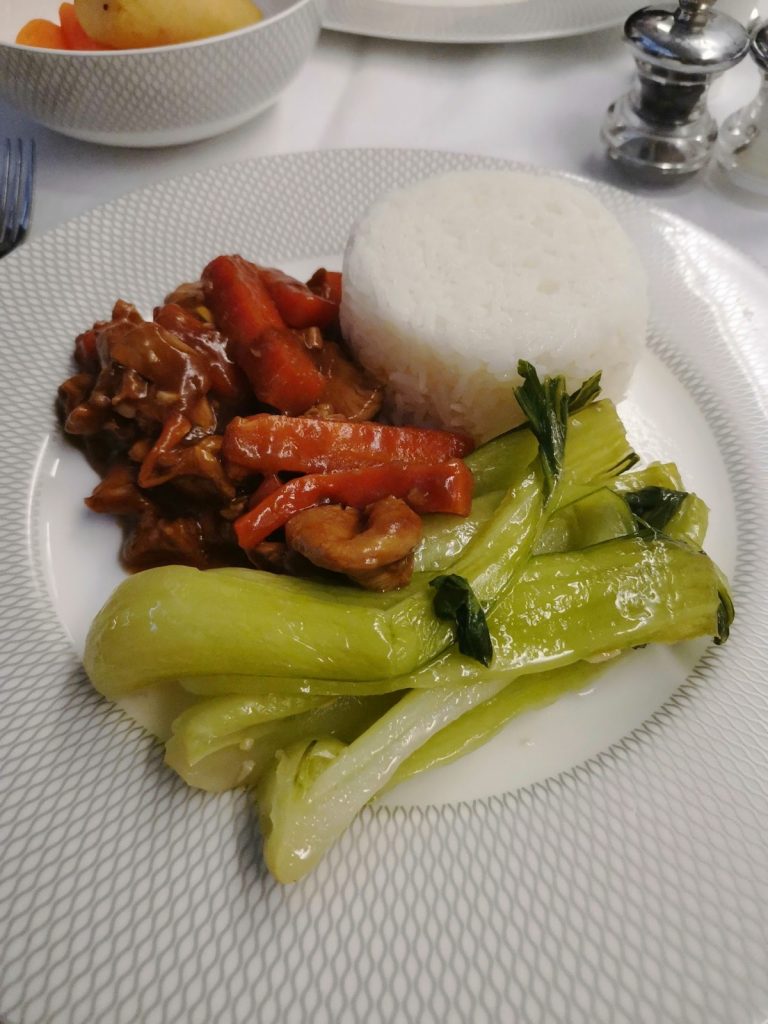 Since the crew were accommodating we decided to try and have a taste of most of the wines. It was a completely full flight so hopefully, they wouldn't go to waste if we didn't drink them. I have to say I was pretty underwhelmed with most of them.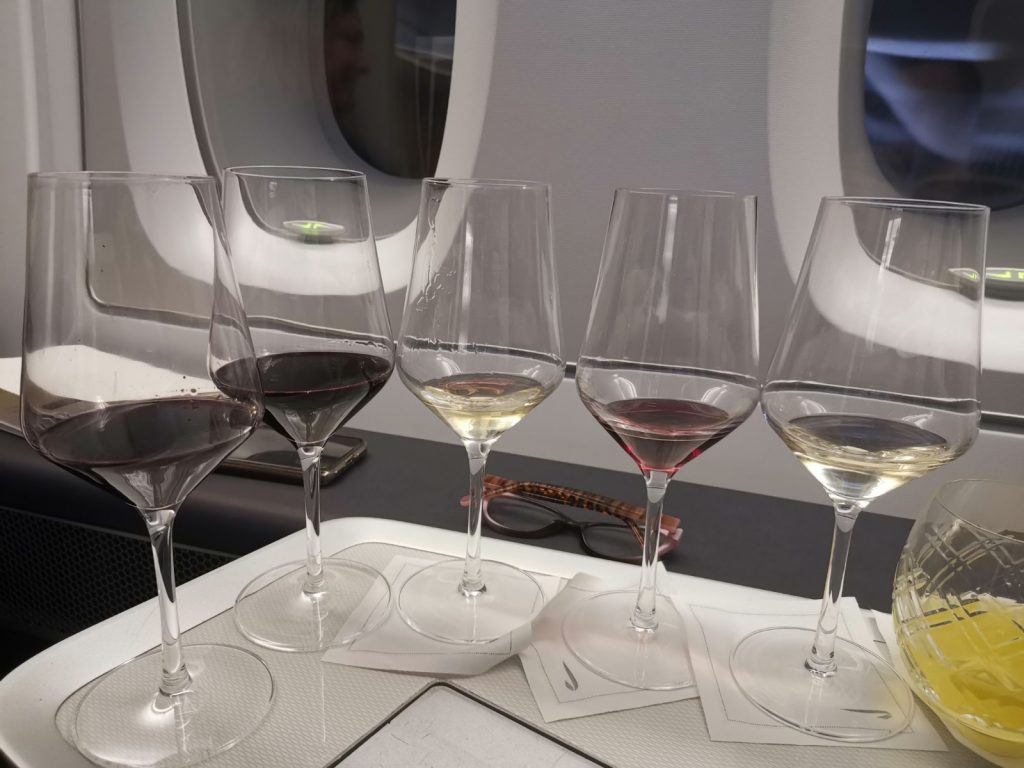 Here is the wine list:
I started with the Chassagne Montrachet which is normally one of my favourite wine regions. I was already slightly suspicious as no vineyard was listed which is very unusual. I was correct to be suspicious as this was a poor example of a Chassagne Montrachet. It had little depth and lacked most of the characteristics of a good Burgundy Chardonnay. We also tried the Gruner Veltliner which I normally a fan of and again found it disappointing.
The reds were better. They listed two Bordeaux reds but as I expected only had one on board. I really enjoyed this wine, and it was the most expensive one on the list retailing at around £25-30. The Spy Valley Pinot Noir was also a wine I had tasted before, but it drank well in the air with the cherry and red fruit flavours coming through nicely.
Neither of us wanted dessert at this point, so we decided to finish with the dessert wines. I quite enjoyed my Chaume dessert wine from the Loire. The sweetness and the honey-like flavour were well balanced with an acidic citrus finish. Paul asked for a large port, but they took that a bit too literally and gave him about half a bottle. You think that would have knocked him out if nothing else….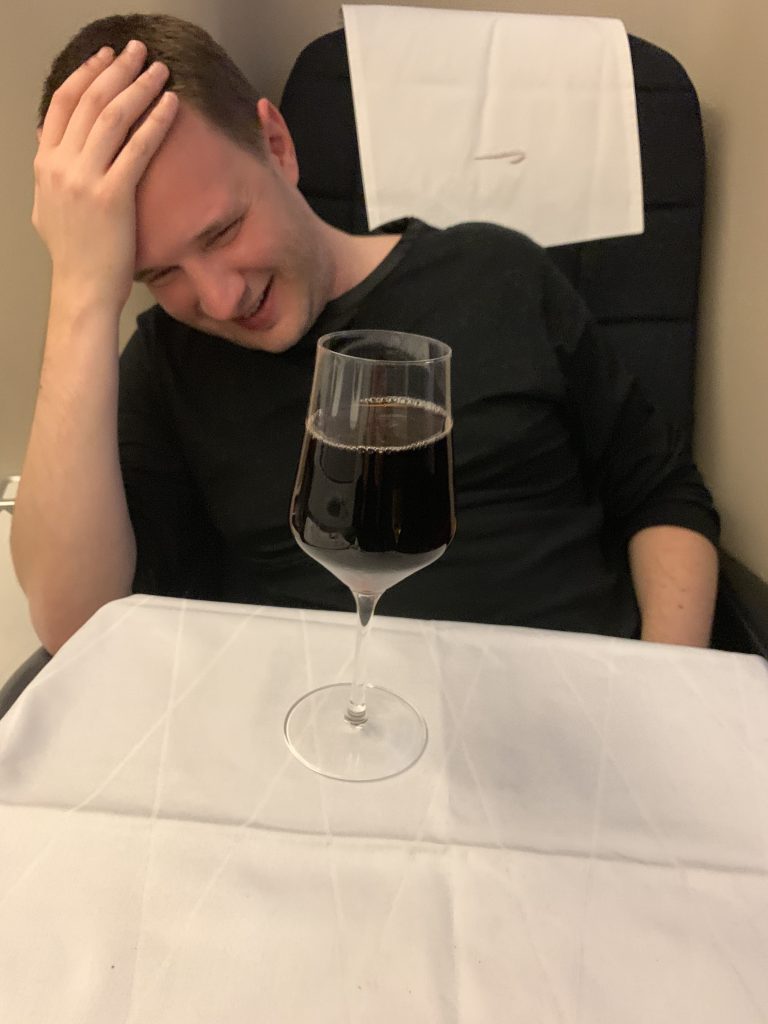 Chocolates were not offered, and I had to ask for them on the way back too. This seems to be the way nearly all the recent times I have flown BA First.
British Airways A380 new First class Entertainment and connectivity
The TV screens are not as good as First on the B787 but they are a good size, and the definition is reasonable. Despite the considerable amount of flying I had done in the last month, there was a good choice of films and TV programs that were recent, and I wanted to watch. I didn't really get round to watching anything as I was sitting with Paul and then sleeping, but I watched a couple of TV episodes at the end of the flight.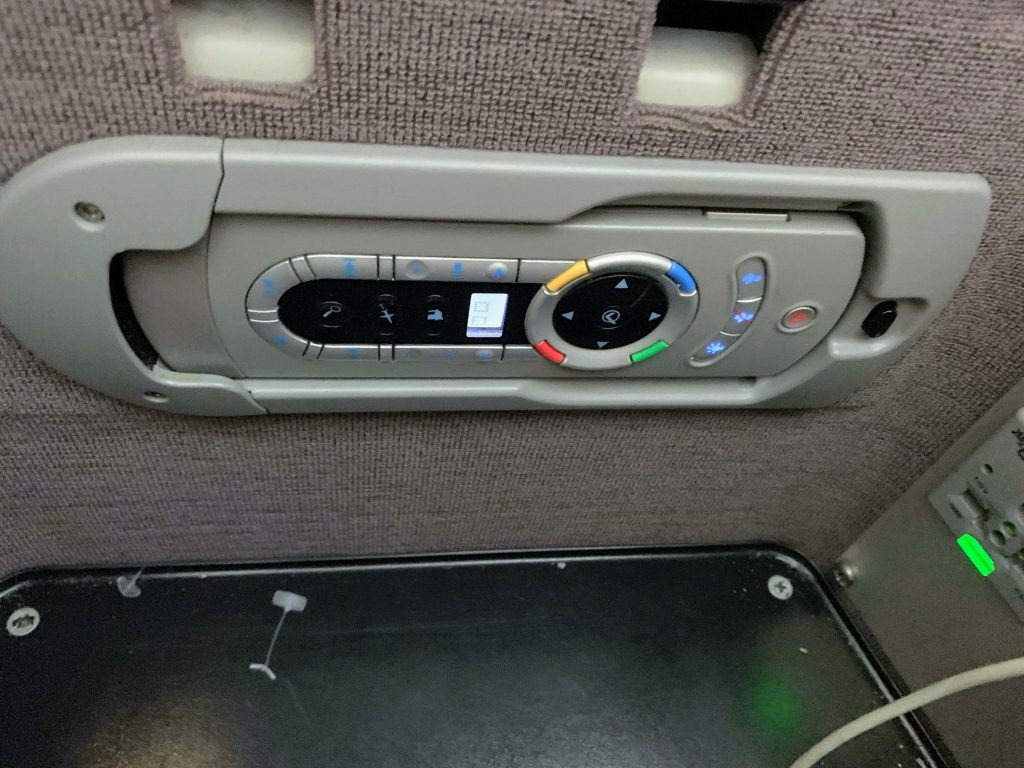 The TV can be controlled with touch or the slightly old fashioned handheld remote. It all worked well though unlike some of the more modern touchscreen remotes that lag.
The new headphones are by Meridian Audio exclusively made for BA and look slightly old fashioned. I am not much of an expert, and they sounded fine to me. They were also reasonably comfortable although I did find them a little heavy compared my Bose QC35s. Paul thought they were better than the old ones but still nowhere near as good as something like Bose.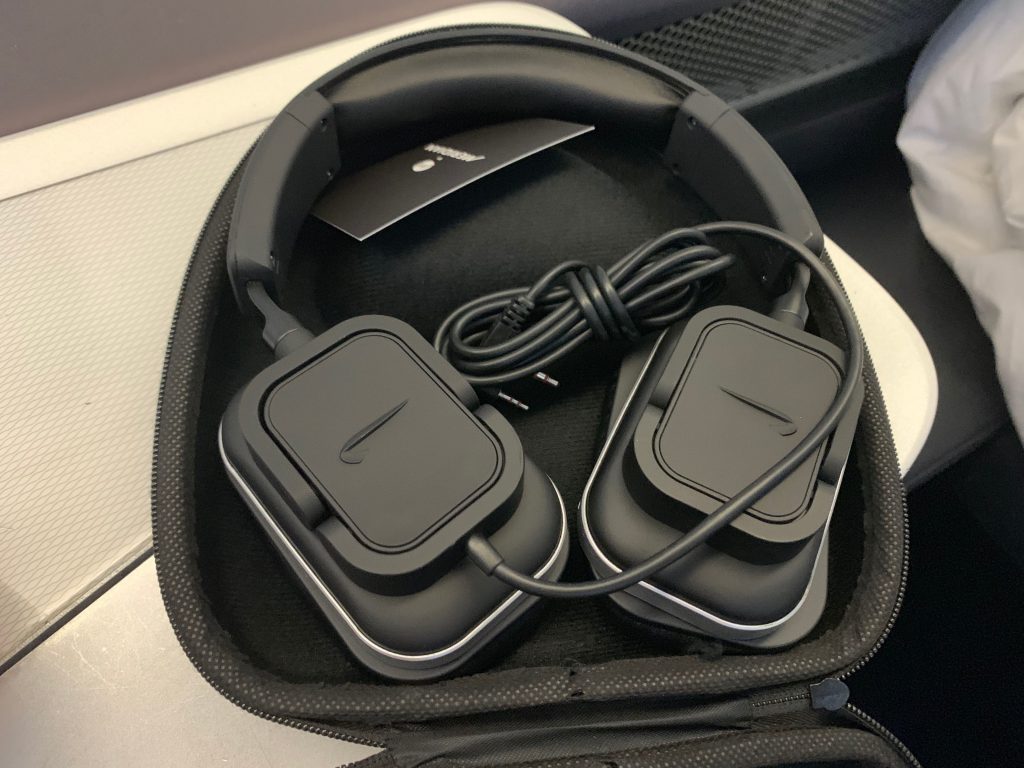 For charging there was a multi-country socket and a USB. There was no Wi-Fi on the aircraft which was a shame, but BA is due to have most aircraft fitted with it by the end of the year.
Conclusion
I generally enjoy BA First when I get a good crew. It is nowhere near the level of Emirates, but you can pick it up reasonably cheaply or use vouchers or Avios to upgrade. The improvements were definitely noticeable and gave a much more luxurious and elegant feel to the service. The new glasses, napkins and plates were worthy of a fine dining restaurant and so much better than before. I really liked the women's pyjamas, and I reckon you could even wear the top as a normal top. The amenity kits were well thought out with all the essentials, and it was nice to see an ultra-premium cream in there. The bedding with its high thread count was a real treat – much like you would get in a good hotel. I still would have liked a memory foam topper though, but it is much better than the old one.
The main let down was the food and speed of service. My main course was poor, and Paul's was pretty average. It was annoying that they have removed the main course salad but appear not to offer anything more than very basic snacks on night flights. A proper return of the bistro menu would have been better for me. It seems odd to have better snacks in Club than you do in First. You do have dine on demand in First, but this is rarely proactively offered by the crew. If you do wish to do this, you still need to order it at the start of the flight to make sure you get it later.
The crew were lovely – very friendly and helpful, but the service was very slow and a little haphazard at times.
Overall this is a welcome improvement to First, and hopefully, the service will speed up as the crew get used to it.
Like our British Airways A380 new First class full review? You can read more flight reviews here.