On Tuesday, British Airways and American Airlines showcased their new lounges and premium check-in areas at New York JFK's Terminal 8. British Airways last flight from T7 will be on the evening on 30 November with the lounges opening on 1 December at T8. I've flown over on a press trip with BA and AA to see the new lounges. There will also be reviews of the AA/BA flights.
Customers will benefit from a more seamless travel experience with easier connections as the two airlines co-locate operations as part of a $400 million investment. This marks the completion of the first phase of the Port Authority of New York and New Jersey's redevelopment of the airport. T7 where BA was formerly located will be rebuilt as part of an expanded T6.
To celebrate British Airways' move from Terminal 7 to Terminal 8; New York Governor Kathy Hochul, the Port Authority of New York & New Jersey, American Airlines and British Airways today announced the opening of a newly expanded Terminal 8, marking the completion of the first phase of the historic JFK Vision Plan that is transforming the international airport into a world-class global hub.
American Airlines CEO said that previously BA and AA were neighbours but "now we are more like roommates".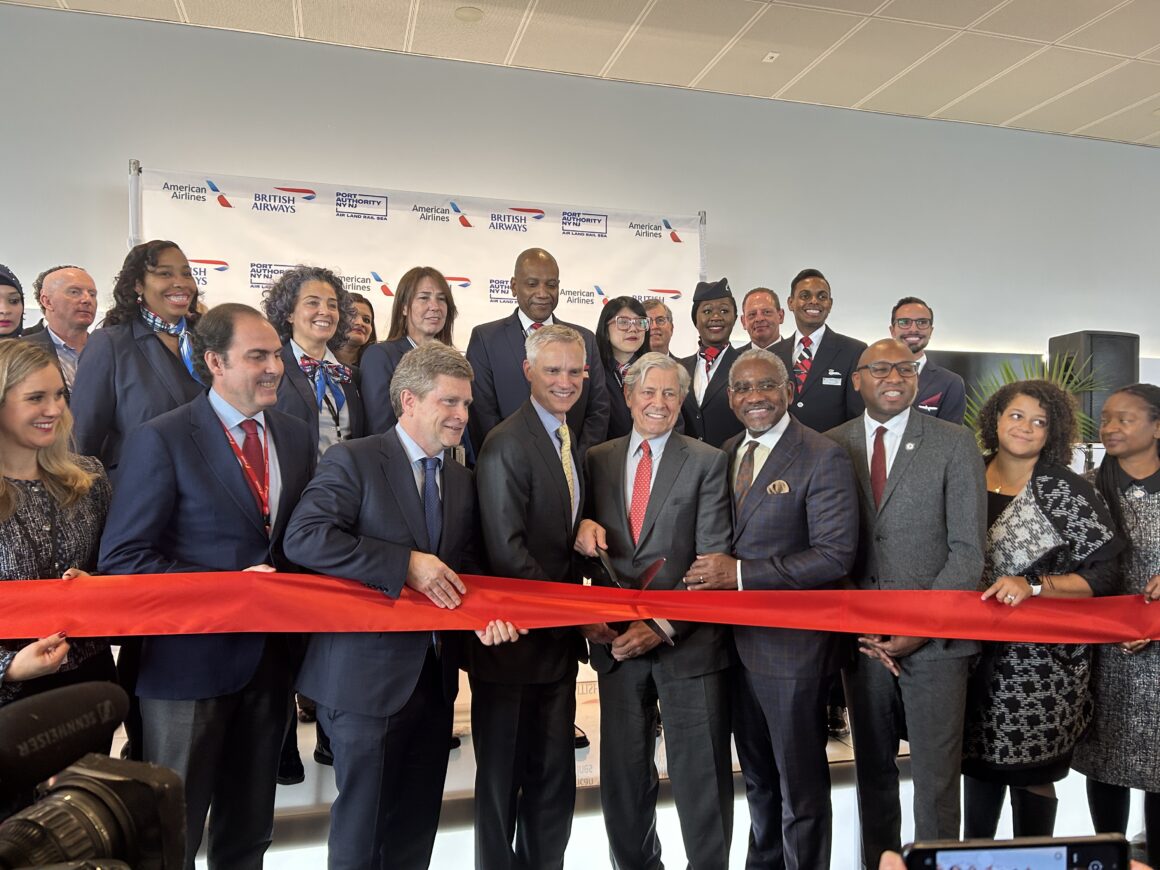 It's not just British Airways and American Airlines that will be located at T8. Iberia plans to move into Terminal 8 on Dec. 1, and Japan Airlines expects to move its operations to Terminal 8 in May 2023.
Operational enhancements of Terminal 8 include five new widebody gates, four new widebody parking positions, and an expanded and upgraded baggage handling system that will together support additional transatlantic flights. The terminal has also been expanded with approximately 130,000 square feet of additional and refurbished space.
Three luxury joint lounges are named after neighbourhoods found in London and New York — Chelsea Lounge, Soho Lounge and Greenwich Lounge. While the lounges open this week, there are still some additional features to come in the future for relaxation.
Check-in areas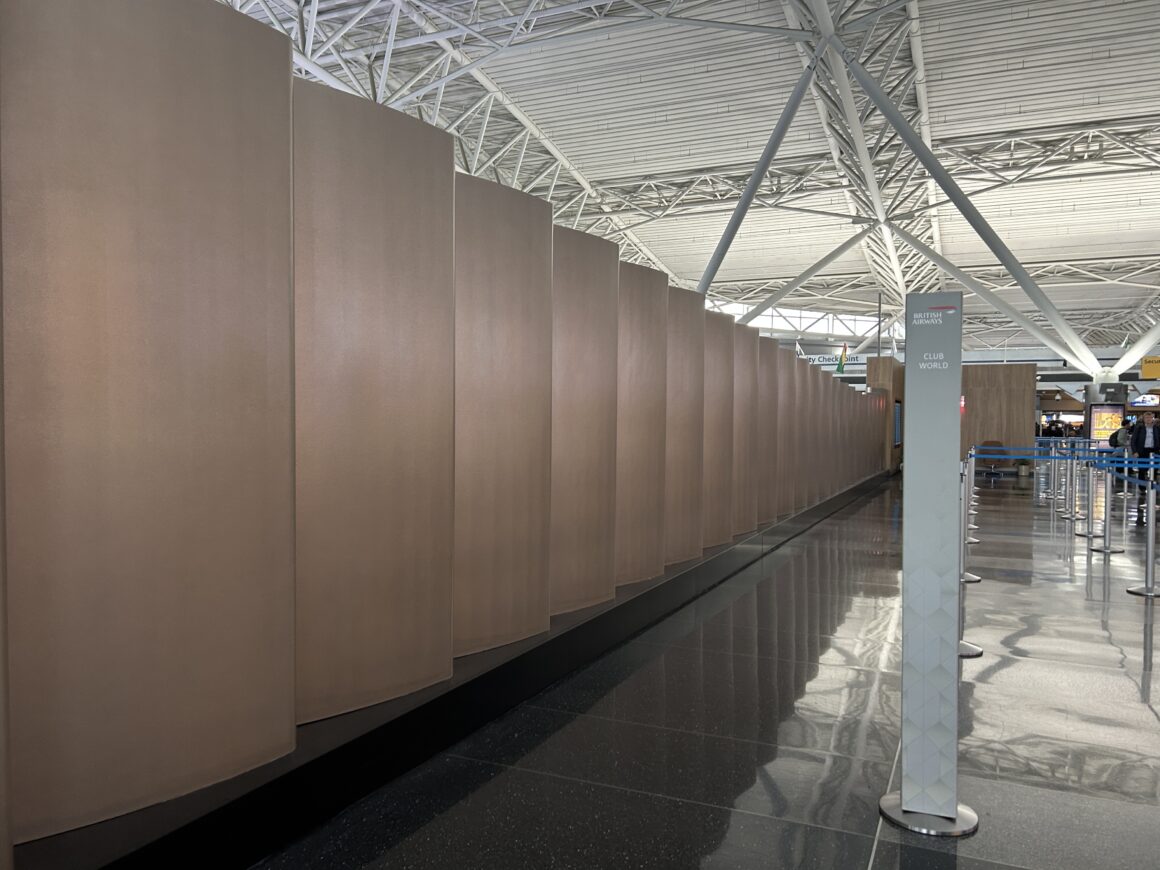 For Club World and Silver/Bronze BA Executive Club members, there is a new joint check-in area which is to the right of the economy check-in areas on the right-hand side of the terminal.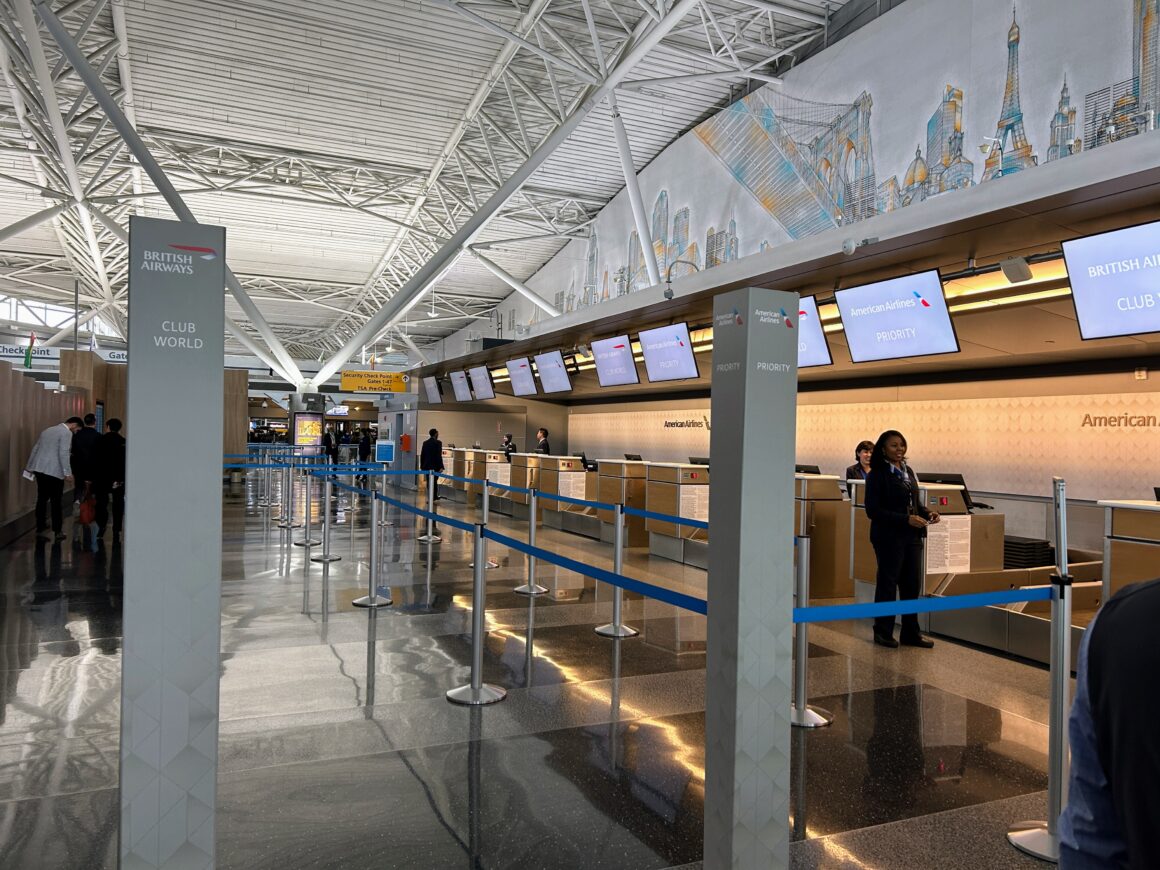 As well as the new premium check-in area, there is also an exclusive First area that is available for BA First, GGL and Gold customers and is definitely of the most intimate and luxurious areas I have seen from these brands. It could definitely compete with the Middle Eastern airlines' equivalents.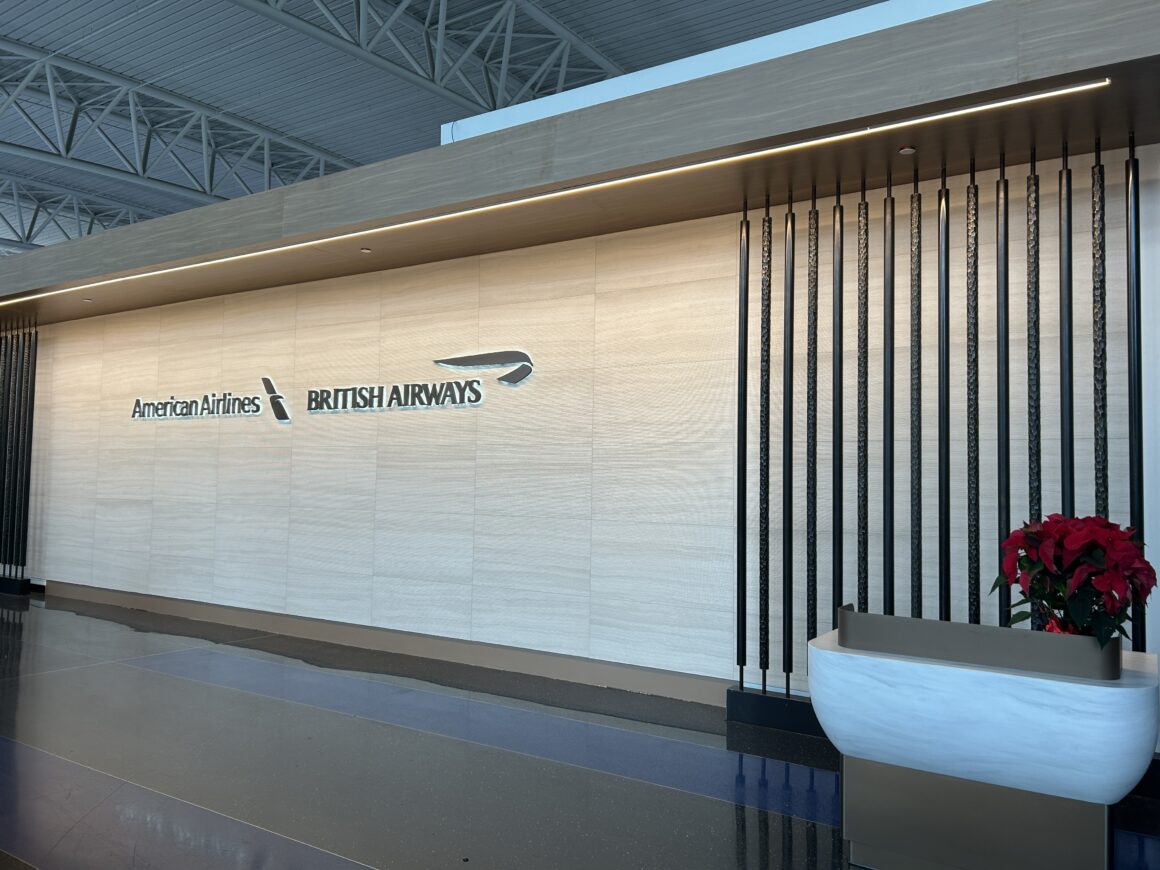 The area has seating for those that have luggage or require a longer check-in as well as the more traditional desks for those that just need to pick up a boarding pass or show documents quickly.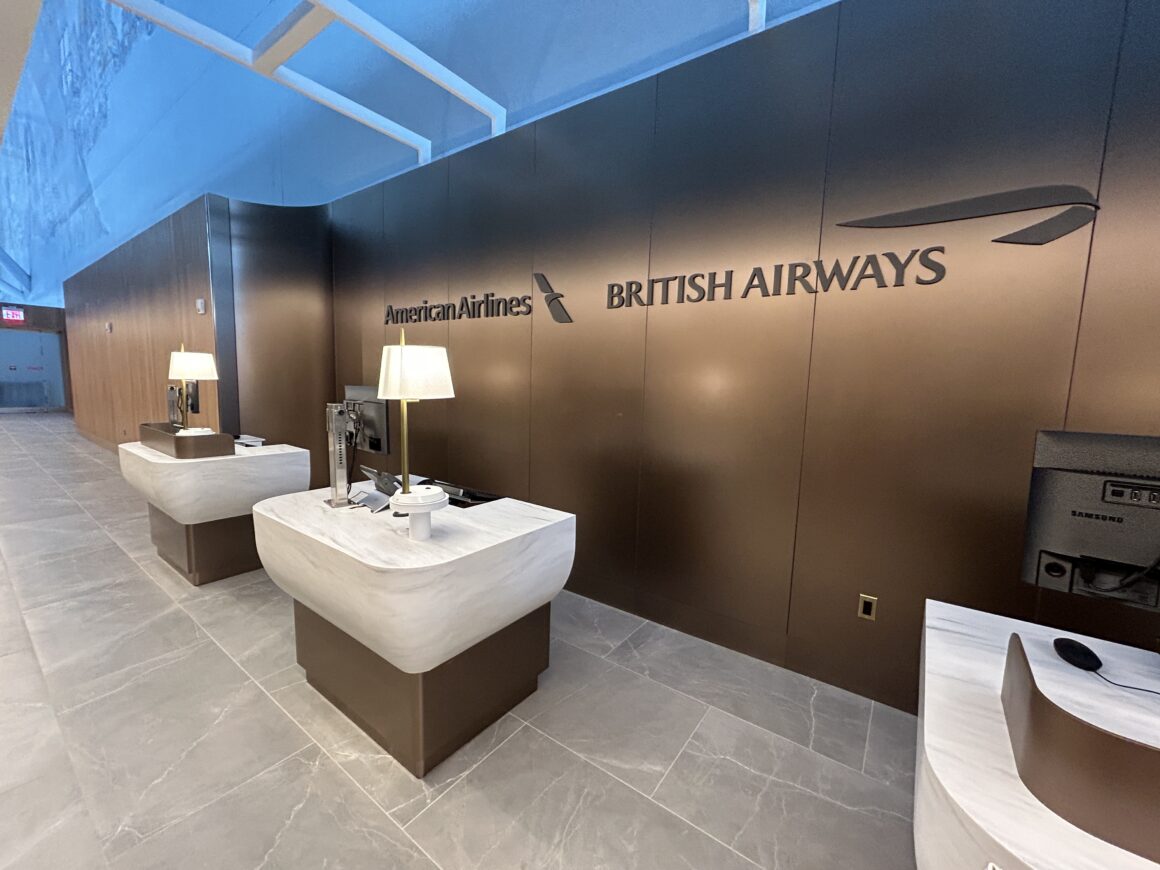 The exit to the area takes you to the TSA Pre-Check lane, and for those without it, there is also an expedited security lane that you can use.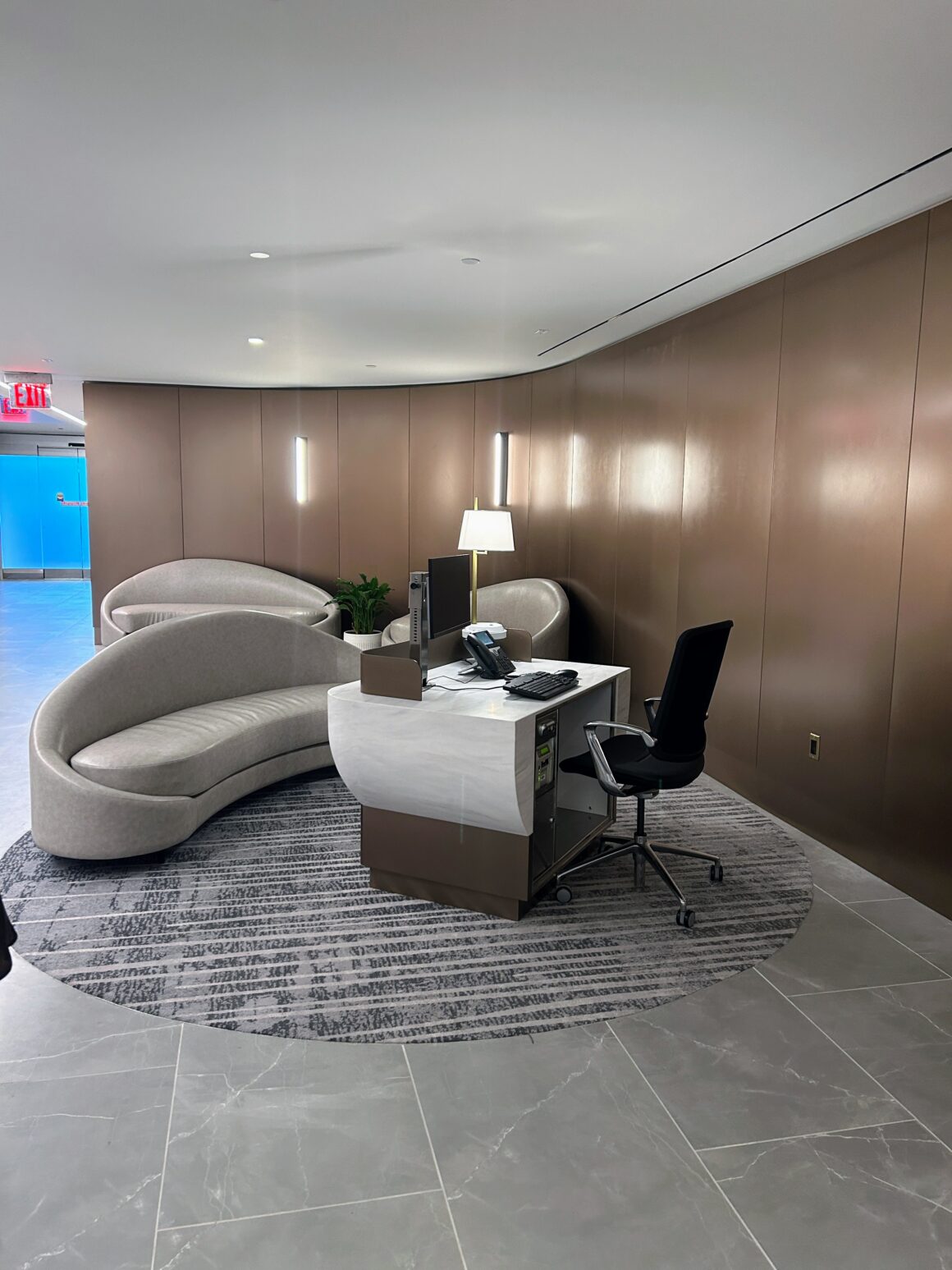 Lounges
Greenwich lounge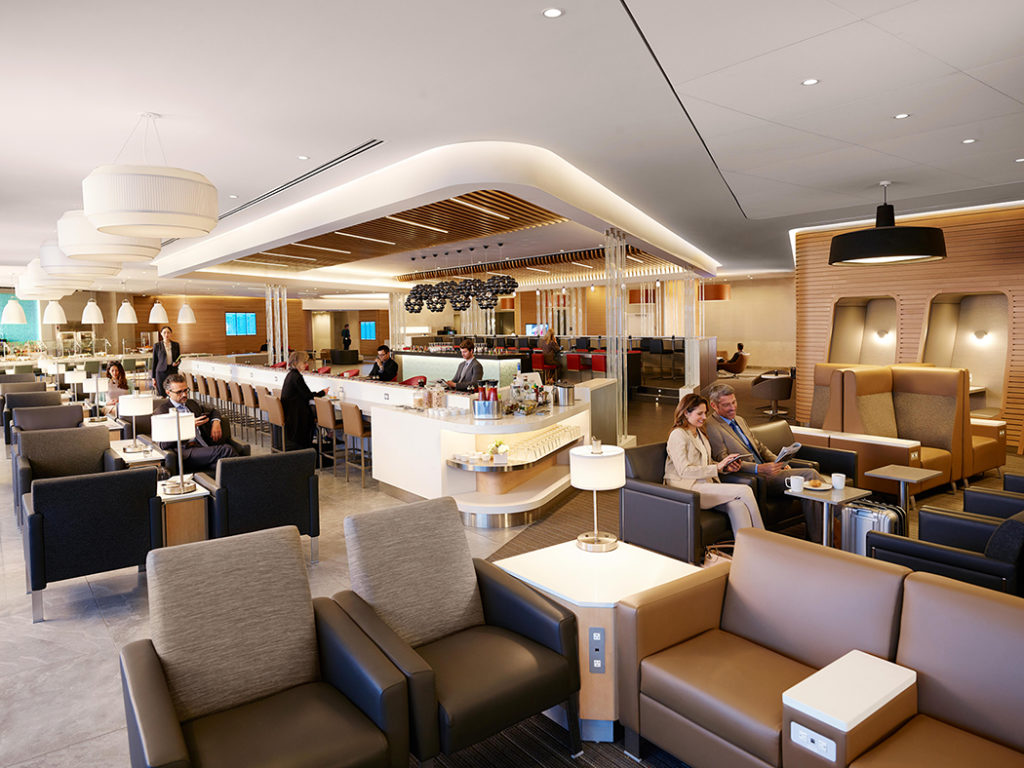 For those with silver status or in Club World/American Business class with Bronze or no status there is the Greenwich lounge. This was formally the Flagship lounge which was already relatively new and always a great-looking space.
• Premium wine table
• Expansive seating
• Chef-inspired meals
• Terrace Bar
• Airside views
Access:

American Airlines: Customers travel Flagship® Business and AAdvantage Platinum® on qualifying Flagship® itineraries
British Airways: Customers with access to Club lounge
Soho lounge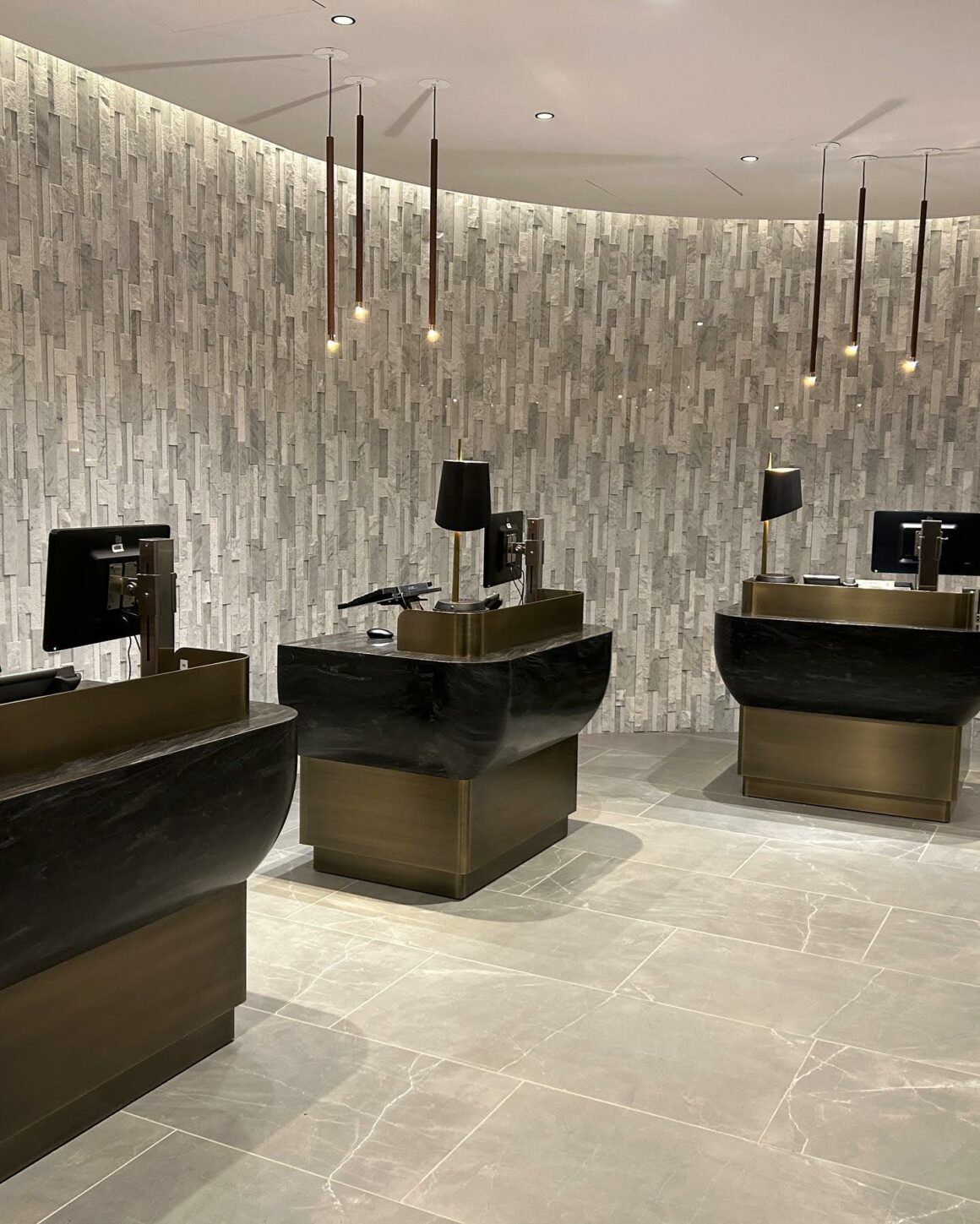 Near to gate 18, not far from where you exit security, are the lifts for the Soho and Chelsea lounges.
The Soho lounge is for BA Gold and oneworld Emerald. I have to say, as I walked in, I was really impressed. This is definitely the best First lounge that BA has produced to date. It feels modern, elegant and luxurious. Most importantly, for any aviation geeks reading, you can see the aircraft parked right outside, so it has some great views of the airfield.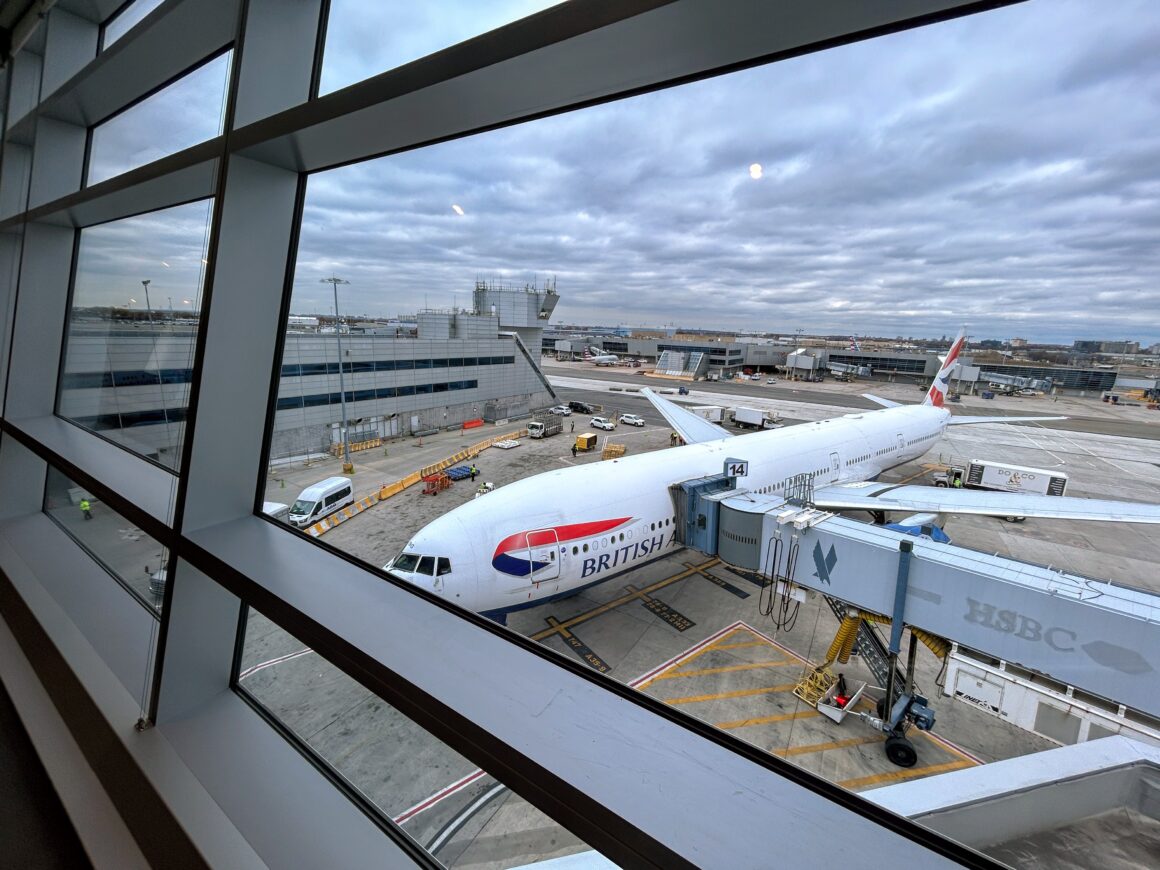 There is a large bar area with seating which then leads into the main dining area.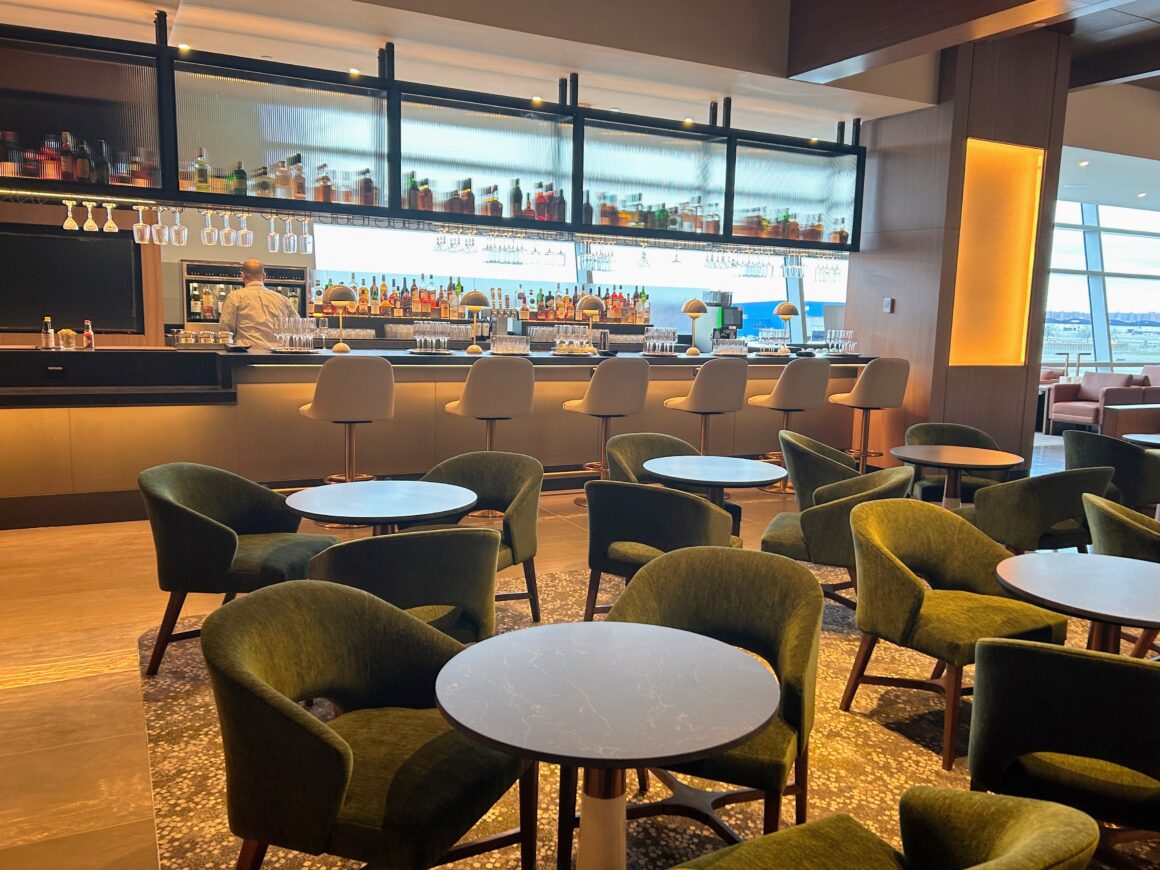 Prior to this are two gorgeously honed workbenches with charging points along them.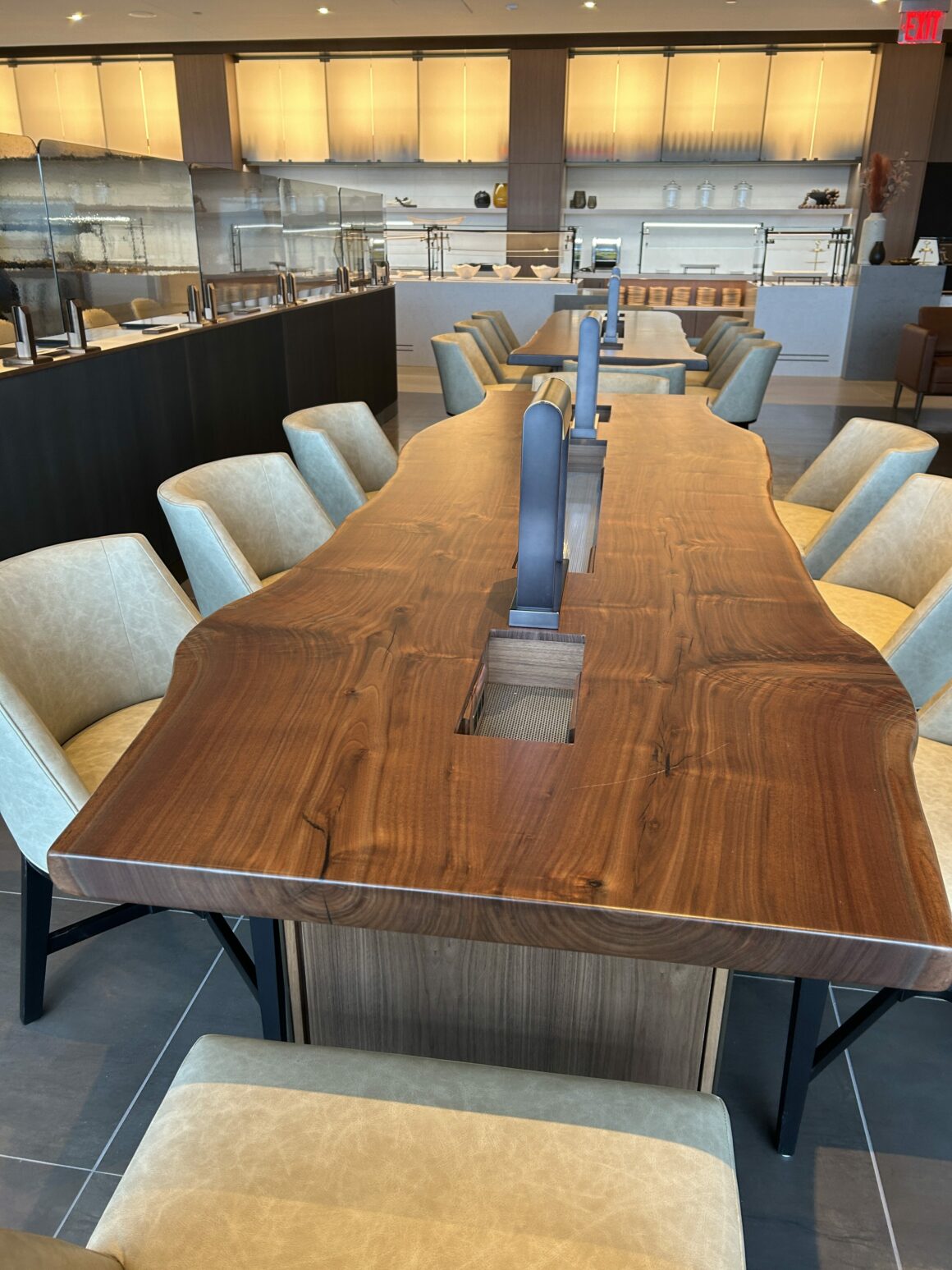 I particularly loved the beautiful chandelier of what looked like clouds above the central point of the dining area.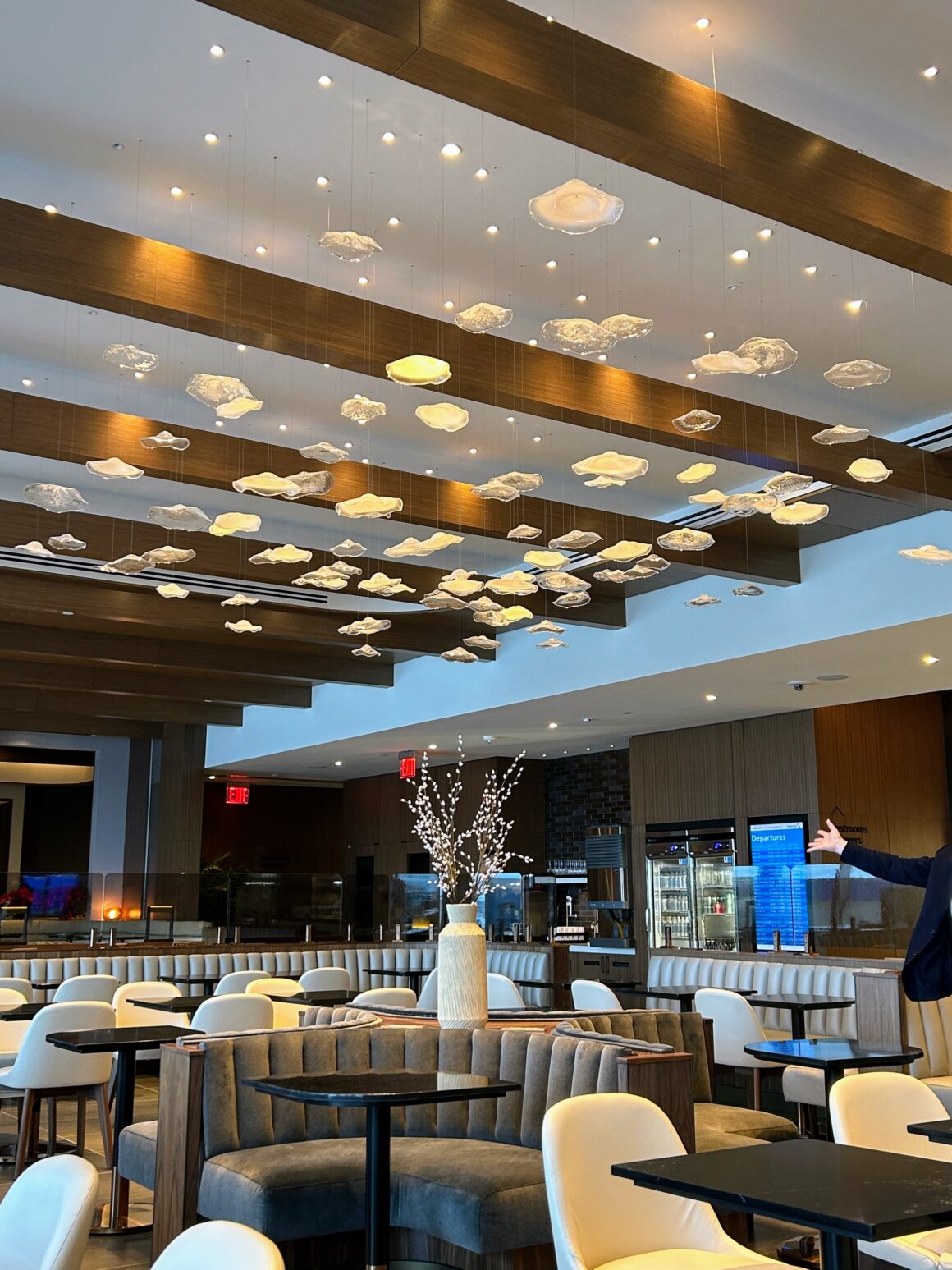 There is a large buffet area to help yourself to food as well as stations to grab a drink from. You can also get drinks from the bar as well if you want something more complex.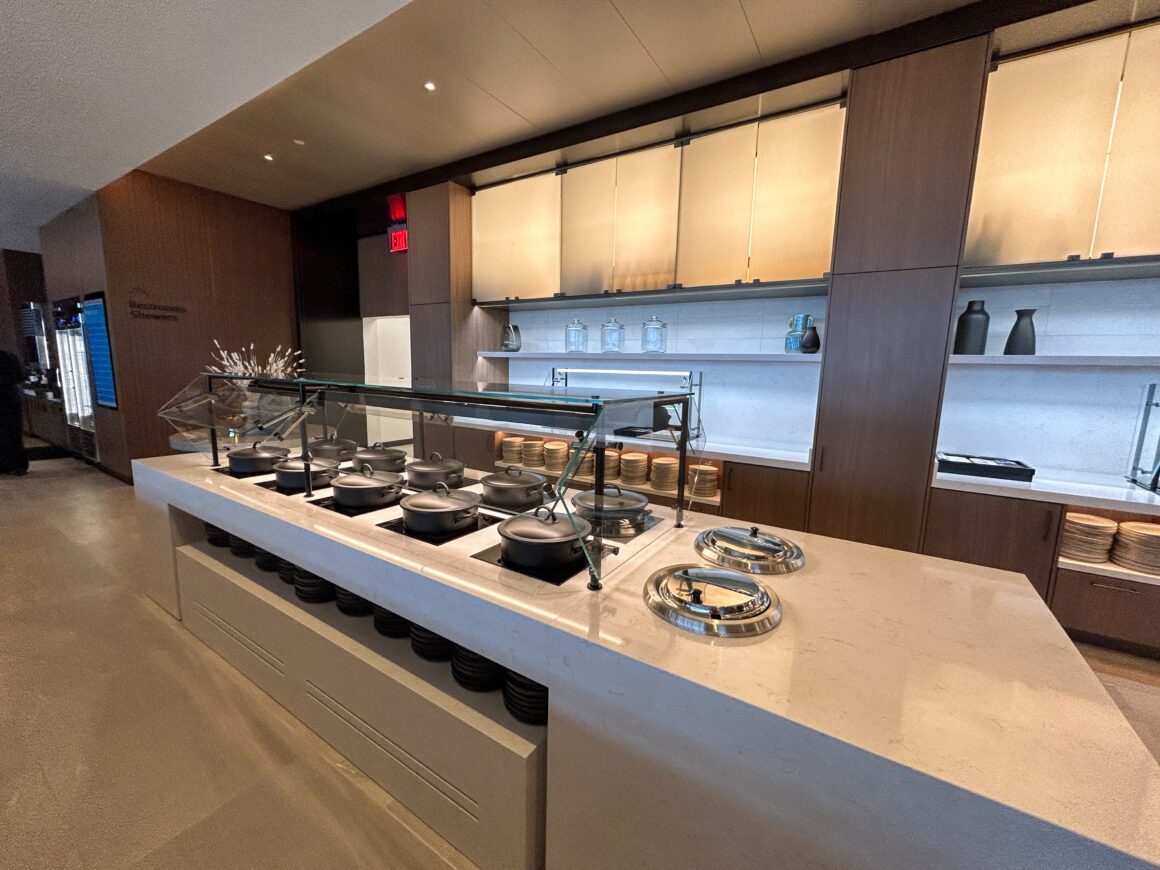 Pretty much every set of armchairs has a power socket and USB charging points.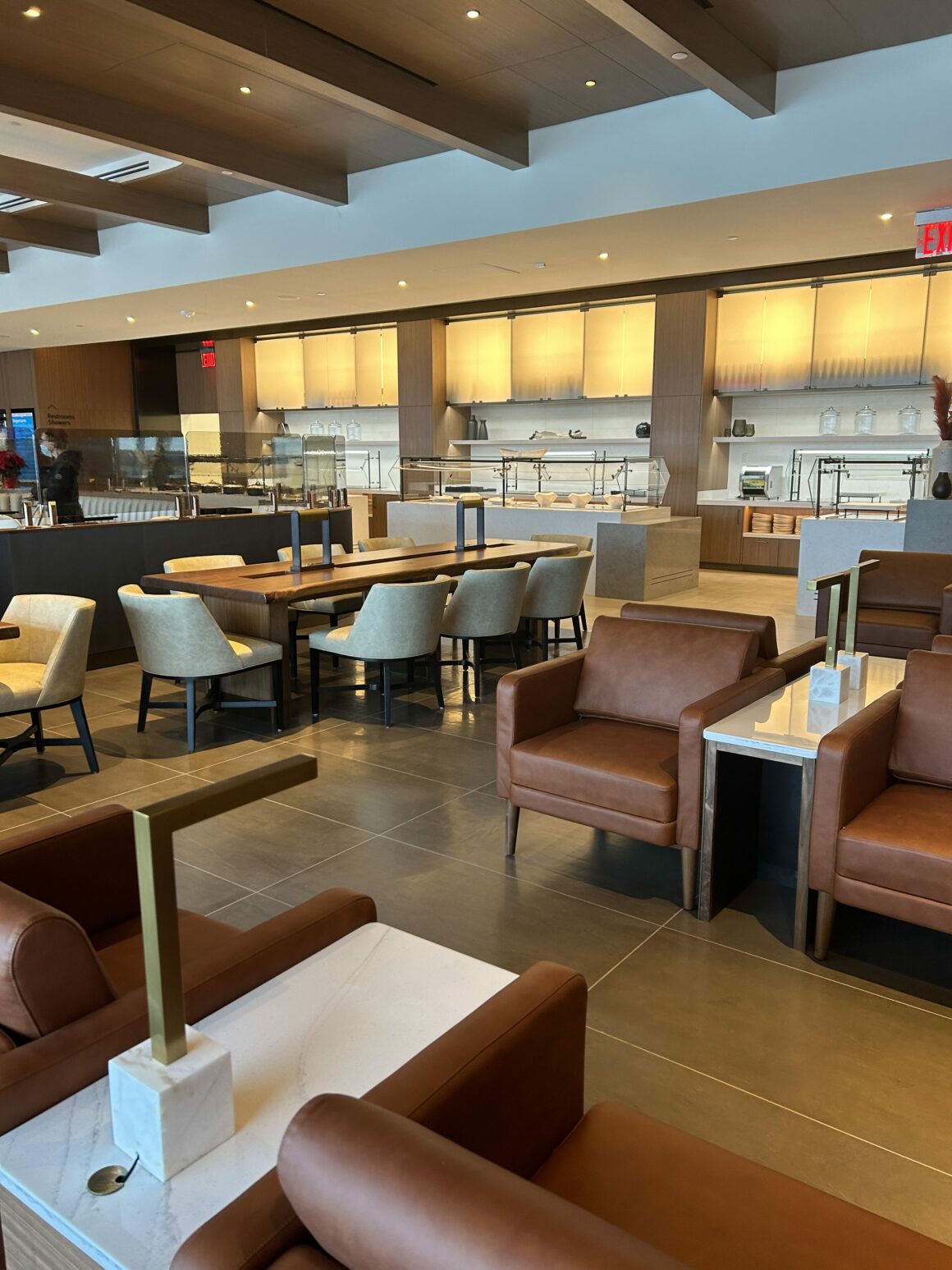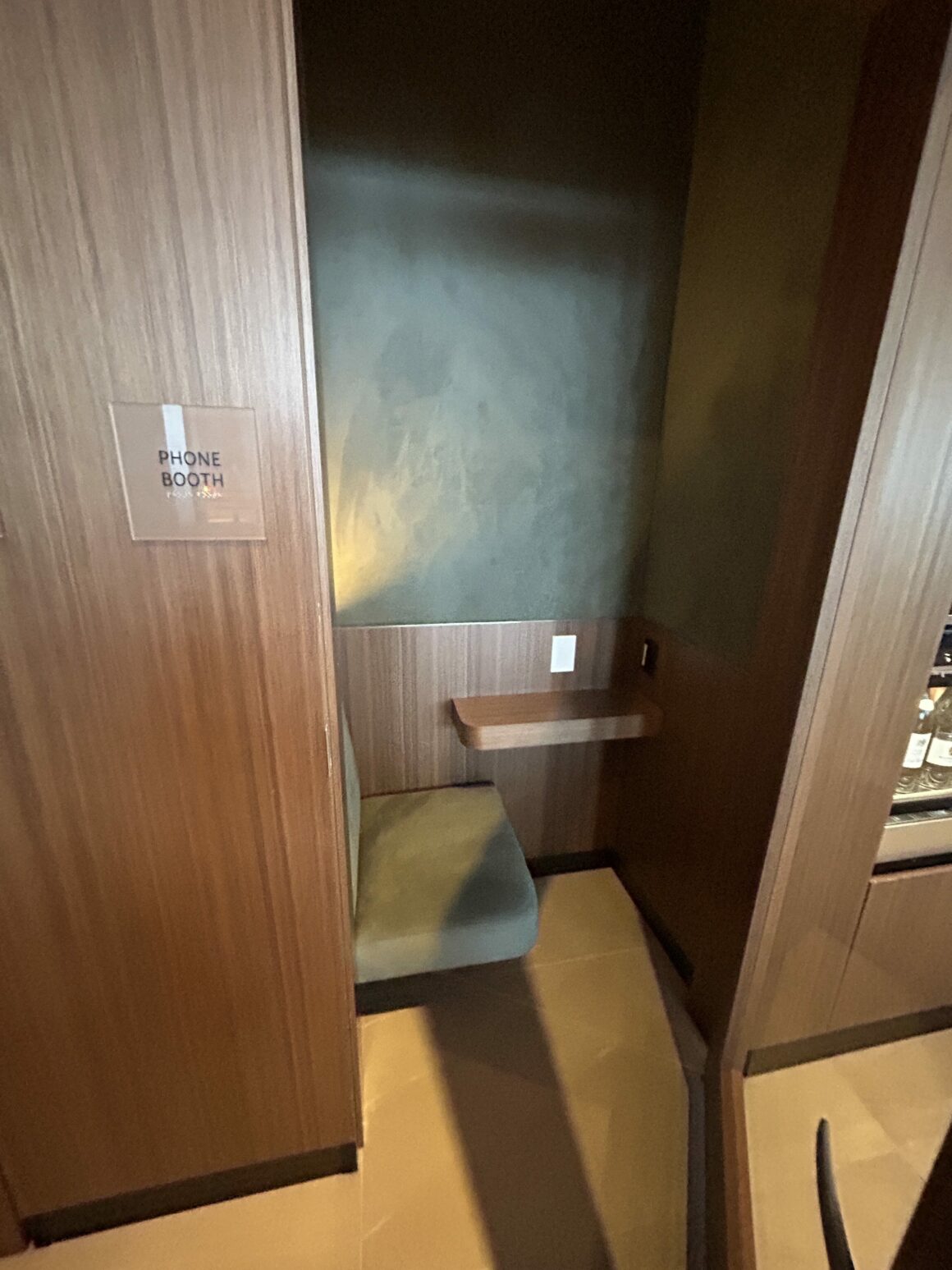 Further back are some private booths for phone calls with a proper door so you don't have to hear some over important business person bellowing into their phone!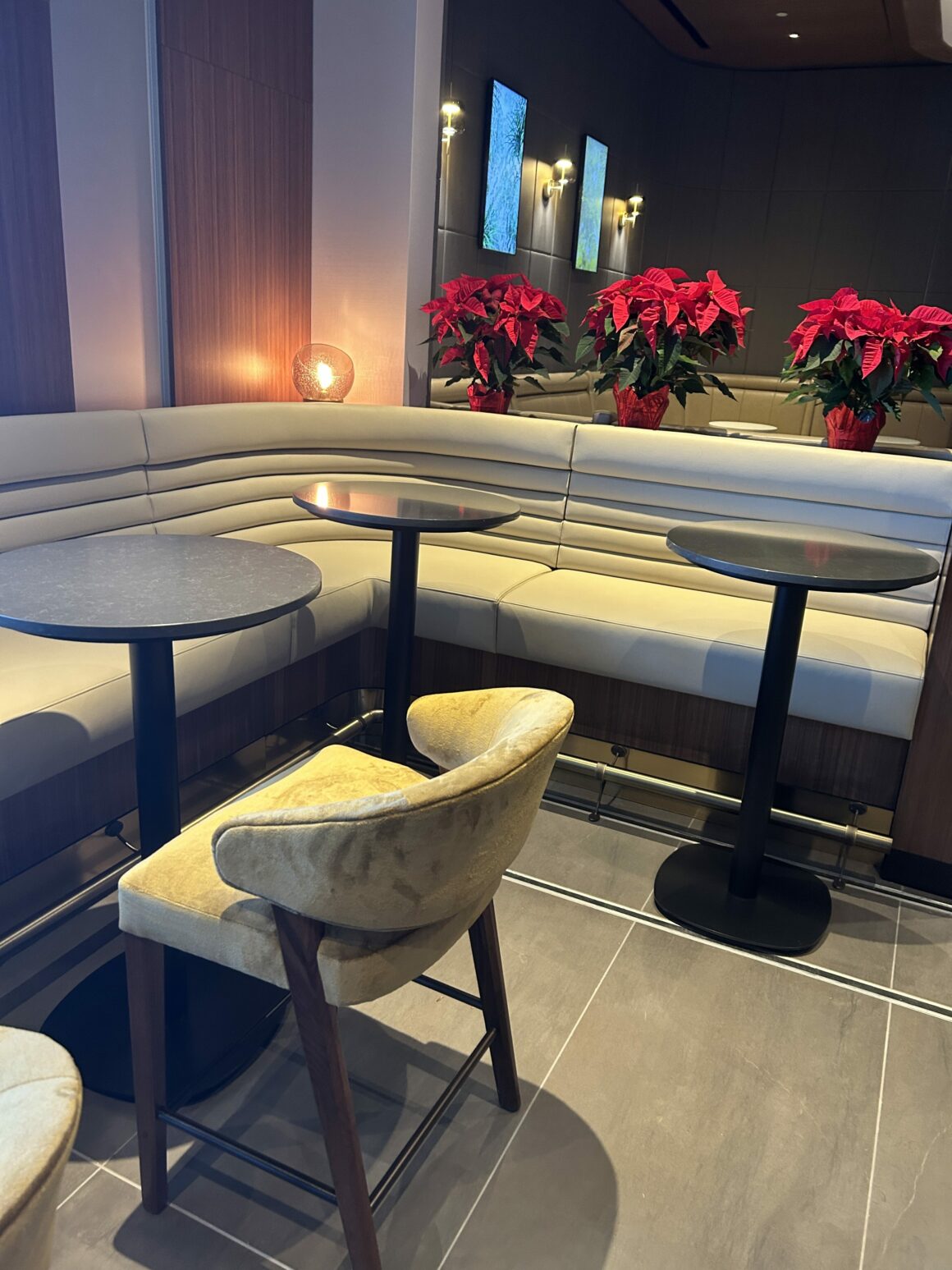 This then leads into the Library area, which is a quiet area to relax. Close to the entrance of this is the wine-tasting area with its bespoke petrified wooden table.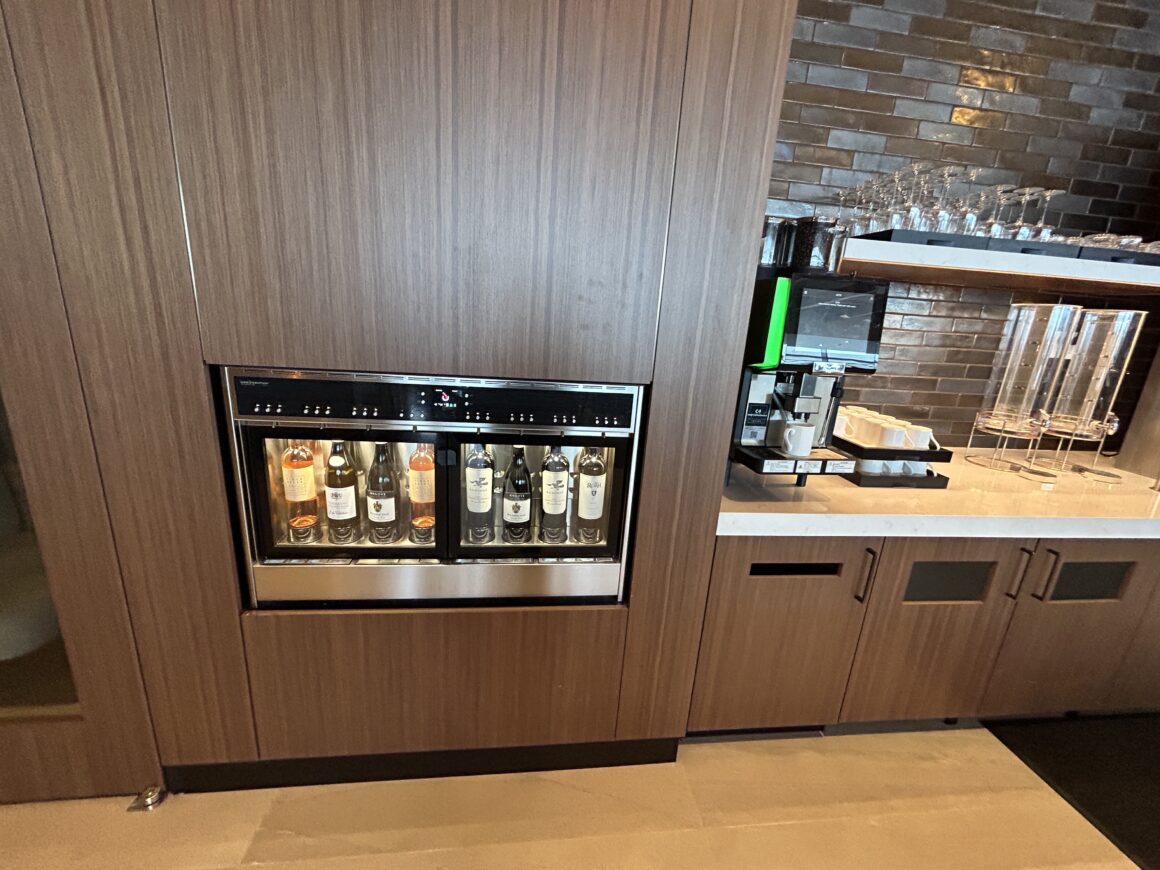 If you want some privacy without a full phone booth there are some nice individual work areas hidden around the corner from the Library with full airfield views.
There are showers and toilets available within the lounge that are the same as those in the Chelsea lounge.
At a glance:
Floor-to-ceiling windows with airside views
Vibrant cocktail bar
Secluded library
30-foot communal wine-pouring table
Luxury rain showers in the private shower rooms
Access:

American Airlines: Eligibility includes AAdvantage Executive Platinum® or Platinum Pro® status on qualifying Flagship® itineraries
British Airways: Customers with access to First lounge
The Chelsea lounge
This lounge can be accessed by British Airways customers with access to Concorde Lounges – so BA Gold Guest List, BA First class customers and AA Concierge Key holders.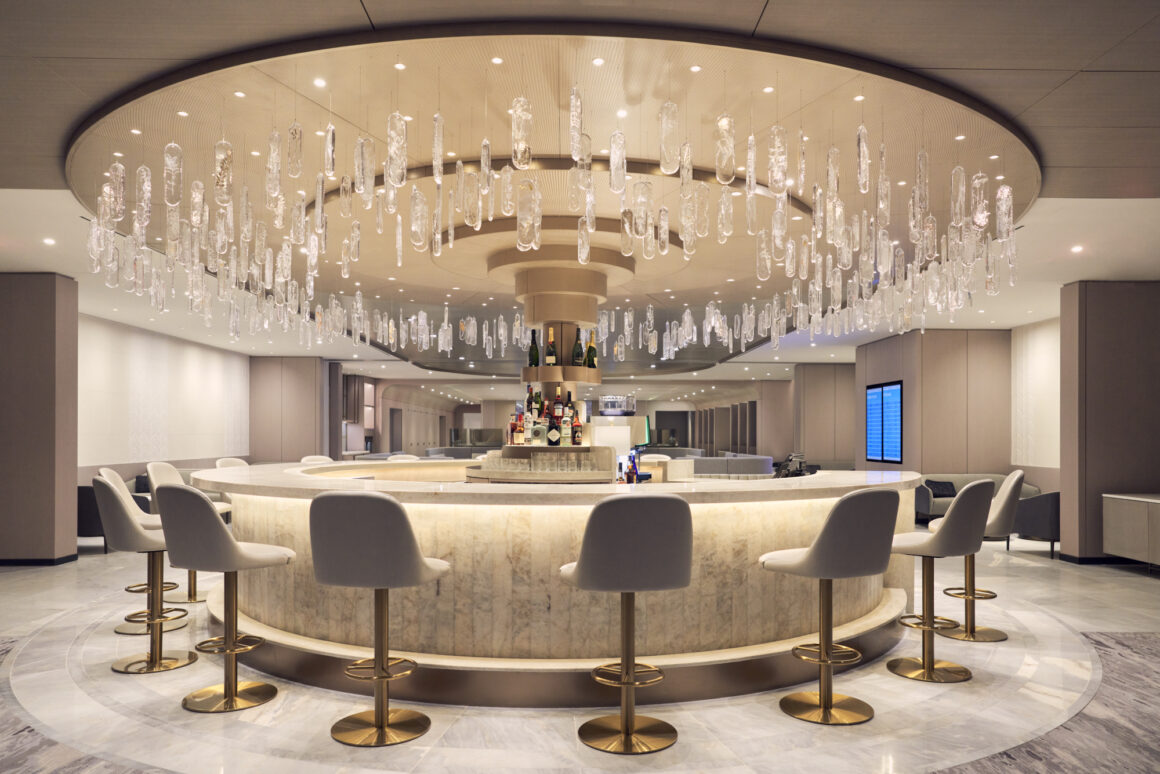 As you walk in, you are initially greeted by the reception desks that follow into the very glamourous bar area. For those that love a glass of fizz, this will be a big highlight as they had a great selection of champagne, including my personal favourite Krug. Others include Ruinart, Hattingley English Sparkling Wine, Moet et Chandon and a lovely Paul Laurent Rosé that I really enjoyed.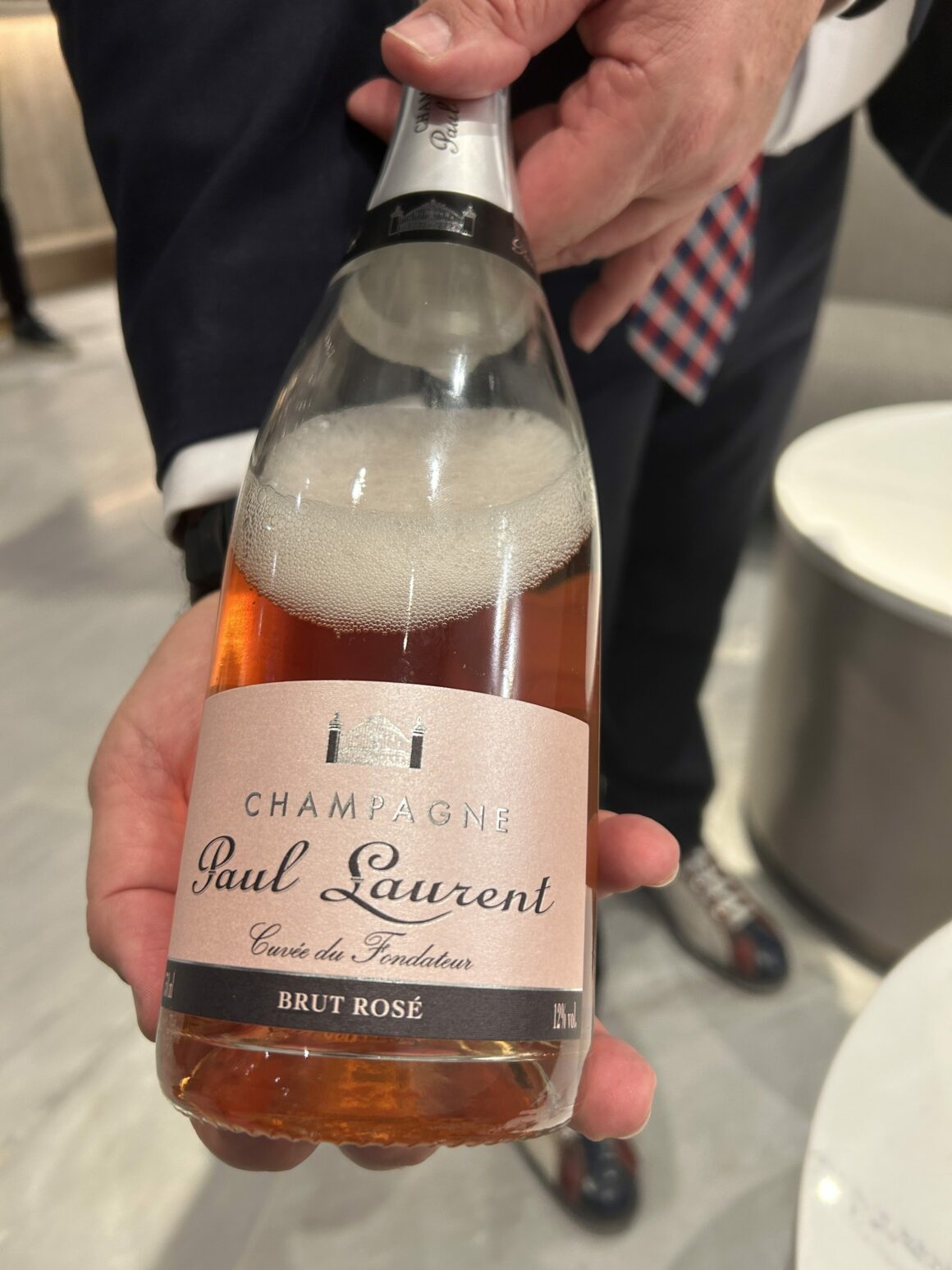 Here is the full drinks list:

Here you can see what other drinks are available: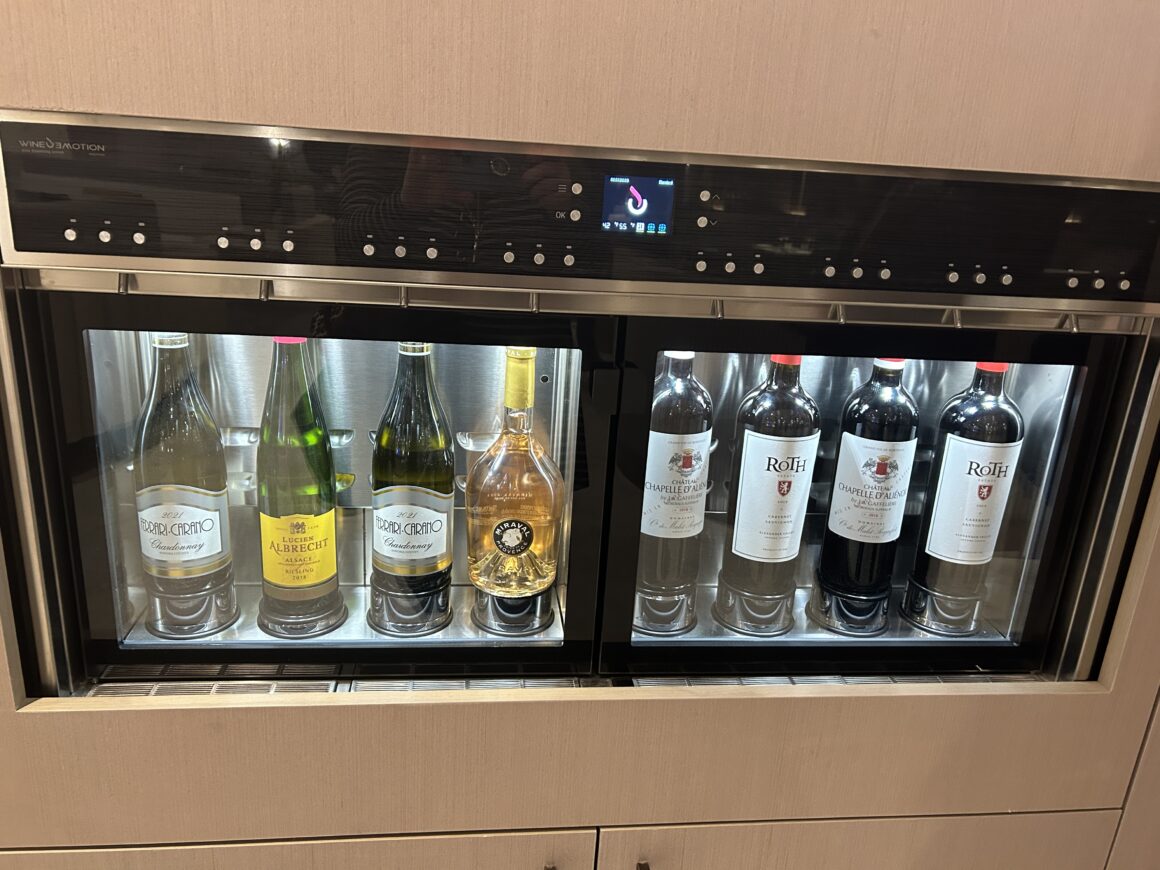 I liked the contemporary neutral tones of the seating area, and again, each set of chairs has somewhere to charge your devices. It feels more five-star hotel than airline lounge. There is also a suspended fire place to be placed in the seating area, which should be operational next week and sounds like a very unique centrepiece for the lounge.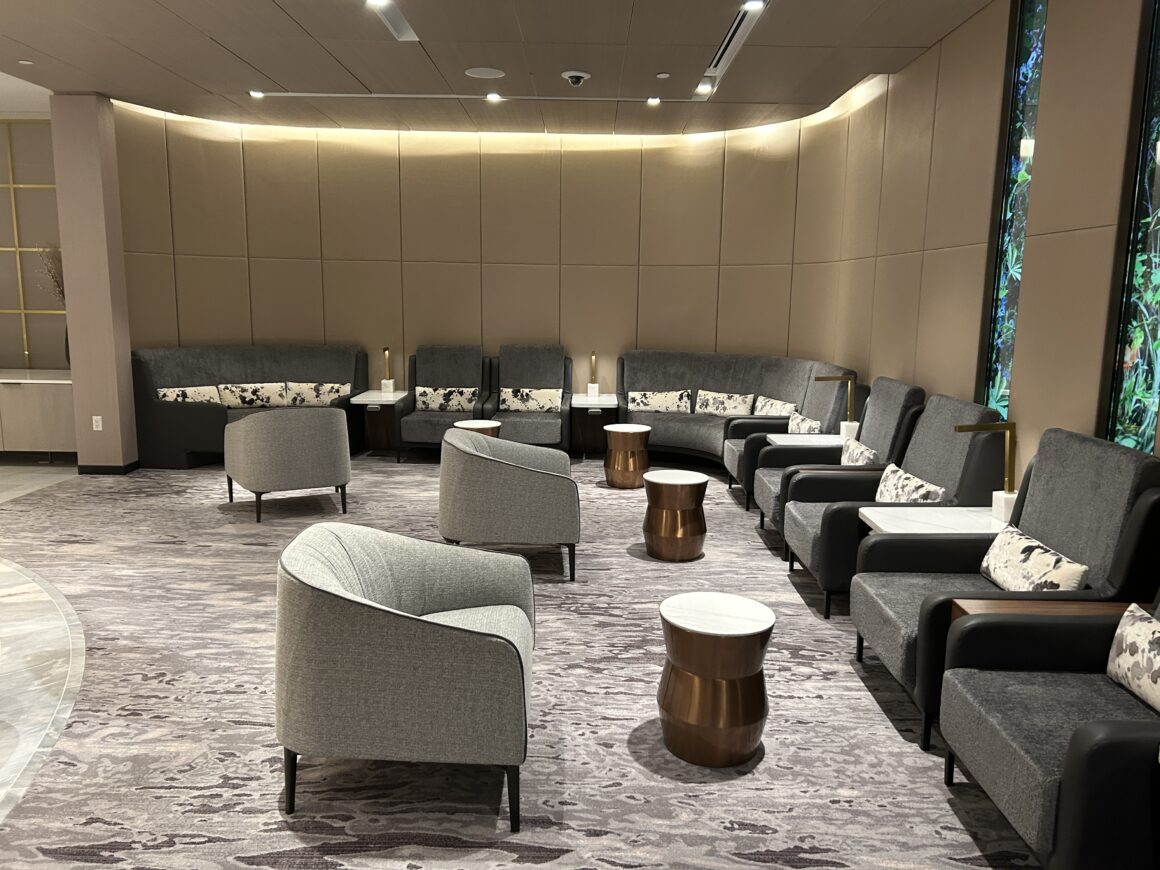 In the centre of the room is the dining area, which features a great menu, including a traditional afternoon tea.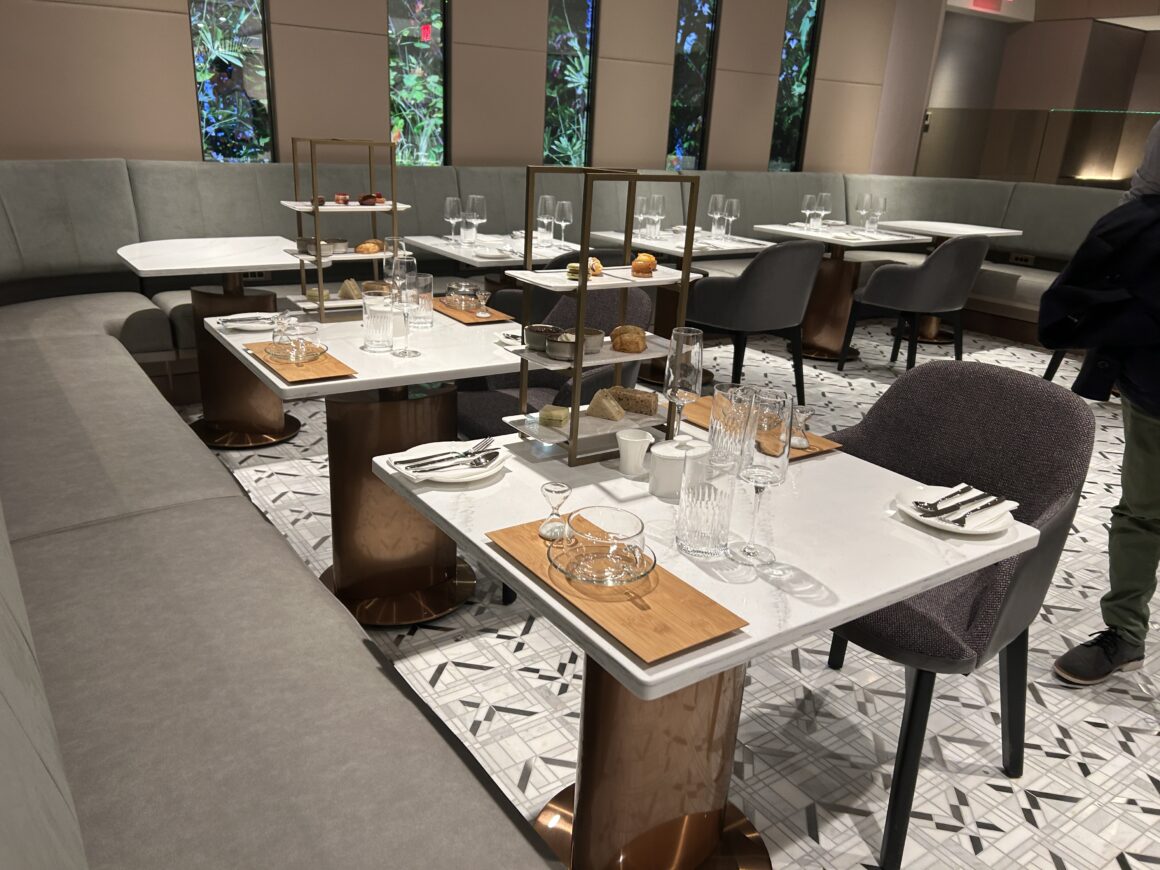 Here are the menus:

I was lucky enough to try some of the dishes. The two standouts to me were the Reuben sandwich which can be greasy, but this had a light touch and a great balance of flavours between creamy cheese, salty beef and the sharp pickle of the sauerkraut. The sandwich is traditionally corned beef, Swiss cheese, sauerkraut, and Thousand Island dressing or Russian dressing.

The shepherd's pie would not be something I would normally rave about, but this was fantastic. A real depth to the rich lamb filling underneath the creamy mash. Bear in mind that these are taster portions for the media – the real ones will be bigger!
At the end of the lounge are the washrooms and large individual showers if you want to freshen up.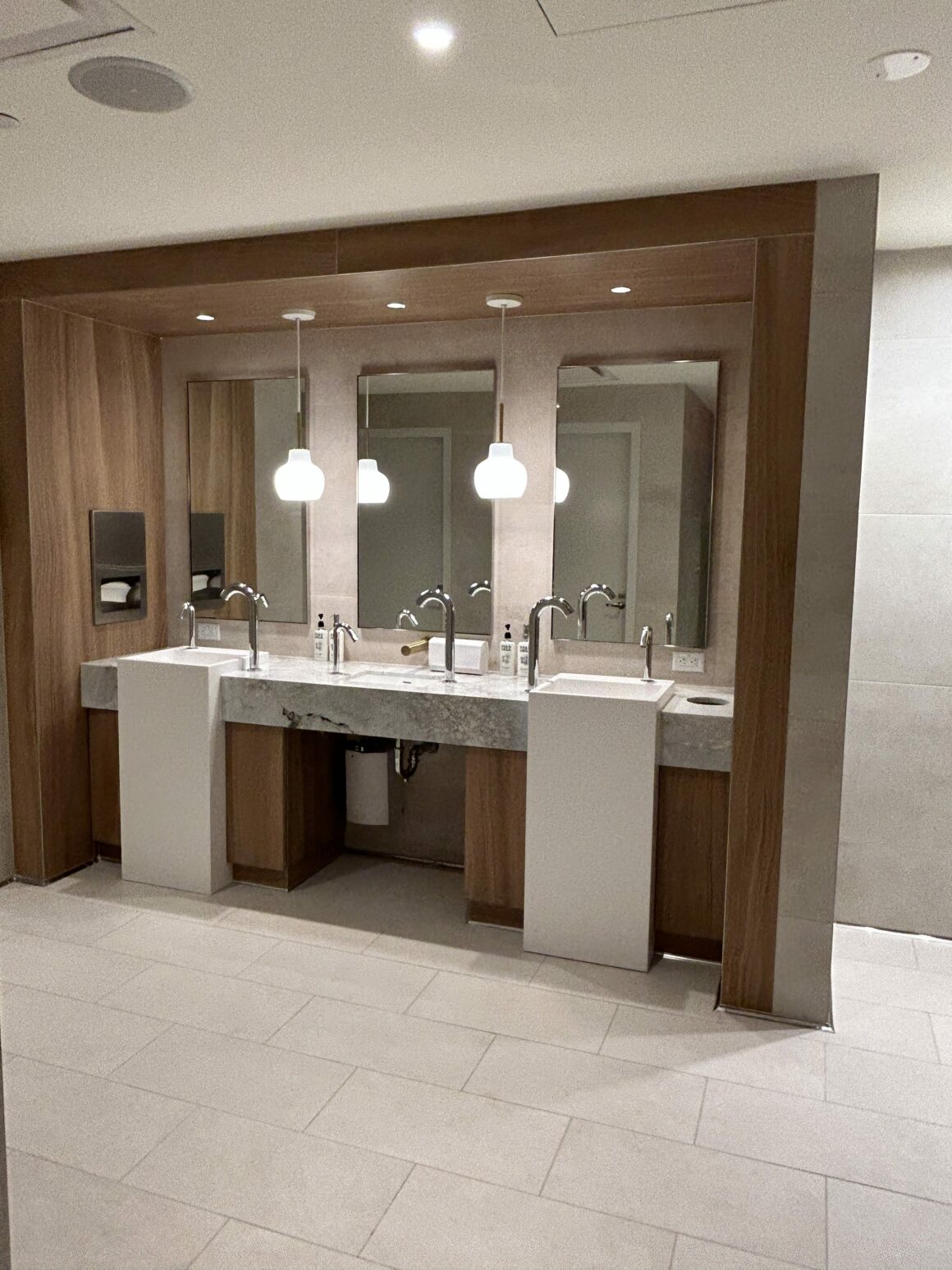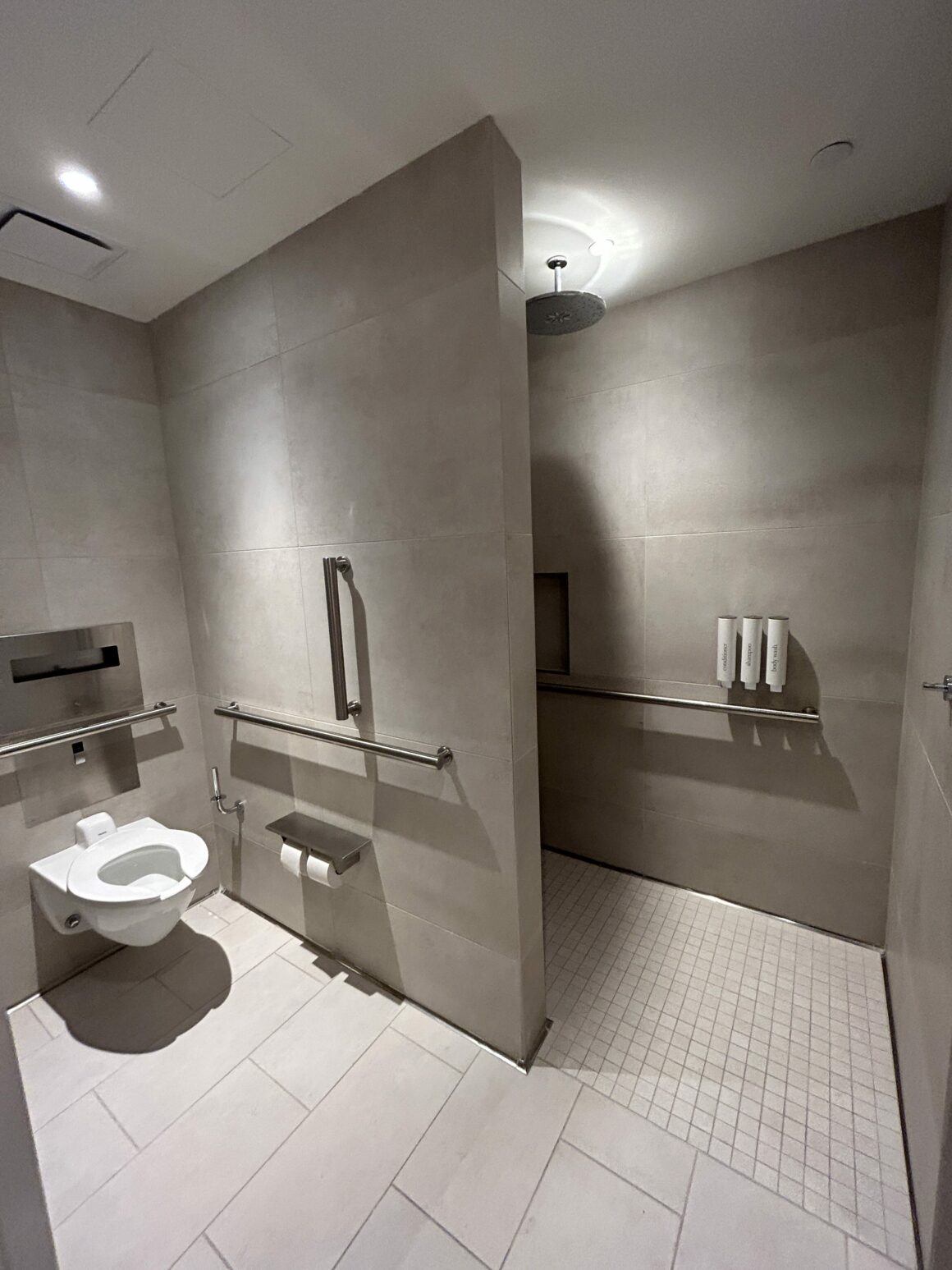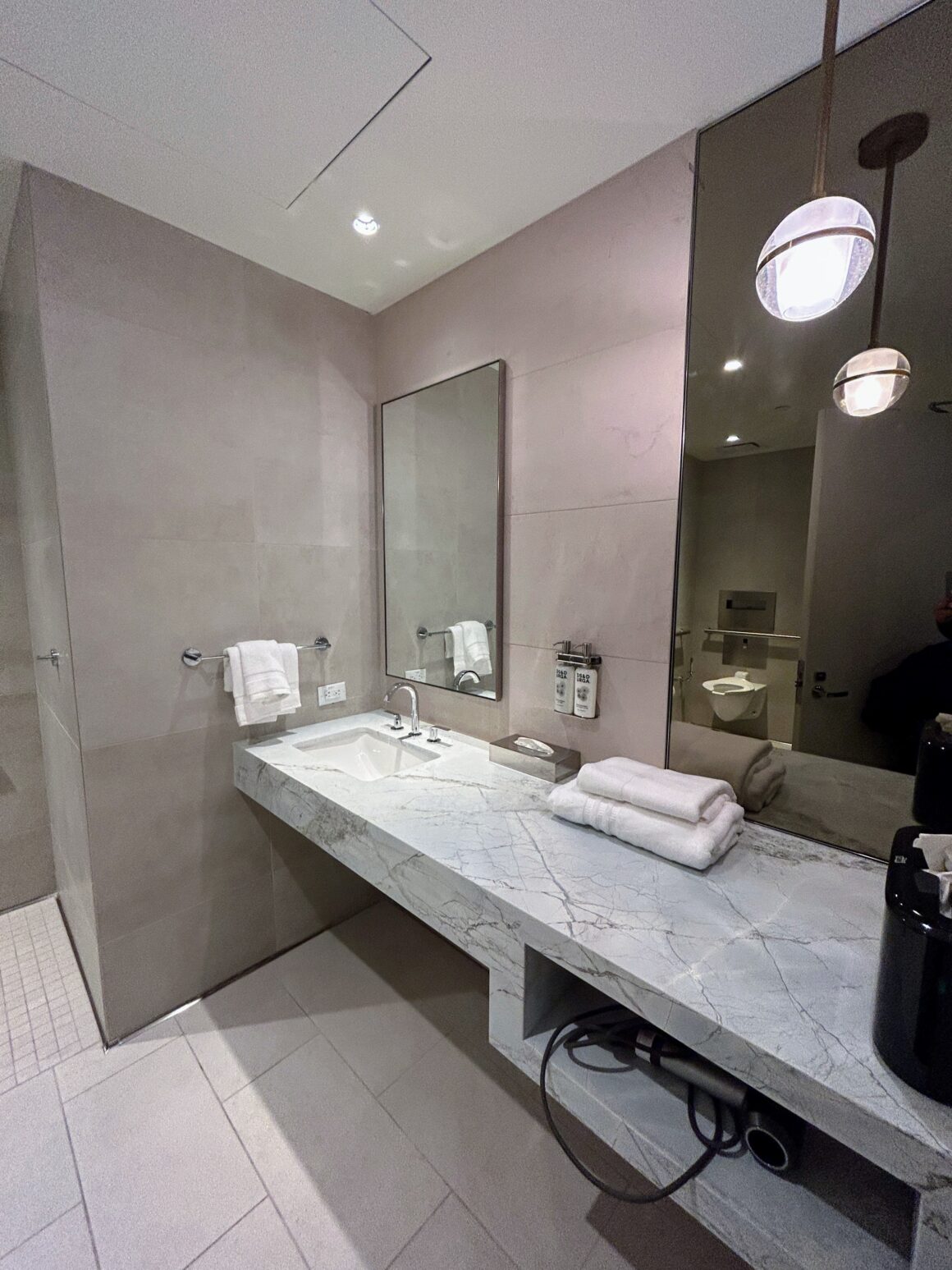 The only downside for those that love watching aircraft is that there are no windows here for a bit of plane gazing. However, the Soho lounge is right next door with floor-to-ceiling windows, and most transatlantic aircraft take off at night, so there is less to see.
At a glance:
Champagne bar
Fireside lounge
Luxury showers
A la carte dining
Access:

American Airlines: Customers who purchase Flagship® Business Plus or travelling in Flagship® First or ConciergeKey® on Flagship® itineraries
British Airways: Customers with access to Concorde Room
What do you think about the new lounges? Let us know in the comments below.
Interested for more reviews? Check out our review about the Chase Sapphire Lounge By The Club, Hong Kong International Airport.