This is one of the first reviews of the new Chase Sapphire Lounge by The Club at Hong Kong's Chep Lap Kok International Airport.
On first impressions, this lounge wouldn't seem to be particularly relevant to TLFL's UK readers. Chase Sapphire Lounge by the Club do not offer their Sapphire Credit Card in the UK and have little presence beyond their app-based bank account.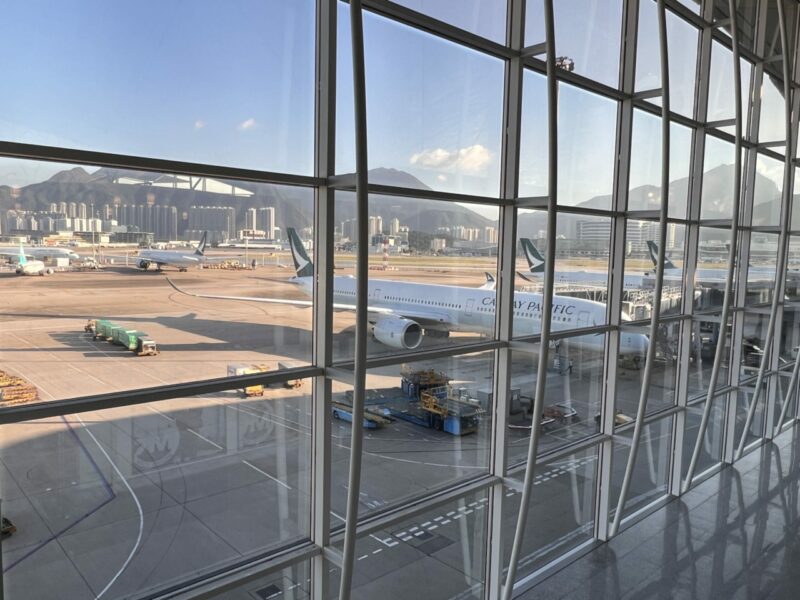 This is not your usual 'The Club' lounge though. If you have thoughts of the overcrowded space at Heathrow Terminal 3, then throw that out and reimagine what this kind of lounge can be like. This is in another league.
The concept of Chase's Sapphire Lounge is designed to be like the American Express Centurion lounges. A space where their highest tier credit card customers can relax before flights. Hong Kong is an odd location for Chase to select their first location globally, but we can expect the company to roll out lounges in US locations too.
Admittance rules
The lounge is operated by 'The Club' lounge group which is accessible to people with both Priority Pass cards and Lounge Key, which I used as part of my HSBC Credit Card benefits. If by any chance you are a US-based reader and have a Chase Sapphire card, you will need to bring your associated Priority Pass with you to get access. This is not like a Centurion lounge where you can just show your AmEx Platinum or AmEx app to enter.
First impressions
Chase Sapphire Lounge by the Club is an aesthetically pleasing lounge, at least from my perspective. The lounge has two entrances, the first which is closer to the escalators and the primary entrance for most guests. The second (right) which is opposite is currently inaccessible, but I understand will be provide access to a VIP room. Unfortunately, this traveller was not regarded as a VIP ;).
Prior to visiting, both Priority Pass and Lounge Key said that there was no available lounge at Hong Kong's airport – however that was quickly allayed upon seeing the signs on arrival. Hong Kong residents must scan the 'Leave Home Safe' QR code while transit passengers just need to fill out a form confirming vaccination status. I was not asked to show my NHS Covid Pass or equivalent digital Covid-19 certificate.
The lounge is split into four key areas. The first is a small dining area immediately after the reception area alongside a self-serve drinks area.
Food and drinks can be ordered via the QR codes only which was strictly enforced by the lounge staff. I have no problem with this and prefer it to the buffet alternative when it is effectively managed.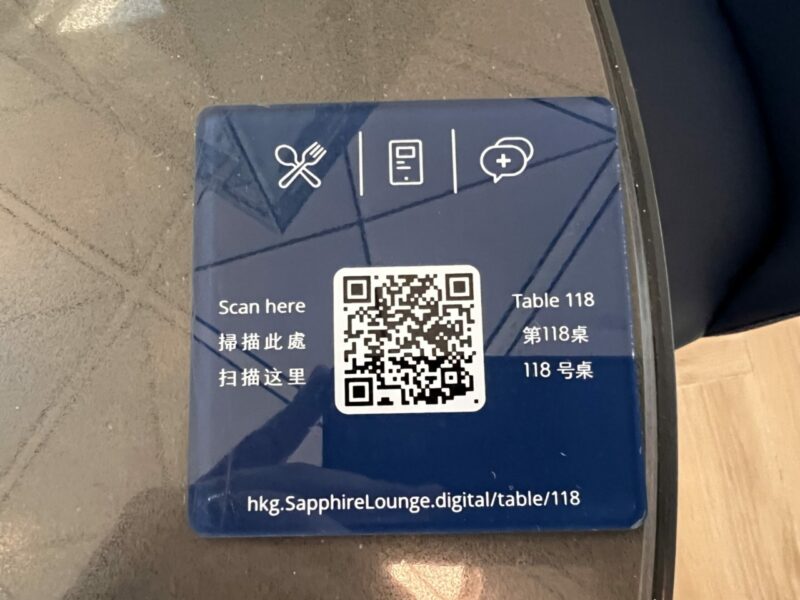 A more capacious dining area can also be found to the right of the reception. There are many tables here with no apparent social distancing policies being implemented besides masks when not sat at the tables.
My only gripe with this dining section is that it is open plan, and you are exposed to the public area with the escalator. This is a small issue as the footfall is quite low in this area since it only houses other lounges such as Emirates and American Express. An effective way to mitigate this would've been some greenery to increase the sense of privacy.
A long corridor passes from the VIP area, which sits behind the larger dining room, all the way to the other end of the lounge. This features various seating types including tables for one and two people. Towards the other end lounger seats are used.
While I couldn't see the VIP room myself, the press image below is this space as I didn't see any seats like this in the areas I could access. There seems to be little detail on this space or admittance requirements, if any.
A lounge area can be found with a selection of seating to relax in. This was a nice space and provided a decent amount of privacy to guests relaxing here. I particularly liked the psychedelic-effect glass used to partition between the walkway and seating area.
Some thought has been put into this space as there is a door which separates this relaxing area from the more open plan area next to it. Two call pods can be found in the relaxing area which feel a bit misplaced but are useful in providing extra privacy and hopefully convincing people to not be super loud while on the phone.
The final area is this secluded space with bar tables and stools. I ended up working from here for around an hour and very few people appeared to venture here, besides the cleaning staff. Some may not like how it is open to the rest of the airport, but I quite like the sounds of the airport including the noises that are reminiscent of Hong Kong's road crossings.
Further down, is an area where small individual pods can be found with little tables to perch your laptop from. These may come in handy if you need to set yourself away and focus on projects while visiting the lounge.
There is also a stunning bar area which I shall come on to later in this review.
Food
Chase's Sapphire Lounge provides a broad selection of food which can be ordered directly from the QR code at each table. Like BA's lounges, you do not have to be in the dining area to receive food and drinks. The website works well, and the process was glitch free, although this may have been helped by the lounge being only approximately forty percent full.
The lounge has clearly been designed to have a limited buffet service at some point. I did think this was dependent on the HK S.A.R. Government lifting a type of regulation but the ability to self-serve drinks in this lounge as well as self-serve some food in the Cathay lounge makes me think otherwise.
I managed to track down a solitary physical menu in the lounge which is slightly more attractive to take pictures of than just screenshots of a webpage. Let us know in the comments what you think of the options.
I opted for several dishes which I mostly enjoyed, starting with the wonton noodle soup. While I didn't enjoy it as much as the Dan Dan Mian in the Cathay lounges, the taste was close to what you would find on the streets of Hong Kong. As with any dish featuring dumplings in any form, I always wish there were more. . Presentation across the board was good with quality cutlery and well-designed, modern tableware.
Next was a lacklustre pulled chicken wrap with spicy mayonnaise and Asian slaw. The flavours weren't brilliant, and it lacked much colour. I wouldn't bother ordering if you're passing through.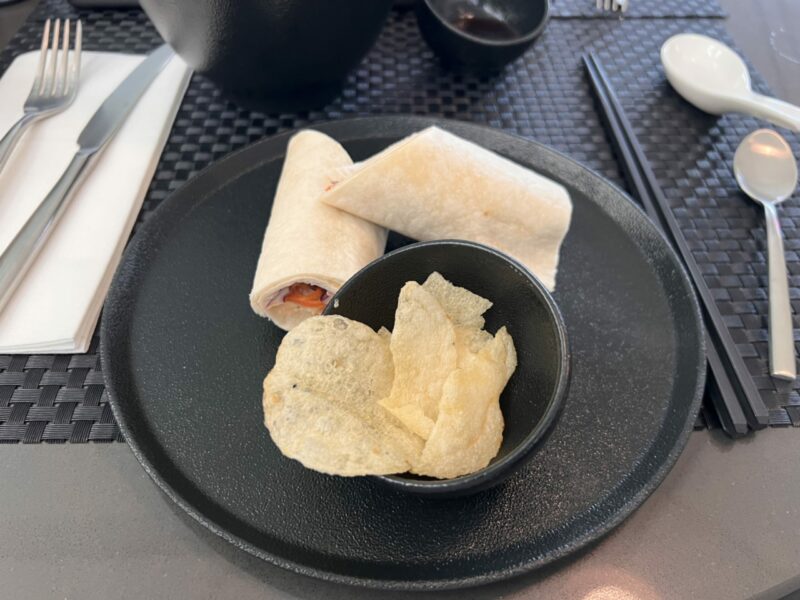 The Hong Kong-style Char Siu pork rice, however, was excellent. While I would have preferred more meat on the plate, the pork that was there had rich flavours while the pechay vegetable provided a contrasting taste – as well as something a little healthier.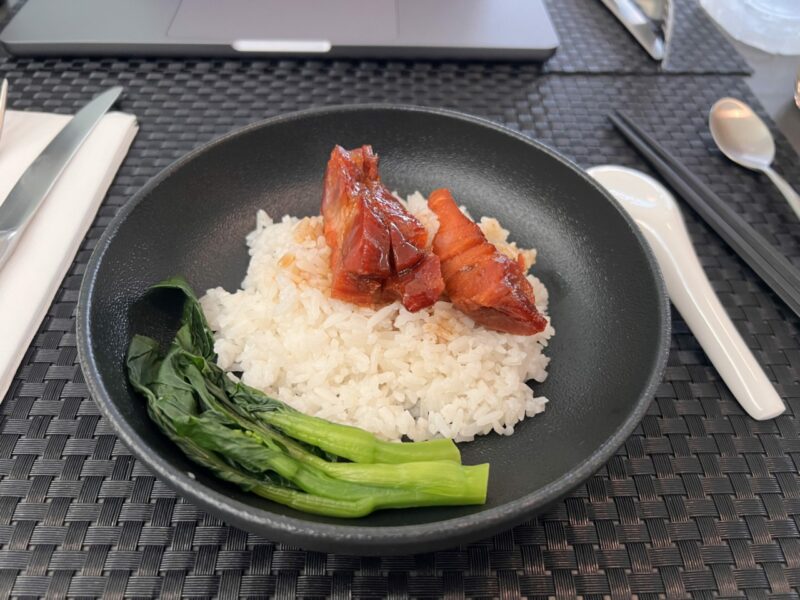 I finished off with two desserts. I couldn't pass through Hong Kong without having a warm egg tart which has a better flavour compared to its British counterpart. The Cantonese mango & pomelo pudding was not quite so much a winner in my books even if the flavours were pleasing to the tongue. I just wasn't sure about the consistency on the dessert which was akin to a cold rice pudding.
Drinks
Usually, I would tackle food and drinks together however I found the latter to be exceptional and deserving of a section of its own. The Chase Sapphire Lounge at Hong Kong Airport features a beautiful bar staffed by a hardworking team. Operator of the lounge, The Club, have stocked the bar with an extensive selection of alcohols including a premium gin option, The Botanist, from Scotland.
Unfortunately, no champagne is served but a pleasant and dry prosecco is available for guests. I opted for a cocktail during my visit and having spoken to the bartender, Thomas, he suggested that the Hong Kong Cooler would match my taste profile. Some of the cocktails on offer are made in advance by the team but the Hong Kong Cooler is made to order. His recommendation was great with a perfect balance of fresh taste from the elderflower and vodka, bitterness from the lime juice and ginger syrup.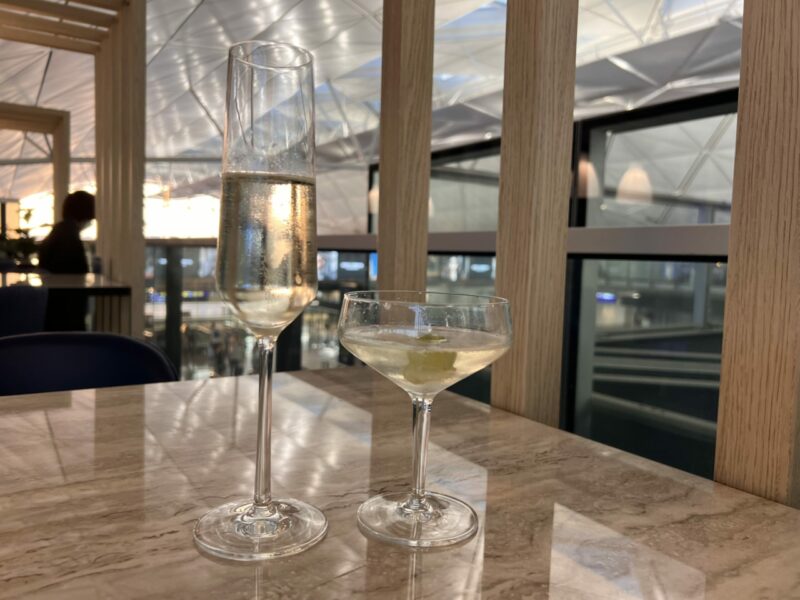 I decided to head across to the bar area since I was travelling alone and had a good chat with Thomas in between him serving drinks to passengers, many of whom were quite demanding. It was clear that the bar needs more staff to meet the volume of passengers, and especially so when demand increases in the future as Hong Kong opens up further.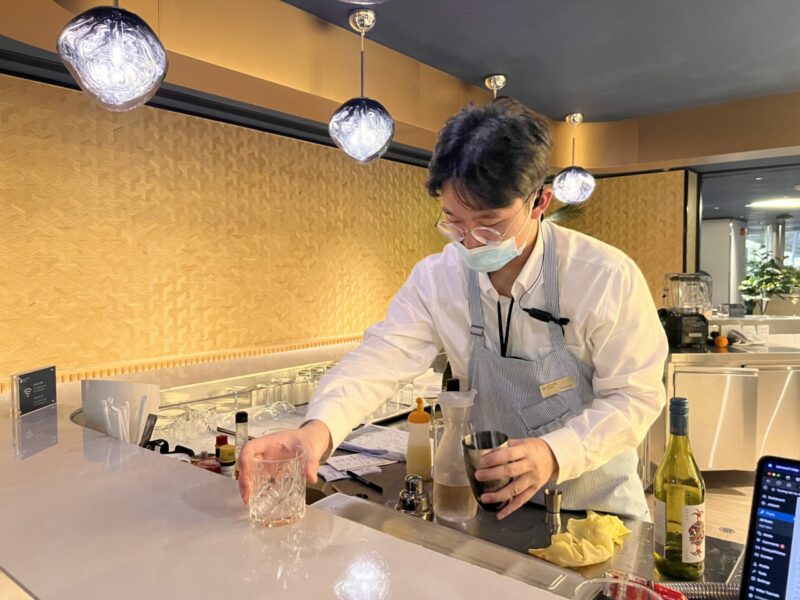 After a couple of Hong Kong Coolers and a San Miguel, the original Filipino version not the Spanish one, I was offered a tasty whisky cooler. Not being a whisky fan, I was sceptical, but I enjoyed the refreshing drink which surprised me.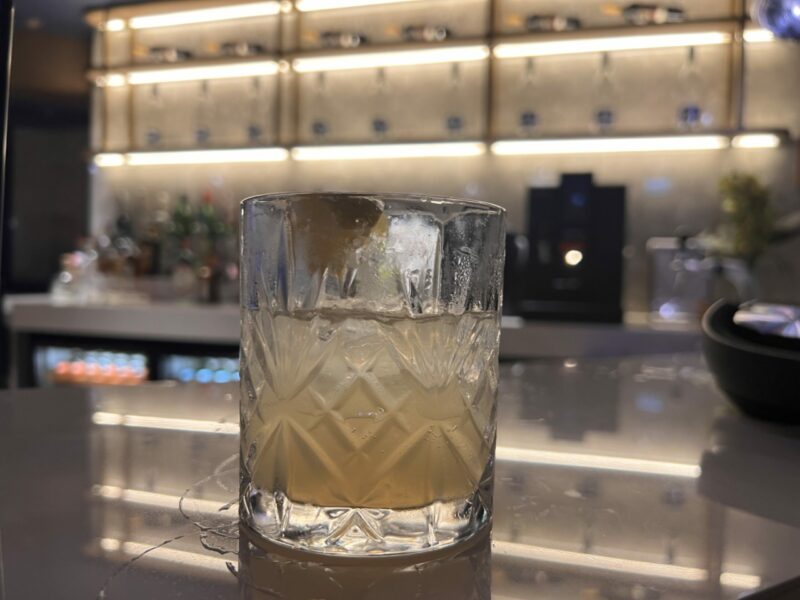 I usually don't drink much when at lounges beyond the usual champagne, but I must admit on this occassion I felt a tad tipsy. It was completely worth it though for the excellent drinks on offer. In short, if you're looking for a good bar with talented bartenders come to the Chase Sapphire Lounge.
Amenities
WiFi connectivity was extensive throughout the lounge and at high upload and download speeds. If you need to take work video calls or, like me, upload high resolution photos to the internet, then this will be a a good place to set down and work from your laptop.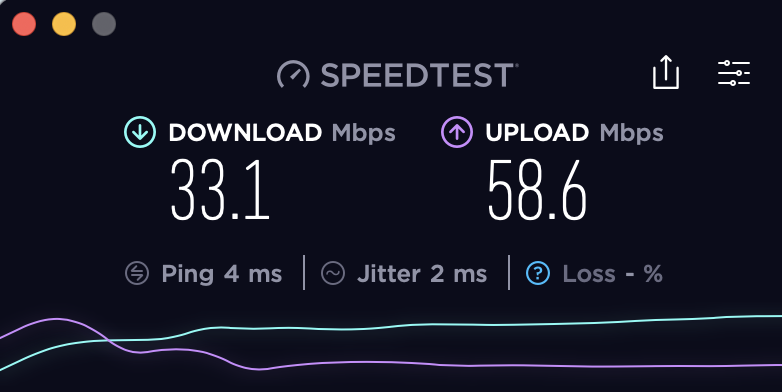 The toilets are attractively designed like the remainder of the lounge and were thoroughly cleaned throughout my visit. If I was to complain slightly, it would be that they're a little dark and could do with some more lighting but they are otherwise all good.
The only downfall of this lounge is the lack of shower facilities. With no other Priority Pass or LoungeKey facility at this airport and considering that this will be aimed primarily at long haul travelling Americans, no showers seems an oversight of the design. I was able to hop between this space and the Cathay lounge so this was less of an issue for me, but I do think that Chase should have tried to include them somewhere.
While not ideal, if you do need shower facilities both complimentary and paid facilities are available.
Conclusion
From the stunning lounge design through to decent food, I really enjoyed my time at this lounge. While I am usually a huge fan of Cathay Pacific's lounges, I spent over four hours in the Chase Sapphire Lounge by The Club. While I've not visited the Hong Kong Centurion design, I far preferred the Chase lounge over the AmEx offering I have experienced in London and Las Vegas. The lounge is large and feels like there will not be issues with being overcapacity any time soon. Equally, the lack of a rule barring entry three hours before departure like AmEx could make Platinum customers travelling through Hong Kong with longer layovers happy. With your included Priority Pass benefit, you could experience both the Chase Sapphire and AmEx Centurion lounges at Hong Kong.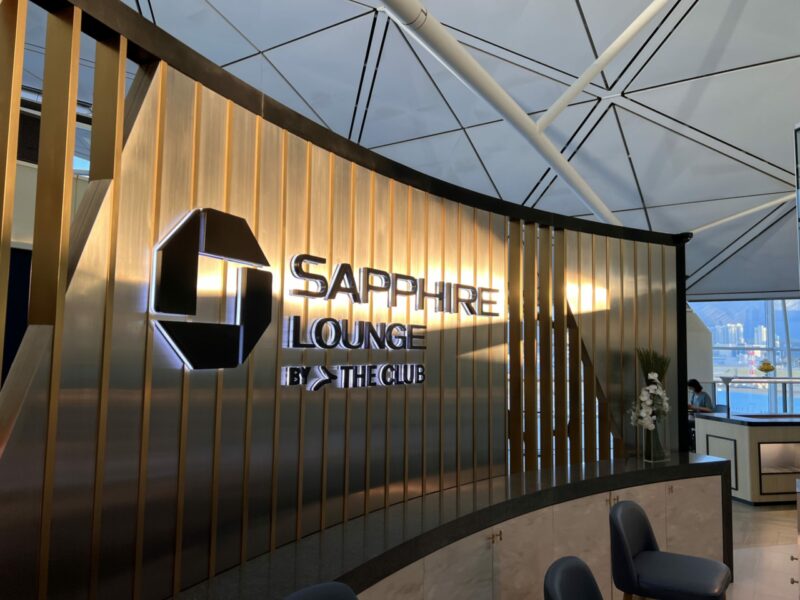 Having excellent staff in a bar or lounge makes a difference and can shift the dial from a good to great experience, whether that be from the bartending staff to the receptionists or servers. Despite being open for just over two weeks, there seemed to be no operational issues which suggests they have put an effort into training their staff. All they could do with is more people working the bar to meet what I presume will be growing demand in the coming months. And definitely, if you do visit, try one of the cocktails – they are a real delight of the visit.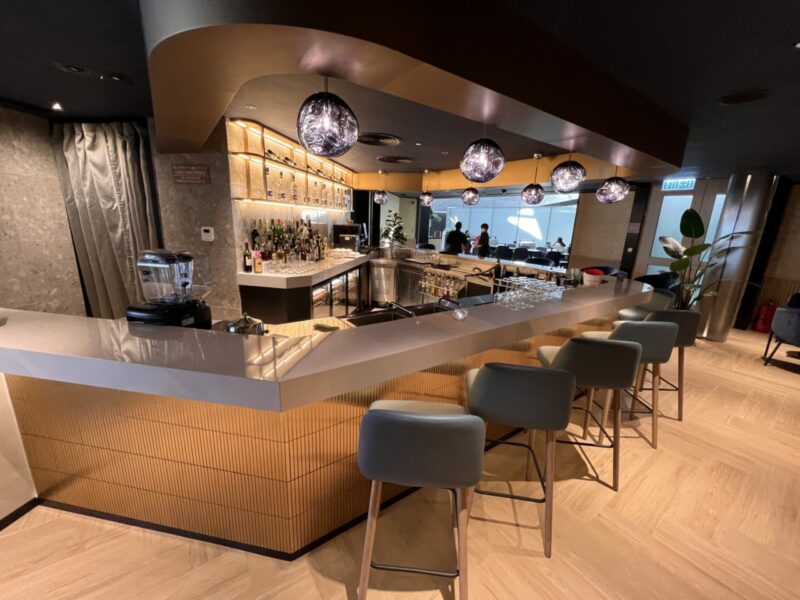 For their first lounge attempt, Chase Sapphire Lounge by the Club have really excelled in their offering and should be at the top of your list to visit when you're next travelling through Hong Kong. Let's hope that a UK airport might be on Chase's future expansion list for new lounges…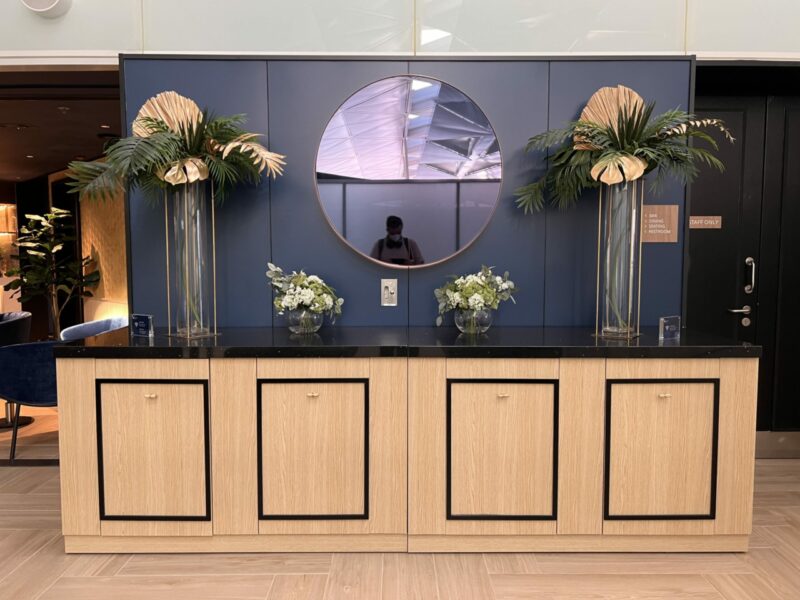 Like our Chase Sapphire Lounge by the Club, Hong Kong International Airport review? You can read more Airline lounge reviews here.