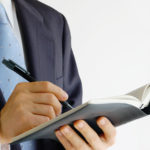 Roving Reporter recently flew on BA in Club Europe between London and Glasgow. Normally for this trip he would fly economy as being a Gold card holder he can book the exit row seats for free which ironically gives more leg room than most of Club Europe apart from the front row.
Roving Reporter had paid for an economy ticket but upgraded to Club for £70 to get some extra tier points.
Why fly Club Europe on domestic routes?
Aside from lounge access the main difference with Club Europe is that you get food and drink included. Seats are 2-2 with the middle seat blocked with a tray table which is very useful for resting a drink on or your iPad whilst you eat. The legroom is the same as Euro Traveller currently (until they start densifying some rows of Euro Traveller). The only exception is row 1 which is blocked for Gold cardholders.
One reason that you may consider it is the tier points. Flights are often available for under £200 return which strangely can be cheaper than shorter flights like Paris. Club Europe gives you 80 tier points return, exactly the same as flying outside the UK on most routes. With high frequency flights and no immigration it can be the quickest and easiest way to get some extra tier points.
Of course if you are doing it as a domestic connection onto a long haul flight then it makes a nice change from the days where you would have to sit in economy even on a First ticket!
EDIT: As a couple of people mentioned (below) and K on Facebook the extra luggage allowance is also worth considering, particularly if you have extra or heavy items such as golf clubs. In economy (except hand baggage only) you would get 1 bag at 23kg. In Club you get 2 bags at 32kg. If you are connecting from another airline or are on separate tickets from a long haul flight, this could be very useful. If you have Silver (2 x 32kg bags in economy except HBO) or Gold (1 extra 32kg bag in any class except HBO), this would not make a difference.
London to Glasgow
Roving Reporter: " I waited in the lounge until the gate was announced and then it immediately showed boarding. By the time I got to the gate I had already missed group 1. I went through the Priority lane straight into the gate, past the queue for non priority and boarded straight away.
The flight was uneventful but in a good way. The Customer Service Manager was serving us and delightful throughout. The drinks were plentiful and I managed 3 bottles (small ones!) of Castel-no Champagne. The CSM addressed me by name the whole time and was charming to the whole CE cabin which only had 3 rows.
I was in 1F and this was the older style seats which also means you have the much larger tray table that extends from the bulkhead. This is much larger than the fold out table you get in 1C and D. The table is the same for 1A. There was plenty of leg room here.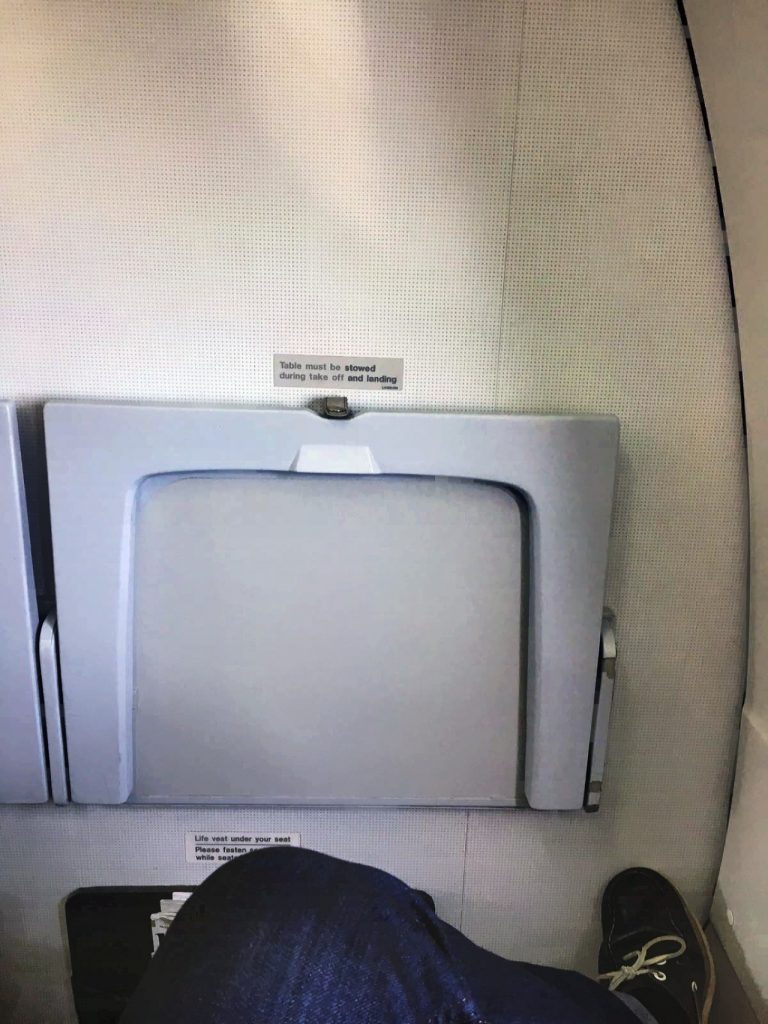 The food was OK for the length of flight. As it was an afternoon flight there was a choice of a ploughman's or 3 mini sandwiches. I  thought the 2 slices of white bread was a bit random! I'm guessing it is probably because they don't do a bread basket round on the afternoon flights. They were also pretty stingy with the portion. You think they could afford a whole pork pie!"
What to expect on other domestic Club Europe flights
Very Short- Leeds Bradford, Manchester and Jersey
Breakfast: hot bacon roll, fruit and yoghurt for breakfast (Jersey gets the hot breakfast as per short)
From 0930: a cold plate (09.30+ departures). This is usually a continental brunch type plate with meat, cheese and egg but no salad.
Short
All other domestic routes.
Breakfast (to 09.29) – hot breakfast including a vegetarian choice with yoghurt or Bircher muesli (no fruit plate). You will also get offered a bread basket including warm croissants. There are normally 2 choices – the full English which I find a bit watery and greasy and a vegetarian option which I usually prefer.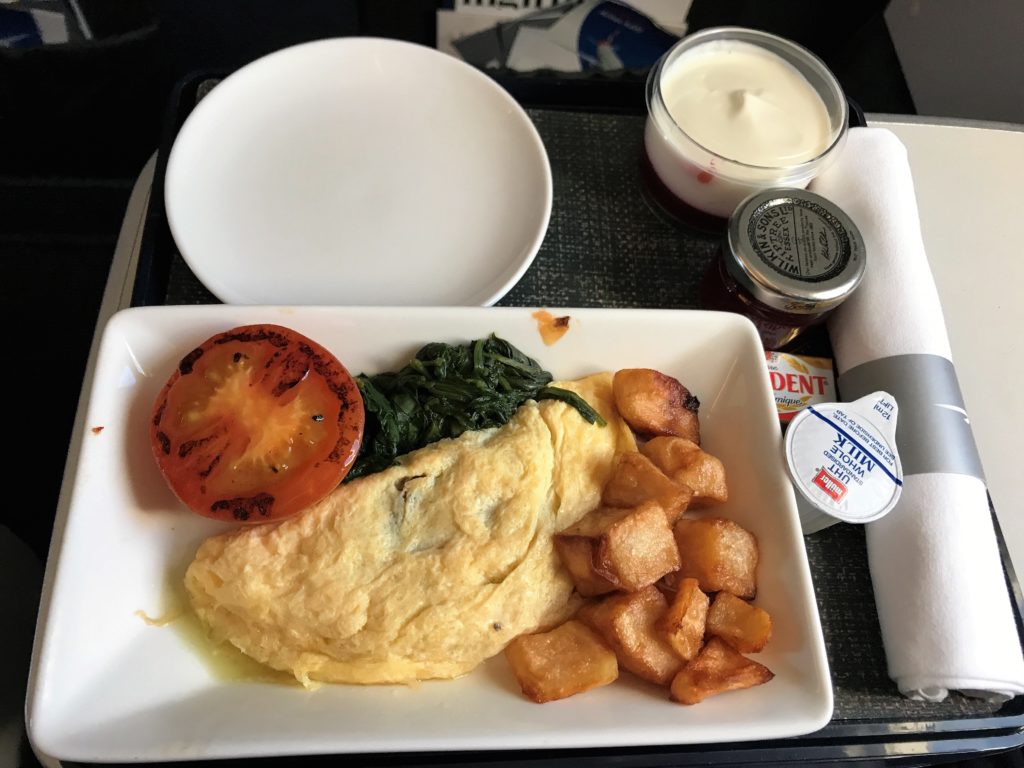 Brunch (09.30 – 10.59) – a large hot sandwich or a cold plate as per very short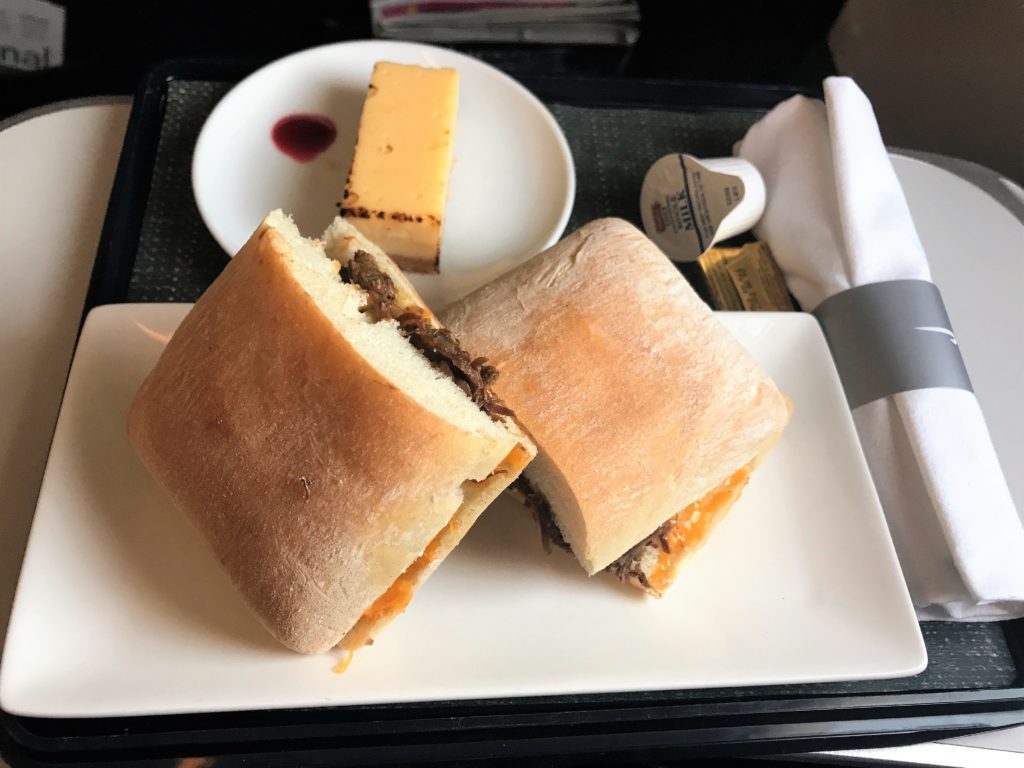 Lunch (11.00 – 13.59) – salad or a large hot sandwich as per brunch plus bread basket and a dessert.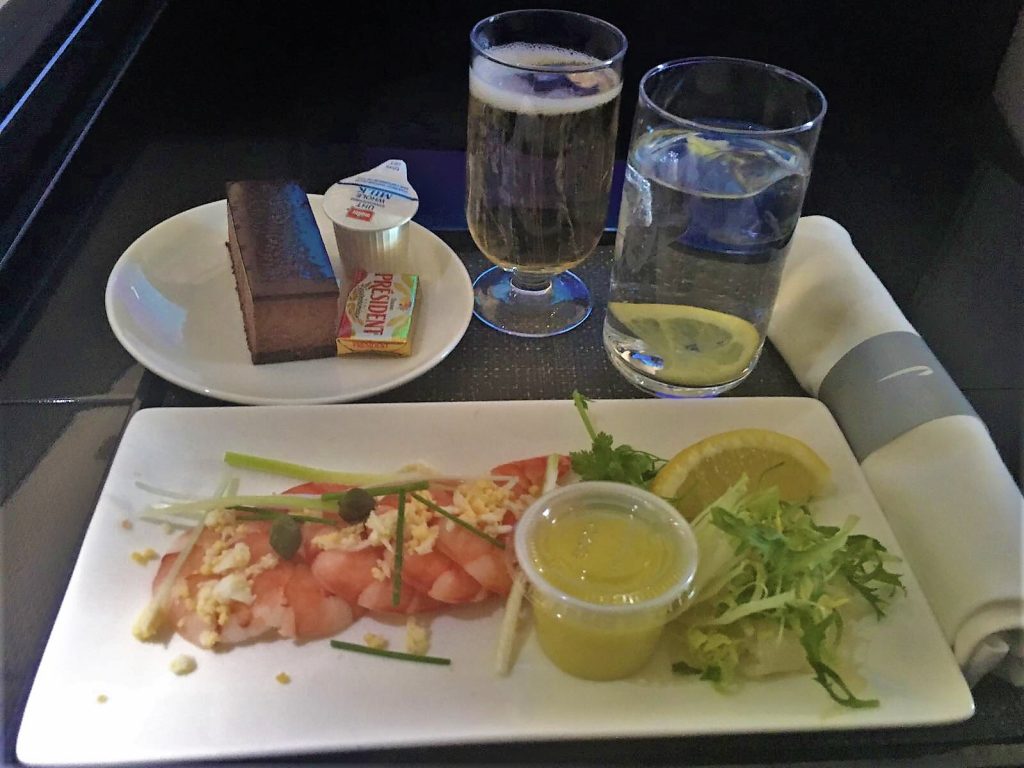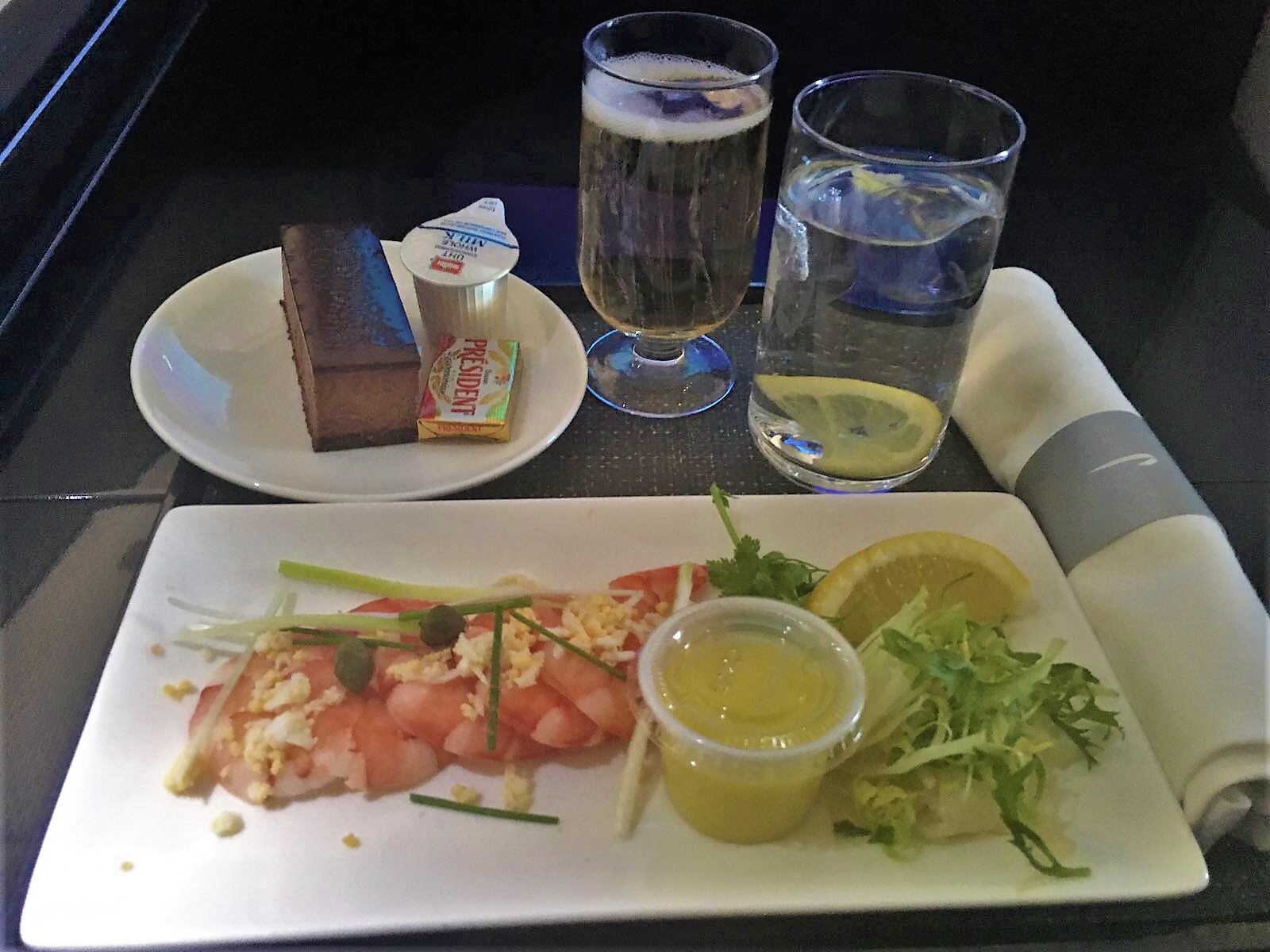 Afternoon tea (14.00 – 16.59) – 3 cold finger sandwiches or a ploughman's salad (meat, scotch egg or pork pie and cheese selection with bloomer bread) with cake. Scones have been removed
Dinner (17.00+) – as per lunch
Conclusion
You do get lounge access included but you could just buy that at Heathrow for around £30 for a third party lounge. Except maybe breakfast, it is not worth upgrading for the food although they are due to revamp the food offering for Club Europe later this year. You could work your way through quiet a bit of alcohol but probably not £70 worth!
Having the spare empty seat is very useful for me so that I can carry on working or watching my iPad whilst eating or drinking. Other than that the main reason would be the extra tier points as this can be a relatively cheap way to get them.
The extra baggage could actually make this a cost effective option if you didn't have lounge access either. With extra bags costing from £25-60 each or £65 for overweight bags, it is definitely worth doing the maths as to whether it is more cost effective to pay for Club Europe and have a nicer travelling experience too.