I only made Gold Guest List just before Covid hit and for some reason, I had never flown First out of JFK even though I had flown to JFK in First. So somewhat surprisingly, this was my first chance to try the Concorde Room.
Who can use the British Airways Concorde Room lounge?
The Concorde Room can be accessed by:
BA Gold Guest List Members
Those travelling in First Class on BA
Where is the British Airways Concorde Room lounge?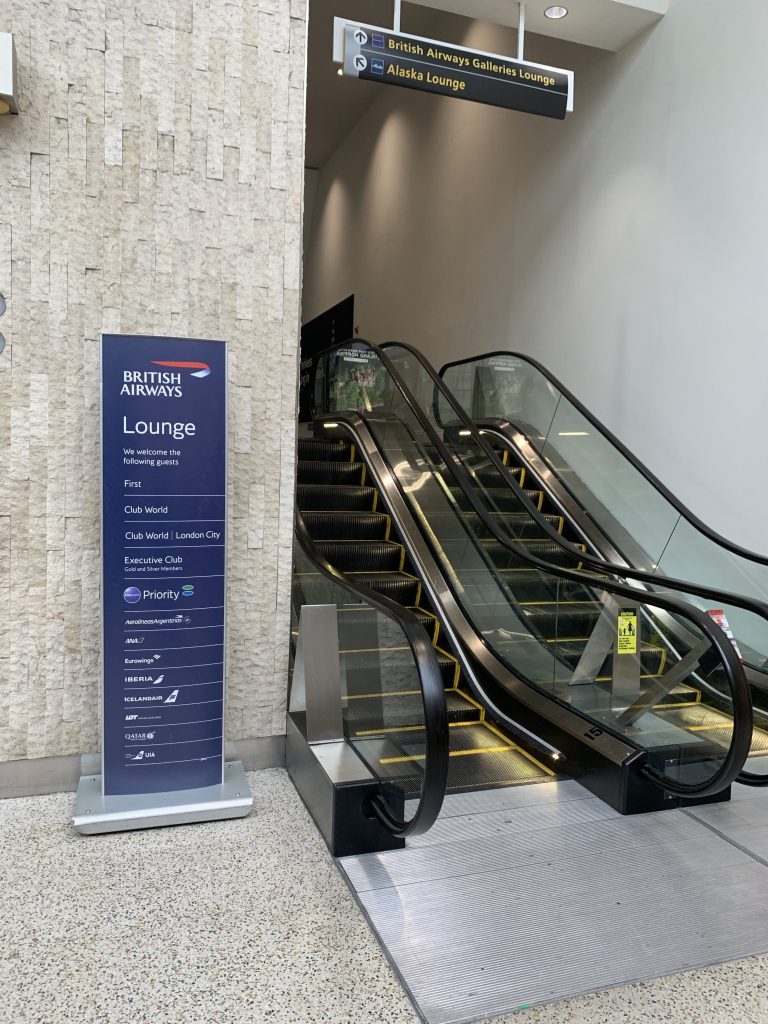 The main lounges are up a flight of escalators as you come out of security.
The Concorde lounge is actually somewhere else which I hadn't realised so I headed up to the main lounges.
To access the Concorde lounge you need to carry on towards the gates and then turn left towards the start of the gates. It is well signposted.
Entering the British Airways Concorde Room lounge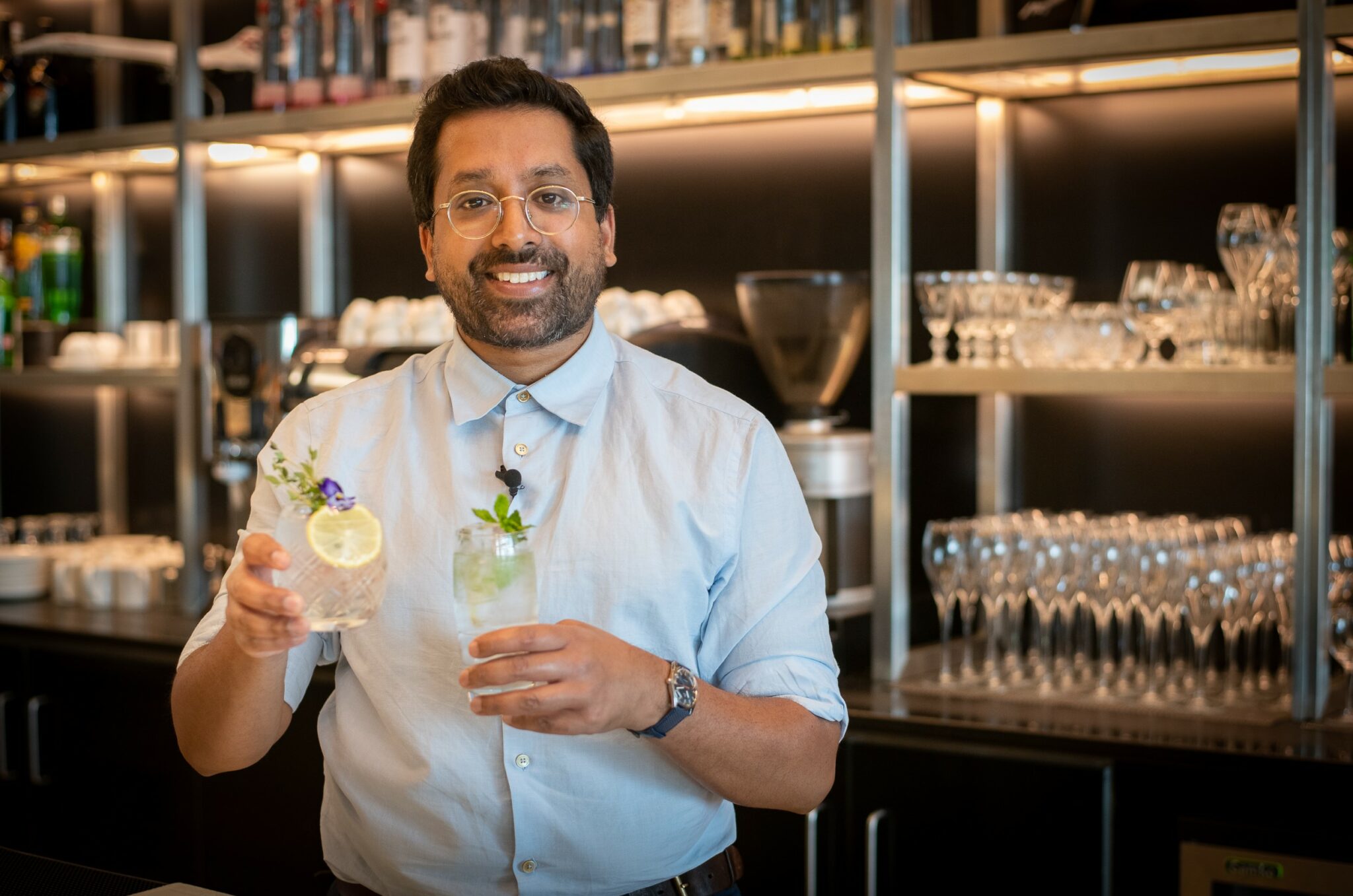 Both the lounge agent here and at the Concorde Room seemed confused by my Gold Guest List status and queried if I was allowed in. In September BA changed the rules that all GGLs can access the Concorde Loinges, not just Concorde Card Holders. I was then directed to the Concorde Room. It's well signed posted. On arrival I had to show my Concorde Room card which again was not strictly necessary.
I also had the pleasure of talking to well known mixologist Mr Lyan who has been working with BA to design the cocktails for both Concorde Rooms and had done some special cocktails on the way out. He was a lovely guy to chat to and it sounds like they are looking at whether they may do some of his cocktails in the air as well which is great news.
The lounge layout
Once inside I was impressed with the feel of the lounge. It's smaller than the Heathrow one and felt cosier and more intimate. There are large floor to ceiling windows which from some areas allow you to see the airfield.
As you first enter there are toilets, showers and a baggage storage area.
There's a large main seating area leading down to the piano with individuals areas screened off with the shelves.
If you just want to grab some water or a snack there is a table on the left as you enter the seating area.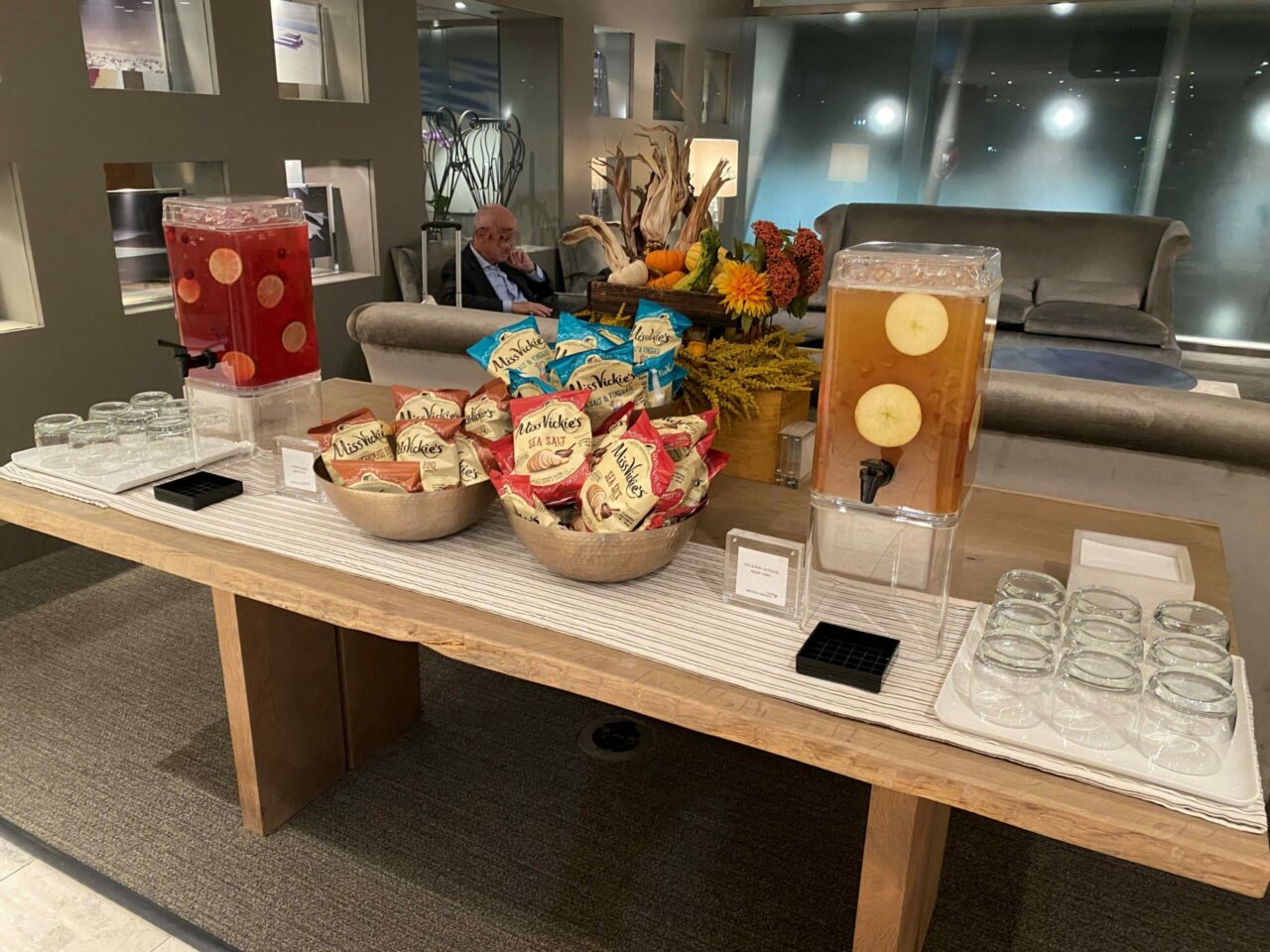 We settled down on a comfy sofa and almost immediately were offered a choice of still or sparkling water. Then we were asked if we knew what we wanted to drink or needed the menu. Well, obviously we asked whether they had Laurrent Perrier Grand Siecle as I had heard that it wasn't being served a few weeks ago. Sure enough, they found some so we happily sipped our way through a glass or two.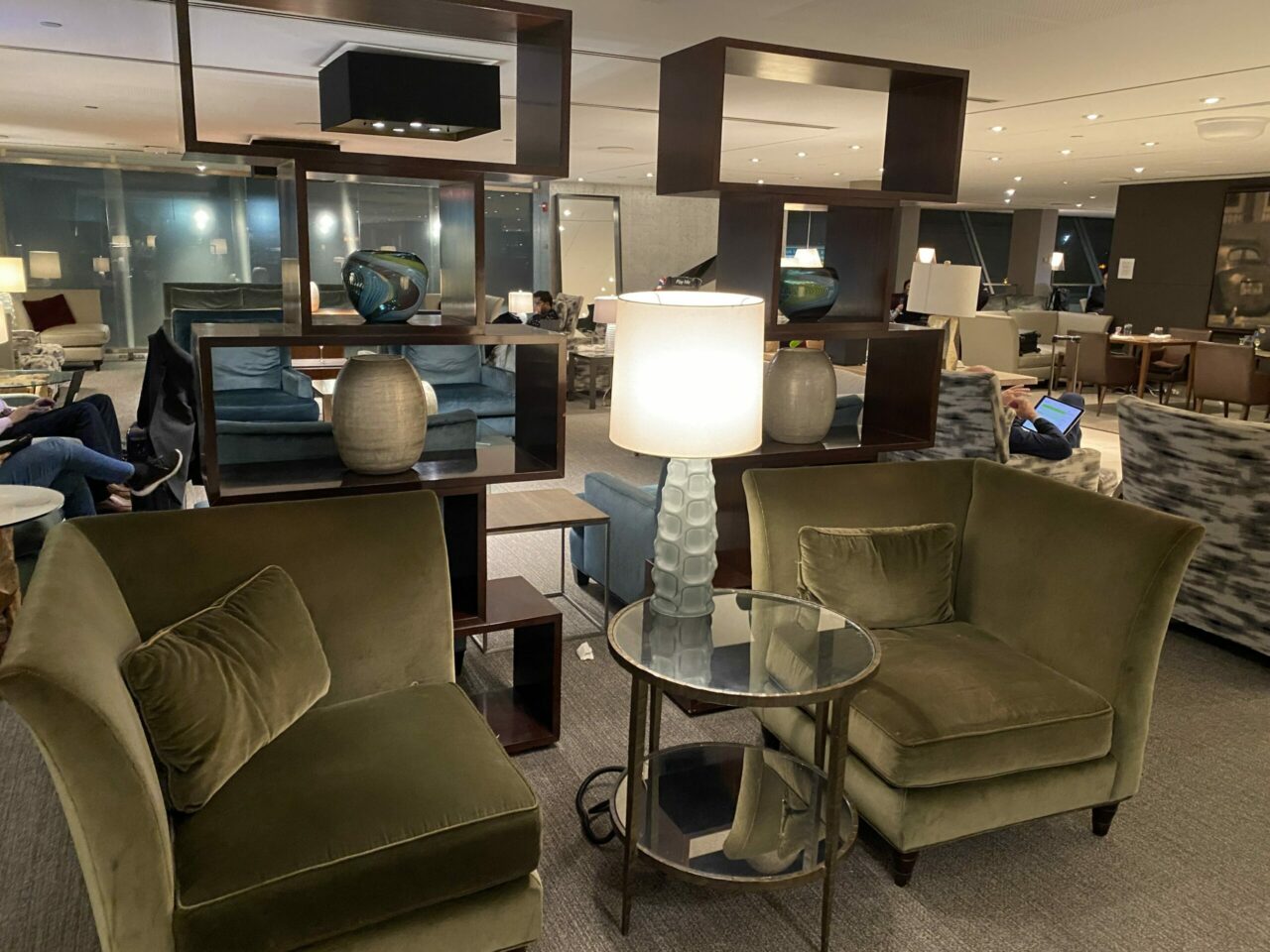 To the right is a bar but it is not like the Heathrow one you can sit at.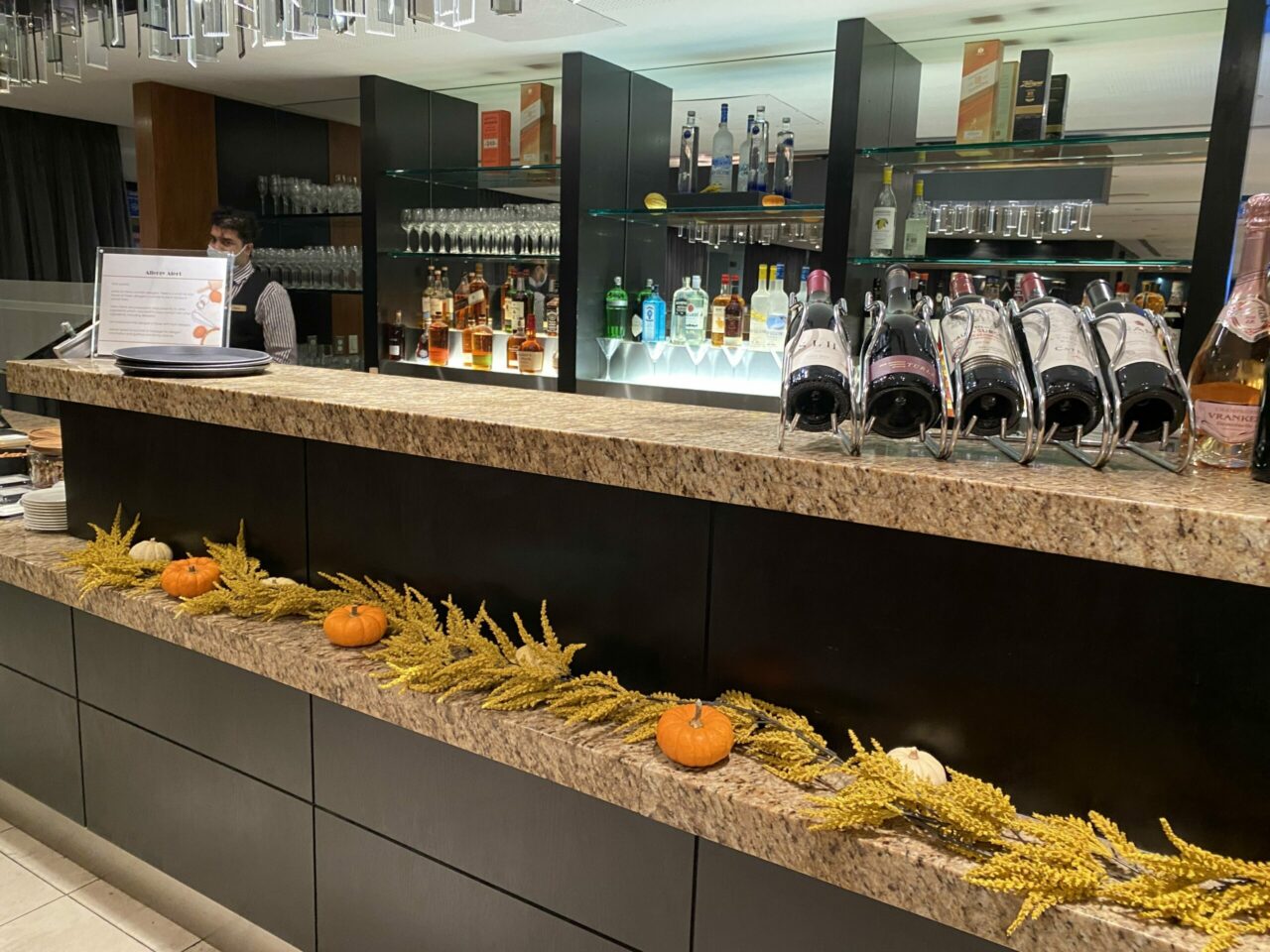 If you just want a nibble or snack there is a help-yourself spread of cheeses by the bar.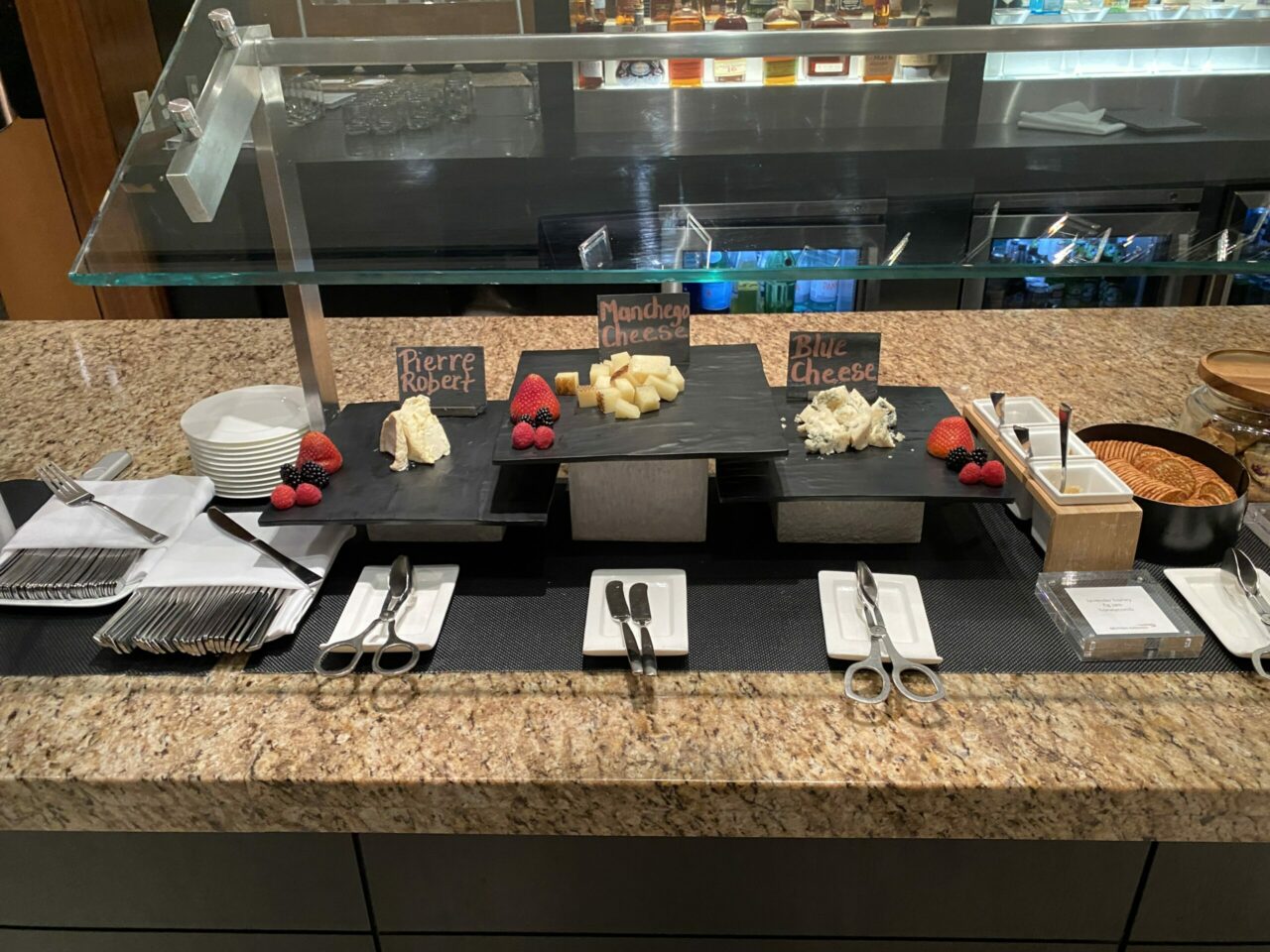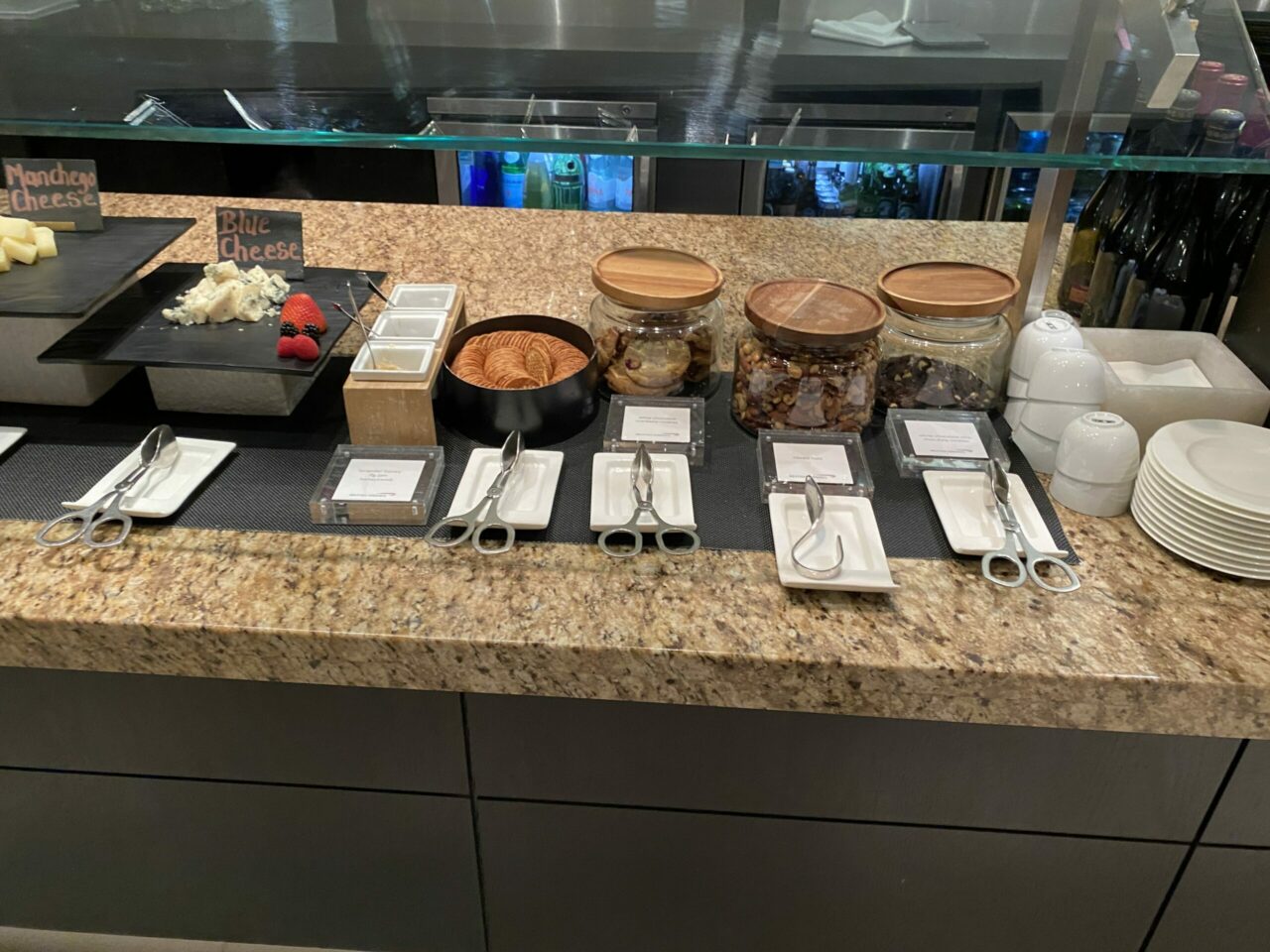 There was also some fruit. The sapphire grapes were delicious – full of flavour and sweet.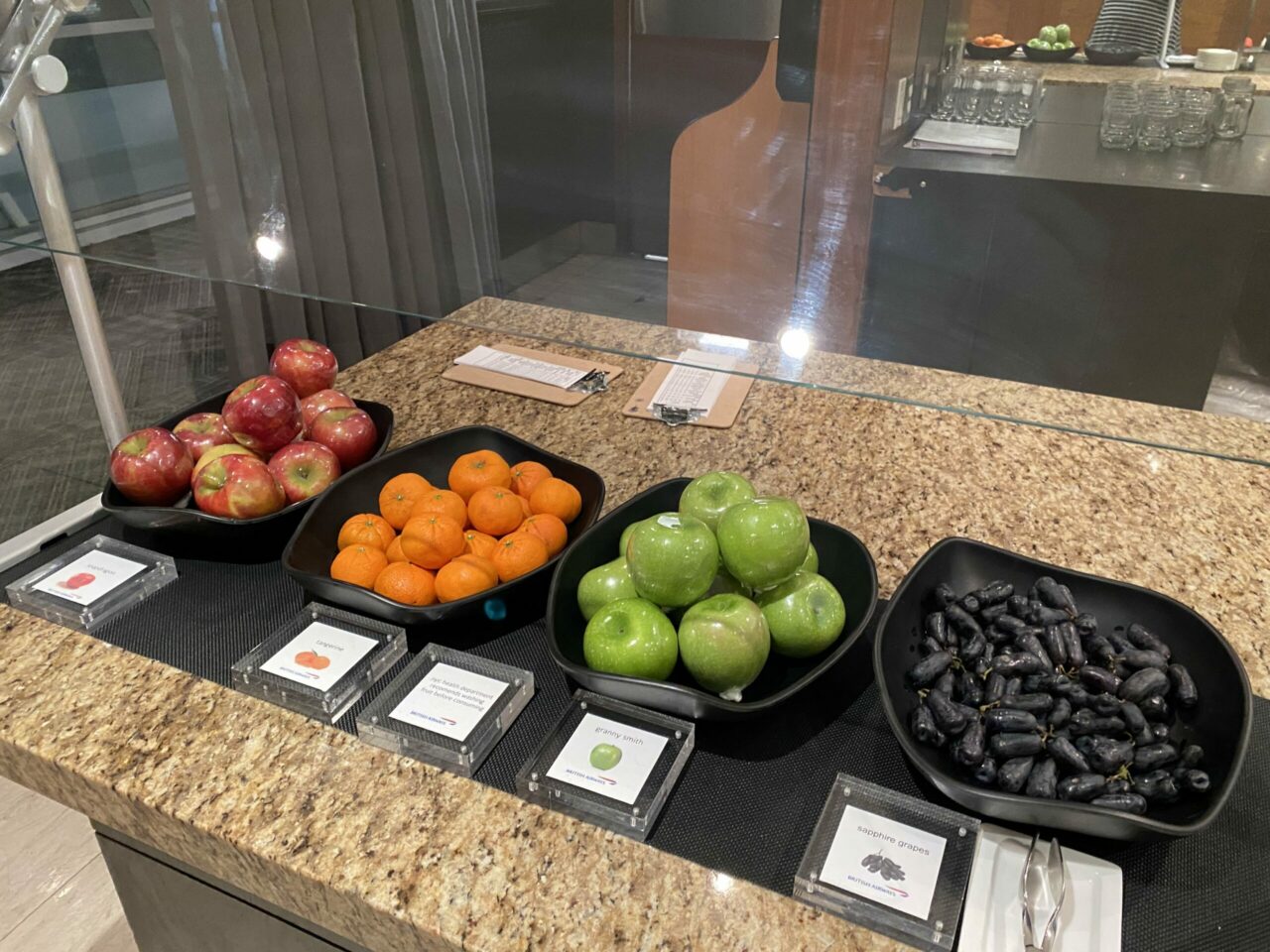 You can also see all the wines they are serving in display there.
A closer look: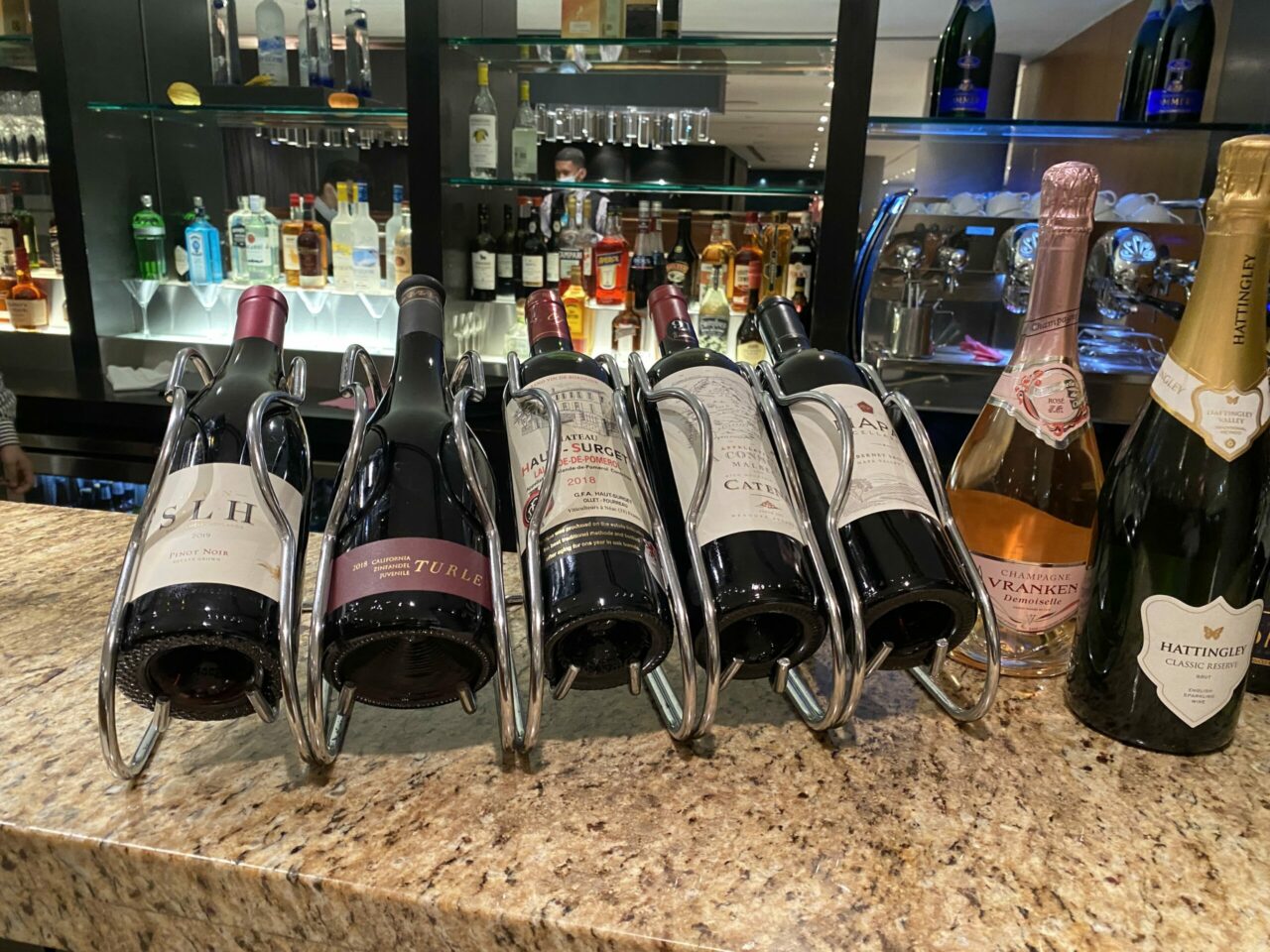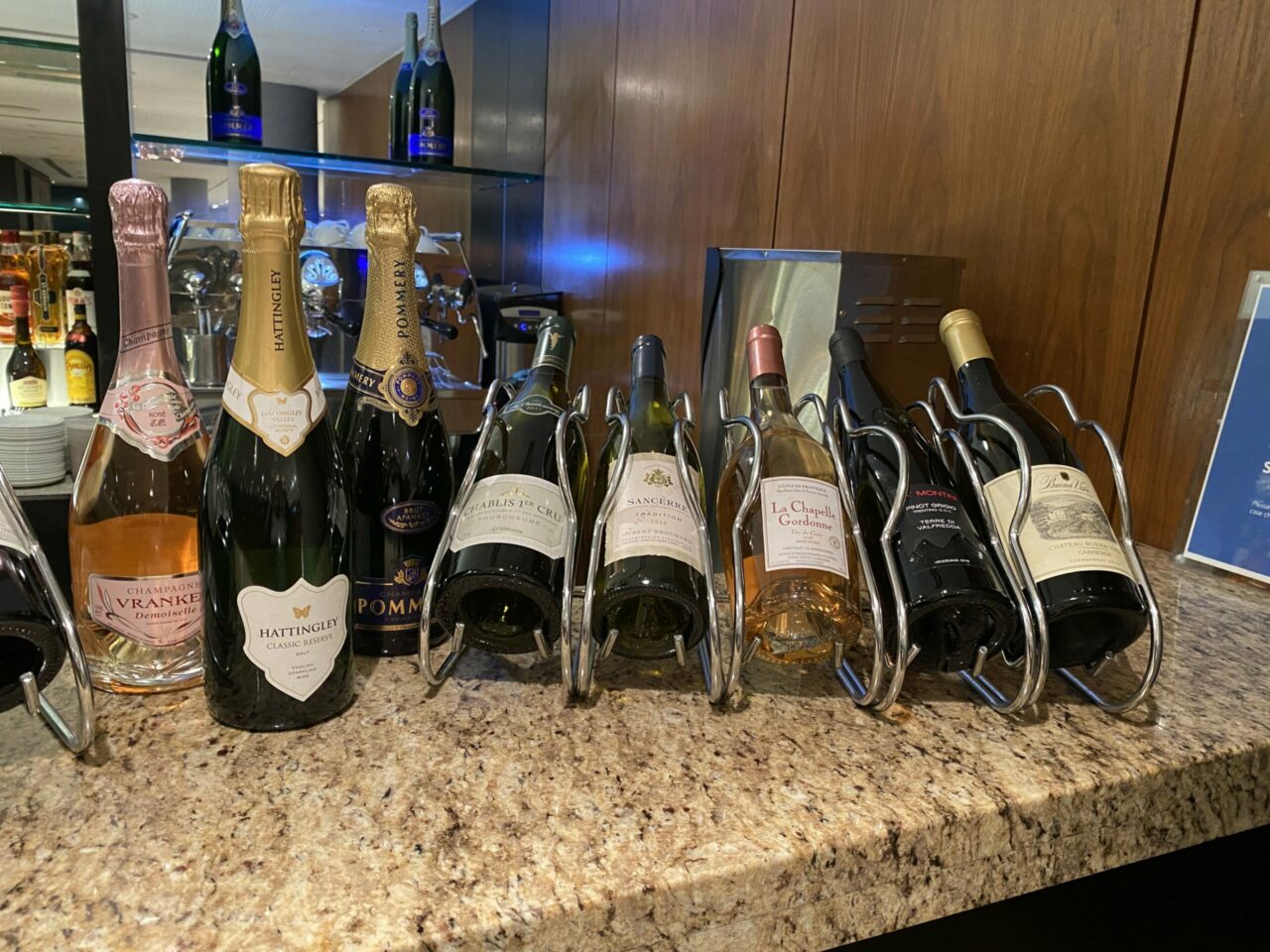 There is a a further seating area that is slightly hidden beyond the piano.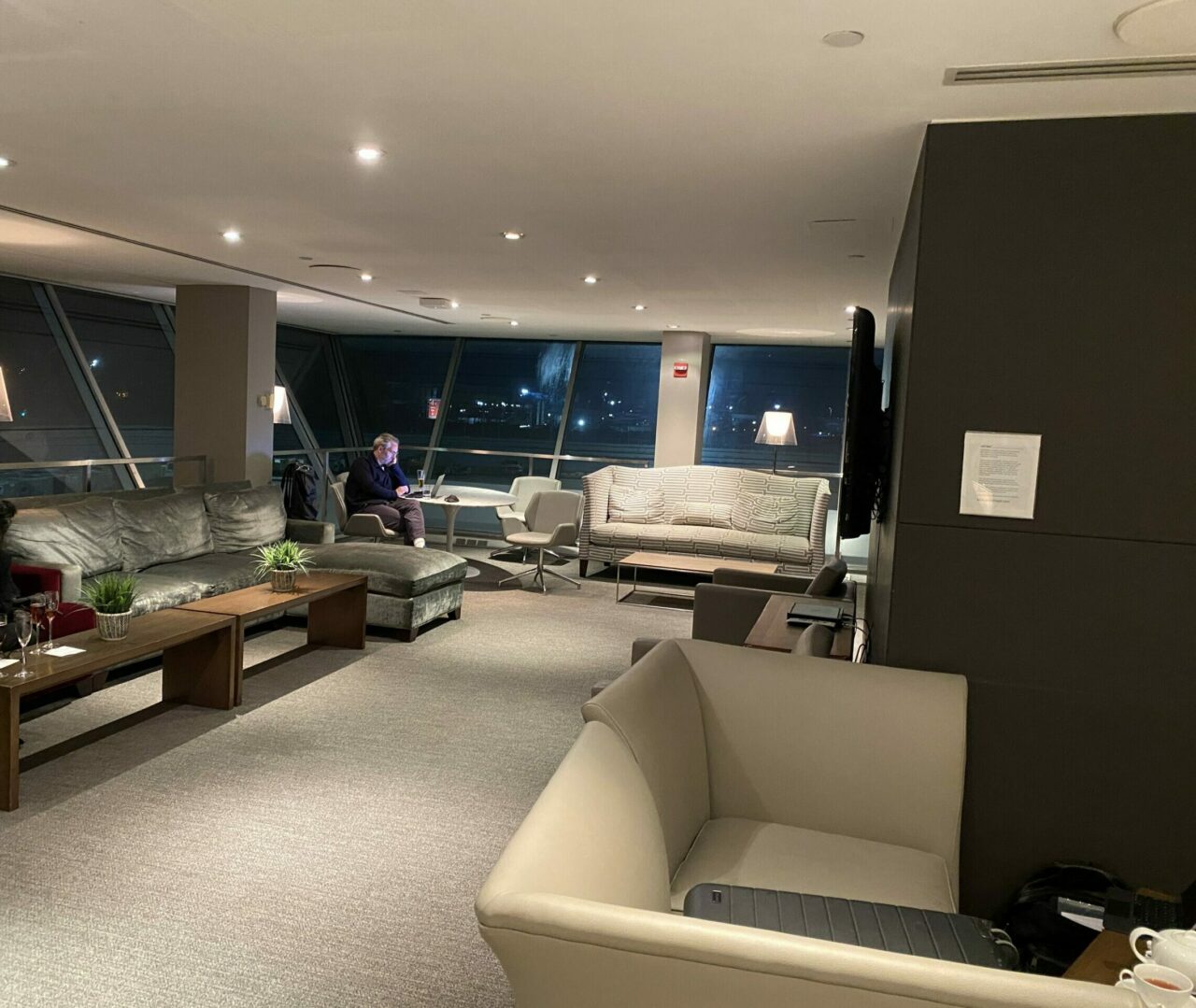 You are even allowed to play the piano..
The lounge was very quiet when we were there.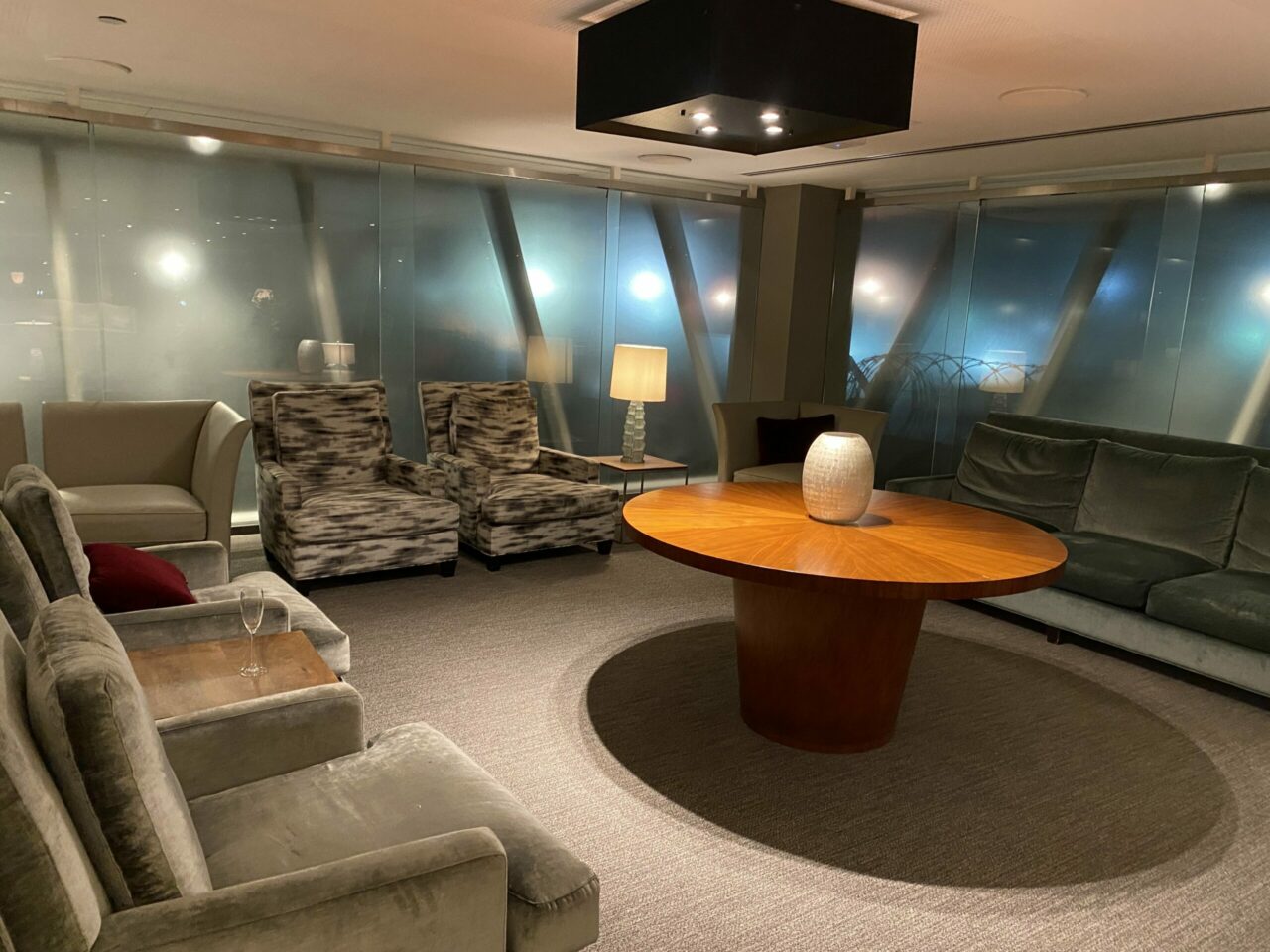 As is the way in Heathrow's lounge, I didn't spot many charging points but they did have a display of power banks.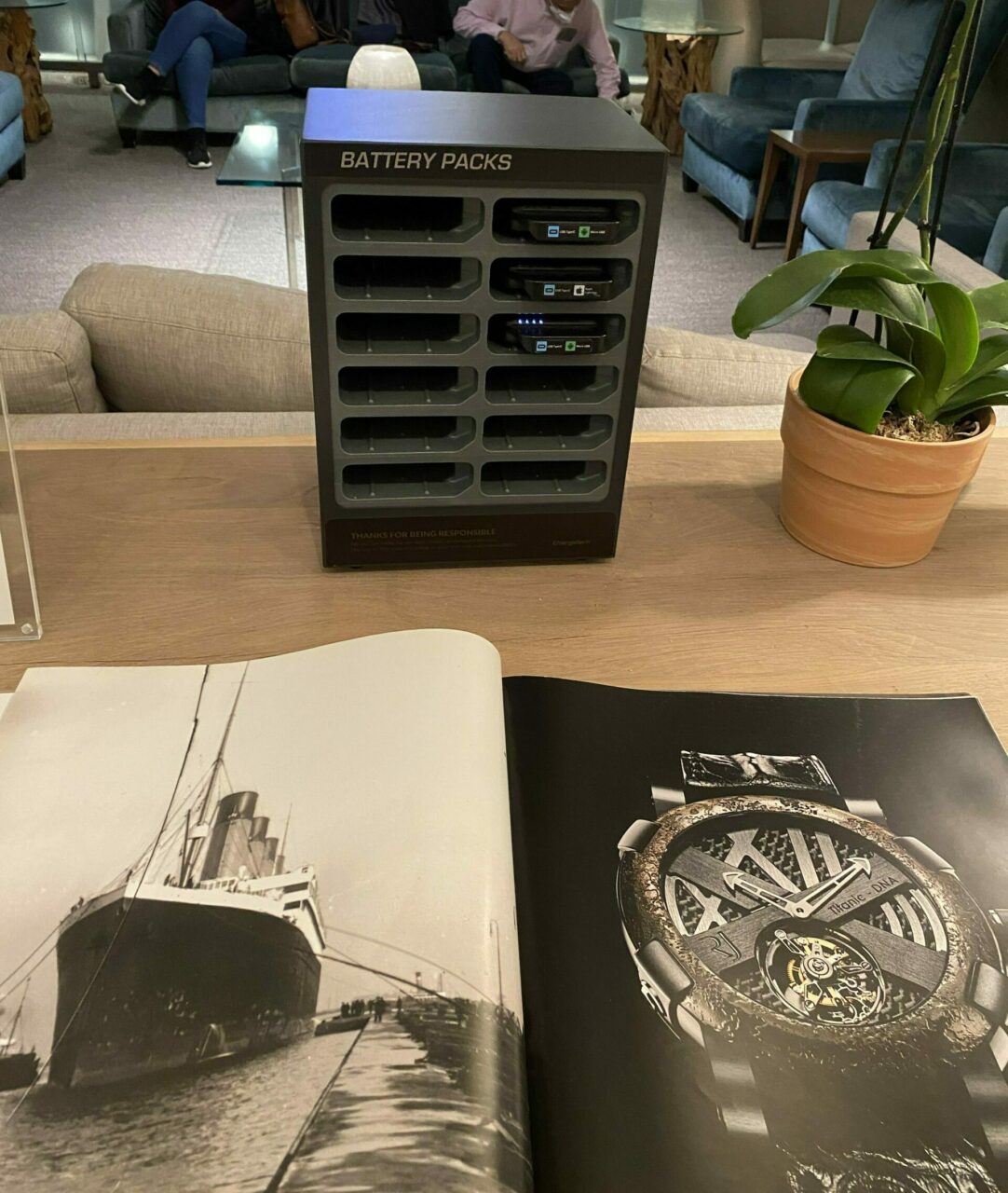 The restaurant
Like Heathrow, there is a proper restaurant that looks very similar with individual booths.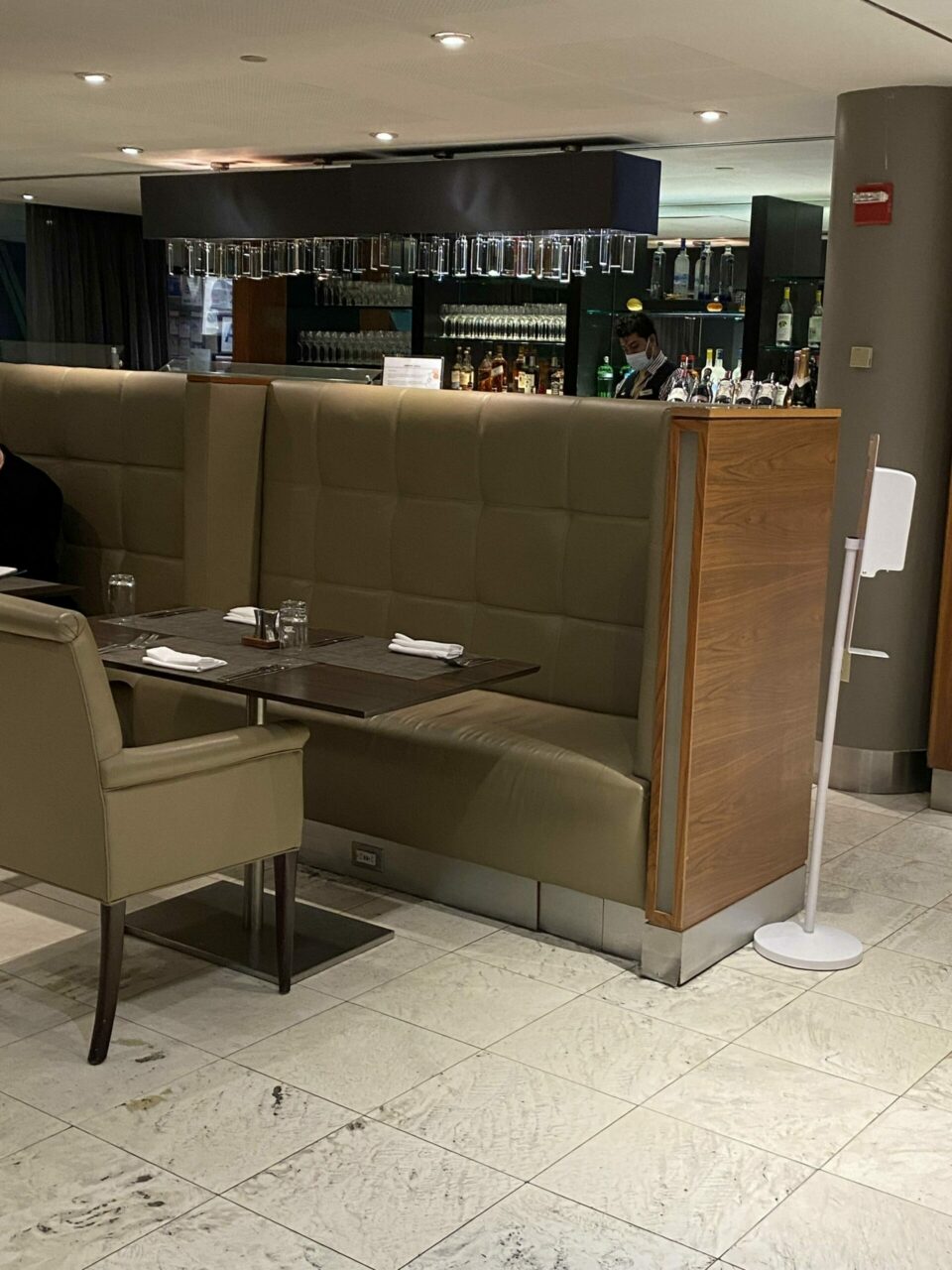 The waiting staff were so lovely in the lounge. Very friendly and constantly trying to tempt us with more food or drinks!
Here is the lounge menu with drinks as well:
I thought the menu looked pretty good, although maybe another main course choice would be good since two are burgers.
I decided to just have a starter as I was eating on the flight.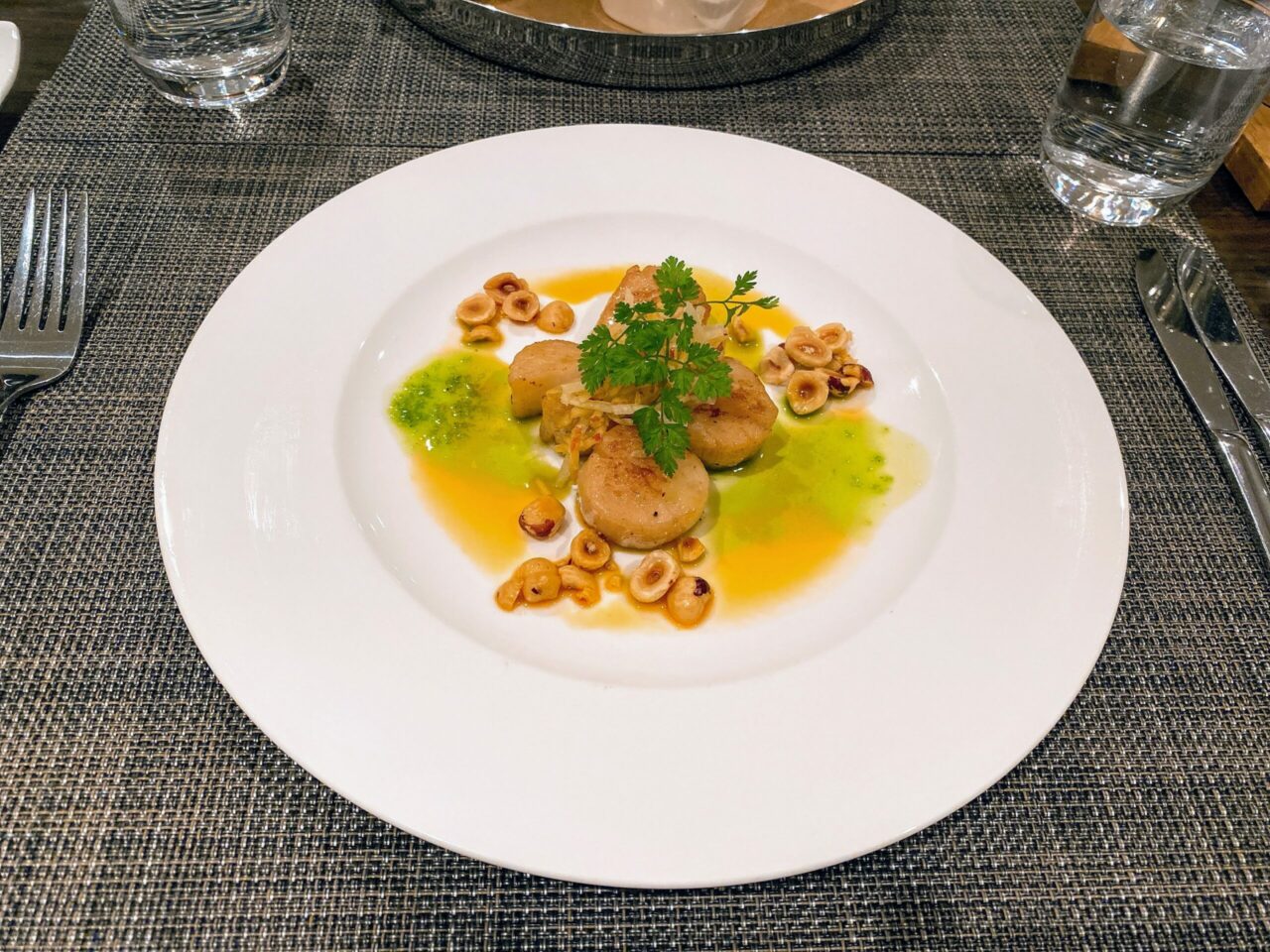 The scallops were perfectly cooked and I enjoyed the crunch and freshness of the jicama (a bit like a radish crossed with an apple) and apple. The hints of chive and chervil were also delicious. You normally get less than this but the server was concerned I was only having a starter so insisted on getting me a larger portion.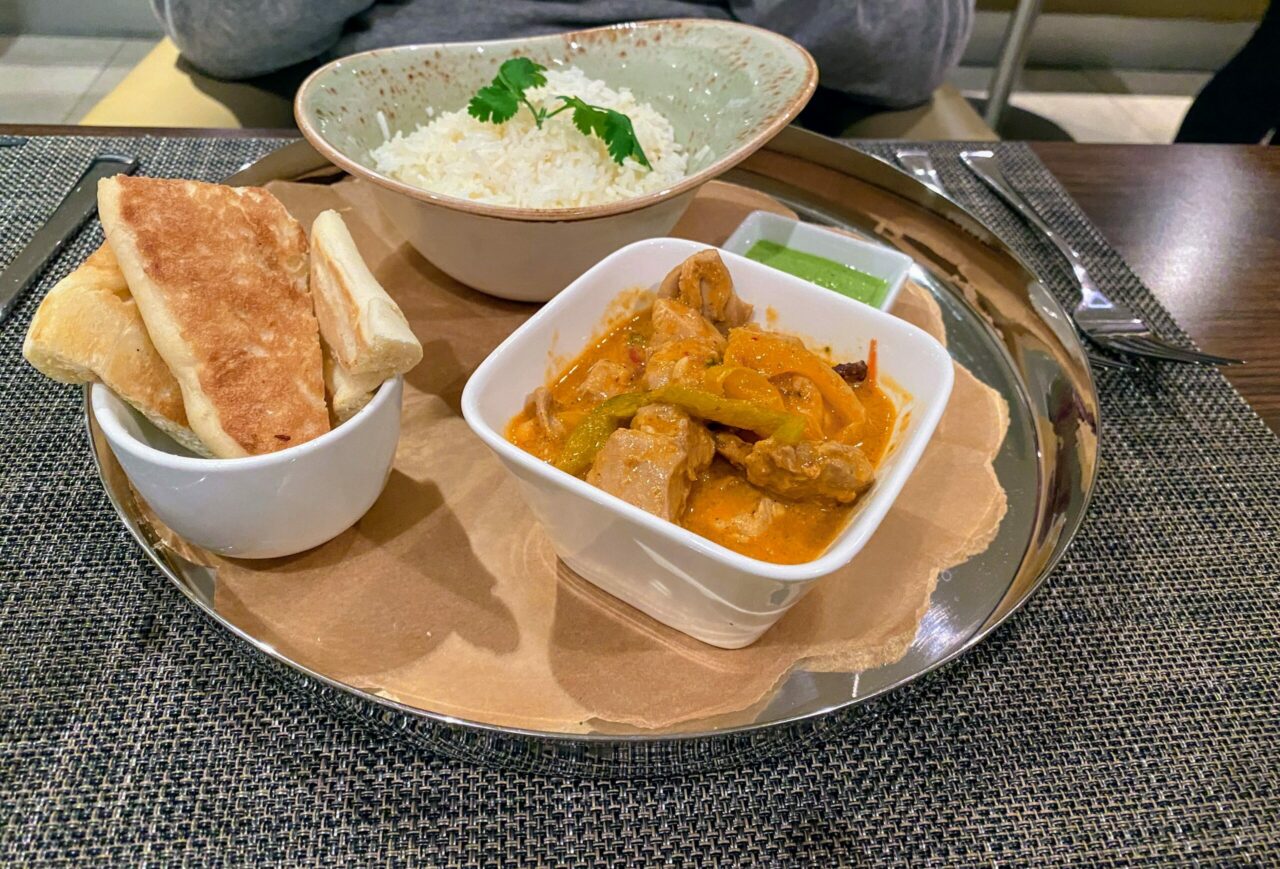 My friend had the Thai curry and pronounced it very tasty.
I tried the Buena Vista Chardonnay which I really enjoyed.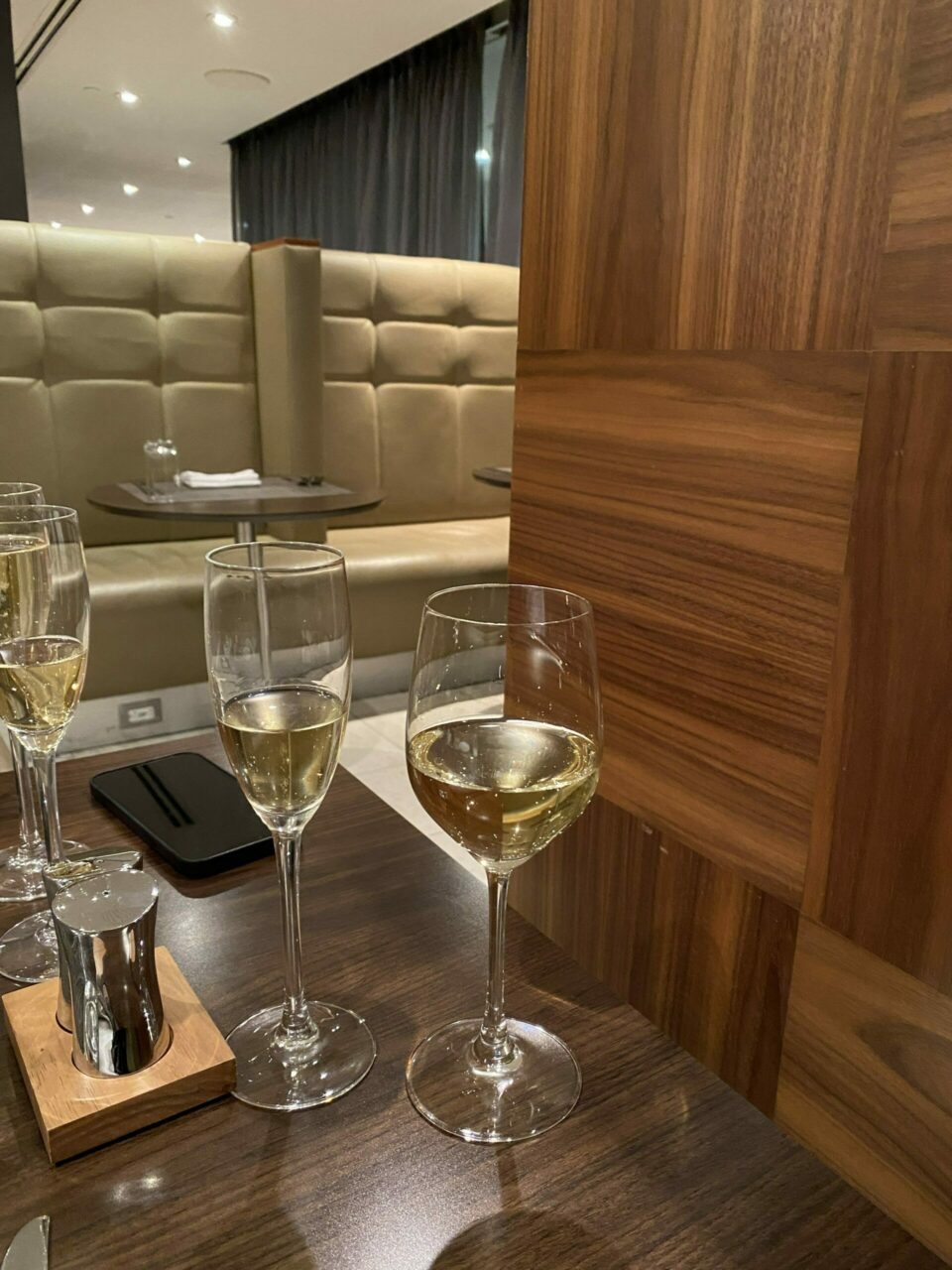 We were both seduced by the thought of salted caramel ice cream which was amazing! So silky and not too sickly.
As we were leaving the lounge the server followed us and made sure we took a couple of the chocolate mints by the door. Do not go in the lounge if you are on a diet!! Also, the lovely Phil from the Concorde Team (she's female so not sure if that's how you spell her name) spotted me on the way out of the lounge and wished me a great flight home – they really do recognition well at JFK being smaller. I only met her once when I arrived and she remembered me!
Conclusion
I loved my first visit to the Concorde Room in JFK. I would say overall I prefer it to the Heathrow one as it is a bit more intimate feeling and the staff were really amazing!
Next to be published will be my return flight from JFK and then later in the week a more general New York trip report.
Like our British Airways Concorde Room lounge review? You can read more Airline Lounge reviews here.