As most readers will know I was extremely lucky to travel on BA001 to New York to celebrate the reopening of the US. I wrote about that and what it was like getting into the US in this article. That flight was slightly unique as lots of extras were laid on for all passengers (not just the press) to celebrate the historic moment. Flying back this week I was just on a regular flight. It was also a B777 which I had not realised has subtle differences from the A350 Club Suite that I reviewed before.
Check-in

British Airways have a nice corner of Terminal 7 at JFK for their premium check-in and there is even a First Wing. It's not quite the same as the UK in that it doesn't take you straight into the lounge. However, the terminal is tiny compared to T5, so it's not really an issue.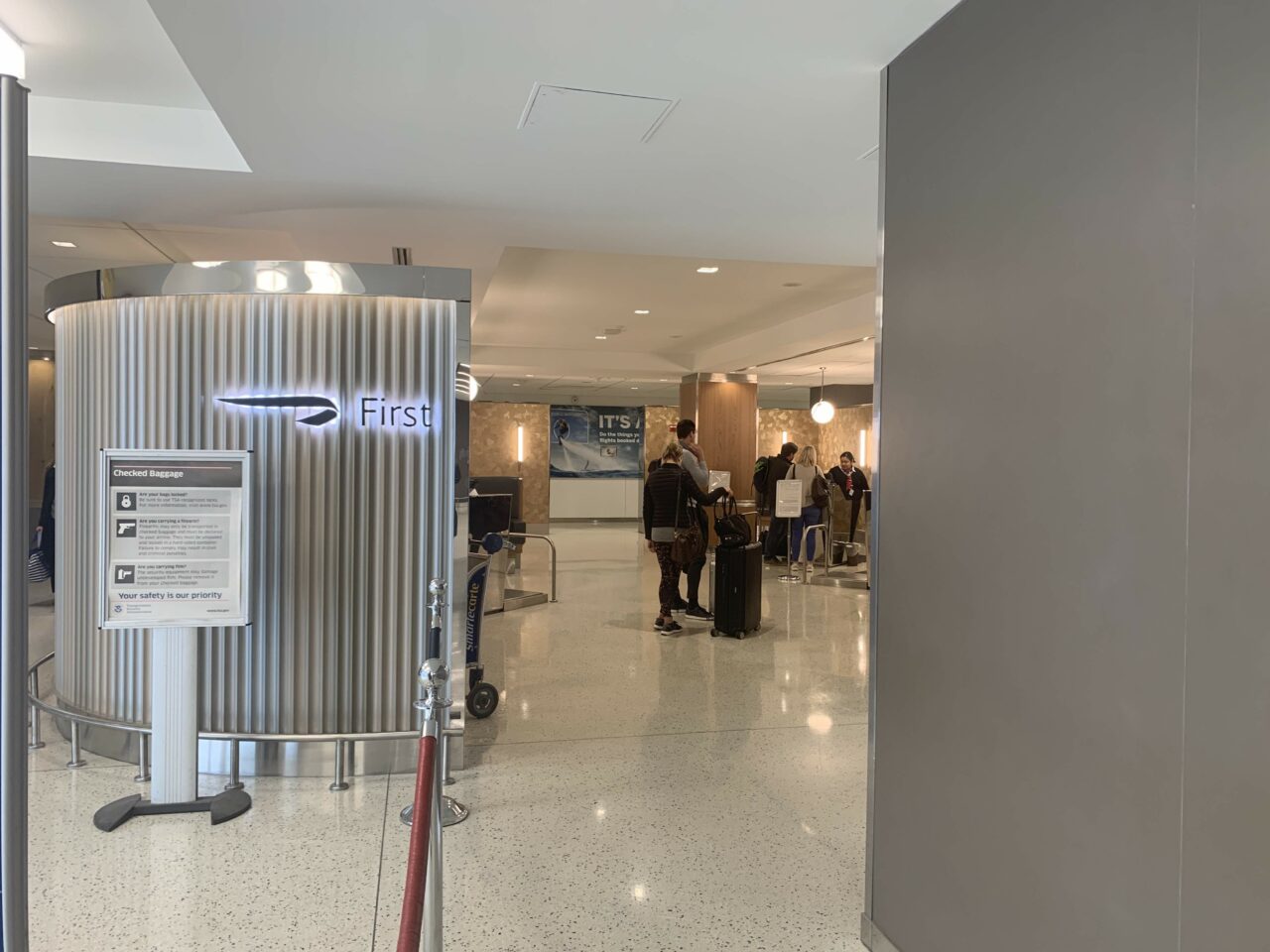 I really like JFK's first wing as it has a very intimate feel to it. There are no baggage belts but instead, individual podium's with a scale. These are lower than a baggage belt so it's much easier to lift your bag onto.
Despite being there around the peak 2 hours before, the check-in areas for both Club and First were relatively quiet and I walked straight up to a check-in desk. The agent was very friendly and once he had swiped my passport he asked if I had my PLF filled in and my vaccine proof. I hadn't managed to do Verifly as I had been so busy I ended up filling in the PLF on the way to the airport (not recommended!). When I replied that I had, he didn't even ask to see them! I guess they view if you have high status in BA you know what you are doing! I had booked my day 2 test with Breathe Assured which I reviewed here.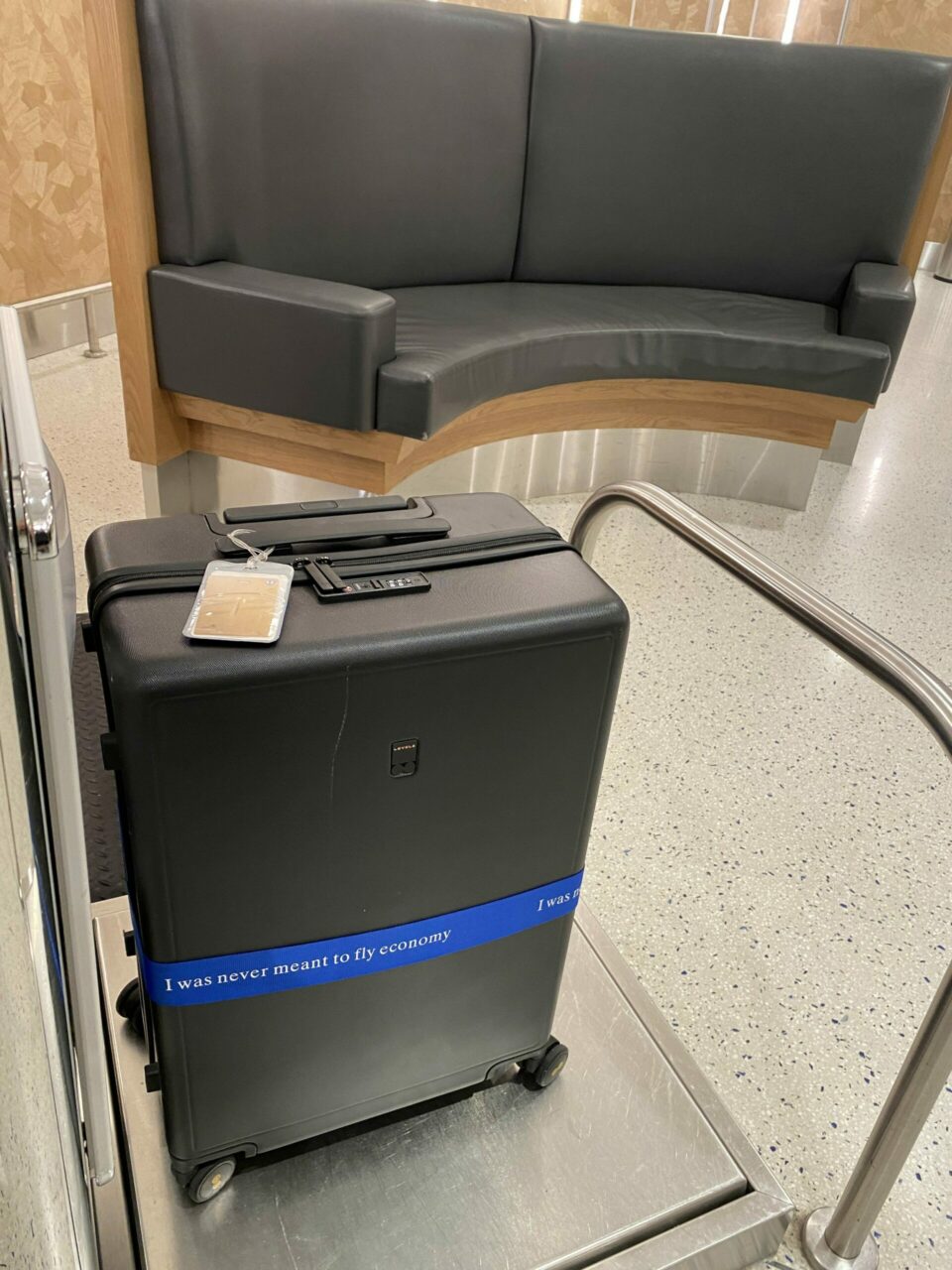 You then walk down a corridor and join the front of the security queue through a separate entrance.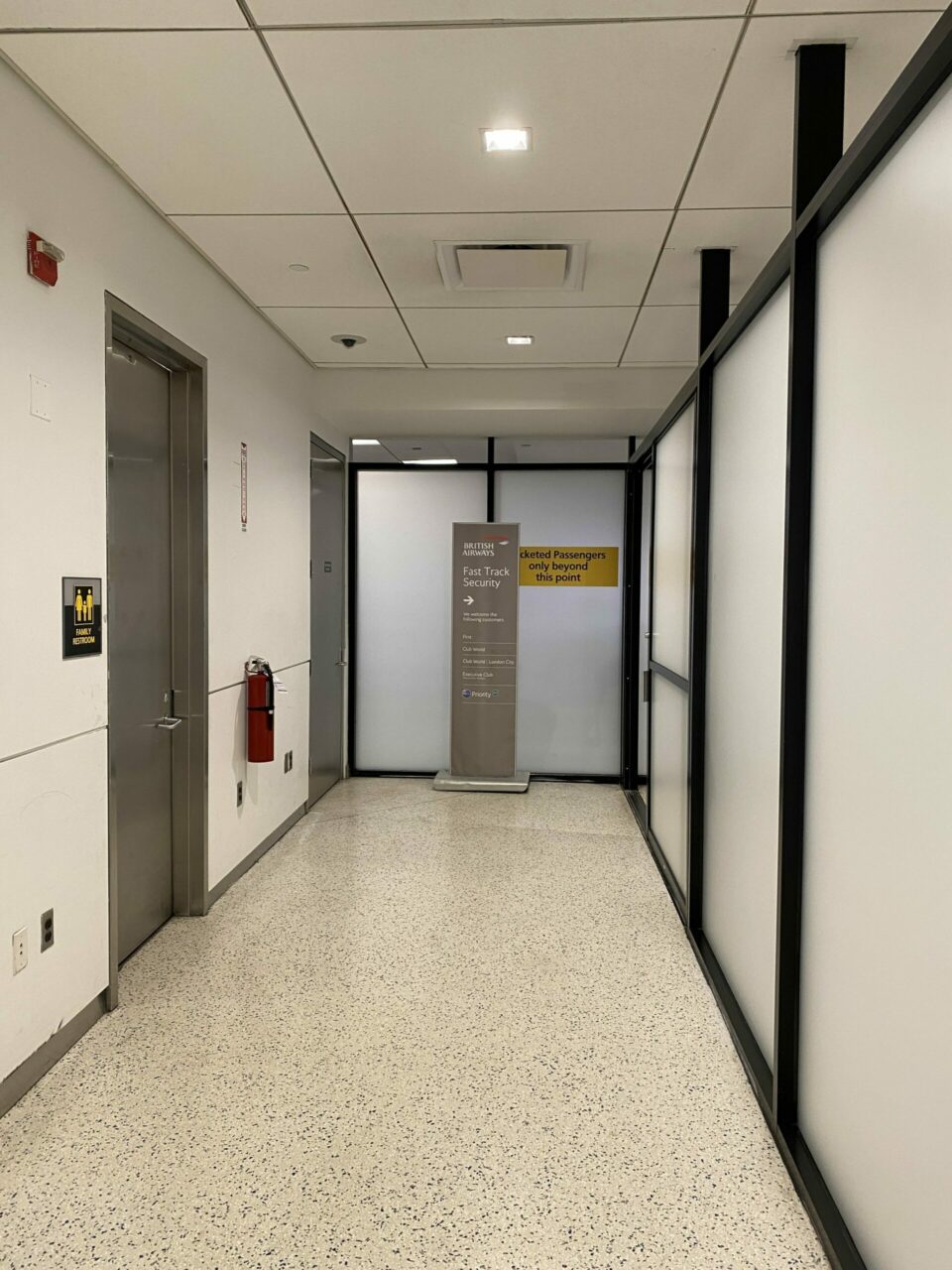 There is no TSA Pre-check queue here but if you have it they will mark your boarding card and you don't have to take your shoes off. It's a bit annoying as usually, you could leave everything in your case too.
Lounge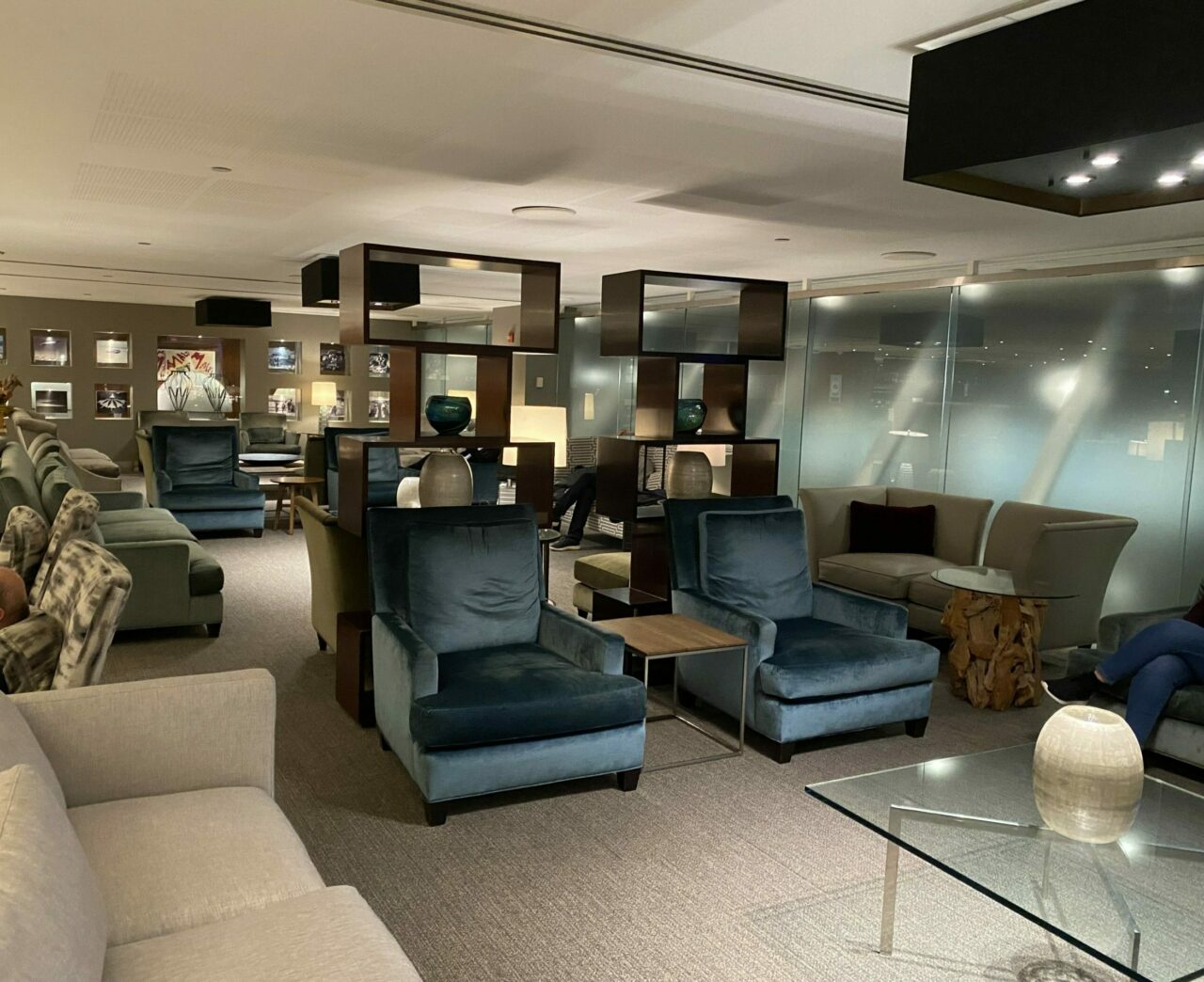 I have written a separate review of the Concorde Lounge here. All the lounges at JFK are now open. They were refurbished just before the pandemic, so you can read the reviews of the Club lounge here and the First lounge here. They also now serve Aviation Gin and Betty Buzz mixers.
Boarding
I thought I had left it quite late to board. although to be fair they had not called us from the lounge. But we were having such a lovely time we didn't want to leave and the gate was about 1 minute walk from the lounge. We arrived at the gate around 30 minutes before departure and boarded immediately. When we got on we were very surprised to find the Club cabin empty! Around 5 minutes later they boarded so I am guessing in New York they are still doing it from the back forwards which I actually prefer.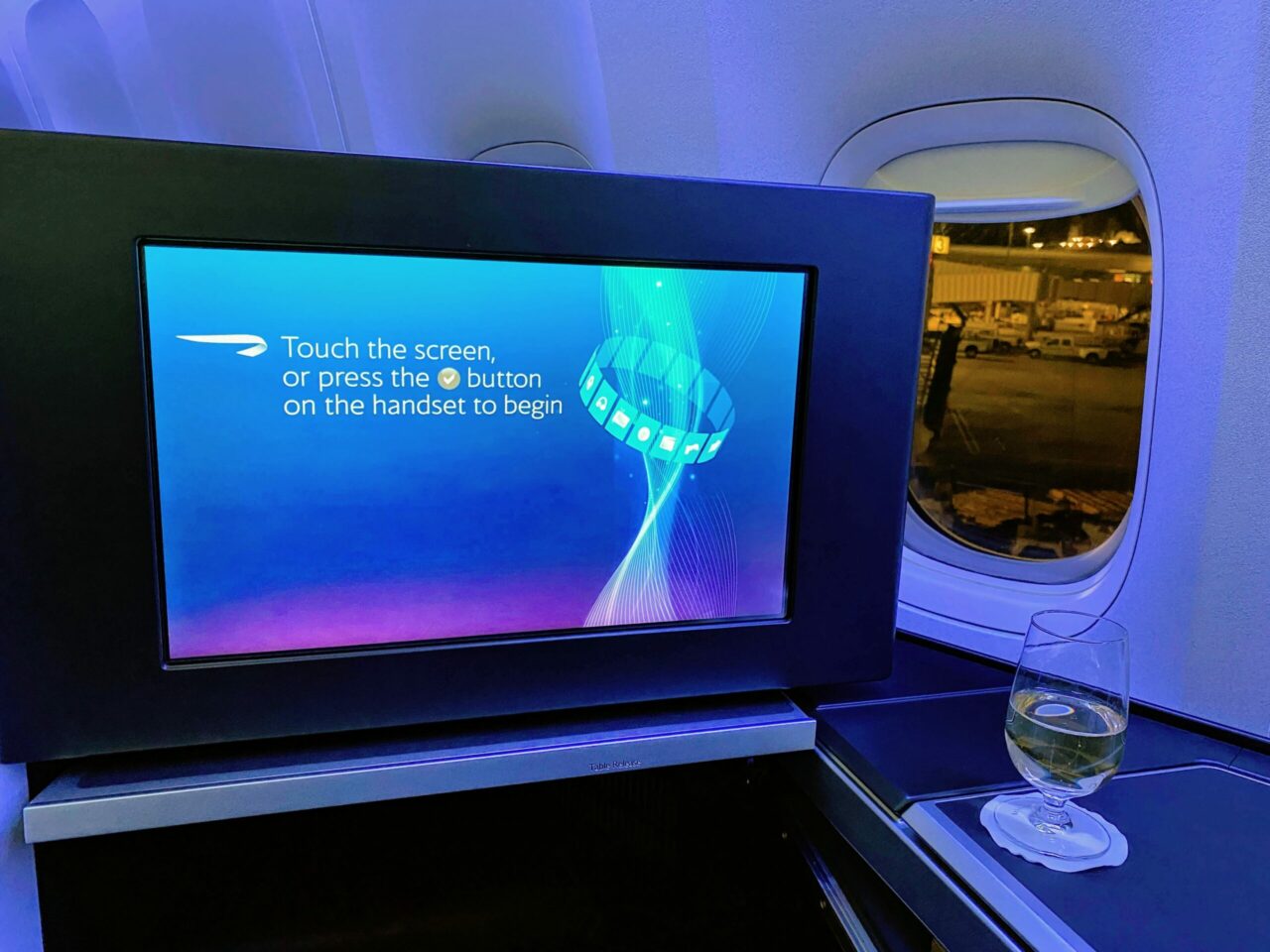 Once I was settled in my seat I was offered a pre-departure glass of champagne or juice. Of course, I had the champagne and it tasted like the regular Canard Duchene. The usual White Company wash bag was also given out along with a menu.
One thing I forgot to mention previously is the shoulder strap seat belt – it's definitely not as comfortable as a normal seat belt. You should only have to wear it for take-off and landing as it comes in two parts which is not too much of a hardship.
British Airways B777 Club Suite and Cabin
The layout of Club Suites is similar to the A350 with a small cabin and then a much larger one. The main galley is in between as well as the toilets, so I'd advise avoiding seats that are at the end of the mini-cabin or the start of the larger one.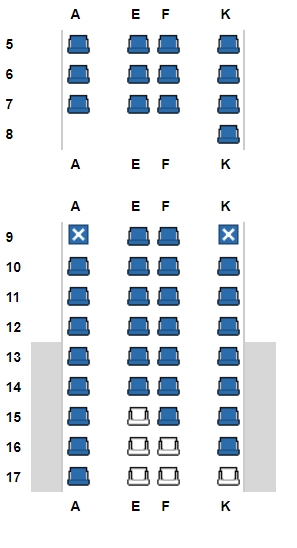 I was in the larger cabin in 11K which was far enough from the galley that I did not hear anything.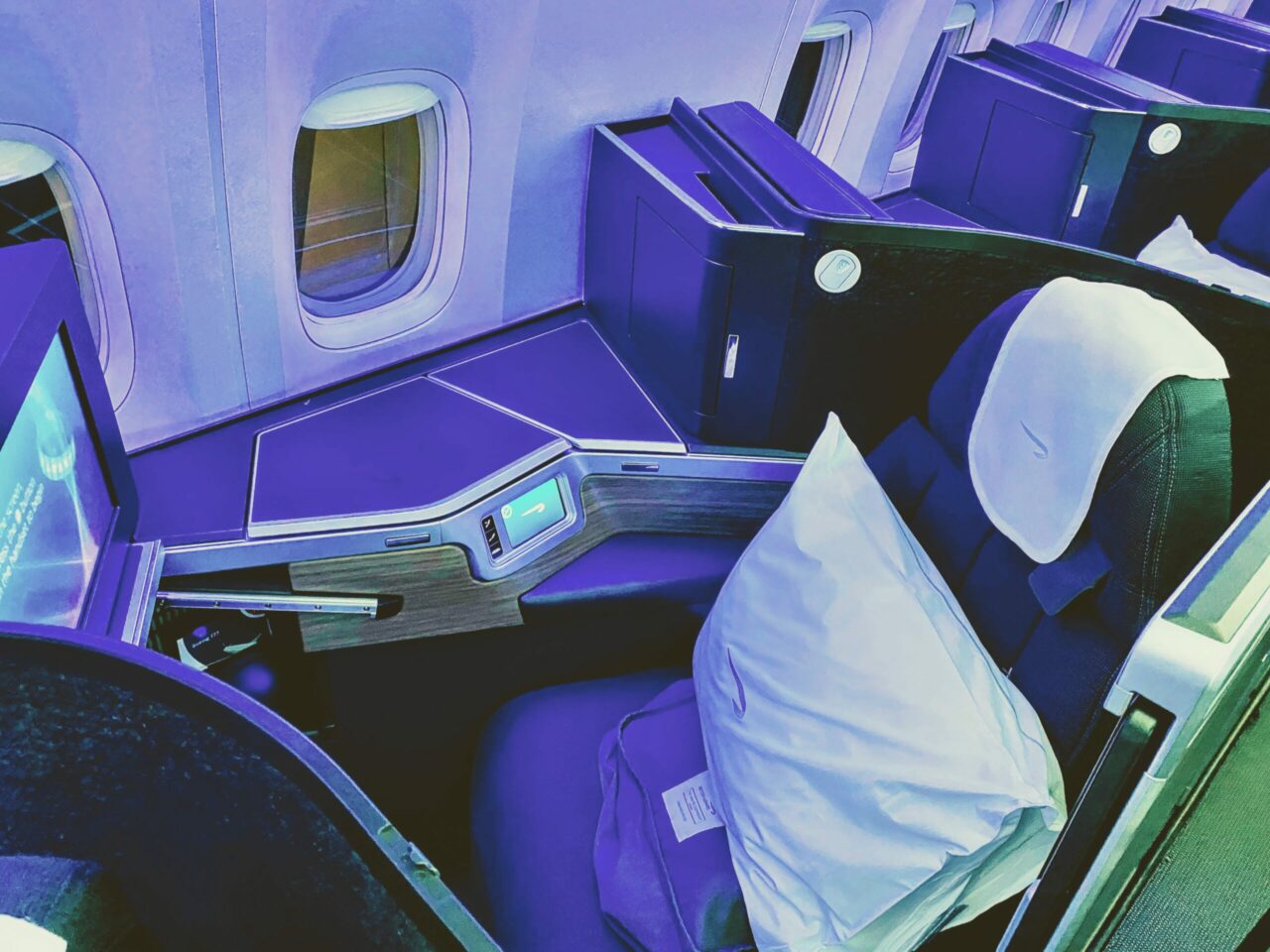 To the naked eye, the British Airways B777 Club Suites look identical to the A350 suites. There are a couple of subtle differences with the British Airways B777 Club Suites seats on the refurbished aircraft.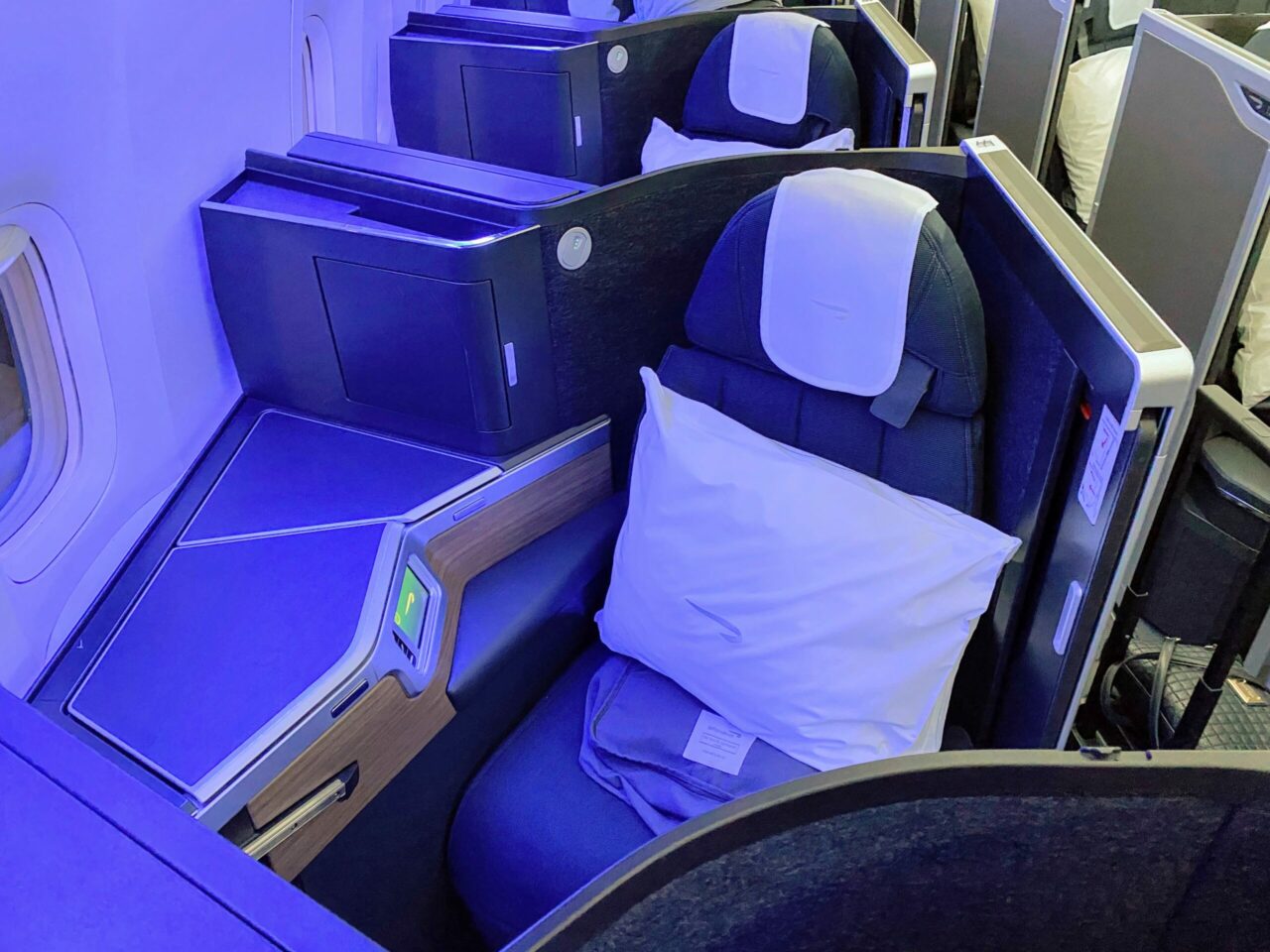 I won't go through the entire suite again as you can read a comprehensive review of the suite here. I will just talk about sleeping in the suite and the difference from the A350. The differences were in the entertainment system and the power points.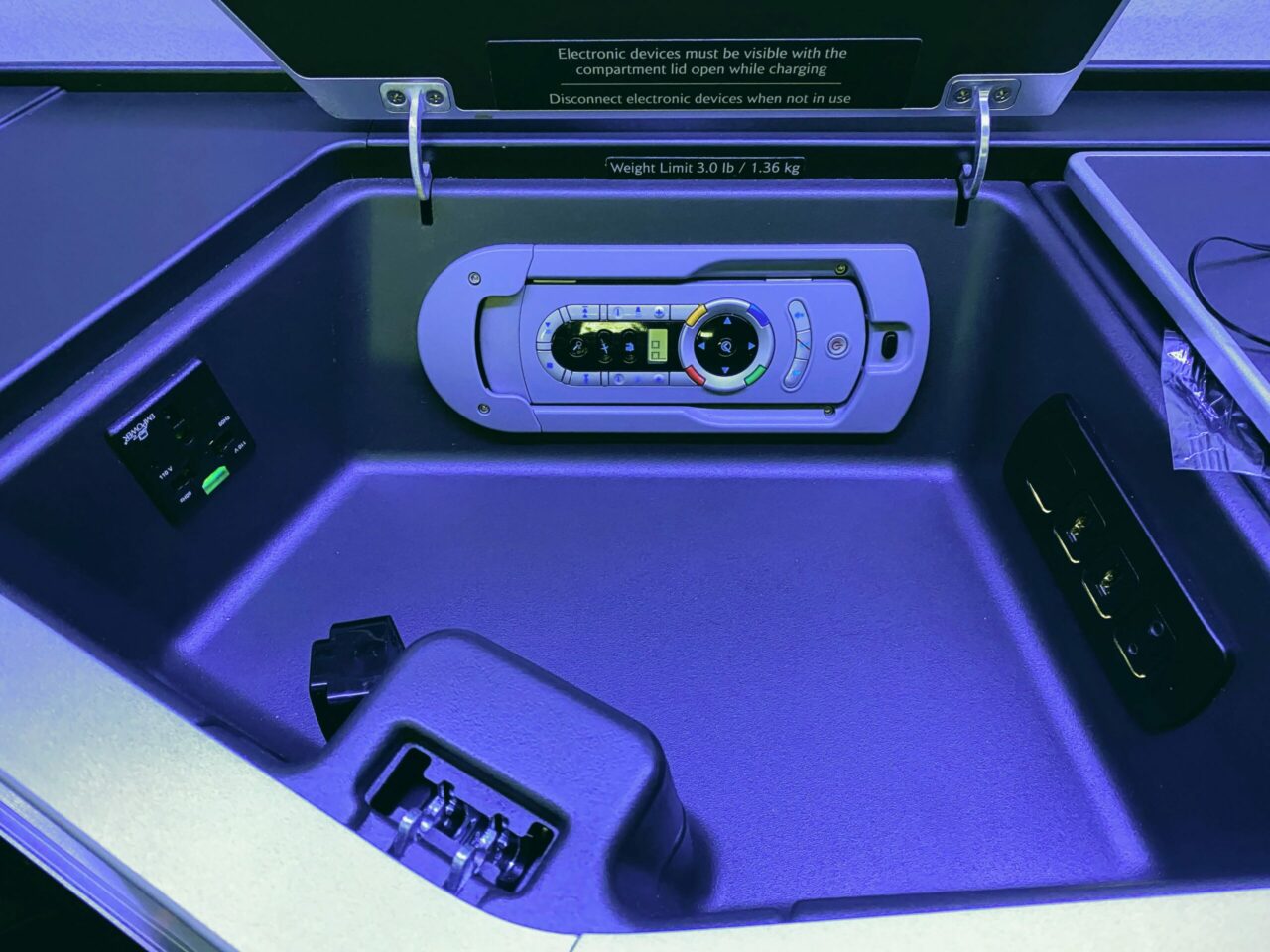 In the A350 storage compartment, the sockets were laid out slightly differently and I had struggled to get my adapter into the socket. In this one there was still a multi-country socket but my adaptor fitted fine. There were also two USB points that worked fine.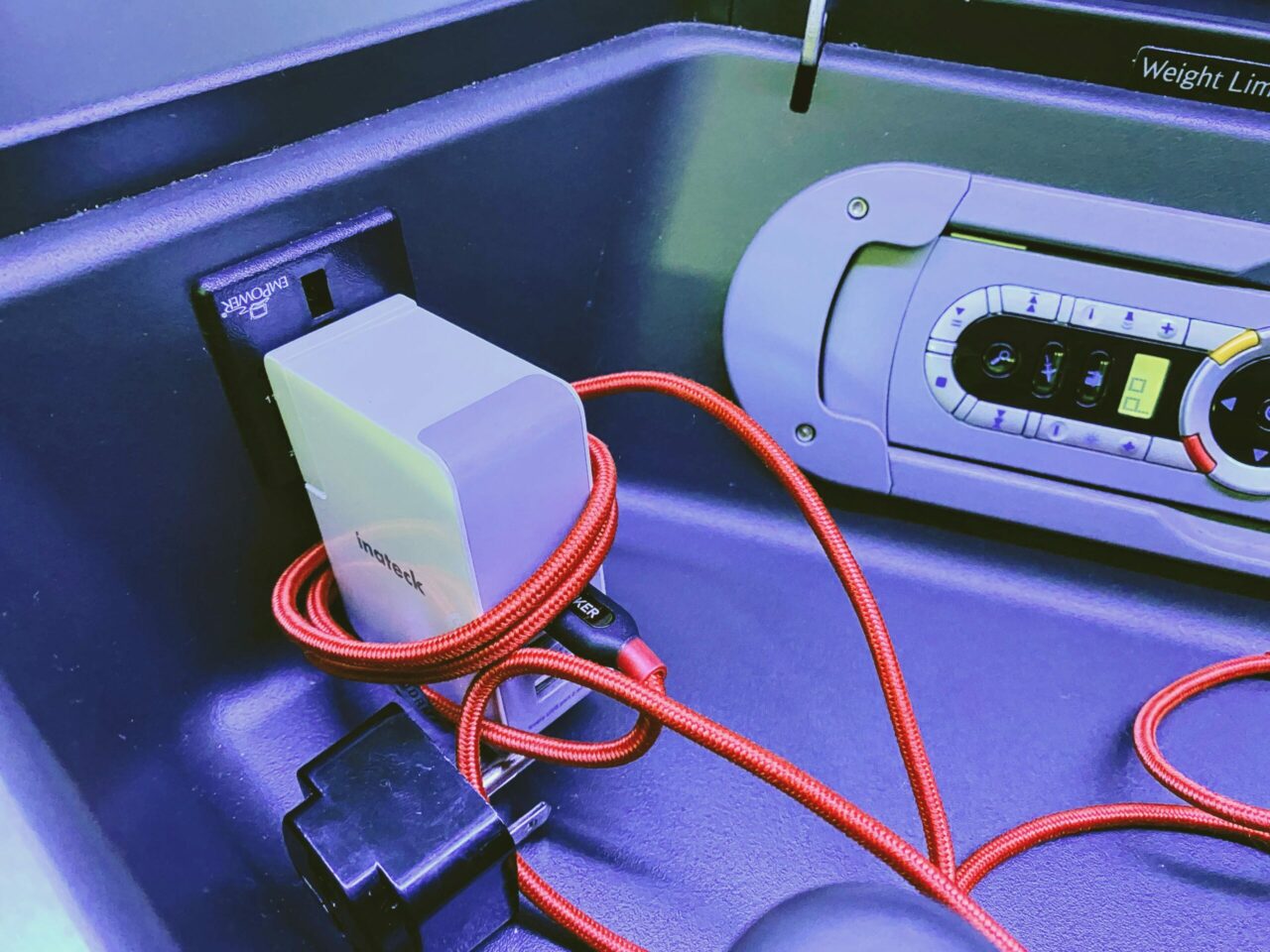 The other differences were in the entertainment system itself and the handset which I will go into below.
I failed to include a picture of the small compartment last time, so here it is. The headphones were in the compartment this time.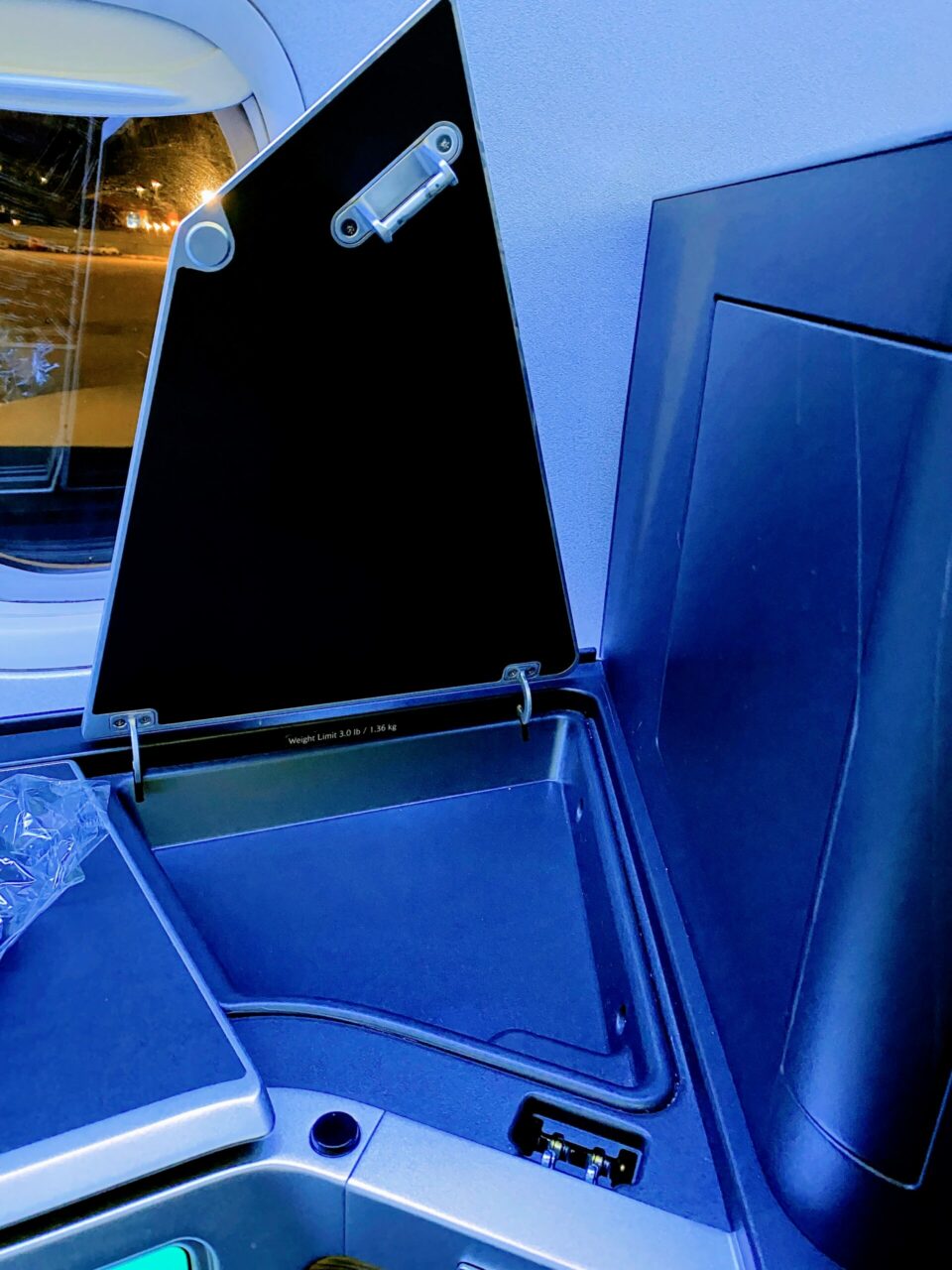 We were given a White Company bedding set which consisted of the mattress topper and quilt. The Club Suites seats are thickly padded so you don't really need the topper. However, when flat there is quite a gap between the seat cushions to I used mine to fill the gap.
The pillow is really large and very comfortable with just the right level of support. I found the quilt a little warm for me but it has a lovely silky soft feel to it.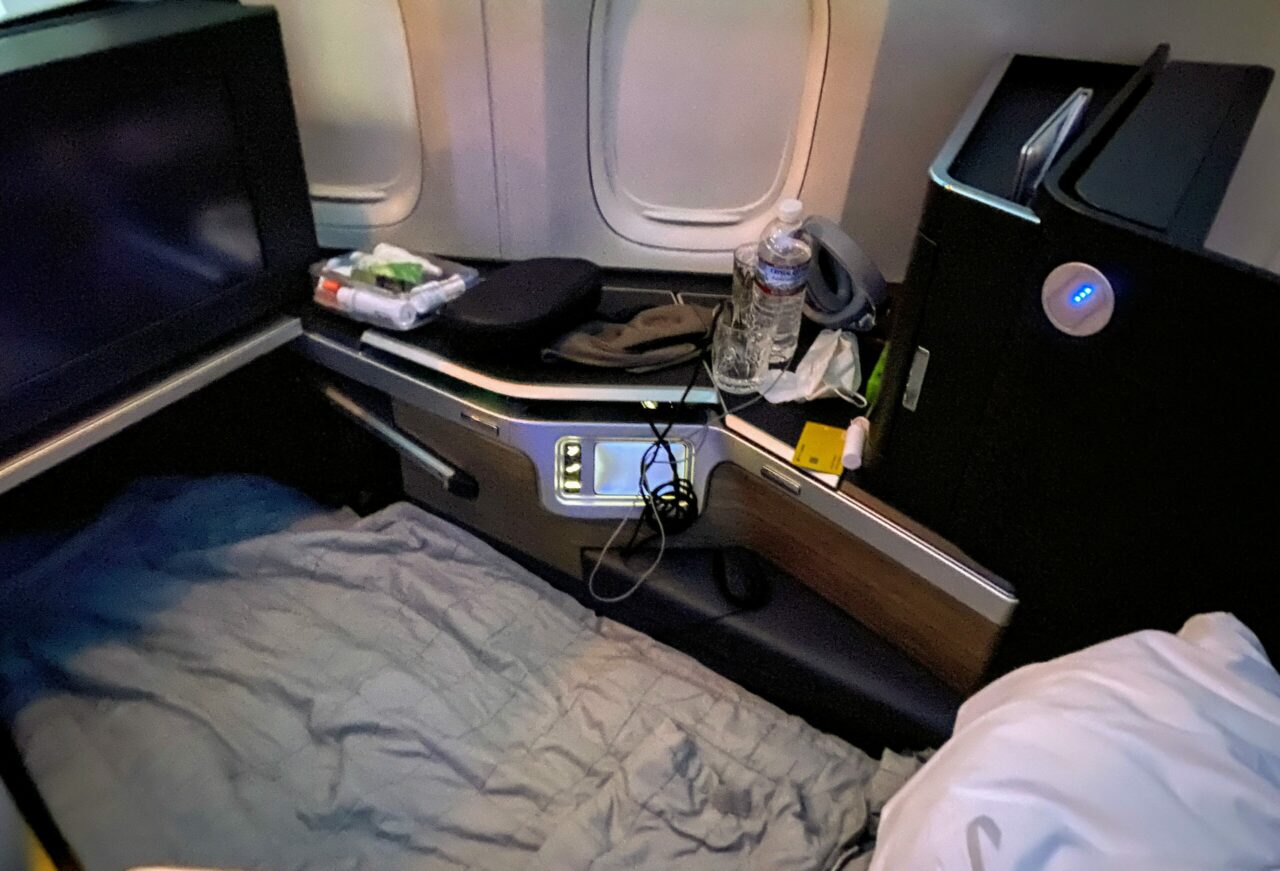 I am a side sleeper but even though your feet go under the TV it was not a squeeze sleeping on my side. Turning over I was a little careful so I didn't knock the bottom of the TV but after the first couple of times I got used to the space.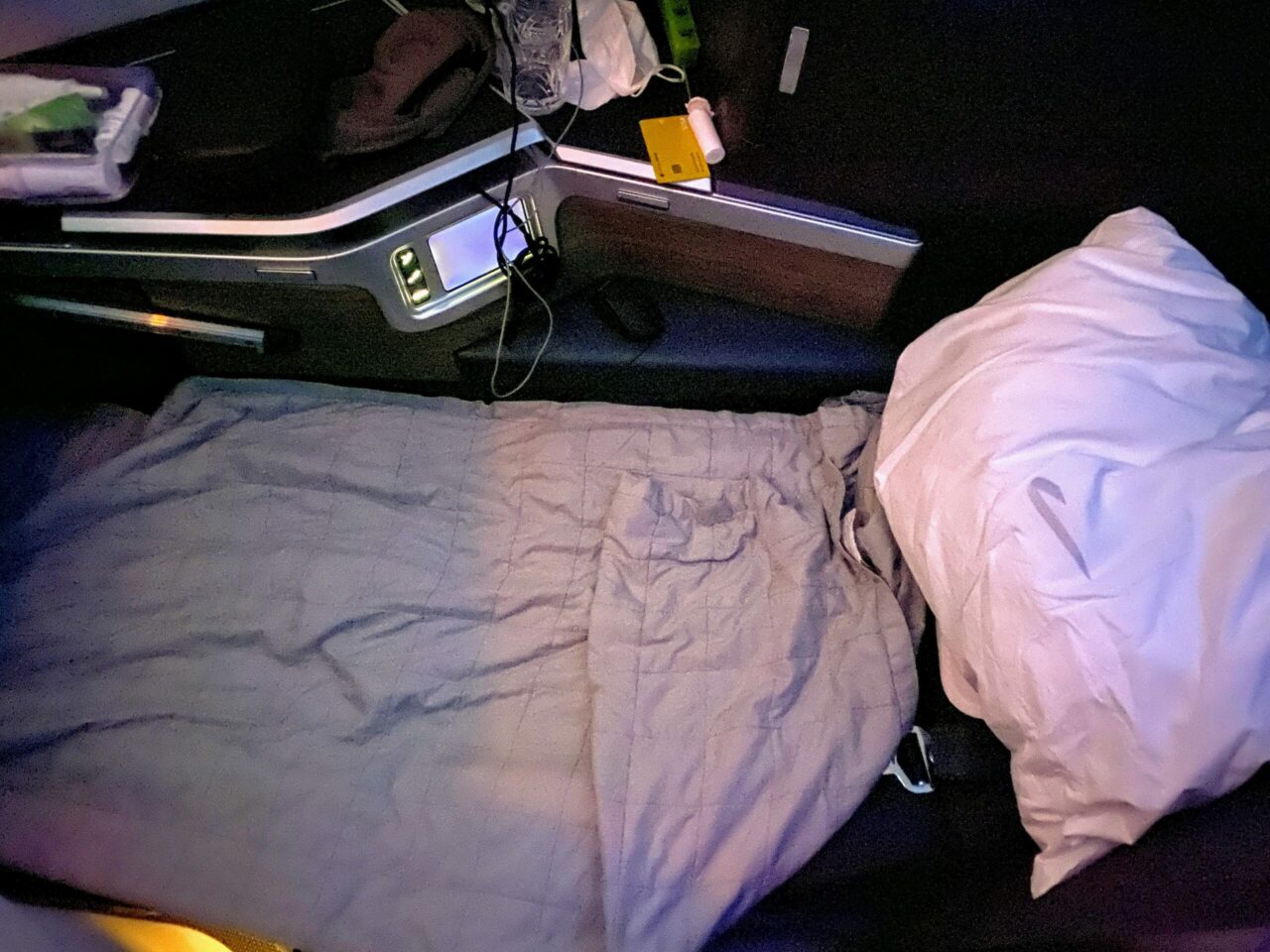 I found the bed very comfortable for sleeping and I really liked having the door for extra privacy. They are pretty private anyway but having an extra barrier between you and the aisle was really good – no one is likely to know you for a start, though it's much less likely in these quites anyway.
British Airways B777 Club Suites Food and drink
There was the odd comment about the service obviously being better on BA1 so I will talk about the service here on a regular flight. The main person serving me was lovely and I had a bit of a laugh and joke with him. He had me sussed pretty early on and kept me plyed with drinks with lots of offers of top-ups!
Even though I had eaten something in the lounge, I decided to have some dinner as I was not planning on eating breakfast until after I got off the flight.
Here is the menu:
The wines were the same and again the Red wines were not specified. I'm guessing it's due to supply issues and the crew members explained them well to me. I was offered a drink before my dinner and I went with the Pinot Noir which was OK but not as good as the whites that they had. This was served with the current nut selection which I am not that keen on due to the chickpea and corn elements. My favourite was always the pretzels – surely with people's nut allergies something like that would work better and would probably save money too!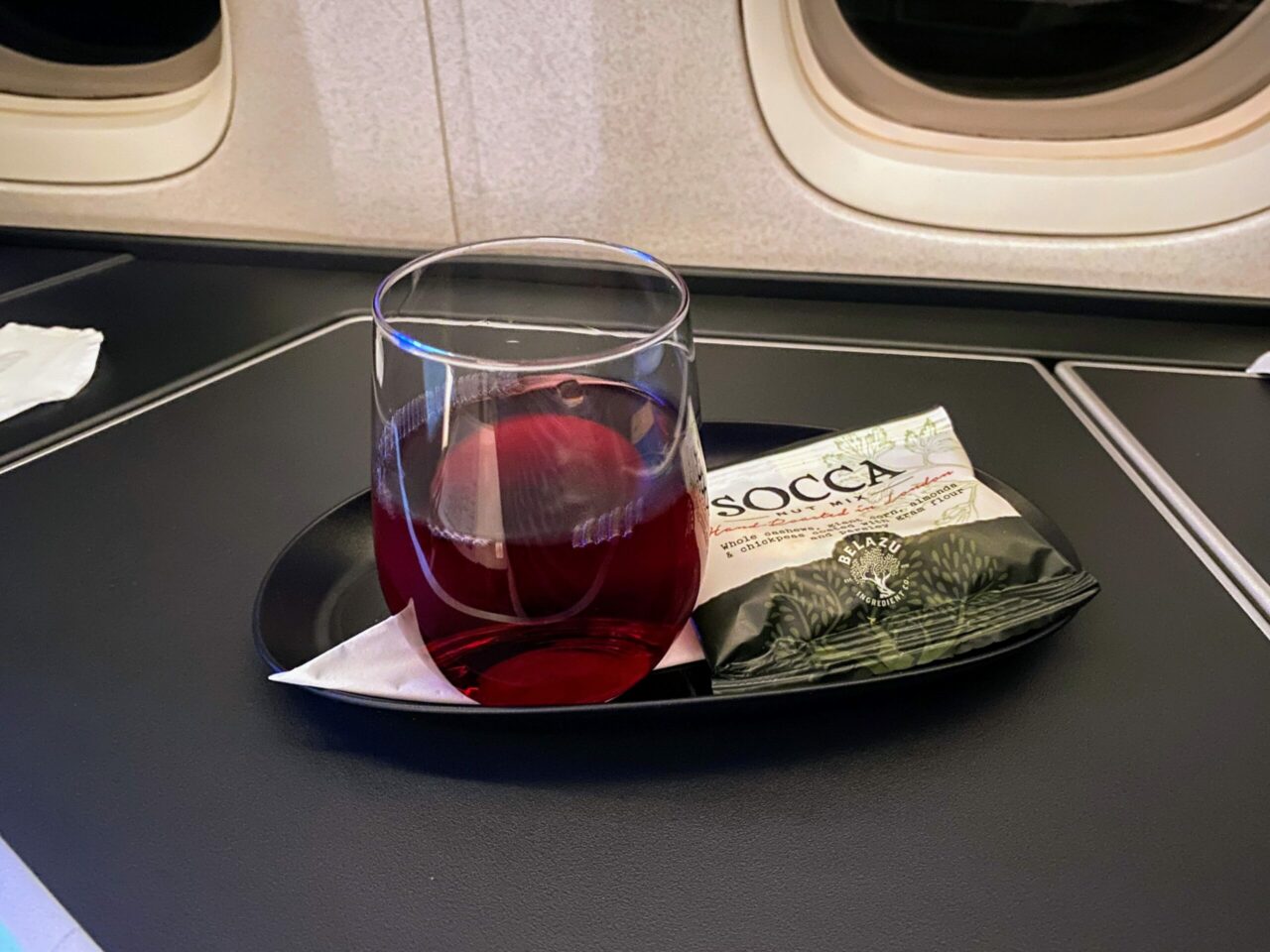 One thing that BA always does well is a curry, so I went for the Indian butter chicken, but actually, I thought all the mains sounded nice.
This service was on one tray which I think on a night flight as short as this (5 hours 50 minutes) is a good idea. A warm roll was already in the basket on the tray and not in plastic which was good! The starter looked a bit dull but actually, it was very tasty with a lovely tzatziki layer at the bottom and lovely sunblush tomatoes to add some sweetness.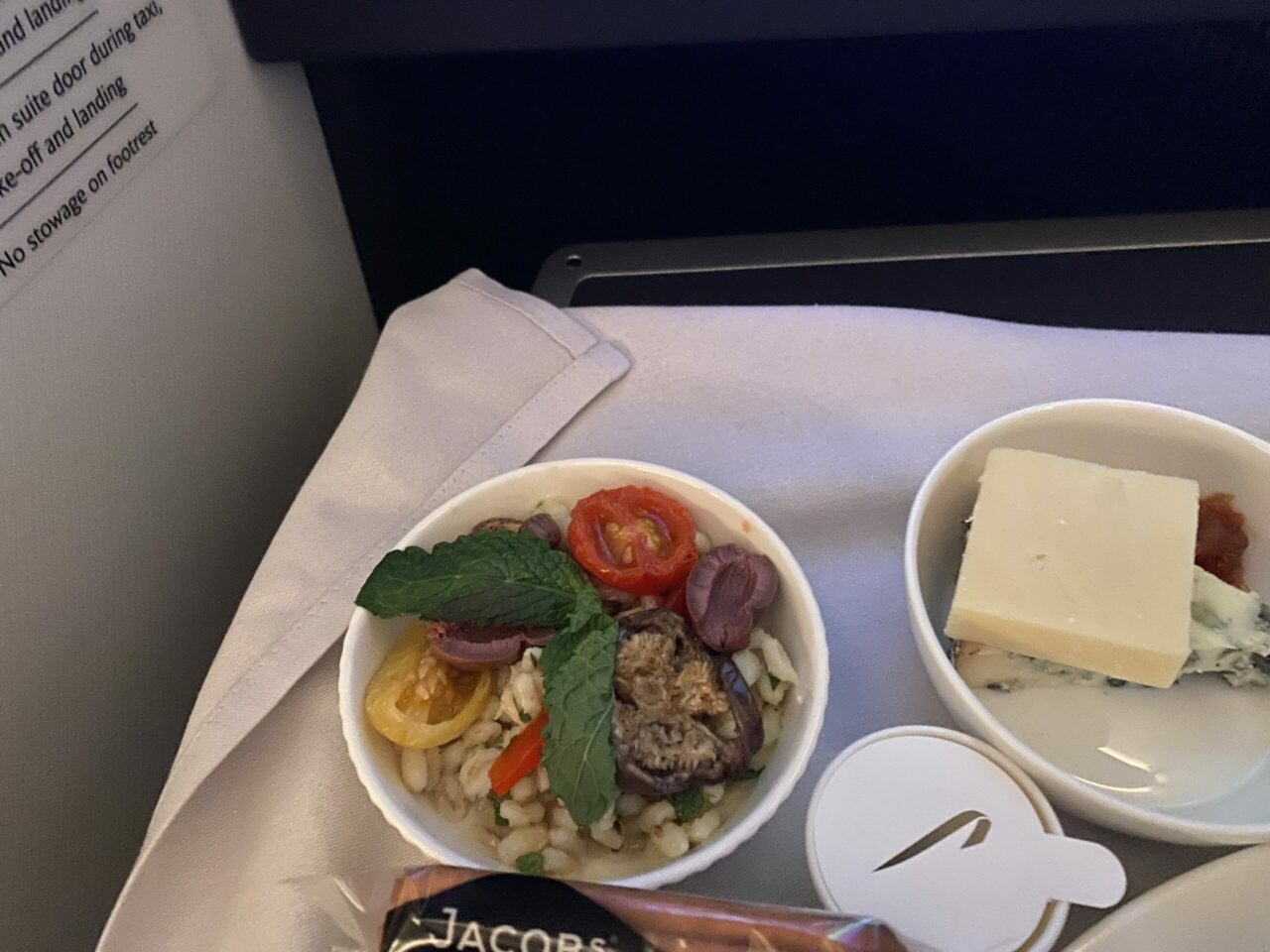 The curry was indeed very tasty and had enough sauce to cover the chicken.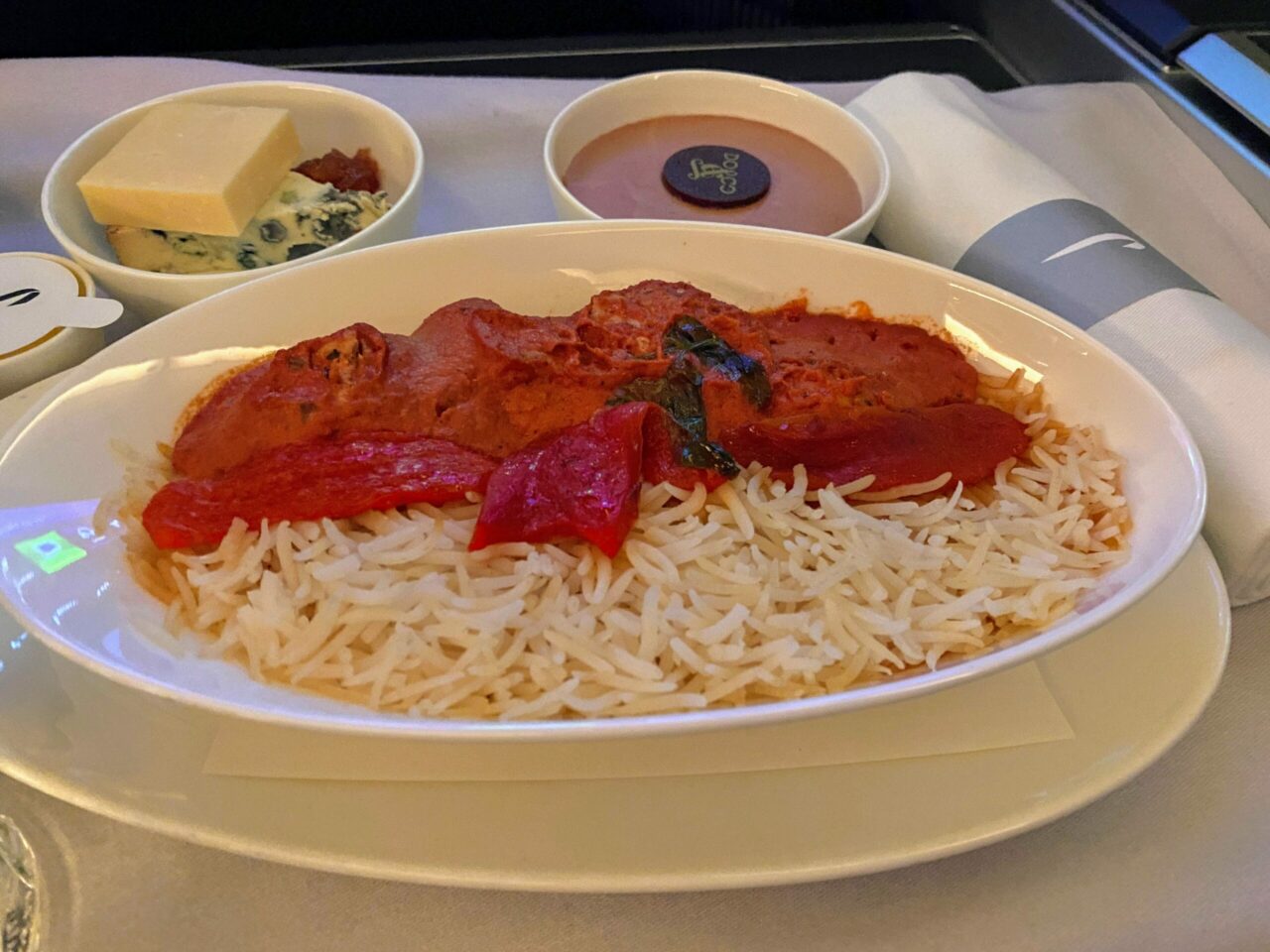 As many of you may remember, I am not a big fan of the D&Co chocolate mousse, partly as it is so often the BA dessert and I have had far too many of them and I find them a bit rich. However, I know lots of people that adore them. This one was banana flavoured so I thought I would give it the benefit of the doubt. It was actually delicious with the banana as it cut down the richness and I ate nearly the whole thing! I tried both the cheeses as well and they were very good quality. No sweaty cheddar here!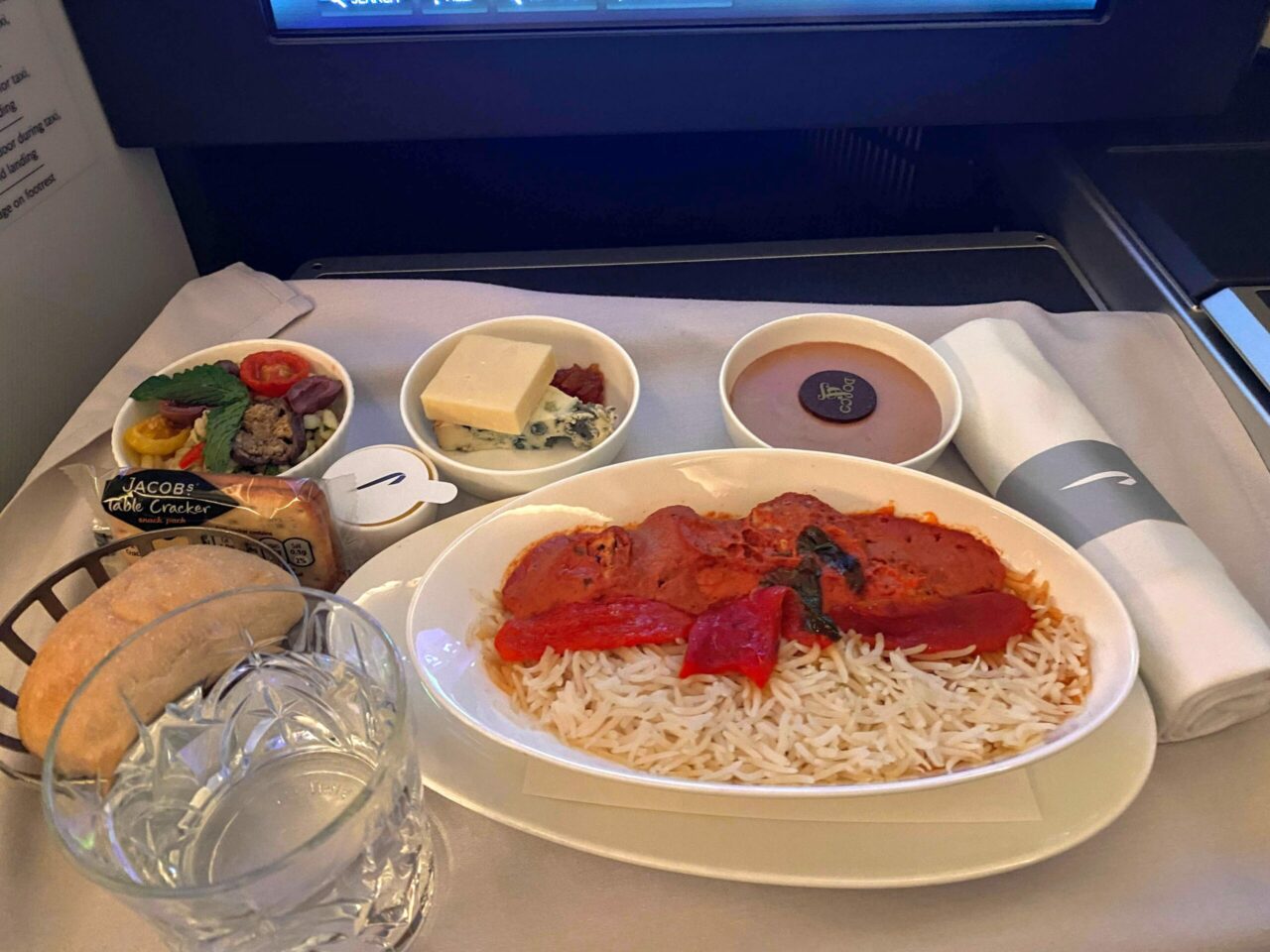 After dinner, I was offered a liqueur and went for my usual brandy. I am pretty sure that he gave me the First XO brandy as it was a darker colour than the Club one (yes, I have drunk a lot of the Club VSOP Otard in my time!), although they could have changed it I guess. Whatever it was, it was lovely and I soon polished it off! I asked for a bottle of water to bed down for the night as I hadn't seen any being given out, but sometimes they do it at the end of the meal.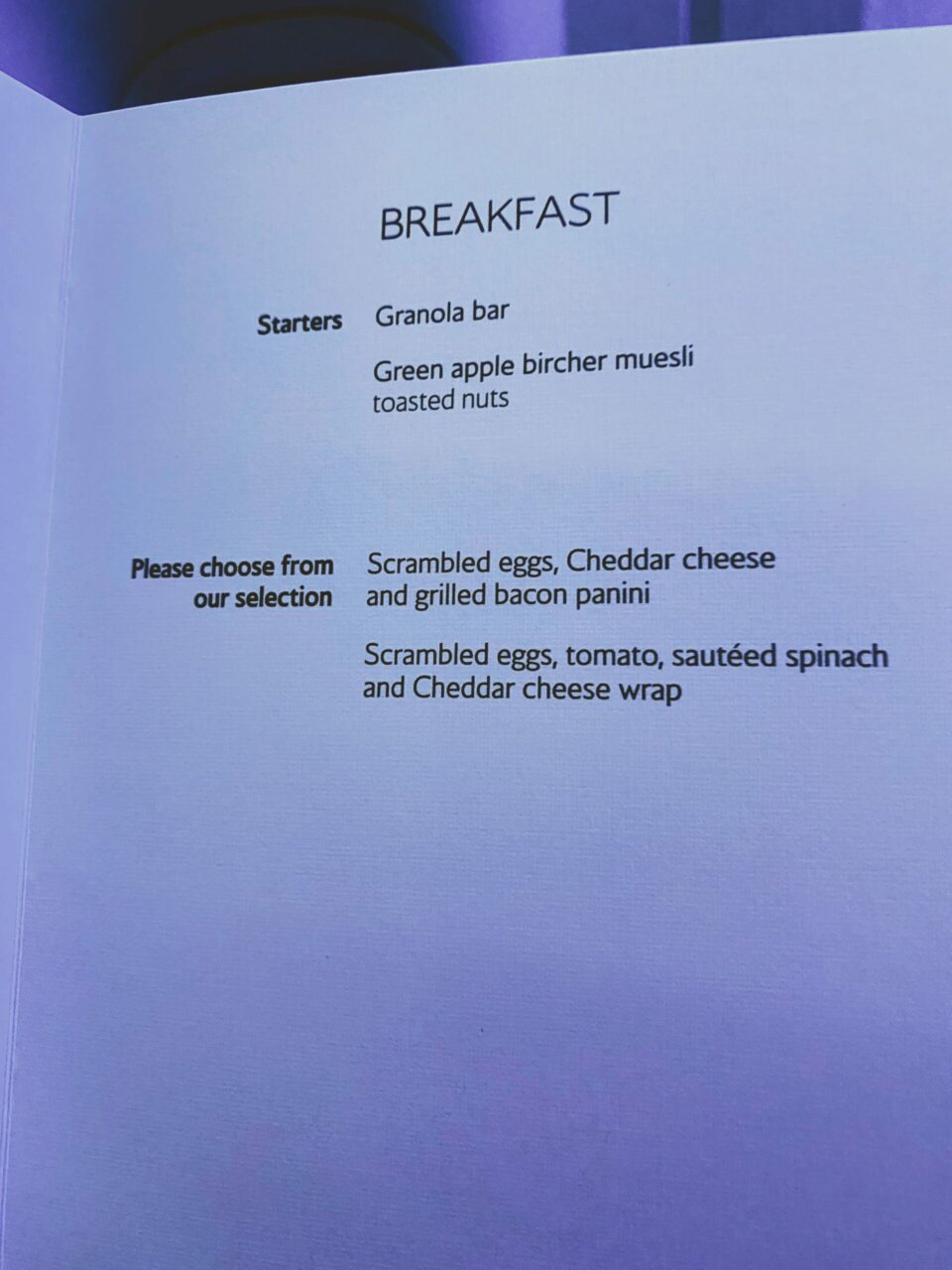 The service in the morning was a little less polished as they have abandoned the breakfast cards. The issue with that is that if you don't wake up as they start service you can be completely overlooked as later on they are busy getting ready for landing. The cards were great as you could maximise your time by just requesting a drink at a certain point rather than needing to find a crew member to ask. It also meant the crew could get ready in advance which reduces the amount of time needed to do the service. So if BA are reading this, bring back the cards! Or do something similar to the short-haul service where you can use your mobile to pre-order your breakfast when onboard!
I liked the look of the breakfast menu and I think on a non-review flight I would be tempted to eat in the lounge, go straight to bed and then get up for breakfast. The menus have definitely improved from the old continental breakfast with a bacon roll which they had until a few years ago! The panini sounded very tempting!
British Airways B777 Club Suites Entertainment and Wi-Fi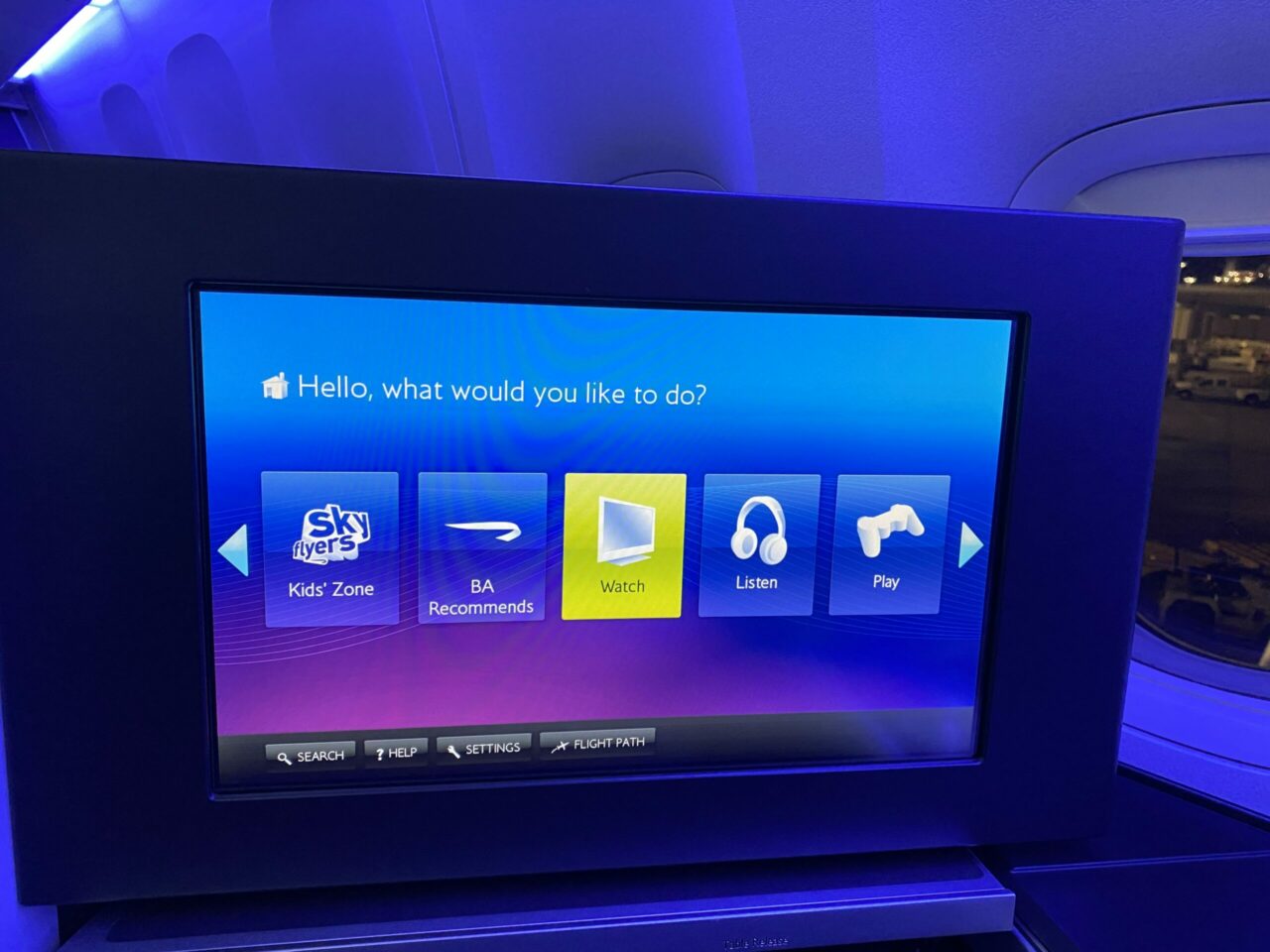 The big difference here was that they had the normal B777 entertainment system, not the new one that you get on the A350 and therefore you get the old handset too. The selection was different which was a bit annoying as I had started watching a series (Prodigal son) which I had enjoyed and this aircraft only had the later episodes rather than the start of the series.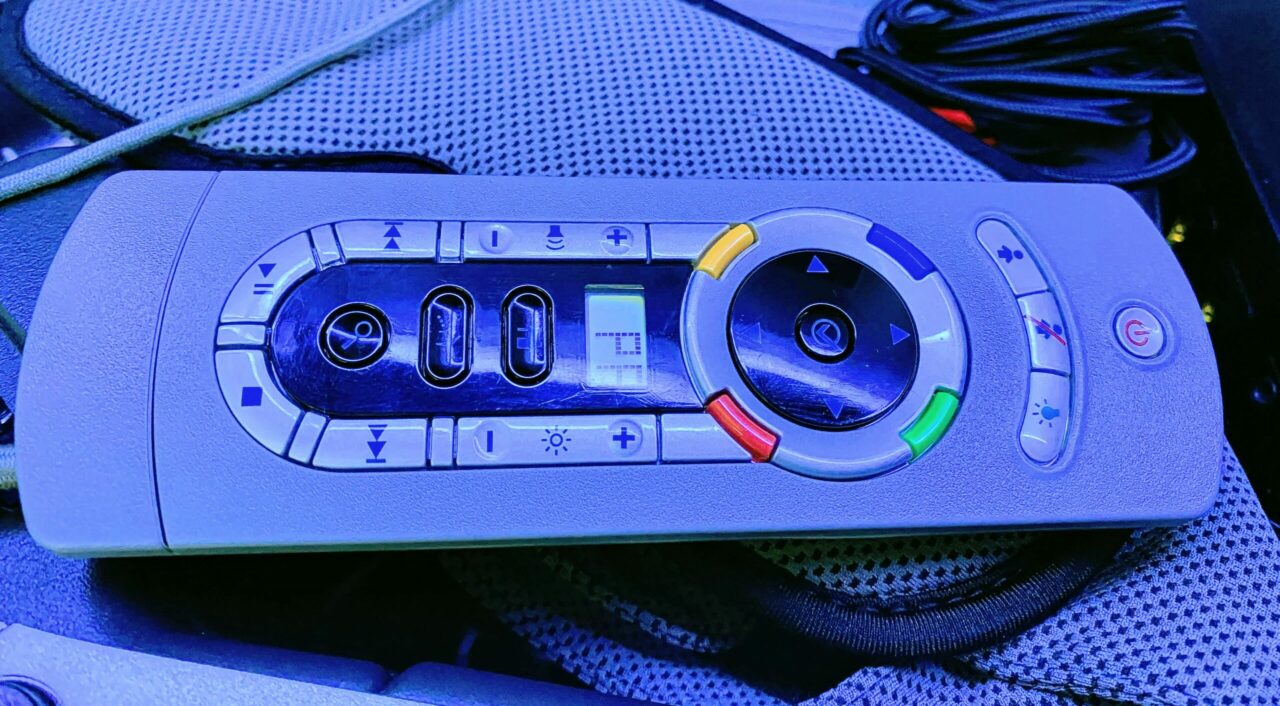 The remote control was very basic but actually, you can call me a ludite, but I kind of prefer the old ones. I find the newer ones lag a bit but this worked very well and I also used the touch screen which was also quick to respond. The definition and size of the screen was the same as the A350 though, so a huge improvement on the old B777 ones!
Arrival at Heathrow and BA Arrivals lounge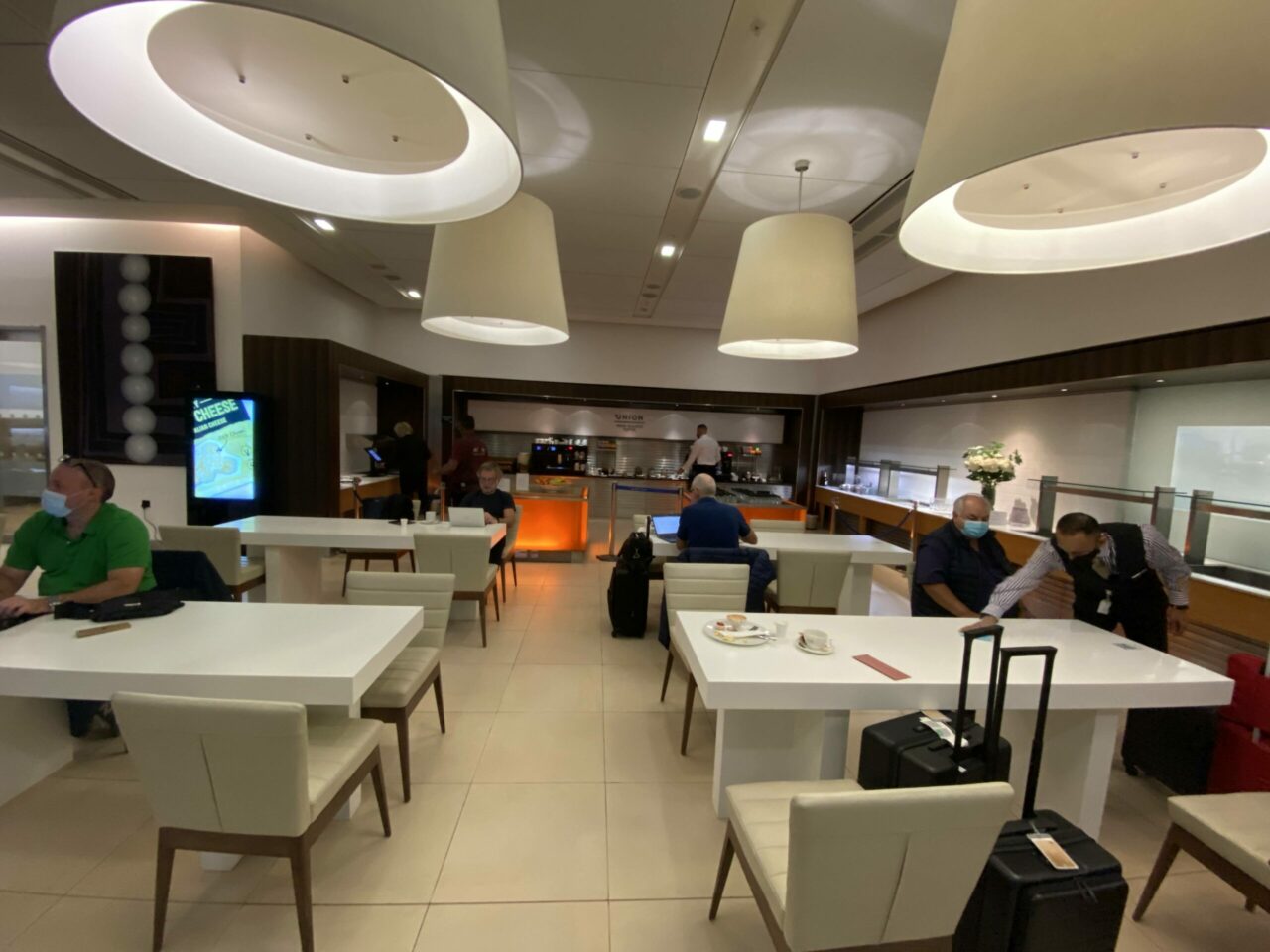 We arrived into the C Gates and took the train to arrivals. It was amazing the amount of people that got off at the B gates by mistake – probably because we sat there for so long people thought that was the end of the line. We had landed early at around 6.30am, and by the time we got to passport control it was pretty empty.
For some reason, the e-gates hate my passport and it normally takes a least 3 attempts. Funny how it works in every other passport machine around the world!? This time it wasn't having any of it so I had to queue up, typically behind someone who was completely in the wrong queue and there was only 1 desk open for the rejects. After around 5 minutes I got to the front. They just asked where I had come from and then I was through. My baggage was there within a couple of minutes so it was a very quick experience overall.
The BA arrivals lounge is open again from 0500-1400 every day. To find it you need to go up to the first floor after you come out through customs.
It's available for:
British Airways customers arriving in First or Club World cabin.
British Airways Executive Club Gold cardholders arriving on a long-haul British Airways flight.
American Airlines customers arriving in First or Business Class cabin.
American Airlines Concierge Key card holders arriving on a long-haul American Airlines flight.
The spa is now closed sadly but there are still showers. You can now do everything online which was not immediately clear and could be better communicated. Each table has one QR code and they are at opposite ends of the table. So if you sit at the wrong end and someone has covered it up, you would not know what to do. I had to ask someone!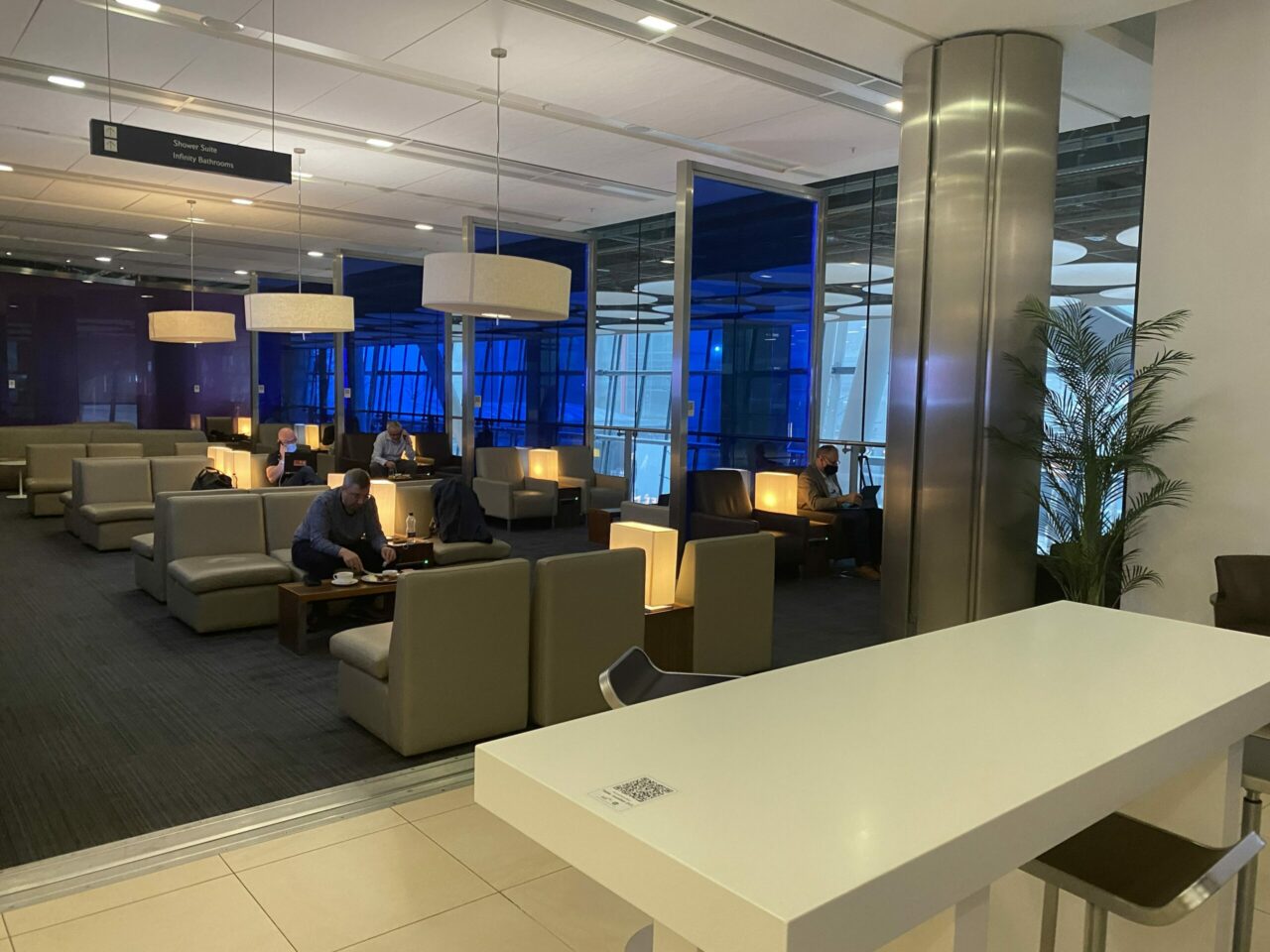 It would be good if they could have them at both ends or have a sign on the table. I didn't bother with a shower but I did order some food. The Concorde Dining room was shut.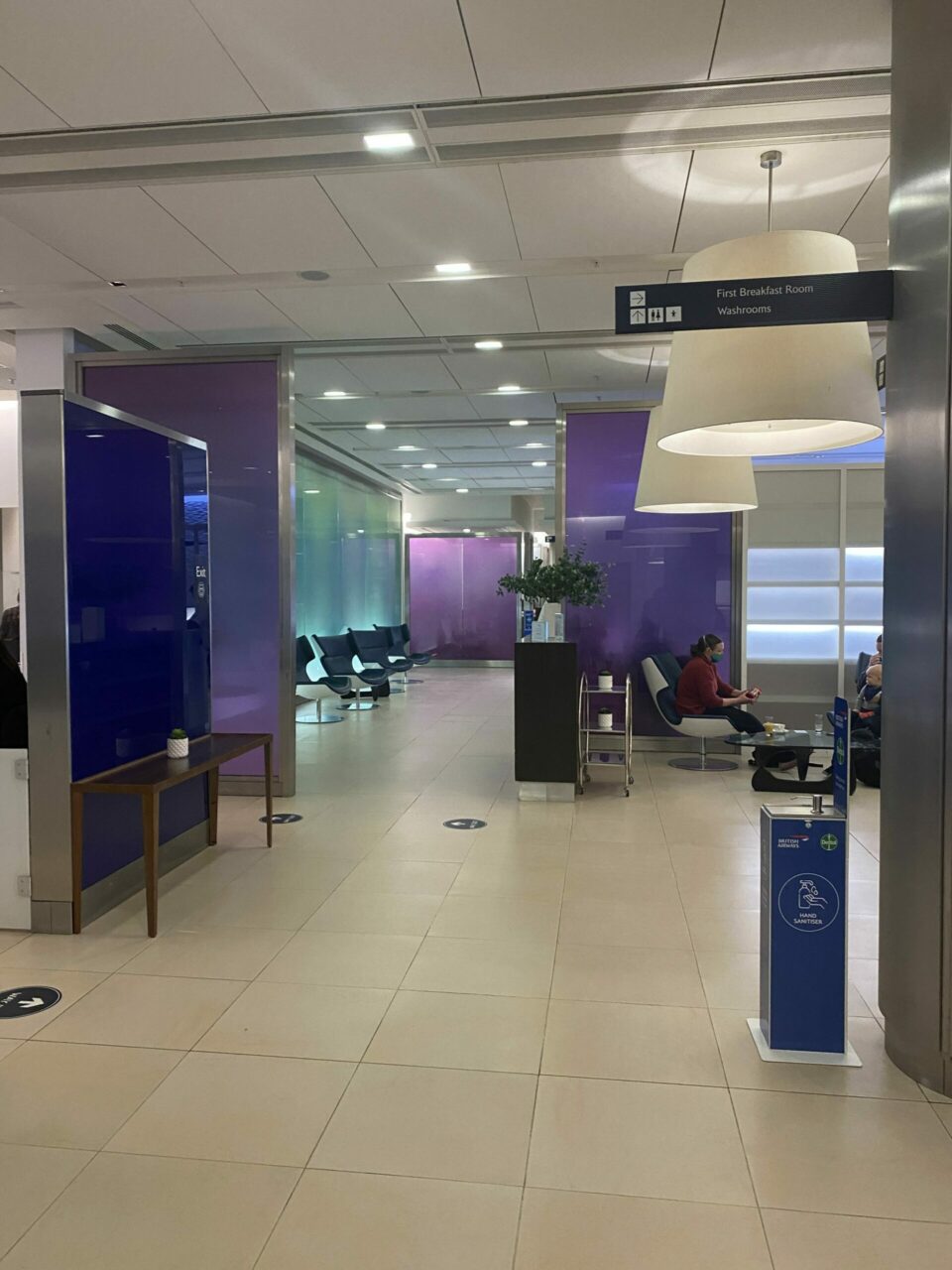 Here is the breakfast menu:
I actually thought it was a really nice menu and I don't remember champagne being available before, so that was a lovely surprise!
I went for the select your own breakfast. It did take quite a while and I had to chase it after around 10 minutes as I could see the staff were not making any drinks and I was yet to get my tea.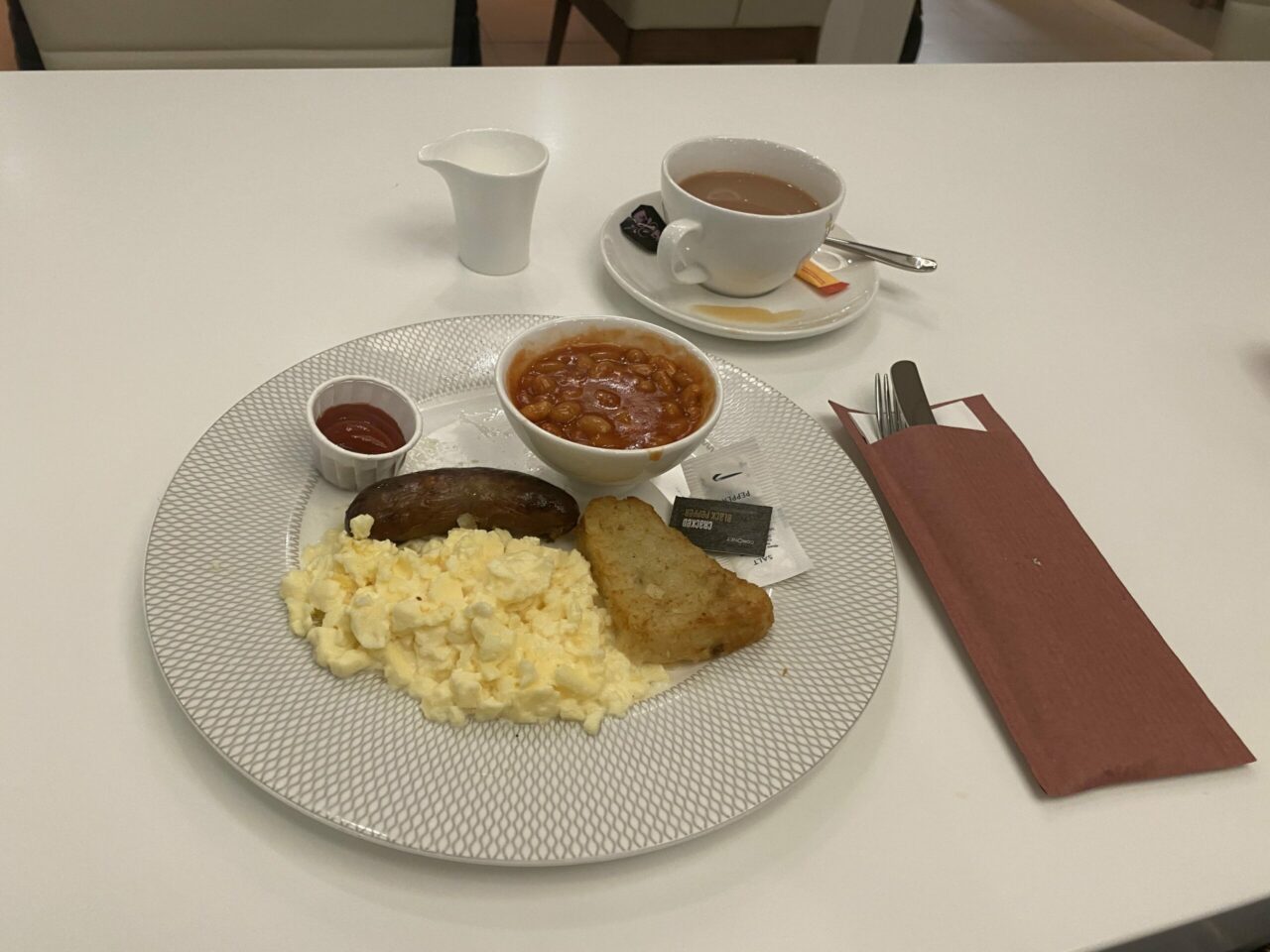 When the breakfast arrived it was piping hot and very enjoyable.
Conclusion for British Airways B777 Club Suites
This was the first time I had slept properly in the new Club Suites and I loved them! I just wish they were on every flight now. Much as I quite like the old seats for sleeping in terms of comfort, there is nowhere to put anything like a bottle of water. This seat was sooo comfy for sitting and lying down. I loved all the storage space and the crew serving me were lovely.
I also really enjoyed my visit to the Concorde Room and actually, I probably prefer it to the UK one. Because it is quieter, the service was super attentive and they just had that generosity of spirit, wanting you to have everything – not great if you are on a diet though! All in all, it was so great to be back flying long haul again with BA, I even didn't mind the jet lag!
Like our British Airways B777 Club Suites review? You can read more flight reviews here.