Several changes and a 90 minute delay later…
This was a flight that I had booked some time ago when BA were offering a higher than normal discount if you part paid with Avios. I got £100 off the cash price for 5000 Avios which took it down to £173 return for Club. I still got the 160 Tier points return for being a short haul+ destination. I had booked the flights when Malta had been at Heathrow but was expected to return to Gatwick. I had numerous changes and cancellations backwards and forwards between Heathrow and Gatwick with different dates and times still showing on the app.
The short-haul flights at Gatwick are now operated by EuroFlyer, BA's new low-cost subsidiary. Everything should be pretty much the same as flying with BA, so how was it?
Check-in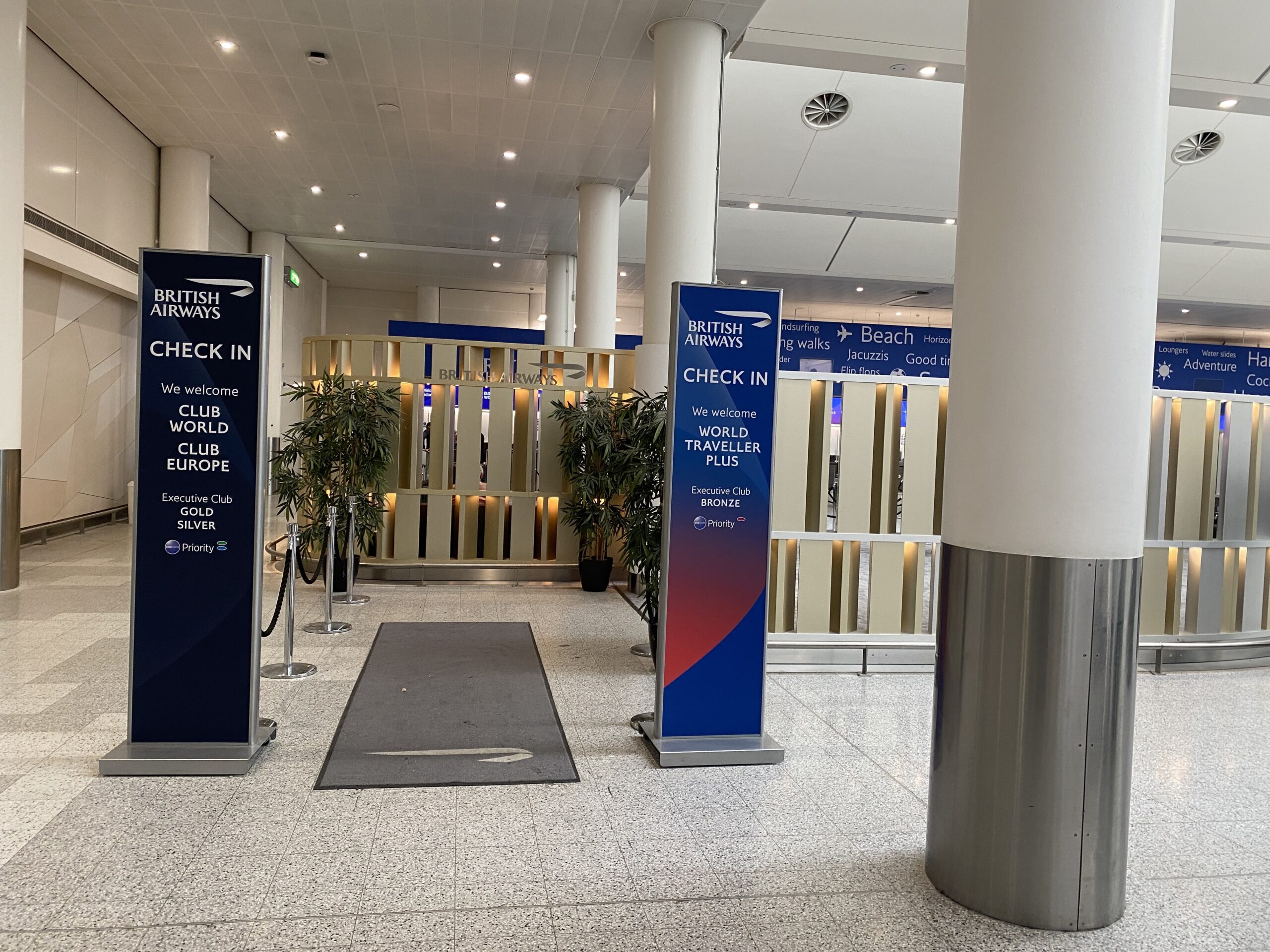 I arrived at Gatwick around 11am and although it was busy there were no real queues anywhere. The BA Premium check-in was pretty much deserted which was a relief. As I have written about before, as there are no BA First services from Gatwick anymore, they have removed the first check-in desks but they do still have the premium check-in area.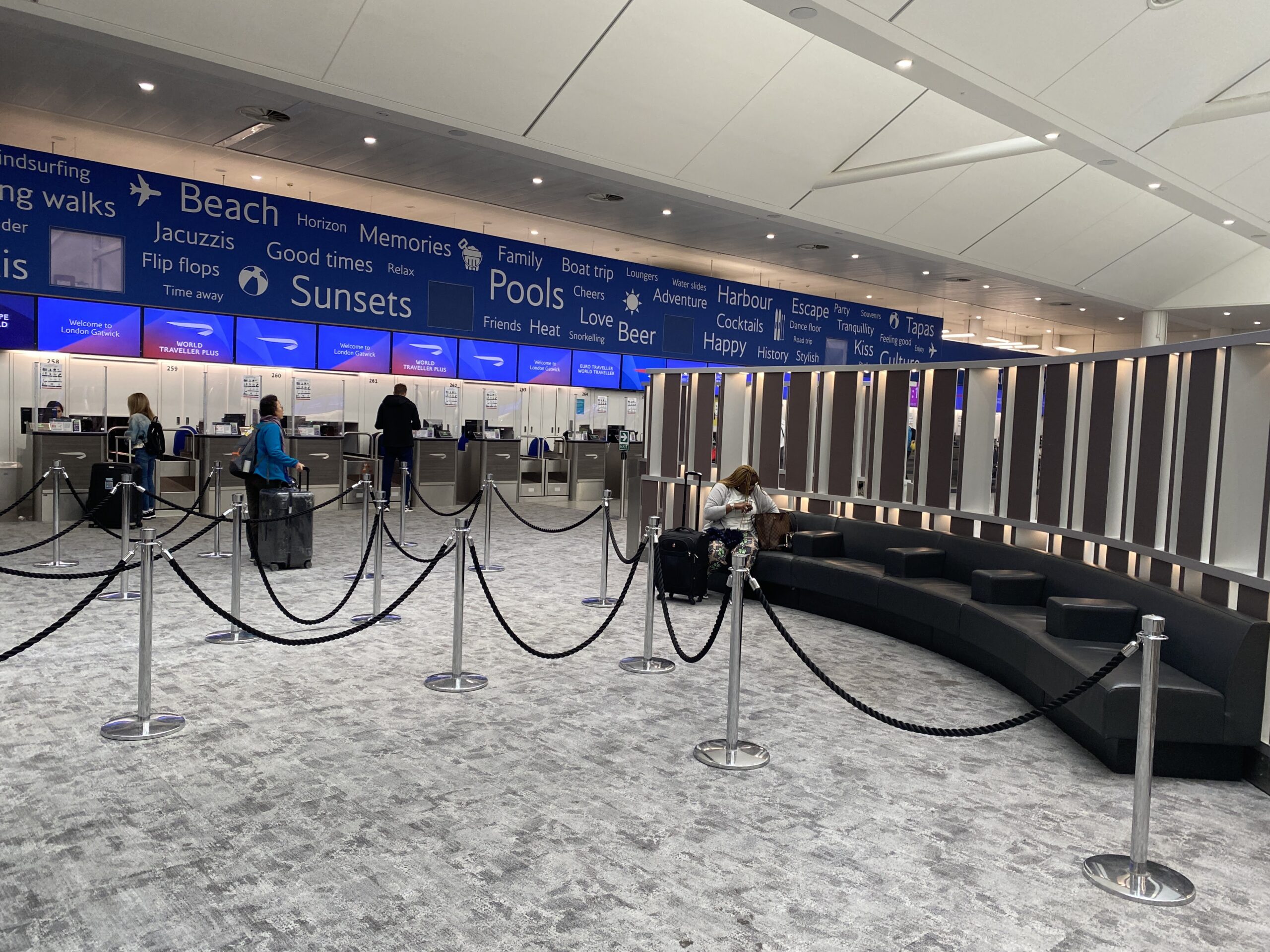 For some reason, I'm guessing due to the fixed furniture and wanting to utilise all the space in the premium area, they have moved World Traveller Plus check-in into the area which also includes Bronze members. However, there have been several reports of chaotic scenes when busy due to the lack of clarity regarding which queue is for which. When I was there, it appeared to only have one long check-in queue which seemed quite ridiculous when there are separate desks for Club and WTP. It would be far more efficient as well as a better experience for your most premium customers if there were two clear queues for Club and WTP.
After a few seconds wait I went up to check-in. Well, Toto, we aren't in the T5 first wing anymore…No lovely chatty check-in agent but instead a very sour-faced agent who barely said two words. Where are you going and do you want a boarding pass was all I got out of her. I was already aware from the app that we were around 90 minutes late but she did not mention anything at check-in. At Heathrow they always say if there is a delay expected. There was no mention of the lounge either which I thought was poor. Many people may not know where it is or know if it is open.
If there is a queue for the premium check-in, it's worth looking at the self-bag drop just behind as this is often the quietest area.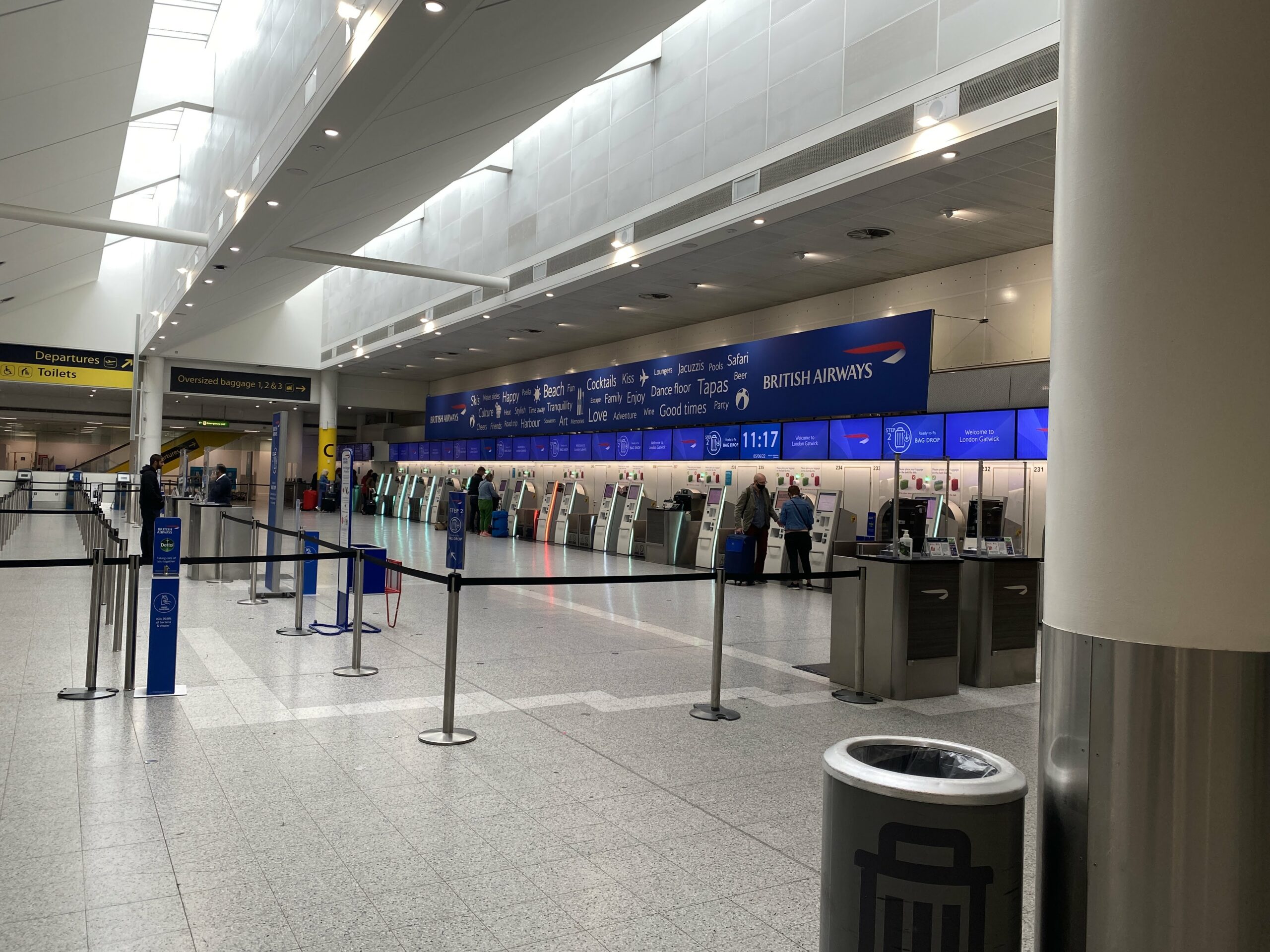 You get Premium security included as a Club or status passenger. When I arrived the queue was pretty long and almost back to the desk. I'm not sure what went wrong but for around 5 minutes it did not move at all. Once it started it moving it was very quick. Security was extremely well organized with an officer directing people to queue behind each position. The officer behind the belt was friendly with a good sense of humour which helped the experience. Why can't other airports encourage a bit of personality? It may be a serious business but it doesn't mean that it can't be a pleasant experience.
The Lounge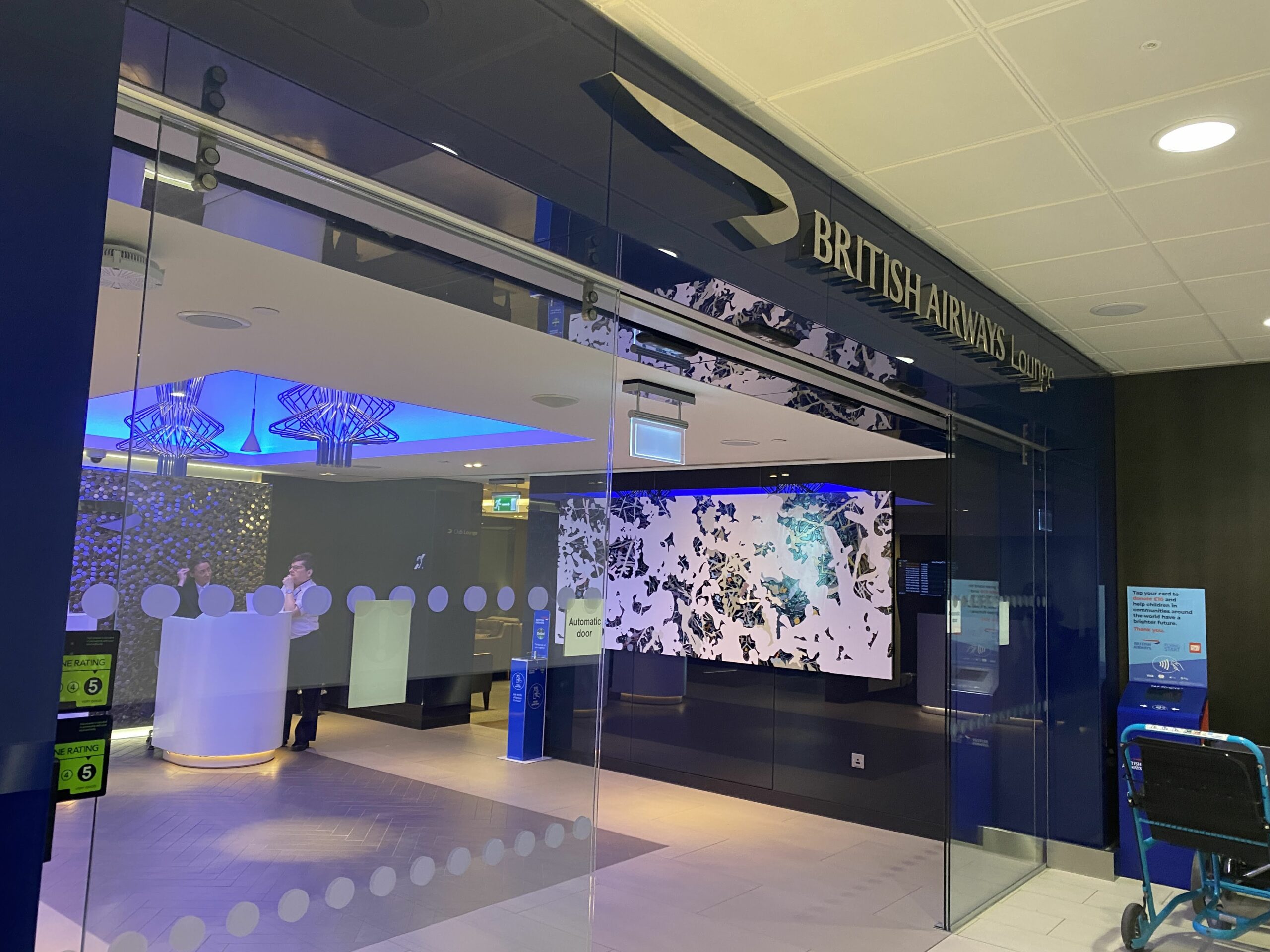 Once you get through security you can take a shortcut to the lounge by going to the left before you go down the escalators. If you want to visit the shops, you will need to go up the escalators in the main area to get to the lounge once you have finished. If you have gold status you can use the First lounge. If you want to read more about the Club lounge there is plenty of information here. In both lounges, almost all the food has to be ordered via a QR code which takes you to a page which shows the menu of food.
Here is the selection in the First lounge. There is also a kids menu.
The lounge was relatively quiet. There is a large seating area as you walk in with the toilets to the left. Showers are available in the Club lounge.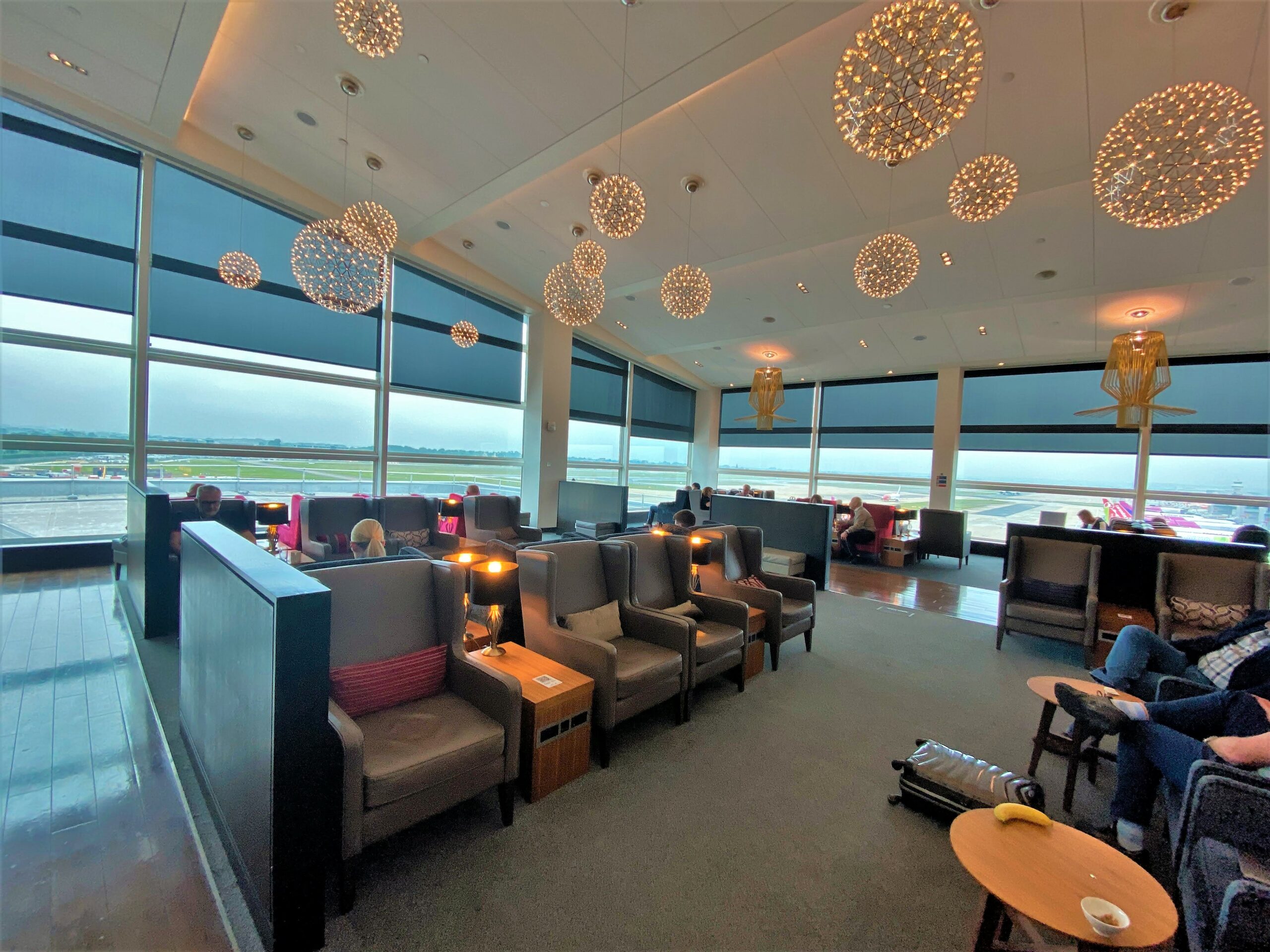 Then you go through to the Champagne bar where there are comfortable seats with tables designed for eating.
Sockets are available beneath the seats including a European socket.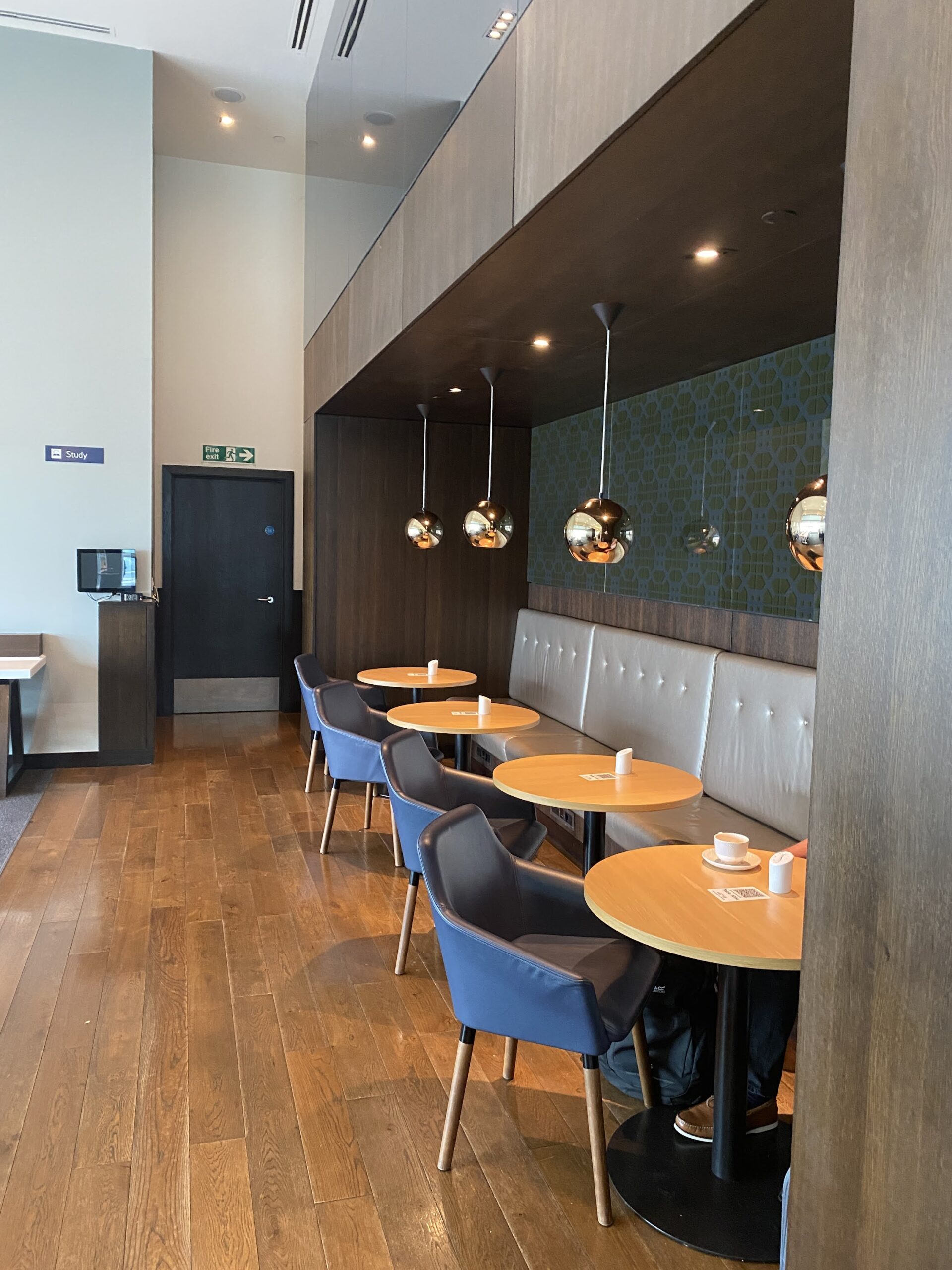 The next area also has similar seating and a work area with desks and a printer. It was interesting to see that BA had not sold their Tracey Emin drawings as during Covid they had a big art sell-off.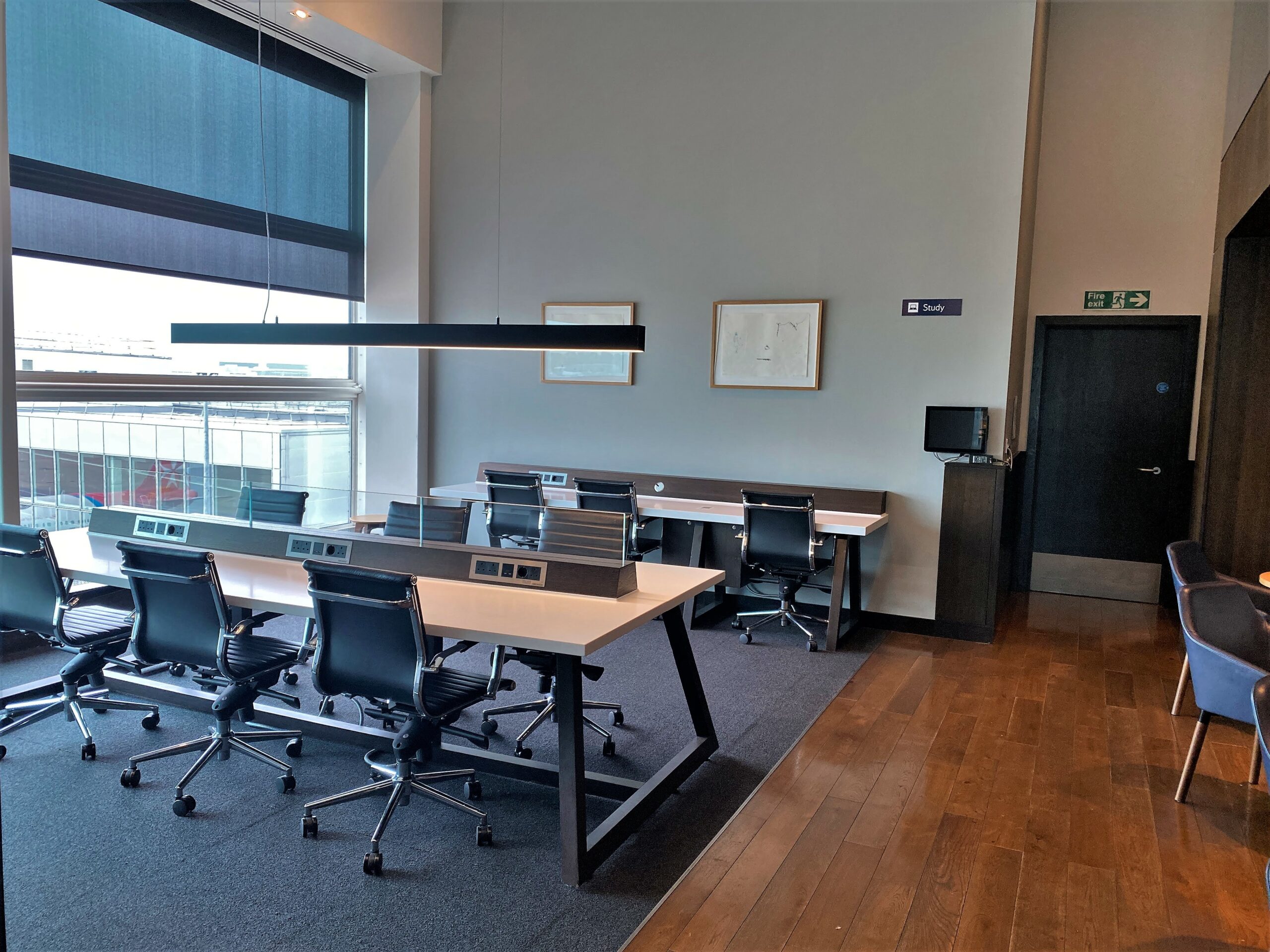 Drinks are help yourself and there was a pretty good selection although #brandygate continues! (there was the excellent Zapaca XO rum though). There was also Johnnie Walker Blue.
I spotted 3 champagne/sparkling wine – Hattingley Valley Blanc de Noir BA edition, Lanson Rosé Extra Age and the usual Canard Duchene.
I tried the Lanson as a comparison as I don't like the usual rosé. I can't say it was great but it's drinkable – I'd say it's similar to the Bellxx they serve on board long haul.
Additionally there were 3 white wines, an excellent New Zealand Marlborough late harvest dessert wine from Giesen and 3 reds including a St Emillion.
If you wanted a soft drink there was a large coffee station with machines and still or sparkling mineral water plus some biscuits to go with your cuppa!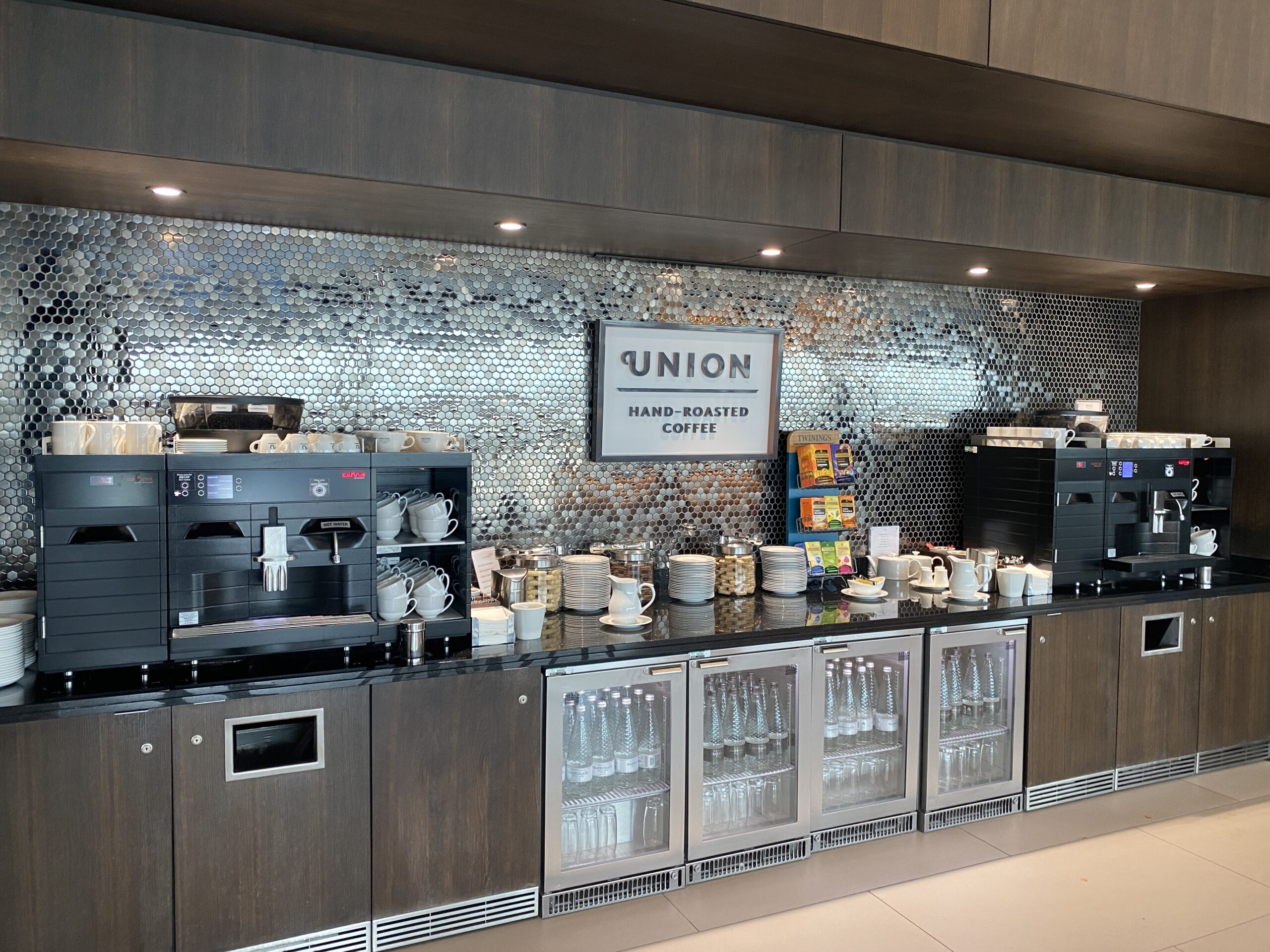 The staff as usual were great, addressing me as madam and offering top-ups plus regularly clearing. They also helped the couple next to me that seemed unwilling to try and use the QR code. I honestly don't know how anyone under the age of 70 has managed to get through the pandemic without knowing how to use a QR code!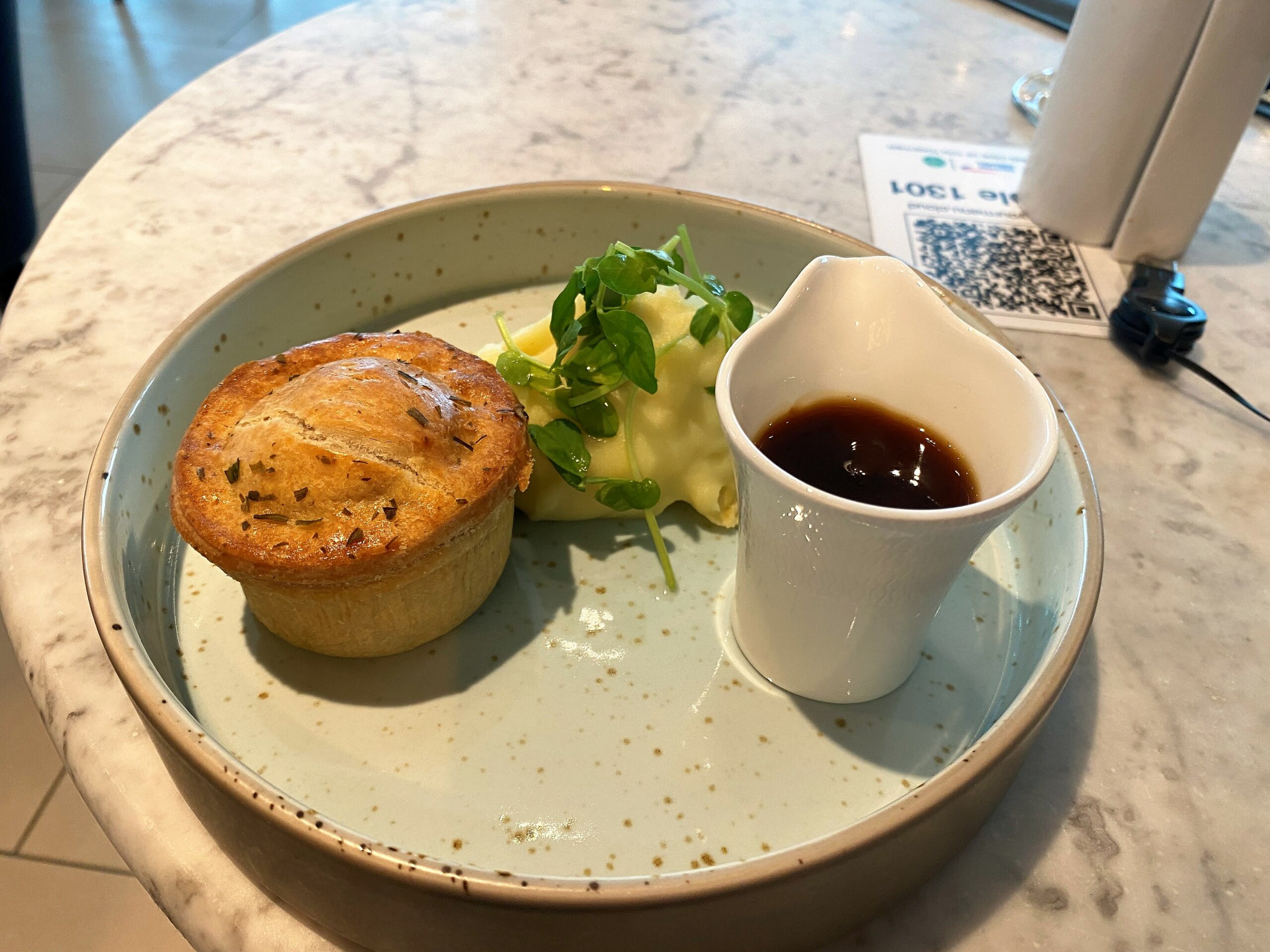 I had a fairly lengthy delay so I tried the chicken and wild mushroom pie which was small but very tasty and the sandwiches which were very small compared to what you used to get at Heathrow.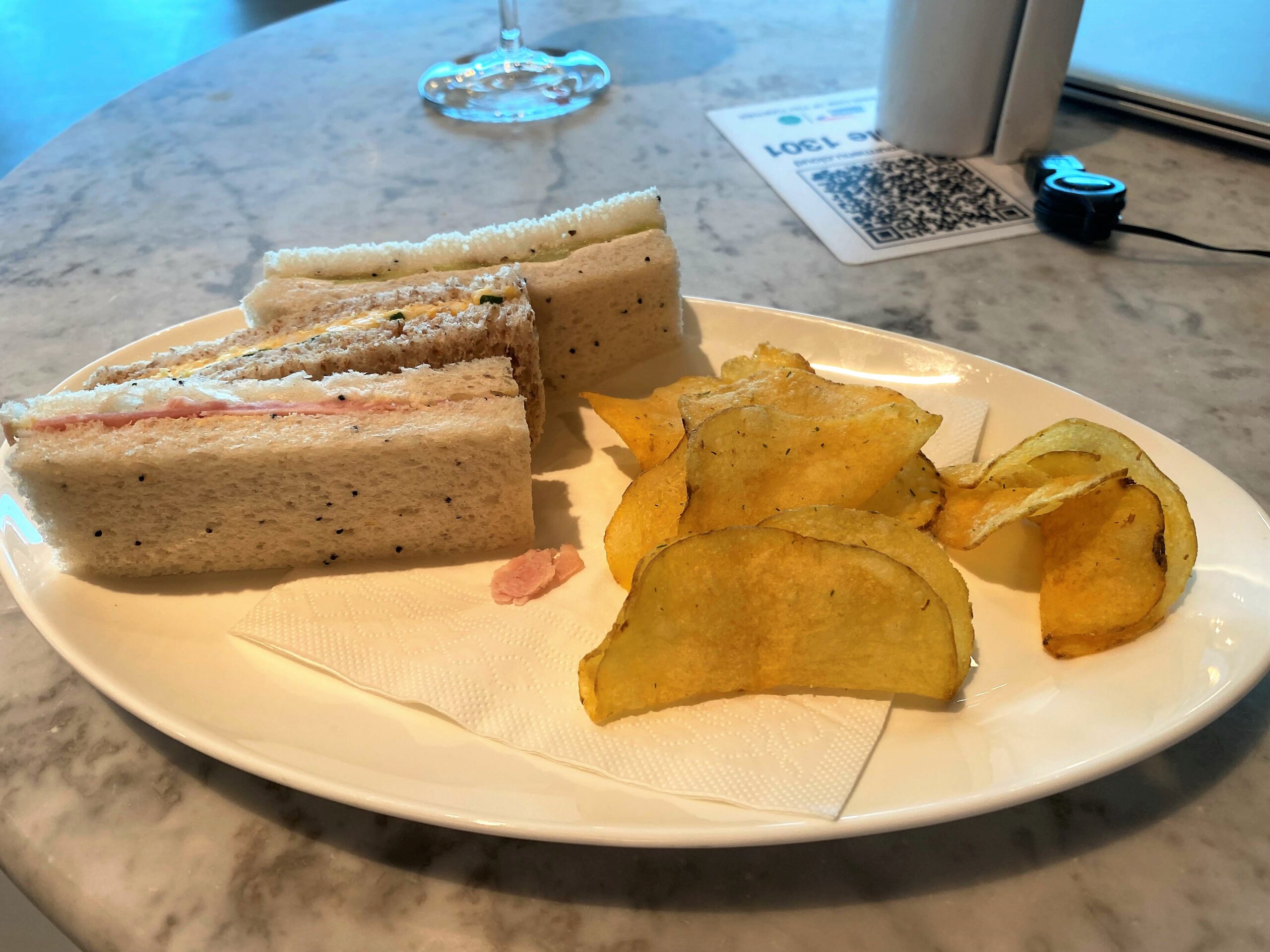 There were also a few snacks that you could help yourself to including crisps, fruit, biscuits and a rather splendid looking Battenburg Jubilee cake.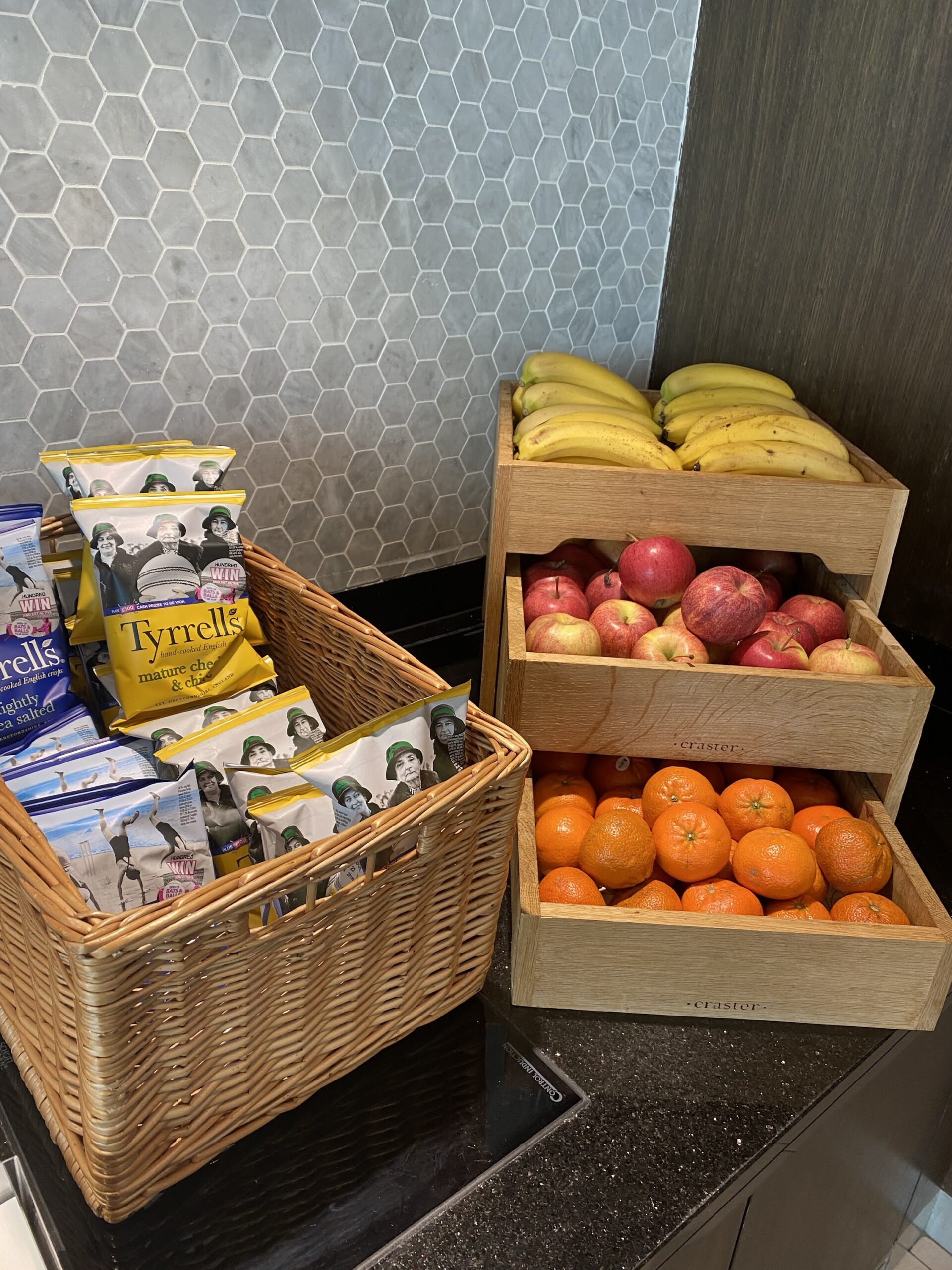 Boarding
Around 10 minutes early than expected they announced in the lounge that the gate was open but told us not to hurry and to ignore the gate closed on the board. I did try not to chuckle as numerous people sprinted past me on the moving walkways to the gate. It was the only flight at the area of gates 31-38 which is a good 500m walk. I knew from the app that we were not due to depart until at least 40 minutes time so I meandered along and was unsurprised to find that boarding had not begun yet when I arrived.
After around 5-10 minutes group 1 was called for boarding. Malta requires face masks on flights (yet not on public transport or anywhere else except hospitals – makes zero sense). As we boarded masks were available which I thought was a good idea. There was also a basket of the usual Dettol wipes.
Before departure menus were passed to us.
The flight
I had been moved over to 1A as this was one of the Gatwick strange configurations which has no row 1 on the right side. Until around 2 days before I had been in 1 F.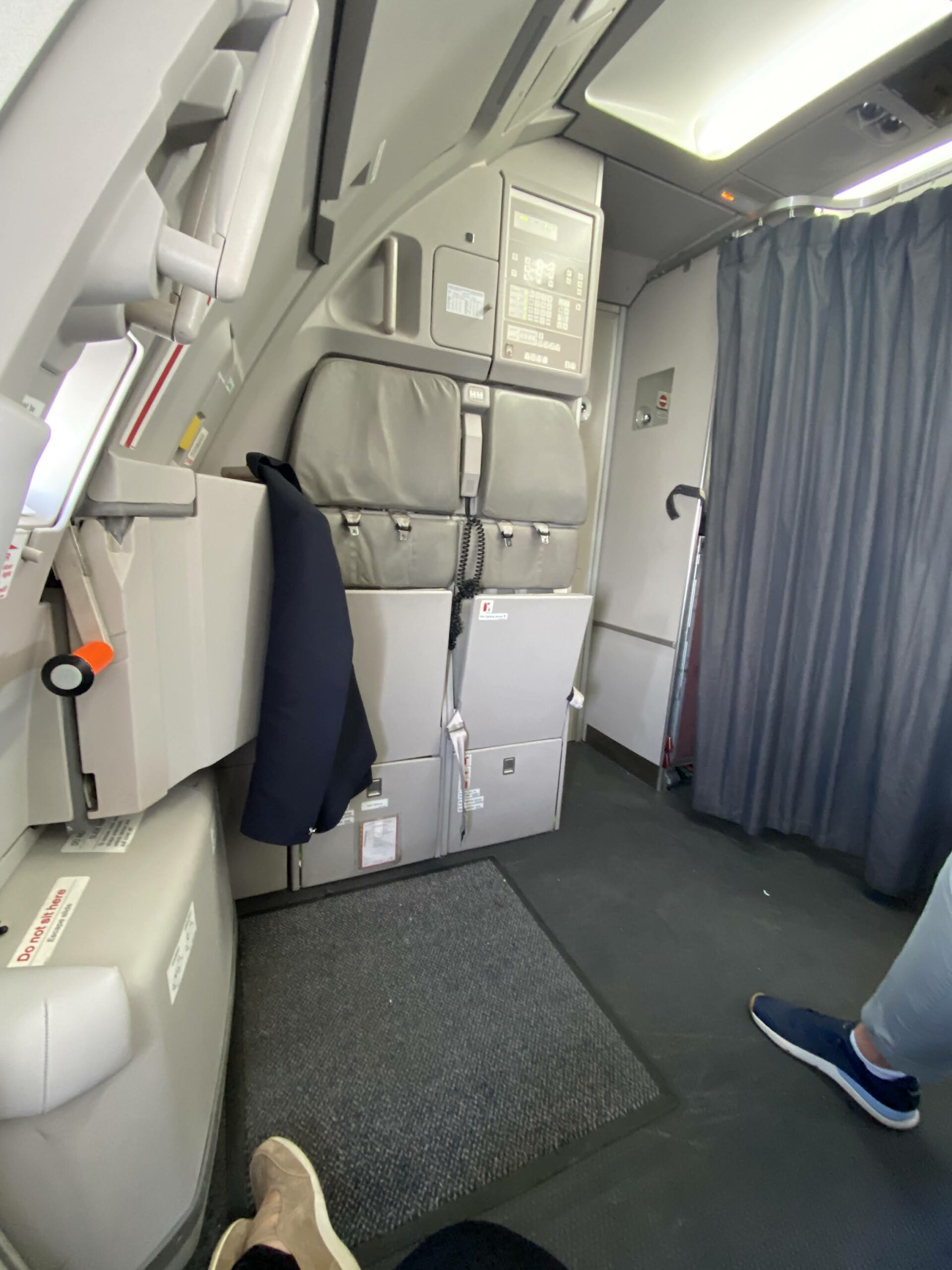 This seat has advantages and disadvantages. Unless you are first on your hand luggage will end up several rows behind as the first two lockers on both sides had crew bags and equipment. You are sitting right by the door where everyone boards and people end up kicking you or hitting you with their bag if you don't keep your legs in. This is even worse in 1C.
However, you have endless leg room once you take off.
Drinks were offered prior to the meal. The IFL was very helpful and offered to set up the proper tray between the seats for us rather than having to use a tray table. He gave both of us in the front row 2 packets of nuts and also offered wine to go with the meal.
Here is the drinks menu: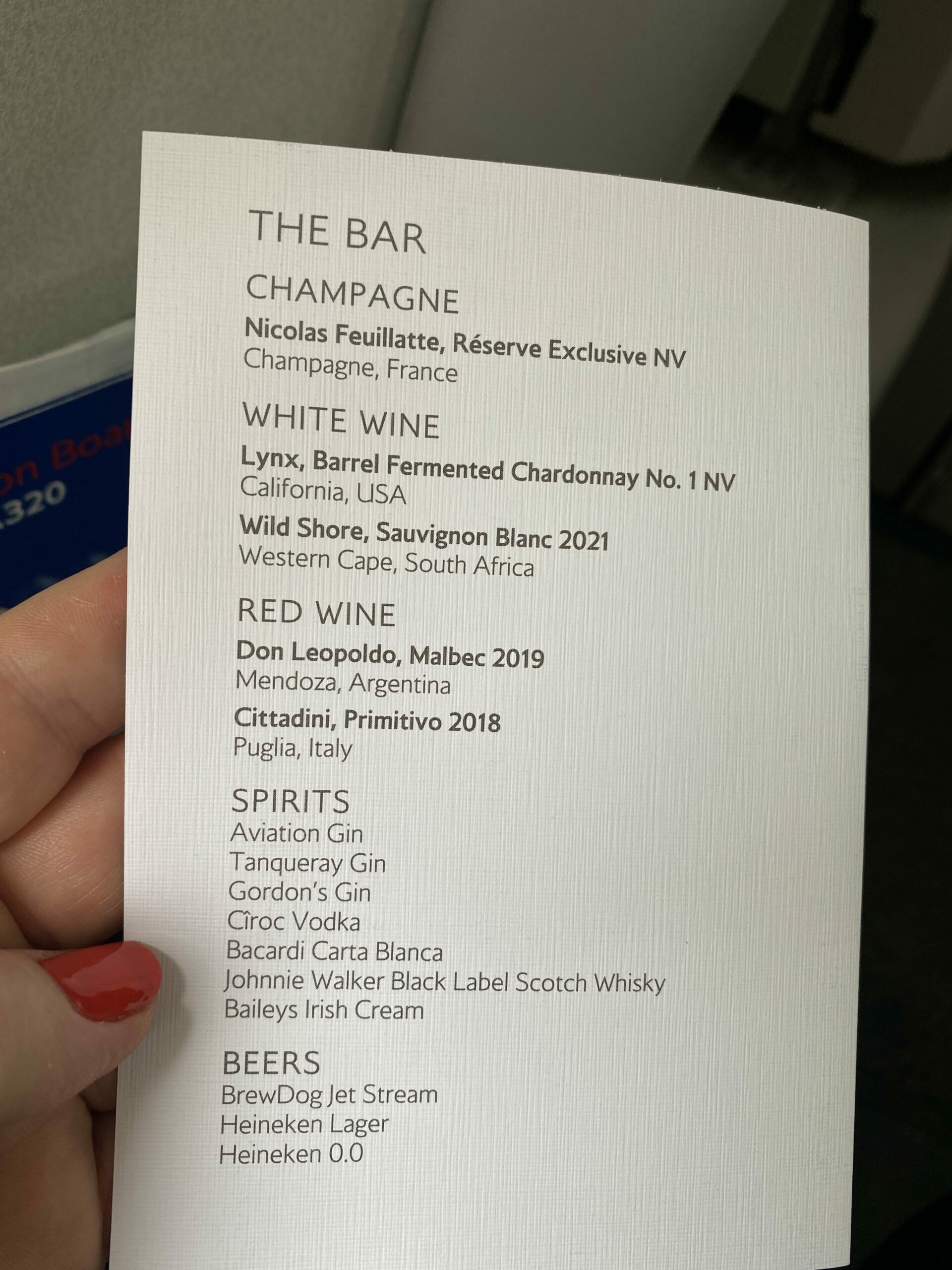 I had the Aviation gin which I really enjoy but it can actually be quite divisive as some people find it too floral. I also enjoy the Schweppes Signature tonic which has quite a strong grapefruit flavour but not everyone might appreciate this.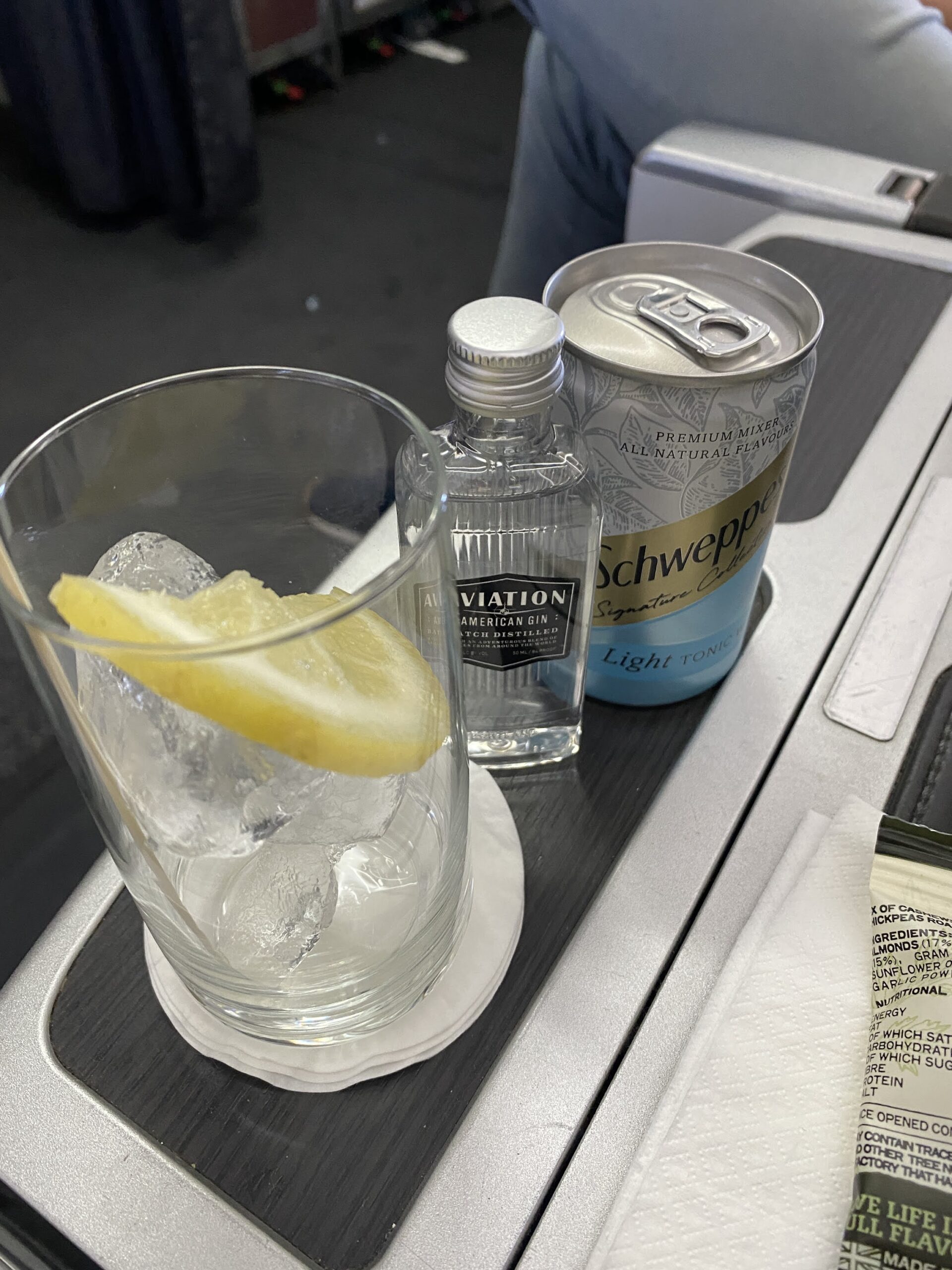 I also tried both the Chardonnay and Malbec which were pleasant enough.
I dithered between the sausages and the pasta but I was interested in the mustard mash that made the sausages sound more interesting.
Here is the food menu:
The starter looked and sounded a bit dull but actually, it was very tasty with a nice kick from the romesco sauce. I was also pleasantly surprised by the sausages that had a rich onion gravy and a lovely whole grain mustard mash that made all the difference. A basket with warm white and rye rolls was also offered.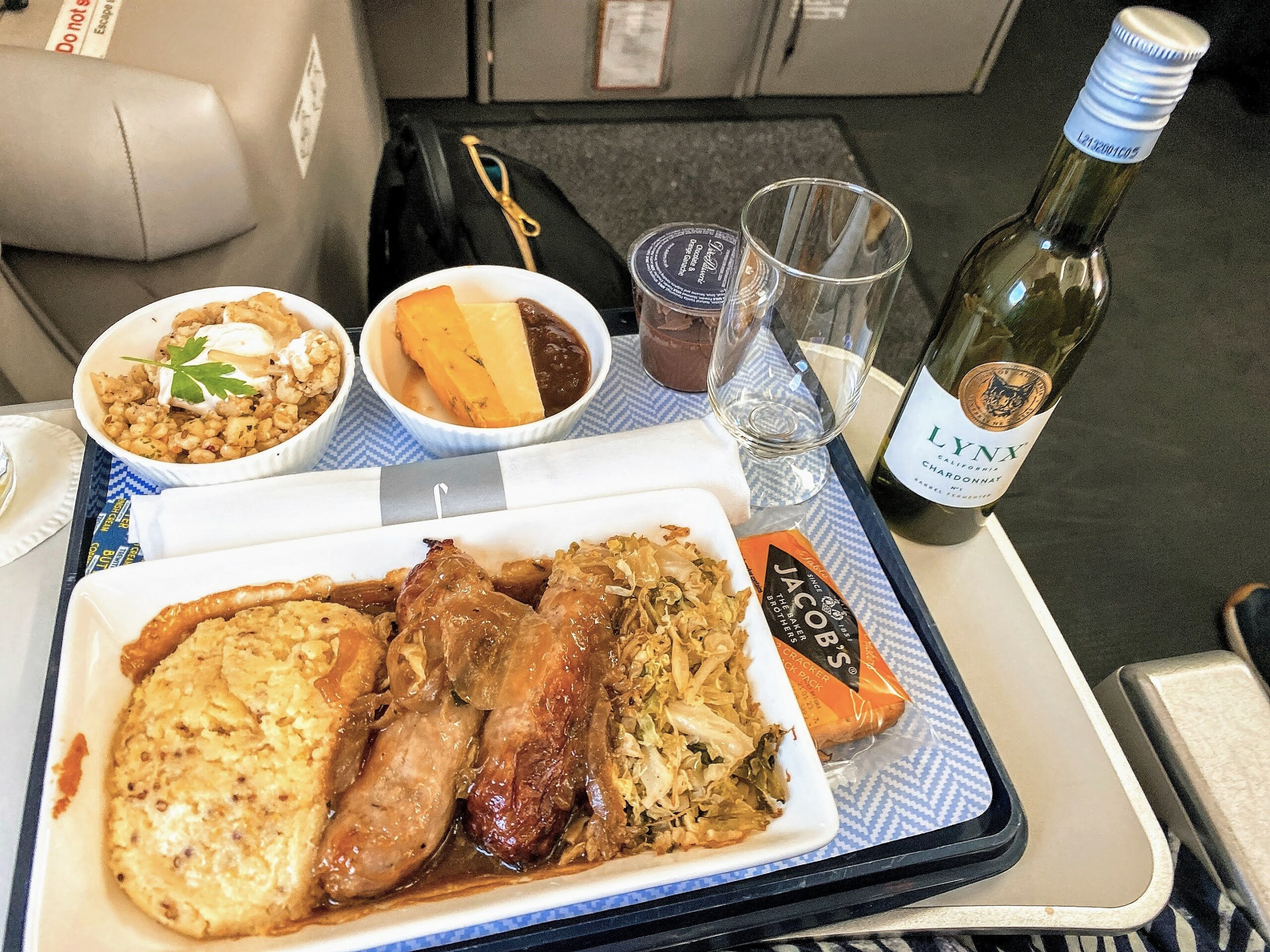 Although the dessert looks tiny, it was actually an incredibly rich chocolate and orange ganache and you would not want more than that portion size. The cheese was very tasty with a lovely blue cheese and chutney. the biscuits were like Tuc biscuits which I really like.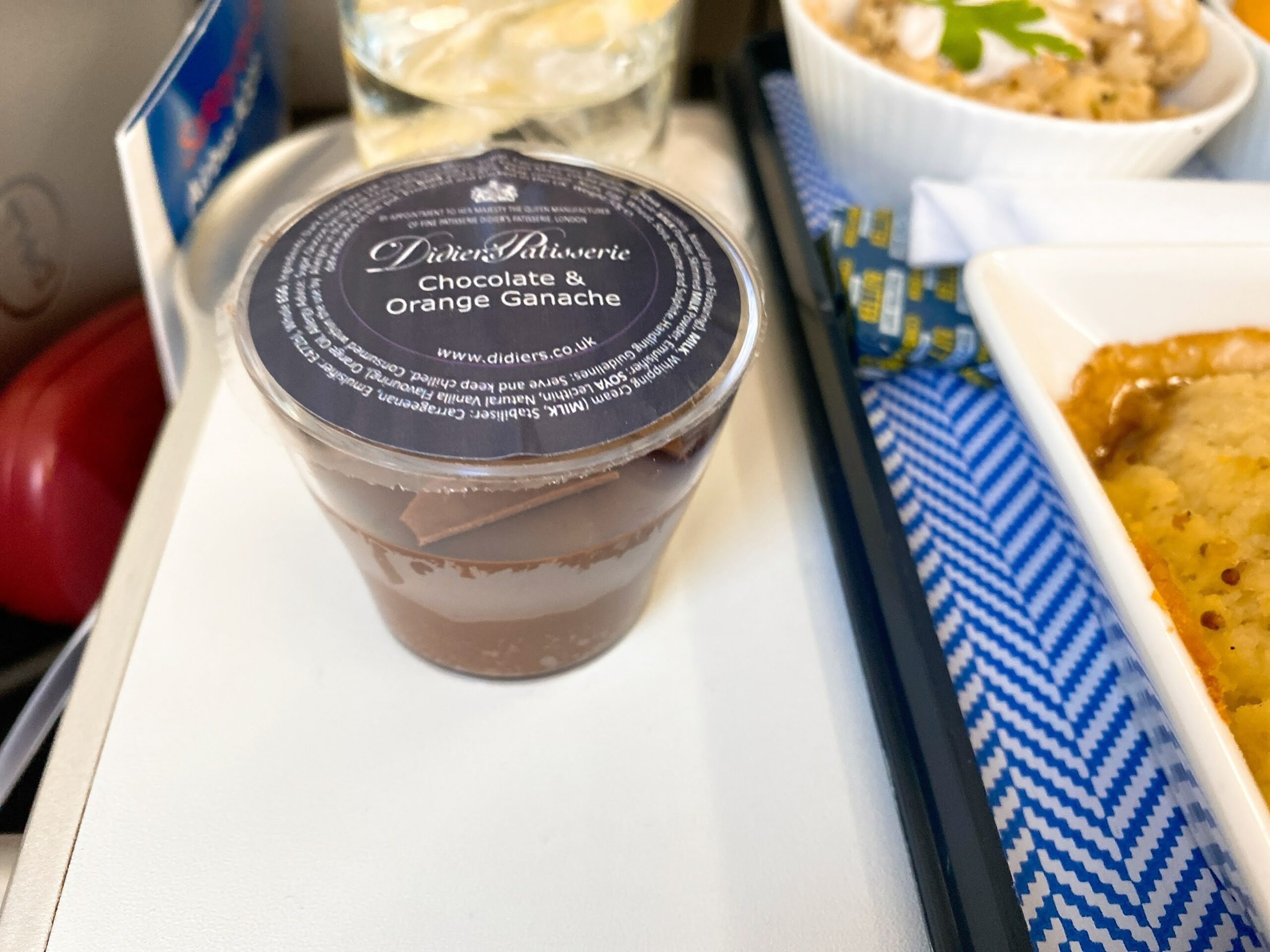 Service was friendly and very attentive the whole way through. I'd say it was actually better than the majority of my recent flights apart from the flight to Milan where the IFL was spot on. The crew are mainly new to British Airways although some crew did move across that were originally at Gatwick. My IFL had 20 years or so experience with lots of different airlines and was very proud to be working for BA which was great. Tea and coffee was offered to everyone after the meal which also rarely happens on BA nowadays.
Wi-Fi was available at £4.99 for an hour or £8.99 for the full flight for the full browsing internet but you could (usually from £1.99) get messaging only much cheaper.
We arrived at Malta to the usual steps and short walk to the terminal. Immigration was quick and there was only a short wait for the luggage.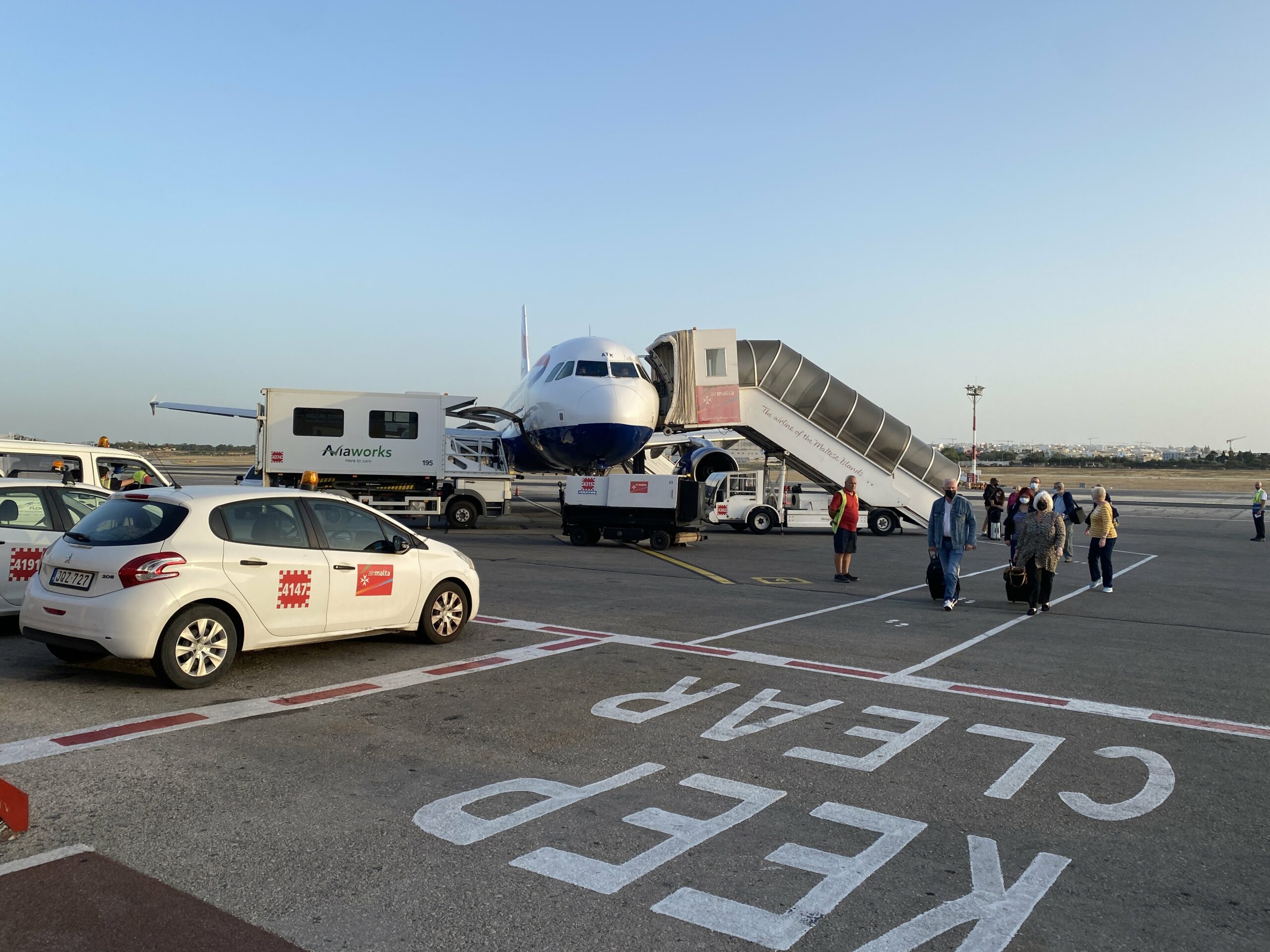 Conclusion
Much as I dislike Gatwick itself, the BA aspects of it are pretty good. A simple dividing of the queue in the premium area would sort that out. I really enjoy the First and Club lounges at Gatwick as they are usually far less crowded than Heathrow and the staff have more time to help.
The flight was pretty faultless once I was onboard. The food was good, I liked the look of all the menu choices and I could not fault the enthusiastic crew at all. If this is BA Euroflyer, it gets my vote!