The Courtyard by Marriott London Heathrow Hotel opened just before the pandemic and then became a quarantine hotel for quite a while. Since it has reopened to the public I have stayed twice and been impressed both times. This focuses mainly on my most recent visit this spring but I have used photos and references from both stays.
Location
The Courtyard is situated on Bath Road next to the Airport Bowl. It is most handy for terminals 2 and 3 since the bus stop is directly outside coming from the airport and only a short walk on the journey to the airport. For terminal 5 you would need the 423 bus which goes from by the Sheraton Skyline which is still only 5 minutes walk. An Uber or taxi to T5 costs from about £12-15.
Check-in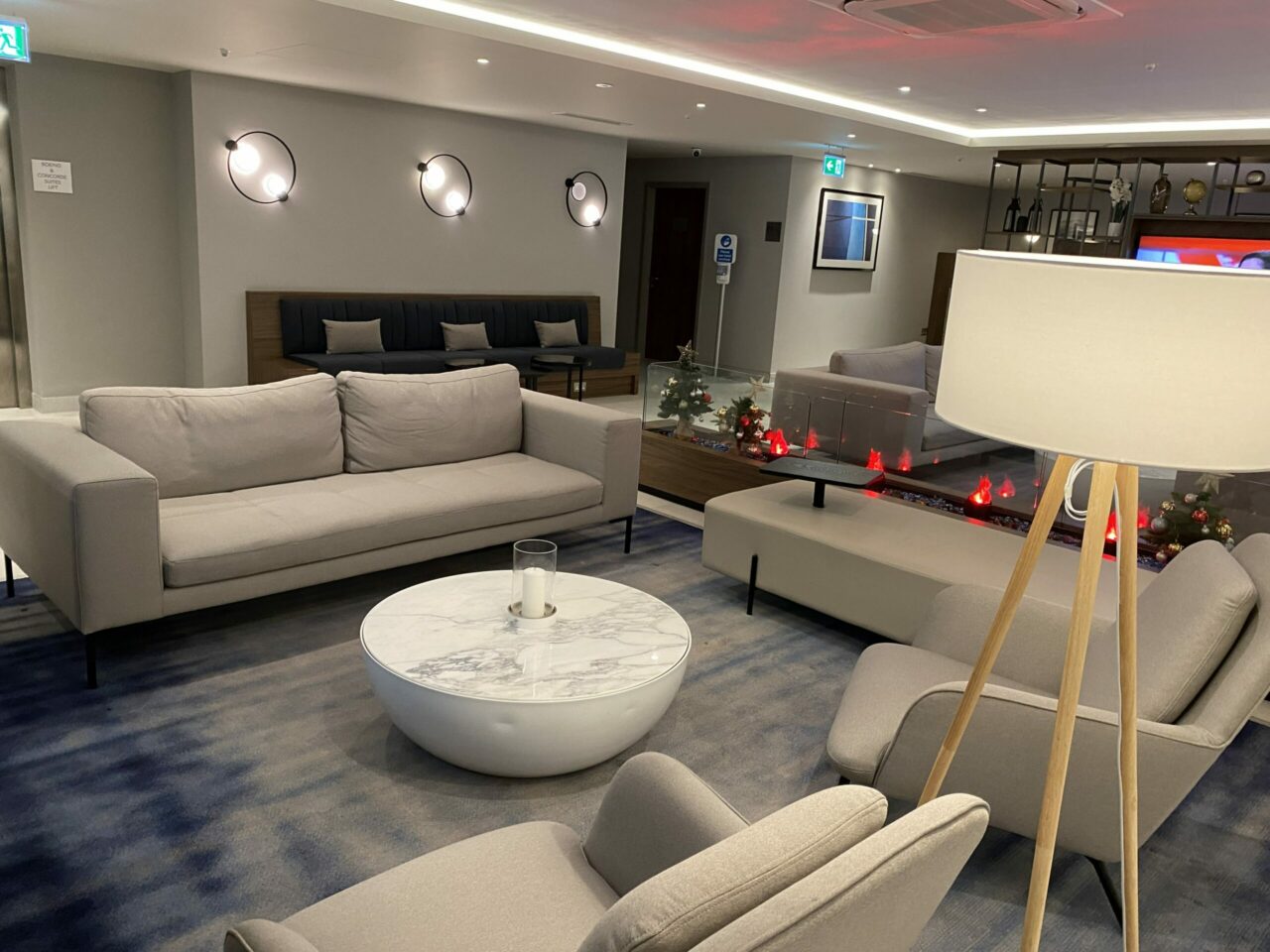 On both occasions there was no queue and I found the check-in agents exceptionally friendly and helpful. They recognised my status as a Marriott Platinum and on both stays I got a decent upgrade.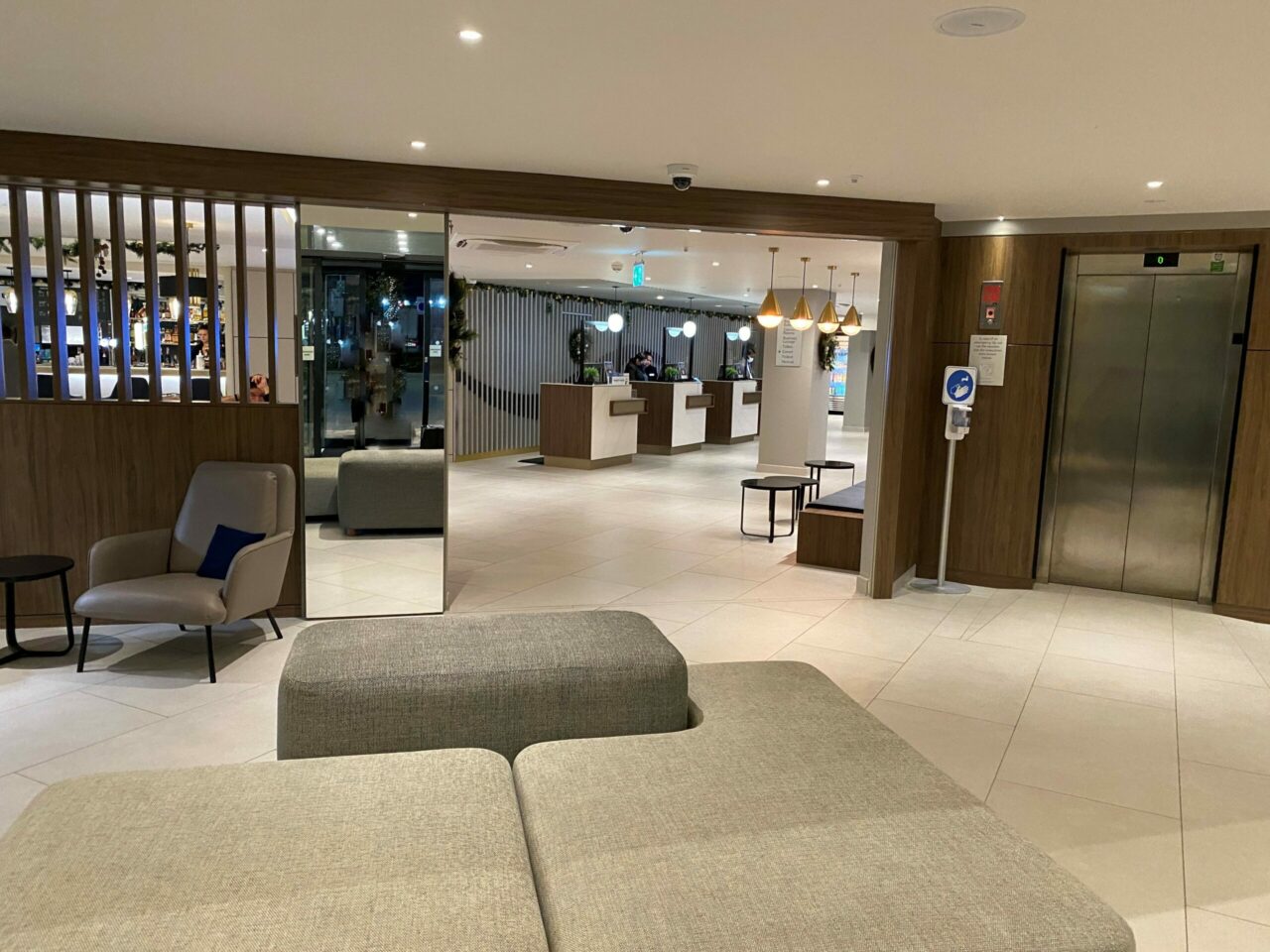 As there is no lounge you get a voucher for two drinks in the bar which I think is a nice touch given how cheap the hotel can be.
There is a large car park at the side of the hotel if you need it and it costs £15 which can be added to your room charge.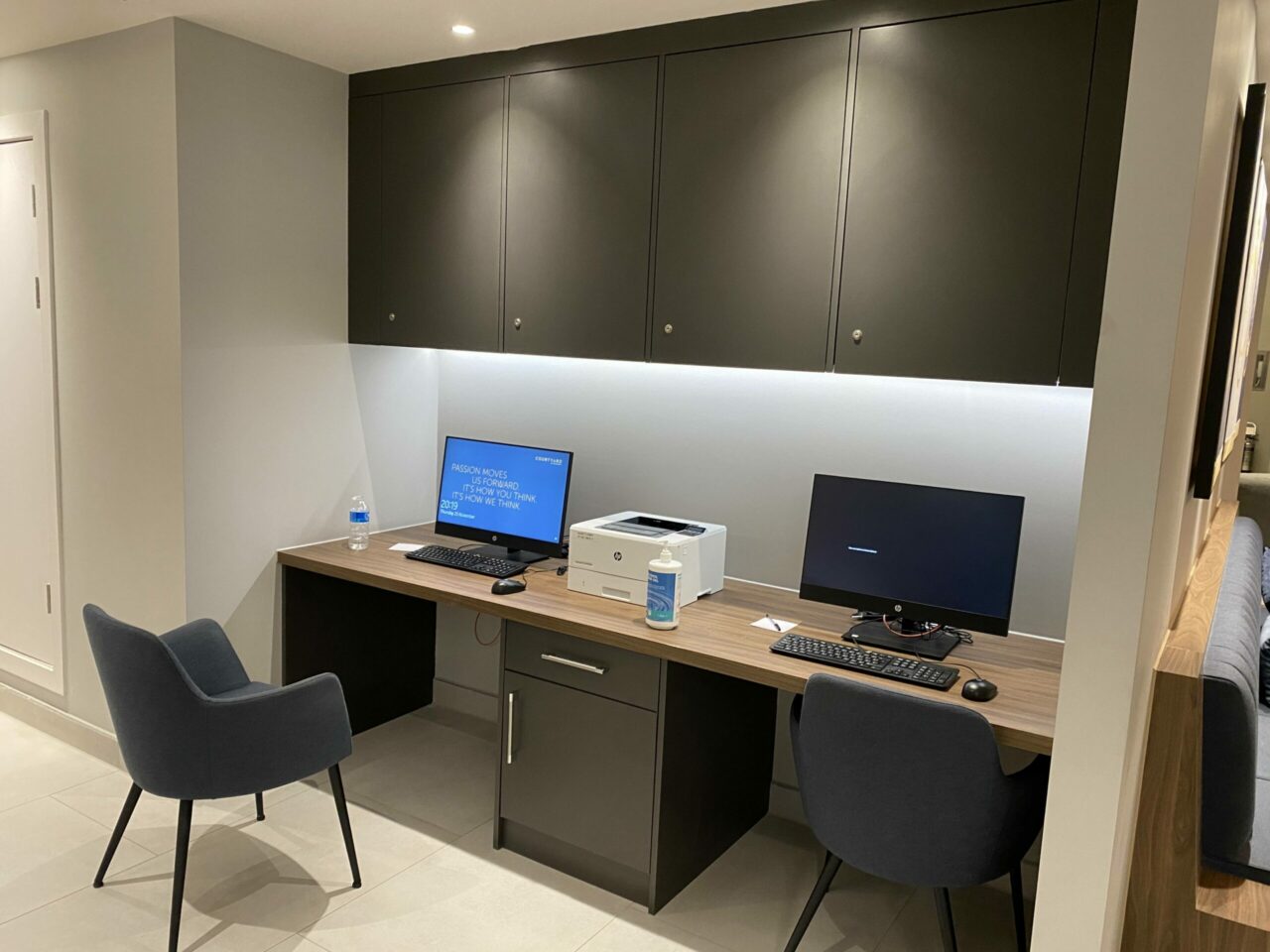 Next to reception is a stylish and comfortable seating area as well as a business centre with computers and printer.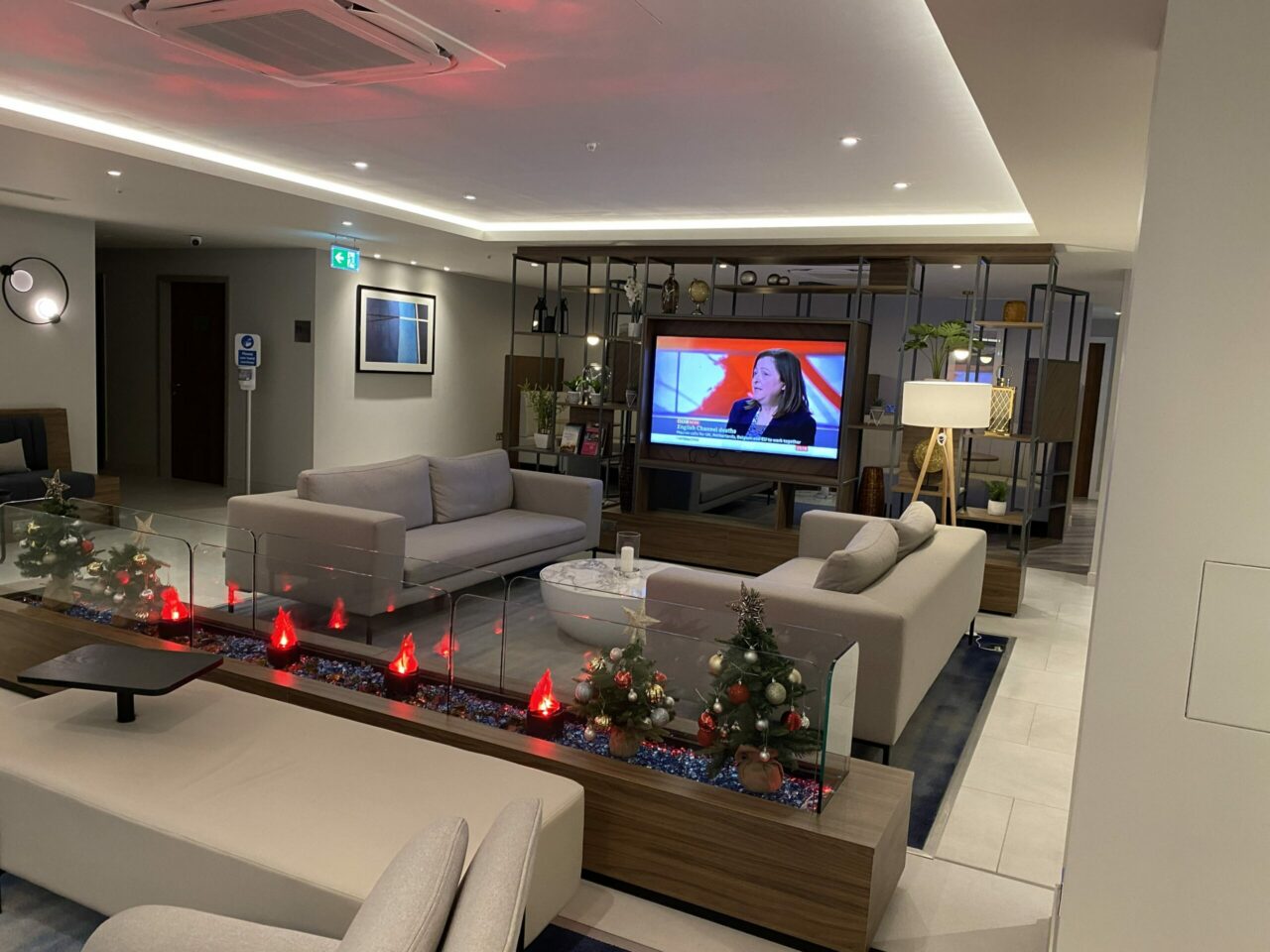 Also in reception is a small shop with alcoholic and non-alcoholic drinks and some snacks and essentials. This is open all the time as you pay at reception and it can also be added to your bill. Given that it's a bit of a trek to the nearest shop, this is a great idea.
The room
I was upgraded to a Premier room which felt a very generous size. I liked the neutral beige and blue decor which felt more upmarket than I would expect from a Courtyard. There was a decent size sofa, a large desk to work at and a very comfortable bed which was not too hard even for a princess like me! The rooms are slightly different even within the same category from what I could tell.
I liked the table that went over the sofa so you could work there too if you wanted to be more relaxed or use it to eat also.
Although it's only across the road from Heathrow and by the Bath Road, the rooms are generally well soundproofed although you can hear the odd faint rumble from an aircraft occasionally. You get a good view of the runway from the higher floors which these rooms are on.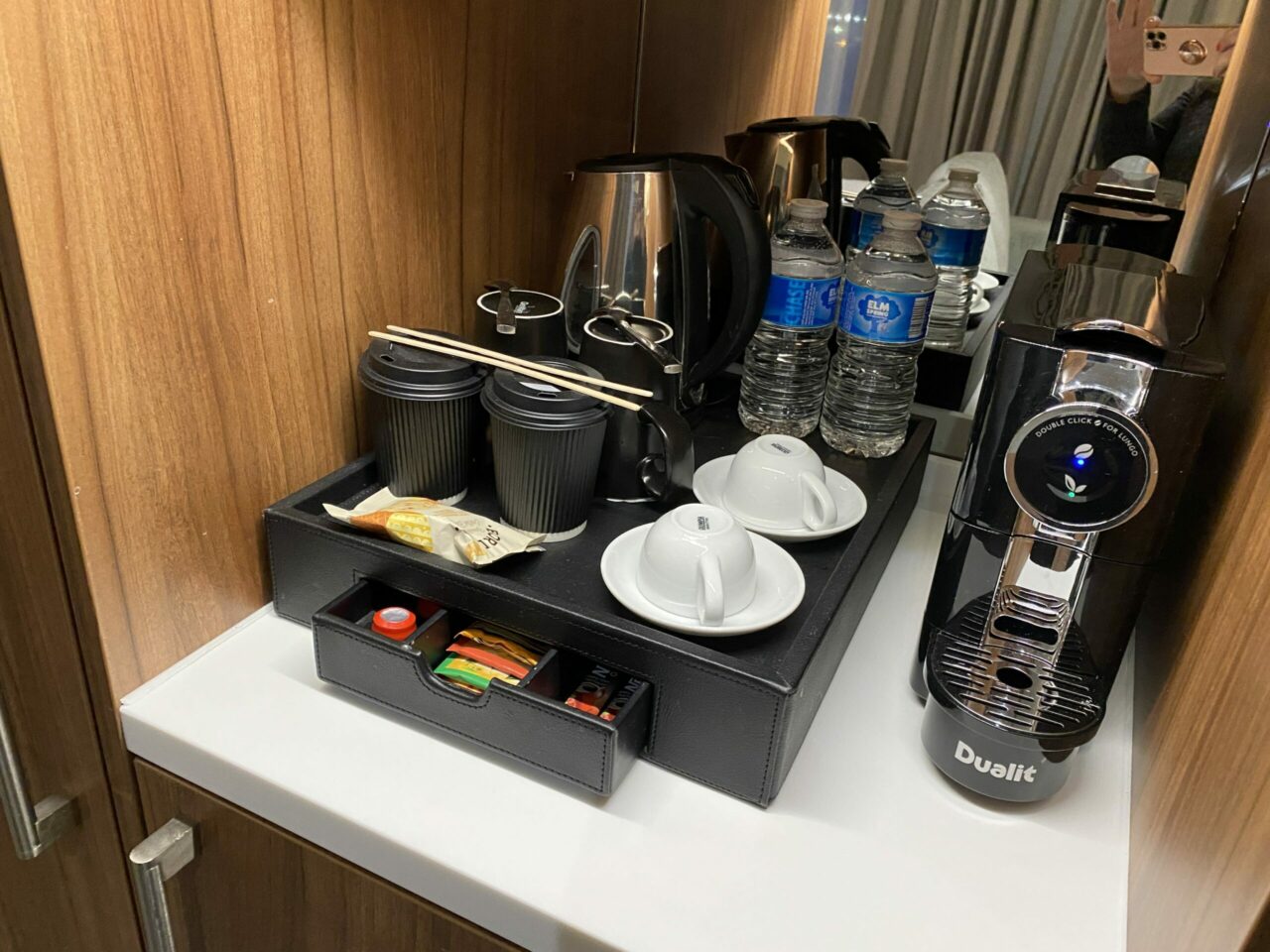 I was surprised to find that there was a Nespresso maker as well as some nice biscuits and a kettle. Mineral water was provided too and there was an empty fridge. They had really thought of everything with both mugs and takeaway cups in the room. There were also proper glasses in the bathroom – one of my pet peeves since Covid is hotels that only give you disposable plastic or paper cups.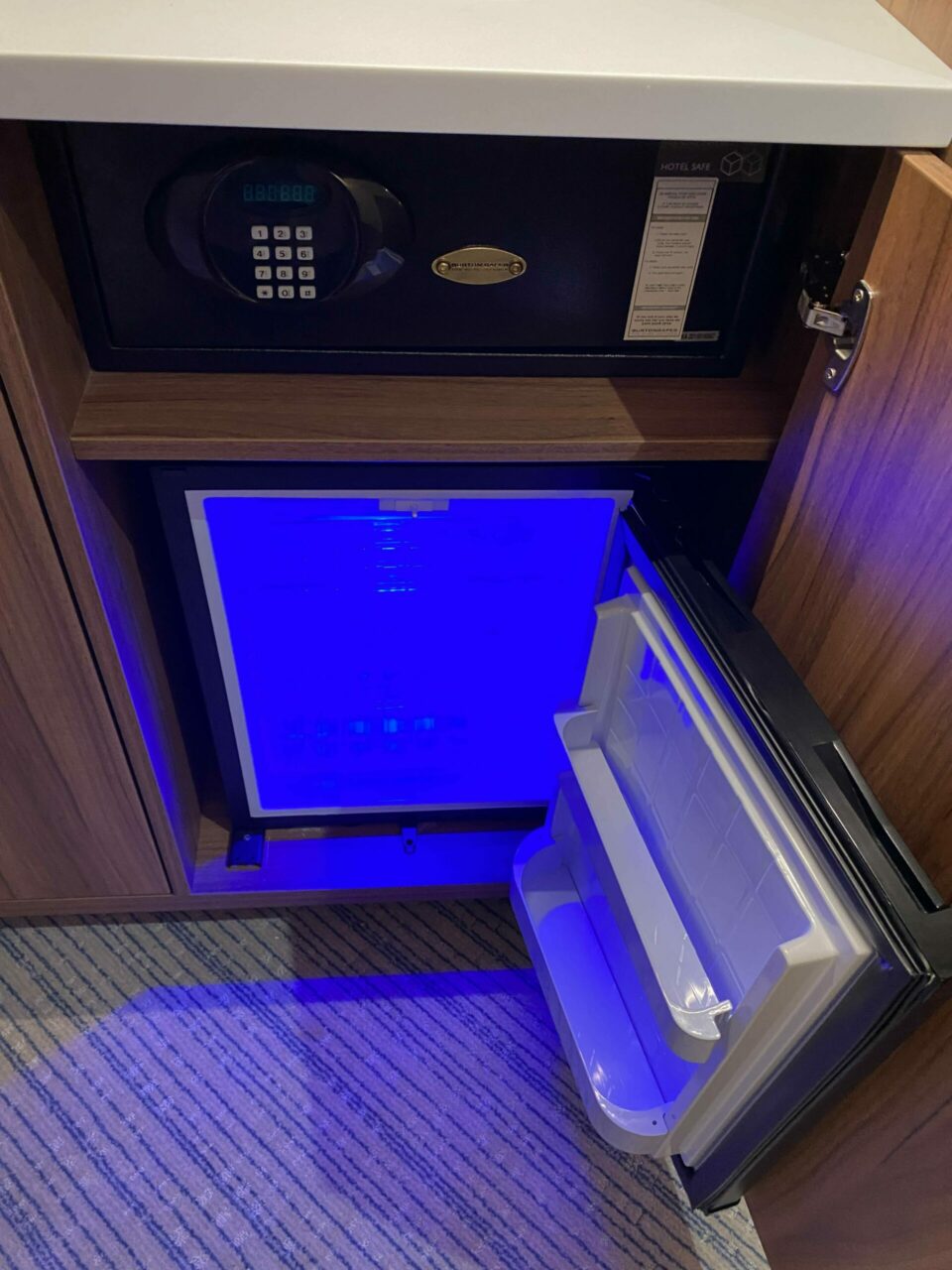 Next to the bed, there was a double socket as well as two USB ports. Across the room by the desk, there were further sockets if you had a lot of tech to charge. As you'd expect there was an iron and ironing board provided.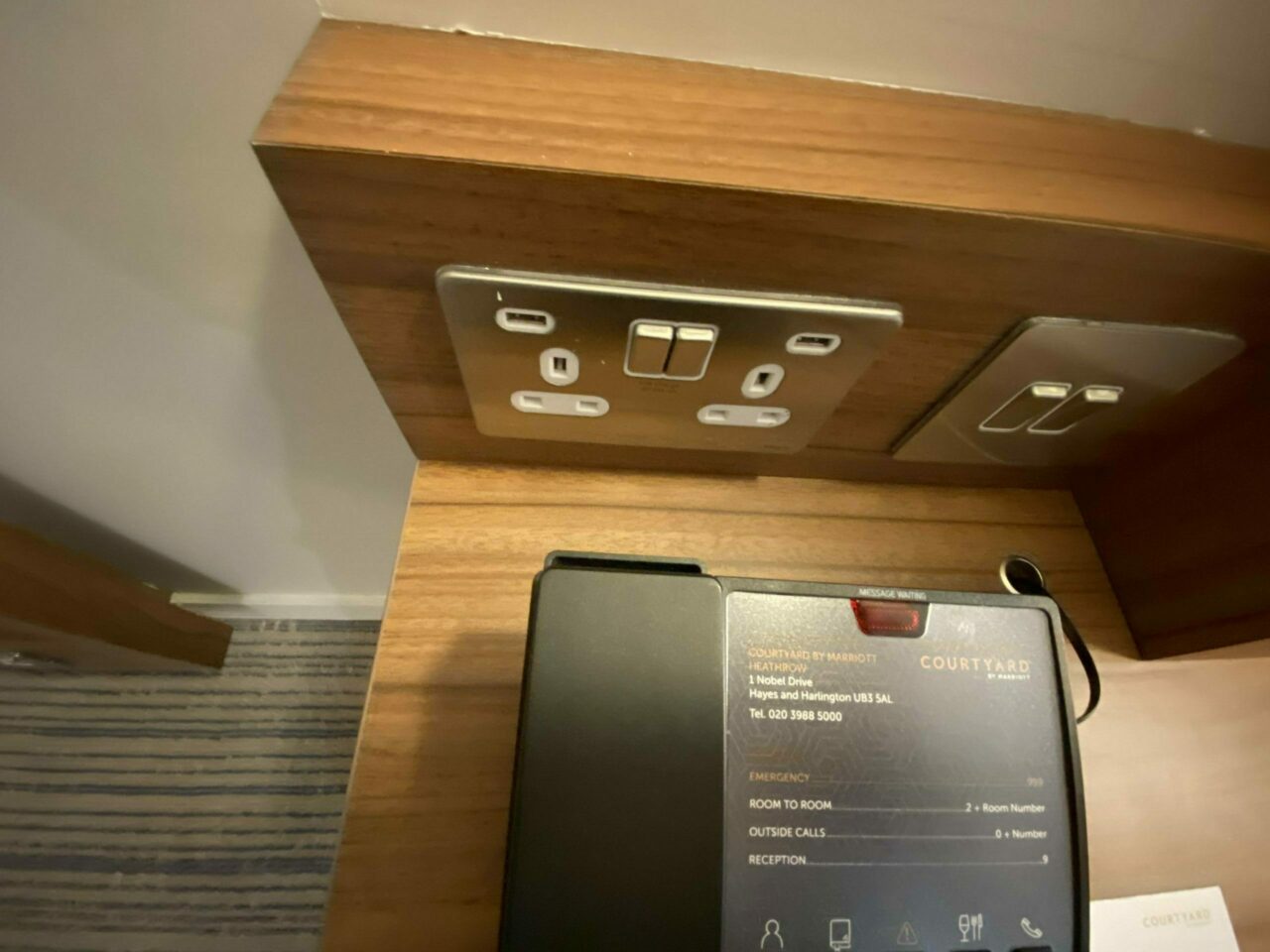 The bathroom had a large walk-in shower which was open halfway along but it did not mean that water got on the floor. It was a generous size room and had plenty of space around the basin for your own toiletries.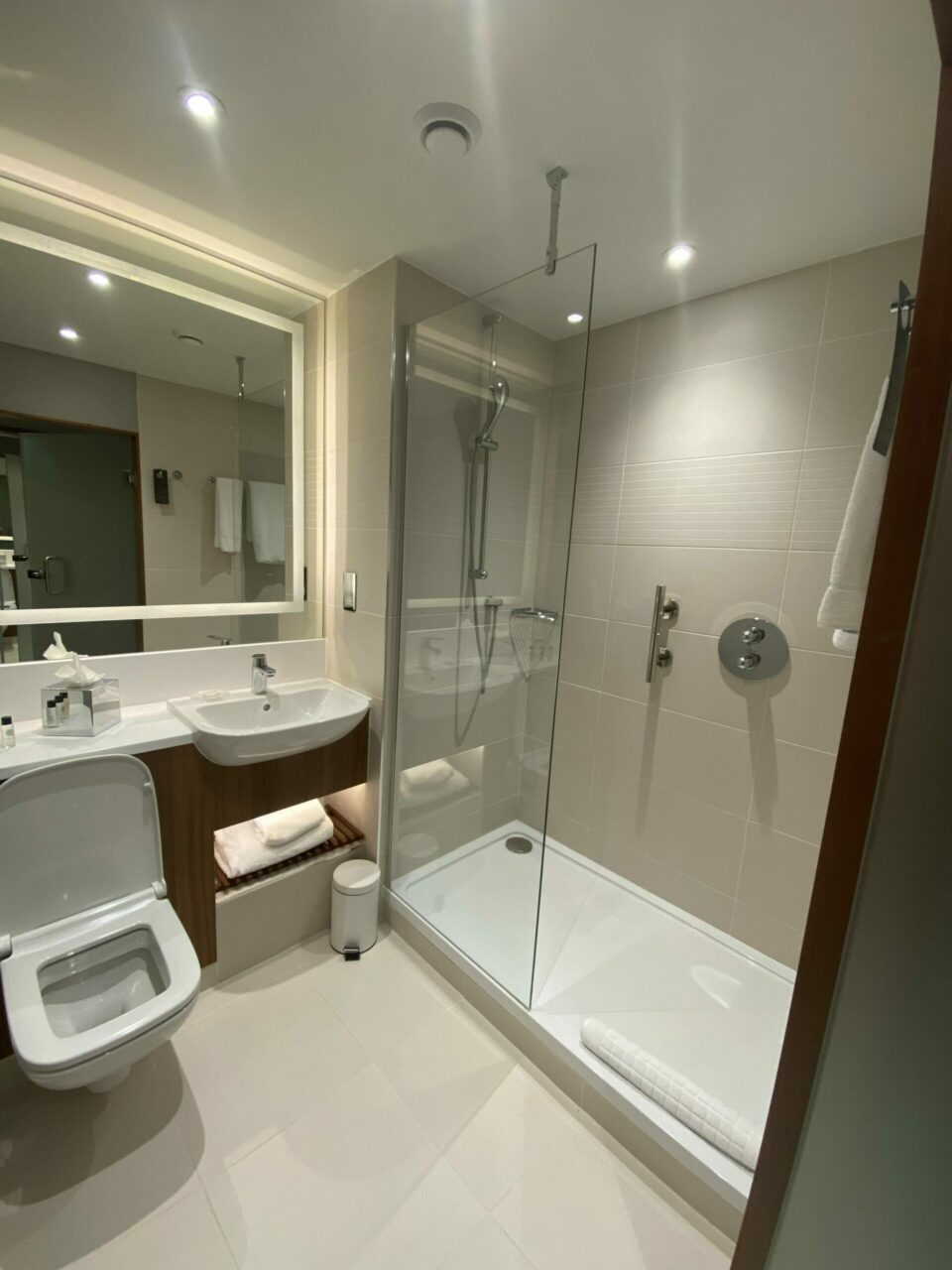 The hotel had a brand called Geneva Guild which I am not familiar with but it smelt refreshing and seemed reasonably good quality.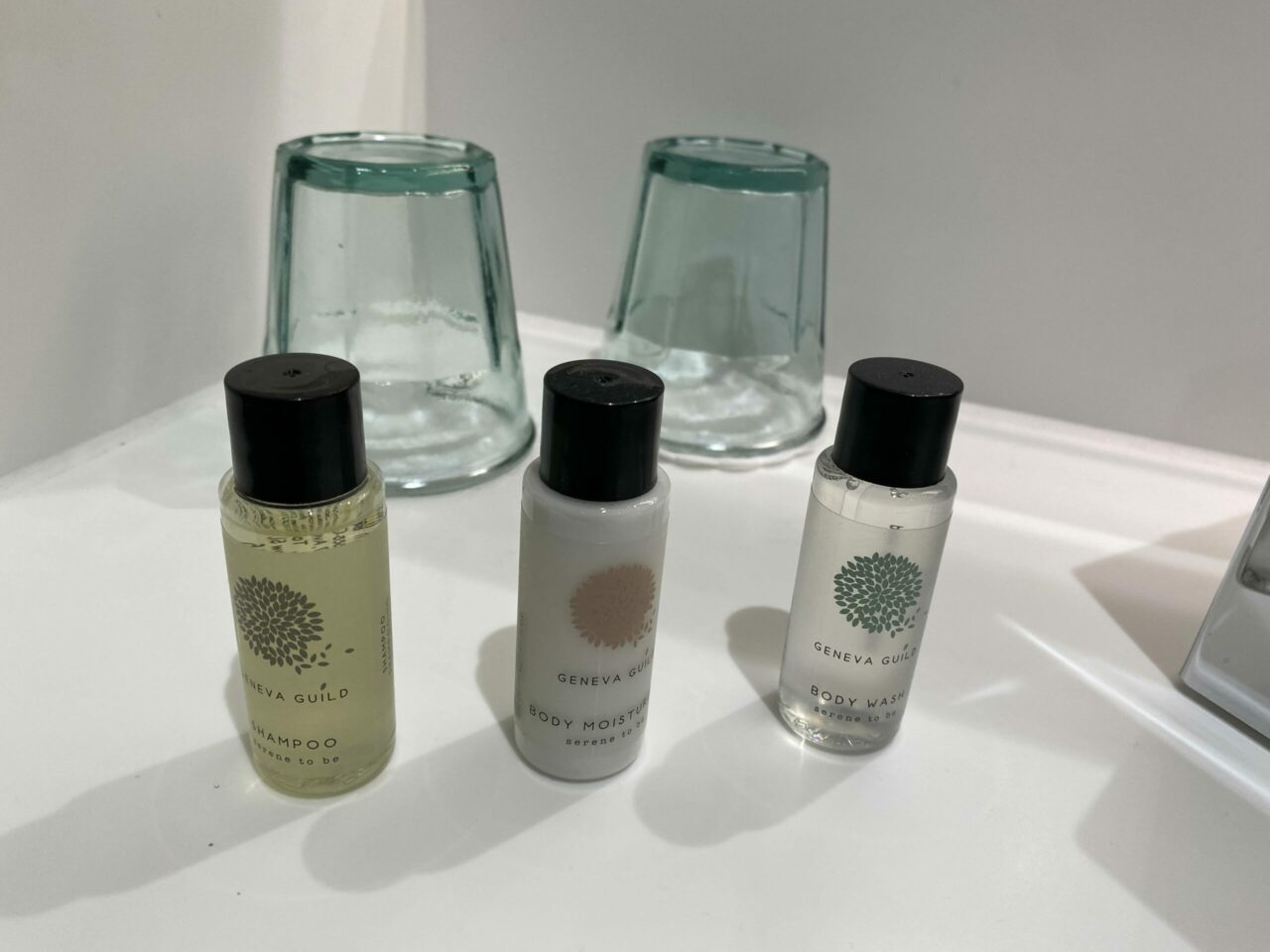 There was even a bathrobe provided in this room category. It did not feel like an airport Courtyard hotel, it felt much more luxurious in this room type.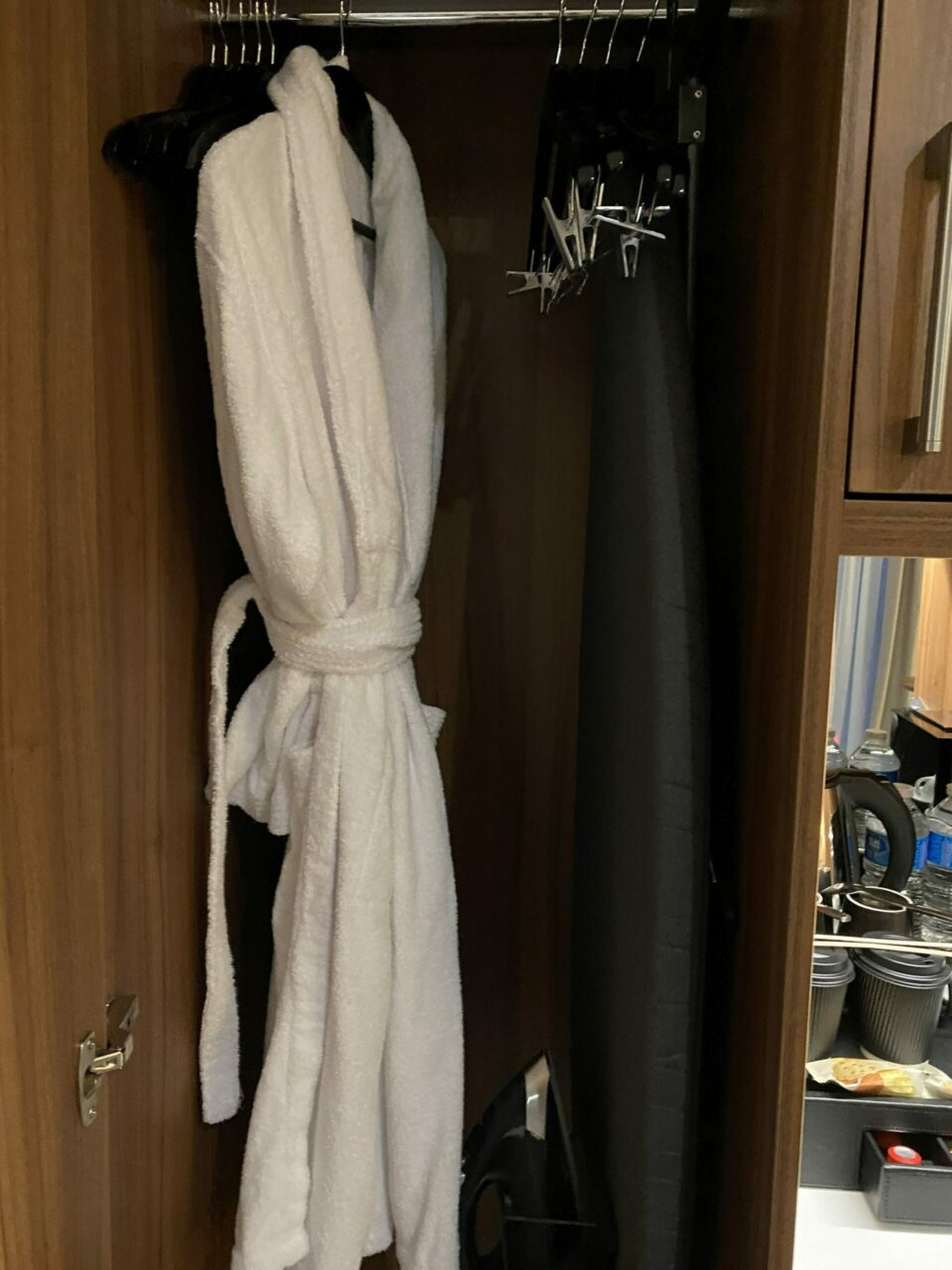 Here is the room I had on the previous visit which was very similar.
Food and drink
Breakfast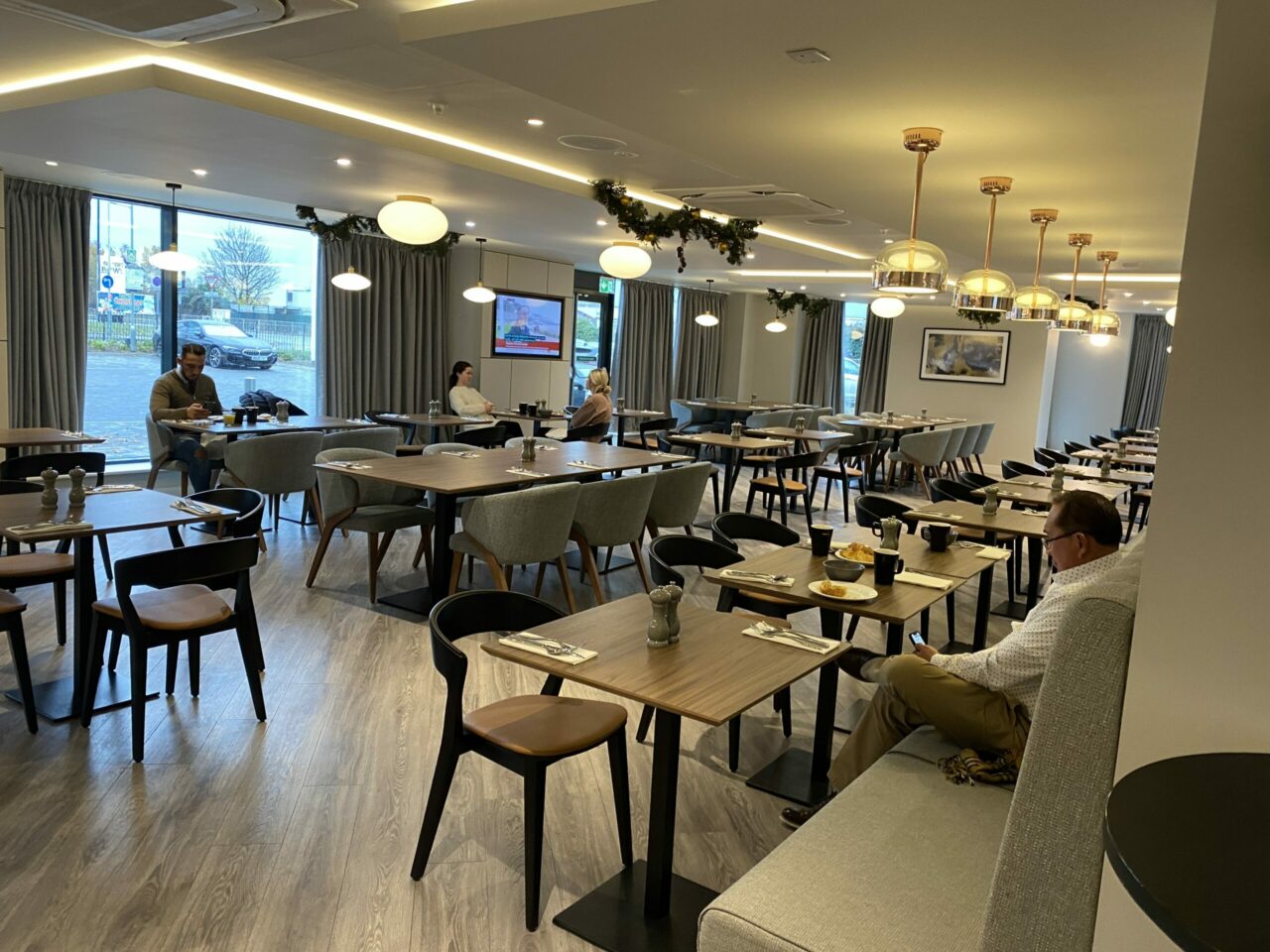 On my most recent stay I did not have breakfast as I had an early flight. So I will refer back to my stay before Christmas when I did have the breakfast buffet.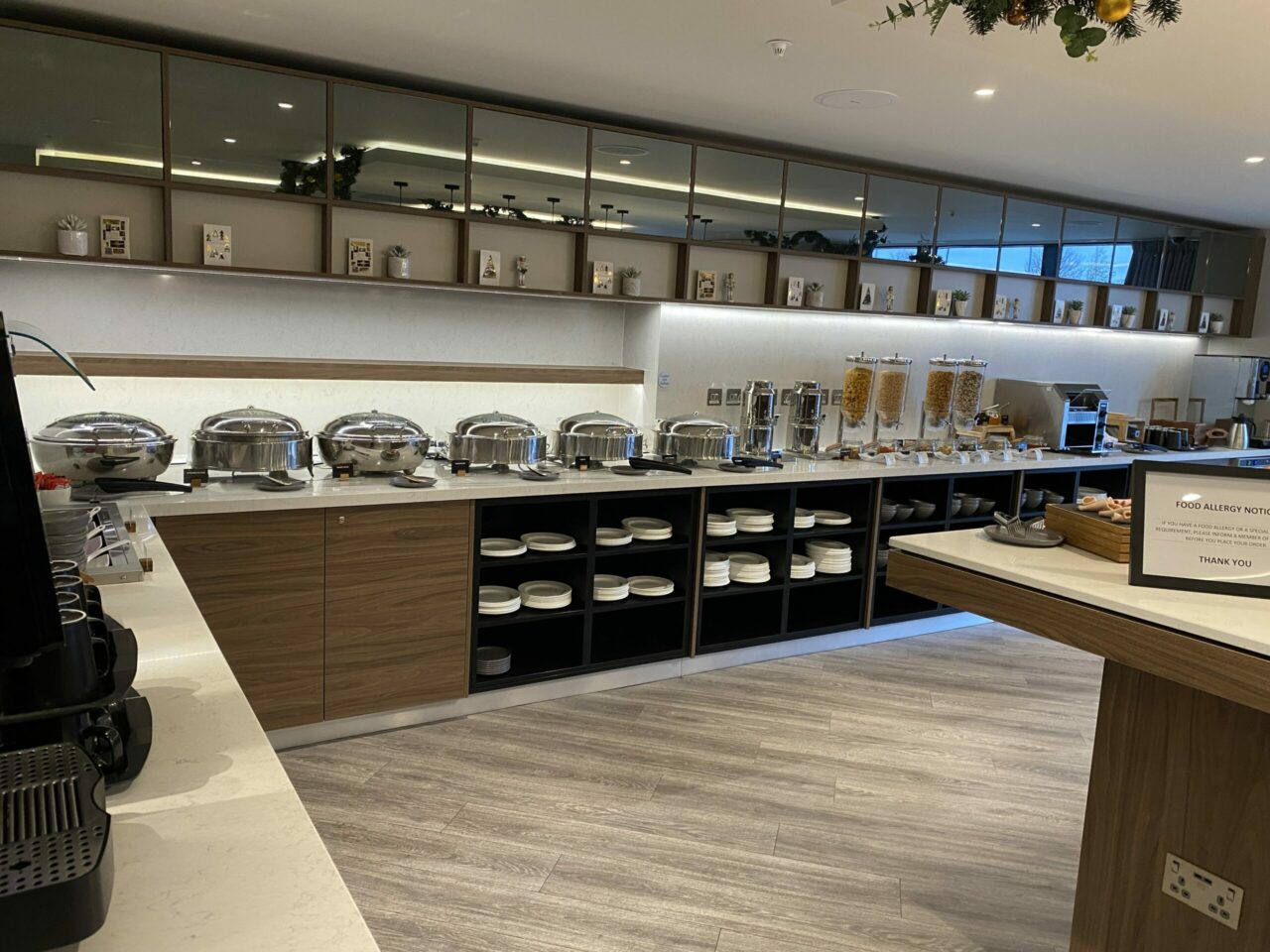 This was free due to my status. I was impressed by the super friendly staff and observed one of them chatting to a couple that had obviously been to breakfast the day before and asking how their visits to various tourist attractions were.
I thought that there was a decent size selection on the buffet and the room felt modern and bright. I liked that they had fresh, whole and stewed fruit to choose from and the pastries tasted freshly baked. As well as the cold selection there was a full cooked section as well which was all good quality and well cooked.
There are two options for eating and drinking for the evening.
The Kitchen and Bar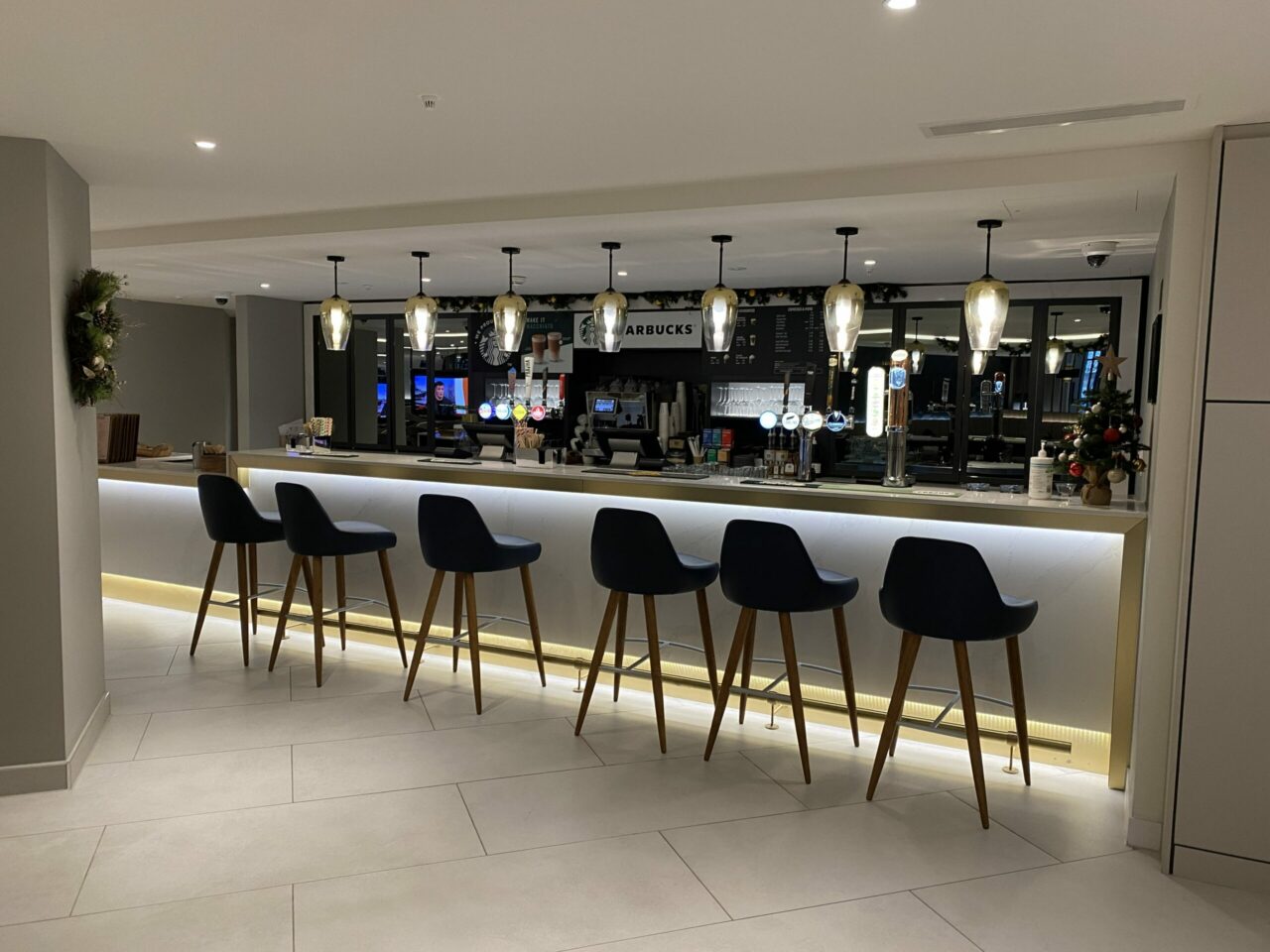 Downstairs there is a bar and restaurant that I ate in the first time I visited.
The staff were helpful and friendly and the food was tasty. I thought there was a decent choice on the menu.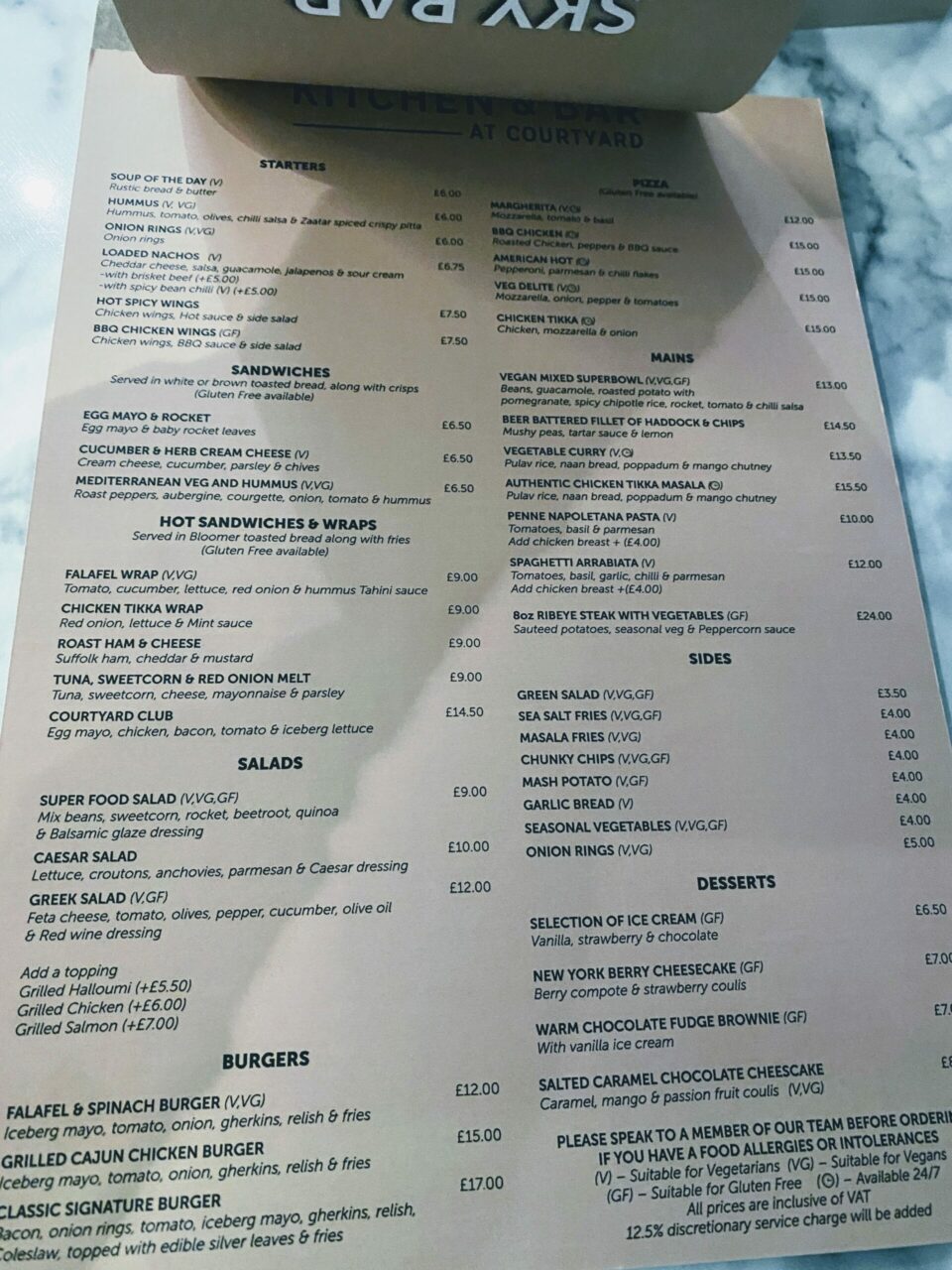 My chicken wings and tuna melt:
Skybar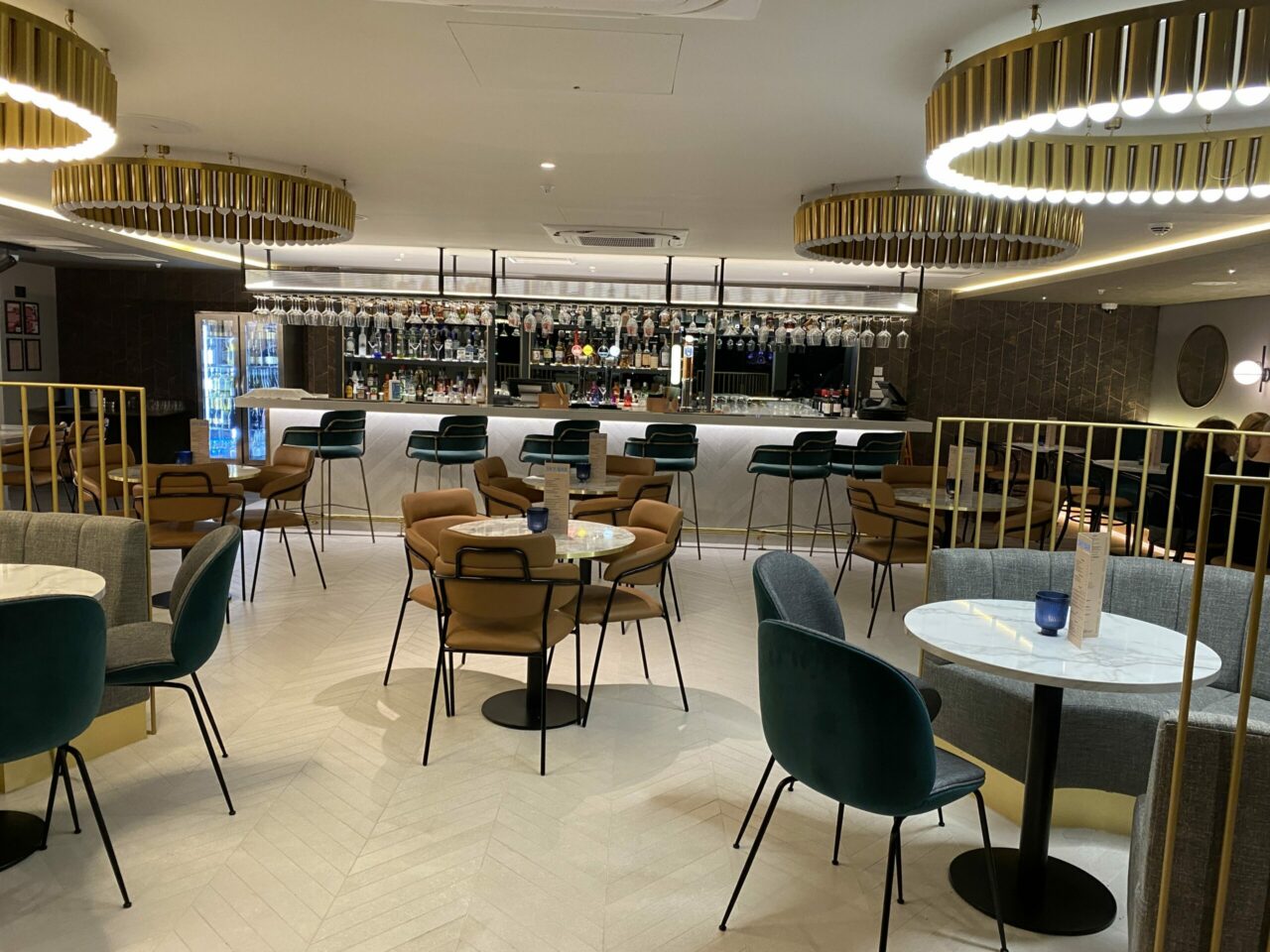 On my second visit the rooftop bar had just opened and this specialises in Asian small plates. I was told I could also order from the other menu from downstairs.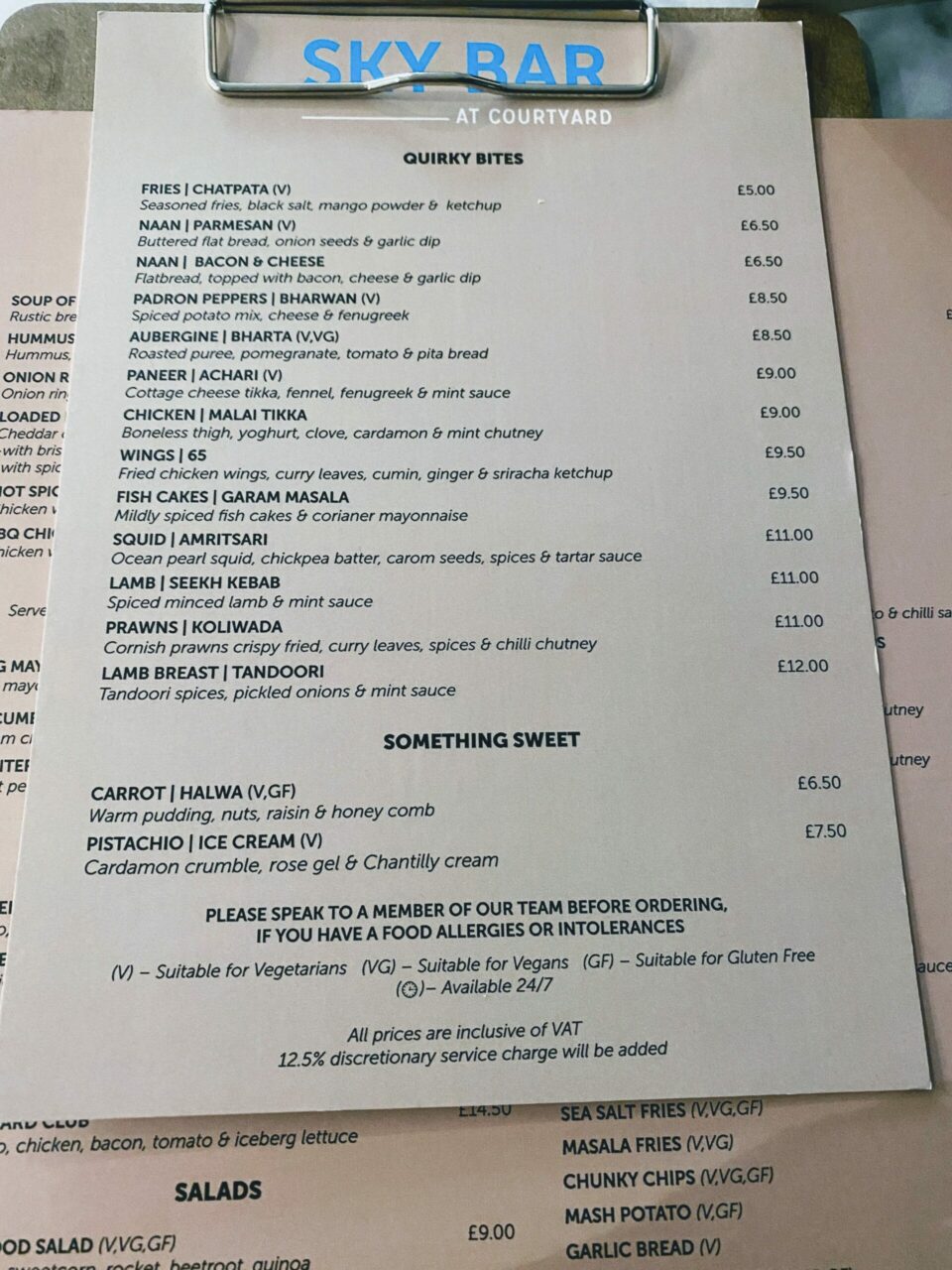 It has a great outdoor terrace overlooking Heathrow and I'd recommend a visit for a drink if you are staying at a hotel nearby.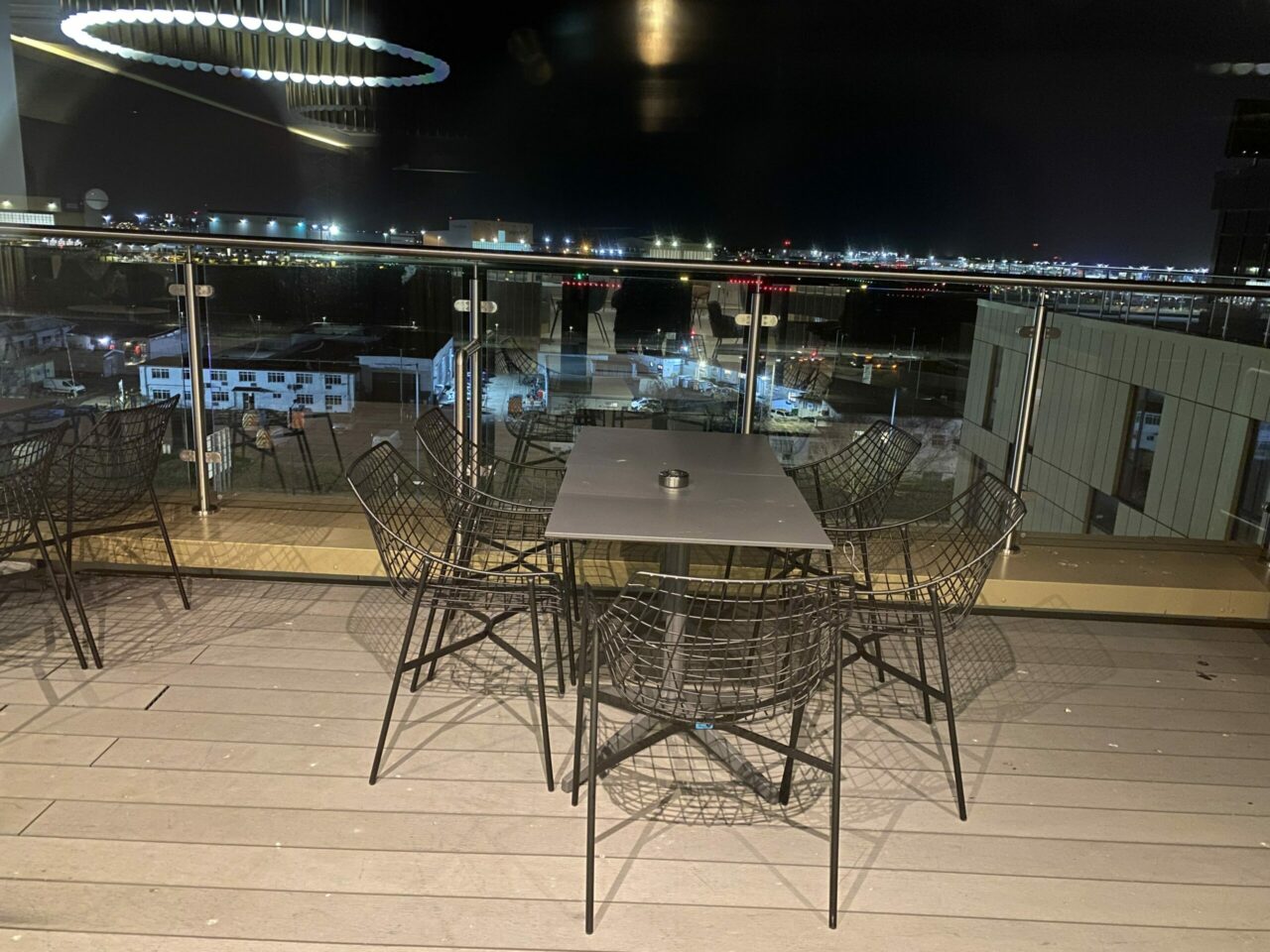 I ordered the chicken malai tikka skewers which arrived suspiciously quickly. While the sauce was tasty and the coleslaw fresh, the chicken itself was a big disappointment. It tasted like somehow had reheated it in a pan with a load of butter. It was extremely greasy and had a very strong flavour of cloves which was very overpowering and I could not taste anything else. I left most of it.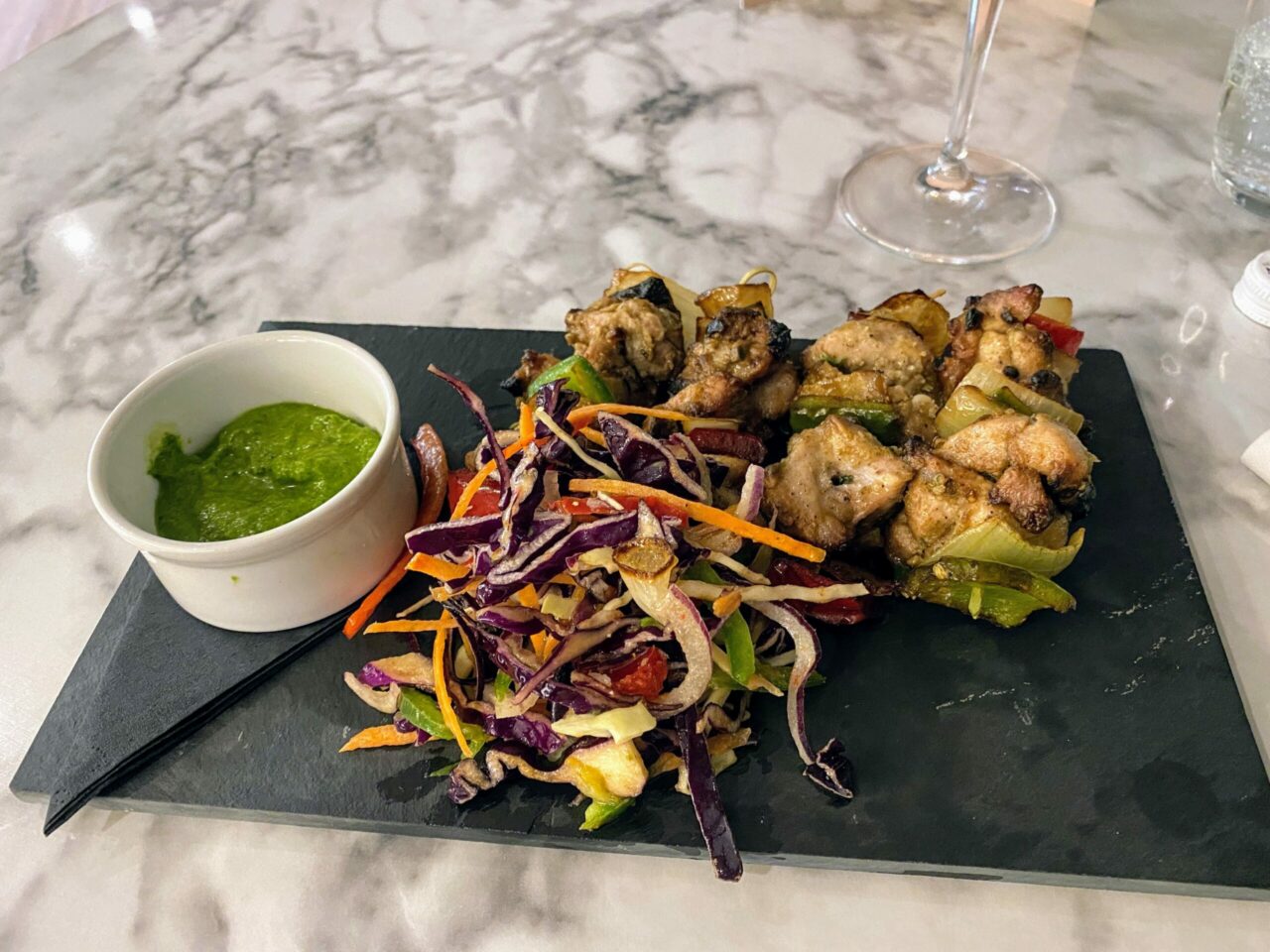 The waitress did notice and ask if it was alright. I told her as kindly as possible what I thought and she said she would feed it back. I do think they could have taken an item off the bill as service recovery such as the sparkling water I had since I had left most of it.
Facilities
There is also a fitness centre open 24-7.
Pricing
The hotel is great value and if you get the local bus to the airport it makes a cheap stay! Prices start from just £73 for the entry-level room for the pre-pay Marriott Bonvoy rate. On points, it costs around 22,000 points but given the cheap prices of the rooms, I don't think it is worth it.
Conclusion
I have stayed in almost all the 4 and 5 star hotels on Bath Road and I would say Courtyard by Marriott London Heathrow Hotel is my favourite for that area when you look at price versus what you get for your money. You don't get a lounge if you have status as you would at the Sheraton or the Marriott, but you do at least get two free drinks. Personally, this is now my go-to unless I wanted to stay on-site at one of the terminals (I'd stay at the Sofitel at T5, the Hilton Garden Inn at T2/3 and the Hilton at T4).
You can check prices and get more details on the hotel's website here.
Like our Courtyard by Marriott London Heathrow Hotel review? You can read more hotel reviews here.