If you read my review yesterday of the outbound flight of this trip, you will see that I was due to be flying old Club World on this flight. I was not looking forward to it as the flight was almost completely full, with the seat next to me occupied. However, things took an unexpected turn for the better…
Check-in
I was connecting from another American Airlines flight, so I had checked in with American Airlines. I did ask at the lounge when I entered how much it would be to upgrade and was told $1300; that was a hard pass for me!
The lounge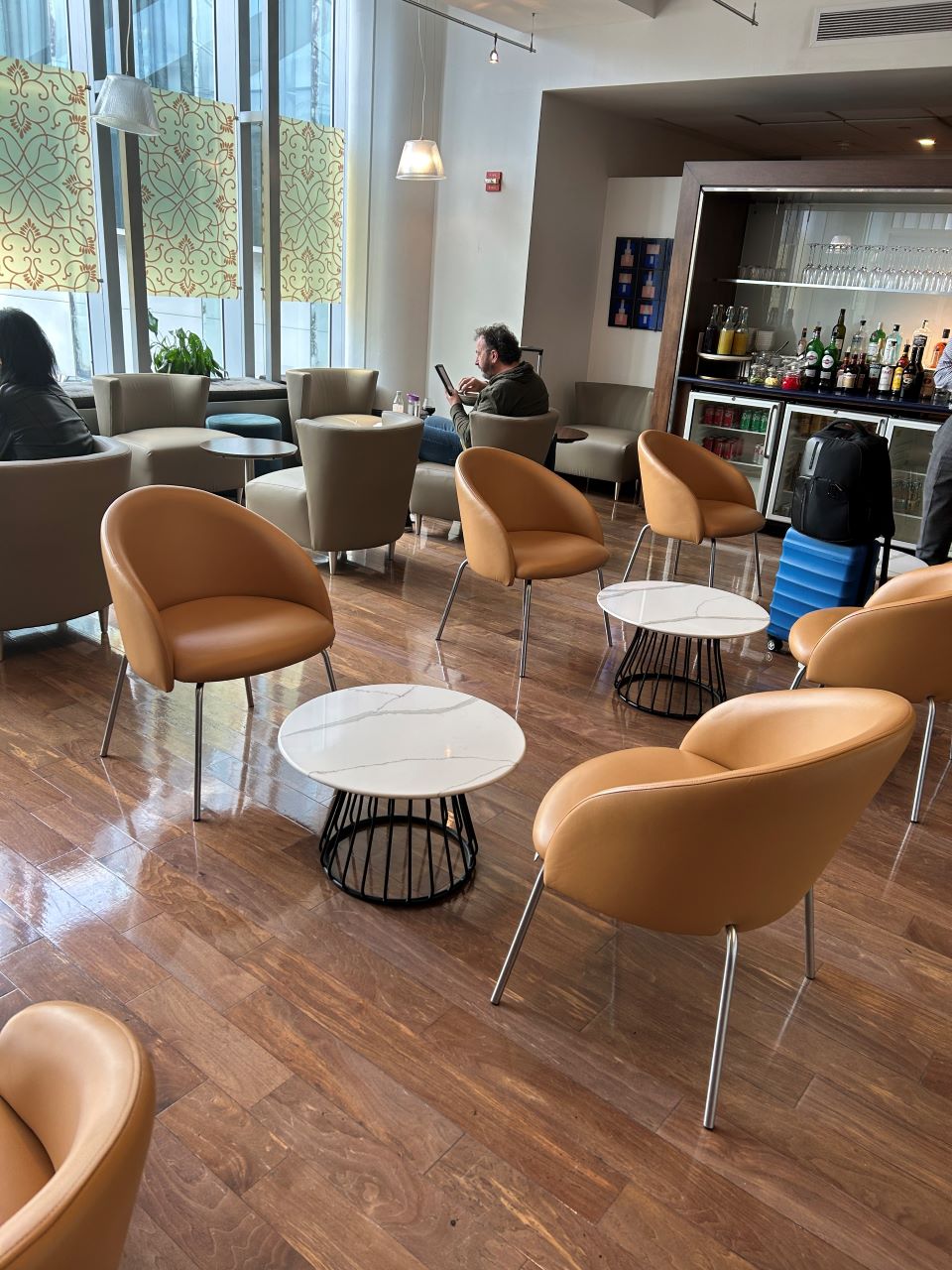 I did not expect much from the lounge at Philadelphia, but boy, was I wrong! It is a great little lounge which is made by the friendly and hard-working staff there, particularly the brilliant Eugene. He literally couldn't do enough for you and ran a tight ship in the lounge. Almost every customer was welcomed to the lounge by him and told where everything was. You didn't need to get up for a drink, as usually, if they had time, they would offer to get you one. It certainly blew the BA Galleries Club at Heathrow out of the water.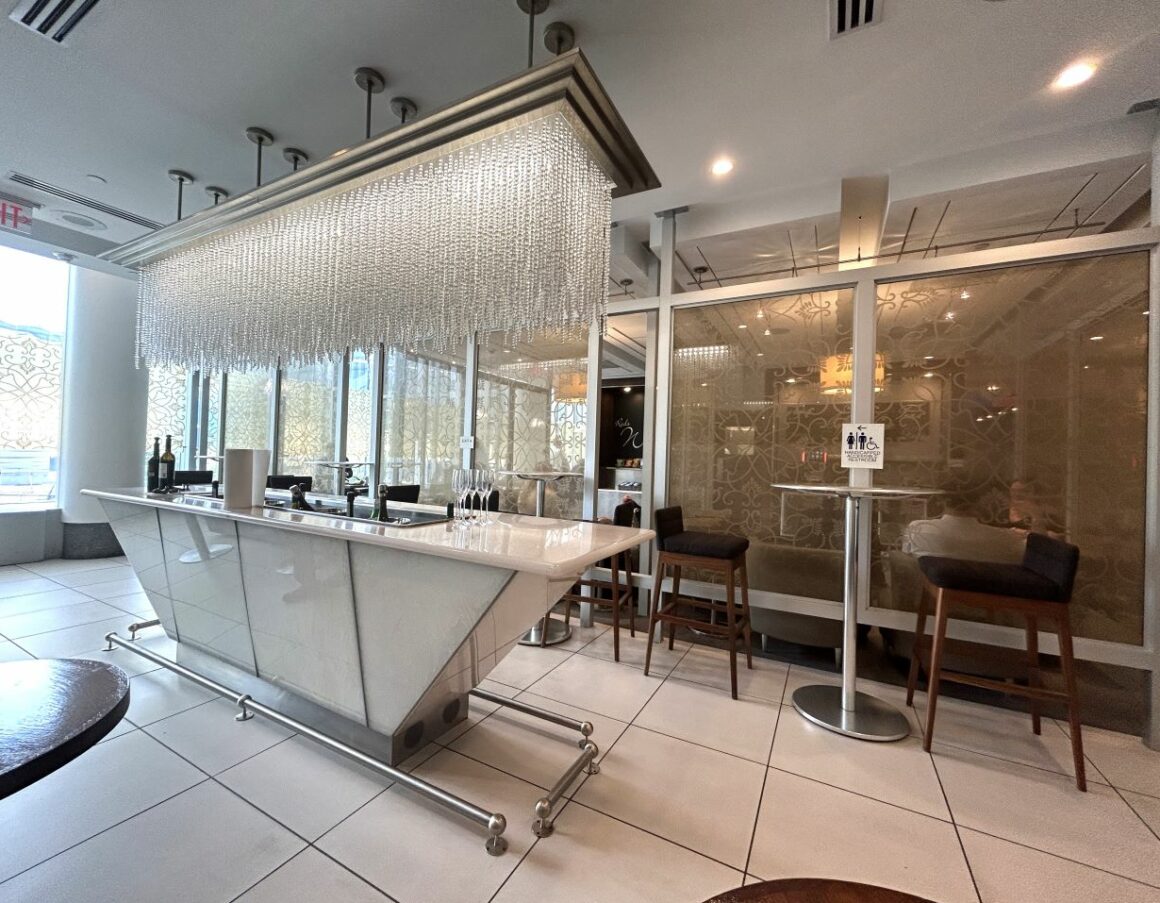 The lounge was modern and bright, with plenty of tables and chairs for working or eating. There was a small business area with a communal desk with power and a printer. Sadly, there are no airfield views.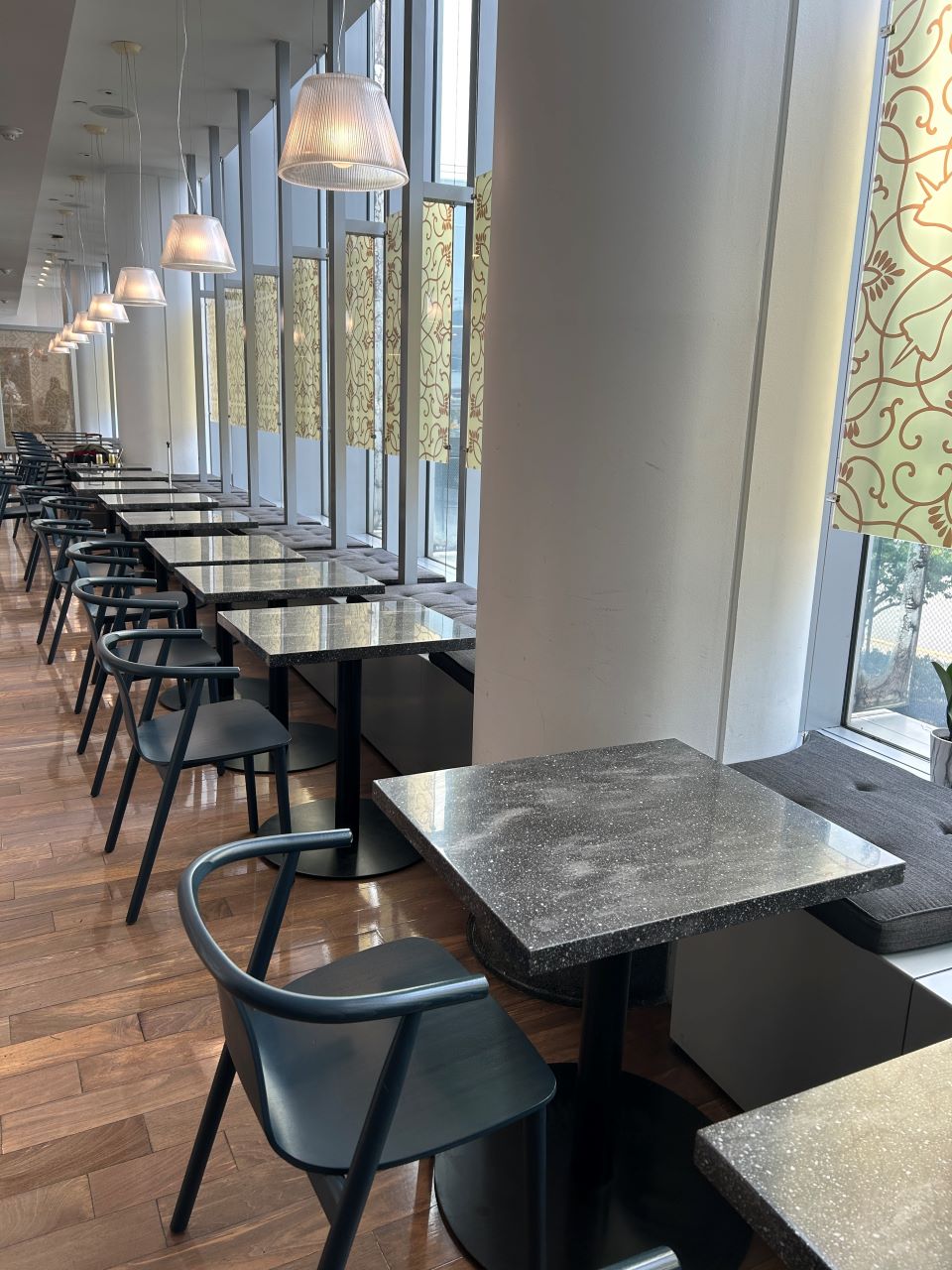 The food and drink selection was also pretty good, although they didn't offer a pre-flight/first dining area like some places. However, if you wanted to go to sleep straight away, there was more than enough to fill you up. Everything was beautifully presented and looked appealing. There was a lovely cheese and charcuterie selection, salad bar, desserts and hot food, including dahl, chicken tikka masala, cauliflower korma, samosas and soft pretzels. There were also sandwiches, crisps and some tempting looking cakes and eclairs.
To drink, there was prosecco, a Pinot Gris from Oregon, Chardonnay and two reds as well. There was also a large range of spirits with three gins, flavoured rum, Kraken rum, Baileys, Pimms, bourbon and whisky to name a few.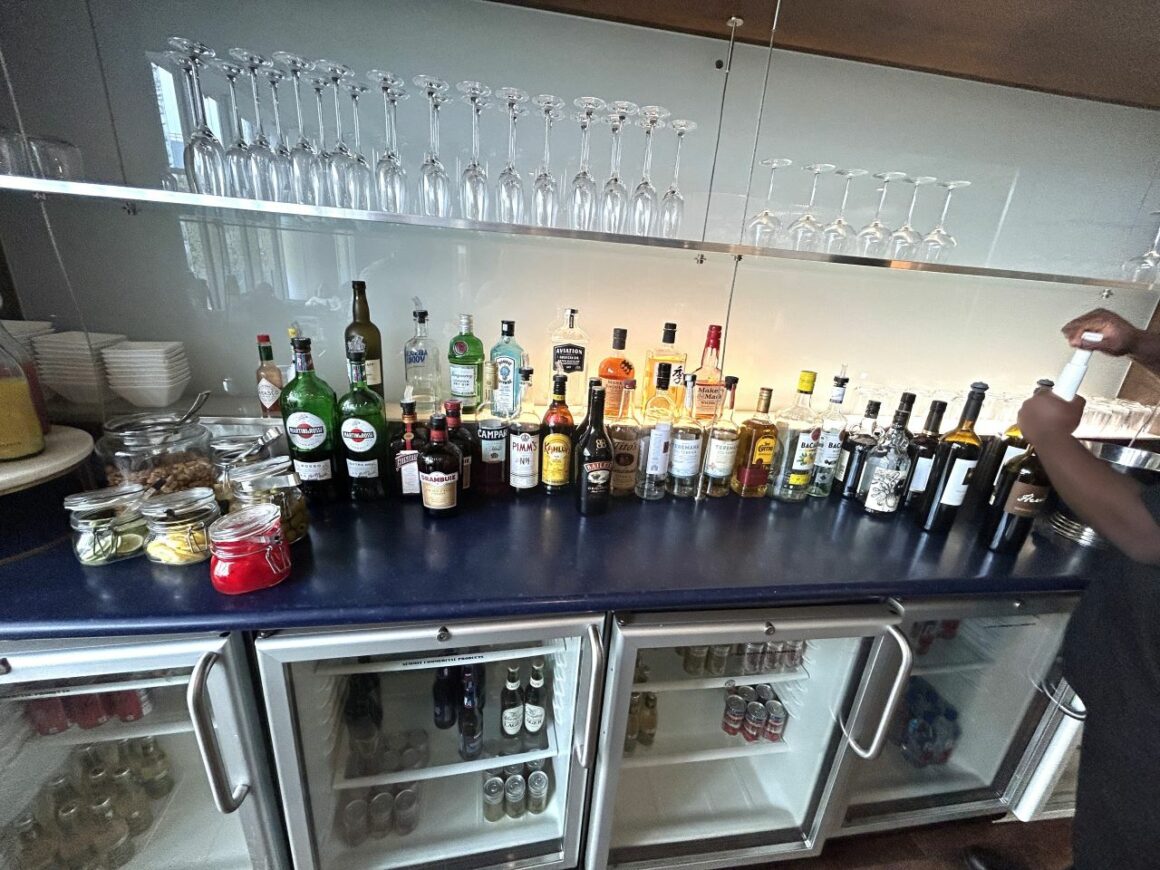 I also had a lovely surprise while in the lounge as I was paged to the desk. My heart rate did quicken a bit at this in the hope that as it was so full, I may have scored an upgrade. In fact, it turned out that the inflight entertainment wasn't working at my seat so I had been upgraded to first. You may think that being Gold Guest List and a travel writer, I get upgraded all the time. I think in the entire time I have been Gold and Gold Guest list, I have been upgraded three times including this one. Twice of those were due to a seat malfunction and a full cabin. One was to Club Europe from economy. So, I was delighted to be given an upgrade.
Boarding British Airways First Class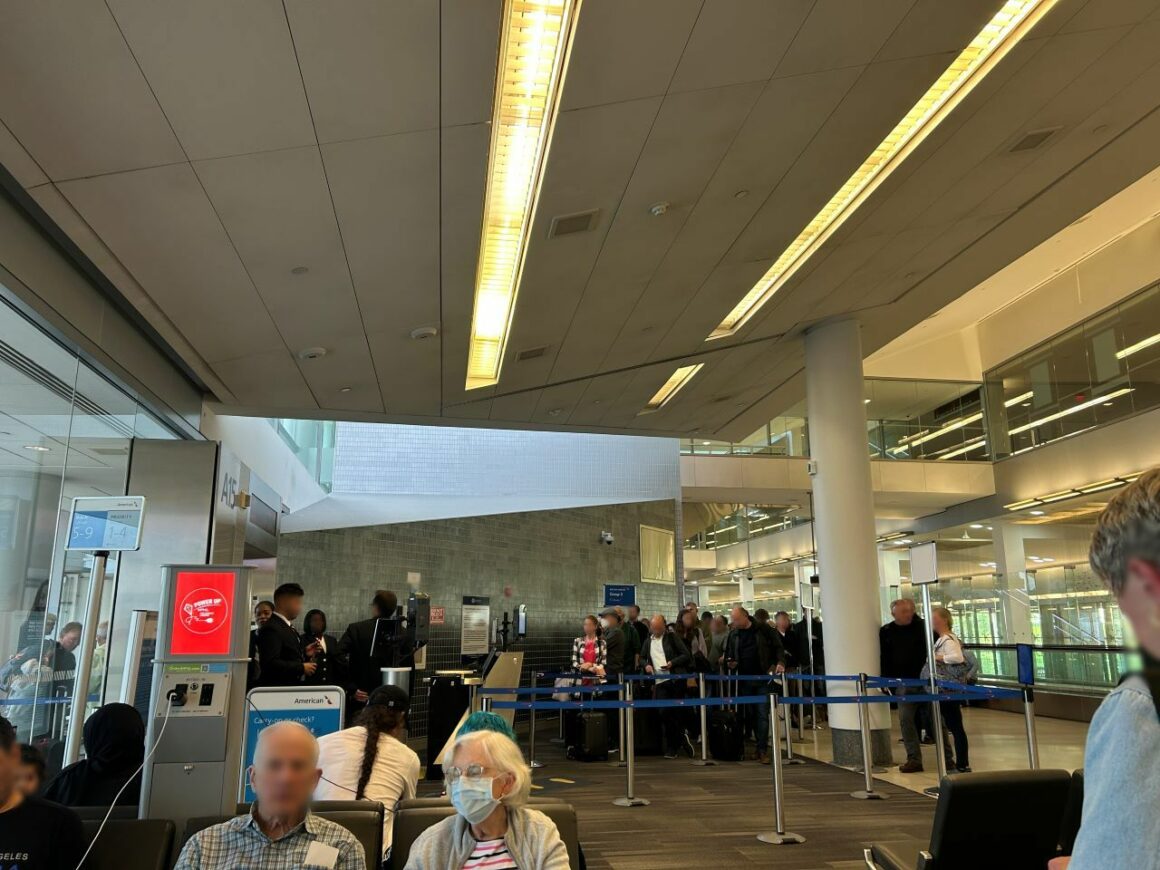 Boarding was reasonably well organised. It's funny that I usually find the US better at doing boarding than the UK nowadays. However, there was the usual crowd of people by the barriers (who were probably in group 9!) to fight my way through when they called my group.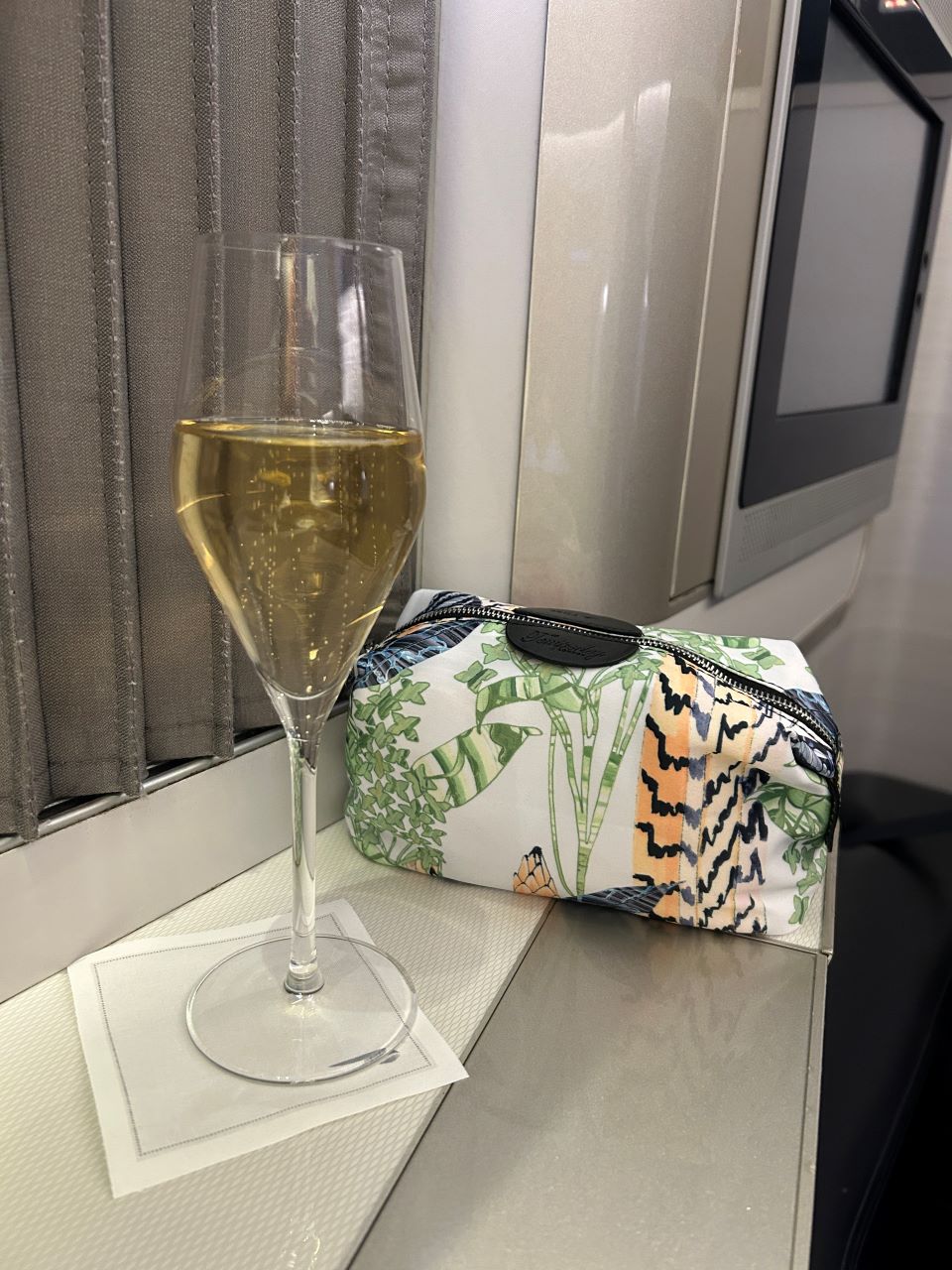 I was shown to my seat. This doesn't always happen as they can't leave the door unattended for obvious reasons. Once on board, I was offered a glass of the Laurent Perrier Grand Siecle Champagne and given the usual washbag. I was also offered pyjamas and slippers. I declined the nuts as they are still the Club Europe ones.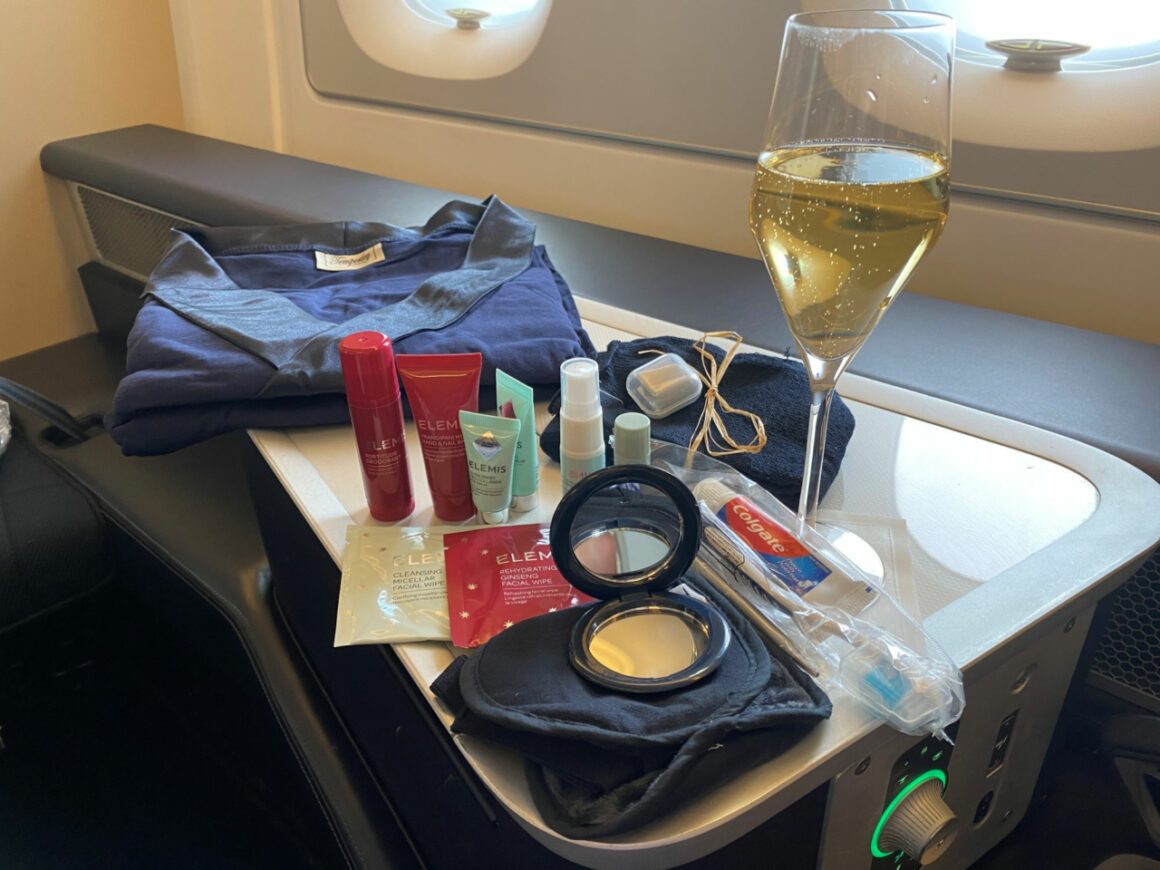 The amenity kit usually contains:
Elemis Rehydrating Ginseng Facial wipe
Elemis cleansing micellar wipe
Elemis lip balm
Elemis Pro-Collagen facial mist
Elemis Deodorant
Elemis Ultra Smart Pro-Collagen Serum
Elemis Ultra Smart Pro-Collagen eye balm
Eye mask
Ear plugs
Socks
First branded pen
Mirror
I didn't open mine, as I will use it for a future reader giveaway.
British Airways First Class Seat
I had been allocated a middle seat, 3E as obviously, it was last minute. Then the cabin crew showed me the seat on the wrong side (3E), which I didn't twig since I never sit in the middle! The actual person in 3F was happy to trade seats when the crew worked out the mistake, so I did not have to move.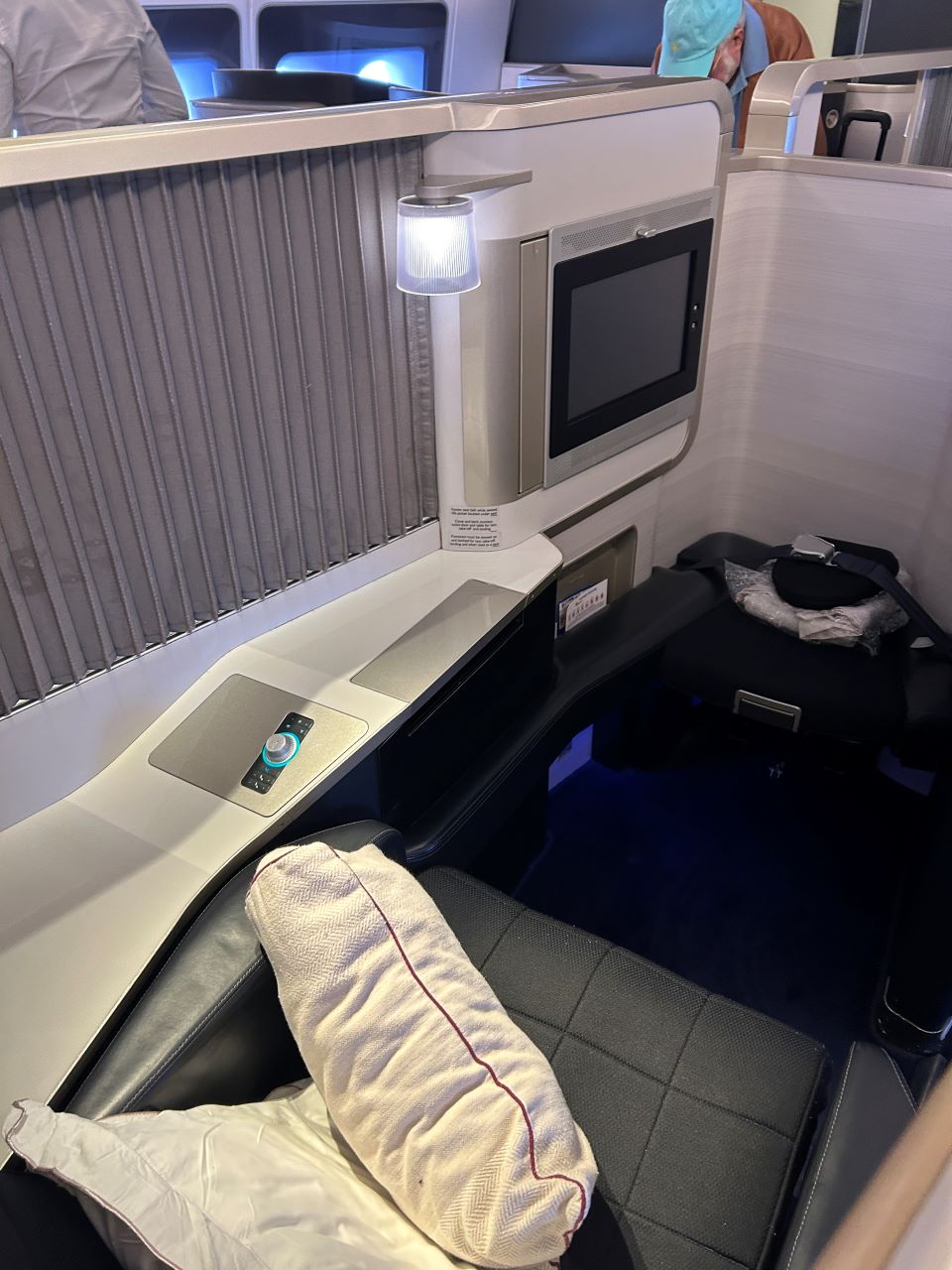 The B777-200ERs without Club Suites still have 14 seats in First. I would usually pick 2 or 3 A or K so as not to be near the galley or toilets and have a window seat.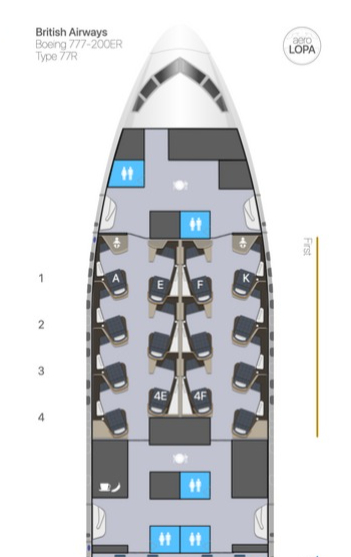 These are my least favourite BA First seats, with my favourites being the new B777-300 Suite and A380.
The thing I don't like about the old B777 seats is the lack of storage within reach when the seat belt signs are on. You do get a wardrobe, but there is not much space, unlike on the A380 where you can fit a wheelie bag. This is the only storage for the seat (apart from the locker) and can't easily be reached when the seat belt signs are on. Obviously, once you take off, you can put things on the side.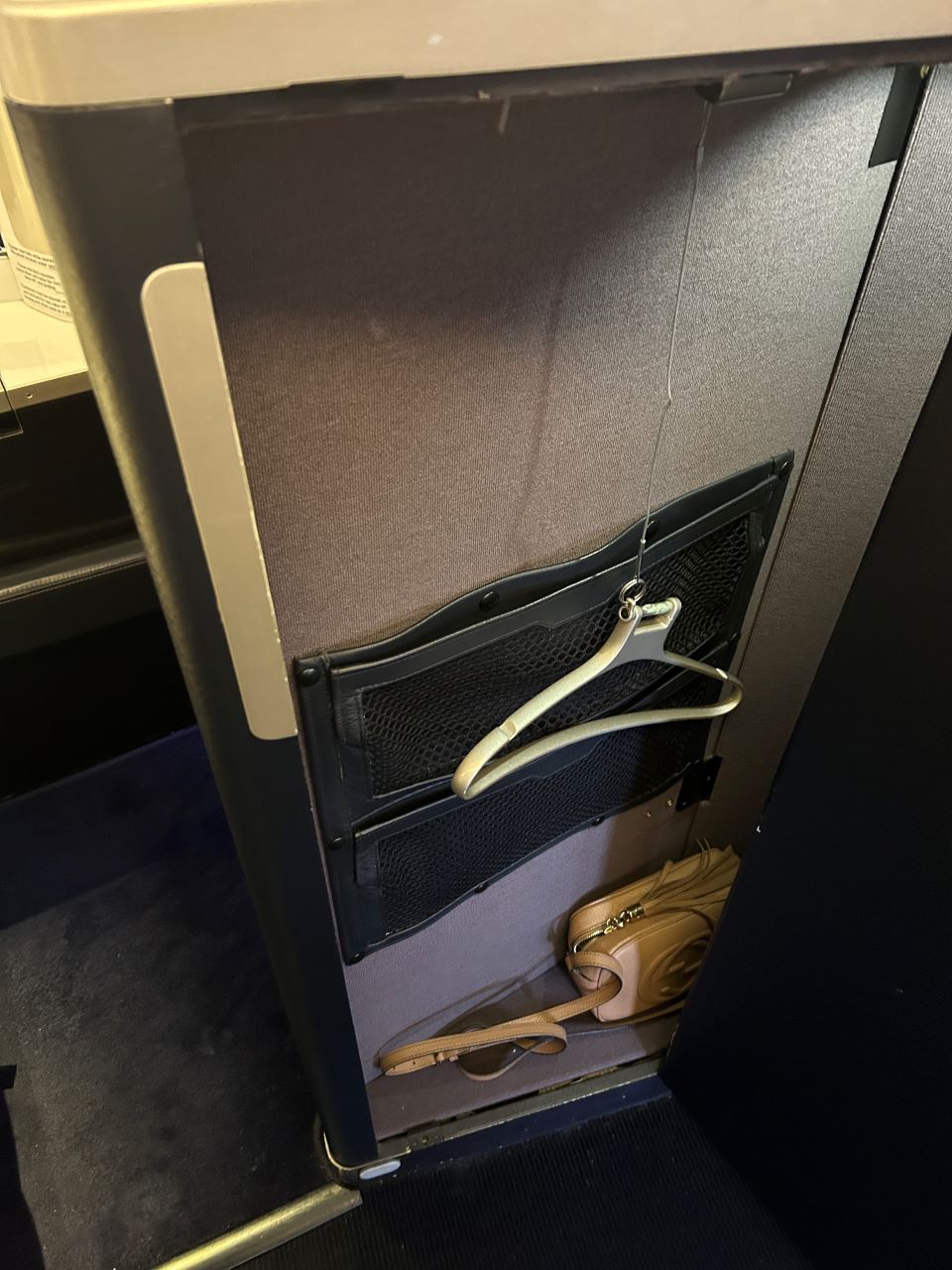 I do find the seats very comfortable for sleeping. You get a large pillow, a thick mattress topper and a duvet. The crew will offer to make up your bed for you. I slept very well on this flight as the seats are quite soft and wide. You also get a day pillow, which I find useful for a bit of extra support to get comfortable.
In case you are wondering if you look closely at the following pictures, I swapped to a window seat as it was free.
British Airways First Class Food and drink
The amazing service continued on board with cabin crew member Theo, who was one of the best I have ever had. He obviously knew luxury travel well and really understood how onboard service should be. He knew all about the wines too, which is also rare in First nowadays.
It was such a contrast to when you get some of the other members of staff in First who are rather clueless. Theo really could not do enough for me, as well as being very personable and fun. I'd love it if they could use the great members of the cabin crew like Theo to train those who could use a little improvement.
Here is the menu: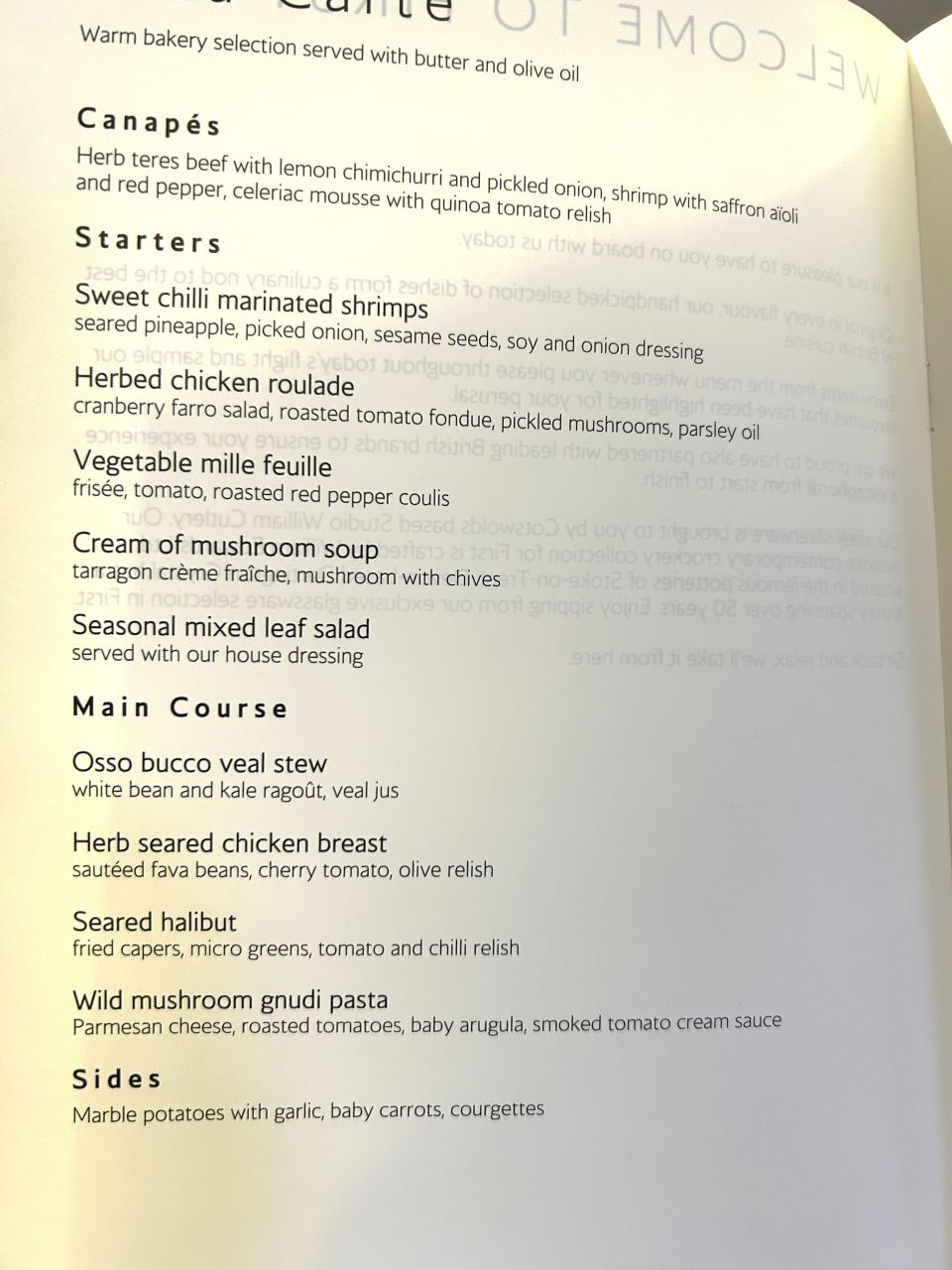 I started with the canapes and some more champagne. The celeriac mousse was very odd and devoid of flavour with equally dull quinoa. The beef and shrimp ones were very tasty, though.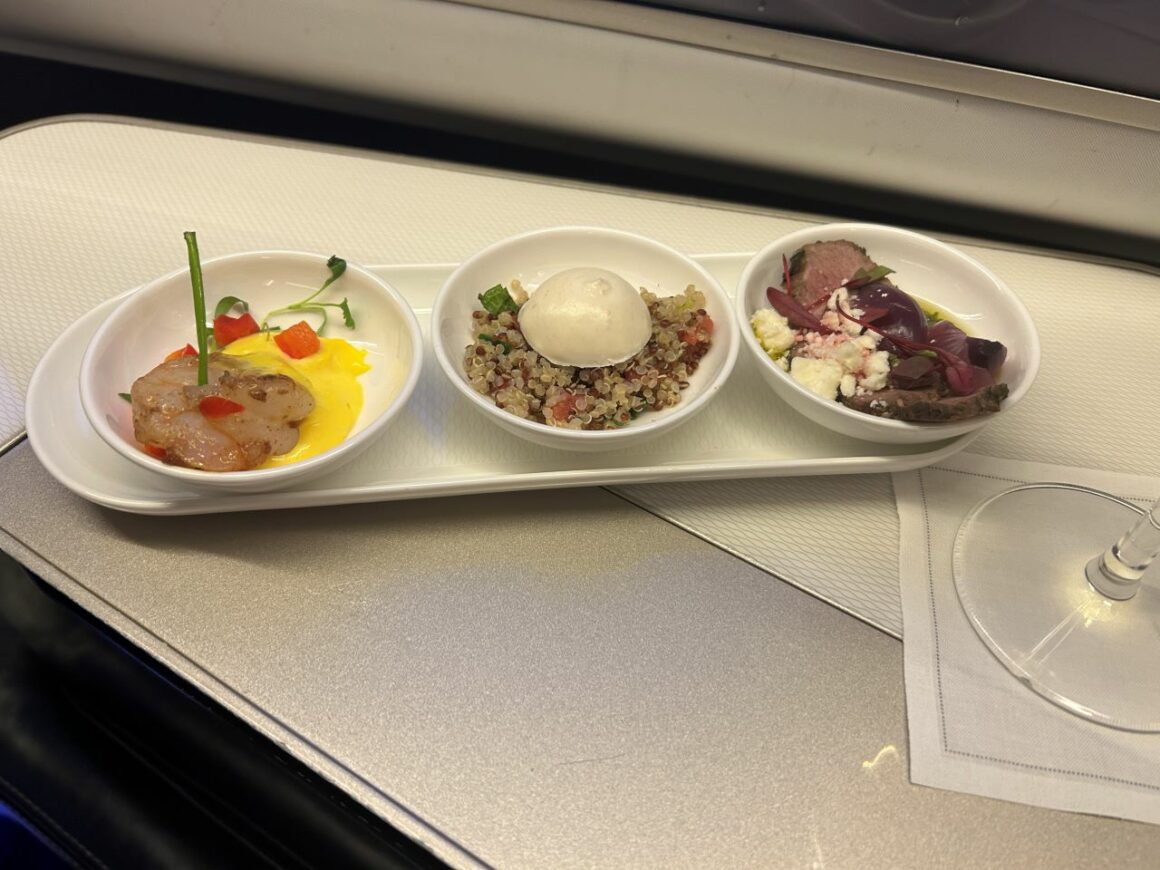 Then the table was laid up, and bread was offered with olive oil and butter. I love the spicy lemon oil that you also get on Qatar in business class.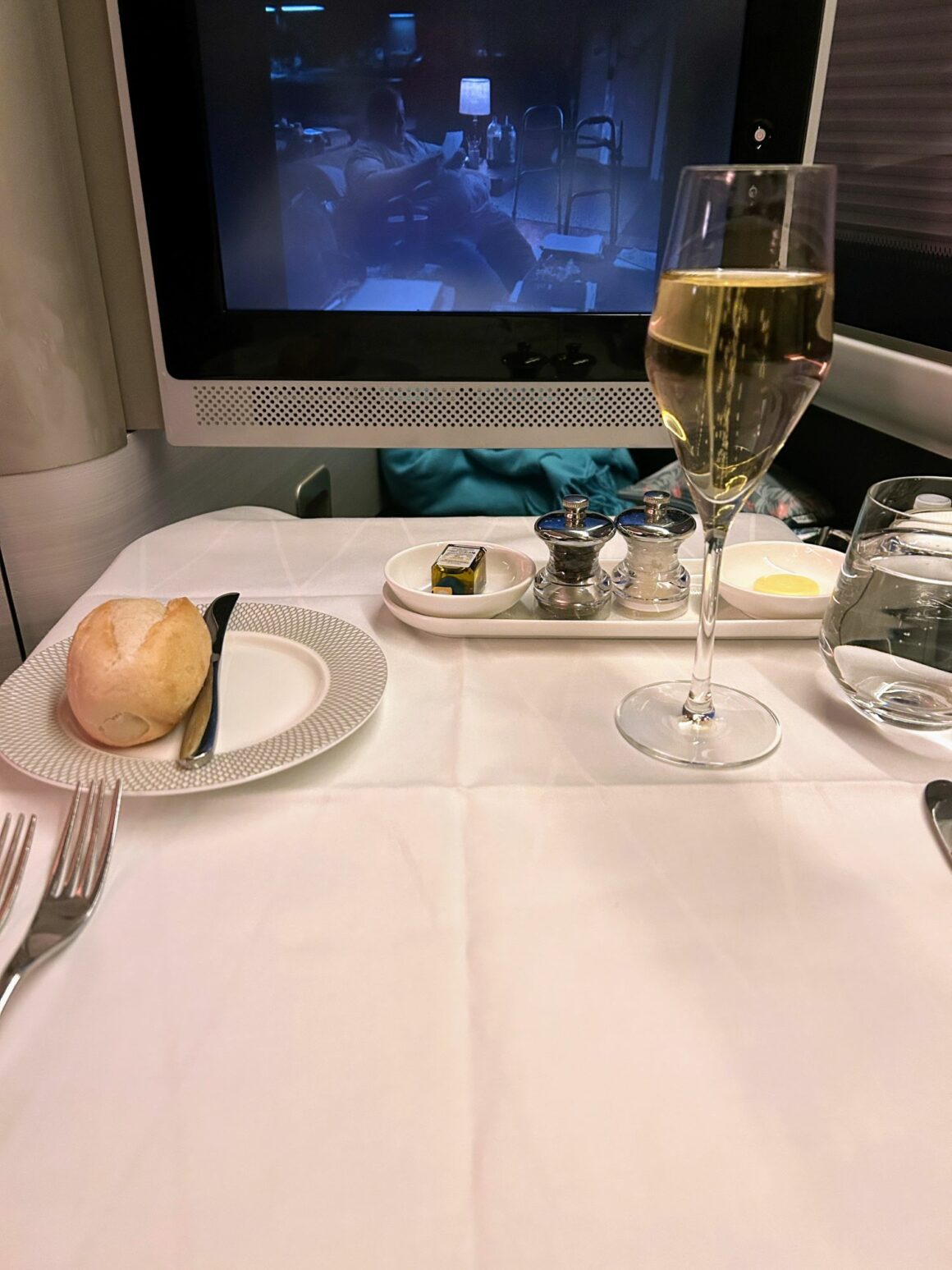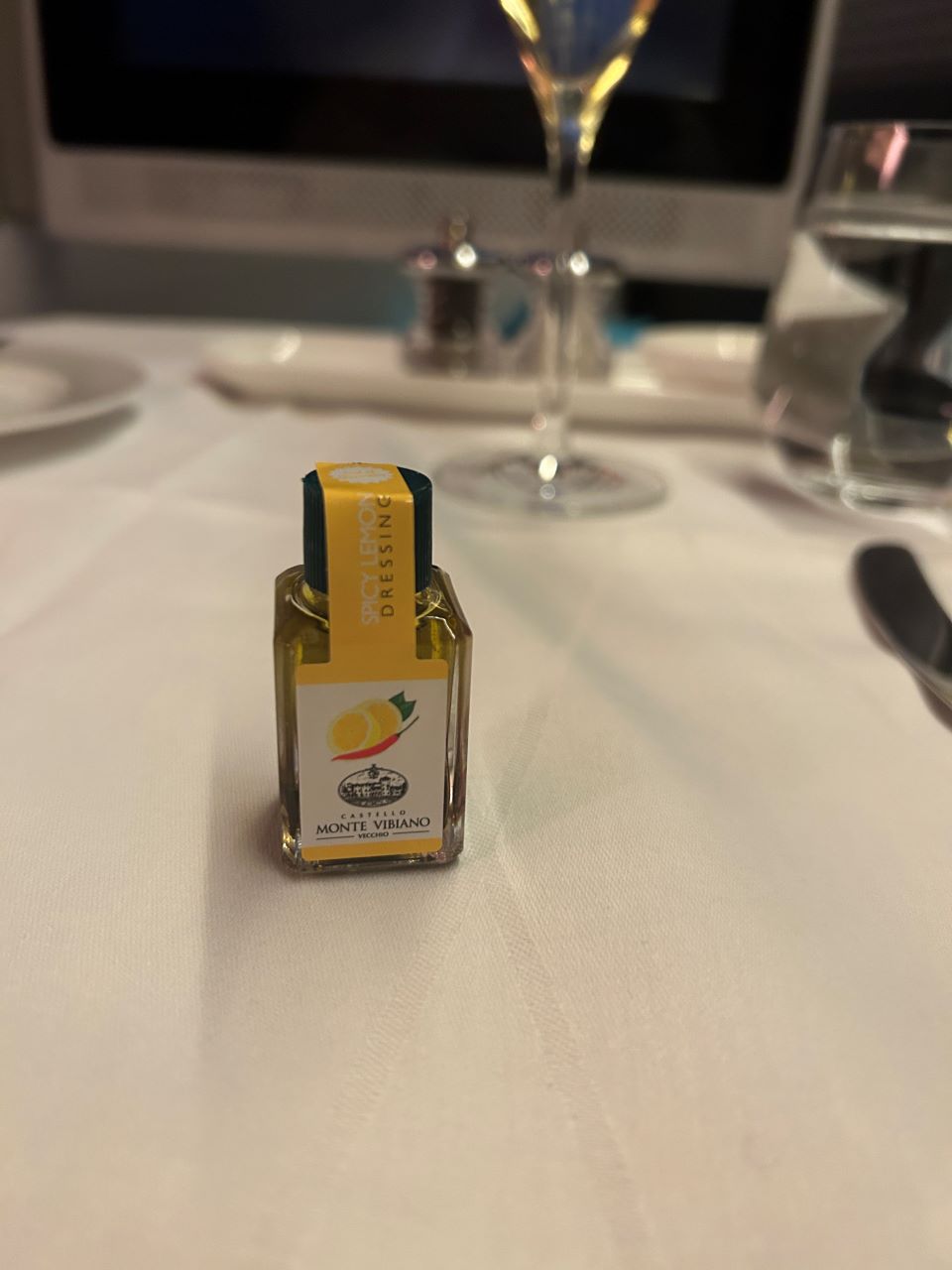 None of the starters really grabbed me, and it sounded a bit dull for first class. However, I thought I would try the millefeuille, though I wasn't entirely sure what to expect. I expected it to be pastry, but it was actually layers of vegetables and pretty tasty, a little like a lighter version of a vegetable lasagne.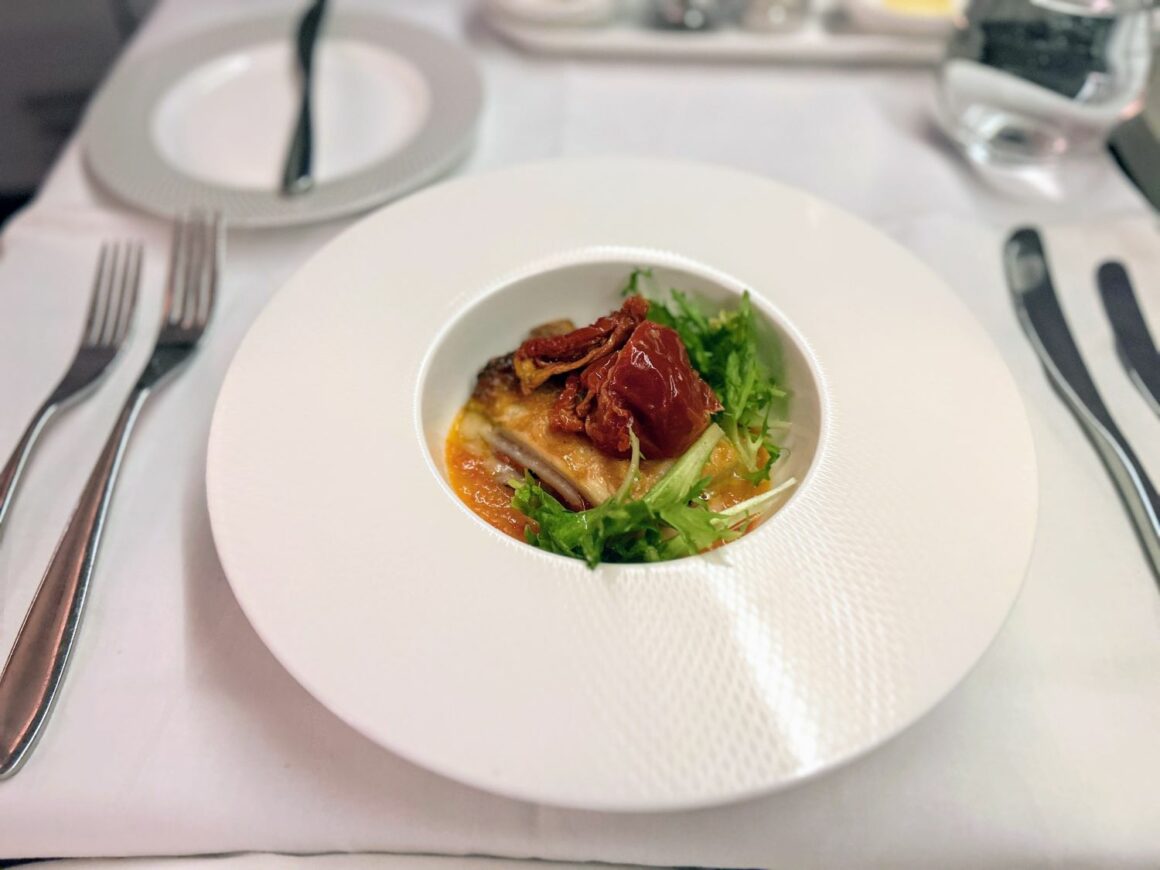 For the main course, I went for the seared halibut, although I do find fish on a BA rather hit-and-miss as it is often dried out.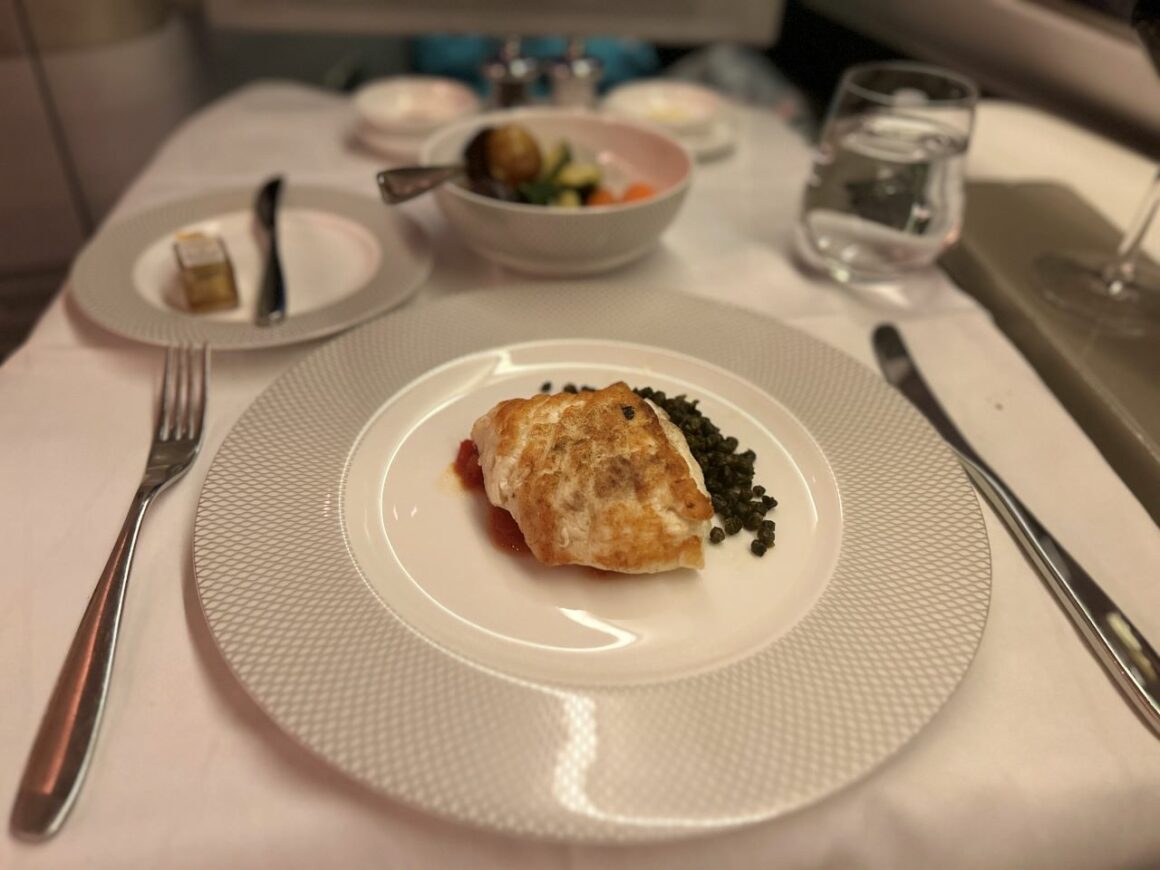 The fried capers were delicious with a nice hit of saltiness, and the fish was perfectly cooked – flaky and moist. I also enjoyed the tomato and chilli relish with it, which stopped it being too dry and added a bit of sweetness and zing. On the side I had a mix of all the vegetables.
With it, I had a glass of Pinot Noir as I didn't want anything too heavy with fish but wanted red. This was a great Pinot Noir, a little bit more full-bodied than many Pinots and quite complex. A good choice for in the air when a more subtle wine would have been lost.
Here is the full wine list:
I didn't bother with dessert, but fancied a Cognac instead. Even though BA no longer stocks cognac in Club, they do still have it First. Sadly, they did not have any on board, so I went for a Baileys instead. BA seemed to be having a few supply issues with the First Cognac, which still seem to be going on. It can't be that hard to get a few bottles of cognac!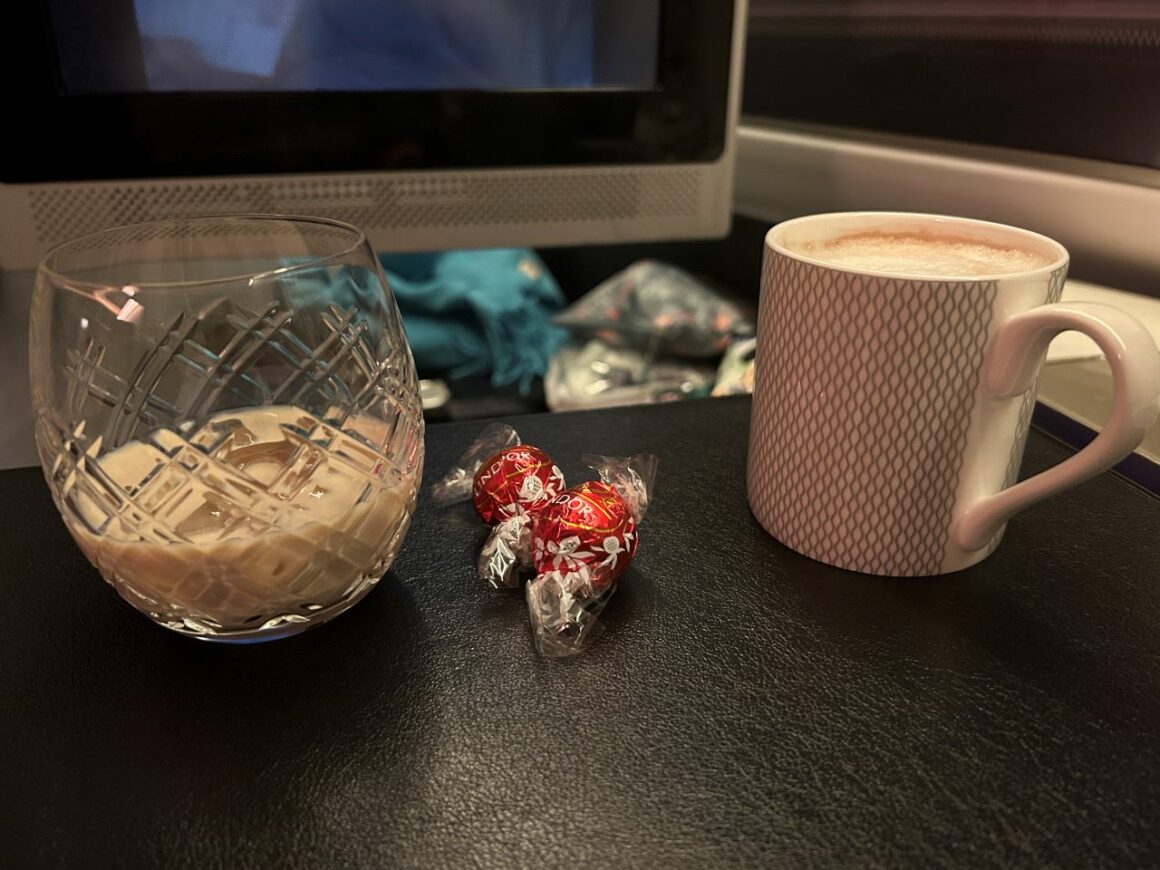 I was offered breakfast in the morning, but since I had slept quite late, I did not bother. Here is the menu:
British Airways First Class Entertainment and connectivity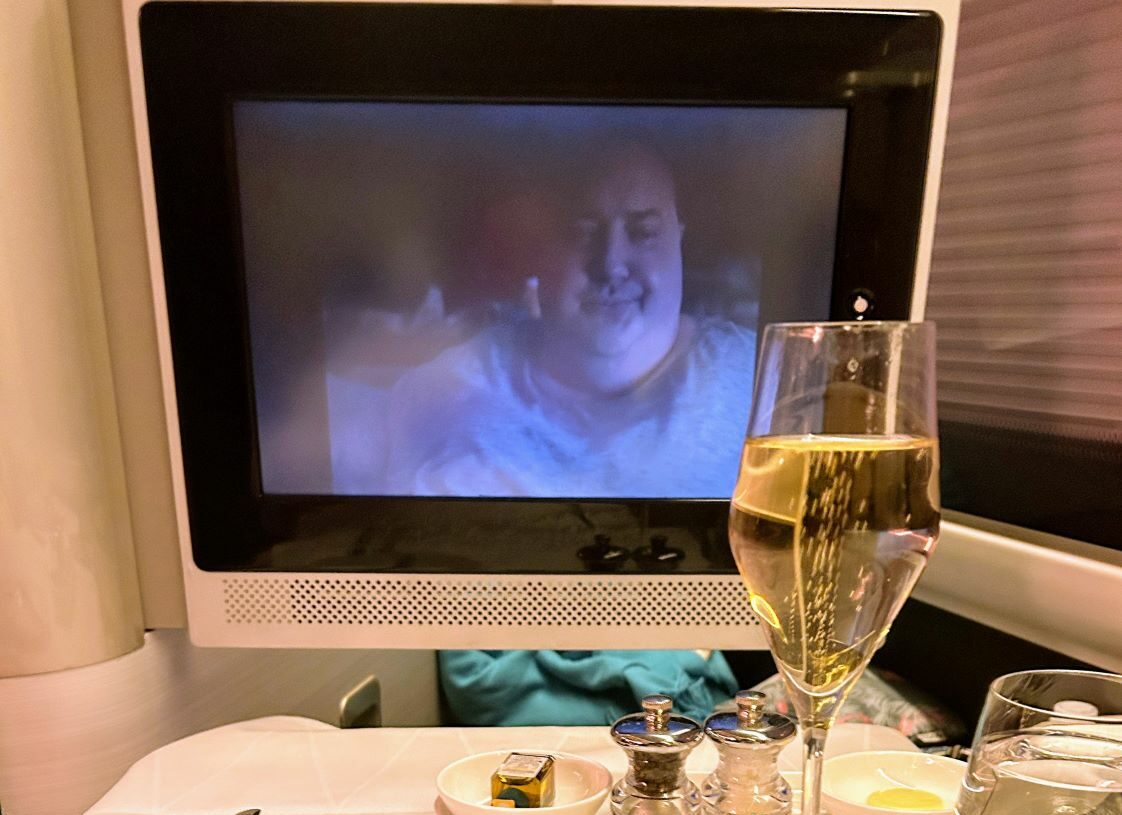 The screens on the B777-200 definitely appear quite low definition compared to the Club Suites and B787 First. It is still a decent size, though. The controls are also quite old-fashioned, but that doesn't really worry me, as at least it works well. I watched The Whale, which Brendan Fraser won an Oscar for. It was a great film, although somewhat depressing.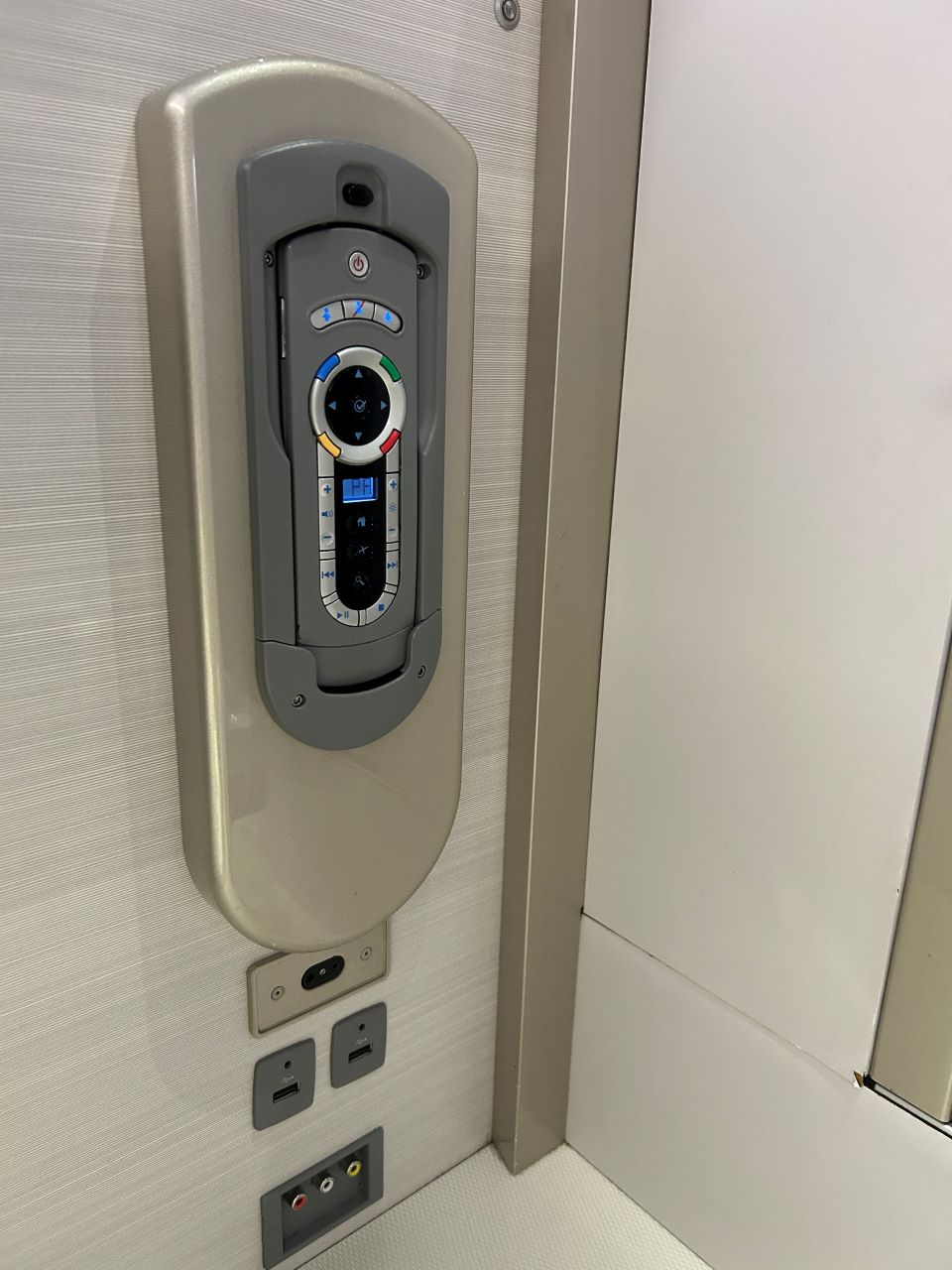 There were plenty of charging points with 2 USB points below the controls and a multi-country socket.
In First class, you get free wifi on BA, although I always find it quite slow.
Conclusion for British Airways First Class
The flight started well with some fantastic service in the lounge and a good selection of food and drink too. It certiably out AA's Admirals Clubs to shame! The service I received on this flight from the lovely Theo was so good I gave him a Golden Ticket (BA Gold members can reward good service with a ticket). Obviously, I do a lot of flying, and this was the best service I had in a long time. Theo's professionalism and passion for his job shone through. It's just a shame that the service levels are so variable. That being said, I have found over the last few months, it has been generally improving. I know BA are bringing in new customer focus initiatives and more management of crew performance, so hopefully, this will pay off with more consistent standards.
The menu was a little dull, and nothing really excited me on paper. However, I did really enjoy the dishes that I had. The Pinot Noir was also excellent.