A review of British Airways Old Club World. I was hoping that my flight may get changed to a new Club Suite as BA is still in the process of refitting their B777 suite, but it wasn't to be. I have to say I was not particularly looking forward to it as it was a long time since I had flown the older Club World seats.
Booking
I booked a World Traveller Plus fare for around £800 and then applied a Gold Upgrade Voucher to upgrade to Club. Sadly the extra taxes and charges brought it to £1200, which is not that much cheaper than an ex-European flight from Dublin. However, for the convenience of flying direct from London, it felt worth it.
Check-in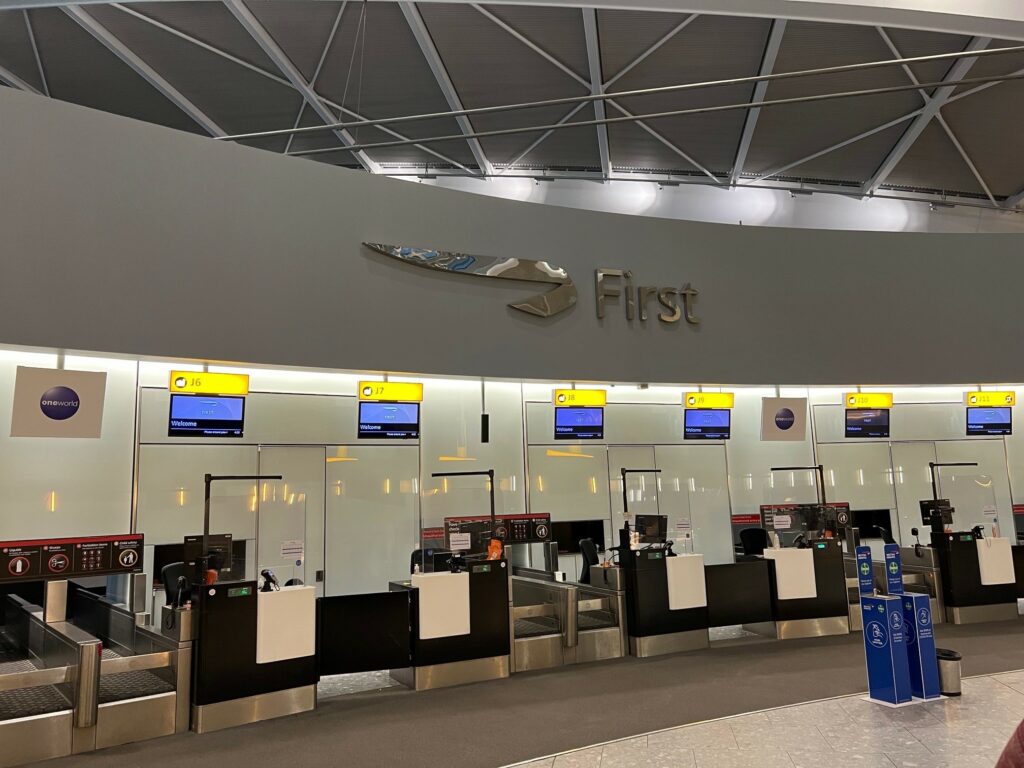 I am able to use the First Wing, so I made my way there. There had been some issues with the First Wing not having both security lanes open since Covid, but thankfully, that now seems to be resolved and recently, I have not had to queue for more than a minute or two.
Lounge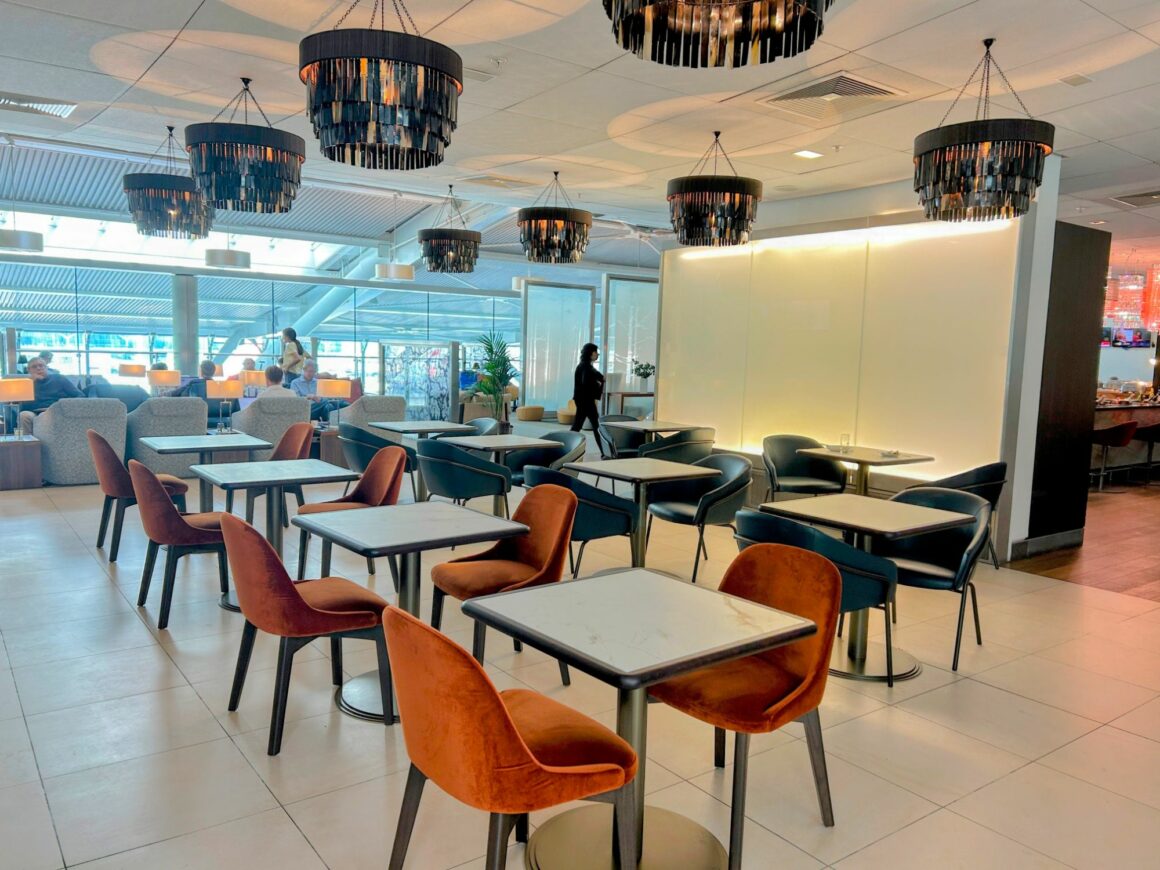 I have recently reviewed the T5B lounge with the new Whispering Angel bar here. This would be the lounge I would recommend if you are flying long haul from the B or C gates and have access to a Galleries Club lounge.
I popped into the Galleries First lounge, which can be used by Gold cardholders and those in First class. For those that don't want to drink alcohol, the range of drinks is definitely getting better.
There were some smoothies/green juice: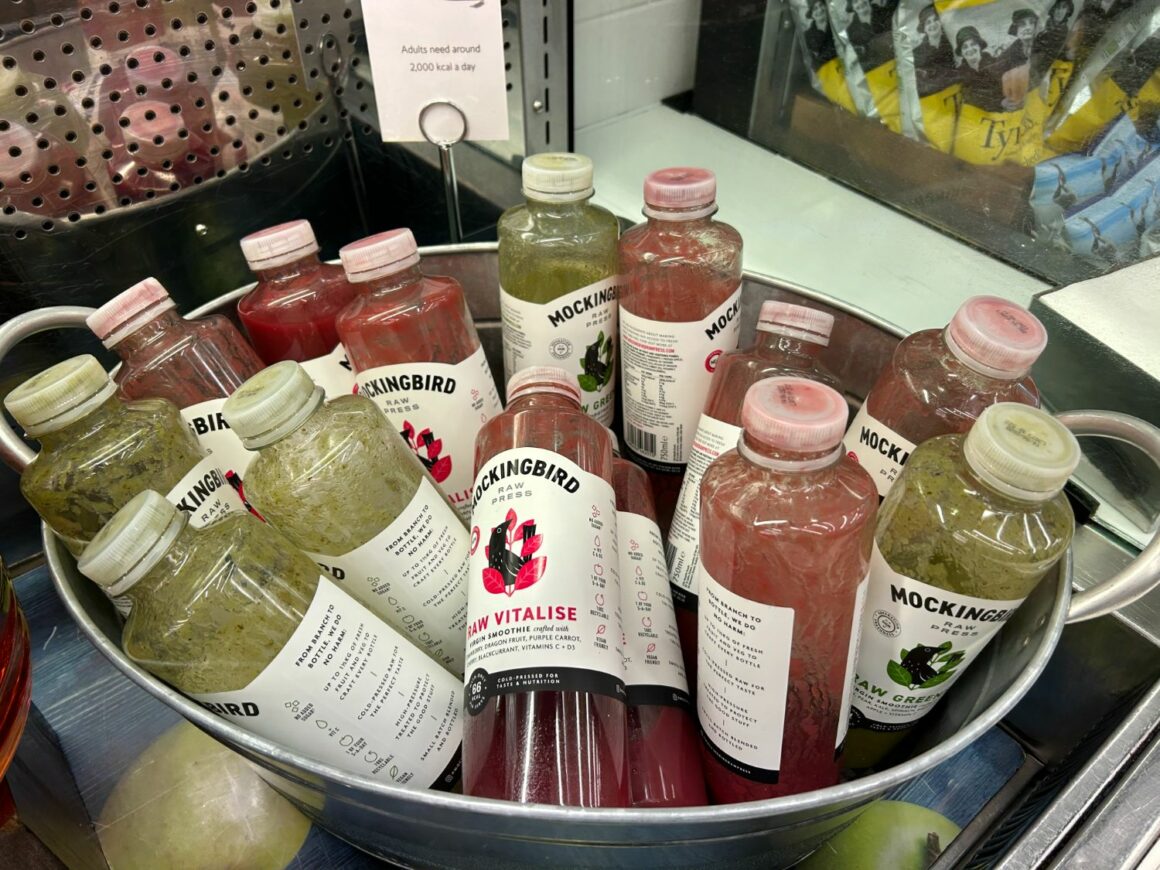 And also a non-alcoholic fizz. I had a quick sip, and it was not bad at all.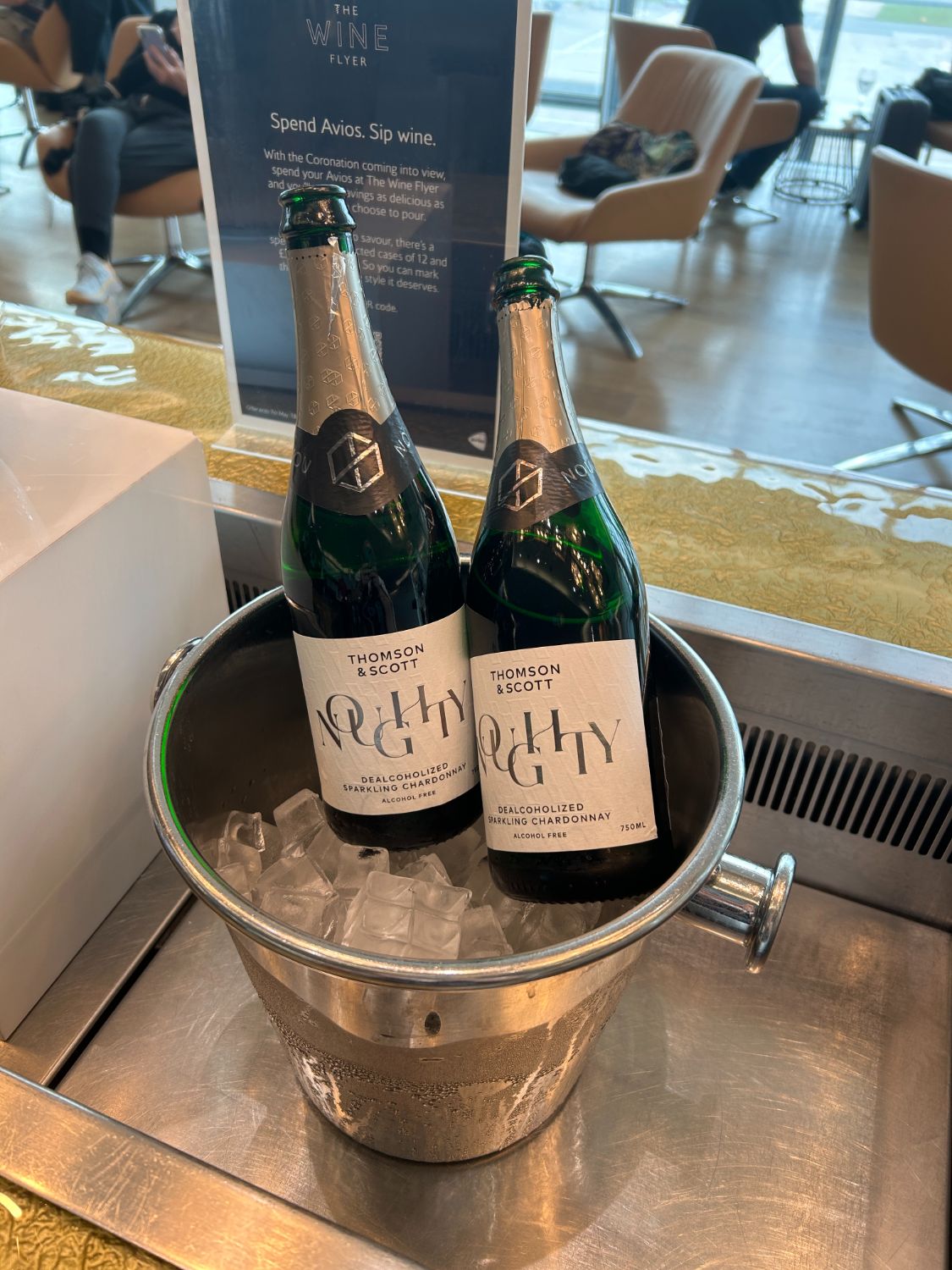 The hot food was the same old, same old with fish cakes and pies. There is also a salad bar, cheese and biscuits and now a make-your-own soup bar with things such as hot and sour soup with all the garnishes to choose from.
I then headed into the Concorde Room and tried the salmon mousse, which I am not a fan of. It has a very odd, completely smooth texture, which I dislike. I also find mousse on top of potato salad a bit strange; it's not exactly fine dining.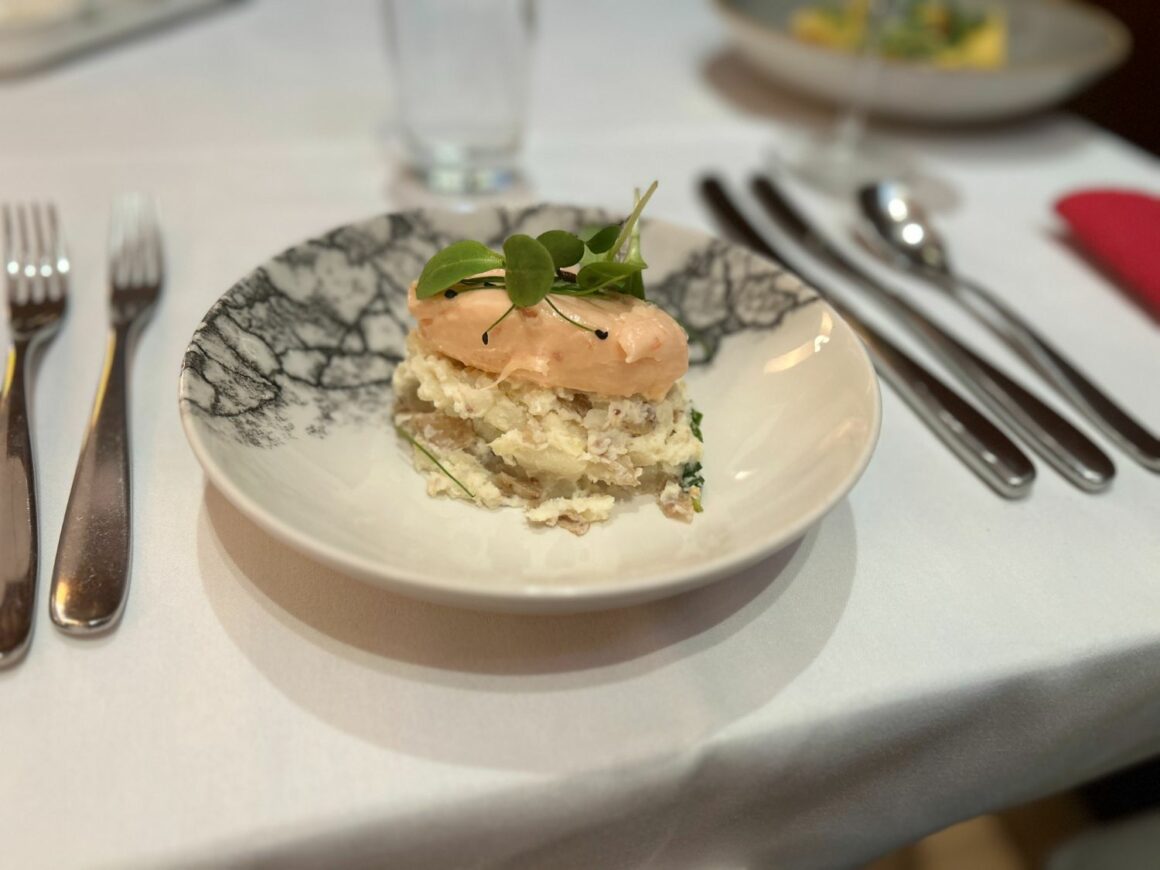 I also had the burrata and truffle tortellini, which have gone from the menu now, but they were very good. BA please bring these back!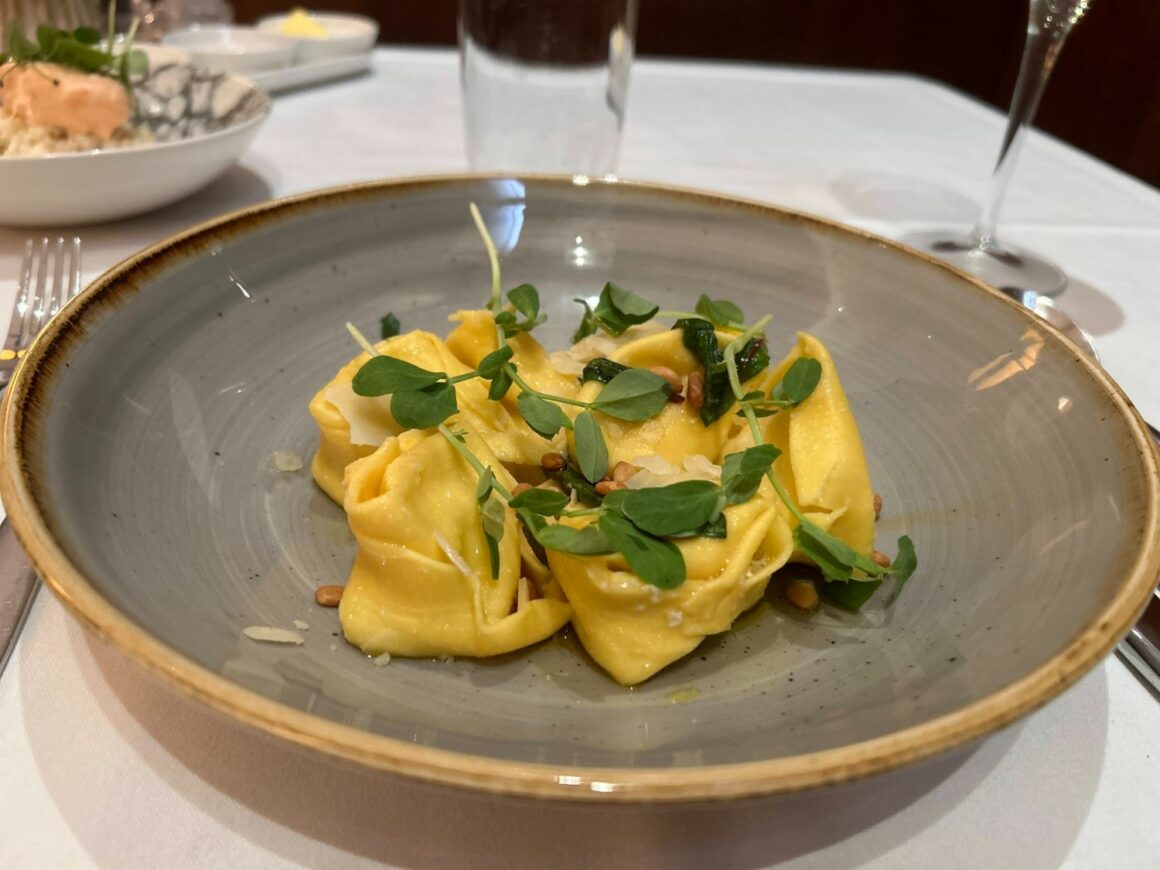 Boarding the British Airways Old Club World
For some reason, I am guessing new staff, boarding always seems to be a complete rugby scrum at Heathrow now. The gate was very crowded, and it was not very easy at all to actually reach the entrance to the barriers when they called group 1 to board.
My old rule of thumb for getting a feel for how the crew will be in the first few minutes rang true. At the door, I got a "good to see you back on board Mrs Robson" from the IFM when she checked my boarding pass. And they did turn out to be a great crew.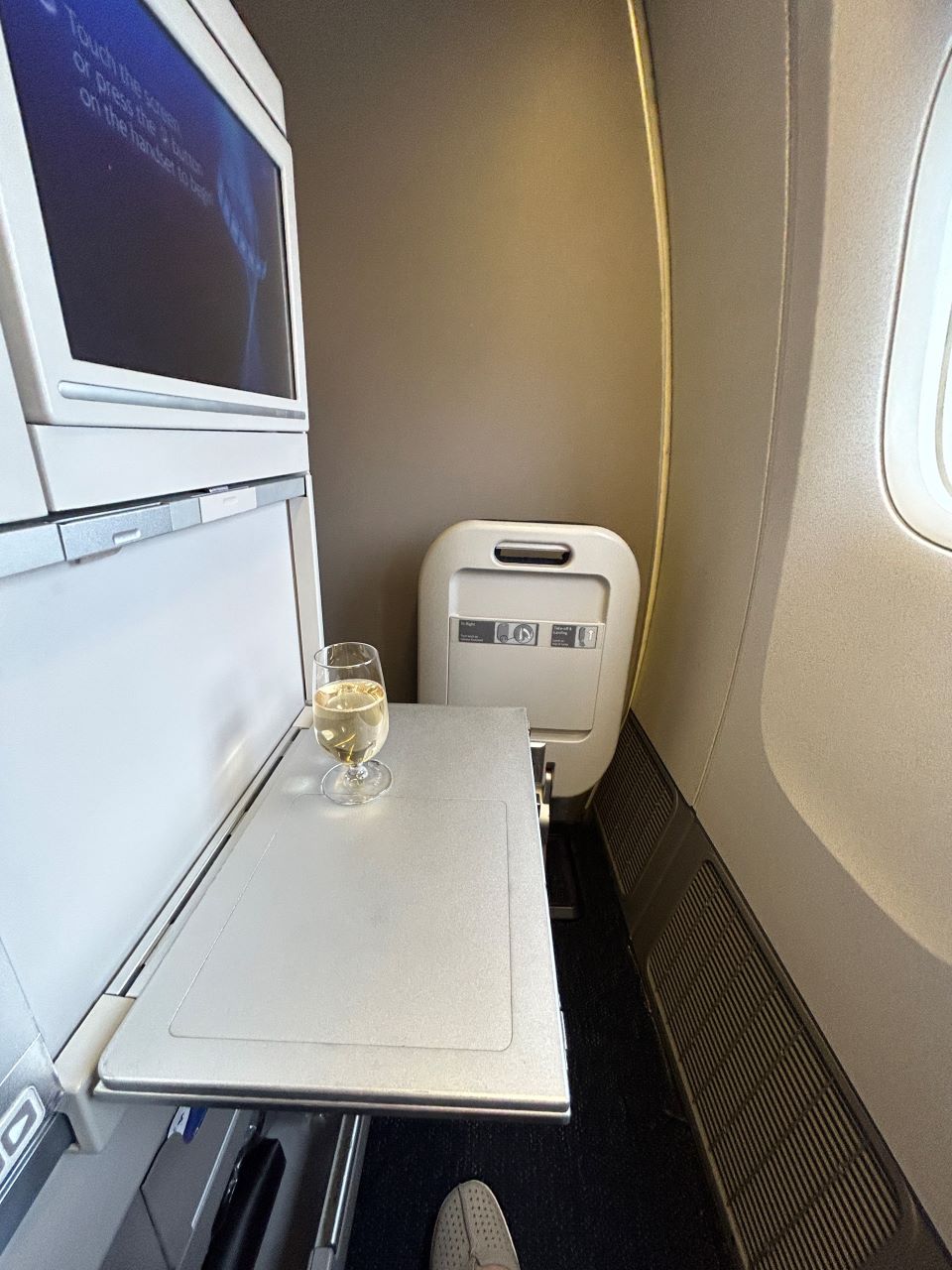 Once onboard, I was offered a glass of champagne or orange juice. I decided to risk a champagne, although I usually find the champagne disappointing on BA. I am, however, enjoying the English sparkling wines on board in general.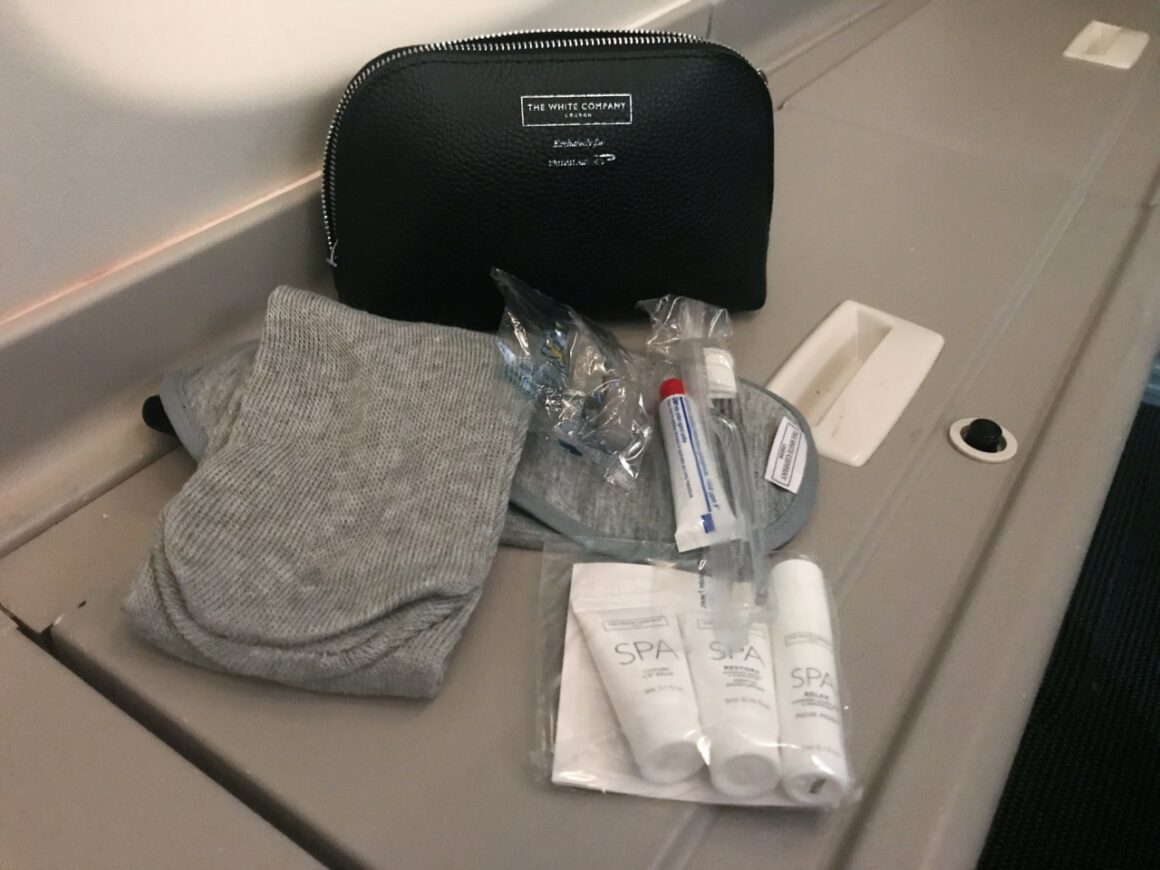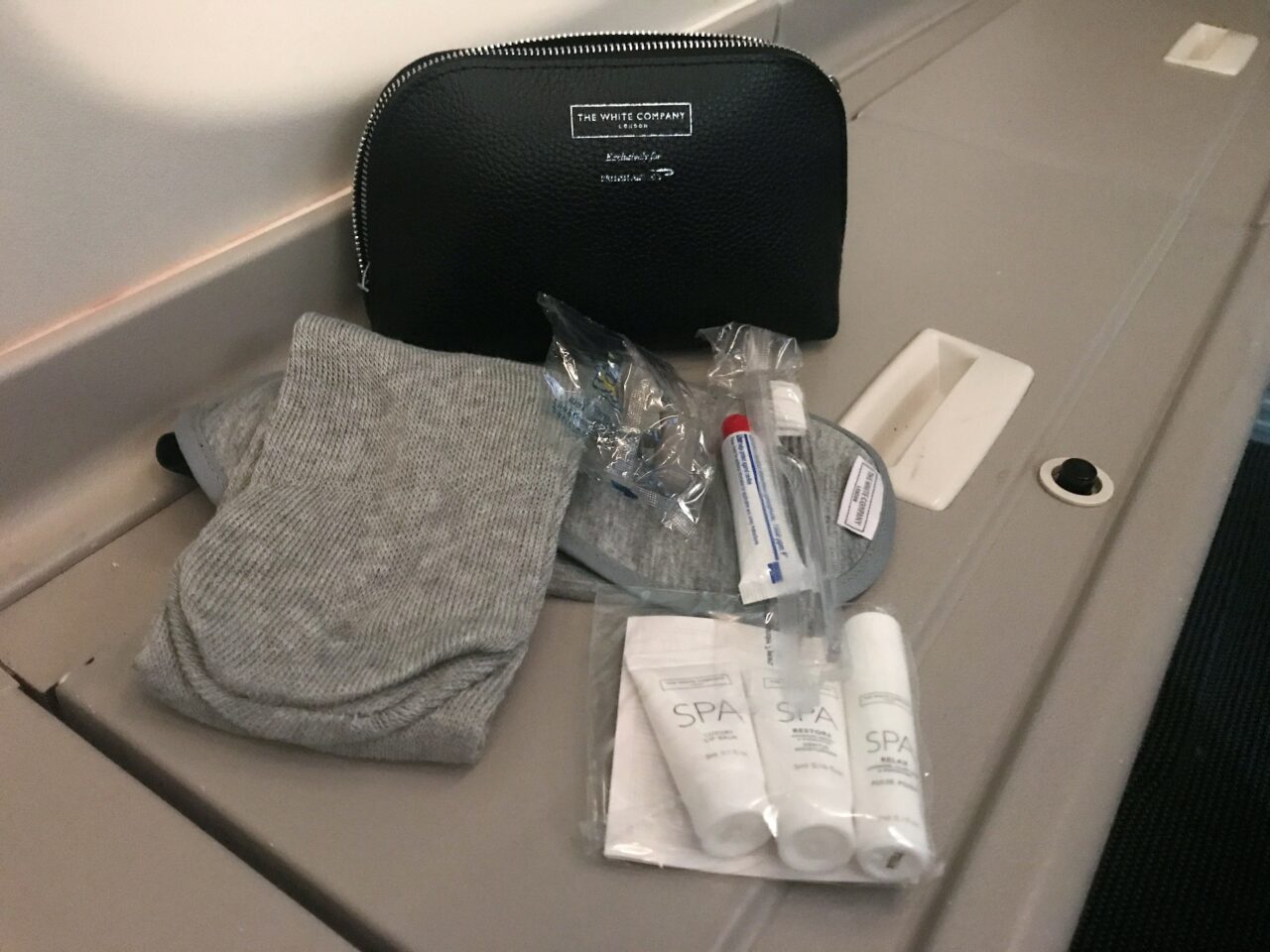 There was the usual White Company amenity kit, which I am very bored with now and feels like it is time for a refresh of the contents, if not the brand.
British Airways Old Club World Seat and cabin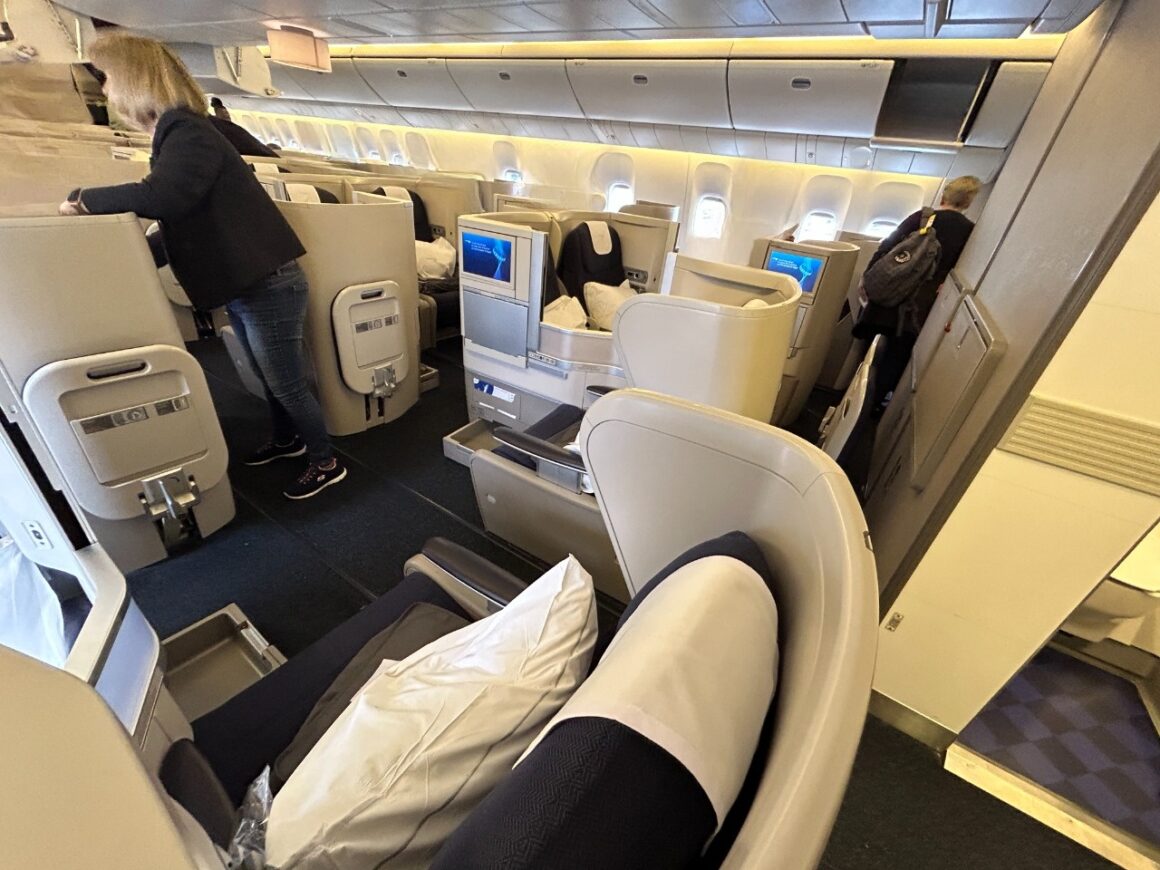 This flight was only around 50% full, which made the Club World seats much more enjoyable, with the seat next to me blocked.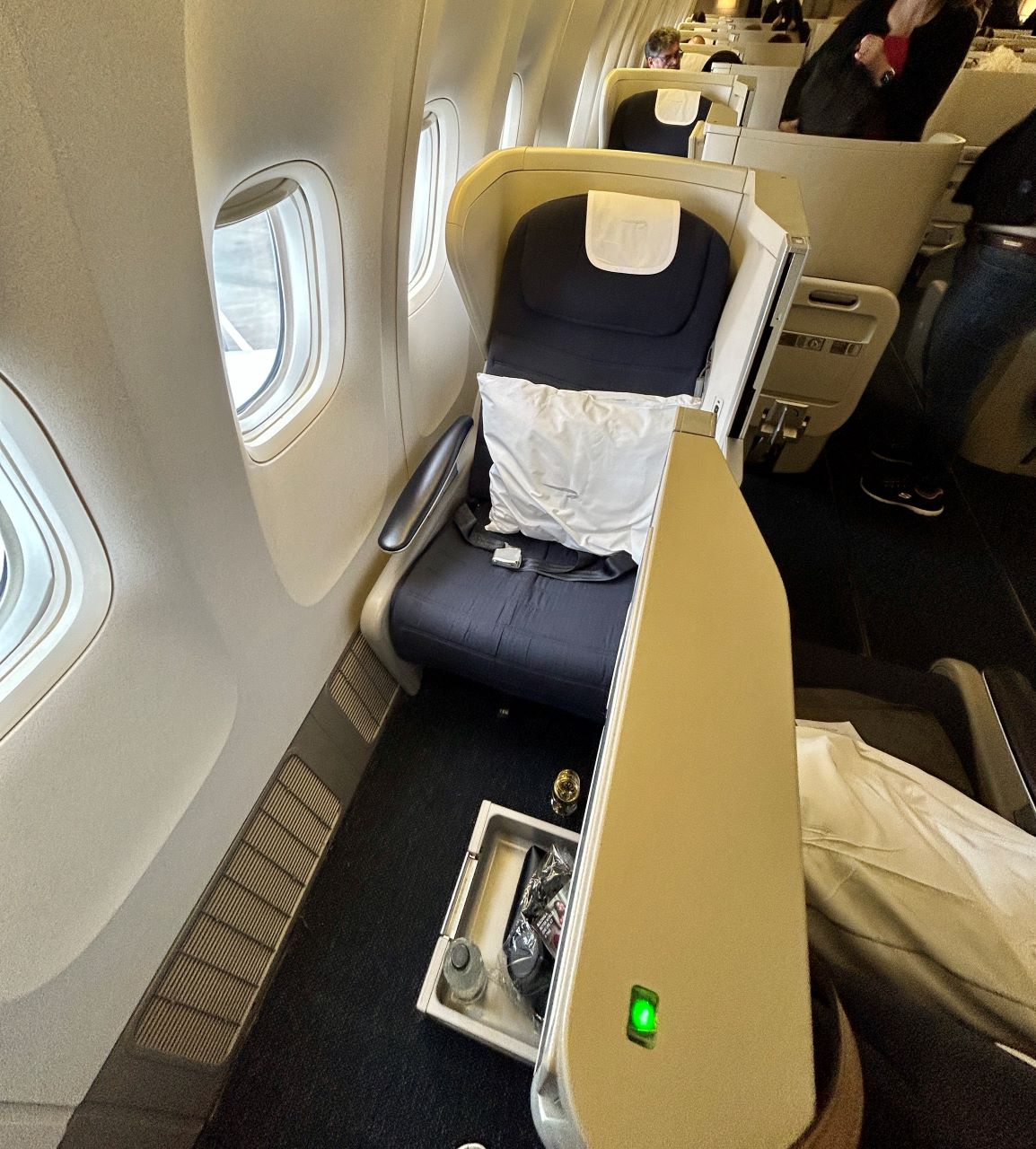 On this particular B777-200ER, it was a 4-class configuration with only one business class cabin. In old Club World, the seats are laid out in a 2-4-2 "yin/yang" configuration with seats facing each other. A divider can be put up after the safety demo, but until then you can play the uncomfortable game of trying not to stare directly at your neighbour facing you!
You also have to step over people if you are in a window or middle seat if people have their footstool up. Or, for those in the aisle, be stepped over. There are a few seats where you don't get this: 15 A, E, F, K and 1 B and J. I had selected 15A.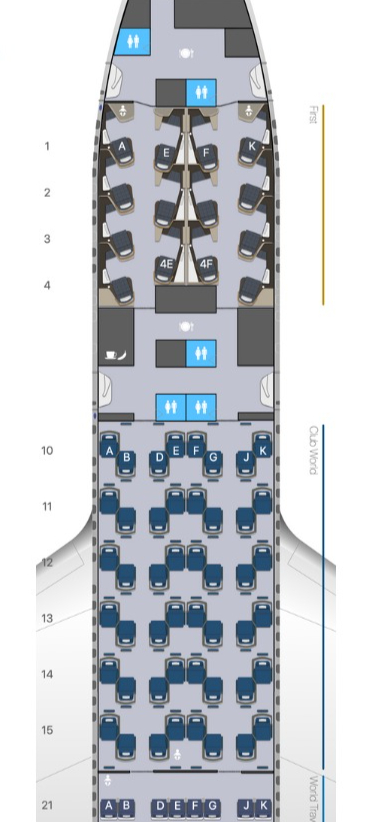 The other annoying thing about old Club World is the lack of storage, particularly above floor level. There is nowhere on the B777/787 to put anything like a water bottle within reach without having the table out. This is very annoying when sleeping as I like to keep water within easy reach. The A380 at least has the side bins on the upper deck window seats.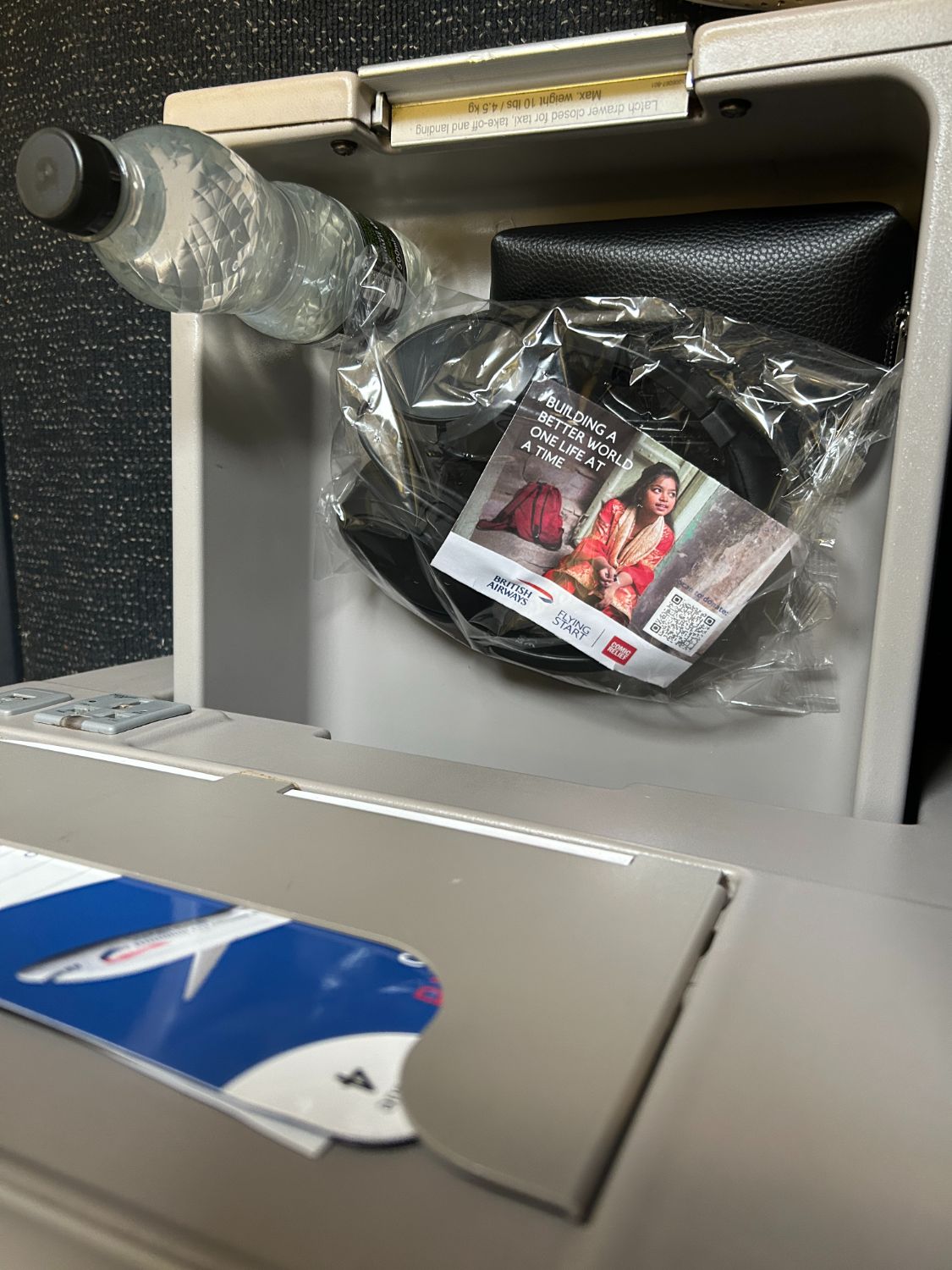 You get a large, very comfortable pillow, which is perfect for sleeping, a mattress topper, a day blanket and a quilt in a cloth bag for easy storage. I like having the option of different covers depending on how cold you are.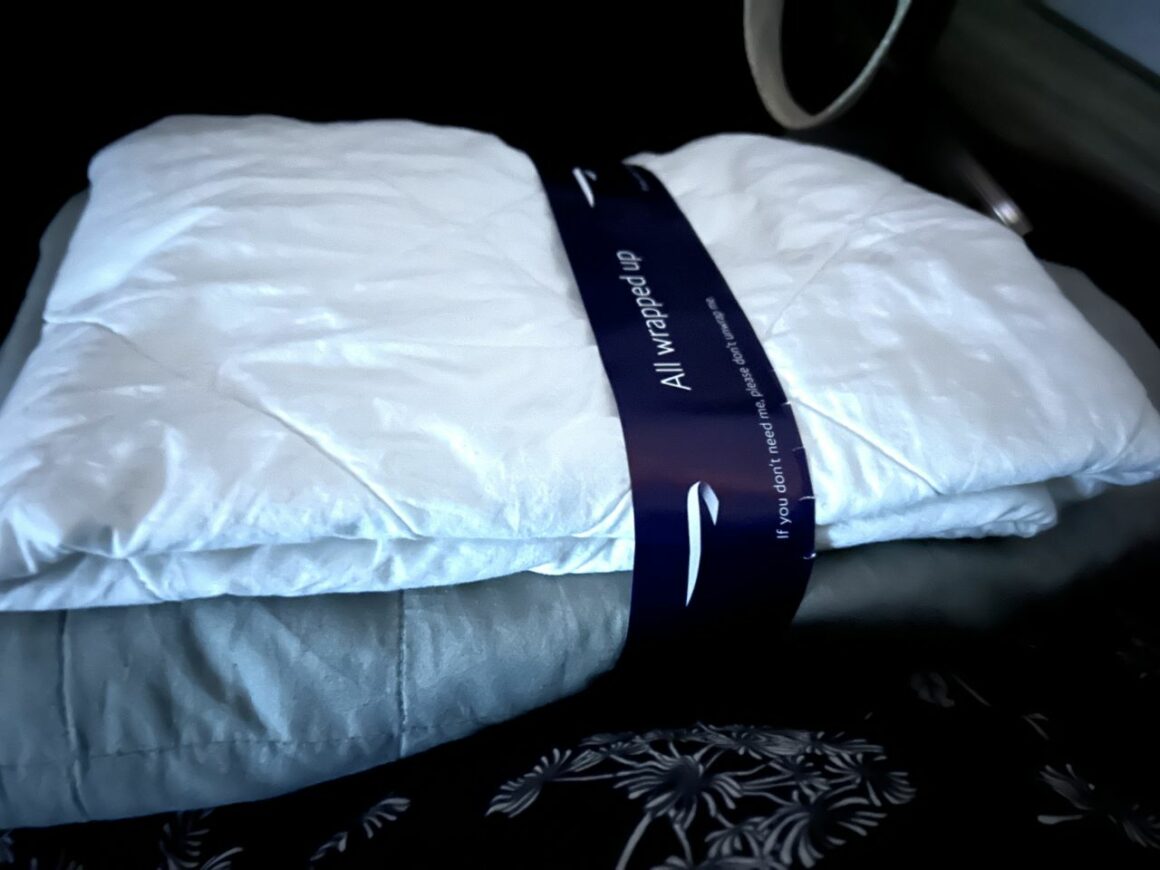 The seats are still relatively comfortable for sitting, lounging and working. The only issue I often find is that the footstools are not very stable and will often keep collapsing, which is annoying. The mattress topper is so thin it is pretty pointless, and unlike the new Virgin ones that you can hook over the top of the seat, these easily end up scrunched up as you move about.
However, you do get a pretty big, long, flat bed that does not have anything encasing your feet or that may bash your knees. The extra room makes it good for side sleepers and those who toss and turn.
British Airways Old Club World Food and drink
The service started with a hot towel after take-off. The menu looked OK, and at least there were no beef cheeks!
The crew were very proactive and had taken post-departure drinks ordered before we took off. This meant the drinks started rolling out of the galley pretty quickly, which was good since I was at the back of the cabin. I wanted to try the English fizz, so I went for a glass of the Digby English sparkling to start. I opted not to have the usual nuts as I don't like all the corn bits in them.
I found this one a little disappointing compared to the other English wines I have had. Perhaps it was the predominance of Pinot Noir that did it. However, I did prefer it to the champagne. If you are flying before the end of September, I highly recommend the gorgeous English sparkling rosé they currently have. The crew were very good and offered me a top-up of the fizz before the main course, which doesn't always happen.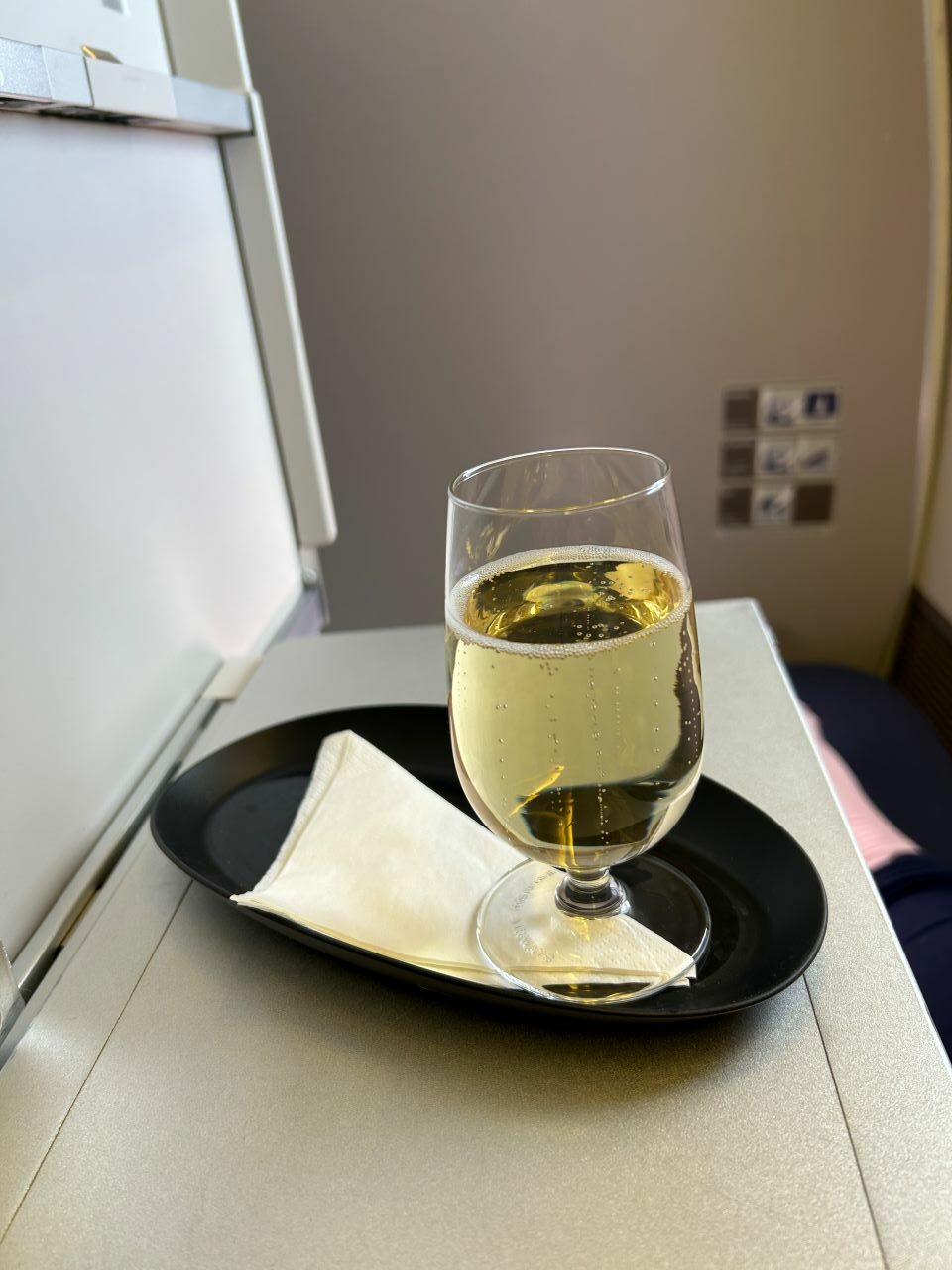 I had really enjoyed the soup in Club World before, so I decided to try that again. This came with a trio of warm bread rolls, which I always enjoy, and a rather nice Mediterranean salad with sundried tomatoes and olives. The soup was smooth and creamy, as well as being hot enough, which is sometimes an issue. I also like the crunchy croutons with the soup.
I was a bit torn with the wine as I am not keen on most Sauvignon Blanc, and Vinho Verde brings back memories of the cheap, effervescent wine from my youth! Fortunately, this one was not one of the cheap and cheerful ones. It was still light but zesty and good with the creamy soup.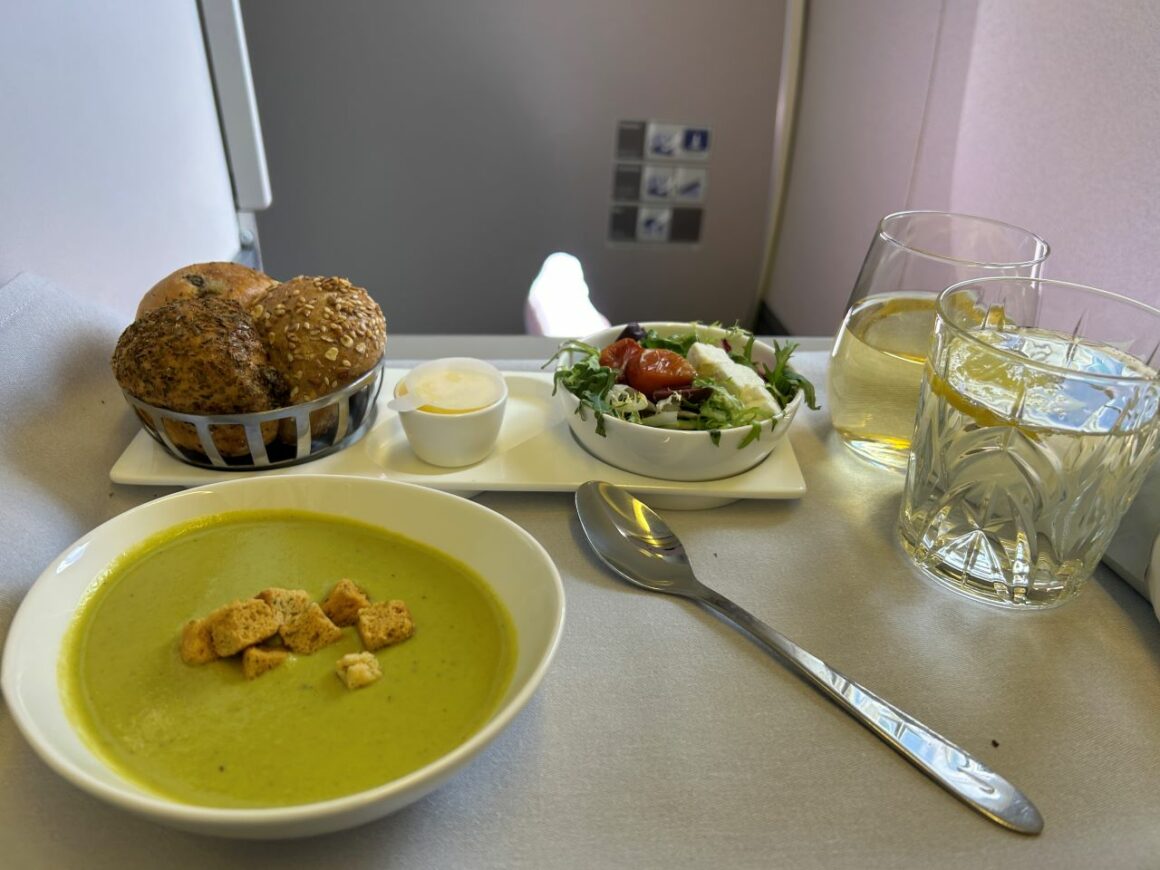 For the main course, I liked the sound of the lamb as I'm a big fan of potato gratin and love lamb too. Pinot Noir was the obvious wine choice, and I enjoyed this one, which had plenty of fruit flavours coming through.
It was presented tidily, although it was rather odd to see a pre-formed lump of lamb! The lamb was tender, and I really enjoyed the creamy potatoes. The veg were not too incinerated either, which is always a bonus. Like most of BA's mains currently, I found the "jus"/gravy flavourless and couldn't taste any thyme at all. There was also quite a lot of fat pooled around the edge of the dish. I'd give it a 7/10 if I am being generous.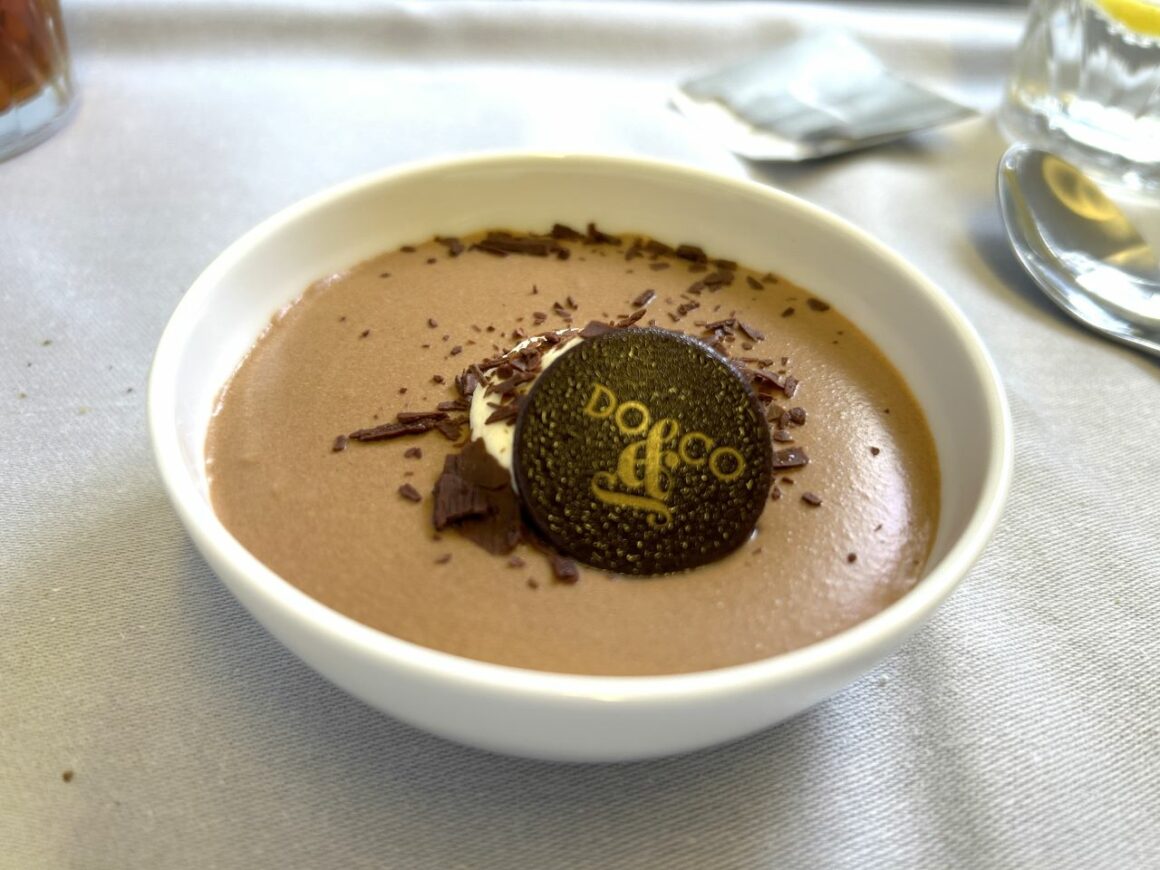 Regular readers will know that I don't really like chocolate mousse, particularly the BA ones, which I find far too creamy for me. However, this one had banana in it, and I'm a sucker for anything with bananas. The banana actually made it less rich for me, as I think it gave it more depth of flavour. The usual mousse is a bit one-dimensional in its flavour.
As usual, I decided a little digestif would be in order after my meal. I had heard the passengers in front complaining about the lack of brandy in Club and being offered some from First. I decided to be cheeky and ask for the same.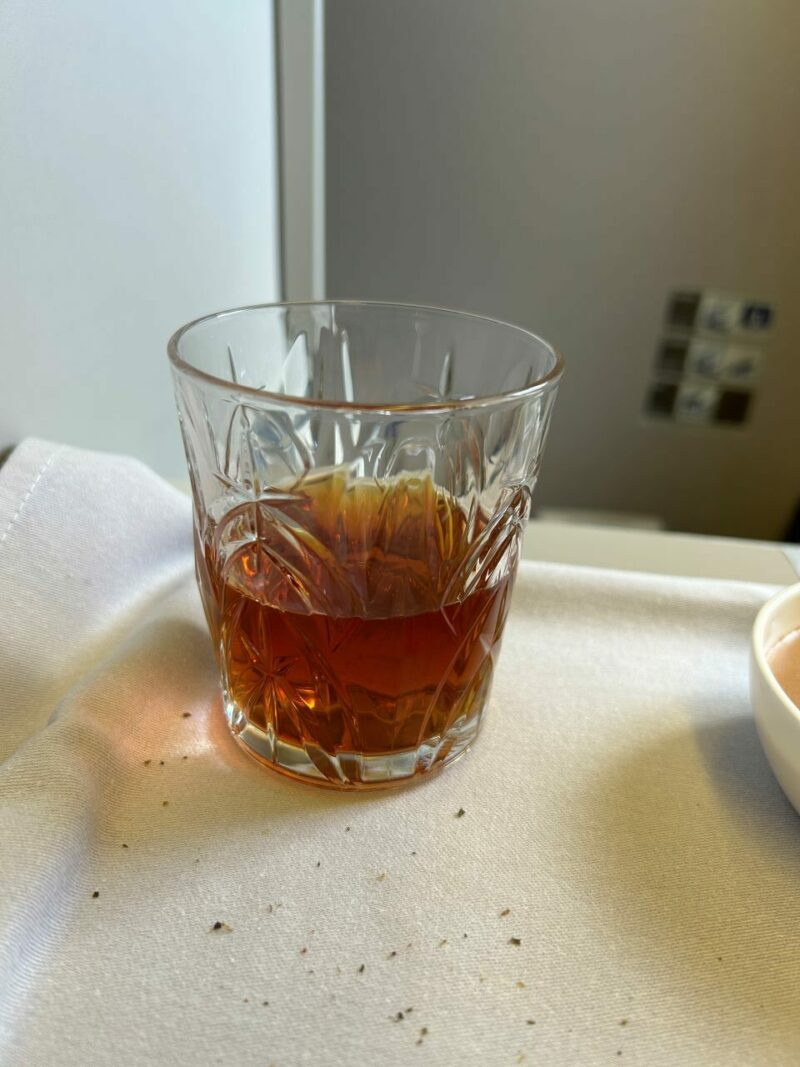 It seems like the cabin crew had worked out the best way to keep me quiet and returned with an enormous XO brandy!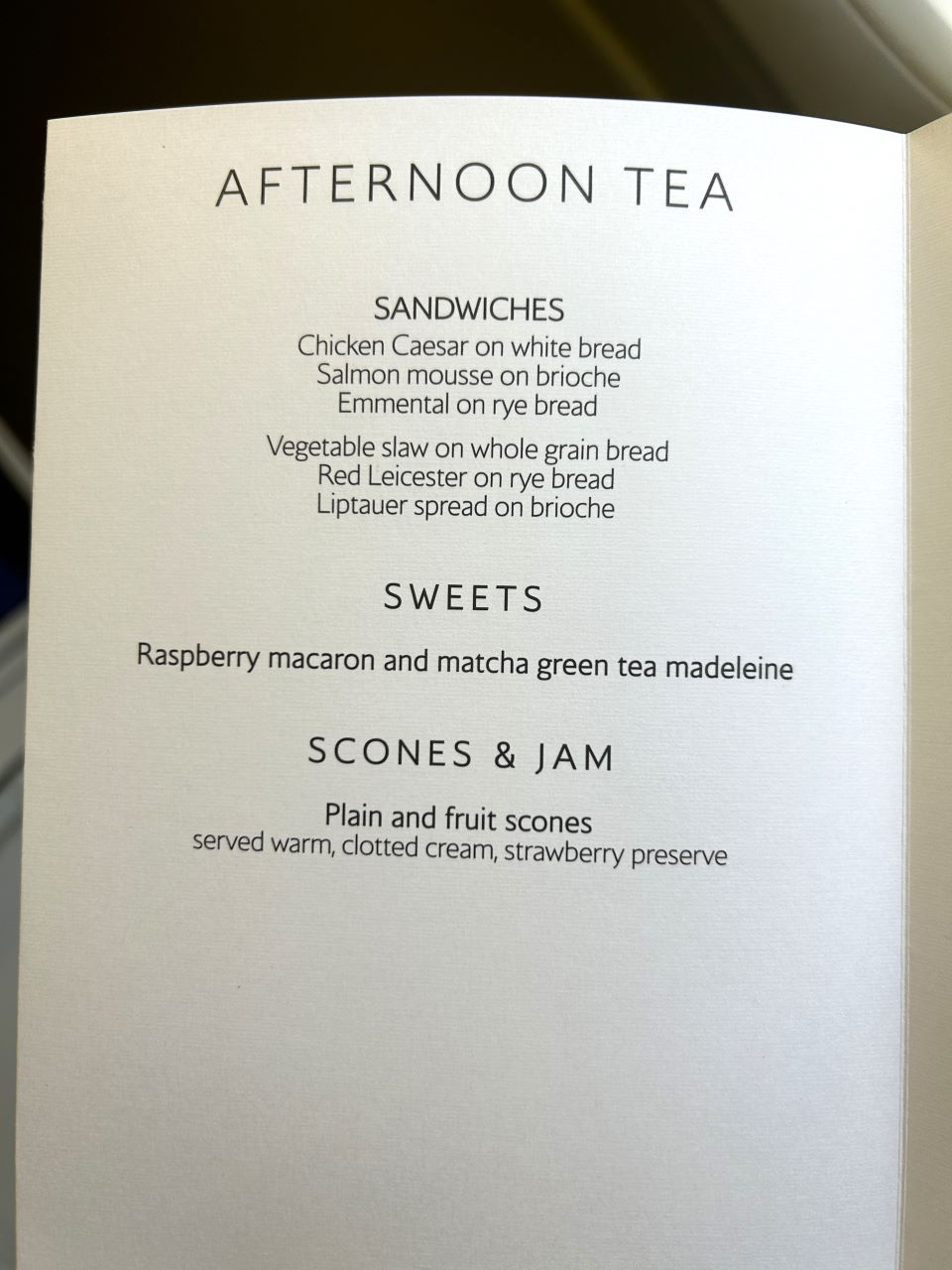 The second meal was afternoon tea. I used quite to enjoy the afternoon tea, but I feel that recently a) the sandwiches are extremely repetitive with the same in Club Europe and Club World and, b) poor quality. However, I thought I would try it as I do enjoy the scones. The chicken Caesar one was tasty, but I wish they'd stop spreading whatever it is on top, which makes it messier. I really don't like the cheese one, which seems to be on every flight. I find it bland and dry.
The salmon one was also like the weird mousse in the Concorde Room. It feels very artificial. I'd rather they did something simple like egg mayo or ham and did it properly than try to make it seem posh but deliver something half-hearted like this.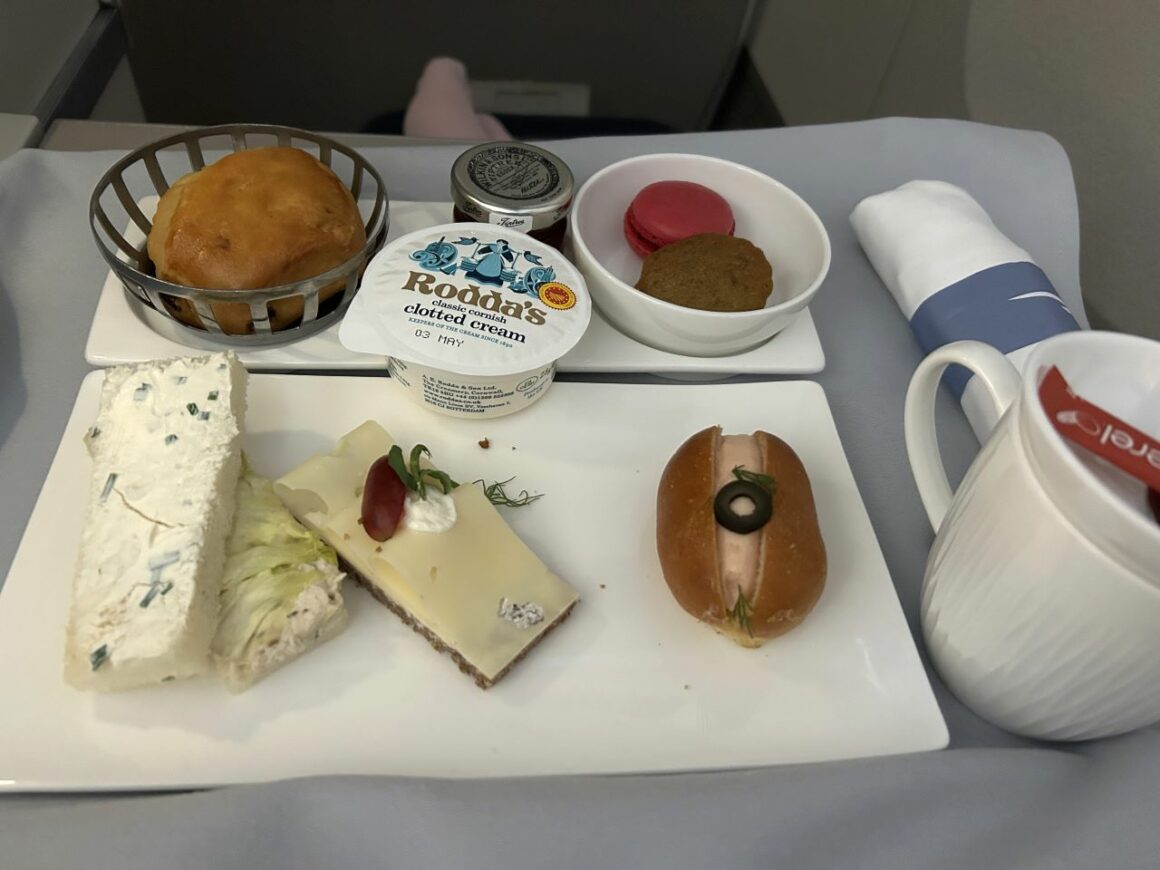 On the positive side, I enjoyed the macaron, which had a good raspberry flavour, and the green tea madeleine was deliciously moist, and the green tea helped to temper the sweetness. As usual, the scone was good, warm and not too heavy. I was pleased to see a larger-sized portion of clotted cream – you can never have too much of that for your scone!
British Airways Old Club World Entertainment and connectivity
The screen felt very small compared to the Club Suites, but there was at least a decent selection of films and TV programs that I had not already seen. The screens have been replaced since the original ones so they do have reasonable definition at least.
I didn't watch much as I wanted to get some sleep since I had a connecting flight, so it would be very late before I got to my hotel. Noise-cancelling headphones are provided. They do the job, but I find them a little bit uncomfortable, so I tend to use my own.
The seat has a USB port and a multi-country socket. I was struggling with my USB port not working, and the crew were very helpful in trying to fix it.
There was wifi onboard, but there was a lot of time during the flight when it lost connection, which was annoying.
Conclusion
Fortunately, the crew and low load made this flight a good one. The service was attentive and well-paced, but the food was a bit hit-and-miss. I do find that the menus are becoming quite repetitive and would like to see them change more regularly particularly the afternoon tea sandwiches. The old club seats are actually pretty comfortable, and if you have the seat free next to you and aisle access, it's perfectly acceptable. The lack of storage is the main problem.
However, I do wish they would speed up their refitting of the Club Suites, which are far superior. The Heathrow B777s were supposed to be completed by the end of 2022, but here we are over halfway through 2023, and they are still not complete.