A number of airlines around the world have tried to bring the airline experience to travellers in their own homes. BA had previously done a sale of some of it's First and Club world dinnerware. (There is now some Club World crockery and bedding on Ebay here being sold by BA if you missed out).
Now you can enjoy a BA first class meal in the comfort of your own home. I was lucky enough to be able to try this out and I will give you the full lowdown on what I thought later on.
What is the first class dining at home with British Airways all about?
Travellers who are missing the skies and want to experience the culinary delights of first class dining can do so from their home thanks to a new partnership between British Airways, Feast Box and DO & CO. The airline has teamed up with its premium catering partner DO & CO, and Feast Box, a provider of internationally inspired recipe boxes, to create a limited-edition cook-at-home meal kit that mirrors British Airways' First cabin dining experience.
Each meal kit includes a four-course menu inspired by the food served in British Airways' First cabin. Customers can choose vegetarian, fish and meat dishes in their kit. You will receive the full ingredients – as used in the First cabin – to cook the meal at home, along with a recipe sheet and an information card in the form of a passport. You can choose each course separately which is great for fussy eaters to get exactly what they want!
The meal kits can be ordered here (feastbox.co.uk/britishairways) to be delivered direct to a customer's door. Each meal kit will cost from £80-100 and serve two people. The kits are available to order from today with deliveries beginning next week. 500 kits will be available for delivery in the first week. To celebrate the partnership launch, deliveries in the first week will receive a bottle of Hattingley Valley English sparkling wine – currently served in British Airways' First cabin and made exclusively for the airline. Given that a bottle costs around £30, this makes the box a real bargain for the first week.
Feast Box is gifting all those embarking on the British Airways First dining experience a complimentary box from their regular internationally inspired menu. Customers will also receive a voucher for 10% off a British Airways flight. (£200 minimum spend applies, voucher must be redeemed by 21 May.
Hamish McVey, Head of Brands and Marketing at British Airways said: "We hope that this exclusive First experience will allow our customers who are missing flying to enjoy an amazing dining experience at home. British Airways, Feast Box and DO & CO take huge pride in offering top quality international cuisine, and although it might appear a little different being delivered to a customer's door rather than at 38,000 feet, we hope it will be just as exciting."

Jyoti Patel, Feast Box CEO and Founder: "Food is a wonderful way to explore the world and helps to shape our fondest memories. Offering people the chance to travel the world through food is at the core of everything we do, so working with British Airways on this First experience has helped to bring Feast Box to life in a very special way."
A sample menu is below:
Loch Fyne smoked salmon timbale with honey mustard dressing
Slow cooked British beef cheeks with Jalapeno potato gratin, tenderstem broccoli and chimichurri
Cheese selection of Caws Golden cenarth, Snowdonia Black Bomber Cheddar, Harrogate blue and Kidderton ash goats cheese with chutney
Dark chocolate & orange liqueur bread & butter pudding with vanilla sauce
Both the outer and interior packaging of the meal kits consists of recyclable, compostable or biodegradable materials. The food is sourced, where seasonality allows, from the UK and Ireland including smoked salmon from Loch Fyne in Scotland and beef cheeks from heritage UK breeds.
You can share the images of their dining experience at home with the airline on its social media pages using #BAFirstFeast.
What was it like in reality?
The box arrived with the BA branding on the outside and was delivered by DPD with a one-hour time slot notified ahead of schedule. Inside was well packed although it was difficult to find some of the smaller ambient items in all the packaging.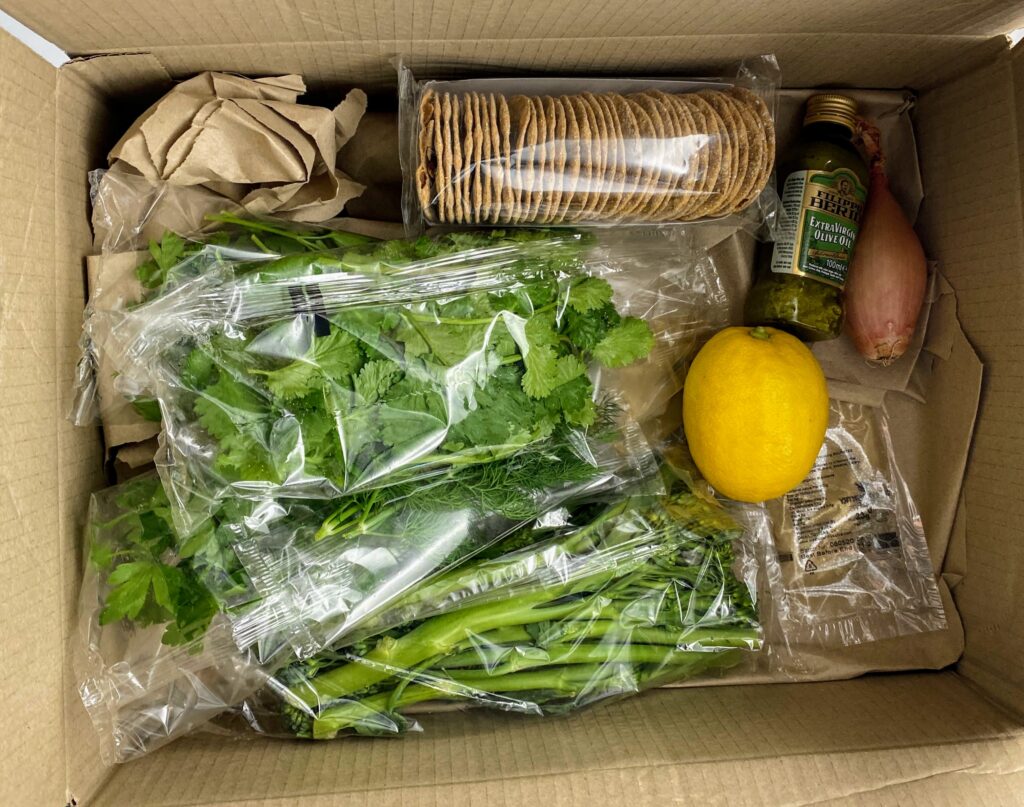 The top layer contained the most important bottle of Hattingley Valley, plus all the ambient items.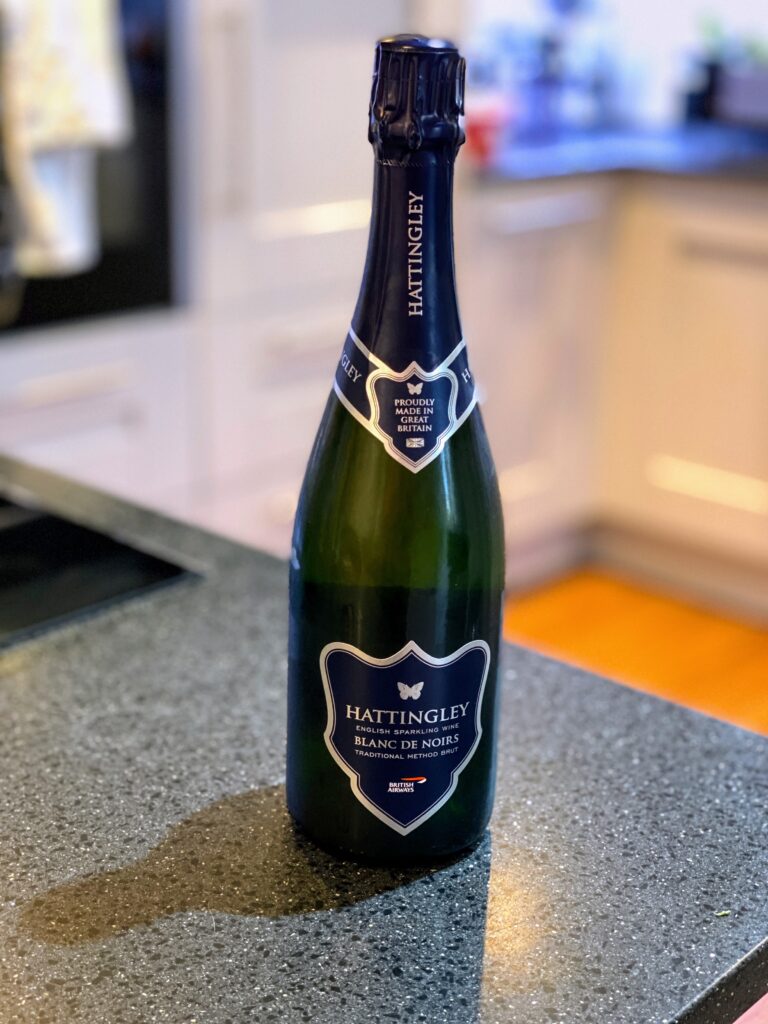 Underneath all the chilled items were well packaging in a special bag with ice packs.
Inside I liked the simple packaging and BA branding. It was good that products had a long expiry date if you wanted to get it delivered a day or two in advance or keep some for another meal.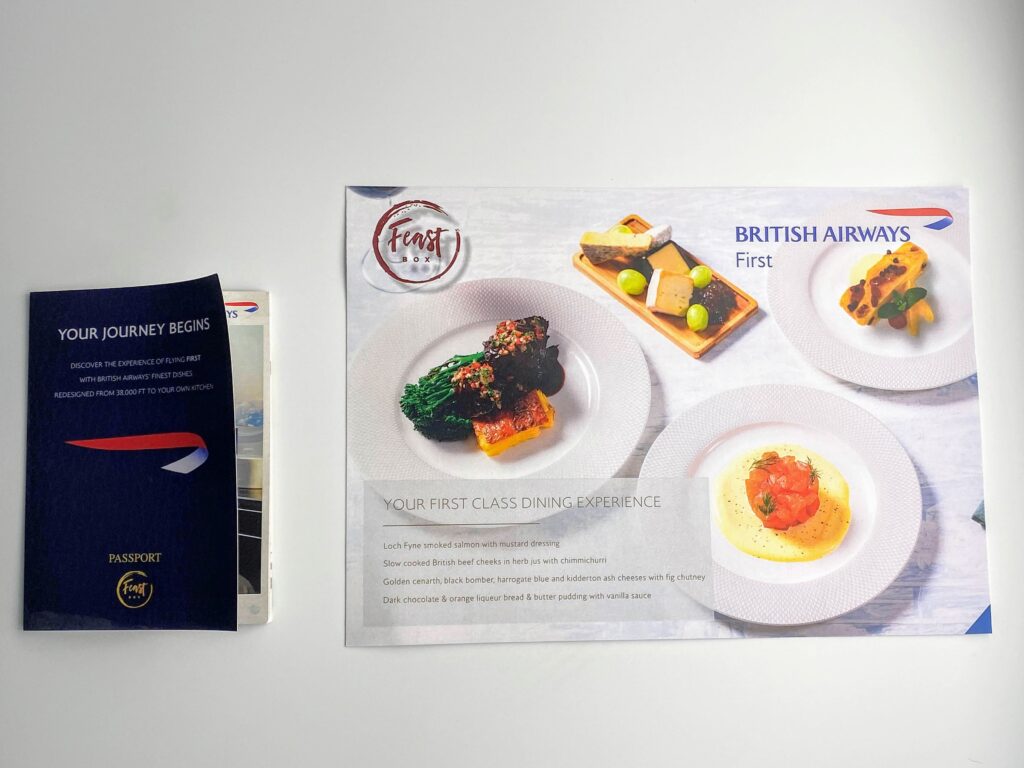 There was also a booklet and a menu card with pictures of how it should look and on the reverse, instructions of how to recreate the dishes. Initially, my heart sank when I saw the instructions as there seemed to be a lot. However, once you read through them you realise that there is very little work involved. The only real effort was chopping the herbs and garlic for the chimichurri. The rest was reheating and loved the fact that there was very little washing up generated. All you really need is a baking sheet and a saucepan.
Starter
First up was the Loch Fyne smoked salmon timbale with honey mustard dressing. This was very simple and just needed you to chop the salmon and plate up. It came with a ring so that you could make it look professional. My chopping was a bit suspect and I probably should have done it a bit finer.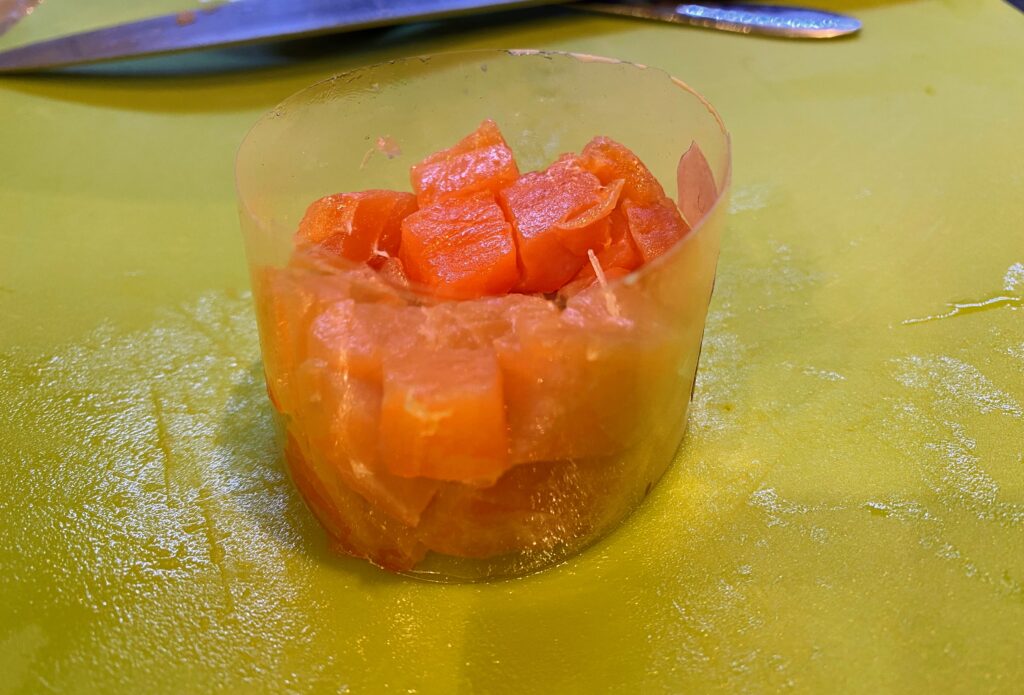 In terms of taste, this was the only course I was slightly disappointed in. The salmon was great quality and the sauce tasty but it felt like something was lacking as it was quite rich and soft textured. Something like a tuile or adding the dill supplied through the salmon would have helped. Obviously, if you are at home you can add whatever you feel like. I added lemon juice to mine to give it more acidity against the creamy sauce.
Main course – Slow cooked British beef cheeks with Jalapeno potato gratin, tenderstem broccoli, and chimichurri
This required a little chopping but in hindsight, if I did it again, I would probably just whizz them up in my mini food processor for the sake of speed. The potato gratin had to be heated in the oven and the beef simmered in a pan which you then use for the broccoli. So it was all pretty straightforward and quick to do.
The dish was really a triumph. My only criticism is that the potato gratin is very small, but overall you are getting a lot of food. The beef cheek portion was generous. I have to say this is one of the best beef cheeks I have had! The meat was meltingly soft and the port sauce was rich. The idea of adding chimichurri to this was genius as it brought the whole dish alive with its zingy freshness! I will definitely be trying to add chimichurri to a few things at home in the future now. I had always thought of it more with a grilled piece of meat rather than something in a sauce. The potato gratin did not have much chili heat to it which was good and it was creamy and soft.
Dessert – Dark chocolate & orange liqueur bread & butter pudding with vanilla sauce

I am not really a pudding kind of girl and if I was to have one I probably would not choose this as it sounded quite sweet. But I took one for the team and tested it out anyway! Although overall it was a little sweet for my palate, it was a great bread and butter pudding. The texture was light with a crisp outside. I couldn't really taste liqueur but there were little hints of refreshing orange throughout the pudding which helped balance the sweetness. There was a generous helping of the vanilla sauce which was full of vanilla pod seeds and not at all sweet which rounded off the dish well.
Cheese course
Normally cheese is a tricky one for me due to my transplant as there are quite a few cheeses I am not meant to have. It was good to see that these were mainly O.K. for me, so would also probably be acceptable for those who are pregnant or need to avoid white rind cheese. They were all very good and I liked that you got chutney as well. There was a generous box of biscuits that tasted very much like the sourdough crackers you get onboard.
The cheeses were Caws Golden cenarth, Snowdonia Black Bomber Cheddar, Harrogate blue, and Kidderton ash goats cheese. Caws Golden cenarth was the winner for me with a soft creamy texture to the washed rind cheese and a similar flavour to a brie rather than a stronger washed rind cheese. I wasn't so much of a fan of the goat's cheese as I prefer softer ash-covered goat's cheese and this one was quite firm and tasted a little soap-like. But overall I really enjoyed the cheese course.
Would I recommend it?
By the end of the 3 courses I was very full, so I think that £100 was a reasonable price for all the food, but some boxes are cheaper. It was easy to make and it didn't create a load of washing up either. Overall I would definitely recommend it and would consider ordering it again to try a different option. I haven't actually done any of the restaurant-at-home experiences so I can't compare to others.
However, it did actually really perk me up! I'm missing travel terribly as I am sure a lot of readers are. Eating fine dining restaurant quality food which also reminded me of my happy place, sitting in BA First with a glass of LPGS, was such a great experience.