Continuing the series of what travel is like now, a reader has shared experience of flights to/from Los Angeles at the end of July and middle of August in British Airways new B777-300 First suite. You can email [email protected] if you want to see your trip report published.
In part one, we look at the outbound flight from Heathrow. Part 2 will be published tomorrow. Currently, you can't travel to the US from the UK unless you have applied for a National Interest Exception (NIE) which includes certain critical business or education reasons, or are a US citizen.
Booking
Originally I'd booked a Club World fare in the 747 farewell sale for £999 – these flights had been cancelled a number of times, which has the bonus of giving me the flexibility to change dates, although I'd rather have been able to take the flights as originally planned!
After re-confirming my dates nearer to the date of intended travel, I saw there were POUG offers to upgrade from Business to First for £550 for the outbound flight and £450 for the inbound flight. Given outbound equipment was a 77W and I was expecting limited food and drink in the TBIT terminal, I snapped up both of these upgrade offers and was confirmed for First Class.
Check-in and lounge at LHR
I arrived at Heathrow early to ensure I could complete the check-in formalities. This was completed quickly and I was through the First Wing without any delay and found myself in the lounge about 15 minutes after arriving at the airport.
Having arrived early, this meant I was able to catch the end of breakfast, where I've been enjoying creating my own breakfast roll, and enjoyed jerk chicken for lunch. I'm still enjoying the lounge experience, and hoping the table service is maintained.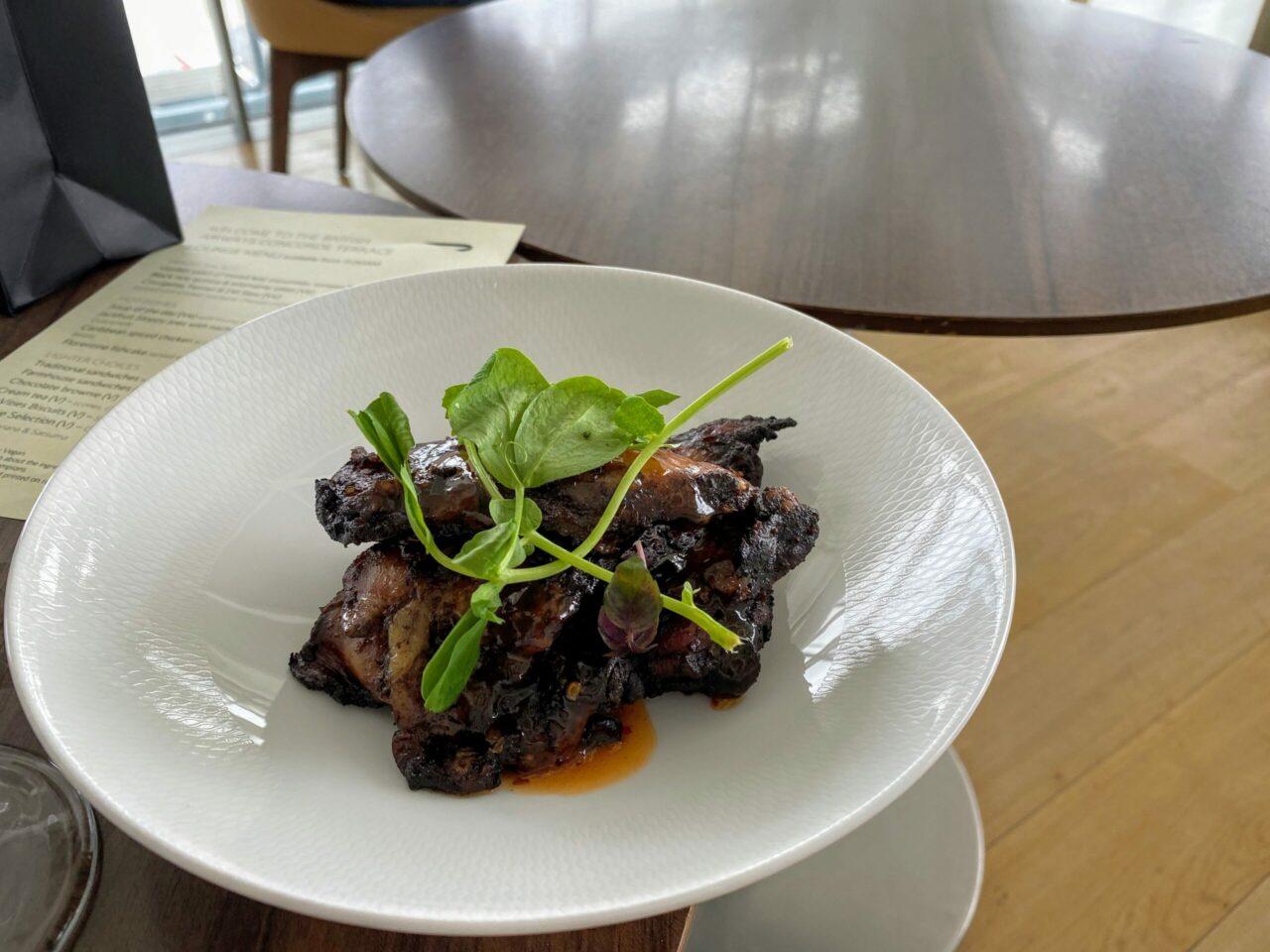 I won't say too much more about the lounge as it has been covered recently. My only minor comment is lack of power in the Concorde Terrace. But I'm happy working at the desk in the First Lounge and going to collect any of the drinks I want that are only in the CCT – and in the scheme of things, this is really a non-issue.
Boarding and in flight experience for LHR-LAX

I was excited to be able to try out BA's latest B777, the 77W with the newest first product, and was keeping an eye on ExpertFlyer in the days leading up to the flight to watch for equipment changes.
Thankfully no changes, and I arrived at the gate around 55 minutes before departure. After a short wait, pre-boarding commenced, and then Group 1 boarding – this was the first flight I was taking since priority boarding had been re-introduced.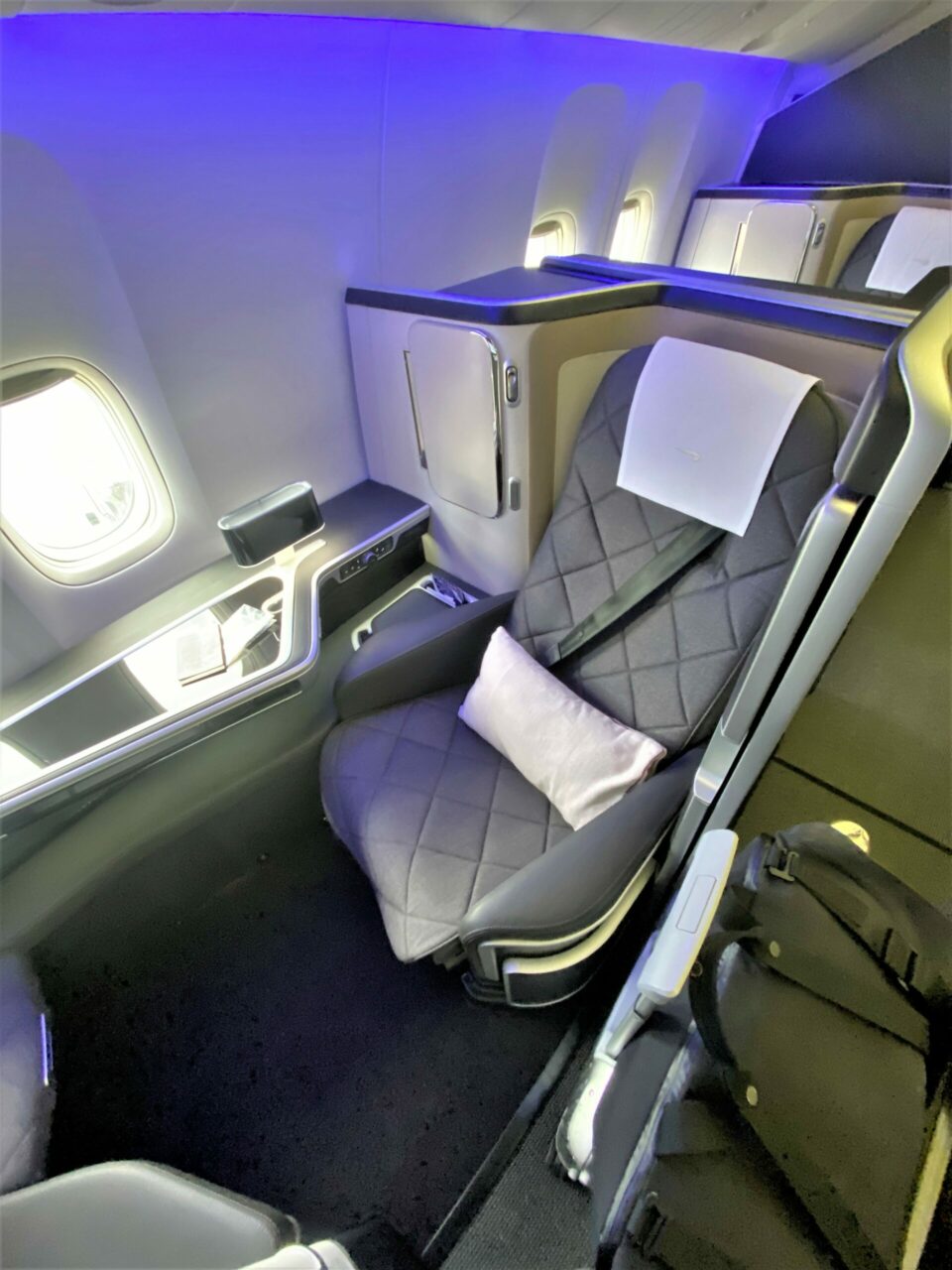 I was quickly escorted to my British Airways new B777-300 First suite seat, introduced to the crew who would be working the first cabin that day and settled into looking at the new first seat. First impressions were positive – big space, decent sized doors and large clear screen that was fixed in position.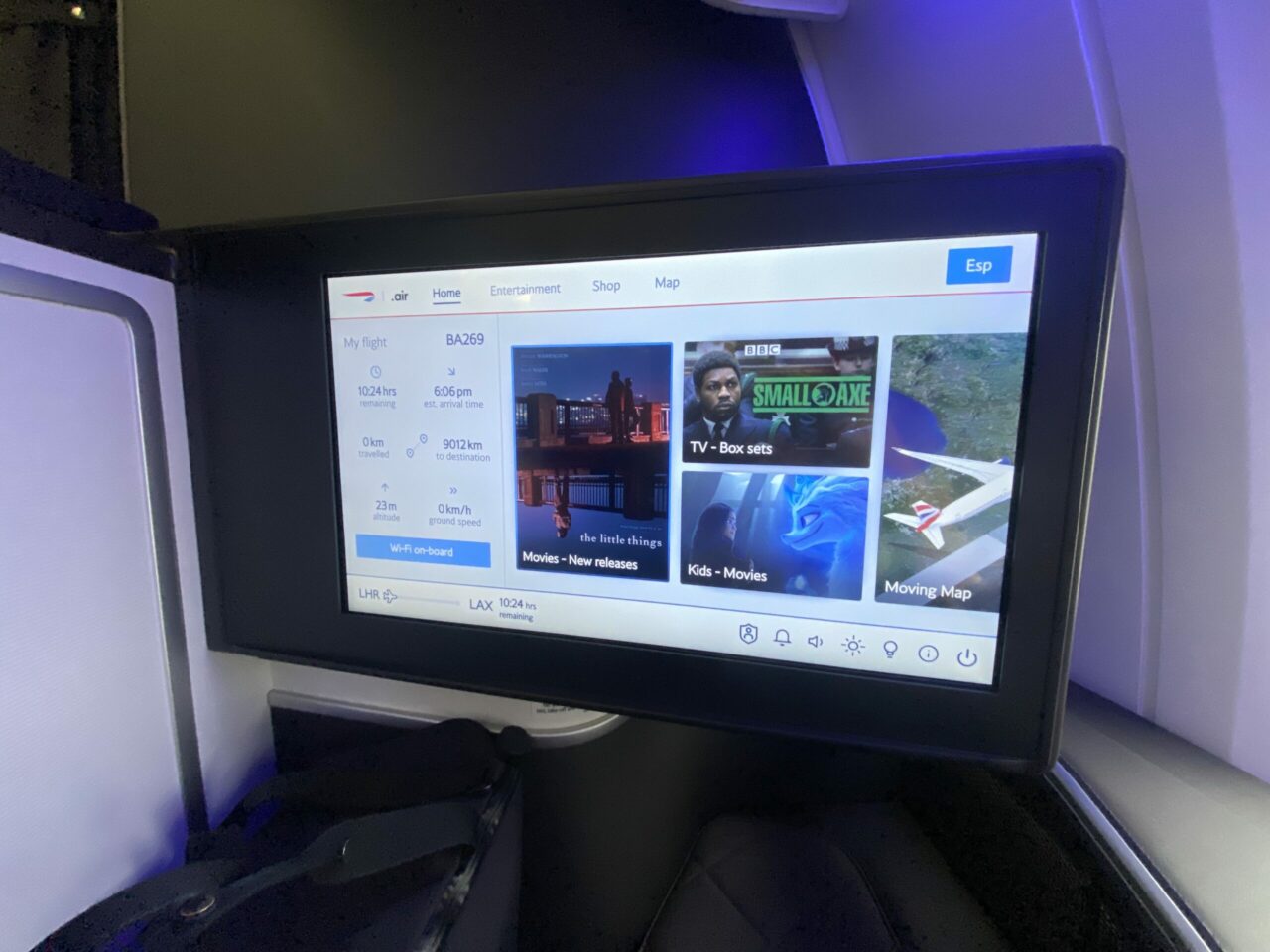 This might make dining with a companion tricky but I'm sure it would work, and I'm not sure how much that feature gets used as I don't see it that often, but have done it once myself on a First flight to Hong Kong.
I kept the doors open most of the flight but had them closed when I slept which I liked. The height was just right and I didn't feel claustrophobic at all.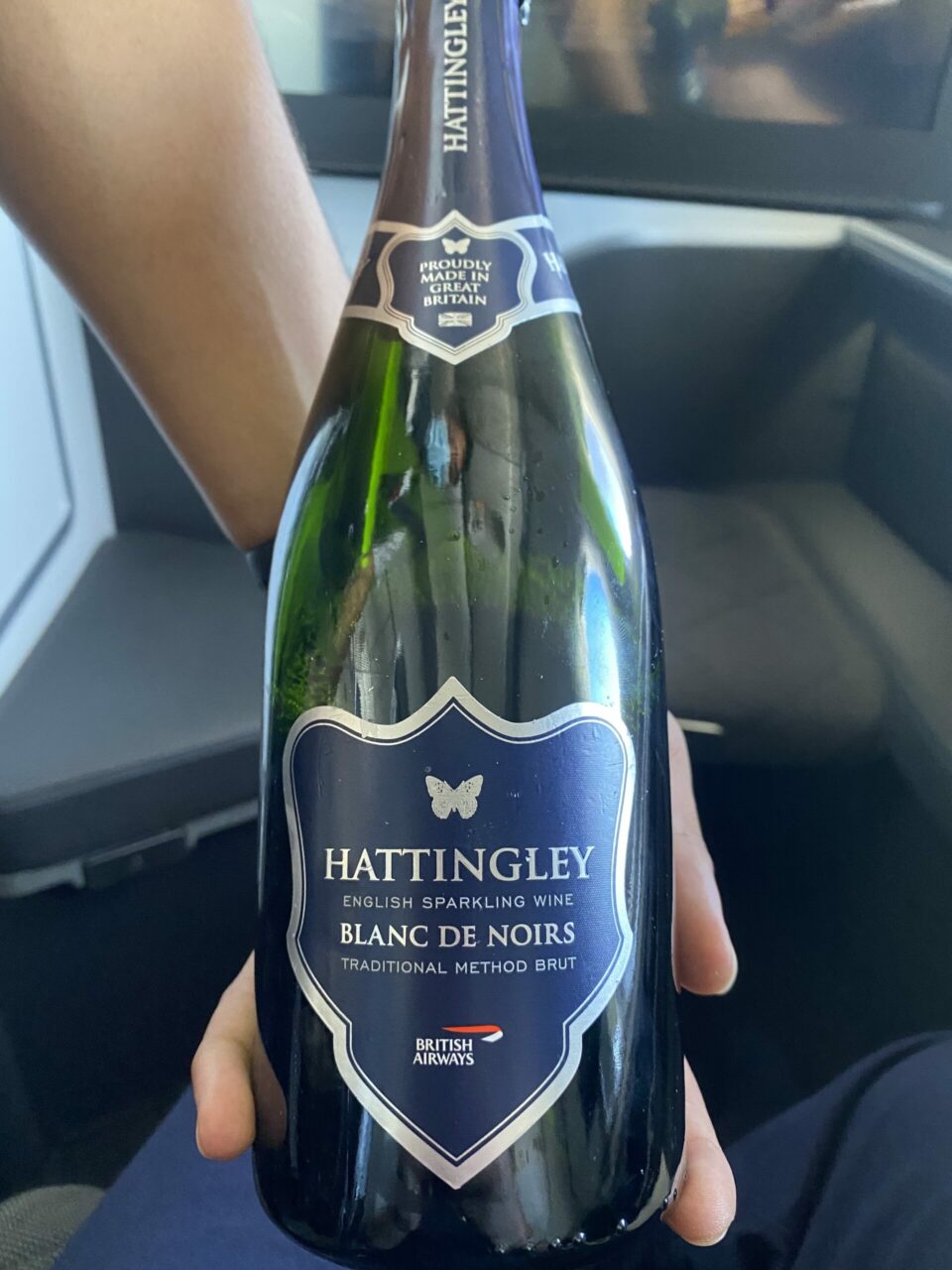 My last First flight was from Barbados when the F&B service was limited, so it was good to see the full menu back. After take off the crew came to take orders for drinks and food, and when I said I'd like to do wine tasting of the whites and reds with the starter and main, he was more than happy to.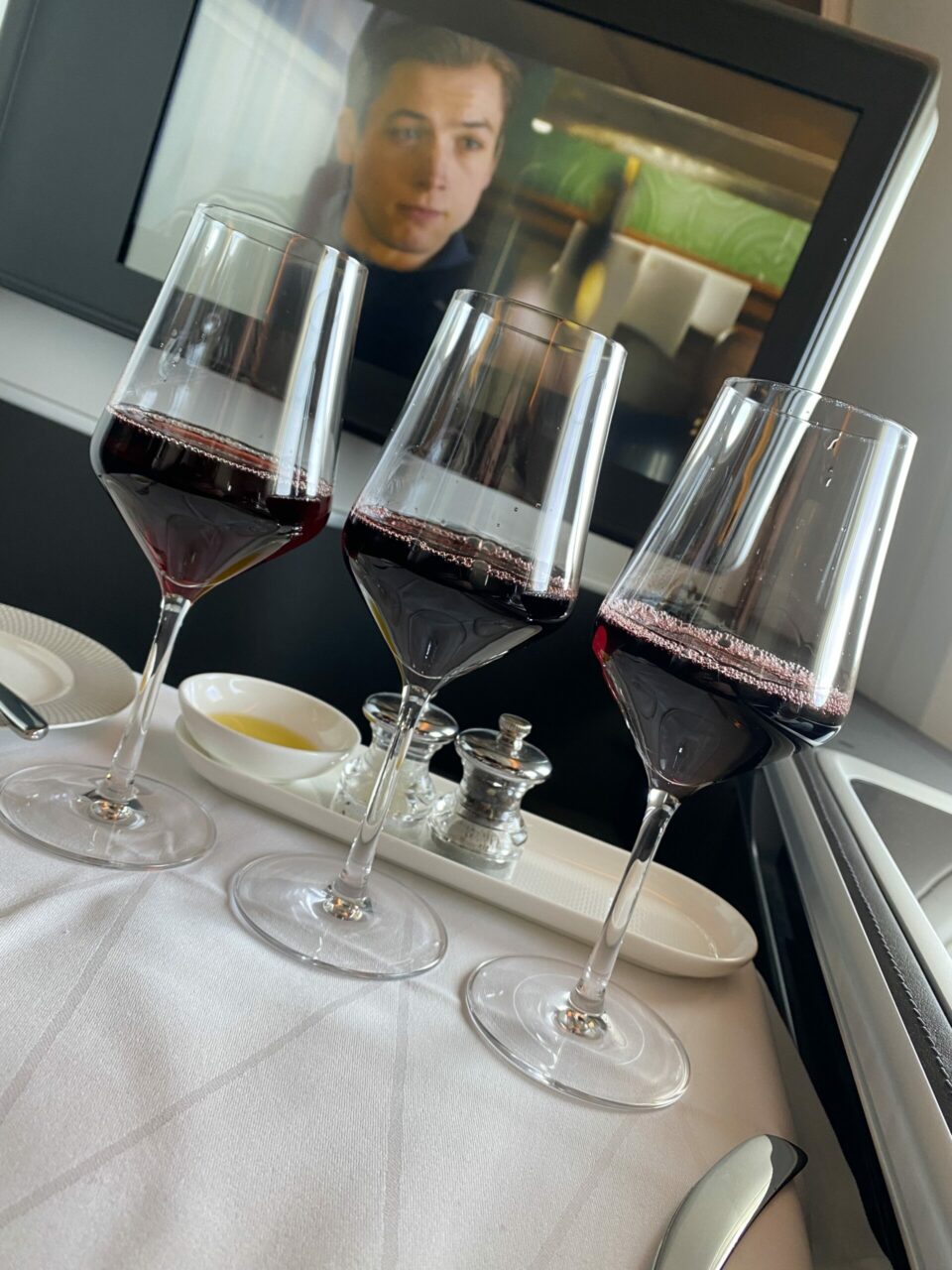 All of the crew I've spoken to since being able to travel again have been happy to be at work, seeing passengers.
Here are the white wines I tried.
I liked the Chassagne Montrachet most and was impressed that they actually had some decent wines after the whole Villa Maria period a few years ago in First.
And the reds…again some good choices
I had the English sparkling with the canapes.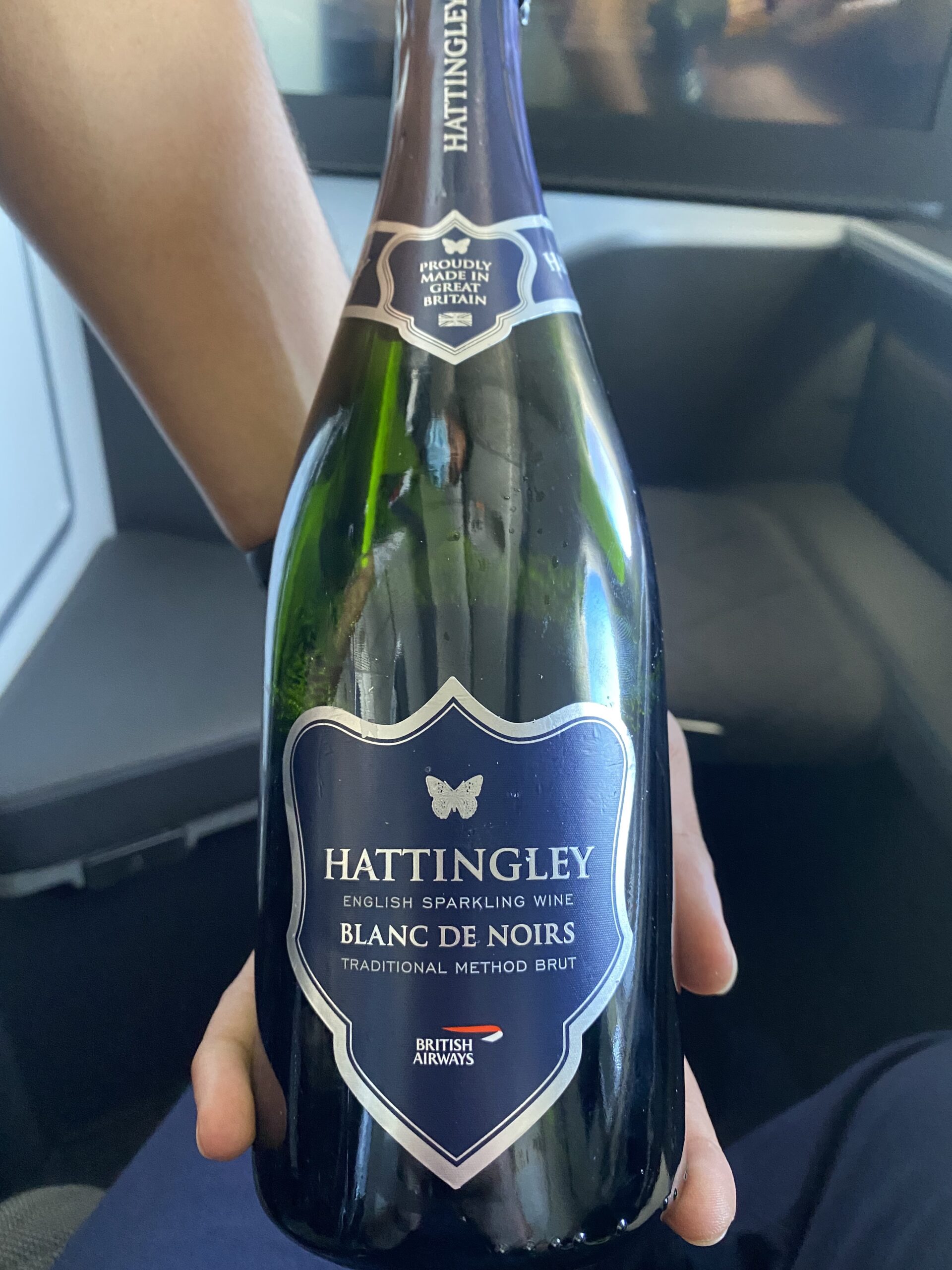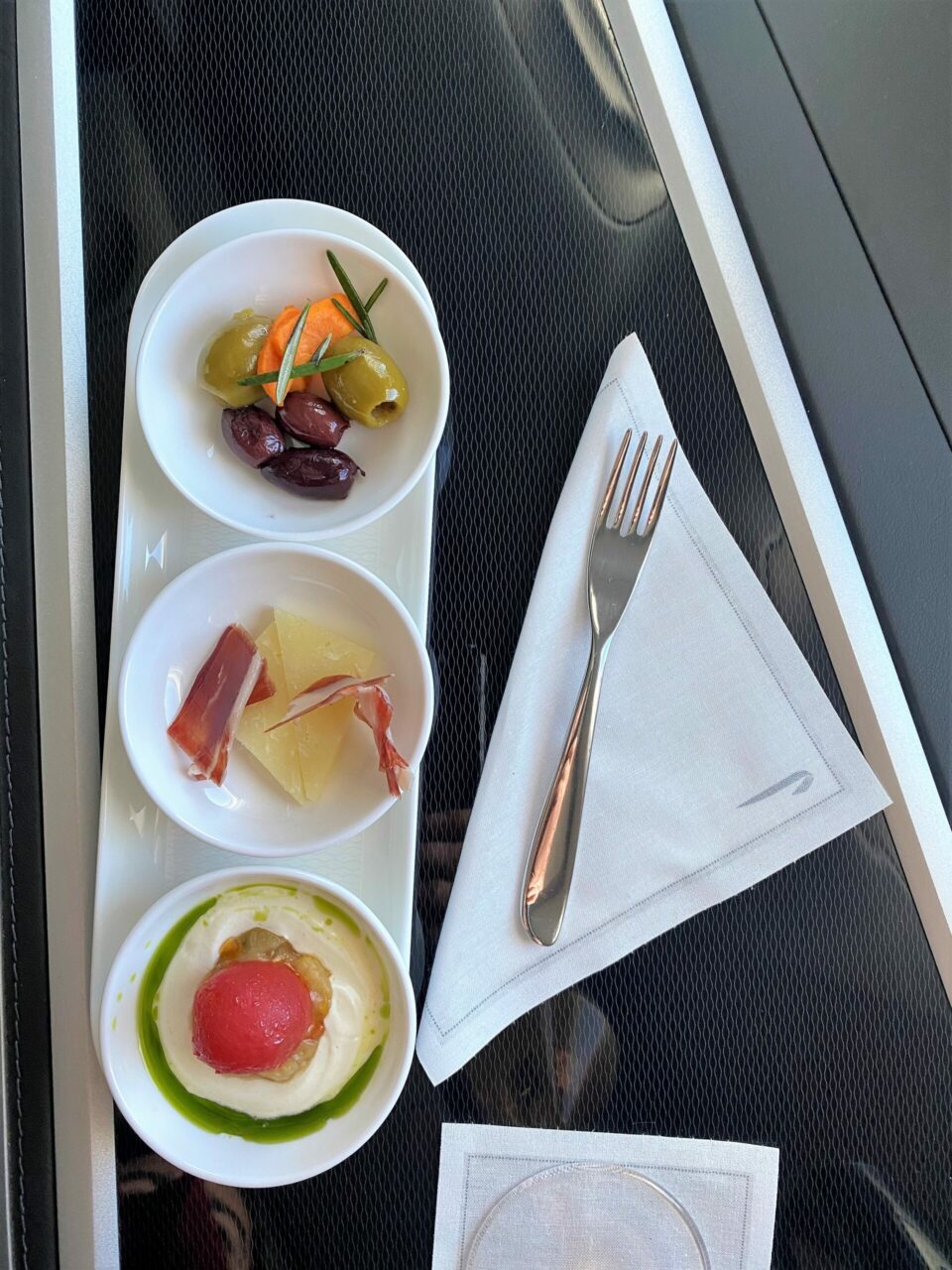 Then salmon tartar (which you may remember from the Feast Box!)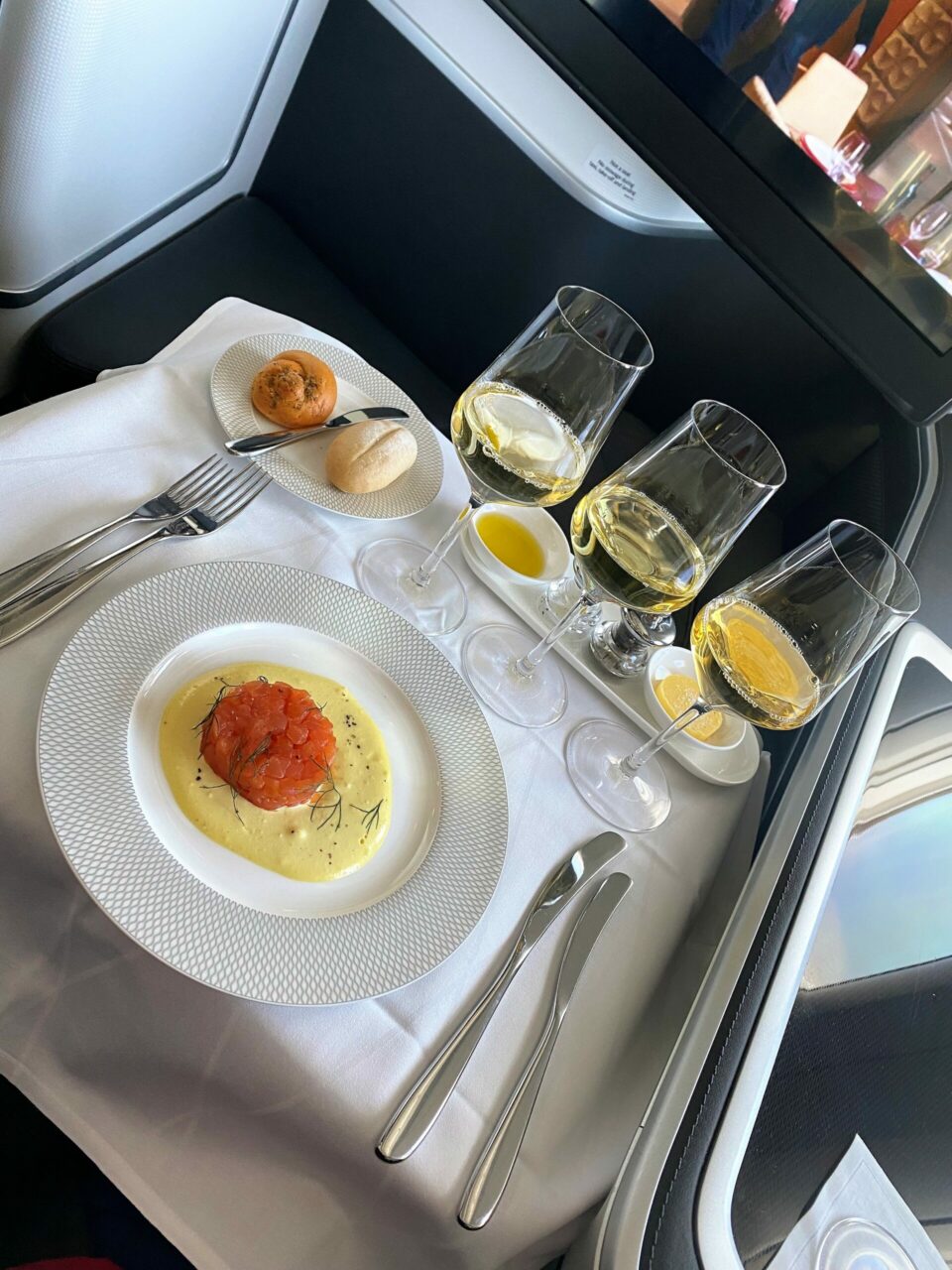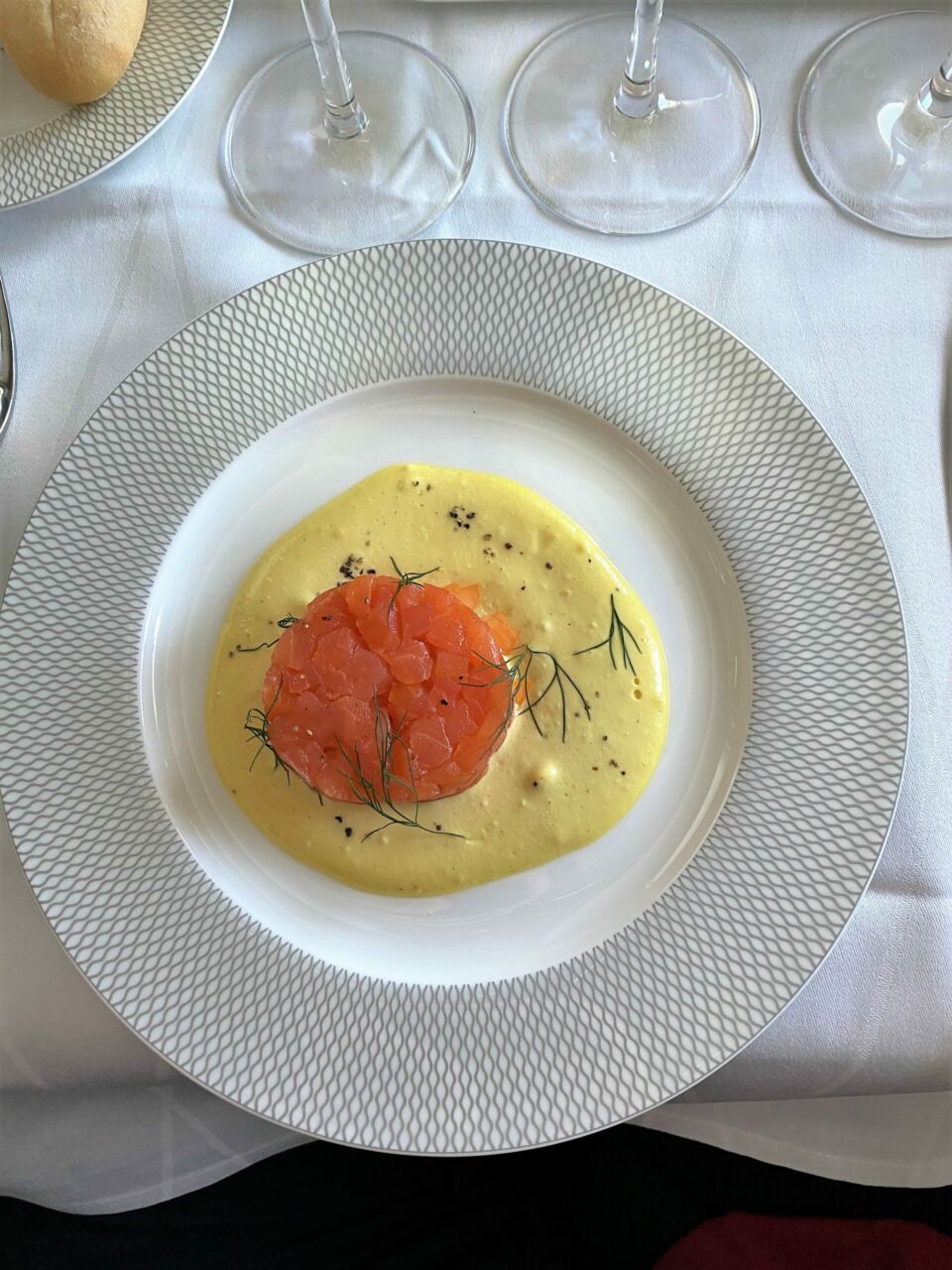 Bread was served from a choice in a basket with olive oil and butter.
Then beef for the main with cheese and port to finish, and a Bulleit bourbon to wash that all down.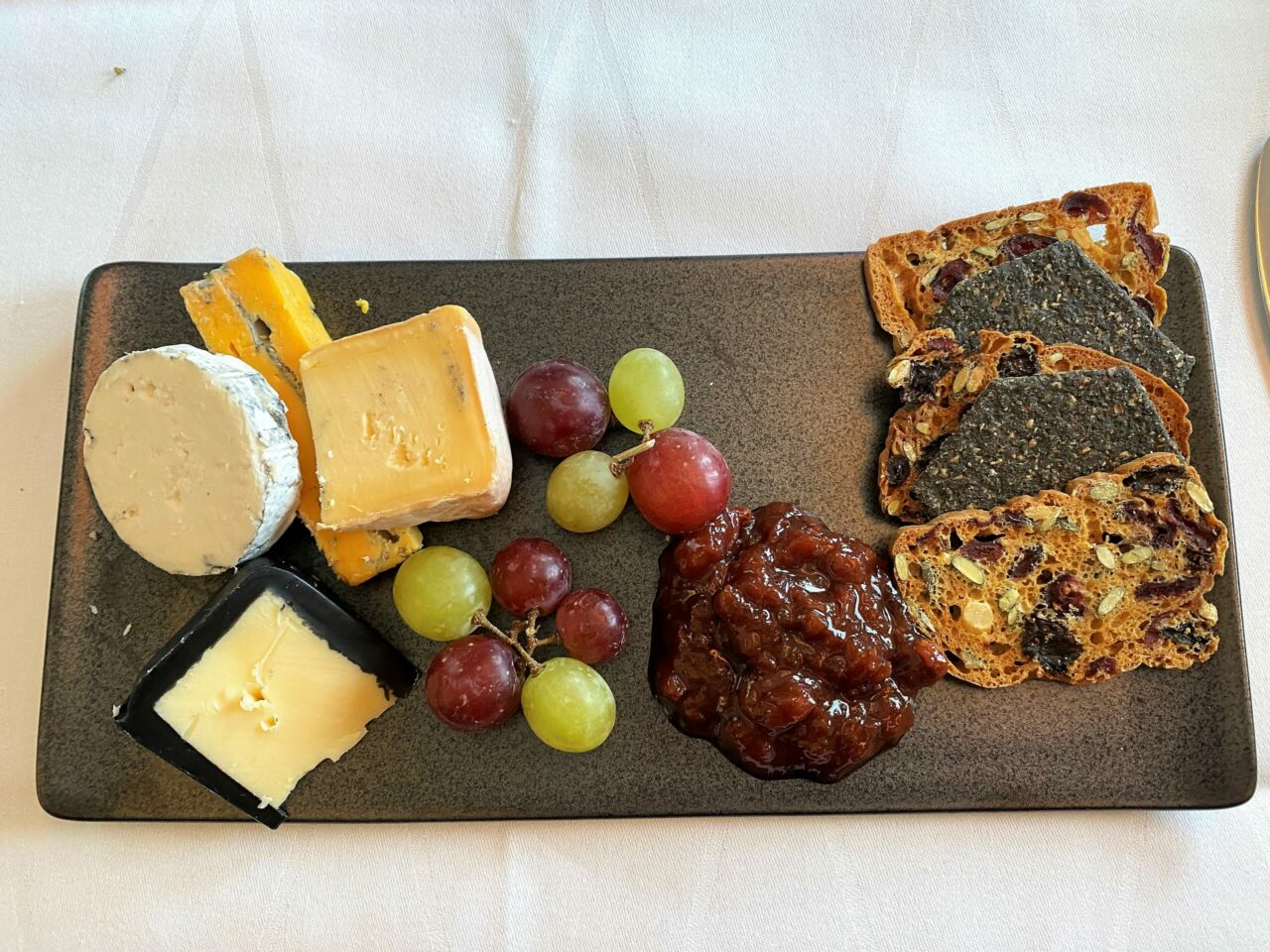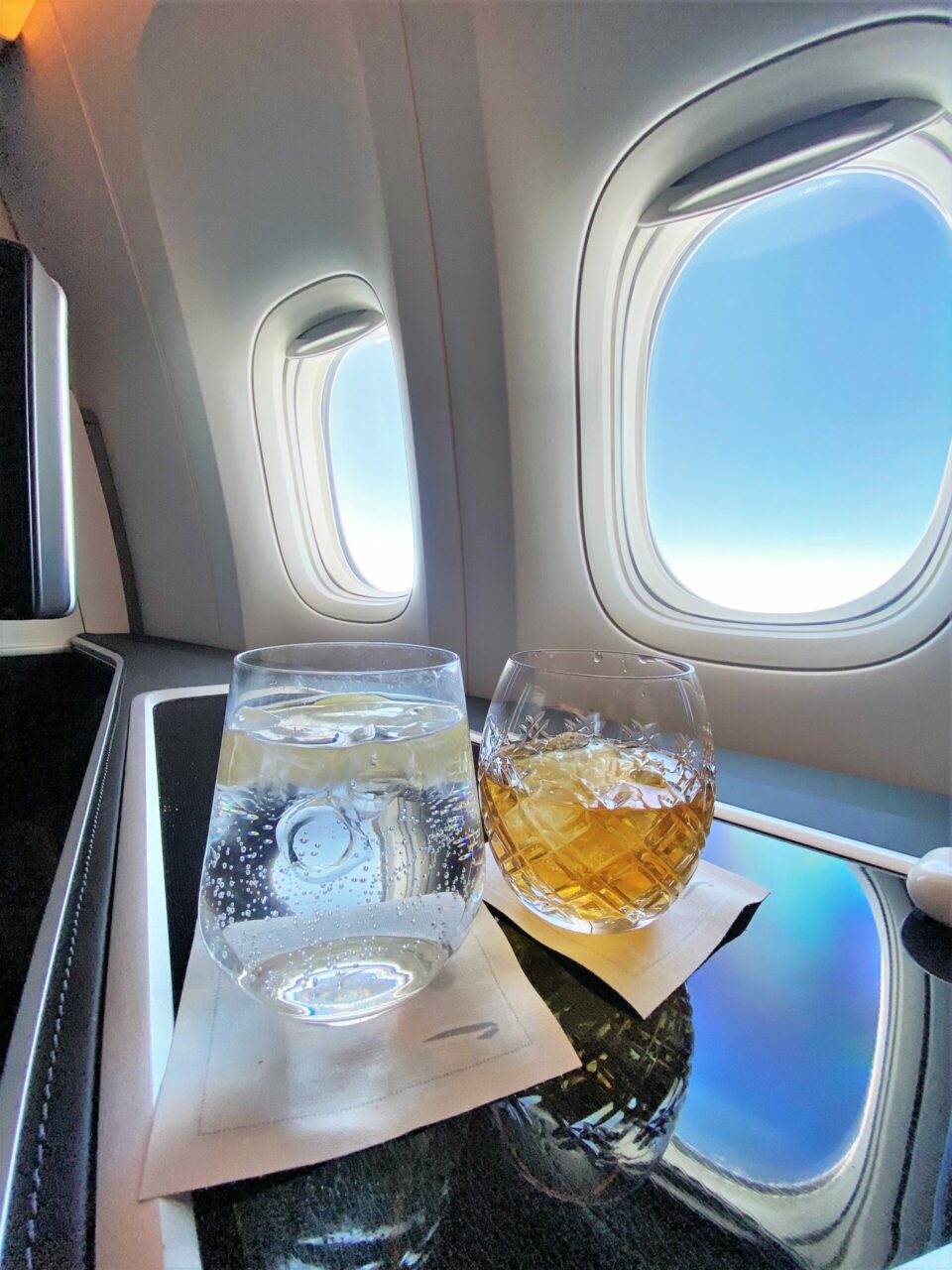 With dinner plans to eat on the ground, I skipped the second meal and had a coffee to help keep me going.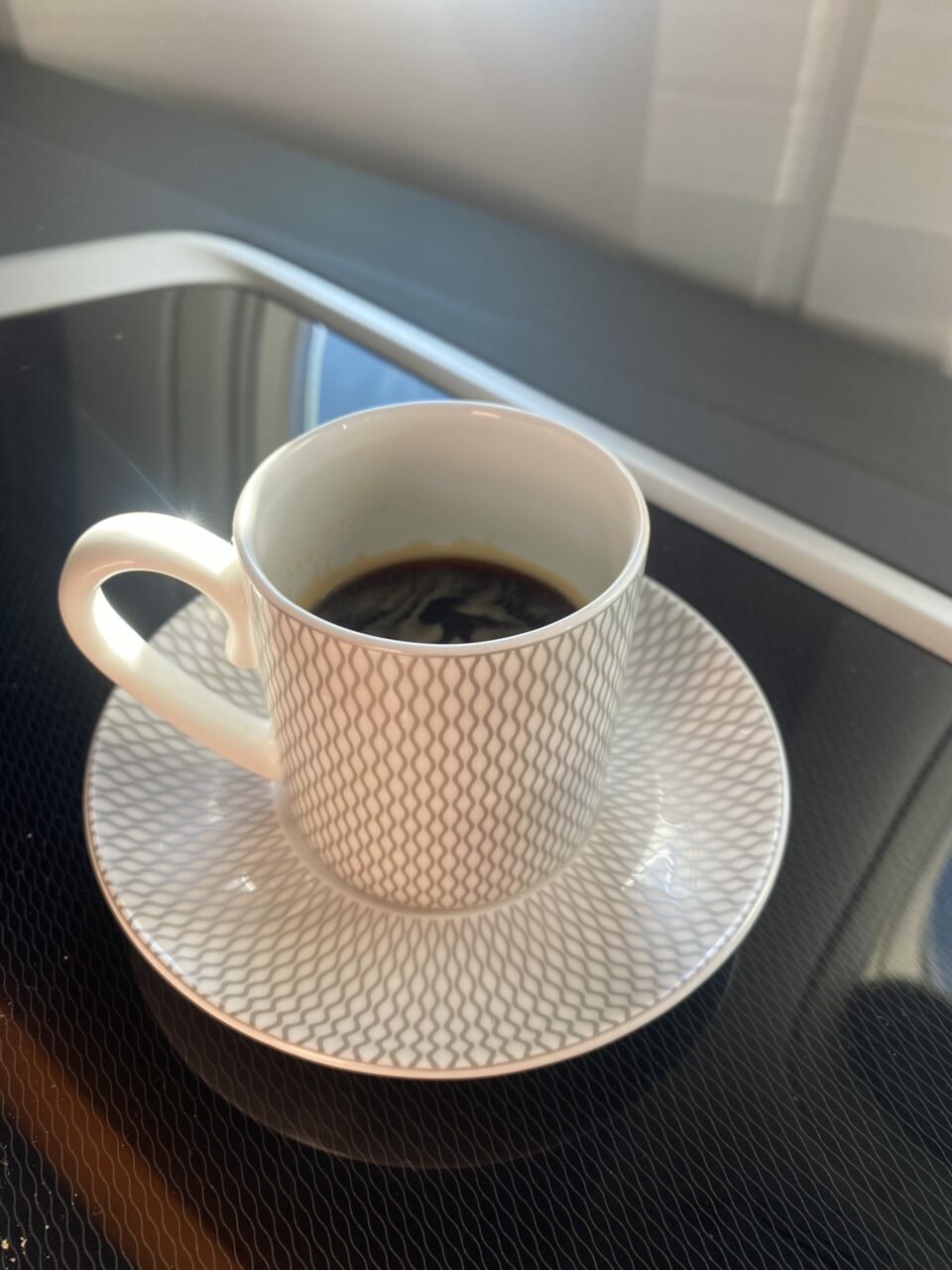 The chocolates are no longer the nice box (for obvious reasons) but Lindt chocolates served in a cup!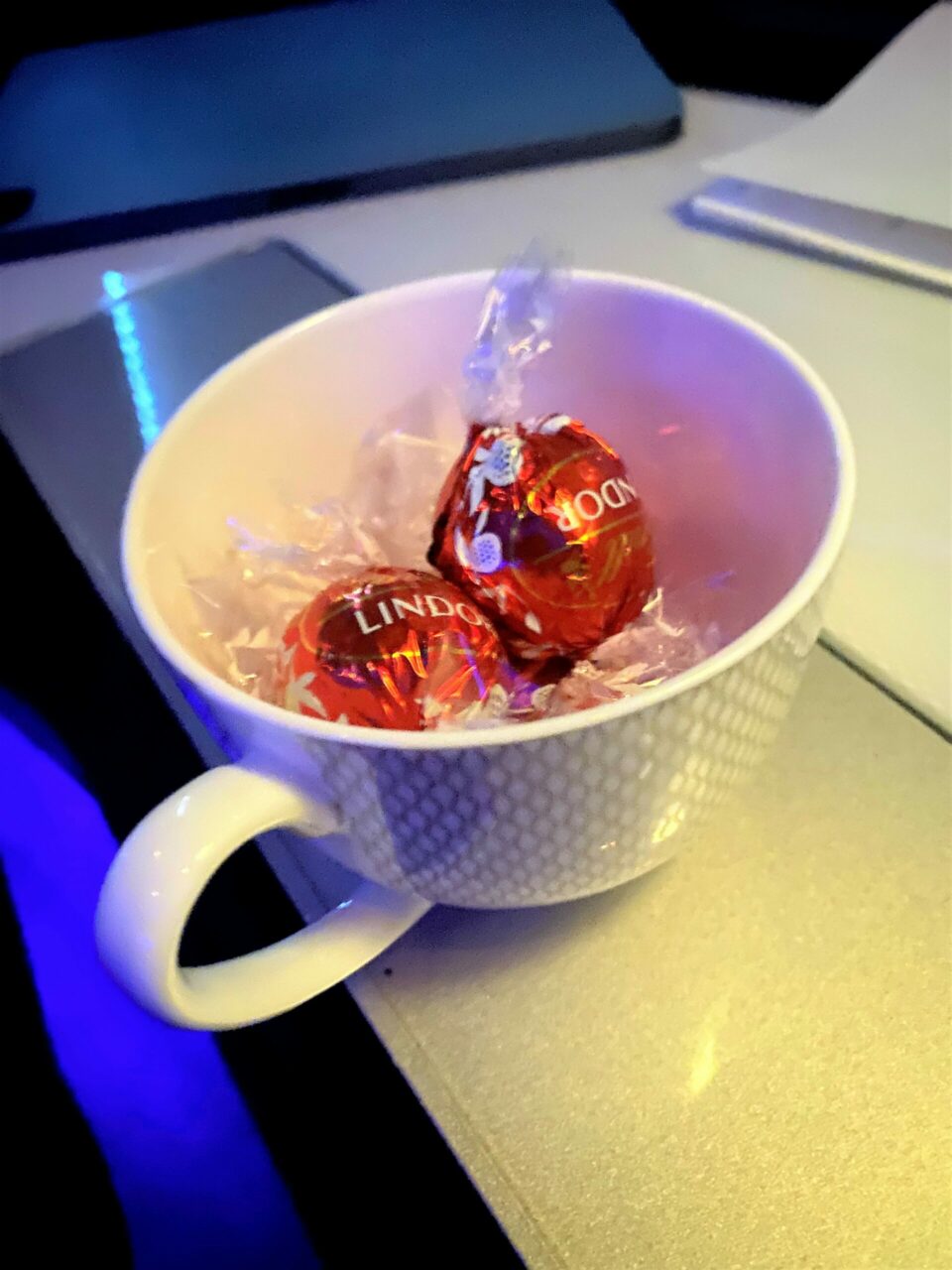 All in, a super smooth flight, attentive crew, and the 77W with the new First Suite and Club Suite looks smart.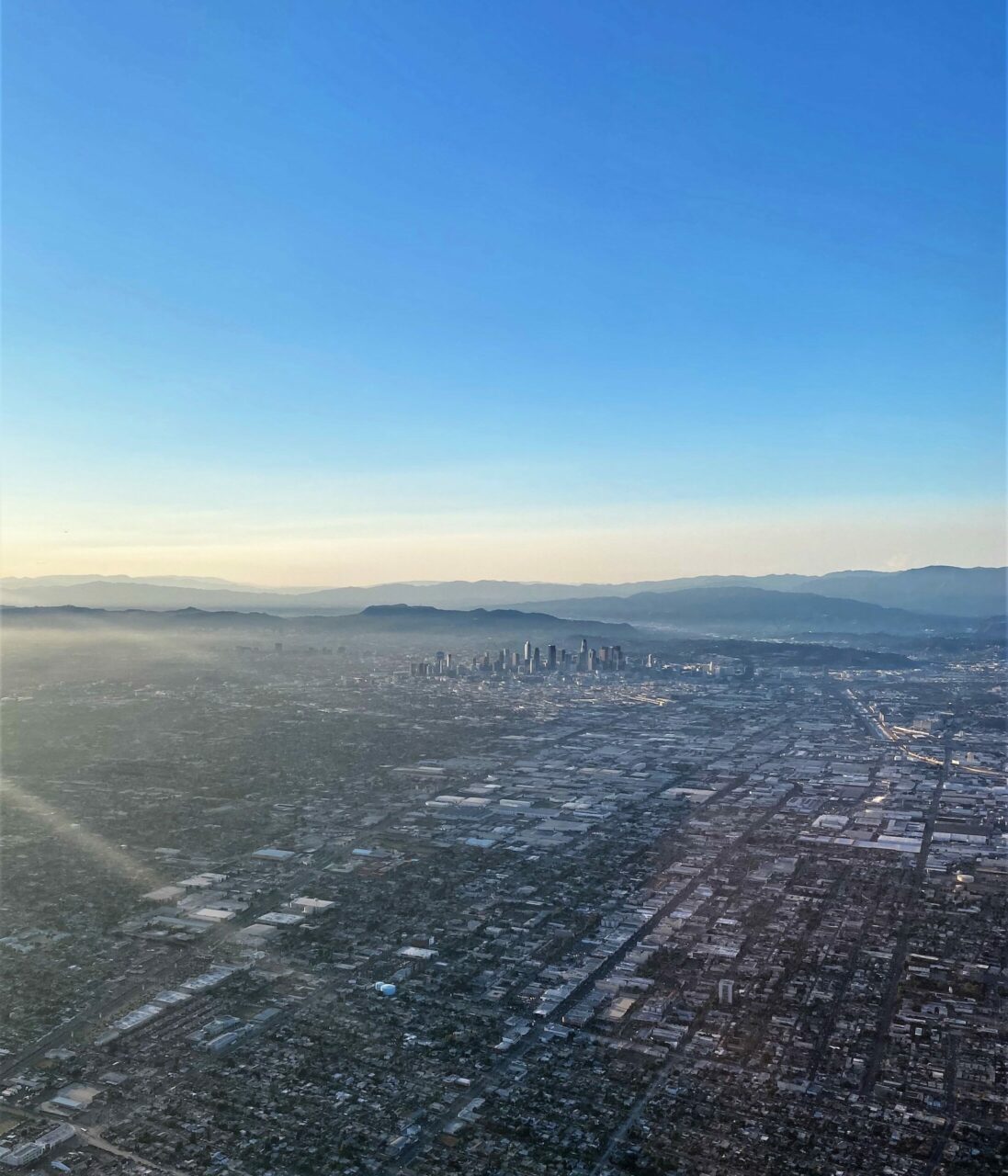 Then just US immigration to face!
Like our British Airways new B777-300 First suite with doors review? You can read more flight reviews here.