This review is of the recently refurbished British Airways business class lounge, Galleries Club at T5B at Heathrow and the new Whispering Angel bar. I also explain how to get back from the B gates to the A gates for your flight.
The Heathrow T5B Galleries Club lounge has long been my favourite Club lounge at Heathrow T5. It is nearly always quieter than the other two, and being smaller, it always feels a bit less of a zoo. The lounge had recently been refurbished and the Whisperting Anbgel Bar added. There is also rumoured to be a first class section, which would definitely help the crowding with the Galleries First Lounge. The area where the spa used to be is currently boarded up, so I would expect that this space could be converted into a First class area. However, it is a small area so it won't take many people. Still, if you arrive at the B Gates and find your flight is delayed, it could be handy.
Where is it and what are the opening hours?
The B Gates lounge can be reached using the B and C Gate Transit train or the walkway on level -4. When you exit the lift facing Boots, turn to your left, and the lounge is a few steps away. There is a lift to go up one level, as the escalator only goes up, with stairs for coming down. If you then need to go on to the C gates, you can take the walkway or the train (making sure it is going in the right direction!).
It is open 7 days a week 05.00-22.00
Who can access it?
British Airways Executive Club Members with Silver or higher status
Oneworld Saphire status or above
Those flying business class or first with British Airways or a oneworld airline
Can I visit if I am departing from the A Gates? How do I get back to the A Gates? Can I take the train?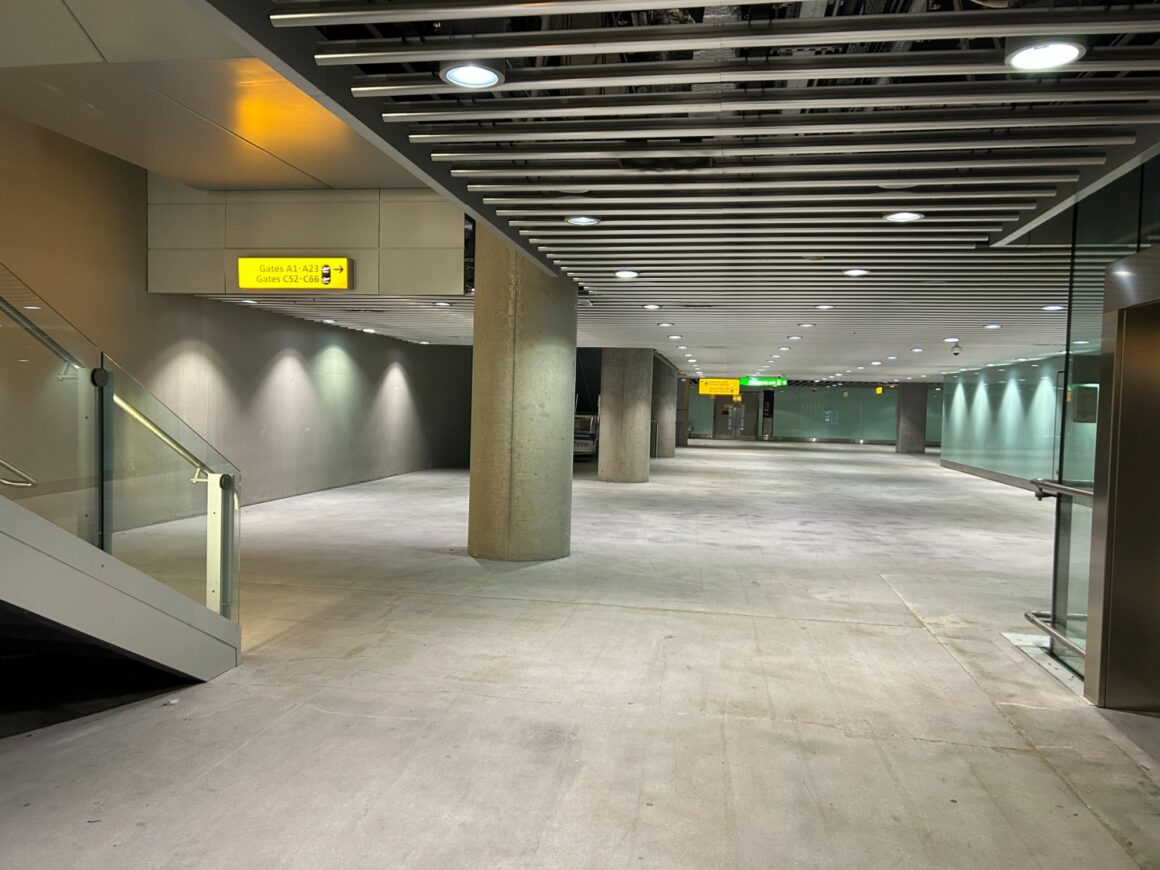 It is not encouraged for people departing from the A gates to visit the B Gates lounge, but you won't be refused entry. There are several reasons why they don't particularly want anyone other than those departing from the B Gates to use the lounge. Firstly, you may not allow enough time to get back and end up missing the flight. Secondly, you may take the train back and end up missing your flight because you will end up in arrivals. Thirdly, I am sure they are trying to balance lounge numbers, so they don't want all the A Gate departures using the smaller B Gates lounge.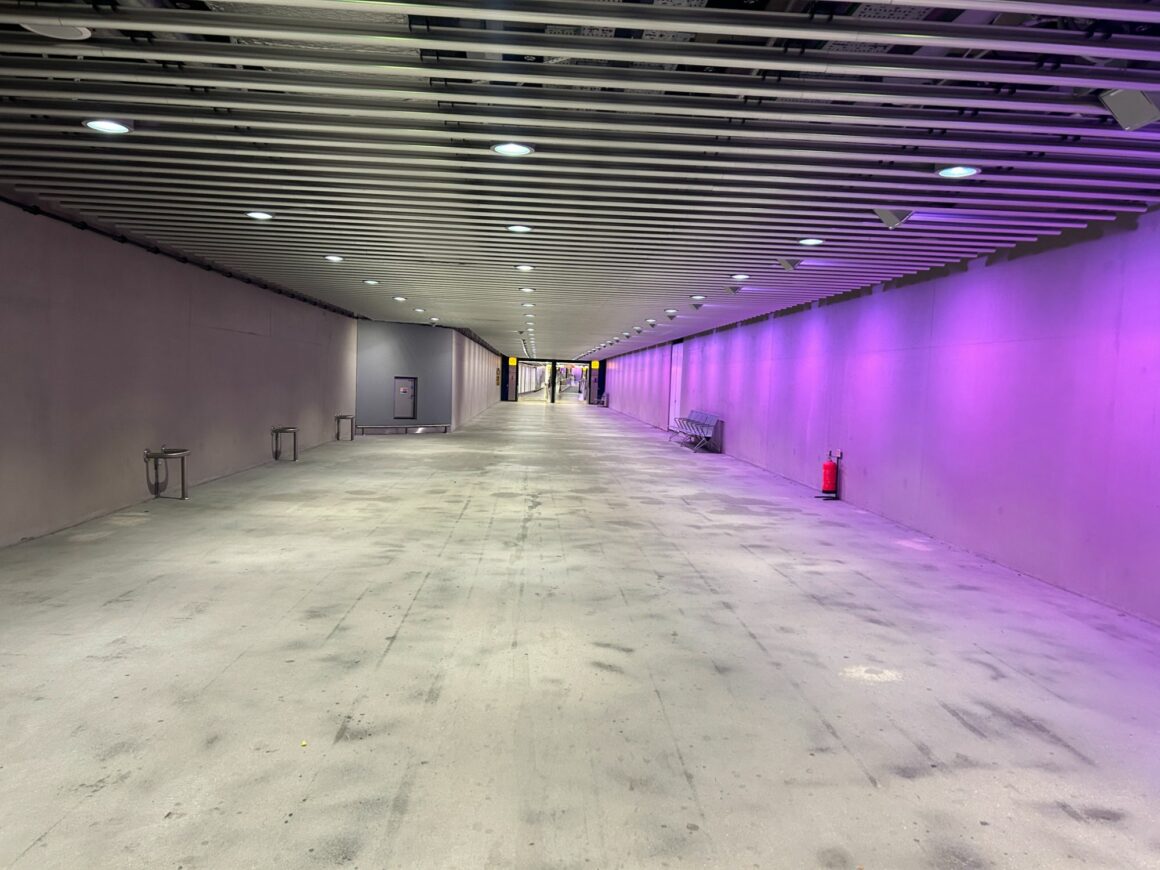 If you do want to visit, it is simple to get back by using the walkway. Take the lift by Boots in the B Gates down to level -4. You will then see signs for the walkway to A gates. There is no moving walkway in the A gates direction, only going towards the B gates. The signs say it will take 10 minutes to walk, but I found from lift to lift, it took 7 minutes walking slowly and stopping for photos. Whatever you do, DO NOT TAKE THE TRAIN! If you take the train, you will end up in the arrivals stream and have to go through immigration/customs and then back through security.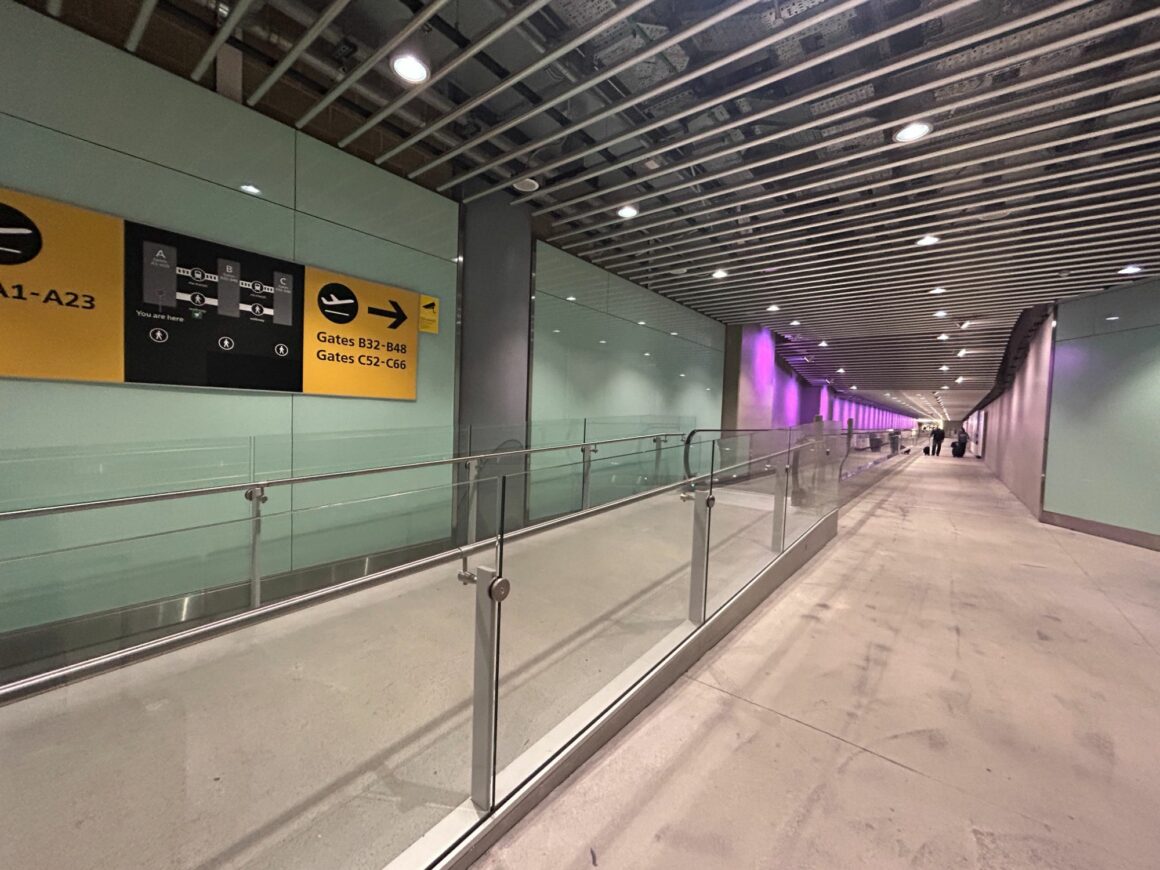 The T5B Galleries Club Lounge
The lounge definitely looks fresher with its new furniture, but I am not totally sure about some of the design choices. As you enter, you can go left or right. If you go right from the lift, that takes you to the business area, Whispering Angel bar and the toilets. If you go left, you enter into the main part of the lounge by the food. Either way, you still end up in the main part of the lounge.
Just behind the reception is a luggage storage area, although there was no one there when I visited.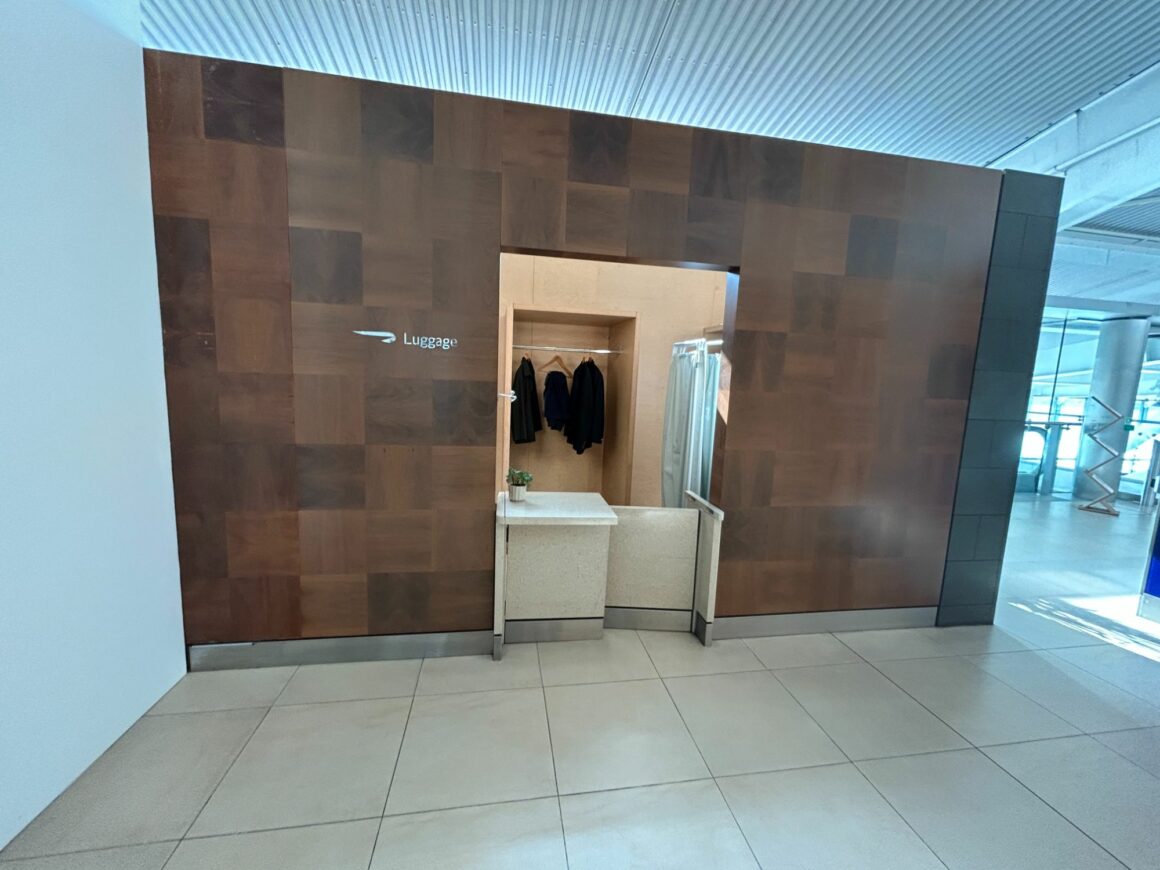 Whispering Angel Bar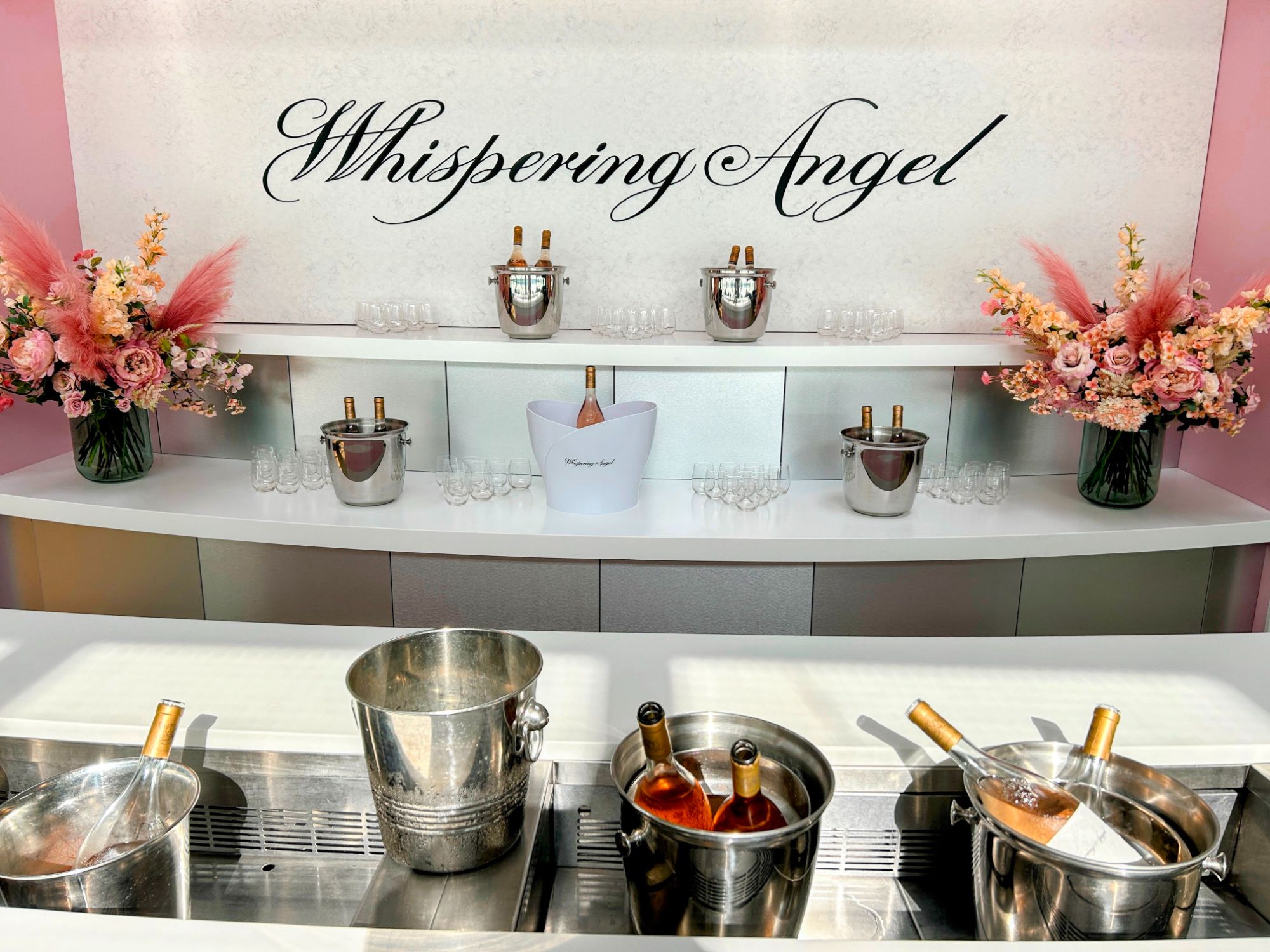 The bar itself is very large and basically consists of help-yourself rosé wine from Whispering Angel.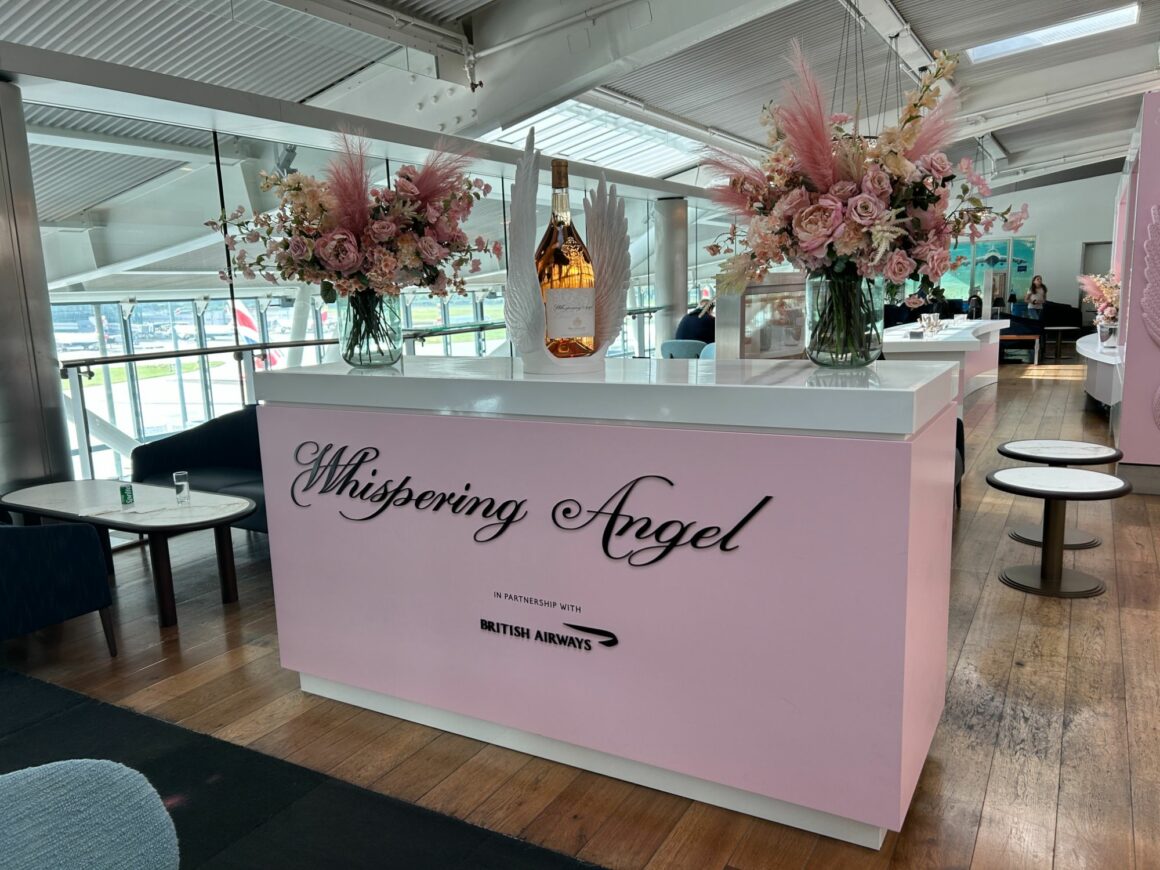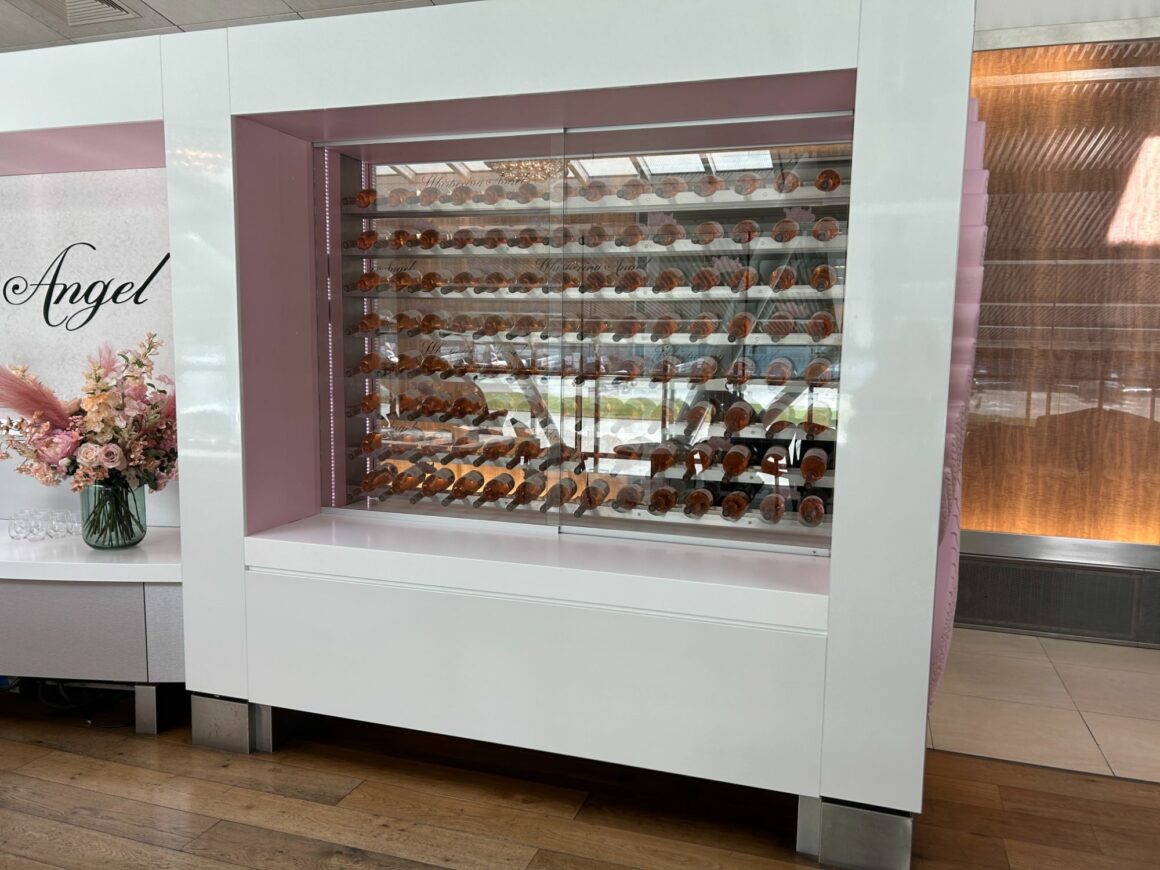 Next to this are some high chairs at a bar that are perfect for working as this tends to be a quiet area, and they are equipped with power points. I did not see a printer.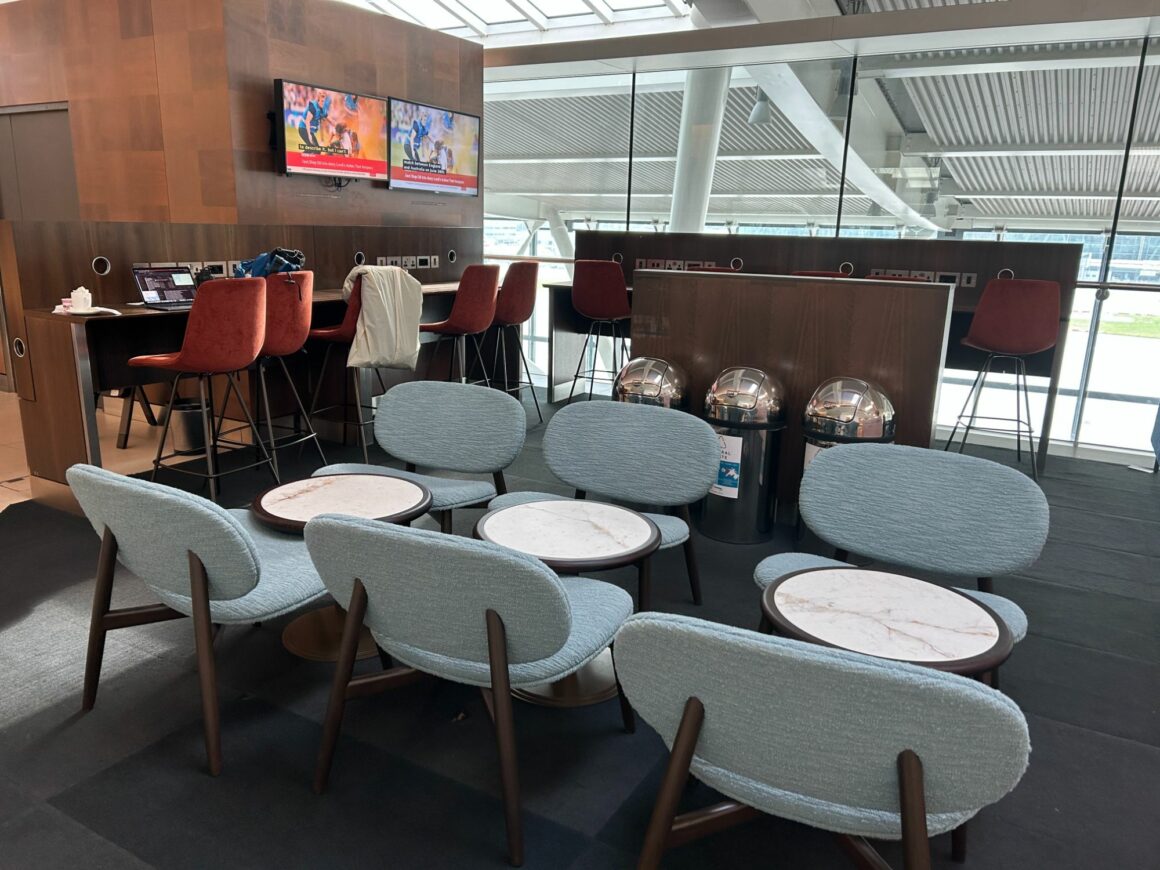 Also on this side is a kids play area.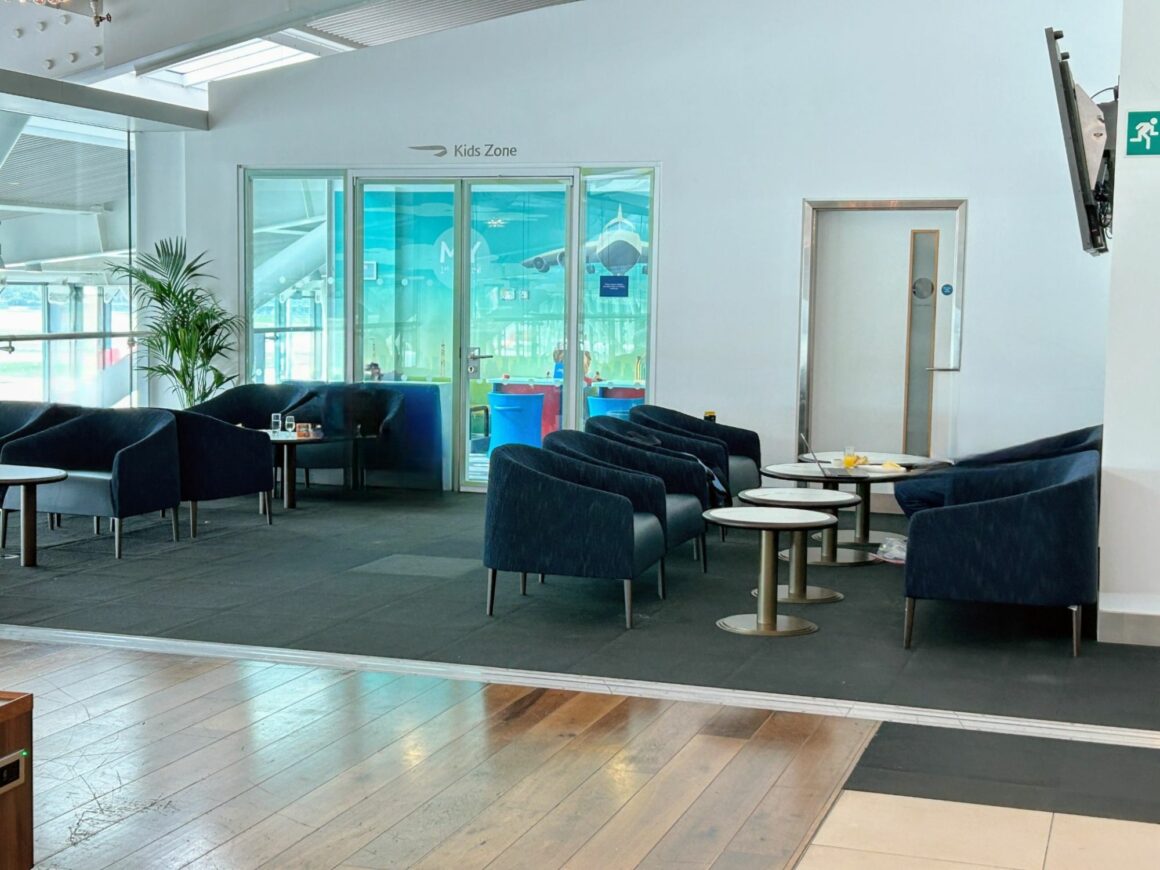 Main lounge area
Heading through into the main part of the lounge, all the furniture and light fittings have been replaced. There is a large dining area with tables and chairs that was deserted when I visited on Monday afternoon. I was not a fan of the black chandeliers as I found them a bit overwhelming. I would have preferred something more subtle when there are so many of them. The colour scheme seemed a bit of a strange mix of black, orange, blue and neutrals, which I found a bit jarring rather than elegant. The lounge is very light and airy, with windows on both sides that offer good views of the airfield.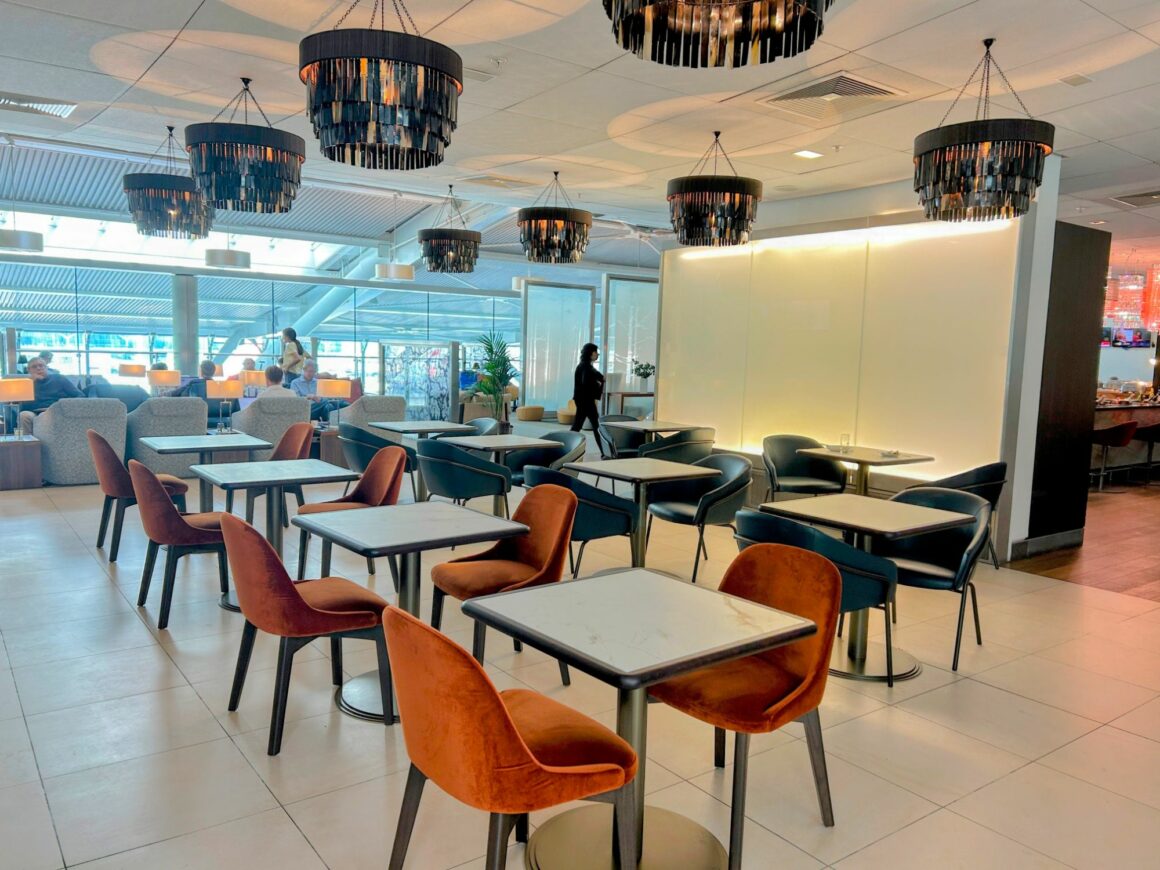 Here, you can find the bar area with a wide range of spirits, and then it leads into the wine bar.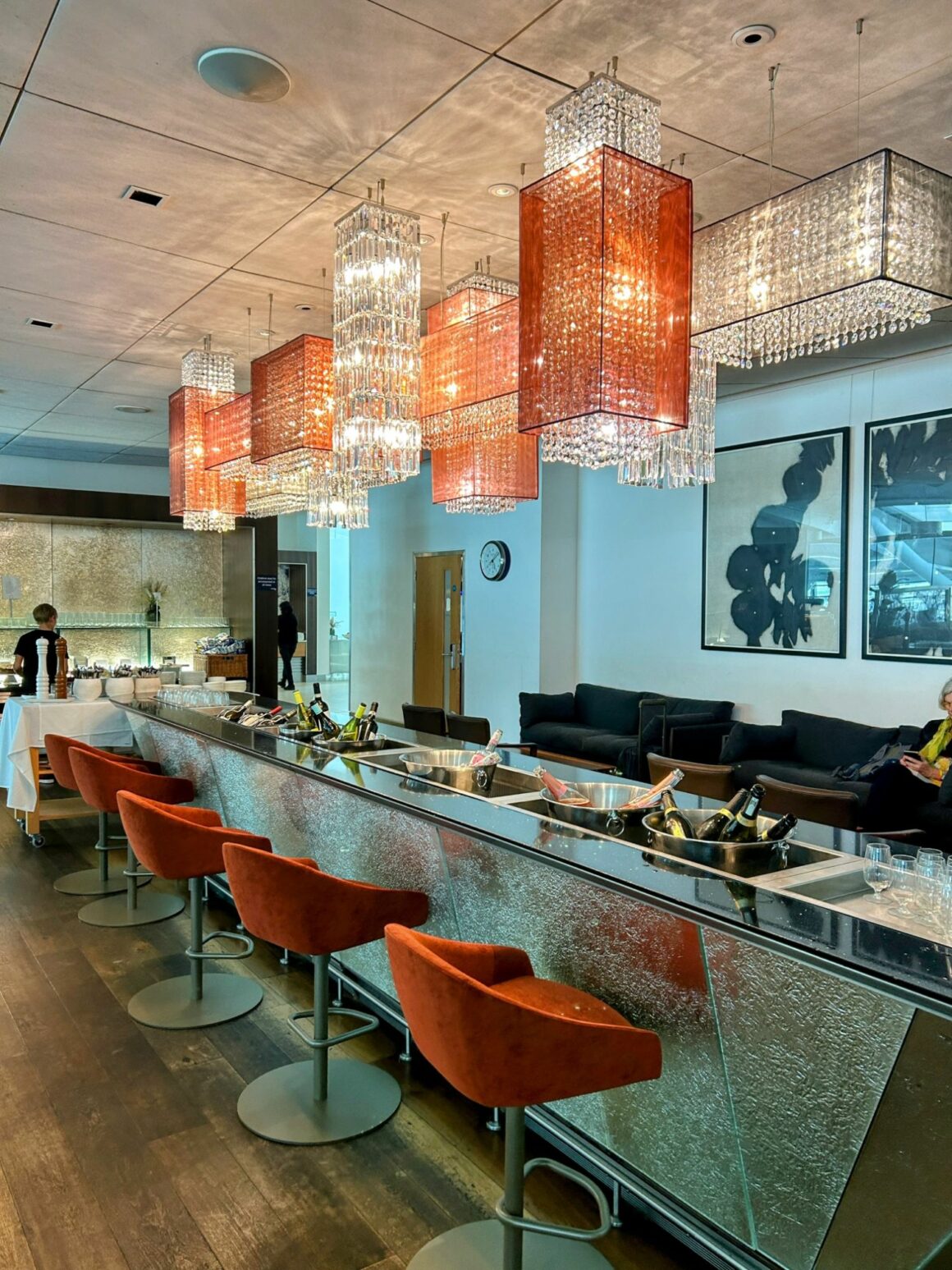 I liked the look of the chandeliers here, although it did feel a bit odd having chairs along both sides. Although it would give you somewhere to sit if it was busy (or you drink very quickly!), people would constantly have to lean over you to get to the drinks.
Elswhere there were plenty of comfortable seats which were divided into areas with glass screens which I thought was nice for a bit more privacy and also gave the lounge a more intimate feeling.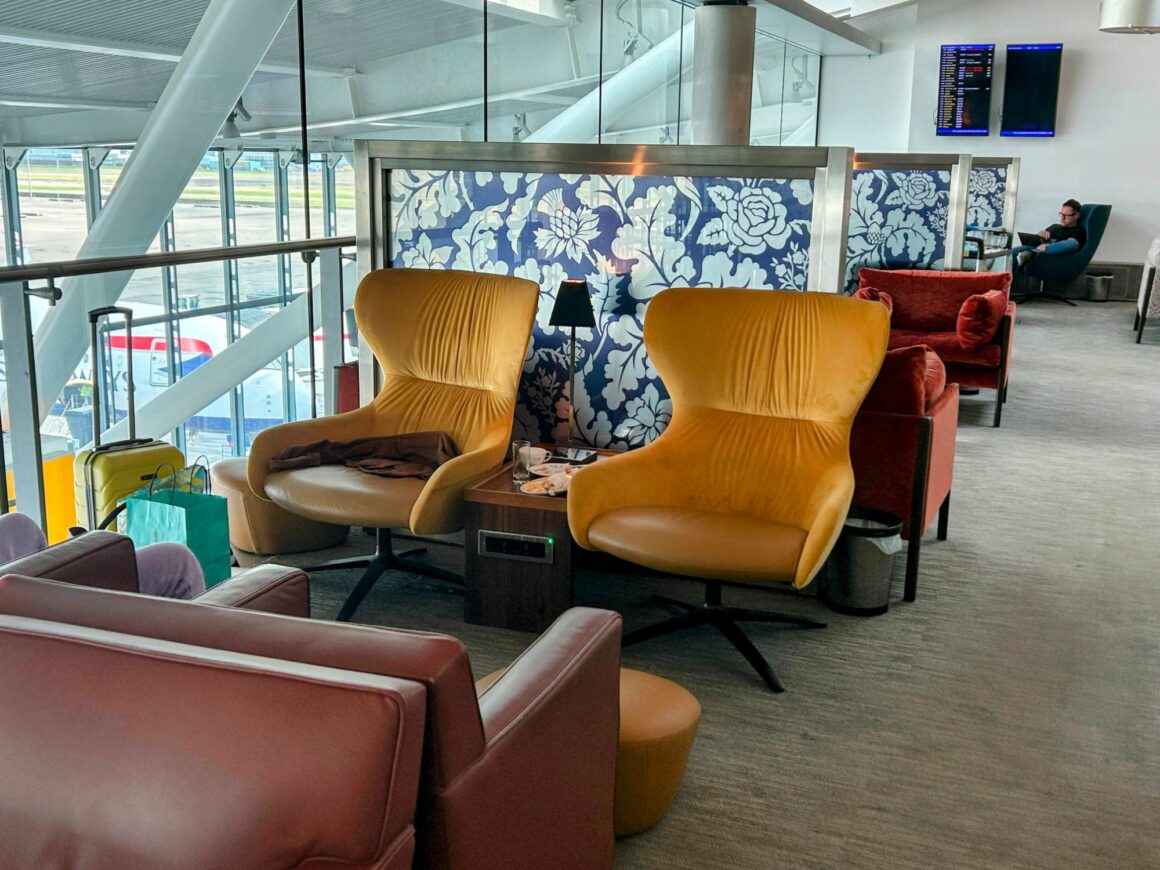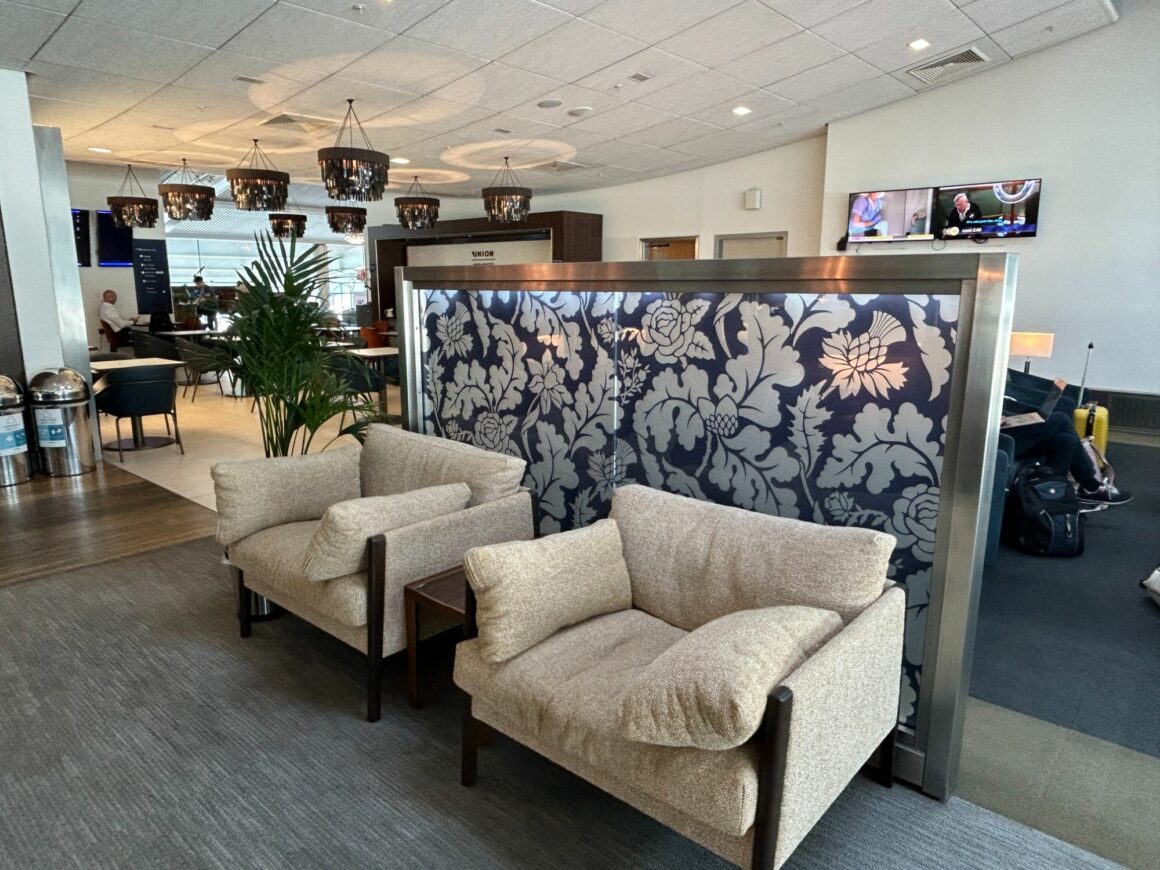 There was also a long white table with a bowl
of fruit in this area.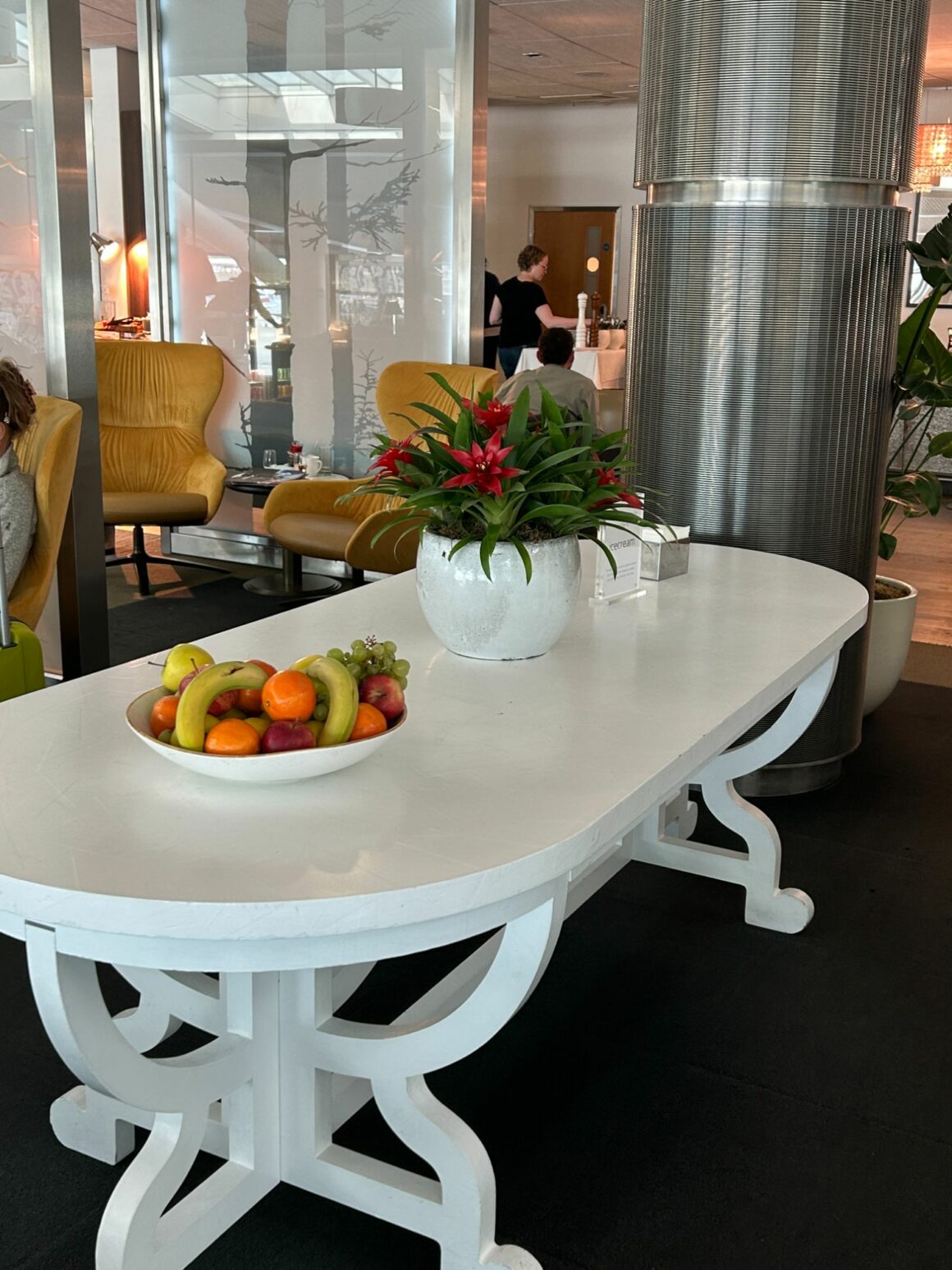 Food and drink
The food and drink was a vast improvement on pre-Covid offerings in the Club lounges and, in fact, now has almost the same food as the First lounge apart from the soup bar and less cheese.
There was the summer picnic table with things like pork pies, black pudding, Scotch eggs, cheese, falafels and onion bhajis.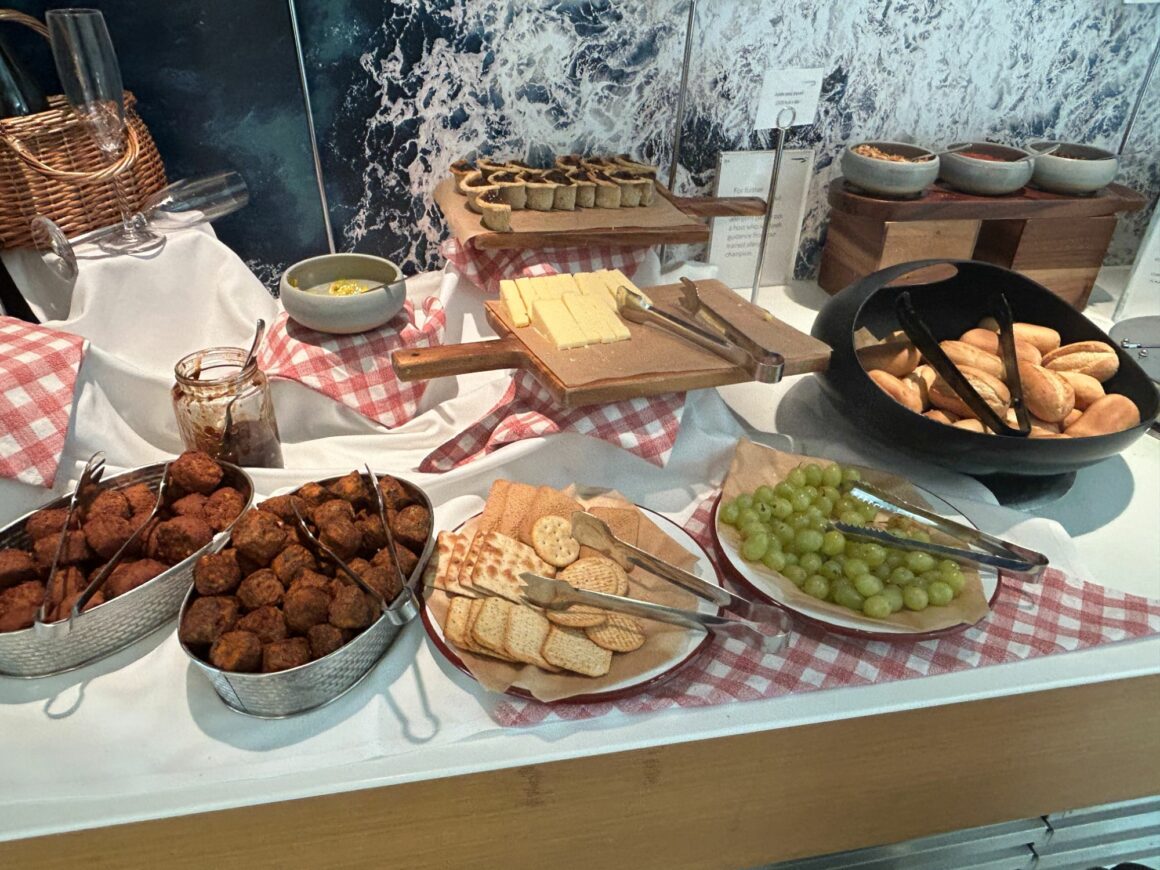 Next to this were soup and bread.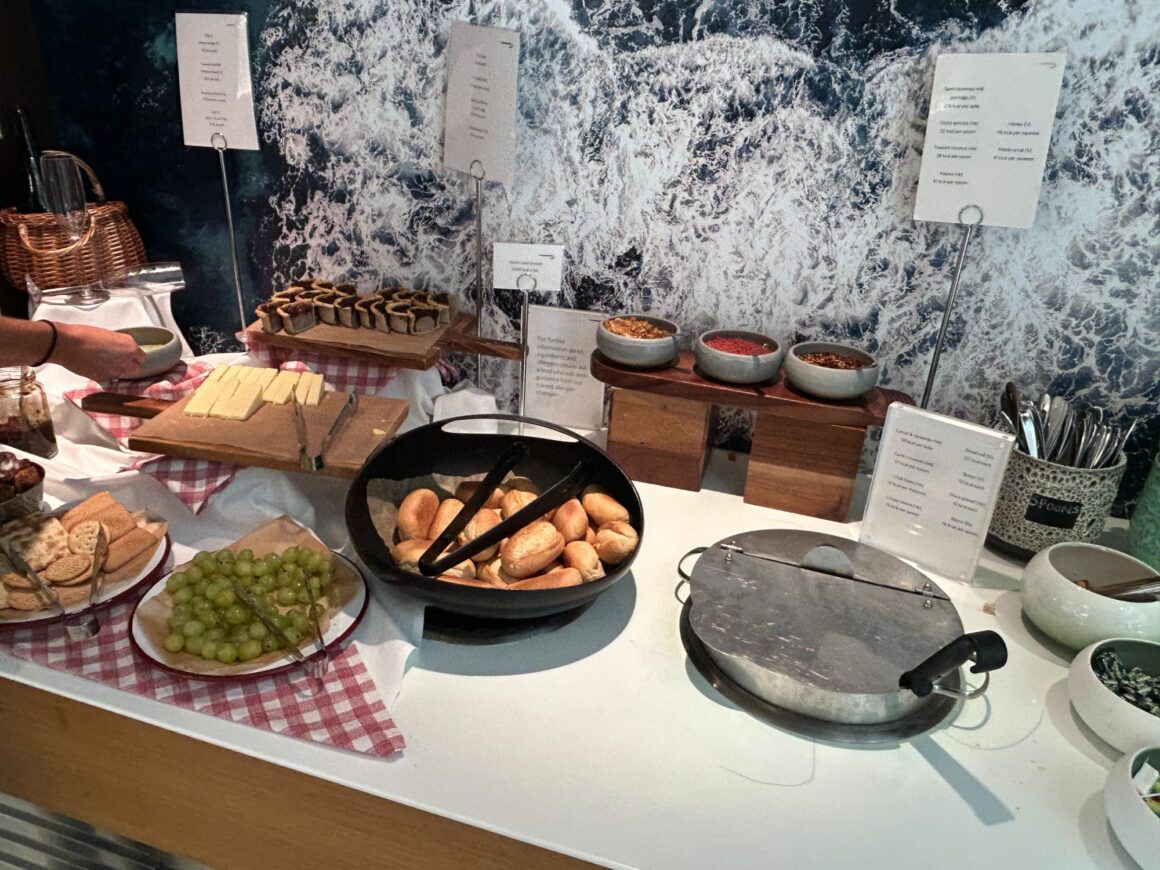 There was also a decent salad bar, which I like to see if you want to have something healthy since a lot of the food is quite stodgy. I'm a big fan of the cucumber and dill salad.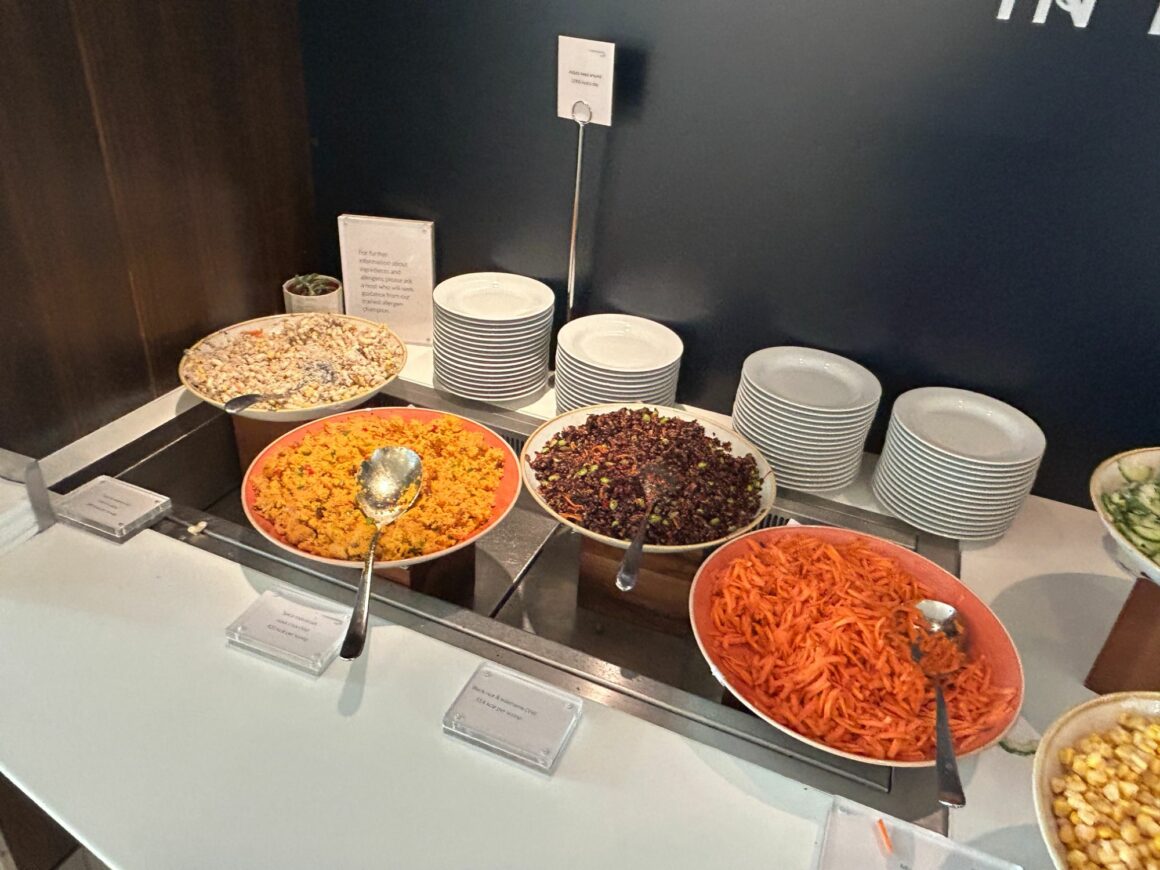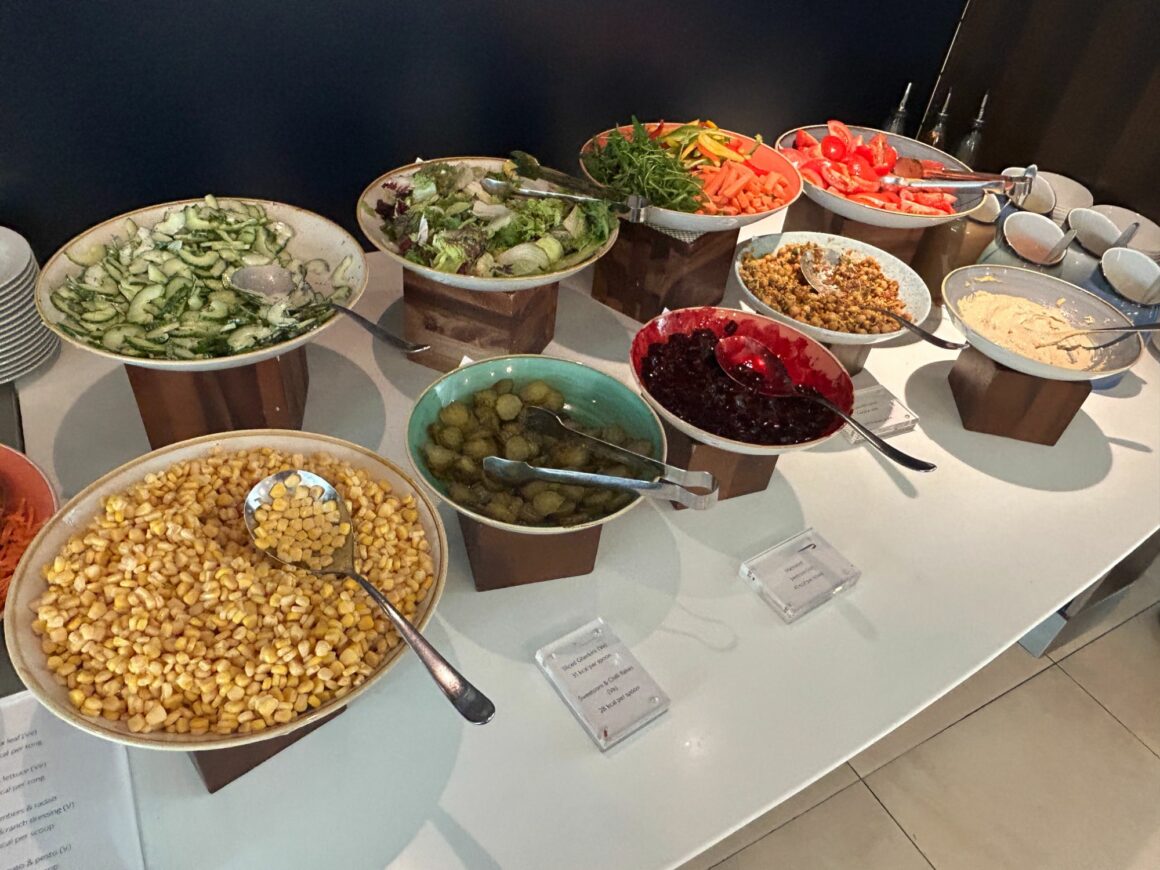 There was what looked like a temporary layout for the hot food on wooden butcher's block trolleys.
Here is the hot food menu:
Bunjal chicken curry (also available in the Concorde Room)
Pea, goast cheese and mint tart
Smoked haddock and mozzarella fishcake
Penne pasta with mushrooms sauce
Vegetables
Steamed rice with edamame
Jude's ice cream mini tubs were also available from the freezer.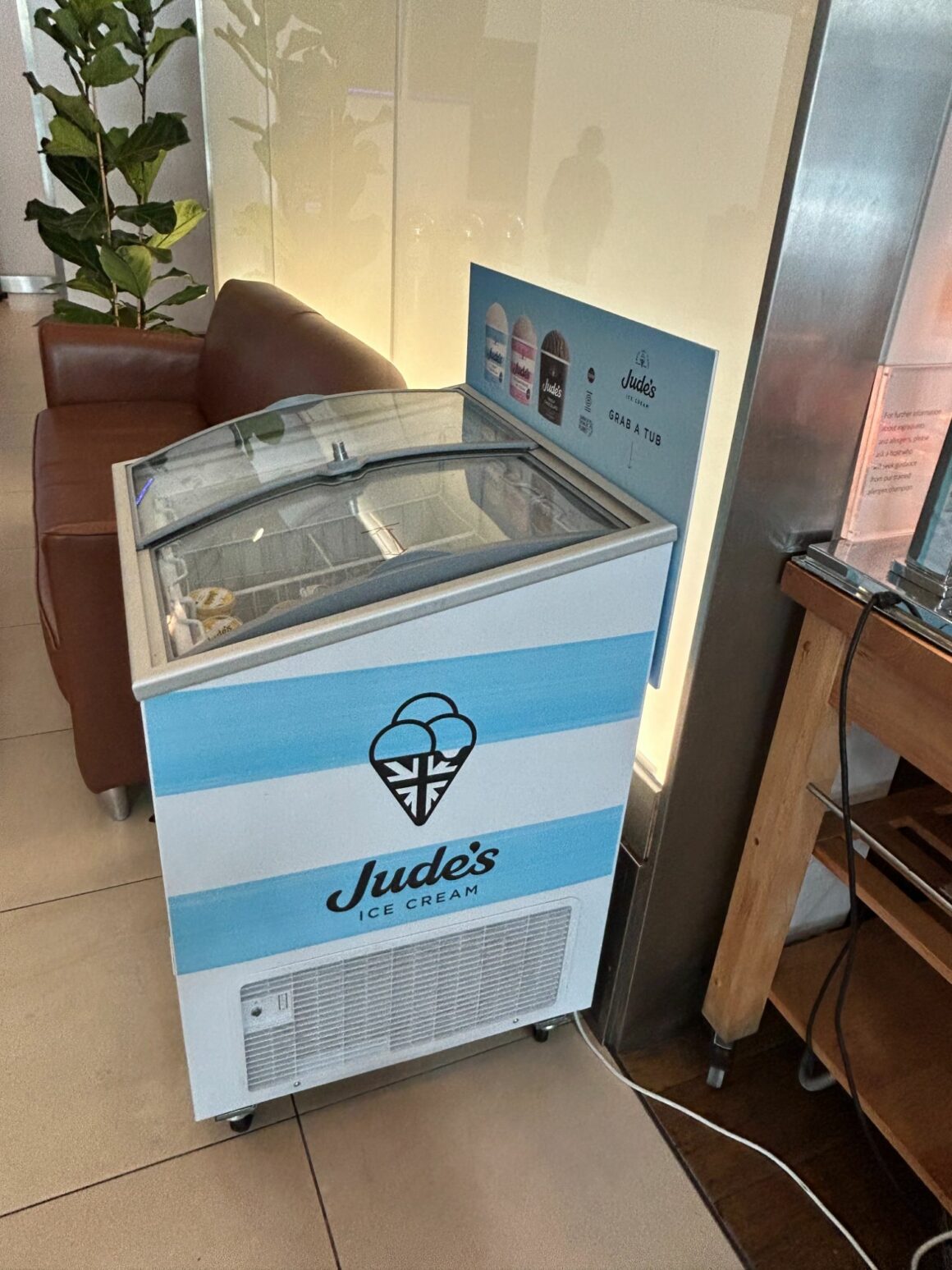 There was only Prosecco (including a rosé), but champagne is usually available on request.
There was also three red and three white wines for self-pour:
Terebinto Grillo by Planeta
Lapilli Greco di Tufo
Chardonnay
Chateau St Michelle Cabernet Sauvignon
Pinot Noir from Chile
Swartland Syrah
Coffee machines were available next to the bar with some biscuits (very boring bourbon, custard cream etc though)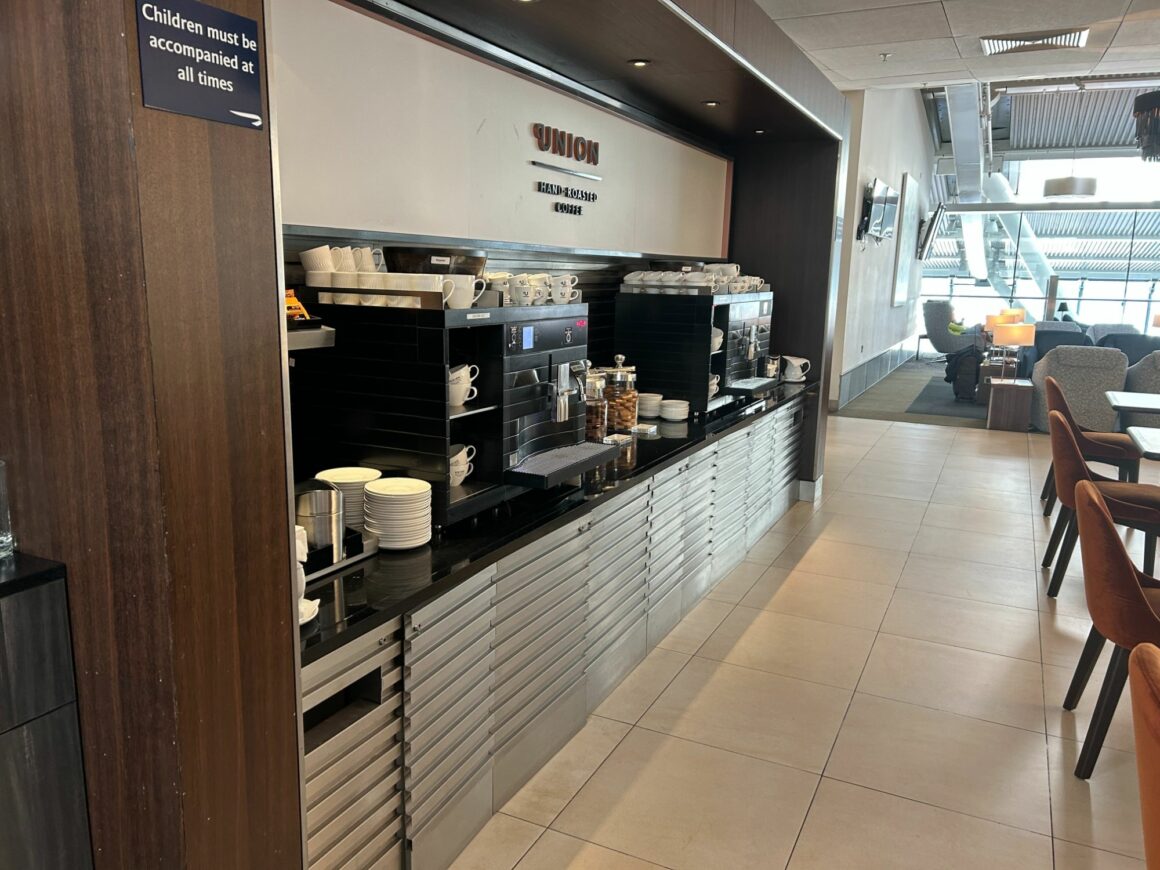 There is also a water station where you can grab a glass of still or sparkling or refill your water bottle.