Today's review is about Turing Locke aparthotel and Hyatt Centric hotel from Gus, our regular contributor. The author of this review stayed at both Turing Locke aparthotel and Hyatt Centric hotel in Cambridge as a guest of the hotels. All other costs, including food, drink and transport were paid for by the author.
Apart-hotel living
Despite laying my head fairly regularly on the pillows of hotels in the Marriott and Hilton chains, I am not that often in a Hyatt, and have never before been in a Locke. You may not have heard of Locke but there are two Locke's in Munich, Schwan Locke in Theresienwiese and the most recent opening, WunderLocke, located in the up-and- coming neighbourhood of Sendling.
Perhaps that's not so surprising given the Locke brand is still small, but I did want to share some reflections from my stay at both the Turing Locke 'apart-hotel' and its neighbouring hotel, the Hyatt Centric Cambridge, in Cambridge. The hotels are set around an attactive central courtyard.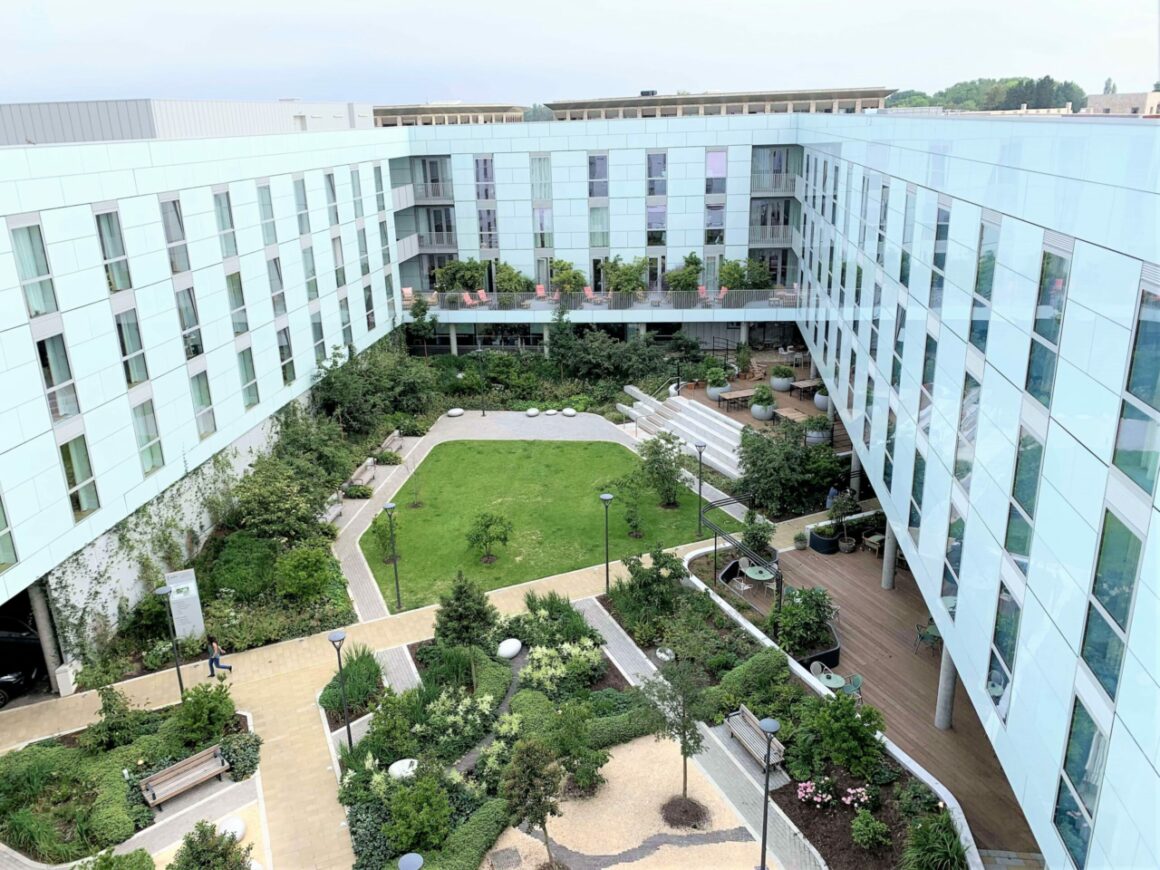 The first thing to say is that a lot of brands lay claim to be individualistic, but the Locke brand in particular plays on this very nicely, both in the way it shows up online and in the pre-stay experience, and also in the bricks and mortar physical stay experience. This is clearly intentional as Locke calls itself a group of "one-of-a-kind aparthotels" and it puts an emphasis on guests not actually being guests, but 'residents'. This does help to make them stand out, and some of the things they do – such as allowing local businesses to use their co-working facilities for free – foster a feeling of personality, and even a little fun.
Locke Eddington Cambridge
Locke has dots on the map in London, Edinburgh, Manchester, Cambridge (obviously) and Dublin – and has recently opened up a site in Munich too. With this in mind, I ventured to Cambridge a couple of weeks ago and checked in at the Turing Locke Eddington residence, unsure of what to expect. First impressions were not what I expected, as the site was plonked down in the middle of a plethora of fairly new buildings a mile or two outside of central Cambridge, which has been designed to be "a whole new area of Cambridge, designed for twenty-first century sustainable living".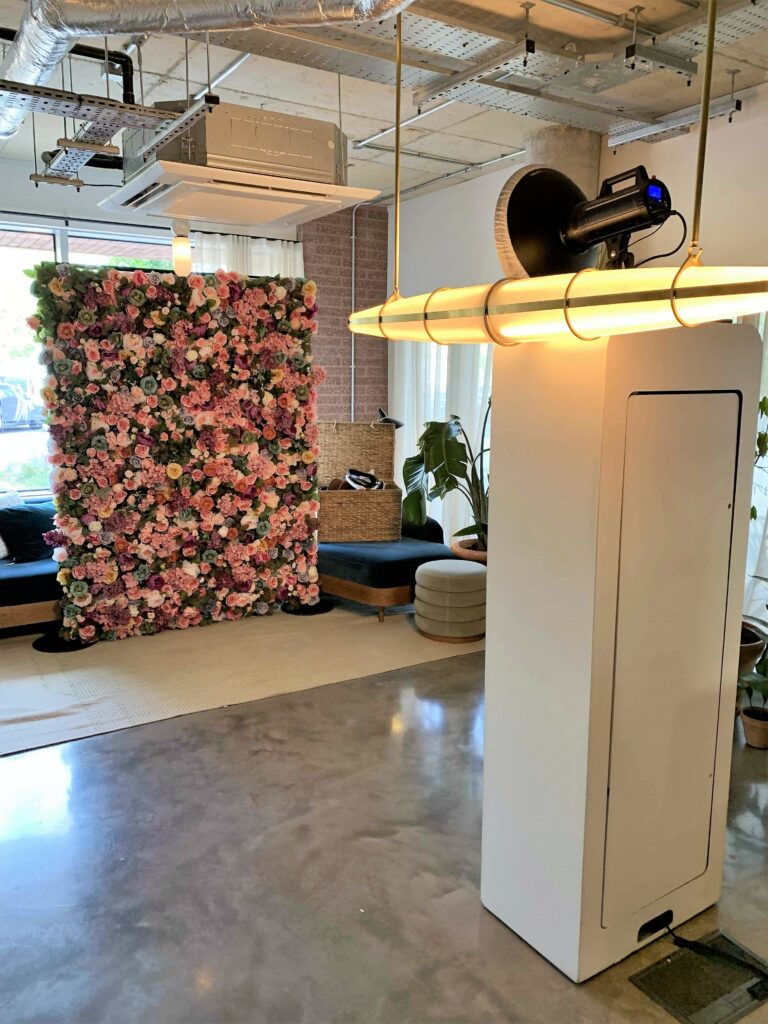 While the new-ness did mean there was little of the charm of old town Cambridge, it was clean and smart, and the residence itself was inviting. I checked in smoothly and went to check out my room – a Terrace Suite, with single nights from around £225 (or £185 for members). This was one of the more expense rooms, as Studios are available from around £135 per night, and the longer you stay the more the discount.
Room and studio space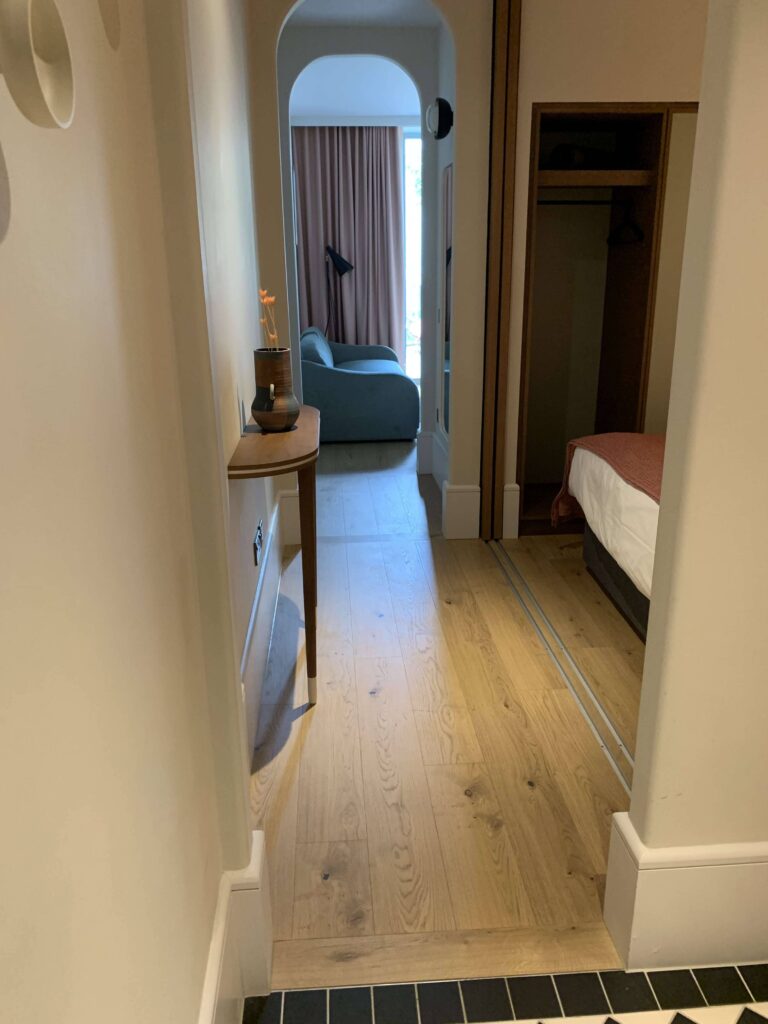 The room itself was tastefully designed and furnished, and it had a few touches that gave it that promised 'personality'. For example, fun signage all over the place, some Japanese-style sliding partitions for the bedroom, motion-sensitive lights under the sink and even toilet roll from WhoGivesACrap. They've also ditched the in-room phone, and instead ask you to WhatsApp reception with any queries.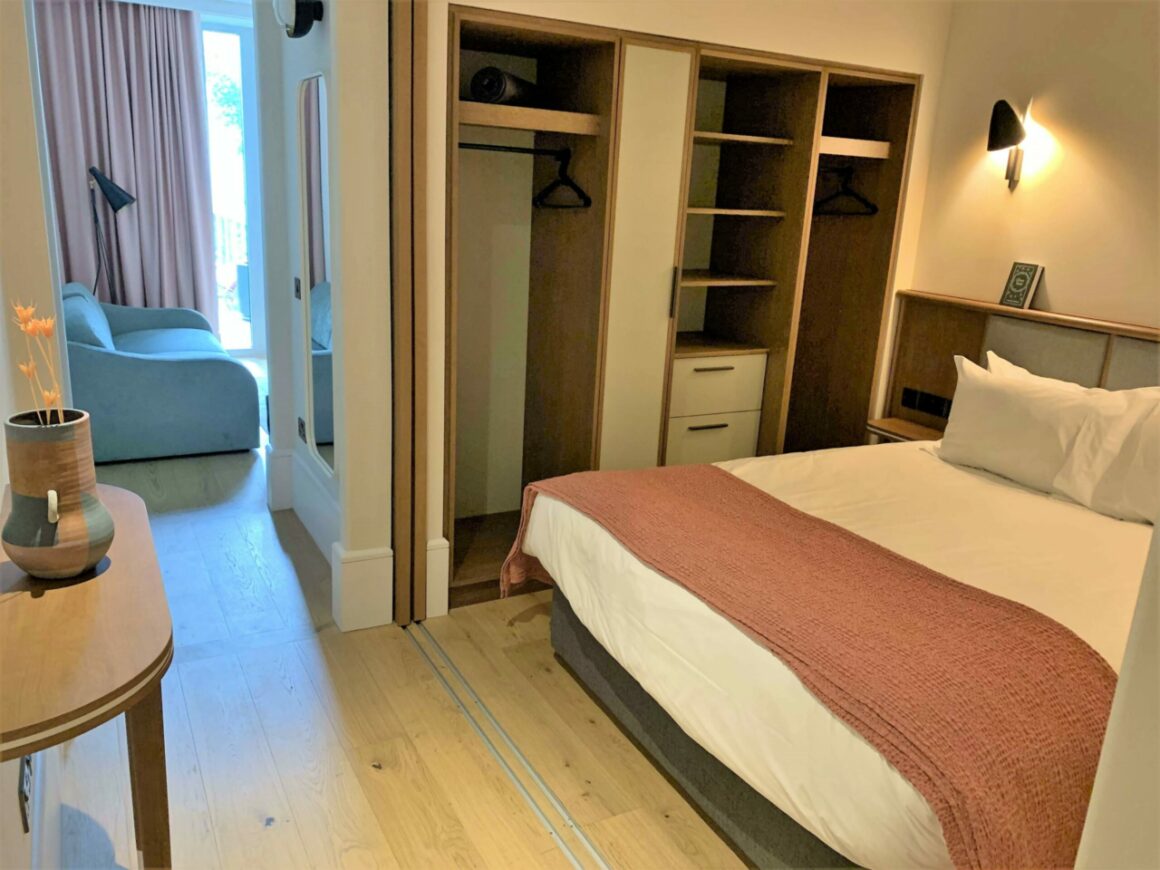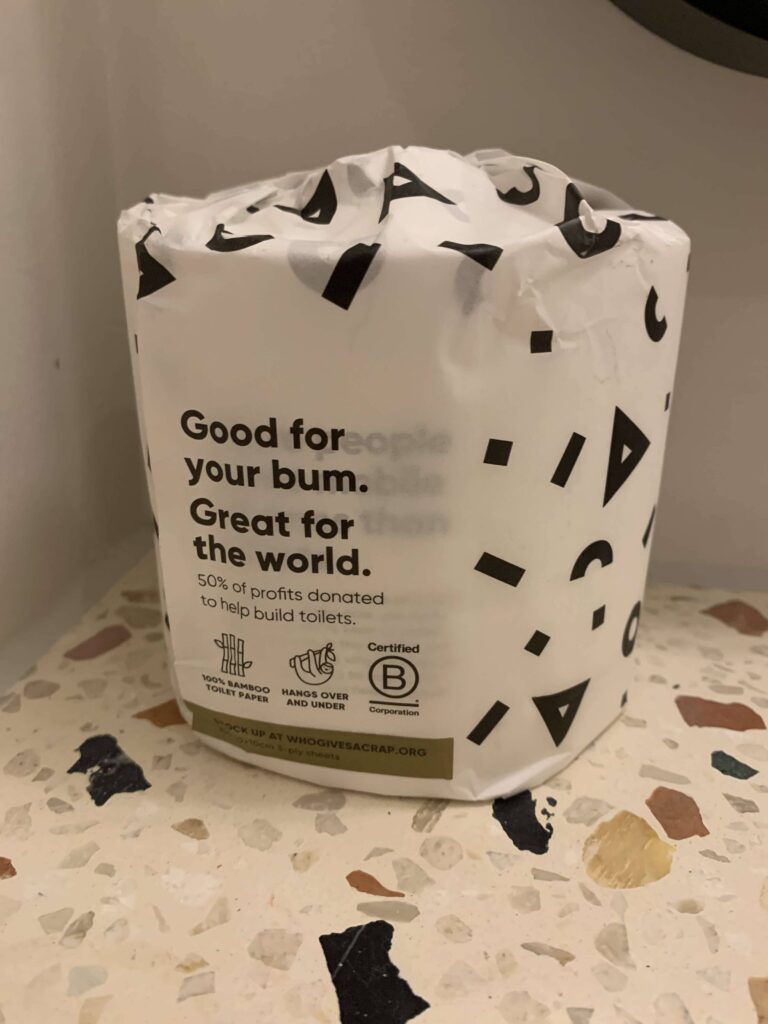 It was a really lovely space, with the bedroom being a little small but cosy, and a relaxing lounge-cum-kitchenette space. There were plenty of power points, and some books dotted around to break up the lines.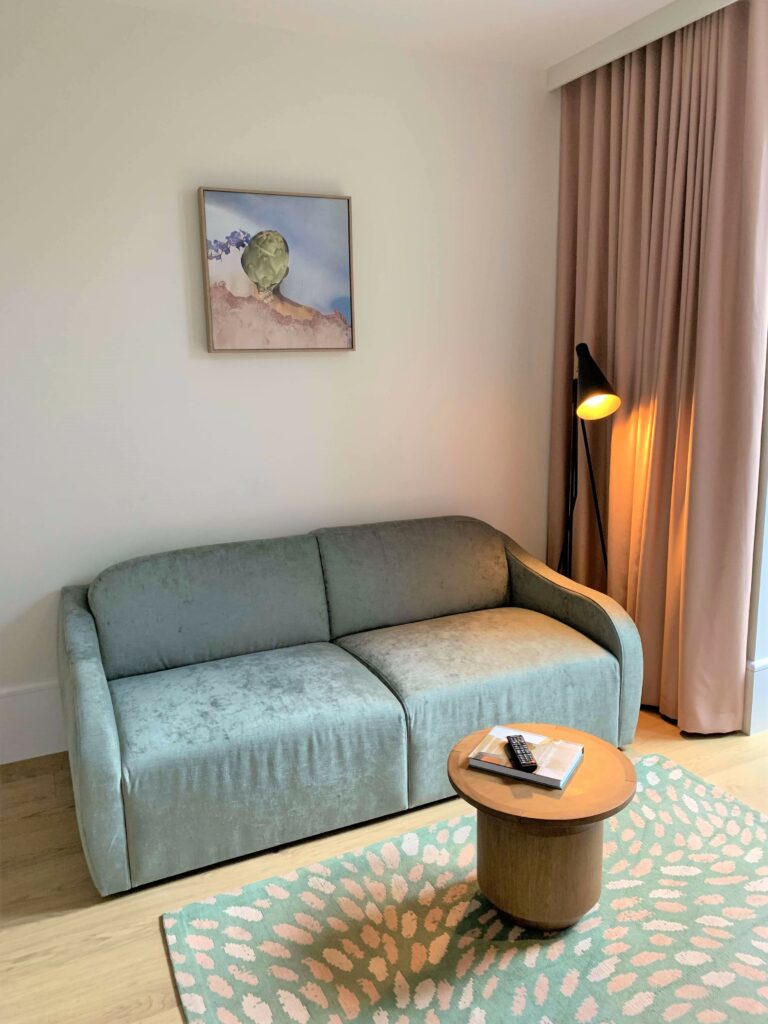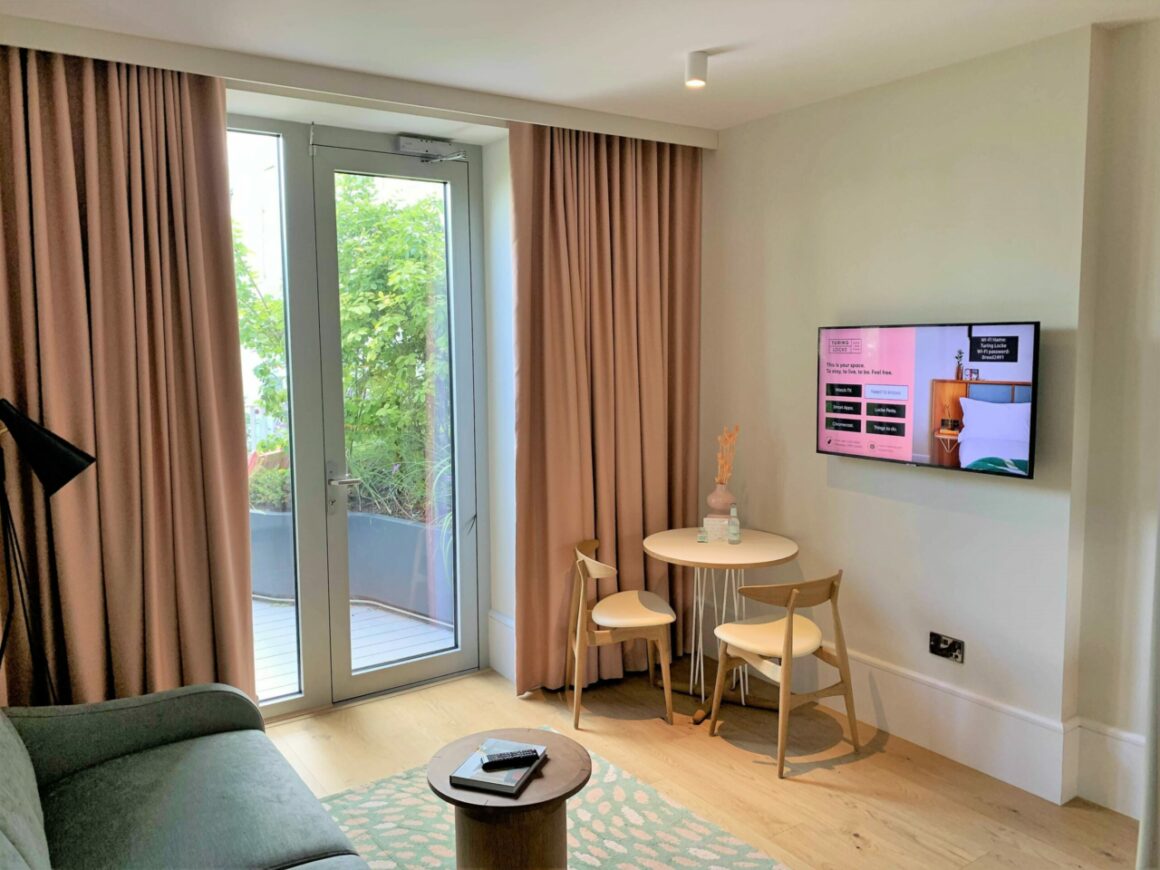 If you were planning on staying longer there was a well equipped kitchen, even with a washing machine which is very handy!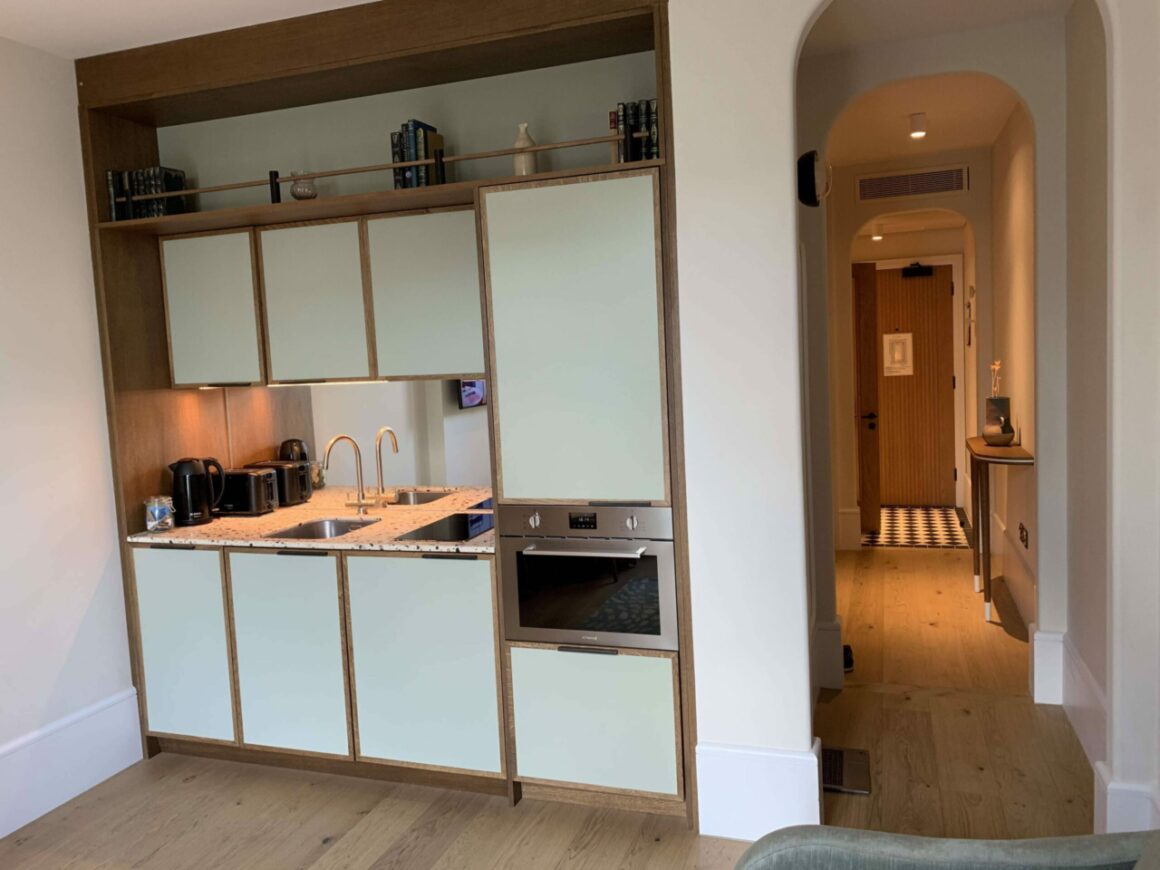 But the piece de resistance (for this room at least) was the terrace, which opened up with views of the main central courtyard area. The outside space too was compact, but it was lined with lovely plants, providing both atmosphere and privacy, and topped off with a couple of loungers and small coffee table.
I did find a couple of things that could have been better for me personally. The first is that the toiletries were the wall-mounted ones (more sustainable, yes, but I'm personally not a fan of these), and the second is that 4G connectivity was poor. The in-room wifi was strong, but throughout the site, reception itself was noticeably not great (for my carrier at least).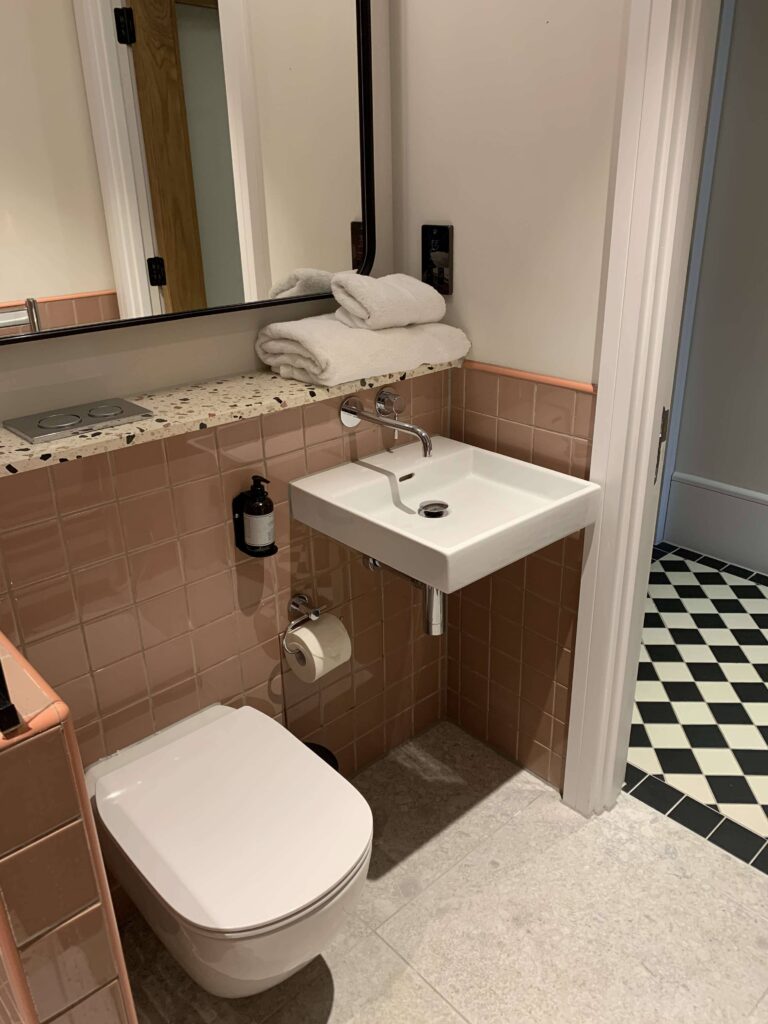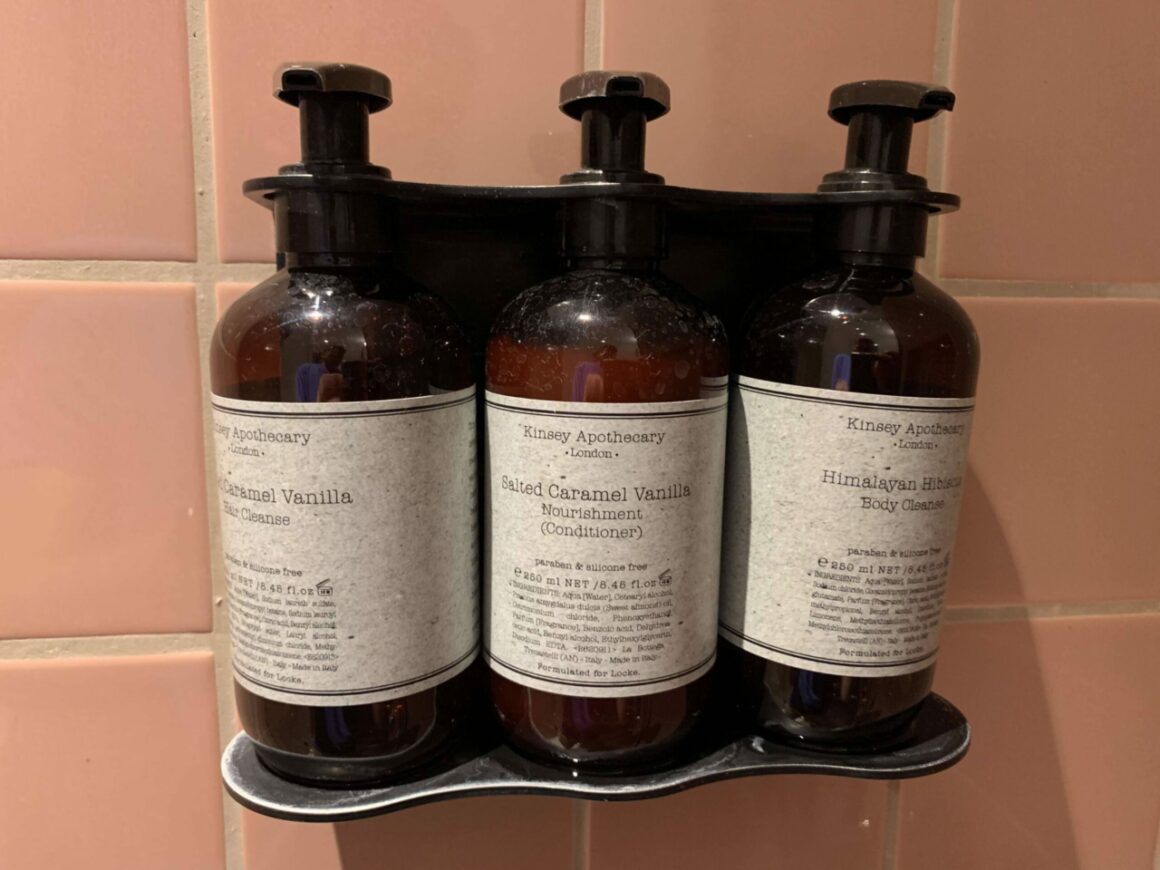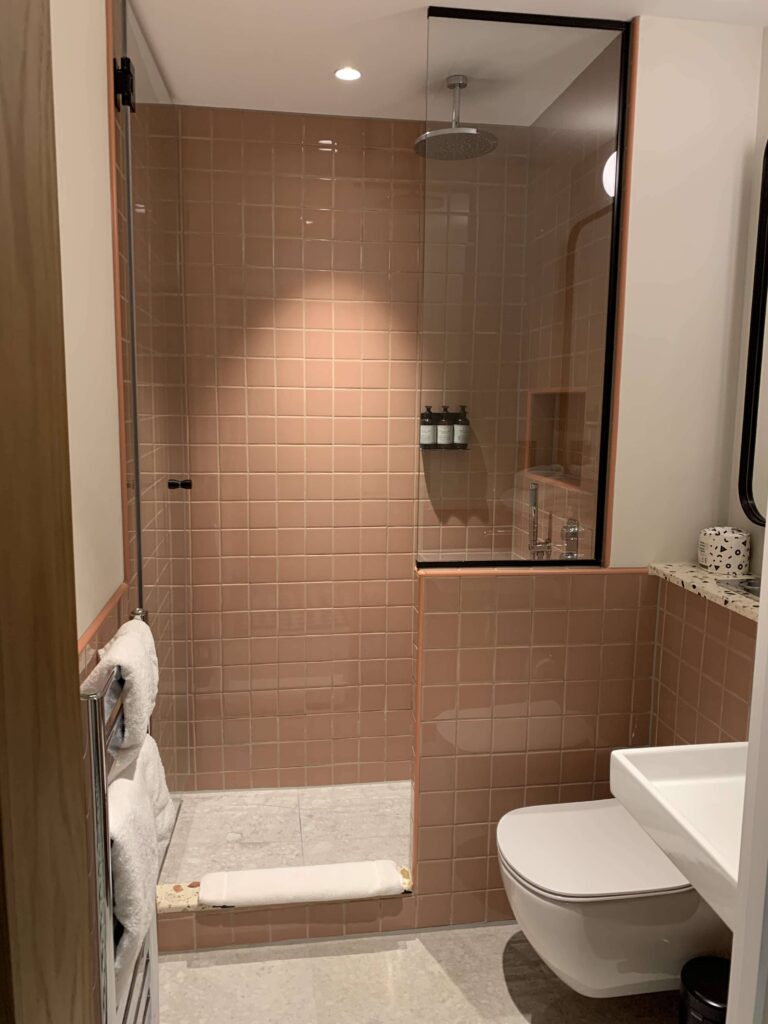 There was also a gym – albeit pretty small and fairly simple in what it offered. That said I did have a really comfortable stay, and despite the hotel being pretty fully booked, it was quiet and restful.
Food and area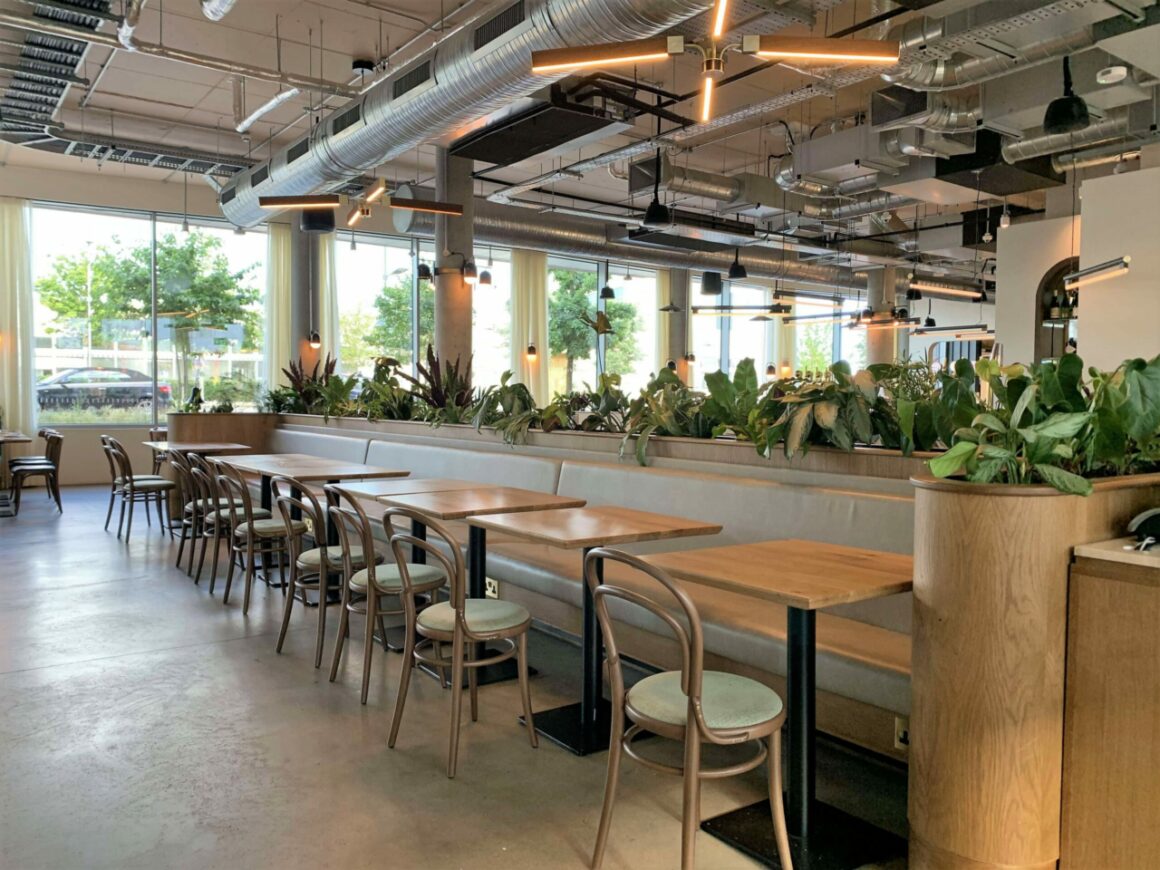 I had a very tasty burger in the main shared (more on this to follow) restaurant Kota, which was also where you go for breakfast.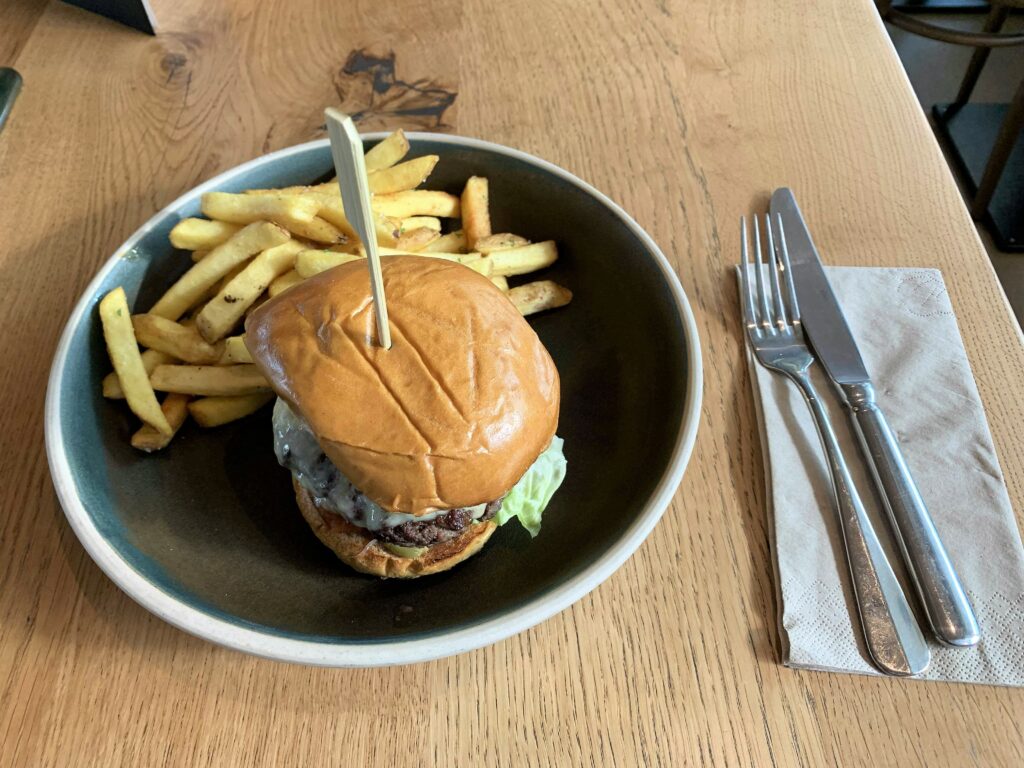 Unlike most hotels, breakfast was a la carte only, which actually was fine as it had a good range of options, and service was attentive and swift.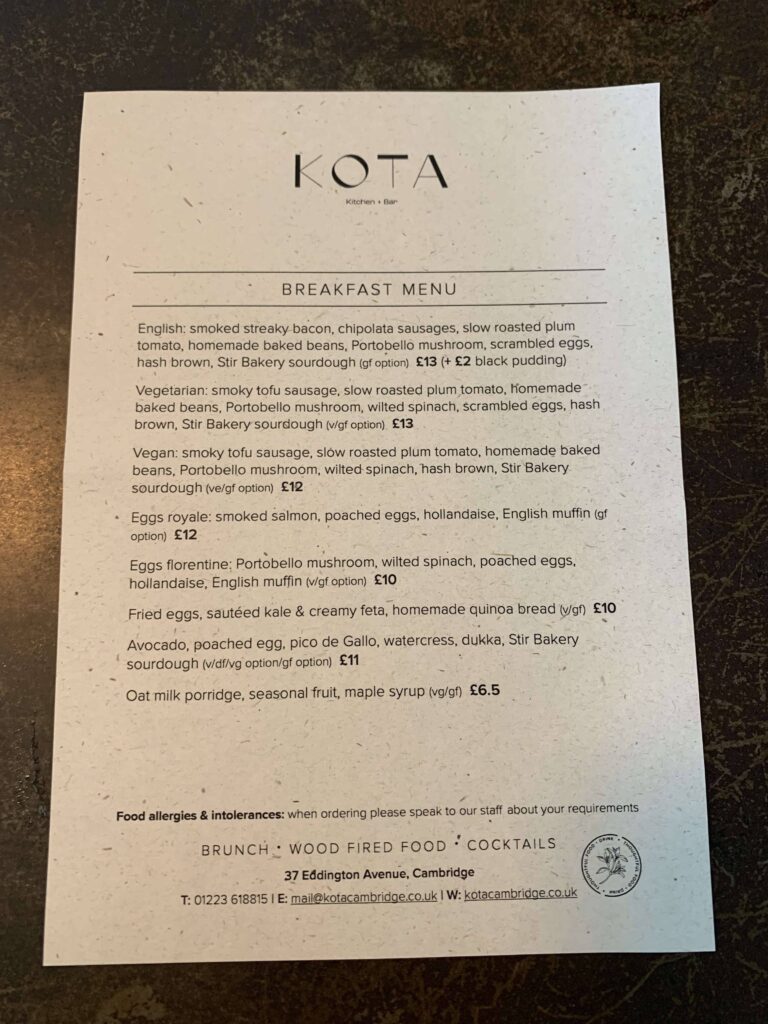 The coffee was very good – smooth and not too strong – and the English breakfast I had the next morning was excellent, with the scrambled eggs and beans both having a tang of flavour that stood them out from the crowd.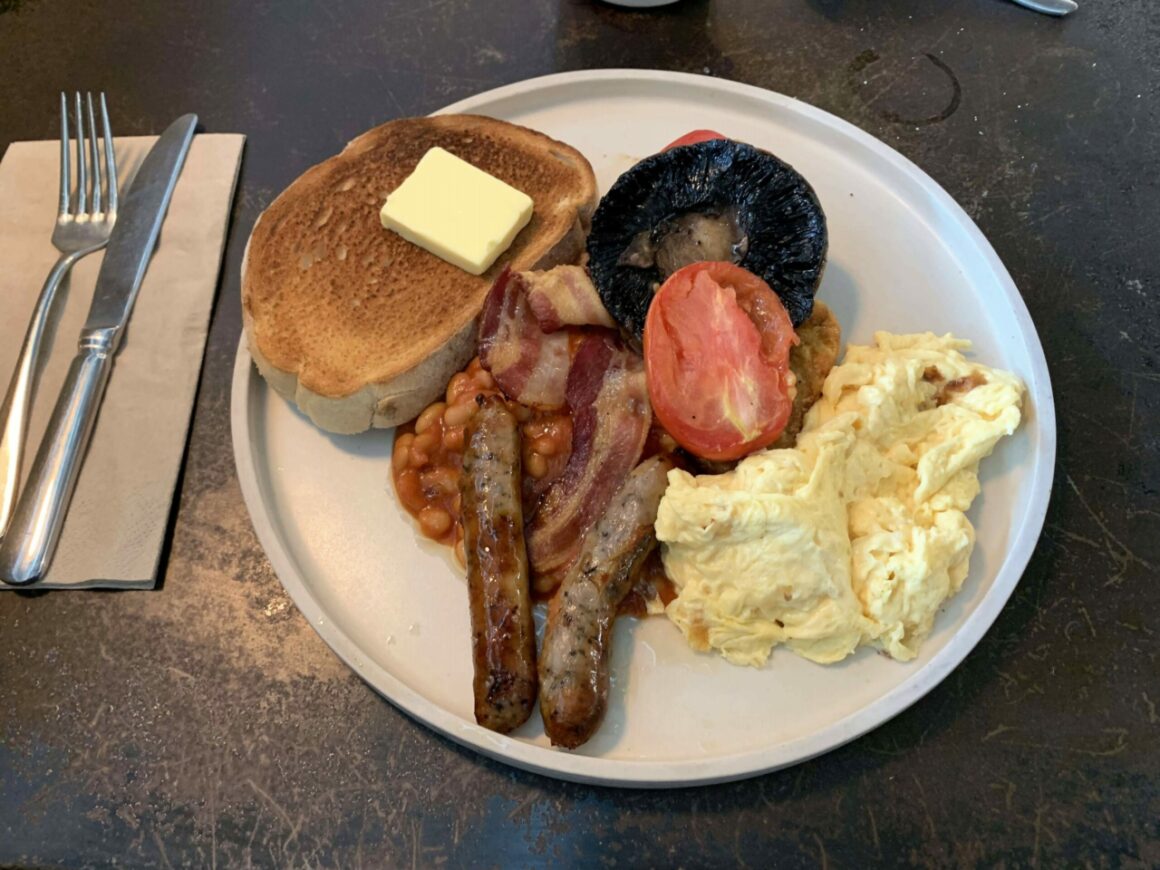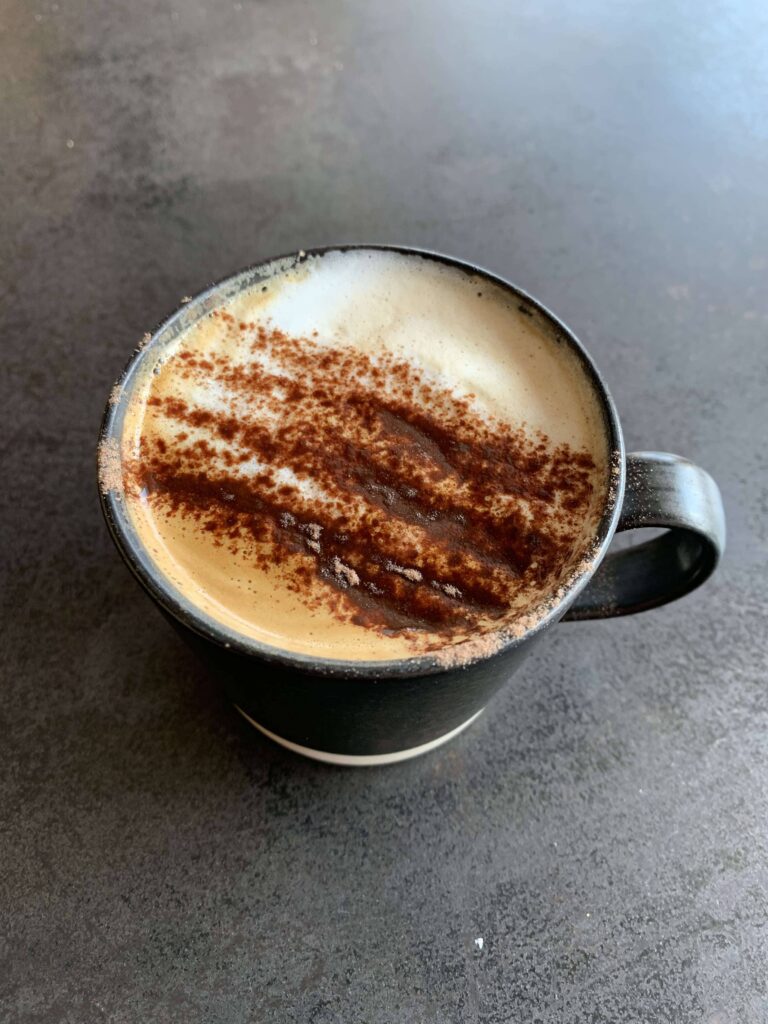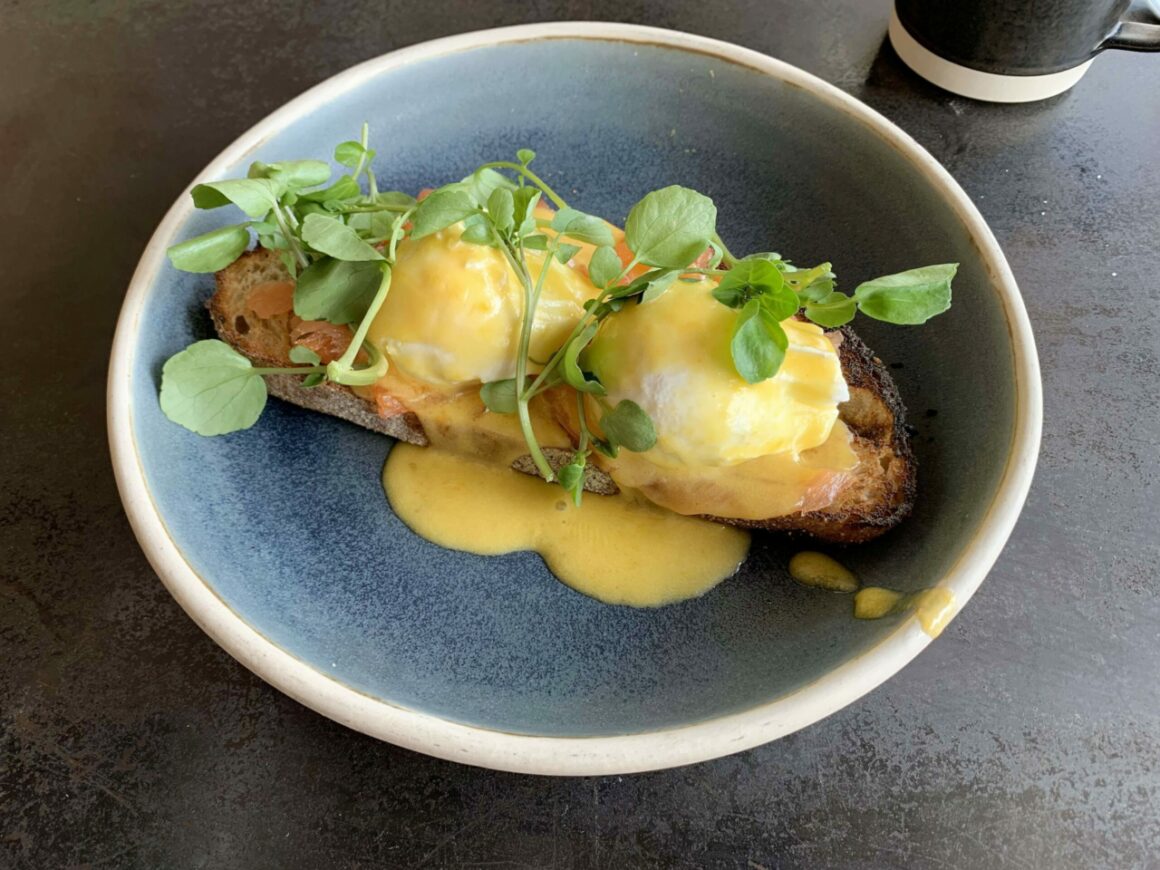 After a trip into Cambridge itself (a 10 minute drive or cycle, but there's also a Park & Ride plus walking routes) I was back to leave the Locke and try out my room in the Hyatt Centric. The main thing to mention here is that the Locke and Hyatt hotels operate as two separate sites, with two distinct entrances (and receptions), but they are all part of the same single rectangular building, which encloses the same shared courtyard area.
Hyatt Centric – Double the fun or double trouble?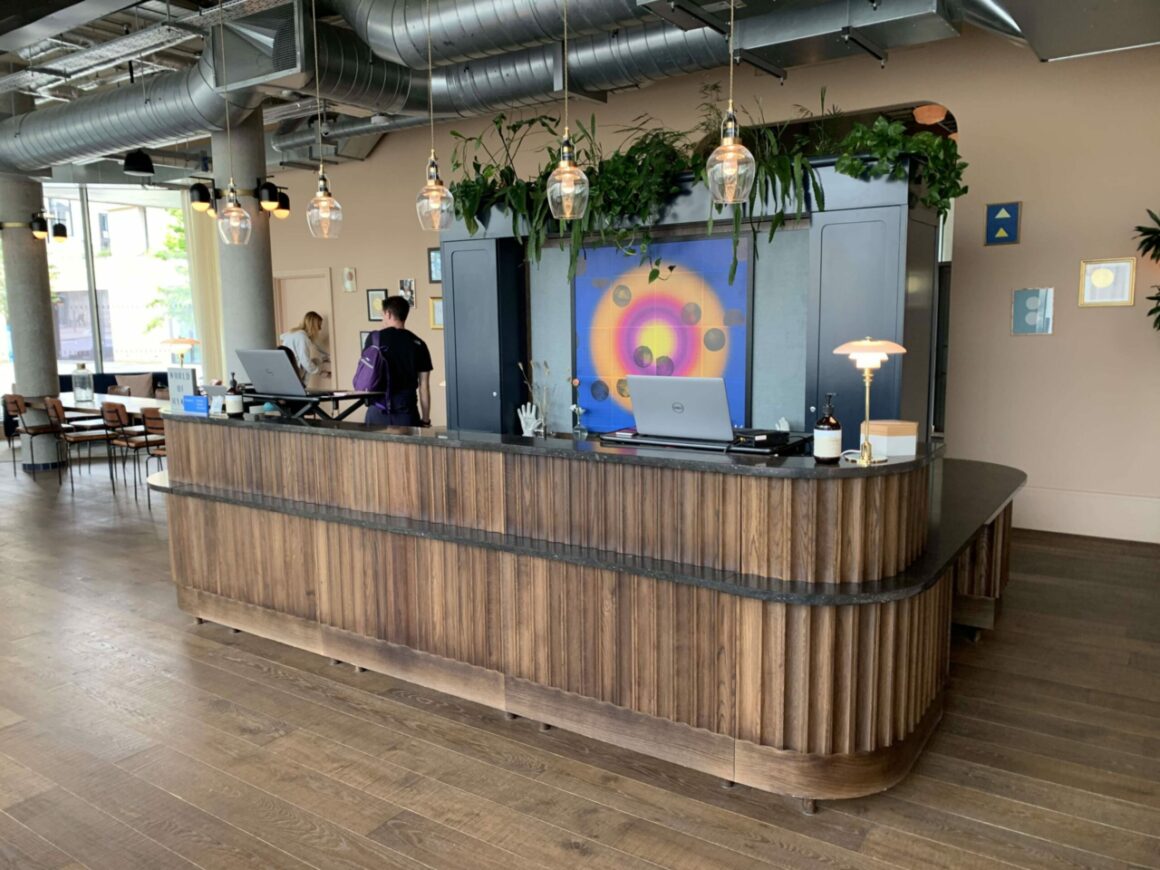 They embrace this architectural set-up in a wry way, as you can actually walk all the way from one site to the next through the upstairs corridors – with the colour of the carpets and doors showing where the Locke stops and the Hyatt starts (and vice versa). So as it happened, I was able to wheel my bag from one floor to another part of the same building and check in to a 'different' hotel. I enjoyed that little bit of novelty, but soon found my game face and formally checked in. The team here were just as pleasant and helpful, and I was quickly back upstairs, and settling into my room in the Hyatt part of the building.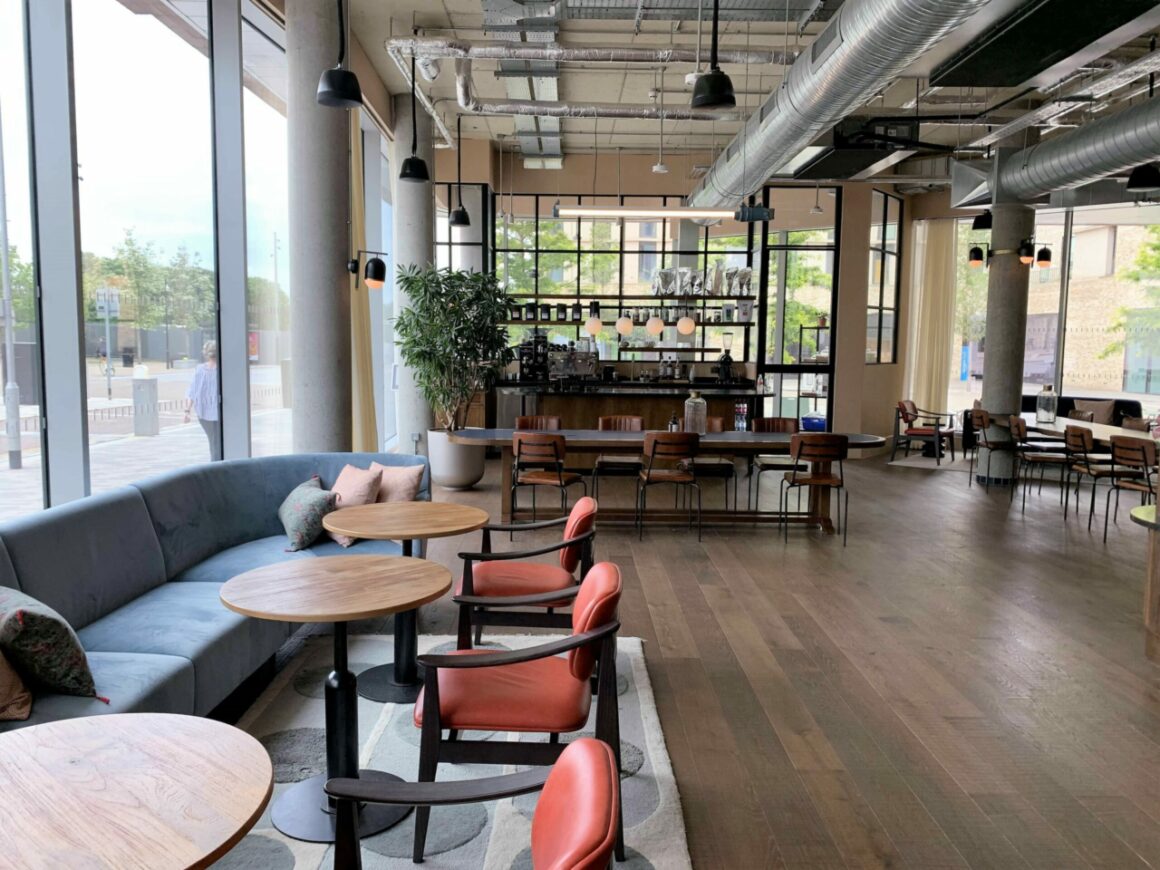 I had a Deluxe Courtyard View room (which costs from around £140 or 8,000 Hyatt Points), although there are also other categories of room available including Kings from around £108.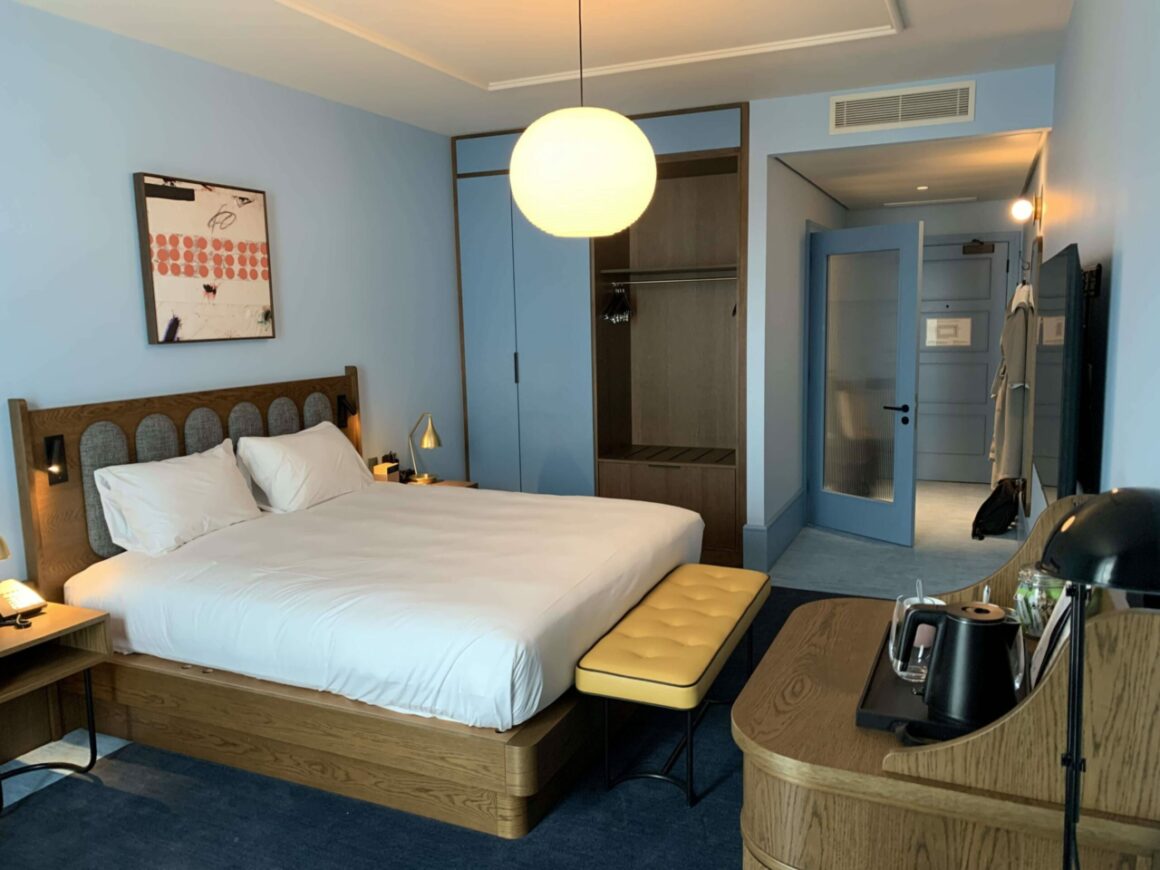 This did feel much more 'hotel-y' compared to the Locke studio apartment – for example, it was back to the land of robes, minibars and in-room – and it too was tastefully decorated and comfortable.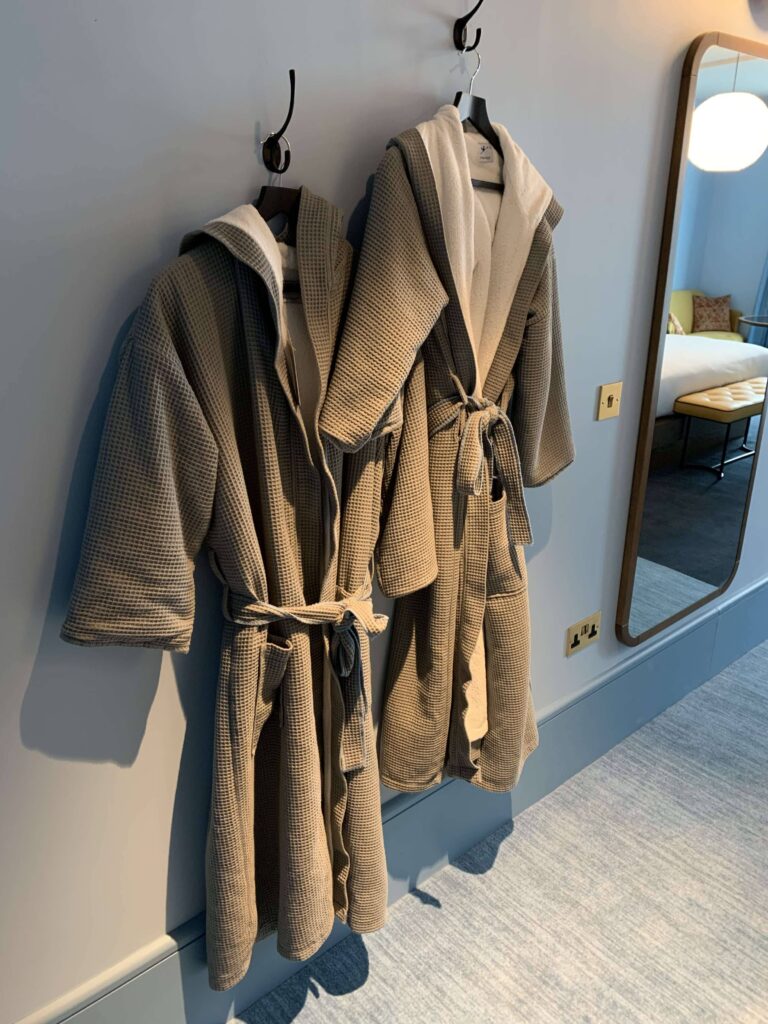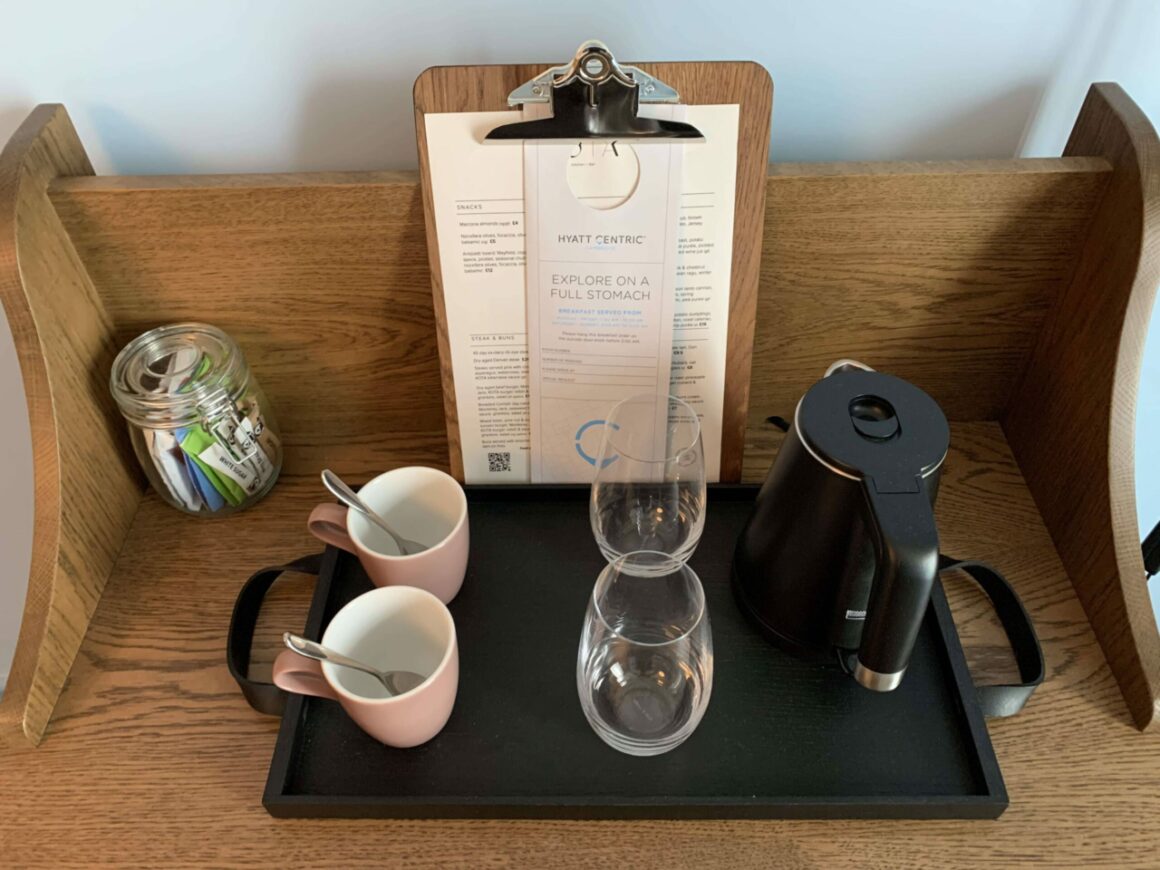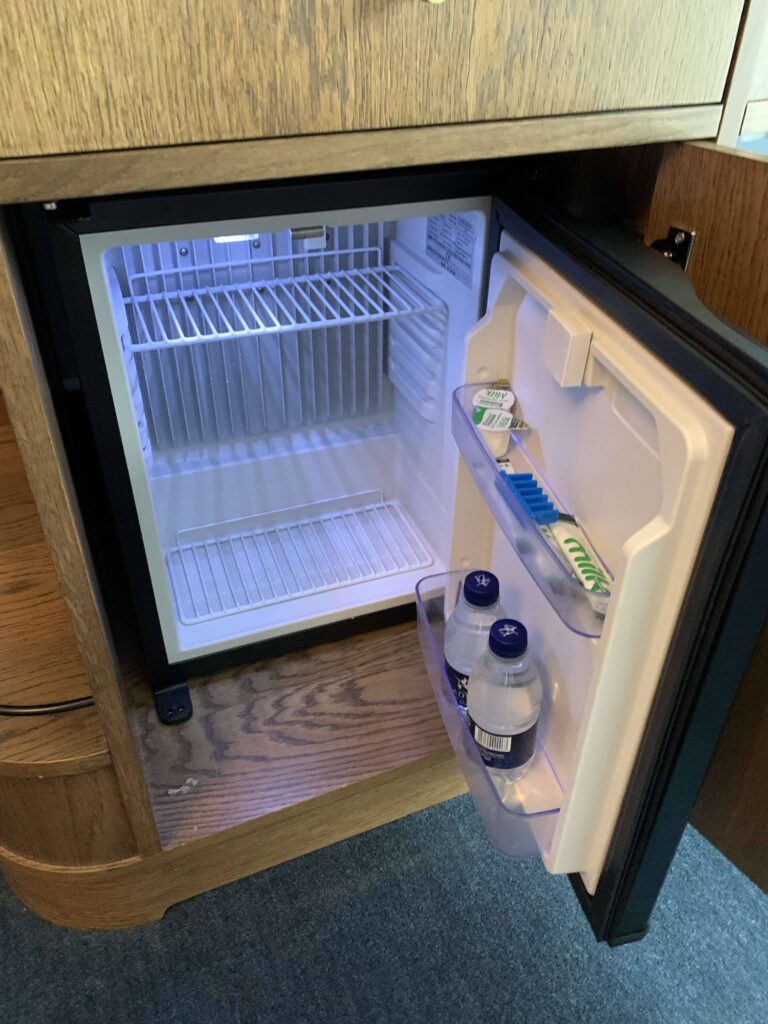 I did miss my Terrace that I'd been able to indulge in thanks to Locke, but it was another good stay.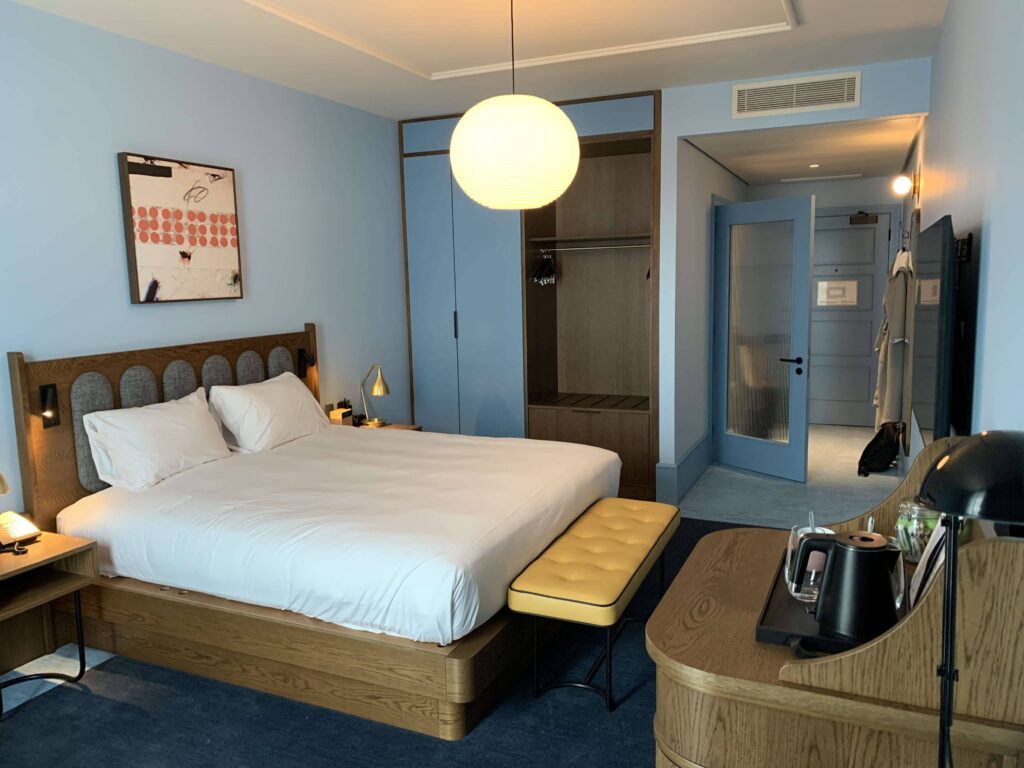 It's also worth noting that the Hyatt part boasted a rooftop terrace. It was a great big space, with loads of seating options, but it felt a bit exposed, and seemed to be unattended both times I popped up. It probably comes to its own for events, but I actually the preferred space for people to hang out in one of the different seating areas in the plant-lined courtyard area.
Final thoughts
Overall I really enjoyed both nights, and while initially, I was a little confused and even sceptical about the way the two hotels would complement one another, the execution is well done, and you can indeed have either a less guest 'cookie cutter' experience, or a regular hotel guest experience. The site makes the most of the fact it isn't right in the centre of Cambridge, by providing a sense of community within the atrium of the building, and of course, it shows how a more sustainable approach to hospitality can be casually woven in without too much drama. Oh, and Cambridge ain't that bad either…
Like our Cambridge – Turing Locke aparthotel and Hyatt Centric hotel reviews? You can read more hotel reviews here.