This is a review about flying in Swiss A220 business class. This is the second part of my review of my press trip with the Geneva Tourist Board. You can read about my outbound flight here.
Check-in
I was planning to travel hand baggage only again, so wanted to check-in online. It is worth noting that if you upgrade an economy fare with Swiss the original baggage conditions of your ticket remain, you don't then get an increased allowance which is rather odd.
I had a lot of issues trying to check-in online for Swiss A220 business class and trying different ways to do it. I think there may have been an IT issue at the time as an hour or so later I managed to do it with no issues.
I arrived at the airport around 1 hour 50 minutes before the flight. The standard security queue looked pretty long but not like some of the crazy queues we are seeing in the UK and Amsterdam. I had Fast Track which was definitely not very fast but the queue was not that long luckily. There was only one scanning desk and I suspect that they may have been switching staff as at one point the queue did not move at all for around 5 minutes. It probably took around 10 minutes to get through so it wasn't bad at all.
Swiss Business Lounge Geneva

Once you get through security you will see a sign for lounges on the mezzanine level. At this point, it doesn't mention Swiss business lounge, but in fact, all the lounges are together on the same floor. There are several lifts up to the lounges, so if you want to look at the shops, you will find more lifts and escalators as you wander around.
There are several Swiss lounges with the business class one being furthest away down a long corridor past the BA lounge.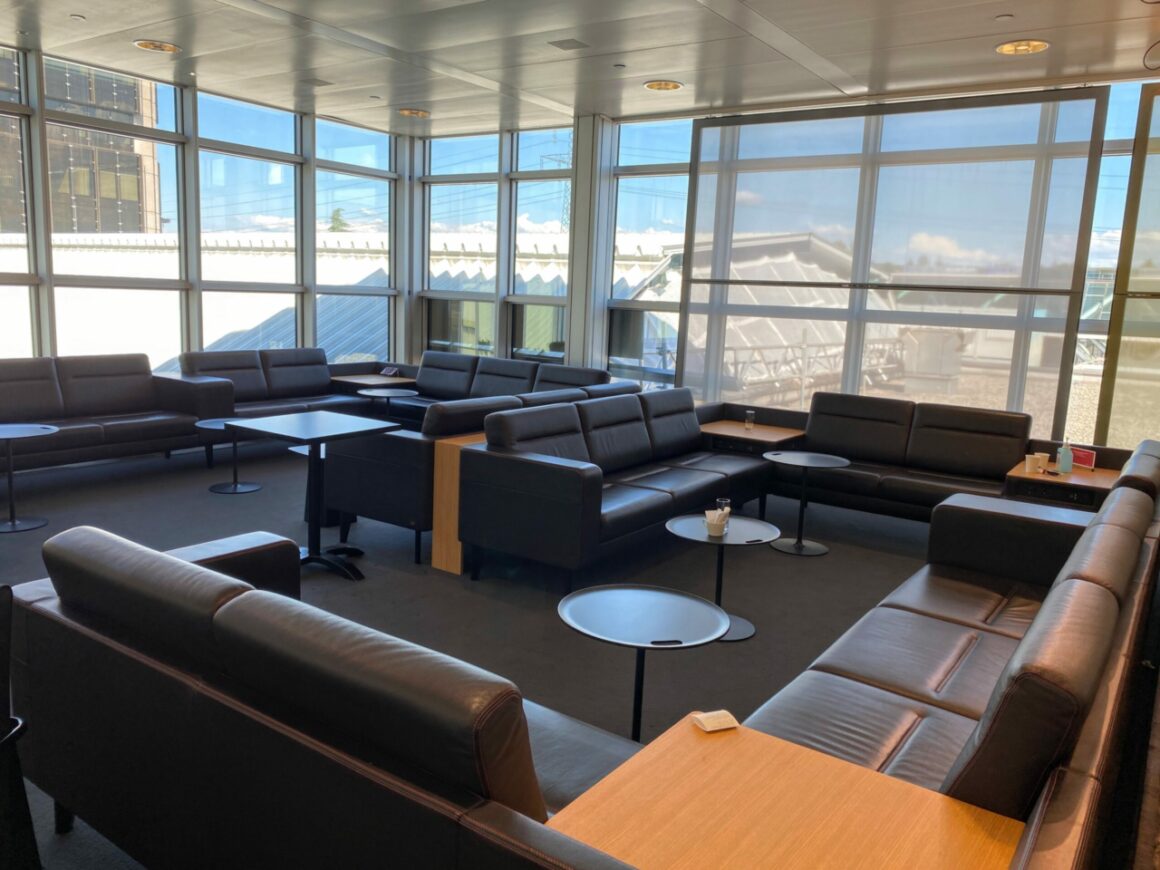 The lounge has the typical Swiss style that you see on board with the wood and dark brown finishes in a simple style. There was no view of the airfield which was sad.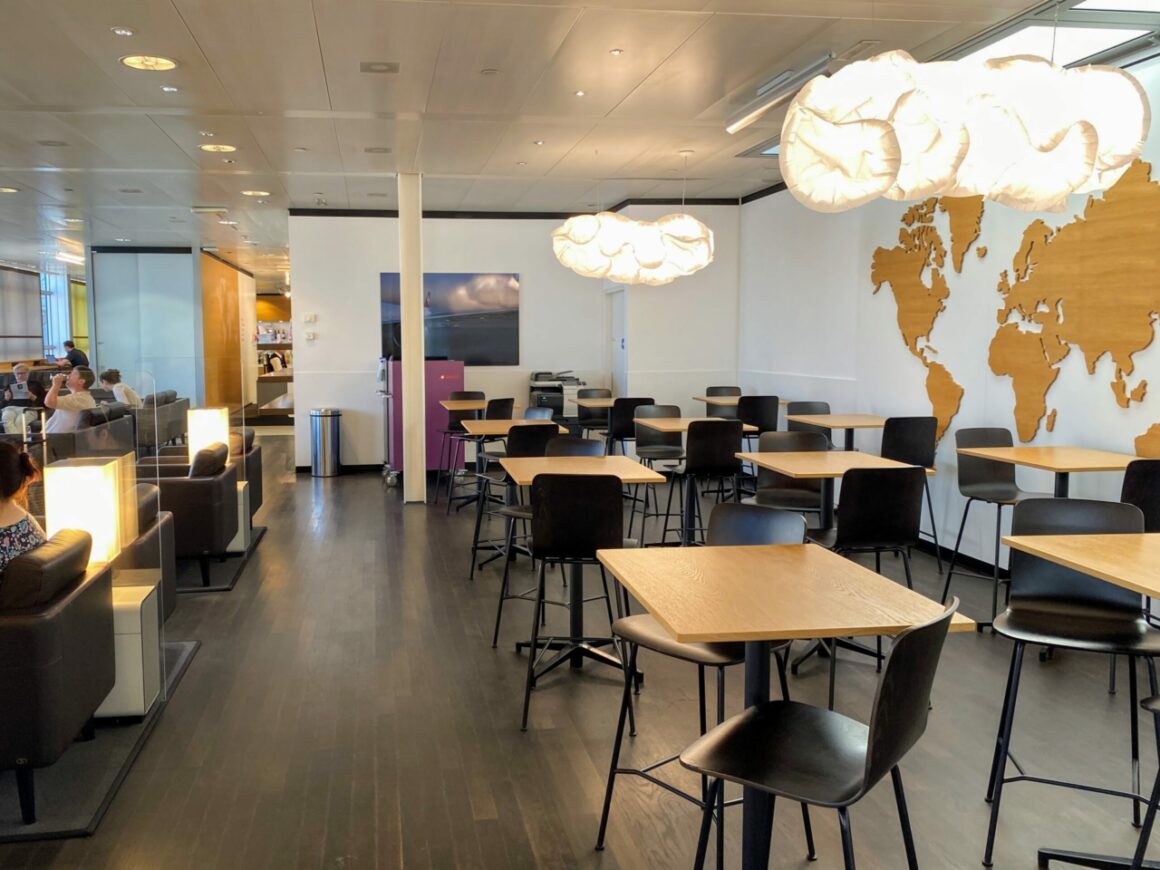 There were plenty of places to sit in the lounge with a busy dining area and then much quieter areas with comfortable seating further in.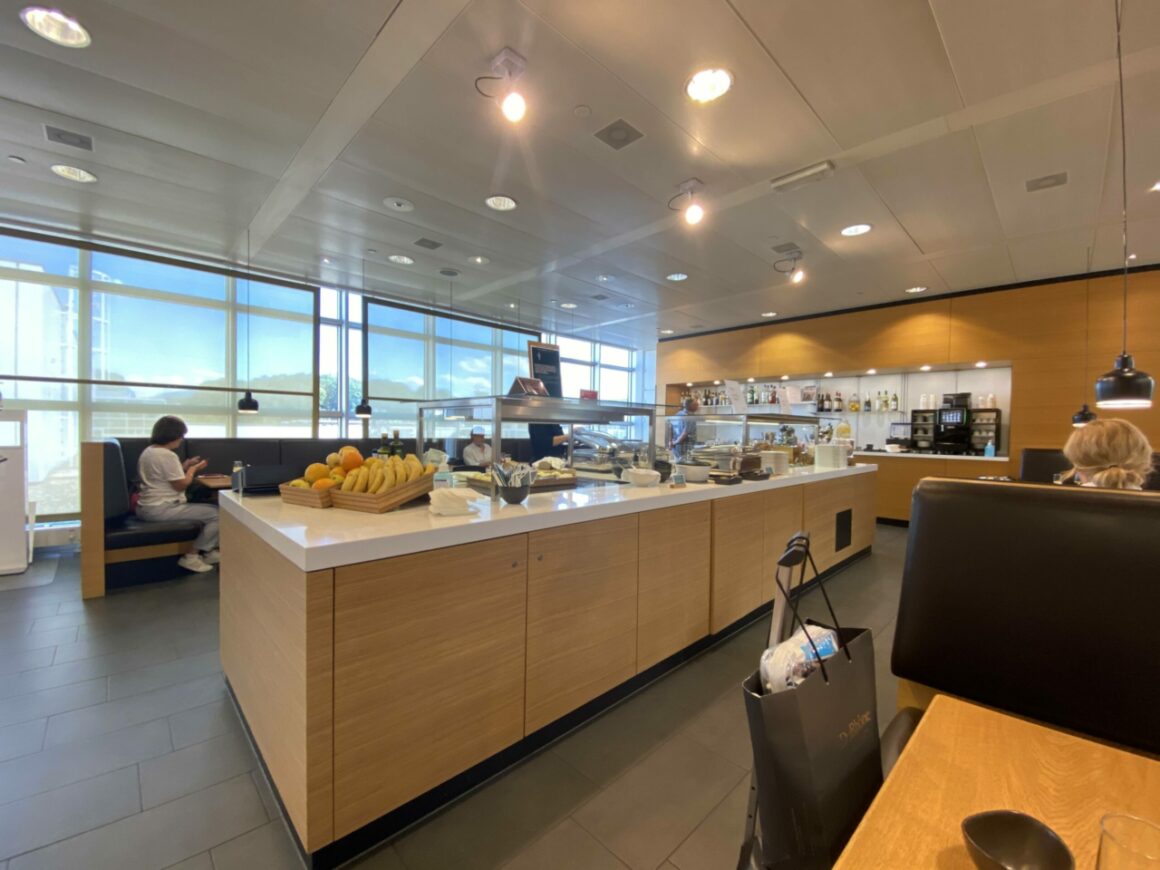 The food selection was pretty basic but there was a good selection of drinks.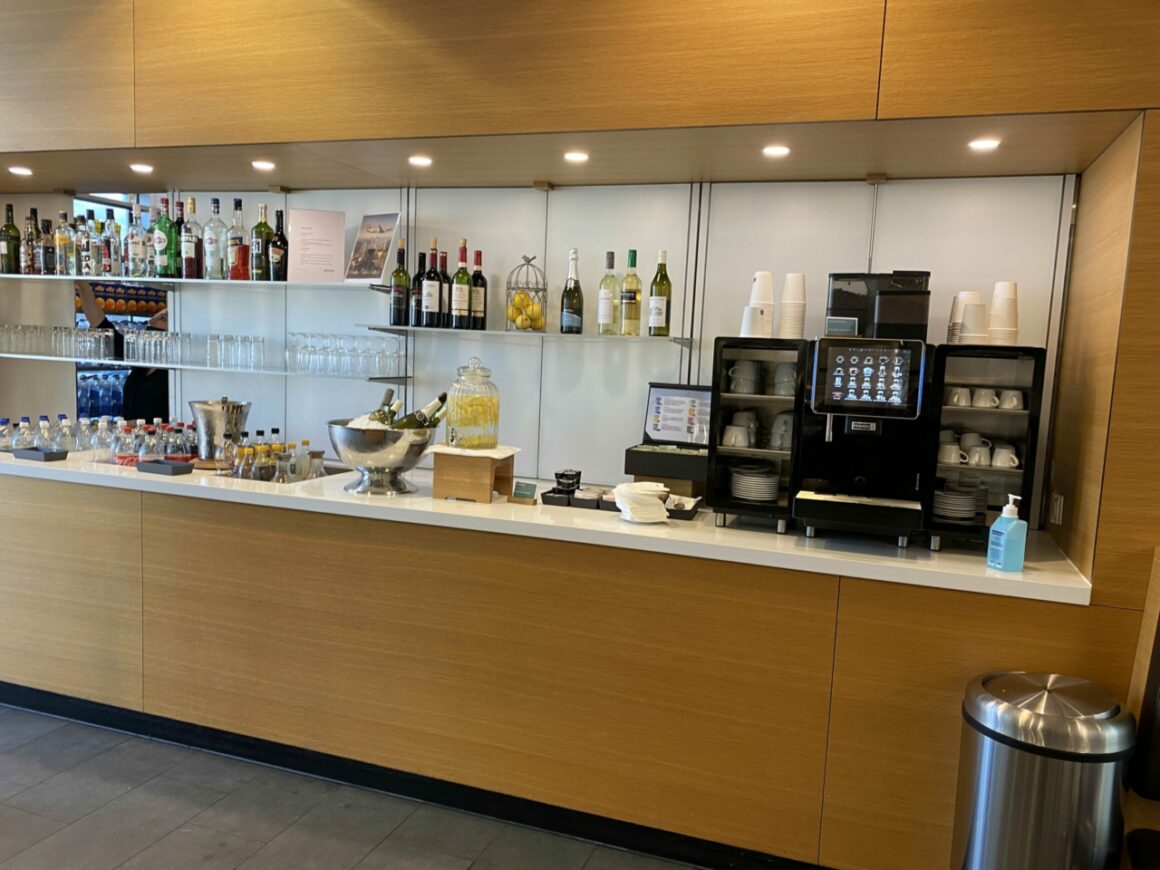 There was mainly cold food with a couple of salads, snacks such as pretzel mix, whole fruit plus a hot dish.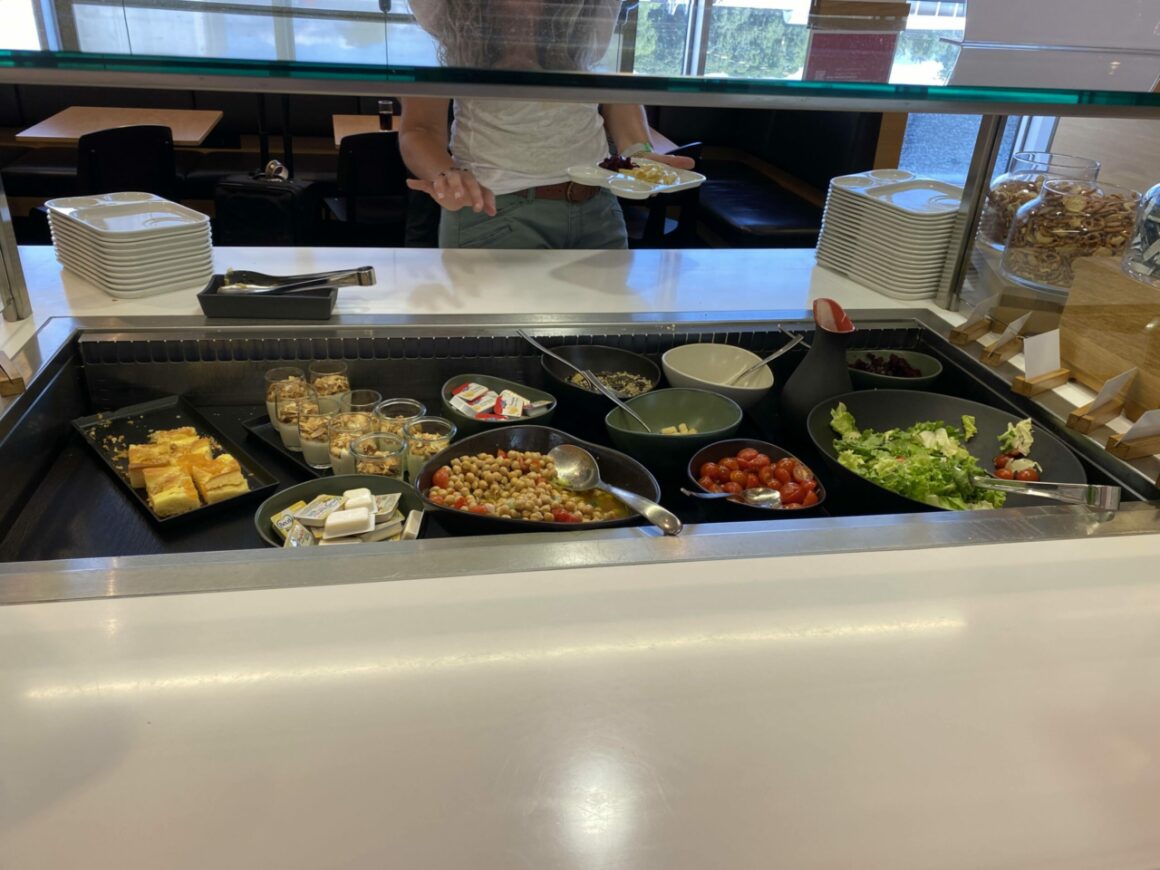 There was also a lot of bread if you needed to fill up!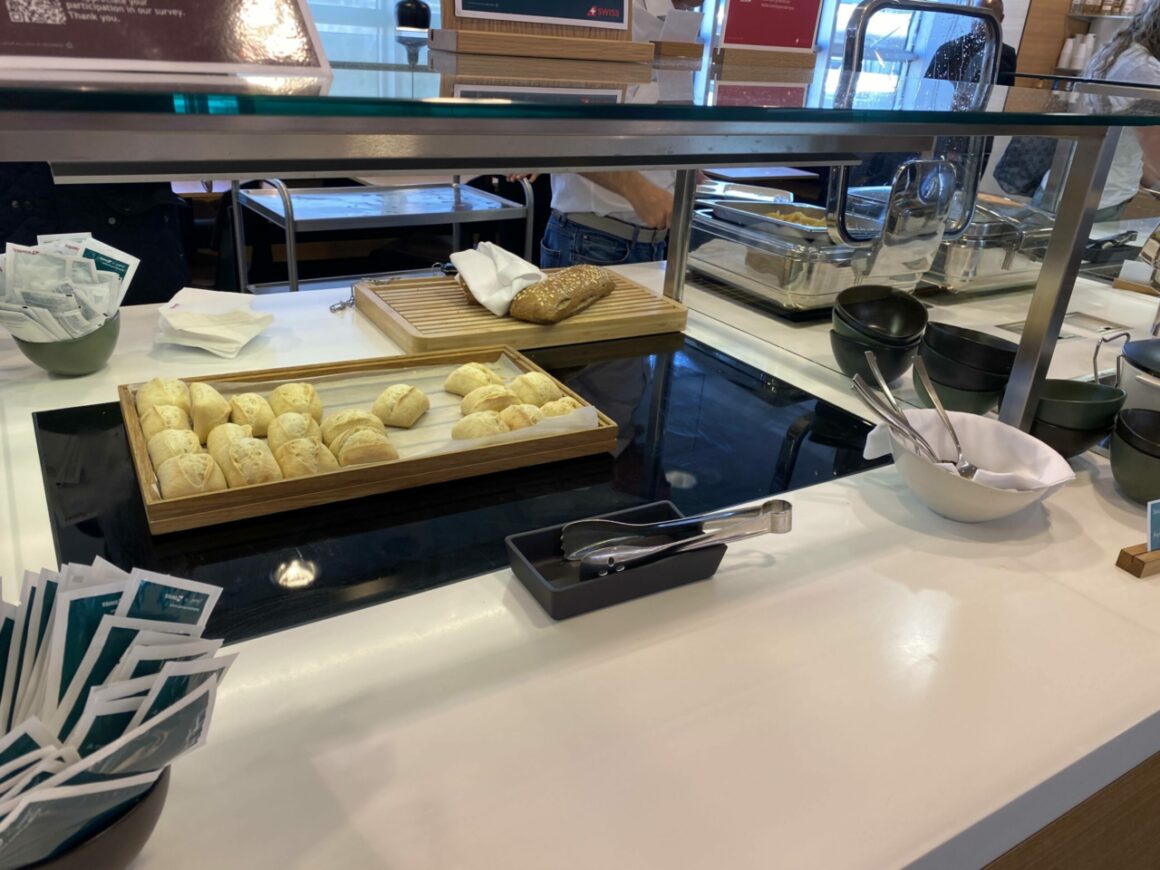 The wine selection included plenty of choice of white wines including local Swiss wine and a sparkling wine. I liked that they had some Limoncello on ice!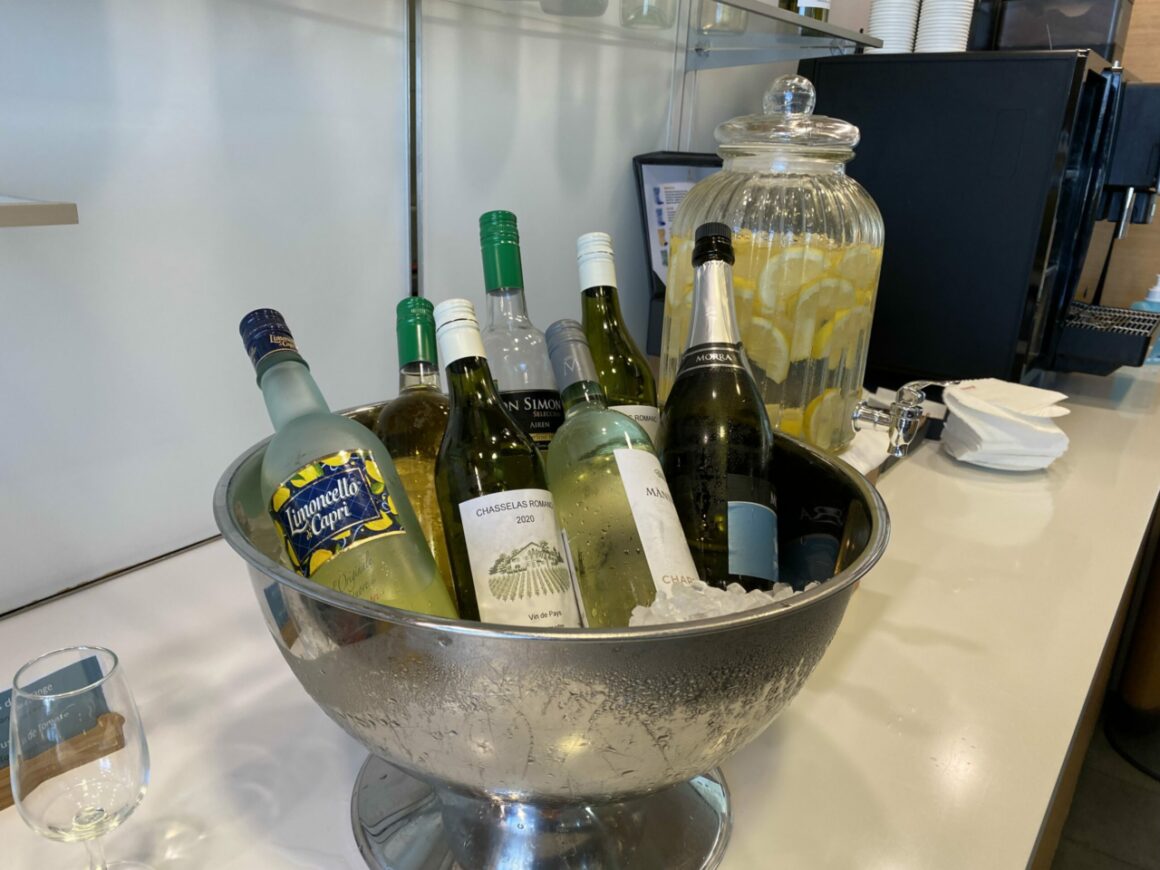 Soft drinks were in big bottles which you don't often see but I guess is more sustainable.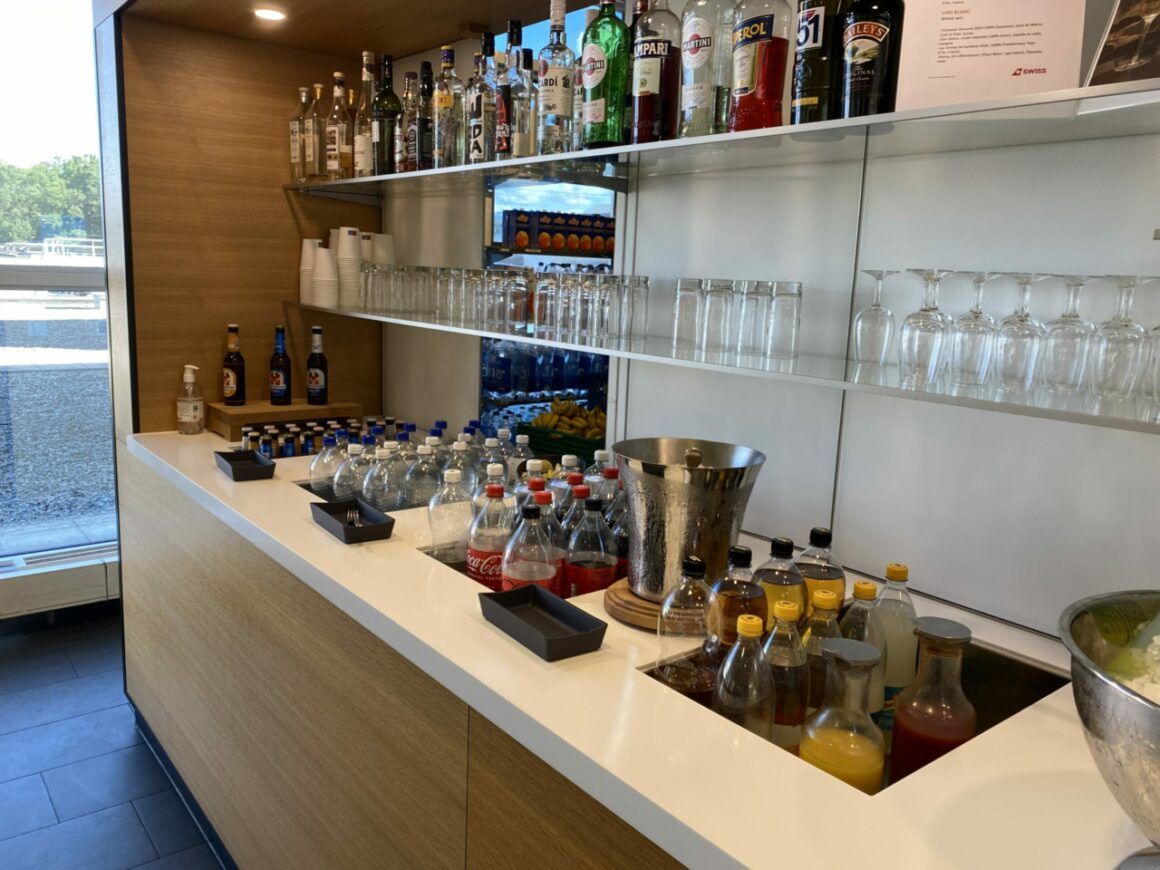 As well as the white wines, there were three red wines, three beers and a reasonably large selection of spirits.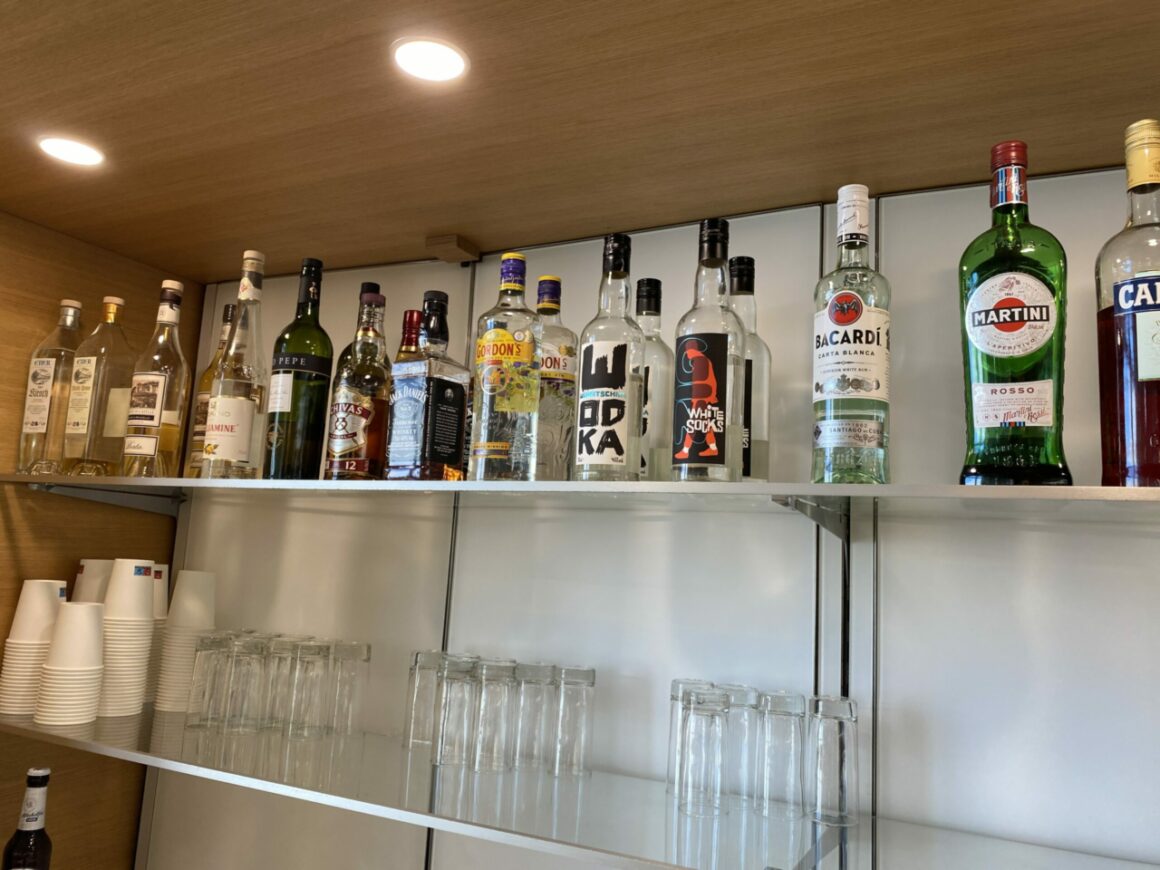 If you wanted to work there were quite a few power sockets by some seats or you could use the dedicated workbench.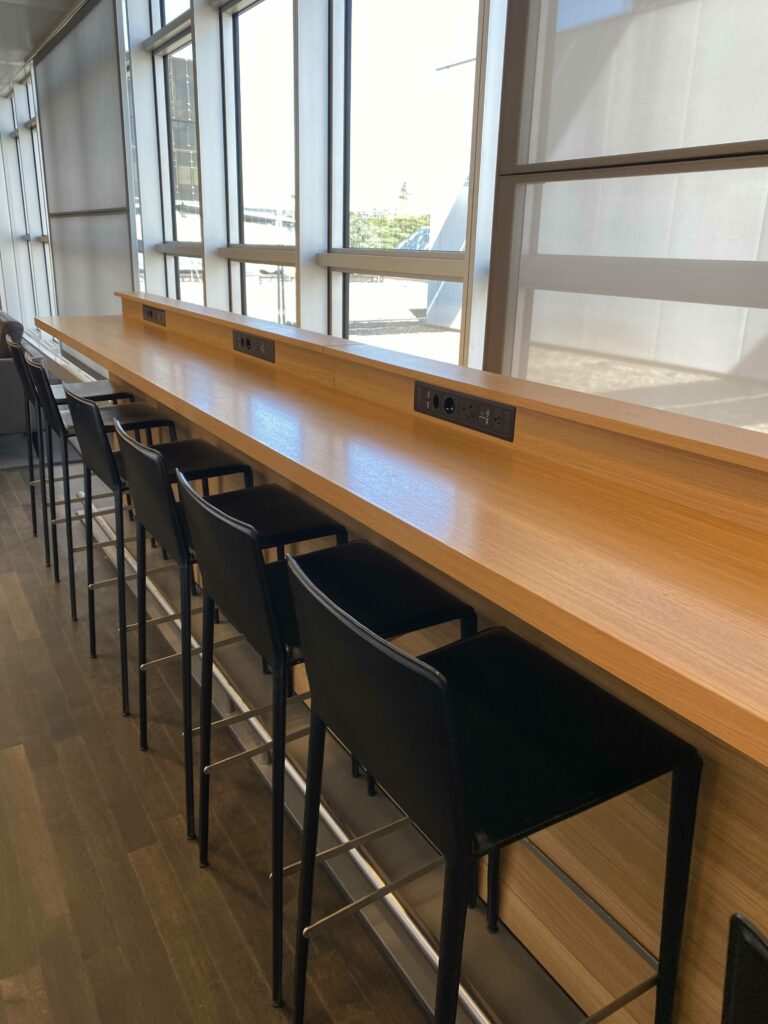 I headed to the gate and although boarding was slightly delayed, again it was pretty orderly in terms of groups (if not other things!), with me being in group 2 this time. There was a very strange system which I have never seen before. You had to hand your passport in to one person who then handed you a piece of paper that had a stamp on it that you then handed to the person that was literally stood next to them! Surely one person could do this? They also did not make it clear that you needed this bit of paper to board so people were all over the place trying to push through the queue to get to the stamping person first once they overheard them telling people to do it.
Then there was a rather annoying flight of steps to climb to get to the airbridge. Having watching one old man with a stick struggle up them, I do wonder why airports make things so difficult for people with mobility issues. Obviously, in a wheelchair you could get a high lift to the plane, but there did not seem to be any other alternative at the gate.
Seats and cabin
The seats were the same on the way out on the A220-300, but this time I was in business class. The seats for business class were in a 1-2 configuration with a seat blocked on each side. This has to be the nicest layout in European short-haul business class if you are seated on the A side as I was. I was in 5C but sat in the A seat for the window views. On the A side the blocked seat alternates between A and C and on the other side the middle seat is blocked.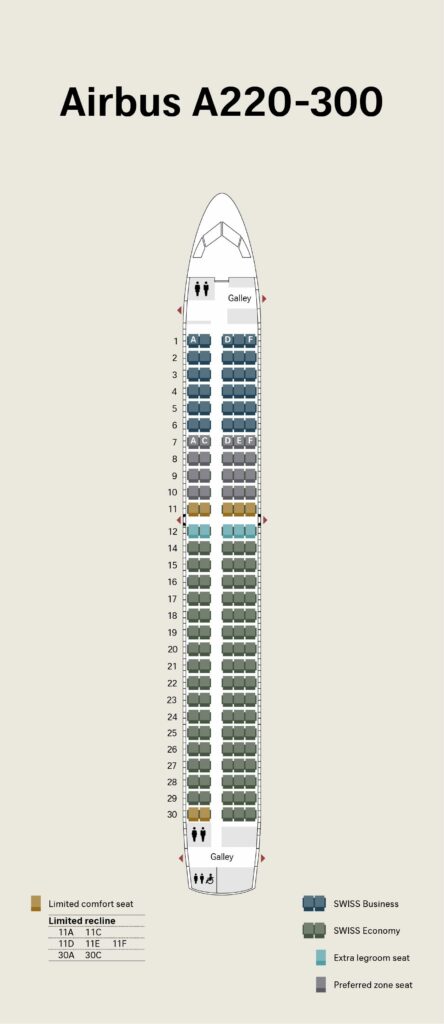 At the seat was a bottle of water and a hygienic wipe.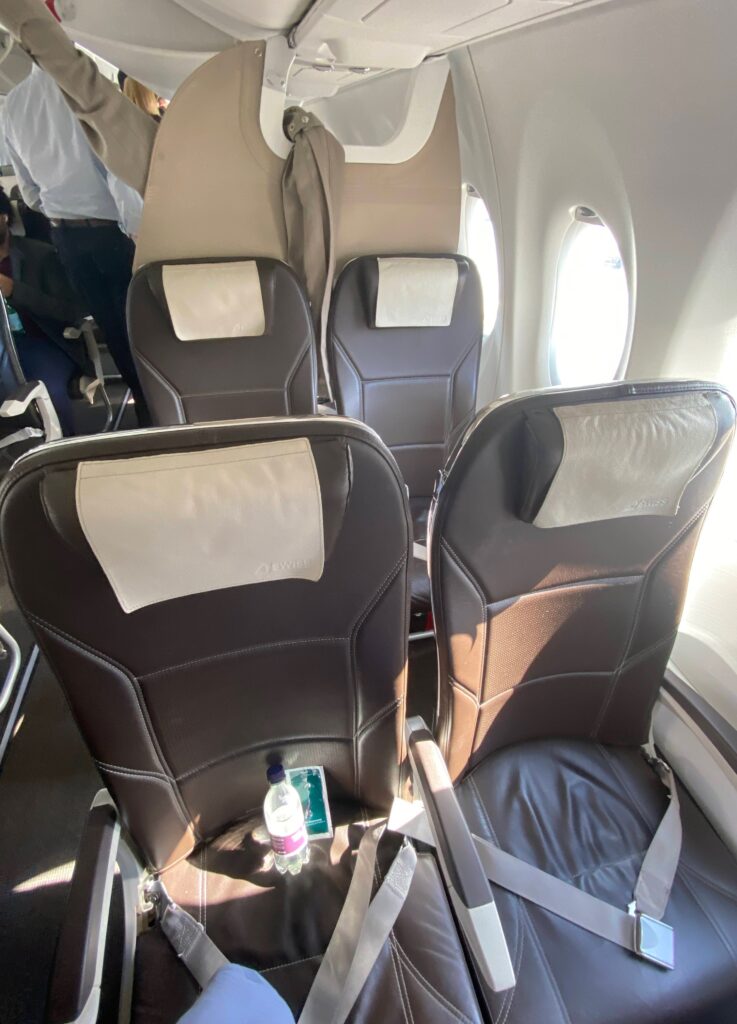 Again the seat was very comfortable, especially when you have the row to yourself! It felt like there was more legroom than economy even though both classes say 30-32″ seta pitch, I'd say this was definitely 32″ and it felt very spacious.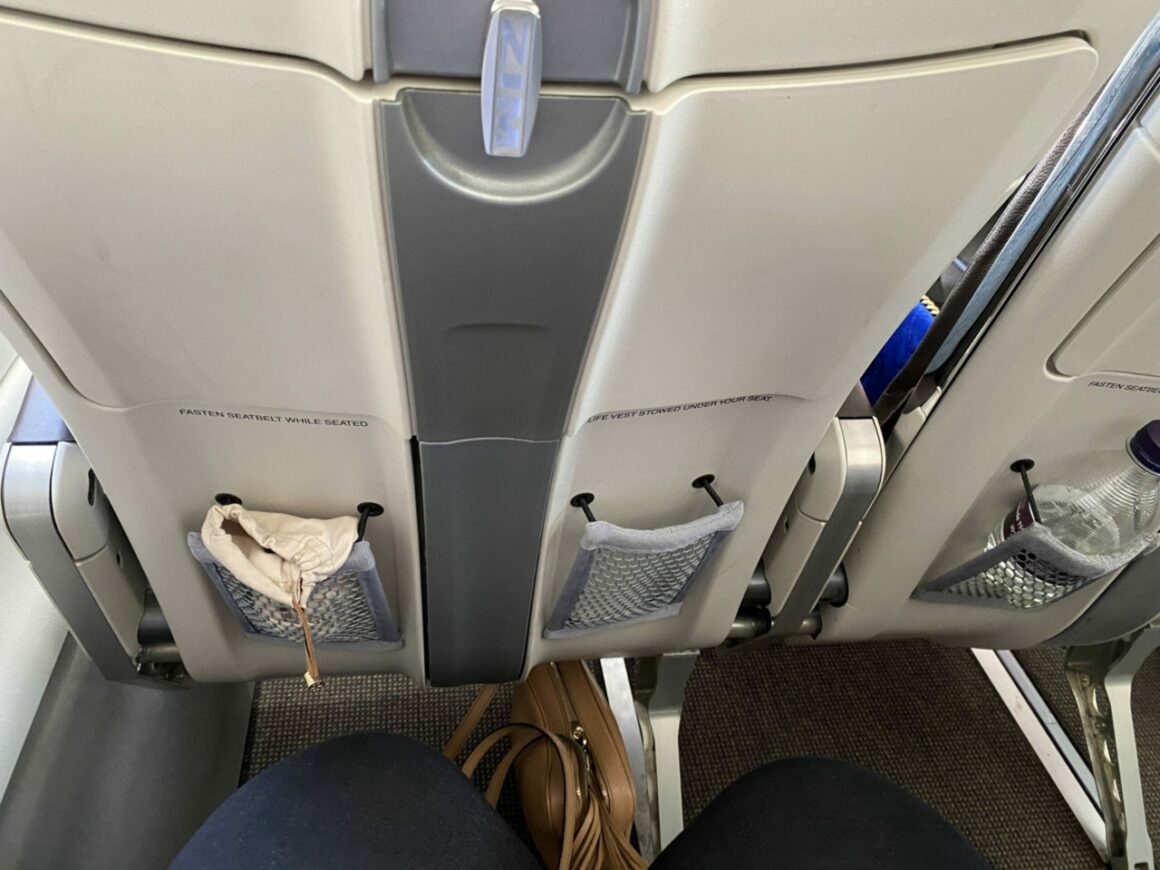 There was still no Wi-Fi or seat charging and the two small seat back nets for your belonging.

The service
Shortly after take-off a single cabin crew member served the six rows with a drink of your choice and the meal. I tried the white wine but there was also Duval Leroy champagne available. The wine was a bit warm!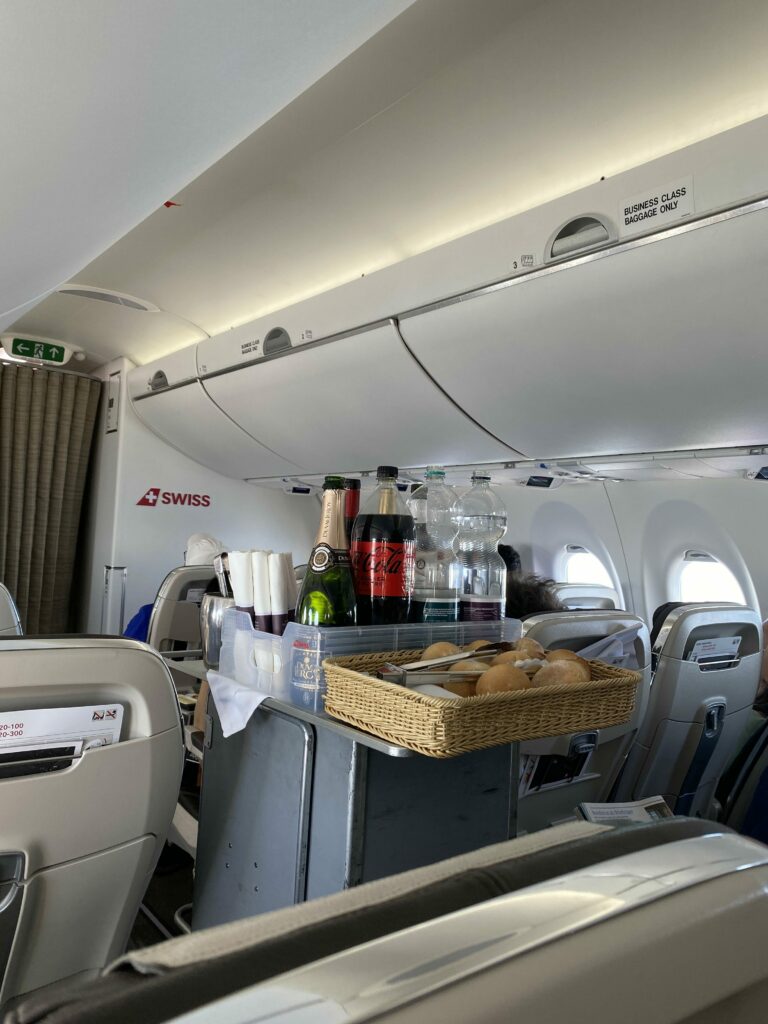 I've been reliably informed that the Turicum Gin from Zurich is the thing to have!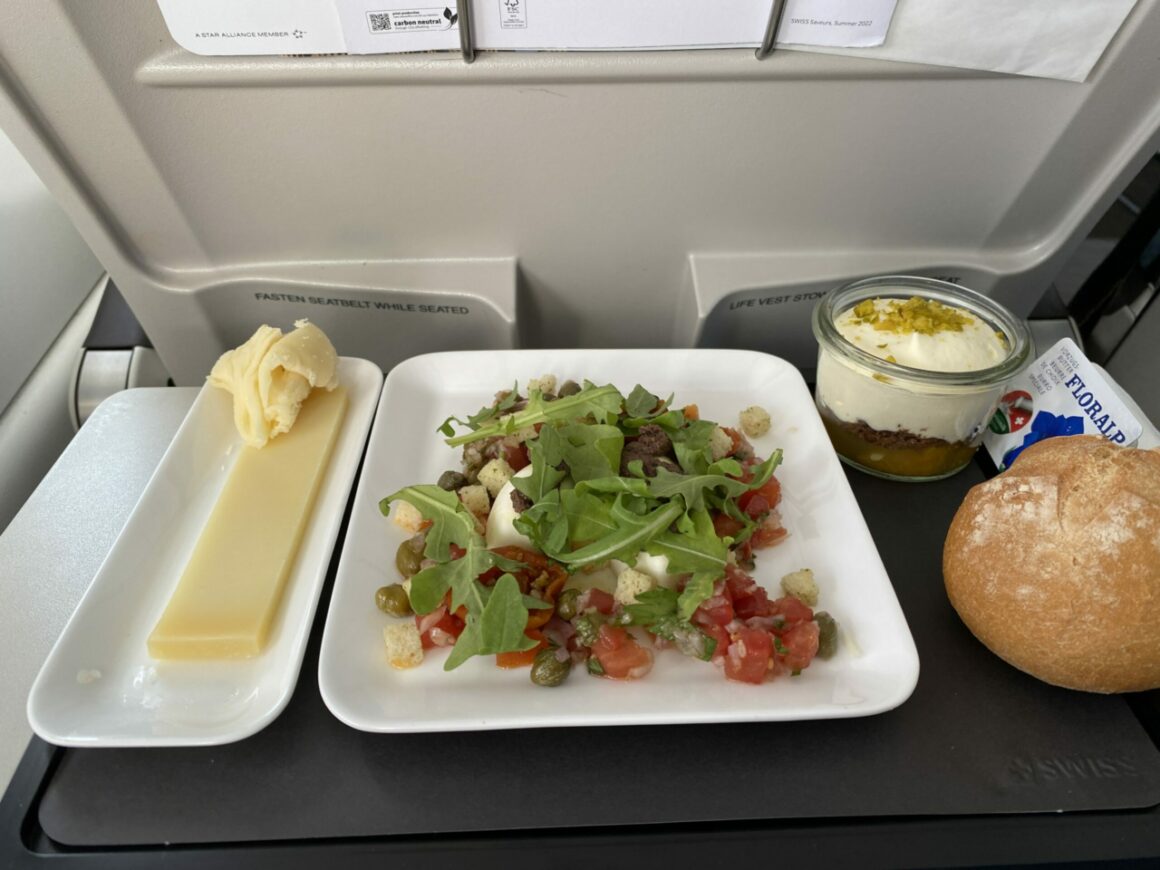 It's a fairly short flight at around 90 minutes so we were served a single tray cold meal with no choice. I was also offered a lovely crusty bread roll (best airline roll for a while). I'd say BA are definitely better in terms of short haul catering giving you more choice and hot selections. I thought the food was tasty and high quality but it could be quite divisive. The salad contained tapenade and capers which can be very hit and miss in terms of people liking them. I enjoyed it, and one of the cheeses that looked shaved was particularly tasty.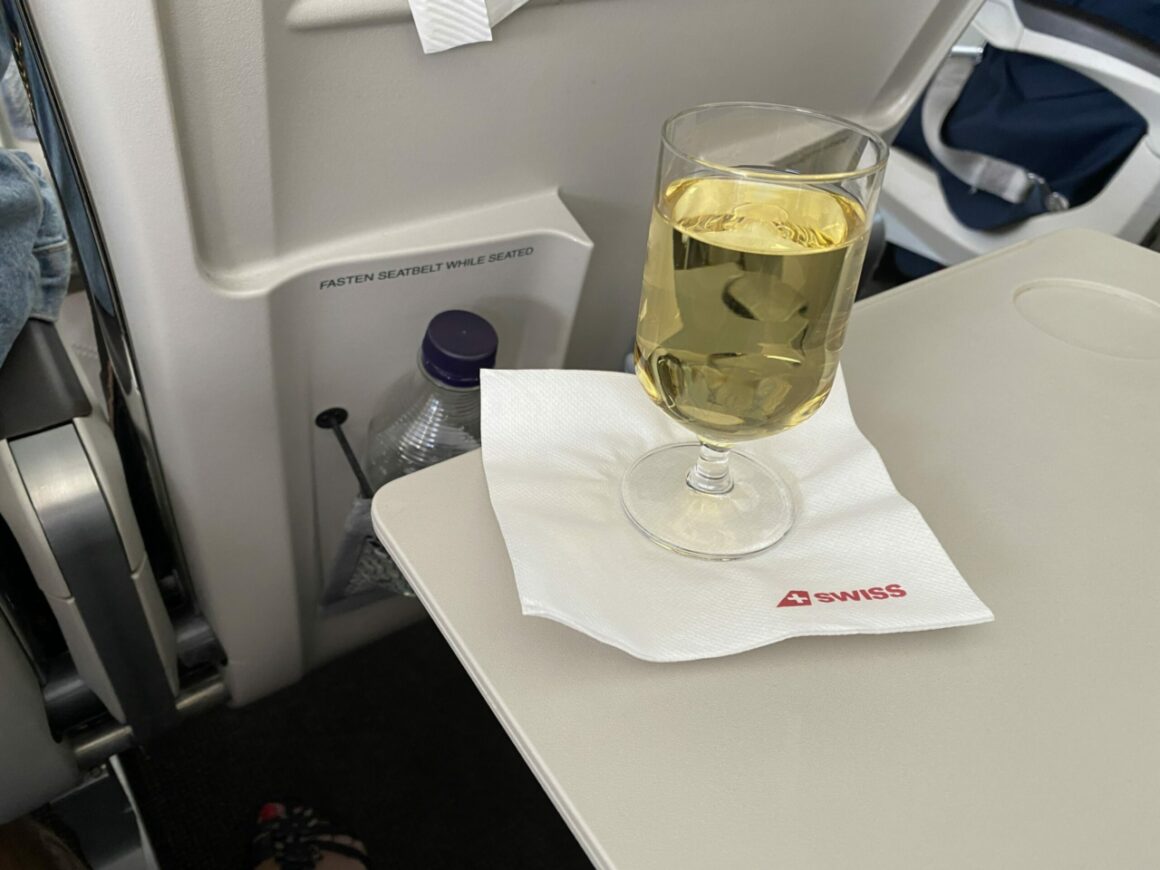 The dessert was also very tasty, almost a bit like a trifle without jelly or cheesecake with fruit at the bottom and it was nicely presented.
Afterwards, they came round with tea and coffee which was served in a proper cup with cream for your coffee. Full marks on this!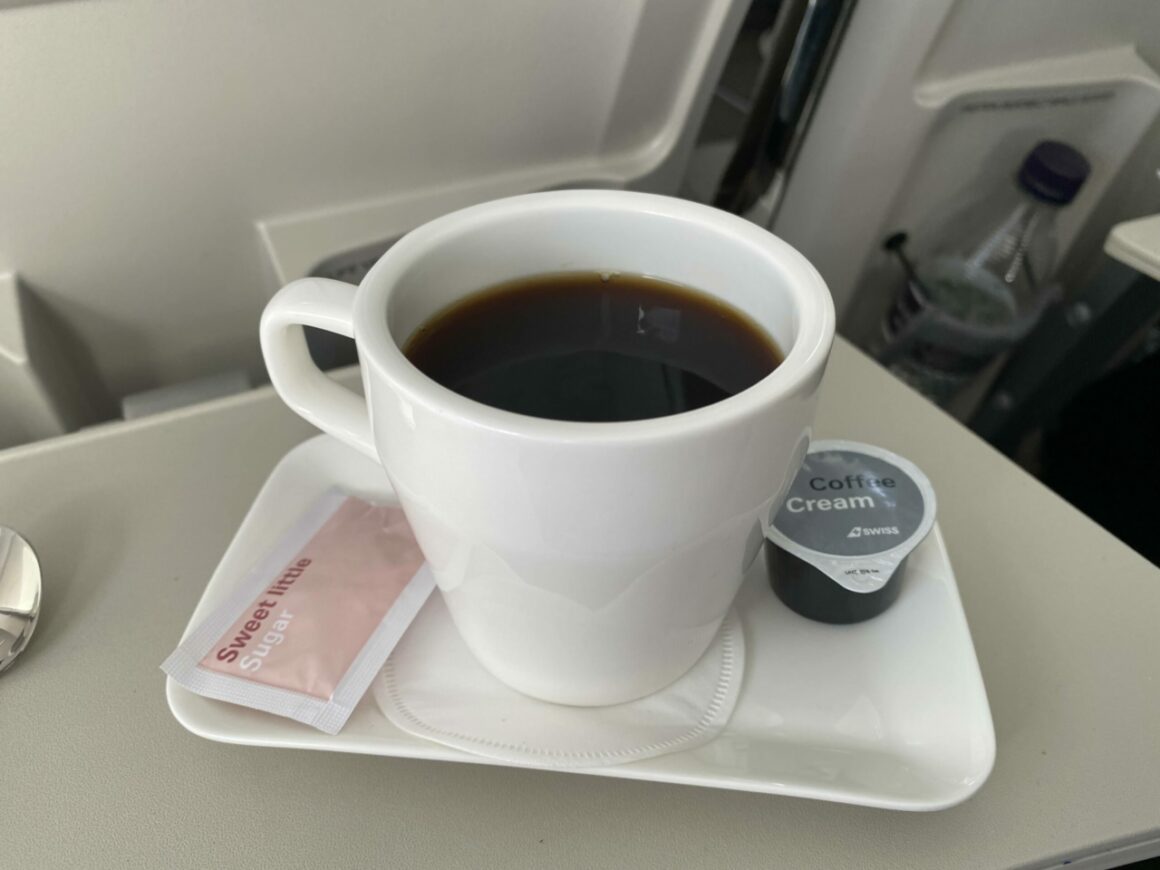 Finally, just before landing, we were handed the customary Swiss chocolate – I do like airlines that have a little touch like that which makes you remember them!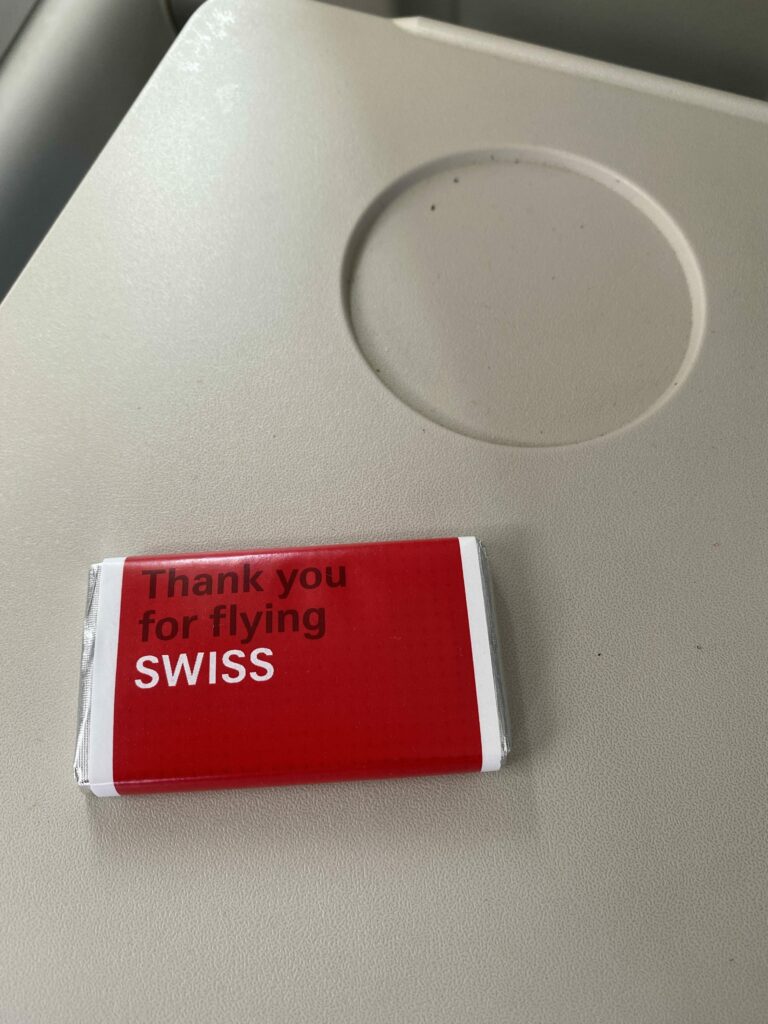 We arrived pretty much on time which made a very pleasant change from all the delays I have experienced recently! Once at Heathrow there was no queue for the e-gates. I liked the baggage hall layout much better than T5 at T2 as you walk straight down the middle to get out rather than walking miles to the end if you have no luggage.
How to upgrade
Other than using miles to upgrade, there were two other options. You can bid for an upgrade where you choose how much you are willing to pay and see if it is accepted. I tried that on the outbound but I was not successful as it was full. You can also just do a straight upgrade which is what I did on the way back which cost around £70 which I don't think was too bad. I can't believe I am saying this, but other than Fast Track, I'm not sure if I would bother to upgrade again if I can pick a seat on the a side on an A220 as it's a very comfortable way to fly even in economy.
Pricing
If you fancy booking business class outright, there are some surprisingly low prices available for Swiss business class to Geneva over the summer months starting at £255 for a weekend break. You can check prices and book here.
Conclusion
While the food and lounge was not overly exciting, in the current climate of delays and cancellations, Swiss A220 business class is performing very well. It doesn't even feature in the top 20 European airlines for cancellations this summer. I found them efficient, reliable and the overall offering was good. It was a pleasure to fly on with their new A220. I'd say other than airlines using a long haul aircraft for short haul, the A220 has to be my favourite European short-haul seat and I would definitely consider Swiss again.
Like our Swiss A220 business class review? You can read more flight reviews here.