A review about Swiss A220 economy and how I pimped it up for lounge access & fast track. I have just returned from a press trip with Geneva Tourist board, where my flights and accommodation were covered by the Geneva Tourist Board. As I have often explained, I turn down many free trips as I will only accept those that I know will be a good experience, and with the understanding I will be honest about my experience.
I was booked on an economy hand baggage only ticket (it's not all glamour!), but on the way back I upgraded myself to business class for the review. I will write about that experience later.
I first went to Geneva last year even though my family is actually from Geneva on one side! I fell in love with the relaxed feel, sophicated dining and relative peacefulness of the beautiful city, so was delighted to go back. With high prices and delays, it is understandable that many people are unsure whether to travel abroad at the moment. But with only a short delay outbound and no delay coming back, I would definitely recommend using airlines such as Swiss that are not experiencing such a big issue with lack of staff this summer. Geneva itself was hot and sunny but did not feel at all crowded. Everything was working well and lack of staff did not seem to be an issue in my experiences.
There's lots to do from museums to vineyards and watersports to spas as well as a lively bar and dining scene. I'll be writing about everything I experienced soon, but for the first installment I will look at my flight out and getting to Geneva.
Check-in and Swiss entry requirements
There are no Covid entry requirements for Switzerland, so I was able to check-in online and get my boarding pass in advance. Swiss have a rather meagre hand luggage allowance – 8kg! That's for the main piece of luggage though which is the usual wheelie case size. Plus, you can have a personal item such as a laptop bag, backpack or handbag. 8kg is too small for most people not checking luggage. I have had several carry-ons that weigh 4kg and a laptop is at least 1kg. You'd be lucky to get one change of clothes in and basic toiletries with that! However with a backpack with your heaviest items in you should be OK.
Fortunately, my luggage was not weighed in either direction as I may *cough* have been "slightly" over. Apparently, most airports do not weigh hand luggage at the gate. I did not want to check luggage given the issues many airlines had been facing, and I was on a tight schedule once I arrived as well, as otherwise I could have paid to check a bag.
Heathrow Terminal 2 experience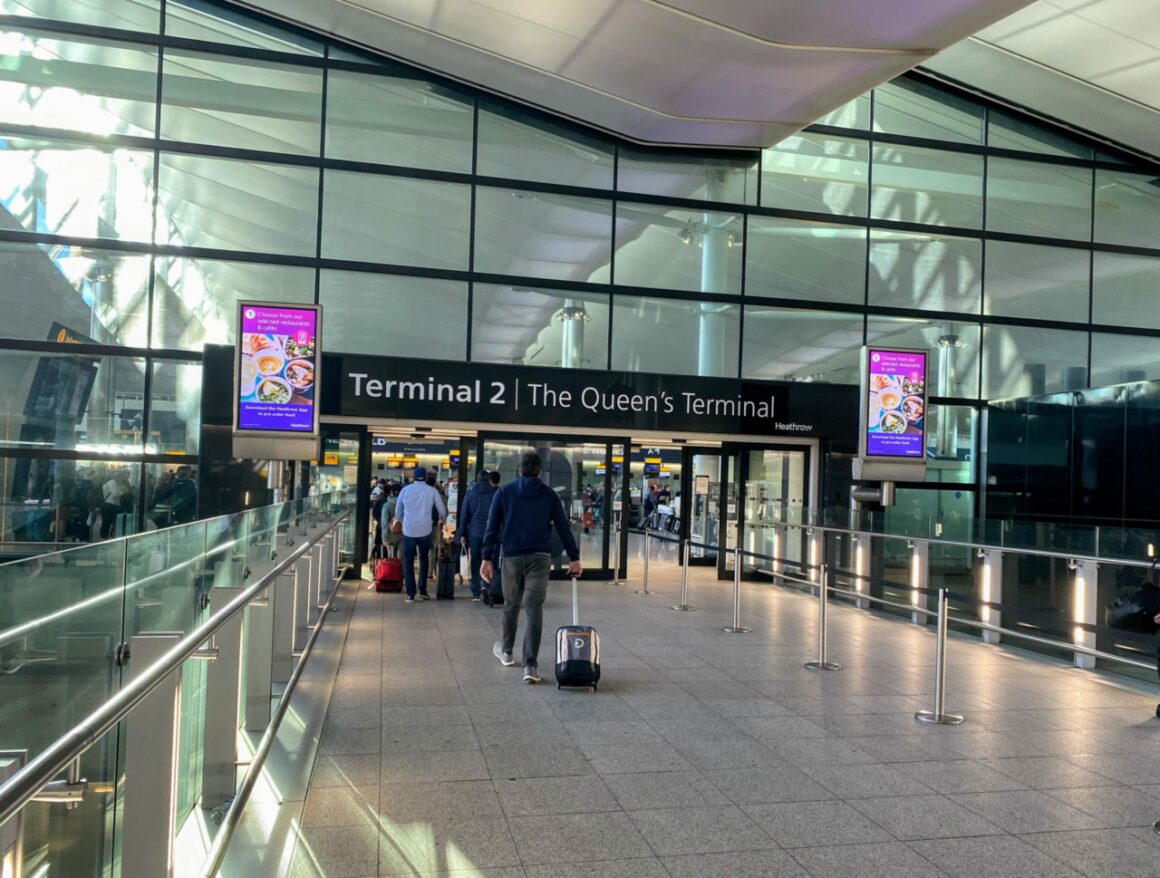 This was the first time I had flown out of T2 as I rarely fly Star Alliance from the UK. I arrived at 7am on a Sunday morning. The queue for security was long already and almost back to initial entrance for it with around 10 lines of queue or more. It was probably at least a 30 minute wait, I'd estimate. So I used a bit of a trick, albeit expensive for what it is. Normally I would have bought fast track, but they are not selling it at the moment. There are two ways to get Fast track if you are in economy and have no status: American Express Centurion Card holders get it, as does anyone who has bought a Heathrow Express Business First ticket which costs £32 for an anytime day single (which is refundable if you choose not to travel.)
I took one look at the queue and purchased a Heathrow Express Business First ticket which I showed to the Fast Track entry on my phone and was granted access. So if you are travelling to the airport by Heathrow Express and don't have Fast Track access then it is well worth upgrading to Business First.
Fast track was relatively empty, and there was only a wait of 1-2 minutes which was much nicer.
Terminal 2 seemed strange as there was no Boots in the main area which I find odd, but there was another pharmacy-type shop selling all the essentials you may need if you are on hand baggage only. I liked the feel of the terminal, which like T5 felt light and airy.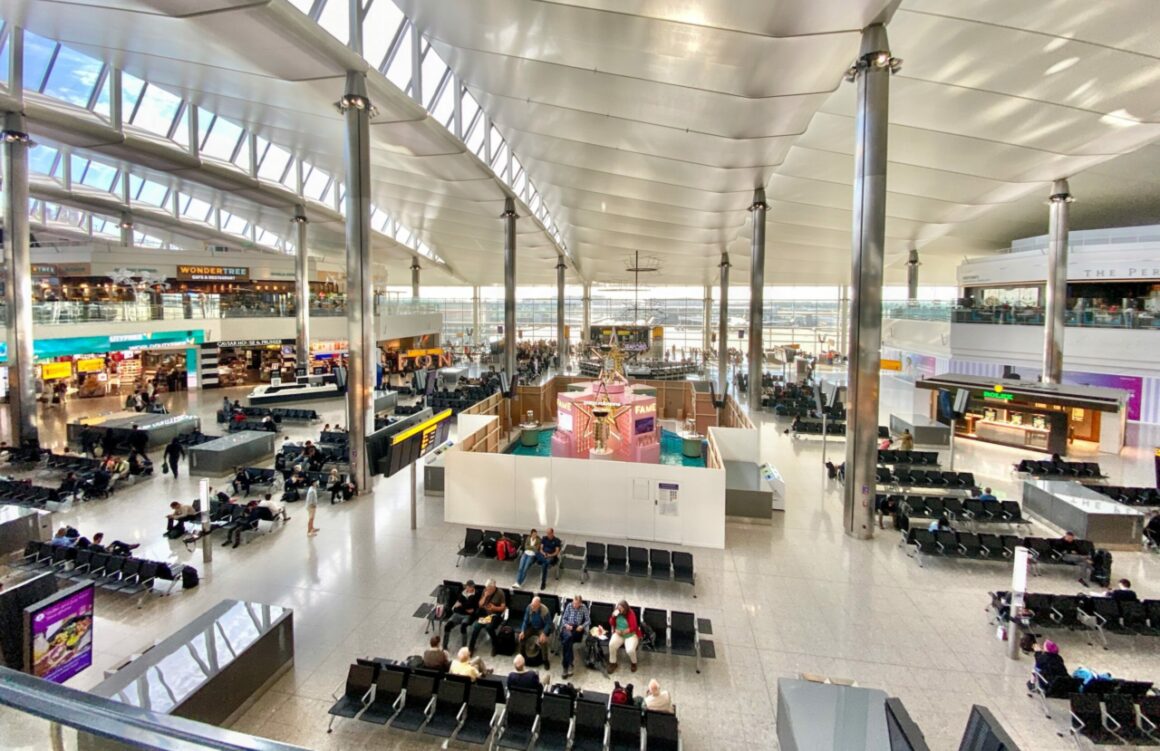 There is a modern Chinese restaurant, Shan Sui if you fancy a proper meal which also serves great cocktails. The Perfectionists' Café, created by Heston Blumenthal is also in T2 so it's definitely one of the better terminals for food.
Lufthansa lounge access without status in economy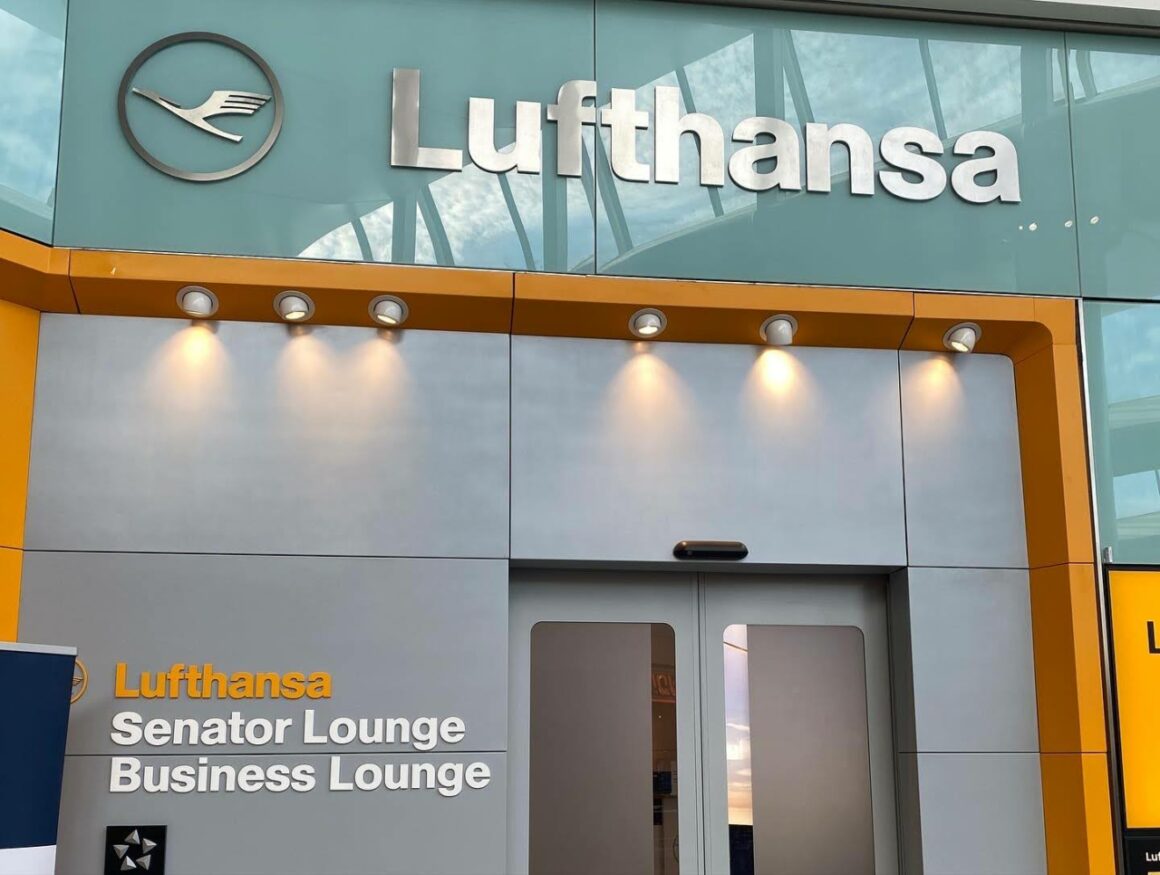 It's a little-known perk of the American Express Platinum card that you can use certain Lufthansa lounges when travelling on any Lufthansa group flight the same day.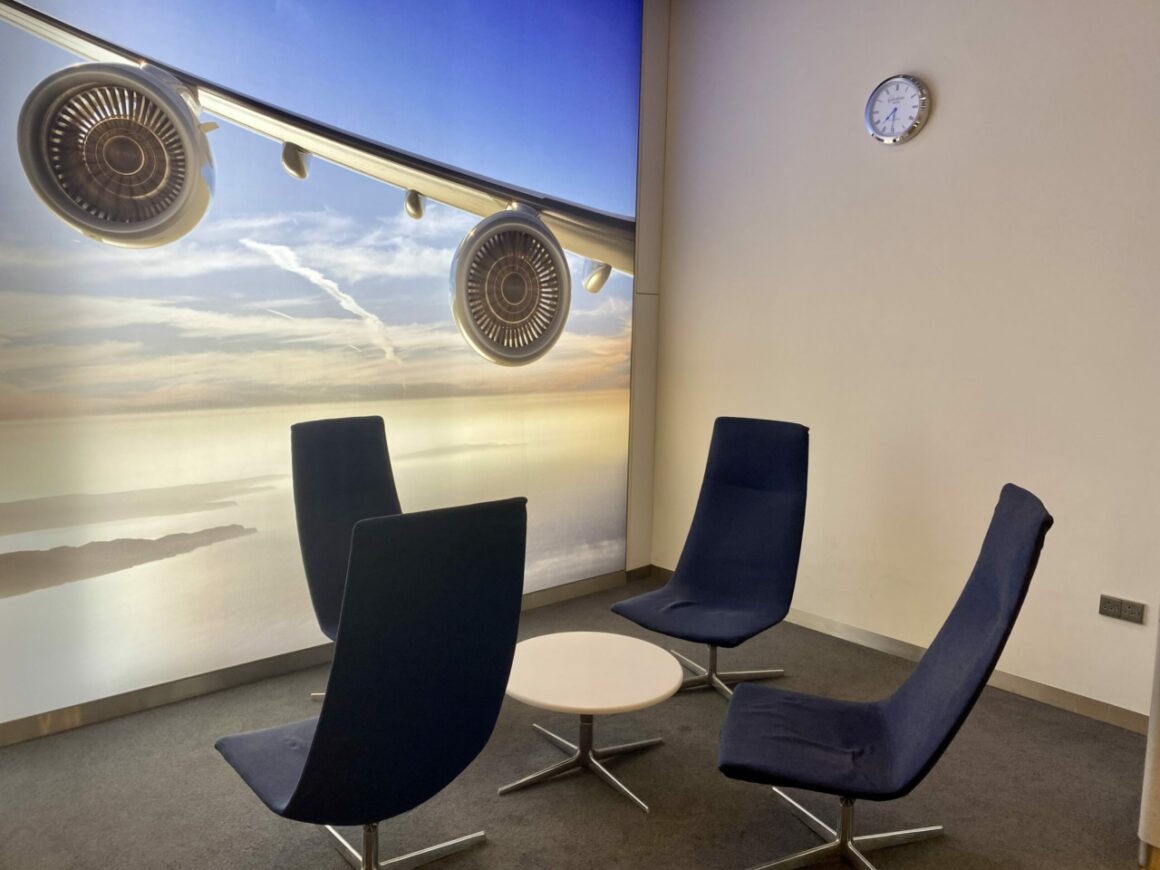 Since I was flying Swiss in economy I was allowed to enter the Business class lounge free by showing my Amex card and boarding pass. If I had been in business class I could go into the Senator lounge with Amex (although there are better lounges at Heathrow for Star Alliance – see this article).
I had heard pretty negative reviews of the Lufthansa lounge, but I was pleasantly surprised. It was busy but didn't feel overly crowded.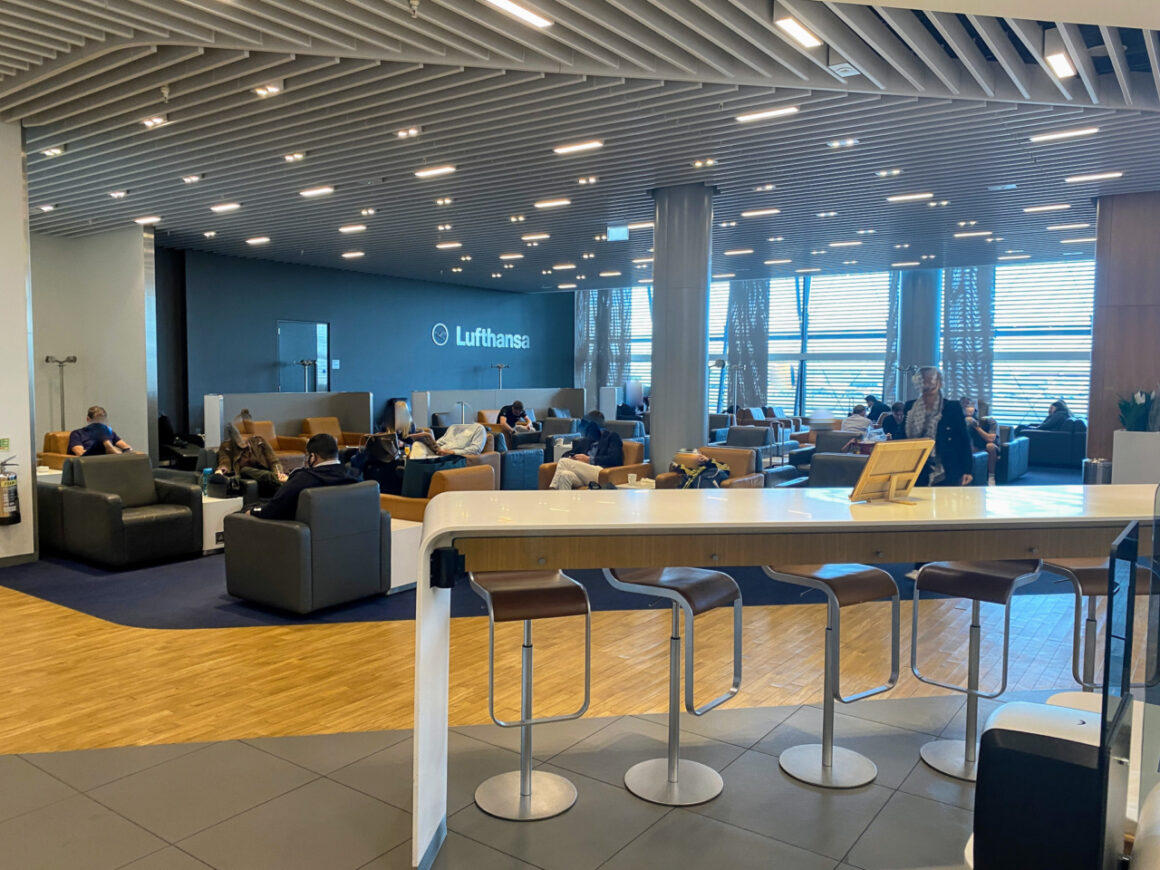 There was a full cooked breakfast on offer as well as cereals, fruit and pastries.
I tried a flat white from the bean to cup coffee machine which was passable.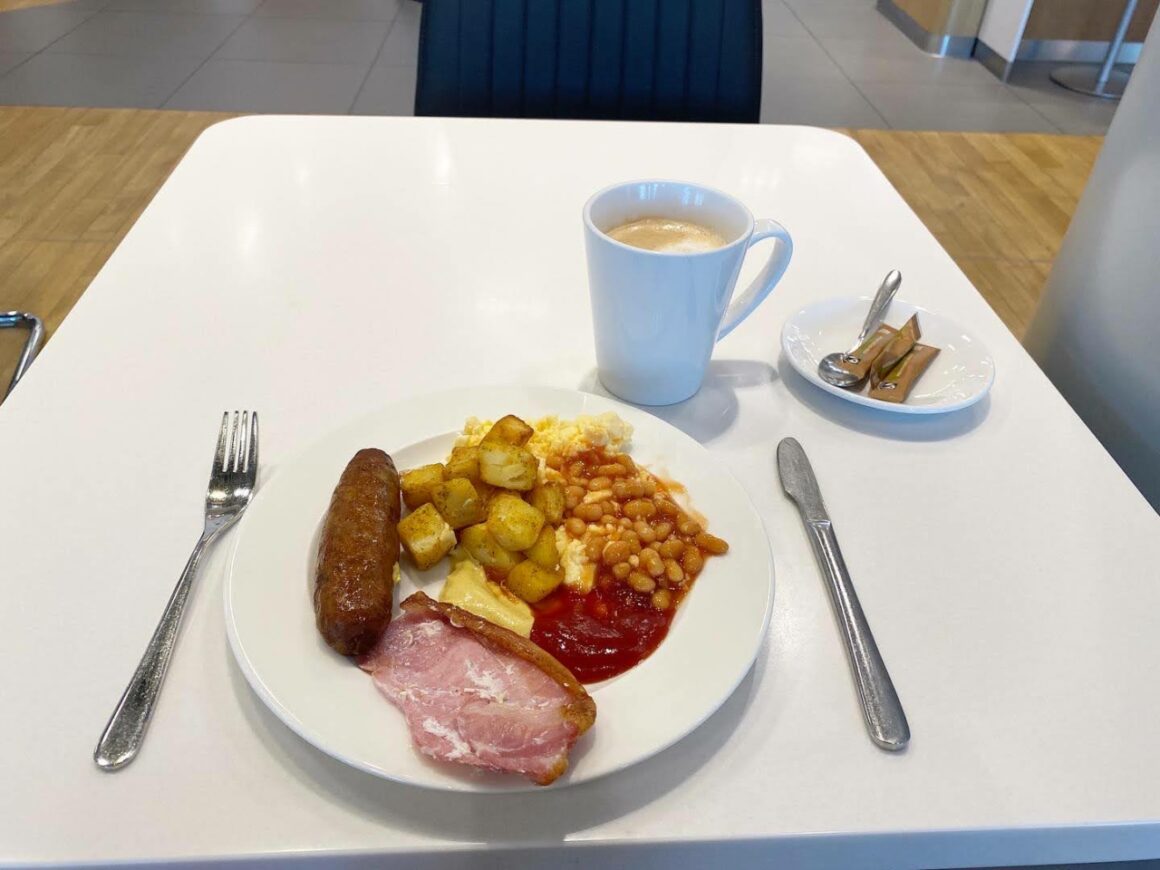 I wasn't drinking but if you were even at breakfast there was a decent selection of alcoholic drinks. There were 3 whites and 2 reds as well as prosecco.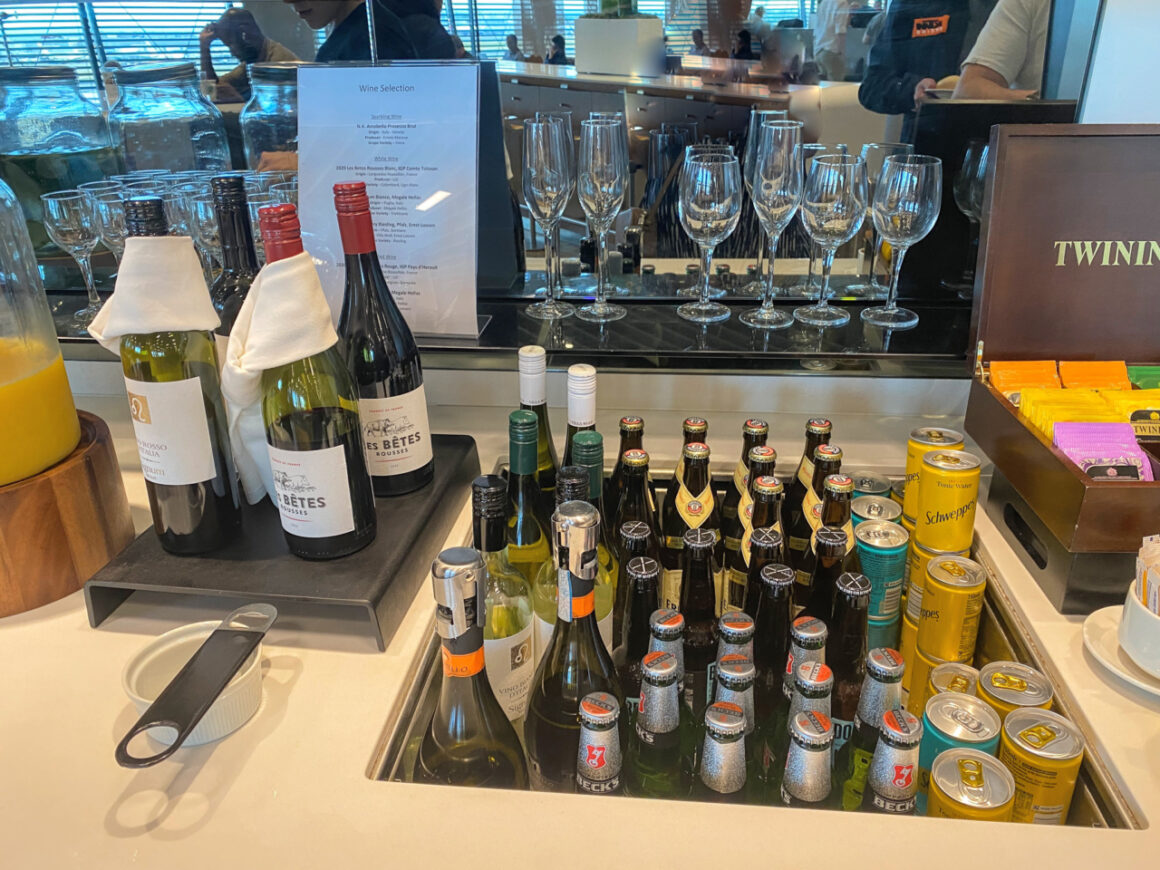 The spirits selection was small but had decent brands such as Plymouth Gin and Monkey Shoulder Blended Malt. It was also good to see Aperol there. For beer drinkers there were three beers including Becks and Erdinger Weissbier.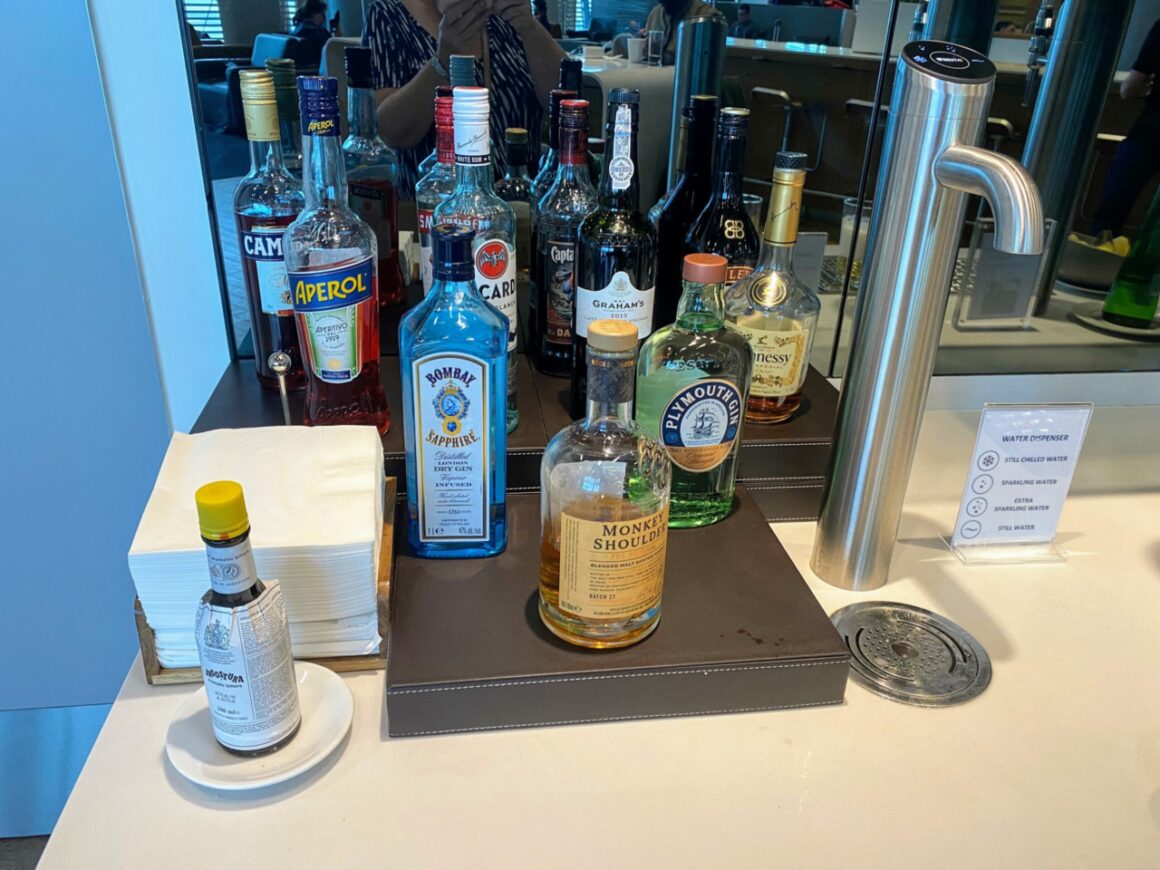 If you wanted to work there was a large work area with a printer and plenty of desk space with power points. I particularly liked the booths if you wanted to make a phone call and have a bit more privacy (or not annoy everyone else!).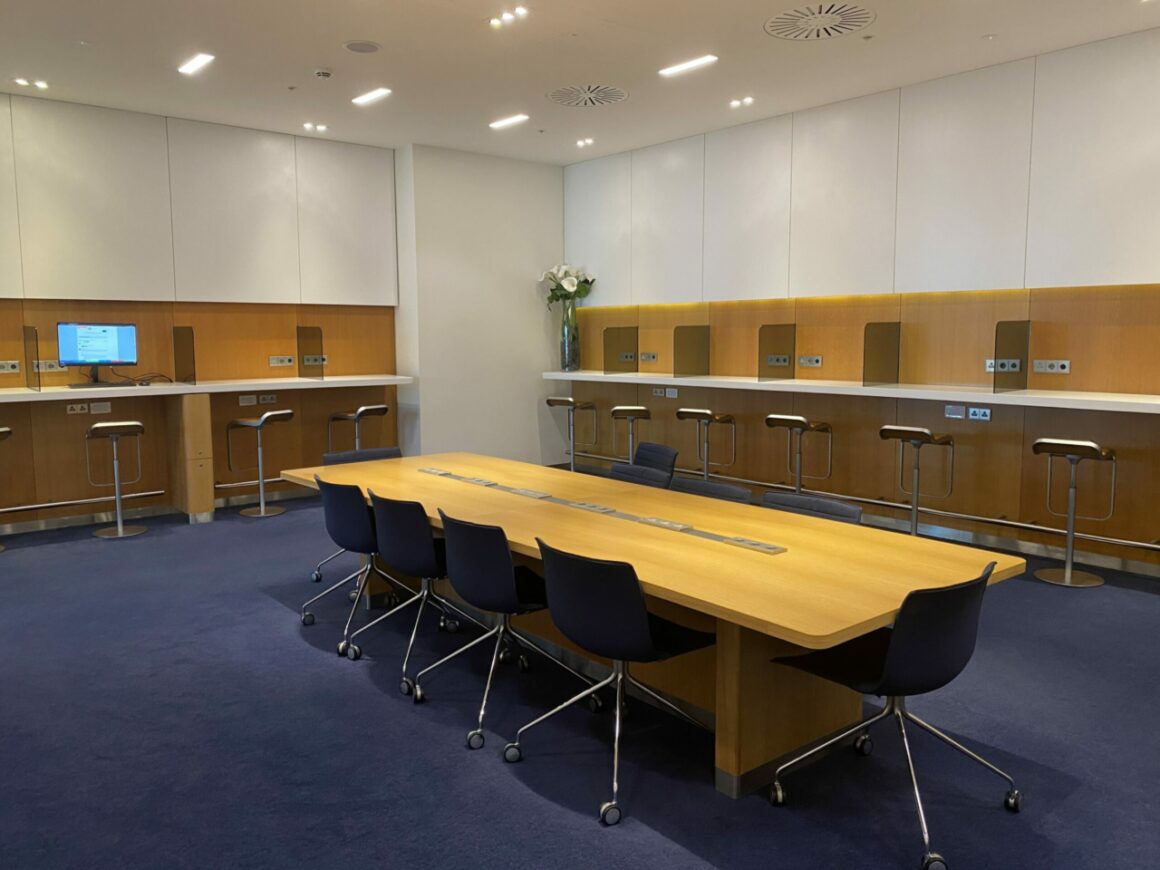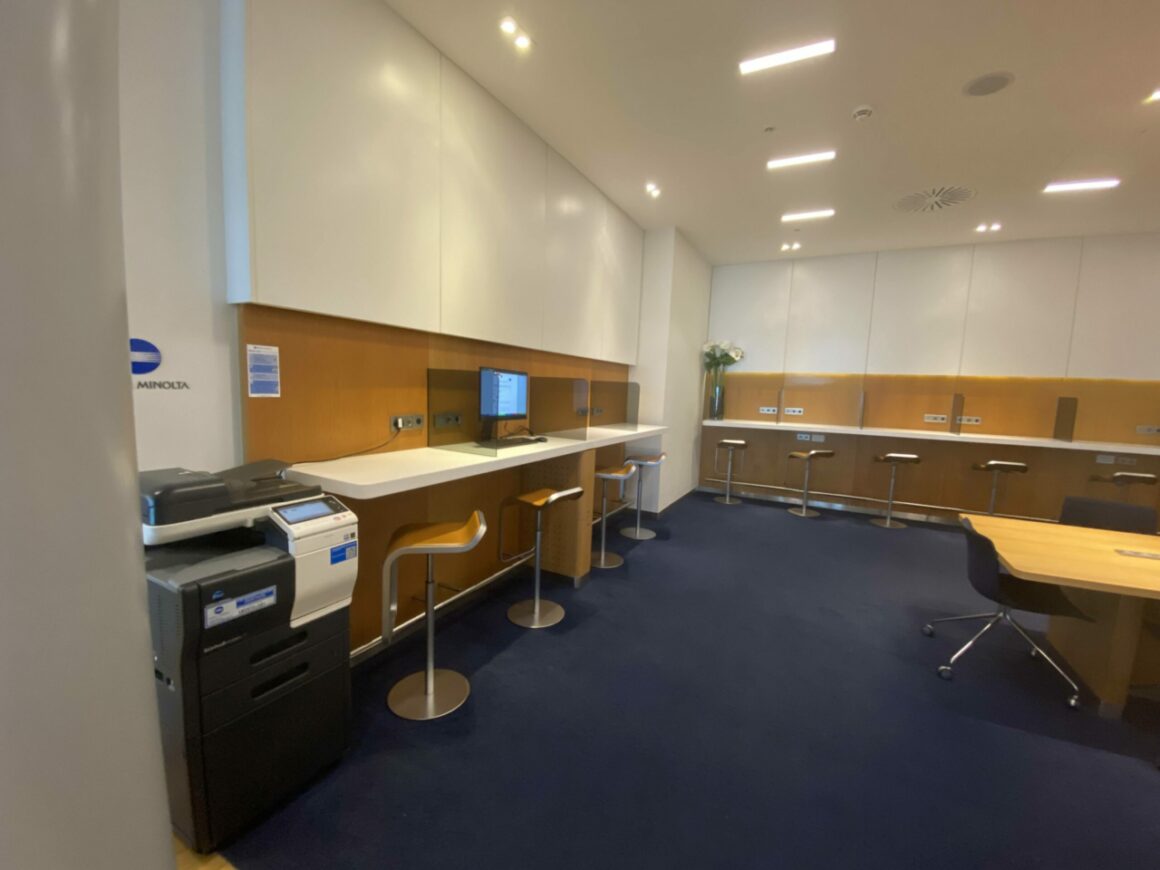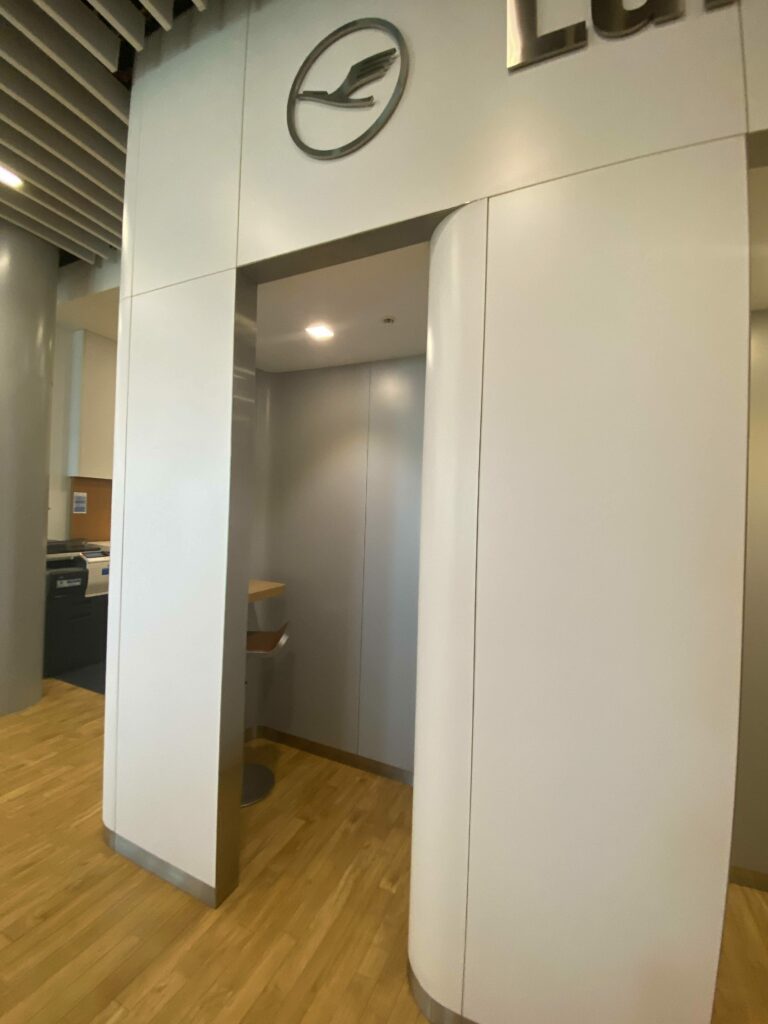 One half of the lounge was more of a sitting area, then there were tables and chairs for eating (could have done with more of those) as well as some booths with tables for eating or working.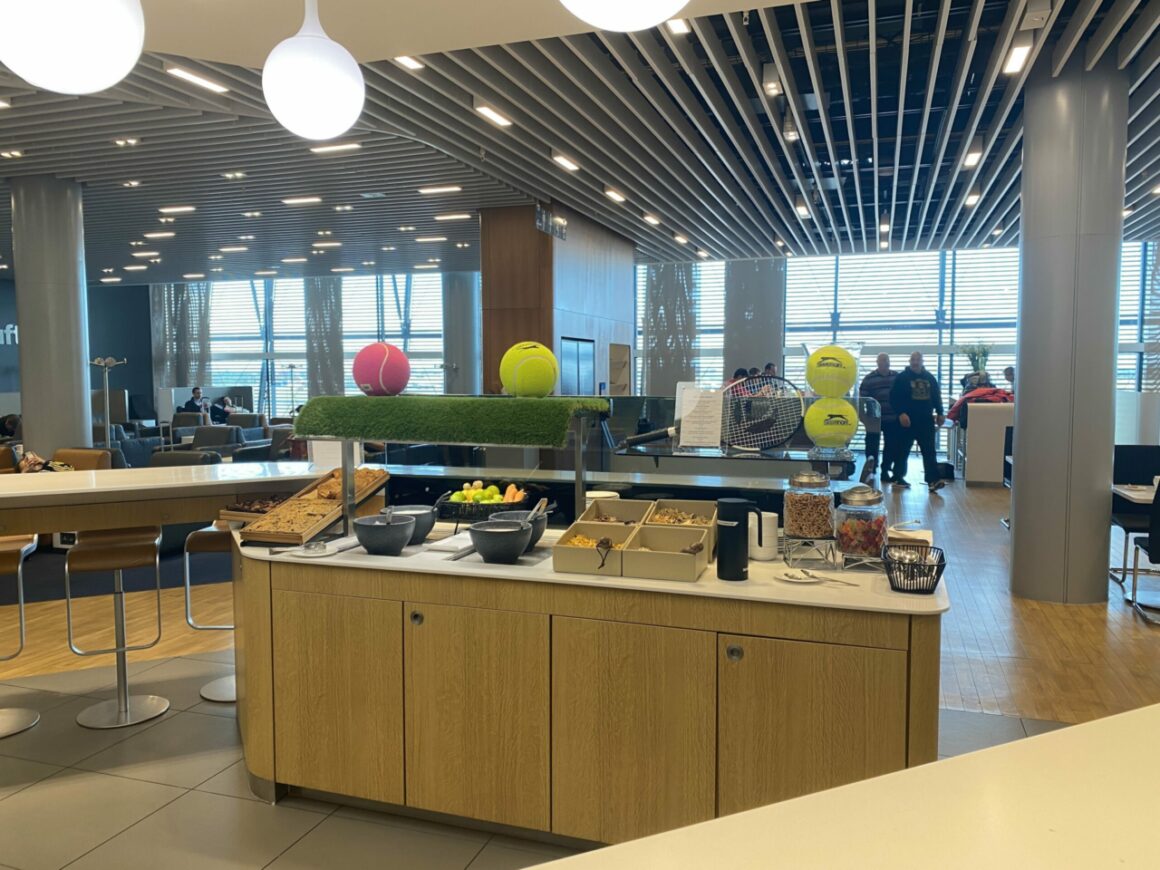 They even had decorated one area in a Wimbledon theme which was cute!
Boarding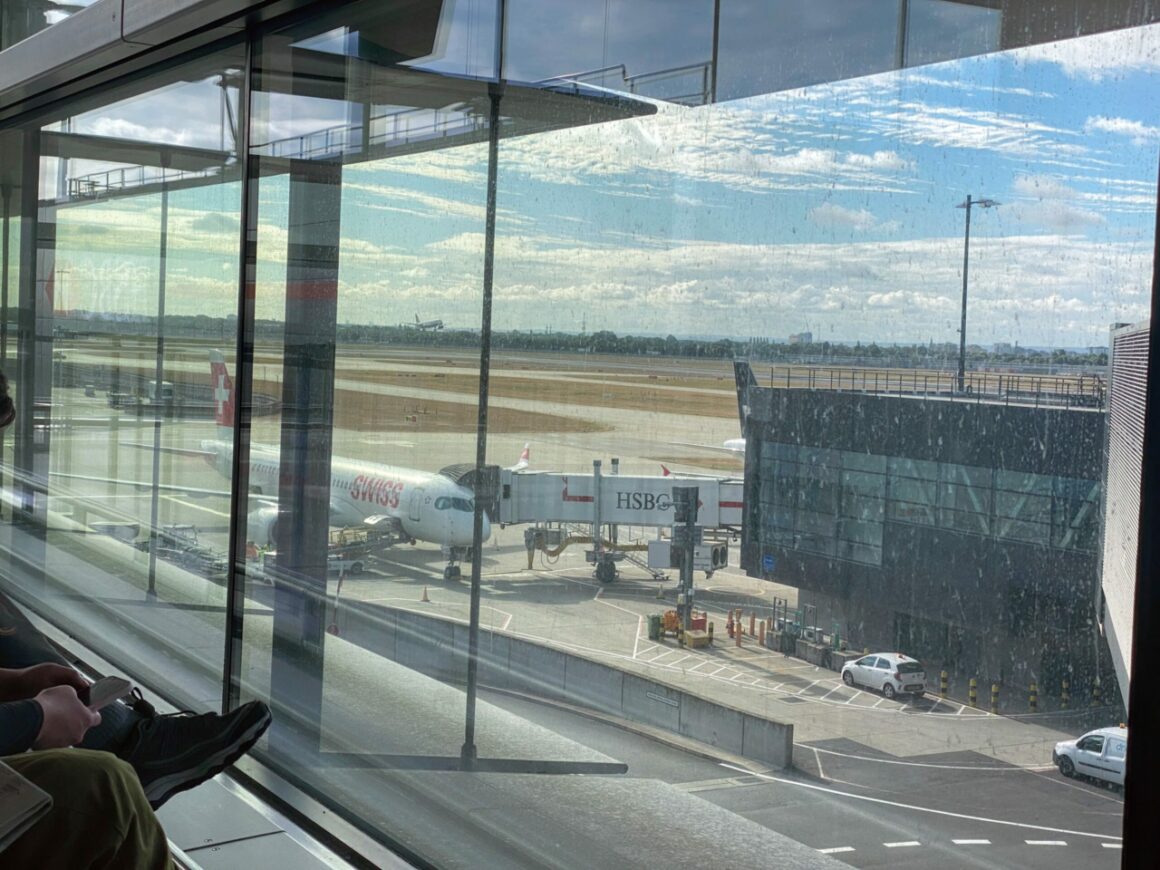 I was in the lowest boarding group, group 5, oh the shame of it! Boarding was well organised and better than BA. I hate the way that BA barely allow the first group they've called to stand up before they are onto the next or call 3 groups together.
Once on there was a bit of a situation where the person in the window seat next to me was in the wrong seat as the person behind. With a queue of people boarding it took a while for everyone to maouve round each other and get in the right seats!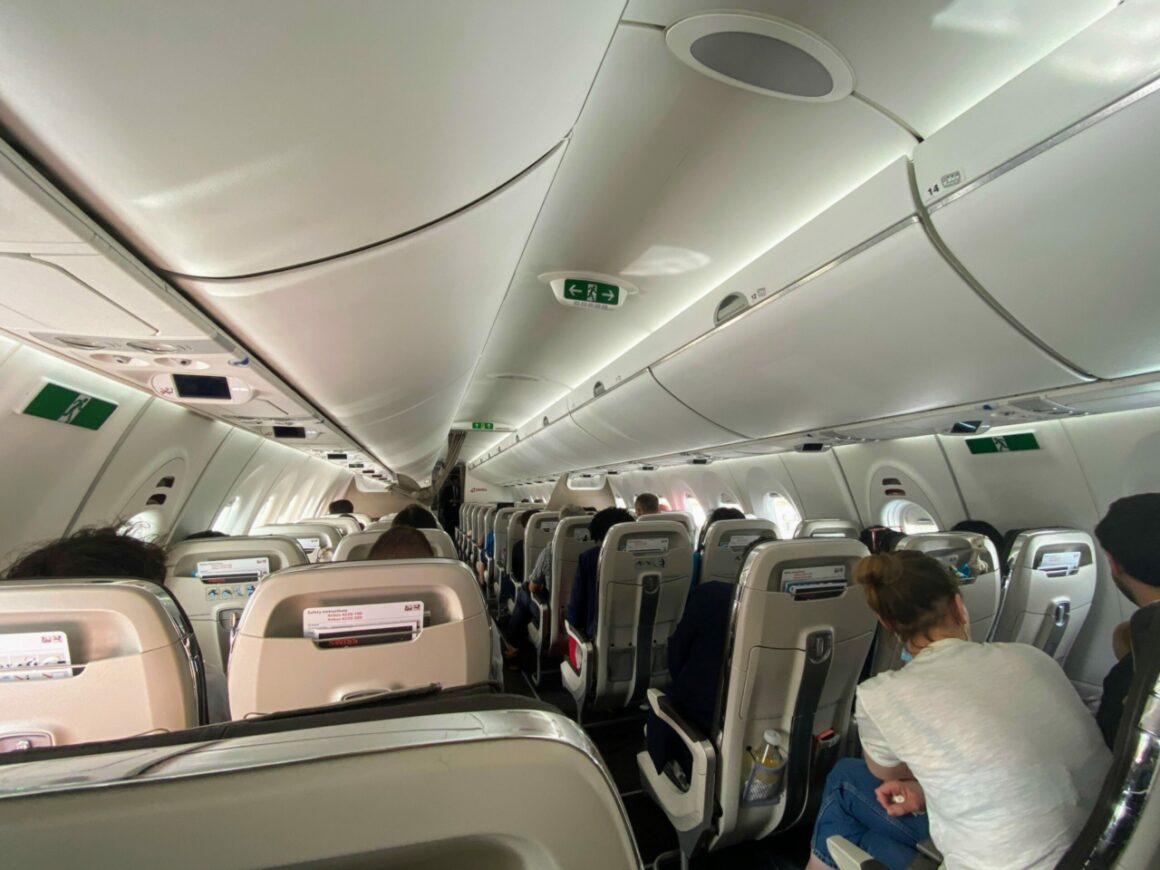 The overhead bins were huge with plenty of room. They were also unsually low which was great for reaching your luggage but not so great if you were in the aisle seat as you couldn't really stand up when they were open. However, the clever design meant when they were shut the cabin felt light and spacious. The seats are arranged in a 2-3 configuration in economy.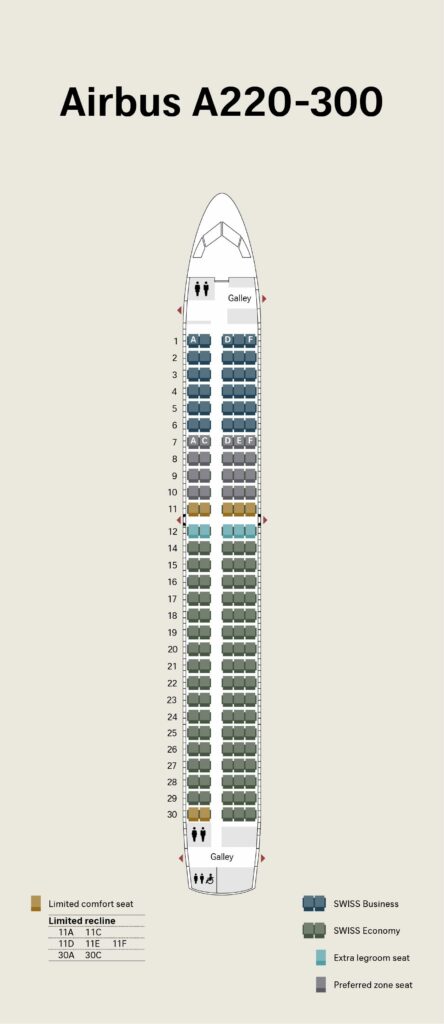 The Lite fares don't include a seat but I had paid £10 to get an aisle seat on the A side (15C) which has two seats.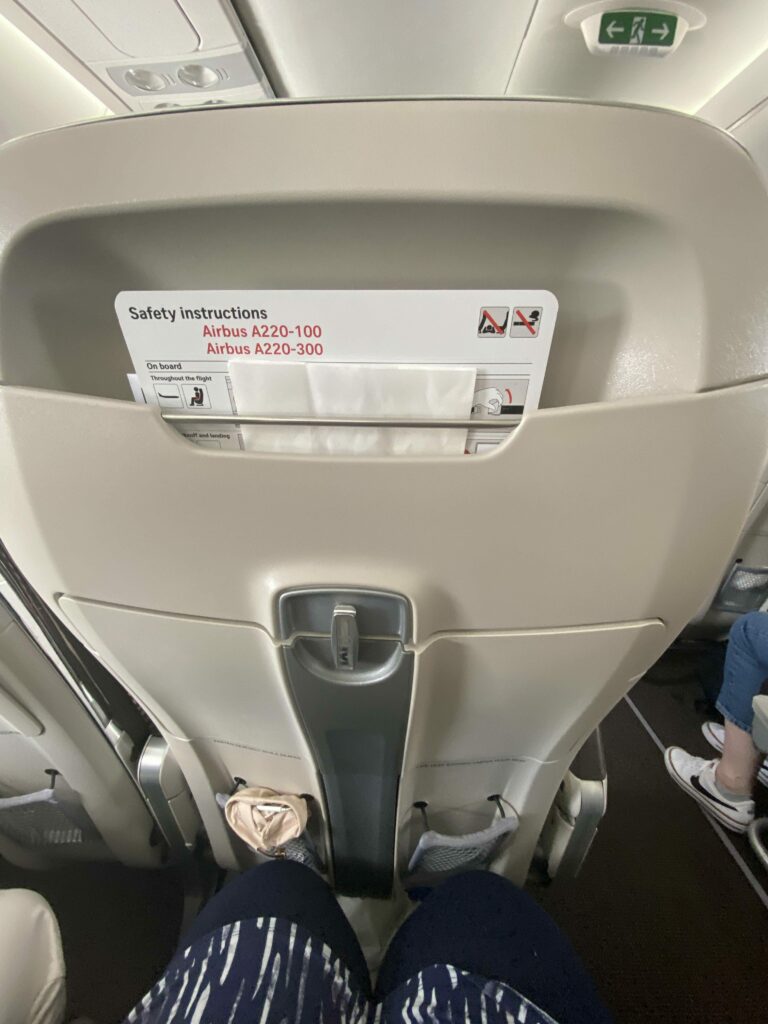 There was plenty of leg room with 30″ seat pitch. Thanks to the design in the knee area with the curving of the seat back and lack of a proper pocket, it feels more spacious than that. There are two pouches which are big enough for a phone or a bottle of water.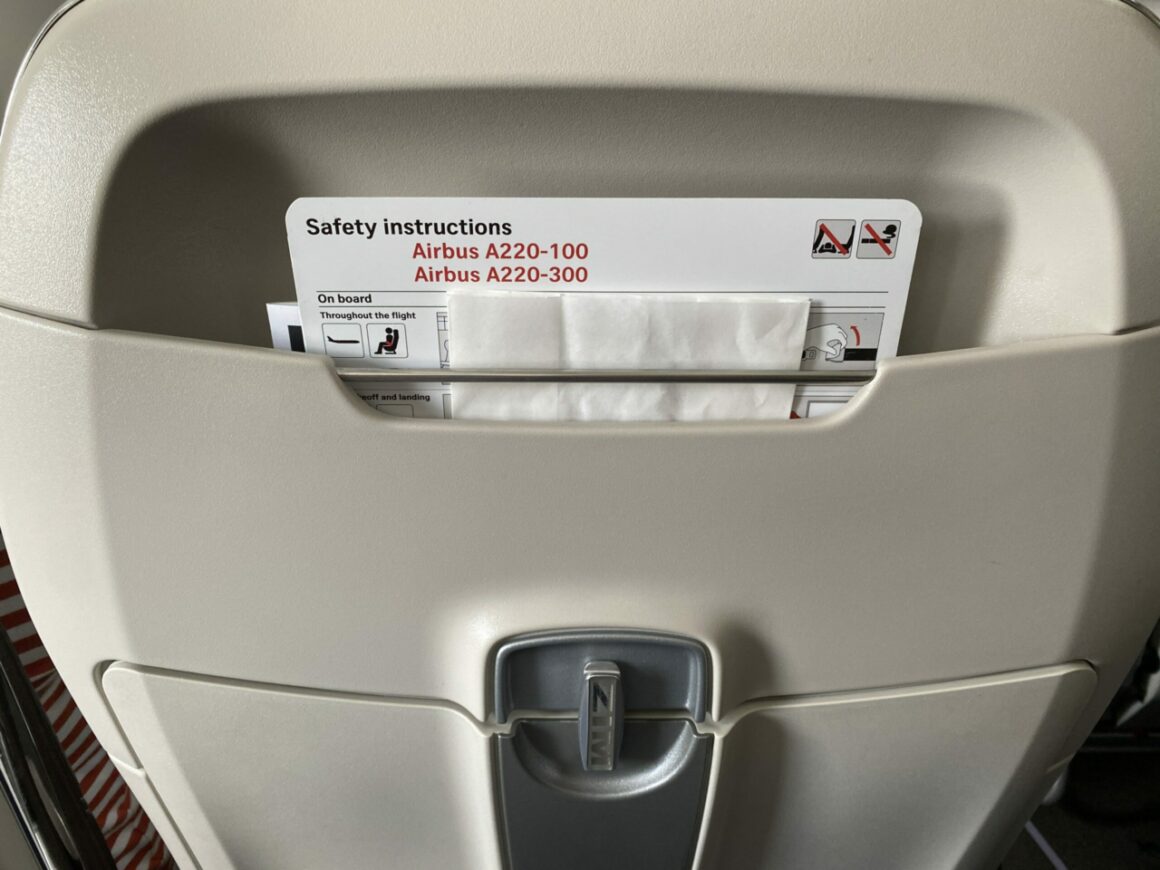 There was also room to fit a few bits in the top pocket but if you had a large laptop you would struggle to fit it anywhere. It's shame being a new aircraft that they did not include a mobile or tablet holder like some airlines.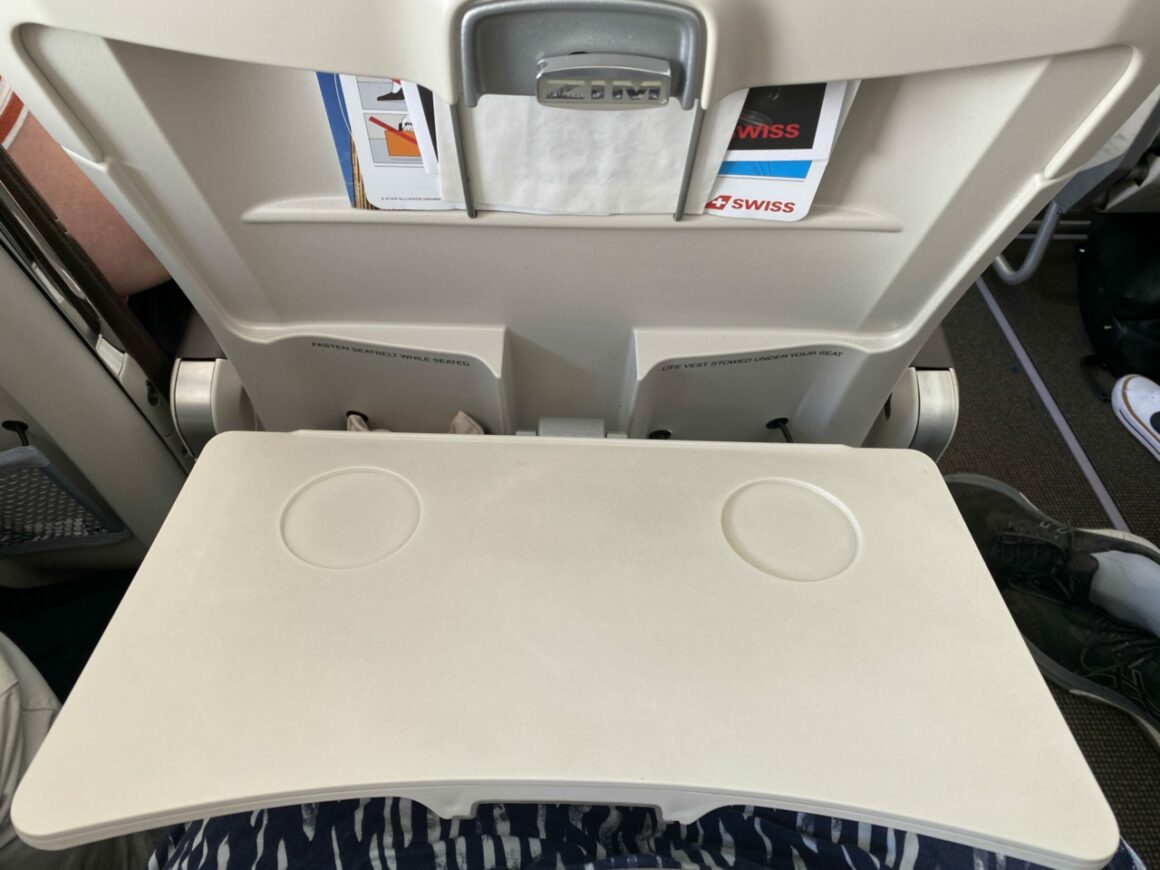 The tray table was curved which meant that whatever your size it would not cut into you.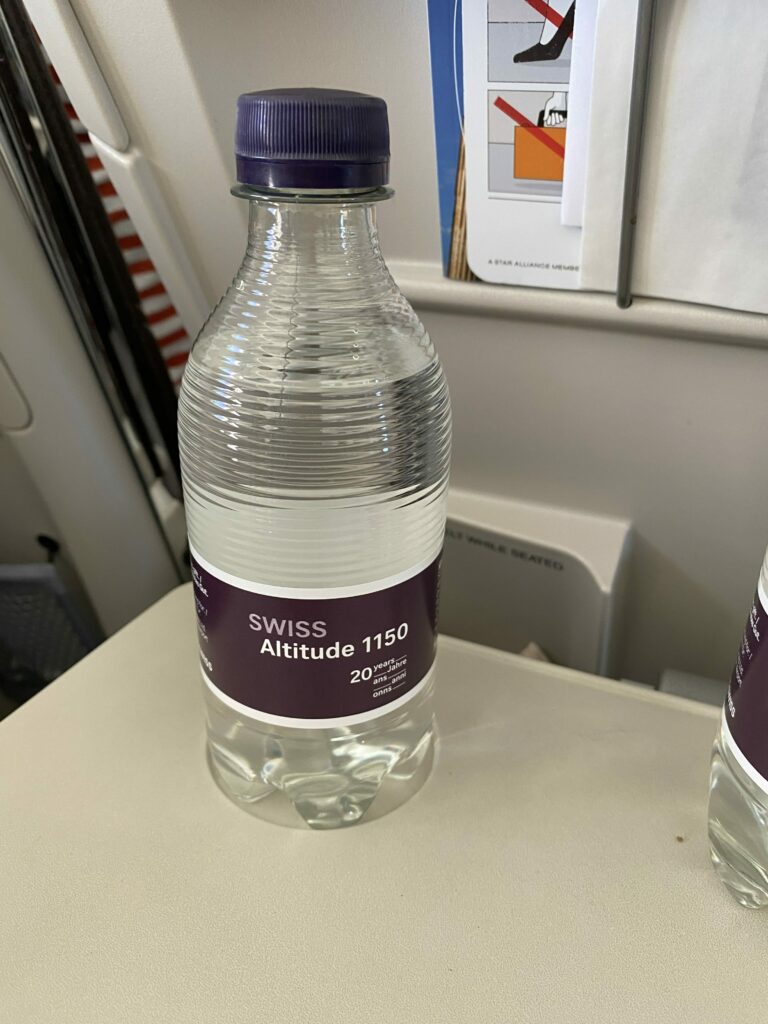 We were handed out a free bottle of water straight after take off and then the Buy on Board service started which was also very speedy and efficient. The selection looked very upmarket and not too expensive.
I was quite tempted by the champagne and "salty snack of your choice" but managed to resist!
I found the seat very comfortable and wide. My only real criticism of Swiss's A220 was the fact there was no Wi-Fi or seat power which I found very surprising on a new aircraft.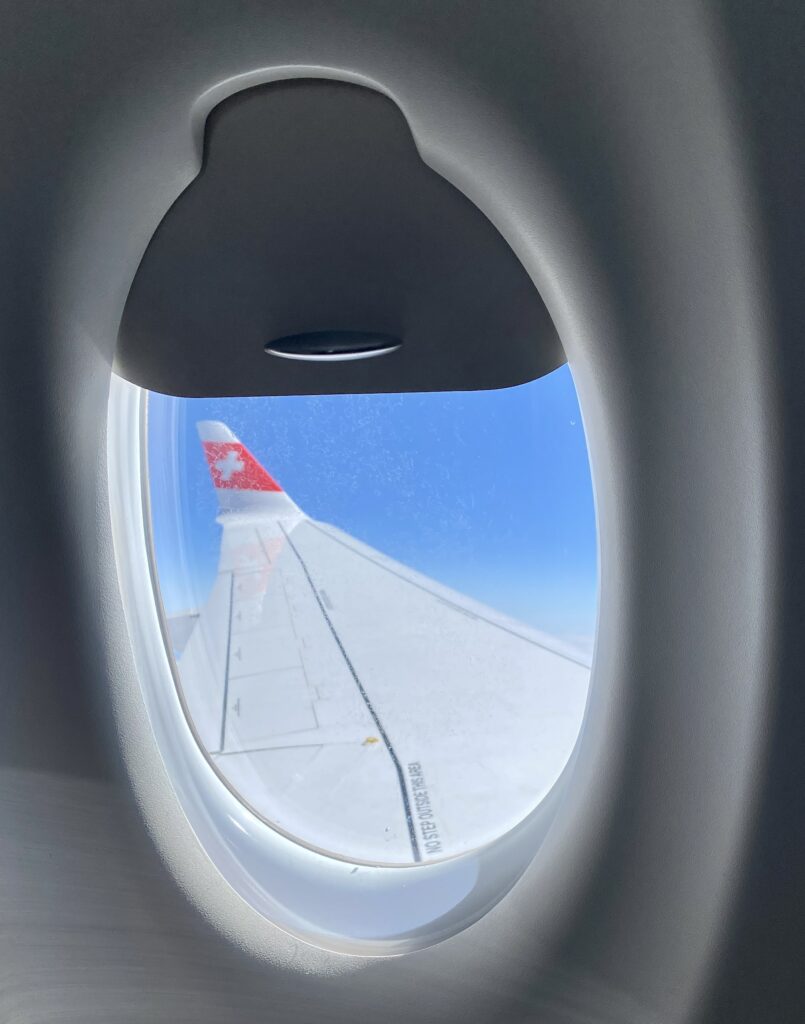 Just before landing we were handed a mini chocolate bar which Swiss is known for and was a lovely treat!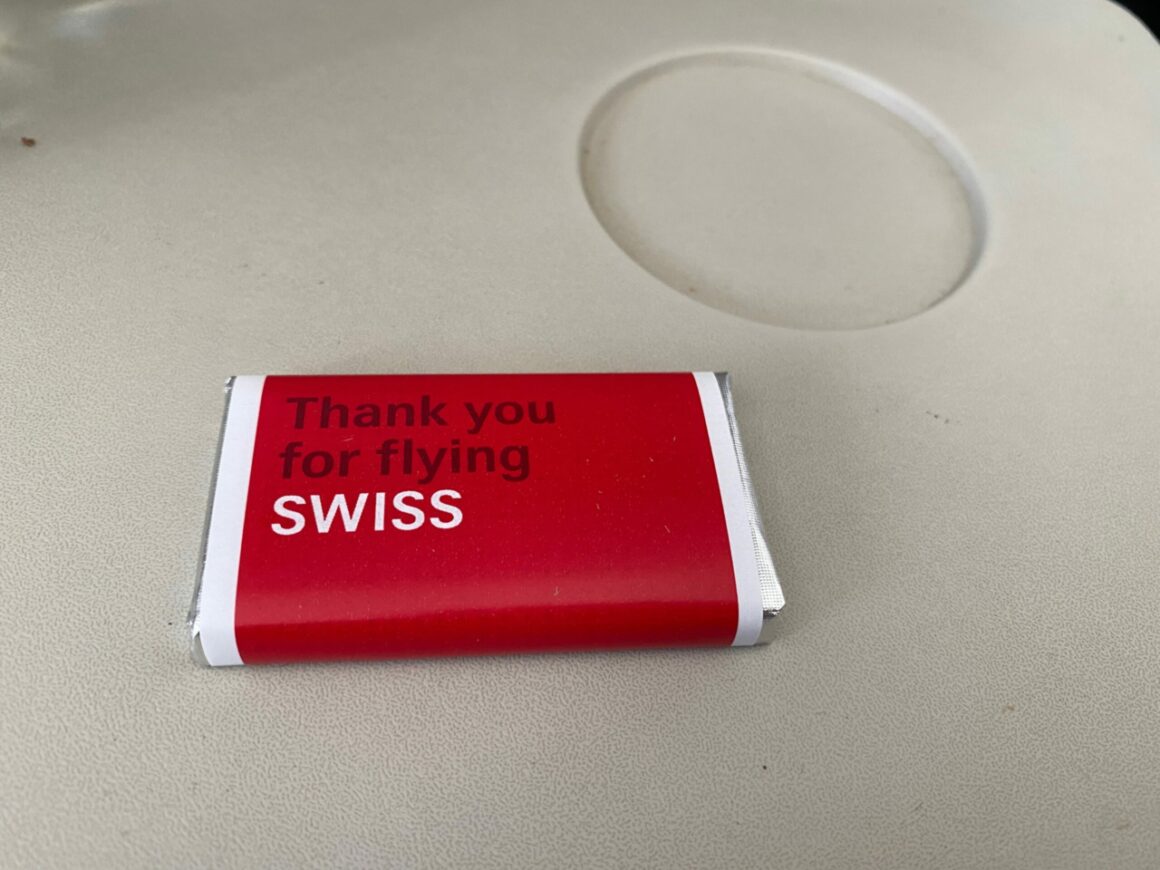 The flight departed around 30 minutes late due to a lack of baggage loaders but we made up about 10 minutes on the way. Given the delays I've had recently I was more than happy with that.
Arrival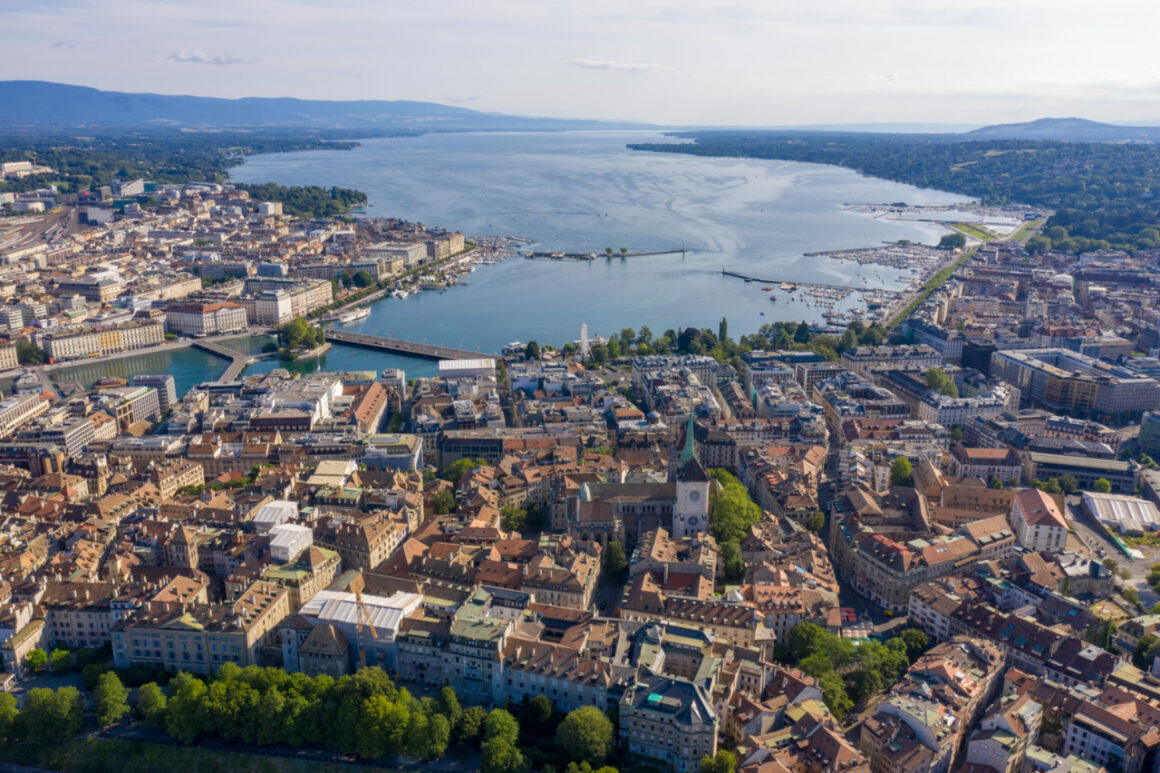 Once at Geneva there was another short wait for the steps and buses as we were at a remote stand. I'm not sure why it's necessary to drop you with a massive walk to immigration but once I got there, I was through in around 2 or 3 minutes. With no baggage to claim I was soon out of the airport.
If you are heading into the centre there are lots of ways to get into the centre. If you have a Geneva City Pass all public transport is free and this Uber Queen went on public transport the whole time pretty much. The exception was the journey from the airport as I was running late and a Taxi was slightly quicker (but expensive at around £37 for 20 minutes). Otherwise the train station is right outside and takes you directly into the centre of Geneva or buses such as the no 10 also take you into the centre, albeit more slowly.
There is currently a special offer from July 1 to August 31. If you stay one night or more in Geneva you will receive a Geneva Resort Pass for free and enjoy more than 100 activities which are free or at a reduced price. You also get your free Geneva Transport Card by email one day before arrival. You can find out more here.
Conclusion and ticket prices
I was very pleasantly surprised overall with my experience, although the Fast track and lounge access helped. The crew were friendly and efficient and I loved the A220 for comfort and space. Swiss and Geneva airport certainly seemed to be experiencing less issues although we had a short delay on the way out.
Tickets are still very reasonable in August with prices starting at £94 return in economy. In September it goes down to £81 return. Geneva is perfect for a short weekend break as it's only 20 minutes to the centre or a longer break if you want to go and explore further afield such as Montreux and the Alps.
You can check prices for Swiss and buy tickets here.